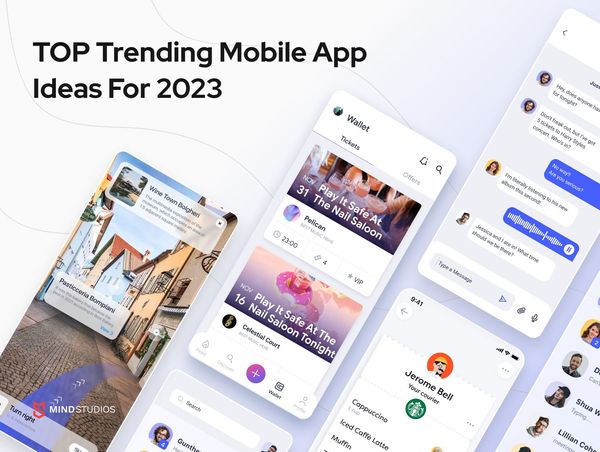 With over 5 million apps in app stores across platforms, what else can people wish for? Turns out, quite a lot. To learn the good mobile app ideas for 2023, read on.
For almost a decade now, Mind Studios has been outsourcing mobile app development for multiple industries, from health and fitness to secure communication and real estate. With dozens of projects behind us, we know which ideas for apps are worth the shot, and which require significant alterations.
In this article, we offer top ideas and technologies that are trending in 2023 and are likely to continue trending. So as not to make this list too long and repetitive, we've lumped some entries into categories. Hopefully, it will inspire you to shape the idea of your own application of the future.
#1. Travel apps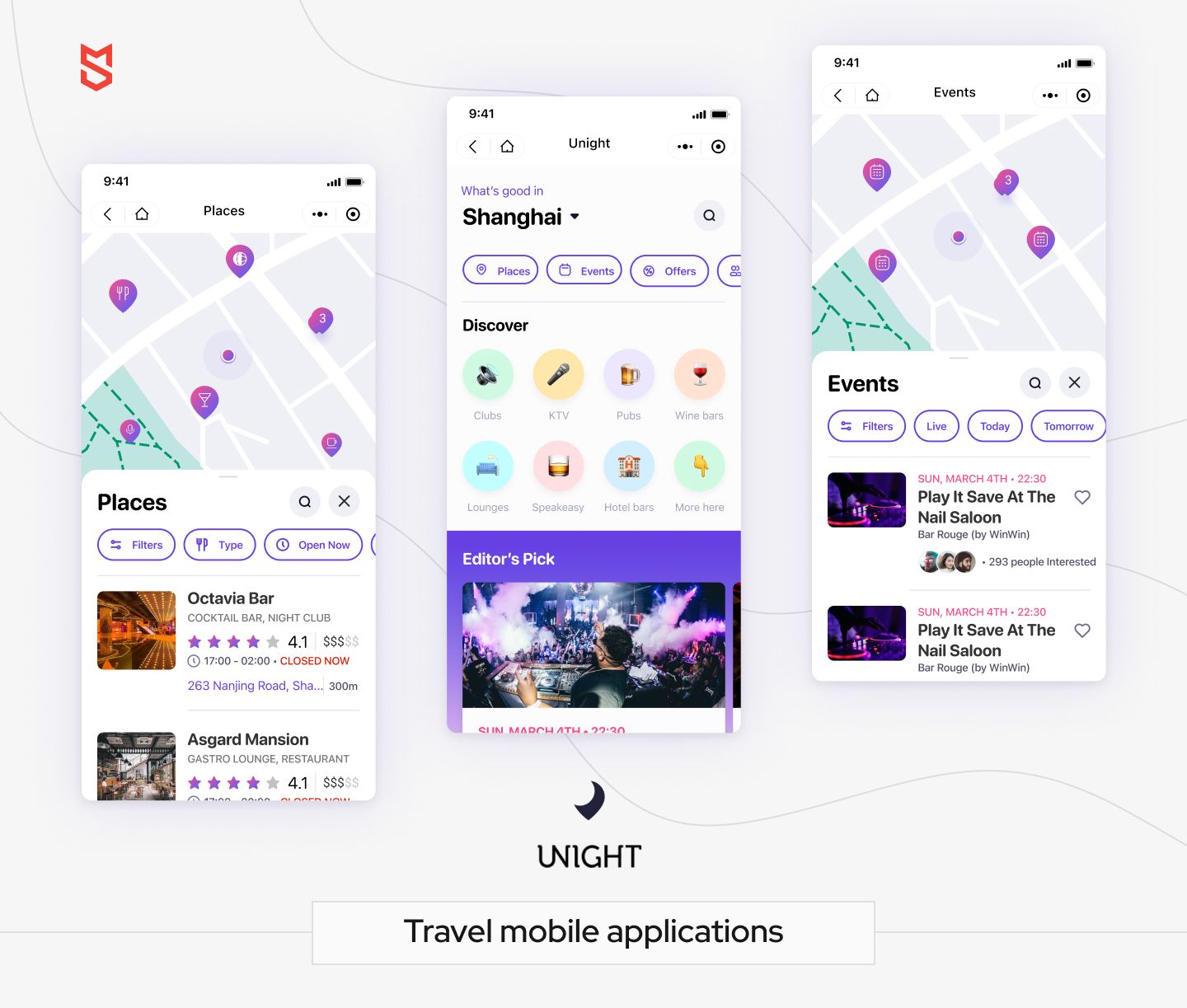 The global travel and tourism sectors are rapidly recovering from the pandemic: according to the report by the World Travel and Tourism Council (WTTC), in 2023, it is expected to return to pre-pandemic levels. This directly influences the investments in tech startups connected to the industry.
Very different good mobile application ideas can fit into the travel app category. Some will come in handy not only for tourists but for locals.
Apps that provide city tours and show tourist points, museums, parks, galleries, and the like. Family-friendly, these apps offer users to explore significant locations and provide tips on what to see.
Apps to find a place to stay. Airbnb is an app of this type: it helps tourists find lodging with locals that's cheaper than staying in a hotel. And of course, there are also apps that offer hotel bookings. Many include city guides, but they're usually not as rich as in dedicated tour apps.
Trip-planning and travel expense apps. The options here are numerous. You can help users plan their itineraries, provide them with cost-saving tips and personalized events recommendations, or help a group of travelers share their expenses. Triplt travel planner is just one platform to get you inspired for new popular application development ideas.
Networking apps for travel enthusiasts. These can be platforms for all kinds of travelers or connect people who are interested in a specific experience, like rock climbing, scuba diving, or gastronomic tourism. For instance, Withlocals app was created for tourists who want to have authentic experiences and make new acquaintances when traveling.
Nightlife guides. Apps like Unight are built for tourists and locals who fancy cocktails and dancing until the wee hours of the morning.
Public transportation guides. For those who can't or don't want to rent a car or a bike, help with public transportation is necessary. Therefore, this is a good mobile app idea.
#2. Mobile applications ideas for the restaurant industry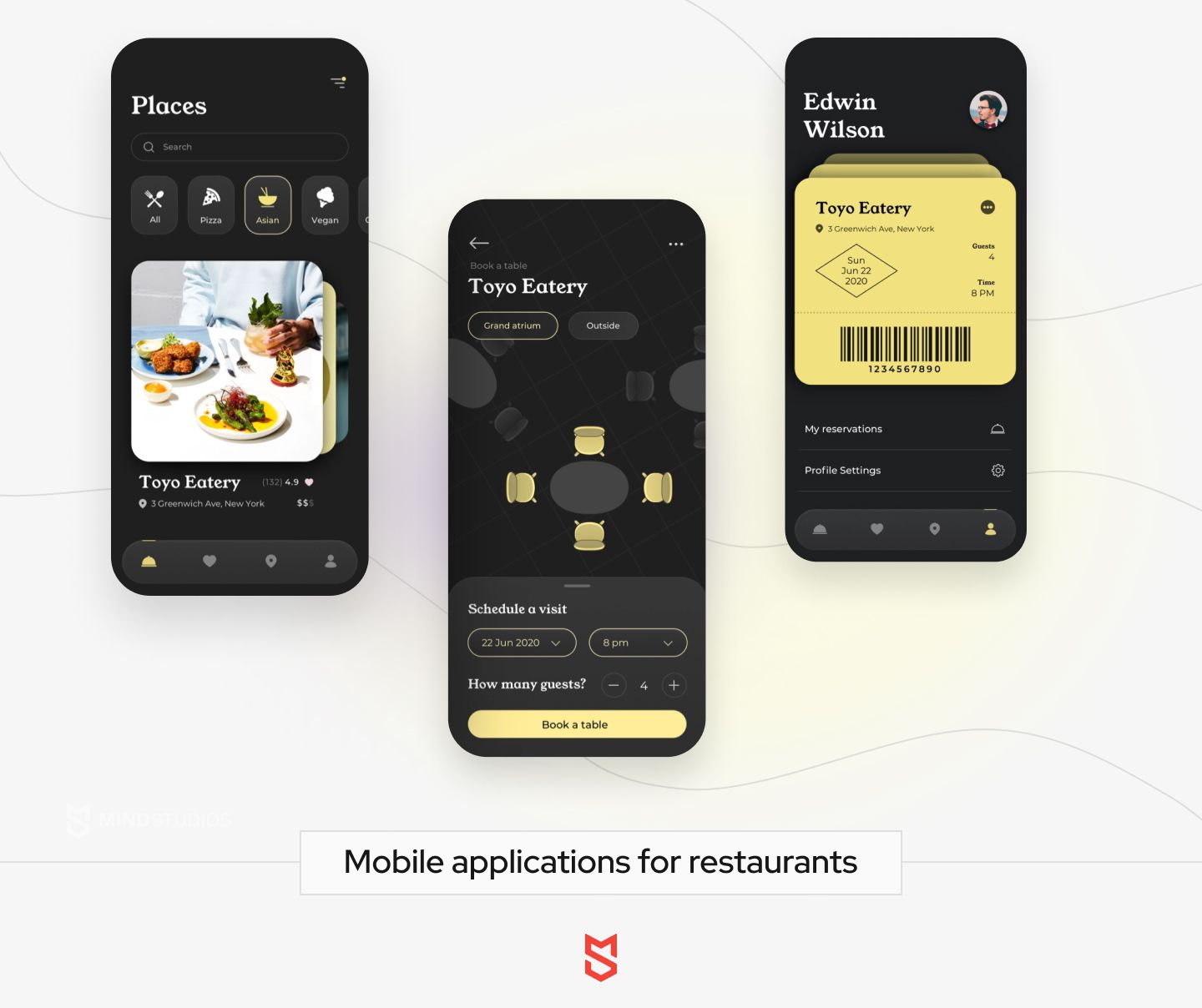 The pandemic has irreversibly affected the restaurant industry, once again proving that businesses survive when they are ready to adapt quickly. We explored which trends are currently the most promising for the restaurant industry, and here are a few mobile app ideas to match them:
Restaurant apps like OpenTable based on GRRS (graphical restaurant reservation systems) allow users to check the restaurant's availability in real time and book the tables. It also helps business owners to maximize their restaurants' potential.
Contactless ordering applications, which can be used not just for takeout and delivery orders, but also for orders inside restaurants to limit the need for personal interactions.
Food delivery apps with an option to customize the order to users' preferences.
Corporate food delivery apps for restaurants that can quickly handle big orders for office workers.
Food waste reduction apps that encourage restaurants to donate food to the people in need instead of disposing of it. The FoodForAll app is already doing something similar, but it is available only to users from the US.
#3. Event planner mobile app ideas
Some parties take weeks to prepare and some are planned in a few minutes, but all of them can use the help of mobile apps. Planner apps for parties can help their users:
Come up with creative ideas and themes, and even create customized scripts for celebrations through AI-powered platforms like ChatGPT.
Promote an event through social media integration tools. For instance, Eventbrite serves as a separate social network that matches events with users' interests.
Manage the guests attending the event. For example, Zkipster app was created specifically for creating invitations and simplifying the check-in process, while Social Tables Check-In allows users to make the seating arrangements through 2D or 3D diagramming.
Optimize the cost of the event with the help of smart calculators and budgeting tools.
Order everything necessary for the event in one place (catering services, entertaining activities, and more).
Such apps can be targeted at specific celebrations (wedding planners) or a selection of different festive occasions. Read our complete guide to nightlife event app development.
#4. On-demand service apps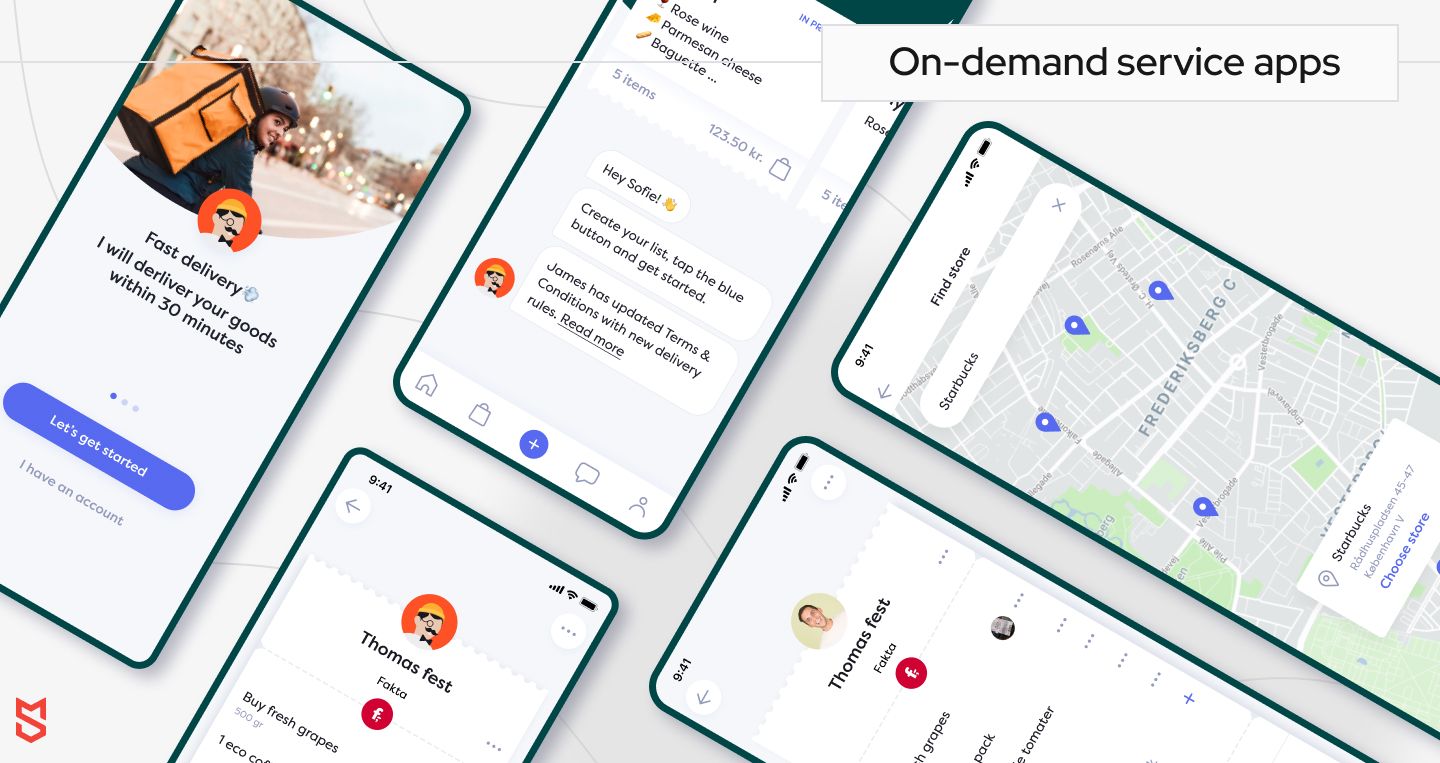 No list of great mobile app ideas in 2023 is possible without on-demand apps. Led by the likes of Uber, Instacart, and Postmates, on-demand apps are all the rage today and will be for some time since our lives are only getting busier.
Here are some trending app ideas in this segment:
Delivery (gifts, flowers, groceries, food, etc.)
Transportation and logistics apps, including software for inventory optimization, warehouse management, documents online storage, bar code scanning, and route planning
Other on-demand services (e.g. ordering a massage specialist or a plumber to your home)
Even if you doubt the viability of this app idea, keep in mind that it is possible to build a successful alternative to products like Uber Eats or Instacart if you localize them properly. For instance, James Butler, a food delivery app made by Mind Studios, was created specifically for the Danish market. To find the right solutions for it, we studied the shopping habits of the locals there, and as a result, the app ended up being a success.
#5. Telemedicine
Making a video call to a medical professional instead of dragging yourself to a doctor's office is quickly becoming popular. Developing a telemedicine app is a solid idea for a startup.
However, the question remains: what app exactly can you build in 2023? Here are just a few great ideas for mobile apps from our team:
AI-based self-diagnosis apps that help connect users with the doctors they need.
Remote patient monitoring apps, which can be especially helpful to patients with chronic conditions living in remote areas.
Mental health apps where users can get consultations with therapists or psychiatrists.
Health tracking apps to help monitor patients' health data like heart rate and sleep rate, blood sugar level, etc.
Bio-gender-specific health apps that help users deal with conditions like menopause, breast or prostate cancer, etc.
Telemedicine is often associated with cases when medical assistance is urgent yet unattainable at the moment. However, it's not the only use case for telemedicine apps. For instance, Lemonaid was created to make help for non-emergency issues more accessible. Those issues include hair loss, acne, migraines, UTI, nicotine dependence, and more.
#6. Money management apps
Money management apps assist us in keeping to a budget, investing, and saving. All three aspects are growing in importance in today's global economy. What is more, recent statistics from 2022 show that users are becoming more invested in personal finance apps.
So, what money management apps have a chance of making it in 2023? We suggest exploring these ideas:
Apps for cryptocurrency management, like crypto exchange money platforms, multi-currency wallets, and crypto payment and trading apps.
Apps for personal finance management, especially ones for a specific target audience, like families with a shared budget, students, or aspiring entrepreneurs.
Financial coaching apps to help users achieve their short- and long-term financial goals.
Investment applications for trading stocks, exploring investment options, and learning more about the markets.
Crowdfunding platforms with a narrow focus (for instance, for students majoring in science).
Obviously, before building your own money management app, you will need to conduct extensive market research, but we suggest studying a couple of cases right away. These include Neo, Wise, Personal Capital, and Mint.
The latter is a budgeting app to categorize expenses, set financial goals, and track bills and investments. And since it's owned by Intuit, the same company that owns TurboTax, it provides tax management functionality as well.
#7. Tax management app ideas
A tax management mobile app is a good option for a startup: It's not the hardest idea to bring to life, and it has a high chance of being successful due to high demand.
You can enhance your mobile app by integrating a payment gateway so that users can not only get their taxes in order but pay them as well.
While tools like Quickbooks and Turbotax have been with us for years, there are also newer and more niche solutions, and their success proves the idea of a tax management app is viable.
For instance, Accountable is a fintech company that targets self-employed workers and helps them connect expenses, manage invoices, provide data on VAT, and more. Its main goal is to help users who are just starting their own business (or aspiring to do so) to optimize their taxes early on.
#8. Popular Internet of Things (IoT) app ideas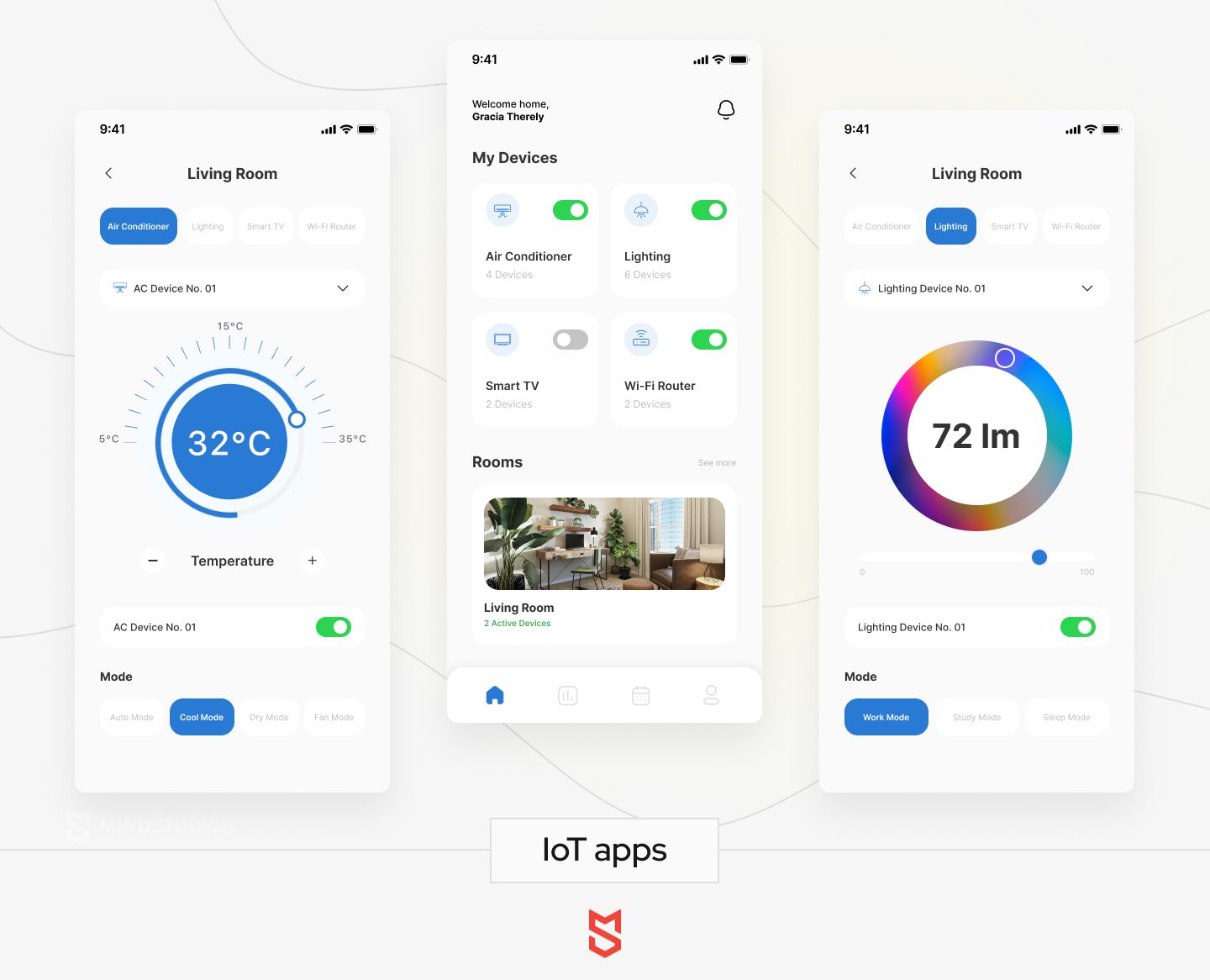 IoT technologies are transforming the landscape of multiple industries. In agriculture, it is used to monitor crops and map fields. In manufacturing, it helps optimize production processes, increase workplace safety, and enable predictive maintenance. The list goes on.
But one of the most versatile use cases for IoT is home automation.
Each year, more and more devices in our homes are connected to the internet. The benefits are undeniable. IoT-enabled appliances
make our lives more convenient (heat up the house before we come home)
help us save on bills (turn off everything that's not needed when we're away)
keep us and our belongings safe (send smart security system notifications if someone tries to enter the house)
According to Statista, the number of IoT-enabled appliances is expected to reach 75 billion by 2025. Innovative mobile app ideas for the Internet of Things will be growing in popularity for years to come.
#9. Artificial intelligence-powered chatbots
Chatbots help companies interact with customers. They respond faster than people, never get tired, irritated, or affected by weather and bad moods. Machine learning-powered chatbots can learn almost like human consultants, understanding customers' preferences. This can enhance the experience of interacting with a brand.
We've made a list of chatbot mobile app ideas that can be beneficial for all kinds of businesses:
Customer service bots to automate communication with customers and increase sales through instant conversations that can happen any time of the day. Customer service bots often include onboarding, navigation, FAQ, and other types of customer support functionality.
Survey bots to collect feedback from customers, and get a better understanding of the target audience's needs, pain points, and expectations. In the long run, this tool can help businesses grow and increase their user base organically.
Lead generation bots aimed at targeting prospective customers, especially B2B businesses, engaging them in conversations, and building interest in the products or services your company offers. With the help of AI functionality, those conversations can be extremely effective.
Appointment chatbots that automate the process of appointment scheduling and can be useful for a wide range of businesses, from beauty salons and gyms to law firms and healthcare facilities. One of its many advantages is providing customers with the opportunity to make appointments during non-business hours.
Among multiple examples of chatbots that exist on the market, we want to single out ChatGPT, an AI-powered language processing tool Microsoft invested billions of dollars into.
Developing a chatbot is fairly simple for an experienced app developer, which makes chatbots one of the most popular startup ideas for mobile apps.
#10. Augmented reality apps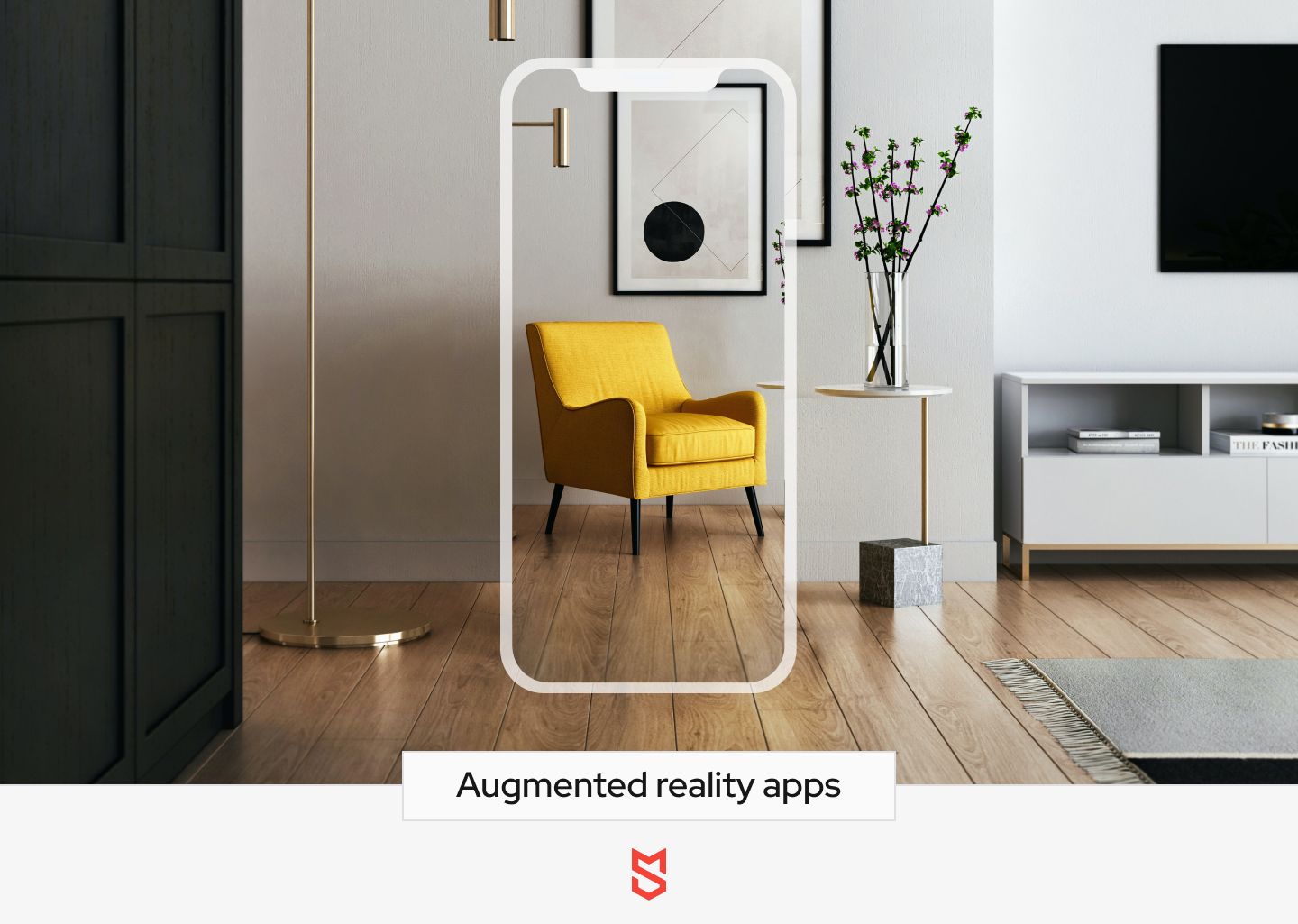 Augmented reality (AR) isn't all that new of a technology. However, it wasn't available on mobile devices until recently. Now we have Ingress and Pokémon Go, and AR has spread everywhere:
Travel apps. See directions and distances to visit-worthy venues, check your coordinates in the woods, and share your location with travel companions if you get lost. It takes a little effort to create a location-based app.
Gaming apps. Transform your environment into a playing field with the integration of audio and visual components from the game into your surroundings.
Shopping apps. Try on make-up, clothes, and footwear without actually visiting the physical store.
Interior design. Select furniture and decor to see how it will look in your room.
AR can be used almost anywhere, and smartphones are finally ready to adopt it. But AR is still new among application ideas for mobile app development, and thus it catches the attention of users.
#11. Anonymous communication apps
The last few years have seen an increase in privacy scandals on social media. Add to that situations when no one around you shares your love for certain ideas, in which case you need to find people outside your regular circle to share those ideas with.
All this has increased the popularity of anonymous messengers and social networks. You can create an app like that and build it around:
Similar interests and hobbies
Same age (e.g. apps for elderly people who may share similar values)
Building relationships
Sharing stories anonymously
Psychological help
How exactly do such platforms work? While Signal is considered to be one of the best-encrypted messengers, it still requires the user's phone number. The developers of Session messenger, on the other hand, have found a way to go around this requirement. The app simply generates a random Session ID that has no connection with the user's personal information.
If you've got a creative mobile application idea for this niche, there's no time like today to find an app development company and bring it to life.
#12. Instant messaging and social networking apps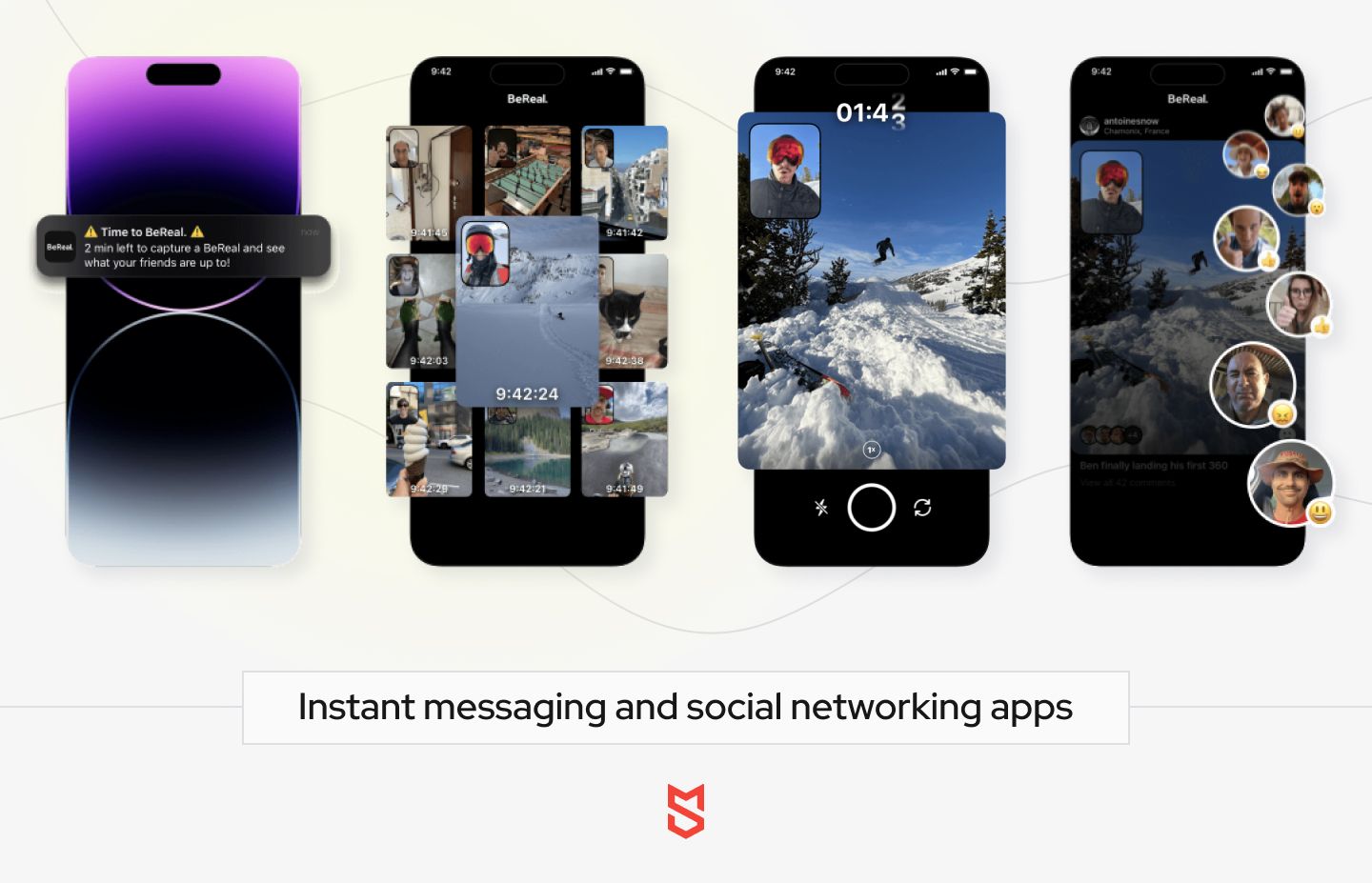 Yeah, yeah, we know. Who needs more instant messengers and social media platforms? But if you think about it, they are a bottomless pit of opportunities for new ideas of mobile apps. And there are cases to prove that it might be worth the shot.
Who would have thought that in the era of Instagram there would be another photo-sharing platform with millions of users? And yet BeReal did it. The app's usage increased by 315 percent in just a year, and in August 2022, it had over 70 million monthly active users.
So, what other instant messaging and social media platforms might conquer the market next? Here are some interesting app ideas:
Secure dating apps aimed at protecting its users from violence.
Social networking apps for people with the same interests, like travel, cooking, snowboarding, and so on.
Instant messengers for elderly people who seek companionship.
Niche networking apps for consumer reviews with a focus on one product category.
Media sharing networks with an in-built AI-powered bot that validates the information and warns if it might be fake or misleading.
The social networking niche still has considerable potential and will definitely be prospering in 2023. Just use the idea validation stage to make sure your idea has a chance of making it out there.
#13. Fitness and wellness apps
Here's another timeless popular idea for a new mobile app. All body types are beautiful, and sports aren't only a way to get slimmer. Exercise is, first and foremost, a way to be healthy. For this very reason, developing fitness apps like Fitbit, Strava, and Asana Rebel will be among the trending apps in 2023, 2024, and further down the road — until the way to ultimate health without any exercise is discovered. Or robots take over the world. Whichever comes first :)
Sure, there already are numerous calorie intake trackers, fitness consultation apps, and meditation platforms. But what if you create one for a target audience with very specific needs, like a nutrition app for people with diabetes or a fitness app for war veterans?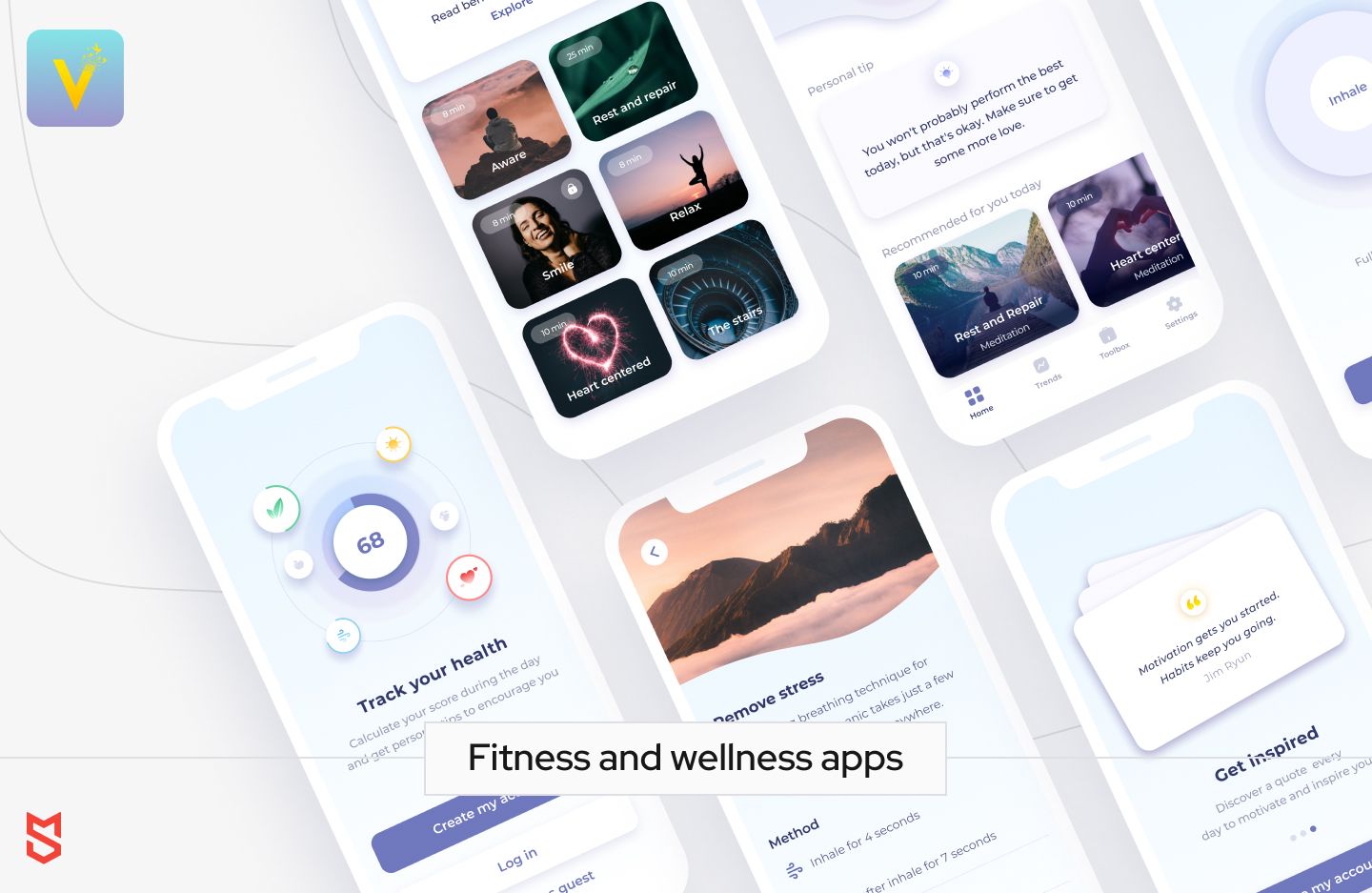 Mind Studios already has experience of working with niche wellness apps. One of our biggest projects is Envol, a holistic healing solution for people recovering from chronic illnesses and injuries.
#14. Sports apps
Sports enthusiasts are also a promising target audience for a mobile app startup since this category of users includes so many people worldwide. This can be anyone, from an amateur snowboarder to a football fan who regularly goes to a sports bar, which means the options for an app are boundless. Here are a few sports app ideas for 2023 to consider:
A VR sports streaming app to bring football games or tennis matches to another level.
A sports coaching app for those who want to master their tennis, golf, basketball, or any other sports-related skills. In the future, you can scale it with IoT technology integration.
A sports betting app with in-depth analytics and news section.
An eSports community app for those who want to find companions for co-op games.
An NFT sports marketplace where fans can purchase limited edition sports collectibles.
A sports metaverse app for fans to watch the games, socialize, engage with their favorite teams, and participate in virtual games themselves.
Another innovative mobile application idea is to help users connect with strangers in the area who own sports equipment and are willing to rent it. Or even tag along for a game. With healthy lifestyles being in trend for a few years already, apps like this will surely find an audience. Plus, they'll become one more way to meet new people with similar interests and make friends offline.
#15. Educational apps
It might seem that there is no place for new edtech products on the market when there is Duolingo, Coursera, and Udemy. But few of those globally popular educational platforms are mindful of how different their target audience can be.
Once again, we suggest creating inclusive niche apps to meet the needs of those users who are often ignored by your competitors. For example, your educational app can be tailored to the needs of kids and adults with autism spectrum disorder and ADHD, or dyslexia and other learning disabilities.
In case you want to learn from other platforms' experience — we recommend checking out Speech Blubs: Language Therapy, Montessori Numbers, and Proloquo2Go.
You can also combine some abovementioned technologies to create new educational apps of the future. For instance, AR or VR-based medical training apps can help medical students practice surgeries without working on real cadavers.
#16. Voice translation apps
While there are advanced dictionary apps and vocabulary apps on the market to help users learn the language, voice translation platforms serve a different purpose. Such apps that can interpret speech are a great help when people don't know the language but need to understand it on the spot.
This market niche isn't yet overcrowded: providing quality translation from English to, say, Hungarian or Mandarin is a formidable task. More so when interpreting spoken language, on account of accents and speech impairments.
The idea of a good mobile voice translation app would be profitable and lucrative in today's market. Below is a list of apps that already provide this functionality, but they still need to be improved:
Microsoft Translator, a translator app that helps with translations of text, voice, and photos from over 70 languages.
SayHi, a translator that supports text and speech translations in around 90 languages.
ITranslate, a translation app that supports over 100 languages and offers text-to-text, voice-to-voice, and text-to-voice translations.
So, if there are well-known translation apps on the market, how can one create a new one and make it successful? The thing is, each of the existing apps has its flaws, like Microsoft Translator, which could benefit from a more intuitive user interface.
You can create a niche digital translator focused on a limited number of languages, but make it extremely accurate and advanced. Or make an offline AI-powered translator that can block out the redundant noise and translate the announcements in airports, subway trains, or on railway stations.
#17. Blockchain-based apps
Use of the blockchain has significantly expanded in the latest years. Now it's not only tied to cryptocurrency. The blockchain is the greatest thing since sliced bread for the financial sector, smart contracts, and databases. If you have any relations with banking institutions, governmental bodies, or large corporations, blockchain-backed apps can be your ticket to success.
What app exactly can you build with this technology in mind? Here are a few auspicious ideas of mobile applications::
NFT marketplace
Cryptocurrency payment solutions
Blockchain-based investment app
Fake luxury product identification app
Peer-to-Peer lending app
The best niche application ideas: Summary
In case you need a cheat sheet to go back to when you face a lack of fresh business ideas, we've gathered the most promising market niches and app ideas in a laconic overview. Feel free to download it and come back to these ideas later:

Top 3 small app ideas with a large market value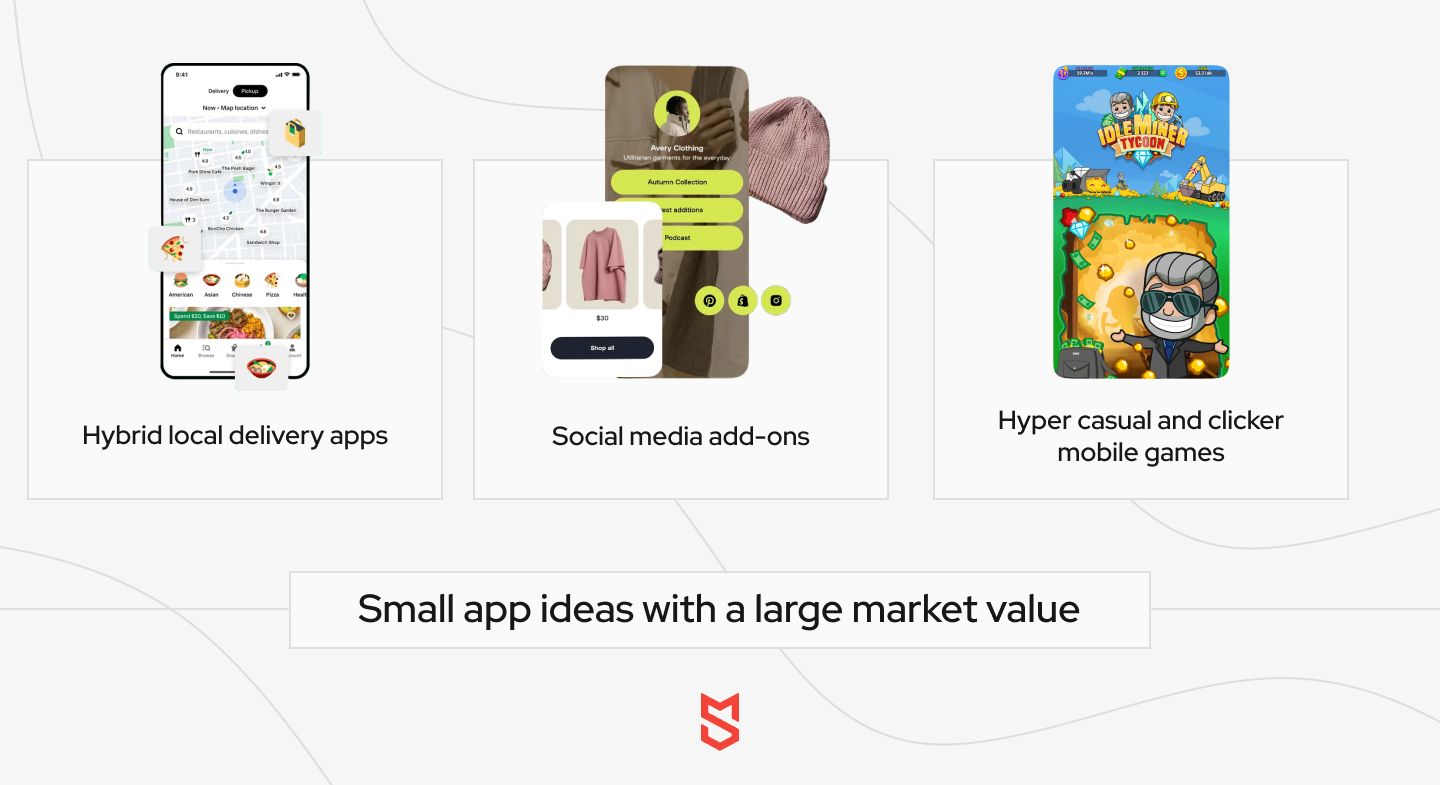 There is little doubt that augmented reality, IoT technology, and generative AI are the future of mobile apps. But if those seem overly complicated to develop to you — there are easier and quicker ways to build a profitable mobile application. Here are 3 useful app ideas that can make you money in 2023.
Hybrid local delivery app
Food delivery industry has been on the rise for quite some time now. Uber Eats alone has over 80 million users. But food isn't the only popular product users have delivered. So, why not create an app where customers can order not just food, but other things they need simultaneously?
For instance, they can order pizza from a local restaurant, cat food from the pet store, and some personal hygiene products from the pharmacy. Or get a cake and flowers delivered to someone they want to congratulate.
Building such an on-demand delivery app will take only around 5–6 months, and if localized and marketed properly, it can be a really profitable business.
Social media add-ons
Social networking is definitely a profitable industry, but what if you're not ready to risk investing hundreds of thousands of dollars into a brand-new platform? Think about how you can improve the experience of users on social networks that already exist.
This can be a posts and stories scheduler, a photo or video editor, a social media marketing and analytics tool for businesses, and other ideas. If convenient enough, users, especially ones conducting business through social media, will be ready to pay for these solutions.
One of the vivid examples of how it can work is Linktree, a reference landing page used across most social media platforms.
Hyper casual and clicker mobile games
We know that mobile game development sounds quite complicated and expensive, but bear with us.
If there is a type of games that are relatively simple in terms of mechanics and interface and yet profitable, it's hyper casual games, like clicker games, arcade idles, and tycoon games. The cost to build such a game with a company like Mind Studios will be around $20,000.
So, how can it be profitable? The secret is, such games help users relieve stress, offer a sense of constant progression, and thus provide an easy-to-obtain a dose of dopamine. All of this makes such mobile games quite addictive — and, as a result, profitable.
Bonus: Less common app ideas worth considering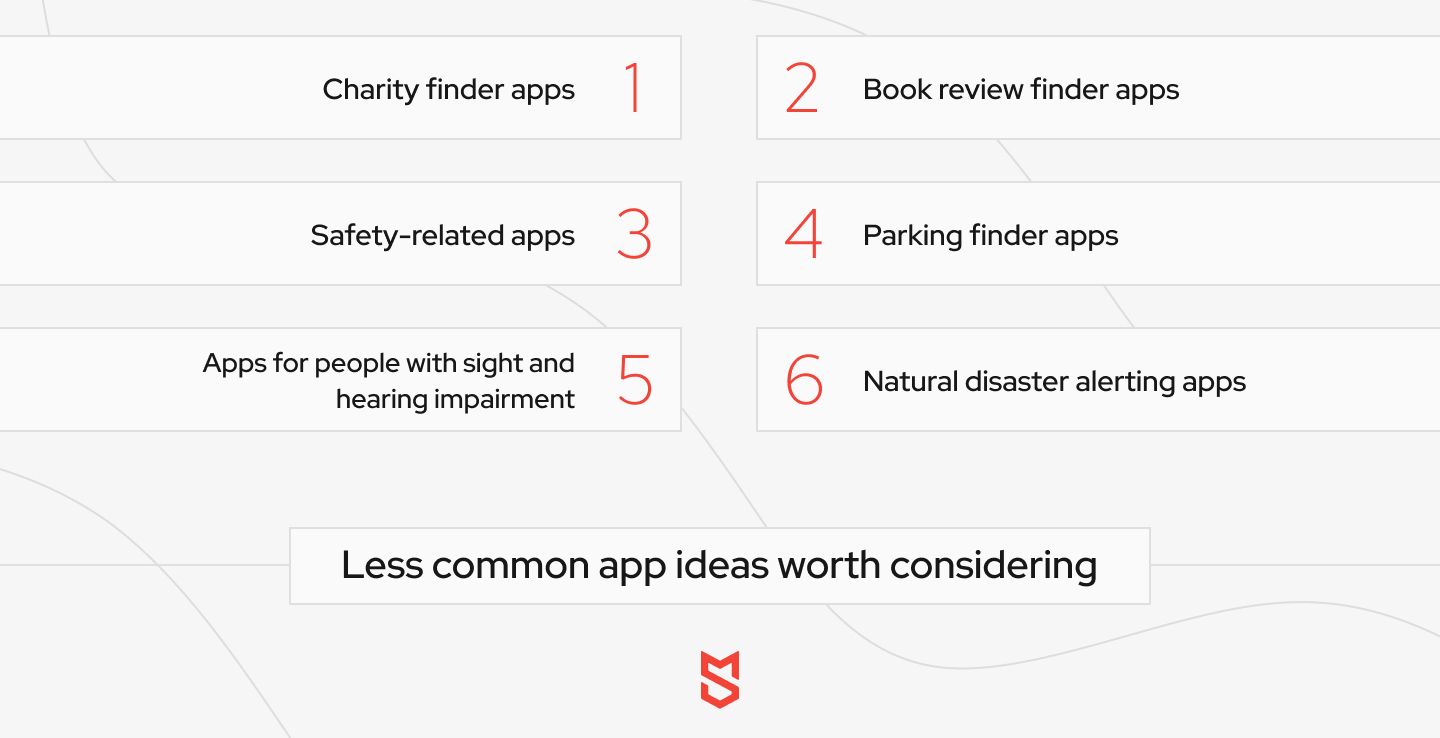 1. Charity finder apps with a database of charitable organizations or initiatives, their locations, policies, and current needs. These can include charities that collect and give away clothes, supermarkets and restaurants that donate food, local shelters, etc.
2. Safety-related apps. A simple app that sends a notification about the phone's location to a trusted person can save a life in a dire situation. This can be an especially useful solution for parents and people with relatives who are elderly and/or have disabilities.
3. Apps for people with sight and hearing impairment. For instance, the app can use a smartphone camera to record the surroundings and relate it to the user in audio form. Or it can use the phone's microphone to record the conversation nearby and transform it into written text displayed on the phone screen.
4. Book review finder apps that make it easier to find just the right book. With social networks, young adults use reviews more than anything to find their next read. Goodreads, Amazon reviews, and book vlogs are thriving. Book review apps for specific genres or in different languages will surely be successful.
5. Parking finder apps that can be especially useful to users from big cities overcrowded with cars. And with people starting to think about the environment more, an alternative idea for a mobile app here is to go for an app to find bike parking spaces.
6. Natural disaster alerting apps to make sure people living in potentially endangered areas are aware of the possible hurricanes, storms, tsunamis, and other threats. This idea is especially important in times of climate change and the unpredictable weather conditions it brings.
Before choosing your mobile app idea
High profitability is attractive for businesses, making the app market highly competitive. To thrive in it, it's crucial to know your way around trends and innovations and to catch a wave in time. How do you go about that? Here are a few options:
Research app stores for what's trending and analyze the most influential cases
Research and analysis are the cornerstones of any innovation, software included. By analyzing popular apps, you can see what they lack and how you can fill the gap with a better alternative.
Keep track of app trends on social media
Social media is where people live today. We suggest following people who can be your future product's target audience. This might help you identify their pains and thus find inspiration for the solutions your app will offer.
Think about adapting apps (or just specific features) from other niches for your business
This is how innovation often happens: you see a feature (or several) that you believe will be useful for your niche but that no one seems to have implemented yet. Be the first to try and adapt ideas from similar or even completely different apps to your niche.
Brainstorm with your team
If you're not a developer yourself, some help from a professional will come in handy. You can brainstorm with your colleagues and consult a professional team with a project manager who's thoroughly equipped with the knowledge necessary for making a successful mobile app.
Conclusion
This is the end of our overview of cool and popular mobile app ideas trending in 2023 and likely to continue gaining more and more attention in the following years. This list isn't exhaustive, of course; it's more like a rough prediction.
To know if each idea — present or absent here — will work, you'll need to perform market research and analysis. But this article can be your starting point if you want to develop an app and aren't sure what kind it should be. Whether you get funding for a mobile app or invest by yourself, you'll need to perform market research and analysis.
If you already have an idea for a mobile app, even if you're not sure whether it's viable or not — book a free consultation with Mind Studios. Our business development team will help you evaluate the idea from the IT professionals' point of view, and explore the ways to implement it.
2