Love for reading is a virtue, and to promote it, let's talk about how to make an ebook reader app.
"Books are a uniquely portable magic," Stephen King writes in his book On Writing. This statement is made even truer with today's technology, which has made it possible to carry a whole library in your pocket, i.e. in a smartphone, tablet, or eReader. The emergence of ebooks is said to be one of the reasons today's young people — Millenials and younger generations — read more than their parents and grandparents used to.
And the universal truth is that where there's demand, there will be supply. People crave more reading on the go; therefore, the market for reading apps is flourishing. Let's talk about what this market has to offer and how to build an ebook app of your own. In the end, we'll calculate a rough estimate of the cost to make an eReader app like Kindle.
What kind of ebook reading app do you need?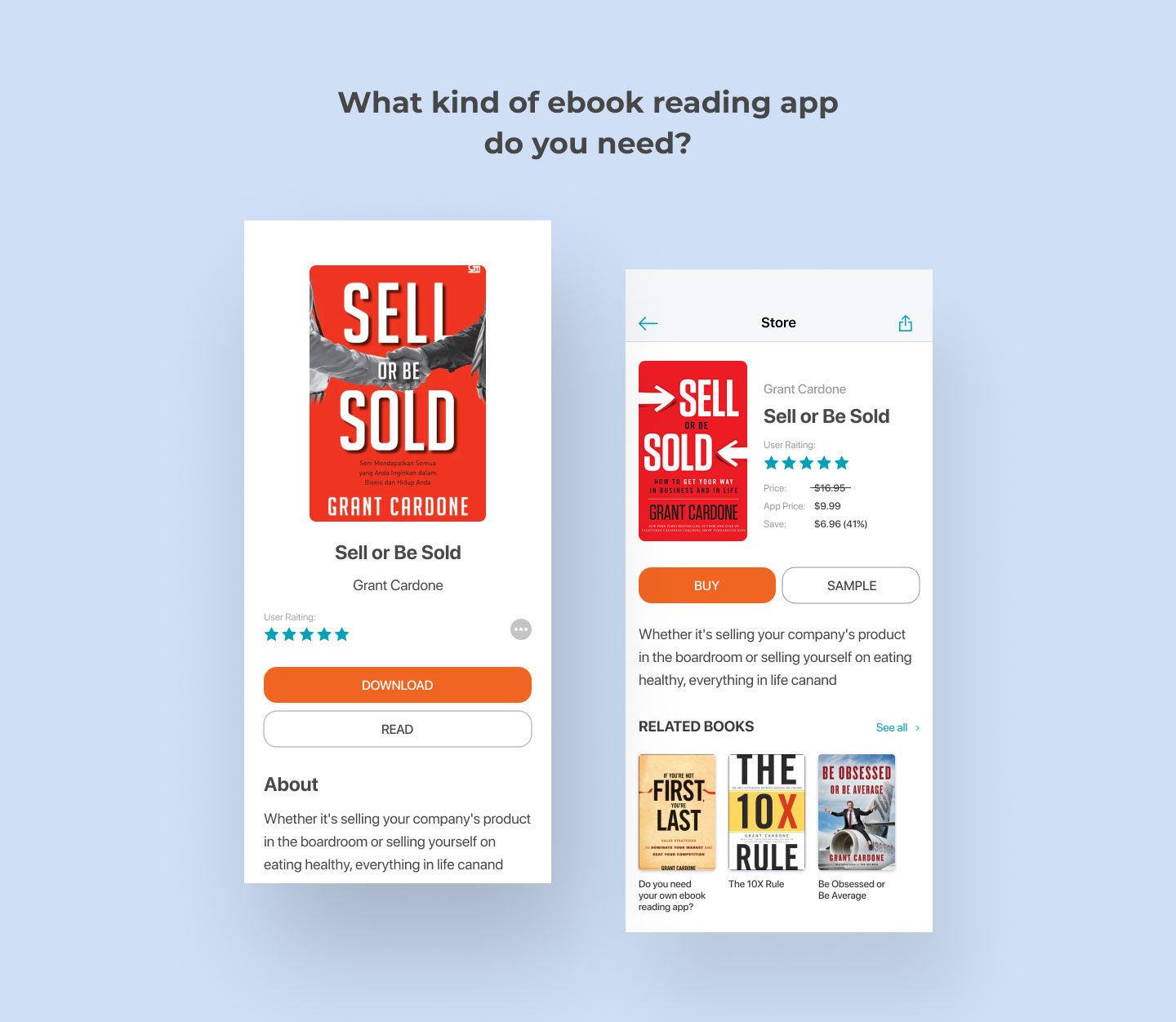 The answer to this question is a bit trickier than it might seem. There are two types of ebook reading apps, and although they're bundled together in all the "best eReader apps" articles and reviews targeted at users, from the perspective of developers and app owners they focus on completely different things. Here they are:
Actual ebook reading apps
Apps for online ebook stores
The first type is a true e-reader app — in a nutshell, a simple app that allows you to read documents in digital formats like PDF, EPUB, and FB2. The most popular eReader apps are Moon+ and Cool Reader. Creating an ebook app like these will be miles different from building the second type of reading app, despite their having several similar features.
The second type of reading app is an app for an ebook store. Everyone knows these apps even better than the first type: Amazon has its own Kindle reading app for iOS and Android, as does Barnes & Noble (the B&N Nook app) and basically every major bookseller whose products include digital copies of books. Apple and Google have their own ebook stores as well.
Each of these types of apps requires a separate approach.
Business analysis: The difference in development between the two types of reading apps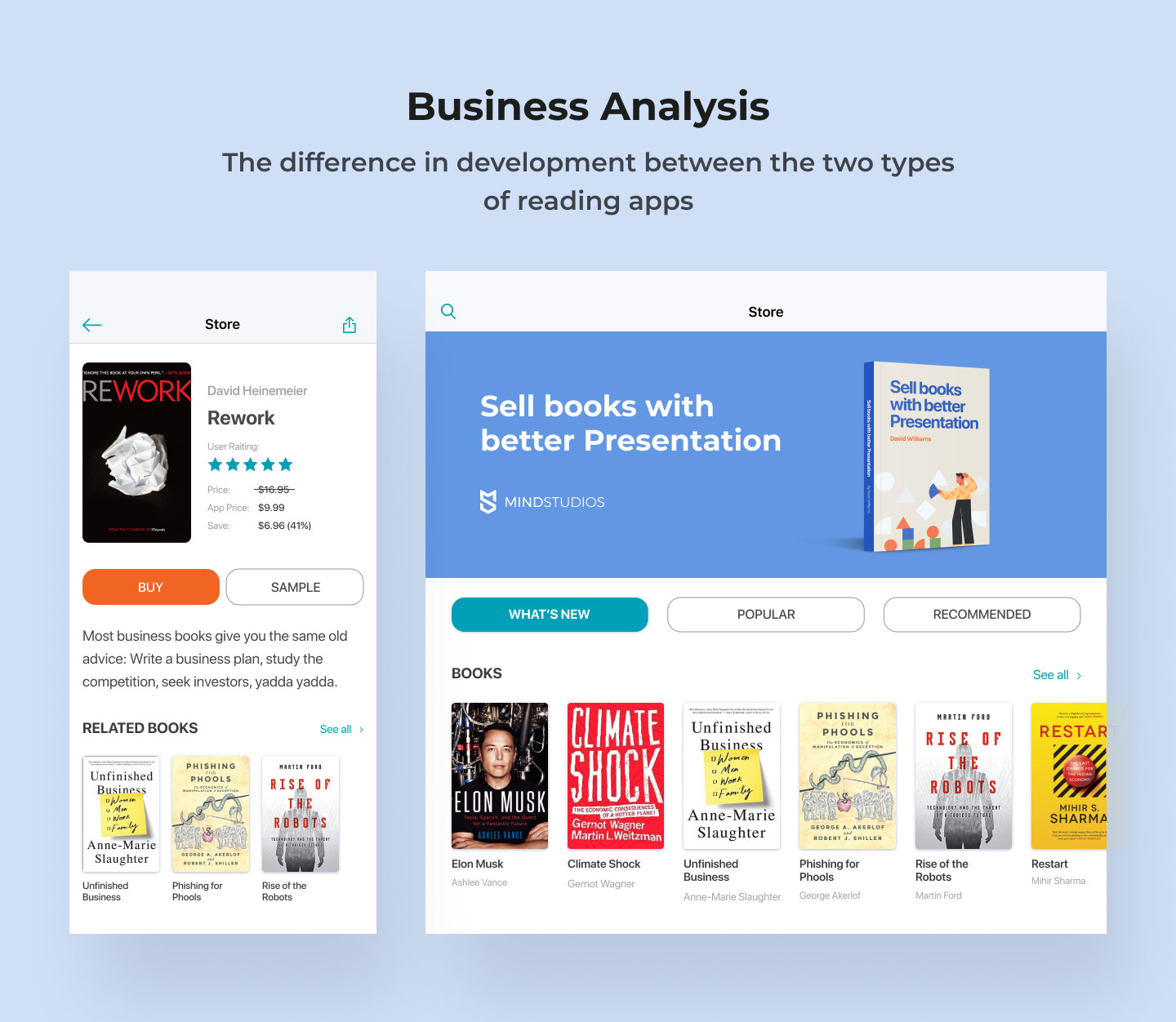 When you contact a mobile app development company or research how to make an ebook reader app, you'll find that the first stage is always business analysis. Before you decide on the features to include in your app, you first need to determine your app's focus.
Development-wise, the focus is where the biggest difference between the two types of reading apps lies.
If you wish to create your own ebook app that's just that — a reader app, with no ebook store attached — your focus will need to be on the functionality. Is there a feature or a set of features users would like to have in a reading app that no one has implemented yet? Or maybe there's an issue with the user experience that all major eReaders have that you can offer a solution to?
If you decide to outsource your app development, a professional project manager can help you conduct a thorough business analysis and discover the answers to the most important questions:
What is lacking in most existing ebook reading apps?
Can you offer these things?
Who are your biggest competitors on the market?
What should your unique value proposition be?
Should you start by creating an ebook app for iPhone or Android?
You can put all the most vital information in a Lean Canvas, a tool for entrepreneurs to organize information and build a workable business plan for your mobile app.
When deciding how to make a mobile app like Kindle, the issue of features will arise. If you're an author or a publisher who wants to sell their books in a digital format via their own app with in-app reading functionality, your Lean Canvas will look different than the Lean Canvas for an online bookstore, since you'll have a different focus. Products like Amazon Kindle are first and foremost bookstores, and the reading functionality in their apps is secondary to the store content.
The focus of developing a Kindle-like app is less on the reading features and more on the store content.
At Mind Studios, we have experience developing and supporting the LiT Reading App for a publisher. This app is solely focused on books written by Black authors and featuring Black protagonists. Based on our experience developing this app, let's dive into the pros and cons of having your own reading app as an author/publisher/bookseller.
Do you need your own ebook reading app?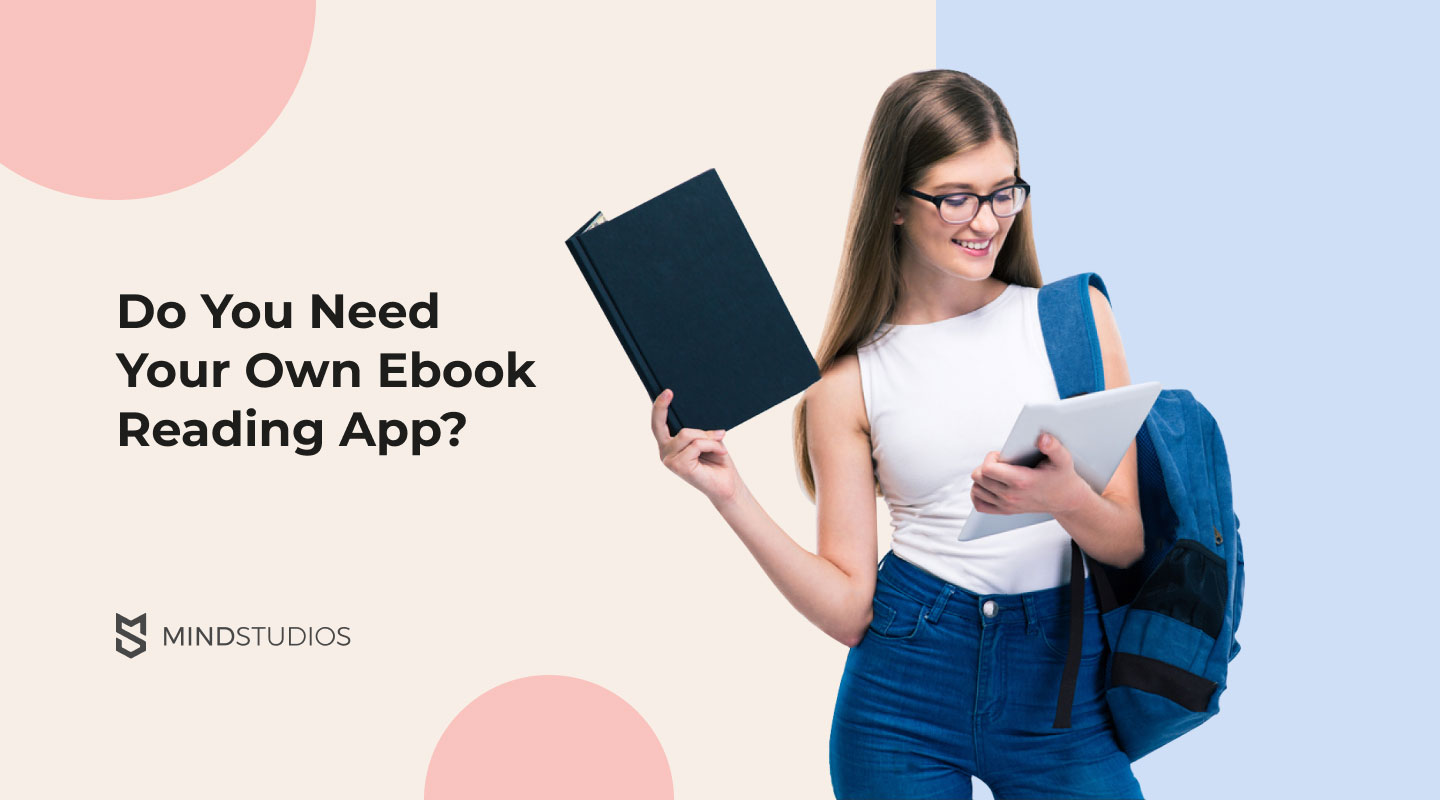 There are both benefits and drawbacks to selling your books via your own app instead of using third-party services. For starters, third-party services take fees for publishing books and selling them in their online or brick-and-mortar stores. Some of these fees are really high, especially if you consider them in the long run. At the same time, with mammoths like Amazon Kindle, it's hard to get properly noticed without a considerable budget for professional marketing. Hence, you might spend a fortune and get very few returns financially and fame-wise.
However, developing a separate ebook app is neither cheap nor very fast. And you still have fees to pay — both the Apple App Store and Google Play Store take a 30% fee from any in-app purchases or paid downloads. Granted, this might be less than the fee paid to an online retailer or aggregator, some of which take up to 60% from the book price (and you might need to use more than one service). But you still need to take this into account before diving into developing your own app. Additionally, an app will need marketing and promotion — at a different scale, to boot — and the budget for this should be considered beforehand as well.
Strictly speaking, if you're an independent author of one or several books who isn't J. K. Rowling (i.e. if you aren't a world-famous bestselling author of a generation-shaping classic), building an app of your own will probably be a waste of your money and efforts.
On the other hand, if you represent a niche group of authors or are a niche publisher/bookseller, like our LiT clients, then there are distinct benefits to having your own app — besides not having to pay sometimes unreasonable fees to third-party ebook retailers.
Marketing within a niche is easier than within the entire global reading community.

You can interact with your audience directly and make changes to your app to enhance the user experience, making users come back to you.

Your audience will form a community, which will add to your marketing options and help you increase engagement (i.e. by holding occasional events).

You can choose the monetization model most beneficial both to you and the authors you publish.

You can set up and customize unique mechanics within your own app that are suitable for your content, monetization model, and way of connecting with your audience.
Your app is an ecosystem. It takes work and investment, but if you're able and willing to put in the effort, it can be a highly rewarding endeavor not only financially but in terms of your popularity.
How to make a reading app for a book publisher/seller
1. Choose your niche
Unless yours is an established publishing house with an existing audience, it's sensible to begin within a single niche when you decide to make an ebook app.
With LiT, the niche was books by Black authors with Black protagonists. It's a fairly wide niche, as it includes a multitude of genres, from romance to mystery, action and adventure, detectives, etc. But at the same time, it's limited and focused.
Your niche can be whatever you want it to be. It can be defined by a genre, theme, or setting, the ethnicity of authors or characters, age, gender, or anything else you come up with. The key is to find a niche with the potential for a community of readers.
2. Find out who your readers are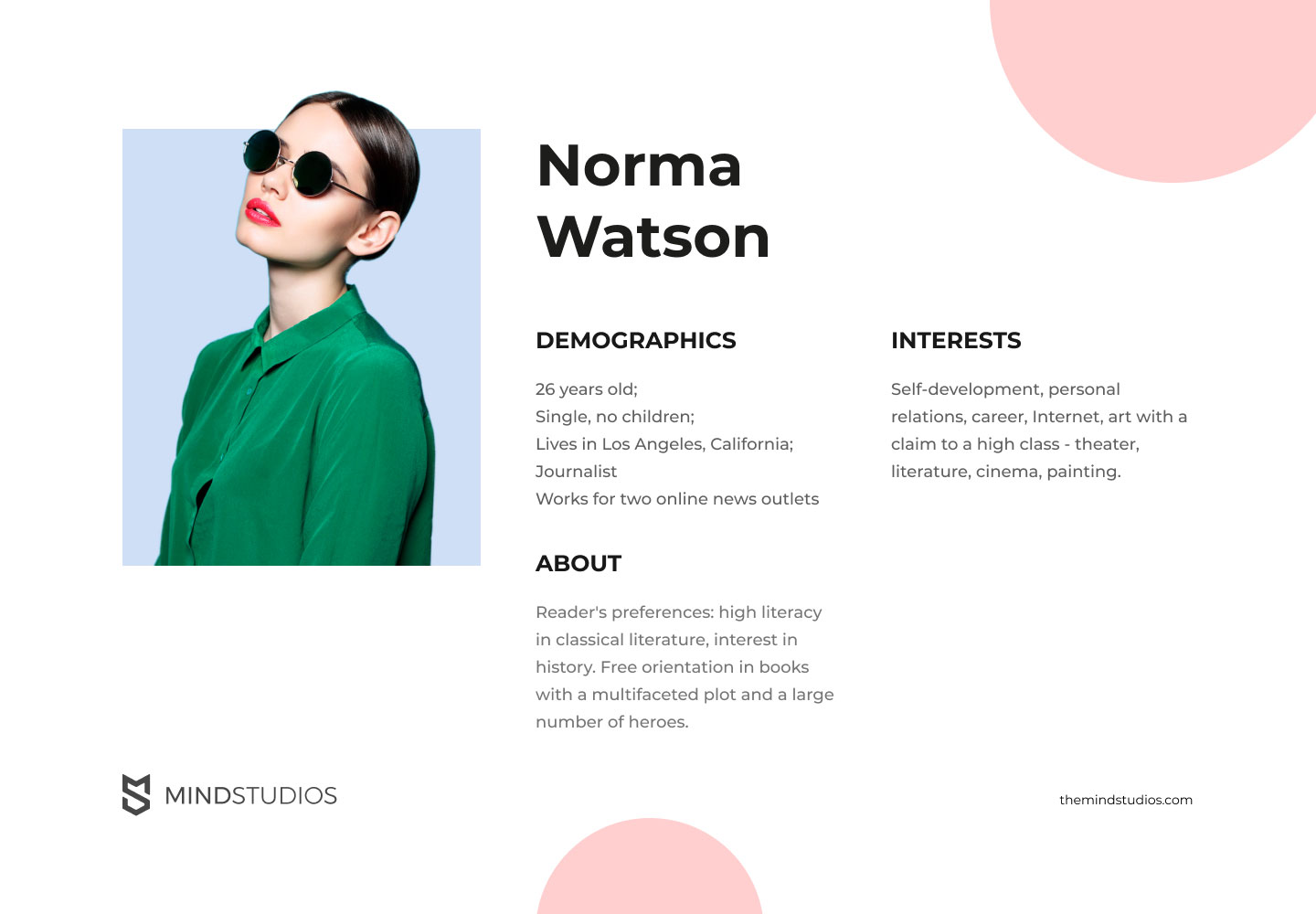 To run a successful marketing campaign, you need to know your target audience. It's not as straightforward as it may seem! For example, not only teens read teen literature; not only Black people love to read stories with Black protagonists. One doesn't need to be part of a certain culture to be interested in it. You'll need to conduct thorough research to find the target audience for your mobile app.
However, your users will likely have common traits besides the books they read:
How much do they read, say, monthly?
How often do they read from an app?
Are digital books their preferred reading format?
How much money are they willing to spend on reading the books you sell?
What other apps, especially reading apps, do they use?
These are just a few questions from the top of my mind; a thorough analysis with a professional project manager will reveal more. By answering them, you'll be able to create a user persona — a generalized user to whom you will offer your app. Without a proper user persona, your app development and marketing efforts will be spread too thin in order to cover too wide an audience, decreasing your chances to reach a solid chunk of users who will convert from prospects to loyal customers.
3. Select a monetization model
There are two traditional ways to monetize an app for an online bookstore:
take a percentage from the books you sell,
offer a subscription.
Most current apps, including Kindle, use a combination of these systems. Kindle has traditional book sales alongside Kindle Unlimited, a monthly subscription that allows unlimited reading (hence the name) albeit from a specific list of books and magazines. Granted, the list is quite impressive and covers all genres.
The tricky issue with subscriptions in bookselling apps, though, is to properly distribute the earnings. If you're not selling your own books (or at least not only your own books), you'll need to pay a royalty to the authors, which can be set based on a variety of factors in the case of a subscription: number of book downloads, number of pages read, etc. Consider this when you decide on the monetization model.
Online bookstore apps can also make use of ads, although this business model is more popular in regular non-store reading apps.
Features to have in a bookstore's eReader app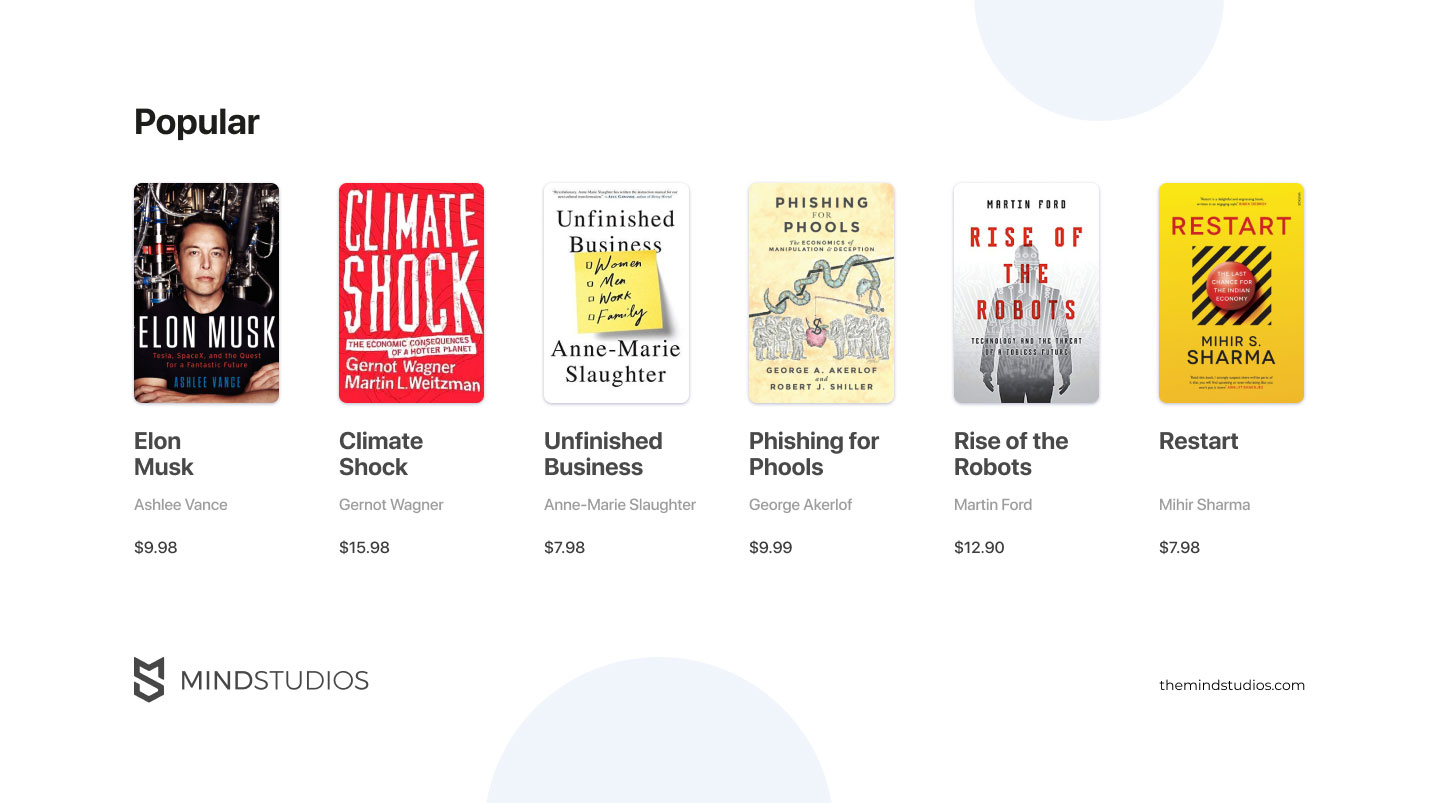 The list of features required in an ebook app for iPhone or Android so it stands a fighting chance in today's market looks something like this:
Store listings
This one's a given if we're talking about a Kindle-like reading app. If you've got an online store of any kind, it needs product listings. The important thing with listings is to make their design as user-friendly as possible, with engaging descriptions and easy-to-find purchase buttons.
Search, categories, and filters
It's essential to allow users to effortlessly navigate the store to find what they need, be it a specific book or author. But more than that, it's vital to create an organized system of tags by which your readers will be able to find new books to read within your niche. These tags will, of course, depend on the niche. They can be genres, sub-genres, book ratings, story settings, etc.
Audiobooks

Audiobooks have gained tremendous popularity, especially among working adults and students who want to "read" (i.e. listen to) books as they walk to the office/school, ride public transport, or drive. If you have the opportunity to order a professional narration of books in your store, this might be your winning feature since not all reading apps, especially niche ones, have audiobooks in their libraries.
However, if that's somewhat beyond your budget for the moment, a somewhat similar feature (that's sometimes even preferred by users) is text-to-speech conversion. Modern text-to-speech engines can provide a decent level of narration. Some users even choose text-to-speech over professional human narration since it avoids the subjective interpretation conferred by a reader's enunciation and tone. Besides, with text-to-speech, you can offer your readers a selection of voices.
User library
The user library is another feature to pay close attention to when developing your ebook reader app. As with a store, your app needs some kind of organization system for books a user has bought, downloaded, and read. For example, Amazon's Kindle allows users to sort content into the following categories:
Books, book samples, and magazines
Downloaded to the device vs bought but stored on the server
Read vs unread
In my opinion, it would be nice if Kindle had an option to navigate a library by genre, the same as in the store. As an avid but mood-dependant reader, I'd appreciate that, and I'm sure I'm not alone. So you might consider this feature for your ebook reader app.
Downloading books
To save on internet traffic and make reading possible even when there's no connection, allow users to download books to their devices.
Ebook reader functionality

An ebook reader will also need a set of features for actually reading books. These features are shared with the first type of ebook reading apps we mentioned at the beginning:
Book navigation via table of contents, search by word, progress bar
Bookmarks
Highlights and notes
Dictionary
Font adjustment: size, color, typeface
Page adjustments: color, brightness, texture (Some apps offer collections of textures for the background, like old paper or stained pages, which can be nice for setting the mood.)
Low blue light settings and a night theme for eyesight protection
Sync progress between devices (in case users read from multiple devices, like a smartphone when commuting and a tablet or eReader when at home)
Adding a unique feature to the reading functionality isn't a bad idea in general, but with a store app, the focus usually lies on the store functionality.
Uploading content
A number of ebook store apps with reading functionality also allow users to upload their own files to read. This is a very beneficial feature, as it eliminates the need for non-store reading apps, freeing device storage space and making users interact more with your app. Google Play Books, for example, allows users to upload PDF files, though nowadays, the variety of formats available is much wider, so the more of them your app supports, the better.
If you're a publisher or a retailer for third-party indie authors, an option to let authors upload files can shorten the submission process for books you sell. You can allow authors to submit books for review by simply uploading them. However, you'll need to be careful with the legal side of such activity.
Social sharing and in-app community features
After reading a book, most readers would like to share their thoughts with friends or like-minded individuals, and you can make this easier for them by integrating a connection with popular social networks like Facebook and Twitter as well as with social networks focused on the reading community, like Goodreads. Kindle integrates with Goodreads, and users' reviews, book ratings, notes, and highlights are automatically copied to their Goodreads accounts.
Goodreads is your best choice when it comes to global reading-focused social networks, but there are local alternatives in various countries.
Gamification

While reading is entertainment enough for avid readers, adding gamified elements to your app will increase engagement and make users come back. One of the popular ways to make an interactive ebook app is by offering rewards for reading more. Rewards can be badges that users can share on social media, weekly/monthly/yearly statistics, or a leaderboard and discounts for a certain number of top users.

Payment functionality
Finally, as we're talking about how to create an ebook app like Kindle, i.e. an online bookstore, the obvious feature you'll need is the possibility for users to pay for books and/or subscriptions. You'll need to integrate a payment gateway to provide a secure method of online payment and a high level of protection for customers' financial data, which will likely be stored in customer profiles.
There's also an option to not store data and ask users to provide their data each time — Book Depository, an online retailer of physical books, does this — but it will most certainly turn off a number of users or at least lower their purchase rate since it's a hassle.
Fight piracy

You don't want the books in your app to be downloaded as unprotected files and distributed outside your app. Fortunately, today's technology offers developers tools to make pirating books a challenge that not everyone will tackle!
Besides legal protection, which isn't your app developers' field of expertise, the best way to protect the books in your app is to encrypt them. That's what Amazon and other publishers of digital content do. Using the latest algorithms like AES encryption, you can make it so that downloaded books can only be read with a decryption key contained in your app. Hence, these books will be useless for reselling in other places and can't be read in apps other than yours.
How much does it cost to make an ebook app?
To estimate the cost to make an ebook reader mobile app, let's first pull together a virtual team of developers. You'll need:
1 project manager
1 UI/UX designer
1–2 developers for each platform (iOS, Android)
1 backend developer
1–2 QA specialists
Based on this list of specialists, the list of features above, and our experience with the LiT Ebook Reader App, an app development company will need a minimum of 5 months to release an MVP (minimum viable product) for an online ebook store app. The cost of such an MVP will start at about $52,000 and will increase with the difficulty and number of features. The cost will also depend on the location of the company you decide to outsource to. Mobile developers in the US, for example, are the most expensive to hire.
Ebook app development: conclusion
Reading apps attached to online ebook stores will continue to grow in market niches, being a convenient way for readers to find new reads in a particular niche and for indie authors and small publishing houses to earn revenue. While it's challenging and requires a considerable investment of both time and money to launch an eReader startup, the possibility for profits is also not small.
At Mind Studios, we offer not only development but also consulting services. If you have any questions about how to make an ebook app for Android or iOS, we'll gladly offer our experience. Hit us up via our contact form for a consultation and a quote.