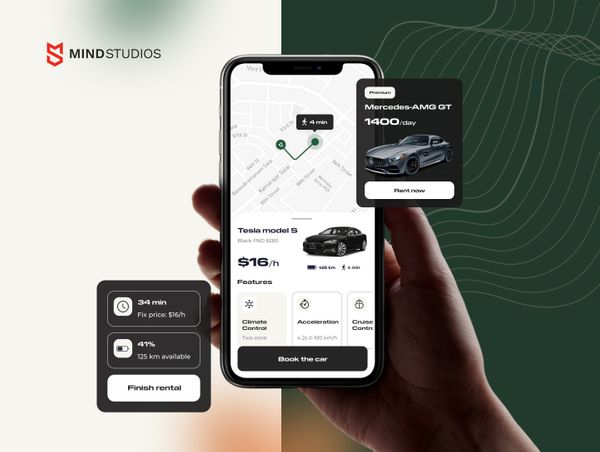 As the owner of a car rental business, you know that this more than one-hundred-year-old industry is teeming with ferocious competitors. There's no chance to turn all drivers in the world into your customers. But there's a chance to stand out from the crowd by creating a cutting-edge car rental mobile app that will entice new customers like a hot red Ferrari entices onlookers.
In this article, we'll share the eight most forceful hacks that have proven successful on all of our car rental app development projects. By following them, you'll be able to leave behind your competitors, even when their marketing is brilliant and their budget is huge.
Hack #1. Track what trends are helping car rental startups raise funds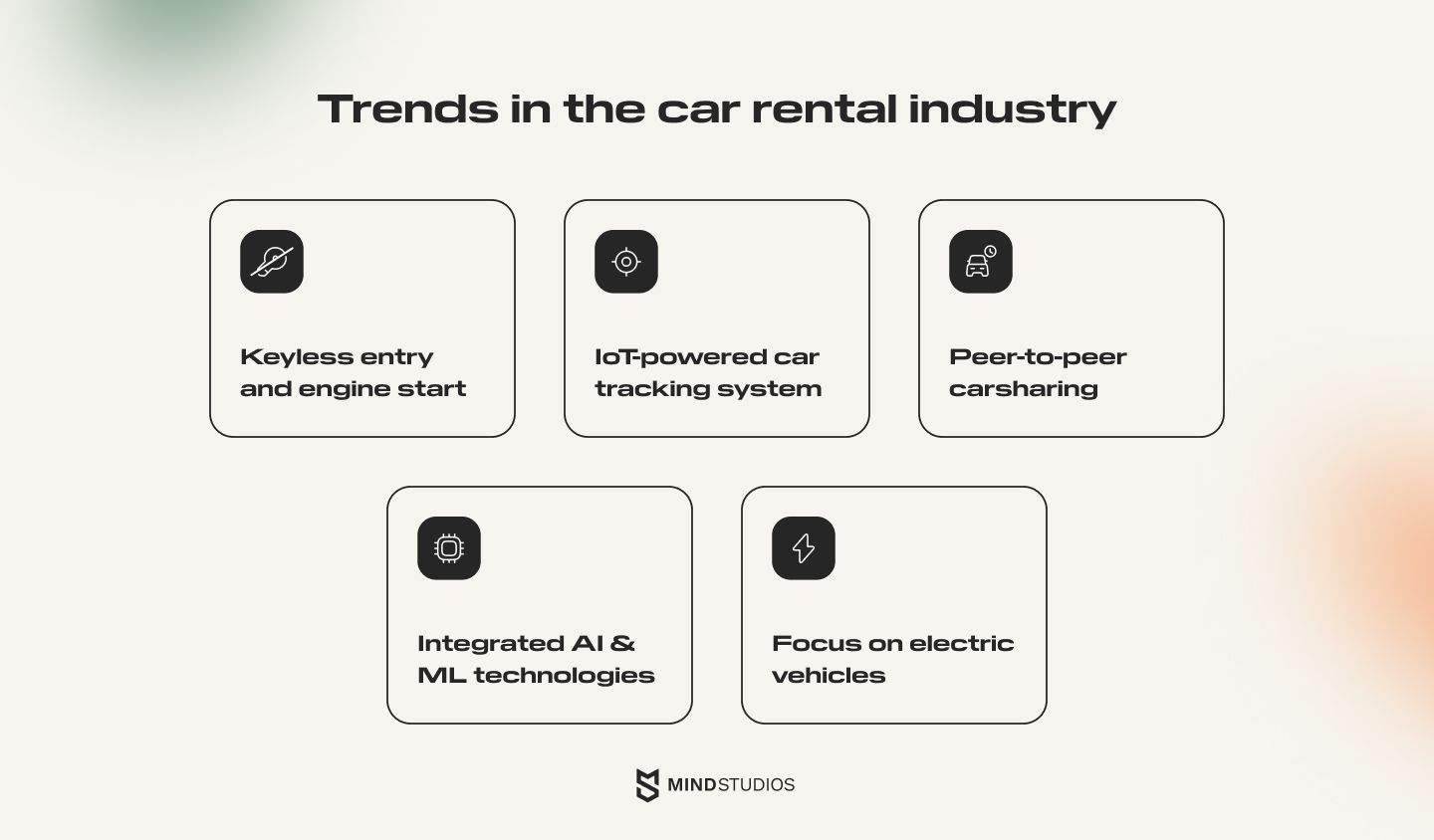 When you strive to fight for leadership in the car rental industry, you need to be up to date with market trends. A good indicator that you're choosing the right trend is if your startup raises solid funds.
Our #1 hack is as follows: Before writing any code and drawing any pixels, explore scale-ups — startups that have recently attracted funds in your niche — and determine their intrinsic innovations, technologies, and functionalities.
For example, let's find out what made India's Zoomcar raise $92 million on November 9, 2021, from a Series E round driven by American corporate venture capital:
Large fleet of over 10,000 cars
Keyless entry (KLE) system that enables users to unlock cars via smartphones
Passive entry passive start (PEPS) that allows users to enter cars and start engines without physically using keys
Cadabra, an IoT-powered full-stack system that tracks real-time in-car data, driving behavior, fuel levels, clutch position, harsh braking, inconsistent acceleration, seat belt use, and engine health
Peer-to-peer car sharing with a subscription model and a referral program that makes the car rental service affordable and accessible for customers
Zoomcar mobility services (ZMS) that uses AI & ML technologies to analyze millions of data points gathered over 1 billion+ kilometers of driving experience to reduce operating costs, prevent serious accidents, increase vehicle profitability, and improve the customer experience
Zoomcar's intention to heavily focus on electric vehicles (EVs)
The last reason is a trend among all strong car rental brands. For example, at the Vision 2045 Summit held in Glasgow, Scotland, from October 31 through November 13, 2021, the American carsharing company Getaround announced a pledge to have only electric and low-emission vehicles in its fleet by 2040.
It's worth noting that Getaround has approximately 20,000 connected vehicles worldwide, of which only 2,000 (11%) are currently electric and low-emission cars. Add here the recent deal between Hertz and Tesla for 100,000 EVs to build out Hertz's rental vehicle fleet by 2022 and you'll get a full-scale pursuit of EVs! The truth is that it will work in Elon Musk's favor but not in yours. The number of electric cars produced has limits, so if you plan to sidestep rivals and increase customer satisfaction by offering an EV fleet of all kinds, you need to hurry.
According to Crunchbase, recent funding rounds also signal that investing in the fastest-growing emerging markets with their high-risk/high-return opportunities remains realistic for investors:
Telgani, a car rental platform founded in 2018 and based in Riyadh, Saudi Arabia, raised $2.5M in November 2021 from a Seed round.
Zuru, a car rental company from Nairobi, Kenya, founded in 2018, raised an undisclosed amount in October 2021 from a Pre-Seed round.
Kovi, a car rental startup founded in 2018 with headquarters in San Paulo, Brazil, raised $104M in August 2021 from a Series B round.
What helped these startups raise funds? What do you need to do to make your car rental app startup attract investments? Find answers in our post about ways to get funding for an app idea — or simply contact us. We know how to build a potent pitch deck to get your car rental business noticed by potential investors.
Hack #2. Research the car rental market you plan to enter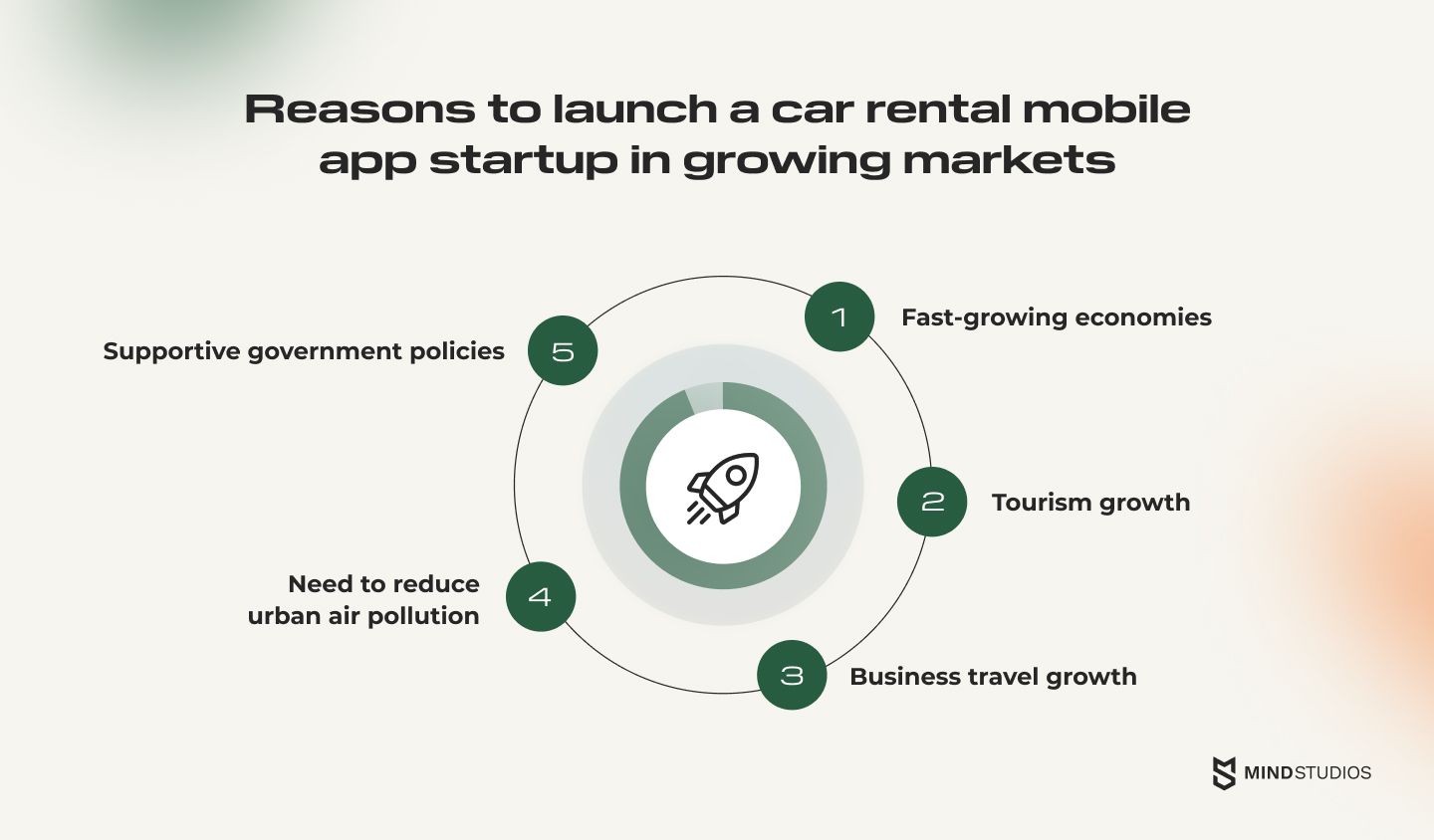 In most cases, deciding whether to enter a market is based on evaluating whether the opportunities outweigh the risks.
When we talk about opportunities, we should consider that the global car rental market was worth $98.14B in 2020 and is expected to grow at a compound annual growth rate (CAGR) of 4.6% from 2021 to 2028.
North America holds the biggest market share (52%), with the United States being the largest market. The United States provides car rental companies with an endless stream of customers, since it's the biggest business hub in the world and holds the most popular tourist destinations.
At first sight, it seems worthwhile to launch your car rental mobile app startup in the US, right? Think again. Hertz has 424,000 cars in service, Enterprise has about 630,000 cars, while Avis/Budget clocks in at about 440,000 cars — and they all have headquarters in the US.
"There's really no way to compete with the large rental agencies [Hertz, Enterprise, Avis, and Dollar]. You aren't getting into this market without billions of dollars, because your prices will be higher than those of the big four competitors, and they will undercut you and drive you out of business."— Terry Lambert, angel investor and founder of 20+ startups
It's hard not to agree with Terry, but there's still an opportunity to launch a profitable car rental mobile app in the fastest-growing emerging markets.
Let's see why India, China, South Africa, and the Middle East can be ideal markets for launching your car rental mobile app startup:
The fastest-growing economies. The Asia-Pacific region is expected to reach a CAGR of 8% (almost two times more than the US) in the car rental industry between 2021 and 2028.
Tourism growth. The highest rate of tourism growth between 1995 and 2019 was in West Asia and South-West Asia (Armenia, Georgia, Albania, Iraq, the United Arab Emirates), Africa (Cambodia, Angola, Uganda, Guinea, Ethiopia), and the Asia-Pacific region (China, India, Vietnam, Thailand, Macao).
Business travel growth. According to the Global Business Travel Association Annual Global Report & Forecast 2021,, China, India, Turkey, and Indonesia have taken top spots as business travel markets by taking enormous strides in developing their infrastructure over the last ten years.
Need to reduce urban air pollution. According to the State of Global Air Report 2020, India, Nepal, Niger, Qatar, and Nigeria experience the highest levels of ambient PM2.5 particles emitted from power plants, industries, and fossil fuel-powered vehicles. Your electric car rental service can become a silver bullet for the governments of these countries.
Supportive government policies. China's government bans gasoline-powered vehicles in some parts of the country to manage urban pollution and traffic. The government also encourages the local population to opt for car rental services in order to reduce the number of cars on the streets.
The opportunities of the fastest-growing emerging markets are great, but what about the risks? Rajiv Vij, chairman and managing director at Carzonrent, the largest car rental and taxi company in India, shares his insights on current market challenges:
"The industry is highly fragmented. B2B customers face problems in terms of lack of consistent quality, transparency in billing, and statutory compliance from smaller players. The EVs fleet availability is just beginning to improve with a limited number of OEMs offering very few options at high prices because of import taxes on batteries/vehicles. Driver-owners and small fleets are unable to benefit from lower TCO offered by EVs due to lack of a comprehensive EV ecosystem and a platform to connect to B2B customers seamlessly."
Emmanuel Shumbambiri, the CEO of Shayne'n'Dad Car Rental, a fast-growing car rental business in Zimbabwe and South Africa, faces another issue:
"Since Zimbabwe's government has cracked down on electronic transactions, it's made it almost impossible to provide customers with online payment options like PayPal. In South Africa, there's no problem with online payments. So now I strive to scale up Shayne'n'Dad Car Rental to new markets where all transactions through digital means are hassle-free."
Besides opportunities, the market you plan to expand to undoubtedly conceals threats.That why you need hack #2: To make your end product deliver on your hopes, you need to conduct deep market research before starting to develop any car rental mobile app.
Hack #3. Find out your rivals' strengths and weaknesses
Let's take a closer look at the world's two best car rental mobile apps: Turo and Hertz. We'll consider how they work, what makes them have millions of downloads, and why they still receive one-star reviews.
Turo — Airbnb for cars
As a peer-to-peer (P2P) carsharing marketplace, Turo allows users ("guests") to rent cars directly from owners ("hosts") across the US, Canada, and the UK. This gig economy approach allows Turo to keep car rental prices 25% below the market average.
| | | |
| --- | --- | --- |
| Apple App Store | Google Play Store | Trustpilot |
| 4.8 rating | 4.9 rating | 4.6 "Excellent" rating |
| 166.7K reviews | 99.3K reviews | 18.7K reviews |
Core features of the Turo app:
Unique list of over 600,000 rental vehicles worldwide
Directly book cars from trusted local hosts
Variety of pick-up/drop-off options including contactless check-ins and TuroGo keyless access via the app
Hassle-free communication between hosts and guests via integrated AI chatbot
Inclusive $750,000 coverage in liability insurance from Liberty Surplus - Insurance Corporation and an array of protection plans for physical damage reimbursement
Hosts can set their own rental prices or use Turo's cost calculator, manage their vehicles, monitor performance, and offer discounts
By exploring Turo user reviews on the Google Play Store, Apple App Store, Trustpilot, and Quora, let's outline Turo's main pros and cons: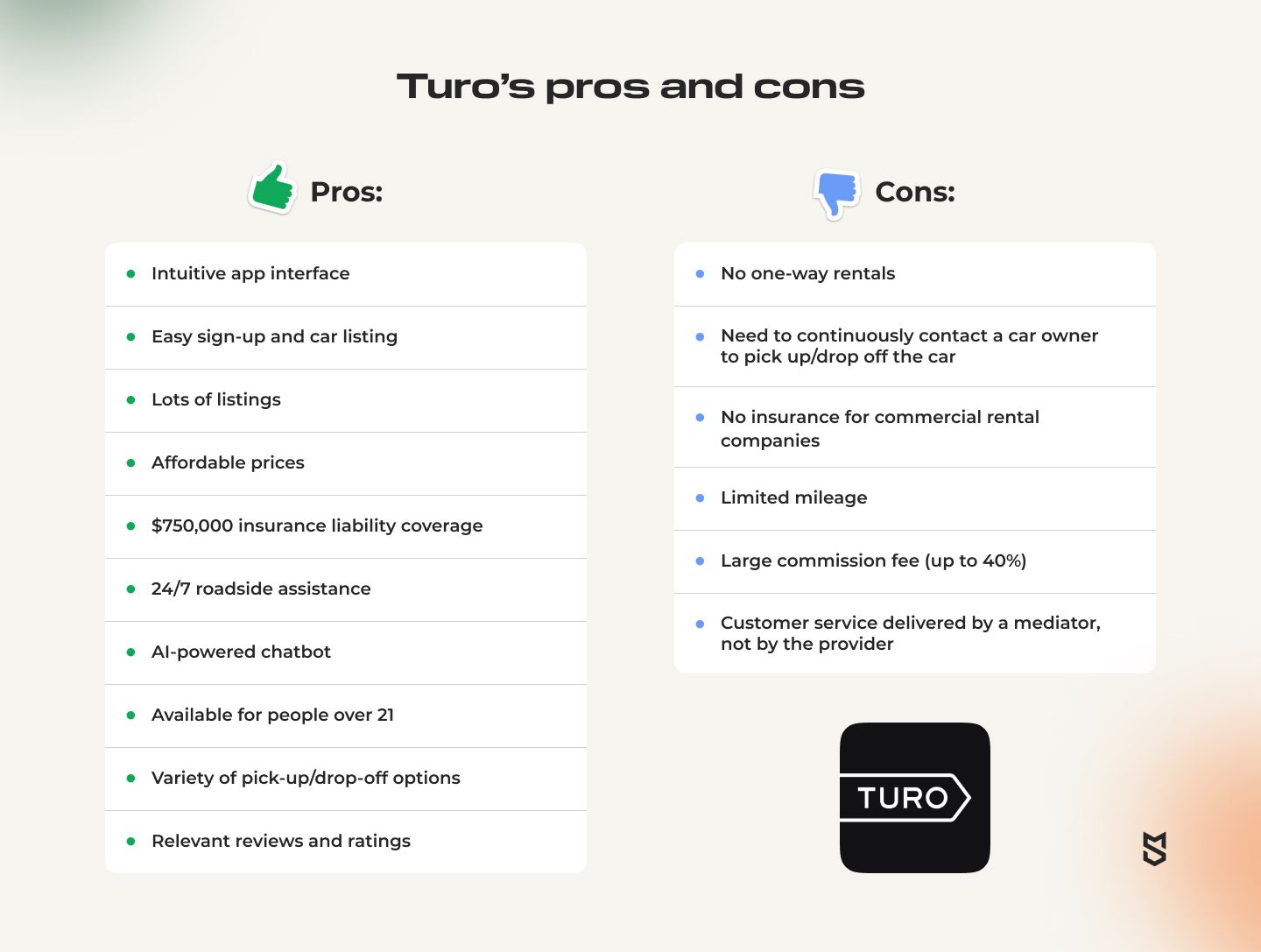 Hertz — the oldest yet still leading car rental agency
Started with a fleet of twelve Model T Fords a hundred years ago, Hertz now offers 424,000 cars for hire at over 12,000 corporate and franchise locations across 160 countries in North America, Latin America, the Caribbean, Europe, the Middle East, Africa, Asia, Australia, and New Zealand.
| | | |
| --- | --- | --- |
| Apple App Store | Google Play Store | Trustpilot |
| 4.8 rating | 4.0 rating | 2.8 "Average" rating |
| 176.6K reviews | 6.8K reviews | 2.1K reviews |
Core features of the Hertz app:
User-friendly in-app navigation
Records for previous searches that facilitate rental booking
Effortlessly find a Hertz location worldwide with hours of operation, phone number, and address
Find a parking spot nearby using SpotHero
Hertz Gold Plus Rewards membership includes quick login with facial recognition or Touch ID, easy access to upcoming reservations as well as full rental history, and the possibility to pay for rentals with points
While being a well-known and respectable car rental company, Hertz is not perfect. Let's highlight Hertz's pros and cons based on user reviews: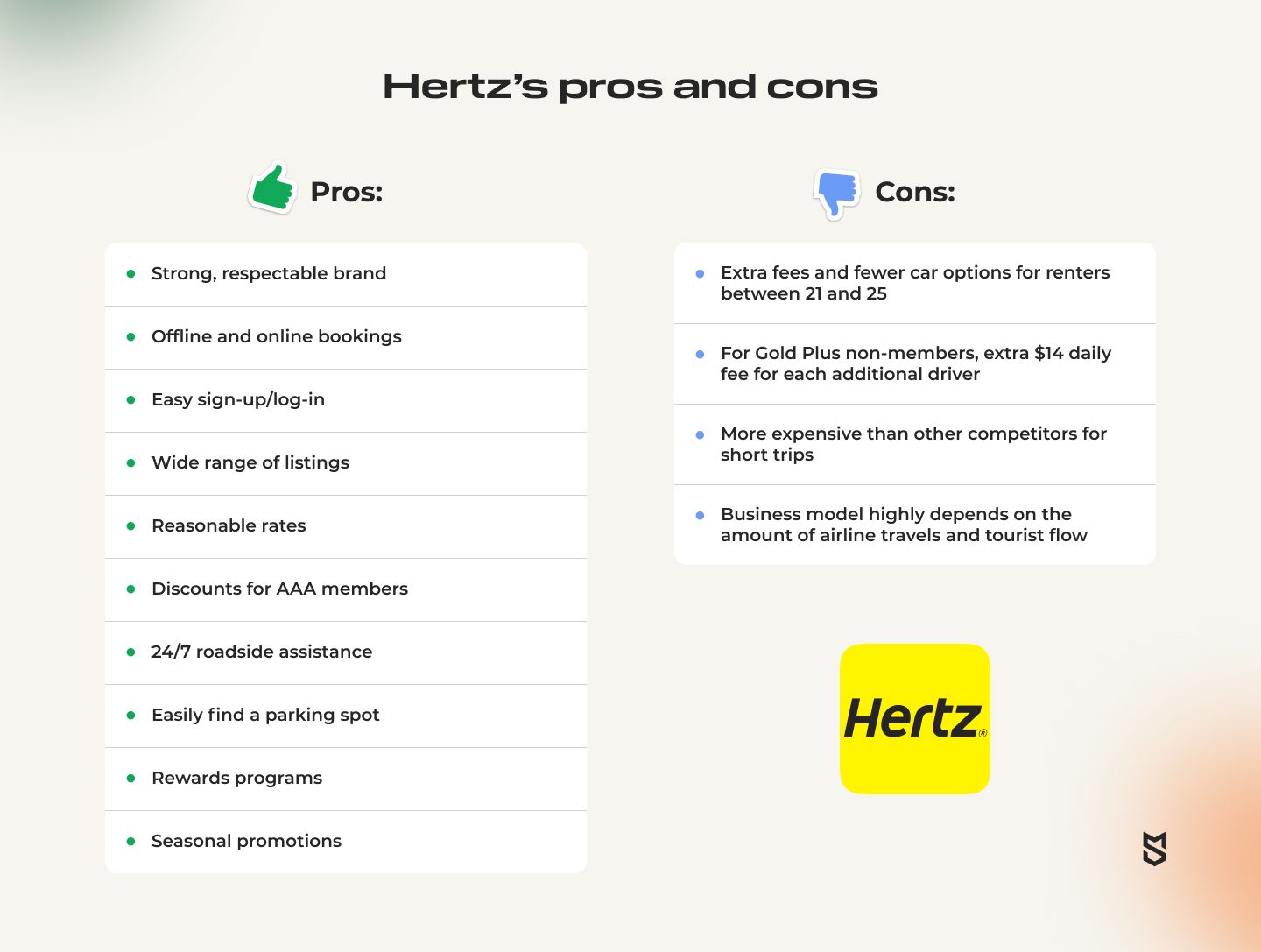 Done well, competitor analysis turns into a goldmine of insights for identifying what features require tweaking, what app functionality you must deliver, and what features can make your app meet user needs.
Follow our 10-step guide for conducting competitor analysis and put in order your acquired data using the Mind Studios competitor analysis template.
Hack #4. Let your car rental customers be heard
Besides analyzing your competitors, there's one more powerful source to identify app features you need to provide to serve customers the best you can: talking directly to your established customers.
In 2020, Forbes published a series of articles with interesting facts that emerged during customer development interviews conducted by experts from Enterprise Holdings, Carpassionate, and Europ Assistant.
Based on these interviews, let's summarize what customers want car rental companies to do today:
Retrain employees to keep their distance
Take ownership of thorough car disinfection after each rental
Set up safety seals on doors
Provide touchless rentals (e.g. keyless access via smartphones)
Streamline the rental process (allow customers to rent a car quickly without staying in lines, filling out long paper forms, or waiting on the phone)
Quickly resolve customers' (and drivers') issues
Offer a greater variety of car makes and models to rent
Make a car rental service affordable (e.g. offer electric/hybrid vehicles and peer-to-peer car sharing)
To start customer development, you can divide your existing customers into segments by:
Rental type (business trips, leisure activities)
Booking mode (offline, online)
Rental length (short-term, long-term)
End user (self-driven, chauffeur-driven)
Rental vehicle type (luxury cars, executive cars, economy cars, SUVs, MUVs, EVs)
Application type (local use, airport transport, outstation, other)
Then choose a few representatives from each customer segment and ask them open-ended questions like:
What device do you prefer to use when searching for a rental car?
What criteria do you use to choose a car rental service?
Why do you use your car rental service?
What frustrates you most when hiring a car?
What car rental features do you want to have at any cost?
How much are you ready to pay for desired car rental features?
While conducting one-on-one interviews, you can unveil customers' unmet needs or wants that you've missed, or you might stumble upon customers' lack of concern for features you've considered important.
The more you analyze what customers say today, the better your app can serve customers tomorrow. And the better the car hiring application development process will be.
Hack #5. Wisely prioritize car rental app features
Adding features to your app can bring more value for customers but can increase your costs as well. Your ability to wisely prioritize app features for your mobile app MVP and post-MVP versions depends on the quality of your preliminary market research, competitor analysis, and customer development.
To help you determine a basic set of car rental app features, we've prepared the following table:
Basic car rental app feature set
Renter panel
Car owner panel
Admin panel
Registration and login via email, Google, Facebook, and Apple ID
Registration and login via email, Google, Facebook, and Apple ID
Secured login
Renter profile and ID\passport\driver's license verification
Car owner profile and ID\passport\driver's license verification
Admin profile: personal info and settings
Advanced search with filters
Vehicle profile
Interactive dashboard
Listing of available cars
Request management system
Vehicle management
Interactive built-in map with locations for available cars nearby, pick-up/drop-off points, and rental stations
Ride details
Listing management
Car booking system: reservations and billing, calendar, confirmation/cancellation
Dashboard: calendar, car availability schedule, user tab (search, filter), car tab (search, filter), statistics tab
User management (car owners and renters)
Real-time GPS tracking
Accept payments
Car availability management
Payment system: payment gateway, refund, and receipt generation
Ride history
Fare management and location-based charges
Fare calculator
Transaction history
Management of online payments: payment details, commissions, fees, penalties, refunds, invoices, etc.
In-app reminders
Reviews and ratings
Reviews and ratings management
Reservation history
Car owner assistance
Ride management
Built-in messenger
Built-in messenger
Reports and analytics management
Ratings and reviews
Management of static pages
Renter support along with emergency button
To create a competitive car rental app, consider going beyond the standard functionality and embed some advanced features: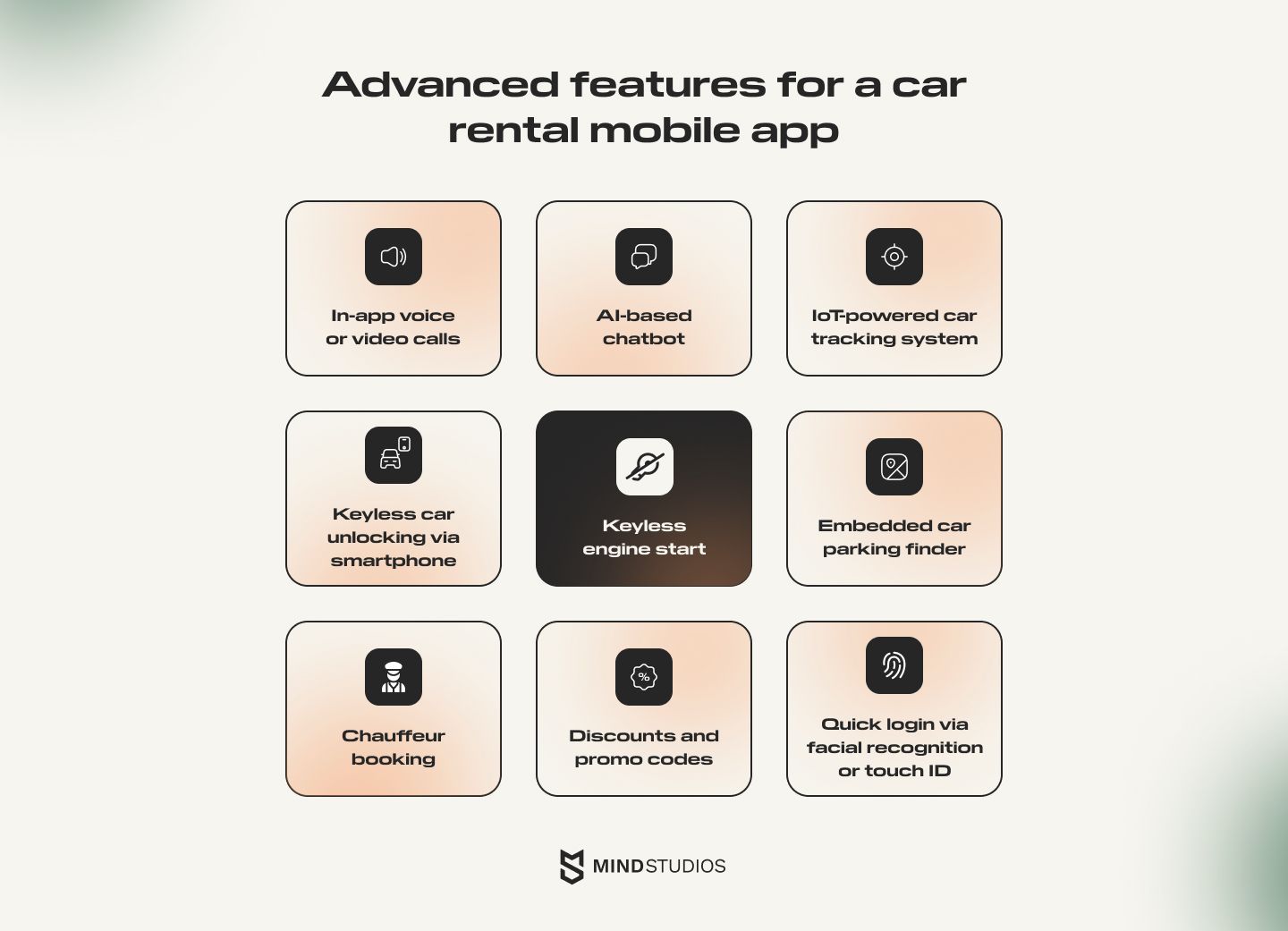 Hack #6. Define how your car rental app will make money before developing it
If you decide to shift the way your app earns money somewhere in the middle of the development process, it will mean changing the UI/UX design, frontend and backend development, and overall project scope. It will be time-consuming and cost a bundle. To avoid this, it's crucial to determine how you're going to monetize your car rental mobile app before starting the design and development stage.
For a car rental business, there are at least two approaches to bring in revenue:
Charging a fee for renting cars from your own fleet (Hertz)
Hertz generates most of their revenue through vehicle rental fees and premium roadside services. Hertz holds up to a $200 security deposit plus estimated rental charges on a customer's credit card until the car's return. For an additional $6 to $7 a day, Hertz helps renters when they accidentally run out of fuel, refuel with the wrong type of fuel, lose the keys or lock them in the car, and more. Also, Hertz earns money from franchise fees. For example, to become a Hertz franchisee, you need to have a net worth of $500,000 with liquid capital available of more than $150,000 and pay Hertz up to $50,000 of the franchise fee.
On May 22, 2020, Hertz announced Chapter 11 bankruptcy, proving that its business model wasn't resilient against the pandemic, lockdowns, and a 94% drop in airline travel. On the flip side, the main Hertz competitor, Enterprise, is still afloat, suggesting it has stringer financial management.
Taking commission for connecting renters and car owners on one platform (Turo)
Since Turo doesn't have its own fleet and operates as a mediator between car owners and renters, it makes money through charging commissions. Turo takes from 15% to 40% of the total car rental cost depending on the insurance coverage plan that hosts choose when listing their vehicles. Also, the company has a few extra fees that raise the average price. These include delivery fees, additional mileage, host/guest protection plans, the TuroGo keyless access option, and penalties like cancellation and no-show fees.
Hack #7. Choose the right mobile app development team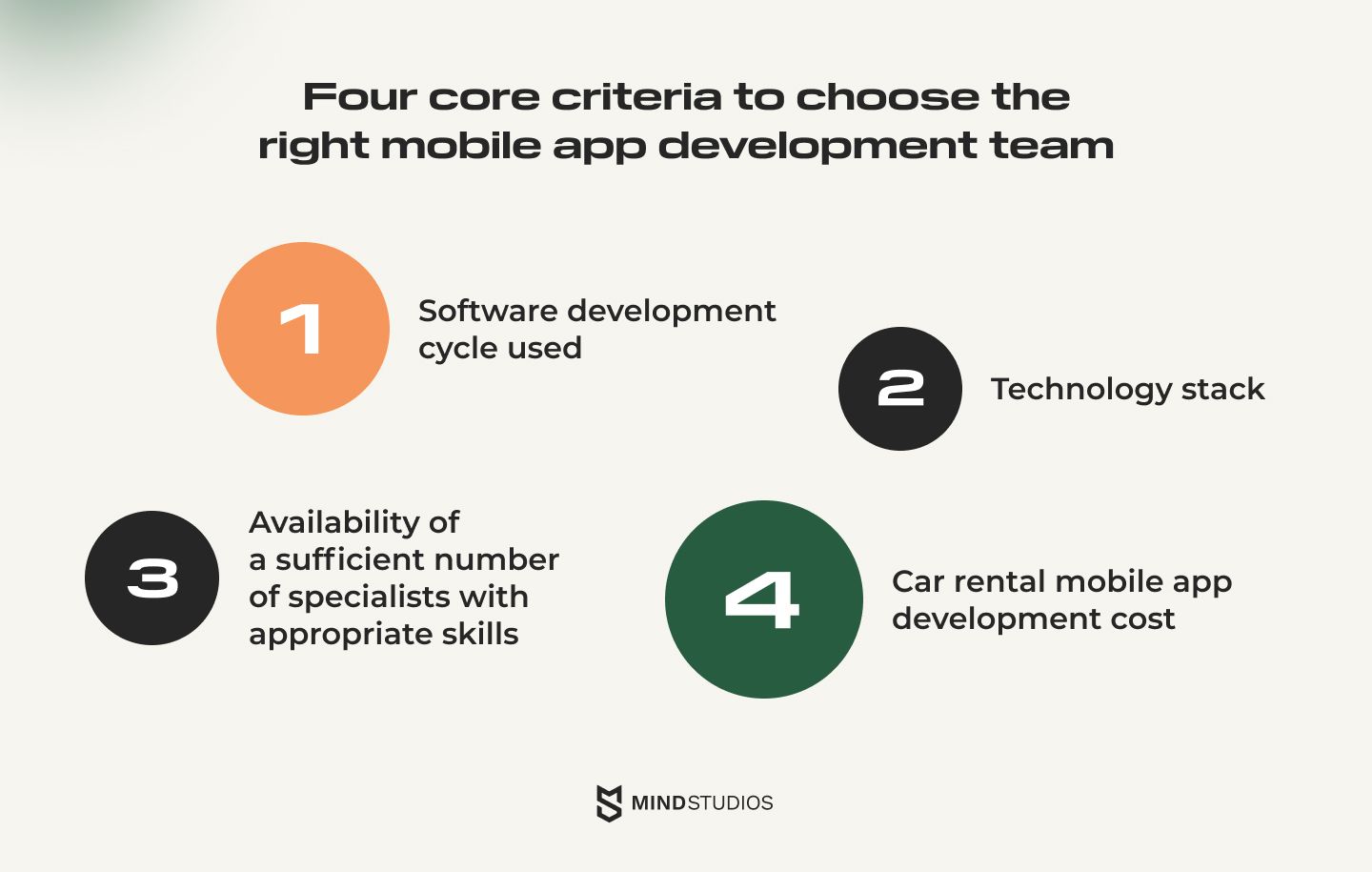 To successfully implement your car rental app, you need to partner with the right mobile app development team. We'll highlight four core criteria according to which you can identify whether a potential team of developers is capable of developing a cutting-edge car rental mobile app for you on time and on budget.
A realistic time frame for building a car rental app from scratch according to your unique business requirements is from six to ten months. If we take a $45 hourly rate (which is three times less than the average rate of most North American, Australian, and Western European outsourcing agencies), the approximate cost to develop a car rental app for one platform will start at $78,000.
Find out more about how to choose a trustworthy outsourcing partner from our previous posts:
Hack #8. Prioritize powerful marketing campaigns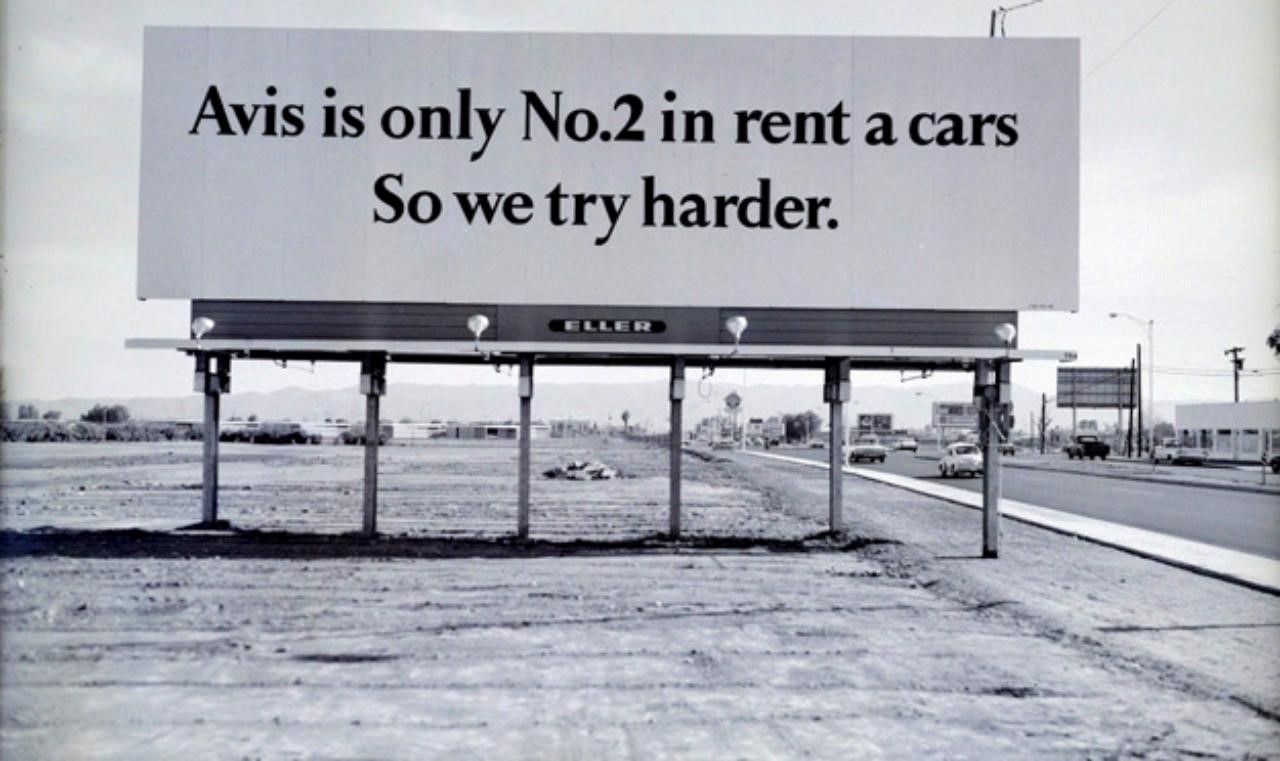 In the remote 1960s, Avis came up with a slogan that in a year brought in $4.4 million in revenue and turned the loss-making company into a banging business despite Hertz remaining the leader. What made Avis's ads so potent were three honest words: "We try harder."
Half a century later, the power of marketing for business profitability remains unquestioned. Generally, the effectiveness of marketing strategies depends on:
Depth of understanding of your customers' pains and preferences
Chosen acquisition channels
Cost to attract one paying customer
Marketing budget you're able to allocate
Professionalism of your marketing manager
In order to build a sustainable car rental mobile app startup, you need to be sure your costs on car rentals app development, support, and marketing campaigns will pay off. Speaking the language of unit economics, your customer acquisition cost needs to be less than your customer's lifetime value.
The earlier you begin to run and test marketing campaigns, the more efficiently you can adjust your unit economics variables and the more profitable your car rental app will be. This is our hack #8 for building a competitive car rental app.
Armed with eight hacks, what should you do next?
Building a cutting-edge car rental app is no easy feat. "Okay Kate," you say impatiently, "I get it. Apps are hard to build – I'm aware." Good! But why do you sound so impati... "Because after reading your eight hacks on how to build a competitive car rental app, I haven't found any tips on how to streamline all that stuff!"
Fair point.
I could stay here and share insights on how you can facilitate car rental app development, but I'll let our experienced business development managers do their job. They'd love to tell you about how you can build a car rental app smoothly and seamlessly. All you need to do is leave your contact information.
3