The following article is aimed at considering the car rental industry and making it clear how to develop a car rental application like Avis, Turo, and Hertz.
If you have a great app idea of your own car rental application but do not know how to make it real, look no further, we will tell you how. Fasten your belts!
---
Contents:
---
What does it take to launch a car rental app business?
Whether it's a holiday or a business trip, the first thing that comes to mind is a means of transportation around the city and country. Mass public transport is a good choice but isn't the most convenient one. Bet, you'd like to be independent of bus tables and travel according to your plans and purposes. The best choice to effectively organize your time is to rent a car.
Thanks to modern convenient and hassle-free online reservation systems and mobile applications accessible even from Noplaceville, the car rental industry is now a non-competitive win-win way for car owners and travelers to get the desired, as owners earn money and travelers means of mobility.
The following article will consider the car rental domain and make it clear how to develop a car rental app like Avis, Turo, and Hertz.
Let us take a close look at the car rental industry, outline the most common problems that companies face, and consider the best approaches to launch and enhance your car rental business.
To start with, let us deal with some statistical data provided by Statista.
The submitted statistic provides information on the revenue of passenger car rental and leasing in the USA by segment from 2010 to 2018 with a forecast to 2022. According to the researches and economic data, the revenue of passenger car rental and leasing in the USA will amount to approximately $43.1 billion by 2022.
Proceeding from this information, we can deduce an interference from the facts that the car rental industry not only has a high-stability indicator but also a steady growth ratio.
According to the latest Auto Rental News, At $28,63 billion, the U.S. car rental industry posted record total revenue in 2017. The industry achieved this revenue on a smaller overall fleet. That translates into Revenue-Per-Unit, per month of $1,091, the highest RPU historically recorded.
Challenges that car rental companies face
The top-tier challenge of the online car rental market is tough competition. There are well-established and solidly secured companies providing best quality services all over the world and it's quite hard to contest them. Hard doesn't mean impossible, though.
Another challenge is brand awareness. It's vital to develop a clear and effective marketing strategy in order to create a strong brand awareness. MindStudios professionals suggest boosting the product before the first run. Proper boosting must also start with an elaborated PR and marketing strategy and must involve fully armed professionals with a creative and substantial approach to the task.
If you want to give a fight to challenges, then you should consider conducting researches in the market and domain, performing in-depth business analysis, and last but not least - consulting with professionals. Suggestions from professionals, as a rule, are not cheap at all, but paying for valuable information you invest in your future success.
Read more about Writing Business Plan for Mobile App
Car rental market overview
Starting a new car rental business is quite a challenging task and tough competition is longing for new players to test. The peer-to-peer car apps turned every single car owner into real competitors for the regular service providers and every garage into a small car rental company. Nowadays, anybody with a smartphone or a PC can get a car without doing all those once habitual tasks like visiting the car rental office, filling up forms, entering credit card number, and all that kind of stuff.
Let us consider the well-known car rental companies, examine services available for their customers, analyze the approach to business and highlight their benefits.
Hertz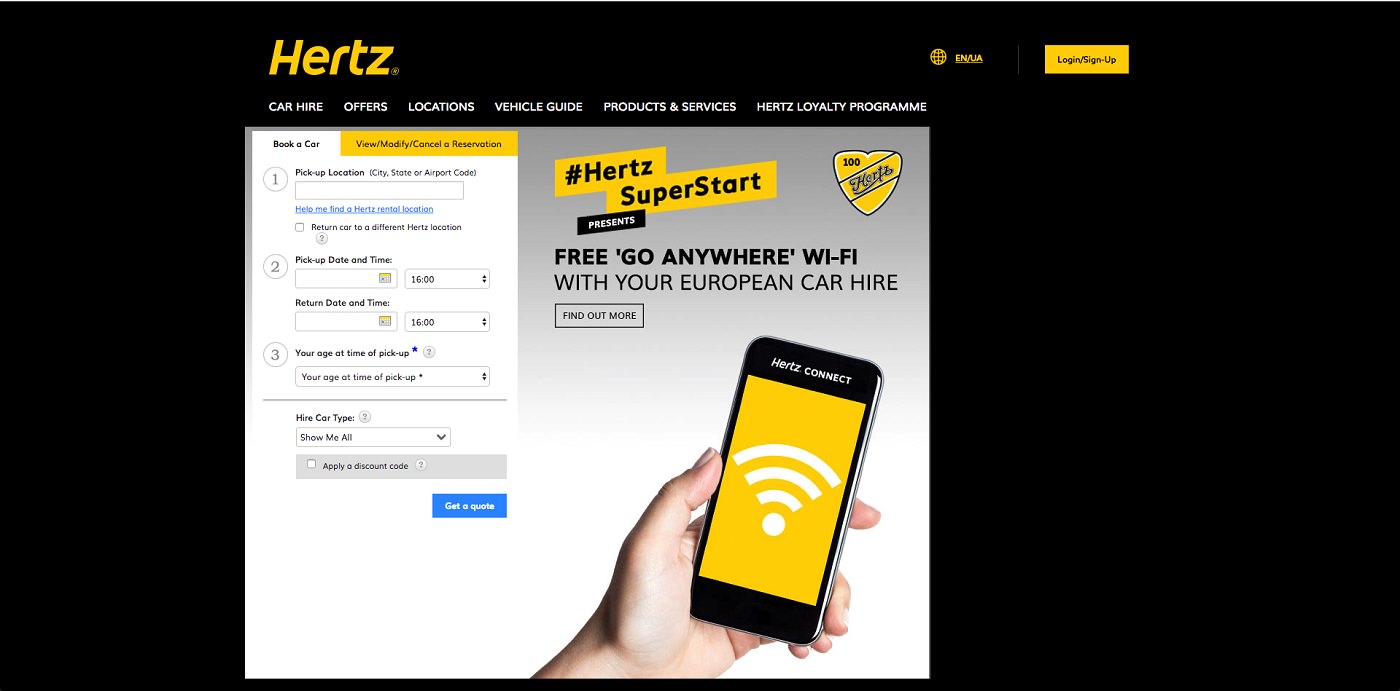 Hertz is one of the oldest and most successful car rental businesses ever created. Founded in 1918 by a 22-year-old Walter Jacobs, an ambitious pioneer of auto renting. It all started with 12 Ford Model T cars in a shop just south of Chicago's loop. Today, from their HQ in Florida, Hertz operates more than 10,200 corporate and franchisee locations throughout North America, Latin America, Europe, Asia, Middle East Asia, Australia, and New Zealand. Hertz has shown a spectacular example of a successful digital transformation by migrating their business to the web.
According to the latest reports, "Hertz Rent a Car" has reached a point of 7 millions of unique website visitors per month and dozens of millions of downloads from Google Play and App Store.
From an unbiased point of view, Hertz's application is the fastest and the easiest way to make a booking. It's rather simplistic yet rich in functionality. It delivers great user experience and convenience in every aspect of the car rental services.
It provides you with all the information about your reservation (address of their pick-up spots, reservation numbers, etc.) no matter if you are online or offline. Hertz also provides special offers and quick roadside support for the users.
Why do people like Hertz
Hertz is a trusted company with a long history
Competitive rates
A wide range of cars including green and luxurious cars
Membership programs
AAA discount
Seasonal promotions
How Hertz makes money
Hertz company owns a wide range of rides in their fleet. The main source of revenue of the company is generated through vehicle rental fees and premium roadside services. For an additional $6-$7 a day, Hertz helps tenants when they accidentally run out of fuel, refueled it with the wrong type of fuel, lost the keys or locked them in the car, etc.
Among special features, Hertz offers to their customers is a Prestige Collection, where users can choose and take on lease luxurious and prestige cars like a Cadillac Escalade or Infiniti Q60 and many more.
Turo
Founded in 2009 and headquartered in San Francisco, Turo is younger than the forerunner Hertz by almost a hundred years.
Turo is the largest car rental marketplace where travelers can easily rent any car as per their choice and convenience from a community of local car owners throughout the US, Canada & UK. You can select wheels of your choice whether it is a Jeep, F-150 truck, Tesla or a classic VW bus. As the cars are insured by the company, so neither the owner nor the renter has to worry about it. Turo allows you to rent a car directly from local car owners and save almost 30% less than traditional rental agencies.
Objectively, Turo has one of the most unique online car rental services. It sources cars from everyday ordinary people instead of from a company — "Airbnb of car rentals". The idea is that you rent a car from a person. They deliver you the car, you pay them and go.
Why do people like Turo
A very wide range of cars from economy to convertibles
and sports cars
Budget-friendly
Convenient and easy-to-use platform
No need for an own auto insurance policy
How Turo makes money
Since Turo company has no own fleet and operates as a mediator between the car owners and tenants, it makes money through charging commissions of up to 15% of the total cost not including taxes. Moreover, they have a few extra fees that raise the average selling price. These extra fees include delivery fees, additional mileage, and protection plans. Relying on Turo's reports, 60% of their revenue is made by non-residents renting cars of people traveling to another country.
Recently, Turo launched a special feature, which is called Extra. The essence of this feature is that when renting a car through a p2p network, customers have an option to choose a car loaded with extras — child safety seats, picnic baskets, coolers and even more fun things like bikes, camping tents, etc. For example, take a look at this BMW M3.
A traditional car rental company would offer you a similar car for about $200 a day, while Turo offers you a BMW for $62 per day and a bunch of extras to choose from — a picnic basket, toys and board games, a bike rack, and others. According to Turo, they are the first and only on-demand company to offer this kind of service.
Avis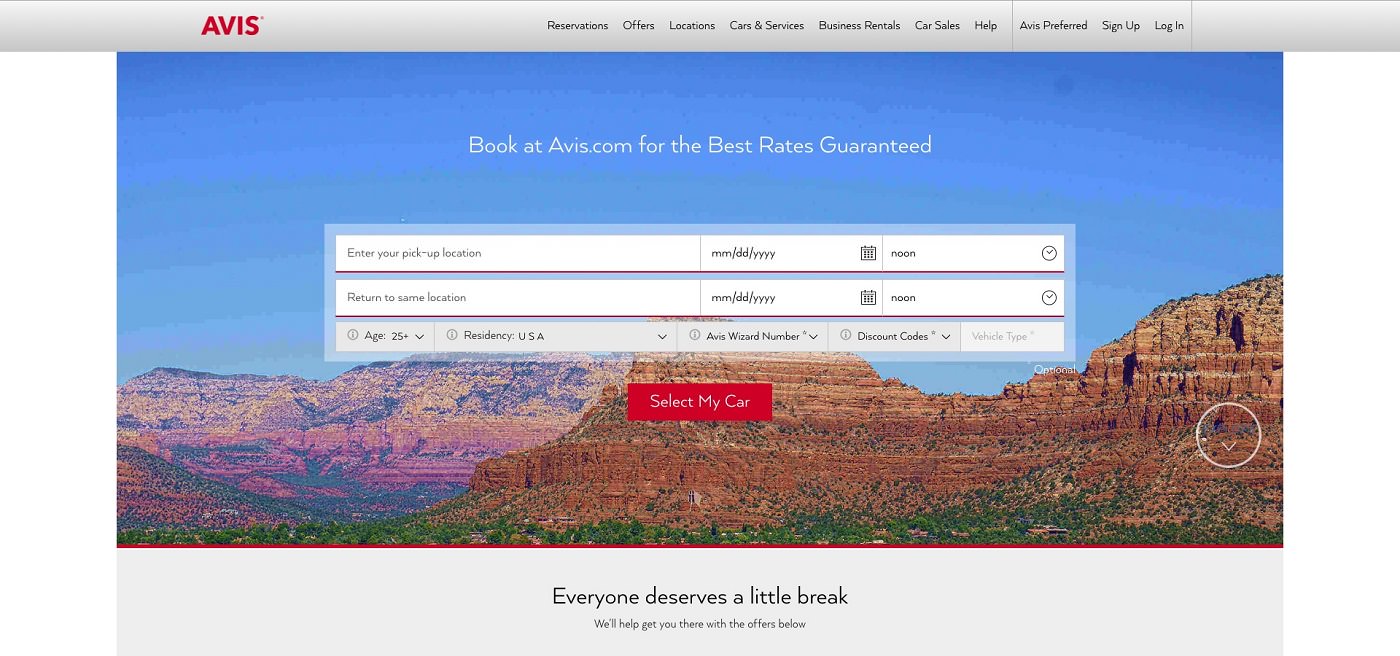 Founded in 1946 by Warren Avis (who sold his interest in 1954), Avis was the first company to rent cars from airport locations. Since then, Avis has grown into the worldwide company with 6,000 locations in more than 165 countries.
Today Avis is a solid car rental company with decent prices and an abundant car range.
Avis's mobile application makes it possible for users to book, confirm or cancel, extend a rental in a few swipes. Recently implemented features make the application stand out against competitors - you can lock and unlock the car through tapping the button in the Avis app, or you can even flash headlights to find the car in a packed parking. In case the customer suddenly wants to upgrade the sedan to an SUV, all he needs to do is to swipe and choose a replacement in real time.
Why do people like Avis
Trusted name
Convenient application with top-notch features
Competitive rates
Loyalty programs
Forehand rental
Car rental rewards
How Avis makes money
The Avis fleet comprises a wide range of rides from small hybrids to SUVs and makes money on rental fees, extra cost equipment like child safety seats, ski racks, and services like delivery and collection, roadside assistance, fuel options, electronic toll collection, and others. Avis constantly runs specials on car rentals — those people, who stay tuned, can save up to 35% on vehicle rentals or up to 25% on base fare rates through promo codes and coupons.
Read also: How Do Free Apps Make Money?
How much does it cost to make an app like Avis, Turo, or Hertz?
When launching a car rental business on the Internet, you should keep in mind, that the overall cost of the product consists of the following parts:
Elaboration of an idea, market research, and business analytics
Development of technical documentation for the project
UI and UX design development
Development of iOS and Android applications
Back-end development
Quality assurance, bug fixing, and maintenance
All of the previously mentioned parts vary in their cost according to the scale and complexity of the project, special and custom solutions, and the scope of work to be done.
Let's assume that the task is to create a car rental mobile app like Hertz.
The project consists of 4 main parts:
iOS app
Android app
Web-based administrative panel
Server and back-end part
The team for this project will look as follows:
Project manager — 1
Backend developers — 2
UI/UX designer — 1
Front-end developer — 1
Android developer — 2-3
iOS developers — 2-3
QA engineers — 2
Please note, that the team composition and number of members depends directly on the scale and complexity of the project and the scope of work.
The core features of a car rental platform include
Mobile applications iOS and Android
Web-based Admin Panel

Simple registration with the ability to sign up via social networks

Personal profiles — settings, personal information, push/e-mail notifications, calendar, bookings, history of reservations, payments, reviews, and ratings

Dashboard and booking features — advanced search with filters, reservation and billing, calculator, confirmation/cancellation, real-time GPS tracking

Payment system integration, online payments — payment options, refund, payment and invoice

Built-in messenger

Admin profiles — settings and personal info

Dashboard — calendar, users tab (search, filter, CRUD), cars tab (search, filter, CRUD), charts and statistics tab, notifications, messages.
Now, when there is a structured concept with core features of the application is on hand, we can consider the tech stack of the product.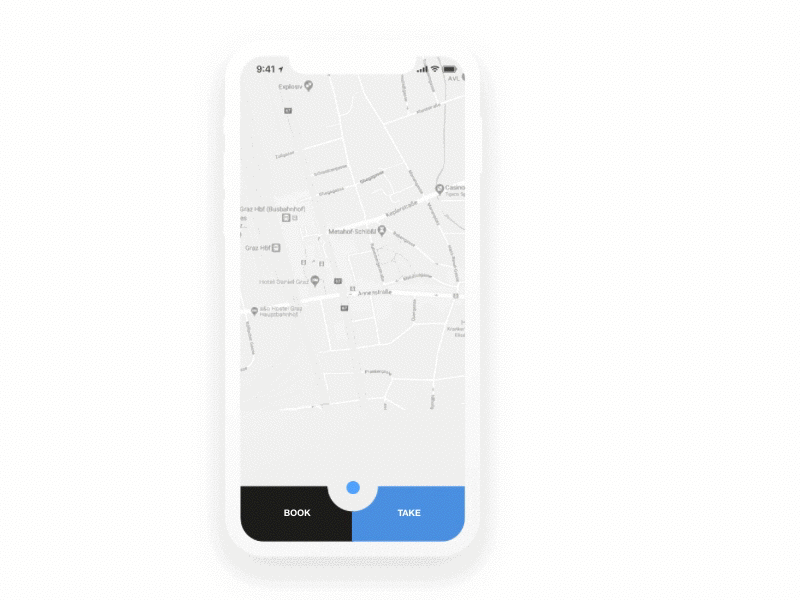 Please note, that every single application is unique, and the stack of technologies to be used varies according to the requirements and peculiarities of the project.
Additional technologies.
MapKit — for easy maps integration
CoreLocation — for real-time tracking of the user's geolocation
Facebook SDK and Google Sign In — to enable fast and convenient sign in via social media profiles option
PayPal Payments Pro/Stripe Payments Tool — to implement online payments
Twilio or similar — to implement text messaging
The cost of developing a car rental application like Hertz starts at $ 64 000 for a basic MVP version.
The actual cost of an application like Hertz directly depends on the design complexity, number of features and hourly rate of the development company and may vary.
Read more: How to Estimate the Cost of Mobile Project Development?
The most efficient approach to the development of a car rental platform
First and foremost, we suggest evaluating the idea.
It's critical to carefully validate your app idea and make sure it gets more chances to succeed in terms of tough competition of the car rental domain.
In order to create a competitive product that will capture a good market share and earn a great reputation, it is important to research the market environment. In this context, a proper SWOT analysis is a must. It will help to identify strengths, weaknesses, opportunities, and threats in the car rental domain. It is important to review the big players of the car rental business, learn about their business models, unique approaches and features, read and understand success and fail stories.
Gathered information will help to create a clear and structured concept of the product and outline the core features.
After the idea is worked out, every detail is thought out, the time to develop a UX strategy comes. A good user experience strategy of any application starts with a mind map of interactions between screens and the user flow.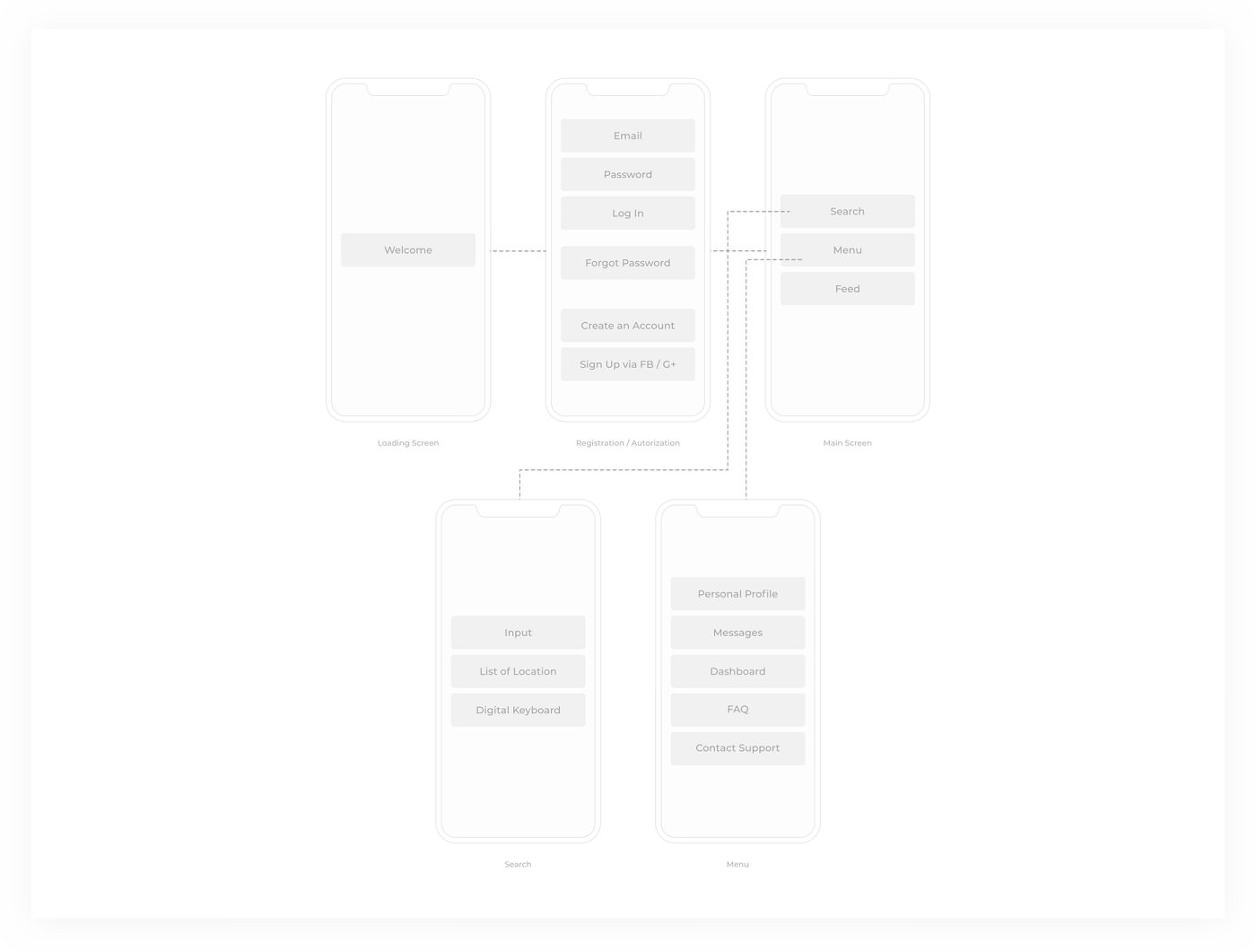 We work out the product functionality, design navigation structure, implement all of the functions described in the project specification, determine both application and end-user behavior, and think out every tiny detail of the first version of your product.
Next up, the task is to validate the concept. Formed and shaped first version of the product is formed in a visual prototype. Once the prototype based on the ideas and functionality is built, we give it to our test groups in order to get feedback as early as possible. Prototype testing is a crucial aspect of Design Thinking. Design thinking is a method which comes in handy in ideation and development of a project. This method is very useful in unveiling the ill-defined or unknown problems. Gathering feedback from real people will help to save time and resources in the follow-up development process.
Only when the concept is polished and elaborated, it is time to design and develop the product. Once it is clear that the concept of the product is good enough to hit the audience, it is time to create the right visual dressing for the product. To create a design concept, our specialists suggest rendering a few (~5) elaborated screens proceeding from the goals, target audience, and functionality. Essentially, designers provide the concept in several styles to choose from. After the concept is approved, designers render all screens according to the chosen style.
Development of the product at MindStudios consists of 2-week sprints grouped by separate milestones. Each sprint results in a demo presentation of the scope of work done during the sprint, and a plan for the upcoming sprint. This approach makes the project progress transparent and structured so that partners always stay in the loop.
The product is ready to launch and marvel the audience. Every single detail is considered. The final stage of the process is delivery of the product to the market. When it is published, it is important to monitor the analytical data purposely to understand how real users interact with the product.
Gathered data allows unveiling problems that couldn't be foreseen while developing the product on the computer monitor. Improvements and updates after MVP must be implemented through the iterative approach - one by one, making sure that these improvements are what the end-users need.
Want to find out how much it costs to build an online car rental application at Mind Studios? Request a free quote!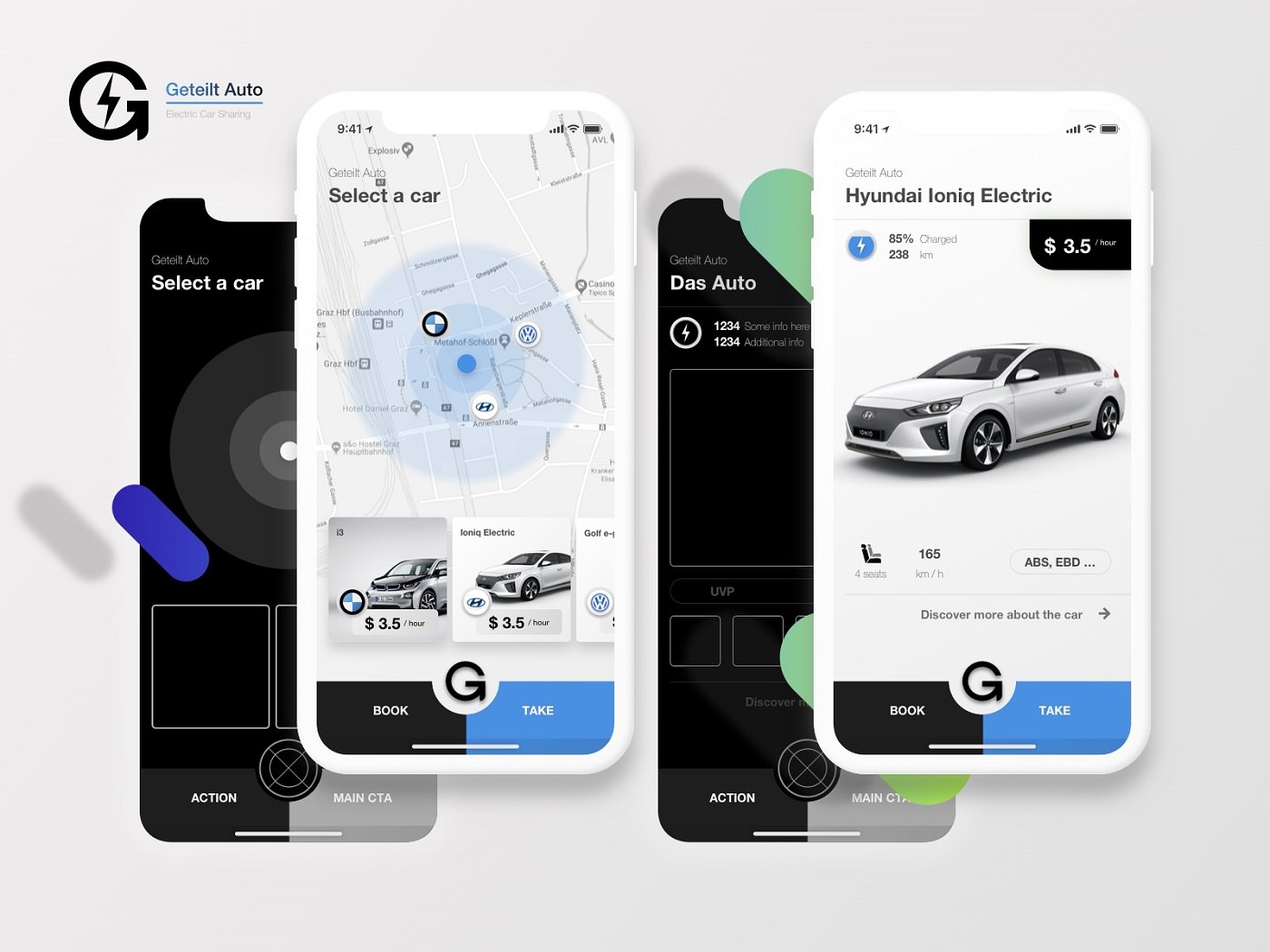 Conclusion
Big players of the domain have already migrated to the Internet and generate revenue through the online channels.
By creating a proper application for your car booking or rental business you will become closer to your customers and get significant benefits.
Mind Studios company has a proven expertise and vast experience in developing solutions for the transport industry and have a unique approach to creating the Android and iOS apps for a car rental business. Find it interesting? Feel free to contact us, we have valuable information to share!
Read also: