The path to success in business starts in different ways for each of us. But we all tend to choose a plan that will help us pass this way as easily as if it was written on the map.
Is there a single right way to guarantee success and reduce the risk of failure?
Obviously, if you're on the threshold of launching your startup, you need to take into account a huge number of things concerning the analysis, planning, and implementation of the entire project. The number of details you have to deal with depends on the scope of the project itself as well as its main idea, the budget, implementation area of a product, and your employees.
How can you collect all the elements of the puzzle to create an overall picture of your project from start to finish? A business plan is exactly what you need.
A business plan is a guide that turns your ideas into action
As a rule, you should start with visualizing the project and formulating its key ideas that will provide the basis of your business plan. This business plan will be your roadmap on your business adventure.
During the planning process, you'll have to handle lots of information. The cost of writing a business plan will be related to the costs that are required to launch the project. In order to save money, you can use app business plan templates.
In this article, we focus on creating a business plan for your startup and a business plan for your mobile application.
Some statistics
Revenues from mobile applications are constantly growing. In the modern world, it's difficult to find someone who has a smartphone without any mobile applications installed. As long as smartphones and tablets are relevant, the mobile app development industry will continue to expand, in terms of revenue and jobs. According to Statista, the iOS App Store has more than 2 million applications and the Google Play Store has more than 3 million.
If your way is developing a mobile application
Mobile application development is the process of developing software for performing certain functions with smartphones and tablets. You can develop games for mobile devices, mobile applications related to finance, entertainment, or geography, or mobile applications for individual use.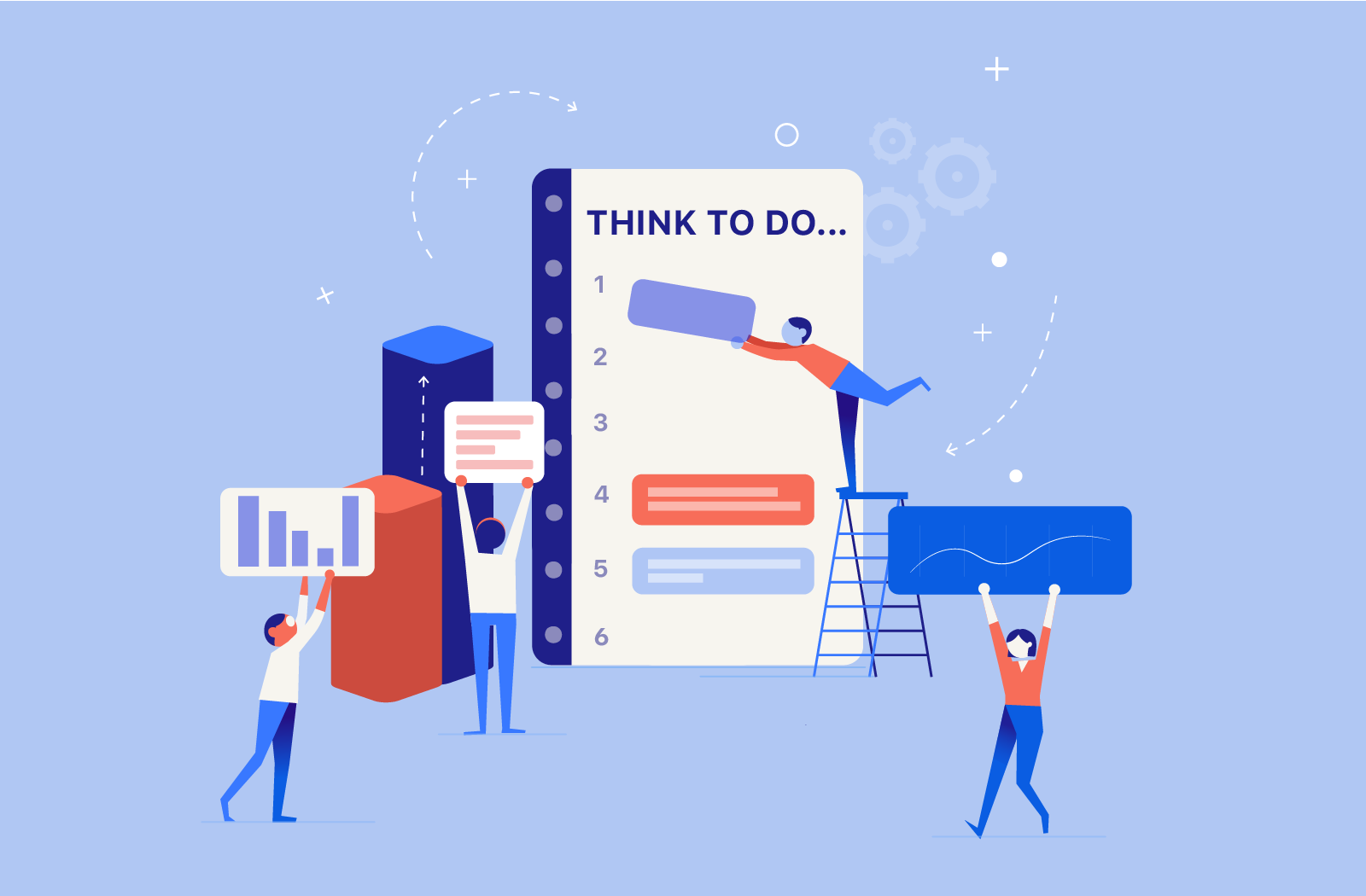 A goal without a plan is just a wish
There are a huge number of mobile applications these days. And considering that in each application category there are hundreds of almost identical applications, attracting users becomes a task of utmost importance.
Chad Mureta, an entrepreneur in the app world, says that a developer's profit directly depends on their knowledge of what's interesting to the user; that is, to create a successful and profitable application, a developer should think like a user. In addition, he advises developers to solve unresolved problems and eliminate application shortcomings.
Understanding the market is the key to success
Before you start writing a business plan, conduct business analysis. The purpose of business analysis is to analyze the needs of potential users — in other words, to gauge the degree of public interest in your product. During business analysis, you can also include an objective competitive situation, analyze consumer demand, and define the main objectives and advantages of your project.
Steve Blank, the author of the bestseller 4 Steps to Enlightenment. Strategies for creating successful startups suggests that very few people understand where their market is, which is why the standard model of product development doesn't work as a guide for creating a startup.
Accept the fact that a business plan is static
Steve Blank claims that a business plan is static in contrast to a business model, which is dynamic. Indeed, a business plan is static: it's a document that's developed once and is rarely rewritten after adoption.
On the other hand, a business model is dynamic; it undergoes rapid changes and depends on consumer opinion. So is it necessary to write a business plan? Certainly. Steve Blank believes that writing a business plan is useful and makes you think through all the parts of your business — and combining the financial model makes you think about how to build a profitable business. However, you need to check the ideas in your business plan with your business model outside the office, so to speak, by communicating with consumers. Otherwise, your business plan for developing an app will be only a theory.
Why should you make a business plan for an app?
So how can you create an effective business plan for your mobile app? Usually, there are two reasons why mobile app startups write a business plan:
To attract funding
To attract founders
The content of the business plan for a startup depends on the startup's main goal.
To attract founders, it's enough to create a business model canvas — a more flexible model of the traditional business plan that can easily adapt to iterations that are characteristic of technology startups.
We'll consider the business plan as a tool that will help you get funding and monetize your mobile application ideas. We'll also give advice on possible aspects of a business plan for launching a mobile application.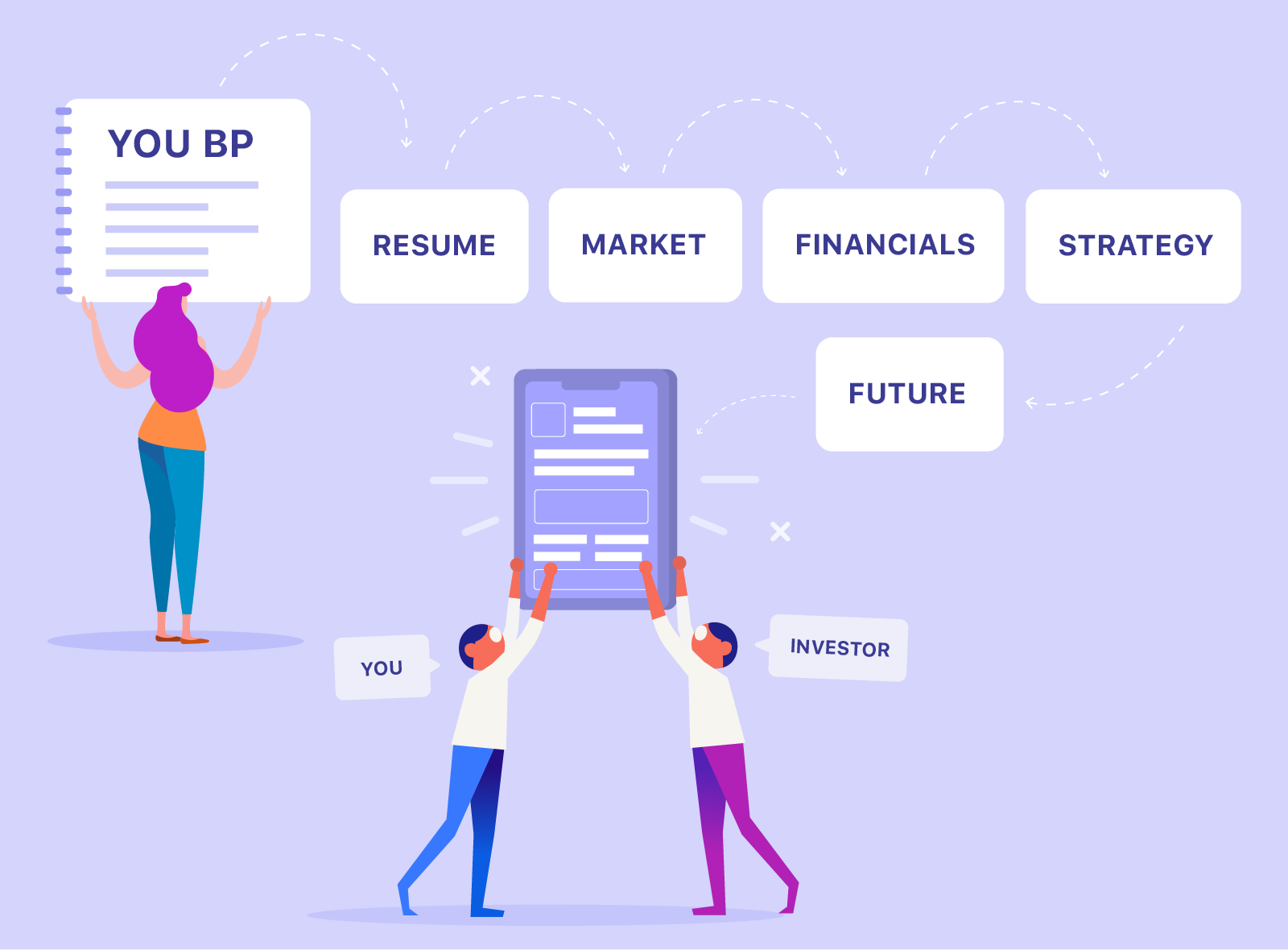 What does a business plan for mobile app look like?
The main question that a business plan should answer is whether it's profitable to produce the product. Therefore, when writing a mobile app business plan for startups you'll need to estimate the cost of development and commissioning as well as the timing of the return on investment in your project.
Your mission should be to create a reliable and stable mobile application for either enterprises, individuals, or non-profit organizations. In this case, your application will be able to compete with others.
- Executive summary
Let's start with the executive summary. This is the first and most important part of your mobile app business plan because it's the first thing an investor will read. The form of the executive summary should be clear and concise, without detailed information about how your product works. In your executive summary, address the situation in the market, who your target customer is, and what unique problem your application can solve.
Make your proposal unique to distinguish your company from others. In other words, create a unique value proposition (UVP). Use your imagination: think of your executive summary as the trailer for a movie and your investor as a spectator. Would they like to see your movie?
Specify your goals. These goals should be based on your business analysis. Investors will be checking to see whether your goals meet their needs. You also have to determine the ultimate goal of your exit plan. In addition, to increase the attractiveness of your company, you need to make a list of funding requirements and the proceeds that will be used. One of the important factors in the success of a startup business plan for your mobile app is ensuring maximum transparency at each stage.
- Business description
In this section, introduce your business, starting with information about your company and finishing with your mobile app concept. This part of your startup business plan will show investors the corporate values of your company, your mission, how you see your product, and what you consider the key factors for the success of your product.
This information is vitally important for investors. For example, the venture fund Y-Combinator invests in small companies in the field of information technology based on their potential. In addition, this fund helps to create products and find investors.
- Company overview
Here you should describe your company:
Type of business structure
Company history
Location of the company
Team/remote team
Problem
Mission
Statement of the concept
In your mission statement, focus on how you currently see the processes in your project, for example the input from investors and lenders. In the mission statement you define how things currently are, while in the vision statement you focus on the future and your motivation.
- History of the company
Describe the history of your company, how your team formed, and how you came up with your idea. In addition, you can talk about the main stages of your company's development and the experience that precedes the launch of the product.
- Your team
The team is often the most important part of the section describing the company because your app development team is the heart of the project. You should specify each person's name, position, work experience, and responsibilities in the company. In addition, you can involve an advisory group that will help you make key decisions. Experts on your advisory team should have experience in the industry.
Market Analysis
Information about the state of the market should be the main factor in the realization of your app idea. You should be knowledgeable about the state of the market in your industry, have current information, and make a short-term forecast. That is, you should have a marketing plan. The market analysis section of your business plan shows the viability of your project.
In order to be aware of the popularity of mobile applications, you can constantly monitor Apple's cheat sheet. In the App Store you can find top paid, top free, and top grossing apps.
- Market forecasts
Forecasting is an integral part of writing your business plan for realization of app development startup. Forecasts from reputable research firms such as Nielsen and Forrester are of interest when creating any business plan, for example a business plan for application development or a software startup business plan. In addition, you can include data on the growth in number of companies in the mobile application industry and data on the amount of money spent.
Your goal is to assess whether there's a real market for your product, whether there are enough customers in the market and, accordingly, whether those customers are willing to pay enough money to solve their problems. Try to convince the customer that there's a need for your unique application.
- SWOT analysis
One method of strategic planning that allows you to give a structured description of your situation is a SWOT analysis. A SWOT analysis can be used to study products, enterprises, regions, or even entire countries. SWOT analysis stands for:
Strengths,
Weaknesses,
Opportunities,
Threats.
It's quite normal when a business has weaknesses: the knowledge of potential problems will be a strong motivator for finding solutions and will reduce any risks your company may need to take.
Marketing strategy
A marketing strategy is a bridge that allows your product to fall into the hands of your customers. You have to convince investors that you have such a bridge. To succeed, use the following marketing strategies for your mobile application:
- Research the target market
The first step is to attract your target audience by choosing a certain group of consumers to aim your product at. This target audience should be defined based on demography, habits, online behaviour, and lifestyle. Analyze how your ideal client will use your application.
- Research of competitors
Researching competitors is an element of business analysis. This information will help you highlight the features that distinguish you from competitors and will also help you improve your processes and solve problems in your market.
- Create a landing page
Creating a landing page for your mobile application will help you expand your target audience as it will inform readers about innovations and updates. Make sure your page contains the name of the application, a description of its functionality, promotional videos, and so on.
- App rating
To improve the ranking of your application in search results in the app stores, you need to improve its characteristics, for example by optimizing the mobile application in term of load times. Obviously, a high position in search results will draw the attention of potential customers.
- Product growth
The process of expanding the user base is different depending on the type of app startup, and the business strategy for entering different markets also varies. For example, a massive advertising attack only makes sense in markets where consumers understand your product or service and its usefulness. Take an example from applications that have successfully implemented massive marketing campaigns: Uber and Houseparty.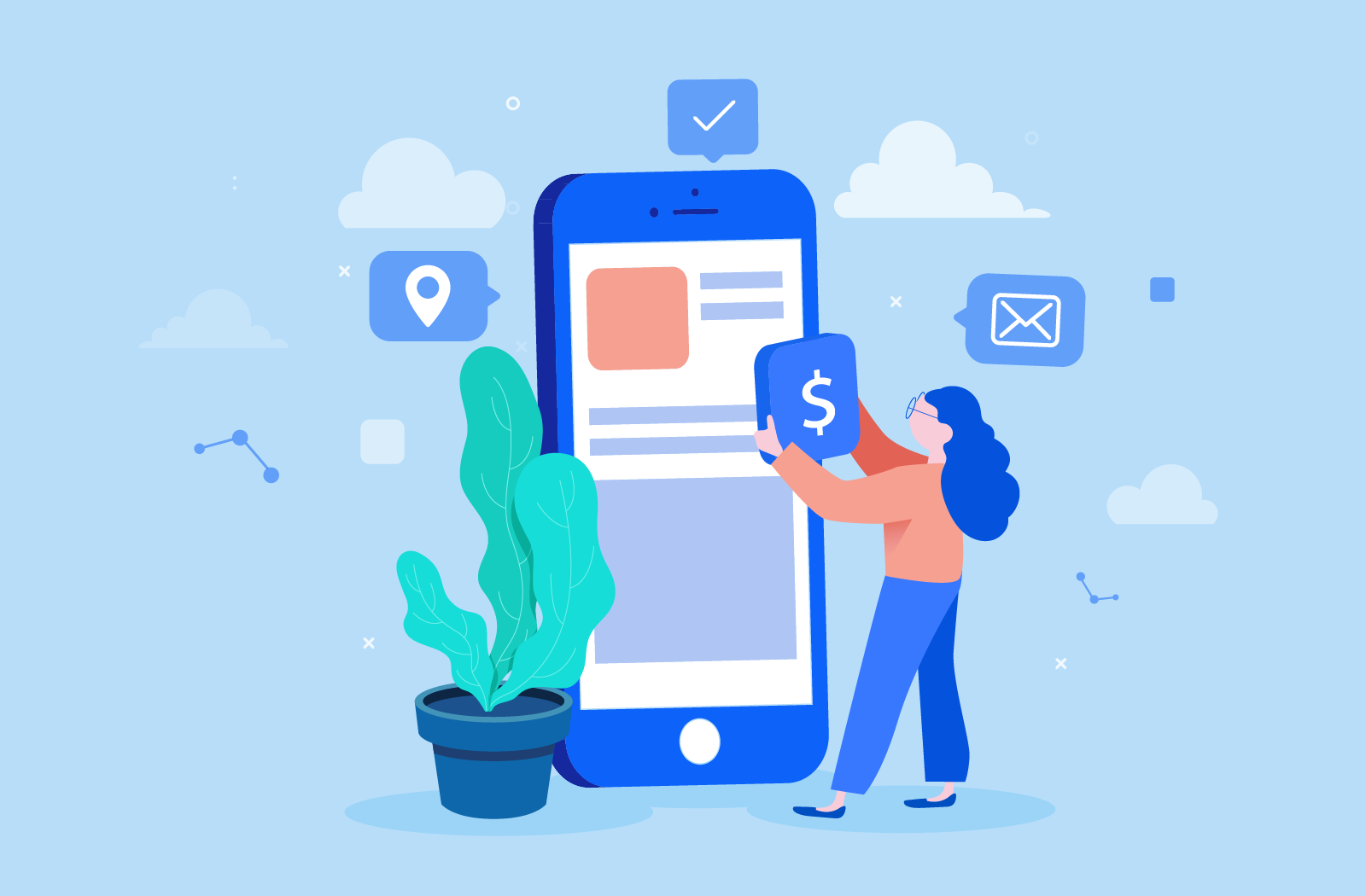 Financials
Finally, the time has come when you can proceed to the financial part of your business plan. You must clearly understand what kind of financing you need to move forward. Moreover, when reading this part of your business plan, a potential investor should also understand the funding you need.
The financial model includes, as a rule, a three- to five-year forecast of all the main forecasted models, including profit and loss, cash flow, balance sheets, start tables, and valuation. Your financial document has to contain the following components to determine the actual cost and distribution of investments in the best way, with a clear explanation of each.
For example, in order to write a successful web application business plan you need to predict the expected revenues and costs of your web app.
- Startup costs/funding required
Inform your investors about estimated costs. Since such numbers might fluctuate, our advice is to place reasonable estimates and leave room for extra expenses.
Designate all types of costs:
one-time costs
periodic costs (regular expenses, for example rent and insurance)
fixed costs (costs that will remain unchanged regardless of the state of your business)
variable costs (e.g. salaries).
- Monetization strategy
Among the most common ways to monetize an application are:
Advertising
Charging for the application (if your business model describes a paid application, you need to convince the consumer why they have to pay and what they're paying for)
Subscriptions (this model of monetization is quite popular and works until the user decides to cancel the subscription; in most cases, subscription apps have an onboarding or free trial period)
Business plan example for a mobile app startup
If you're interested, here we'd like to offer you a template business plan for a startup. Please keep in mind that, although the mobile app business plan itself is structured according to all the rules, the calculations are completely fictional.
Check out the business plan example here.
Conclusions
Writing a business plan for new mobile applications or a business plan for a mobile app startup isn't easy. Your concept should be supported with knowledge about your business, qualitative and quantitative analysis, and practical research. A business plan, like a successful document, has to show that your company is viable and financially attractive. The greater the viability, the more potential for investment.
A business plan converts your thoughts and is an instrument for their implementation. It's actually a decisive factor in whether you'll get funding.
As a rule, the most difficult part of developing a business plan for a mobile app idea is writing the first page, and the majority of people facing difficulties at this stage rush to find and download a free version of someone else's business plan. They mistakenly believe that someone else's business plan will help them achieve their goals. But it absolutely won't! A business plan cannot be a cloned document. It must be unique and demonstrate the passion and enthusiasm of its authors. Its main task is to hook the investor with its depth and content.
If you encounter some difficulties in writing your own business plan for launching the mobile application, our expert team at Mind Studios is ready to help you start this fascinating journey and get to your destination successfully!