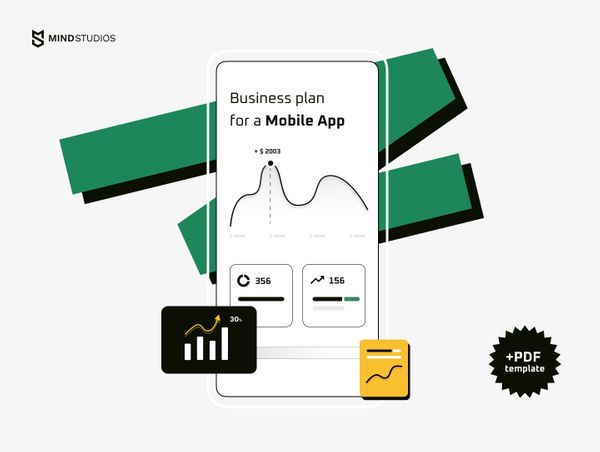 If you're on the threshold of launching your mobile app startup, there are numerous things you need to be concerned with: workload, core concept, budget, product implementation area, employees… You need to rightly put all key elements of this puzzle together to provide a clear roadmap for your project — that is, to compile an app business plan.
We at Mind Studios know how to make a business plan for an app. Here, you'll find a complete guide to creating a business plan. Also, we've added our template to help all stakeholders and investors have a clear and most importantly, equal understanding of your startup idea. So if you don't know how to plan an app yet and where to start, let's find out more about it.
A business plan is a guide that turns your ideas into action
As a rule, you should start with visualizing the project and formulating its key ideas. They will later become the basis of your business plan.
Another vital component of developing your project is writing a product requirements document (PRD) for your app. It consists of three sections: business requirements, user requirements, and software system requirements. The business plan is, actually, a component of the PRD, namely the business requirements part.
All the preceding processes, such as developing a project vision, core ideas, and concepts, creating an app development plan, and drafting a PRD, allow all stakeholders to be on the same page as the startup's founder.
In this post, we'll go through how to write a business plan for an app startup.
Some statistics
Still not sure if your startup needs a business plan? Numerous studies back up the value of having a well-thought-out business plan for companies on different stages of their business journeys.
According to one study that involved 3,000 company owners from diverse fields, those with business plans were almost twice as likely to succeed as those who didn't. Furthermore, such strategic-planning companies were more effective in attracting investment or securing loans.
You can find more detailed information in the diagram below: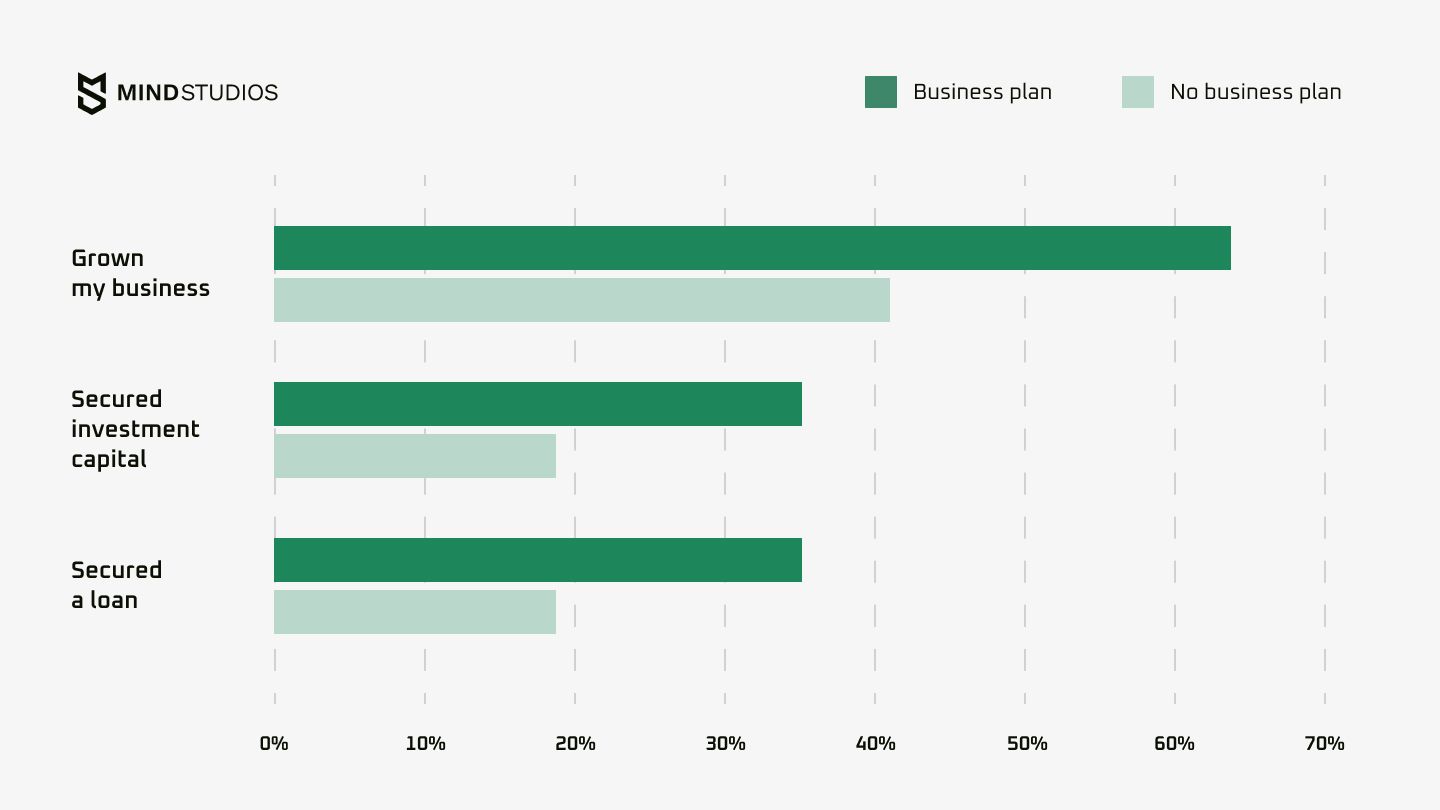 If your way is developing a mobile application
As of 2021, people have made 230 billion downloads of mobile applications, up by 63% than in 2016. Everyone appears to require mobile solutions these days, so your startup has a lot of room for imagination. You can choose from a wide range of mobile app types. To name a few, it could be a travel, event planner (here's an event app development guide), money management, social networking, or fitness app.
No matter which one you decide to create, a pre-written business plan can help you seamlessly go through the mobile app development process with its four fundamental stages: discovery, idea validation, design, and actually, development.
A goal without a plan is just a wish
There is a plethora of mobile applications these days. It means, though, that there are hundreds of almost identical apps in each category. Attracting users becomes a task of utmost importance.
Chad Mureta, an app tycoon, says that a developer's profit directly depends on their knowledge of what's interesting to the user; that is, to create a successful and profitable application, a developer should think like a user.
Creating a business plan based on thorough user analysis will help you explain your business idea to stakeholders. Also, you'll see a path to a product-market fit. To make that happen, you should determine what your target audience wants, needs, likes/dislikes in competitors' apps, and tends to expect from using your app.
Therefore, identifying your target audience preferences should be your priority, as it is one of the main drivers of your startup.
Understanding the market is the key to success
The author of the bestseller 4 Steps to Enlightenment. Strategies for creating successful startups, Steve Blank, suggests that very few people understand where their market is. The writer believes it is almost impossible to launch a thriving startup without analyzing the market it's going to enter.
Before you start writing a business plan, it's crucial to figure out not only the degree of public interest in your product but also the level of competition in the market you're going to enter.
Thanks to the preparatory analysis of your rivals and potential app users, you'll be able to flawlessly identify your product's objectives, advantages, and unique value proposition (UVP). This will also help you form the basis of a proper business plan.
Review your business plan annually
Steve Blank claims that a business plan is static in contrast to a business model, which is dynamic. A business plan appears to be stable by definition: that's a document created once and rarely revised after adoption.
But in our quick-to-change world, do you believe there's anything that could remain static? Especially in terms of business? Investopedia, for example, shares an opposite to Steve Blank's statement: A business plan should evolve in tandem with a company's growth.
We at Mind Studios adhere to the last approach and recommend you go through your business plan for an app at least once every year. It will allow you to respond to changes in your users' demands and assess what goals you have achieved and which ones you still need to accomplish.
Moreover, refreshing a business plan will enable you to keep your finger on the pulse of your startup's current and upcoming financial needs and, therefore, help you develop efficient strategies to attract investments. Consider it a dynamic document that adapts to your startup's development path.
Why should you make a business plan for apps?
In addition to helping you get your startup off the ground, a viable business plan acts as an indicator for investors to consider it as a potential asset.
Let's summarize the main reasons why your mobile app startup needs a business plan: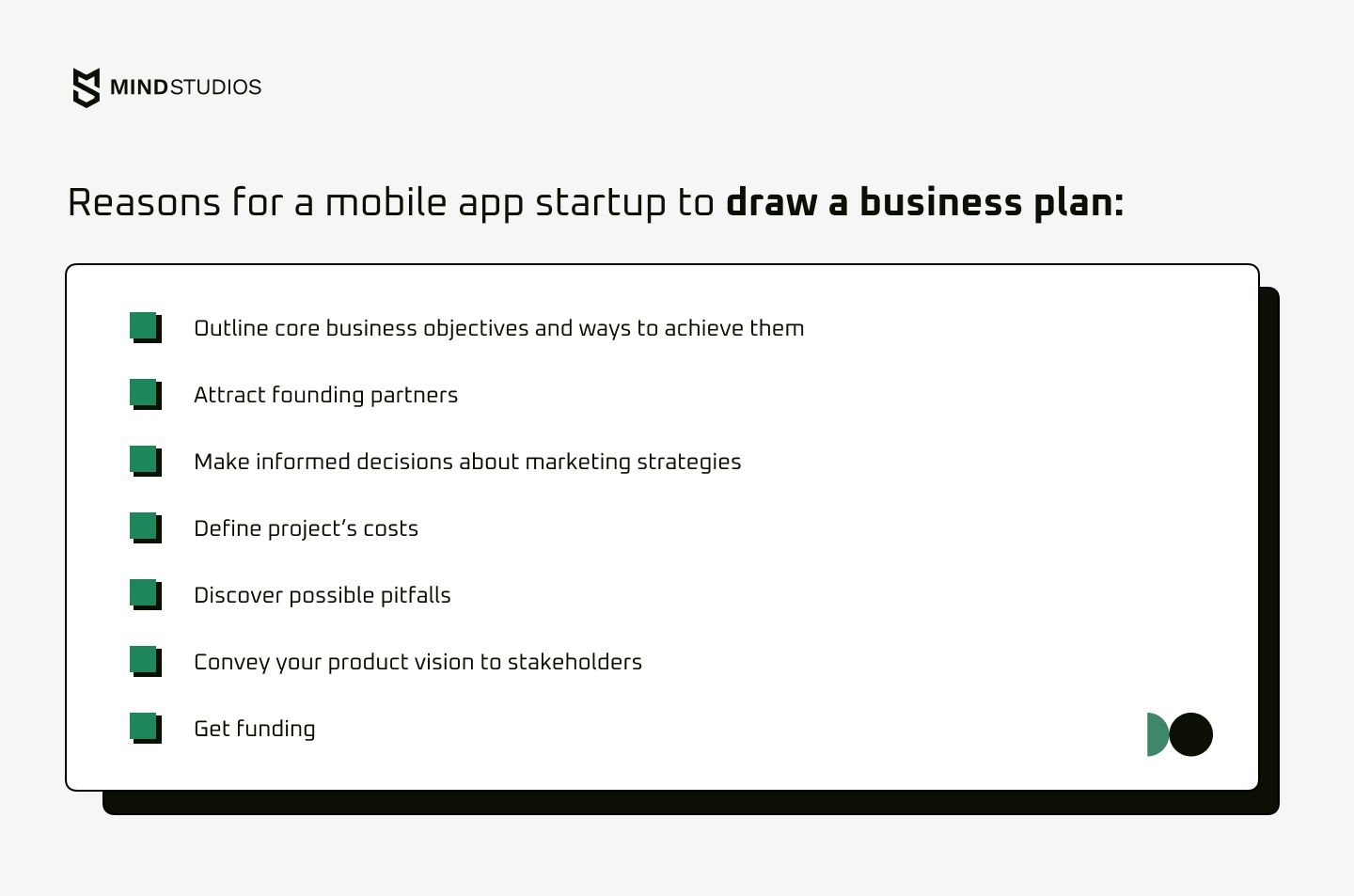 Both startups and established businesses need business plans, the content of which will depend on the company's primary goal.
To attract partners, startup owners tend to use a business model canvas — a more flexible model of the traditional business plan. It can seamlessly adapt to the iterative nature of tech startup development, yet providing core information about a project.
However, the business model canvas for an app does not guarantee 100% success; it can only be one of the components that will help your project attract investment. A comprehensive business plan with a detailed description of your company and mobile app, justification of funds use, and coverage of all legal concerns is what can instill trust in all stakeholders of your project.
Is there a difference between a business plan for a mobile app and other software?
There are obvious distinctions between mobile applications, websites, and other software solutions. They significantly contrast in marketing approach, monetization strategy, and feature sets. As a result, business plans for these solutions will differ as well.
A traditional software development business plan might be structured similarly to a business strategy for a mobile app company. However, any document that presents the firm and its product will be distinctive in content. It is reasonable since each project is unique, with its own goals and target audience.
What does a business plan for a mobile app look like?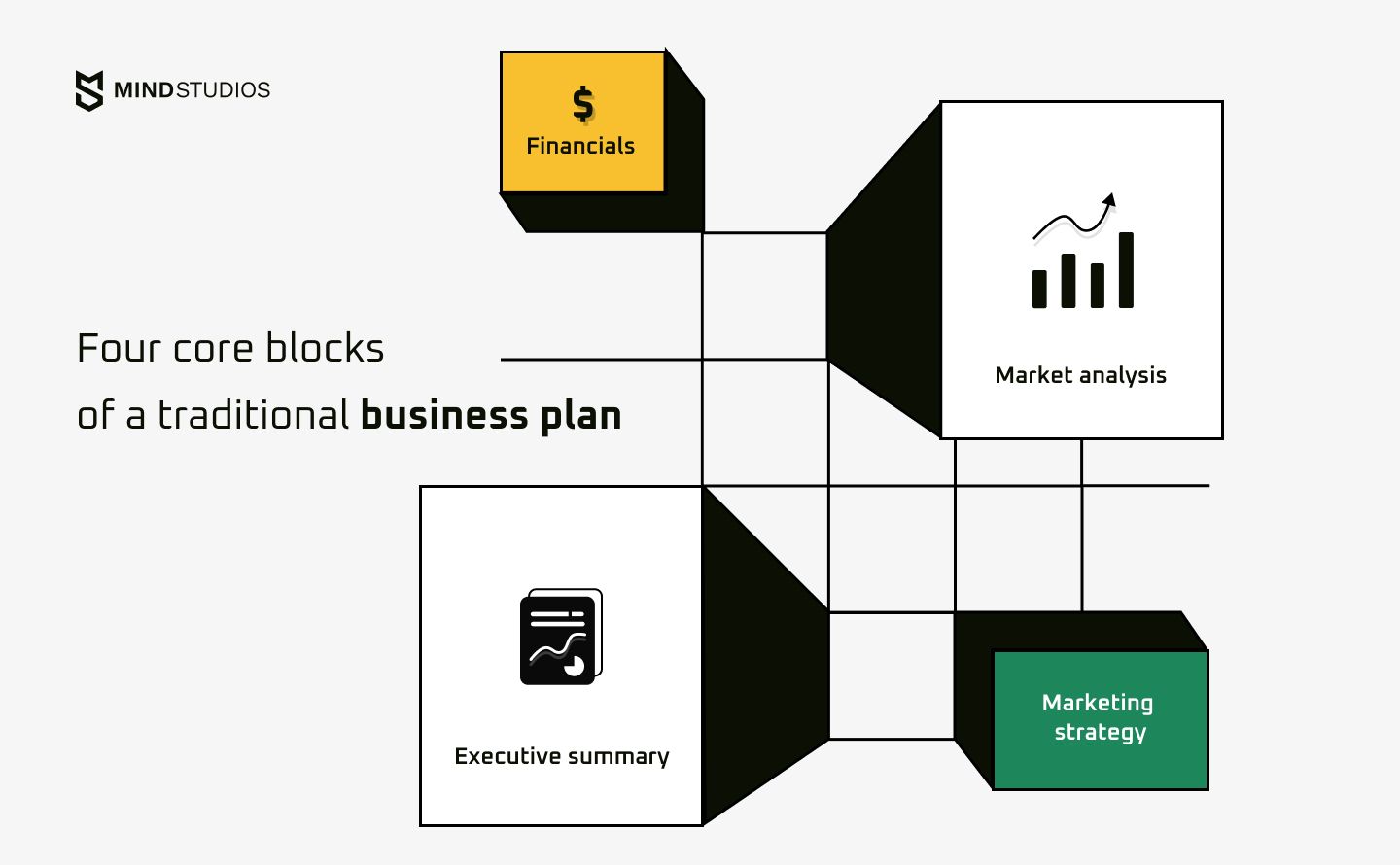 Your mission is to create a reliable and stable mobile application for either enterprises, individuals, or non-profit organizations. In this case, a business plan will help you pave the road to make your project profitable.
Therefore, when writing a mobile app business plan for startups, you'll need to estimate the cost of development and commissioning as well as the timing of the return on investment in your project. Only by doing this, will you get a clear picture of your app's viability.
One of the essential factors in writing a good startup business plan for a mobile app is delivering maximum transparency at each part. Let's highlight what you should include in your mobile app business plan to make it serve your business in the most effective way possible.
Executive summary
Let's start with the executive summary. It is the first and most significant part of your mobile app business plan because it's the first thing an investor will read. The executive summary should be clear and concise, with no detailed information about how your product works. Address the situation in the market, who your target customer is, and what unique problem your application can solve.
Make your proposal unique to distinguish your company from others. In other words, create a unique value proposition (UVP). Use your imagination: consider your executive summary as a movie teaser and your investor as a spectator. Would they like to see your movie?
Specify your goals. These objectives should rely on your business analysis. Investors will examine your aims to see if they satisfy their needs. You also have to determine the ultimate goal of your exit plan. Furthermore, you should establish a list of funding requirements and the proceeds that will be used to boost the attractiveness of your company. One of the essential factors in the startup business plan for your mobile app success is ensuring maximum transparency at each stage.
Make your document convincing. To do this, ensure your product's concept and goals are crystal clear and do not vary throughout the paper. Provide the reader with accurate data and realistic expectations about your project. Of course, don't forget to make sure that the name of the person who created the business plan and executive summary and the names of your team members are consistent throughout the documentation.
Business description
Introduce your company in this part, beginning with corporate information and ending with your mobile app concept. This part of your startup business plan will show investors the corporate values of your company, your mission, product vision, and the fundamental factors for your startup success.
This information is vitally important for investors. For example, a technology startup accelerator Y Combinator considers getting money as by far the easiest part whereas working on ideas — the most significant part for any startup in achieving success. In most cases, Y-Combinator-like organizations make compiling a thorough business plan a prerequisite before introducing newly-formed projects to investors.
Company overview
Here you should describe your company's: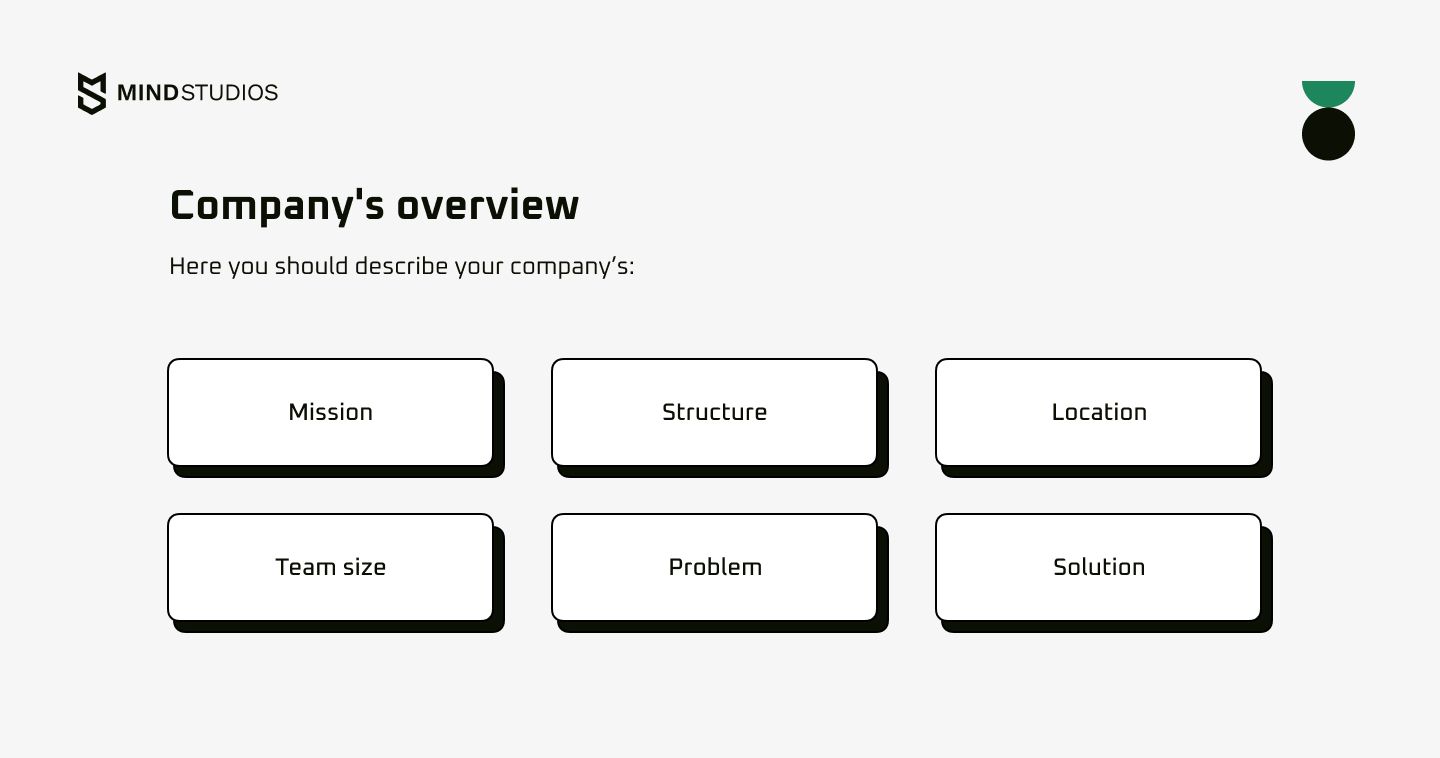 This section should give the reader of your business plan detailed information about your startup: the official name of your company, the location of the headquarters, and its structure, namely the business entity type (LLC, corporation, etc.). Make sure to provide further details about your team, such as the number of workers, their names, job titles, and so forth.
Describe the purpose of your company and the fundamental principles that guide your business in the mission statement. After establishing your mission, outline the primary challenges and solutions your startup can offer.
Company history
Before making any business proposal, describe the history of your company, how your team formed, and how you came up with your idea. In addition, you can talk about the main stages of your company's development and the experience that precedes the product launch.
Your team
Whether you are outsourcing app development process or you have an in-house team, it is often the most significant part of the executive summary because your app development team is the main engine of your project implementation. You should specify each person's name, position, work experience, and responsibilities in the company. In addition, you can involve an advisory group that will help you make essential decisions. Consultants on your advisory team should have experience in the industry.
Market analysis
Information about the state of the market should be the main factor in your app idea realization. You should be aware of the present situation in your industry, have up-to-date information, and be able to generate a short-term forecast.
To conduct market analysis, you should take several steps:
Examining existing business environment
Defining your market research criteria
Determining your total available market (TAM), service available market (SAM), and service obtainable market (SOM)
Identifying your direct competitors
Analyzing your target audience and figuring out the cost per acquisition (CPA) for your niche
No market research in the mobile app industry can be conducted without analyzing Google Play Store and Apple App Store with their ranks for top paid, top free, and top-grossing apps as well as user reviews.
Market forecasts
Forecasting is an integral component of writing a business plan for an app development startup realization.
Forecasts from reputable research firms such as Nielsen and Forrester are of interest when creating any business plan, be it a business plan for an app development, a website, or a traditional software startup business plan. To provide reliable market forecasts, you can:
Include data on the growth of companies with solutions similar to your mobile app
Add information on the amount of money poured into similar startups (platforms like Crunchbase or Y Combinator can help with this)
Enrich your business plan with some forecasts on your target customer behavior
Your goal is to assess whether there's a real market for your product, whether there are enough customers in the market, and, accordingly, whether those customers are willing to pay money for using your product.
SWOT analysis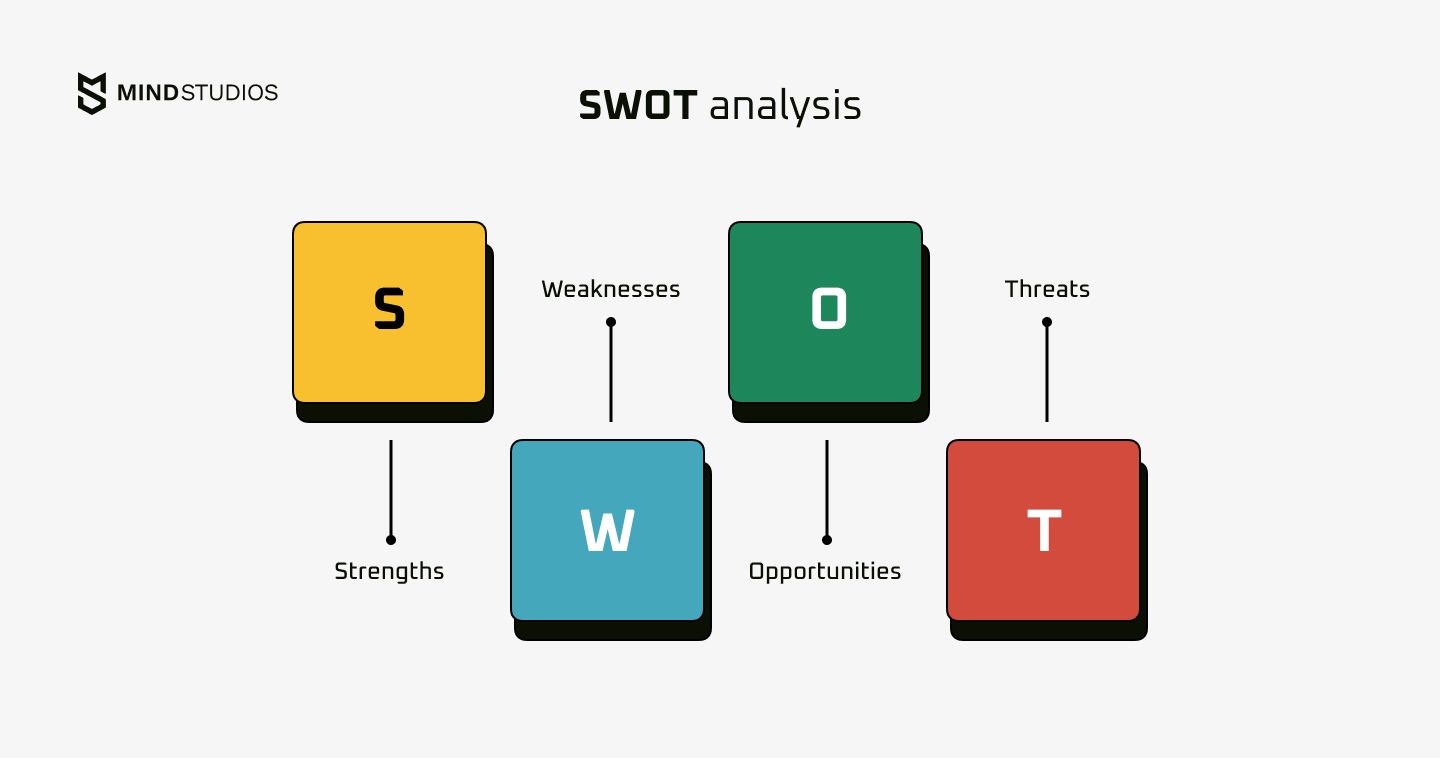 A SWOT analysis is a strategic planning method that allows you to present a structured description of your business situation. It can be a great way to evaluate your app startup concept from four perspectives. Namely, its:
Strengths
Weaknesses
Opportunities
Threats
It's natural when a business has weaknesses: knowing about them will serve as a powerful driver for finding solutions and will reduce any risks your company may need to face.
Marketing strategy
An app marketing strategy is a bridge that allows your product to fall into the hands of your customers. You have to convince investors that you have such a bridge. This is an important part of the mobile app strategy.
When drawing up a business plan, you have to define the marketing strategies you intend to use in application promotion. Here are a few examples, along with descriptions of how they work:
Create a landing page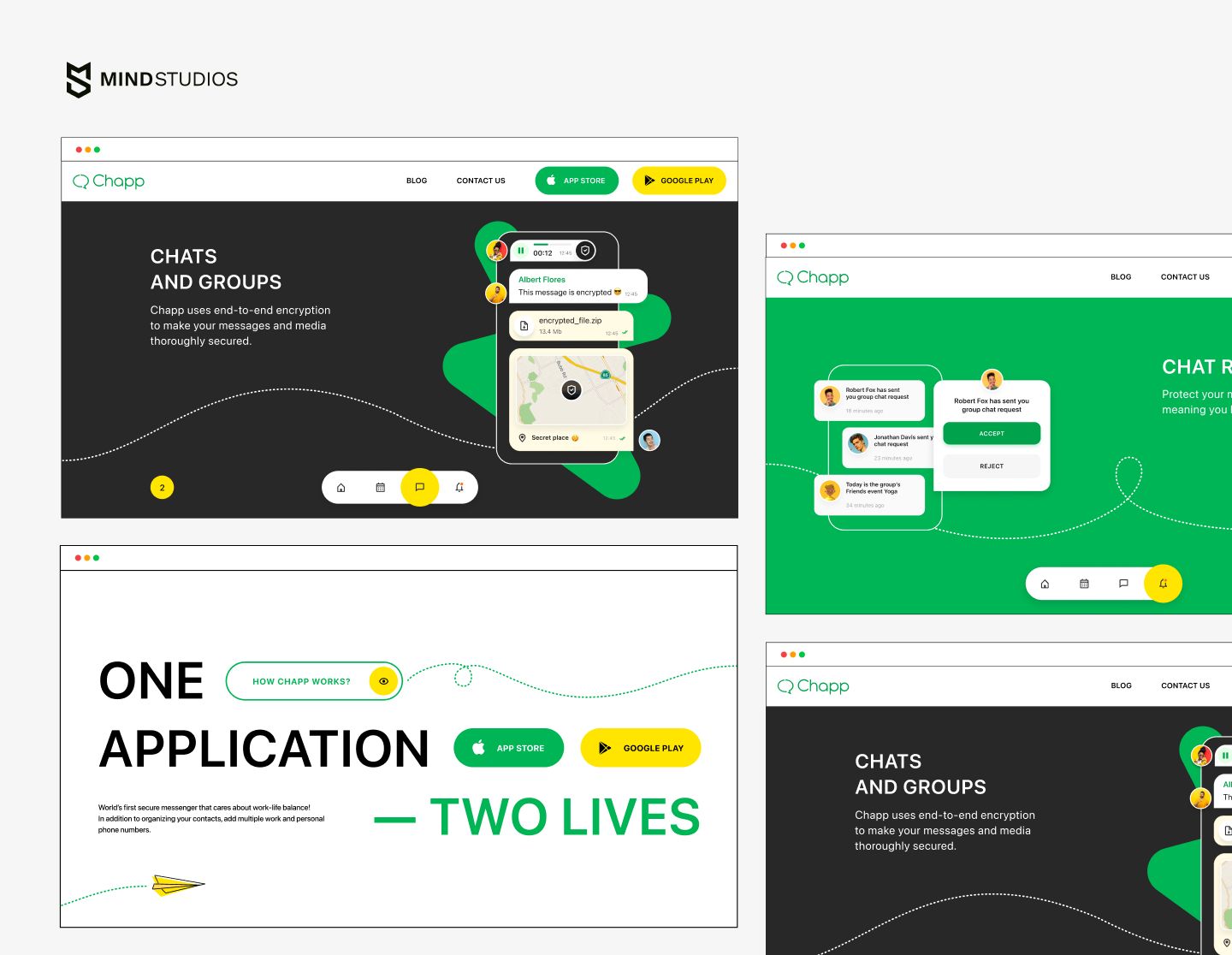 Creating a landing page for your mobile app will help you reach a wider audience by informing users about new features and updates. Make sure your page contains the name of the application, a description of its functionality, promotional videos, and so on.
Launch a website and blog
Launching a website is a great way to promote your application. There, you may, for example, provide more information about your company, its goals and values, and an overview of your future mobile solution.
A website blog is also a helpful thing with your app advertising. You can share news on your upcoming product and publish SEO-optimized articles for better promotion.
Social media marketing
Consider social media marketing while developing a business strategy to promote your app. Describe how you intend to use this form of advertising at various phases of your mobile solution development: before launch while attracting your audience and retaining users.
Estimate your marketing budget
You may estimate the cost of marketing services based on the market analysis you outlined in the preceding section of your business plan. Understanding the marketing budget is essential to all parties: you, the app owner, investors, and other stakeholders.
Product growth
Depending on the type of app startup, growing the user base approach differs, as does the business plan for entering different markets. For example, a massive advertising attack tends to make sense in markets where consumers understand your product or service and its usefulness.
Take, for instance, Uber, which has successfully launched extensive marketing campaigns. The company's ads have spread globally with Uber localizing advertising for each region.
So, if you're still working on a business strategy, think about how you'll expand your user base in advance. This will tremendously assist you in future product growth.
Choose your product launch type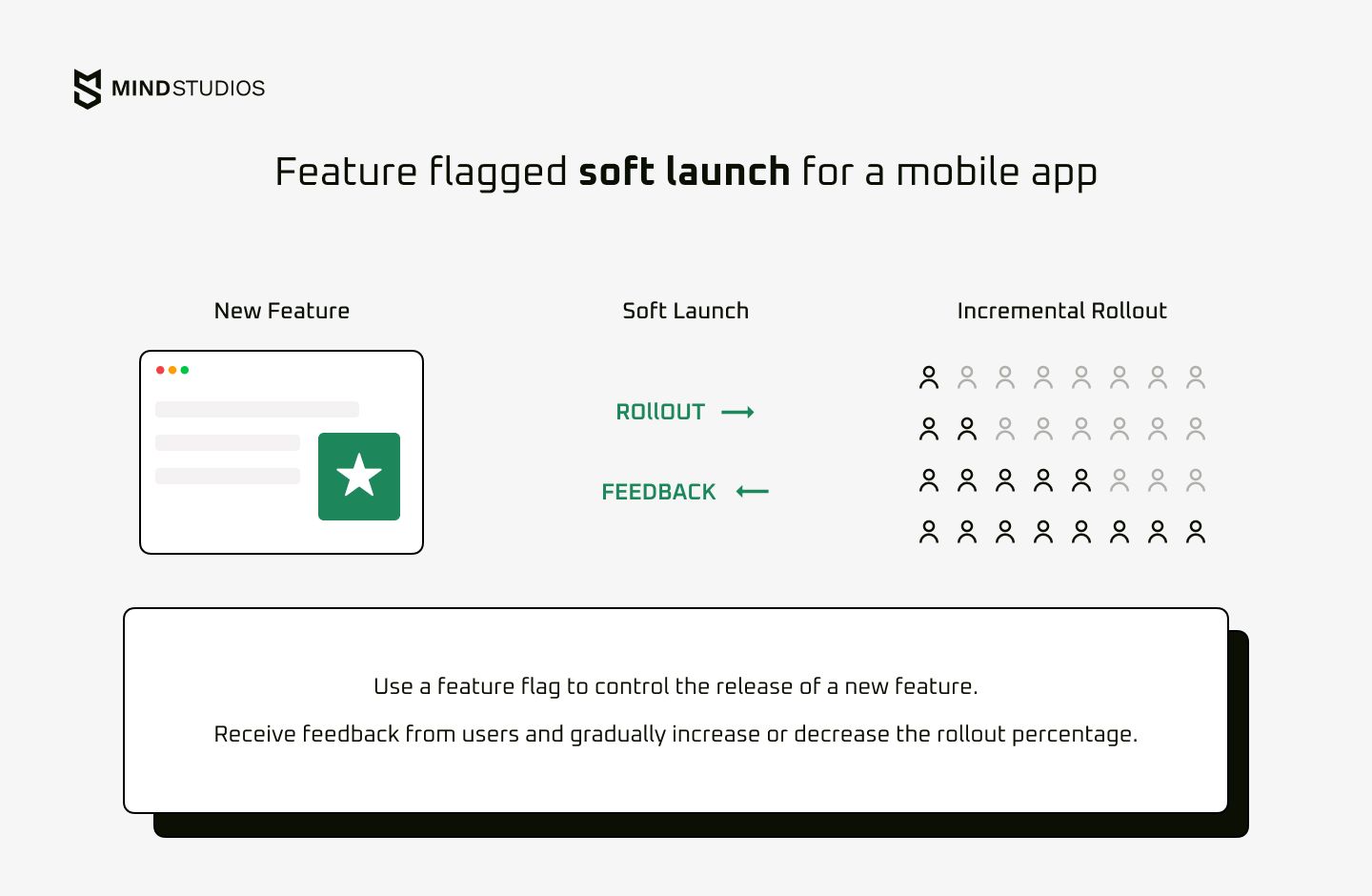 Be sure to indicate the product launch type in your business plan. There are two such types: hard and soft launch. The first one means delivering a finished product to your entire target audience. A soft launch is when you release an MVP or full version of your app, but for a limited audience.
Financials
To rightly set out this part of your business plan, you should clearly understand what kind of financing you need to move forward. Moreover, you need to express it as clearly as possible to be sure a potential investor will also understand what funding you need.
The financial model includes, as a rule, a three- to five-year forecast of all the main forecasted indicators, including profit and loss, cash flow, balance sheets, start tables, unit economics calculation as well as your app's projected revenues and costs. Your financial document has to contain the following components to determine the actual cost and distribution of investments in the best way, with a clear explanation of each.
Startup costs/funding required
Inform your investors about estimated costs. We recommend placing reasonable estimates and leaving room for extra expenses since these numbers might fluctuate.
Designate all types of costs:
One-time costs (e.g. relocation costs, costs for buying an office space, equipment, servers, software, licenses)
Fixed costs: they remain unchanged regardless of whether you produce something or not (e.g. rent, insurance, lease payments, fixed salaries)
Variable costs: costs that change according to the production volume (e.g. wages)
Monetization strategy
It is another section you need to add to your business plan. By illustrating your monetization model, you'll demonstrate to your investors and other stakeholders that your project will be profitable and provide a return on investment with positive unit economics. It will also help you be sure that your startup will reach its break-even point.
The most common ways to monetize an application are:
Advertising
Charging for the application (if your business model describes a paid application, you need to convince the consumer why they have to pay and what they're paying for)
In-app purchases (this is a widespread mobile app business model in iOS and Android applications)
Subscriptions (this model of monetization is quite popular and works until the user decides to cancel the subscription; in most cases, subscription apps have a free trial period)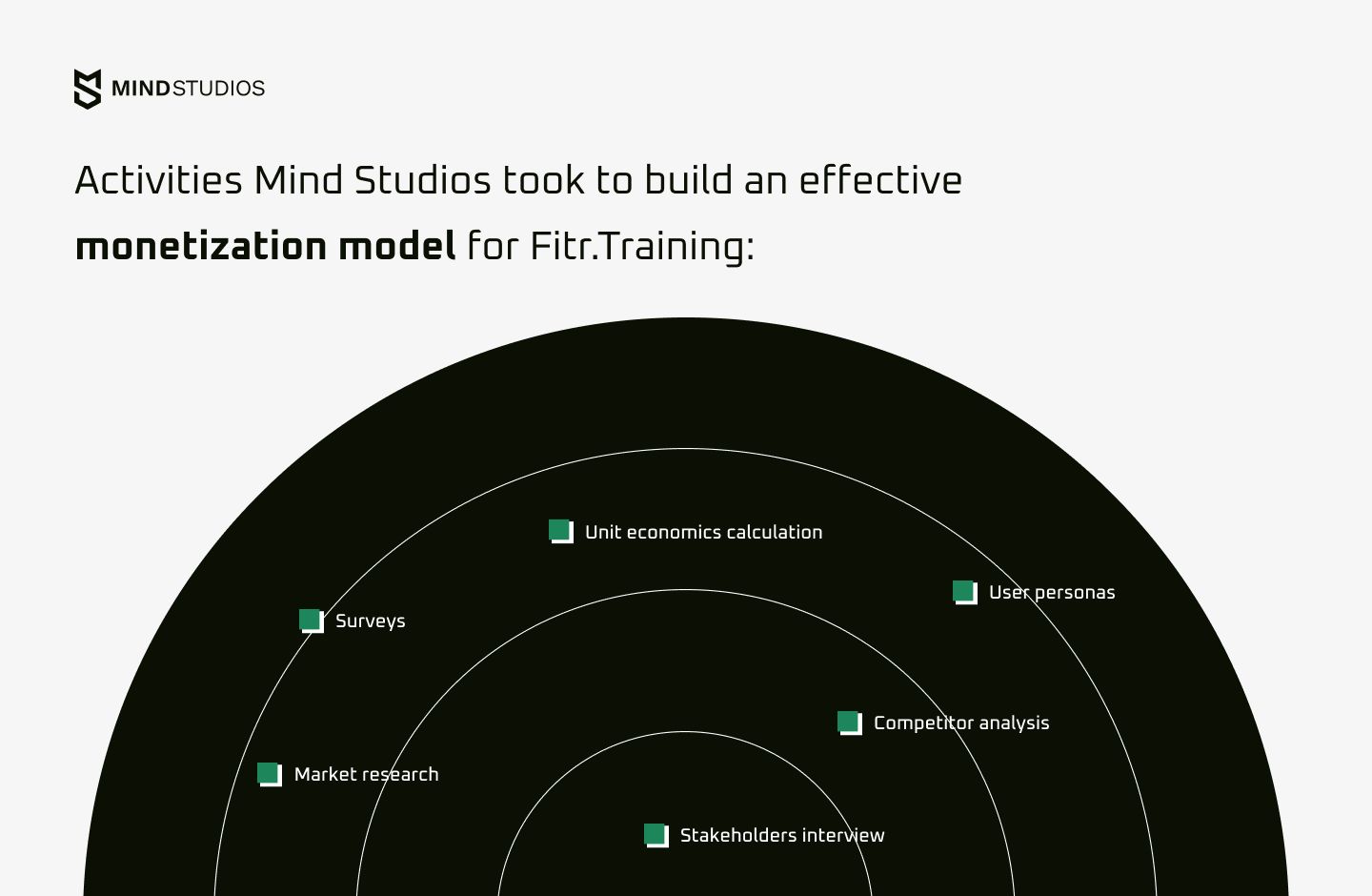 One of our prominent projects in which we've helped set up a monetization strategy is Fitr. Training, a remote fitness coaching application. Our team analyzed the platform's performance and discovered we could enhance the conversion rate.
We established a monetization model based on the collected data and customer feedback. Namely, our team launched an efficient subscription option. The results were remarkable: one out of every four coaches now uses the paid membership.
Mind Studios can also assist you in elaborating a potent monetization strategy.
Business plan example for a mobile app startup
We'd like to offer you a business plan template for a startup updated to 2023. Keep in mind that, although this mobile app business plan itself is structured according to all the rules, the calculations are entirely fictional.
Download the free PDF business plan template for a mobile app here.
Conclusion
Writing a business plan for a mobile app startup isn't easy. As a rule, the most challenging part of developing a business plan for a mobile app idea is writing the first page. Many people in this situation rush to find and download a free copy of another company's business plan. They mistakenly believe that someone else's business strategy will help them achieve their goals. But it absolutely won't!
A business plan cannot be a cloned document. It must be one-of-a-kind reflecting your passion and enthusiasm in bringing your idea into life. A successful business plan should demonstrate that your company is viable and financially attractive. The higher the viability, the higher the investment opportunity.
If you need to compile a well-thought-out business plan to attract investments and successfully launch your app, our expert team at Mind Studios is here to help.