In this article, we talk about creating a streaming website: why it's a good idea, what you can expect, and how much it might cost.
---
---
The current state of the streaming industry
Streaming is taking over the world. Esports competitions are challenging stadiums with the number of spectators; influencers on Instagram and TikTok are snatching advertising offers away from TV. Netflix, Amazon Prime Video, and Disney+ are threatening cinemas as big-screen movie producers and A-list actors and actresses are seen more and more in the credits of TV shows and small-screen movies. The amount of money poured into streaming increases each year, as does the quality of streaming services.
Here are some statistics that prove this:
90% of US citizens prefer watching videos over the internet to watching TV.

In 2020, Twitch has seen over 15 million daily active users, nearly 2 million average concurrent viewers, and almost 83,000 average concurrent live channels.

129 million Americans stream music and 75 million listen to podcasts.

By the second quarter of 2020, Netflix had 72.9 million paying subscribers in the US and 192.95 million worldwide.

US music streaming service revenue in 2019 was $8.8 billion, and revenue for video-on-demand services was $16 billion.
Grand View Research forecasts that the value of the live streaming industry will be $184.27 billion by 2027. Coronavirus lockdowns have forced cinemas to close for prolonged periods, some countries have been under quarantine longer than others, and many people have acquired a taste for streaming even if they didn't use streaming services before. This implies that the streaming industry will only grow faster from now on.
If you'd like to join the fray, we're here to offer a guide on how to create a streaming platform, what to take into account, and what to look out for.
Two types of streaming services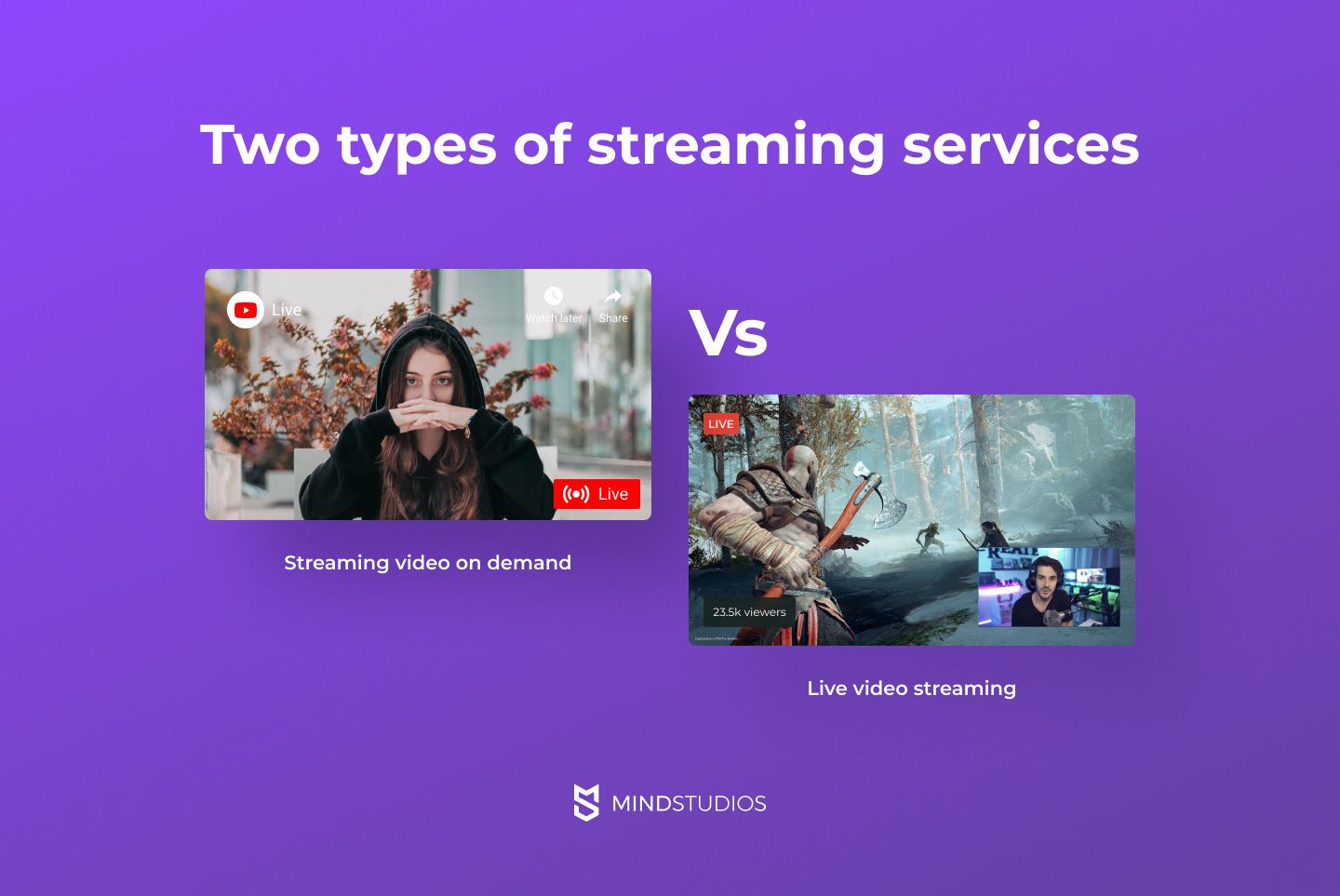 Netflix and Twitch are both video streaming services, but no one would think to compare them to each other — they've got completely different approaches to streaming. It's not just that they provide different types of content; they're based on entirely different concepts. Netflix provides streaming video on demand, or SVoD. Twitch, on the other hand, is a live video streaming service.
SVoD is a lot like downloading video to your computer sans the actual downloading; you can watch a movie or TV show when the mood strikes and the stars align (i.e. you've got time and opportunity). Live video is more like TV — it's streamed in real time on a specific channel and you either catch it or miss it. Some streamers do record their streams, but watching a recording is a different experience from watching live.
How to create a live streaming website
Before putting money, time, and effort into developing an online video streaming service, it's sensible to acquire as much information as possible about what to expect. We'll start with gathering and analyzing data.
1. Market research
A business idea can only be successful if consumers demand it. And to be in demand, it needs to solve an acute problem that customers have. To ensure that your idea solves a problem, you should conduct extensive research. This includes researching your target audience, defining the problem you'll solve and your solution to it, and creating a marketing plan and a rough time frame for development. And, of course, it includes researching competitors.
If you're planning to build a streaming website, here are the world leaders to look at for inspiration depending on what you're planning to stream.
Live game streaming leader: Twitch

Twitch is the first name that comes to mind when talking about video game streaming. And while it's no longer the monopolist in the niche — YouTube Gaming is snapping at its heels — it's still the biggest name in the gaming live streaming industry.
Launched in 2011 as a gamers-only side platform of Justin.tv — a general-purpose video streaming service — Twitch soon became its sole revenue stream. In 2014, Justin.tv ceased to exist and Twitch was purchased by Amazon for $970 million.
The phenomenon of Twitch was, first and foremost, made possible by its timing and well-chosen target audience. The gaming industry was rapidly growing in the early 2010s, and gamers were flooding forums. Given the specifics of the gaming industry — i.e. the demand for communication, sharing progress, and giving advice — it was inevitable that a streaming platform would emerge sooner or later. Twitch became this platform.
Besides Twitch and YouTube, Facebook Live, Vimeo, Periscope, and a number of other platforms now also offer game streaming. This means the industry is growing and there's space for more players on this playground.
Movie and TV streaming leader: Netflix

Netflix was a movie rental service long before it became what we know it as today. It was the first online DVD rental store in the world and switched to streaming after 2007. Right now, Netflix is the world's leading streaming service for movies and TV shows, including those the company produces itself. It's available in 190 countries around the world and consumes 15% of global internet bandwidth.
Netflix is well known for its recommendations based on a user's viewing history. The company has its own personalization algorithm that uses Apache Kafka and Amazon DynamoDB to store and analyze users' data.
Netflix has big competitors: Amazon Prime Video, Hulu, HBO Max, and, as of the end of 2019, Disney+. However, none of these services cover as many countries and offer as many titles as Netflix — most are offered in the US only. Disney+ has expanded into a number of European and Asian countries, though its network isn't yet as large as that of Netflix. YouTube also lets users watch movies legally, but the selection is pretty limited and you pay per title.
In the end, in the US, users choose streaming services based on the selection of licensed and original titles. Outside of the States, though, the market for streaming services is still emerging, which means it's open to new market entrants.
Music streaming leader: Spotify

According to Statista, Spotify's global music streaming subscriber share in 2019 was 35% to Apple Music's 19% and Amazon Music's 15%. By the second quarter of 2020, Spotify had 138 million premium subscribers. The music streaming industry reached $11.4 billion in global revenue in 2019. In 2020, Spotify expanded to Eastern Europe and now covers 92 countries.
Spotify is a subscription service, like most streaming services. Its biggest perks that make more and more people choose it over its competitors are:
A large selection of underrepresented indie artists alongside renowned stars
Stellar recommendations
Curated playlists
Creating a streaming website doesn't automatically mean you'll have to take on market behemoths. Twitch is mostly a platform for the gaming community, and Netflix streams movies and lots of TV shows. But that's not all there is to stream: anything can be streamed as SVoD or live video, including video lessons, consulting services, and medical advice. Streaming can also be part of a number of other platforms.
2. Features that make for a successful streaming website
However innovative your idea is, there are basic features users expect in a streaming service. We'd like to go over the most necessary and some optional but highly beneficial features for you to consider.
Sign-up/log-in

Authentication is important if you want to provide users with the quality of services they demand and deserve. It's also necessary for the proper functioning of a number of other features. Today, it's common to offer authentication via social networks.

Main page

Whether you're building an SVoD service like Netflix or a live streaming platform like Twitch, the main page (or home page) of your website or app is where you can show featured content, highlight recommendations, and notify users about any changes and offers you plan to introduce. This page needs to be well-designed and inviting so users decide to continue browsing.

Player

You can either build a video player from scratch or use a third-party API-based solution.

Library, search, and categories

The library is where all your content is stored. To make browsing convenient, search functionality is a must. We also recommend you provide autocomplete suggestions in the search bar. Advanced search is a great way to make looking for videos more precise. Depending on what it is you're planning to stream, categories might be based on genre, content type, video length, or really anything else.

History

It's not uncommon for users to rewatch videos they like. A watch history will help users find videos quickly and easily. Even if you're planning to make a live streaming service without an option for streamers to save their videos, viewing history might still be of use so viewers can remember what streamers they've watched without following them, for example. You can also use watch history data for your recommendations algorithm.

Recommendations

Unless your content is all from a narrow niche or is very limited without the prospect of scaling, you'll need to provide users with recommendations based on their preferences and/or viewing histories. For live streaming, your service might recommend streamers who stream content similar to what a user has watched and liked.

The recommendations feature should be implemented using a combination of a quality tagging system and machine learning for the best results.

Download

Netflix has added the option to download movies and TV shows in-app for offline watching quite some time ago. It's a great perk for a streaming service, since many people would like to watch a movie or an episode of a TV show during a long commute. Just keep in mind legal issues and make those videos heavily encoded.

Payment functionality

Your users will need to pay for your services in your app or on your website. Needing to jump to a third-party site to pay might deter many potential users, as it takes time and often requires providing payment information. To provide on-site payment functionality, you'll need to integrate a payment gateway.

Profile

A profile page should contain all information about the user and shortcuts to the user's watch history, payments, and downloaded content (if you enable downloads).

Commenting

For live streaming, commenting functionality is a big win — streamers can receive questions and answer them right away, enhancing the connection with viewers.

Ratings and reviews

For an SVoD service like Netflix, ratings and reviews are top community features. The option to comment on reviews may also be met with interest from users. Netflix itself doesn't offer a review or rating feature — only an option to thumbs-up or thumbs-down a title — so this can be one of your site's distinctive features.

Sharing

Finally, the possibility to share a link to your service is a win for any streaming website. Sharing spreads the word and brings you new customers, so you might even consider offering referral links along with some kind of referral rewards.

Notifications

Notifications are essential when it comes to streaming, whether it's on-demand or live. With on-demand streaming, you can remind users about a show they're waiting for or a title they haven't finished, for example. With live streaming websites, the most important notifications are about upcoming streams by streamers a user follows.

Notifications can also be used for recommendations or mentions in comments.

Settings

Users should be able to to tweak a site's operation to their liking. This includes adjusting the bitrate at which videos play, configuring notifications, subtitles, and preferred audio track, and more.

Localization

If you're aiming to provide streaming services in more than one country, you'll need to localize your website. Content localization can be done in the form of subtitles. However, if you're starting with an MVP launched in a single location, localization can be postponed.

Admin panel

If yours is an SVoD service, you'll need to upload content in the admin panel. In a live streaming service, the admin panel is where you'll handle users' authentication issues, moderate content and community, and manage categories, payments, notifications, and everything else that needs your direct attention.
3. The building blocks of a Twitch-like platform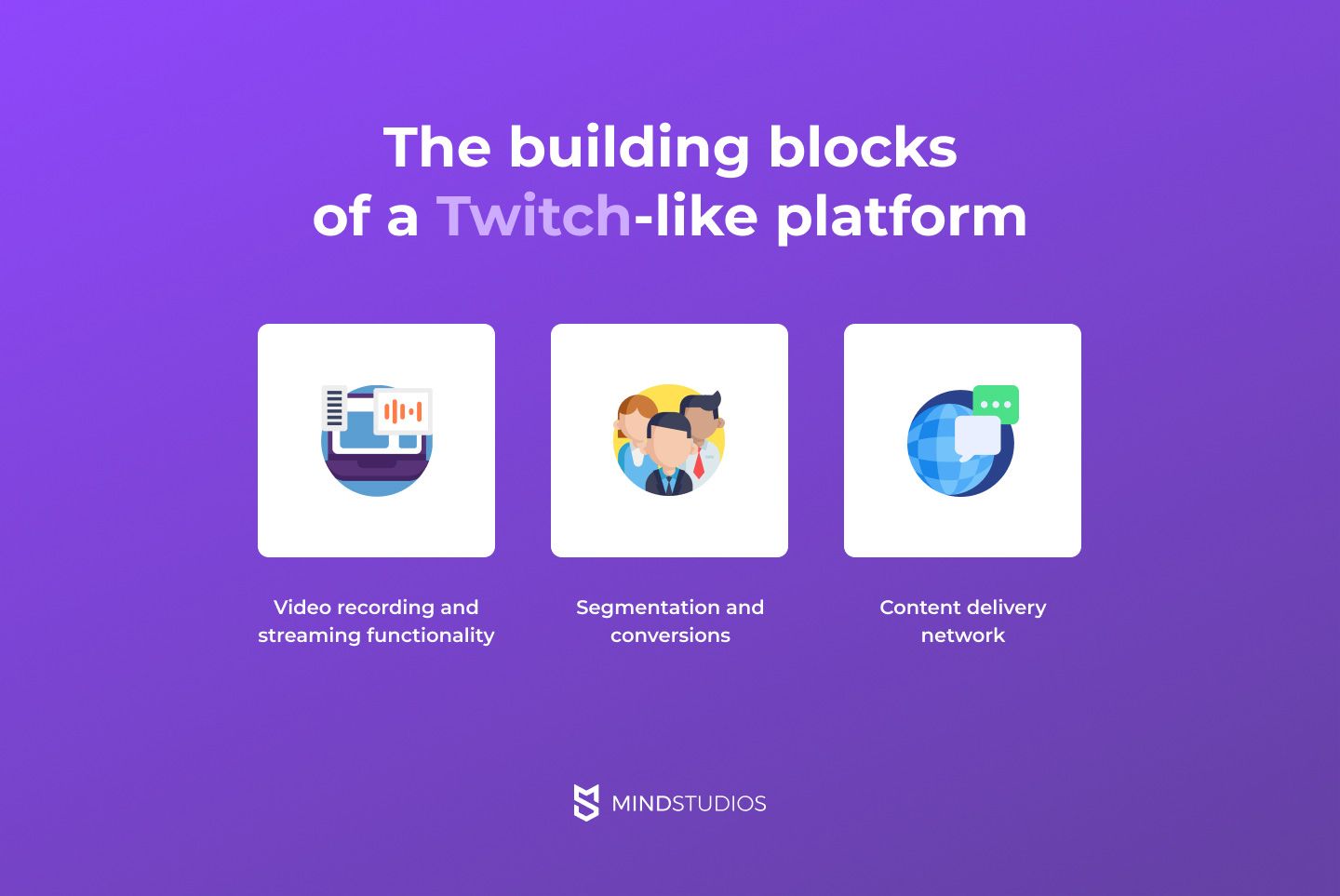 Twitch is more than just a website and mobile app. Viewers only use the website or the accompanying mobile app, but streamers need more than that. You'll have to deliver what they need if you want your streaming platform to be successful. This includes:
Video recording and streaming functionality

Segmentation and conversions

Content delivery network
Video recording and streaming functionality
For streamers to record and stream video live, you'll need to implement functionality for this into your platform. Fortunately, you don't necessarily need to create a live streaming app from scratch, as you can use third-party software. For example, Open Broadcaster Software, or OBS for short, is particularly popular among Twitch users. It's free, open-source, and has an API for customization via plugins and scripts.
Segmentation and conversion
Streaming is essentially a process where data is downloaded and displayed simultaneously. When you open a video on YouTube or Netflix, it starts playing right away, with downloading preceding playback by several seconds (or minutes, depending on your internet connection). This is achieved using streaming protocols: usually Apple's HLS (HTTP Live Streaming) or MPEG-DASH (where DASH stands for Dynamic Adaptive Streaming over HTTP).
HLS and MPEG-DASH both are able to split a video file into tiny parts and encode each part at several levels of quality. Thanks to this, a user can (a) choose the quality at which they want to watch the video and (b) change the quality mid-video. Lower-quality video loads faster and requires less bandwidth, so it's important for users to be able to control the quality.
Content delivery network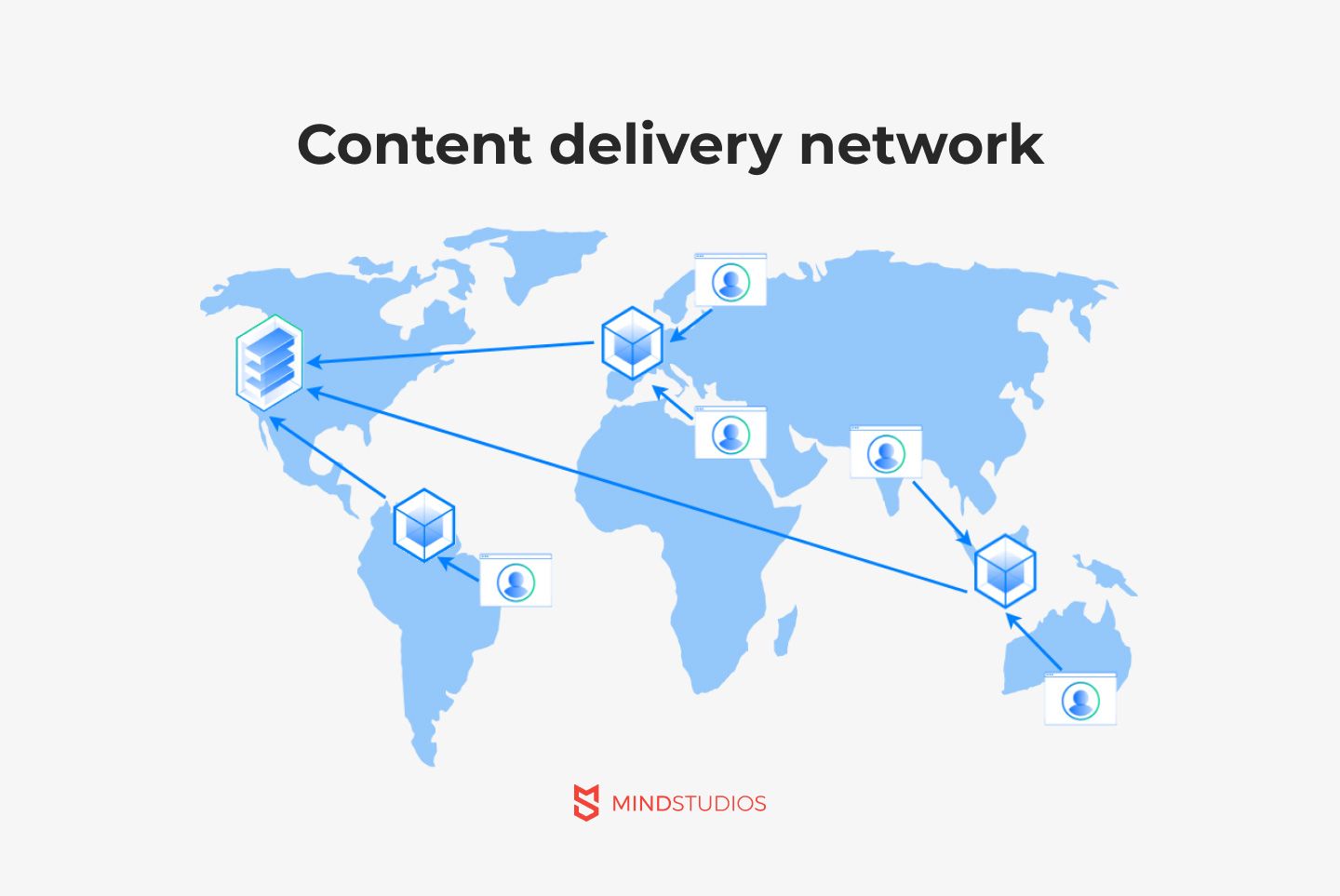 A content delivery network (CDN) is a service that enhances website performance by distributing the network load. Put simply, a CDN is a collection of servers located around the world that cache content at network edges to deliver it to users based on their geographic location. By choosing a server that's closer to the user, the CDN provides content faster and improves the user experience.
There are numerous CDN providers, and which you should choose for your streaming service will depend on where you're launching it. For example, OVHcloud can be successfully used in Europe, Australia, Singapore, the USA, and Canada. If you're launching your live streaming platform in any other locations, you'll need to conduct additional research to find the best-fitting CDN provider for those markets.
4. Choosing a monetization model
Streaming costs money, so of course it should bring you revenue. There are three monetization models commonly used by streaming service providers:
Ads. Advertisement is the primary monetization model for Twitch. Ads allow Twitch to offer services for free, attracting more users. It's especially effective among gamers, not all of which are of the age where they can (legally or financially) pay for the service directly. Generally, parents are more willing to pay for a movie or music streaming service than for a gaming service, as gaming is still somewhat stigmatized.

Subscriptions. This model is used by most, if not all, services that provide on-demand movie, TV, and music streaming. Twitch offers a subscription to streamers as well. The paid Twitch Partner program enables streamers to get revenue from viewers subscribed to their channels; it also has a number of minor perks like emotes, badges, and customizations.

Pay-per-title. This is the model YouTube uses for its movie streaming segment. This monetization model is good when your service doesn't have a selection of titles that would prompt users to pay for a subscription. Besides, it can be used in combination with either of the other two models.
What to keep in mind when you build a streaming platform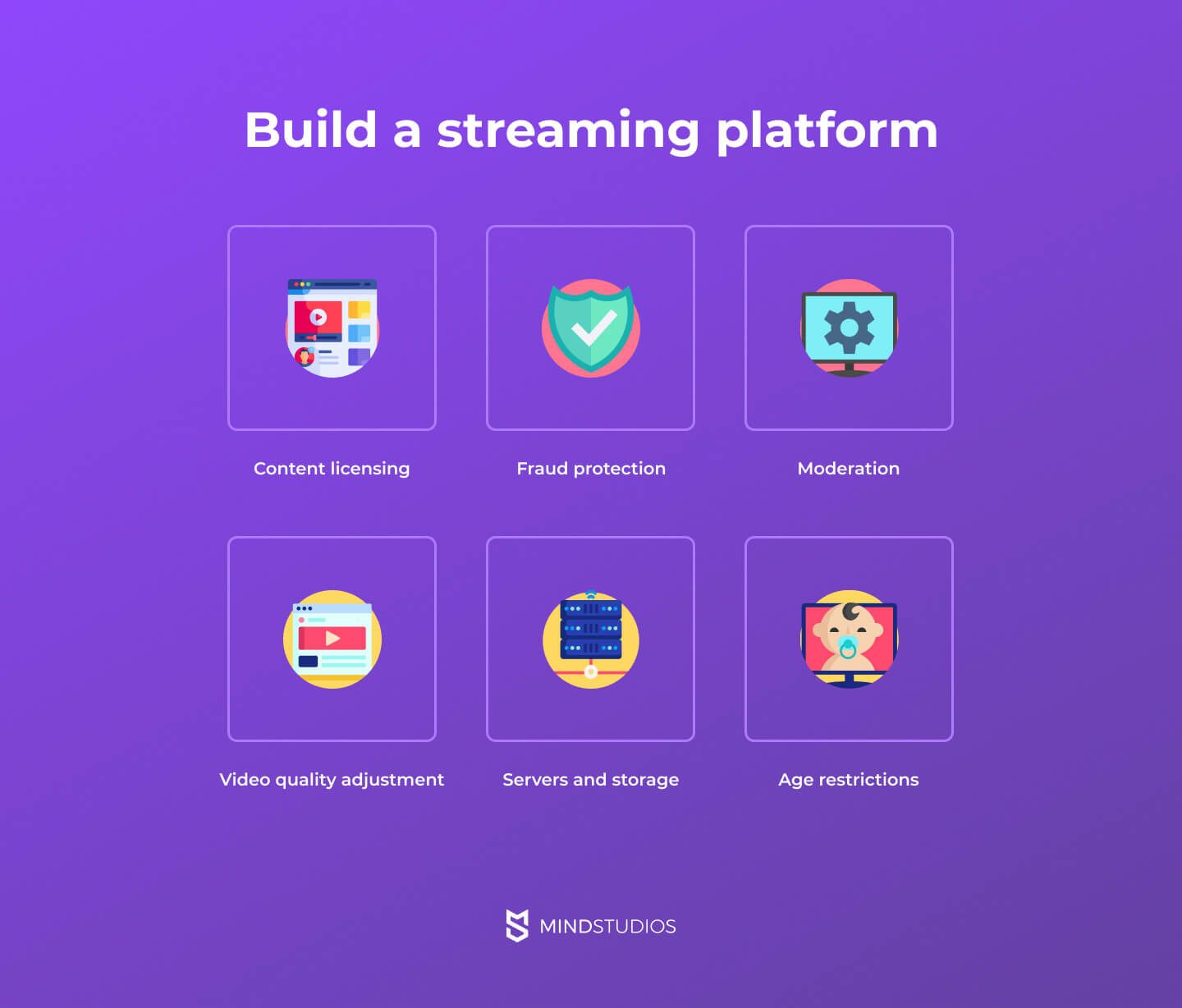 Streaming sites hide pitfalls you need to be aware of. Some of them are the same for SVoD and live streaming services, while some are different. Here's a cursory look at them.
Content licensing (SVoD)
If you're planning to build a Netflix-like service to stream movies and TV shows, you'll need to own content for the time you host it on your service. Content rights can be licensed temporarily, and after the license expires, you'll have to either remove the content from your service or re-purchase the license. Alternatively, you can stream your own content.
Fraud protection (SVoD)
As part of a licensing agreement, you'll need to protect content from being pirated. Users mustn't be able to download your content to their devices in the form of unprotected files. Videos should only be cached in the browser (or your desktop/mobile app) and need to be heavily encrypted. Failure to protect content from being pirated may result in lawsuits and heavy fines from content owners. If we're talking about your own content, you'll also lose viewers if they're able to find your content on pirate sites and torrents.
Moderation (live streaming)
On a live streaming website, as on any website with user-generated content, moderation needs to be in place. It's essential to monitor and ban scammers, remove offensive content by streamers or commenters, remove plagiarized content and content that infringes on someone's rights or privacy, and so on.
To help with moderation, you can add a report button for users to report content or other users.
Video quality adjustment (SVoD + live streaming)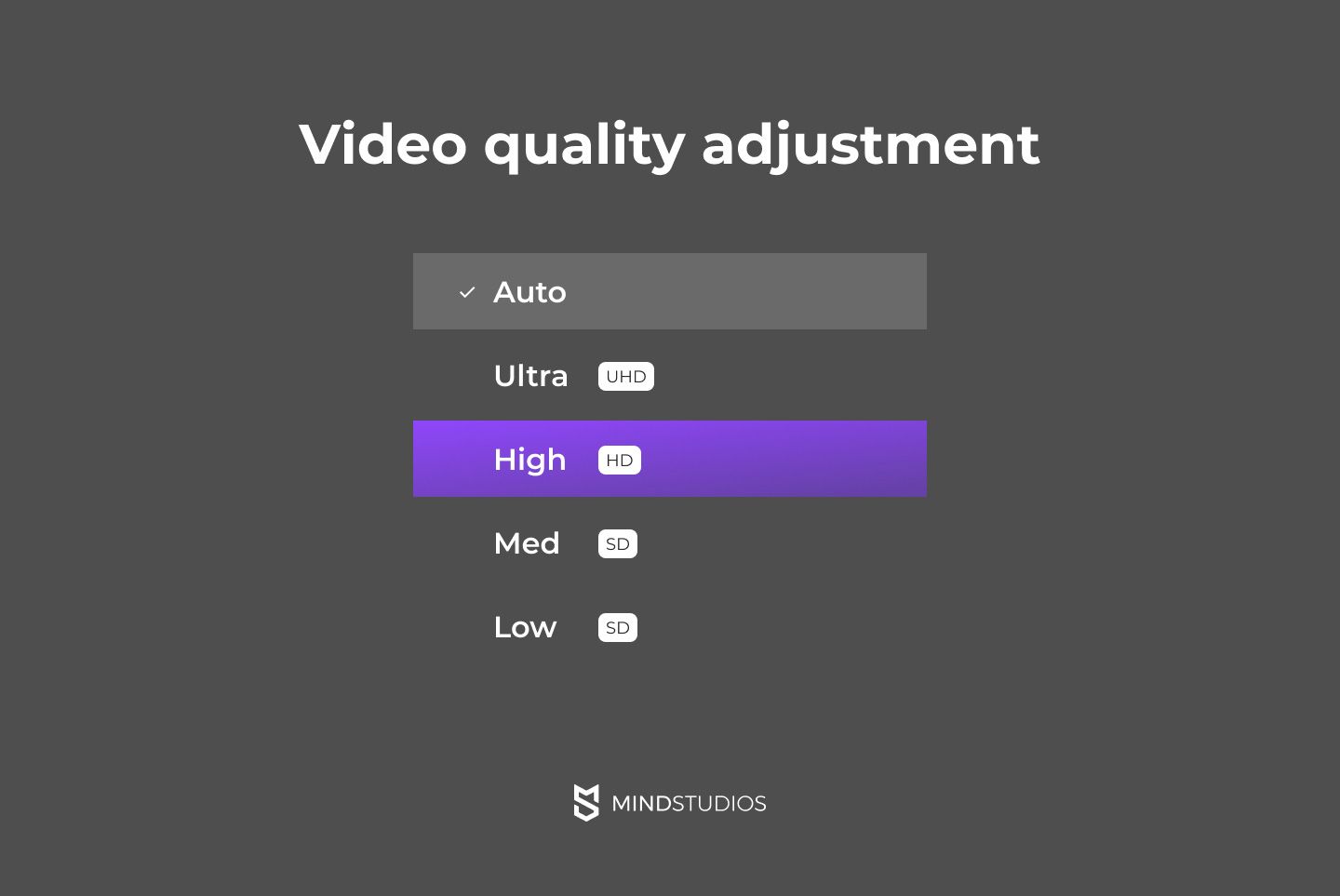 A user's bandwidth and connection quality depend on a myriad of factors, from the user's geographical location to the user's internet service provider. Several reasons exist to watch movies at a low bitrate — limited internet traffic, small screens, slow buffering, etc. You need to provide content in several bitrates and resolutions for users to choose from. Also, it would be a good move to set up a server that can adjust the quality automatically depending on the user's current bandwidth. The HLS protocol and several alternatives can do that.
Servers and storage (SVoD + live streaming)
If your goal is to create a massive service — right away or in the future — you'll need a lot of storage for content and powerful servers that can withstand high loads. It's possible to start small and expand later, but keep in mind that insufficient servers can cause a severe drop in users.
Age restrictions (SVoD + live streaming)
Game streamers often swear, and some games aren't suitable for children. The same goes with movies — the Motion Picture Association has a film rating system in place not just for giggles. If the content you stream might not be appropriate for kids, you need to let your users know about it.
The simplest way to do that is to label titles and make streamers display what age their streams are appropriate for. However, that's pretty unreliable. Let's be honest — many teens just click on "Yes, I am 18 or older" and proceed to the content.
Another way is to ask for the user's age at registration. If they're over a certain age, you can show them all content, and if they aren't, you can show them only content that's appropriate for them.
How much does it cost to make a streaming website like Twitch?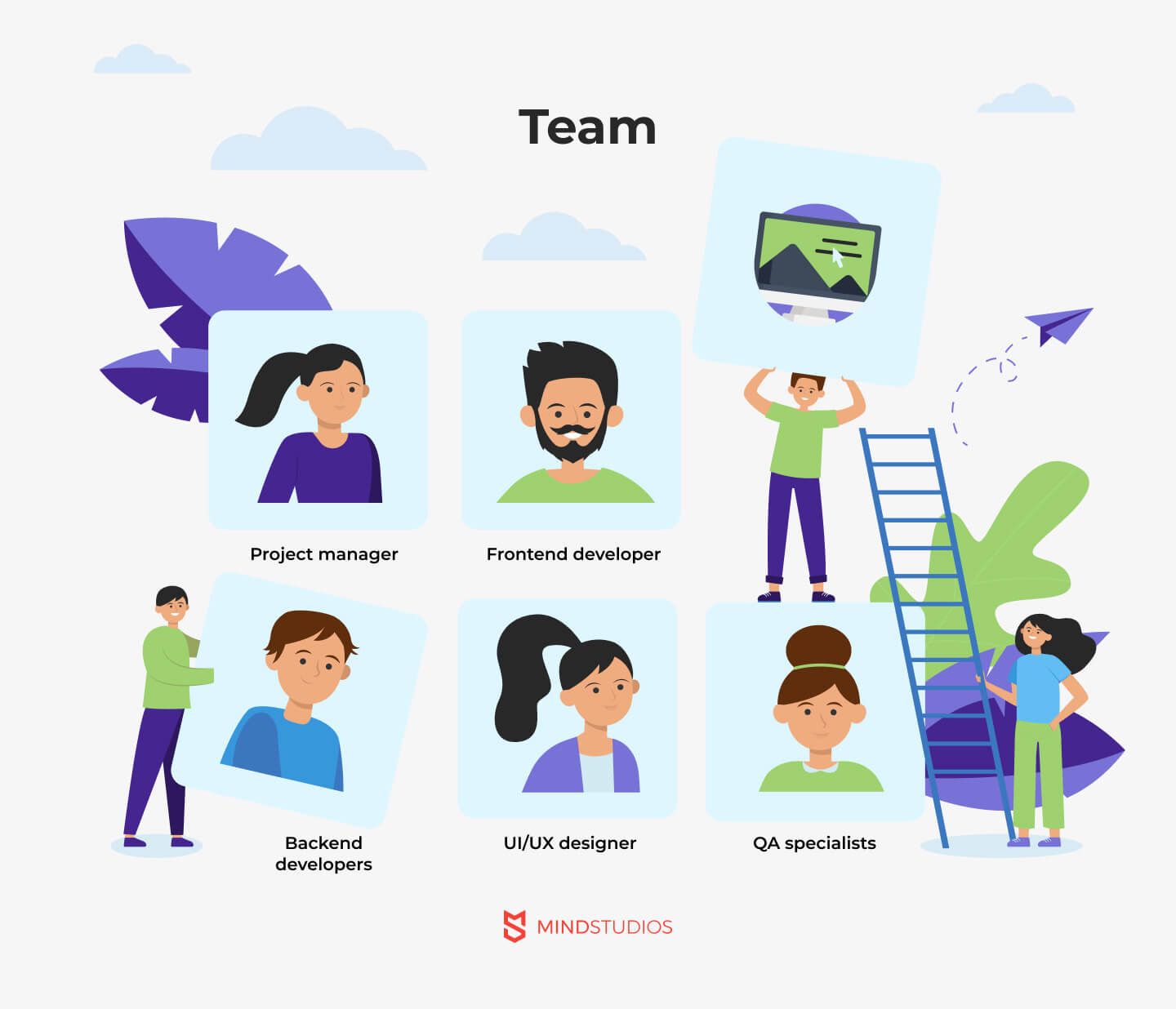 Most software development companies today calculate the cost of their services based on the hours the team spends providing them. Below, we offer a very rough estimate of how long it takes to develop a streaming website, stage by stage. Based on that estimate, we can make an educated guess about the cost to develop a streaming service.
Here's the list of specialists you'll need:
1 project manager / product manager
1 UI/UX designer
1 frontend developer
1–2 backend developers
2 QA specialists
The tech stack for a streaming service development looks like this:
Front end
Technologies: HTML5/CSS3, JavaScript
Frameworks: Vue.js, Angular
Back end
Servers: Dedicated OVH servers
Framework: Ruby on Rails
Database: PostgreSQL
CDN services: Cloudflare, OVH CDN
Streaming protocols: Apple HLS, MPEG-DASH, WebRTC, RTP, RTMP
Codecs: H.264/AVC, AAC
Tools: FFmpeg
Chat functionality: Twilio API
A number of video platforms offer APIs to integrate their functionality into streaming services. Vimeo provides top-notch functionality for live streaming; for a price, Vimeo provides an API to developers as well. Twilio has more than chat functionality too. APIs can sometimes cut costs significantly since they remove the need to build everything from scratch.
If you're planning to develop a video streaming website of a Twitch scale, expect to see something resembling this in your initial estimate:
| | |
| --- | --- |
| Research and analysis | 80 hours |
| Building the prototypes | 80 hours |
| Design | 250 hours |
| Development | 1190 hours |
| Testing | 300 hours |
| TOTAL | 1900 hours |
With these time estimates, the cost to develop a live video streaming website like Twitch will come to about $66,500. This is a very approximate number, as it can be affected by the precise number of features, the technology you decide to use, and the hourly rate of your software development company. Generally, outsourcing to companies in the USA, Canada, and Western Europe is the most expensive option; Eastern Europe is cheaper while still offering high quality.
Streaming web development: Summing up
The demand for entertainment is a constant in today's society, and streaming is one of the most popular relaxation options. This, in turn, creates a revenue opportunity for those who stream popular or valuable content. Whether for movies, TV shows, or gaming, streaming platforms are flourishing. What's more, it's a market where it's still quite easy to find your own niche and grow an audience.
Reach out to us to consult on developing a live video streaming website.
Written by Oleg Tsarenko and Svitlana Varaksina.