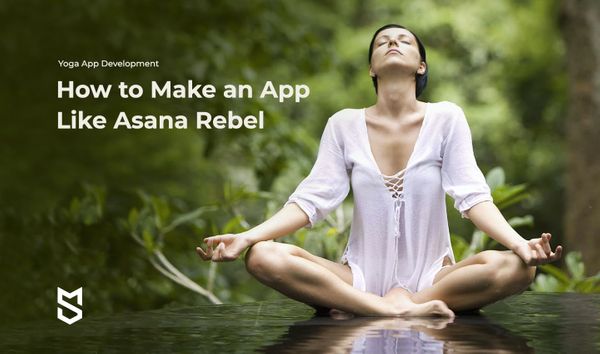 Contents:
---
According to The Good Body, more than 300 million people worldwide practice yoga. Imagine this figure from the point of view of business and profits: Americans alone spend $16 billion on yoga every year. The simplicity and effectiveness of this ancient Near Eastern gymnastics are the two main reasons for its popularity on all continents. And modern technologies make this hobby even more accessible for anyone who has a smartphone. People are looking for these wellness opportunities in the network.
Between 2016 and 2017, the number of search queries for yoga, workout, and meditation applications increased by 65%. The Mind Studios team has decided to get on this trend and tell you how to develop a mobile app for yoga.
Why people do yoga and how a health app can help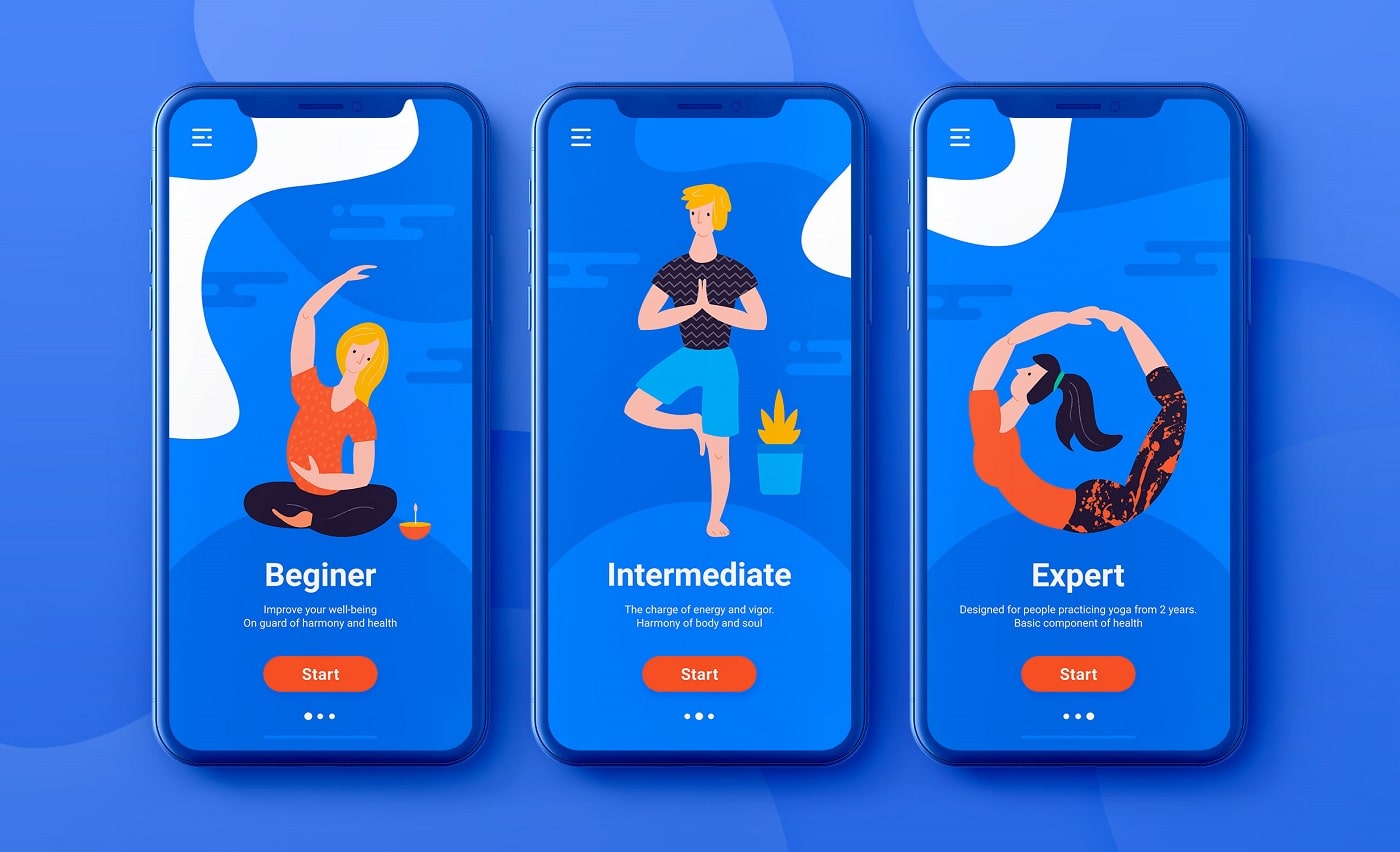 The growing popularity of yoga is logical and not accidental — it's all about the physical and psychological benefits that yoga brings. First of all, it's beneficial to physical health. But yoga classes bring another benefit — psychological. At the moment, people's main priority in practicing yoga is shifting toward self-development, self-knowledge, and spiritual practices. It's worth taking this into account in yoga mobile app development.
Finding the target audience for yoga app
The target audience of an application depends on the type of yoga that it teaches. We can distinguish the following types of yoga, and as a result, the following target audiences.
Ashtanga Vinyasa. This yoga is especially popular with teenagers because of its similarity to aerobic workouts. There are only nine vinyasas (dynamic asanas using a special breathing technique) that flow one after another without stopping, with repetitions.

Iyengar. The purpose of these classes is to heal after injuries with the help of certain asanas (the original teacher himself had poor health as a child). The inventor of this method of yoga came up with exercises to help those for whom even simple asanas may seem difficult: pregnant women, elderly and sick people, and children.

Jivamukti. This is yoga through the eyes of Americans. At the heart of the author's style is Hatha, with new vinyasas that look like a dance. There's also a divine component, reading sacred texts, singing mantras, meditation, and vegetarianism.
Each segment of the target audience can solve its particular problems through yoga. This may be overcoming bad habits, making lifestyle changes, improving health and overcoming the effects of injuries, or preparing the body for changes. Yoga can help solve these problems as efficiently as possible.
Profile of an average yoga practitioner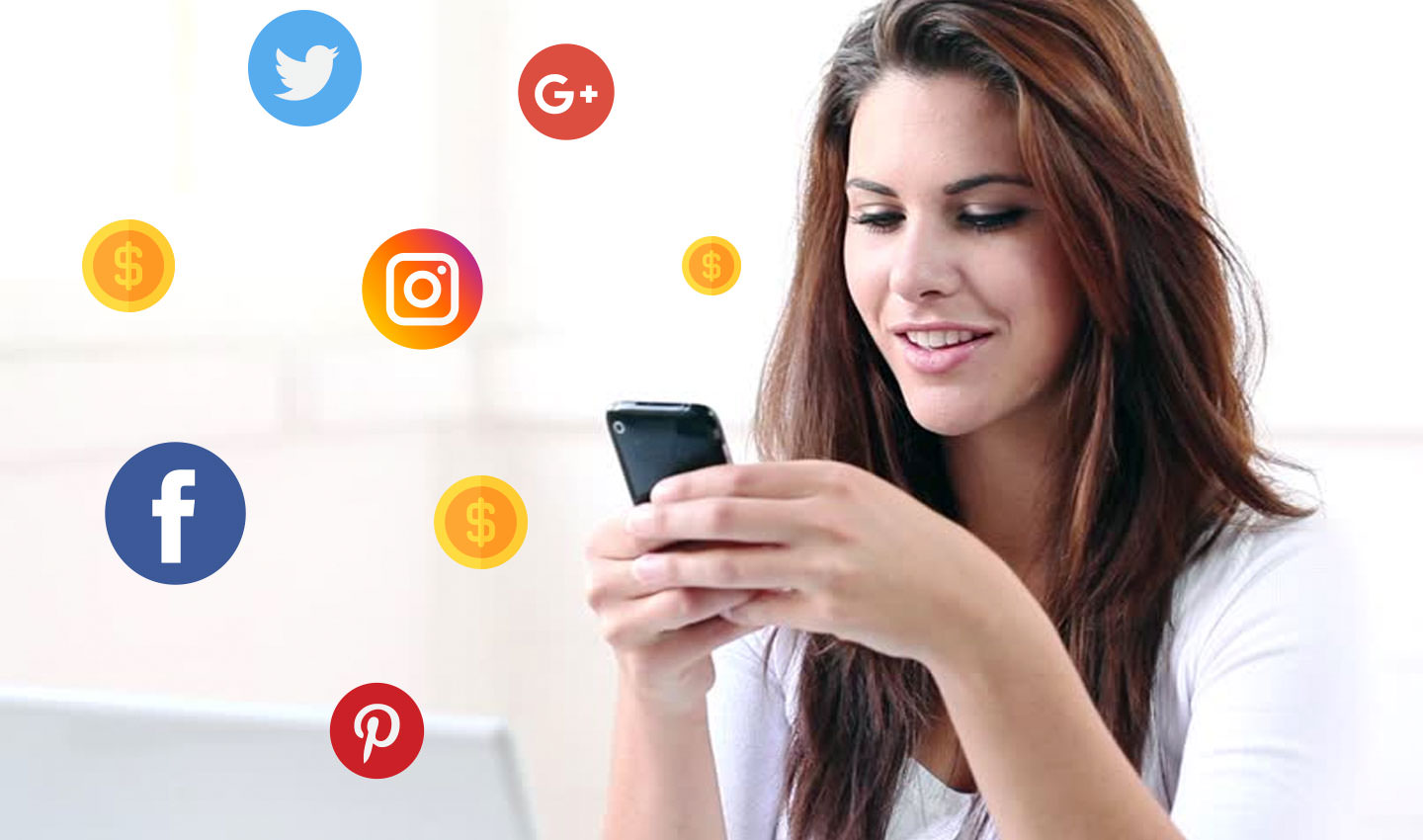 Here's a portrait of the average yoga student. According to the study by Breathe, the average yoga student:
Is 30 years old
Has a steady income
Is a woman
This portrait is somewhat similar to the portrait of the average mobile application user:
A Millennial (approximately 30 years old)
Willing to pay in apps (64% of users ages 18 to 34 made in-app payments in 2017)
A fan of social media
Solvency of the target audience
As you can see, people who practice yoga are fairly solvent. And this isn't an accident, as yoga classes in studios cost $10 to $30 per class or $100 to $200 per month.
And this is only the cost of the lessons themselves. This doesn't include the cost of the rug, clothing, and training materials. Because yoga is popular, it could be a lucrative idea to build a mobile app for yoga. Let's see what solutions in the field of yoga app development have already been launched at the market and why they're successful.
Examples of the most successful yoga applications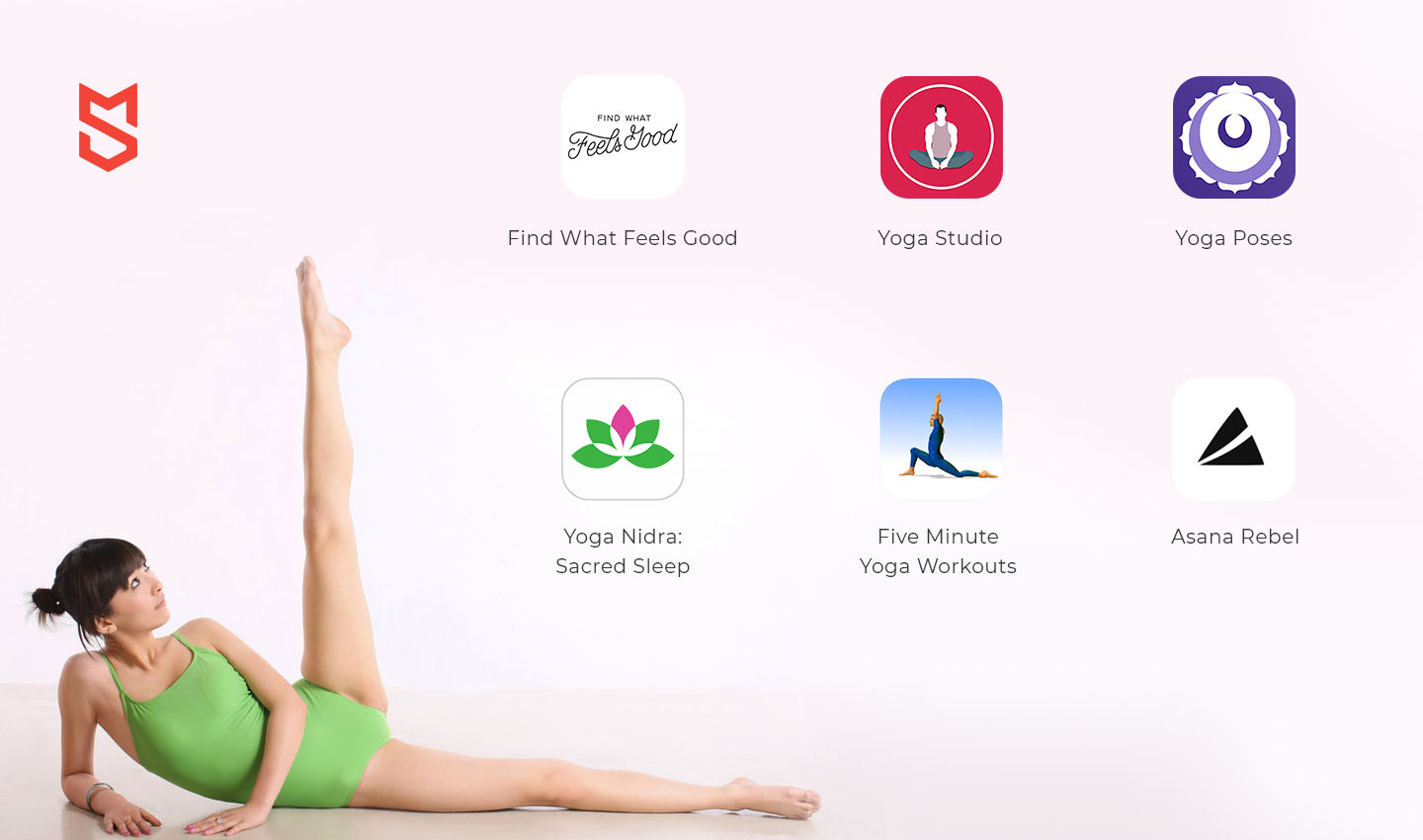 Here are the most popular and successful custom apps for gym, fitness, and yoga.
How does Asana Rebel make money?
The developers of Asana Rebel say that their main goal was to help people become happier by increasing their efficiency and motivation. The application contains exercises that combine elements of yoga and fitness and which need to be performed at least once a week. Asana Rebel is free to download.
The application is monetized by selling subscriptions. These are lessons that allow users to work with one particular pain point, for example, bad habits or low efficiency.
How to make an app like Asana Rebel: features to implement
Applications for yoga can be divided into two types: applications that let users practice independently and applications that connect users with yoga instructors. Here are the features that you should implement in each of these applications. Of course, the cost to make an Asana Rebel-like app will depend on the set of features that you implement.
Features for yoga practitioners
| Feature | Description | Time needed to implement, hours |
| --- | --- | --- |
| Registration | This is a standard feature of any application that provides quick access to the program by entering an email address or phone number or by using social networks. | 58 |
| Yoga Sessions | This panel allows users to manage lessons, see progress, re-enter completed lessons, and schedule sessions on a calendar. | 60 |
| Events | Students can see planned yoga activities and and sign up for or cancel classes. | 30 |
| e-Store | This functionality involves a connection to the online store and allows users to to buy everything necessary for yoga. | 160 |
| Blog | The blog in a yoga app usually contains information about yoga, spiritual and physical practices, and how to do exercises properly. | 70 |
| Notifications | Users may receive notifications, for example, every time new material appears on the blog. | 38 |
| My Profile | Users can manage their personal data. | 78 |
Features for yoga teachers
| Feature | Description | Time to implement, hours |
| --- | --- | --- |
| Registration & Login | This is the standard form required to submit data and quickly access the application. | 58 |
| My Sessions | Allows users to see the number of lessons booked and manage them. | 70 |
| Create Offer | This feature allows teachers to create their own training programs and offer them to students. | 40 |
| Publish Class | Teachers can create their own training programs and share them with all their students in the app. | 60 |
| Calendar Availability | This feature allows teachers to keep track of busyness and see scheduled and canceled lessons on the calendar. | 120 |
| Payment | Teachers can see paid and unpaid lessons. | 38 |
| Payment History | Teachers can see the history of all payments they've received. | 30 |
| My Profile | This is a standard form allowing teachers to give all necessary information about themselves. | 75 |
How much does it cost to make a yoga app? Some additional features that affect the price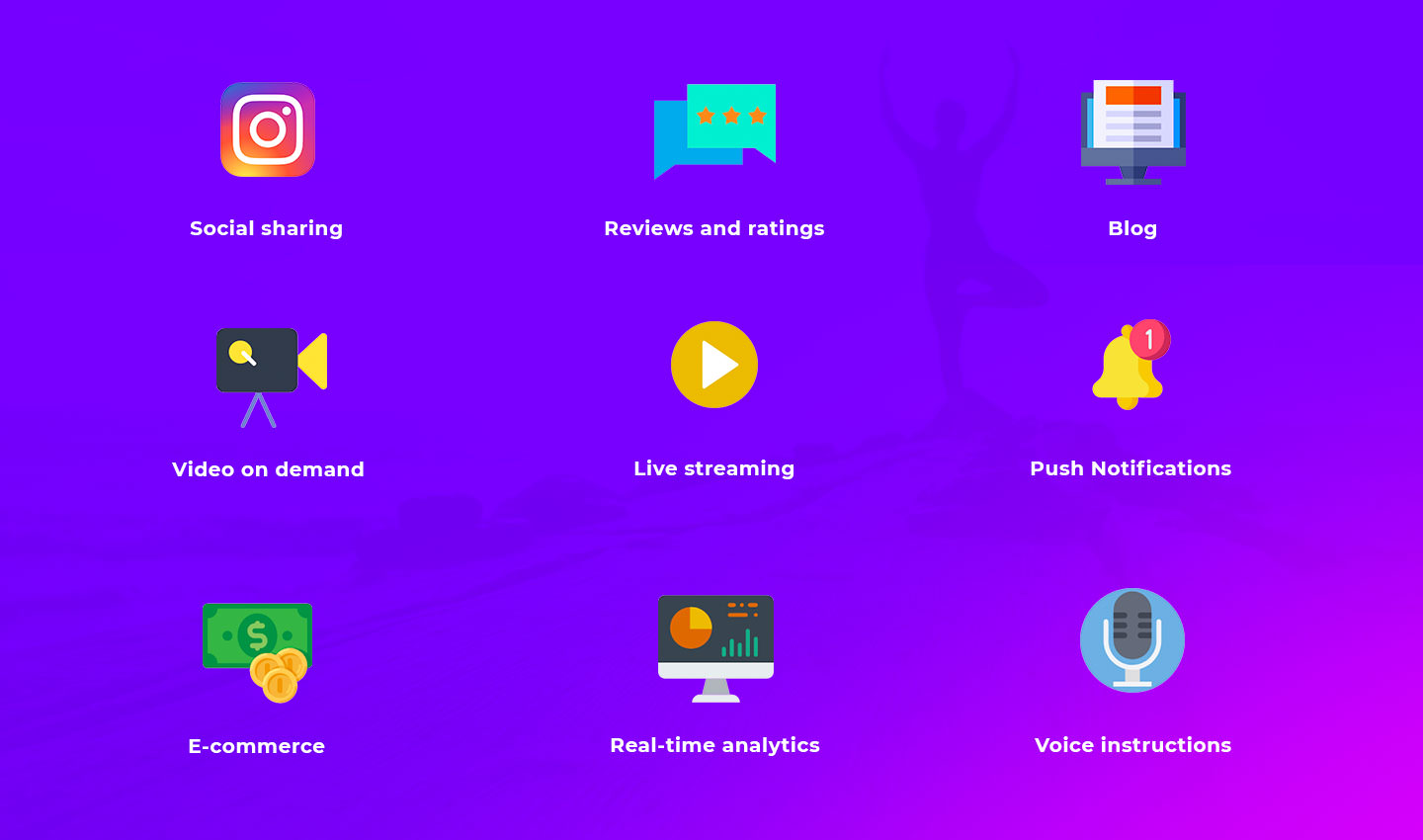 Social sharing. This is a must-have feature since today sharing success has become part of success itself.

Reviews and ratings. This feature can be nicely implemented in a yoga application, allowing users to give marks or write reviews about teachers. The same system is perfectly applicable to video and audio materials, tutorials, and master classes placed in the application.

Blog. If this tool is implemented correctly and contains really cool content, then it's possible to increase involvement in the application several times over.

Video on demand. The video is a trend, and people perceive visual information better and process it faster than textual information. Therefore, embedded video tutorials can be a valuable addition for yoga fans.

Live streaming. This feature will be equally useful for students and teachers. Live streaming allows teachers to conduct lessons in real time through the application and allows students to show each other their achievements.

Push Notifications. Like social sharing, this is a mandatory feature. Users should be able to manage what notifications they receive.

E-commerce. When a yoga application is connected to an online store, it's not just an additional source of monetization. It also improves visitor engagement, which increases the rating of your application.

Real-time analytics. This feature is implemented on the admin panel side and allows the owner of the application to receive current information about its usage.

Voice instructions. This may be an additional option for those who are just starting to use the application to quickly understand the basic features.
How much does it cost to develop a yoga solution?
As you can see, developing a mobile app for yoga is rather complicated. The cost to make a yoga mobile app will depend on the target audience, the complexity of the design, the necessary functionality, and the platform (Android or iOS). Here's the approximate amount of time required to implement all the necessary parts of a yoga app.
| Feature | Hours |
| --- | --- |
| Business analytics and specifications | 80+ |
| Visual prototypes | 60 |
| Design part | 130–190 |
| Backend development | 300–600 |
| Admin panel | 80 |
| Testing | 300+ |
| Total | 900–1300+ |
As a rough guide, we can approximately estimate a yoga app to cost $40 300 to $58 500+. At Mind Studios, we do everything possible to save your resources without sacrificing the quality of the app.
If you have any further questions, please feel free to contact us for a free consultation.