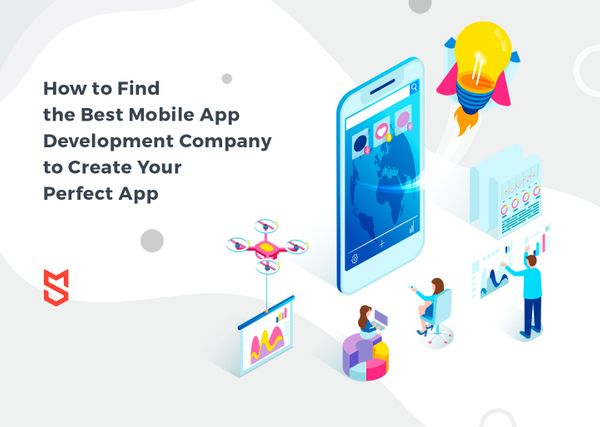 How can you find the best outsourcing company for mobile app development? In this article, we show why it's important to find the best company to develop a mobile application for your project that meets your requirements, what problems may arise in the search for a company, and what criteria a company must satisfy in order to realize your idea.
---
Contents:
---
The result of this journey will not be long in coming: a high-quality product that's the result of your efforts as the client and the one with the idea as well as the efforts of developers, UI/UX designers, QA engineers, business analysts, and project managers.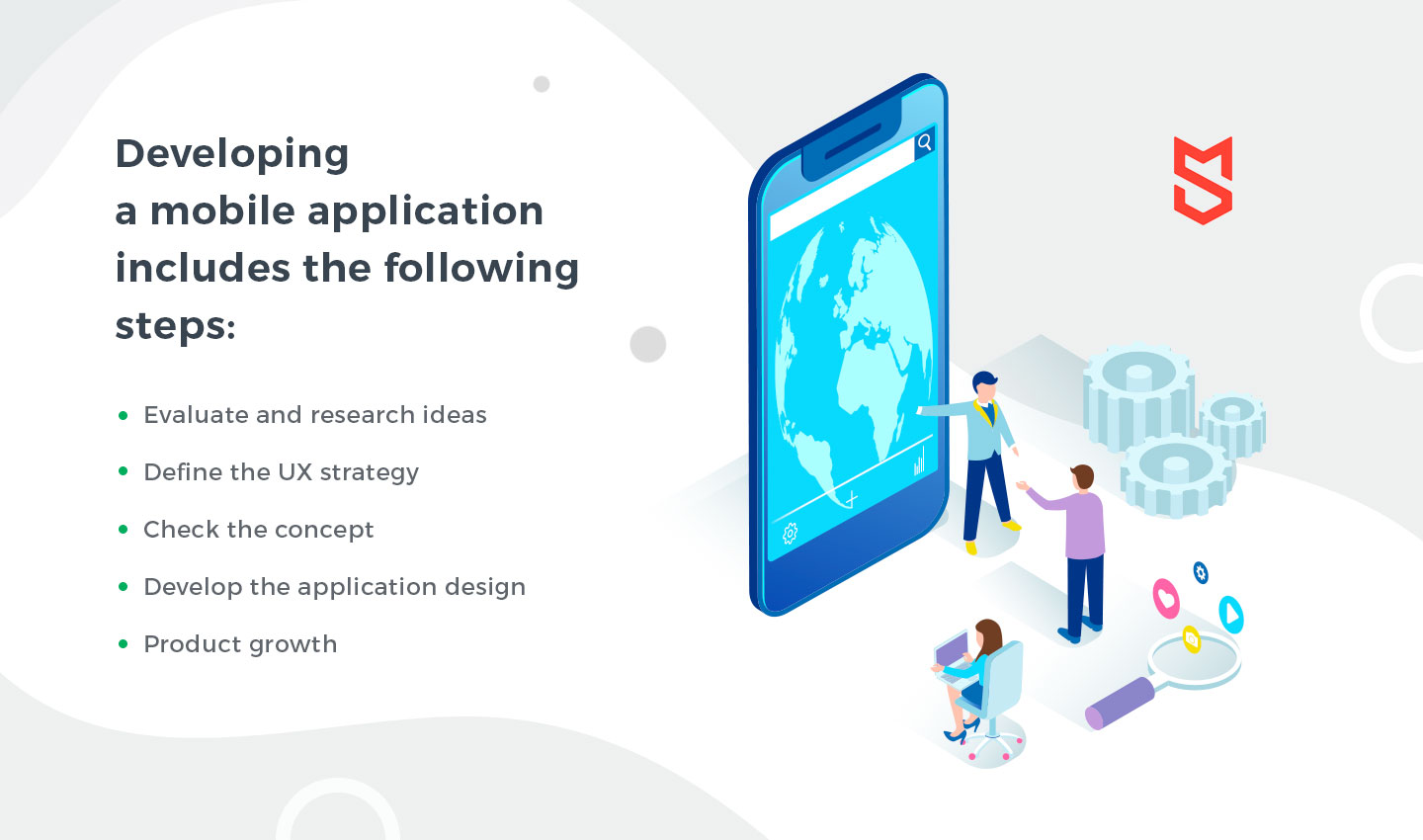 Pitfalls of outsourcing
Before asking for help from a mobile application development company, you should understand the difficulties that may arise when outsourcing mobile app development.
Loss of control. If you fear that you'll lose control of your project and the final product won't meet your expectations, then the solution is contracting, which by definition governs partnerships with an outsourcing company in providing control and visibility.

Loss of confidentiality. How can you protect your best mobile app ideas from competitors? When cooperating with an outsourcing agency, you should sign a confidentiality agreement. As a rule, you should limit access to data only to those who work on the project. Constantly monitor and protect the flow of information between your company and an outsourcing partner.

Hidden costs. How can you identify an unfair outsourcing company? On the scale of cost/quality for you the quality should be in priority. Don't be guided by the low cost of services. Select an agency with a solid portfolio of projects and reviews and specify clear and accurate deadlines and costs in the contract.

Feedback. Problems that arise due to the location of an outsourcing company in a different time zone or country or due to language barriers can be solved using feedback. Discuss the feedback mechanism for staying in constant contact with your partner in advance.
Taking into account the chance of encountering these or other issues when outsourcing, you can minimize the risks of outsourcing and achieve a successful partnership.
What needs to be taken into consideration in mobile app development?
Revenue from mobile applications is constantly growing, as shown by Statista: there were 2.1 million apps in the iOS App Store and about 3.6 million in the Google Play Store (it's 100 thousand more than in December of the 2017) as of the Q3 2018.
The market for mobile applications is growing at breakneck speed, and before jumping in feet first, it's worth conducting detailed market research in order to form an opinion of competitors and an idea of your target audience. You need to know everything about your potential customers.
A mobile application development company, based on data obtained from your target market research, will not only help you analyze your idea but also provide a lot of useful and necessary information and help you decide on the platform, design, and unique value proposition (UVP). Can the mobile application development company of your choice determine the value proposition of your product?
Your UVP is what your product offers. It's what sets you apart from other companies. A unique value proposition answers the following three questions:
How does your product solve/alleviate the problems of a potential customers?

What benefits can a potential customer expect?

Why should a potential customer buy exactly your product and not your competitor's?
In other words, a value proposition should be simple, clear, and concise.
Developing a mobile application is time-consuming, costs money and nerves, and includes the following steps:
Evaluate and research ideas. The first stage involves checking how much the market needs your mobile application and filling out the business model canvas. In other words, conduct market research, customer segmentation, and competitor analysis to predict marketing channels to promote your product and estimate potential costs.

Define the UX strategy. The second stage, which is based on the successful implementation of the first, is developing the first version of the product with the initial set of functionality.

Check the concept. The third stage is of practical value because at this point the first visual prototype of the product is being tested by real customers in order to receive feedback, which allows developers to adapt and improve the product.

Develop the application design. After the concept is accepted by the audience, it's time to work on the application design.

Product growth. This is the fifth stage of development, during which the product enters the market and begins to interact with users. This stage allows you to make additional features of the product for its further development.
Approaches to mobile application development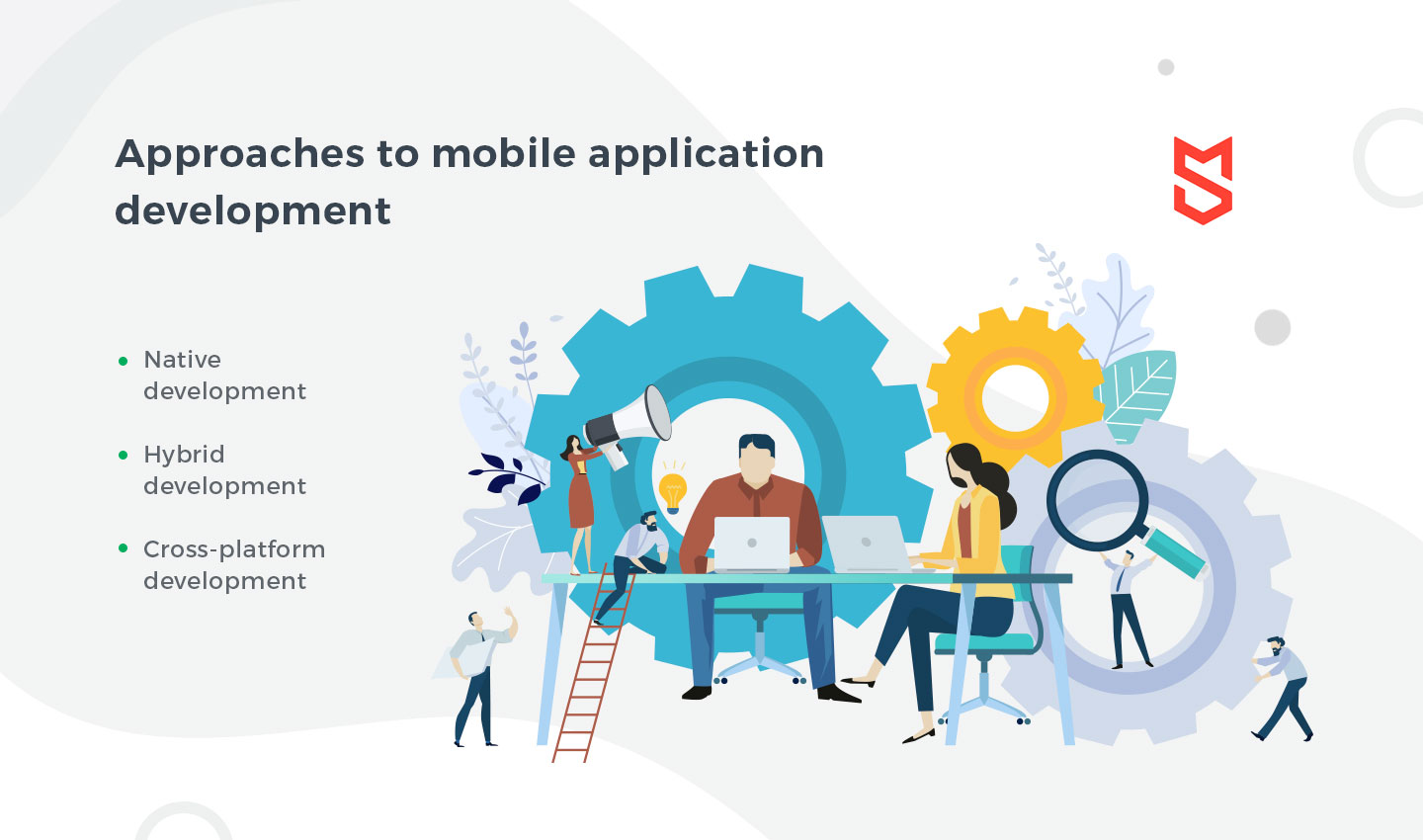 To develop a mobile application, developers use different languages. It's obvious that it's crucial to have the best technology to create a successful mobile application.
Native development is done using Java or Kotlin for Android and Objective-C or Swift for iOS. Java is the most powerful and reliable object-oriented programming language and it provides open-source libraries. Swift is an open-source multi-paradigm compiled programming language developed by Apple for iOS, macOS, watchOS, and tvOS. We also use modern frameworks and libraries.

Hybrid development is a combination of native and web applications. Hybrid apps run in various browsers such as Safari, Internet Explorer, and Chrome. Hybrid development consists of two parts: internal HTML-based code, CSS, and Javascript, and a native shell that loads code using Webview.

Cross-platform development is done using React Native, which is based on the React.js library and allows you to create applications using JavaScript (plus HTML and CSS) and NativeScript. Cross-platform applications are suitable for most devices.
In some cases, these solutions may play an important role for the client. For example, the native approach requires developing an application separately for each operating system, whereas with the cross-platform approach, the developer creates apps for iOS and Android at the same time. In addition, differences between native and cross-platform development are visible in the following:
Type of project. For serious business projects, for example applications that require deep integration with equipment and are long-term, native development is best. For a gaming application or a test application, cross-platform development is appropriate.

Depending on the platform, these approaches have different efficiencies. To function well on any platform, cross-platform applications should contain additional platform-specific code. The native approach ensures that mobile applications operate efficiently, but it's worth remembering that each platform requires its own version of the application. Hybrid applications can be developed faster than native apps due to the presence of a single code base.

Experience based on user opinions is priceless! Mobile applications are a territory for innovation. Your goal is to make an application that's flexible and scalable. Today, all mobile applications are developed for wide use, be they games, business applications, or medical applications. Only the user can honestly evaluate your product and buy it thanks to proposed advantages. Native applications run faster than cross-platform and hybrid applications.

The interfaces of native applications are superior to cross-platform apps in terms of animation speed and effects. A hybrid application can be less interactive than a native app.

A native application that's written for a specific platform has no significant restrictions and can freely access all services of a mobile device, unlike a cross-platform application, which depends on the capabilities of the framework (the older the version, the more restrictions).

Developing native mobile applications is more expensive than developing cross-platform applications since both iOS and Android specialists need to be involved in the development. Hybrid and cross-platform development have advantages when it comes to the budget as your mobile application can be developed for several operating systems by one specialist using JavaScript, CSS, and HTML. Moreover, because cross-platform development is slightly faster, less time and fewer resources are required, which is undoubtedly an advantage. Hybrid applications are still more expensive to build than standard web applications, though, because you need to work with the interface.

Developers need to address the issue of security. In native development, reliable protection is provided by a level of encryption.
After developing part of the functionality, we get a version of the mobile application that's ready for testing and for design adjustments.
Popular sites
The first question that might pop into your head is where to find mobile app developers. Let's consider some places where you can find a mobile app development company.
Clutch.co
On Clutch, you can find mobile app developers that suit your needs and select from a global ranking of mobile application development companies. Clutch ratings are presented in the form of a Leaders Matrix, where service providers are displayed based on their areas of professional activity. In addition, you can read customer reviews about each company, see portfolios, study examples of previous projects, and filter companies by various criteria including location.
Appfutura.com
Appfutura connects mobile platform developers (freelancers) and companies that want to develop mobile applications. It offers a large overview of mobile application development companies and freelancers that are registered and have their own professional profiles. Appfutura simplifies the search and gives you the opportunity to hire the best mobile application developers or designers.
Behance.net
On Behance, you can see examples of designs and concepts of sites and applications. Users can set up standard profiles (with contact details and a gallery of works) and portfolio sites using the Behance ProSite service without needing web development skills. Behance gives you the opportunity to choose a company based on their designs, case studies, and visual style.
Dribbble.com
Dribbble is another powerful online community for showcasing user-created work by illustrators, designers, and website developers. It's an effective resource for searching for content and helps professionals promote their work and search for vacancies, competing with Behance.
How to start a search
To find the right company, you need to consider many things:
What problems and risks may your development be exposed to?
Does the company have enough experience with such technologies/similar applications and has it faced similar challenges before?
You can understand how reliable a company is based on ratings and the number of downloads of mobile applications that they've built.
Company search criteria
When choosing a company, base your decision on the following criteria:
Expertise
Experience, skills, and knowledge determine the level of training of developers and UI/UX designers. Do you need to check whether a team is ready to translate your idea into reality? The easiest way is to get acquainted with their professional experience and evaluate projects they've already implemented by looking on Clutch, LinkedIn, and other sources. How can you find the right mobile app development company? The right mobile app development company should be fully prepared to apply their experience gained in previous projects.
What do you need to know about the portfolio of a mobile application development company? A portfolio is a portrait of a company that allows you to determine if the company you're looking at is consistent with the type of work you want to do. A company's portfolio must be worthy and prove the good reputation of the company. Study projects that have already been carried out by a company and consider the following:
Does the company demonstrate compliance with standards in your industry?
How flexible was this company in adapting to the unique needs of previous clients?
Ratings for developed applications based on customer feedback and ratings and reviews of the company left by previous clients.
Uniqueness and originality of previously developed mobile applications.
Ability of the company to fulfil its obligations on time.
What problems did the company encounter when developing mobile applications described in their case studies?
Development cost (company rate)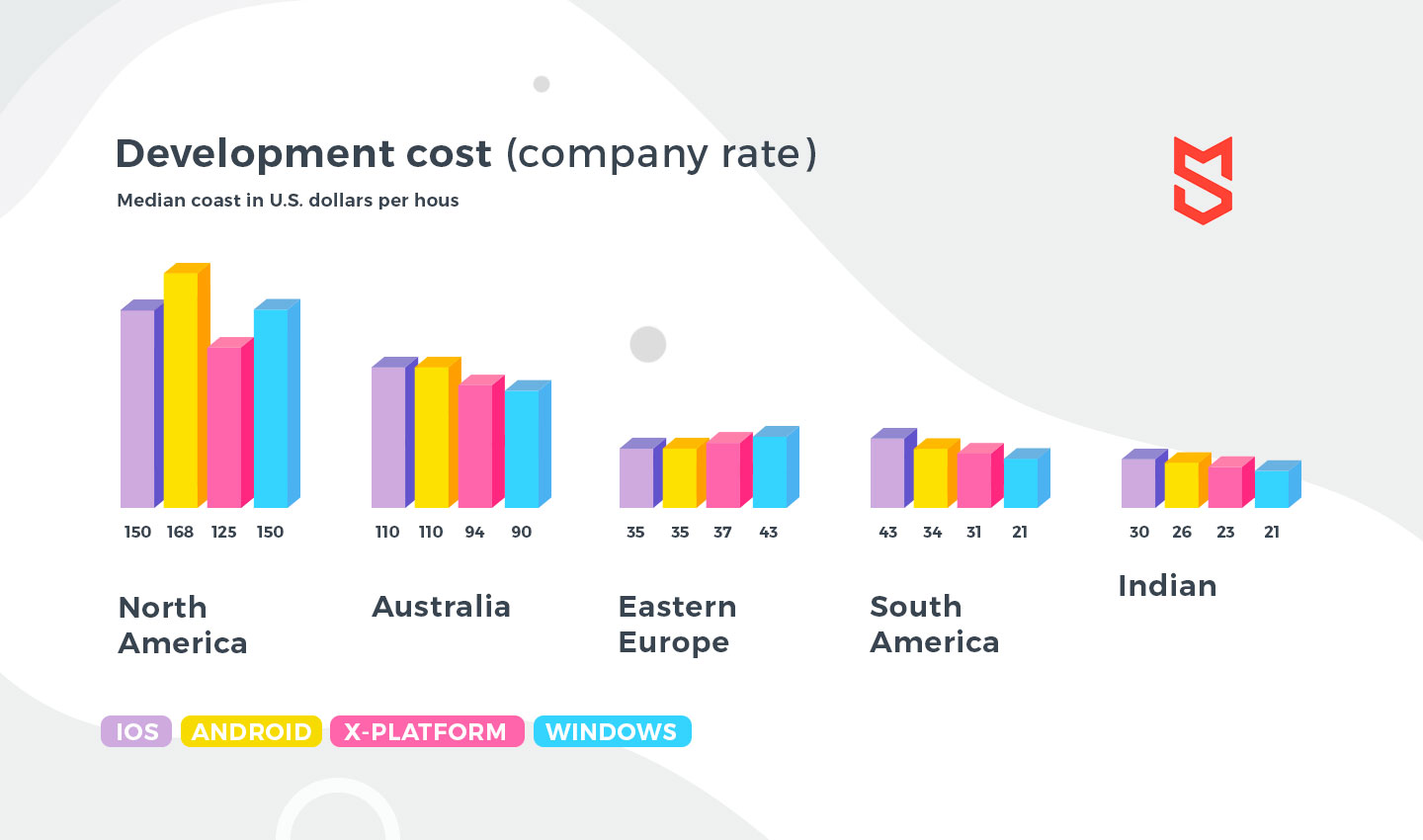 The median cost of mobile application development in select regions worldwide, by platform (in US dollars per hour)
The cost of development depends on the functional requirements of your mobile application. To understand which company can provide the right functionality at a competitive price, you can set a fixed price in your search for companies and only change the functionality. A company can increase its cost due to its popularity and experience of developers and designers.
The average rates for mobile development companies worldwide for developing applications for the three main platforms (as well as cross-platform development) in 2015 is shown in the chart below. The cheapest rate among countries and regions where research was conducted was in Indonesia for the iOS platform at $11 per hour, and the highest rates were in North America, reaching $150 per hour.
Clutch provides detailed information on the top 15 mobile application development companies in the form of rankings with easy sorting by reviews and classifications as well as a Leaders Matrix, allowing you to find a top mobile app development company.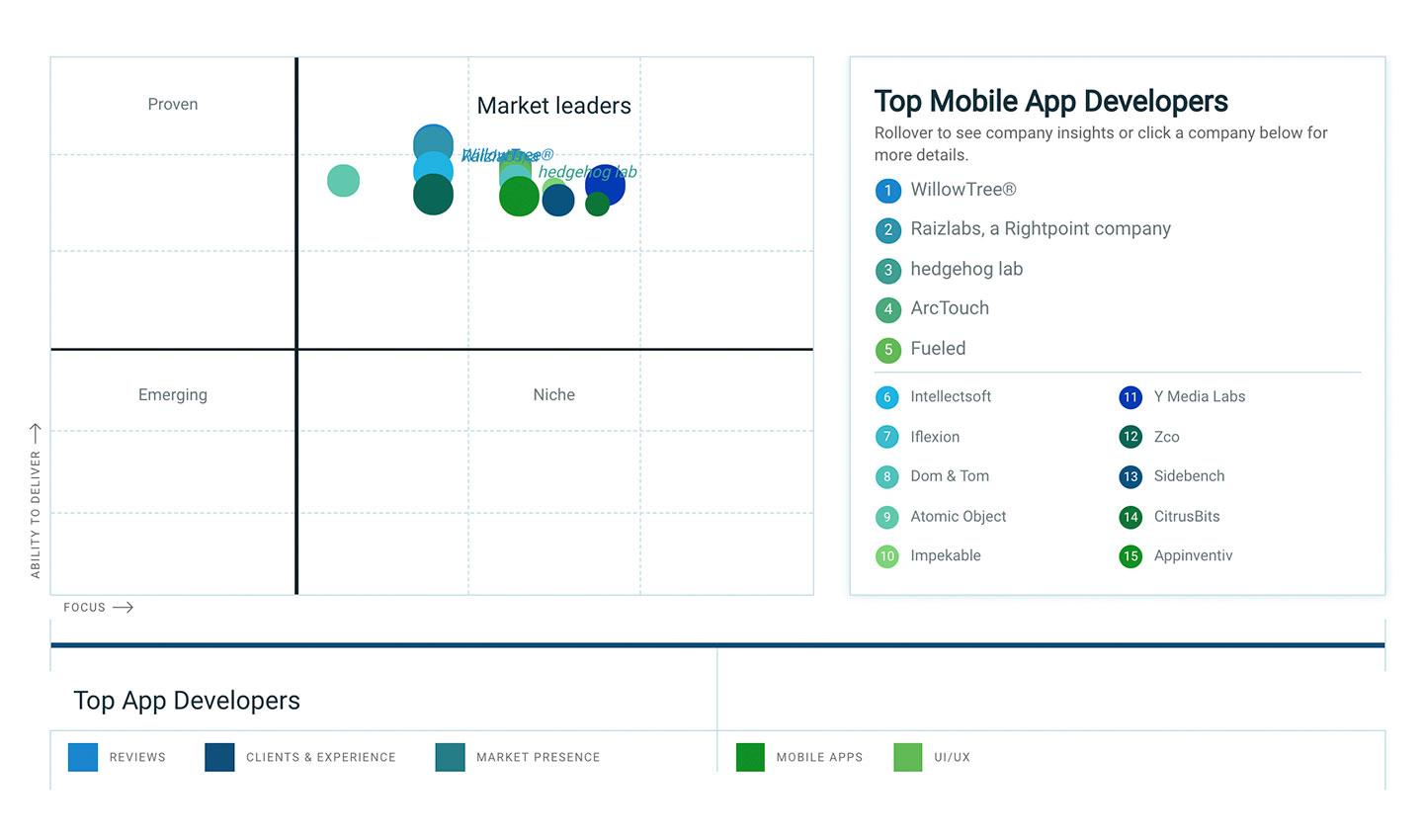 Read more about app development costs:
Reviews from other clients
Feedback from previous clients is an indicator of the decency of an outsourcing agency. Valid reviews reduce risk and help you find a trusted partner to work with, balancing quality and cost while ensuring confidentiality, security, and control over the project.
Company development process
Make your choice in favor of an outsourcing development company whose development process is closer to you in spirit. Ask detailed questions about each implementation stage, describe what your vision is, define how well your points of view coincide, and explain what results you expect from working with a mobile app development agency.
Accessibility (communication)
Give preference to companies that are easy to get in touch with, whether by email or regular calls. The main goal is to keep abreast of and not lose control over each stage of development.
Technologies used
The next criterion is defining the development methodology — native or cross-platform — and describing the basic functions of the mobile application. Do your expectations correspond to the options you want, for example from a native application or a hybrid application? You must decide which platform to choose — iOS or Android — or whether you want the application to run on both platforms. If your mobile application requires geolocation (GPS tracking) or the use of VR/AR technologies, then ask the company about their experience with these technologies.
Methodology
One important criteria for selecting a suitable mobile application development company is which methodology you choose and whether the company has successfully implemented this methodology in previous projects.
Location
A mobile application development company should assist you in understanding your target audience and its demographics. This directly depends on the chosen launch platform. Decide how important the location of the company is to you: the location could be near, for example in the same city as you, or perhaps abroad.
Company policy
Before starting work with a company, check the following items as factors of reliability and the good reputation of the company:
The company's policy should be transparent.
Feedback on the company and the status update of your development process.
Personal preferences
A positive relationship with an outsourcing company is the key to success. Comfort and emotional relaxation create a healthy, conflict-free work atmosphere. This units you with the development team and helps you set goals that are achieved faster, as each team member is inspired by one common idea.
Conclusion
In this article, we've tried to give you useful tips on how to choose mobile app developers that you can fully trust. Trusting and understanding each other will help you identify problems on time and accelerate the acceptance of your idea by your development team. Your idea should be simple, productive, and in demand by potential customers. If you're looking for app developers and the best company that will take on all the steps of the complex and time-consuming process of developing your mobile application, our team of experienced developers is ready to help you and translate your business idea into a successful mobile application!