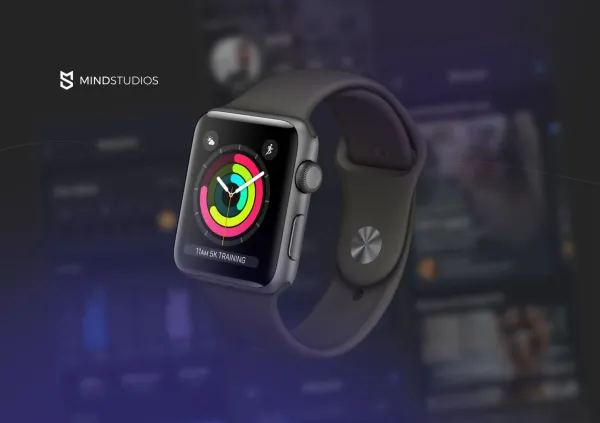 Today, if one wants to make some drastic changes in life — learn to meditate, build muscle mass, or eat healthier — they don't necessarily need to go to the gym or see a nutritionist. Now, people can just download an app and stick to the instructions. And that's why health & fitness apps are flourishing like never before.
According to Straits Research, global fitness app market is expected to reach USD 30.63 Billion by 2030, meaning it will be growing at a compound annual growth rate of 21.5%. And such an impressive increase is not surprising. Fitness apps can now provide a completely customized experience and adjust training sessions to each user's needs thanks to AI, ML, and other advanced technologies.
In this article, you'll find out how to make a fitness app that has all chances of becoming a hit. Here, we dig into fitness apps' must-have features and various monetization models, calculate the approximate cost for the project, and basically, provide you with a step-by-step guide to fitness app development.
All the tips we share further are based on Mind Studios' own experience, since we have a couple of similar projects in our portfolio, including Fitr. Training platform.
Five fitness app development case studies to learn from
Every workout app development project Mind Studios' team takes on starts with the discovery stage, during which we analyze the market and our prospective competitors. This way we can both learn from the best and at the same time come up with unique solutions for the app we are developing.
In this section, we've gathered five examples of top-rated health & fitness apps of different types that are worthy of your attention.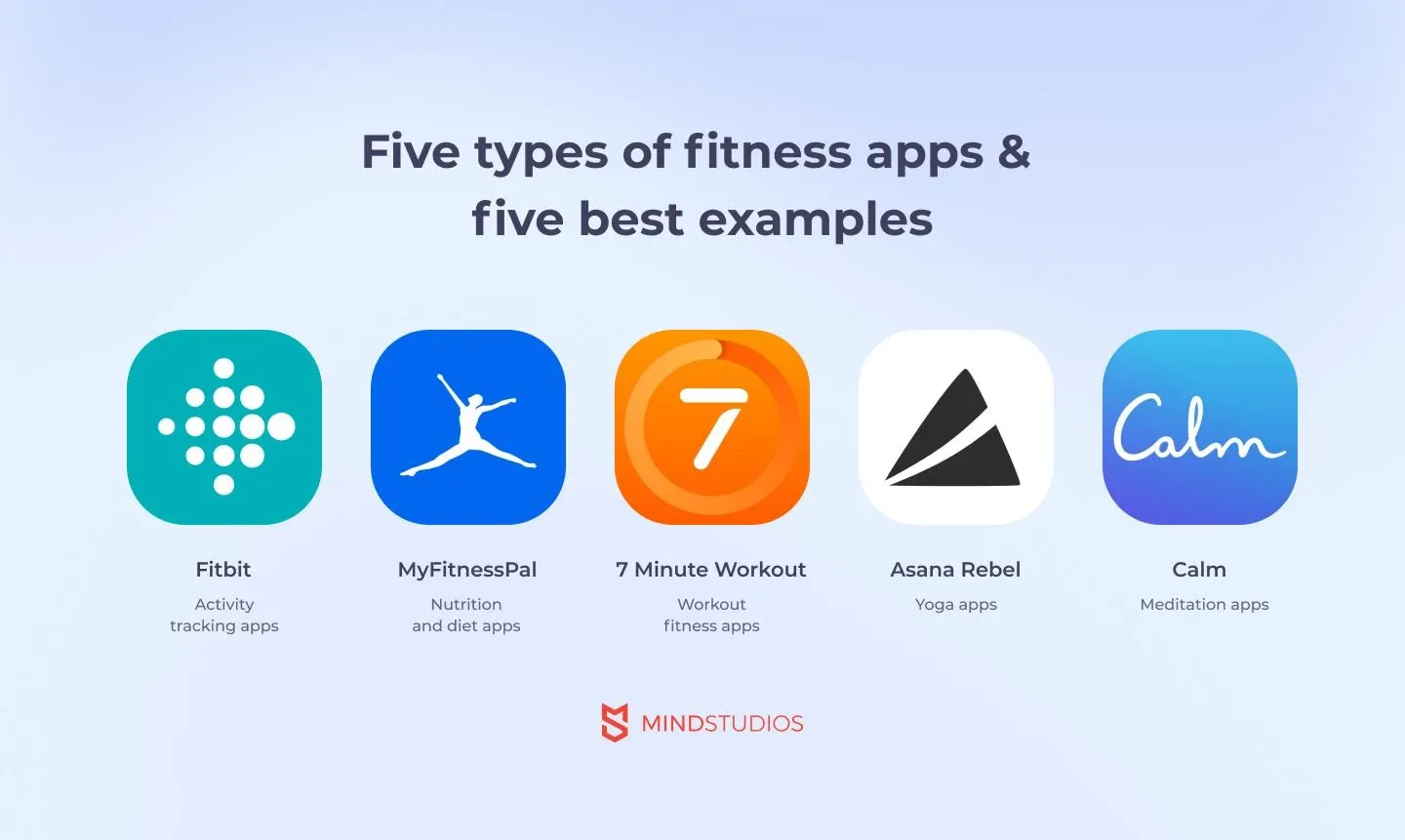 First, it's important to mention that there are five main types of fitness apps:
Activity tracking apps
Nutrition and diet apps
Workout fitness apps
Yoga apps
Meditation apps
Each type has its pioneers that still hold leading market positions:
Let's find out how these apps became successful and what lessons you can learn from them.
1. Fitbit

The story of the Fitbit app is related to the Fitbit fitness wristband that was developed in 2009. First, there was the Fitbit website for users to upload data from wearable trackers, analyze performance, and share results with friends. Fitbit device owners could use an altimeter, a digital clock, and a stopwatch. In 2012, developers synchronized Fitbit trackers with smartphones through Bluetooth and added a smart scale.
The first Fitbit app was launched on iOS in 2011 and on Android three years later. In January 2021, Alphabet completed the acquisition of Fitbit for $2.1 billion. Now, over 31 million people use Fitbit once a week.
Fitbit lessons:
The popularity of the original product or service is key to creating a successful fitness app.
Focusing on updates, monitoring new trends and technologies, and integrating them into your fitness app will keep users interested.
Adding features systematically, one at a time, allows to test them, fix bugs, and analyze feedback.
2. MyFitnessPal
The story of MyFitnessPal began in 2005 when its founder Mike Lee and his girlfriend wanted to lose weight before their beach wedding. A born developer, Mike thought "Why not make my own fitness app?" and with the help of his brother Al released the first version of MyFitnessPal on iOS in 2009.
During the next four years, he manually added products from food manufacturers and drew users into building up a comprehensive food database. Mike and Al Lee organized a separate Customer Happiness Team to meticulously respond to users' feedback. By the year 2014, the app was also integrated with 80% of wearable fitness devices, four of the five leading GPS activity tracking apps, and the top two smart scales.
The app was so well-thought-out that in 2015 the athletic apparel brand Under Armour spent $475 million to buy MyFitnessPal. In 2021, MyFitnessPal generated $171 million revenue.
MyFitnessPal lessons:
Finding the right problem and choosing the fitting solution is the cornerstone of making a successful app.
Involving users in the fitness application development process is a must for creating a lucrative product. Users can best point out the strengths and weaknesses of your app and help you make it better.
Integration with premium devices, wristbands, and fitness apps improves your app's functionality, expands your audience, and increases your brand awareness.
3. 7 Minute Workout

The 7 Minute Workout app was born in May 2013 when a daily 7-minute training was the hottest new trend in the media world. 7 Minute Workout was a basic app with several screens and a primitive design launched on iOS. Version 1.0 explained 12 exercises and had a voice prompt timer.
It took six days for the pilot app to be approved by Apple App Store. Stepwise Stuart Hall, the founder, and main developer, added social sharing features and in a week — iPad support. Jun 16, 2013, was the day the app became free and the number of downloads skyrocketed. From that day through November 2014, 7 Minute Workout generated over 3,000,000 downloads. Rather good for an app that took six hours to develop.
7 Minute Workout lessons:
Following trends is a good way to make your app popular without spending much money on marketing.
Free downloads encourage users to install, open, and use your app. The more value users find, the more in-app purchases they want to make.
4. Asana Rebel

The Asana Rebel app was launched in 2015 with the idea to combine the best yoga and fitness practices. To help users form healthy habits and change their lifestyles, the Asana Rebel app motivates them by sending nutrition tips and fun quizzes once a day.
The founders decided to launch pilot apps on Android and iOS to clarify the relevance of their hypothesis to combine fitness and yoga. Two and a half years after its launch, the Asana Rebel app exceeded 8 million downloads.
Asana Rebel lessons:
The cheapest, fastest, and most accurate way to check your idea's viability is to build a pilot app.
Gamification strategies increase user engagement and motivation.
5. Calm

After creating three ventures, entrepreneur Michael Acton Smith was burnt out. His friend recommended meditation. Surprised that it worked, Acton organized a company called Calm in 2012.
Calm wasn't just a simple meditation app. Its aim was to help people in all aspects of their mental fitness. This goal enabled its founders to raise $1.5 million from venture capital investors by 2017. Masterclasses by mindfulness experts and comprehensive functionality including audio meditations, sleep practices, music, body stretching, nature screens, and sounds led the Calm app to be the number one meditation app. In August 2021, Calm surpassed 100 million downloads globally.
Calm lessons:
Collaboration with accredited experts can increase brand confidence and engage loyal adopters.
With a noteworthy app idea but a lean budget, you can raise funds from investors.
Building a fitness app: a step-by-step guide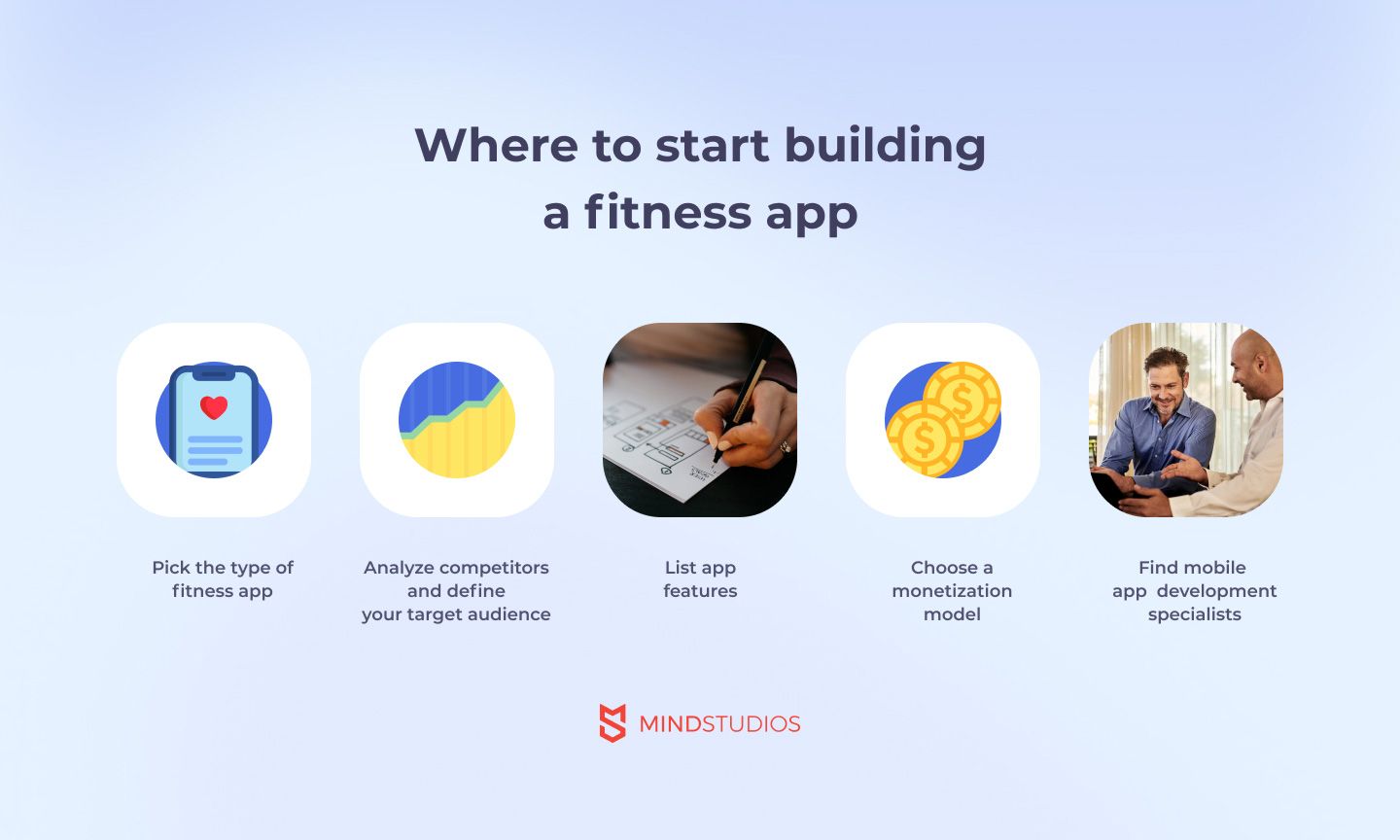 The path to success in every business starts with creating a thorough plan. In this section, we will guide you through each step of the journey that leads to building a booming fitness app.
Step 1. Pick the type of your fitness app
When creating a fitness app, you need to start by defining the type of your app to set the direction for the project. This decision also predetermines your competitors, target audience, and fitness app features.
The 5 main types of health and fitness apps can be divided into subtypes that, despite having certain commonalities like tracking progress or compiling meal plans, target different users, track different app metrics, and provide different functionality. To make your choice quick and easy, we've classified these subtypes of fitness apps and mentioned the top three apps of each type with at least 4.4 stars on the Google Play Store and Apple App Store.
Fitness activity tracking apps
Such apps receive data from sensors integrated into smartphones or wearable trackers. They provide daily reports on the number of steps taken, distance covered, run speed, hours slept, heart rate, calories burned, body temperature, and more.
| Subtype | Description | Examples |
| --- | --- | --- |
| Run tracking apps | Allow users to track routes, plan routes, choose activities (running, jogging, walking), and provide coaching for workouts | Adidas Running by Runtastic, Nike Run Club, Runkeeper |
| Cycling tracking apps | Allow users to record rides, plan routes, receive notifications about free roads, track progress, and share results via social media | Strava, Map My Ride, Komoot |
| Gym tracking apps | Receive data from wearables, GPS, network sensors, and NFC tags for gym goers. If you create a fitness app for the gym, it can display users' progress during training and log data. | Strong, FitNotes, Gym Workout Planner |
Nutrition and diet apps
These platforms are useful for users who want to lose or gain weight and improve their eating habits. Nutrition and diet apps help track protein, fat, and carbs eaten along with calories burned, control water and coffee intake, and give data about ingredients.
| Subtype | Description | Examples |
| --- | --- | --- |
| Food diary apps | Log what users are eating, track calories and macronutrients, offer healthy recipes, allow users to compile recipes, offer barcode scanners, and give nutritional information for the meals | Calorie Counter by MyFitnessPal, Calorie Counter by MyNetDiary, Calorie Counter by Lose It! |
| Diet apps | Compile plans for different types of diets: keto, paleo, interval starvation, detox, and more | Healthy Diet, My Diet Coach, Fastic |
| Combined nutrition and workout apps | Combine workout app functionality with a food diary to help users achieve their goals in the most convenient way | Lose Weight in 30 Days, 8fit, FitOn |
Workout and exercise fitness apps
Such apps are useful for people who don't have time to go to the gym or attend group training sessions. They provide exercises and workout plans, as well as track weight, calories burned, and progress.
| Subtype | Description | Examples |
| --- | --- | --- |
| Exercise apps | Contain exercises, illustrations, videos, 3D models, workout plans, and customized training based on personal user data: goals, age, gender, weight, and height | Home Workout by Leap Fitness Group, 7 Minute Workout, FitOn |
| Personal training apps | Offer to create an individual training plan according to AI-based recommendations or to hire a personal trainer who creates workout routines taking into account the user's physical data, health, and goals | BodBot Personal Trainer, My Coach, Fitbit Coach |
| Gym workout apps | Allow users to plan and combine different exercises, record customized workout routines and track progress when users work out in the gym | Pro Gym Workout, Gym Workout Planner, Gym WP |
Yoga apps
This kind of apps specialize in physical and mental health, provide yoga and fitness practices, and are aimed at changing users' lifestyles.
| Subtype | Description | Examples |
| --- | --- | --- |
| Yoga workout apps | Offer daily yoga activities with pre-recorded video instructions, explain asanas with 3D illustrations, pick routines according to the level of the user's yoga experience, track progress, generate reports, and draw up individual workouts | Daily Yoga, Down Dog, Yoga Workout |
| Yoga for beginners | Provide easy-to-perform yoga workouts to help beginners get started. Often, these apps are supplied with voice guidance, track workout progress, calories, and weight, and enable users to customize their yoga workouts | Yoga for Beginners, Yoga 360, Down Dog |
| Mixed yoga apps | Combine yoga with fitness workouts, nutrition planning, or meditation sessions | Sweat, Gymondo, Sadhguru |
Meditation apps
These apps are aimed at taking care of users' mental health through meditations for mindfulness, relaxation, better sleep, walking, breathing, music meditations, or yoga.
| Subtype | Description | Examples |
| --- | --- | --- |
| Meditation apps for mindfulness | Help users concentrate, calm down, and focus on positive thoughts; provide techniques like visualization, breathing, and meditation exercises to manage anger, anxiety, depression, worries, and conflicts | Headspace, Let's Meditate, Mindfulness with Petit Bambou |
| Meditation apps for sleep | Offer guided mindfulness meditations, daily motivations, soothing music, guided sleep sessions, and motivational talks along with coaching content by experts | Calm, Insight Timer, MyLife Meditation |
| Meditation apps for breathing | Provide different breathing techniques; reinforce breathing meditations with training exercises, voice guidance, and coaching content | Prana Breath, Zen, Meditopia |
Before proceeding, you might think of carving out your own unique niche. You might consider creating a Zumba dance fitness app for family sessions, a pilates app for older people, or a meditation app for pregnant women. The sky is the limit.
Step 2. Analyze competitors and define your target users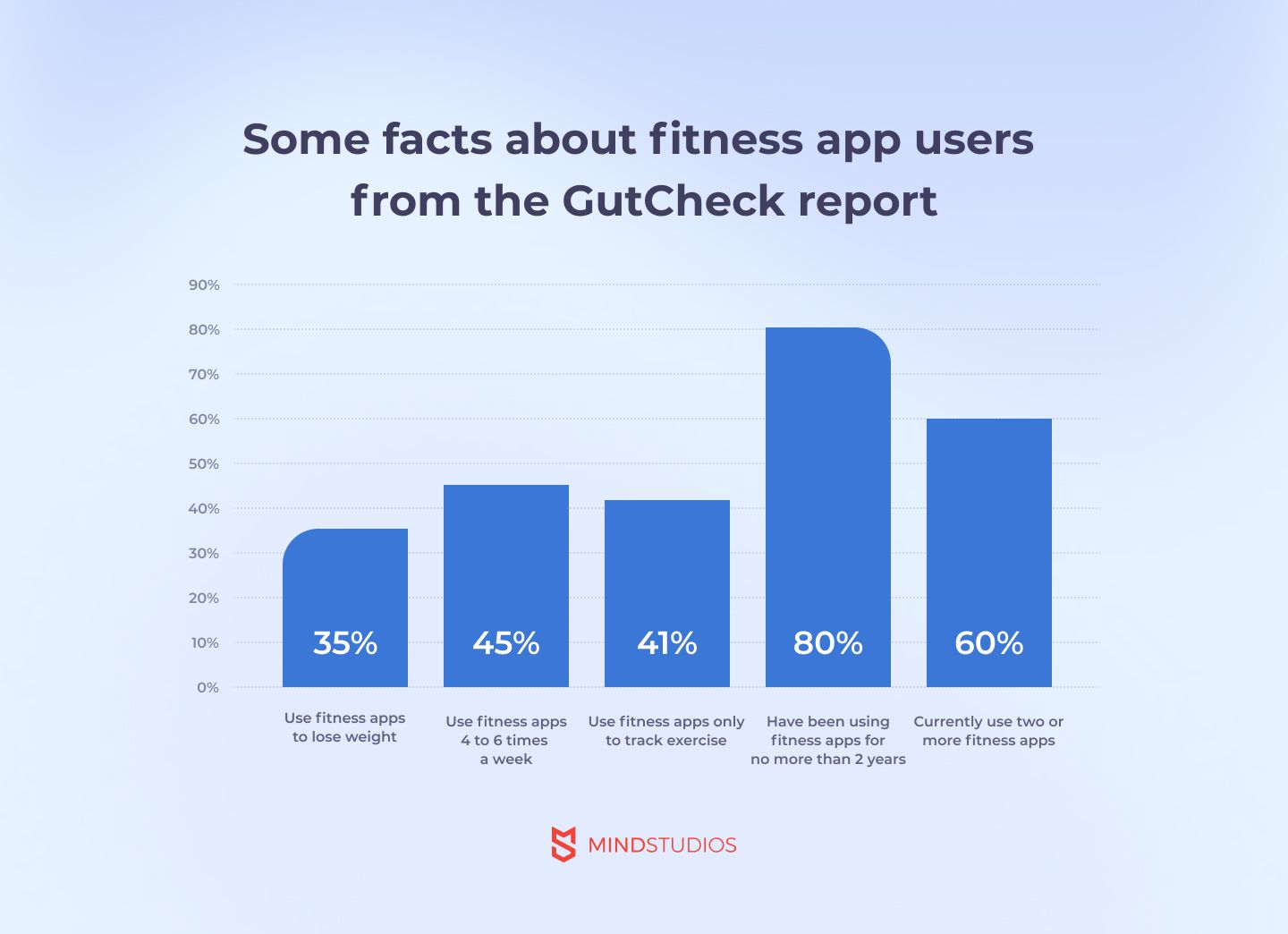 After choosing the type of fitness app you want to build, you need to research the market and explore competitors' offers. Look at similar fitness apps, read comments and reviews, and check with users about their experiences.
You should also perform a SWOT analysis to identify the strengths, weaknesses, opportunities, and threats of your direct competitors.
As for defining target users for a fitness app, your prospective users might differ in each country, so it's essential to study the demographics depending on the regions you are targeting. For instance, in South Korea, millennials are 20% more likely to use health & fitness apps compared to other demographic groups. You can find out more on the average age group index among top health & fitness apps per country from App Annie's State of Mobile 2022 Report.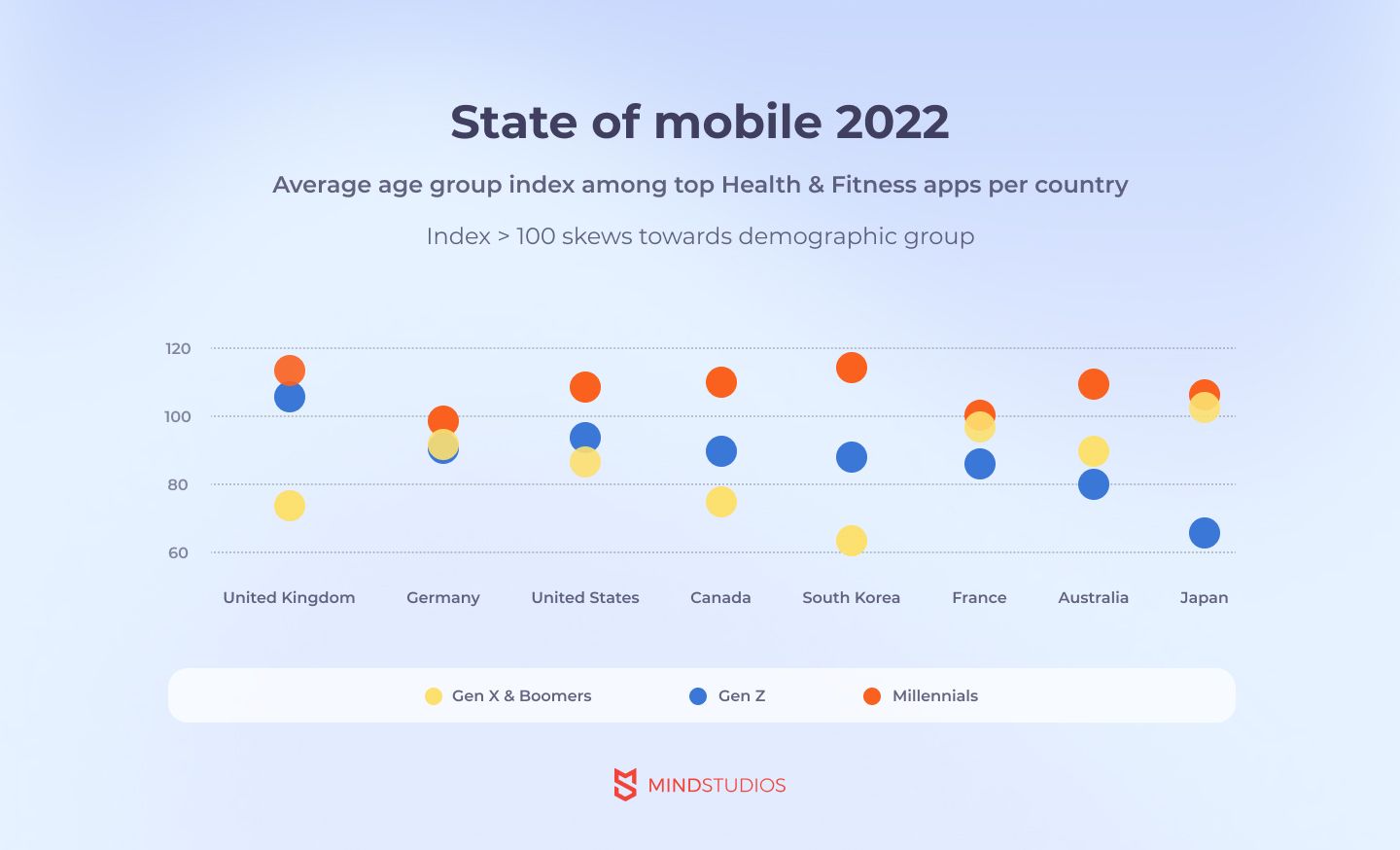 Step 3. Determine primary features
Wondering what features you should include in your exercise app? We've compiled a list of must-have fitness app features.
Onboarding
This feature is useful when you need to explain app features or give instructions to first-time users. (If your app is simple, you can skip this.) You can provide onboarding by displaying two to eight screens, adding a 60- to 90-second video tutorial, or sending in-app prompts when users interact with your app. You can see examples of onboarding on Dribbble.
Registration / sign-up
It's best to allow users to sign up via social media accounts (Facebook, Google, Twitter, Instagram) or with an email address.
User profiles
When creating a profile, users enter personal data: name, age, height, weight, gender, and fitness level. This information is useful for both app owners and users. It helps owners make their apps match users with personalized workout routines and track their sports activity. For users, a profile provides quick access to subscription plans, a history of completed exercises, progress, bonuses, etc.
Goals
According to a GutCheck study, one in three users use health and/or fitness apps to set weight and nutrition goals. Use a poll to ask users about their feelings after workouts are finished and what they would like to improve in their weekly meal plan.
Synchronization with wearable devices
You can use HealthKit and GoogleFit APIs to consolidate data from fitness trackers and your fitness app. The watchOS and Wear OS operating systems can help you sync with Apple Watch and Android smartwatches.
Workouts & exercises
You can demonstrate exercises and workouts using photos, 3D animated models, and video illustrations. Enable users to create their own workouts, use a set of standard exercises, and combine these two options. For this, you need a structured and searchable content library.
Activity tracking
Your app can get activity tracking data in two ways: from sensors built into smartphones or by integrating with any wearable tracker. Smartphones let your app display steps covered, stairs taken, distance traveled, speed, and direction. To measure other parameters like heart rate, sleep quality, or body temperature, you need to add third-party APIs to sync with fitness wearables. You should also ask users what parameters they want to track.
Product & recipe database
The killer features of nutrition apps are access to a vast database of products and healthy recipes, analysis of nutrition values, and data on ingredients received by a barcode scanner. To provide users with this functionality, you need to use nutrition APIs. Also, allow users to manually add products they don't find in your app.
Recommendations
You can use machine learning algorithms to give personalized tips based on users' preferences and/or viewing history. Artificial intelligence (AI) allows an app to create personalized fitness programs with dietary plans and stands a good chance of outperforming any human personal trainer in accuracy of adjusting personal workouts.
Settings
This feature enables users to change their passwords and emails, adjust notification settings, and deactivate their accounts.
Support
If you create a workout app where trainers give real-time guidance or consultations, users will be thankful for a chat feature. If your app doesn't provide live people available for chatting, think of integrating a chatbot with ready-made responses.
Payment features
The necessity of a payment feature is obvious. Without it, how will you get money from your app? Choose a payment gateway such as PayPal, Strive, or Braintree and integrate it into your app.
Admin panel
You need an admin panel to add new content; edit, update, and rearrange workout routines; and hold events. Only the app owner and designated specialists should be able to use the admin panel.
Features you can put in a backlog and add after implementing a successful pilot app include:
Geolocation to map routes, track distance and speed, connect users to fellow runners, display the nearest healthy restaurants and gyms, or find personal trainers. This is especially relevant for fitness tracking app development.
Social sharing & blog to enable users to share their progress via social networks and keep a blog about their stories of successful weight loss or muscle gain
Shopping list to plan weekly grocery lists by integrating nutrition or grocery APIs
Filters to allow users to search content by parameters such as complexity, duration, body part, type of workout, trainers, keywords, ingredients, calories, or recipe cost
Coaching content to add a variety of educational content: brief notifications, articles, video tutorials, and tips from accredited trainers
After all, you need to secure user data. Learning from the Strava case, you should pay maximum attention to improving data security, especially when it comes to fitness tracker app development. You can write secure code, encrypt every unit of data, check the code of third-party libraries, use authorized APIs, and offer high-level authentication.
Step 4. Add extraordinary features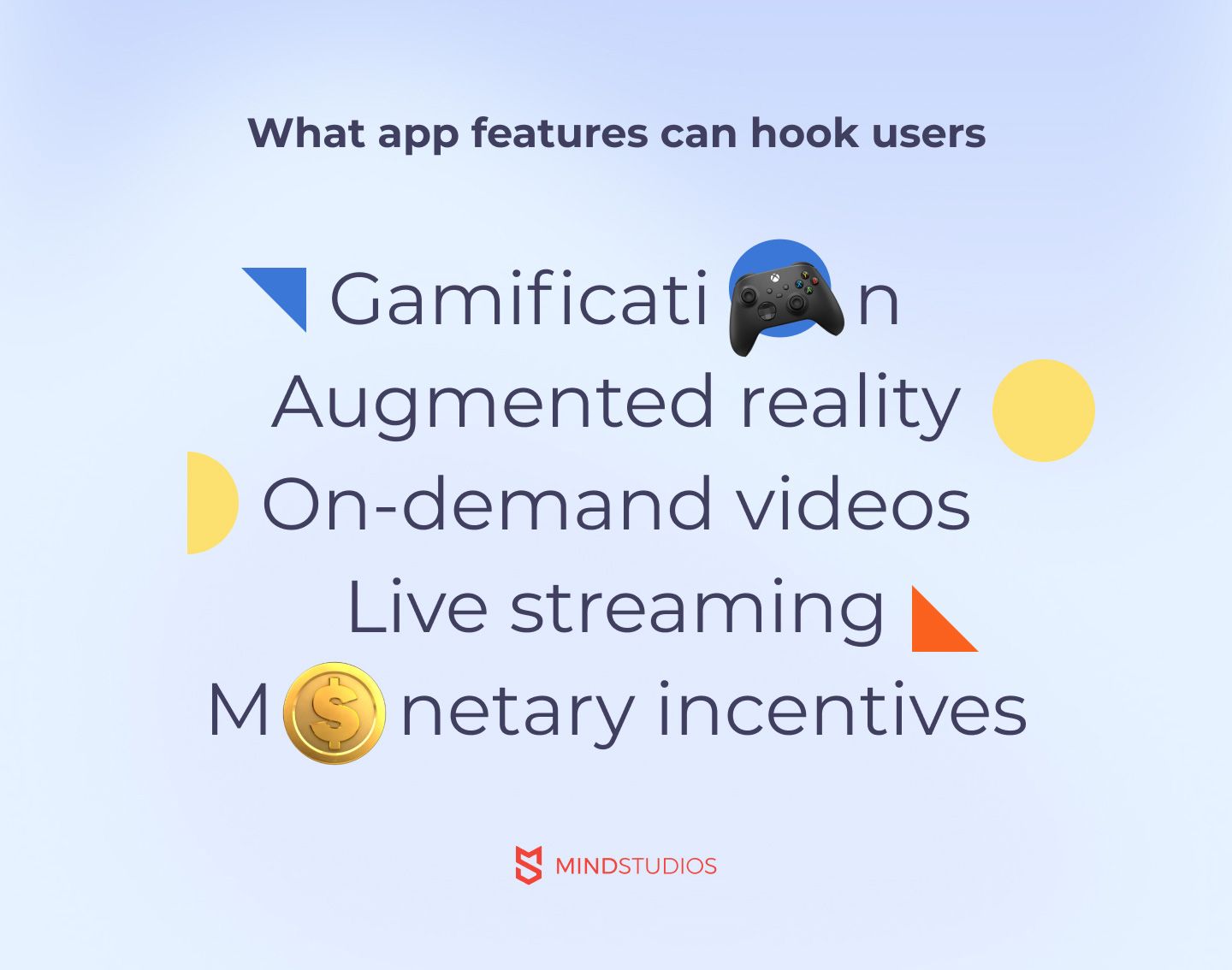 Now it's time to enrich the functionality of the app with the features that will make it stand out from the crowd. We've prepared five ways to drive your fitness app's competitiveness and user engagement
Gamification
The main purpose of gamification is to create fun, stimulate users, improve the user experience, increase engagement, and make a habit-forming fitness app. You can apply gamification mechanics like rewards, badges, quizzes, virtual gifts, leaderboards, and progress dashboards. Perform A/B testing to choose the most engaging option for your target audience.
Example. The Zombies, Run! app successfully uses the power of storytelling. Users enter a world after the zombie apocalypse and need to run from zombies and go on expeditions. Runners receive instructions for every mission from audio recordings followed by music from a precompiled list. During running missions, users need to gather supplies that can be used to build, upgrade, or repair their basecamps. The ZombieLink feature allows users to track their running route, pace, and songs that make them run faster.
Augmented reality (AR)
This technology allows smartphone owners to overlay digital information on a real object being viewed through a smartphone's camera or smart glasses. You can use AR to visualize real-time information like distance covered, calories burned, and heart rate. You can add gamification elements like zombies, dinosaurs, or wolves to enhance users' performance. If you create a fitness app for a gym, you can use AR technology to give instructions on how equipment works or to provide personalized workouts through an AR device like smart glasses. With AR tools, you can also create a virtual personal trainer.
Example. Gymnotize is a workout app that uses AR training tools to show users how to correctly lift weights. 3D animations help users adopt the right technique and see which groups of muscles are used in a particular exercise.
On-demand videos
According to Apptopia research, Americans prefer to use video workout apps 65% more than non-video apps. And 50% of users are likely to subscribe if an app provides downloadable content. When you create a workout app, think of adding HD video instructions and on-demand videos that users can download and use when there's no internet connection.
Example. Nike Training Club offers a growing library of 185+ free workout videos including for HIIT, bodyweight-only workouts, cardio, and yoga.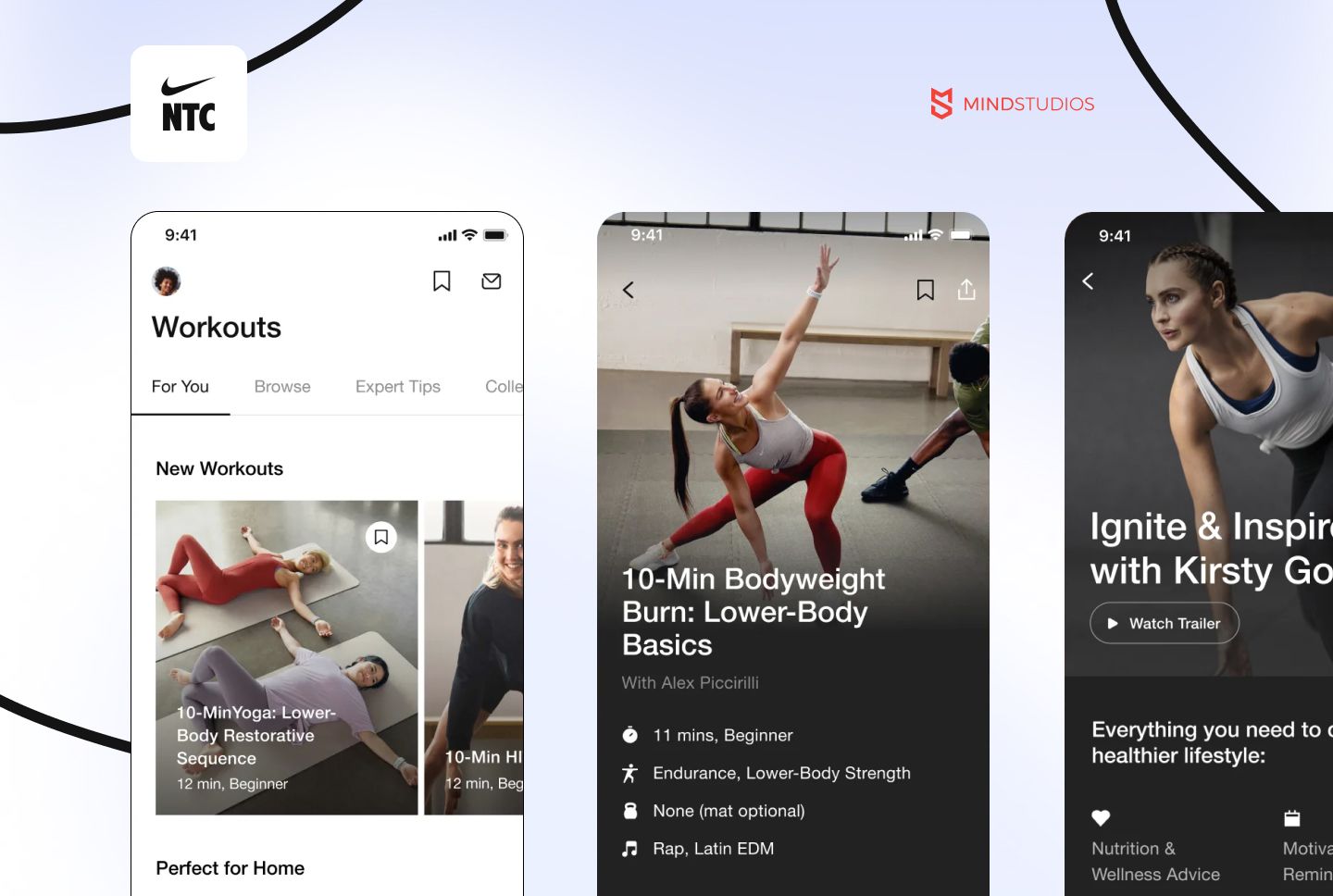 Personalized trainings with a coach
Though there are numerous videos of online pre-recorded workouts, some users still crave real connection or require more detailed and personalized instructions from the trainer. You can fulfill this need by introducing on-demand personalized trainings with a professional coach.
Example. Daily Burn platform allows users to join online group lessons and purchase one-on-one training sessions with professional trainers. One of the main brand's goals is to build a community around its platform.
Live streaming
A live streaming feature enables users to take part in real-time training without going to the gym. All users need is a smartphone, an internet connection, and to be on time.
Example. The FitOn app allows users to join a live class or workout on demand using a phone, laptop, or TV. It offers an extensive library of home workouts from cardio to strength training, HIIT, yoga, and pilates, providing access to exclusive workout videos by top celebrity trainers.
Monetary incentives
Money is a strong motivator that you can take advantage of in a fitness app. One trick is to pay users cash to exercise or charge money every time they skip a workout. Another popular trend right now is implementing the opportunity to earn cryptocurrency or NFTs for the achievements users reach while training through the app.
Example. HealthyWage pays money for losing weight. Users need to put a minimum 10% of their body weight as a weight loss goal and choose a time frame of 6 to 18 months. If they're successful, users can get from $5 to $995 per month.
As for NFT incentives, a lifestyle app STEPN allows its users, who walk, jog or run outdoors in their NFT Sneakers, to earn GST, which can be used to level up and make new Sneakers.
Step 5. Focus on UI/UX design for your fitness app
The amount of effort you put into UI/UX design is the key determinator of whether your users will explore the app and grow to love it, or close it after a few seconds and forget about it. The simplicity of navigation, the accessibility of crucial features, the visual appeal — every little detail influences the customers' perception of your product. Here, we share tips on creating a thought-out UI/UX design.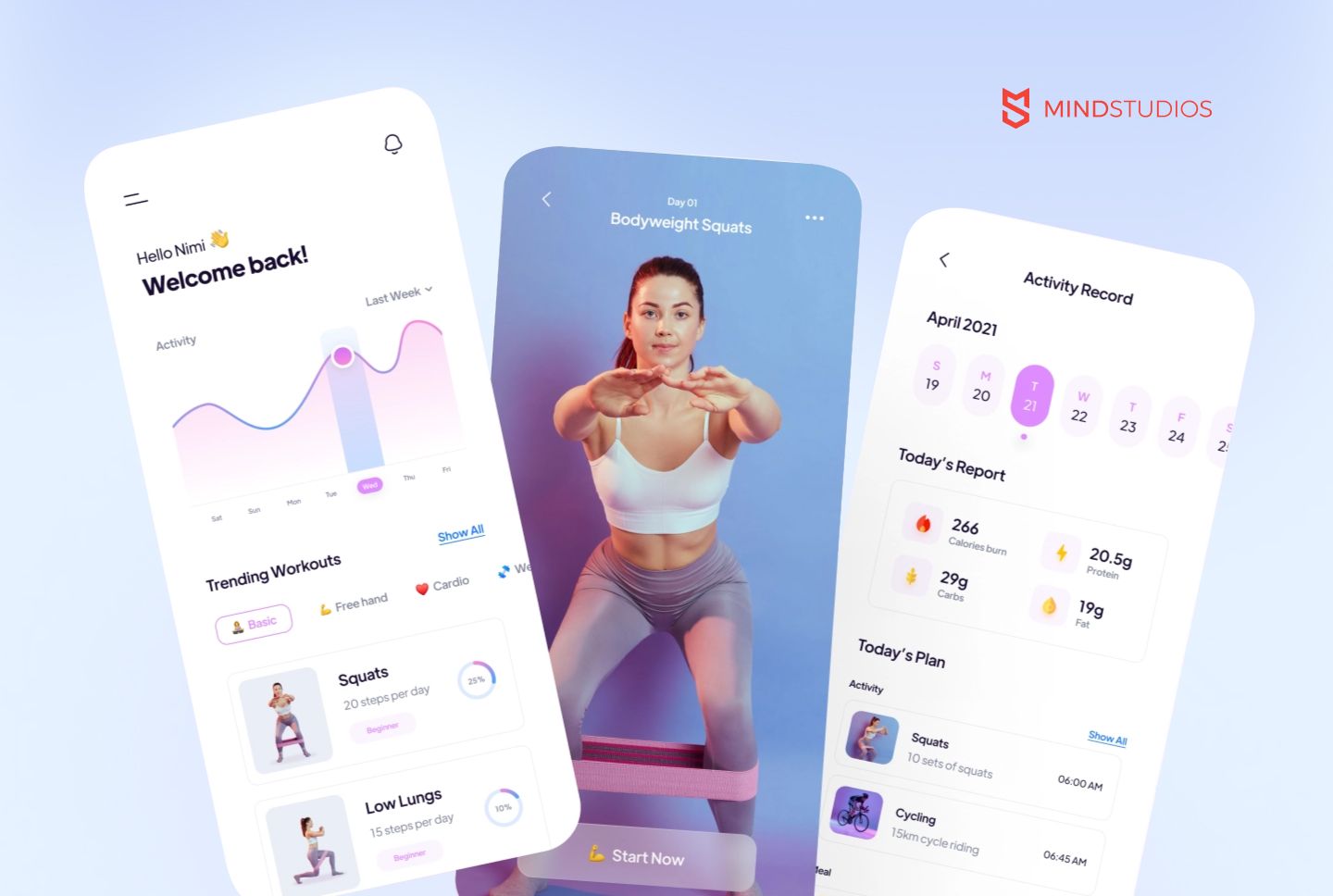 Tips on UX design of a fitness app:
Make the navigation simple. The most crucial features of the app should be easily accessible. At the same time, it's important to avoid cluttering the screens. Easy sign-up and sign-in, progressive disclosure, three top bar buttons maximum, and an auto-complete feature— following such simple rules ups the chances of users sticking to your app. Another tip to achieve simplicity is making sure the user can focus on one feature at a time: if there are multiple of those, they should be divided into swipeable screens.
Find the right balance of push notifications. This task might be tricky since notifications help users keep going in terms of their fitness goals, but at the same time, too many of those can cause irritation and have the opposite effect. You want to keep the notifications positive and motivating yet discreet.
Highlight the value of in-app purchases and subscriptions. There are more interesting ways to promote paid features in the free version of the app than simple "Buy it now" or "Limited time offer" buttons. Let the users know exactly what they will get if they buy premium features or a subscription.
For example, JEFIT is a free app where you can additionally purchase a Body Stat Tracking feature to measure up your goals more effectively. Another app, Lifesum, provides food ratings for customers' meals, but only premium members can access a detailed explanation of these ratings. This way, the app engages users to purchase a subscription if they want to get detailed information on the nutritional value of the products they consume.
Provide the opportunity to use the app without the internet connection. Obviously, the users won't be able to watch training videos if the network is poor. However, you can encourage them to stay on the app and use offline features, like checking out their progress bar, reading the blog, etc.
Let the users know you will protect their privacy. This includes asking for personal information that is absolutely essential to you and making it clear to the users why exactly they are sharing this information with you.
UI design principles for a fitness app development:
Choose suitable color schemes. The decision of a color palette can influence the usability and readability of the app, and even affect the mood your product sets for the users. If the fitness tutorials require a lot of action, users need to see them clearly even when moving or shaking. When it comes to fitness app design, an airy interface with bright elements might be just the best choice. For example, when Mind Studios' team was designing Fitr, a fitness app, they went for an eye-pleasing combination of green, black, and different shades of gray.
Focus on the most significant features. The key here is to avoid cluttering the screen with unnecessary text and buttons. Instead, highlight the most crucial information users might need. Also, when designing instruction, such as onboarding tutorials, consider using icons or illustrations.
Visualize the data. For most users, an important part of exercising is tracking the progress they are making and setting up certain goals. One of the best ways to visualize it is through using diagrams, progress bars, animated statistics, and similar elements that can eliminate text information.
Make the design unique and engaging. To do so, you might consider adding animations, illustrations, and interactive elements. For example, you can animate the progress bar, the data, and the loading bar. Also, it can be fun adding an animated mascot who will give users a high five each time they successfully complete a training session.
Step 6. Define the tech stack for your fitness application development
Once the UI/UX design for the fitness app is ready, it's time to find technical solutions to implement all those features and create a functional product. Here is the technical stack Mind Studios team used for Fitr. Training, a fitness application we've developed:
The tech stack for Fitr. Training mobile app developed by Mind Studios
Front-end
Vue.js, Axios, Bootstrap, Webpack, Video.js, TipTap, Sass
Back-end
Redis, Ruby, PostgreSQL, Nginx, Sidekiq, FFMpeg
Android
Kotlin, MVVM, Clean Architecture
iOS
SwiftUI, Firebase Crashlytics, WebSockets, Composable Architecture
Step 7. Define ways for fitness app monetization
The decision of how the app is going to make money depends on the type of business you are running. Here, we share 5 main app monetization models and our opinion on whether they might suit a fitness app:
Paid download model means users have to pay for the app upfront when downloading the app. It might work if the fee is small and rather symbolic, and the brand is already well-known. However, this model is completely ineffective for emerging brands and startups. Besides, as of 2021, only 3.7 percent of apps on the Google Play Store required an upfront payment for downloading the app.
Ad-based model includes banners, video ads, native ads and so on that users have to view before proceeding to use the app. This model can be perfect for nutrition and diet apps. However, video ads can be negatively perceived if the app's main focus is meditation or yoga, since these practices shouldn't be interrupted.
Freemium model means customers can use the app for free, but also have an option of paying a one-time fee or purchasing a subscription if they want to access premium features.
Training marketplace implies that the application can offer both free video practices and allow coaches to upload paid content, charging them a percentage of their earnings.
Paid subscription model gives users access to a wide variety of content right away while promising a steady flow of payments for app owners. It's also considered the most profitable monetization model.
You can choose one way to make money out of your app or combine different models. In any case, make this decision at the discovery stage of fitness application development, since it influences the architecture of the app.
Stages of developing a fitness app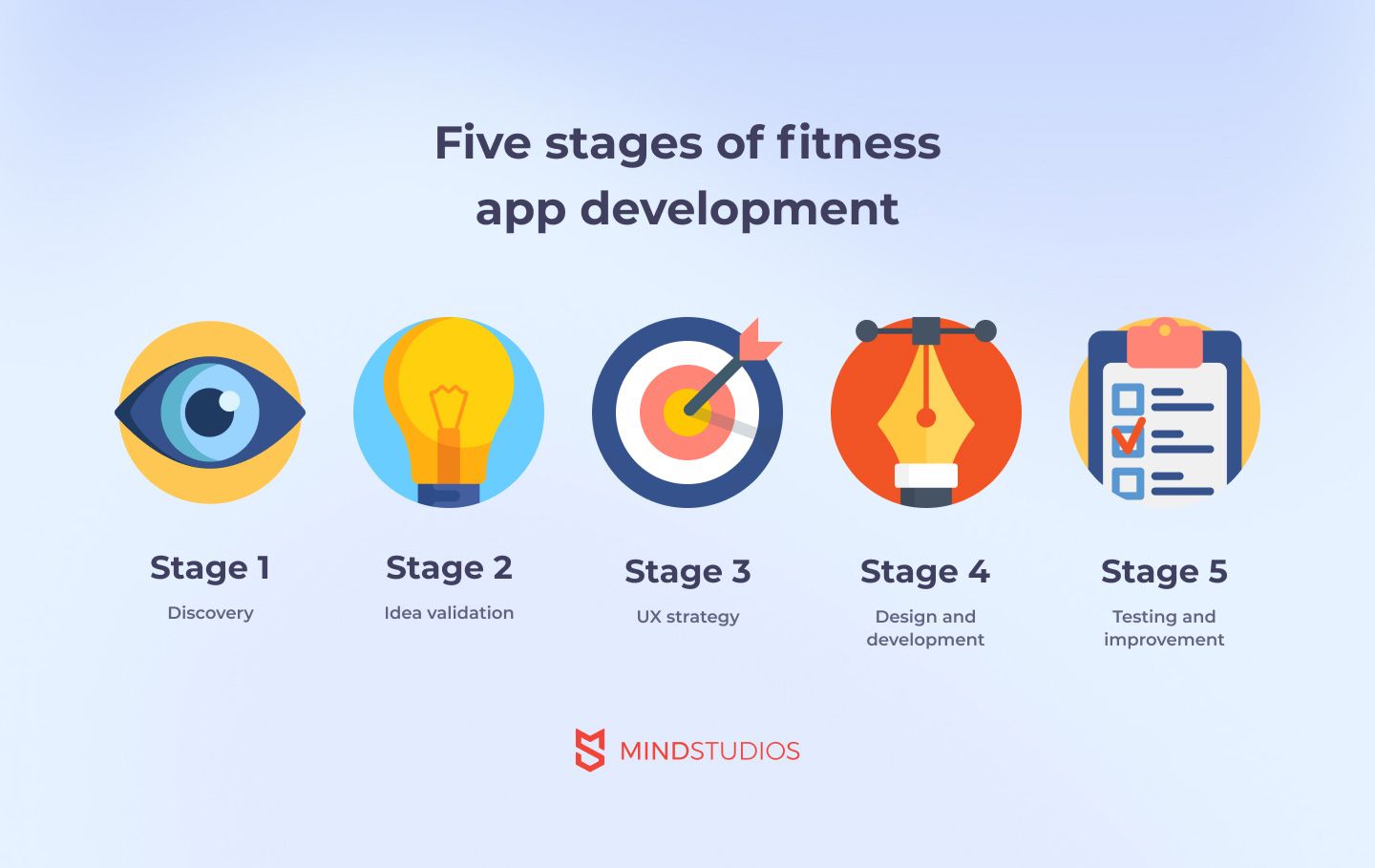 Even though business owners are not the ones who are creating UI/UX design or writing code, it's still important for them to understand what goes into building an app. Here, we give a detailed description of the five stages of development for those who want to know how to create a fitness app.
Stage 1 — Discovery
At this stage, your mobile app development team conducts initial market research and figures out if your fitness app idea is marketable, or finds a way to make it marketable. With a product manager, designer, and project manager, you'll brainstorm and:
Create an app vision specifying problems, solutions, requirements, competitors, acquisition channels, your app's unique value proposition, and ways of getting revenue
Think through the logic of your fitness app
Determine your app's main functionality and make a list of epics
Draw a portrait of your potential users
Make a table-like scheme with epics and possible user stories
Sketch a navigation concept for your fitness app
At the end of the discovery stage, you'll get a low-fidelity app prototype, needed to ensure all stakeholders have a common vision.
Stage 2 — Idea validation
At the discovery stage, you analyze problems your app will be able to solve. At the idea validation stage, you need to check the solutions your app's going to provide. To do this, you need to involve the whole development team: a product/project manager, UI/UX designer, iOS and/or Android developer, backend developer, and quality assurance engineer. They will:
Conduct deep market research
Survey your target audience
Compile a detailed business plan
Make a list of first-priority and optional app features
Develop a trial app version
The final result of the idea validation stage is a medium-fidelity app prototype with mid-level visualization. It can be used to get initial feedback from potential consumers and/or beta testers.
Stage 3 — UX strategy
At this stage, your team of developers works on a detailed app interface and interactions between screens. For the UX strategy stage, you need to enlist the whole app development team to:
Build an information diagram with a data structure and interconnections
Create a high-fidelity app prototype with an interactive interface that shows where every control element of your app is located
Work out an approximate project plan with tasks and dates
A high-fidelity prototype is the closest resemblance to the final design in terms of details and functionality.
Stage 4 — Design and development
At the design and development stage, your app development backlog is divided into sprints, usually two weeks each. The task of a project manager is to prioritize tasks, monitor their progress, and update the backlog. The sequence of sprints is as follows:
Design concept sprint where the style guide is approved for use in every part of your project
Technical setup sprint where the team defines the design of functionality, refines documentation and sets up the technical environment for the following sprint
Development sprint where the app is built, and a project manager plans the next sprint and create documentation
After the design and development stage, you'll get a minimum viable product (MVP) that possesses your product's main features, an improved design compared to high-fidelity app prototype, and an intuitive interface based on preliminary prototypes and feedback from QA engineers.
Stage 5 — Testing and improvement
This stage involves many iterations of the following cycle:
Tracking mobile app KPIs
Analyzing users' feedback
Defining app flaws
Fixing bugs
Improving app functionality
This stage also requires the involvement of the whole app development team. The testing and improvement stage pauses when you get a fully fledged fitness app, but continues right after you decide to change something.
Cost to develop a fitness app
Initially, an outsourcing fitness app development company can provide you only with a rough estimate of your workout app development cost based on their experience with similar projects. They can give you a thorough estimate after you pass through the idea validation and UX strategy stages of development. Nonetheless, we'll shed light on the approximate price.
To make a fitness app, your minimal app development team should consist of:
1 project manager
1 UI/UX designer
1 iOS developer
1 Android developer
1 backend developer
1 QA engineer
The number of hours and cost to develop a fitness app that includes several easy-to-build features and one platform will start from the following values:
Stage
Time, hours
Cost, USD
Discovery
80+
3,600
Project management
200+
9,000
UI/UX design
120+
5,400
Development
800+
36,000
Backend development + admin panel
480+
21,600
Testing
200+
9,000
Total
Minimum 1,880
84,600
These calculations are based on Mind Studios' hourly rate of $45, which is also average for companies from Eastern Europe. Moreover, take into account that backend developement and admin panel are built on the separate platform which means if it's done for iOS then there's no need to spend those hours for Android. Therefore, to develop an Android fitness app will cost you less than iOS.
How to pick the right fitness app development company
The main benefit of choosing to work with an outsourcing mobile app development company is that they usually can start developing your app right away. They already have a tight-knit team of skilled specialists and proven approaches to software development. The key here is to choose wisely and thoroughly. And we are going to tell you exactly how to do it in six simple steps.
Prepare a solid outline for your app. Obviously, the outsourced team will research the market for you and find suitable solutions for your idea. However, you should have your own vision of the project to know what kind of experience you will need from the team, what goals you want to achieve, etc.
Estimate the budget. Depending on the rough calculations for the project, you will have different options in terms of an outsourced team's location, experience, level of expertise, etc.
Look for mobile app development companies. There are thousands of those on platforms like Clutch or GoodFirms, where you can set the filter in accordance with a suitable budget, relevant experience, location, and other requirements.
Make a shortlist of 5-7 options and examine each candidate. Once you find the outsourcing companies that meet your needs, it's time to check if they are trustworthy. Examine the companies' portfolios for relevant experience, find and test the apps they have developed, read reviews, and contact their former clients if required. After this, the list of candidates will automatically decrease.
Contact the companies from your shortlist. During the first meeting, you can ask the team how they approach their work, discuss your project, get a rough estimate of the cost, and ask for any other additional information you need. You can also suggest that the team carries out a small test task to check if this cooperation is going to work.
Make the cooperation official with the company you choose. Signing a contract reduces the risk of getting poor-quality results or no results at all. You can also agree upon a money-back guarantee, sign an NDA, establish communication guidelines, and make any other necessary arrangements.
In addition to this, we recommend looking for outsourcing companies who have already developed products in the niche you're interested in. Teams who already have dived into the industry have to spend less time researching the market and might come up with efficient solutions quicker.
For instance, the Mind Studios team has worked with a couple of health & fitness platforms. One of them is Fitr. Training, a remote coaching software with 130 thousand monthly visits and a market size value of $3.9 billion as of 2021.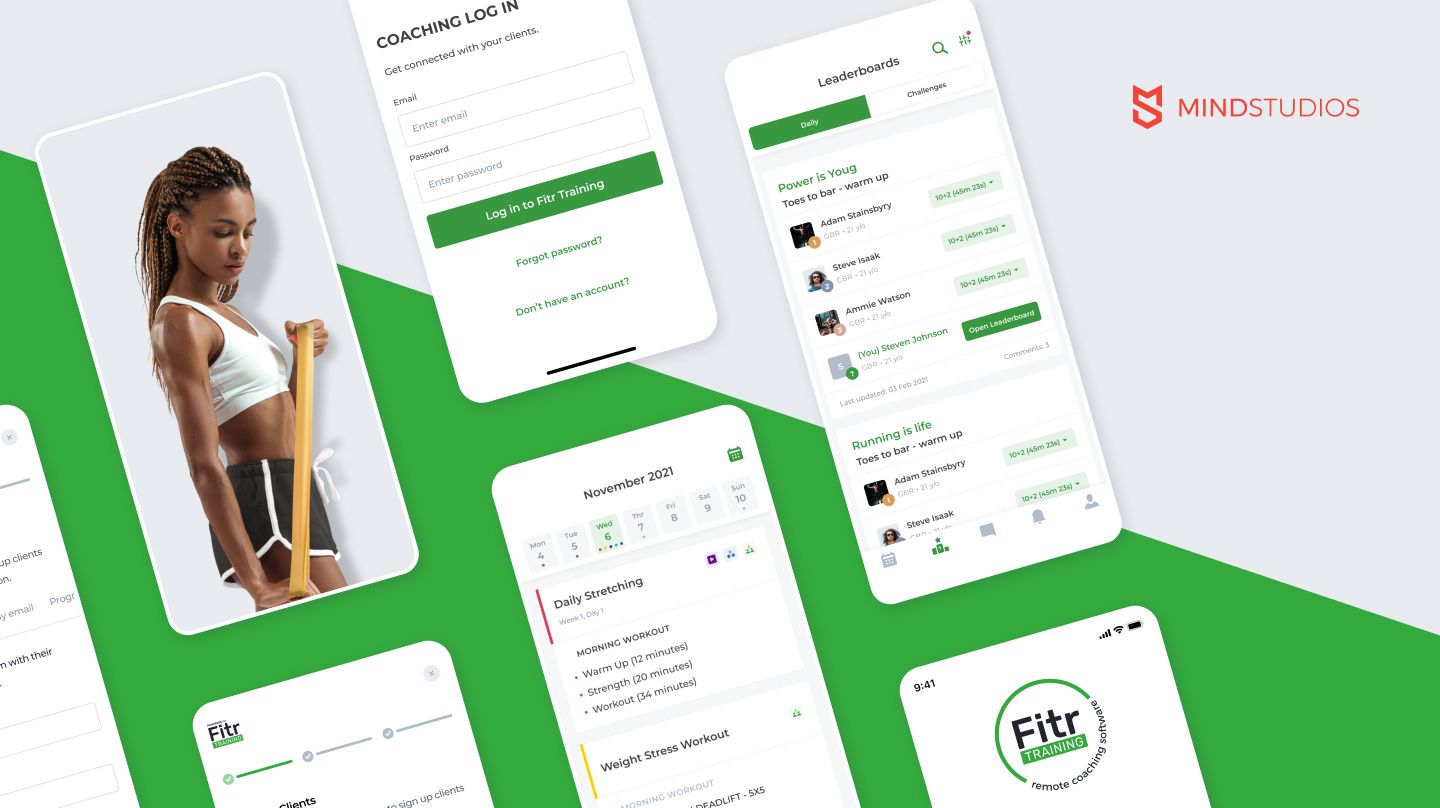 During the discovery phase, we carried out expansive research of the market, analyzed the competitors, and conducted interviews with prospective clients to truly understand their needs and pain points.
As a result, we have created:
A web platform with a satellite mobile app for coaches, where they can manage their clients and training programs, receive payments, and communicate with athletes through private and group messaging
A mobile app and web platform for athletes, where they can manage the training calendar, purchase programs, access benchmarks, and videos, communicate with the coach and leave feedback
Though we launched the platform back in 2018, in August 2020 we presented a big update which included the option of paid subscription. Now, one in four coaches using Fitr. Training is a paying user. Moreover, the platform has helped the coaches earn over £1.5 Million.
Before working on this project, our team already had experience of working with the sports industry. Now, we feel that our expertise has grown even stronger. So, if you decide to build the next MyFitnessPal or Down Dog, look into the companies that already have gone through it all and know how to build a fitness app. Chances are, such a decision will both save you time and money and secure the success of your product.
Conclusion
For years, the fitness app industry has been growing relatively slowly until the pandemic happened, and the market saw an increase of 48.8% from 2019 to 2020. Now, there is no way back. Health safety, the growing use of wearable devices, and advancement in terms of technology fitness platforms use is a straightforward guarantee that the market is going to continue growing.
Sure, the fitness app industry already has solid leaders such as Fitbit, Nike Training Club, Strava, and MyFitnessPal. However, we are confident that it is possible to create a new app that will be highly competitive and profitable. All you need is a skilled, experienced team, so that together you can find an innovative solution to make your product stand out.
Mind Studios might be just the right fit if you are confident about building a successful health & fitness app. Book a free consultation with our business development consultants, and we will discuss your idea, give you a rough estimate for the project, and answer any questions you have regarding the development process.
2