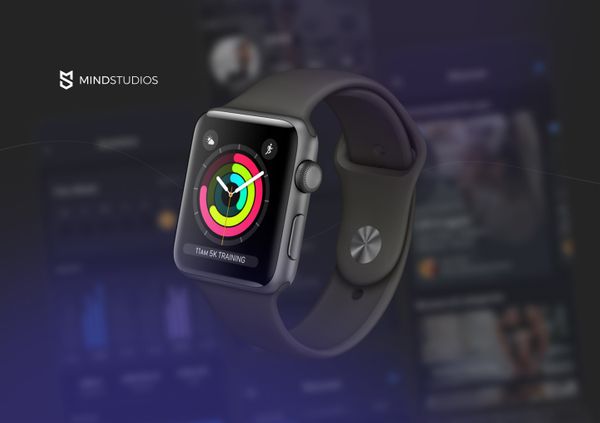 Want to attract one million users to your meditation app or make $1 million in monthly revenue from your workout app? In this article, you'll figure out how to make a fitness app that achieves stunning results. You'll discover trendy features and get a step-by-step guide to fitness app development. Furthermore, you'll get an estimate of the budget needed to build a fitness app. But first things first.
Five fitness app development case studies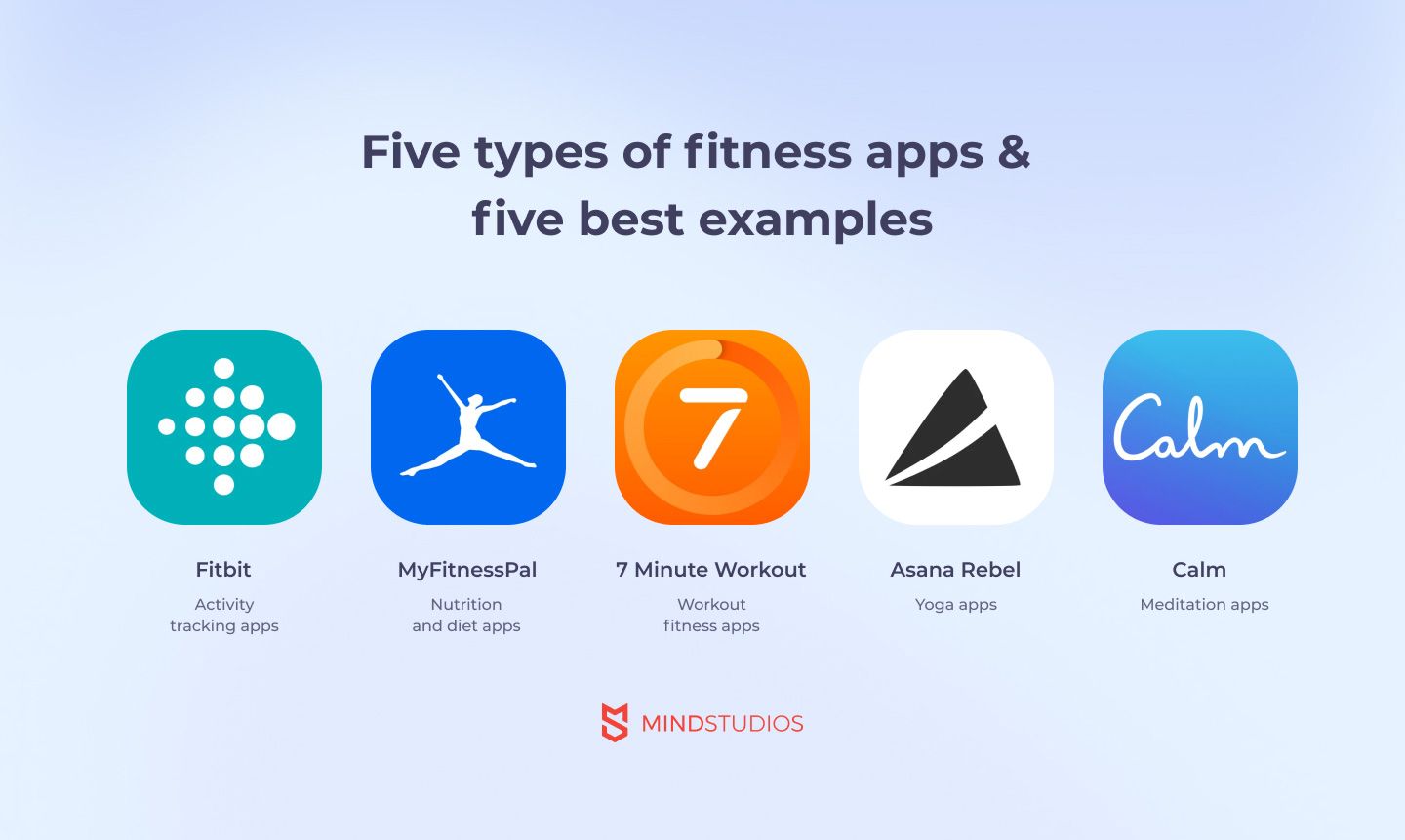 There are five main types of fitness apps:
Activity tracking apps
Nutrition and diet apps
Workout fitness apps
Yoga apps
Meditation apps
Each type has its pioneers that still hold leading market positions:
Let's find out how these apps became successful and what lessons you can learn from them.
1. Fitbit

The story of the Fitbit app is related to the Fitbit fitness wristband that was developed in 2009. First there was the Fitbit website for users to upload data from wearable trackers, analyze performance, and share results with friends. Fitbit device owners could use an altimeter, a digital clock, and a stopwatch. In 2012, developers synchronized Fitbit trackers with smartphones through Bluetooth and added a smart scale.
The first Fitbit app was launched on iOS in 2011 and on Android three years later. According to Mobi Health News, in 2015, the company had 9.5 million paid active users. Since its foundation, Fitbit has prioritized hardware updates and app improvements.
Fitbit lessons:
The popularity of the original product or service is key to creating a successful fitness app.

Focusing on updates, monitoring new trends and technologies, and integrating them into your fitness app will keep users interested.

Add features systematically, one at a time, to be able to test them, fix bugs, and analyze feedback.
2. MyFitnessPal
The story of MyFitnessPal began in 2005 when its founder Mike Lee and his girlfriend wanted to lose weight before their beach wedding. A born developer, Mike thought "Why not make my own fitness app?" and with the help of his brother Al released the first version of MyFitnessPal on iOS in 2009.
During the next four years, he manually added products from food manufacturers and drew users into building up a comprehensive food database. Mike and Al Lee organized a separate Customer Happiness Team to meticulously respond to users' feedback. By the year 2014 the app was also integrated with 80% of wearable fitness devices, four of the five leading GPS activity tracking apps, and the top two smart scales.
The app was so well-thought-out that in 2015 the athletic apparel brand Under Armour spent $475 million to buy MyFitnessPal.
MyFitnessPal lessons:
Finding the right problem and choosing the right solution is the cornerstone of making a successful app.

Involving users in the development process is a must for creating a lucrative fitness app. Users can best point out the strengths and weaknesses of your app and help you make it better.

Integration with premium devices, wristbands, and fitness apps improves your app's functionality, expands your audience, and increases your brand awareness.
3. 7 Minute Workout

The 7 Minute Workout app was born in May 2013 when a daily 7-minute training was the hottest new trend in the media world. 7 Minute Workout was a basic app with several screens and a primitive design launched on the iOS. Version 1.0 explained 12 exercises and had a voice prompt timer.
It took six days for the pilot app to be approved by Apple App Store. Stepwise Stuart Hall, the founder and main developer, added social sharing features and in a week — iPad support. Jun 16, 2013 was the day the app became free and the number of downloads skyrocketed. From that day through November 2014, 7 Minute Workout generated 2,300,000 downloads. Rather good for an app that took six hours to develop.
7 Minute Workout lessons:
Following trends is a good way to make your app popular without spending much money on marketing.

Free downloads encourage users to install, open, and use your app. The more value users find, the more in-app purchases they want to make.
4. Asana Rebel

The Asana Rebel app was launched in 2015 with the idea to combine the best yoga and fitness practices. To help users form healthy habits and change their lifestyles, the Asana Rebel app motivates them by sending nutrition tips and fun quizzes once a day.
The founders decided to launch pilot apps on Android and iOS to clarify the relevance of their hypothesis to combine fitness and yoga. Two and a half years after its launch, the Asana Rebel app rose beyond 8 million downloads.
Asana Rebel lessons:
The cheapest, fastest, and most accurate way to check your idea's viability is to build a pilot app.
Gamification strategies increase user engagement and motivation.
5. Calm

After creating three ventures, entrepreneur Michael Acton Smith was burnt out. His friend recommended meditation. Surprised that it worked, Acton organized a company called Calm in 2012.
Calm wasn't just a simple meditation app. Its aim was to help people in all aspects of their mental fitness. This goal enabled its founders to raise $1.5 million from venture capital investors by 2017. Masterclasses by mindfulness experts and comprehensive functionality including audio meditations, sleep practices, music, body stretching, nature screens, and sounds led the Calm app to be the number one meditation app. In H1 2020, Calm was installed 8.6 million times in the US.
Calm lessons:
Collaboration with accredited experts can increase brand confidence and engage loyal adopters.
With a noteworthy app idea but a lean budget, you can raise funds from investors.
Building a fitness app: start with a plan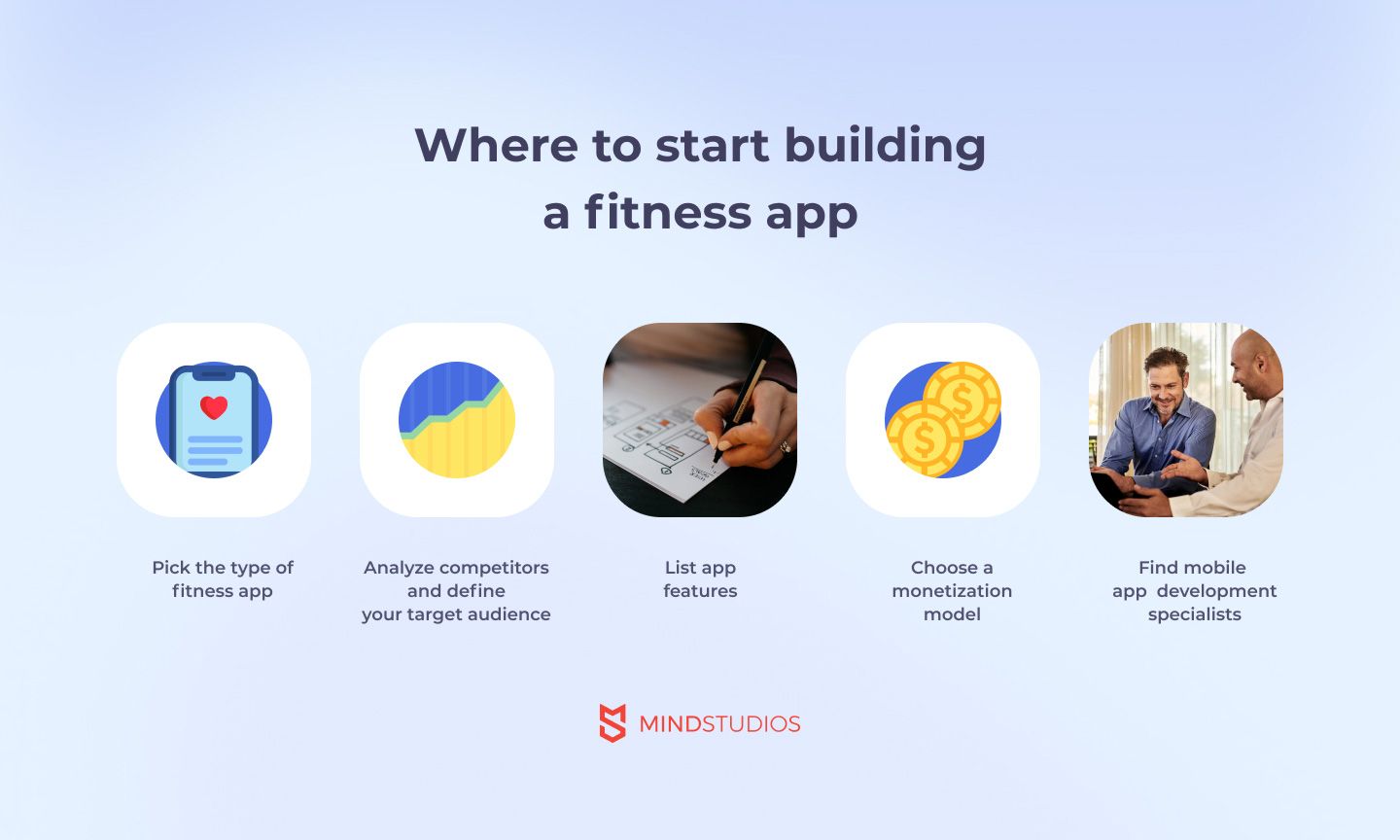 The path to success in every business starts with a plan. When creating a fitness app, you need to start by defining the type of app. When you choose the type of app to develop, you set the direction for your entire project. The type of app also predetermines your market, competitors, target audience, and app features. When compiling a business plan for a mobile app, you should also think of a unique value proposition and ways of getting money.
Pick the type of your fitness app
The five main types of health and fitness apps can be divided into subtypes that, despite having certain commonalities like tracking progress or compiling meal plans, target different users, track different app metrics, and provide different functionality. To make your choice quick and easy, we've classified these subtypes of fitness apps and mentioned the top three apps of each type with at least 4.4 stars on the Google Play Store and Apple App Store.
Fitness activity tracking apps
Fitness activity tracking apps receive data from sensors integrated into smartphones or wearable trackers. They provide daily reports including on the number of steps taken, distance covered, run speed, hours slept, heart rate, calories burned, body temperature, and more.
| Subtype | Description | Examples |
| --- | --- | --- |
| Run tracking apps | Allow users to track routes, plan routes, choose activities (running, jogging, walking), and provide coaching for workouts | Adidas Running by Runtastic, Nike Run Club, Runkeeper |
| Cycling tracking apps | Allow users to record rides, plan routes, receive notifications about free roads, track progress, and share results via social media | Strava, Map My Ride, Komoot |
| Gym tracking apps | Receive data from wearables, GPS, network sensors, and NFC tags for gym goers. If you create a fitness app for the gym, it can display users' progress during training and log data. | Strong, FitNotes, Gym Workout Planner |
Nutrition and diet apps
Nutrition and diet apps are useful for users who want to lose or gain weight and improve their eating habits. These apps help track protein, fat, and carbs eaten along with calories burned, control water and coffee intake, and give data about ingredients.
| Subtype | Description | Examples |
| --- | --- | --- |
| Food diary apps | Log what users are eating, track calories and macronutrients, offer healthy recipes, allow users to compile recipes, offer barcode scanners, and give nutritional information for meals | Calorie Counter by MyFitnessPal, Calorie Counter by MyNetDiary, Calorie Counter by Lose It! |
| Diet apps | Compile plans for different types of diets: keto, paleo, interval starvation, detox, and more | Healthy Diet, My Diet Coach, Fastic |
| Combined nutrition and workout apps | Combine workout app functionality with a food diary to help users achieve their goals in the most convenient way | Lose Weight in 30 Days, 8fit, FitOn |
Workout and exercise fitness apps
Workout and exercise fitness apps are useful for people who don't have time to go to the gym or attend group training sessions. They provide exercises and workout plans, track weight, calories burned, and progress.
| Subtype | Description | Examples |
| --- | --- | --- |
| Exercise apps | Contain exercises, illustrations, videos, 3D models, workout plans, and customized training based on personal user data: goals, age, gender, weight, and height | Home Workout by Leap Fitness Group, 7 Minute Workout, FitOn |
| Personal training apps | Offer to create an individual training plan according to AI-based recommendations or to hire a personal trainer who creates workout routines taking into account the user's physical data, health, and goals | BodBot Personal Trainer, My Coach, Fitbit Coach |
| Gym workout apps | Allow users to plan and combine different exercises, record customized workout routines, and track progress when users work out in the gym | Pro Gym Workout, Gym Workout Planner, Gym WP |
Yoga apps
Yoga apps specialize in physical and mental health, provide yoga and fitness practices, and are aimed at changing users' lifestyles.
| Subtype | Description | Examples |
| --- | --- | --- |
| Yoga workout apps | Offer daily yoga activities with pre-recorded video instructions, explain asanas with 3D illustrations, pick routines according to the level of the user's yoga experience, track progress, generate reports, and draw up individual workouts | Daily Yoga, Down Dog, Yoga Workout |
| Yoga for beginners | Provide easy-to-perform yoga workouts to help beginners get started. Often, these apps are supplied with voice guidance, track workout progress, calories, and weight, and enable users to customize their yoga workouts | Yoga for Beginners, Yoga 360, Down Dog |
| Mixed yoga apps | Combine yoga with fitness workouts, nutrition planning, or meditation sessions | Sweat, Gymondo, Sadhguru |
Meditation apps
Meditation apps are aimed at taking care of our mental health through meditations for mindfulness, relaxation, better sleep, walking, breathing, music meditations, or yoga.
| Subtype | Description | Examples |
| --- | --- | --- |
| Meditation apps for mindfulness | Help users concentrate, calm down, and focus on positive thoughts; provide techniques like visualization, breathing, and meditation exercises to manage anger, anxiety, depression, worries, and conflicts | Headspace, Let's Meditate, Mindfulness with Petit Bambou |
| Meditation apps for sleep | Offer guided mindfulness meditations, daily motivations, soothing music, guided sleep sessions, and motivational talks along with coaching content by experts | Calm, Insight Timer, MyLife Meditation |
| Meditation apps for breathing | Provide different breathing techniques; reinforce breathing meditations with training exercises, voice guidance, and coaching content | Prana Breath, Zen, Meditopia |
Before proceeding, you might think of carving out your own unique niche. You might consider creating a Zumba dance fitness app for family sessions, a pilates app for older people, or a meditation app for pregnant women.
Analyze competitors and define your target users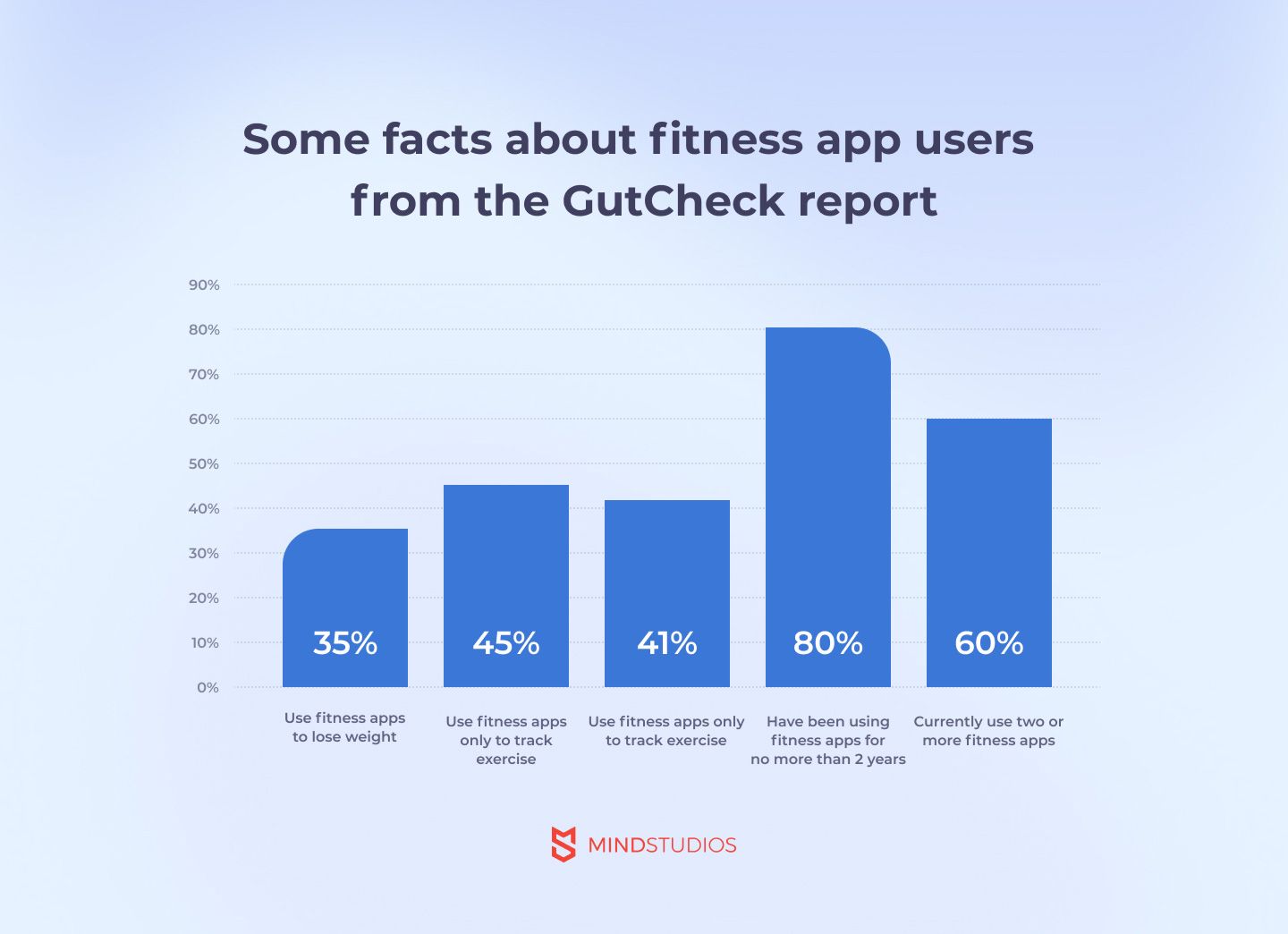 After choosing the type of fitness app you want to build, you need to research the market and explore competitors' offers. Look at similar fitness apps, read comments and reviews, and check with users about their experiences.
You should perform SWOT analysis to identify the strengths, weaknesses, opportunities, and threats of your direct competitors.
What about defining target users for a fitness app? Users from the US have the highest adoption rate of fitness apps worldwide. Based on Gallup's annual Health and Healthcare survey, the percentage of Americans who use fitness apps is as follows: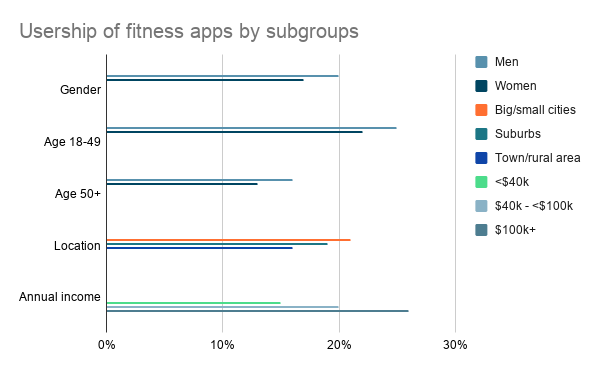 The average fitness app user in the US is a man between 18 and 49 years old who lives in a city and has a relatively high income. You can draw up a profile of your potential consumer by analogy.
Determine primary features
Wondering what features you should include in your exercise app? We've compiled a list of must-have features that fitness apps provide.
| Feature | Description |
| --- | --- |
| Onboarding | Onboarding is useful when you need to explain app features or give instructions to first-time users. (If your app is simple, you can skip this.) You can provide onboarding by displaying two to eight screens, adding a 60- to 90-second video tutorial, or sending in-app prompts when users interact with your app. You can see examples of onboarding on Dribbble. |
| Registration / sign-up | Allow users to sign up via social media accounts (Facebook, Google, Twitter, Instagram) or with an email address. |
| User profiles | When creating a profile, users enter personal data: name, age, height, weight, gender, and fitness level. This information is useful for both app owners and users. It helps owners make their apps to match users with personalized workout routines and track their sport activity. For users, a profile provides quick access to subscription plans, a history of completed exercises, progress, bonuses, etc. |
| Goals | According to a GutCheck study, one in three users use health and/or fitness apps to set weight and nutrition goals. Use a poll to ask users about their feelings after workouts are finished and what they would like to improve in their weekly meal plan. |
| Synchronization with wearable devices | You can use HealthKit and GoogleFit APIs to consolidate data from fitness trackers and your fitness app. The watchOS and Wear OS operating systems can help you sync with Apple Watch and Android smartwatches. |
| Workouts & exercises | You can demonstrate exercises and workouts using photos, 3D animated models, and video illustrations. Enable users to create their own workouts, use a set of standard exercises, and combine these two options. For this, you need a structured and searchable content library. |
| Activity tracking | Your app can get activity tracking data in two ways: from sensors built in to smartphones or by integrating with any wearable tracker. Smartphones let your app display steps covered, stairs taken, distance traveled, speed, and direction. To measure other parameters like heart rate, sleep quality, or body temperature, you need to add third-party APIs to sync with fitness wearables. You should also ask users what parameters they want to track. |
| Audio/video player | Exercises, workouts, running, yoga classes, meditation — all sorts of fitness activities can be guided by audio/video podcasts featuring a trainer's voice, a soundtrack, or a video tutorial. Your app player should allow users to provide feedback, bookmark/favorite/like tracks, and return to them later. |
| Product & recipe database | The killer features of nutrition apps are access to a vast database of products and healthy recipes, analysis of nutrition values, and data on ingredients received by a barcode scanner. To provide users with this functionality, you need to use nutrition APIs. Also, allow users to manually add products they don't find in your app. |
| Customization | A customization feature can allow users to create their own workouts, meditations, exercise sets, recipes, or diet plans within your app. |
| Push notifications & reminders | The right text at the right time can increase an app's retention rate by 3 to 10 times. Business of Apps recommends that push notifications for fitness apps should include no more than 90 characters and be sent between 7 am to 8 am or from 12 am till 2 pm. It's good if your app allows users to adjust the timing of reminders and push notifications. |
| Recommendations | You can use machine learning algorithms to give personalized tips based on users' preferences and/or viewing history. Artificial intelligence (AI) allows an app to create personalized fitness programs with dietary plans and stands a good chance of outperforming any human personal trainer in accuracy of adjusting personal workouts. |
| Settings | This feature enables users to change their passwords and emails, adjust notification settings, and deactivate their accounts. |
| Support | If you create a workout app where trainers give real-time guidance or consultations, users will be thankful for a chat feature. If your app doesn't provide live people available for chatting, think of integrating a chatbot with ready-made responses. |
| Payment feature | The necessity of a payment feature is obvious. Without it, how will you get money from your app? Choose a payment gateway such as PayPal, Strive, or Braintree and integrate it into your app. |
| Admin panel | You need an admin panel to add new content; edit, update, and rearrange workout routines; and hold events. Only the app owner and designated specialists should be able to use the admin panel. |
Features you can put in a backlog and add after implementing a successful pilot app include:
Geolocation to map routes, track distance and speed, connect users to fellow runners, display the nearest healthy restaurants and gyms, or find personal trainers
Social sharing & blog to enable users to share their progress via social networks and keep a blog about their stories of successful weight loss or muscle gain
Shopping list to plan weekly grocery lists by integrating nutrition or grocery APIs
Filters to allow users to search content by parameters such as complexity, duration, body part, type of workout, trainers, keywords, ingredients, calories, or recipe cost
Coaching content to add a variety of educational content: brief notifications, articles, video tutorials, and tips from accredited trainers
After all, you need to secure user data. Learning from the Strava case, you should pay maximum attention to improving data security. You can write secure code, encrypt every unit of data, check code of third-party libraries, use authorized APIs, and offer high-level authentication.
Add extraordinary features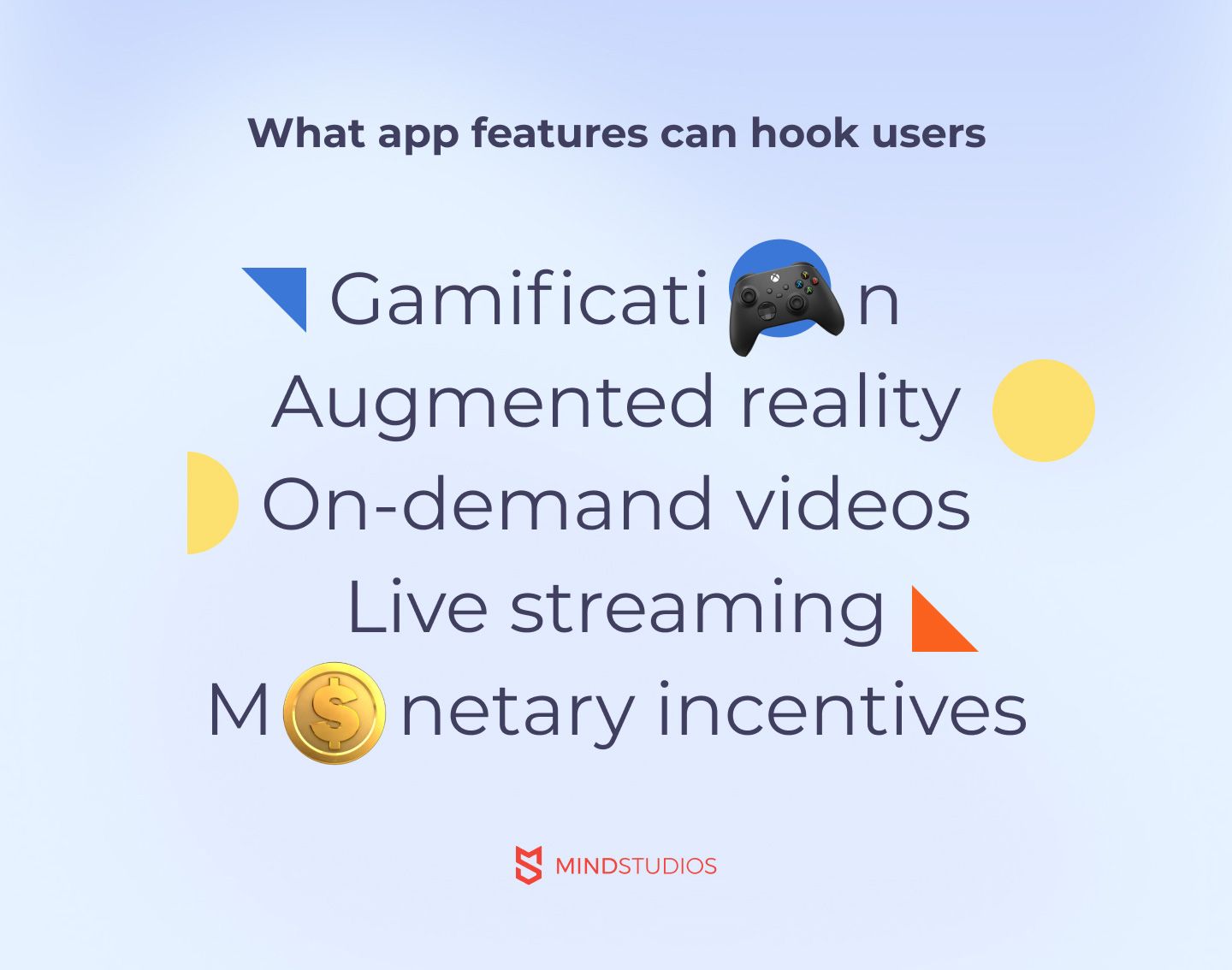 Now it's time to add the cherry on top. We've prepared five ways to drive your fitness app's competitiveness and user engagement:
Gamification. The main purpose of gamification is to create fun, stimulate users, improve the user experience, increase engagement, and make a habit-forming fitness app. You can apply gamification mechanics like rewards, badges, quizzes, virtual gifts, leaderboards, and progress dashboards. Perform A/B testing to choose the most engaging option for your target audience.
Example. The Zombies, Run! app successfully uses the power of storytelling. Users enter a world after the zombie apocalypse and need to run from zombies and go on expeditions. Runners receive instructions for every mission from audio recordings followed by music from a precompiled list. During running missions, users need to gather supplies that can be used to build, upgrade, or repair their basecamps. The ZombieLink feature allows users to track their running route, pace, and songs that make them run faster.
Augmented reality (AR) allows smartphone owners to overlay digital information on a real object being viewed through a smartphone's camera or smart glasses. You can use AR to visualize real-time information like distance covered, calories burned, and heart rate. You can add gamification elements like zombies, dinosaurs, or wolves to enhance users' performance. If you create a fitness app for a gym, you can use AR technology to give instructions on how equipment works or to provide personalized workouts through an AR device like smart glasses. With AR tools, you can also create a virtual personal trainer.
Example: Gymnotize is a workout app that uses AR training tools to show users how to correctly lift weights. 3D animations help users adopt the right technique and see which groups of muscles are used in a particular exercise.
On-demand videos. According to Apptopia research, Americans prefer to use video workout apps 65% more than non-video apps. And 50% of users are likely to subscribe if an app provides downloadable content. When you create a workout app, think of adding HD video instructions and on-demand videos that users can download and use when there's no internet connection.
Example. Nike Training Club offers a growing library of 185+ free workout videos including for HIIT, bodyweight-only workouts, cardio, and yoga.
Live streaming. A live streaming feature enables users to take part in real-time training without going to the gym. All users need is a smartphone, an internet connection, and being on time.
Example. The FitOn app allows users to join a live class or workout on demand using a phone, laptop, or TV. It offers an extensive library of home workouts from cardio to strength training, HIIT, yoga, and pilates, providing access to exclusive workout videos by top celebrity trainers.
Monetary incentives. Money is a strong motivator that you can take advantage of in a fitness app. One trick is to pay users cash to exercise or charge money every time they skip a workout.
Example. HealthyWage pays money for losing weight. Users need to put a minimal 10% of their body weight as a weight loss goal and choose a time frame between 6 to 18 months. If they're successful, users can get from $5 to $995 per month.
Choose a monetization model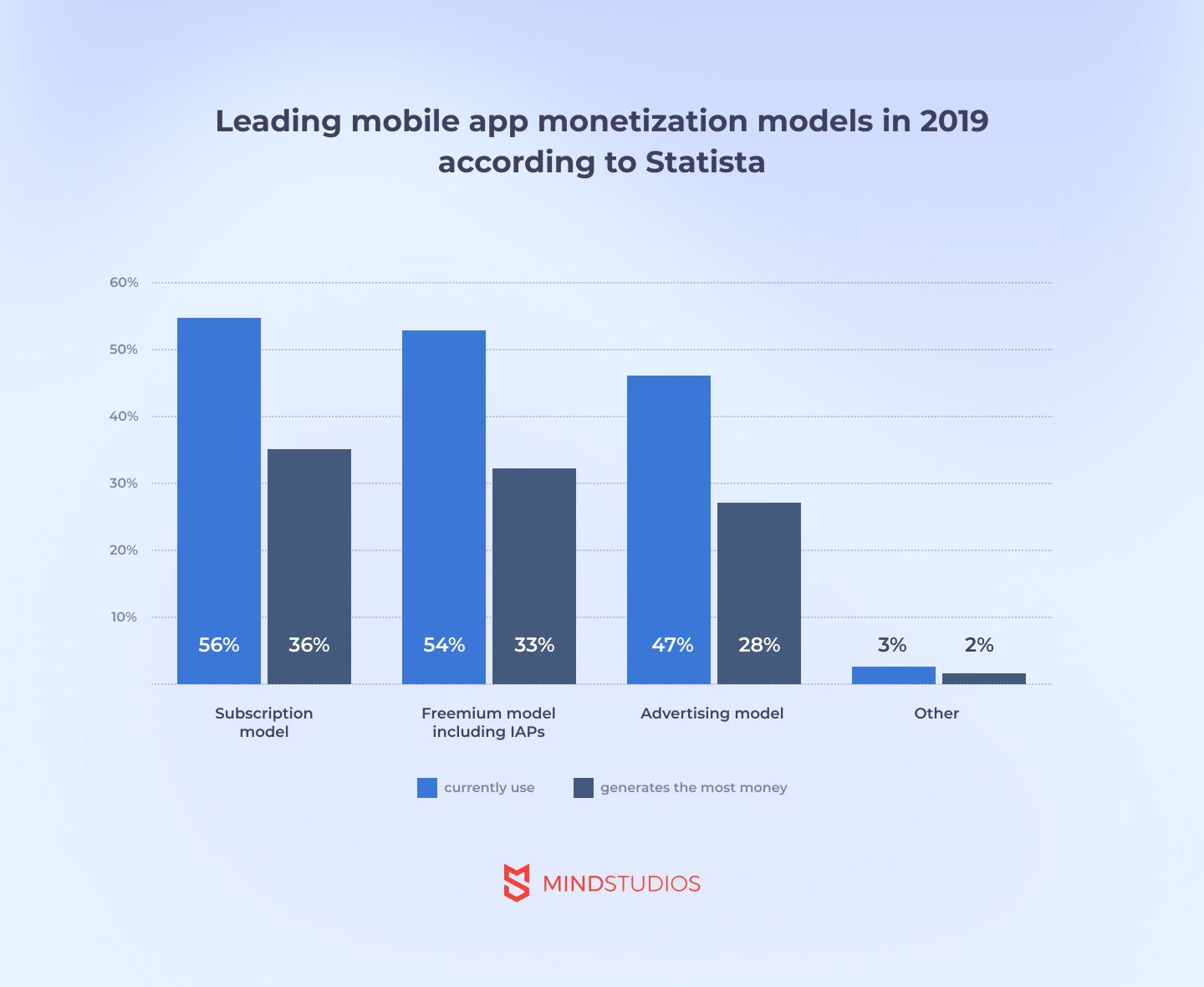 How will your fitness app bring you money? There are four main monetization models:
Paid download model
Ad-based model
Freemium model
Paid subscription model
Paid apps are ineffective for new brands and startups. People won't pay if they don't perceive value. Ads constantly interrupt video viewing and online sessions, so they're not welcome for meditation, yoga, and workout apps. In turn, a free download with in-app purchases like paid access to premium features or content requires a well-thought-out pricing policy. The benefit of a paid subscription model is that it gives users access to a wide variety of content right away while promising a steady flow of payments for app owners.
According to Statista, the most useful and profitable monetization model is the paid subscription model. But you're free to choose based on your business goals and app. At any rate, you should pick a business model for your app at the discovery stage of development. Below, we'll bring you up to speed on the app development stages.
Why outsource fitness app development?
Which is the right team of app developers for your product? The right team is one that meets your requirements regarding quality, time, and money.
When choosing a team of developers, you should take into consideration:
The workload for developing your fitness app
The complexity of your app and number of features
The time you can dedicate to development
Level of developers' skills
Deadlines
Budget
You can hire full-time specialists to work on a project from your office. An in-house team is effective for large-scale projects where total revenue can offset the cost of maintaining employees.
Alternatively, you can collaborate with freelancers, picking them based on clients' reviews, ratings, and project portfolios. But searching for skilled freelancers could take lots of time. Moreover, it increases the risk of getting pseudo specialists and breaking your deadlines.
The third option is to entrust your project to an outsourcing mobile app development company. An outsourcing company can start to develop your app idea from scratch right away, since they have a tight-knit team of skilled specialists and proven approaches to software development.
Stages of developing a fitness app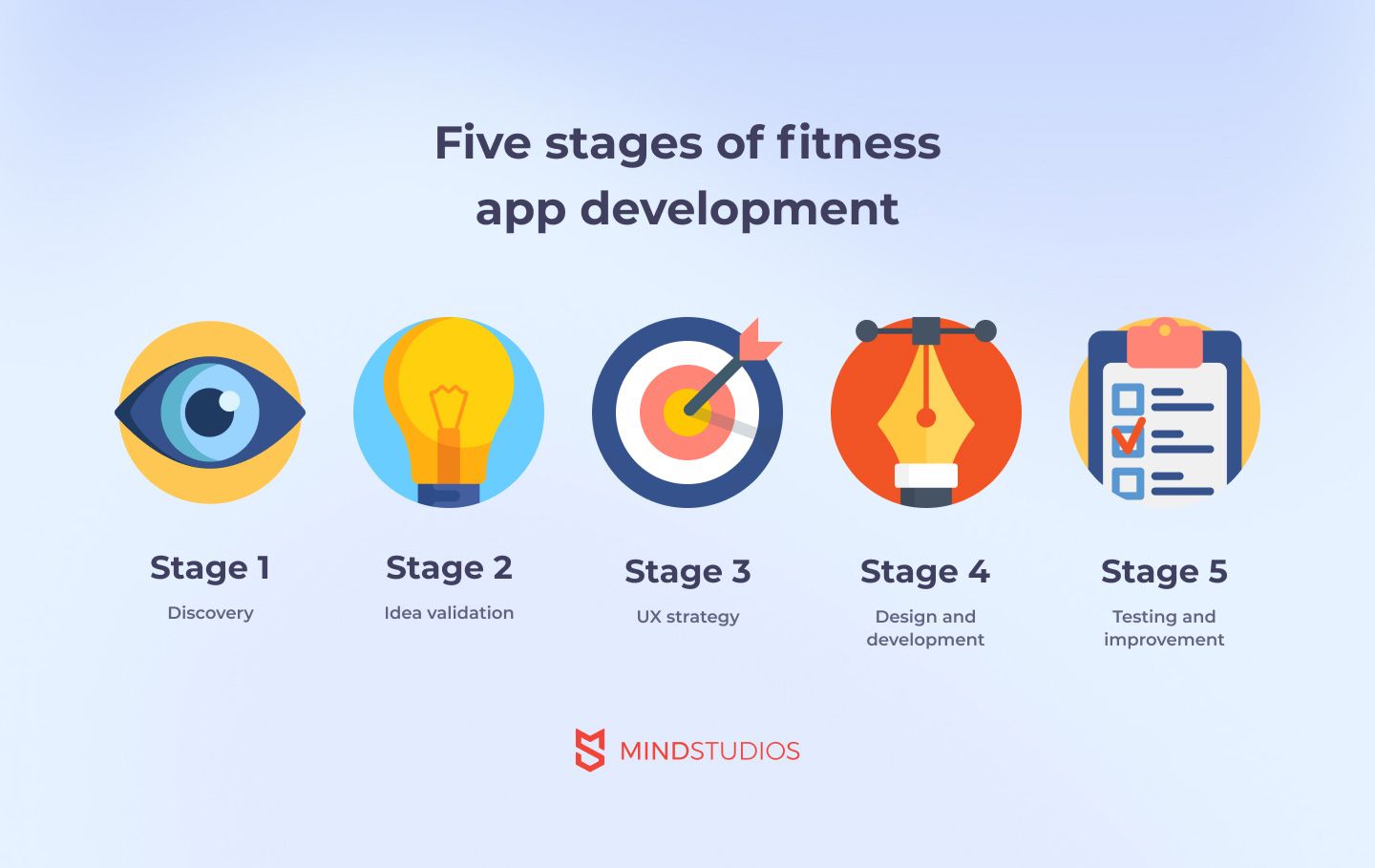 Your fitness app will pass through five stages of development:
Stage 1 — Discovery. At this stage, your mobile app development team conducts initial market research and figures out if your fitness app idea is marketable or what can make it marketable. With a product manager, designer, and project manager, you'll brainstorm and:
Create an app vision specifying problems, solutions, requirements, competitors, acquisition channels, your app's unique value proposition, and ways of getting revenue
Think through the logic of your fitness app
Determine your app's main functionality and make a list of epics
Draw a portrait of your potential users
Make a table-like scheme with epics and possible user stories
Sketch a navigation concept for your fitness app
At the end of the discovery stage, you'll get a low-fidelity app prototype needed to ensure all stakeholders have a common vision.
Stage 2 — Idea validation. At the discovery stage, you analyze problems your app will be able to solve. At the idea validation stage, you need to check the solutions your app's going to provide. To do this, you need to involve the whole development team: a product/project manager, UI/UX designer, iOS and/or Android developer, backend developer, and quality assurance engineer. They will:
Conduct deep market research
Survey your target audience
Compile a detailed business plan
Make a list of first-priority and optional app features
Develop a trial app version
The final result of the idea validation stage is a medium-fidelity app prototype with mid-level visualization. It can be used to get initial feedback from potential consumers and/or beta testers.
Stage 3 — UX strategy. At this stage, your team of developers works on a detailed app interface and interactions between screens. For the UX strategy stage, you need to enlist the whole app development team to:
Build an information diagram with a data structure and interconnections
Create a high-fidelity app prototype with an interactive interface that shows where every control element of your app is located
Work out an approximate project plan with tasks and dates
A high-fidelity prototype is the closest resemblance to the final design in terms of details and functionality.
Stage 4 — Design and development. At the design and development stage, your app development backlog is divided into sprints, usually two weeks each. The task of a project manager is to prioritize tasks, monitor their progress, and update the backlog. The sequence of sprints is as follows:
Design concept sprint where the style guide is approved for use in every part of your project
Technical setup sprint where the team defines the design of functionality, refines documentation, and sets up the technical environment for the following sprint
Development sprint where the app is developed and a project manager plans the next sprint and create documentation
After the design and development stage, you'll get a minimum viable product (MVP) that possesses your product's main features, an improved design compared to high-fidelity app prototype, and an intuitive interface based on preliminary prototypes and feedback from QA engineers.
Stage 5 — Testing and improvement. This stage involves many iterations of the following cycle:
Tracking mobile app KPIs
Analyzing users' feedback
Defining app flaws
Fixing bugs
Improving app functionality
This stage also requires the involvement of the whole app development team. The testing and improvement stage pauses when you get a fully fledged fitness app but continues right after you decide to change something.
Cost to develop a fitness app
Initially, an outsourcing fitness app development company can provide you only with a rough estimate of your workout app development cost based on their experience with similar projects. They can give you a thorough estimate after you pass through the idea validation and UX strategy stages of development. Nonetheless, we'll shed light on the price.
To make a fitness app, your minimal app development team should consist of:
1 project manager
1 UI/UX designer
1 iOS developer
1 Android developer
1 backend developer
1 QA engineer
The number of hours to develop a fitness app that includes several easy-to-build features and one platform will start from the following values:
| | |
| --- | --- |
| Discovery | 80+ hours |
| Project management | 180+ hours |
| UI/UX design | 112+ hours |
| Development | 800+ hours |
| Backend development + admin panel | 450+ hours |
| Testing | 200+ hours |
| Total | Minimum 1822 hours |
How much does it cost to make a fitness app? On average, with a $35 hourly rate and 1822 hours of work, the cost to develop a fitness app will start at $63,770.
Afterword
The fitness app market has been expanding for the last decade, but in 2020, pandemic-caused lockdowns and social isolation caused a new round of virtual fitness app development. More and more people are realizing the benefits of exercising anywhere, anytime, using smartphones and wearables. This means the fitness app market will only grow. From 2021 to 2028, Grand View Research company expects it to grow at a compound annual growth rate (CAGR) of 21.6%.
Despite the dominance of big-name apps like Nike Training Club, Fitbit, and MyFitnessPal, users are still looking for alternatives. Who says your fitness app can't be one of them?