Updated Nov 2019
Life is constant movement. Isn't it?
In this article, we explain how to build a fitness app what types of fitness apps are popular now, all about development costs and ways to monetize.
---
Content:
---
Fitness app market
We live in times where people start to care about health with more and more responsibility. Technology progress helps us to do this process more efficient as well. Today you can transform your smartphone into a personal fitness coach. All you need to do is simply go to the app store and choose the app you need.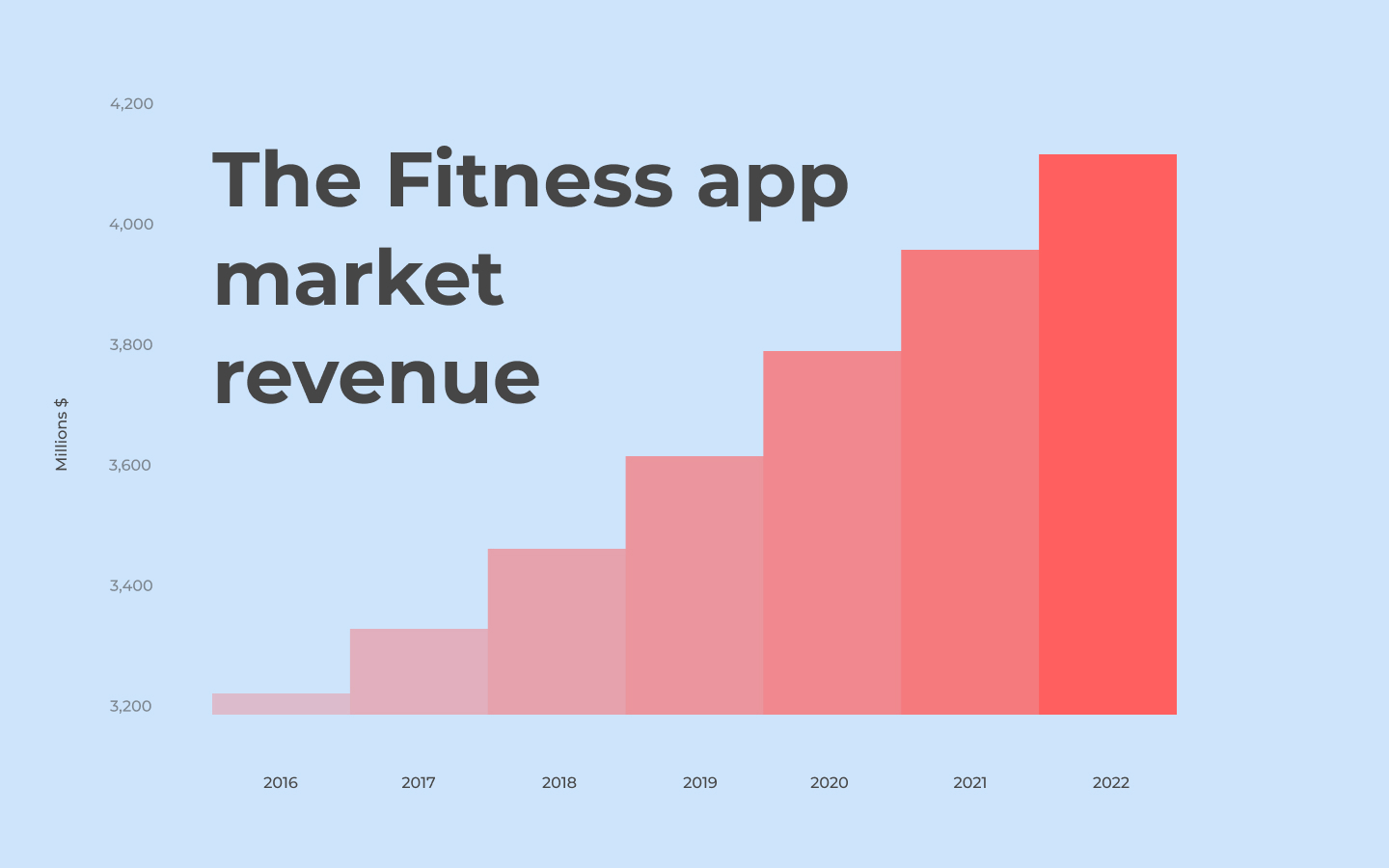 The fitness app market expands, and there are many different types of healthcare fitness apps. The most popular are:
Workout and exercises apps
Nutrition and dieting apps
Activity and log trackers
Let's have a closer look at these types of fitness application.
Workout and exercises apps
This type allows you to keep a personal coach in your pocket. You can choose a training program that is suitable for your lifestyle and level of training.
Once you decide to have a sports activity all you need to do is to download the app, log in, choose a program, and start training. Also, you can custom your program by yourself to get more profit.
Nutrition and dieting apps
Today people don't keep them self in good shape by only sports activity. People are interested in gathering information about healthy nutrition, and the fitness app market can help.
You don't have to visit a physician or another specialist for making a special diet. All you need lies in your pocket. There are many mobile nutrition and dieting apps, that can create a dietary plan especially for your needs and requests.
Read more: How to Create a Diet and Nutrition App
Activity and log trackers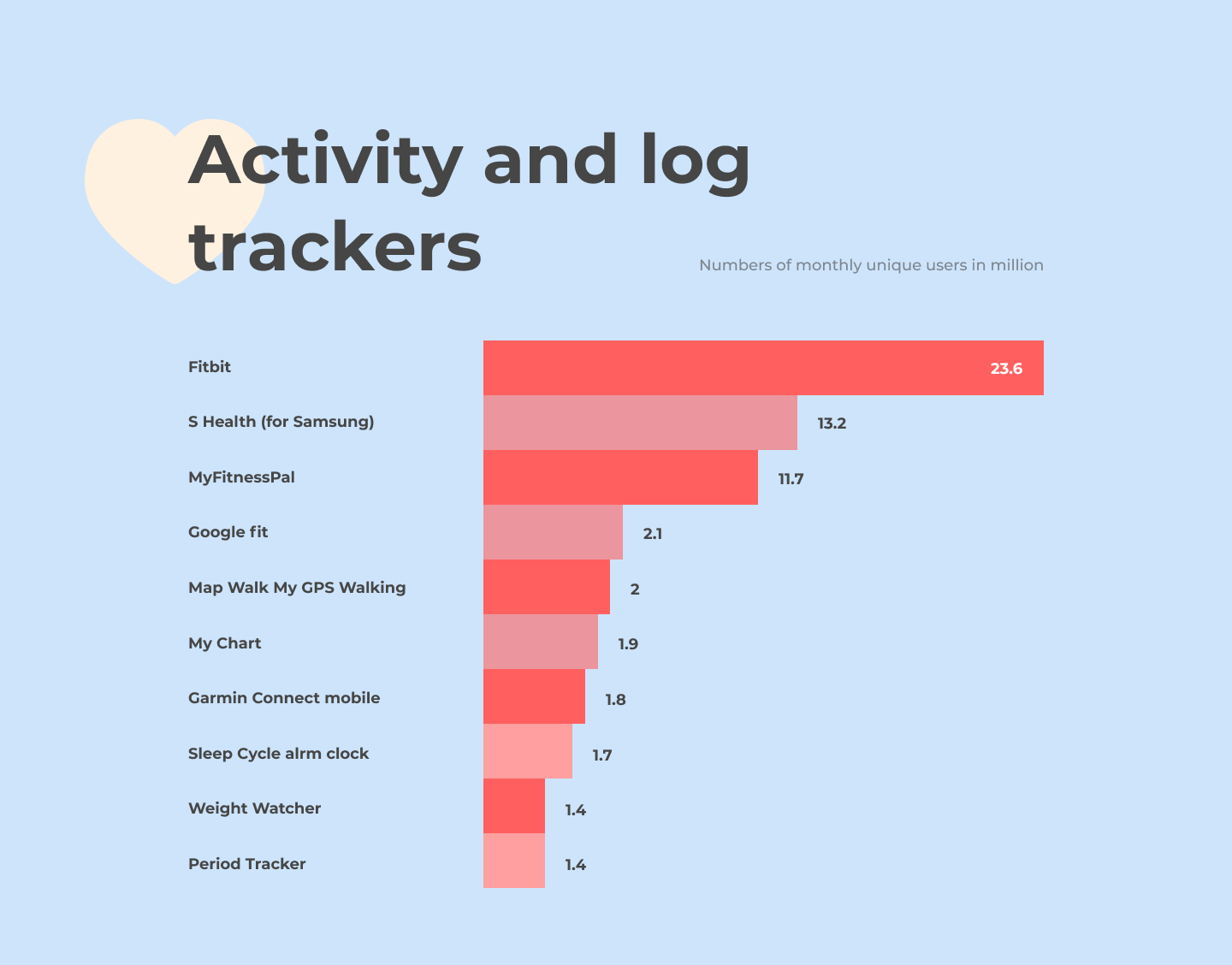 According to Statista, the most popular fitness apps in the US as of July 2017 are tracker apps, be more precise, Fitbit has headed this list. So why Fitbit is so popular and how to develop a fitness app like Fitbit that meets demand?
Why Fitbit?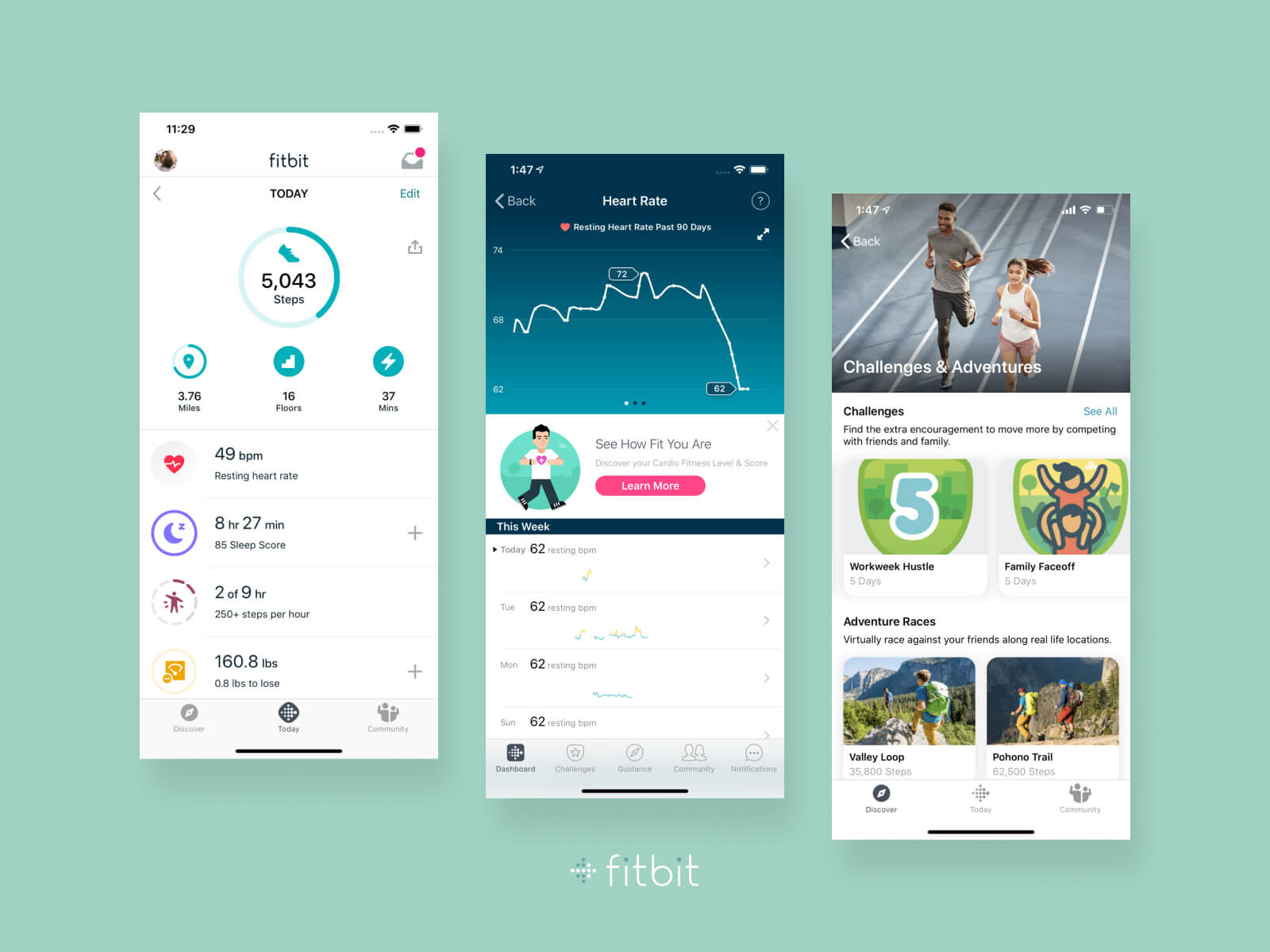 Apparently it would be doubtlessly hard to argue with this statement. Throughout the course of our lives we try and keep moving towards the goal of ours, no matter how hard that might be. This testimony is making even more sense if we apply it in the context of sport - where it is always a competition present.
Although physical activity has changed a lot since mobile technology has taken a hasty development course, forming as new branch on the market of mobile applications - fitness and workout apps. But how to develop a fitness application like all those fancy companies did?
You might see, use or simply have a fitness app stored somewhere on the backyards of your 256 Gb memory on your iPhone, but I bet you (once you have already clicked on this article) already know how to defy the term "fitness app" like MyFitnessPal and Calorie Counter App. The main value fitness and health app development companies put when they create a new sport product is for your exercises and nutrition to be readily available 24/7 at the touch of a button.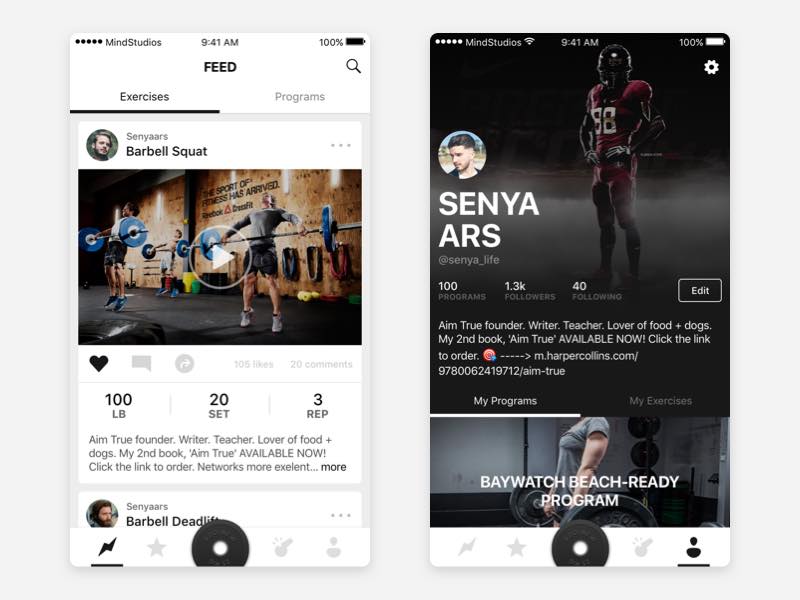 FitBit beating like a drum.
As a company, FitBit was first launched in the year of 2007, but their product went viral only years after it. The idea behind a first tracker was to implement sensors into handy and wearable devices, like bracelets and armbands.
The concept seemed to be booming and causing loads of ruckus around it, so right after all the funds were collected from the supporting investors the first FitBit wristband saw the world in 2009.
The market seemed to be pretty welcoming the new product - FitBit vended around 5000 models first, and additional 20000 orders on the books.
According to the Wearable magazine, the company had 21 million devices in the period since 2011 till 2104, and 36.7 million trackers in total since 2014 till 2016, with 4.8 million of those in the first quarter of 2016; so putting it in a nutshell, custom idea to create a fitness app you "wear" on your hand might as well be a golden gooze; however, there are a few things that actually contributed into the Fitbit's success. One of these factors is the constant improvement company kept going since the first launch.
Since the very first 2009 wristband, FitBit have been experimenting with new features in every single product nonstop. In 2011 they added a stopwatch, digital clock and alt imeter (Wearable again).
Same year here, Smart and Zip FitBits were the pioneers on the field of Bluetooth 4.0 and Bluetooth Smart device connection.
Another one great factor of FitBit is about their prices, as they managed to stay more than affordable. For instance, the new FitBit Charge 2 starts at 149.95 $, whereas the new model of an insanely popular Apple Watch starts at 269$, so the difference is quite tangible. Still though, what is it about the FitBit (and those health and fitness applications) gadget that drives the whole athletic world crazy?
FitBit Can Do It All.
Although the FitBit's founders claim the situation is going to change in the nearest future, for now FitBit manages to stay a fitness tracker. This term is basically defined as something that tracks your physical activity on a daily basis, giving you some motivation to achieve more tomorrow.
As in today's fast-moving world couch-potato lifestyle has become a real threat to humanity, FitBit has launched a campaign promoting an active way of living - by starting out with a step goal of 10000 steps. According to the favorable feedbacks this fitness app development company continues to receive, this literally helps to stay fit, which in its turn explains the popularity of the similar devices.
The set of features also includes workouts record, hydration measurement, wireless synchronization,heart rate monitoring, sleep and weight management.
How to make a fitness tracker app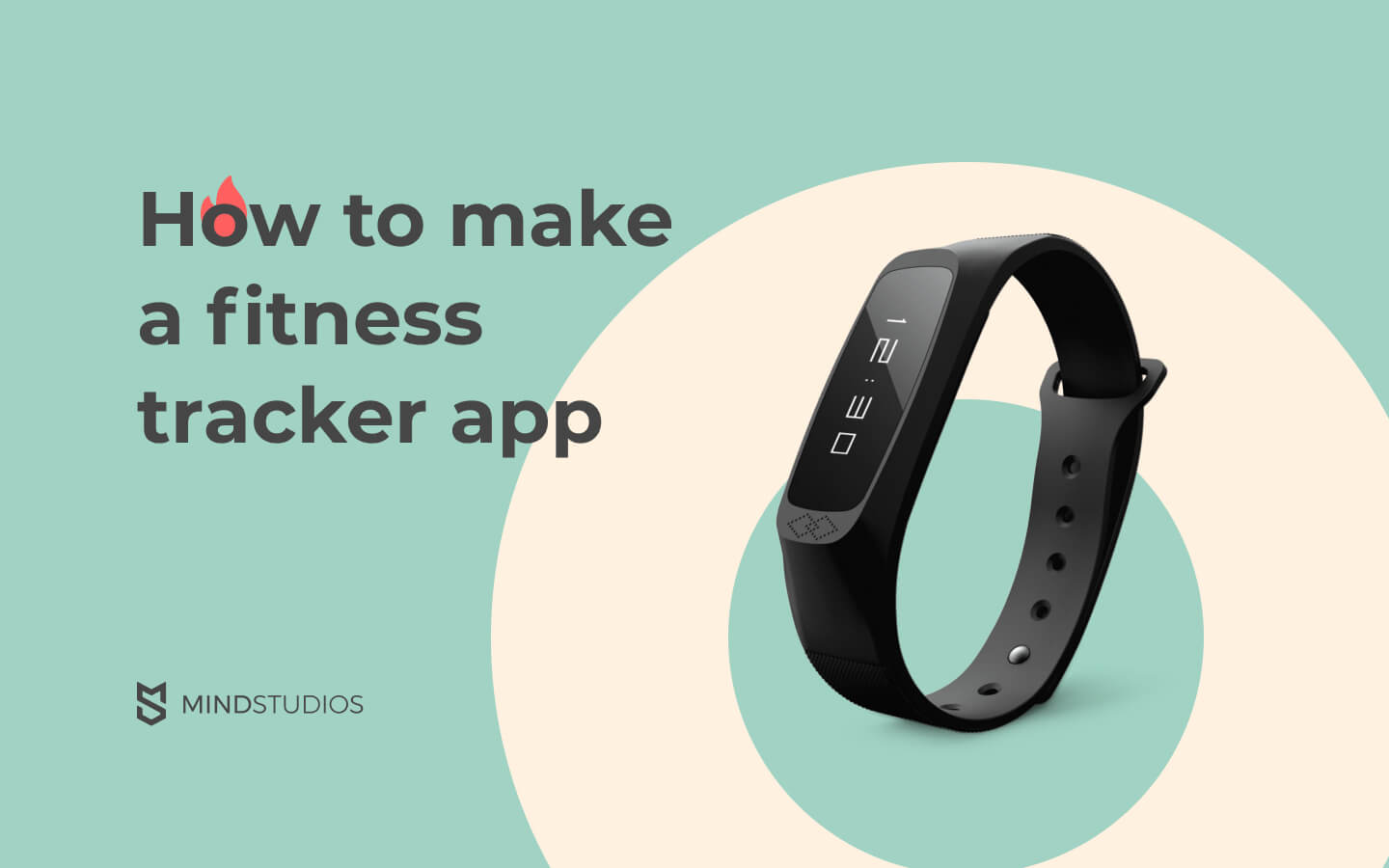 Before starting a fitness app development you should conduct business analysis. The Business analysis allows you to get more information about your target audience, their needs, and habits. This information helps you to evaluate an idea taking into account a specificity of your buyer persona. Also, a marketing stage depends on business analysis, because you should promote your product in places where your target audience is gathered.
The next stage is the market and competitors research. To make a fitness app that meets demand you should research a market and find market leaders, your competitors. Once you find them, you must understand what strengths and weaknesses they have, and what your unique feature helps you to stand out of the herd.
Let's have a look at the developments stage. Everything that measures your activity falls into this category of fitness app development - including skating, walking, hiking and even swimming in some cases. There are multi trackers like Polar Beat - where you can choose the sport you go in for among more than 100 others; or there are applications like Runtastic or IBiker, tracking calories burnt/distance traveled while doing a specific exercise like bike-riding or jogging.
There are several types of trackers available on the market. Some applications like Pacer and Pedometer do not need an additional device to be connected. However, if we take a thing like FitBit or MiBand - it would be quite a must to get a fitness bracelet first.
What features would you need to have in a simple activity-tracking mobile app?
login/sign up screen + social networks integration

User profile/Body values (e. g. gender, age, height/weight, activity level)

External device connection

Various signals (vibrations) for different push-notifications
The feature of particular interest is external device connection, which in case with FitBit, is realized via Bluetooth connection. Our Mind Studios team also had a chance to work on the application for Xiaomi's activity tracker called Mi Band, where we developed an app Mi Band Control for Android; an app where user can select a specific vibro-tune with a tagged colour — for any app with an number of repetitions he chooses.
Inside the fitness tracker system.
When building a fitness app with a Bluetooth form of external connection, it is important to consider the type of Bluetooth - it can either be an ordinary Bluetooth or Bluetooth Low Energy (BLE); the last one, obviously, is a bit more battery-charge-friendly. So if you choose to stick to the BLE, it is necessary for your app to be shown on the market only for those, who have Low Energy Bluetooth on their gadgets.
Another paramount point is the connection approval between wristband and user's device. MAC Filtering is something we would advise to use. Cutting a long story of explanations short, every gadget has a MAC address - a unique identificator connected to network interfaces at the data link layer. With the help of MAC filter, you get to connect to the right bracelet. After this is completed, connection could be established via Bluetooth protocol.
When a connection is finally on, a request is sent to the device, in the form of a short vibration, and then it replies back with a push-notification back to the smartphone. Every Bluetooth-connected device needs to have some extremely essential info, like:
Kind of services this smartphone has. There are 3 types of services - the basic one, the vibration service (push-notifications) and the heartbeat rate service (same notification mode)

Universally unique identifier (UUID) - one of a kind for every device

Whether this UUID contains out of several protocols
Having all of the previously processes set helps to make a wristband-smartphone connection, which is the cornerstone of the whole data-transmitting process.
Fitness App Monetization
There are a few models of monetization that work when it comes to fitness, especially when it is all about activity trackers and gym apps.
Read also: How to monetize your app
The first to come to mind when talking about the fitness tracker app monetization is a freemium model, where the application install is completely free, but you are additionally charged for some custom-made features. For instance, in case of Mi Band Control Android application itself was absolutely free, but in the future, for some specific twists (e. g. different vibrations for each messenger's push-notifications) activity lovers should pay a small amount of money if they are willing to use this feature.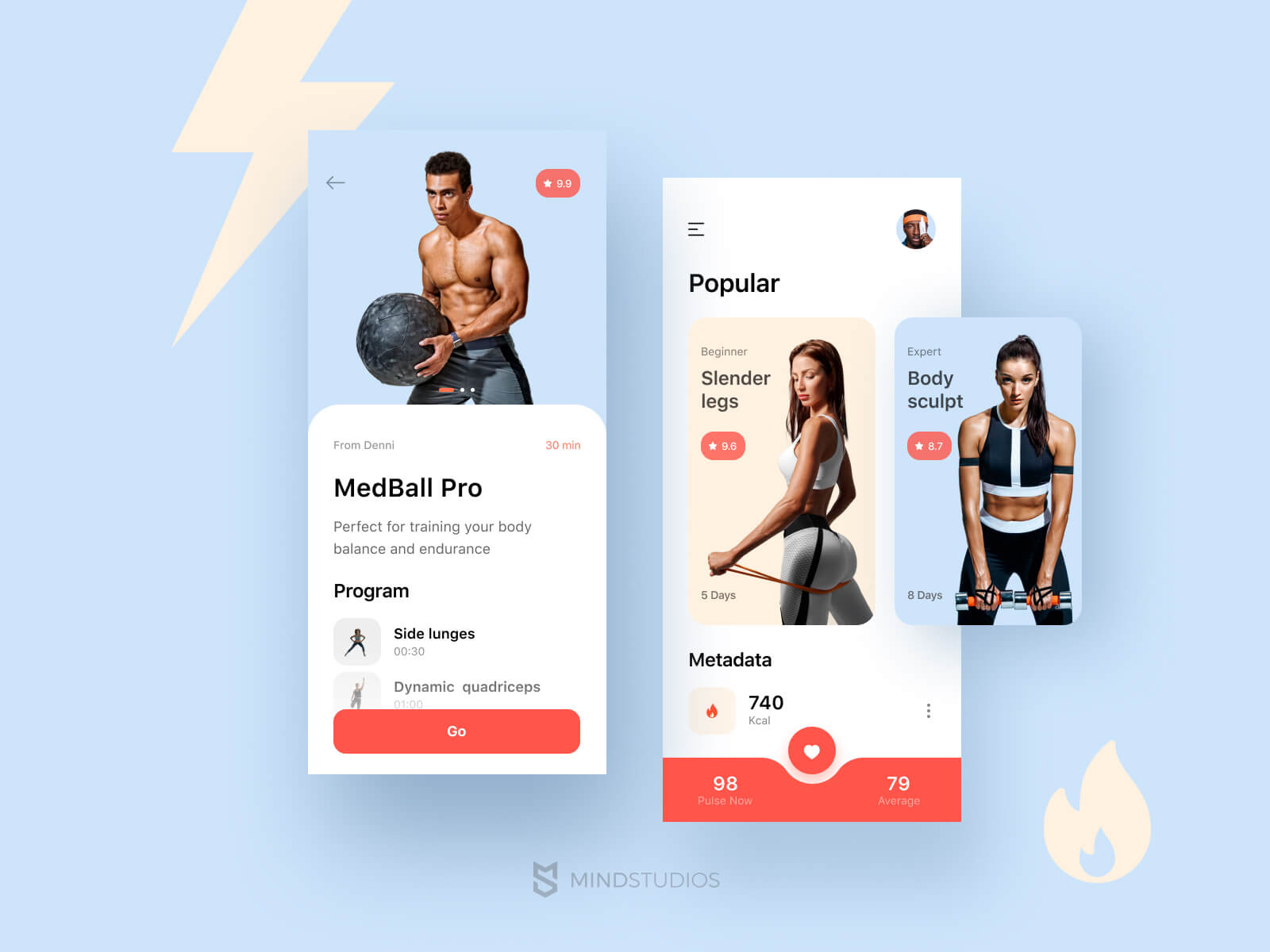 The second model to mention is a paid app option. In the case of making a fitness mobile app, it is pretty workable - as if your customers have already spent a certain amount of money on a bracelet, would an extra dollar for an application cause them any trouble? So this monetization way, again, is an option to consider.
Going forward with the uprising trends, FitBit creators promise their product is going to evolutionize, as they already know where it needs to go; in his interview for the TIME magazine, one of FitBit co-owners James Park emphasized that as long as contemporary glucometers are not the synonym of the word "user-friendly", there is a niche on the market FitBit will most likely cover. In it's turn, this signals a green light to a new monetization concept - where user can pay for his data (heartbeat, body weight etc.) to be transferred to the medical institutions, lowering the risk of various diseases and potentially preventing lethal termination.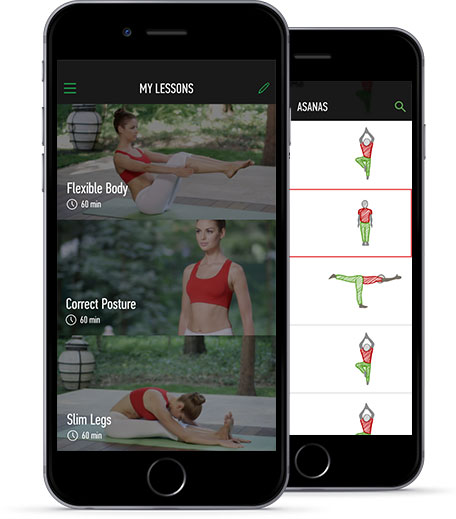 How much does it cost to make a fitness app?
Of course, the fitness app development cost may depend on the amount of time and features you would like your product to have. We will take an MVP-version as an example of an activity tracker. When looking for a Google Fit clone to be developed, you would need to hire fitness app developers, including iOS and Android developers, business analyst, UI/UX designer, project manager and QA-engineer. All of the mentioned before would need a certain amount of hours to develop a fitness application, more specifically:
Business analysis and specification + design prototypes - time and material contract, but up from 60 hours roughly speaking.
Design part - up from 80 hours
Development stage: up from 400 hours for iOS, up from 480 hours for Android
Back-end development: 400 h and more
Testing stage - up from 80 hours
So, the question is how much does it cost to make a fitness app?
The hourly rate begins from 25$/hour and could be up to 150$/hour, depending on the service provider, platform and type of contract you choose. Therefore, the average price for iOS (MVP) would start at $40 500 and go up to $93 000, and respectively MVP for Android personal trainer and tracker app would cost minimum $42 500, and $105 000 as maximum.
Fitness app development: 10 000 steps per day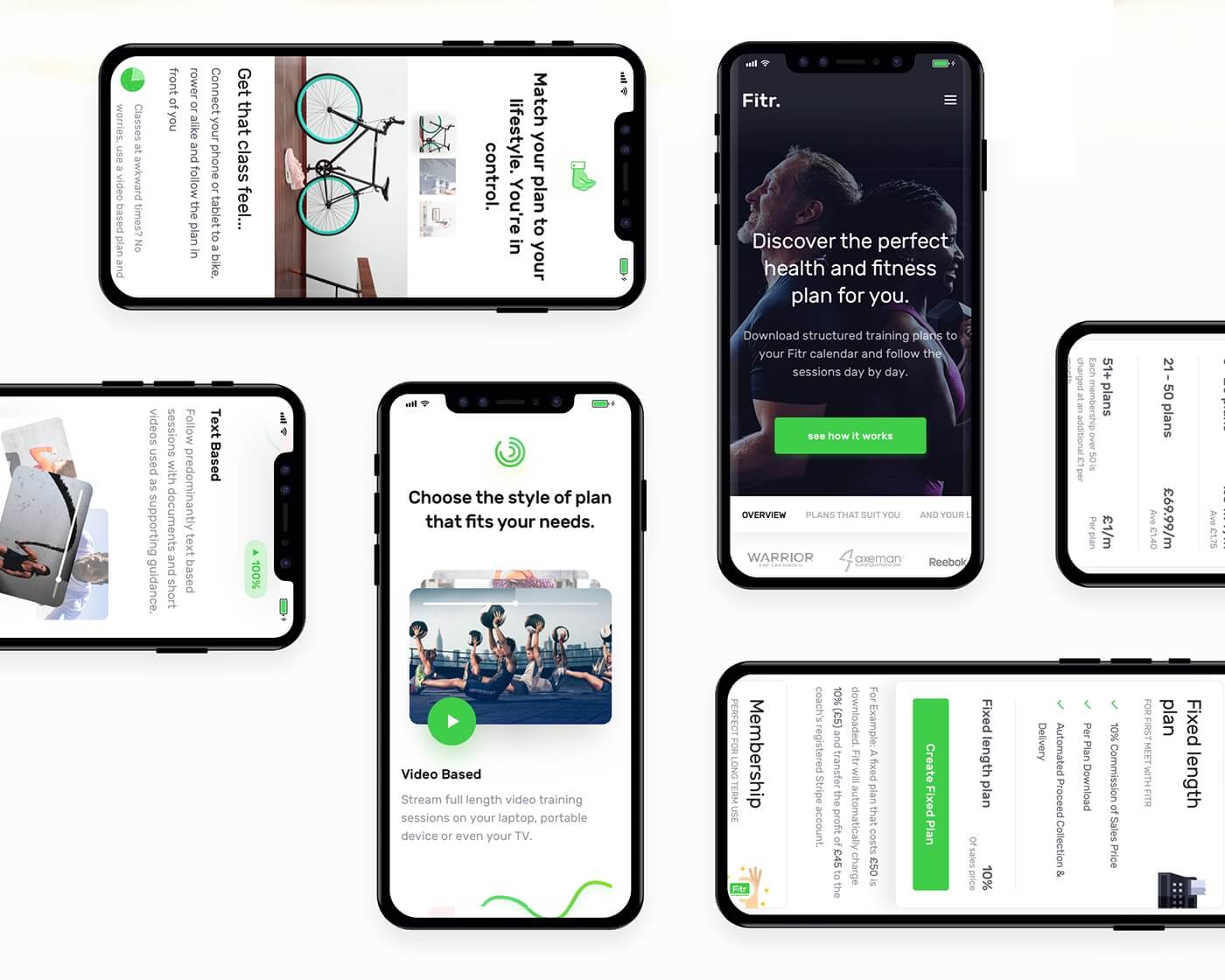 Although it is pretty hard to calculate all of your steps without a handy, easy-to-carry with you bracelet with a nutrition or fitness app on it.
The healthy lifestyle tendency people are trying to catch up with during the past decade seems to be only growing volumes, so various activity trackers and working-out-apps are going to change and improve a lot; then, who says that workout and blender applications can not progress as well if you and your tracker for a startup join in for the movement?
Contact us if you have any questions about developing a fitness mobile app.
Related articles:
Written by Alexander Sheyanov and Elina Bessarabova.