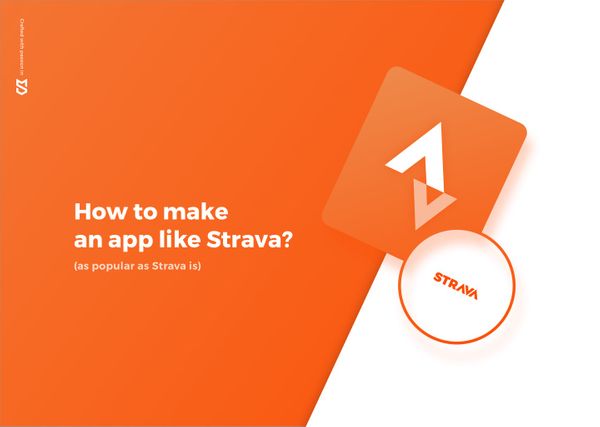 Here we explain how to make an app like Strava (as popular as Strava is) - and provide a few recommendations on what you need when you make an activity tracking app to compete with Strava's success.
Table of Contents:
Strava's Philosophy.
In the late 19th century, the pioneering Indiana University psychologist Norman Triplett, sifting through records from the Racing Board of the League of American Wheelmen, made a seminal observation about the psychology of sport: cyclists who raced against competitors or a pacemaker were faster than cyclists who rode alone.
[Source: Outsideonline]
A healthy dose of competition encourages us to perform better than we do on our own. This is the main principle Strava's founders put into the heart of the app. Originally created as a fitness tracker app in 2009, the app takes its name after a Swedish version for "strive", and represents the strive itself - the desire to win. As one of Strava's founders describes his product, "A company that made a running app that helps you strive and helps you achieve something you didn't think was possible."
[Source: cyclingtips.com]
Why Are Sportsmen All Over the World So Attached to Strava?
There are a few reasons for it.
Free app install and flawless workout uploads & run tracker
Huge variety of sports to track (running, swimming, climbing etc.)
Large scalable community
Smooth & logical interface
Ability to motivate yourself (results sharing), and an ability to praise yourself as well - if you perform better than others, you can become a King/Queen of the Mountain
Sense of security & inclusion Strava provides by gathering like-minded people
Here you go. No matter how badly you want to jump right into product development - we recommend you to slow down. Step back. And think before. You need to ensure you and your friends are not the only ones who find your application idea attractive.
All of these benefits Strava as a GPS running tracker app delights users with nowadays are the outcomes of the careful preparation for fitness tracking app development - on the stages of business analysis, competitors examination and making of a solid MVP overall. Let's examine each of them briefly. Also, read the wonderful article on how to create a location-based app.
How Strava Works: Business & Revenue Model
1. Idea Evaluation.
Before launching anything, you should carefully analyze your concept - by asking questions like "What does my product bring to the market? Who are the people that will use it? How will I earn money on it?".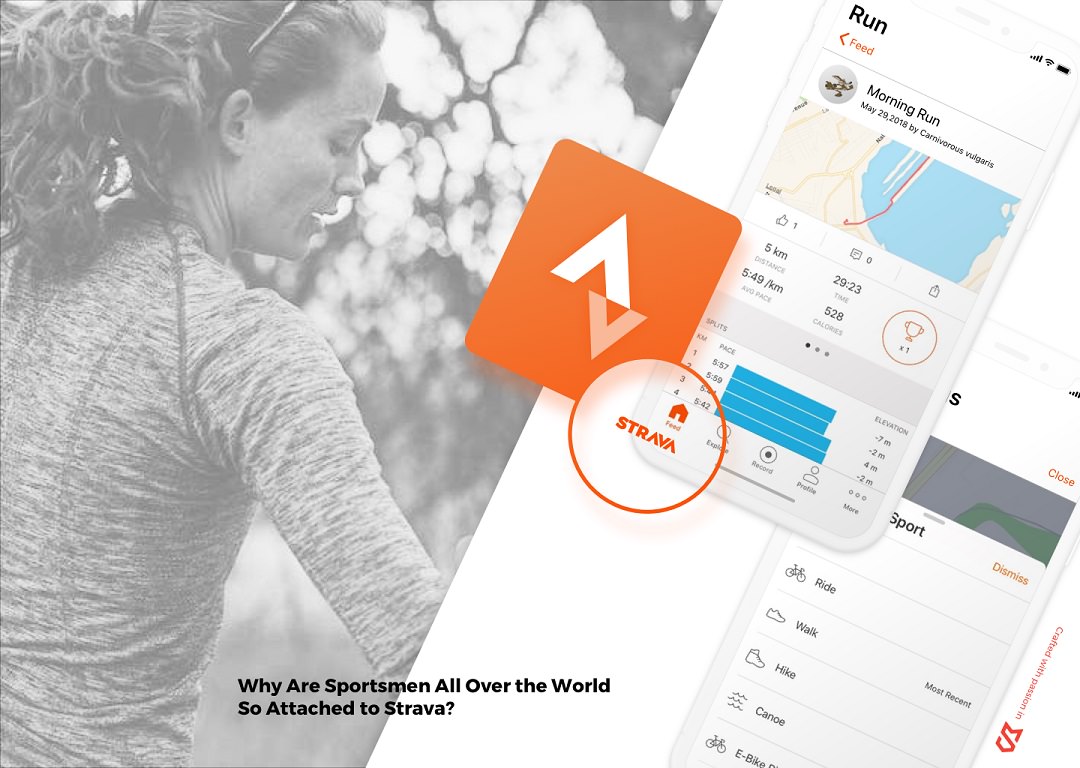 Every great idea had to go through this process, otherwise it is has higher chances to fail. It includes a few stages:
Business analysis
Market & competitors research
Unique Value Proposition
Prototyping & Testing & feedback
As we mentioned before in our article on importance of business analysis, a helpful tool here is Business Model Canvas. A certain research could help you understand if there is a need on the market - and, more importantly, how can your activity tracking app (or different-purpose-product) fulfill it. Business Model Canvas has specific sections like Customer Segments - lets you list your target users and customers, Problems that defines the issues your customers have, and Solutions that outlines how exactly your product resolves customers' issues. You can note your research outcomes into those sections. Here is an example of how BMC looks for Strava: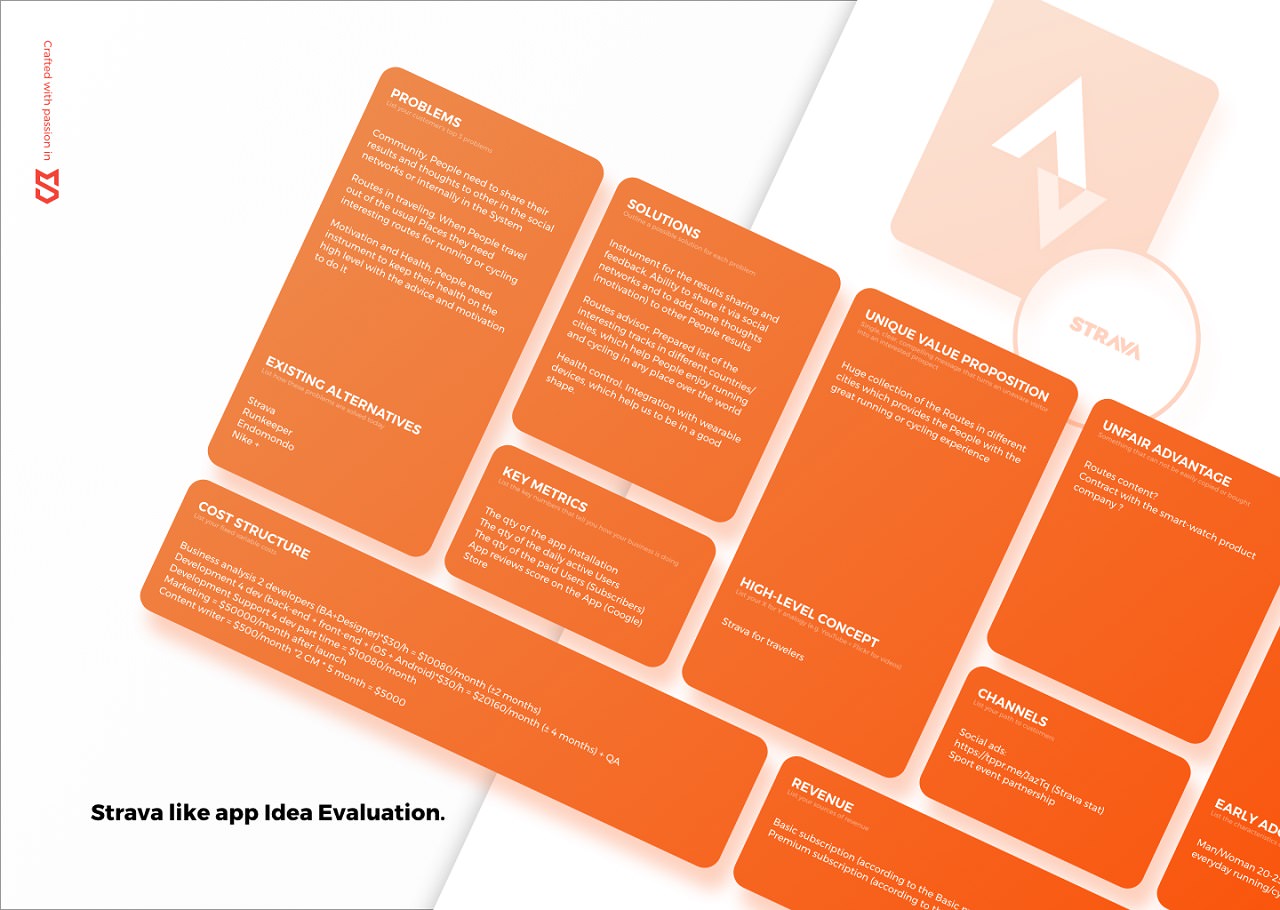 Also, you can finally set aside the Unique Value Proposition - with a simple, clear and compelling feature that turns a visitor into a user, and note that into a section in Business Model Canvas. Specifically Strava's running app main competitive advantage is the huge collection of unique routes for cycling/running etc., providing an awesome sport experience for devoted users each time.
2. Competitors & Market Research.
Market research includes the studies of the supposed launch market (health and fitness apps market here) and leaders of this market - with a close look at their strong & weak points, as well as the revenue streams they have. Leaders could be spotted by looking at ratings, Google ranking and mobile app stores marks & feedbacks.
Insofar as fitness & sport - related apps are in a great demand, which is why Strava has a lengthy competitors list that includes:
Runkeeper
Runtastic
Endomondo
Google Fit
MyFitnessPal
Mapmyrun
STRAVA itself if we talk about your product
When you analyze competitors, pay attention to their prices, platforms, limitations, competitive advantages they offer and the difference between your product and other contestants.
3. Low Fidelity Prototypes.
The first step you make when you start with making an app like Strava is business analysis and market research. At the same time, all the information gathered is better to transfer into LFP first - to display interface and system's function list roughly.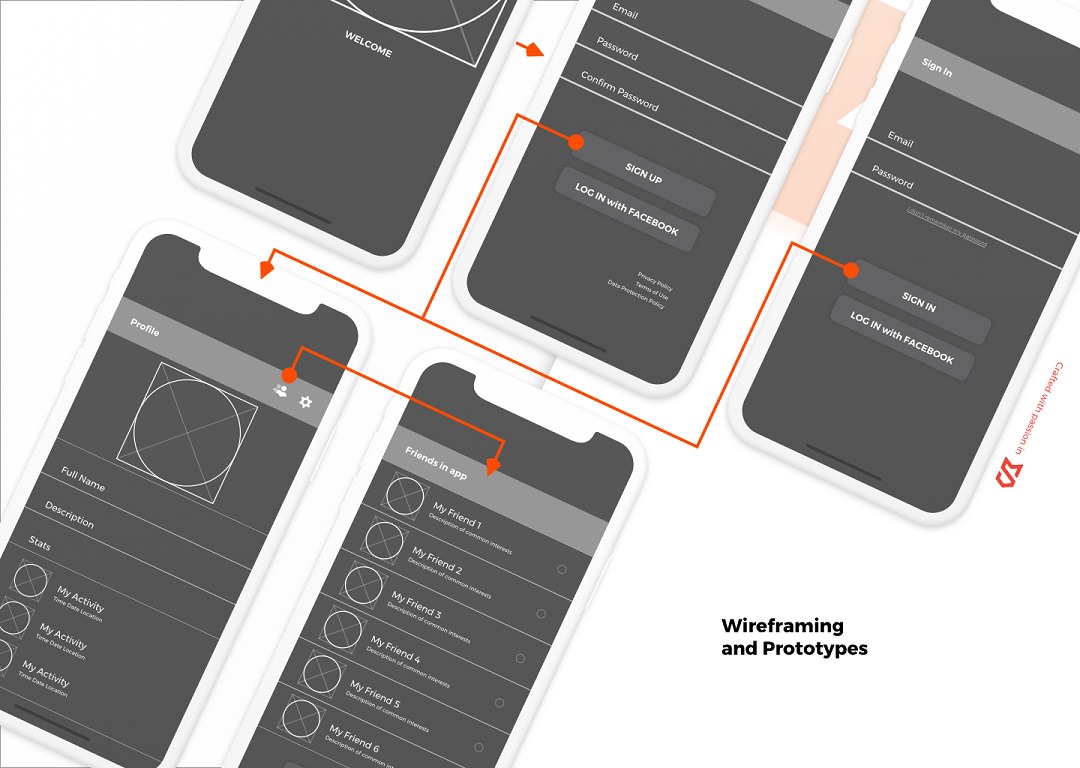 The first test rounds could be run on these wireframes, creating a clear map of changes you need to make. They will help you and your first users understand how the product works and what value it brings. Based on LFP you can make the 1st product version, and select a number of features for it; it can also help you roughly estimate the cost structure and amount of resources to invest.
Only when low fidelity prototypes are finished you can move on to black-and-white, more detailed system prototypes. You should already plan your product's UX at this stage. High fidelity prototypes are a good fit for crowd testing; this is an essential part of the whole app evaluation process - to test your concept with the minimum investments. You won't be investing into product development, but will already have some feedback so, eventually, this will cut your losses.
4. Marketing Channels.
Channels is a domain where we define the paths (paid and free) to reach your future customers. Insofar as Strava has a certain range of them too, the social media channels & ads seem to be the top working ones: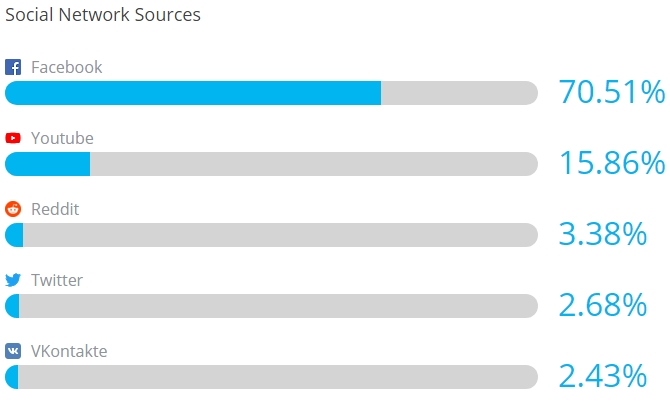 Apart from a regular posting on social networks, Strava also uses social Facebook & YouTube advertisement, together with discussions on Reddit.
Though digital promotion is not the only way they use - Strava also sponsors various sport events and athletes - like a recent Zwift's Strava Challenge, where athletes competed in climbing and running. You should as well bear in mind that Android are less likely to pay for premium access than iOS customers - so it makes sense to develop different monetization schemes.
Since the launch in 2008, Strava has been a success for 10 years already. If you are looking to create a Strava-like prosperous app, here are a few recommendations to follow.
Making Something Worthy Has a Price to Pay.
When you create a business, you calculate the costs of establishing one and plan the revenue streams respectively. When you create a fully-working business like Strava, it has a different cost. Judging out of the approximate calculations we've made, the cost to make an app like Strava like application would go as follows:
Business analysis 2 developers (BA+Designer)*$45/h = $ 8 - 10k/month (±2 months)
Development 4 dev (back-end + front-end + iOS + Android)*$45/h = $18 - 22k/month (± 4 months) + QA
Development Support 4 dev part time = $3 -5k/month
Marketing = $5000/month after launch
This is a ballpark answer to a question how much does it cost to make an app like Strava. Though a working business would generate a different amount of revenue. From the very beginning, you should know how your application will generate you revenue (if you plan to generate it).
How Strava makes money? Strava is monetized with two subscription modes: basic ($ 3-5 per month) and premium ($ 40-50 per month). Your product could stick to subscription model as well, or it can be a freemium model to monetize.
Create Business - Not a Set of Features.
Today's mobile app market is burning, so the chances are even the brightest ideas will fail without a careful preparation. Your idea might seem lucrative, but what if this is not something the market wants?
When you create an offline business - you do all the same processes, starting with competitor analysis and up to business promotion. Why neglect this when you make an online one?
Products like Strava win users' sympathies as they are smart, targeted and they encourage community sense, where everyone feels like being a part of something bigger than he is when he tracks the distance he ran. Social networks for athletes are a great opportunity for any business to build a community of dedicated participants, striving to win a contest in your product. Moreover, do not get overwhelmed with a number of competitors - there are a lot of them who makes fitness integrated with wearables apps, true; and as well there are a lot of apps not used. So a well-thought business model and a structured marketing will be the best support for your startup.
Written by Dmitry Gurkovskiy & Elina Bessarabova