In this article, we consider in detail the questions we most frequently encounter about how to successfully outsource website development in 2021. We offer recommendations for outsourcing web development and explain what criteria you should pay attention to when choosing your web development outsourcing partner. We also discuss where you can find a high-quality team of remote web developers.
---
Contents:
---
5 reasons to outsource web development services
Many web apps have begun as small projects but then transformed into large companies. The number one reason for their success is delivering their increasing number of technical tasks to web development outsourcing companies. What advantages of software outsourcing have attracted the owners of successful web app businesses?
These are the five core benefits of outsourcing web development:
Wisely use resources. A major reason to outsource web development is to reduce costs. Outsourcing companies already have well-trained teams of skilled web developers, so you don't have to look for each specialist separately. You may ask why you shouldn't hire highly qualified web developers for your in-house team, though. The answer is because it's a tedious process that requires much time, labor, money, and patience on your side. Additionally, when outsourcing web development, you don't need to pay for office space or equipment. So by outsourcing web development, you save two core resources: time and money.

Access top-notch web developers. You want to develop your website only with experienced, skilled web developers, don't you? Outsourcing web development agencies — at least, the trustworthy ones — know that. To be competitive, they approach recruiting seriously. The more highly qualified employees they have, the more satisfied their clients. The only question that remains is how to choose a credible outsourcing web development partner. In this article, we describe the essential criteria.

Scale hassle-free. Scaling your web project is a good indicator of business growth and a good motivator for outsourcing web development companies to meet your requirements. Most web outsourcing agencies have more employees than are needed for any one project. If your project requires more specialists, an agency can usually find them without delay. Scaling your web project with a web development outsourcing partner is much easier than with an in-house team.

Meet your business priorities. Outsourcing web app development allows you to effectively focus on your business and leave development to those who can do it best. As a rule, the client is most involved in outsourcing at the very beginning, when there are many questions to discuss: the main idea of the website, the design, included features, requirements and deadlines, etc. After making an agreement with your web development outsourcing team, you only need to check on the results from time to time. You don't need to be involved in the whole development process if you don't want to be, allowing you to save time and focus on core business goals.

Start with rocket speed. Outsourcing software development gives you the possibility to implement a project quickly, especially if you find developers who are highly skilled and have experience creating websites in your niche. This way, you can validate your business idea, fix bugs, and improve your website fast.
What's the best approach? Outsourcing vs outstaffing vs in-house team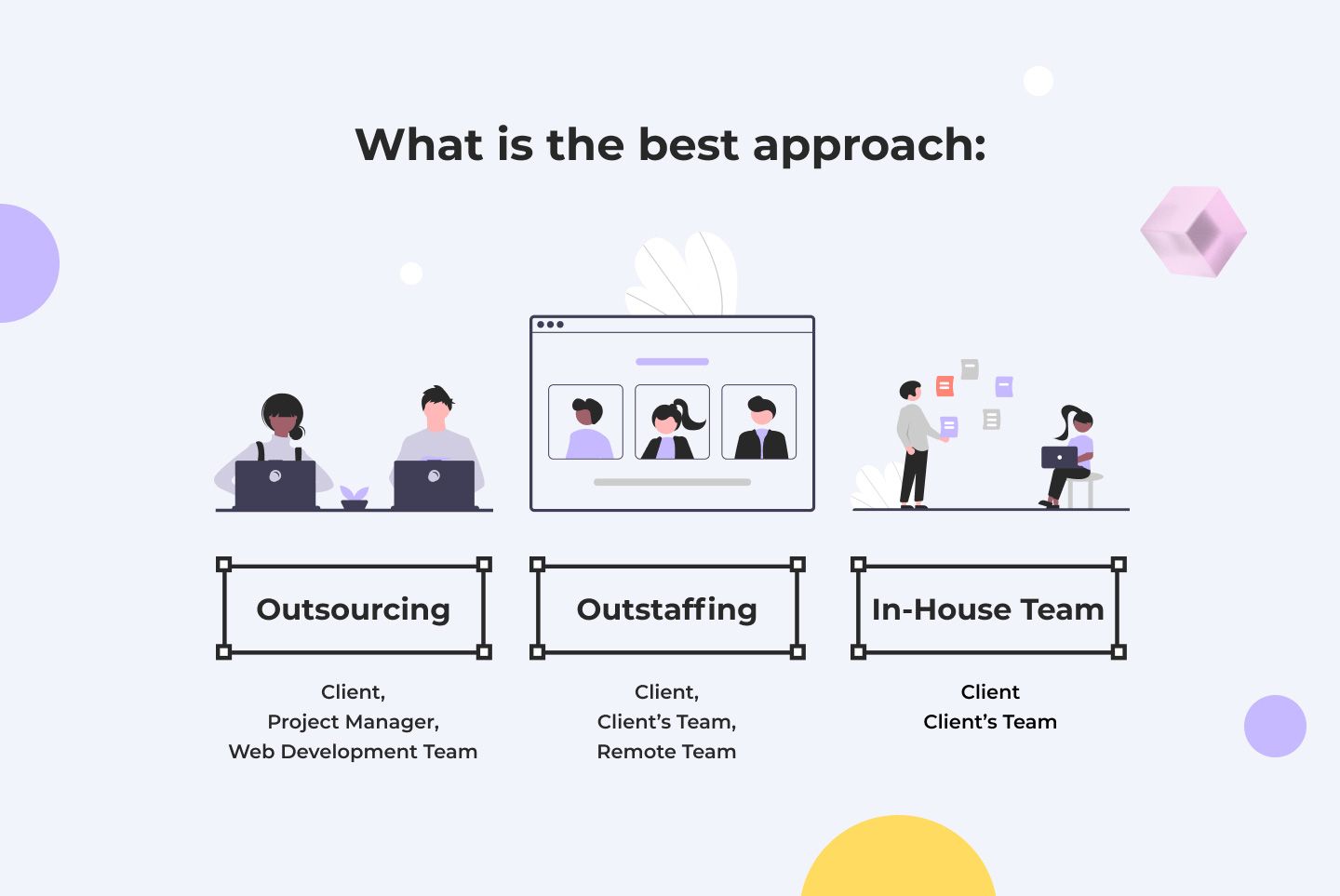 There are several models for developing web products. Besides outsourcing, we'll analyze outstaffing and using your own team of in-house developers. Let's review the pros and cons of each model.
Three basic participants are constant in every web development process: the project owner, the project itself, and the team executing the project.
The first model is when the project owner has their own web development team. In this case, the project owner and their team work on the project together under one roof. This is called an in-house team.
Sometimes, an in-house team isn't enough to implement a web project, and the project owner needs to find some additional outside specialists. In this case, the product owner can hire separate remote IT specialists from other companies using the outstaffing model.
Outsourcing website development assumes the project owner entrusts the whole web development process to an outsourcing company. The outsourcing company provides web developers, designers, and other specialists, all managed by a project manager. In its turn, the project manager reports to the project owner about website development progress.
The following table compares these three models so you can make an educated decision based on your requirements:
Model
Pros
Cons
Outsourcing

Cheaper than in-house development

Complete your team right away

Get savvy experts

Organized development process

Quick start

Ideal for short-term projects

Less control over development

Lack of transparency

Remote collaboration challenges

Higher risk of revealing confidential information

Outstaffing

Cheapest model

Full-time access to the team

Flexible recruiting

Quick start

Communication issues

Requires additional management

Risk of revealing confidential information

In-house team

High security for confidential information

No communication issues

Full control over the development process

High costs

Laborious hiring process

Slow start

Ineffective for short-term projects
Which variant is more appropriate depends on the specifics of your project.
4 tips to outsource to the best web development agency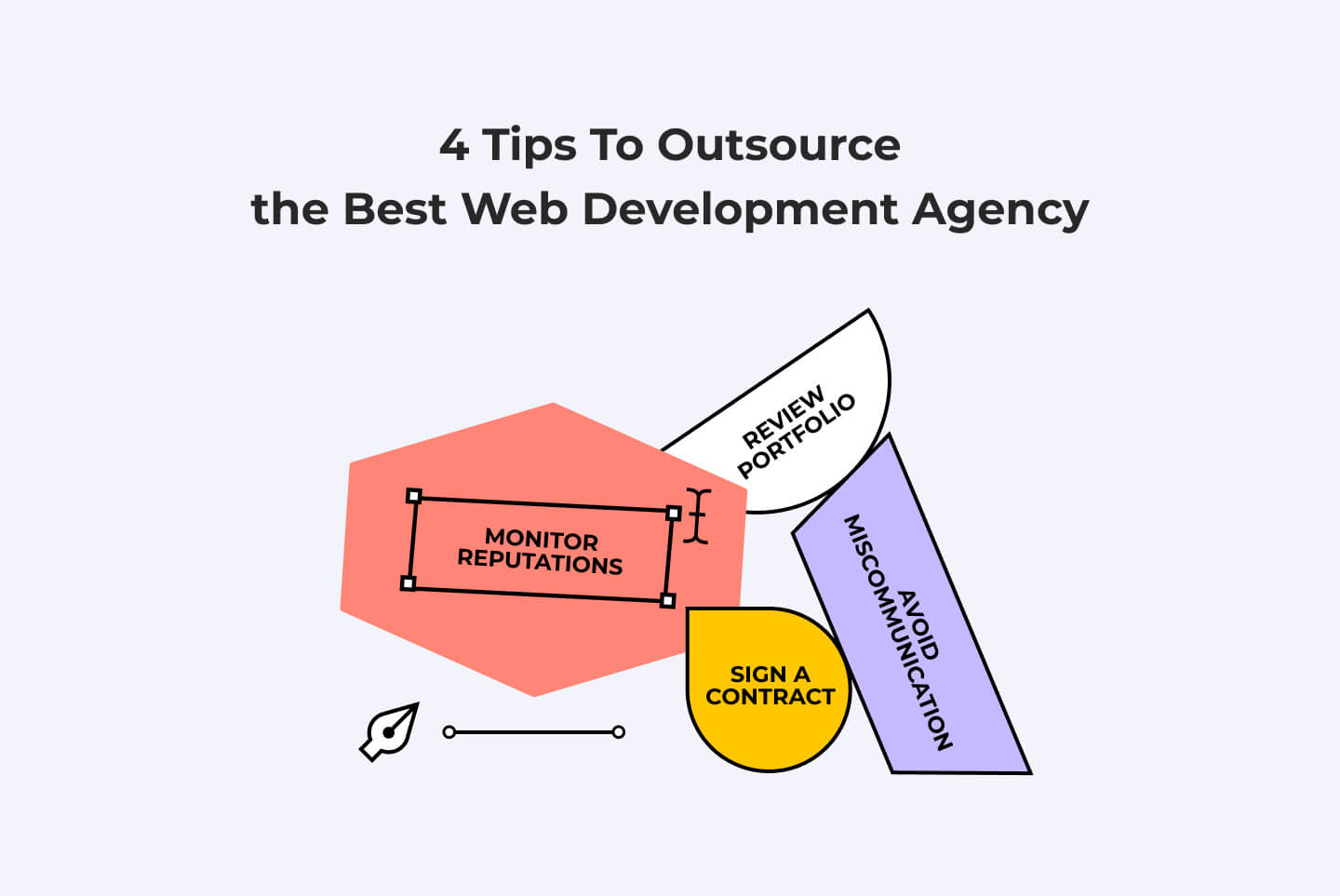 Web development outsourcing services are becoming more and more popular among entrepreneurs. Outsourcing can minimize costs, give you access to the world's best web developers, and allow you to bring your product to market quickly. But you can receive all these advantages only from a reliable service provider. To help you make the right choice, here are some tips:
Review the reputations of companies you've set your sights on. It's predictable that companies won't show failures on their websites. Information from a website alone is not enough. You need to dig deeper. Platforms like Clutch, GoodFirms, and Upwork can help with your choice. They allow you to talk to clients who are experienced with outsourcing to web development companies and allow you to find out key details about companies from reviews. Check social resources, corporate blogs, and news. Then make your own opinion based on personal communication.

Deal with outsourcing companies who have successfully realized web projects in your field. As we've mentioned, the best partner to outsource to is one that already has experience successfully developing web apps in your niche. For example, if you need to develop an online medical assistant app, a web outsourcing agency with a well-implemented health care app will cover all your needs.

Avoid miscommunication. Productive partnerships are built on complete understanding. During all stages of negotiation with a web development outsourcing agency, you need to feel comfortable. Ask yourself:
Are all my requests and requirements understandable and clearly realized?

Is there any discomfort caused by cultural or language barriers?

Do third-party partners manage time zone differences in a way that's comfortable for me?

How much time do I need to wait for feedback?

When both sides seek perfect understanding, the effectiveness of collaboration will greatly increase.
Lay a foundation of trust by signing a contract. A trustworthy outsourcing web development agency always suggests signing a contract to legalize cooperation. A contract covers:

terms of website development
the preliminary budget for software development
rights and responsibilities of both participants
warranties
main definitions relating to the development process

Security measures should be agreed in a non-disclosure agreement (NDA), a document in which a company promises to safeguard your confidential information.
Useful services for finding a web development outsourcing company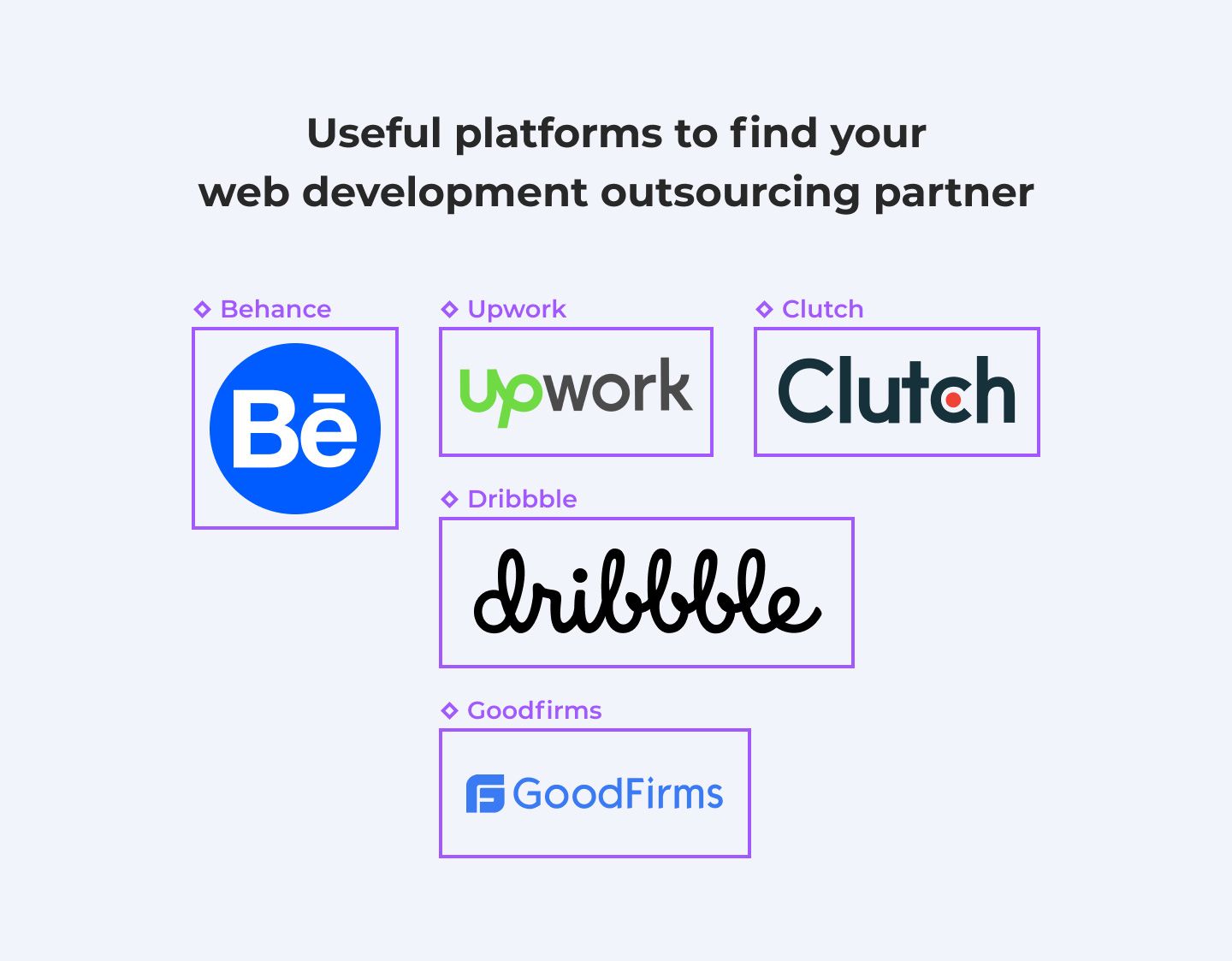 We've picked the most informative and handy websites that can help you start searching for your web development outsourcing partner. Each of these platforms has different classification approaches. Some emphasize the reputation of a web development outsourcing company, its clients' ratings, reviews, and expertise. Others demonstrate portfolios of web development teams or separate freelancers. You can browse these platforms and choose the most effective approach for you.
How much it costs to outsource web development
When planning to outsource web development, it's often difficult to accurately calculate the price of your whole project, as it's influenced by too many factors. Among them are:
the scale of the web products you plan to develop
the complexity of the web development process
the number of specialists involved
the time needed for development
hourly rates
This last factor may vary depending on the location of a web development outsourcing company. Let's take a look at the hourly rates in the three most popular outsourcing regions.
| | North America | Eastern Europe | Asia |
| --- | --- | --- | --- |
| Hourly rates | $100–$150 | $25–$70 | $20–$40 |
Contrary to the outdated opinion that all highly qualified specialists and cutting-edge technologies are located in the US, today, web developers from Eastern Europe and Asia are coming to the fore. Besides, these regions offer IT engineers at 30% of the cost compared to average hourly rates in North America. But is the level of web developers' skills equal across regions? According to HackerRank research, more affordable IT engineers from Asia and Eastern Europe don't offer lower quality.
Many entrepreneurs from all over the world choose outsourcing web development agencies from these regions.
The most logical approach is to figure out how much web app development outsourcing costs based on examples. We took for base a $35 hourly rates and calculated the approximate cost of outsourcing web development for various business niches:
A step-by-step guide to outsourcing website development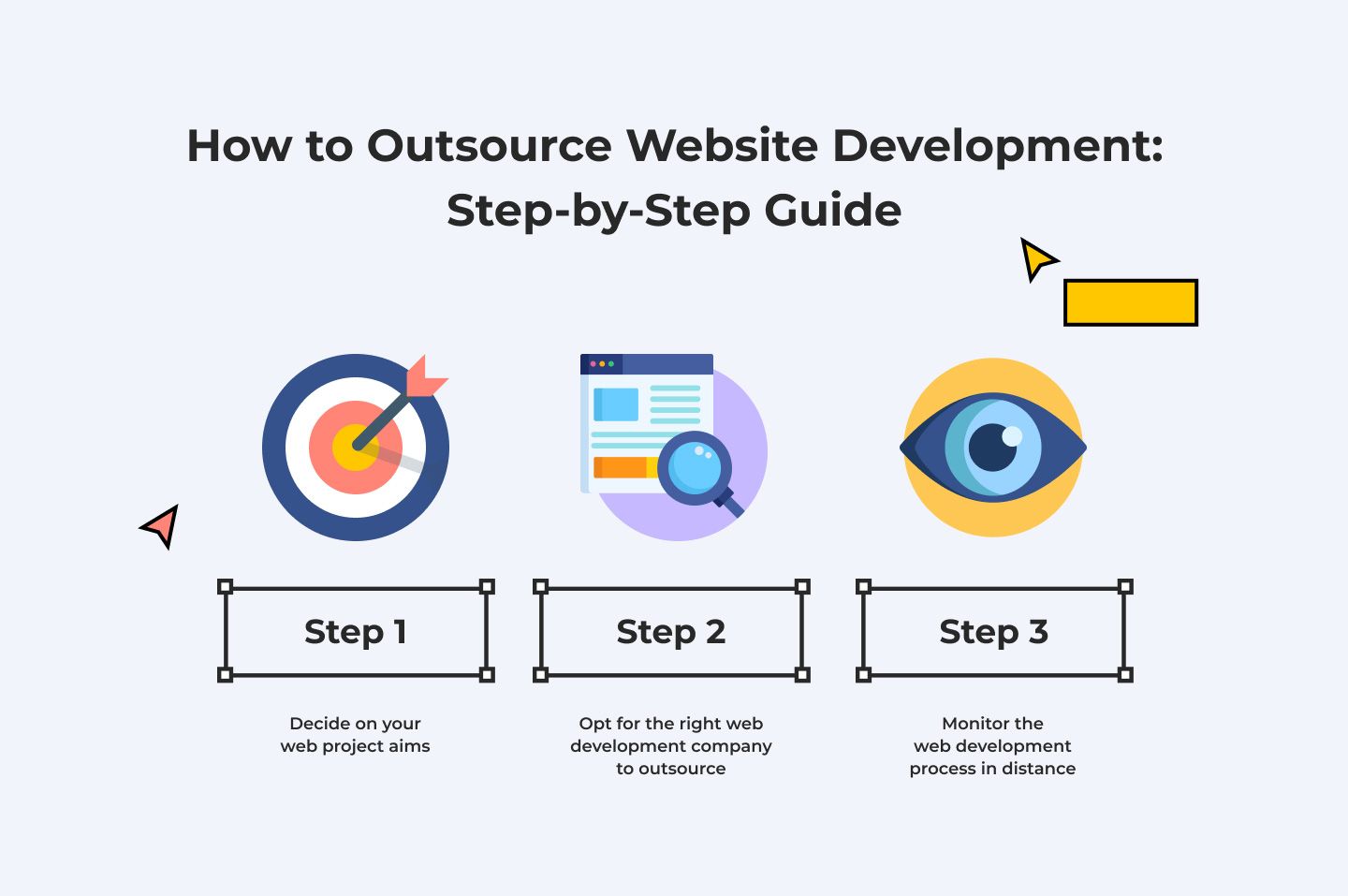 Now it's time to combine actions you need to go through for finding the best web development outsourcing partner into three main steps:
Clarify your core business goals and requirements. This will help you:

think of what you want to achieve by developing your web project
define who your users are and what they'll get from using your website
define the kind of website you want to build
add your requirements to the website development
point out desired terms of web app implementation for your development team

Choose a trustworthy web development outsourcing company. Decide on potential web development partners and research them on ratings platforms. First, choose 10 to 15 outsourcing web development companies that:

fit your requirements
have expertise in your niche
have suitable locations
set reasonable prices
have been on the market for a long time
are rich in positive reviews from satisfied clients

Pay attention to a company's awards, information on blogs, and news companies post. You can also entrust this selection process to a platform like Upwork. Finally, get in direct contact with the most suitable companies.

Control your website development process remotely. After your collaboration has begun, keep up communication with your project manager and monitor the web development process. You'll need to discuss:

a comfortable schedule of remote meetings
deadlines for checking intermediate results
the preliminary design of your app or website
the approximate budget for website development and strategic items

All these agreements should be the basis of a contract you sign with your outsourcing web development company. Also, remember to sign a non-disclosure agreement (NDA) to avoid leaks of confidential information about your project, company, and business partners.
Successful collaboration with a trustworthy outsourcing company will enable you to develop your project in the best way using cutting-edge technologies.
We hope our article helps you find a respectable partner. If so, stay in contact. There's no need to cut ties with an outsourcing web development company after your website is us and running. If something needs to be fixed or you want to add something to your website, no one will be able to do it faster and better than the team that created your site.