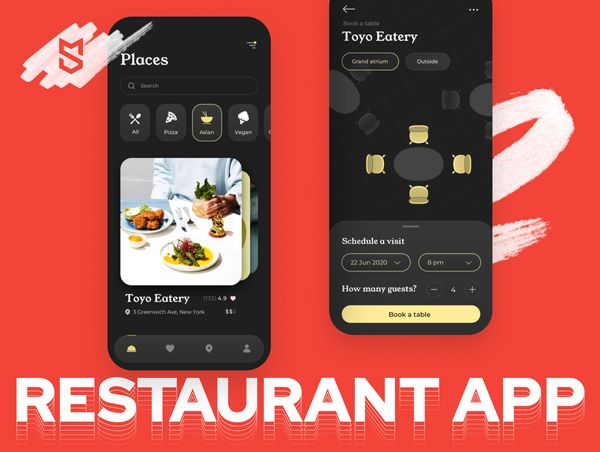 These days, restaurant booking app development can be a successful startup venture or a great opportunity for a restaurant business to expand its customer pool. People are getting more and more used to doing everything digitally, and monetizing this trend can bring good profits if done timely and at high quality.
If you want to know how to make an app like OpenTable and how much it costs, here's a guide based on our experience.
Mind Studios's developers have experience creating apps for the food industry as well as all kinds of finder and booking apps. Below, you'll find some tips and ideas to build a restaurant finder application with high chances for success in today's market.
What kinds of restaurant-related apps are there?
Gone are the times when to get a table in your favorite restaurant you had to go and wait in a line. Today, we have an app (or a dozen) for this, as we do for most things. With just a couple clicks in a restaurant guide app like Zomato or OpenTable, you can find a place to eat, book a table, and even order food.
There are generally two types of businesses who develop mobile apps for restaurants:
Restaurant owners who wish to have an app for their own restaurant
Businesses that aim to create a restaurant finder app that's an aggregator platform for finding restaurants, booking tables, and/or ordering food
In this article, we'll focus on restaurant finder apps.
Zomato was initially a restaurant guide, a platform designed to help diners find places to eat. Later, the company added a food delivery system so customers could order a meal if there were no tables left or if they wanted a romantic evening at home but didn't want to exhaust themselves with cooking.
In 2016, Zomato took another step forward with Zomato Book, a table reservation service. Now the company seems to have slipped into every part of the industry.
Zomato's biggest rival is OpenTable, a veteran restaurant booking service created in 1998. OpenTable is a booking app, not a delivery app. It focuses on reservations. However, it provides a neat rewards program and covers over 48,000 restaurants all over the world. Now that's hard to topple.
Why do you need a restaurant reservation app: benefits for restaurants and guests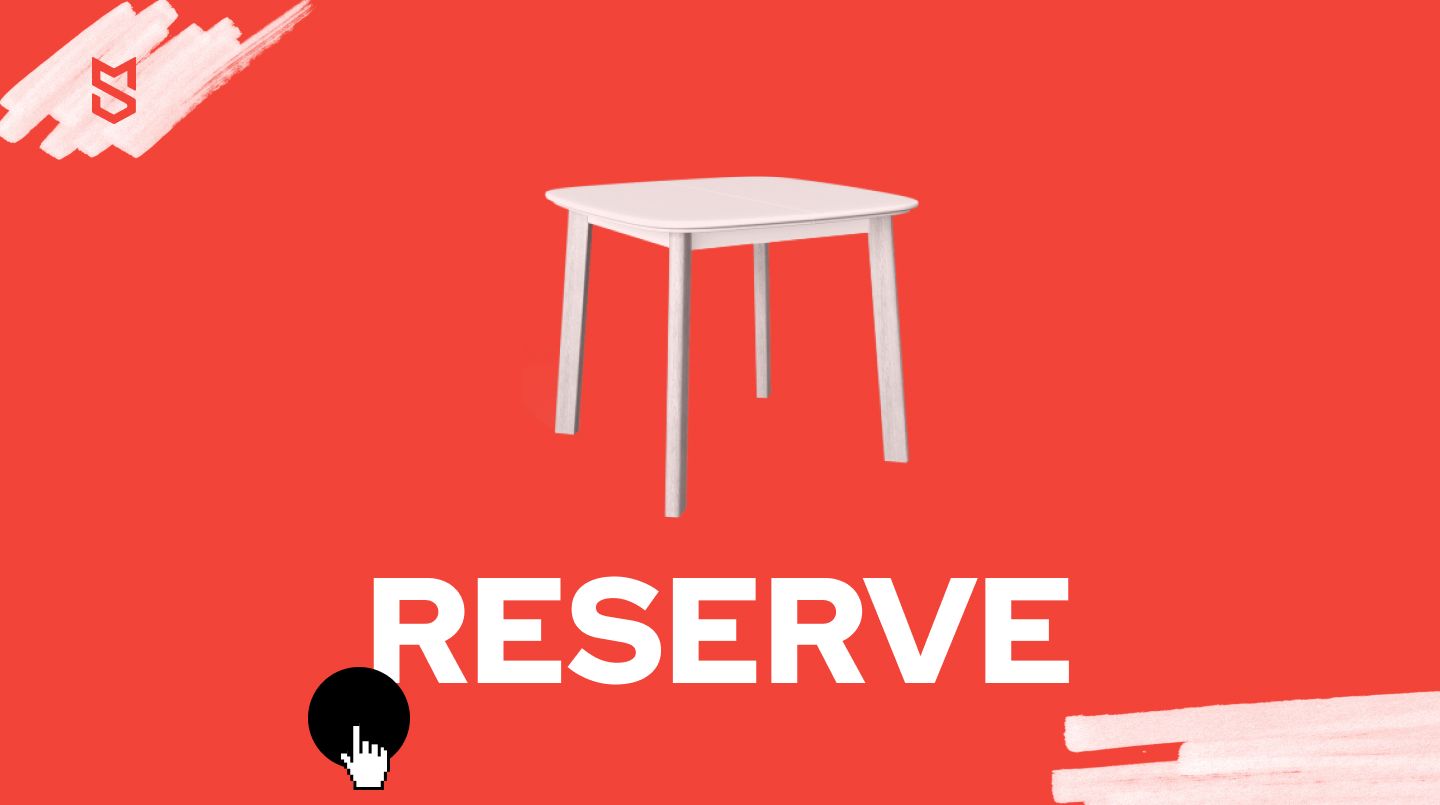 If you're hesitating whether to make a restaurant reservation app or not, here we've prepared a list of recognized benefits of having one. Reservation apps bring value to both restaurants and their patrons.
Convenience for patrons = More patrons to restaurants
According to Finances Online, 40% of restaurant goers believe that online booking is a must-have option. People prefer making reservations online since it's hassle-free: there are no queues, physically or on the phone lines, meaning it takes less time to find and book a table. Therefore, more people will choose a restaurant with online reservations over the one without.
For restaurants, this means more patrons as a consequence. More patrons mean more earnings.
Significant reduction in double-booking due to human error
While machines aren't completely replacing humans just yet, some tasks they can help us with. By building a restaurant booking app, you'll see a decrease in double booking that can happen with human employees taking phone bookings, for example. An automated system marks booked tables and won't accidentally book them again — the algorithm will prevent that.
Redistribution of workload for employees
With an automated table reservation software as a tool, employees will be able to dedicate their time to other tasks besides taking calls for booking. This will result in better resource allocation, easier management, and more satisfaction among employees and customers alike.
Centralized database
A table reservation system will hold ample information for restaurant owners to use in their management and marketing efforts. For example, by using a sophisticated system for table booking, a restaurant owner will be able to monitor the establishment business at all times and understand when the place is booked most.
Restaurant managers will use this information to better manage their staff — for example, they can preemptively ask more staff to come in for shifts during busy times. This data might also be of use when they need to come up with loyalty programs, marketing campaigns, etc. Thus, if you want to create a restaurant app for reservations, it fully justifies itself.
Restaurant reservation app business models
Most restaurant table booking services, including OpenTable, are completely free for patrons. It doesn't cost anything to book a table via services' Android or iOS apps and websites, or websites of restaurants that partner with the service.
Such services usually charge restaurants they partner with. There are several ways to monetize a restaurant booking application:
By charging restaurants per booking
By offering restaurants a subscription
By providing "premium" listings
Most booking services combine two or more monetization models. Let's look at the two prime examples.
How does OpenTable make money?

The basic OpenTable pricing plan is $39 per month, but on this plan, the service also charges restaurants $1.50 per cover, 2% of the order price for takeout orders, and $0.25 per cover or $49 /mo for reservations made via the restaurant website. Moreover, the list of features in the basic plan is, well, basic.
For a more sophisticated offer, the OpenTable price jumps straight into three-digits: $249 /mo for Core and $449 /mo for Pro; both of these have additional fees as well — $1 per cover as well as 2% on takeout.
OpenTable isn't the cheapest option on the market of reservation services, but, to be fair, some couple years ago, they didn't have a Basic plan at all. Competition with emerging analogs like Resy, Zomato, and Reserve pushed OpenTable to revisit their pricing policies.
That's why one of our first recommendations for restaurant booking app development is always to consider and research the competition to build a survivable monetization model.
What about the Zomato business model?

The Zomato app offers more varied services than OpenTable; consequently, its revenue model is also more diverse.
Zomato receives the largest portion of its revenue from restaurant listing and advertising — about 72%. However, Zomato has other revenue streams as well, including their delivery services, to propel which Zomato in January 2020 purchased Uber Eats India.
Finally, Zomato provides consulting services, has subscription programs, and holds events in collaboration with restaurants. Tickets to those events can be purchased via the Zomato apps. They bring in some revenue too.
How to develop an app for restaurant reservations like OpenTable
If you're aiming to make a restaurant reservations app similar to OpenTable, which is an aggregator-type restaurant app, here's an approximate list of the top features you'll definitely need to implement.
Geolocation
The main purpose of any aggregator restaurant finder app is to offer users a selection of establishments to dine in. Between two (or more) good venues, most customers will choose the one that's closer. Hence, location-based search is important. Having established the user's location, the app will be able to find places nearby. Google Maps integration will help users find places and navigate to them.
Search functionality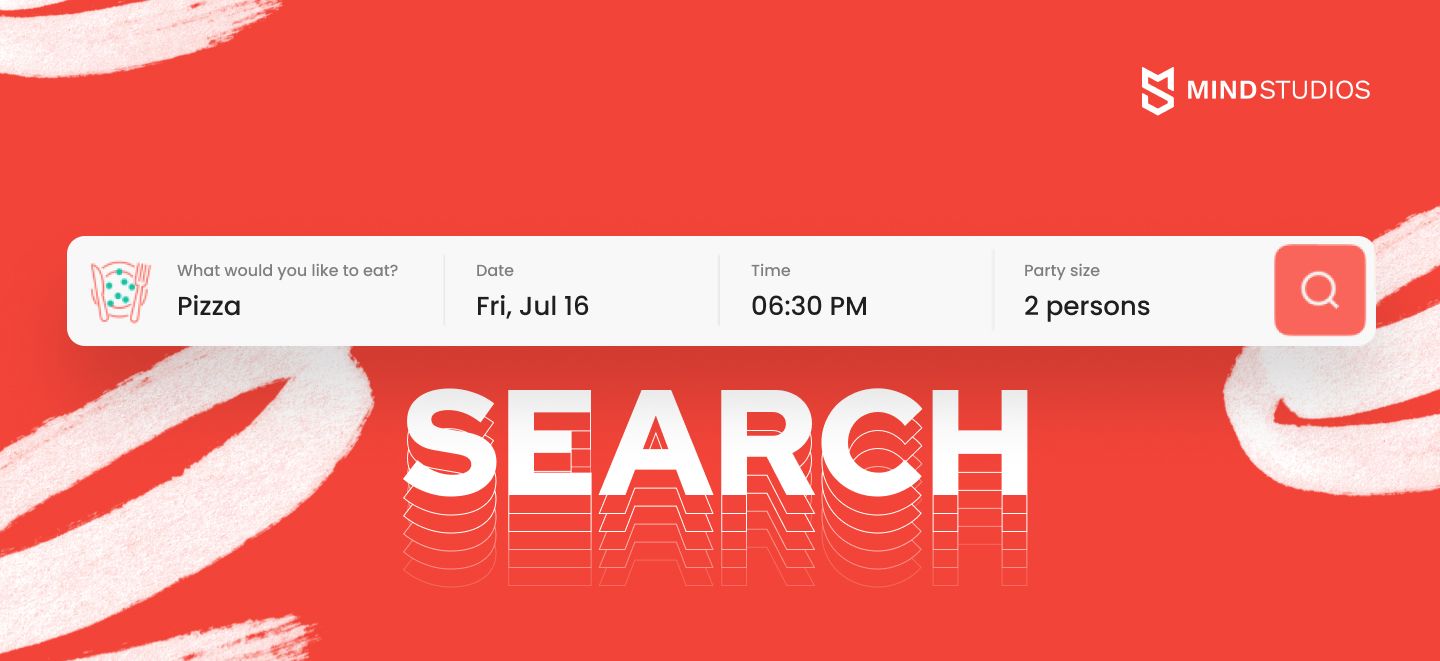 Search is about more than just finding a specific restaurant by name. Allow your users to search for places to eat based on more than their proximity. Date, time, party size, and cuisine are all must-have search parameters in a restaurant mobile app.
Filters
Adding filters to search results enhances the user experience. If you're taking OpenTable as an example, its website offers to filter results by price, neighborhood, cuisine, time, and seating options. It's also possible to display search results in alphabetical order, by restaurant rating (highest first), and by featured restaurants. The latter is based on a collection of stats.
These are the core features of any restaurant table app, but they'll hardly be enough to get your app noticed in either the Google Play Store or Apple App Store. You'll need to offer more to make users want to download your app.
Here are some highly valued features.
User reviews and ratings
According to research, most online consumers check reviews before making purchases. And by "most," we mean 89%. Moreover, 79% of shoppers trust reviews they read. We don't think it's a long shot to assume the numbers would be similar for restaurant goers. User reviews add credibility to both your app and the establishments it features.
By the way, the possibility to add photos to user reviews will definitely make a difference for #foodies :)
Bookings/order history
In this fast-paced world, it's not unusual to forget things. And the names of restaurants aren't the most important information for most of us. Booking history will make it possible for diners to check the name of a restaurant they liked so they can visit it again.
Social media integration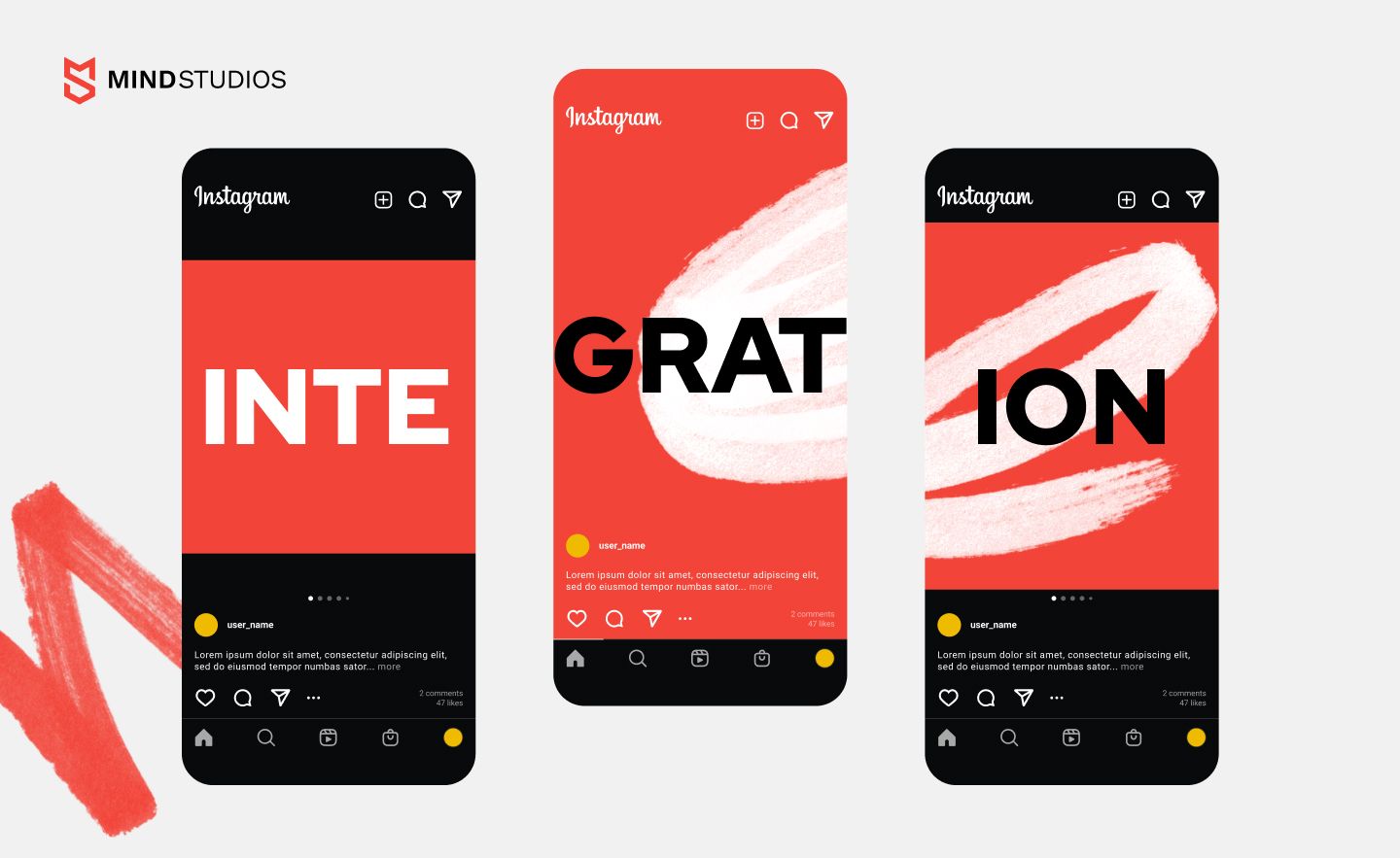 The possibility to share experiences with friends on Instagram and Twitter is always a benefit in the eyes of mobile app users. From logging in with a Meta account to sharing reviews and recommending places, users always appreciate social media integration.
Notifications
Email and push notifications with booking confirmations and reminders are always appreciated.
Support for multiple languages
This feature will prove invaluable if your service operates internationally or in a city or country with lots of tourists.
Integrations with restaurant websites
If restaurants you've partnered with have their own websites, integrating with them will allow your mobile app to use their menus, photos of dishes, and up-to-date prices.
Finally, there are two features that are considered controversial. It's recommended to thoroughly research your niche before including them in your restaurant mobile app.
Rewards programs and special offers
Payment via your app
Now, in an app developed for a single restaurant as a brand app, both of these features are gold. Patrons will most certainly like any kind of loyalty rewards, and paying for their food via the mobile app makes things way simpler.
At the same time, if we're talking about aggregator platforms like OpenTable, not all restaurants will benefit from third-party managed rewards programs. And even fewer might be willing to pay extra for you to manage their payments.
That's it for the client-side application of your OpenTable clone. If you're looking more to make an app like Zomato, with on-demand food delivery, you might find it useful to check out our other article: How to Create an App Like Postmates for a Food Delivery Business.
Features for the restaurant-side app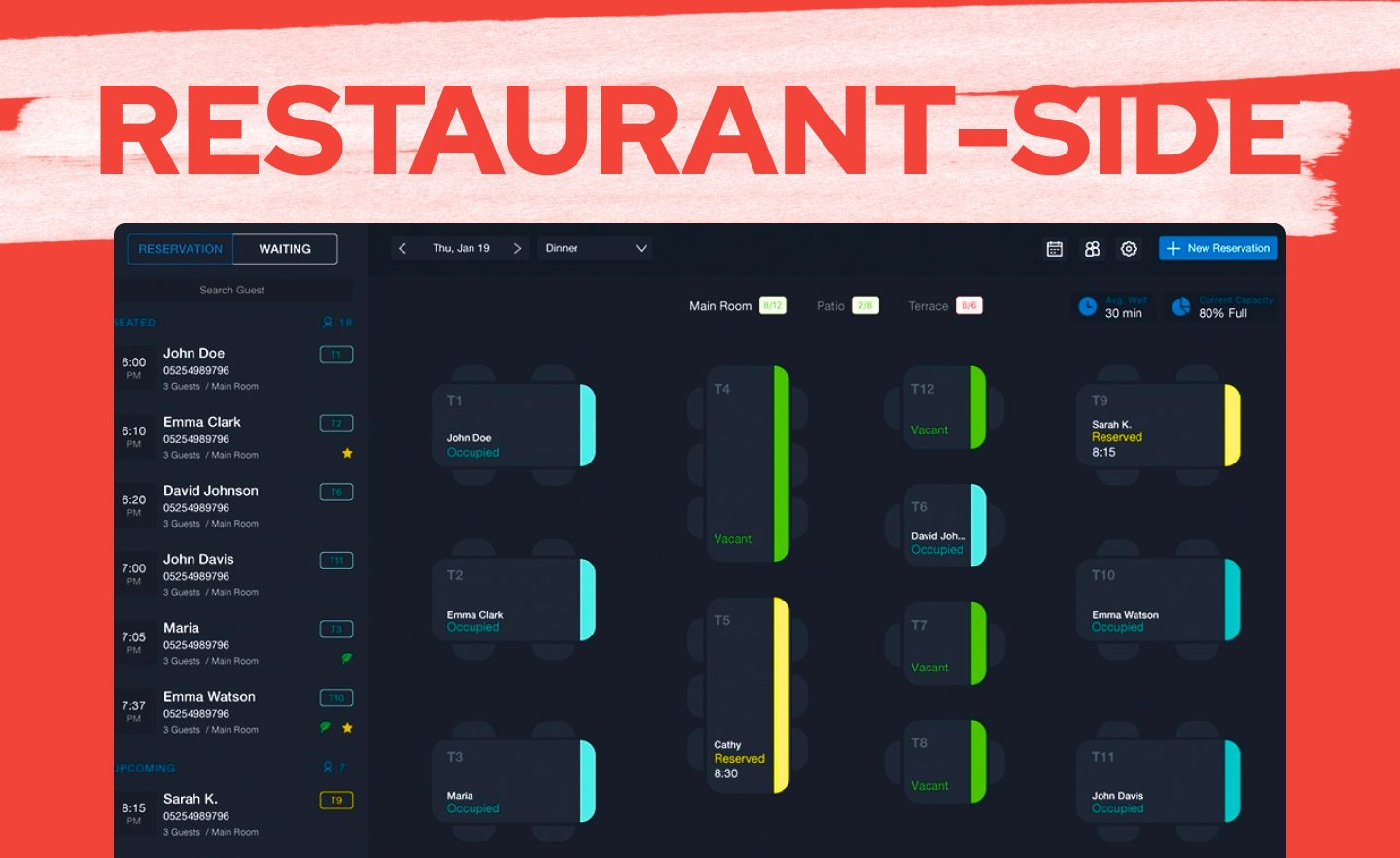 Managing restaurant orders will require a separate app development and a solid backend to store the client database. A database can be used for marketing purposes — you and the restaurants you partner with will be able to access it for marketing. It can also be used for notifying users of upcoming events like the opening of new places, recommendations, and, if you implement them, rewards and loyalty programs.
A restaurant-side app should be built for either web or Android tablets and iPads since it's more important to have a clear view of everything than for the device to be ultraportable. Here are some features a restaurant-side app needs:
Floor map and a seating chart with seating arrangements shown
Calendar for bookings
Push notifications for managers to know there was a booking
Cancellation functionality
Media upload for restaurants to add attractive photos of the venue and dishes
Updating menu (optional)
PoS system integration (optional)
Payment dashboard (optional)
If you integrate payments via your app, restaurant owners will need to be able to monitor them, that's why we mentioned PoS system integration and payment dashboards as optional. Menu updates are optional too — in case you want to only offer seat reservations. However, we do strongly recommend having the menu displayed in the app as it will make your service more attractive to customers.
UI/UX design for your restaurant booking app
In a mobile app for restaurant patrons, it's important to pay special attention to UI and UX design. Like, lifesaving important. If your app is cluttered and hard to figure out, your clients will go elsewhere. They have heaps of apps to choose from. Make sure that your app is appealing to the eye and easy to navigate.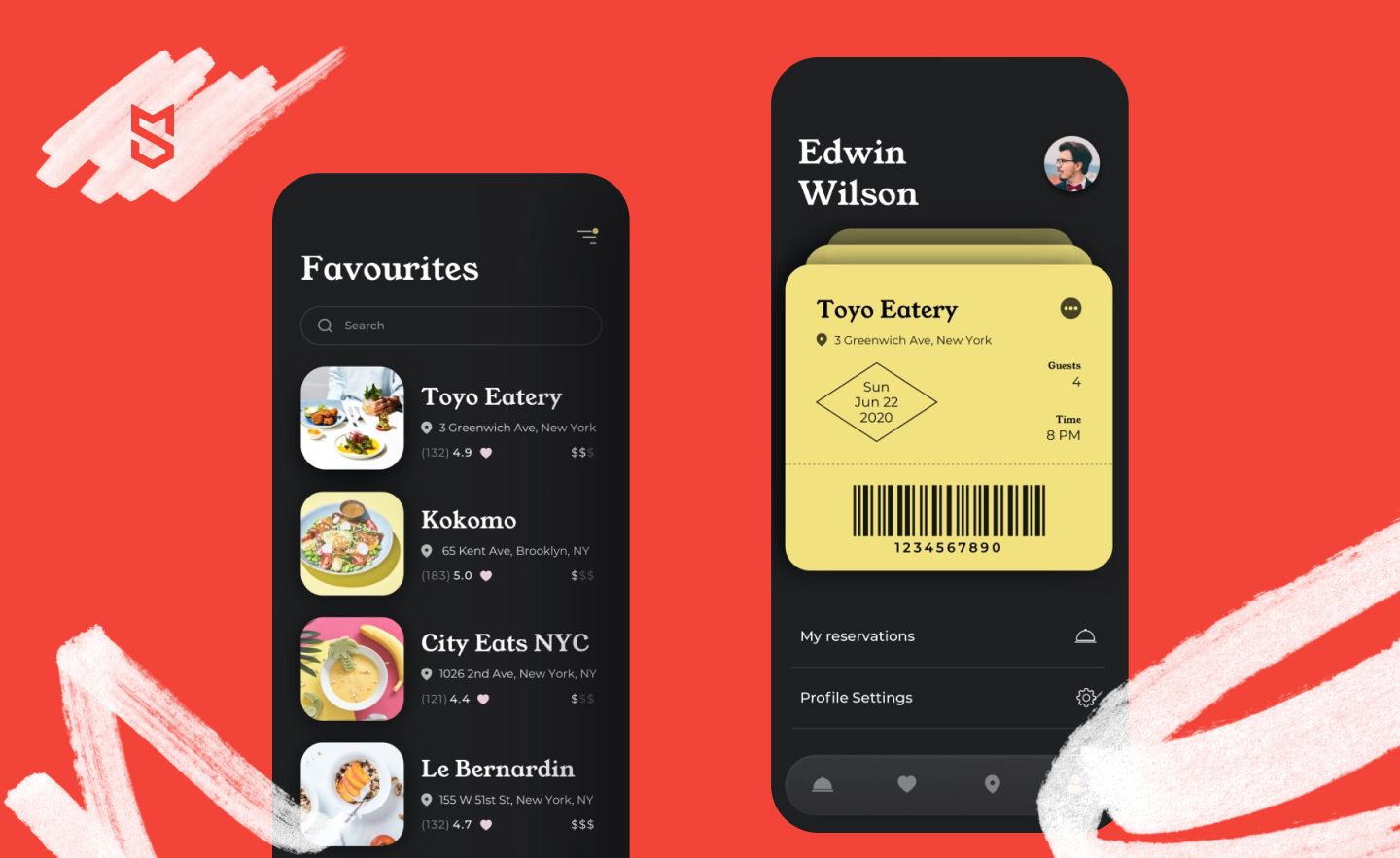 Add onboarding
Onboarding is a neat feature to get users acquainted with your app. When you create a mobile app for restaurant reservations, the onboarding process should teach users main features like searching for the place (by name, distance, cuisine, ratings, etc.), finding a table for a specific time, booking it, and, if you wish to implement such a feature, paying for it online.
Onboarding should be short yet comprehensive, and if you add some interactive cute elements it might bring you more customers.
Make everything simple
It's hardly a secret that people prefer doing things online because oftentimes, it's faster that way. Therefore, one of the most important recommendations we offer when discussing with our clients how to make a restaurant reservation app is this: make all processes as simple and short as possible. From sign-up to completed booking to payment, the fewer screens it takes the more chances there are that most users will go through the whole funnel.
For example, using Google or Facebook API for sign-up/login makes registration possible with one tap. Quick and efficient.
Balance text with images and white space
Whether your app is an aggregator or a reservation app for your own restaurant business, it's important to provide potential patrons with ample information on the restaurants. This includes photos. However, when we're talking about the limited space on a smartphone screen, moderation is advised.
Users shouldn't need to scroll to either text or images. It would be best if you can fit both an image and a short description on a single screen without it seeming cluttered.
Ample white space will highlight the important bits on the screen, which both an image and the text are. At the same time, it might be sensible to allow users to zoom in images if they want to take a closer look.
Technology stack for a restaurant reservation application
Another difficult stage in the process of creating an app for restaurant reservations. As we've mentioned above, if you wish to build a restaurant app for reservations, it usually means you'll be building two apps — for patrons and for restaurants.
For a patron-facing application, we recommend mobile platforms since most people today prefer mobile devices to complete tasks on the go.
PATRON-FACING APP TECH STACK
Sign-up/Sign-in
Facebook API, Google API, Amazon SES (for email delivery), Apple sign-in
Geolocation
Amazon Location Service, Google Maps API, Bing
Search and filters
Elasticsearch
Booking and canceling functionality
Google Calendar API
Sharing
Facebook API, Twitter API
Push notifications
Firebase SDK, APNs
Payments
PayPal, Stripe
iOS core
Swift
Android core
Java, Kotlin
Backend
Ruby on Rails, Elixir/Phoenix, Node.js
Database
MySQL, PostgreSQL, MongoDB
For a restaurant-facing app, you can choose to build for either a tablet (usually Android as they're cheaper) or for web as a web-based admin platform. A tablet app is more convenient, though.
RESTAURANT-FACING APP TECH STACK
Sign-up
Facebook API, Google API, Apple sign in, Amazon SES (for email delivery)
Floor map and a seating chart
Three.js, D3.js
Calendar
Google Calendar API
Push notifications
Firebase SDK, APNs
Media storage
Amazon S3, Google Cloud Storage
PoS system integration
PoS APIs
Analytics
Datadog, Prometheus, Firebase Analytics
Android core
Java, Kotlin
Web core
JavaScript, HTML, CSS, Vue.js, React.js
You will also need an admin panel to monitor the business from your side. The admin panel is usually built for web and requires bare minimum design-wise. The important features there are analytics, payment dashboard, and management features like adding/removing restaurants.
How much does it cost to build a restaurant booking app like OpenTable?
The cost to make a restaurant app like OpenTable with a development company will depend on the company's size and location and the team you hire. If your plan is to have a native app for both Android and iOS, you'll need:
Project manager: 1
Android developers: 1
iOS developers: 1
Front-end developer: 1 (optional)
UI/UX designers: 1
Backend specialist: 1
QA specialists: 1–2
With a team like this — and if you decide to outsource to a company like Mind Studios from Eastern Europe — we can estimate the cost to develop a restaurant finder application to start at about $140,400 for one platform. More enhanced cost breakdown that includes more platforms will look like this:
| Stage | UI/UX, h | iOS, h | Android, h | Frontend, h | Backend, h |
| --- | --- | --- | --- | --- | --- |
| Discovery | 80+ | - | - | - | - |
| UI/UX design | 240 | - | - | - | - |
| Customer side app development | - | 720+ | 720+ | - | 320 |
| Restaurant side app development | - | 640+ | 640+ | 800 | 320+ |
| Admin panel | - | - | - | 80 | 80+ |
| Testing | - | 360 | 360 | 280 | 100 |
| Project management | - | 160 | 160 | 100 | 100 |
| TOTAL time, h | 320 | 1880 | 1880 | 1260 | 920 |
| TOTAL cost, USD | $14,400 | $84,600 | $84,600 | $56,700 | $41,400 |
For a more precise estimate of the cost of restaurant mobile app development, you can request a free quote from us.
If you aim at a single platform or want a cross-platform app, the team will be slightly different and the cost will change as well. The number of features you'd like to implement will also affect the development cost.
How to pick the right restaurant booking app developers
For those planning to build a custom restaurant guide app and/or website from scratch, we recommend working with an established outsourcing company. Foremost, by doing so you won't need to hunt for each professional separately. Development companies have already caught them all — iOS and Android developers, designers, backend and quality assurance specialists, analysts, and project managers. And sometimes there's a selection of them, meaning a range of specializations and experiences.
To pick the right team to build your own restaurant app for reservations, consider the following aspects during your research:
Your budget for app development
Hourly rates companies from different parts of the world have
Previous experience companies from selected area have in the restaurant app development niche
Tech stack companies work with
Time difference
Language barriers
Cultural fit
An experienced restaurant booking app development company will provide help with business analysis, help you validate your idea, and continue to offer support and updates after your app is launched (if you want it). Besides, you can give the reins to a project manager and go about your business, just checking on the status occasionally.
At Mind Studios, we've worked with restaurants and food delivery services quite a bit: one of our latest projects is the food delivery app for the Dutch market James Butler. We've done ample research in the niche and can answer your questions if you have any.
Conclusion
Restaurant app development is more complex than it might seem at first glance. But it's not too complex for an experienced team to handle. We've offered you our vision on the challenges and possible solutions. If we haven't covered some specific issue of how to build a restaurant guide app like Zomato or OpenTable, contact us with your questions.
1