In this article, we tell you why telemedicine is the future of healthcare. We also explain all you need to know about developing a telemedicine app and starting a telehealth business.
---
Contents:
---
What is telemedicine?
Telemedicine refers to using communication tools for remote healthcare delivery. This term was first used in Australia in 1900 when a doctor used a two-way radio powered by a bicycle treadle to transmit a medical advertisement. But communication tools are constantly changing, and telemedicine no longer works via radio. Communication tools have become smaller and more effective than radio sets and fax machines.
Originally, telemedicine technology was used for those who lived in unstable districts and far-flung regions without access to a traditional hospital. But what was first used in cases of necessity has become a convenience.
Today, people can buy groceries and clothes and pay bills without leaving home. Telemedicine upgrades healthcare delivery to meet the demands of modern people. Now, healthcare providers make telemedicine websites and mobile apps.
Telemedicine in mobile apps
A phone isn't only an assistive device. For many of us, our phone is an important part of our lifestyle and daily routine. For this reason, the mobile app market is growing and reaching more fields. Healthcare is one of the key industries for the mobile app market because people are interested in taking care of their health with more comfort and efficiency than visiting a physician in person.
Telemedicine is one of the healthcare technology trends in 2018. Telemedicine platform development is profitable today and will continue to be profitable tomorrow because many people are interested in accessible healthcare. Consultation apps include doctor and patient profiles, chat functionality, and the possibility to hold both audio and video calls.
A payment system allows patients to pay for a doctor's services without leaving the app. You can read more about in-app payment systems in our article How to Make Secure Online Payments in Your App.
How can you develop a telemedicine platform?
Telemedicine app development requires great responsibility because a telemedicine app directly influences people's health. Are you wondering how to make a telemedicine app with video call, audio call, chat, photo-based, and real-time consultations? There are several important stages of developing this kind of app.
Evaluate your idea
To create a useful application that will meet demand, developers should be well-informed. Evaluating your idea correctly can help you to understand app functionality and market conditions. An app should always be based on a good idea. To confirm that your idea is viable, you must be able to answer why you want to develop an app and why you specifically want to develop a telemedicine app. Here are some steps to successfully evaluate your idea.
Conduct business analysis
Research the market and your competitors
Define a unique value proposition
Create a prototype, conduct testing, and get feedback
Research marketing channels
Business analysis
This stage allows you to determine the demand for your app and define your buyer persona, which will define your target audience. Business analysis should be the basis of your strategy. Your audience has problems, and your product solves those problems. Understanding who your customer is will also help you to promote your app effectively after launch.
Market and competitor research
This is the stage when you discover market leaders — your potential competitors. Research their strengths and weaknesses, ratings, and user reviews. This will help you understand the ability of your app to compete. When researching market leaders, pay attention to their prices, platforms, and differences between their apps and your idea.
Unique value proposition
Copies hardly ever leave the original behind. This is why your app must offer unique features to have an advantage over its competitors. When developing a telehealth app for consulting with a doctor, pay attention to these potential unique features:
High-quality chat

It's important for a telemedicine app to have efficient chat functionality. An application for communicating with people must include a quality tool for communication. Seamless chat functionality helps doctors work with patients efficiently.

Doctor and patient information

People like to know who they're consulting with, and people don't trust doctors just because they're called doctors. A telemedicine app can show information about qualifications, rates, number of previous patients, and patient reviews. Doctors can see a patient's electronic health record to understand their problems and quickly find solutions.
Prototyping, testing, and getting feedback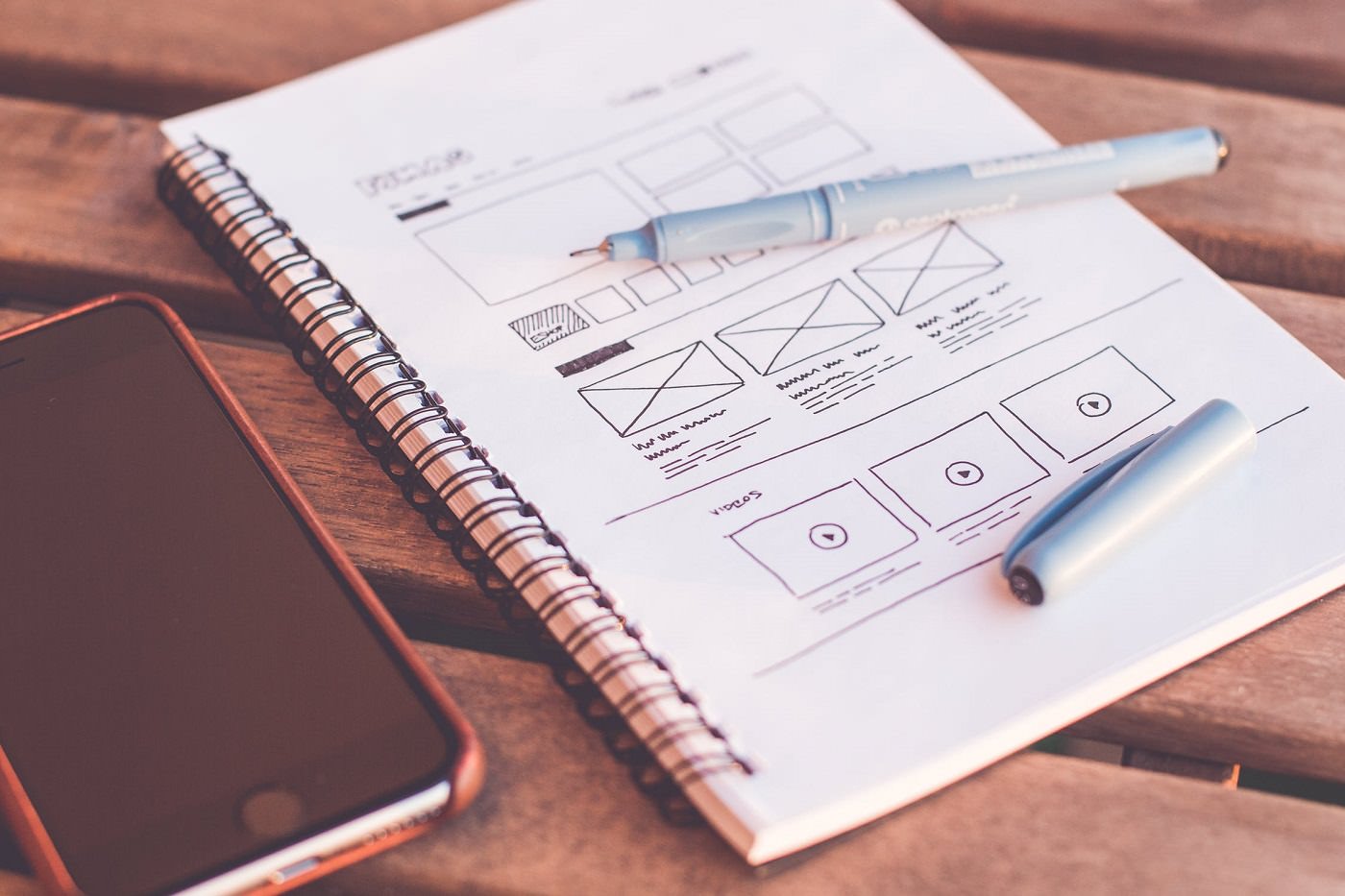 You should develop a low-fidelity prototype (LFP) to understand your app's wireframes, the cause and effect relationships between buttons and windows, and search details that need to be changed or removed. An LFP helps you to understand how the app works and what benefit it brings. Then you must develop a UX design, and when it's completed, you can start with the high-fidelity prototype stage. This stage allows you to test your app and get feedback from your audience.
Research marketing channels
This stage holds a lot of importance for post-launch development. How can you make your audience know about your app and want to use it? This question is the main reason why you need to research marketing channels.
You need to know what social networks your audience uses, what information they search for online, and what days of the week and what times of the day they prefer using a smartphone and surfing the internet. Promote your app on channels where your target audience is concentrated to make the most profit.
Know the law
According to the American Telemedicine Association, telemedicine development is transforming the healthcare industry. There are many US laws that have been written to further the telemedicine industry. For example, the Medicare Access and CHIP Reauthorization Act of 2015 (MACRA) opens up possibilities to develop, improve, update, and expand telemedicine apps and implement this technology in clinical organizations and societies, patient advocacy organizations, educational institutions, and independent research organizations.
Research trends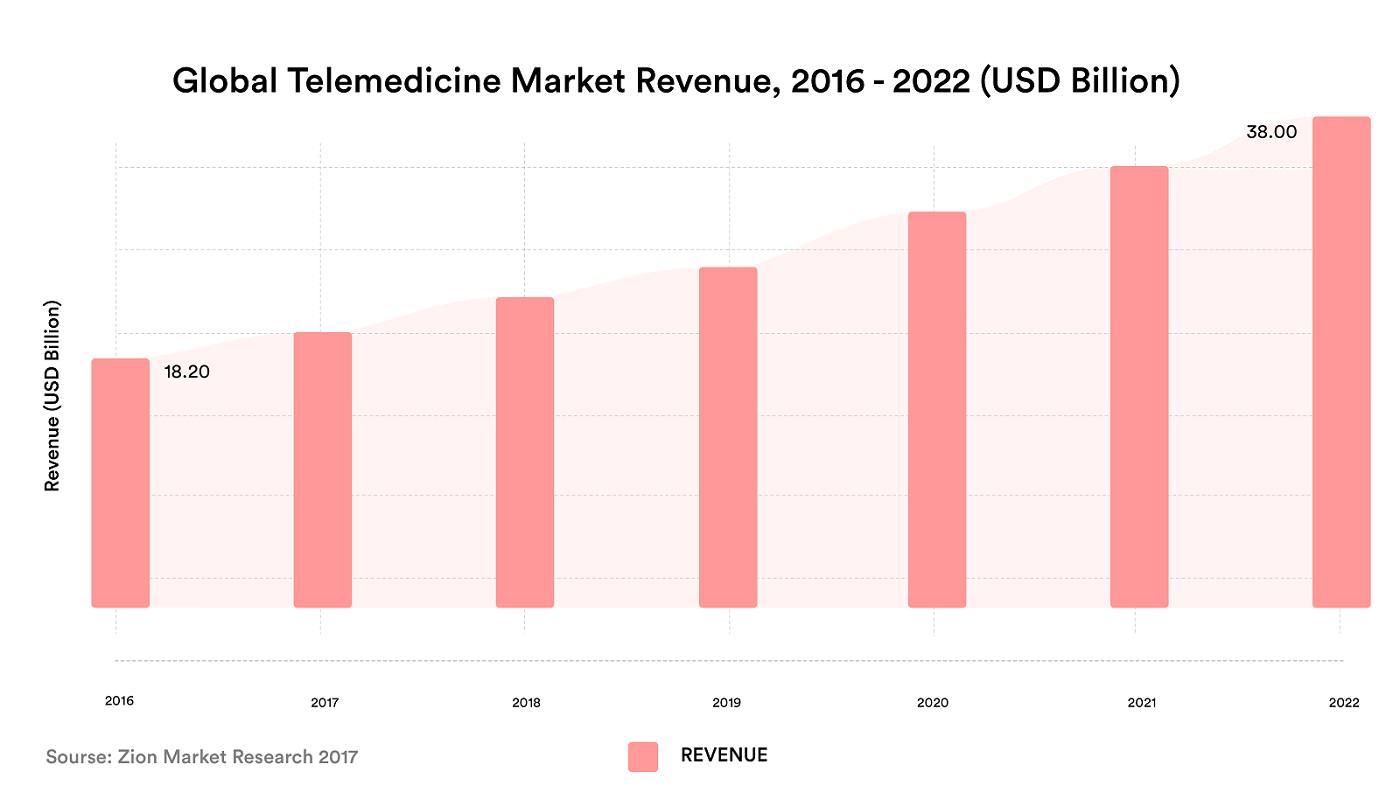 According to Zion Market Research, global telemedicine market revenue will grow to 38 billion USD by 2022. For reference, revenue was only 18 billion USD in 2016. To be a part of the telehealth market and build a quality telemedicine app that will achieve success, you should research trends in telemedicine health management and try to address them in your product. Trends always change, and developers should constantly monitor these changes to make their apps stay relevant.
Artificial intelligence
Artificial intelligence (AI) is a trend in all industries because this technology allows developers to add new features and improve existing features. Telemedicine uses natural language processing, speech recognition technology, chatbots, and machine learning platforms. These technologies help developers to create chatbots that can learn and can substitute for a real doctor when a patient needs emergency help and there are no doctors online. Read our article on how to use AI in mobile apps for more on this topic.
Big data
Telemedicine apps collect lots of information, and big data makes it possible to use electronic health record (EHR) technology. This technology allows a program to gather and analyze a user's health data and transform it into a readable form. EHR technology also helps doctors to receive more information about patient health and make more accurate diagnoses. Additionally, electronic records prevent loss of health data because cloud storage is more secure than paper records.
Data security
The blockchain is the next trend in telemedicine because data security is important in the telemedicine industry since health data is constantly moving between patients and doctors. Data decentralization helps to decrease the chances of unauthorized alteration of patient information. Using blockchain technology allows your application to prevent stealing of users' health data.
Big investments
Telemedicine is one of the fastest-evolving healthcare fields. This field has huge demand today. For this reason, there are many possibilities to get investment and add more functionality to your product. The United States government has passed laws to aid the development of telemedicine apps, and private investors are interested in supporting developers in the healthcare field.
A look into functionality
Telehealth apps must have useful features to be relevant. To be a quality alternative to a physician visit, a telemedicine app needs to have functionality that can substitute a doctor's in-person examination. Let's have a look at the most important features of a telemedicine app.
Medication advice
Patients often don't know enough about medications prescribed by a doctor. It's uncomfortable to visit your doctor again to ask questions. On the other hand, if you have a telemedicine app you can find an available doctor, send a photo of your medication, and receive an answer to your question.
Prescription renewals
Renewing a prescription is a constant problem for people who suffer from chronic ailments. Indeed, it's a constant reason for visiting a doctor's office and waiting in line. With telemedicine, you can renew a prescription simply by connecting with a doctor via an app, receive a new prescription, and buy your medications the same day.
Photo-based consultations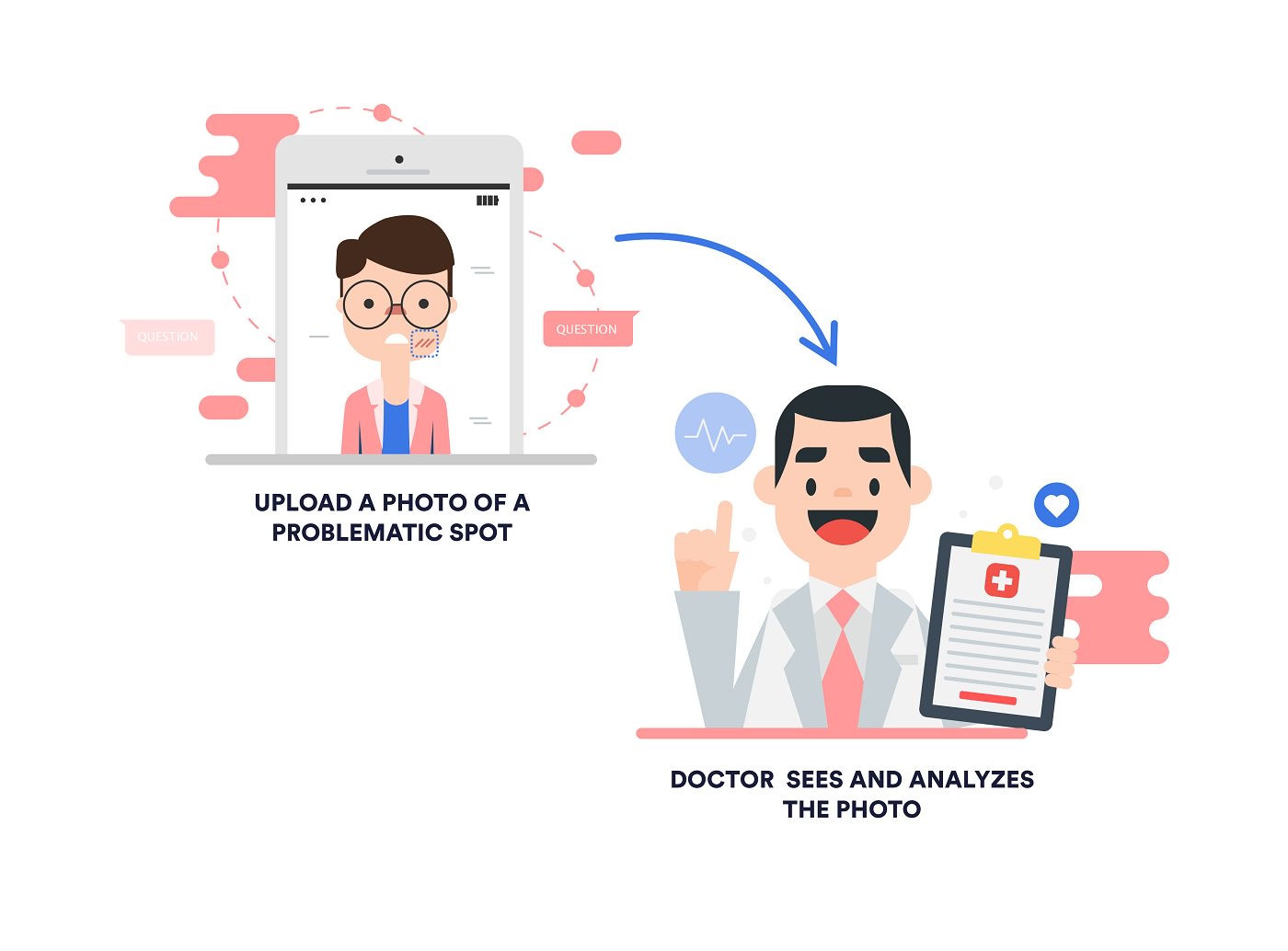 Doctors that specialize in skin diseases admit that they can make a diagnosis with only a few seconds of visual contact. For this reason, photo-based consultations can be very useful in telemedicine apps. A patient can take a picture of an affected region and send it to a doctor.
Real-time consultations
Online consultations is the main feature of telemedicine apps. There are many ways to conduct real-time consultations including by chat, video call, and audio call. A patient can choose symptoms and choose a doctor based on their preferences. The doctor and patient can then choose an appointment time to start a consultation via audio or video call.
How much does it cost to develop a telemedicine app?
For our assessment, we're assuming that we're developing an app for choosing and consulting a doctor via chat, audio, and video call. There are three stages for which we will estimate development costs.
Business analysis and design
The business analysis and design stage is necessary because it identifies a direction for further telehealth app development. Business analysts should research features of your app that meet demand, the markets of your competitors, available vectors of development, and needs of your target audience. A designer needs to design the user interface (UI) and user experience (UX). This costs about $5,000 to $8,000 per month and lasts for one to two months.
Development and support
The main cost of developing your app will be telemedicine software development and support. To create a massive telemedicine consultation app, you should develop at least this minimum set of features.
Users need to be able to:
Manage profiles
Book and manage appointments
Make payments
View transactions and manage wallets
Message with healthcare providers
Take part in calls
Contact the system administrator
Doctors should be able to:
Manage profiles
Manage appointments
Buy access to features
View system transactions and manage their personal wallets
Initiate and take part in calls and messaging with patients
Contact the system administrator
Building an app with all these features takes about 3.5 to 4.5 months and costs $45,000 and up for a complete package of iOS, Android, and web apps.
Marketing
Marketing is an after-launch stage that involves promoting your app via inbound and outbound strategies. Market channel research can help you to make your marketing more effective. Marketing costs in the neighborhood of $2,000 per month after launch.
Is it time to set up a telemedicine business?
The telemedicine app industry is evolving. There are many opportunities to monetize telehealth and telemedicine apps because of large demand. According to the American Telemedicine Association, more than half of US hospitals are already implementing telemedicine technology in their work processes.
It's time to enter the market with a fresh telemedicine app. But before diving in, you should understand that business is a dangerous path with hidden rocks and reefs. You don't need to move blindly by trial and error, though. Contact us to take the first step toward your telehealth business and dive into development of a telemedicine system.