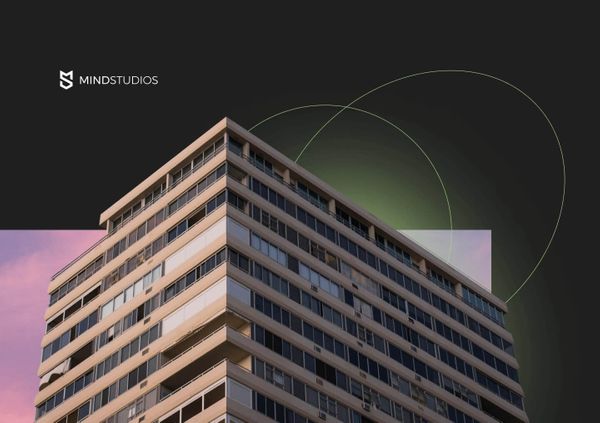 Want to improve your real estate business, get an unfair advantage over your competitors, or entice solid investors? In this article, we consider real estate tech startups in 2023 that have already raised millions in funding along with five technology trends that lie behind them.
What PropTech startups are attracting VCs?
Heightened interest in technology investment is no longer a novelty for the real estate market. The Center for Real Estate Technology & Innovation (CRETI) reported that in 2020, venture capital firms (VCs) invested $23.8 billion across 425 PropTech startups. This is almost twice the level of investment in 2017 according to real estate tech researcher Re:Tech.
Many tech-powered real estate companies raise solid investment by going public through special purpose acquisition companies (SPACs) or initial public offerings (IPOs).
Although there's a lot of capital ready to be invested in innovative real estate tech startups, the situation isn't so rosy for newly formed companies. Whatever genius technology they provide, it's untested. Today, VC investors prefer to channel cash into validated companies instead of untested technologies. As a result, the number of newly founded PropTech companies has declined from 1821 in 2016 to 245 in 2020 according to CRETI analysts.
Nevertheless, fledgling PropTech startups have recently raised solid funds using cutting-edge technology in each of the main market segments.
Residential real estate startups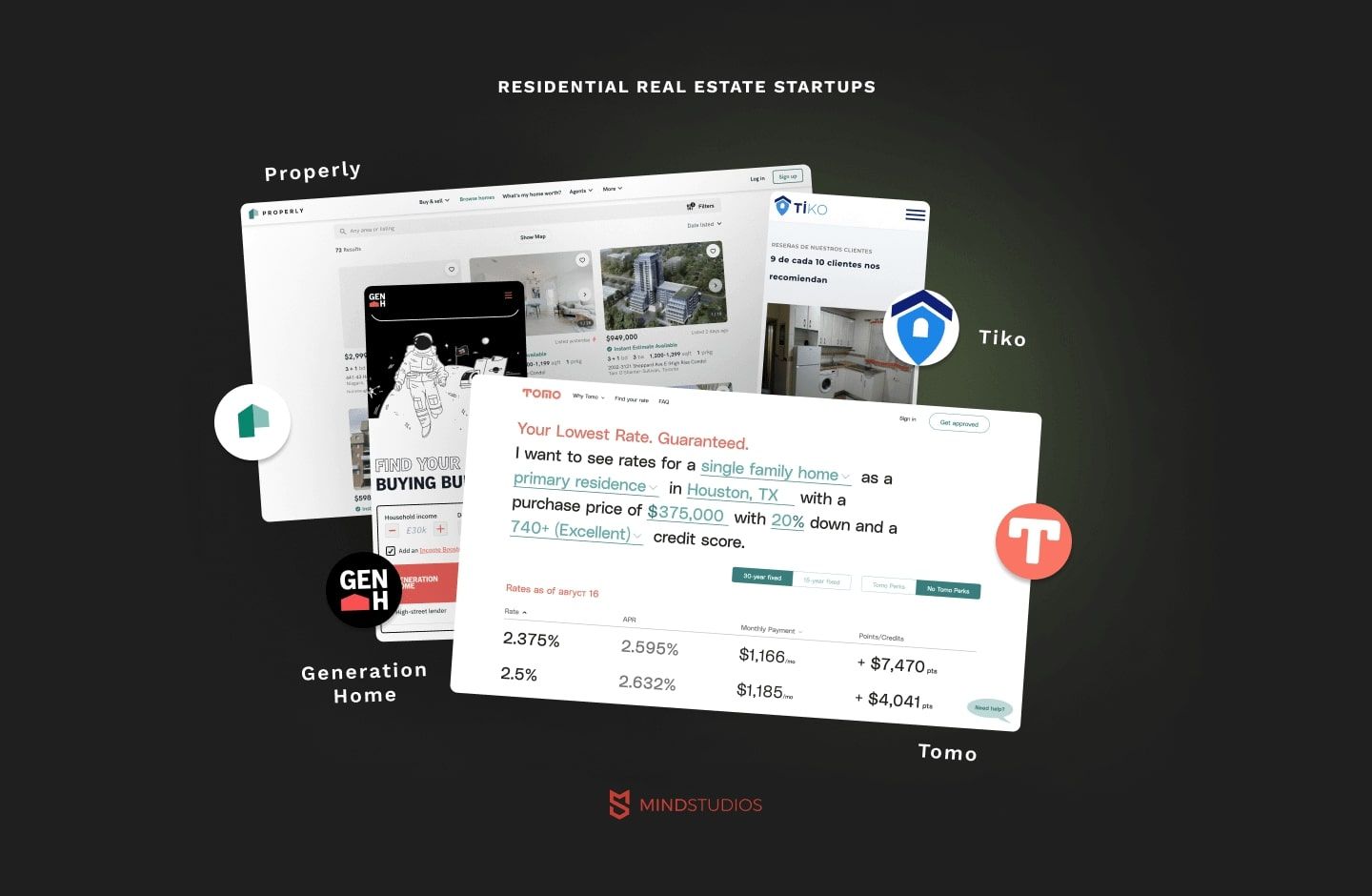 Residential real estate tech startups aim at facilitating property valuations, mortgage approvals, and closing by digitizing these processes.
Properly
Properly provides customers with three main features:
Fair home valuations with 99% accuracy using AI algorithms to analyze data from over 75 sources and over 125,000 previously sold homes
The opportunity to sell a home to Properly if it doesn't sell within 90 days and to move to a dream home without overlapping mortgage payments
A full-service realtor who will help in finding the right property and closing on it
Latest funding: $44 million on July 19, 2021, from a Series B round
Year founded: 2018
Headquarters: Toronto, Ontario, Canada
Generation Home
Generation Home is an innovative mortgage lender startup that allows parents (and other family members and friends) to help their loved ones buy their dream home. To do this, Generation Home offers:
A deposit booster that allows parents to invest in a child's home
An income booster that allows parents to add their income to a mortgage application to improve a child's buying power
Moreover, there are extra digital tools for mortgage tracking, home equity management, monthly payments, and one-click remortgaging.
Latest funding: $30.4 million on June 15, 2021, from a Series A round
Year founded: 2019
Headquarters: London, United Kingdom
Tomo
Tomo, a FinTech startup that focuses completely on homebuyers, digitizes and streamlines the mortgage approval process while striving to become PayPal in the mortgage industry. Tomo hopes to do this by providing buyers with pre-approvals within a couple of hours, the fastest time to close, the lowest financing rates, and the most experienced real estate agents.
Latest funding: $30 million on June 30, 2021, from a Seed round
Year founded: 2020
Headquarters: Stamford, Connecticut, United States
Tiko
Tiko's founders decided to make a real estate platform backed by big data and AI technology that could evaluate properties and send offers in 24 hours, serving as an intermediary in real estate transactions. Tiko can buy homes in seven days, fix them while adding value, and return them to the market. All processes are digitized, including an automated property valuation, accessing a single database for all regions, and closing.
Latest funding: $65 million on July 19, 2021, from a Series A round
Year founded: 2017
Headquarters: Madrid, Spain
Commercial real estate startups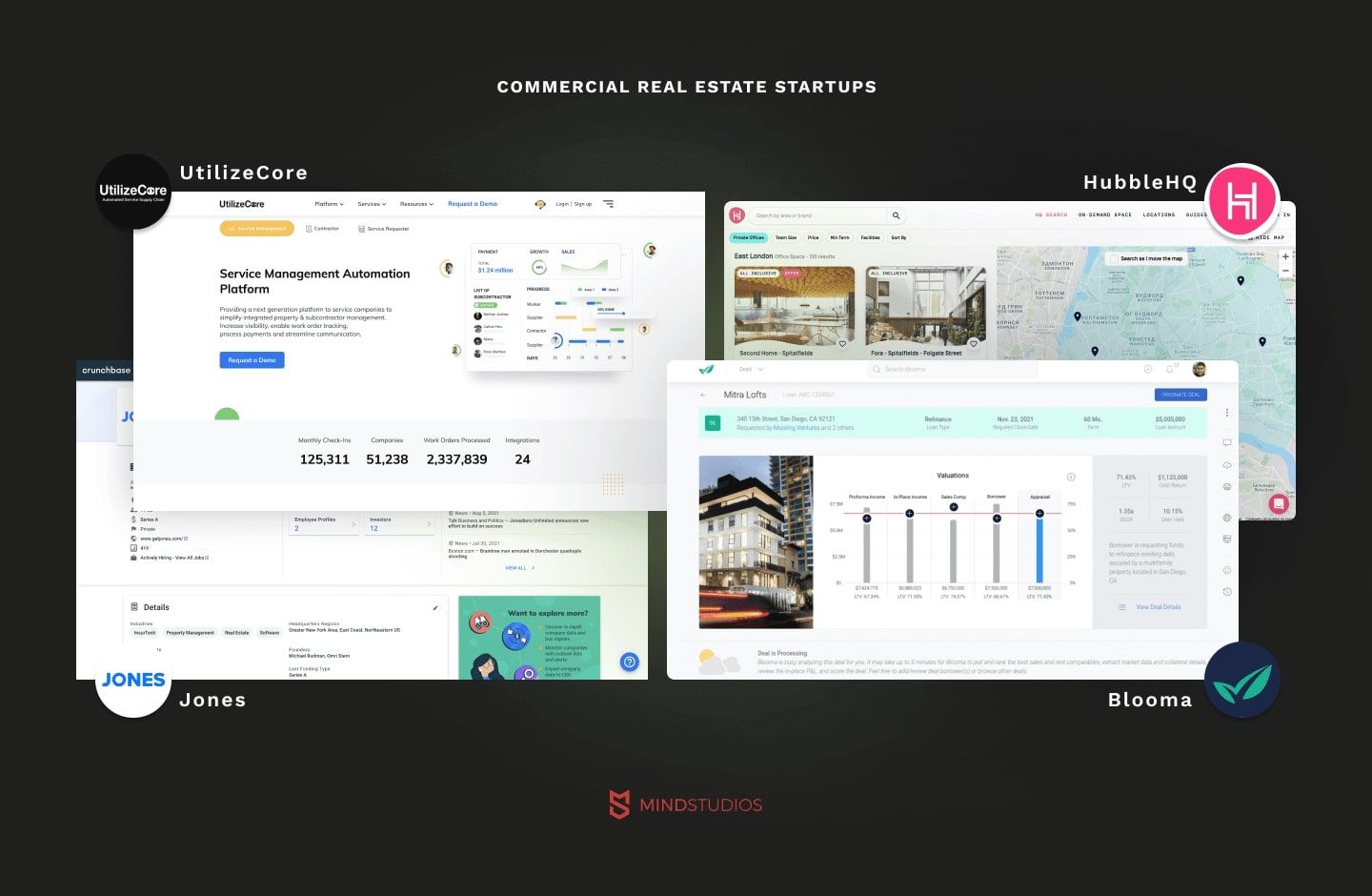 Startups based on commercial real estate technology trends that offer digital solutions for remotely choosing vetted subcontractors, tracking their workflow, streamlining the use of office space, and facilitating transaction processing have gotten impressive cash injections. Here's a short list of commercial real estate startups that have received funding:
UtilizeCore
UtilizeCore is a unified software as a service platform with tools to help residential and commercial clients remotely manage subcontractor workstreams. It provides customer and subcontractor logins; automated weather forecasts; service control; automated payments; automated routing; alerts; 25 integrations with custom relationship management, accounting, and payment systems; and more.
Latest funding: $5.3 million on June 15, 2021, from a Seed round
Year founded: 2020
Headquarters: New York, United States
HubbleHQ
A commercial real estate marketplace, HubbleHQ helps companies find the right combination between the office and remote work for their employees; access a variety of on-demand workplaces globally (and information on their rates) including hot desks, fixed desks, and private office spaces; schedule to check out workplaces in person; and choose the best option.
Latest funding: £2 million on July 5, 2021, from a convertible note round
Year founded: 2014
Headquarters: London, United Kingdom
Jones
Jones has developed an AI-powered insurance tracking system that allows tenants and property managers to hire pre-approved vendors to meet their service needs by verifying vendors' insurance certificates.
Latest funding: $12.5 million on July 19, 2021, from a Series A round
Year founded: 2017
Headquarters: New York, United States
Blooma
Blooma has used AI technology to improve loan origination and transaction monitoring for stakeholders in the commercial real estate market. Blooma's optical character recognition (OCR) tool identifies information from documents to facilitate property evaluations. Blooma is also useful for automating ongoing loan processing, auditing, credit and equity reviews, and stress testing.
Latest funding: $15 million on June 8, 2021, from a Series A round
Year founded: 2018
Headquarters: San Diego, California, United States
Construction tech startups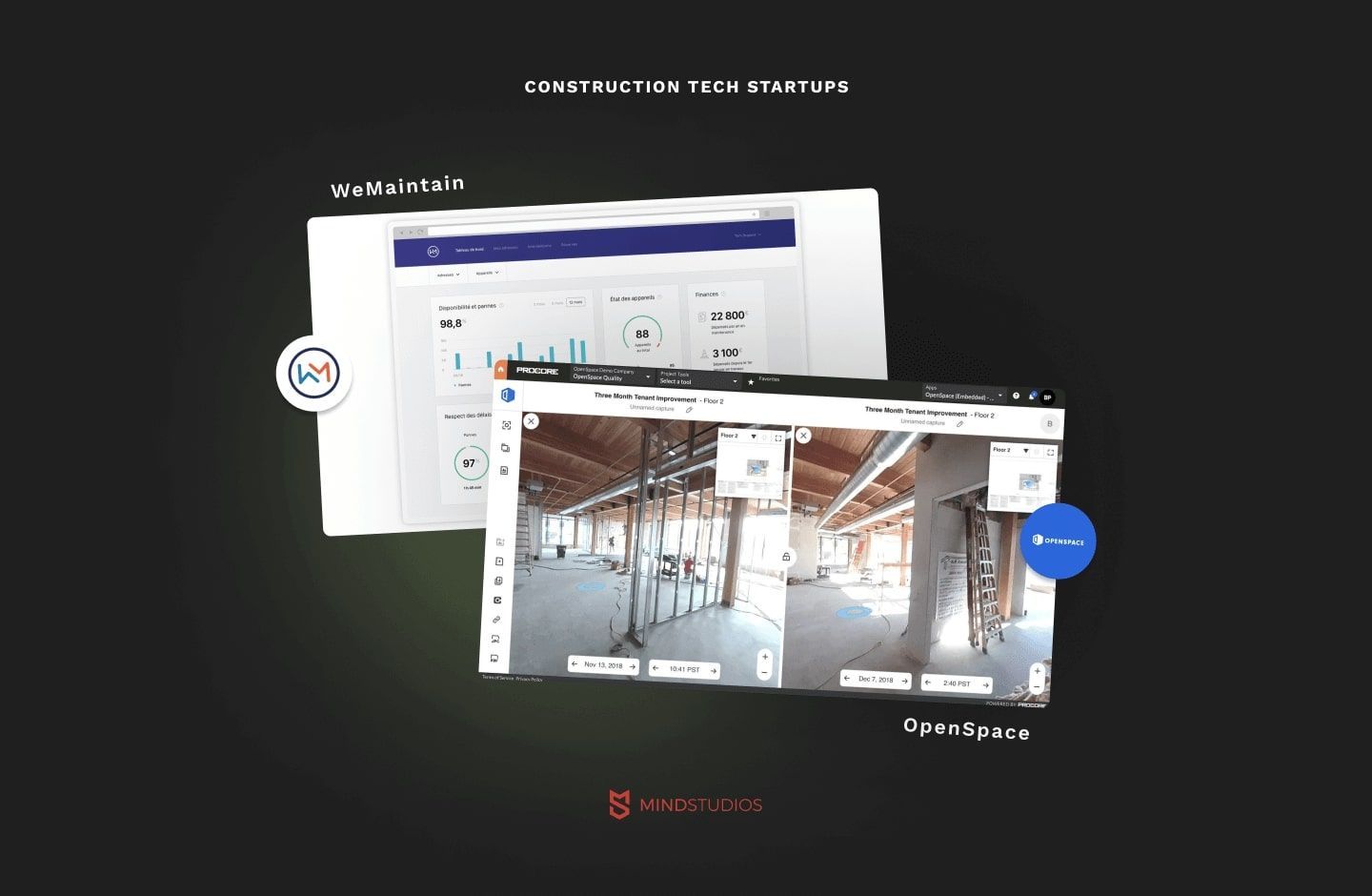 Best PropTech startups that offer digital solutions to simplify construction management and enhance building maintenance using trends like computer vision, AI, and IoT-backed sensors are now at the forefront of the real estate industry.
WeMaintain
WeMaintain is a lift (elevator) maintenance provider that helps developers, homeowners, and occupants simplify lift management using an innovative IoT-based service. Integrated into lifts, IoT sensors allow users to better understand the flow of people through buildings and inform users about urgently needed upgrades and equipment deterioration.
Latest funding: €30 million on June 29, 2021, from a Series B round
Year founded: 2017
Headquarters: Paris, France
OpenSpace
OpenSpace software automatically arranges, stitches, and pins navigable 360-degree photos of construction sites to building layouts using computer vision and AI algorithms. This platform helps all stakeholders remotely monitor construction progress via 3D virtual tours and resolve issues.
Latest funding: $55 million on April 28, 2021, from a Series C round
Year founded: 2017
Headquarters: San Francisco, California, United States
Rental homes and co-ownership startups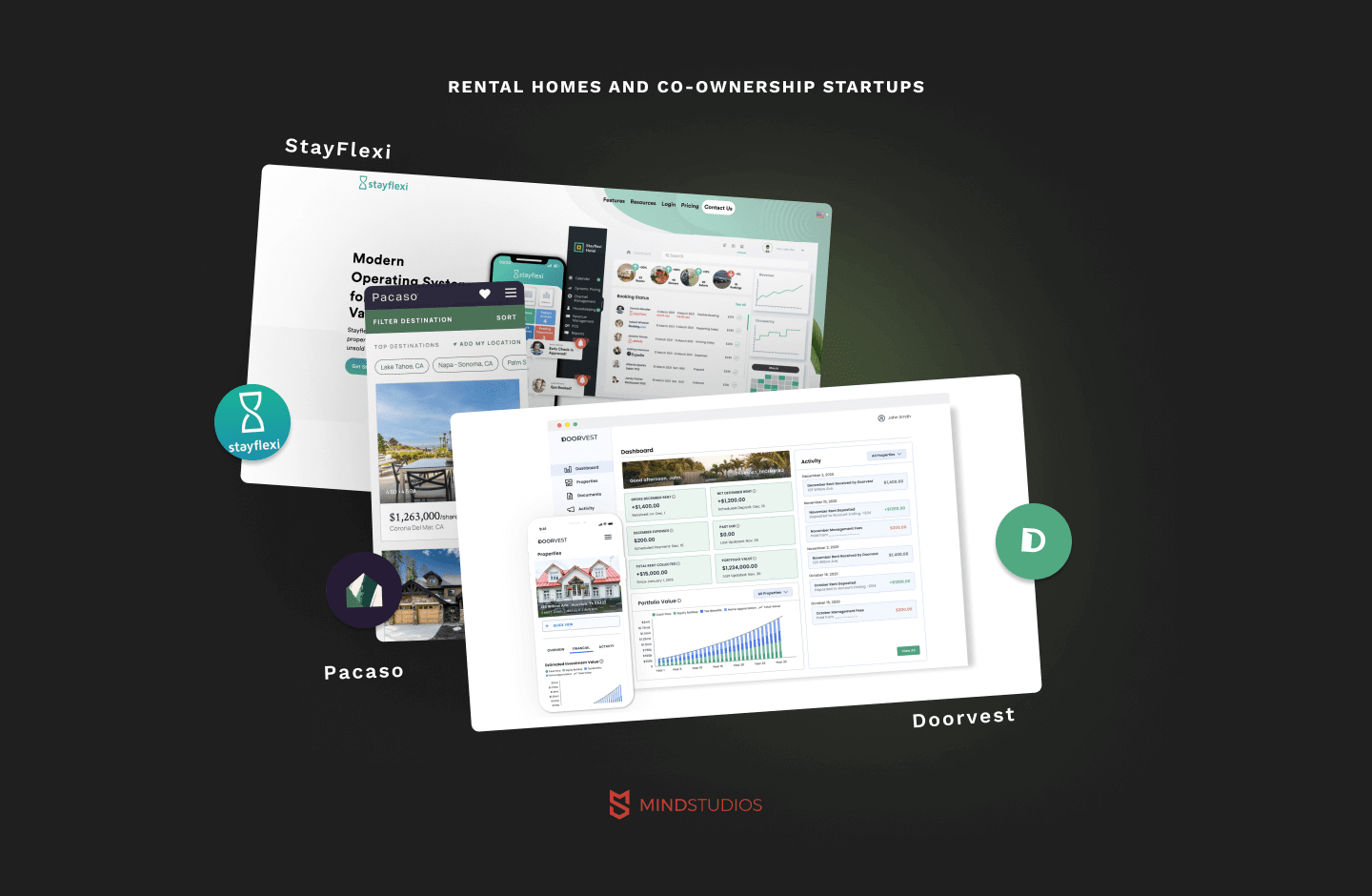 Since the hospitality business needs to meet the current tendencies of digital nomadism, remote work, and flexible tourism, end-to-end software solutions for short-term rentals, hotel property management, and co-ownership from afar are in high demand. Let's look at some examples.
StayFlexi
StayFlexi offers all-in-one hospitality software equipped with a hotel property management system, channel manager, booking engine, and revenue management tools. StayFlexi reports that its self-service features such as self check-in/check-out, contactless point of sale systems, automated room allocation, and automated inventory management cut in half operating costs. The software's booking feature increases revenue on unsold rooms by 40%.
Latest funding: $1.6 million on June 29, 2021, from a Seed round
Year founded: 2018
Headquarters: California, United States
Doorvest
Doorvest enables investors to virtually buy rental homes and generate passive income. It can also renovate a rental property on the owner's behalf and find and place a tenant with a 12-month rental income guarantee.
Latest funding: $2.5 million on January 27, 2021, from a Seed round
Year founded: 2019
Headquarters: San Francisco, California, United States
Pacaso
Pacaso is a marketplace that allows investors to purchase fractions of second homes, mainly single-family homes in residential areas. Pacaso's real estate agents help buyers establish and manage limited liability companies designed for co-ownership as well as to manage their properties using Pacaso's mobile app.
Latest funding: $75 million on March 24, 2021, from a Series B round
Year founded: 2020
Headquarters: San Francisco, California, United States
Property management startups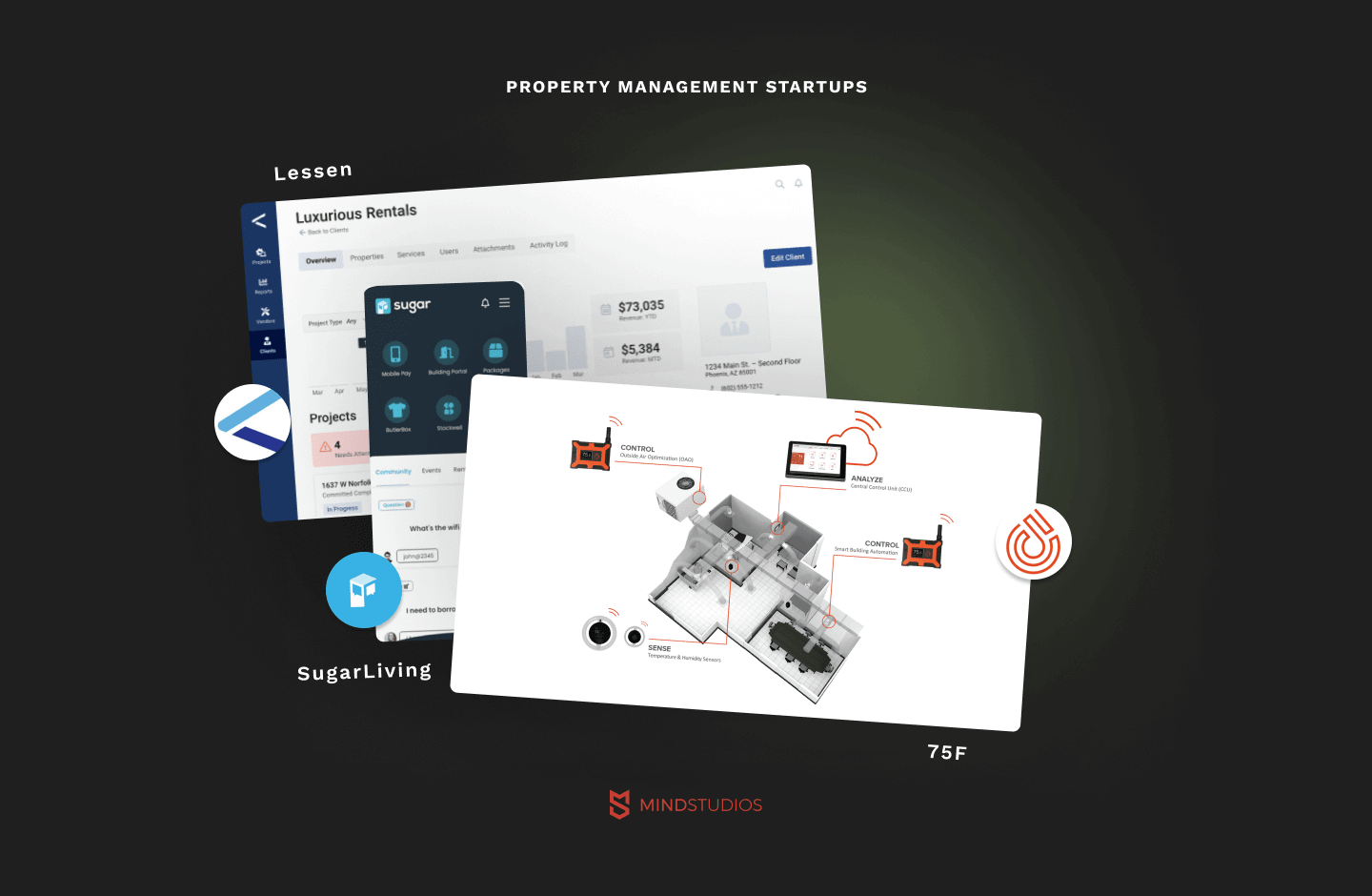 A promising future awaits online platforms that help property stakeholders control the efficiency of electricity, HVAC, and other in-building systems. The same is true for all-in-one apps that allow residents to manage their daily activities, including with the help of PropTech trends like touchless rental payments and door unlocking. Here are a few examples of property management startups:
Lessen
Lessen modernizes property management and maintenance with technology that unites property owners with a global network of vetted renovation, cleaning, and maintenance specialists. Lessen boasts over 1,000 service providers across 26 markets that have already performed over 2,000 tasks.
Latest funding: $35 million on June 24, 2021, from a Series A round
Year founded: 2019
Headquarters: Scottsdale, Arizona, United States
SugarLiving
SugarLiving is an innovative mobile app that allows residents to effectively manage their daily activities including paying rent, submitting maintenance requests, unlocking doors, and communicating with other building residents.
Latest funding: $2.5 million on July 12, 2021, from a Seed round
Year founded: 2019
Headquarters: Los Angeles, California, United States
75F
75F is an IoT-powered building automation system that helps property managers and occupants control HVAC, lighting, and equipment conditions. The system is backed by IoT, cloud computing, and AI technologies to improve occupants' living conditions through saving energy, enhancing indoor air quality, and delivering preventive environmental maintenance.
Latest funding: $5 million on July 16, 2021, from a Series A round
Year founded: 2012
Headquarters: Burnsville, Minnesota, United States
Tools for real estate agents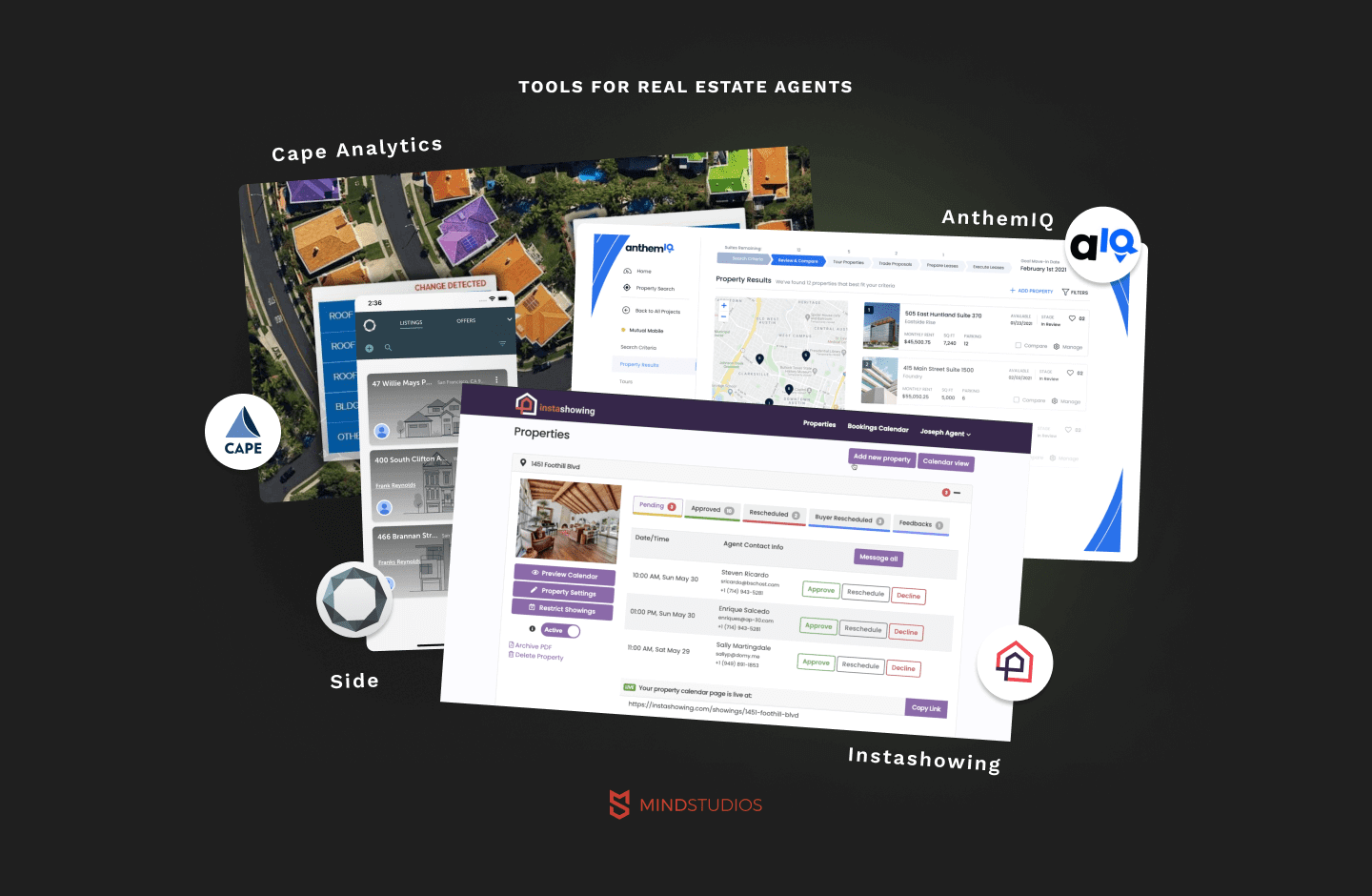 Current real estate industry trends include adopting tools that relieve real estate agents from paper-heavy processes, allowing them to focus on serving high-value clients, and self-sufficient AI-backed applications that help agents develop their branding.
Cape Analytics
Cape Analytics uses AI-enabled algorithms and geospatial imagery to allow real estate agents, buyers, builders, and insurers to access property attributes. Cape Analytics effectively combines the accuracy and detail that are typically obtained from an in-person inspection with the speed and flexibility of digital tools to record property data.
Latest funding: $80 million on July 20, 2021, from a Series C round
Year founded: 2014
Headquarters: Mountain View, California, United States
Side
Side is a real estate technology company that helps real estate agents increase their brand awareness. Side believes that agents should focus on servicing clients. Other tasks like brand development, marketing, vendor management, listing coordination, transaction management, legal matters, and insurance should be handled by other people with support from proprietary technology.
Latest funding: $50 million on June 28, 2021, from a Venture-series round
Year founded: 2017
Headquarters: San Francisco, California, United States
Instashowing
Instashowing is a cloud-based solution to help property sellers, buyers, and real estate agents easily schedule showings.
Latest funding: $4 million on May 20, 2021, from a Seed round
Year founded: 2018
Headquarters: Eugene, Oregon, United States
AnthemIQ
AnthemIQ is an end-to-end commercial real estate application for agents, tenants, tenants' representatives, and landlords that helps manage transactions from search to a signed lease.
Latest funding: $10 million on May 10, 2021, from a Series A round
Year founded: 2020
Headquarters: Austin, Texas, United States
Looking back on these commercial real estate startups, we can highlight five main technology trends in real estate thanks to which businesses have found their unique niche, attracted funds, and become brands.
Five real estate technology trends that are already in play
To enable you to create a TOP successful technology startup in real estate, let's consider new and effective ways of weaving the latest real estate technologies into your property business.
1. Big data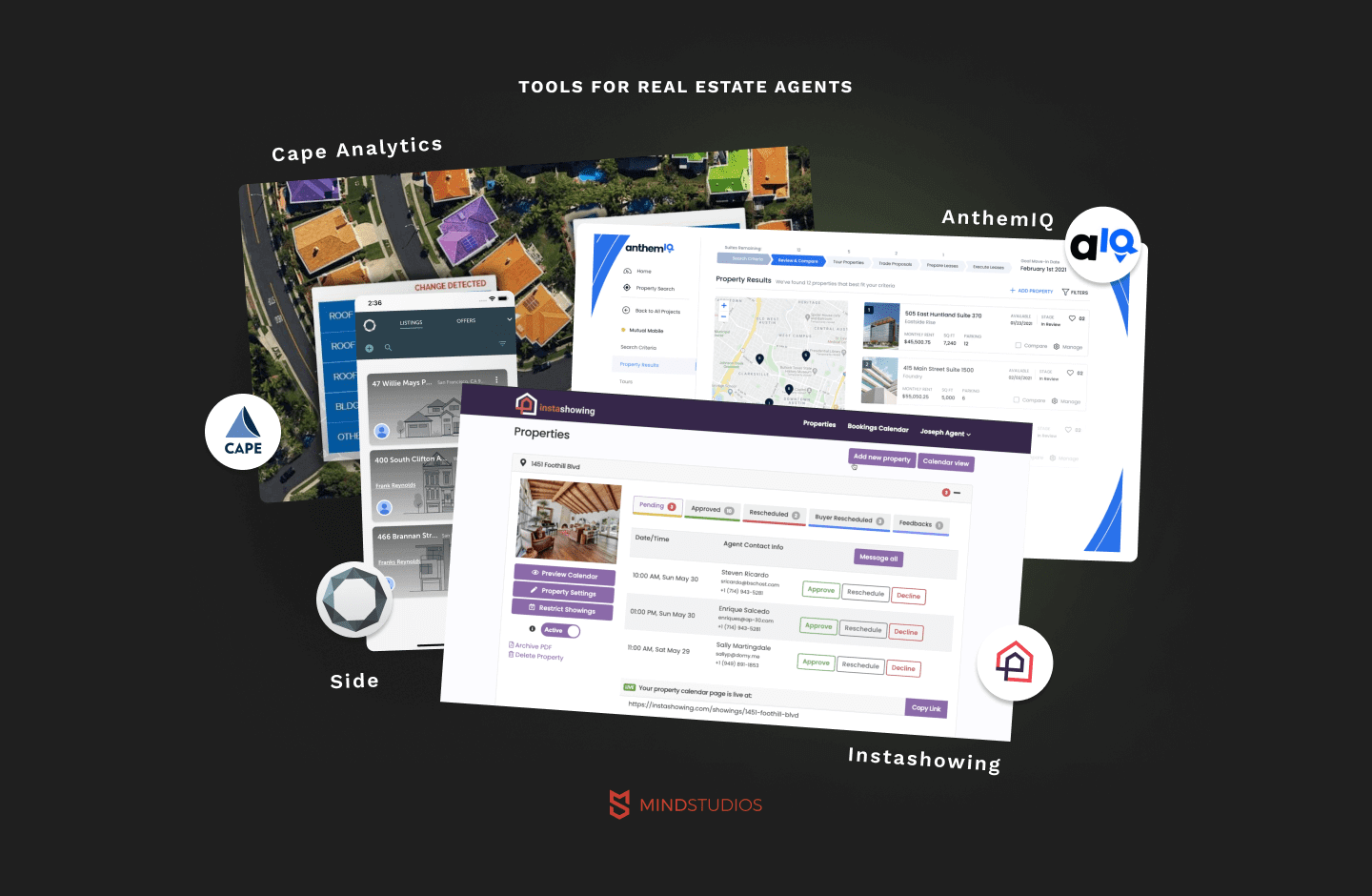 The biggest real estate information technology trend is big data. Big data works on the principle that the more you know about your customers, the more reliably you can find patterns — or insights — that can help you predict who is going to buy, sell, rent, or invest what and when. To do this, a big data tool analyzes high volumes of different data types from databases of photos, videos, written text, voice recordings, and sensor data involving advanced analytics tools like artificial intelligence (AI) and machine learning.
How can you use big data to your advantage?
It all depends on the specifics of your real estate business, or rather your target audience. Here's a rundown of how big data technology can be useful for different market insiders:
For homebuyers, big data apps give rich insights about a property and its neighborhood based on a homebuyer's preferences.
For sellers, big data helps them set the right property price according to the price range of nearby objects and their technical conditions, choose the right time to sell using data-driven predictions, and find the right real estate agent if needed.
For homeowners and property managers, big data algorithms gather data about building systems (HVAC, lighting, fire safety, water, and others), help with proactive maintenance, reduce operational costs, and provide alerts about equipment failures before they happen.
For tenants and investors, big data-powered tools allow tenants to find appropriate apartments for suitable rates. In turn, investors can use big data to select solvent tenants and turn their assets into profitable, long-term investments.
For builders, the combination of big data, predictive analytics, and AI allows them to choose the best neighborhoods for development, the optimal type of property to build, and price segmentation to maximize ROI.
For agents, big data helps them better understand clients by analyzing their social media activities and helps agents increase their brand awareness.
Since big data technology handles vast sources of information, it can become a core driver for your property business. It will enable you to build a well-thought-out marketing strategy with perfect customer timing for coming up with your offer.
Use cases
Zillow is a top online real estate marketplace platform that uses big data algorithms to manage the largest US database of 110 million property listings, the greatest number of search filters, and one of the most accurate property valuation calculators, called Zestimate.
The next big data-driven app, Trulia, is the world's go-to guide for neighborhood data. It provides users with 34 neighborhood map overlays describing in detail population demographics, the proximity of schools, shops, and eateries (with ratings), crime rates, the probability of natural disasters, and much more.
2. Artificial intelligence (AI)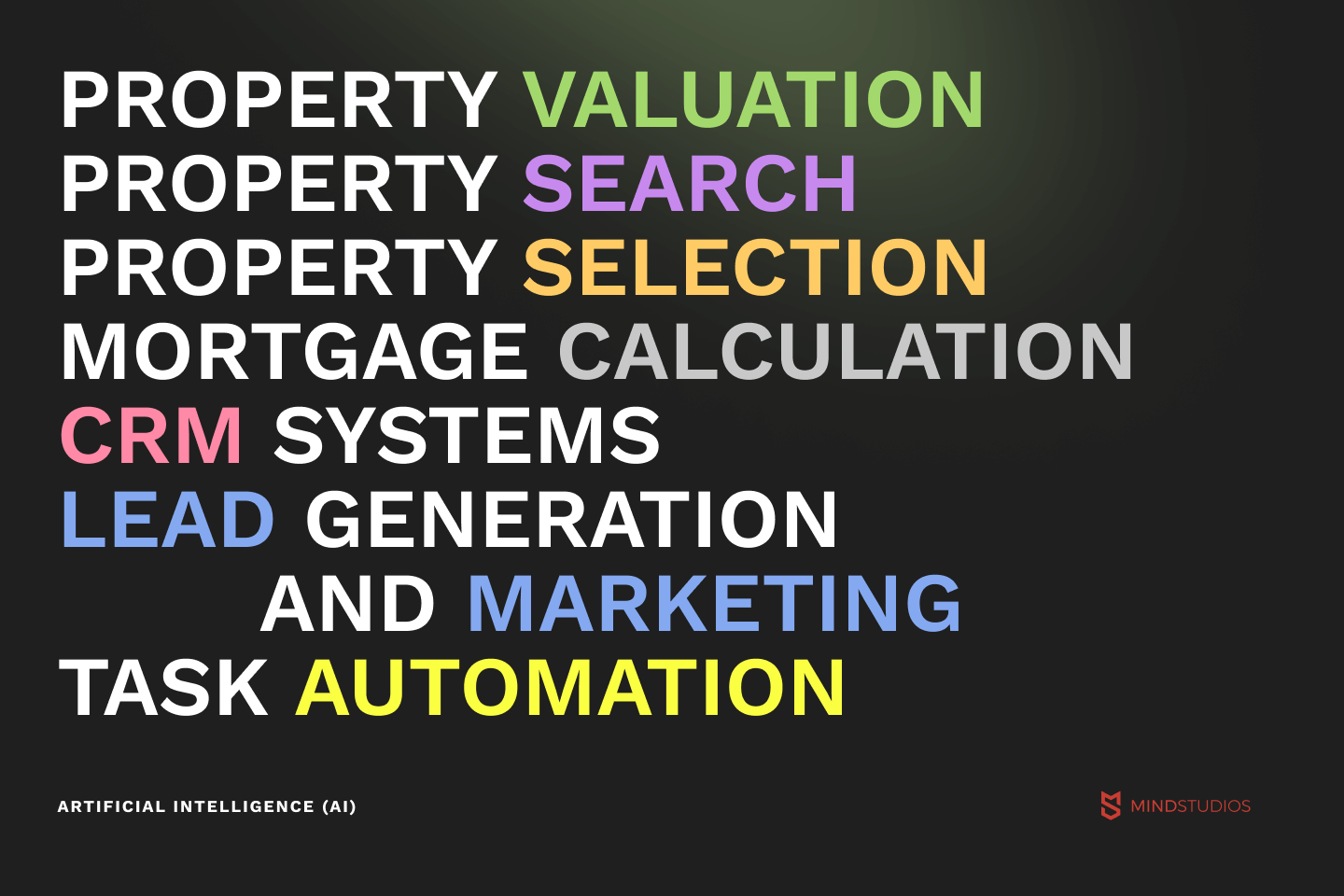 With AI-based software, agents can deeper understand customers' wants and needs, faster find properties that meet customers' preferences, and provide clients with more accurate predictions for property value shifts than ever before. AI technology simulates a human's gut feeling inside the software it's integrated with. Sophisticated AI algorithms analyze data received from multiple sources and run simulations tweaking all possible variables until they find patterns based on which you're able to receive valid information about future events.
How can you use AI technology to your advantage?
Though in its infancy, AI technology can be useful for your agents in a wide range of activities:
Property valuation. To estimate property values, AI-powered algorithms called automated valuation models (AVMs) consider numerous parameters including property age, history, images, neighborhood, the possibility of natural disasters, crime rate, market value, trends, and more.
Property search. Besides the typical number of bedrooms, floors, square footage, and location, AI-based tools can sort properties according to more detailed search parameters like number of sunshine hours, level of background noise, and parking space availability.
Property selection. On the one hand, AI algorithms give you deep insights into customers' preferences. On the other hand, they provide numerous filters for property selection. Backed by AI technology, custom real estate websites and mobile apps give your agents a powerful tool to satisfy customers by enabling them to quickly find what they want.
Mortgage calculation. AI-powered tools embedded in your platform can help you calculate mortgage rates and income, analyze key documents for mortgage loans, and check the income sources of potential borrowers.
Customer relationship management (CRM). The purchase is not the end of the broker–customer relationship. A CRM system backed by AI technology helps realtors provide value for customers after closing. Whenever customers decide to move, rent, sell, or buy assets in the future, they will likely go to battle-tested advisors.
Lead generation and marketing. By continuously analyzing who visits your website, mobile app, or landing page, clicks on your online advertising, and uses your chatbot, AI technology can help you identify the most promising leads. This can help you improve lead generation and create an effective marketing strategy.
Task automation. AI-equipped applications can inspect documents for errors such as empty fields and missing signatures, freeing your agents to close deals instead of reviewing each document. A combination of AI and robotic process automation (RPA) technology can help realtors compile property reports, get property passports, or access land registries, certificates, litigation papers, and more.
The power of AI technology in accelerating decision-making, creating a user-centered business model, and improving operational and cost efficiencies are unchallenged. That's why the real estate market has many examples of successful AI-based apps.
Use cases
On July 1, 2021, Compass launched an AI-based video studio to enable its agents to create comprehensive videos in a few seconds and attract the right buyers. Notably, AI technology is used to automatically identify property attributes and descriptions from listings, depict them with the best images, and automatically generate a video.
Skyline AI is a next-generation investment calculator for commercial real estate that in 2018 got an $18M Series A injection for its AI-backed tech. The strategic funding allowed Skyline AI to analyze transactions from the last 50 years and compare data from more than 100 resources to predict market trends, rental costs, ROI, high-profit assets, potential distress, and market anomalies.
Rex is an alternative brokerage we couldn't pass by when it comes to AI-driven real estate services. Rex replaces a real estate agent, using only AI and machine learning to sell properties. The software handles over 100,000 data points, identifies potential buyers, and targets them with ads on websites, mobile apps, and social media.
3. Virtual reality (VR) and augmented reality (AR)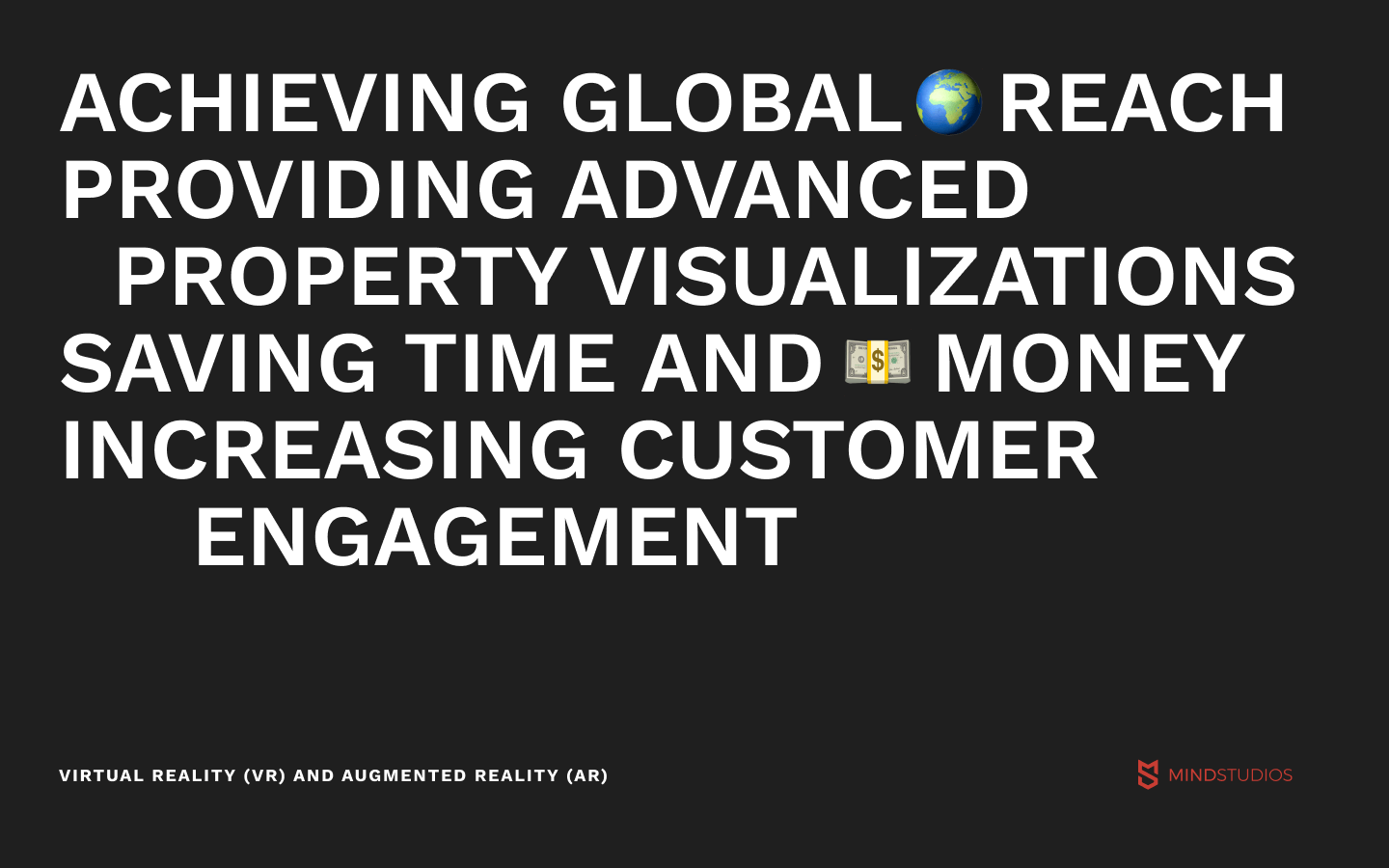 While they may seem fictional, VR and AR are already here and are reshaping the way we design, present, buy, sell, and maintain real estate. By using VR, your real estate company can showcase properties for sale with virtual walk-throughs, 3D virtual tours, and interactive 360-degree showings. To do this, your agents need to take photos of each room using a panoramic or 360-degree camera with high resolution and then weave the photos together via virtual tour software. To view 3D virtual tours, your customers need VR headsets.
AR technology integrated into your app can add digital objects onto real-world environment. When a client activates a smartphone loaded with AI software and points its camera at a real object within a property, the AR tool can recognize this object by matching it to a set of black and white markers or a location. Then, it can offer relevant AR content (text, images, sounds) that the client can overlay on the real-world object.
Note that you need to prepare all AR content (each type of furniture, color, formation, and other digital elements) beforehand.
How can you use AR/VR technology to your advantage?
There are a lot of advantages VR- and AR-powered apps can bring to your property business.
Global reach. Since VR and AR technology enable your customers to view properties without leaving home, the geography of your target audience can expand to the whole world. You can attract more tenants to rent your vacation apartments or find more investors for your portfolio.
Advanced property visualization. With the help of VR and AR tools, you can effectively showcase properties that haven't been built yet, demonstrate building exteriors and interiors, and personalize the staging of a property according to your customers' preferences. Also, using an AR-powered app, your customers can shop online for design elements they like.
Time and money savings. Implementing VR and AR tools could help you free up time and money your agents would have required to accompany clients to properties and examine neighborhood surroundings.
Increased customer engagement. By integrating VR and AR technology, you can boost your customer engagement. According to a NAR report, 56% of homebuyers who search for homes online consider 3D virtual home tours a useful tool for decision-making.
The demand for VR- and AR-powered real estate apps is on the rise. Statista predicts the growth of AR and VR in the real estate market worldwide from US$0.8 billion in 2020 to US$2.6 billion by 2025. By following these immersive trends in real estate technology, you can take a bit of the market share.
Use cases
The NAR brainchild Realtor.com provides users with AR-based features called Street Pick and Sign Snap. While pointing a smartphone camera at a property they're interested in, users can immediately receive property details from the realtor.com database.
Popular among interior designers and architects, the MagicPlan app allows users to create and edit floor plans, create work estimates, view spaces in 3D, plan do-it-yourself projects, or furnish interiors.
IKEA Place is the most popular AR mobile app that offers users to virtually refresh their interiors with decorative elements and furniture from the IKEA catalog and then buy items in the IKEA marketplace.
4. Internet of Things (IoT) automation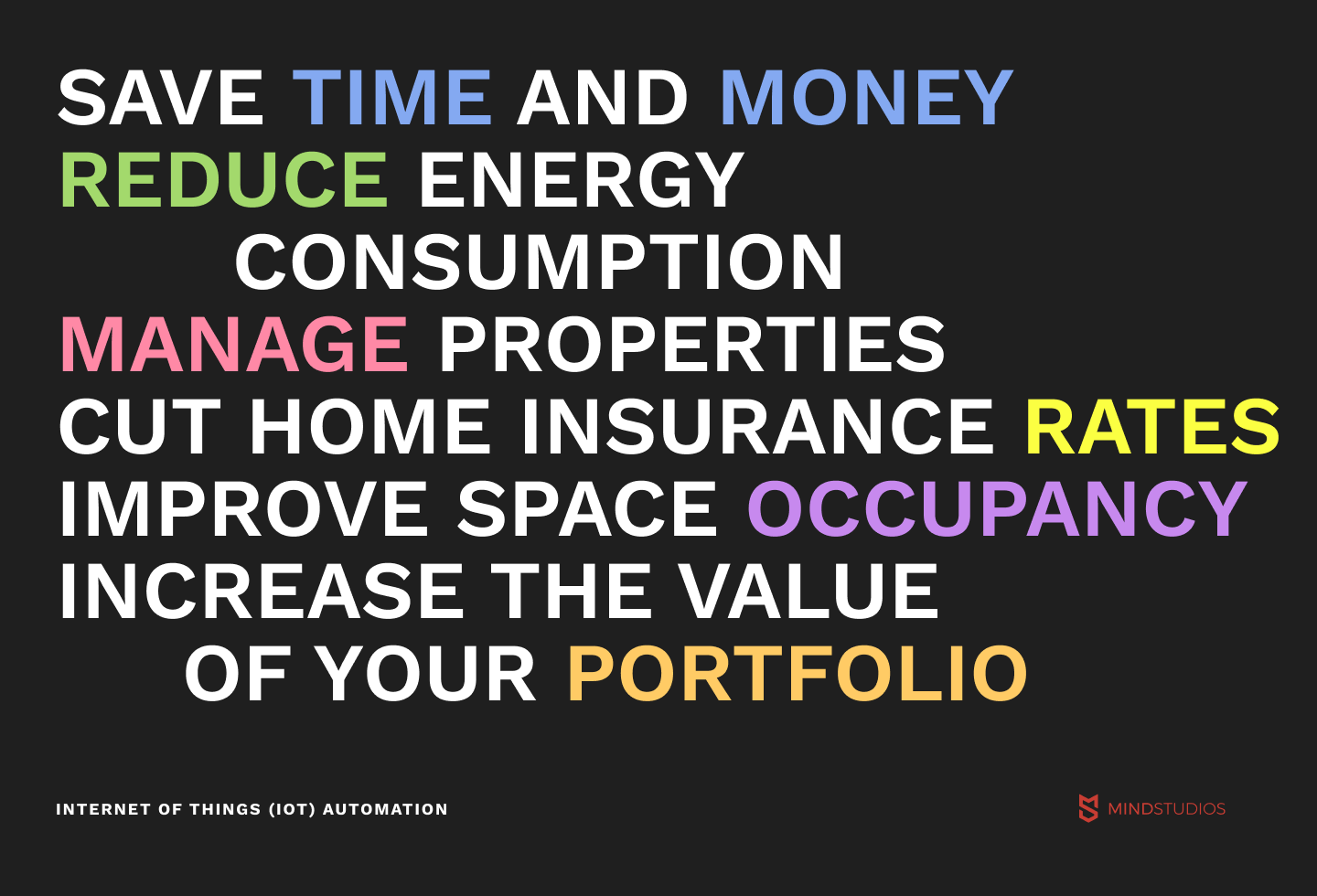 IoT technology can power efficient building management systems (BMSs) and save operational costs for homebuyers and property owners. The IoT-enabled BMS can also put an end to costly home inspections, as the history of a property's maintenance and upkeep will be one click away for homebuyers. IoT technology consists of physical devices, sensors, and appliances that communicate data about their conditions, positions, and failures through the internet to a cloud database and exchange information with each other.
How can you use IoT technology to your advantage?
According to Rochester Real Estate, 81% of homebuyers in the US are more likely to purchase a property if it already comes with smart home devices. Homebuyers, tenants, property owners, and investors pay heed to smart home devices connected to the Internet of Things because:
They save time and money. 57% of Americans that use smart home devices say they save almost 30 minutes per day, and 45% of Americans say they save an average of $98.30 per month with smart home devices.
They reduce energy consumption. Smart HVAC systems can reduce energy consumption by up to 50%.
They help manage properties. People strive to make their houses safer, more secure, more efficient, and more comfortable. There's a high demand among homebuyers for IoT-connected smart home devices: 63% of homebuyers seek smart locks and alarms, 63% smart thermostats and fans, 58% smart lights, and 56% carbon monoxide detectors according to the National Council for Home Safety and Security.
They cut home insurance rates. On average, property owners can save up to 20% on their property insurance by establishing smart security and sensing systems.
They help improve space occupancy. The ability of IoT devices to monitor occupants' movements and collect data from Wi-Fi gives insights into the foot traffic inside a property. This technology is appreciated in commercial real estate because optimizing the use of each square foot can bring building owners more revenue.
As for a real estate broker, having smart homes supported by IoT-enabled apps for sale means increasing the value of your portfolio, driving sales, and, as a result, boosting your revenue.
Use cases
Samsung SmartThings is a well-known smart home control app that allows for connecting a wide range of smart devices and voice assistants including TVs, A/V equipment, washers/dryers, air conditioners, robot vacuums, refrigerators, locks, cameras, doorbells, thermostats, Wi-Fi hubs, and light bulbs.
The Amazon Alexa App requires an Alexa device and can be connected with a lot of smart home devices created by Philips Hue, Nest, Wemo, and other companies. Users can also create shopping lists, listen to music, make calls to other Alexa users, drop into video chats, share images, and do even more via the Alexa app.
Google Assistant for users who prefer Google services and Apple HomeKit for Apple users also allow you to control smart home devices.
5. Blockchain technology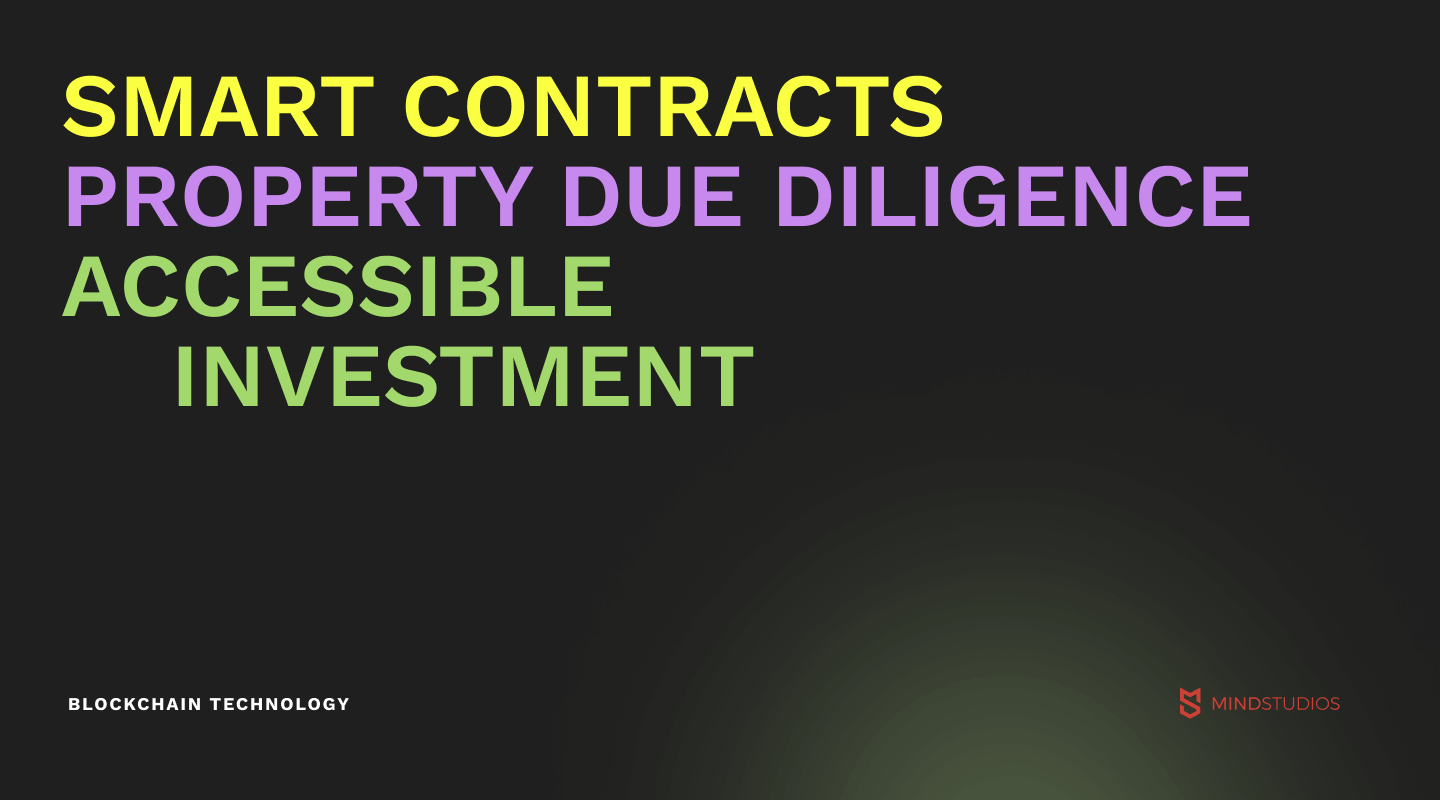 Blockchain technology is an informational recording system that no one can alter or hack. A blockchain stores information in blocks, and a single block has a specific storage capacity. When a block is full, it is chained to the previous block via a cryptographic code called a hash. Every subsequent transaction is stored in a new block of data connected to the previous block via a hash, thus forming an irreversible chain. Though this data is then transmitted across a network comprising all systems linked on the blockchain, no participant can alter it. Blockchain network participants can only review changes, data provenance, and updates to transaction ledgers.
How can you use the blockchain to your advantage?
Blockchain technology offers numerous possibilities for your property business, promising to make complex real estate transactions sweet and simple. You can apply blockchain technology for:
Smart contracts that consolidate the functions of notaries, escrow officers, and mortgage lenders into one autonomous mechanism. Signing smart contracts happens automatically when a blockchain-powered application identifies that all terms of an agreement between a buyer and seller are met. Blockchain-based smart contracts eliminate the need for intermediaries and enable transactions to be executed without delays and extra costs.
Property diligence to perform checks related to properties such as of ownership, records, ledger data, mortgage payments, and insurance coverage. Blockchain-powered tools can help your clients avoid legal, financial, or technical encumbrances over assets they want to buy, rent, or invest in.
An accessible investment is an asset converted into a token that can then be traded similarly to Bitcoin or stocks. These tokens store information about ownership rights, rules, and transaction histories. Tokenization enables people with minimum capital to invest in fractions of actual physical assets and get high returns on their investment with little risk. With blockchain-based tokens, you can establish a new branch of your property business.
In brief, all parties involved in the real estate industry can benefit from blockchain-powered applications, as they eliminate the need to meet and negotiate with bankers and notaries as well as make transactions secure, transparent, and legitimate.
Use cases
The real estate FinTech platform RealSmart launched on 27 April, 2021, enables investors to buy tokens in world-class real estate via blockchain technology with crypto or fiat currencies for as little as $1.
ManageGo is blockchain-backed software for rental property owners. ManageGo enables landlords to process rent payments, thoroughly check tenants' solvency, be aware of payment history, and manage maintenance ticketing.
PropertyClub is one more example of a cutting-edge platform that allows users to conduct real estate transactions digitally using smart contracts and cryptocurrencies like Bitcoin or its own PropertyClub Coin (PCC).
The list of successful blockchain-based applications could go on and on. According to the 2021 Blockchain Technology - Global Market Trajectory & Analytics report by Research and Markets, analysts expect the value of the blockchain technology market to come to $30.7 billion by 2027.
With technology comes savings, and with savings, profit. You should fast-track your decision of which tech opportunities to pursue. The faster you implement technology in your property business, the higher the chances of having an edge over rivals and catching the eye of big investors.
Compete where you can win
With the diversity of real estate technologies, which should you turn to in order to make your property business stand out? Before starting digital transformation, it's important to conduct a deep analysis of your current business and define what you can offer that no one else can. This will enable you to build a strategy for leveraging your sustainable competitive advantage using the right technology.
At Mind Studios, we can help you identify your company's strengths, enhance them with cutting-edge technology and, if necessary, prepare a full pitch deck to attract investors.
3