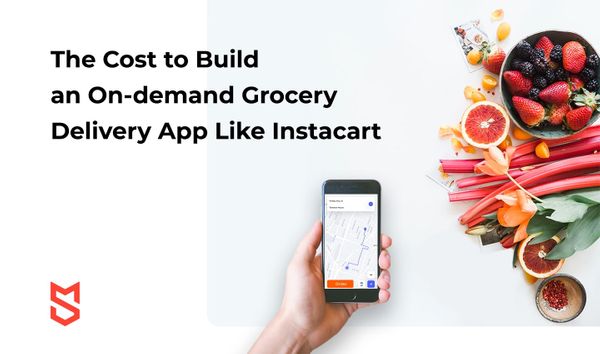 Where there's demand, there will be supply sooner or later. So it's little surprise that, with the rapid evolution of mobile technology, grocery delivery service apps are popping up. Research by eMarketer suggests the trend of ordering food online will continue to grow.
I just can't seem to fit everything I need to do into 24 hours. I wish someone would do the grocery shopping for me so I could have a breather.
What is an on-demand grocery delivery app and how does it work?
As the name suggests, grocery delivery apps let customers order groceries (or other products) to be delivered to their doorstep. The service itself is nothing new, of course, but the move to mobile devices has made it infinitely more affordable and, therefore, widespread. No longer do you need to be able to hire a domestic worker to get groceries delivered; anything you require is just a couple of taps away.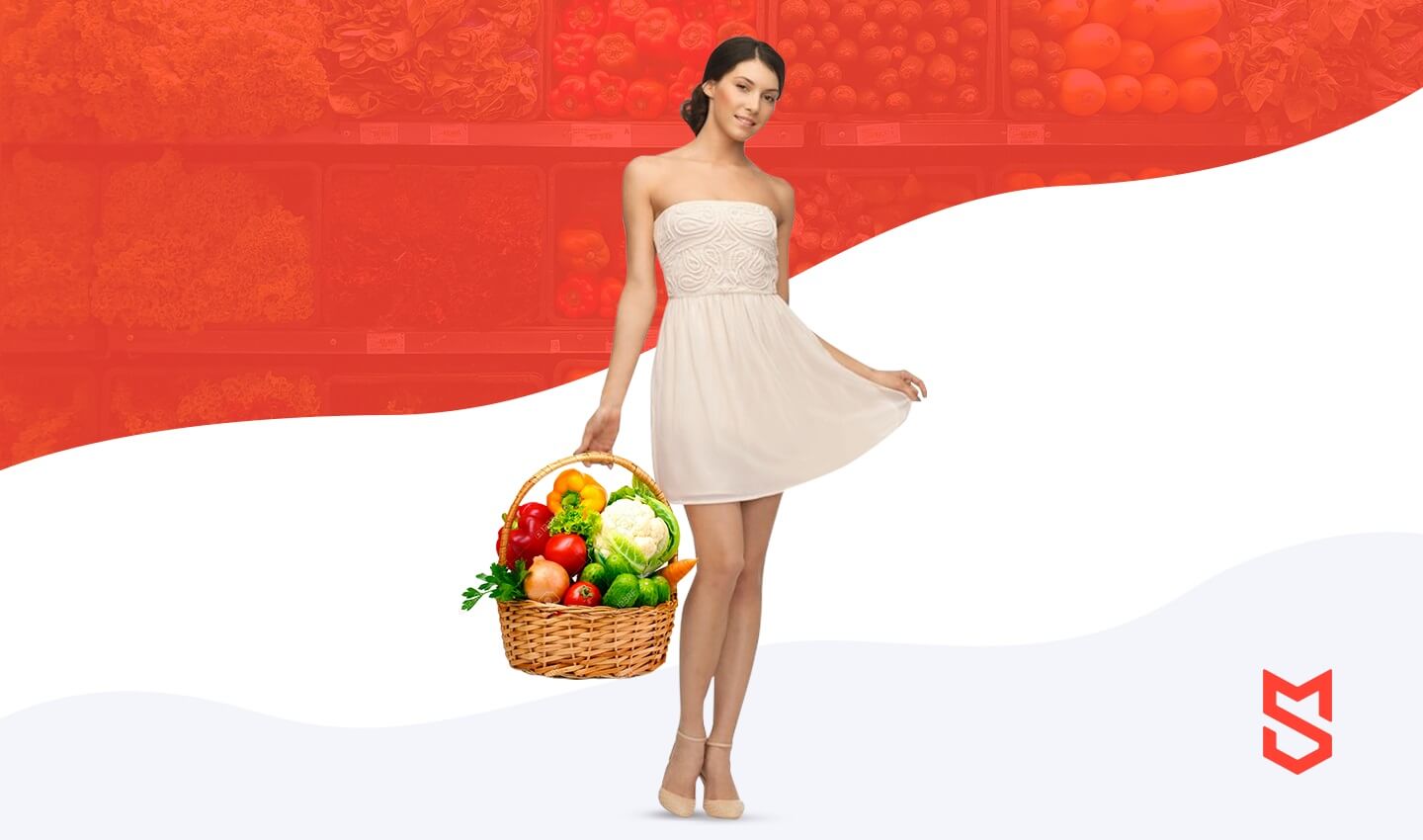 In a nutshell, grocery delivery app development is similar to the development of any other app that offers on-demand services. Like Uber, for example. In fact, Uber has its own on-demand food delivery service, Uber Eats. If you decide to venture into the grocery delivery business in the US, Uber Eats will be one of your major competitors, alongside Instacart and Postmates.
But if you develop your app the right way with a good team, you can probably take on these giants.
An online delivery service usually involves two apps — an app for customers and a separate local delivery app for those making deliveries. When a customer places an order in their app and pays for it, on the other side, a delivery worker who's in the vicinity sees that order in the delivery app, accepts the order, and completes it, delivering the goods to the customer.
Technically, it's possible to combine functionality required by customers and delivery workers within the same app, but that will make your app cumbersome. It's hardly an efficient approach.
A tip to keep in mind before starting online grocery app development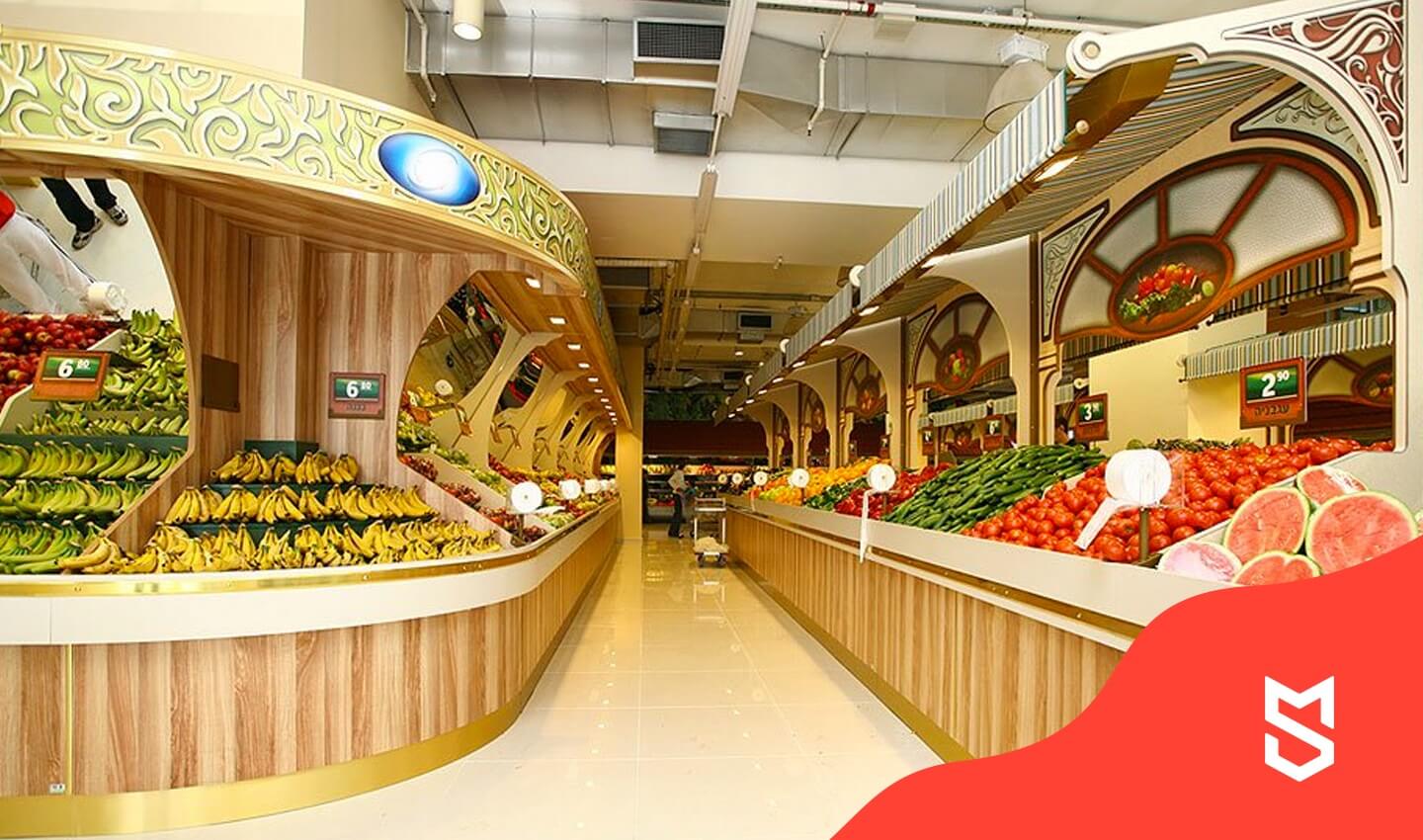 There are two on-demand delivery models for a grocery shop app:
The delivery service has their own store with products they deliver
The delivery service partners with a number of different stores and make deliveries for them
Walmart has their own app, for example, and the company has a delivery service as well, though it isn't available everywhere.
Other stores, like Costco, partner with services like Instacart to make deliveries for them. By partnering with a store, you'll get access to its inventory and price data and can add the store's products to your app. There are several ways to implement this technically.
You can, of course, forego the whole partnership thing and just deliver products on-demand without specifying which store they come from. Instacart started this way. However, it's infinitely more difficult; you'll have to provide your own product photos, for starters. Besides, some customers prefer specific stores and would like their products delivered from there and nowhere else.
Grocery mobile app features to include in your MVP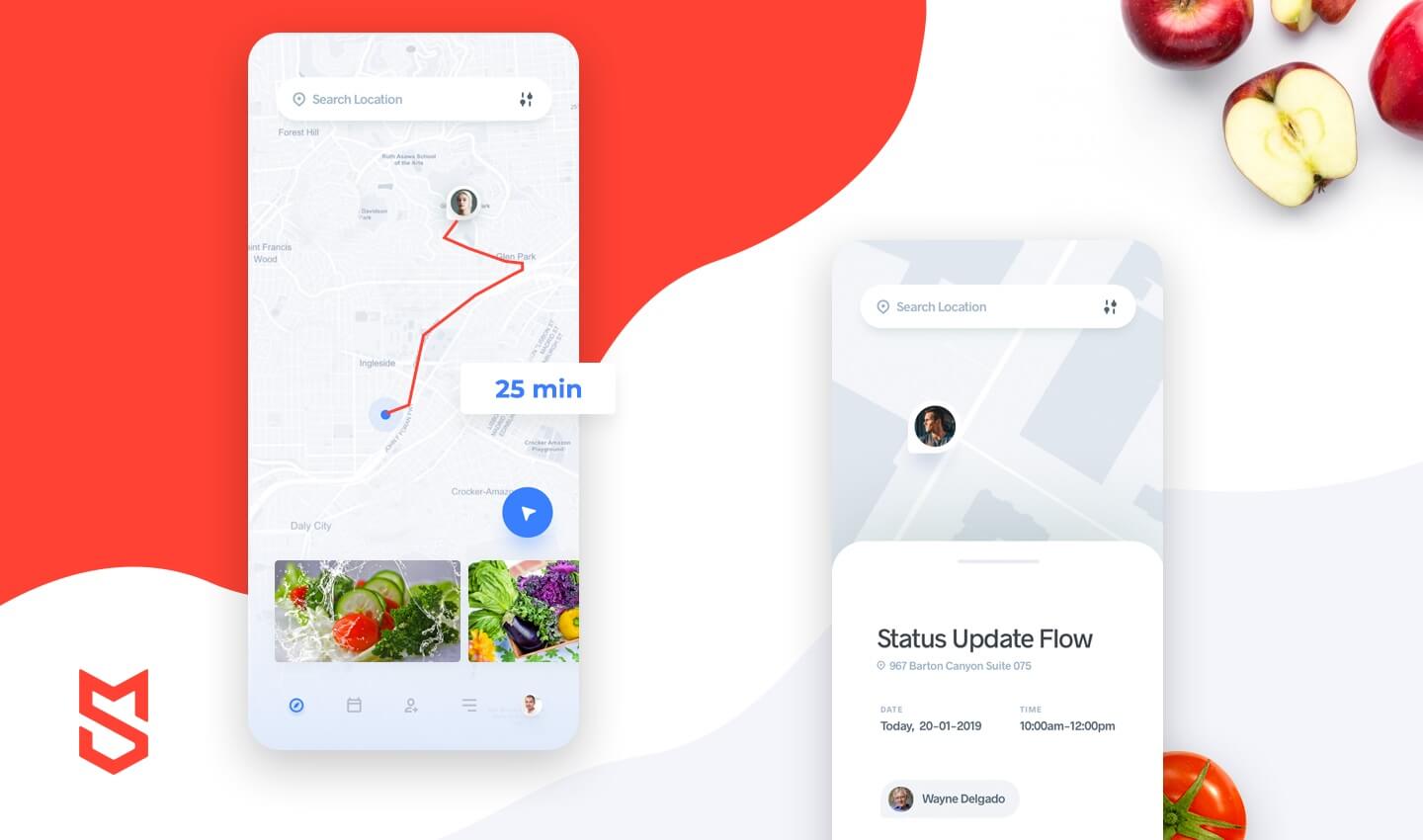 Since grocery delivery apps aren't particularly innovative in general, spending a fortune to launch a complete version without proper research and preparation would be a waste. Before diving into development, you and your grocery app development company should evaluate your idea and find a unique value proposition. Next comes an MVP, or minimum viable product.
Customer app
User profile
List of stores
Menus / items in stock
Cart / order page
Payment gateway
Order status
Order history
Notifications
Delivery app
Profile
List of orders (showing items and delivery addresses)
Map for navigation
Admin panel
Customer data
List of stores
Menus / items in stock
Revenue
Naturally, for the customer and delivery apps to function properly, they'll need to communicate in real-time so deliveries don't take too long. The selling point of any grocery shopping app is that the service will deliver the order on time. To ensure app-to-app communication, you'll need WebSocket APIs on your backend.
You'll also need ways to provide lists of items with current prices from the shops you deliver from.
Extra features you may include when you develop a grocery shopping mobile app
At Mind Studios, we prefer the concept of a minimum lovable product (MLP) to an MVP. Developing an MLP means that, in addition to the bare necessities, your app will also have a signature feature that makes it stand out from the crowd of similar on-demand grocery delivery apps. Here are a few suggestions as to what these features might be:
Allow your customers to sign up with social networks like Facebook or automatically sign up with their email without having to go through a registration process. This will make signup faster and easier for your customers, making them more willing to interact with your app.

Add an alternatives option. With an alternatives field, customers could set a possible substitute if an item is unavailable. This will enhance the user experience since there will be fewer cases of partially completed orders.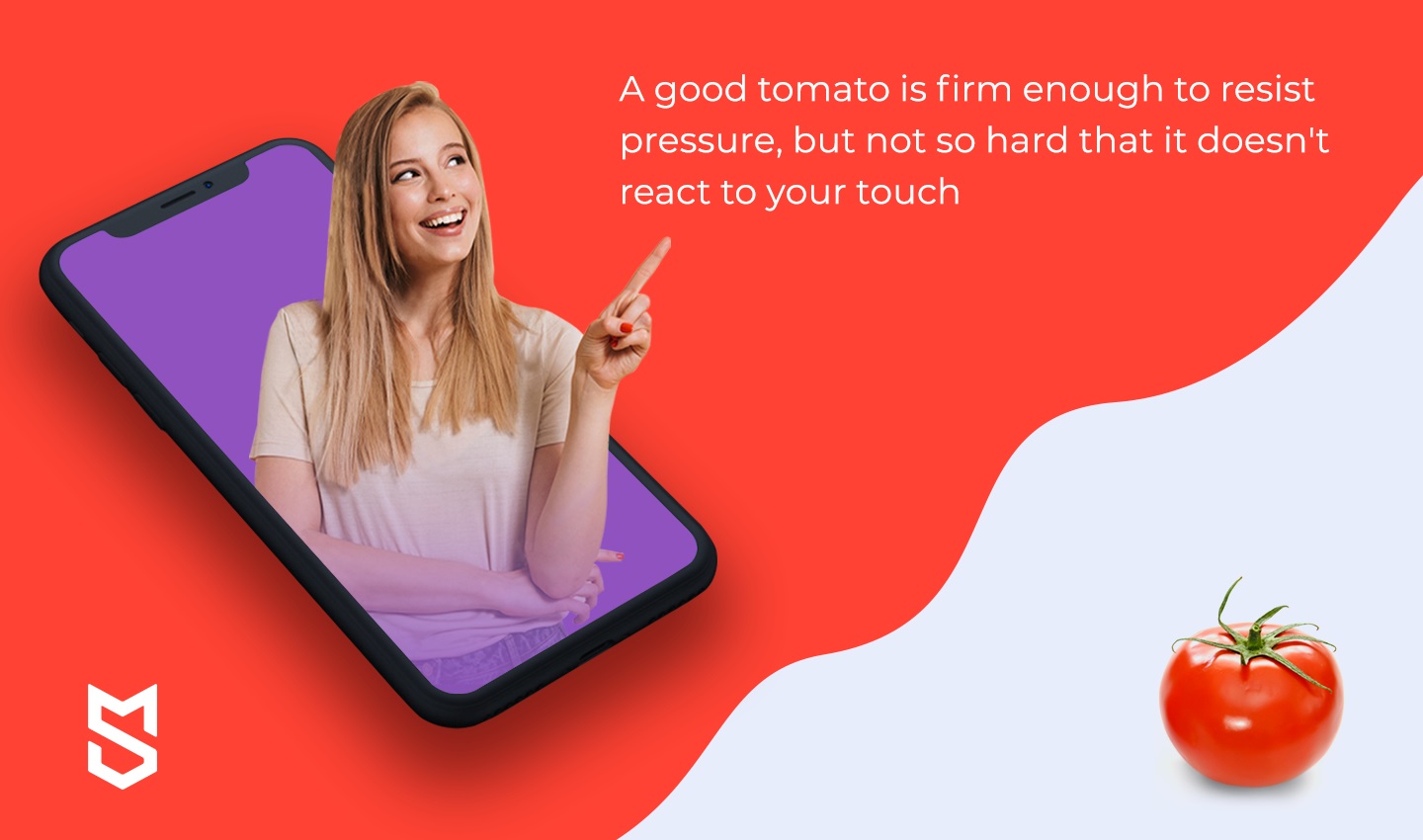 Make a chatbot. There are numerous ways to implement chatbots. A chatbot could show your customers (and delivery workers) valuable information about products and stores or provide popular recipes with a selected item.

Voice recognition will be highly appreciated by your busy customers, enabling them to place orders on the go without having to stop and type in a product name or browse a store's inventory.

Phone or chat support for customers is another good idea, be it technical support for app operations or the possibility to contact a delivery person to make last-minute changes to an order.

Allow your customers to leave ratings and reviews for each delivery. This way, you can keep tabs on your delivery workers and on your app's performance. You can also add a similar feature to the delivery app to filter customers who cause problems. This is one way to be aware of how your company is doing.
Any additional features will naturally affect the cost of grocery app development, but they can also become a unique advantage that will help your service get noticed.
How do on-demand delivery services make money?
When you think about how to make a grocery app, you inevitably stumble upon the issue of how to make a profit. Developing an app is not cheap by any stretch, and you'll also need to pay the people who make deliveries. Besides, you've started a business to make money, right?
There are several monetization options available for owners of on-demand grocery delivery services.
You can add a fee for your service to the price of each item. That is, you can set the price of each item a little higher than the actual price in the store. Keep in mind that if you do this you'll need to clearly inform your users about the elevated prices if you wish to appear honest and transparent. Create a notification that pops up the first time customers place an order or start browsing the catalog. Also, include a reminder in your policy.

Charge a delivery fee. This is the most common monetization model. Your customers are charged for products according to the actual prices in the store and then pay a fee for delivery. Depending on the order size and the distance from the store to the customer, a delivery person might need a car or might be able to take public transportation. You can set a base rate and include functionality to calculate the actual rate automatically.

Ads. This monetization model is seen everywhere. Many apps include ads, which can cover expenses and allow companies to charge less for services, to their customers' utter delight (or not).

Charge stores to be listed on your platform. If your app is already popular, you can charge a monthly fee for shops to partner with you and have their products displayed on your platform. In return, stores will get brand recognition and more customers.
You can use a single monetization model or combine several.
The cost to build an app like Instacart
Now that we've gone over the features and you know how to develop a grocery delivery app, let's try to estimate the cost of development. The exact price will depend on multiple factors, from the complexity of the app to your choice of developers, but we can give a rough figure for the basic features.
If you're working with an outsourcing development company and plan on going for both Android and iOS platforms, this is the team you'll need to hire:
1 project manager
1-2 Android developers
1-2 iOS developers
1–2 UI/UX designers
2 QA specialists
1 backend developer
You could skip on the project manager if you choose to work with individual freelance developers. However, we believe that project managers are an important link that holds everything together, and their input into your app's creation can be the best thing that's ever happened to your project.
With two separate apps to build, each with its own design and feature set, how long it will take to build a grocery app also depends on the number of people on your team. If you decide to work with a team like the one described above, we calculate it will take at least 1,700 hours of work:
| Development stage | Hours |
| --- | --- |
| Discovery | 80+ |
| Idea validation | 40+ |
| Visual prototyping | 60 |
| Design for Android & iOS platforms | 130–190 |
| iOS development | 600–800 |
| Android development | 500–800 |
| Backend development | 300+ |
| Admin panel development | 60 |
| Total: | 1770–2330+ |
With an average price of around $35 per hour, the cost for an app like Instacart will start at $62,000 and go up from there depending on the features and technologies used.
Still have questions about how to make an app like Instacart or want a more precise cost estimate? We're always here, ready to answer any and all of your questions.