Here's a guide to food delivery website development. We'll analyze current market trends, look at the features a successful food delivery service needs, and calculate a rough estimate of the cost to build an on-demand delivery website.
---
Contents:
---
Current market situation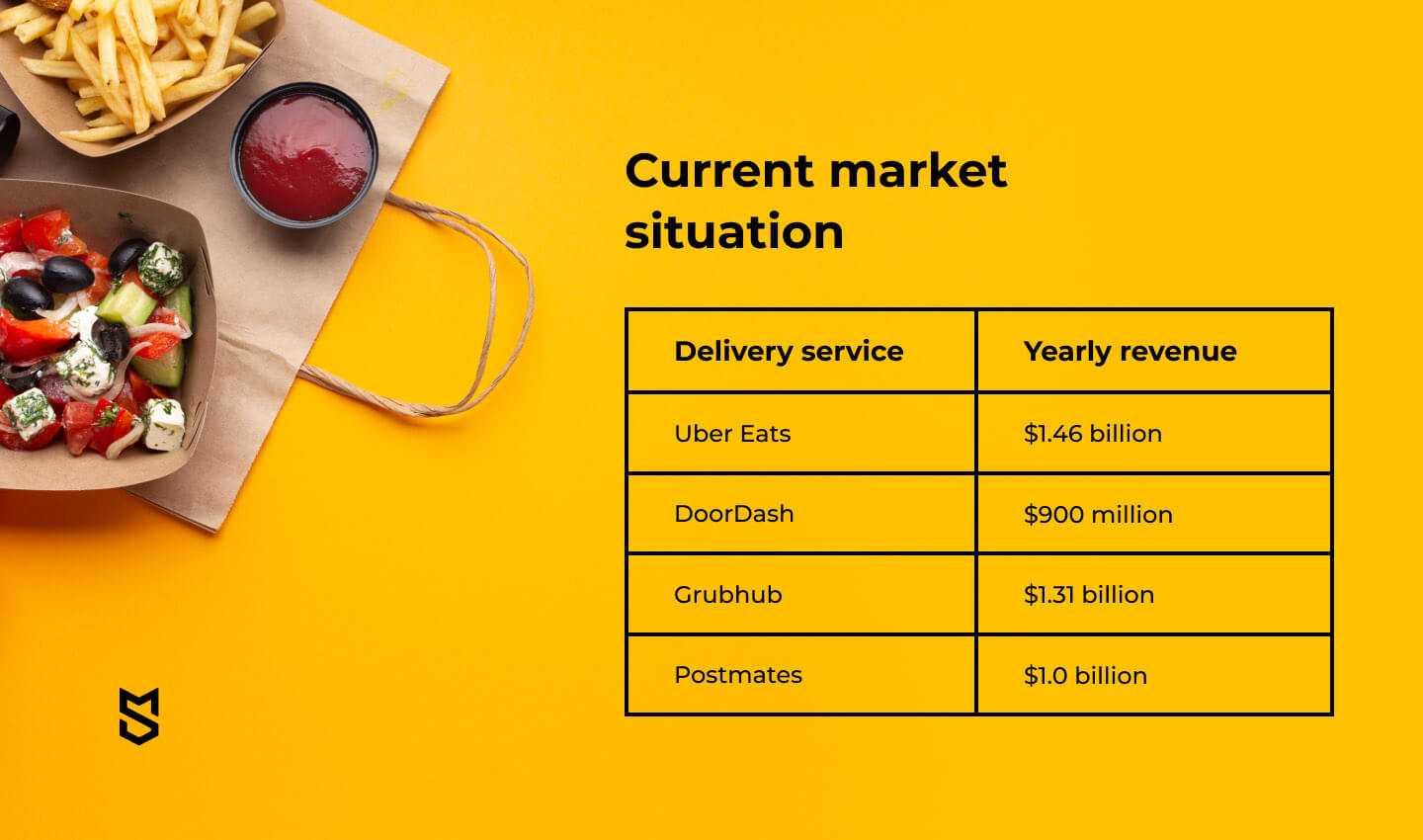 On-demand food delivery is great. First, it frees our busy schedules. With the pace of life most people have, cooking is just another chore that takes time we could spend honing the skills we actually want to hone. Second, for those who just don't enjoy cooking, delivery is a (mostly) affordable way around this problem. These factors make on-demand delivery services highly popular, placing them on the list of trending app ideas.
Popular food delivery services are making billions:
| Delivery service | Yearly revenue |
| --- | --- |
| Uber Eats | $4.37 billion |
| DoorDash | $900 million |
| Grubhub | $1.31 billion |
| Postmates | $1.0 billion |
According to a report by Technavio, the food delivery market is expected to grow by over $104 billion between 2018 and 2023. And that report was posted before the global lockdown caused by COVID-19 and the subsequent surge in popularity of on-demand delivery services.
While the global situation seems to be improving and some countries are starting to lift quarantine restrictions, on-demand delivery has received a big push forward and a massive promotion among the global populace. Food delivery is now one of the best options if you're considering what software to invest in during the COVID-19 pandemic.
Food delivery marketplace: website or app?
You should choose the platform on which to launch your business with care. A mobile app allows more flexibility, letting users order delivery while commuting or while at a friend's place. Our smartphones are with us even when we shower, after all.
On the other hand, not much flexibility is needed when the world is in lockdown, right? We don't know how long each particular country will be keeping quarantine measures, and building a food delivery website is faster than building an app, meaning you'll start earning faster. It's considerably less costly, too. In the current circumstances, it seems sensible to create an online food ordering website first.
You can always build a mobile app when things are back to normal and you have a return on investment from your website.
Types of delivery services
When it comes to on-demand delivery businesses, there are two main types. Your app's features and approach will differ depending on your business type.
1. Stores and restaurants that offer their own delivery
Most big stores, cafes, and restaurants have websites even if they don't deliver food. Websites are efficient marketing channels — they allow establishments to list their products, hold and advertise events, offer contact information, and inform customers of sales, new hours, and any business changes.
If you're a food venue owner and wish to expand your operations by adding a delivery service, you have two options:
Update your website with new features and hire your own delivery people
Connect with an on-demand delivery platform that can arrange deliveries for you
The pros of doing your own delivery are that you can set your own rules and engage directly with your customers. You'll be able to create a customer database and build targeted marketing as well as adjust your menu based on direct feedback from people who buy your food.
The biggest con of having your own delivery service is usually the cost. You'll not only need to update your website (which you might want to do anyway as there are many reasons to update a business website) but also pay for couriers and vehicle maintenance. Maintenance costs can be lowered by delivering orders on foot or by bike instead of by car.
However, it's not like hiring a third party to deliver orders is without its drawbacks.
Delivery platforms can also cost a lot — usually, they take a share of the total for each order. They also don't share their databases with restaurants, meaning the only way to market through them is by paying to be placed at the top of the list. Depending on the fees a delivery platform sets and the size of your business, you might fare better by having your own delivery service.
2. Delivery services that work with multiple venues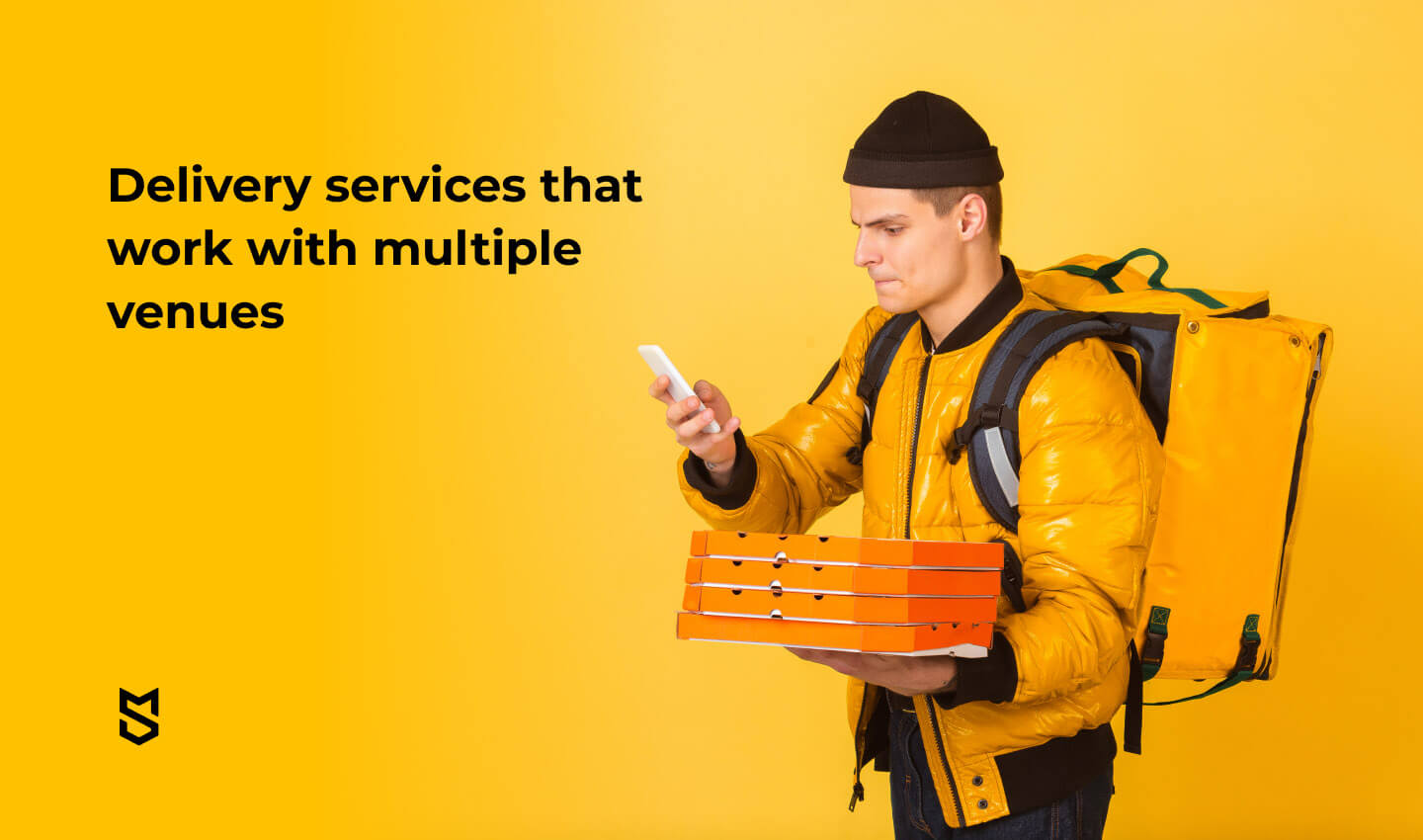 The other type of delivery service is an aggregator platform. These services don't prepare food and only deliver it from third-party venues. Most people who search for information about how to create a food delivery website plan to offer this type of service.
Delivery services usually earn money by charging restaurant owners and, in most cases, customers. Fees differ from service to service and country to country, but the average in the US is 15% to 30% from each order on the restaurant's side and $2 to $15 (depending on the order size) on the customer's side.
For small businesses, 30% from each order might be a significant number, which is why some restaurants prefer making deliveries themselves. However, these fees are also charged by industry leaders like Uber Eats and Postmates.
Startups can win over smaller establishments by providing cheaper services. For example, while Uber Taxi has been very successful in Ukraine, Uber Eats seems to have been pushed out by more affordable local services. Uber Eats was in the Ukrainian market for about a year before deciding the growth rate wasn't good enough; the Spanish Glovo and Ukrainian Raketa seem to be flourishing, though, making us think it might be an issue with either Uber's fees or its late arrival in the country.
How to make a food delivery website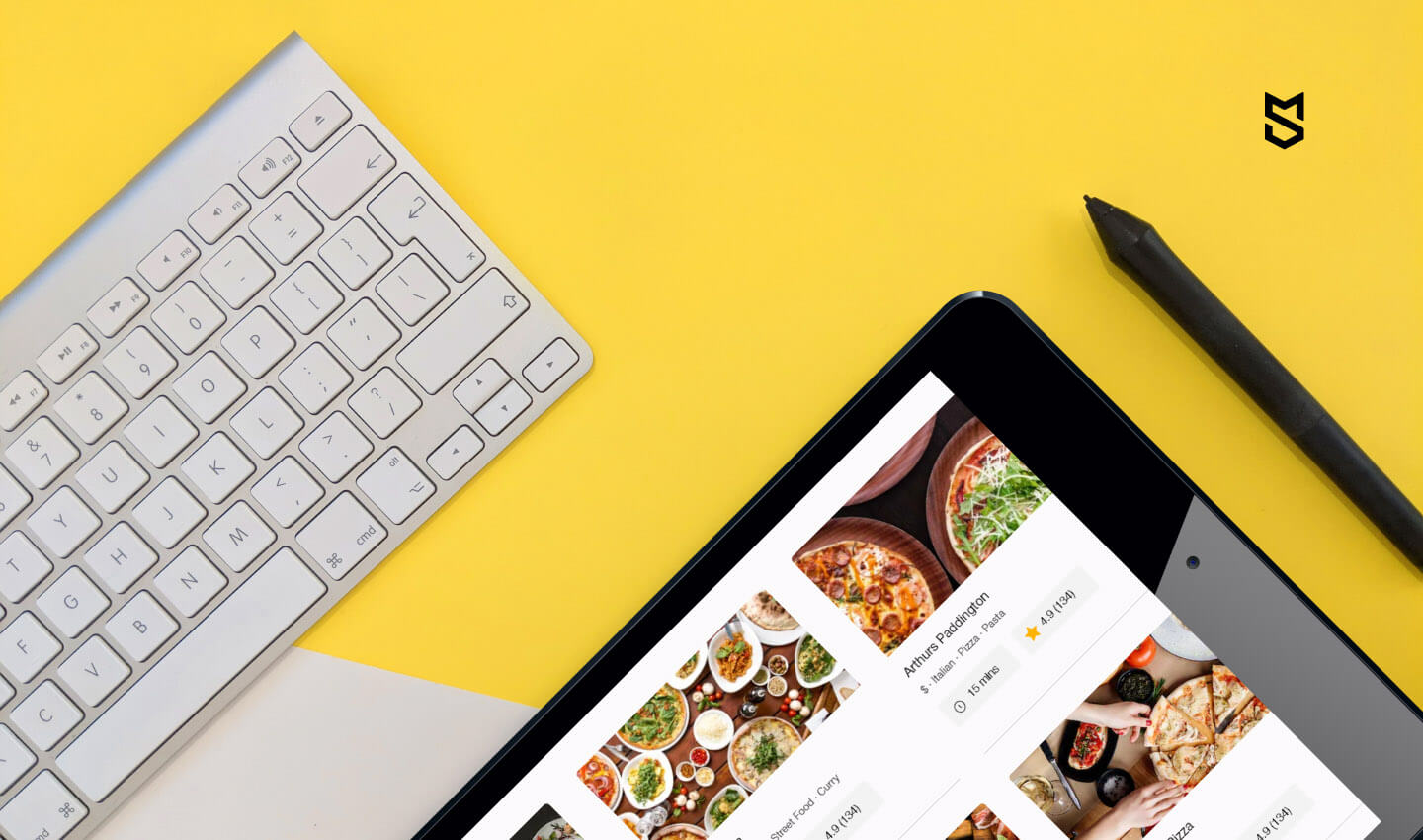 First of all, if you're building a platform that connects businesses and customers, you need to build two different interfaces plus an admin panel and a back end/server side. So there will be four parts in total:
Customer interface
Restaurant interface
Admin panel
Server software
Also, there's the additional issue of a fleet. If you're planning a service like Uber Eats where drivers can sign up and pick what orders they deliver, you'll also need an app for drivers. In this case, we recommend going with a mobile app rather than a website.
Or you can forego the driver-side app by having coordinators who sort orders from the admin panel and assign them to delivery personnel. Sort of like taxi services did before Uber and its clones took over the market.
Developing a food delivery website isn't very difficult for an experienced development company. This kind of software doesn't need many features.
To build a local food delivery website, consider building these features (on the customer side):
Onboarding
It's best to integrate sign-up via Facebook and Google in addition to the standard email and password option. This will significantly shorten the registration process, which is always a good thing for customers.
Profiles
Profiles are where customers' data will be. The simplest set of fields include name, delivery address(es), phone number, and email. If you're going to support card payments, card details should be here too. Keep in mind that all this data is considered sensitive, meaning you'll need to use the latest security certificates and means of data protection. Also, it's good to keep an order history. Customers might want to repeat orders or simply keep track of what they've ordered.
List of restaurants
This is the list of all establishments your service delivers from. It's possible to make some extra revenue by offering promoted listings that are shown at the top of the list for a fee. However, this is more relevant for services that have been on the market for some time and have a lot of partners.
Search
Searching by restaurant name and/or particular food will make the user experience smoother and more pleasant.
Categories

If you're delivering from multiple types of restaurants, it's wise to provide categorization so customers can sort venues. It's logical to offer cuisine categories at the very least.
Notifications
Notifying customers about the status of their orders is a must. Whether an order is being delivered soon or the restaurant is out of a certain item, customers want to know. It's possible, of course, to have a courier call the customer, but that might be inconvenient — like when someone orders lunch to their office and are in a meeting when the courier arrives. A web notification or text is more subtle and useful.
Payment functionality
Paying with cash upon delivery is becoming less popular each year, and the world is moving to digital payments rather swiftly. Integrating a payment gateway is important when building a food delivery website.
Order tracking
Order tracking isn't strictly necessary, but many customers appreciate it. You can make it simple by just displaying order statuses (order accepted, preparing, handed to the courier, on its way, knock-knock!). Or you can integrate a map and real-time tracking system, although this will require an app for couriers that can track their real-time locations.
Ratings and reviews
Also an optional feature, ratings and reviews can offer your service valuable insights into what cuisine and what establishments are most popular and which places might offer low-quality food. Besides, people love to rate things, and many online shoppers check reviews before placing an order.
Your restaurant-side app will have an even smaller set of features. Each restaurant needs its own account with a dashboard. There, they should be able to accept or reject orders, change order statuses (accepted, preparing, handed to the courier), see a history of orders, and check how much money they've earned.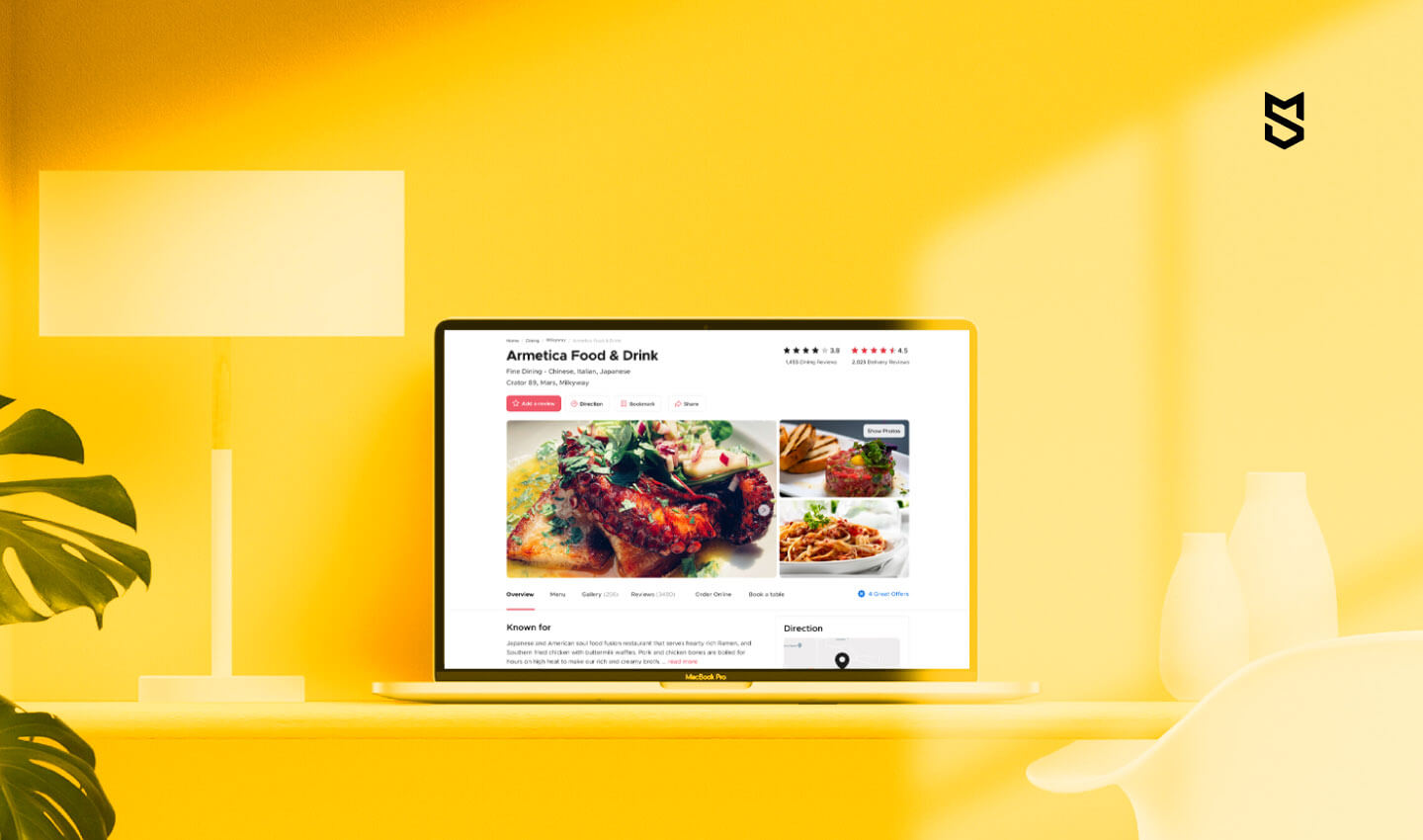 While a customer-facing food delivery website needs to be appealing and modern, following the latest design trends, a restaurant-side app needs to be simple to navigate first and foremost. It's important for a responsible employee to be able to quickly accept and sort orders, so a no-clutter interface is best.
An admin panel is the last part you'll need in your on-demand delivery system. It's also usually the simplest in terms of design since it's only seen by the service owner or a responsible employee. You don't need any bells and whistles here. In the admin panel, the main functionality you need is for adding and removing restaurants, managing money transfers between customers and restaurants, and managing delivery staff. You can add extra functionality if you're planning to hold events, manage promo codes, or track user activity.
Finally, there's the server side, or the back end, which is necessary to connect different parts of the service. Your servers need to be secure since this is where all the data is kept for customers and restaurants alike.
Cost to make a food delivery website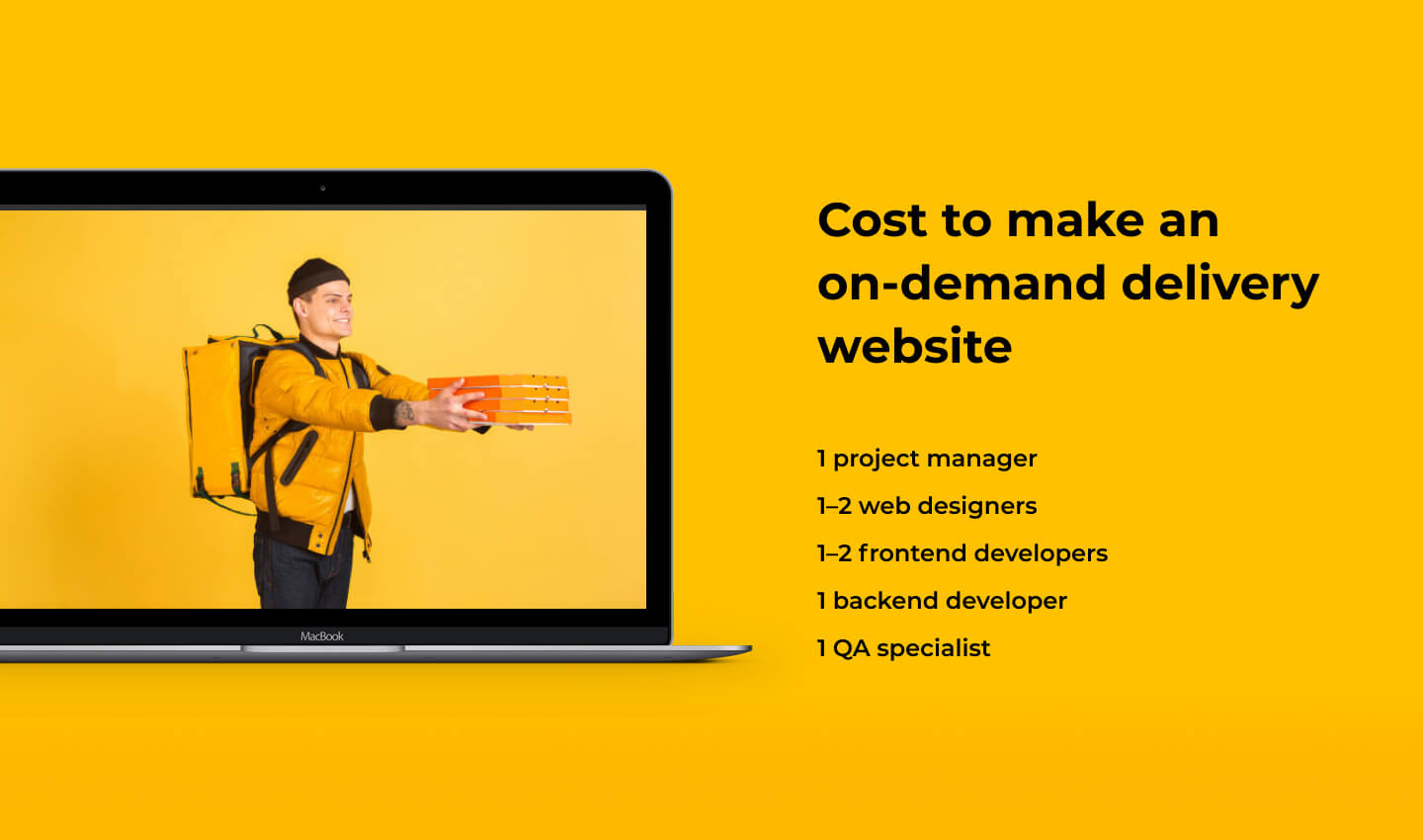 The cost to build a food delivery website isn't set in stone, of course. Depending on the outsourcing website development company you hire, it can vary greatly. We can offer a rough estimate based on the specialists you'll need for the job and the time it will take to complete. The team to build a local food delivery website will look like this:
1 project manager
1–2 web designers
1–2 frontend developers
1 backend developer
1 QA specialist
One frontend developer can build web apps for customers and restaurants as well as the admin panel. But if you want to speed up the process, it might be worth it to have two or more developers. The same goes for web designers: while the restaurant-side app and admin panel don't require anything fancy design-wise, dedicating a designer to these components will make things go faster.
Time-wise, developing a web-based on-demand delivery service will take two to four months. If you're going with the minimum necessary team with one of each type of specialist, it will be closer to four months than two. And with this team and term, the cost to make a food delivery website will start at about $31,000 for the features we've listed above. If your budget is limited, you can cut less important features to lower the cost. After all, you can always add features later when your website is launched and you start making a profit.
Conclusion
According to Statista, the on-demand food delivery market is expected to have revenue of $136,431 million in 2020. That's almost 30% growth compared to the past year. This is a highly profitable sector that can easily fit more players, especially now that consumers around the world are increasingly choosing local businesses rather than global corporations. There are niches here that are scarcely occupied, too — healthy and vegan food, for one. There are also cities and even countries where you'll find few or no competitors at the moment. There's never been a better time to jump in.
At Mind Studios, we have a seasoned team of professionals and can offer you both development and consulting services. If you have questions about how to make a food delivery website or if you're looking for a cost estimate, reach out to us and we'll get back to you with answers.