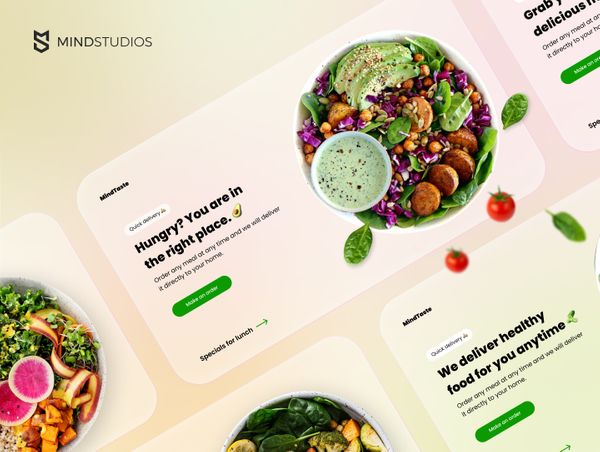 So you're thinking of building a food delivery website. Are you going to build it from scratch or via a website builder? Will it be only a mobile-adapted website or also a native mobile app? Are you sure you really need to start with a website instead of a mobile app?
Thomas Eriksson was puzzled by similar questions when he appealed to us to launch his food delivery startup in Denmark. Thanks to the in-depth discovery stage, we figured out that a mobile app would be more convenient for users to order delivery than a website. Three months after the James Butler app's launch, it got 4639 registered buyers.
In this article, we theorize when it's sensible to build a website and when — a mobile app. You can find here a complete guide to food delivery website development. We'll analyze current market trends, look at the features a successful food delivery service needs, and calculate a rough estimate of the cost to build an on-demand delivery website.
Current market situation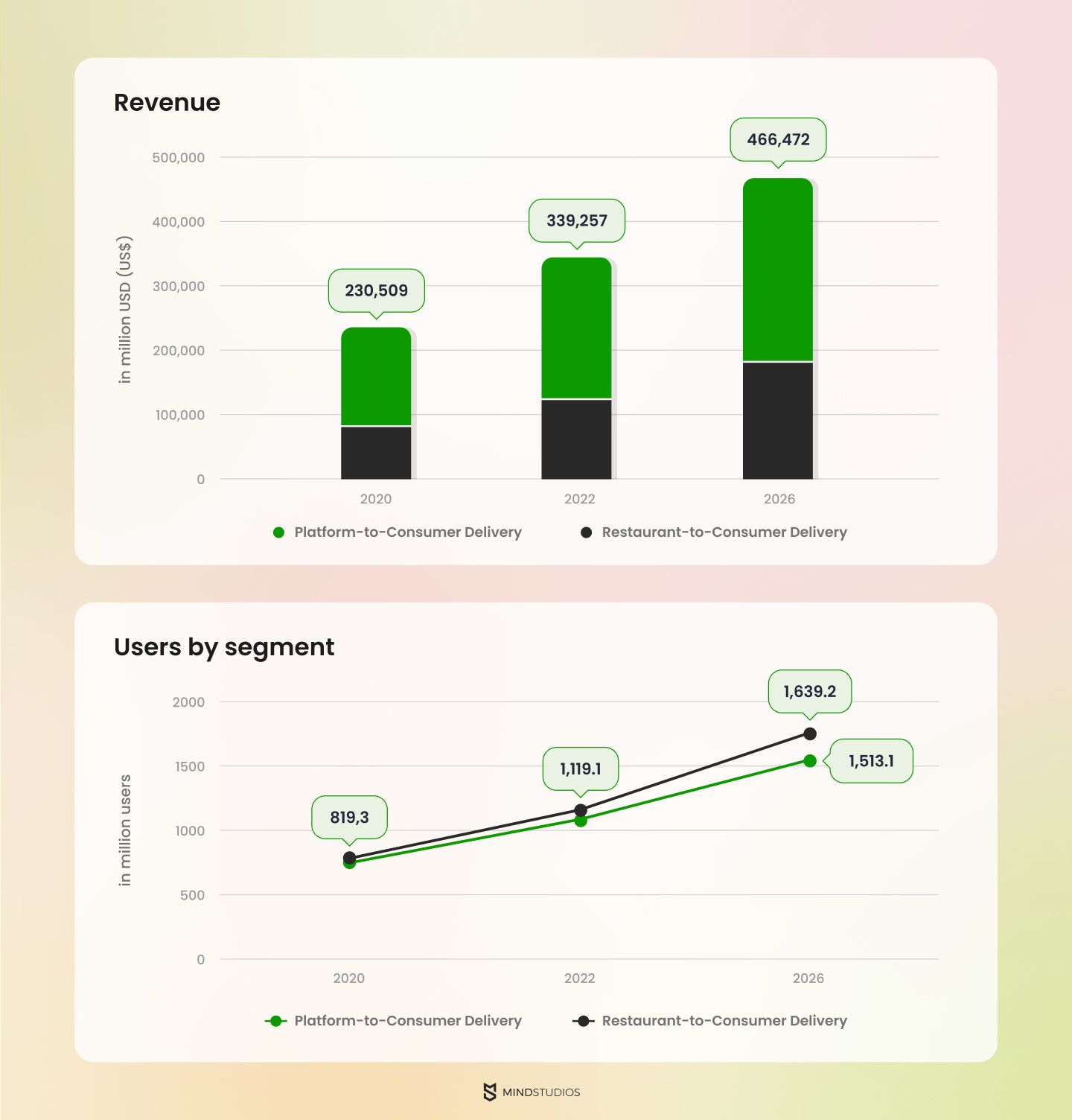 According to Statista, the number of food delivery service users is expected to almost double from 1.6B in 2020 to 3.1B by 2026, so is the food delivery market size. The global lockdown caused by COVID-19 gave a strong boost to the popularity of on-demand delivery services. It started from an increase of 47% in revenue ($230M) in 2020 to an expected volume of $339M in 2022 to a projected volume of $466M by 2026.
These factors place on-demand delivery services on the list of trending app ideas, generating a tremendous amount of new startups. Those who were backed by top-notch technologies and innovative solutions successfully attracted solid investments.
Some food delivery startups that in 2022 raised funds according to Crunchbase reports:
On February 2, Kiwibot, a Miami-based startup founded in 2017, raised $7.5 million in funding in a Series A round for its special delivery robots that make food delivery easier and cheaper.
On January 26, Cheetah, a San Francisco-based e-commerce platform founded in 2014, raised $60 million in a Series C round for its mobile fulfillment centers that provide contactless grocery pickup and delivery.
Deliverest, a Belgium-based startup founded in 2018, got $150 million in funding from a Series D round on January 24 for its software that integrates online orders from third-party channels like Uber Eats, Glovo, and DoorDash into restaurants' point-of-sale systems (POS).
To make a food ordering website marketable and profitable, you need to identify your unique value proposition — along with trends, innovations, and technologies you plan to use — that will set your service apart from competitors and entice users.
Food delivery marketplace: website or app?
You need to carefully choose the platform on which to launch your food delivery business. A mobile app allows more flexibility, letting users order delivery while commuting or while at a friend's place. Our smartphones are with us even when we shower, after all.
On the other hand, building a food delivery website is faster than building an app, meaning you'll start earning faster. It's considerably less costly, too.
To identify the most efficient way to implement your food delivery service, you should take into account:
market trends and local market specifics
needs and preferences of your target audience
competitors' strengths and weaknesses
your time and money limits
Without this data, all we can do for you now is share common tips about what to start with — building a website or a mobile app — to benefit your food delivery business:
A food delivery website is good for:
A food delivery mobile app is good for:

Speeding up your time to market
Quickly testing your idea viability
Forming early adopters
Saving time and money

Providing users with a handy service to use on the go
Increasing user engagement
Delivering advanced features like real-time tracking, receipt photo scanning, etc.
For example, creating a website was enough for Lyla Wolfenstein, a founder of Fully Belly Fire, to successfully build her Portland-based healthy food delivery business up from scratch in 2014. While she was experimenting with her crowdfunding campaign, forming her first customer base, and elaborating product labeling and packaging, her web designer was also tweaking the WordPress-based website. They integrated a custom-built CRM system via Drupal in the website and linked it to social media including Facebook, Instagram, and Twitter.
In the first two years after launching, the website quadrupled Lyla's customer base while expanding her delivery zone. Even now, having a $14K/month handcrafted dinner delivery company, Lyla is postponing a mobile app development instead refining her food delivery website design.
If you need to promptly validate your startup idea, it's sensible to start with developing a food ordering website. More so since in terms of design and development, it's easier to move from a web app to a mobile app than vice versa. You can always build a mobile app when you get a return on investment from your website.
Food delivery website development: ready-made or custom-built?
There are three ways you can get your food delivery website done: using a website builder, a content management system, or developing it from scratch. Let's dive deeper into the pros and cons of each option.
Website builder: pros and cons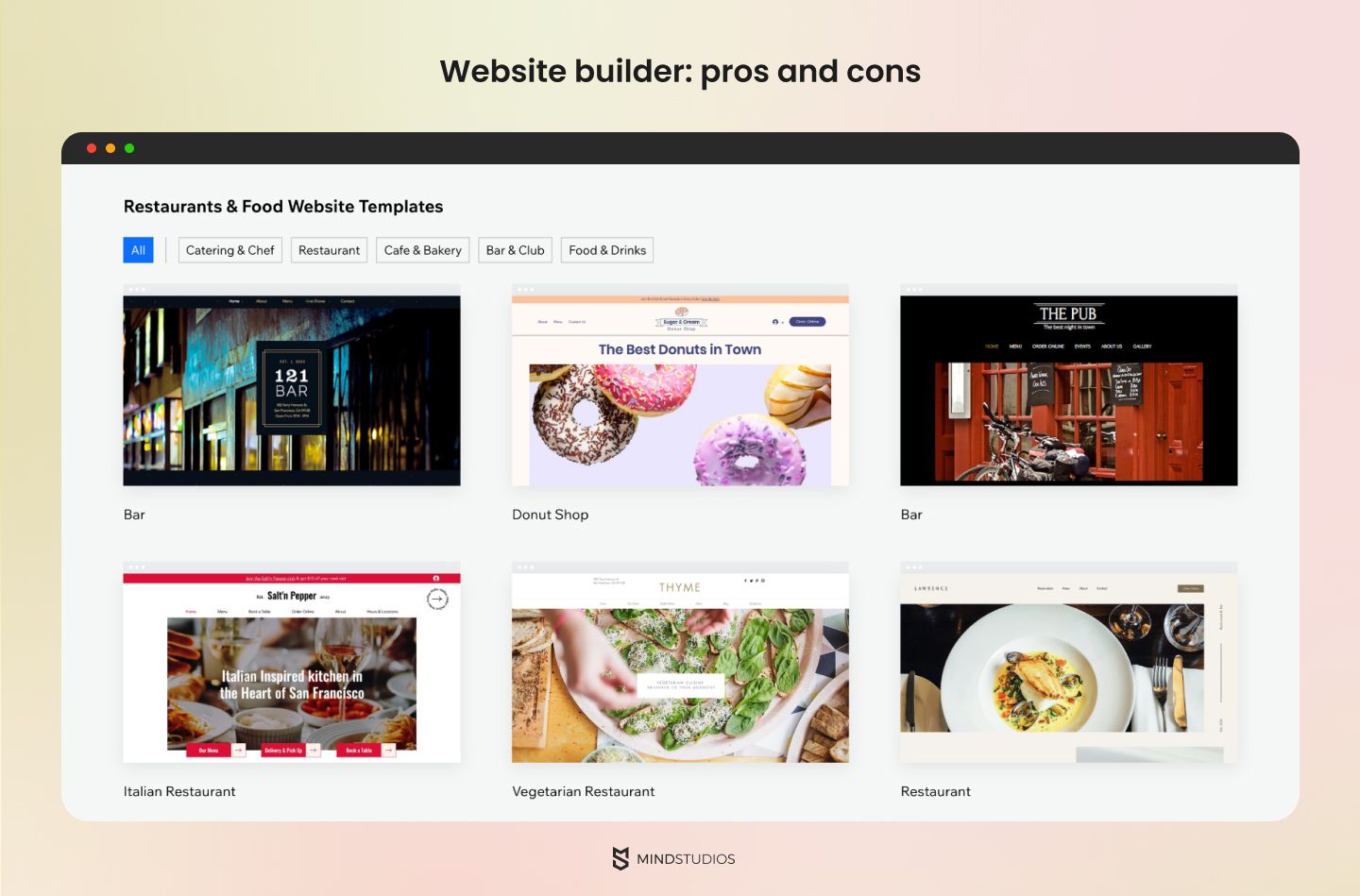 Today's website builders promise you to get your food delivery website ready in a matter of minutes. Indeed, using ready-made templates and themes specifically designed for food delivery business needs, you can quickly:
drag and drop website's blocks of content
tweak pre-styled elements with your own logo, colors, fonts, and imagery
get a web host, a domain name, an SSL/TLS certificate, and an SSD storage for like a couple dozen dollars a month
Sounds promising, especially since you don't need any coding knowledge to create a delivery service website through a DIY website builder.
Despite all the reasons you might want to choose this option (budget, I suppose, would be #1), you also need to evaluate the risks which it may lead you to:
Feature and design restrictions
Poor mobile optimization
Limited SEO capabilities
Issues with storing lead data
Third-party tool integration difficulties
Hosting, ownership, and data security challenges
Content management system (CMS): pros and cons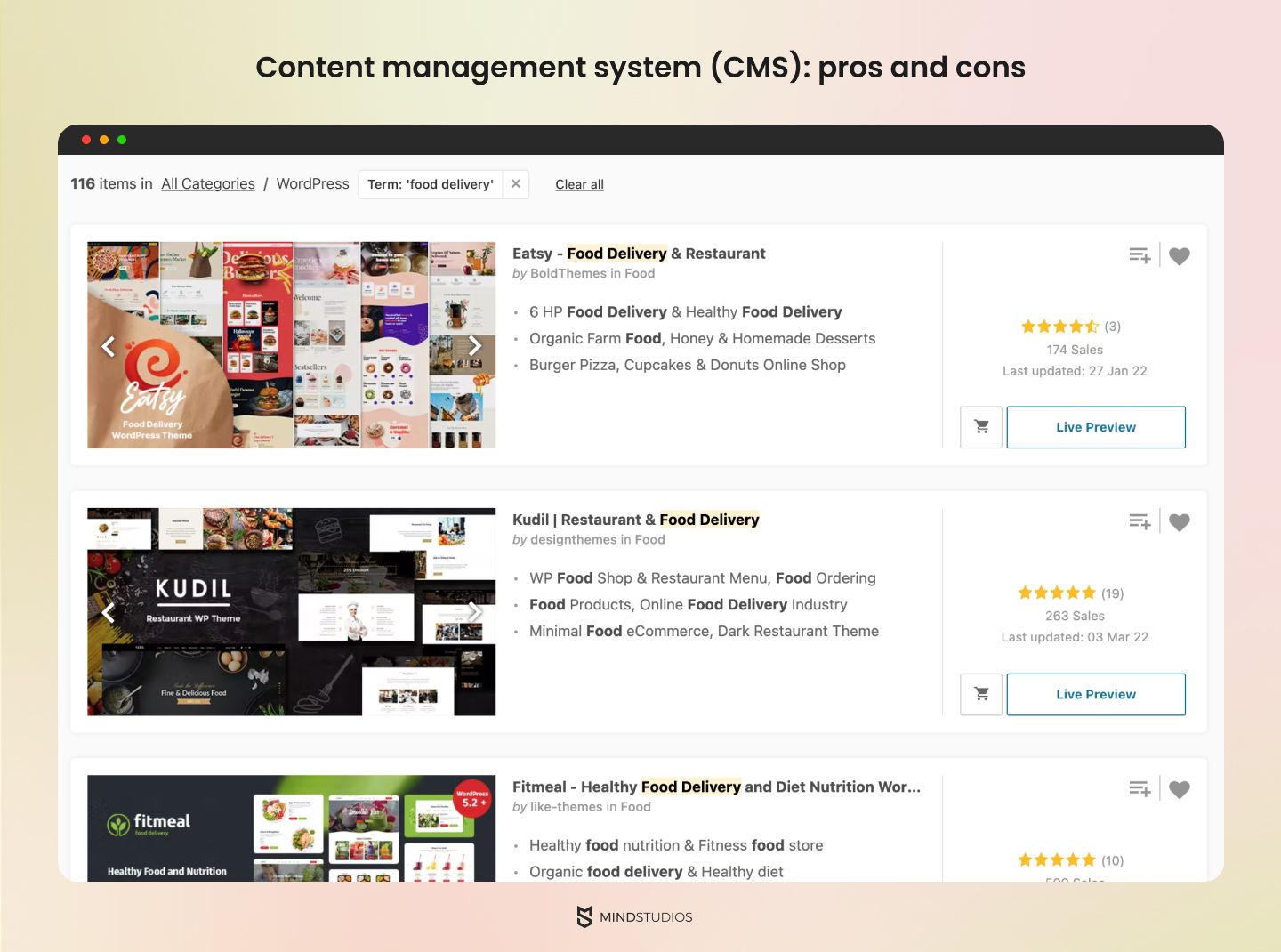 CMS software allows you to create a fully-fledged food delivery website including:
a backend part where you can store a customer database with all the website content and files
a frontend part where your text, images, video, and other content displays to users
an admin panel where you're able to load, style, publish content and manage the whole website
Unlike drag-and-drop website builders, CMS platforms store data in a more organized way, are more flexible in terms of UX design, and allow embedding your custom code as well as third-party add-ons. The cost of building websites on CMS platforms also pleases, meaning you'll predominantly need to pay only for a domain name and maintenance.
What about the downsides of developing a food-ordering website using a CMS? They are not that few:
Premium themes and plugins can be costly
The more add-ons and extra added code, the lower the website speed is
Extra technical skills required
Database and vendor dependence
Lack of portability
Needs constant upgrading
Developing a website from scratch: pros and cons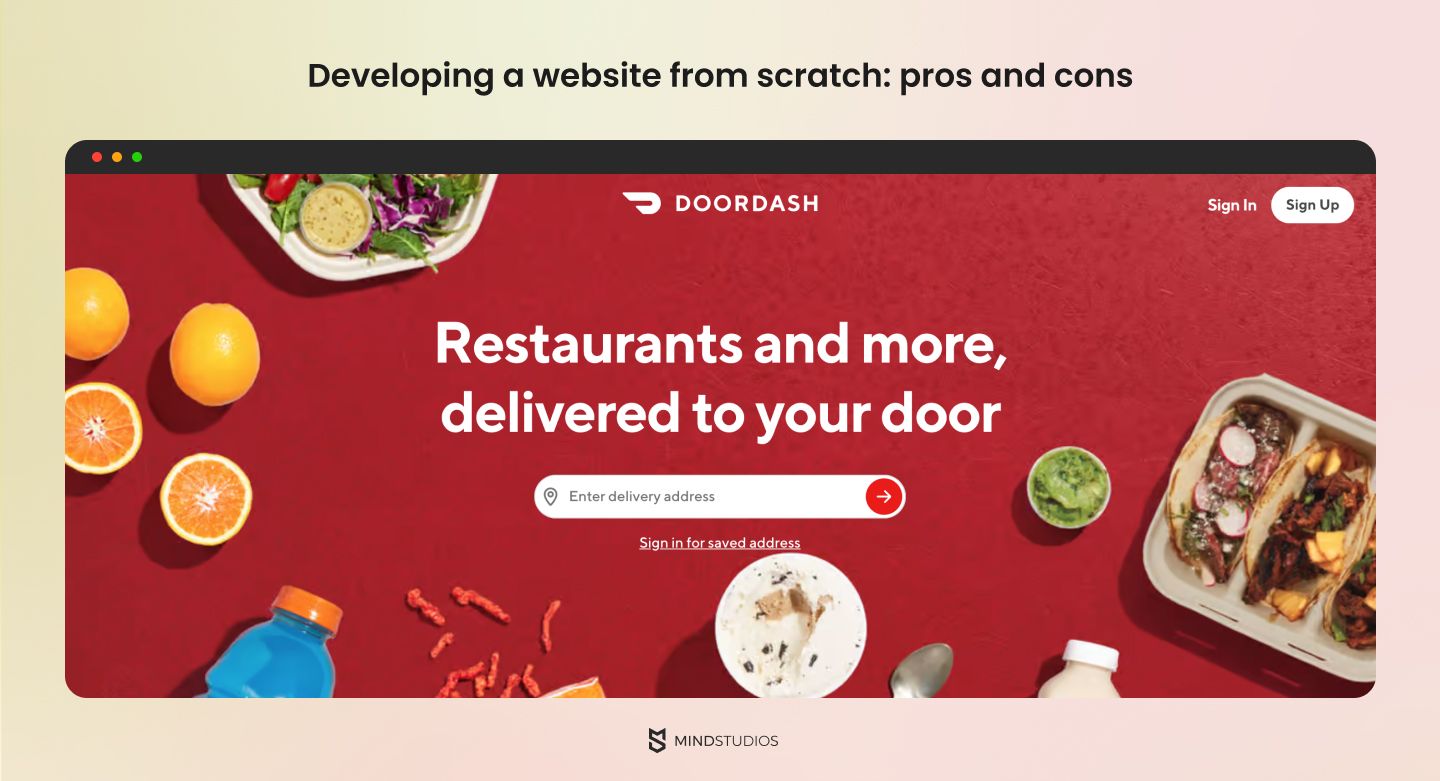 If you make a website for food delivery service from scratch, it means you'll have the flexibility to realize unique interface design, any feature scope and complexity, as well as any third-party add-on incorporation. You can opt for the best tools to custom development including:
Databases and cloud-based storage
Content delivery network (CDN) to increase your website performance
Application programming interfaces (APIs) to provide a wide range of website functionality
Post-launch maintenance and upgrades
Apart from requiring broad programming knowledge, building a food delivery website from scratch tends to be time-consuming and pricey, unless you hire a team of professional developers with relevant experience.
In case when you plan to start a low-risk, low-cost business or locally test your startup idea on a small number of early customers, it makes sense to rely on website builders like Wix or Squarespace or content management systems like WordPress or Joomla.
If your goal is to expand your business to GrubHub or DoorDash scale, provide unique user-friendly service, or match the latest market trends, a food delivery website development from scratch will be your go-to option.
Types of online meal delivery services
Historically, from 78% to 93% of total profit that US-based restaurants received from customers has been used to cover expenses on food, labor, and occupancy leaving a tiny profit margin of between 7% to 22%. During the pandemic, when restaurants had to get on tracks of doorstep delivery, the received revenue was insufficient for covering the third-party services' delivery fees, which resulted in negative margins.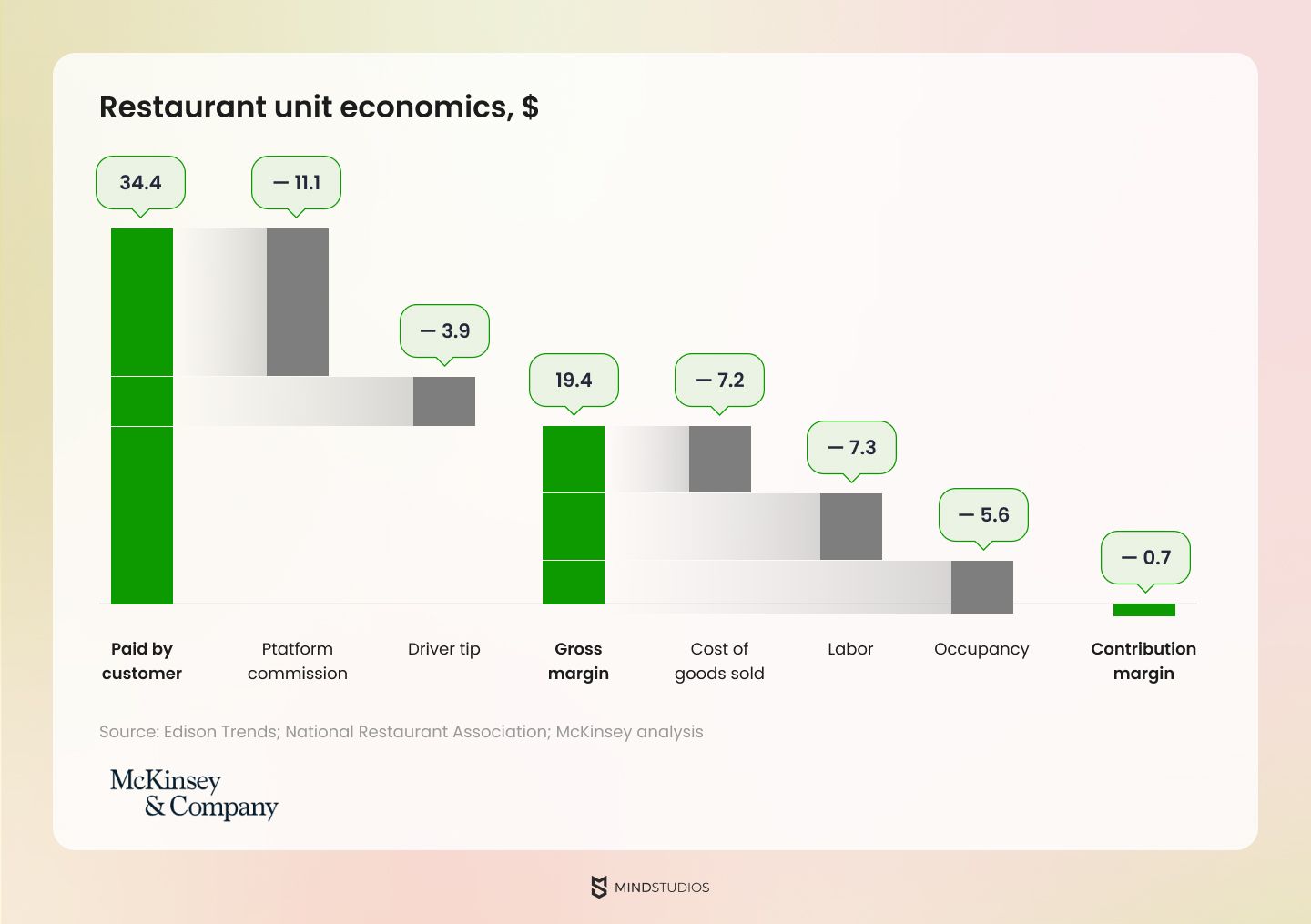 Since then, the lower-overhead food delivery business models including "dark kitchens", delivery-first, and delivery-only food venues have become more and more popular.
Your site's features and approach will differ depending on your business type. To help you choose it, below we share a detailed review of two main on-demand delivery business types.
1. Stores and restaurants that offer their own delivery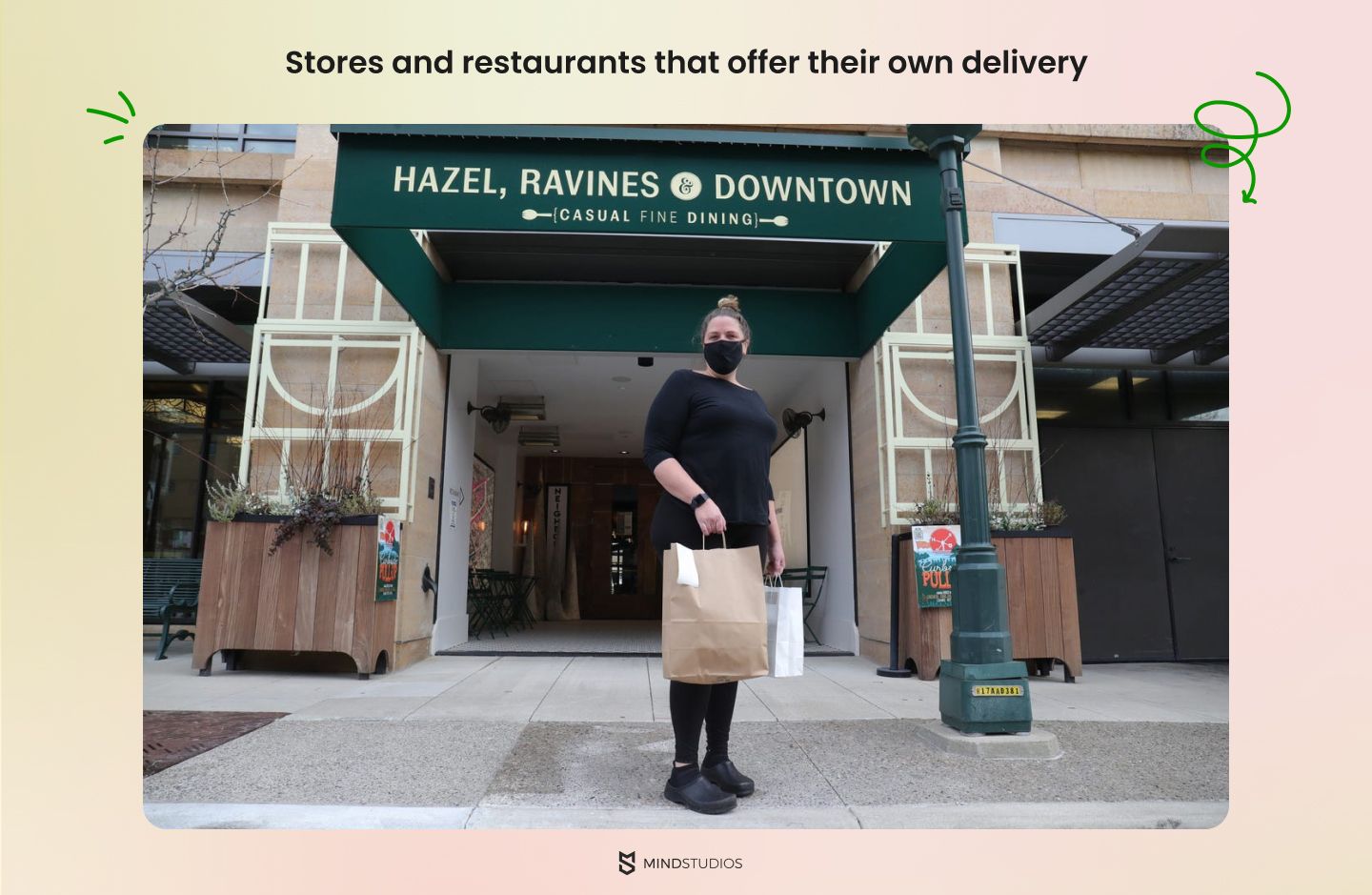 Most big stores, cafés, and restaurants have websites even if they don't deliver food. Websites are efficient marketing channels — they allow establishments to list their products, hold and advertise events, offer contact information, and inform customers of sales, new hours, and any business changes.
If you're a food venue owner and wish to expand your operations by adding a delivery service, you have two options:
Update your website with new features and create your own delivery service (by couriers, drones, autonomous robots, etc.)
Connect with an on-demand delivery platform that can arrange deliveries for you
The pros of doing your own delivery are that you can set your own rules and engage directly with your customers. You'll be able to create a customer database and build targeted marketing as well as adjust your menu based on direct feedback from people who buy your food.
The biggest con of having your own delivery service is usually the cost. You'll not only need to update your website (which you might want to do anyway as there are many reasons to update a business website) but also pay for couriers and vehicle maintenance. Maintenance costs can be lowered by delivering orders on foot or by bike instead of by car.
Another way to reduce costs is to shift away from traditional restaurants' front of the house for customers and operate as dark or ghost kitchens. This means that your catering venue will provide takeaway-only services instead of serving food to patrons. You might be able to lower prices for customers, afford to pay third-party platforms' higher delivery fees, and get your venue featured more conspicuously in the platforms' apps.
However, hiring a third party to deliver orders also contains drawbacks.
Delivery platforms can also cost a lot — usually, they take a share of the total for each order. They also don't share their databases with restaurants, meaning the only way to market through them is by paying to be placed at the top of the list. Depending on the fees a delivery platform sets and the size of your business, you might fare better by having your own delivery service.
2. Delivery services that work with multiple venues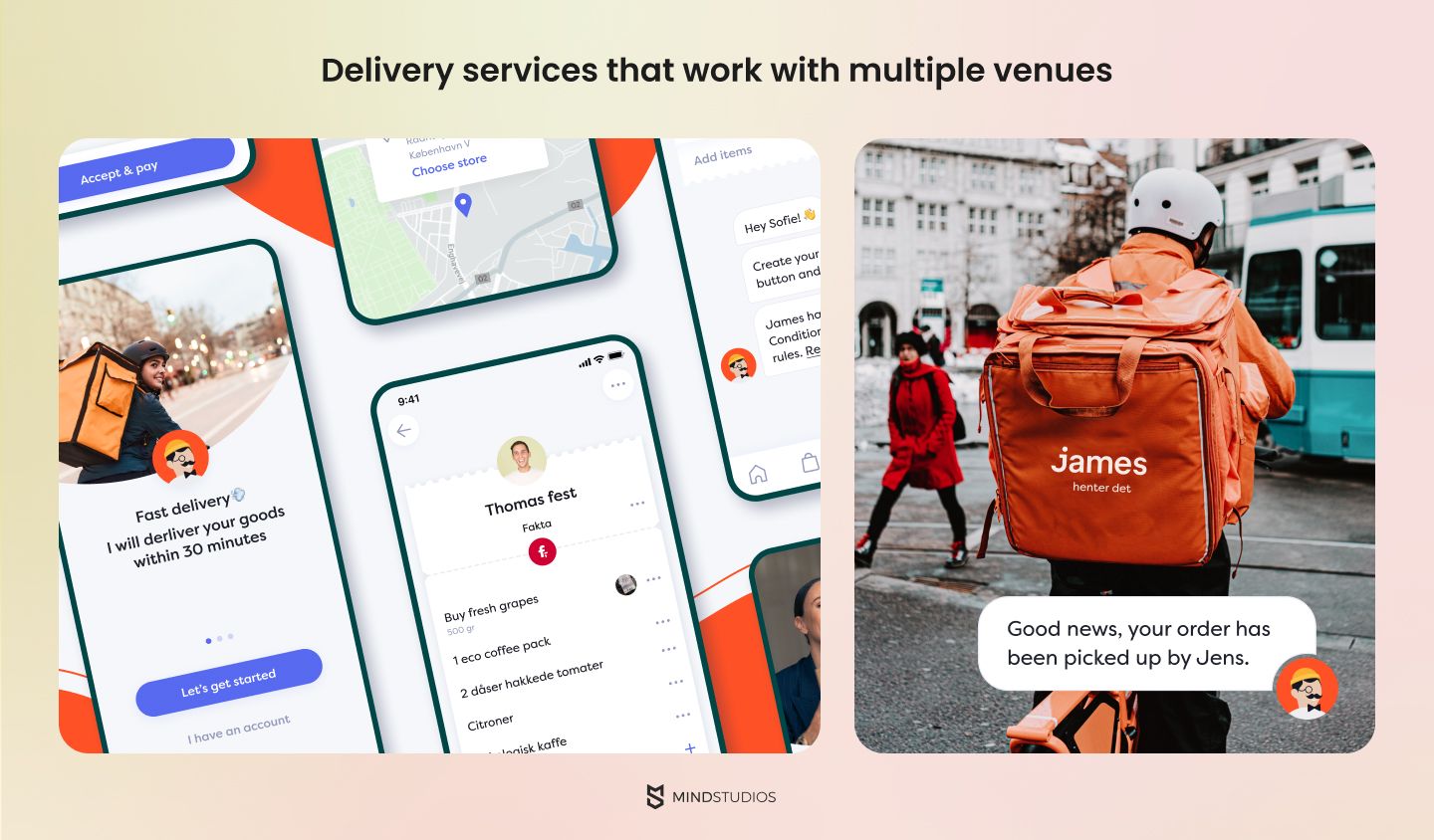 The other type of delivery service is an aggregator platform. These services don't prepare food and only deliver it from third-party venues. Most people who search for information about how to build a food delivery website plan to offer this type of service.
Delivery services usually earn money by charging restaurant owners and, in most cases, customers. Fees differ from service to service and country to country, but the average in the US is 15% to 30% from each order on the restaurant's side and $2 to $15 (depending on the order size) on the customer's side.
For small businesses, 30% from each order might be a significant number, which is why some restaurants prefer making deliveries themselves. However, these fees are also charged by industry leaders like Uber Eats and Postmates.
Startups can win over smaller establishments by providing cheaper services.
For example, while Uber Taxi has been very successful in Ukraine, Uber Eats seems to have been pushed out by more affordable local services. Uber Eats was in the Ukrainian market for about a year before deciding the growth rate wasn't good enough; the Spanish Glovo and Ukrainian Rocket seem to be flourishing, though, making us think it might be an issue with either Uber's fees or its late arrival in the country.
Launching in a country or city where there are no giants present gives your business a high chance of successfully conquering the market before they arrive.
How to make a food delivery website
Analyzing the market you're going to enter is the least you need to take to create a successful delivery website. No less important is to know your target audience preferences and needs. The better you'll meet them, the more feedback you'll get, the better you'll polish your website and boost the demand for your service.
For example, if you want to build a food ordering portal for Dubai, who will be your target users? Chances are, they'll be luxury travelers. What issues do they tend to have regarding food delivery? Probably, there's a ton of them but one of the most popular is having a fridge full of food (grocery, restaurant dishes, beverages, etc.) by the time travelers check into their booking apartments. If your food ordering website offers a fridge-stocking delivery service, it might have great success.
When I talked to Adrienne Han, a Vice President of CurrentFoods, a San-Francisco-based venue that creates seafood from plants named by Times as one of the best inventions of 2021, she also highlighted the importance of understanding target users' behavior for building efficient marketing campaigns. Since their customers are vegans, vegetarians, and people who stick to healthy meal, CurrentFoods promotes its trademark via influencers including nutrition, fitness, and yoga coaches. Adrienne also mentioned they partner with tequila distributors since many people prefer to use boiled shrimp or other seafood like tequila snacks.
With extensive data on the market, competitors, and users, you'll be able to create a solid foundation for building a profitable delivery platform. To help you learn how to build a food delivery website seamlessly, we've prepared the nine-step guideline.
1. Define the interface for your food delivery website
First of all, if you're building a platform that connects businesses and customers, you need to build two different interfaces plus an admin panel and a back end/server side. So there will be four parts in total:
Customer interface
Restaurant interface
Admin panel
Server software
Also, there's the additional issue of a fleet. If you're planning a service like Uber Eats where drivers can sign up and pick what orders they deliver, you'll also need an app for drivers. In this case, we recommend going with a mobile app rather than a website.
Or you can forego the driver-side app by having coordinators who sort orders from the admin panel and assign them to delivery personnel. Sort of like taxi services did before Uber and its clones took over the market.
2. Must-have features that can be added
Developing a food-ordering website isn't very difficult for an experienced development company. This kind of software doesn't need many features.
To build a local food delivery website, consider building these features (on the customer side):
Onboarding
It's best to integrate sign-up via Facebook and Google in addition to the standard email and password option. This will significantly shorten the registration process, which is always a good thing for customers.
Profiles
Profiles are where customers' data will be. The simplest set of fields includes name, delivery address(es), phone number, and email. If you're going to support card payments, card details should be here too. Keep in mind that all this data is considered sensitive, meaning you'll need to use the latest security certificates and means of data protection. Also, it's good to keep an order history. Customers might want to repeat orders or simply keep track of what they've ordered.
List of restaurants
This is the list of all establishments your service delivers from. It's possible to make some extra revenue by offering promoted listings that are shown at the top of the list for a fee. However, this is more relevant for services that have been on the market for some time and have a lot of partners.
Search
Searching by restaurant name and/or particular food will make the user experience smoother and more pleasant.
Categories
If you're delivering from multiple types of restaurants, it's wise to provide categorization so customers can sort venues. It's logical to offer cuisine categories at the very least. For example: fast food, grill, Asian, seafood, vegan, fruits, cake, ice cream, alcohol, coffee, etc.
Notifications
Notifying customers about the status of their orders is a must. Whether an order is being delivered soon or the restaurant is out of a certain item, customers want to know. It's possible, of course, to have a courier call the customer, but that might be inconvenient — like when someone orders lunch to their office and is in a meeting when the courier arrives. A web notification or text is more subtle and useful.
Payment functionality
Paying with cash upon delivery is becoming less popular each year, and the world is moving to digital payments rather swiftly. Integrating a payment gateway is important when building a food delivery website.
Order tracking
Order tracking isn't strictly necessary, but many customers appreciate it. You can make it simple by just displaying order statuses (order accepted, preparing, handed to the courier, on its way, knock-knock!). Or you can integrate a map and real-time tracking system, although this will require an app for couriers that can track their real-time locations.
Ratings and reviews
Also an optional feature, ratings and reviews can offer your service valuable insights into what cuisine and what establishments are most popular and which places might offer low-quality food. Besides, people love to rate things, and many online shoppers check reviews before placing an order.
Your restaurant-side app will have an even smaller set of features. Each restaurant needs its own account with a dashboard. There, they should be able to accept or reject orders, change order statuses (accepted, preparing, handed to the courier), see a history of orders, and check how much money they've earned.
3. UI/UX Design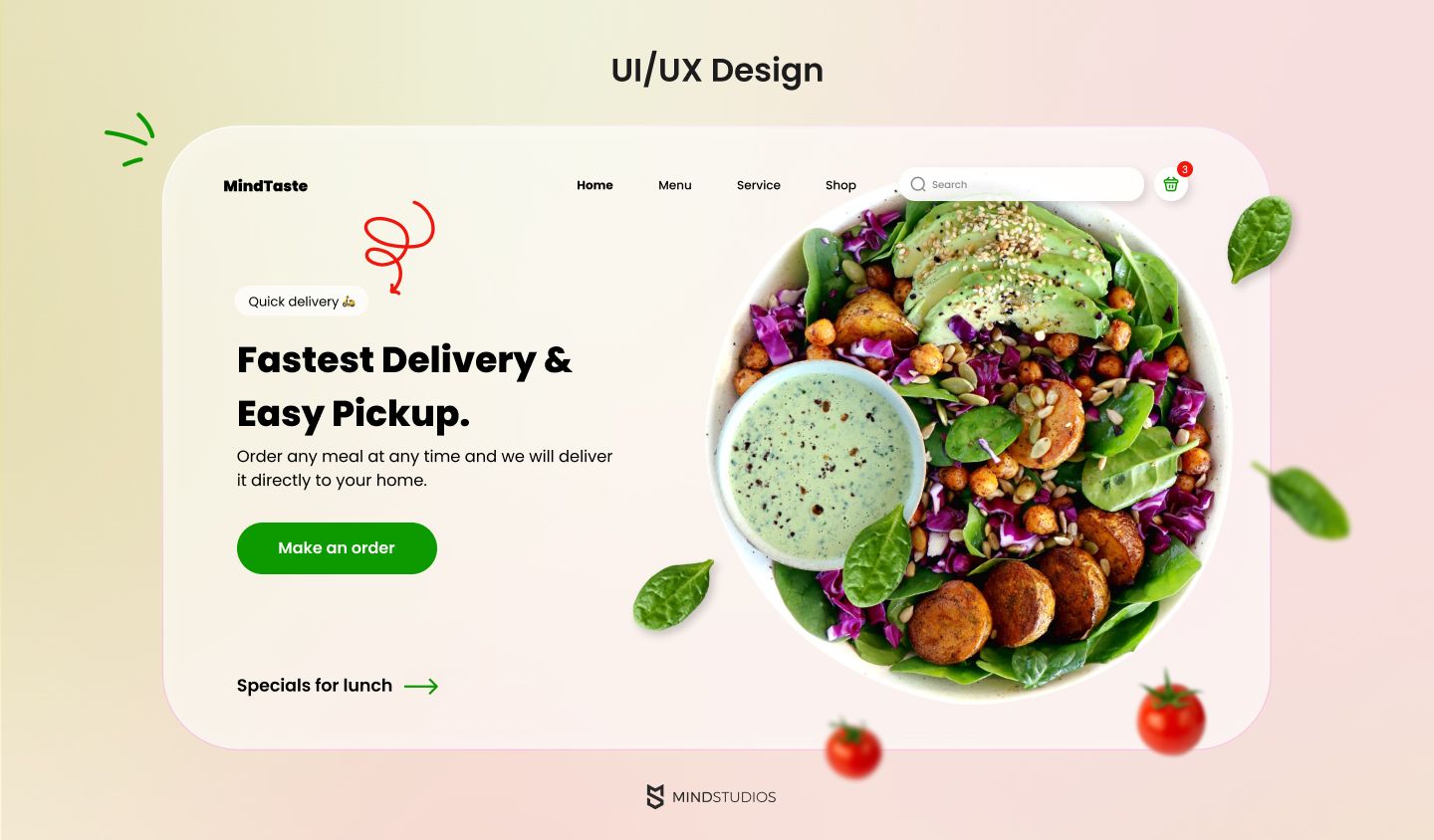 While a customer-facing food delivery website needs to be appealing and modern, following the latest design trends, a restaurant-side app needs to be simple to navigate first and foremost. It's important for a responsible employee to be able to quickly accept and sort orders, so a no-clutter interface is best.
An admin panel is the last part you'll need in your on-demand delivery system. It's also usually the simplest in terms of design since it's only seen by the service owner or a responsible employee. You don't need any bells and whistles here. In the admin panel, the main functionality you need is for adding and removing restaurants, managing money transfers between customers and restaurants, and managing delivery staff. You can add extra functionality if you're planning to hold events, manage promo codes, or track user activity.
4. Development process
This step includes developing the server side, or the back end, which is necessary to connect different parts of the service. Your servers need to be secure since this is where all the data is kept for customers and restaurants alike.
Running a food delivery website development process, you can face issues regarding what type of database to use, how to overcome restrictions of a particular payment gateway, or what content delivery network (CDN) to choose to achieve high website performance. Apart from hiring a professional team of developers, an initial competitor analysis can come in handy as well. Choose websites you like and run them through BuiltWith platform. It'll unveil what technologies your competitors use.
5. Quality assurance process
To be sure you'll get a bug-free website, you need to involve quality assurance engineers to run different tests, to name a few:
Code checking
Accessibility testing
Mobile ready testing
Performance testing
Security testing
Cross-browser testing
Beta-testing by real users
6. Choose your monetization strategy
To deploy a profitable food delivery service, you need to think over the efficient ways to generate revenue. You can take a page out of the five Uber Eats monetization models and build your own way to earn money by wisely combining them.
Five Uber Eats' monetization models
Monetization models
Costs
Monthly subscription (so-called Eats Pass)

$9.99/month for Uber Eats only (0% delivery + 5% off each order over $15)
$24.99/month for Uber Eats and Uber (in addition, 10 – 15% off of each Uber ride)

Commission

$350 one-time activation fee
15% – 30% commission for marketplace fee

Fees

Sliding delivery fee: $4.99 as standard and will vary depending on time of delivery and location
Service fee: 15% of order subtotal ($2 minimum)
Small order fee: $2 (for orders less than $10), $3 (for orders less than $15)
Delivery adjustment fee will vary depending on updates after the order's completed

Sponsored listings

Listings use a pay-per-click (PPC) model
Restaurants pay an average $50 per week on ads

Uber gift cards

Individual gift cards: $25, $50, $100, or $200
Corporate gift cards for business: minimum $500 or 25 cards
The best time to define a monetization model is before starting the development of the food delivery website since how you're going to make money directly impacts website architecture, payment methods used, and website design.
The lion share of successfully picked up monetization model largely belongs to preliminary unit economics' calculation. By doing this, you'll be able to identify which metrics you should increase or decrease to reach break-even point faster.
7. Launch an online food delivery website MVP
Launching any kind of business tends to be tricky and full of pitfalls, and meal delivery startups are no exception. Issues can come from anywhere: local government restrictions, inability to integrate a particular payment service, users' lack of interest in using your platform, etc.
To validate your startup idea, the best and cost-effective method is building a minimum viable product first rather than a heavy-featured food delivery platform. After you get proof that your idea works well, you can enrich your website with follow-up matured features one-by-one, continuously testing them and analyzing feedback.
8. Adapt your website to the local market
When we were developing the James Butler delivery application for Danish people, we missed the fact that Stripe, a frequently used payment gateway, had limitations with instant payments in Denmark. To provide users with a convenient in-app instant payment service, we had to polish a Ruby-written conversion tool and collaborate with a respectable local Danske bank.
Working on Unight, a platform that allows users to access dining and clubbing venues in Shanghai, we also needed to pay attention to localization. Guided by Chinese preferences, we needed to integrate into Unight:
QR-generating and scanning algorithms
WeChat messenger
Baidu notification system
As you see, adaptation to local market requirements goes far beyond language translation or currency conversion. You need to cater to local population preferences in dishes, diets, eating behavior, ways to order food. Moreover, you need to be aware of possible business constraints (corporate policy, government regulations, industry standards, etc.) and system restrictions (e.g. related to programming language used, third-party APIs, libraries, payment gateways).
We recommend you write a product requirements documentation (PRD) prior to your website development to sort out all requirements you need to adhere to.
9. Create useful content
One of the proven techniques to market your website is hosting a blog with relevant content for your users: recipes, rules for choosing groceries, different diets, and so forth. No less popular now is YouTube or TikTok videos with guidance on how to cook a particular dish. Interesting and entertaining posts on social media (e.g. your activities behind the scene or delivery curiosities) can also be a powerful source for increasing your website traffic and improving its retention rate.
Cost to make a food delivery website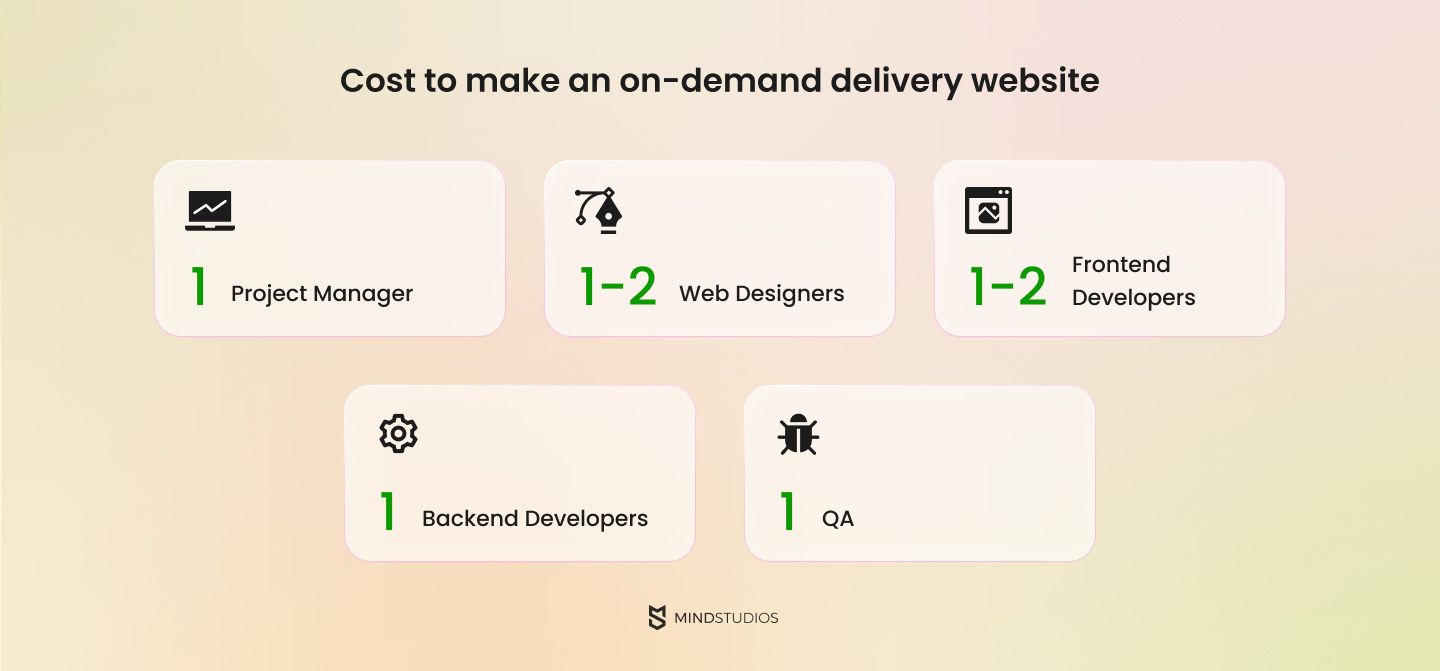 The cost to build a food delivery website isn't set in stone, of course. Depending on the outsourcing website development company you hire, it can vary greatly. We can offer a rough estimate based on the specialists you'll need for the job and the time it will take to complete.
The team to build a local food delivery website will look like this:
1 project manager
1–2 web designers
1–2 frontend developers
1 backend developer
1 QA specialist
One frontend developer can build web apps for customers and restaurants as well as the admin panel. But if you want to speed up the process, it might be worth it to have two or more developers. The same goes for web designers: while the restaurant-side app and admin panel don't require anything fancy design-wise, dedicating a designer to these components will make things go faster.
Time-wise, developing a web-based on-demand delivery service will take two to four months. If you're going with the minimum necessary team with one of each type of specialist, it will be closer to four months than two.
And with this team and term, the food delivery website development cost will start at about $61,000 for the features we've listed above. To provide you with a more specific estimate, we've put down the approximate time required for each development stage multiplied by a $40 hourly rate in the following table:
Food ordering website development cost
Development stage
Hours
Cost
Project management
100+
$4,000+
Frontend
450+
$18,000+
Backend
450+
$18,000+
Design
168+
$6,720+
Admin panel
126+
$5,040+
Testing and improving
250+
$10,000+
Total
1544+
$61,760+
If your budget is limited, you can cut less important features to lower the cost. After all, you can always add features later when your website is launched and you start making a profit.
Mind Studios food delivery website development experience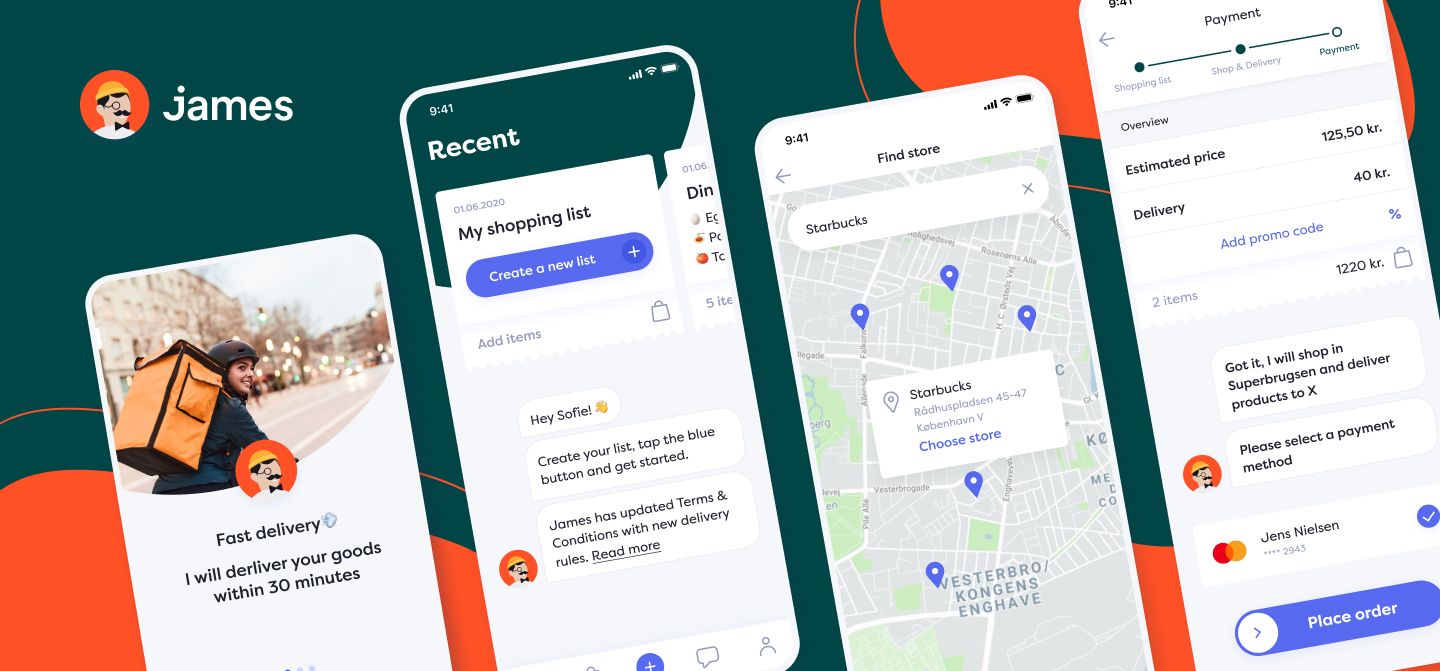 As we've mentioned, Mind Studios developers have experience in on-demand delivery website development. Three months after launch on both iOS and Android platforms, our delivery app James Butler received:
Registered buyers — 4639
Registered delivery people — 1946
Shopping lists — 4972
Orders — 4027
Moreover, James Butler app prompted a popular Danish singer Medina to invest in its marketing campaigns. One of them was a big advertising board placed on one of the buildings in the center of Copenhagen. See details of the food delivery app development process in our James Butler case study.
Conclusion
On-demand food delivery market is a highly profitable sector that can easily fit more players, especially now that consumers around the world are increasingly choosing local businesses rather than global corporations. There are niches here that are scarcely occupied, too — healthy and vegan food, for one. There are also cities and even countries where you'll find few or no competitors at the moment. There's never been a better time to jump in.
At Mind Studios, we have a seasoned team of professionals and can offer you both development and consulting services. If you have questions about how to build a food delivery website or if you're looking for a cost estimate, reach out to us and we'll get back to you with answers.
3