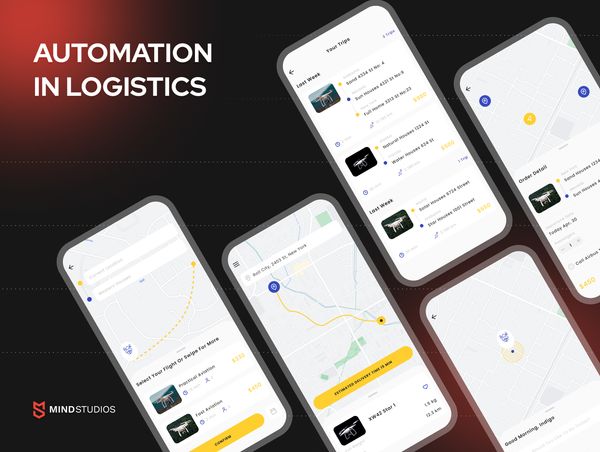 Hardware and software systems used in logistics management have become the solution to numerous challenges faced by the industry, including the pressure caused by the pandemic that stayed even after the world had recovered. Now, it's obvious that there is no going back.
Logistics process automation is definitely the future of the industry: not only does it help companies run more time- and cost-efficiently, but it also opens a door for a more sustainable approach to doing business. The question is, how can entrepreneurs use it to their advantage?
Mind Studios has extensive experience developing software solutions for logistics companies. James Butler, the on-demand delivery app we've developed for our clients, has conquered the Danish market and even inspired Medina, the Danish pop star, to become the product's co-owner.
Using this experience, we've made this guide on what the benefits of logistics automation are, how you can automate your logistics processes right away — and how we can help you with that.
Trends driving automation in the logistics industry
Before we get down to the factors that drive the industry, let's determine what automation in logistics actually means and how it's implemented.
Automation is one of the main technologies in logistics. Shortly put, logistics automation means the adoption of digitalization and automation technologies in order to speed up logistics processes from procurement to distribution — and make them more efficient. The main tools to achieve that are control systems, automated machinery, and logistics software.
Here are four core facts about logistics automation that will help you understand the concept better:
Two core components of the logistics automation market are hardware and software solutions. The machinery side can include drones, guided vehicles, mobile robots (AGV, AMR), automated sorting systems, automatic identification & data collection (AIDC), etc. The logistics automation software covers warehouse management systems, CRMs, business analytics systems, accounting and tracking solutions, and more.
The two biggest functions of logistics automation are warehouse and storage management, and transportation management.
Organization size of the market is divided into logistics automation for small and medium businesses, and for large enterprises.
The biggest end-users of logistics automation include automotive companies, post and parcel delivery, and manufacturers and distributors, specifically ones dealing with chemicals, food and beverages, oil, gas, and energy. Additionally, the list includes businesses connected to pharmaceuticals and healthcare services, as well as retail and eCommerce.
[Source: Statista]
In 2022, the global logistics automation market was valued at USD 58.17 billion. By 2027, researchers expect it to reach USD 121.34 billion. The question is, how come this market is growing so fast? Researchers and entrepreneurs in the field name the following factors as the most significant drivers of the market growth:
Rapid-growing adoption of online shopping, which has raised the pressure on logistics providers regarding quick and efficient order processing
High customer expectations, which include order accuracy, and enhanced delivery services like real-time tracking, free returns, same-day deliveries, and so on
Advanced IoT technologies, as well as robotics and automation of logistics processes, becoming more accessible for small and medium businesses
Businesses' strive for geographical expansion, which leads to more complex supply chain cycles
Lack of human workers, which is the direct result of constantly growing labor costs and a decreasing number of people who want to work in the warehouse environment
Efficiency and benefits of automation in logistics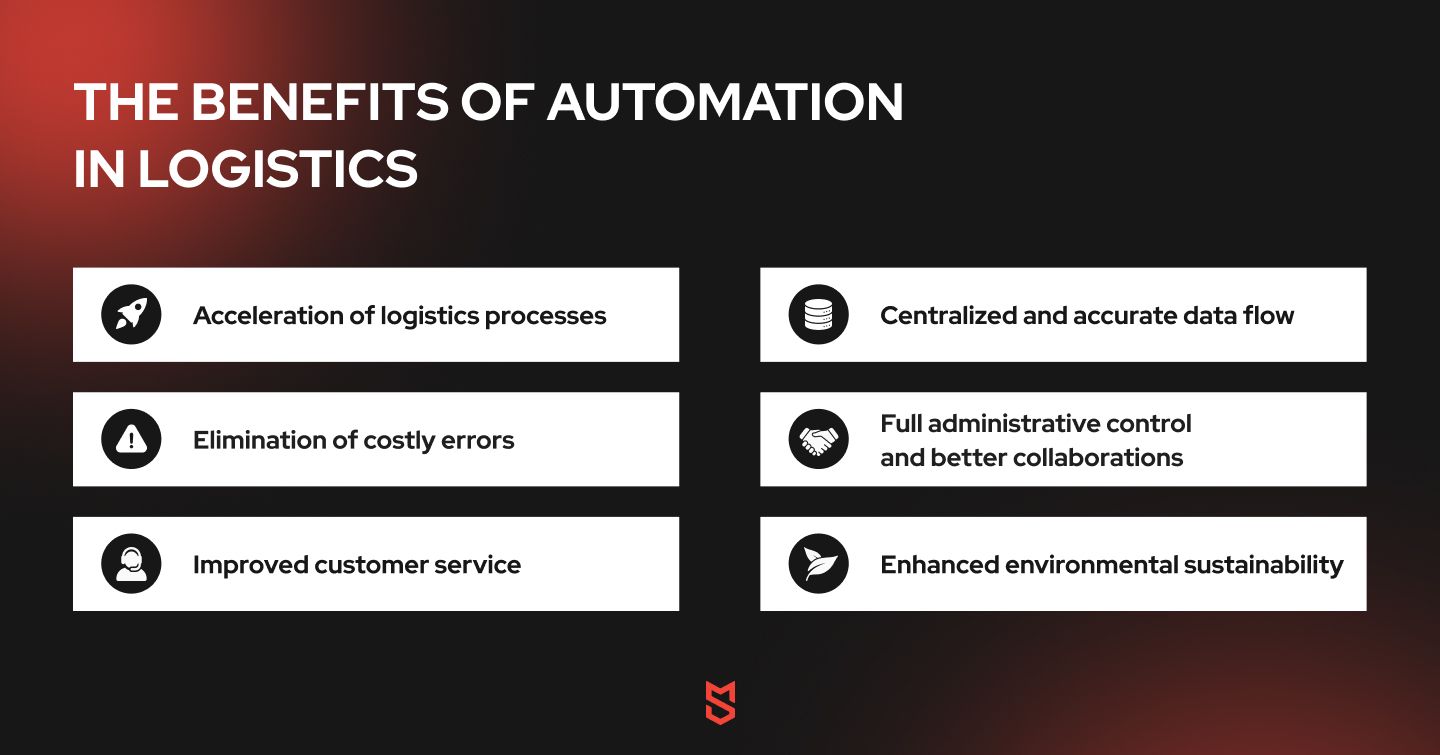 One of the main benefits that motivates companies to automate logistics processes is the fact that it's a trend in the industry, and it's essential for staying competitive. However, the actual benefits of logistics automation are also pretty convincing. Let's look into the most significant ones.
Acceleration of logistics processes
Logistics automation hands over time-consuming mundane tasks to intelligent hardware and software, freeing up the workers' time for more important tasks that require human control.
This includes tasks like order processing, invoicing, payment verifications, inputting various data types, tracking cargo, and more. Simplifying these processes through automation also leads to orders being processed quicker and in larger quantities.
Naturally, increased efficiency leads to economic growth as well. For instance, thyssenkrupp Materials Services, a global materials distributor for the B2B sector, saw a 20% increase in revenue from eCommerce portals after implementing the SAP Commerce Cloud — and that's just one solution.
Elimination of costly errors
Another major advantage on the list is the profitability of automation in logistics that businesses see in the long run.
Let's face it, even an extremely diligent employee can pick up the wrong parcel when sending out an order, or type in inaccurate customer information. Delegating the tasks mentioned above to machinery and software systems helps businesses reduce the number of human errors — and thus eliminate expenses that come with them.
What is more, automating these processes not only eliminates the errors but also helps quickly detect if there has been a mistake made, decreasing the time needed to look into and solve the issue.
Improved customer service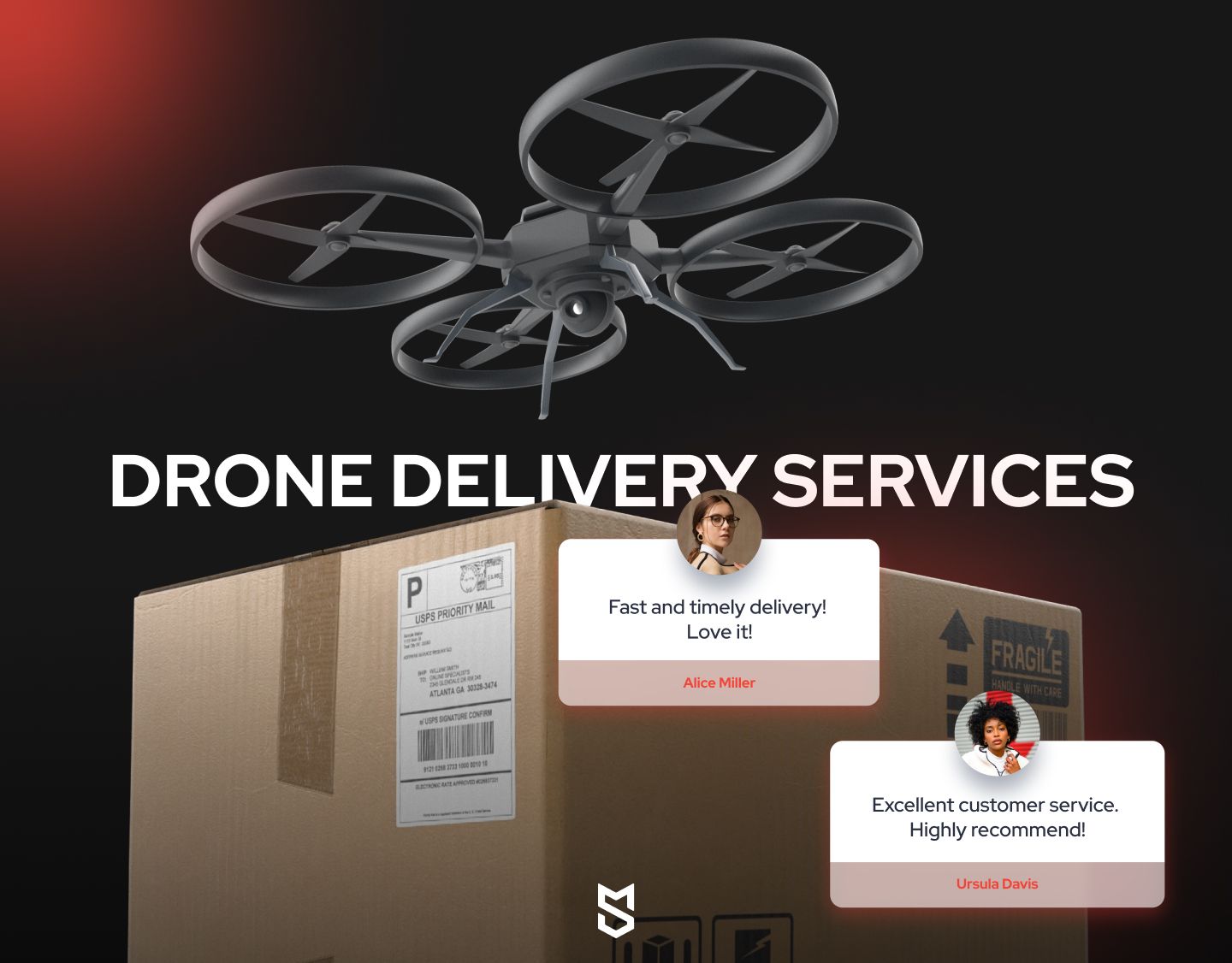 The first two benefits of automation in logistics we mentioned above naturally lead to higher customer satisfaction. With consumers anticipating fast deliveries, real-time order tracking functionality, and error-free document processing, you have to meet their expectations to stay competitive.
To top that, your customers are probably also looking for affordable services. Logistics automation can help you meet that requirement as well, since using hardware and software for repetitive tasks helps businesses perform better and for less money in the long run.
Finally, you can also automate communication with customers through the integration of AI-powered chatbots, which allows making customer support service available 24/7 — hence, adding additional points to your business.
A noteworthy case of how automation in logistics is improving customer service are Walmart's DroneUp hubs used for order delivery. David Guggina, Senior VP of Supply Chain, Innovation & Automation at Walmart said: "We thought customers would use the service for emergency items but are finding they in fact use it for its sheer convenience, like a quick fix for a weeknight meal."
Centralized and accurate data flow
Processing hundreds or even thousands of orders, managing stock levels at the warehouses, and keeping track of deliveries — all this makes accurate data collection a matter of crucial importance.
However, a recent survey conducted among buying organizations revealed that 43 percent of the respondents don't have the data they need to manage trading partner performance, such as fill rates and on-time deliveries.
Real-time data gathering and analysis, especially through the use of IoT devices and RPA (robotic process automation), is what can help businesses improve their planning and forecasting, as well as quickly address and fix any bottlenecks and disruptions.
What is more, by using the right logistics automation software, managers not only have the advantage of getting instant access to information, but also receive useful data summaries and insights on logistics processes that assist them in making more informed strategic decisions.
Full administrative control and better collaborations
With automation technologies for logistics, all data used for industry-related processes can be collected and shared in real time through the same systems. This allows all parties to get access to the information needed from one source, establishing a clear line of communication and making it easy to coordinate between different departments or even companies involved.
As a result, it's easier for businesses to investigate and eliminate bottlenecks and build stronger collaborations.
Enhanced environmental sustainability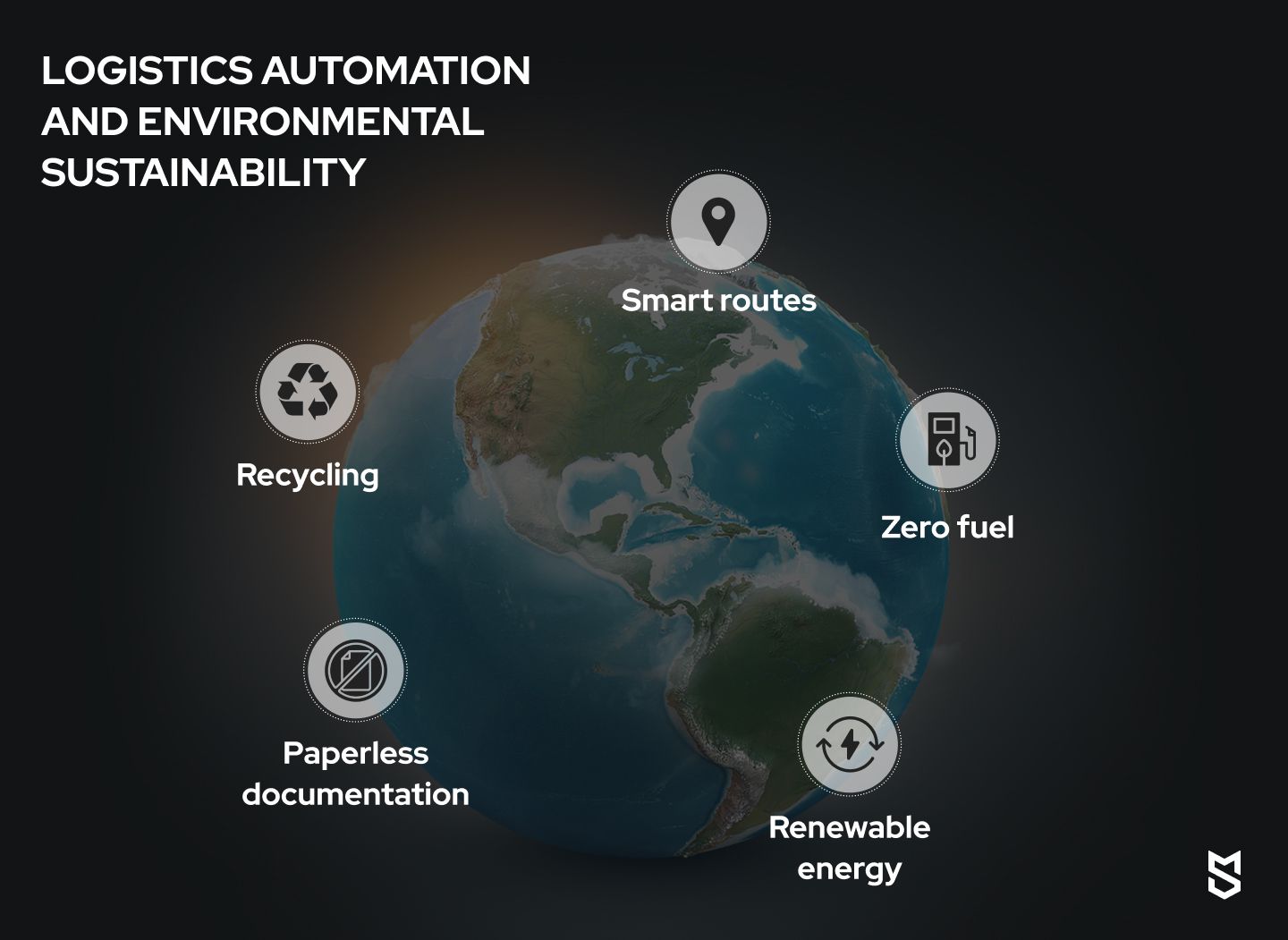 It's always been hard to connect logistics with environmental responsibility since because of its energy-intensive modes of operation, this industry has a rather high carbon footprint. However, automation of processes is what already helps logistics companies get on track to implement green strategies.
For instance, electric-powered machinery, and self-driving electric vehicles can assist in achieving zero fuel consumption. What is more, warehouse management systems can help establish smart use of resources by automatically adjusting indoor conditions depending on the warehouse occupancy, weather conditions, etc.
Besides, unlike people, machines used to automate warehouse operations don't really need heating or bright illumination. This means businesses can cut down on these expenses and reduce electricity consumption if they use energy-efficient machines based on regenerative technology.
Software systems to automate your logistics processes
Ultimately, the logistics industry is moving towards automating every process that can possibly be automated. However, for now, the most widespread digital solutions for logistics automation processes help solve the following tasks.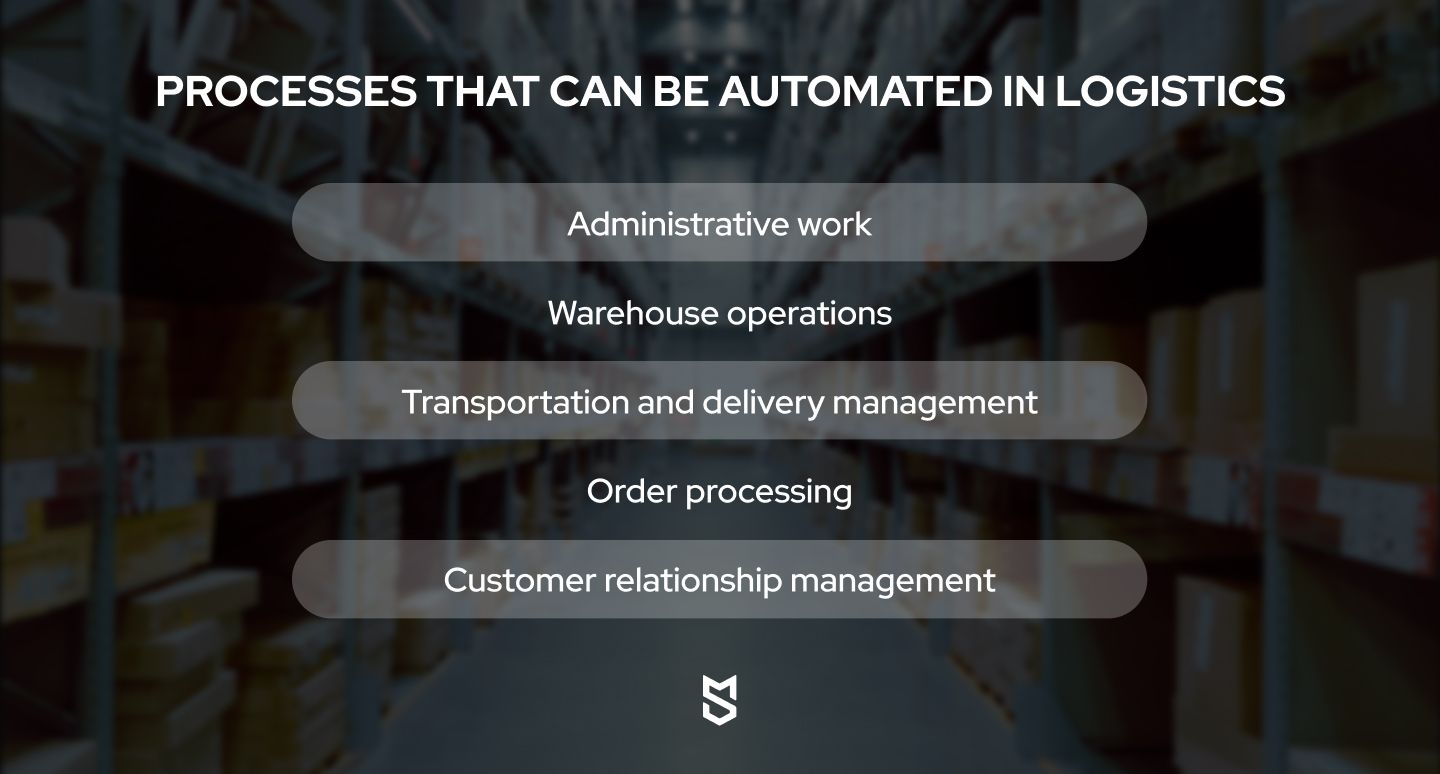 So, which logistics automation systems exactly can help your business with these tasks? Here are the most critical of them.
Manufacturing execution systems (MES)
The purpose of these software platforms is to assist businesses with the optimization of their manufacturing processes. An MES is basically a core of all manufacturing operations through which the data from various sources is consolidated. This results in managers getting access to a unified overview of the entire manufacturing lifecycle.
Manufacturing execution systems have the functionality needed for production planning, real-time production monitoring, tracking quality control, managing equipment maintenance, as well as collecting data and analyzing it. MES can be integrated with other systems, like ERP, CRM, etc.
Warehouse management systems (WMS)
Software systems for warehouses cover a wide range of tasks, including stock quality control and reporting, inventory management (receiving, shipping, and tracking items), as well as order processing, forecasting, minimizing resources, and more.
Using well-built customized WMS can increase the level of accuracy for delivery time and overall order fulfillment quality since it provides a 24/7 overview of the stock and helps eliminate human errors.
Transportation management systems (TMS)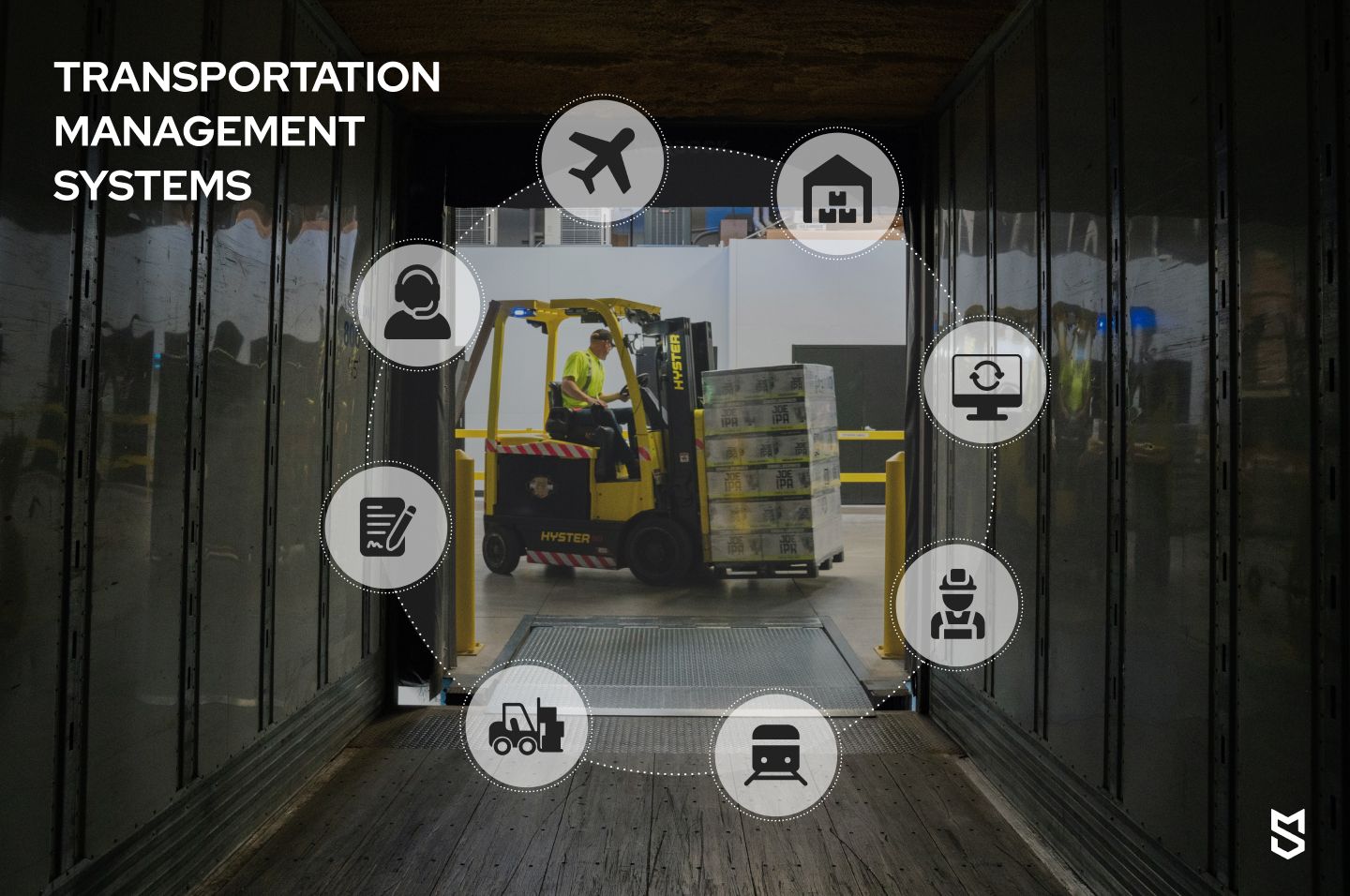 The task of TMS software platforms is to automate transportation operations and optimize the delivery process. They consolidate relevant data and provide an extensive overview of transportation-related operations.
For instance, using real-time data from different sources, such systems help businesses with courier route planning based on current traffic, weather conditions, delivery time windows, and other factors.
Other features of TMS include load optimization, carrier management, shipment execution, and managing shipment documentation, as well as processing freight payments and conducting audits.
As a result, TMS software helps businesses improve transportation efficiency and reduce costs. For instance, one of Mind Studios' ongoing projects involves building a solution for a newspaper delivery company to reduce expenses on transportation processes.
Enterprise resource planning systems (ERP)
ERP software manages the information on your core business processes and as a result, provides you with analytics needed for an in-depth understanding of your business' capabilities and needs. It also helps automate such functions as finance, accounting, human resources, customer relationship management, and more within one single platform.
In addition to making business operations more visible and transparent, ERP enables you to make data-driven decisions and minimize the risks that lead to unnecessary expenses. And finally, such type of automation of logistics operations helps to minimize delivery costs.
Order management systems (OMS)
OMS software automates the management of every stage of the order lifecycle, from order capture to post-delivery documentation.
To be more precise, such systems can help with order processing, order fulfillment, delivery time forecasting, management of returns and exchanges, processing refunds, generating reports, and analyzing data on orders and customer behavior.
Predictive analytics systems
Predictive analytics software mines and processes historical data patterns to increase the accuracy of forecasting future patterns and trends. In logistics, these systems use complex mathematical algorithms, cloud-based servers, and blockchain technology for data analysis.
By using these systems, businesses can receive forecasting models for goods demand, price strategies, shipping frequency, optimal inventory levels, machinery maintenance, delivery routes, and more. And while it's not easy to implement, the ROI that comes from integrating it is worth the effort.
A step-by-step guide to automating logistics processes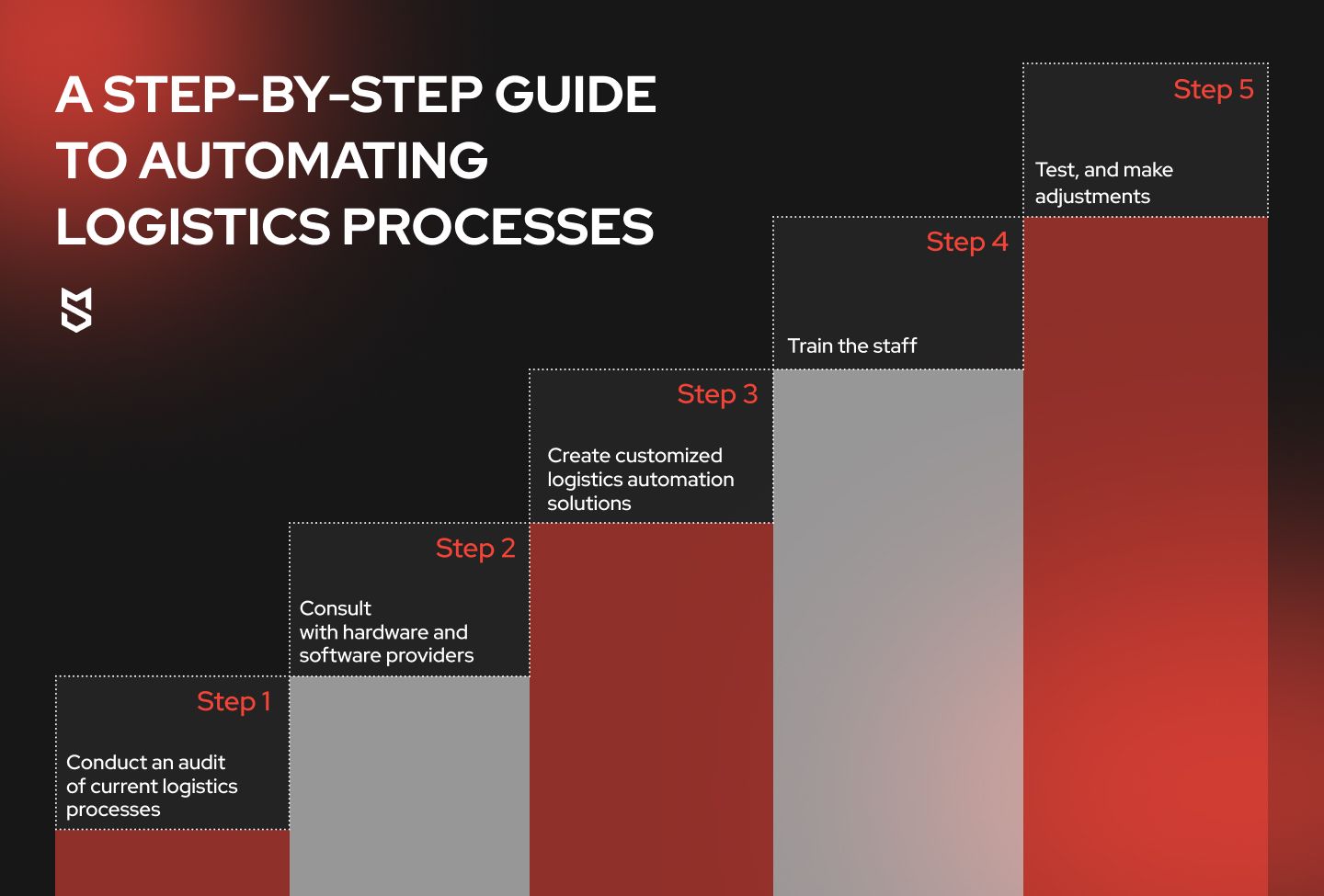 Now that we've determined that logistics automation is inevitable for any business pursuing growth, there are a few more questions to answer: Where should you start? And what do logistics automation processes actually look like? These five steps will help you get a better understanding of the process.
Step 1. Conduct an audit of current logistics processes
As a business dealing with logistics, chances are some of your processes are already digitalized. At this stage, you need to review how efficient these solutions are, how well they are connected to each other, and which processes your team is still doing manually.
Conducting an audit will help you determine the pain points of your business — and thus make it easier to prepare the requirements for the next stage.
Step 2. Consult with hardware and software providers
Now that you know what challenges your business needs to tackle, you can look for partners to help you do that.
For instance, as a software development company, Mind Studios can assist you with developing a strategy for integrating software delivery automation solutions, like warehouse or fleet management systems powered with analytics tools. Or we can audit and update your existing software to make it more efficient.
Step 3. Create and implement customized logistics automation solutions
At this point, all you need to do is delegate the task to the hardware and software development agencies. During this stage, they will provide the solutions, tailor them to the specific needs of your company, and integrate them into your logistics processes.
Step 4. Train the staff
The next step is to teach your staff how to operate the systems that have been implemented.
For instance, this might include operating management systems, maintaining the hardware, processing the results of data analysis, communicating with development partners, as well as working with feedback from the clients, and looking for what could be improved.
Step 5. Test, and make adjustments
Once the solutions are up and running, you will need to monitor their performance and report on any problems or challenges you run into. The hardware and software partners will make adjustments accordingly to make sure the systems run like clockwork.
How Mind Studios can help with logistics automation processes
Mind Studios has developed dozens of web and mobile solutions for businesses in various industries. Naturally, some of them were connected to the logistics sector. Here, we share a couple of logistics automation solutions our team is especially proud of.
James Butler
The food delivery app for the Danes has definitely been a challenging project. Mind Studios had only three months to build four versions of the app: for the buyers and for the shoppers who deliver the order, on both Android and iOS.
In the end, we built an app through which users can create shopping lists, choose stores and delivery time, track order status, pay with multiple payment methods, and receive receipts. As for the functionality of the app for shoppers, they can define the area of work, receive and process real-time orders, and monitor their progress.
Thanks to close collaboration with the stakeholders throughout the whole development process, as well as the ability of our team to quickly overcome any obstacles, we managed to do the job on time. And three months after the soft launch, the project reached the set KPIs.
Lumachain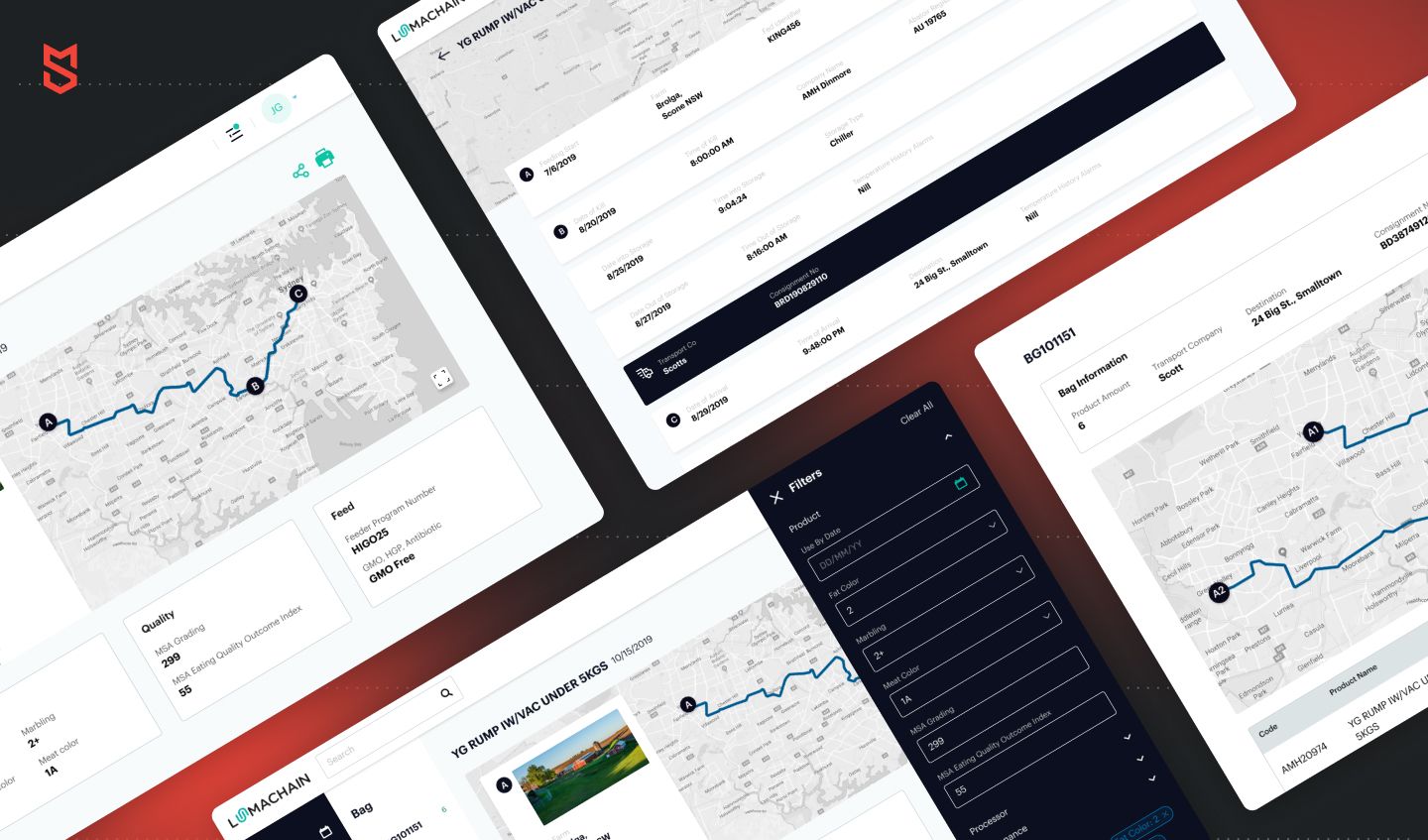 The Lumachain platform aims to track the origin, condition, and location of items in the food supply chain — and as a result, build a better, safer, more transparent, and sustainable supply chain in the global food industry. To achieve this, the company uses blockchain, IoT, algorithms & AI, all of which help increase traceability at every step of the food production journey.
Mind Studios has also contributed to this product since our team was entrusted with a task connected specifically to its logistics aspect.
When the drivers deliver the final products to the retail locations, there are a lot of processes to go through, like receiving a route sheet, filling in and signing the documents, etc. Our software engineers have built a system that automates these processes and helps managers efficiently administrate this stage of the supply chain cycle.
We built the system called the dispatching module for both the web and the mobile versions of the product.
Mind Studios' expertise isn't limited to these projects. Our team develops software solutions like warehouse, inventory, and fleet management systems, monitoring & analytics software, cargo transportation tracking and route planning solutions, and other custom systems for businesses.
Conclusion
Businesses that are determined to think strategically and make data-driven decisions embrace automation and integrate logistics management hardware and software systems into the entire ecosystem of their operations. Today, it's the only way to stay competitive and facilitate business growth.
Whether you need to automate your warehouse processes, increase transportation efficiency, cut costs, or find out how to improve logistics processes to increase profitability — Mind Studios is ready to help. If you have any questions regarding solutions for logistics and automation through software — feel free to reach out. Our business development team would be happy to assist you with finding the most efficient strategy for your company.
2