You have a brilliant startup idea. But guess what? So do your competitors. What really matters is that your potential customers notice you. Your product either has to meet customer needs that have been unmet by competitors or serve customers in a better way than existing solutions.
In this post, we'll show you how to conduct a competitor analysis that will allow your startup to find the right spot in the market.
Why do you need to conduct a competitor analysis?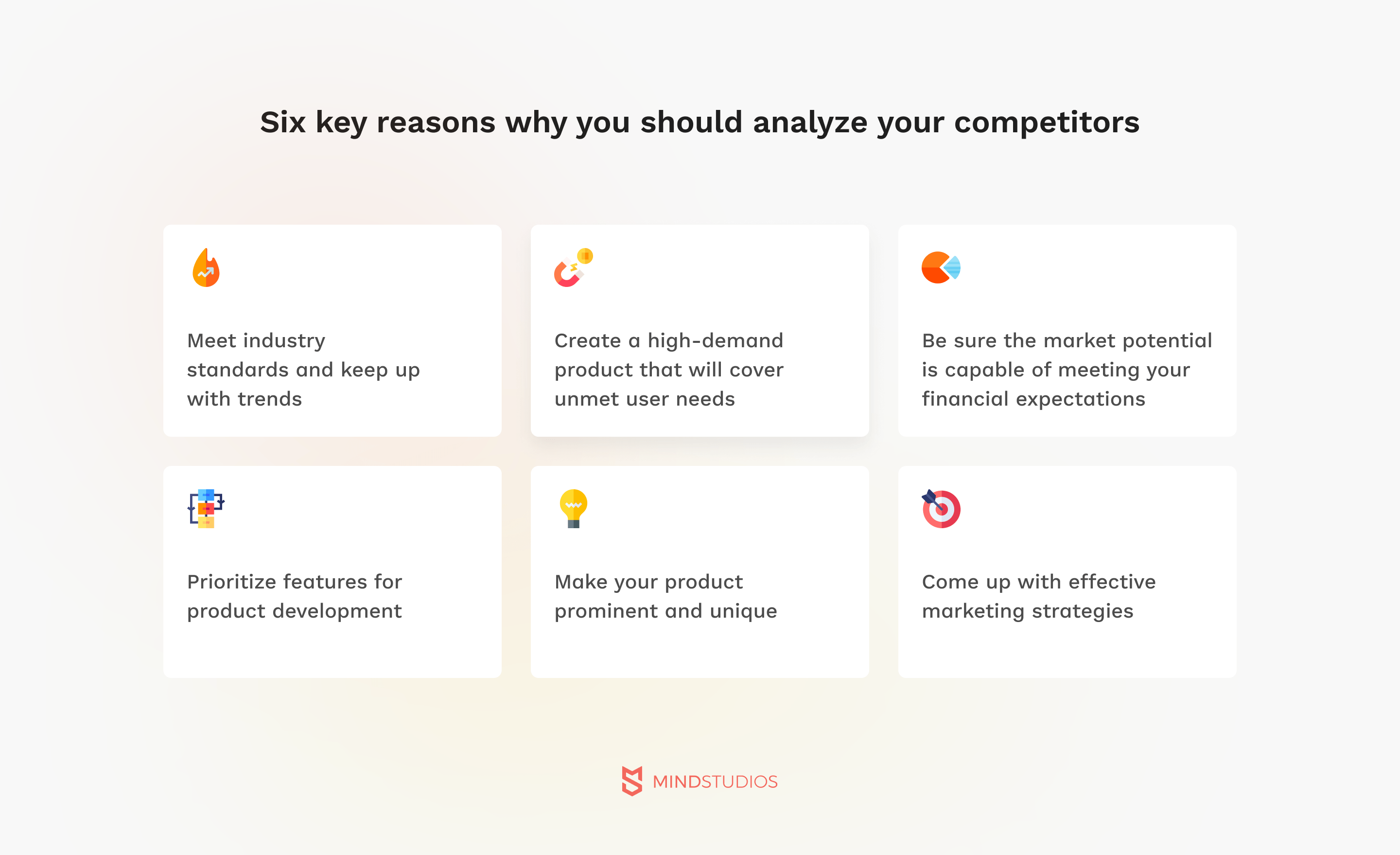 Find the five top brands in your niche, see what they do best, and do the same. You might have found this tip while searching for how to conduct competitor analysis. In fact, it doesn't work like that.
Despite the existence of such behemoths as Adidas, Nike, and Puma, in 2012, Ben Francis started a new fitness wear brand called Gymshark that brought him a billion dollars in revenue in eight years. If Ben, an average college student, had tried to clone his world-known competitors, Gymshark would have died in its infancy. Thanks to a well-done competitor analysis, Ben found a lot of gaps in competitors' marketing strategies, as competitors didn't use the latest innovations. Gymshark became a pioneer in marketing its brand via well-known influencers, athletes, and fitness YouTubers who subsequently became Gymshark ambassadors. Adidas and its ilk didn't market their labels in such a way, and after a while, they began to learn from Gymshark.
Is analyzing competitors important for your startup's success? As plenty of Gymshark-like cases show, it's crucial not only for creating powerful marketing campaigns but for giving you:
A clear picture of what customers like in your competitors' products. By including these things in your own product, you can keep your product relevant and meet high industry standards.
An understanding of what's missing in competitors' products, which will allow you to add desired features and make your product be in high demand.
Detailed information about your market potential. You'll be aware of your competitors' average user traffic, check size, monthly revenue, customer acquisition cost, marketing budget — all the essential metrics based on which you can make data-driven predictions about your startup's profitability.
The right sequence of building product features. Knowing what works well and what's bad in competitors' products allows you to narrow your feature list to the most valuable features and build a user-friendly product in little time and at little cost.
A tangible product vision. Knowing what your competitors offer will enable you to identify what can make your product stand out and define your unique value proposition.
Keep these values in mind both while reading this post and while actually conducting your competitor analysis.
10 steps to conduct a competitor analysis for startup
To help you learn how to do a competitor analysis, we've broken this process down into 10 simple, actionable steps that you can start taking immediately.
Step 1. Identify who your competitors are
First of all, you need to choose the right competitors to analyze. Your product can differ from competitors' products by three key indicators:
Customers (WHO)
Problem solved (WHAT)
Type of solution (HOW)
Combining these indicators, you can distinguish among four types of competitors: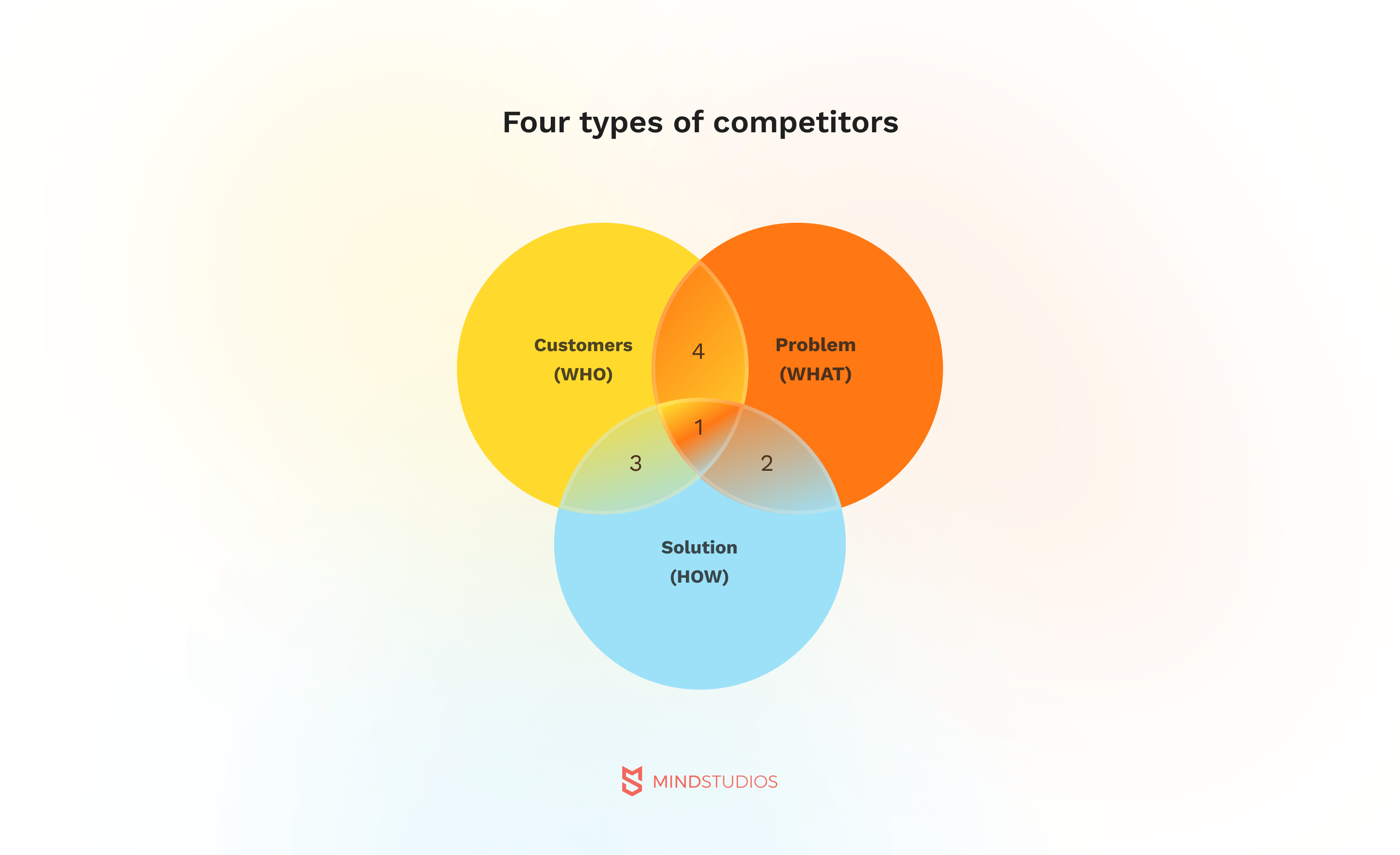 Direct competitors are who you need to be concerned with first. In turn, analysis of your indirect, potential, and substitutional competitors can prompt you to find ancillary promotional channels and beneficial future partnerships.
We'll now describe in detail how to analyze direct competitors. You can use this step-by-step guide as a versatile approach for analyzing your indirect, potential, and substitutional competitors as well.
Tools. Let's assume you want to make a meditation app like Headspace. To identify who your direct competitors are, you can type top keywords related to your niche (e.g. "headspace vs", "meditation app," and "meditation") into the search bar of the following tools and get the names of popular applications:
Google will show you Calm, Insight Timer, and Buddhify at the top of the search results.
The Apple App Store and Google Play Store will show you the Medito, Serenity, and Lojong apps.
Alexa, SimilarWeb, App Radar, and other analytic services will suggest Very Well Mind, Meditopia, and Talkspace.
Takeaways. At the end of this step, you'll be aware of:
What brands steal the spotlight and get the most traffic in your niche
The volume of competition in your niche
Who you need to fight with for market share
Step 2. Gather detailed information about your competitors
After you create an initial list of direct competitors, you should take a closer look at each of them.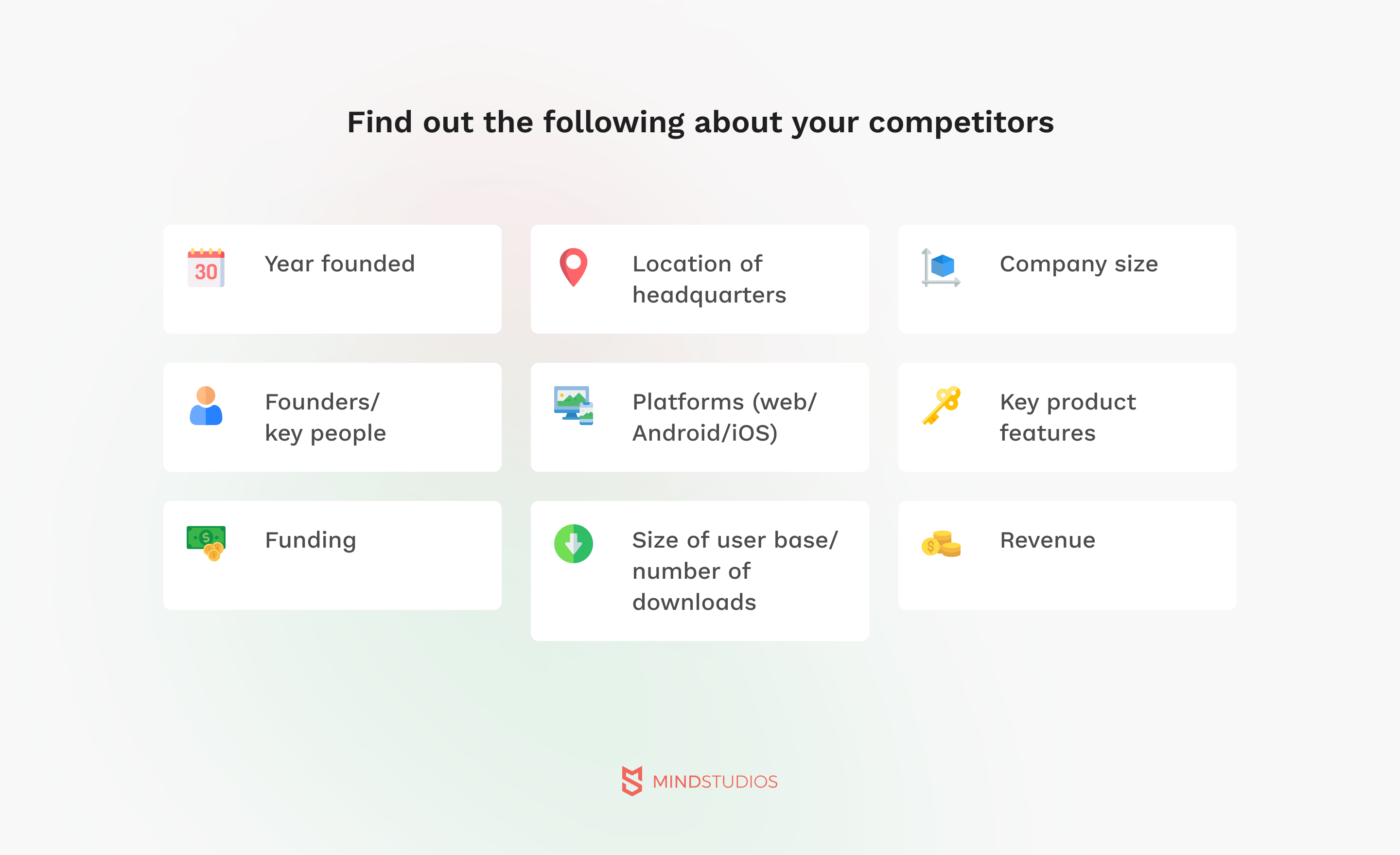 Tools. To get detailed information about your competitors, you can rely on services like Crunchbase.
Crunchbase is a powerful source of insights about your competitors, since it provides a company overview along with information about funding rounds, technology used, and founders' profiles.
For convenience, it makes sense to put all the information you gather in one spreadsheet. For an example of how to do this, let's look at one of our competitor analysis reports that includes a breakdown of three competitors:
Competitor overview example for a meditation app
Company
Calm
Headspace
Meditopia
Founded
2012 Los Angeles, CA
2010 Santa Monica, CA
2015 Berlin, Germany
VC
$75M - 8 Dec 2020
$27M - 1 Sep 2019
$88M - 6 Feb 2019
Total = $218M
Crunchbase
$48M - Jun 2020
$40M - Feb 2020
$37M - Jun 2017
Total = $216M
Crunchbase
$15M - Jul 2020
$2.5M - Aug 2019
$0.48M - Jan 2018
Total = $18.2M
Crunchbase
# of employees
300
251
100
# of customers
10M+ installs
900K iOS
800K Android
70M+ downloads
400K iOS
500K Android
14M+ million downloads
300K iOS
500K Android
Revenue
$5M iOS / $1M Android
$3M iOS / $1M Android
$600K iOS / $200K Android
Average rating
4.8 stars / 1.3M ratings iOS
4.3 stars / 436.7K ratings Android
4.9 stars / 843.6K ratings iOS
4.5 stars / 246.7K ratings Android
4.9 stars / 17.6K ratings iOS
4.7 stars / 179.1K ratings Android
Takeaways. After taking this step, you'll know:
What competitors have recently raised investments and the size of those investments (to determine what amount of investment you can potentially get)
Your competitors' core metrics including number of users, pricing, and monthly revenue (to ensure the market fits your expectations)
How users perceive competitors' products according to their star ratings (to set benchmarks you need to reach and surpass with your own product)
Step 3. Focus on products your competitors offer
After you draw up profiles of your main competitors, you should scrutinize solutions they offer your target audience. The best way to do that is to play the role of your competitor's customer. In terms of mobile apps, you can download an app, register as a user, and test app functionality.
While you're verifying how rivals' products work, you can compile a list of key features that your product can potentially provide. Using a feature comparison matrix, you can mark which features from this list are implemented in your competitors' products and which are not.
Note that app features can differ according to the type of user. We recommend making a list of app features separately for each user group — in our example, separately for listeners and coaches.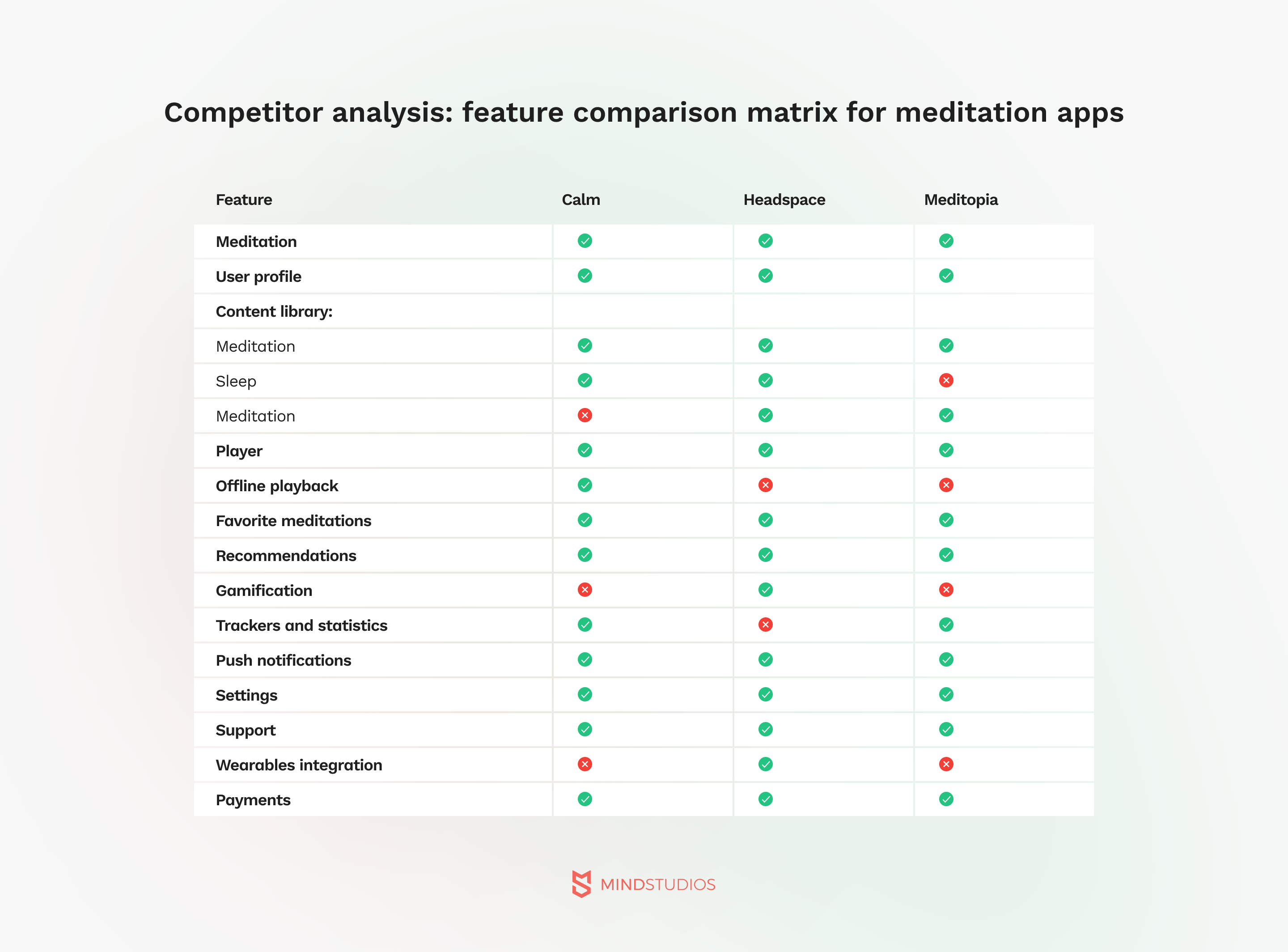 Takeaways. Taking this step will allow you to identify:
Points of parity (POPs) — Basic features that users expect in a specific product and that are definitely implemented by your competitors
Points of difference (PODs) — Features that are important to your users but are not realized in competitors' products
Points of irrelevance (POIs) — Features that have no importance for users
Step 4. Conducting a competitors' UI/UX designs
Your product functionality is important, but no less important is the user experience (UX). Putting the right features and content in the right place at the right time and in the right way can impress your users and increase the chances they will prefer your product to competitors' products.
To compare UI/UX designs, open your competitors' apps once again and navigate screens, buttons, content, and functionality as an average user. First of all, you need to test whether it's convenient and easy to complete a key action within an app (for example, listening to a meditation track). In other words, does the interface of your competitor's app have an intuitive and user-friendly UX design?
Only when you finish your competitive UX analysis can you turn your eye toward competitive UI design: logo designs, color schemes, fonts, strokes, the size and appearance of buttons, etc.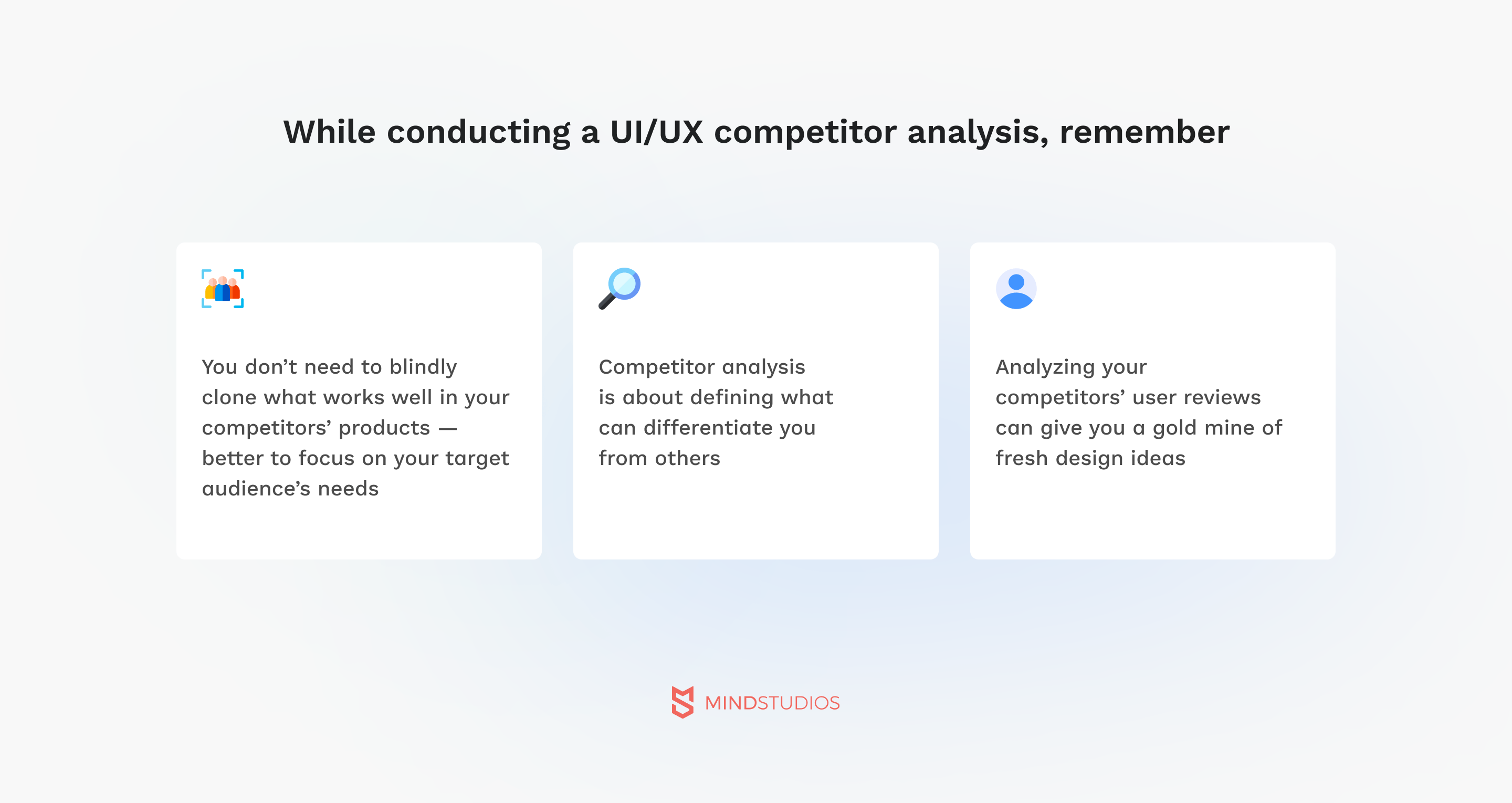 Tools. When conducting competitor UI/UX analysis, you might be overloaded with a bunch of notes, mockups, and screenshots. To systematize this stuff, you can use user story mapping drafting the user journey and attaching your notes and screenshots as a user goes. To create a user story map, you can use anything from a sheet of paper to an Excel spreadsheet to online tools like Miro.
Step 5. Know what technology stack your competitors use
For developing a top-notch software product, it's important to see behind the interfaces of your competitors' websites and apps and figure out what they're made of. By doing this, you'll unveil effective technology solutions you can take advantage of.
Tools: Built With and its lean version What Runs can help you identify any technology stack from third-party APIs to analytics platforms to testing services (over 53,260 internet technologies) that your competitors have used to build their websites and mobile apps.
Takeaways. In this step of conducting a competitor analysis, you'll figure out:
The complexity of the tech stack you'll need to implement your product
What technical specialists your project requires
Whether you can launch your project with your in-house team or you need the help of third-party developers
Step 6. Observe how your competitors make money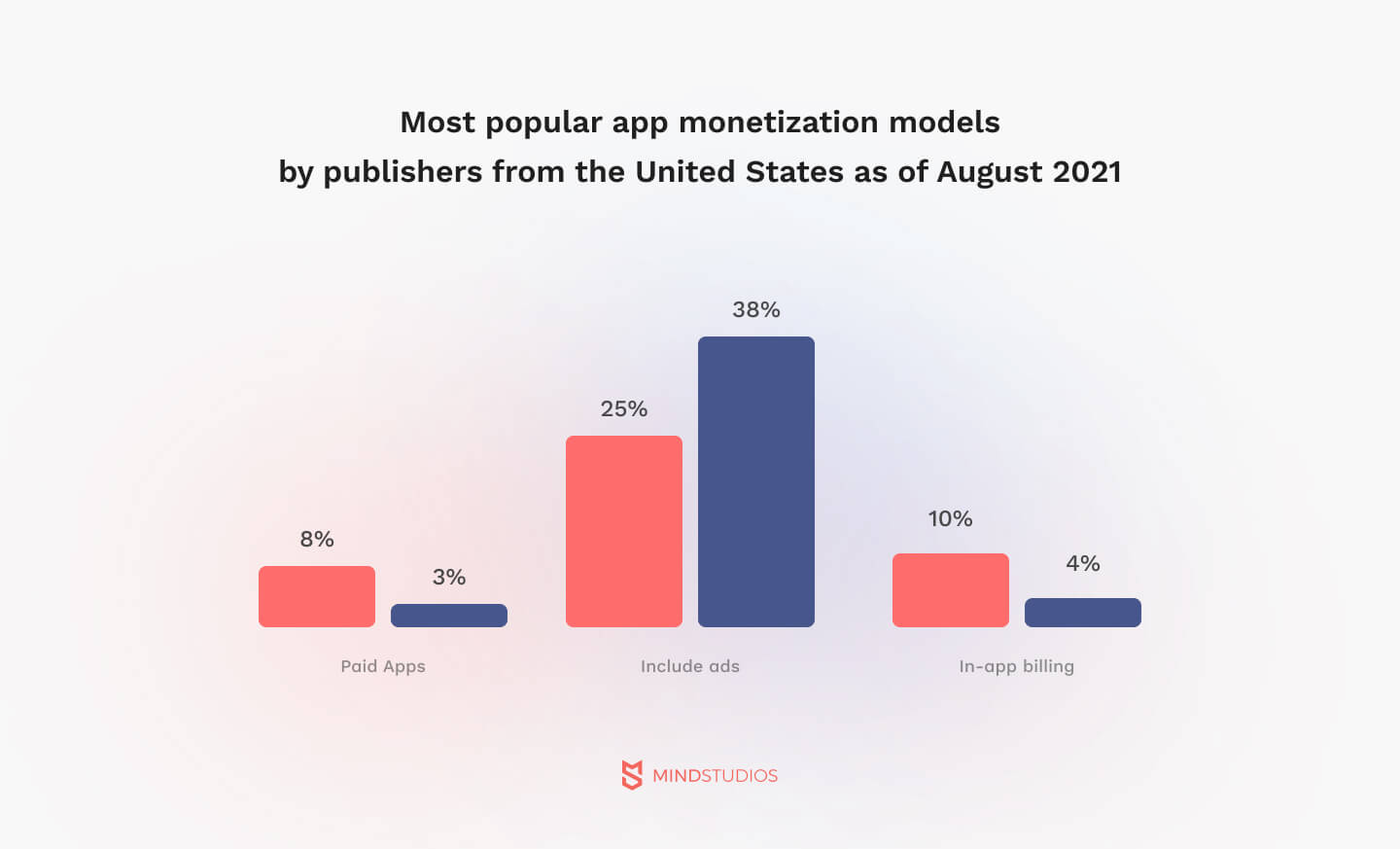 To build a competitive product, you need to be aware of:
The average market price of similar products offered by your competitors
Shipping costs, packaging costs, and other purchase-related costs
Perks that competitors use to attract and retain customers: discounts, coupons, bonuses, promo codes, gift cards
In terms of software products, your competitors can make money from the following monetization options:
Advertising — Receiving money from every ad impression for third-party products on proprietary platforms
Subscriptions — Receiving weekly/monthly/annual payments from users for access to proprietary products
In-app purchases — Getting revenue (a certain percentage) from each purchase within an app
Freemium model — Providing basic functionality for free and charging for access to premium features
Paid downloads — Getting one-time payments for lifetime access to an app
More often than not, meditation apps use the subscription and freemium monetization models. However, knowing your competitors' pricing policies can help you build your own effective monetization strategy. While comparing competitors' pricing models, you can find out which segment of potential customers are on the price edge, meaning that if you make the price of your app or service a little less than what your competitors charge, they'll buy from you. This enables you to create a competitive product that will serve two types of customers with one app. Customers will pay less than competitors charge and your company's profit will grow.
Step 7. Learn your competitors' key performance metrics
Another important step of a competitor analysis is to figure out the degree of user engagement in your competitors' websites/mobile apps. Pay attention to the following engagement metrics: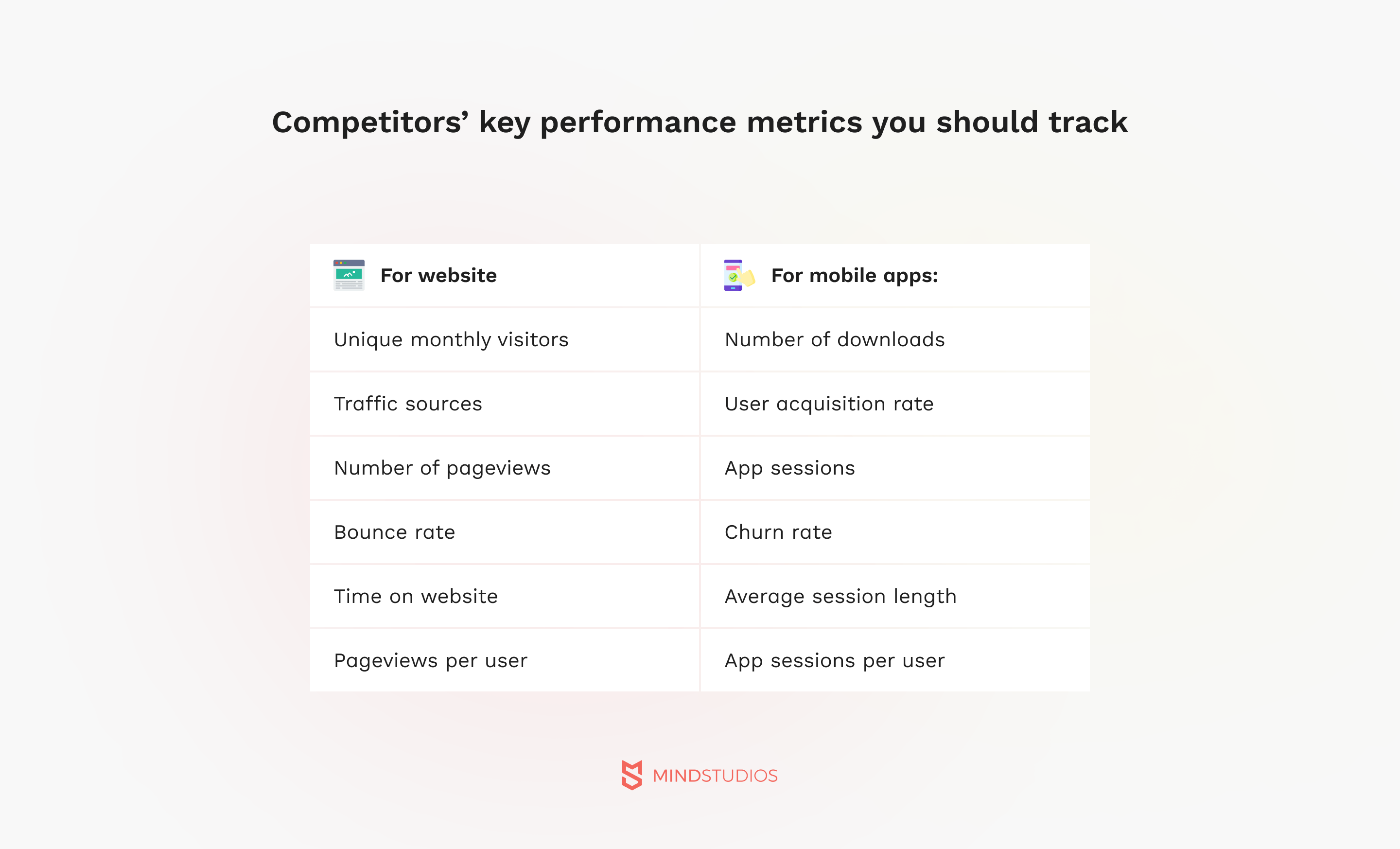 Competitors' KPIs will help you make predictions about your software product's profitability and will be a variable in your unit economics calculations.
Tools: To get statistical data about your competitors' products, you can rely on plenty of online tools. In the table below, we've collected the most popular:
For websites: Alexa, SEMrush, Ahrefs, Serpstat
For mobile apps: App Annie, Sensor Tower
For both websites and mobile apps: SimilarWeb
For the meditation app we mentioned above, we used SimilarWeb to get most of the following numbers:
Competitors' key engagement metrics for meditation app competitor analysis
Calm
Headspace
Meditopia
Engagement
Total visits: 2.45M
Avg. visit duration: 00:01:53
Pages per visit: 3.38
Bounce rate: 52.67%
Total visits: 2.90M
Avg. visit duration: 00:02:33
Pages per visit: 3.08
Bounce rate: 52.56%
Total visits: 96.52K
Avg. visit duration: 00:02:12
Pages per visit: 2.71
Bounce rate: 53.16%
Takeaways. At the end of this step of conducting competitors analysis for your app, you'll know:
The level of customer engagement with competitors' brands
What KPIs are common to competitors
Step 8. Estimate your competitors' brand awareness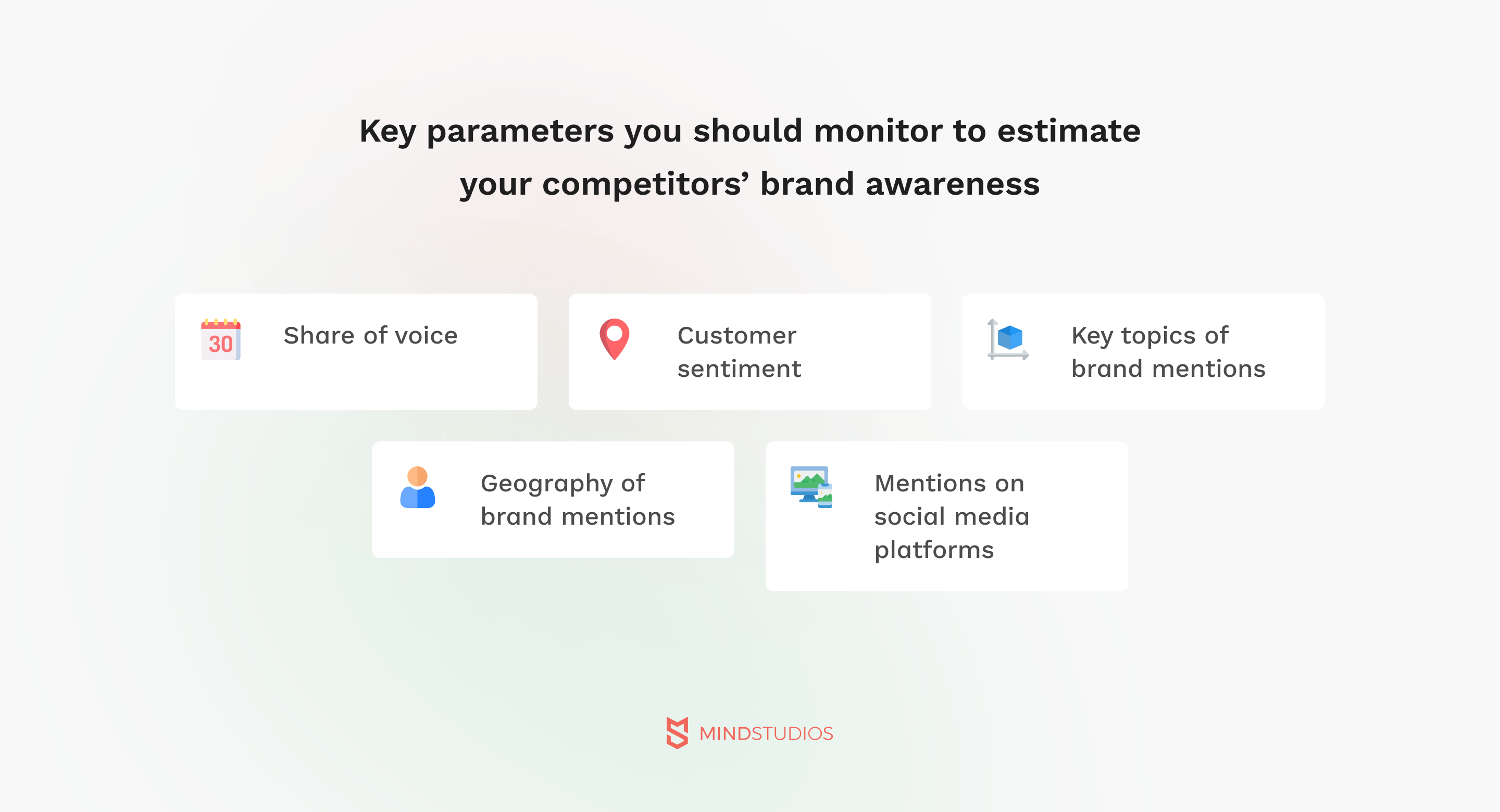 When conducting competitor analysis, you would be remiss not to figure out how customers speak of your competitors, what attitudes they express towards your competitors' brands, and what topics they associate with competitors' products. To be more specific, you should measure:
Share of voice (SOV) — The number of mentions your competitors' brands get on social media, blogs, and web media outlets
Customer sentiment — The nature of customers' mentions about your competitors' brands: positive, negative, or neutral
Key topics — The words and phrases customers commonly use when mentioning your competitors' brands
Geography of brand mentions — The breakdown of customer mentions by location and language, which will help you find regions not saturated with your competitors
Mentions on social media platforms — A ranking of social media platforms by frequency of your competitors' mentions
Tools. To monitor where your competitors are most popular and how customers relate to their brands, you can rely on tools like Awario, Mention, and Alexa. Moreover, these tools can make a list of top keywords in your industry and show you which competitors hold the biggest share of traffic for those keywords.
Here's a part of our competitor analysis spreadsheet related to analyzing brand awareness among meditation apps:
Competitor analysis of brand awareness for meditation apps
Calm
Headspace
Meditopia
Top countries
United States: 52.68%
United Kingdom: 5.6%
Canada: 5.28%
India: 3.59%
Australia: 3.16%
United States: 36.11%
United Kingdom: 12.49%
Canada: 4.95%
India: 4.87%
Germany: 3.73%
Turkey: 24.29%
Russia: 12.46%
Brazil: 8.83%
Spain: 4.98%
France: 4.91%
Traffic Sources
Direct: 75.28%
Referrals: 2.25%
Search: 15.93%
Social: 2.99%
Mail: 3.15%
Display: 0.4%
Direct: 61.09%
Referrals: 1.78%
Search: 31.7%
Social: 3.25%
Mail: 2%
Display: 0.19%
Direct: 40.51%
Referrals: 1.62%
Search: 45.52%
Social: 12.35%
Mail: 0%
Display: 0%
Referrals
verywellmind.com
crisistextline.org
https://www.greenhouse.io/
https://www.bbc.com/
https://www.nytimes.com/
https://workona.com/
lacounty.gov
https://laist.com/
Mail.ru
https://startershub.com/
Step 9. Find out competitors' marketing activities and budgets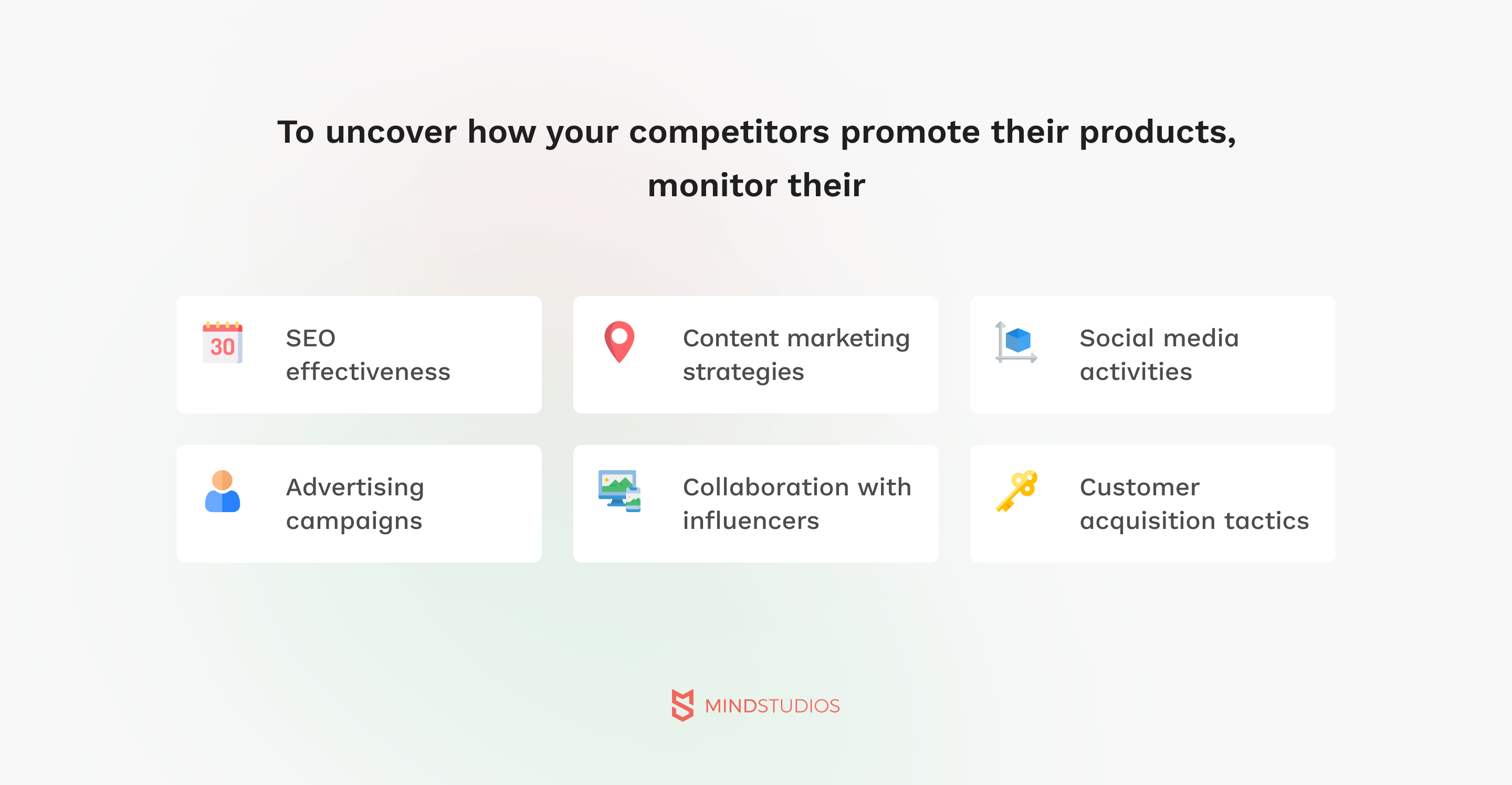 No thorough competitor analysis can be carried out without unveiling how your competitors promote their products. In terms of websites, you need to focus on competitors':
SEO effectiveness. What keywords do competitors optimize for to get traffic and sales? What sources link to competitors, generating backlinks for them?
Content marketing strategies. Do your competitors have a blog? What kind of content do they tend to publish? Do readers share competitors' posts on social media? Do competitors use guest posting?
Social media activities. Find out what social media platforms competitors use; what posts they publish; the frequency of those posts; how many likes, comments, and reposts they receive; and how many followers competitors' profiles have.
Advertising campaigns. Analyze your competitors' relevant search ads and note what keywords they target.
Collaboration with influencers. Monitor partnerships with influencers, media platforms, and publishers that help your competitors make their products as widely known as possible.
Additional customer acquisition tactics. Uncover what extra resources your competitors use to acquire more customers. They can provide referral programs or affiliate programs, sponsor business conferences, or take part in educational business courses, for instance.
Tools: There's a variety of useful online services for analyzing your competitors' marketing strategies:
Let's take a closer look at a fragment of our competitor analysis for a meditation app that illustrates this step:
Competitor analysis for a meditation app: marketing activities
Calm
Headspace
Meditopia
Organic search traffic over July (SEMrush)
656.8K
1М
16K
Paid search traffic
40.3K
92К
13.3K
Backlinks
1.2M
881К
5.1K
Search traffic
95.06% Organic / 4.94% Paid
84.15% Organic / 15.85% Paid
83.83% Organic / 16.17% Paid
Top organic keywords
calm, calm app, meditation, sleep stories, calm app free
headspace, headspace app, headspace login, headspace careers
meditopia, медитопия, meditopia blog, meditopia france, meditopia interview
Top paid keywords
eadspace, wellness, betterhelp, health and human services, betterhelp
headspace, headspace app, headspace for work, headspace subscriptions
meditopia, медитопия, meditopia blog, meditopia france, meditopia interview
Top paid keywords
eadspace, wellness, betterhelp, health and human services, betterhelp
headspace, headspace app, headspace for work, headspace subscriptions
meditopia, meditopia opinioni, yatarak meditasyon, calm, meditasyon
Keywords total
81K
160K
1000
Social traffic
2.99%
YouTube: 35.90%
Facebook: 21.5%
Reddit: 13.9%
Twitter: 5.07%
3.25%
YouTube: 61.82%
Facebook: 12.33%
LinkedIn: 7.70%
Reddit: 5.68%
12.35%
YouTube: 82.21%
Facebook: 10.18%
LinkedIn: 3.99%
VK: 2.7%
Instagram: 0.92%
YouTube
https://www.youtube.com/c/calm/
525K subscribers
https://www.youtube.com/c/headspace/
482K subscribers
https://www.youtube.com/channel/UCrbJcGZx6RK9OlsvKyDfeiA
7.2K subscribers
Instagram
https://www.instagram.com/calm/
2.6M followers
https://www.instagram.com/headspace/
960K followers
https://www.instagram.com/meditopiapp/
25.6K followers
Facebook
https://www.facebook.com/calm
1.3M followers
https://www.facebook.com/Headspace
790K followers
https://www.facebook.com/meditopiapp
9.2K followers
Twitter
https://twitter.com/calm
174.5K followers
https://twitter.com/Headspace
255.7K followers
https://twitter.com/meditopiapp
7.2K followers
Blog
https://www.calm.com/blog/
https://www.headspace.com/articles
https://blog.meditopia.com/en/
Step 10. Summarize data obtained in a SWOT diagram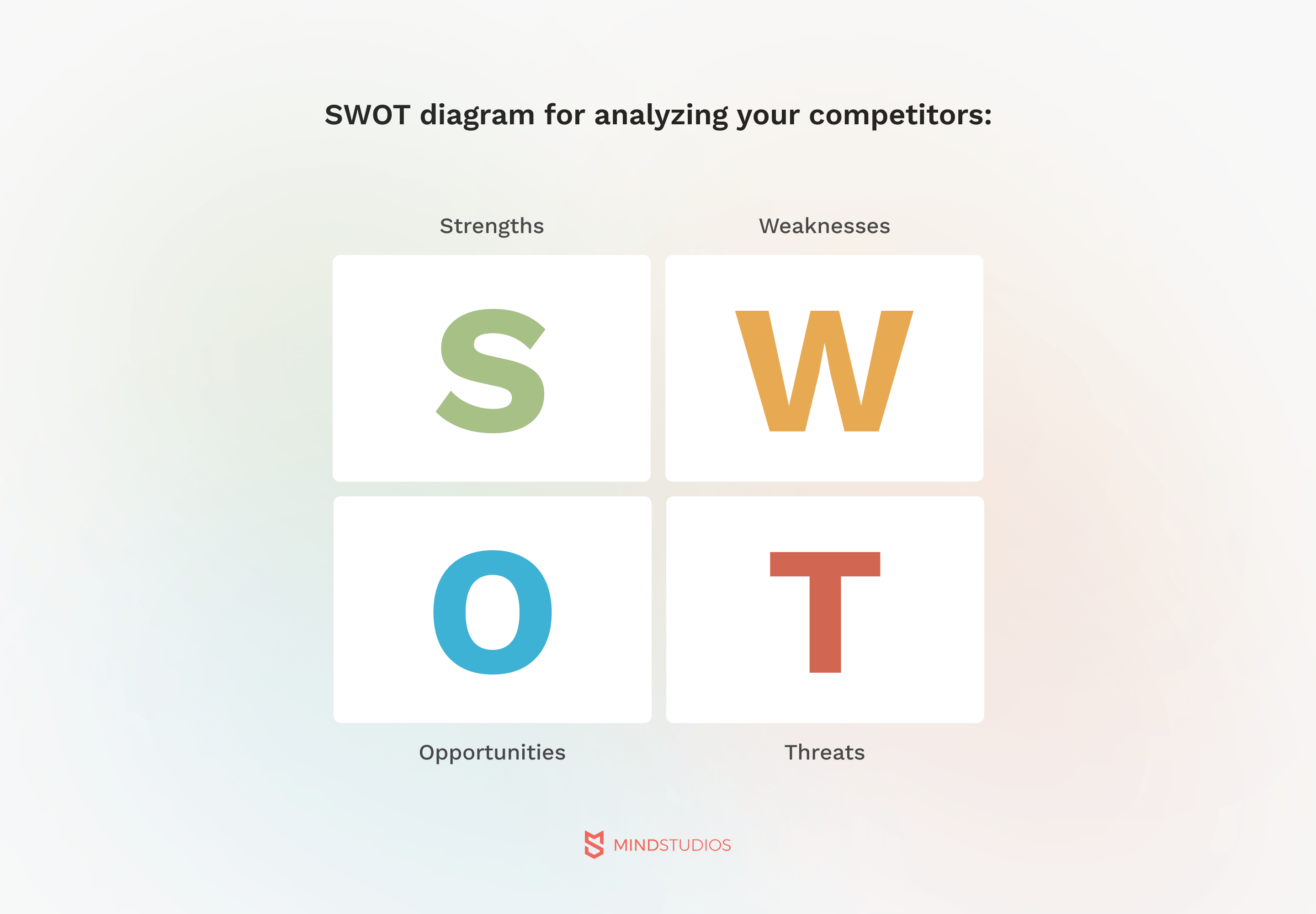 After you evaluate each segment of your competitors' businesses (product, sales, profit, and marketing), you can create a competitor analysis report with summary of:
What your competitors do perfectly
What opportunities in your industry your competitors have identified
The weakest spots in your competitors' businesses
What threats your competitors are trying to sidestep
Put your findings in the four sections of the SWOT diagram: strengths, weaknesses, opportunities, and threats. Draw up a SWOT analysis for your product and compare competitors' weaknesses against your strengths, and vice versa.
Takeaways. In this step, you'll be able to:
Sharpen your product vision and unique value proposition
Think over effective marketing strategies
Define tactics to turn your weaknesses into advantages
To help you conduct a competitor analysis for your startup or a mobile app and distill it into a readable report, we are sharing our competitor analysis template. Feel free to download it and leave a comment on whether it was helpful.
What to do after your competitor analysis is complete
All ten steps of this competitor analysis guide have one goal — to help you understand what can make your product serve your customers better than other products on the market. For this, the authors of Blue Ocean Strategy, Chan Kim and Renée Mauborgne, suggest taking outputs of your competitor analysis through the prism of suitability to your own product. They call this framework the Eliminate-Reduce-Raise-Create (ERRC) grid:
Highlight those features that you can painlessly eliminate to lower the cost of production.
Define the features that won't impact your product's value if you reduce their quality.
Outline the features by which you can go above the industry standard within your budget limits.
Create extra features that are important for your target users but not available in your direct competitors' products.
Bringing a new product to market requires in-depth market research, with competitor analysis just being the link between overall market overview and user analysis. However, competitor analysis enriched by customer feedback has the power to turn your startup idea into a successful business if done systematically. In our busy world, everything changes rapidly, and competitors' offers are no exception. You will want to repeat these ten steps for competitor analysis with some regularity.
How to Conduct a Startup Competitor Analysis: Conclusion
Today, every industry is crawling with competition. Ignoring competitors when bringing a new idea to market is reckless. Depending on your business specifics, you may need to analyze up to 50 competitors, which can turn your competitor analysis into a challenging, time-consuming task. However, you should consider all the time and money spent on competitor analysis as an investment in your project's success.
In this article, we've shared recommendations on how to conduct a competitor analysis smoothly. Since you likely need to prioritize time spent on your core business tasks, you're welcome to delegate competitor analysis, market research, or the entire software development process to our team.
3