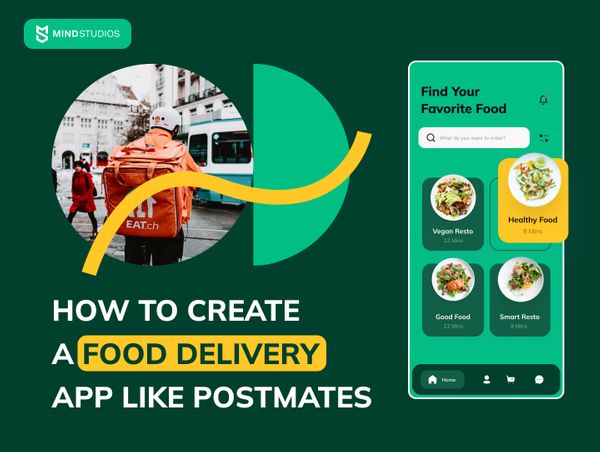 With the development of Postmates-like apps being the rage it is, entering the market isn't easy. How to create a food delivery app that will find its audience and bring you success? According to our experience, the success of any mobile app is preceded by thorough market research.
Thanks to analyzing competitors' solutions, and target users' needs, we managed to build a competitive online delivery app James Butler for Denmark. Particularly, we figured out that busy Danish preferred to order delivery without specifying detailed product descriptions on the shopping lists. Taking short product descriptions as our trump card, we got almost 5,000 shopping lists created within the app three months after its launch.
In this article, we'll analyze the ever-growing popularity of meal delivery services, focus on the stages you'll need to complete to start your food delivery app out alive and thrive among all your rivals, and share tips on how to pick a skilled team to work on your project.
Food delivery app business in various regions
Despite economic headwinds, the online food delivery market is thriving. Accroding to Statista, the online food delivery market is expected to generate $1.02 trillion in revenue by the end of 2023. The overall market size is estimated to expand at a 12.67% annual rate (CAGR 2023-2027), resulting in a market volume of US$1.65 trillion by 2027.
The biggest online food delivery market share belongs to China ($395.9 billion in 2023). Behind China settled the US ($269.80bn), United Kingdom ($40.64bn), India ($33.36bn), Canada ($12.75bn), Australia ($10.34bn), and Saudi Arabia ($10.02bn).
If you plan to make a food delivery app in these or other regions, it's vital to conduct thorough market research and calculate the share you can possibly capture taking into account the competition volume and how closely your product's unique selling point fits in your users' preferences. If you're thinking of starting a food delivery app project in multiple locations, consider focusing on one region first. Once you succeed with it, you can then develop new markets.
Why should you build a food delivery app?
Before investing good money in your food delivery app development, first, let's see what benefits your business might get from building a Postmates-like app.
Get fast ROI
Building a mobile app for your food delivery business has all the prerequisites to help you attract solid investments just in a couple of years. Here are some examples:
US-based food ordering startup HungryUS has raised $1.1M in funding two years after its launch
Founded in 2021, a Paris-based grocery delivery company Cajoo has raised $47.2M in funding over two rounds in the same 2021 year
Yummy, a food delivery mobile app startup that operates across Latin America, founded in 2020, within two years managed to raise $83.9M in funding
Serve more dishes to more people with less struggle
By equipping your food delivery business with a mobile app, you have all chances to explode your customer base and streamline the last-mile order delivery. For example, a single instant delivery tracking feature built in your app can increase customer retention rate, reduce the number of complaints, and significantly improve user satisfaction.
Knowing this, the founders of the German startup Karla decided to make an advanced delivery tracking tool their trump card while building a website and app early in 2022. Karla offers their customers to keep track of their deliveries in real-time — from delivery times to drop-off points and returns.
Experts from PYMNTS forecast that Karla will be able to mitigate over 71% of the disputes caused by delivery service errors like sending to the wrong address or charging the wrong amount.
Master new marketing channels
One more reason why you should develop a food delivery app is that it can provide you with additional powerful ways to promote your business. To name a few, app push notifications have more than three times higher average open rate (81% for Android) than emails (21,5% for all industries).
If done well, push notifications can help you improve user engagement and increase retention rate by up to 92%. By sending location-based push notifications with an irresistibly enticing offer to passers-by, Telepizza has made $2400-2600 from a single message.
However, all the above-described advantages of having a mobile app could work for your food delivery business only if you know how to start a food delivery app development the right way.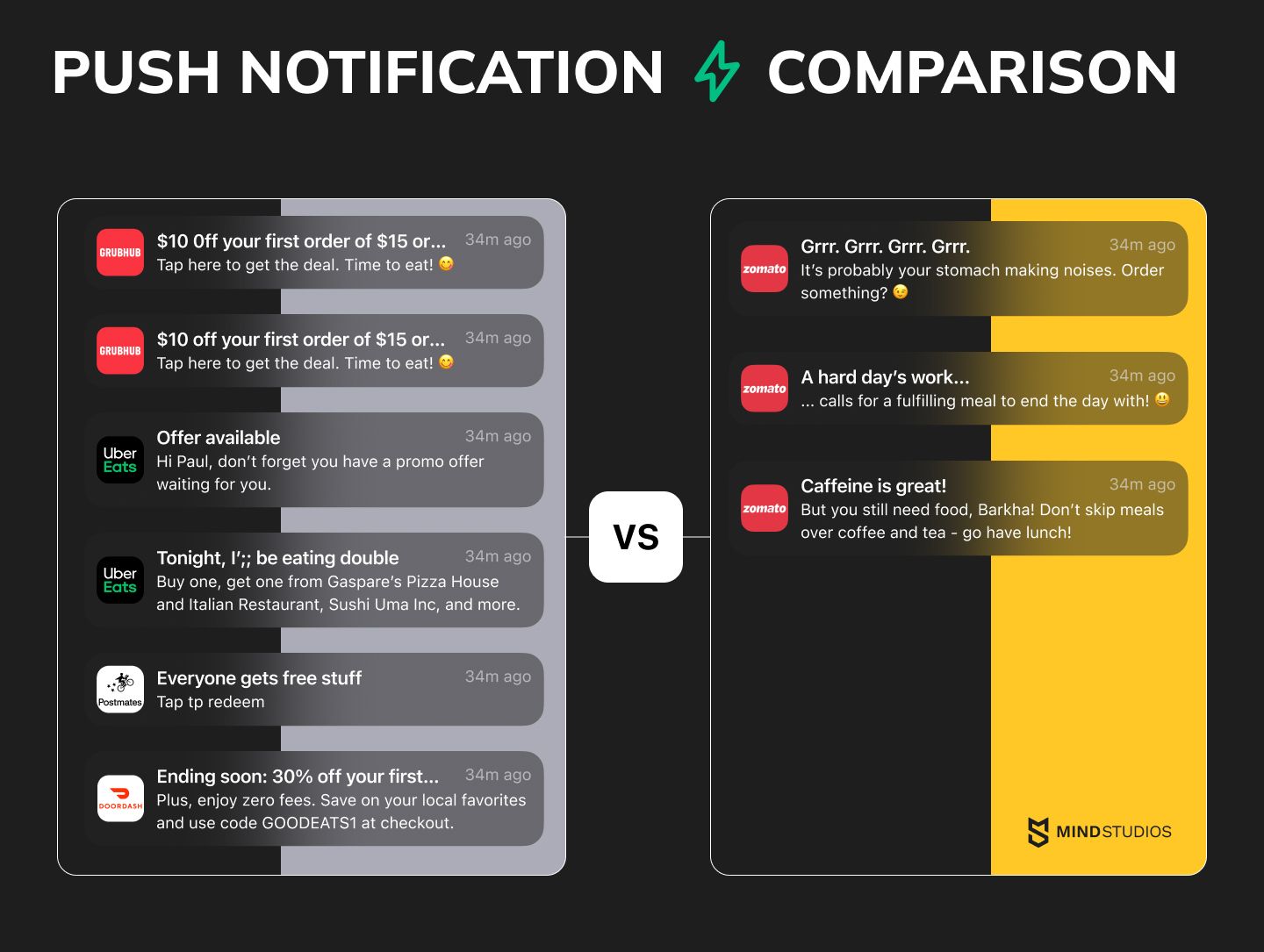 Evaluate your idea for a food delivery app
To build an app like Postmates that will bring you profit, you should start with evaluating your idea. This will help you better understand why you're developing your food delivery mobile app, for whom, and how you can monetize it. Idea evaluation includes some important stages like market research, trend and business analysis, and defining your unique value proposition.
Start with market research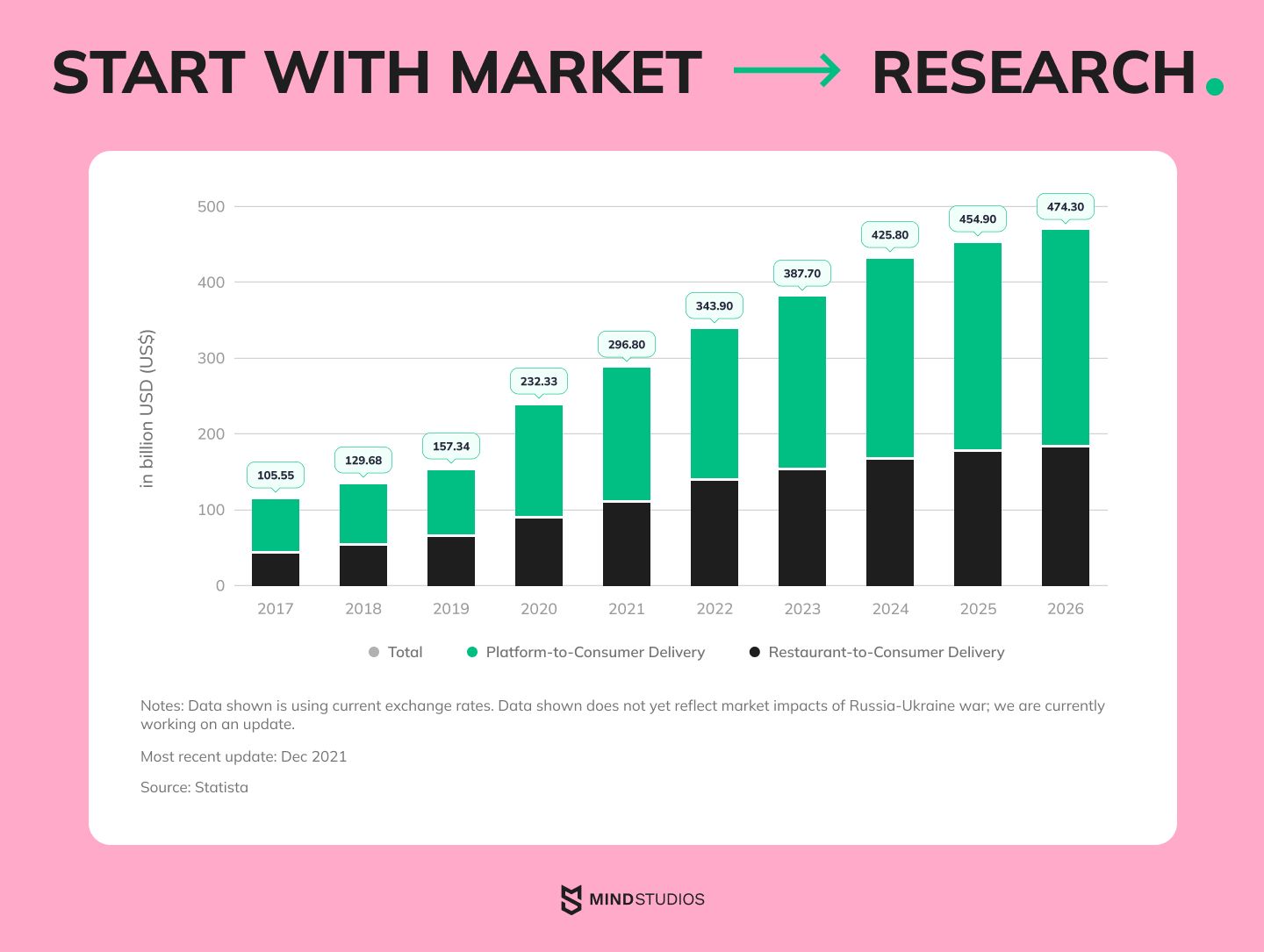 The first task when building a mobile app for food delivery is to research your competitors. What do they do and how do they do it? Who's their target audience? Can you cater to people your rivals don't target? What can you do to steal the spotlight?
When you go about developing your food ordering app, you'll be able to conduct more precise and targeted research with the help of a project manager. But it doesn't hurt to have a solid grasp of the market situation before you start paying for development. So here's an overview of the current food delivery market leaders: Postmates, UberEats, and DoorDash.
Postmates
Postmates isn't the cheapest service for customers. Its delivery fees range from $3.99 to $9.99. Still, people use this service a lot. Here's why:
Alongside delivery fees, Postmates often features discounts.
There's a Postmates Unlimited subscription for $20 a month that provides free delivery on orders over $20.
Postmates doesn't restrict deliveries to food; you can order groceries, gifts, flowers, and basically anything that one delivery person can carry.
Postmates works 24/7.
These are the features to consider if you're thinking about how to develop an app like Postmates.
Uber Eats
Uber Eats was launched when Uber was already famous for its on-demand taxi service. Food delivery was simply an expansion, not a completely new business. This made it easier for the company to market the new service.
If you want to create an app like Uber Eats, one of the most valuable insights we can give you is that you should pay a lot of attention to the UI/UX design. Uber Eats is known for its flexibility and simplicity in browsing options and placing orders. There are all kinds of search options: by distance, cuisine, dish, or place name. Users can even set dietary restrictions.
DoorDash
DoorDash is a service with one of the largest networks of partner restaurants in the US and Canada. Among the DoorDash app's best features are:
Featured restaurants
Restaurants with free delivery
Restaurants with free offers
Popular dishes in each restaurant
Order tracking
DoorDash Delight
DoorDash Delight is a scoring system that measures customer satisfaction with restaurants. It reflects food quality, delivery speed, and overall restaurant popularity. A rating system and curated lists are features to strongly consider if you're aiming to create a food delivery app like DoorDash.
These are the biggest names in the food delivery market. If you're interested in how to develop a food delivery app, they're the first ones for you to research. However, simply copying any or all of them won't do you any good. So let's head to the next stage of on-demand food delivery app development.
Conduct business analysis
Business analysis is aimed at understanding the demand for your application. It will help you find your buyer persona, choose a monetization model, and more. At this stage, you'll also get a more precise estimate of the cost of developing a food delivery app than the estimate made before development began.
There are three different types of users food delivery apps cater to:
People who are willing to pay extra to have food delivered to their doorstep
Restaurant owners who see an opportunity to promote their restaurants without developing an app of their own or hiring delivery drivers
People who are looking for a job that offers flexible hours
User personas are only a small part of business analysis. As you work with your food delivery app development company, you and your project manager will eventually fill out a so-called Lean Business Model Canvas. It covers all the basic information you need to understand what features to implement and how to navigate the food delivery business in general.
Moreover, your project manager will help you find out your unique value proposition — what your customers want most and how to provide that. It could be a user-friendly interface, fast delivery, a huge network of restaurants, or a tech-savvy application. To find your UVP, you need to be aware of the latest trends in the food delivery industry.
Here is a Lean Business Model Canvas to highlight the main values of Postmates: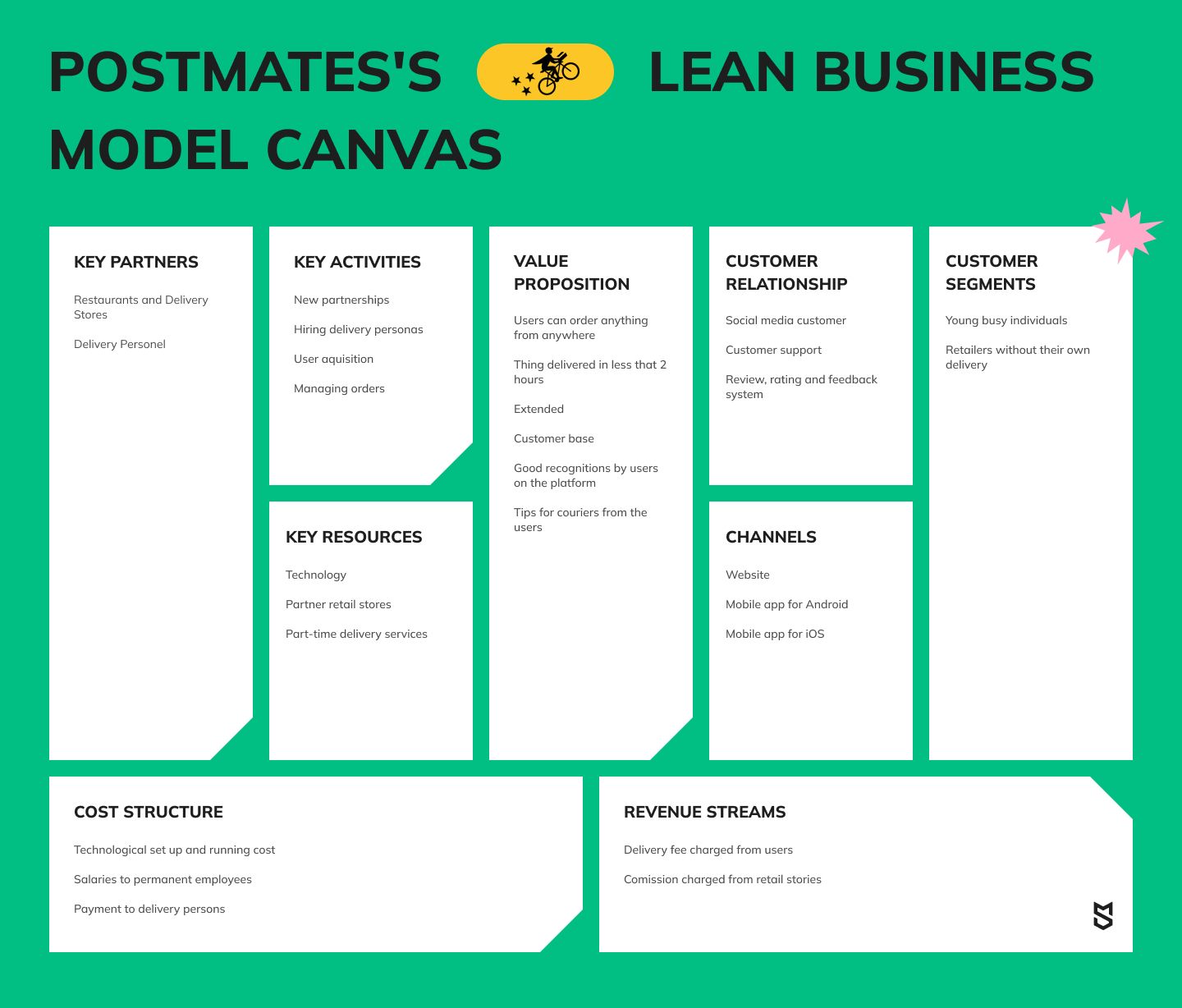 Research trends
The food ordering market is growing as technology progresses. Business owners should always keep an eye on trends to stay competitive. As an example, we'd like to bring to your attention these relevant trends:
Mobile payments
In-app payment options are a must in today's on-demand services market. The whole world is moving toward a cashless future. Instead of providing all your delivery workers with POS terminals, it will be way cheaper for you (and more convenient for your contractors and customers) if you implement a payment gateway when you create a delivery app for the food business.
Synchronization with POS and other delivery systems
To make an app for food delivery competitive, it might be worthwhile to integrate it with the most popular restaurant POS software systems and couriers fleets.
Allowing restaurants to manage their whole digital business through one software is getting up steam. A Lisbon-based startup Kitch, founded in 2019 and acquired by Glovo on March 15, 2022 for an undisclosed amount, is exactly such an all-in-one management platform. It enables restaurants to:
update menus across all delivery apps including UberEats, Glovo, and Bolt Food in one go
receive orders from multiple platforms simultaneously
streamline delivery with a commission rate of 5.9%
control performance
integrate Kitch with POS systems including Vendus and Zonesoft
cooperate with third-party courier fleets like Glovo, Tookan, Deelivers, and Stuart
If you wonder how to develop a food delivery app like Postmates that will bring you profit, consider implementing a sync feature with those POS systems and courier services that your target users are accustomed to.
Delivery tracking system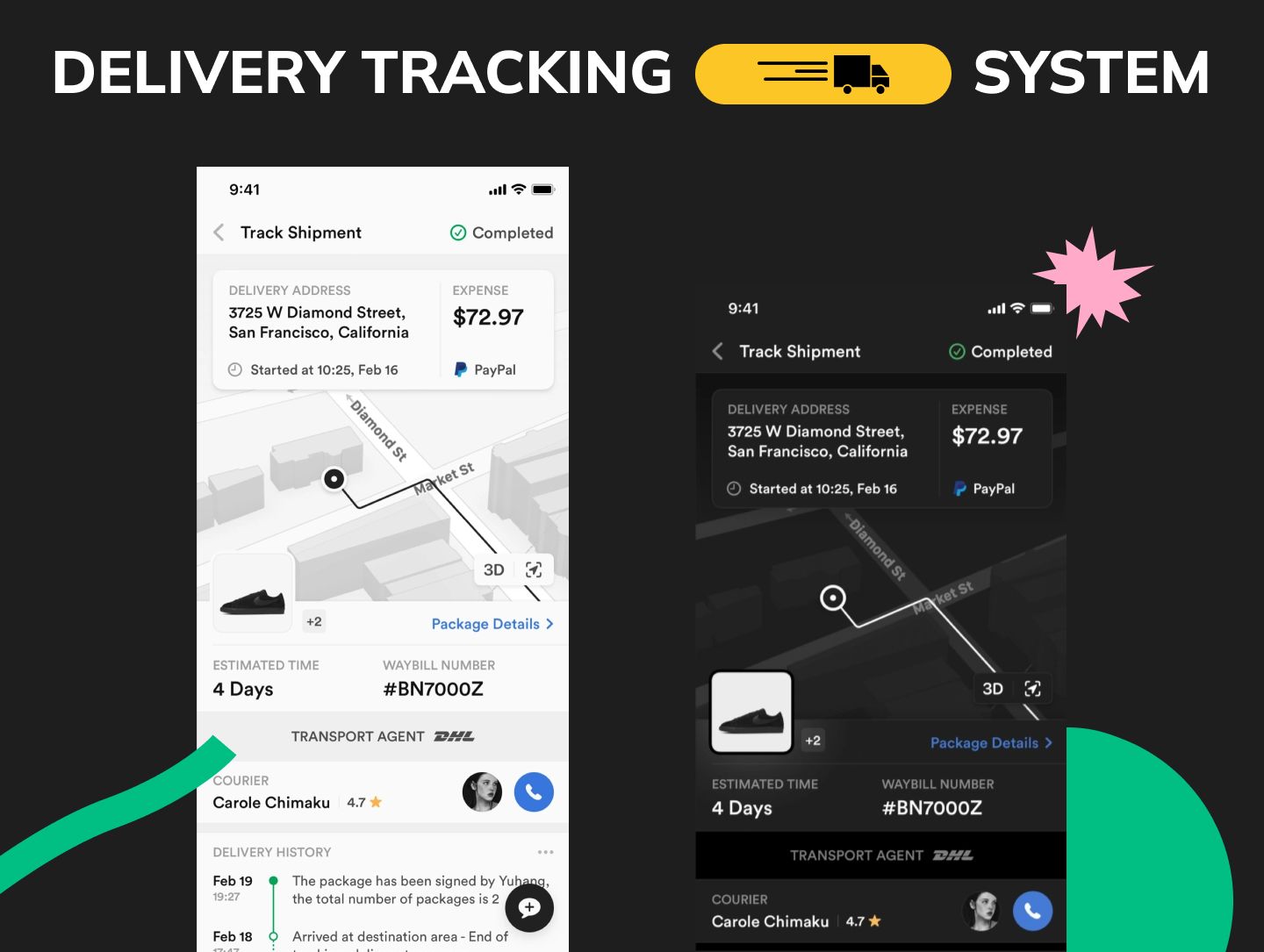 The real-time delivery tracking app feature helps food providers significantly improve their driver performance. To do this, they equip their delivery apps with GPS vehicle tracking APIs and custom delivery push notifications so that every stakeholder can benefit from the seamless process:
For couriers: picking the best routes for a particular order delivery
For customers: providing full transparency regarding the delivery person and their vehicle; accessing to the delivery status updates; receiving timely reminders and alerts regarding delivery progress
For providers: sending information about the vehicle resting time, its speed, and urgent vehicle's maintenance factors
Depending on your business needs, you can also integrate a trendy QR/Barcode scanner into your food delivery mobile app to control order loading and streamline payments alongside equipping your app with a digital proof of delivery (POD). It could be, for example, a sign-on-glass feature that will allow your couriers to capture customers' signatures and take photos to confirm that the delivery is completed successfully.
Artificial Intelligence
AI is a trend in mobile app development. Using AI when creating a food delivery app will allow you to:
Speech recognition technology so customers can simply talk with your app to make an order.
Chatbot technology to help users learn more about menu items, restaurants, and delivery options.
Machine learning platforms to make predictions by analyzing incoming information. These can be used for offering advice on menus.
Check out our article with 8 tips on using Artificial Intelligence (AI) in mobile apps to get more information on this topic.
And it goes without saying that you need to develop apps for all categories of your users carefully.
Core food delivery app features
To know the cost of developing a food delivery app like Uber Eats or Postmates, you need to keep in mind that a complex system like these requires several applications to be built into one structure: the customer app, the backend, and the app for delivery persons.
For the customer app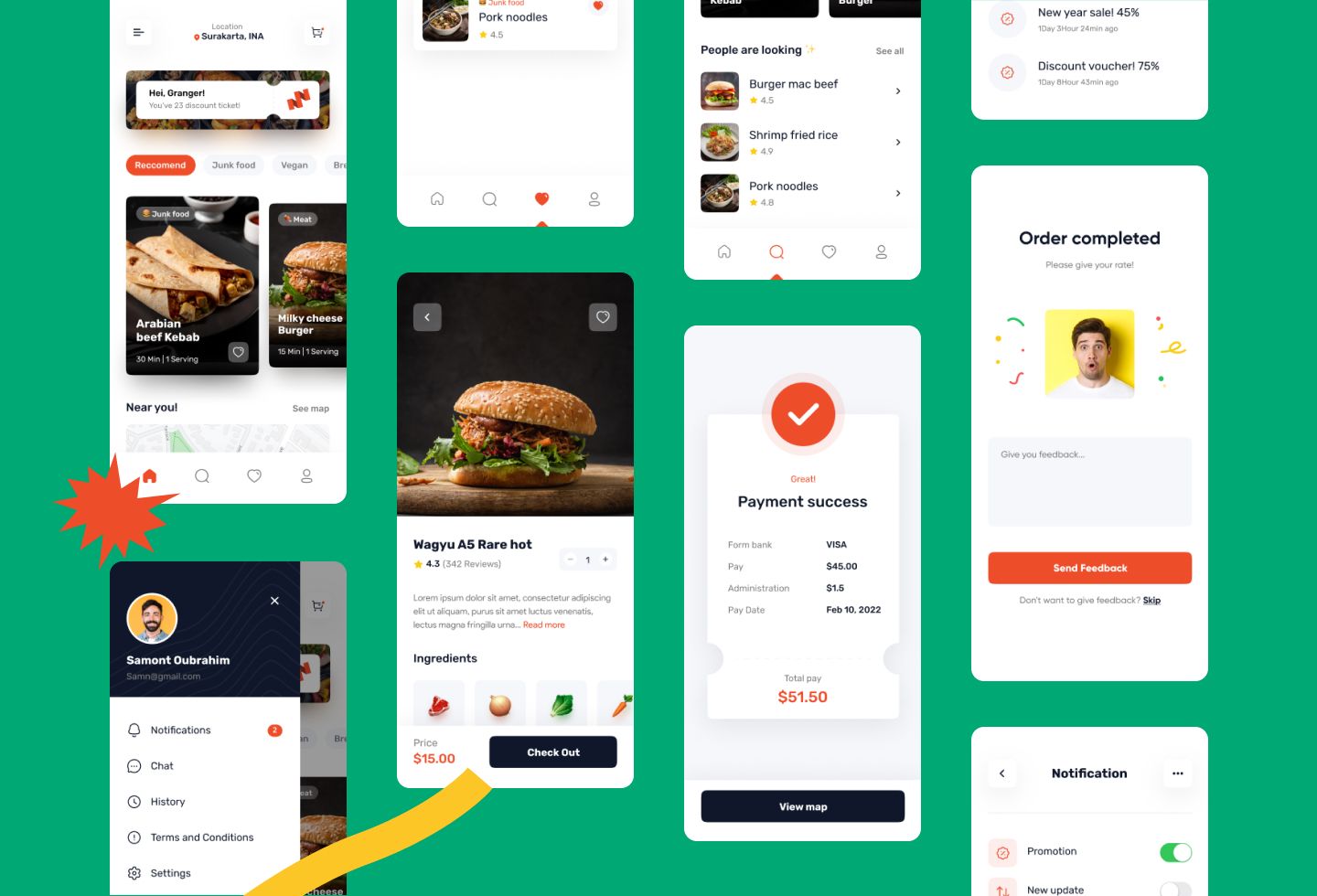 The customer app is, obviously, what customers use. It should have the following features:
Onboarding
User profiles
Settings
Menu screen (restaurant information, food categories, dish pictures, cooking time, prices, ratings & reviews)
Dish screen (view photos, ingredients & proportions, grams & calories, prices & cooking time + make orders)
Order screen (view and manage orders in a cart + enter payment details + enter a delivery address, preferable time of delivery, drop-off details, and other preferences)
Location tracking
Order control (map + track order movements)
Order history (with ratings and reviews)
Push notifications
For the backend
The second part is the backend, which should have these features:
A database where all data on restaurants, menus, users, and delivery people are stored
Push notification requests to be sent to the client app
Chat powered by WebSockets to facilitate two-way real-time user–server and staff–server connections
Logistics control
Data management
For delivery people + admin panel
The third integral stage of developing a mobile app for food delivery is building an app that has a delivery people's part and an admin panel in it.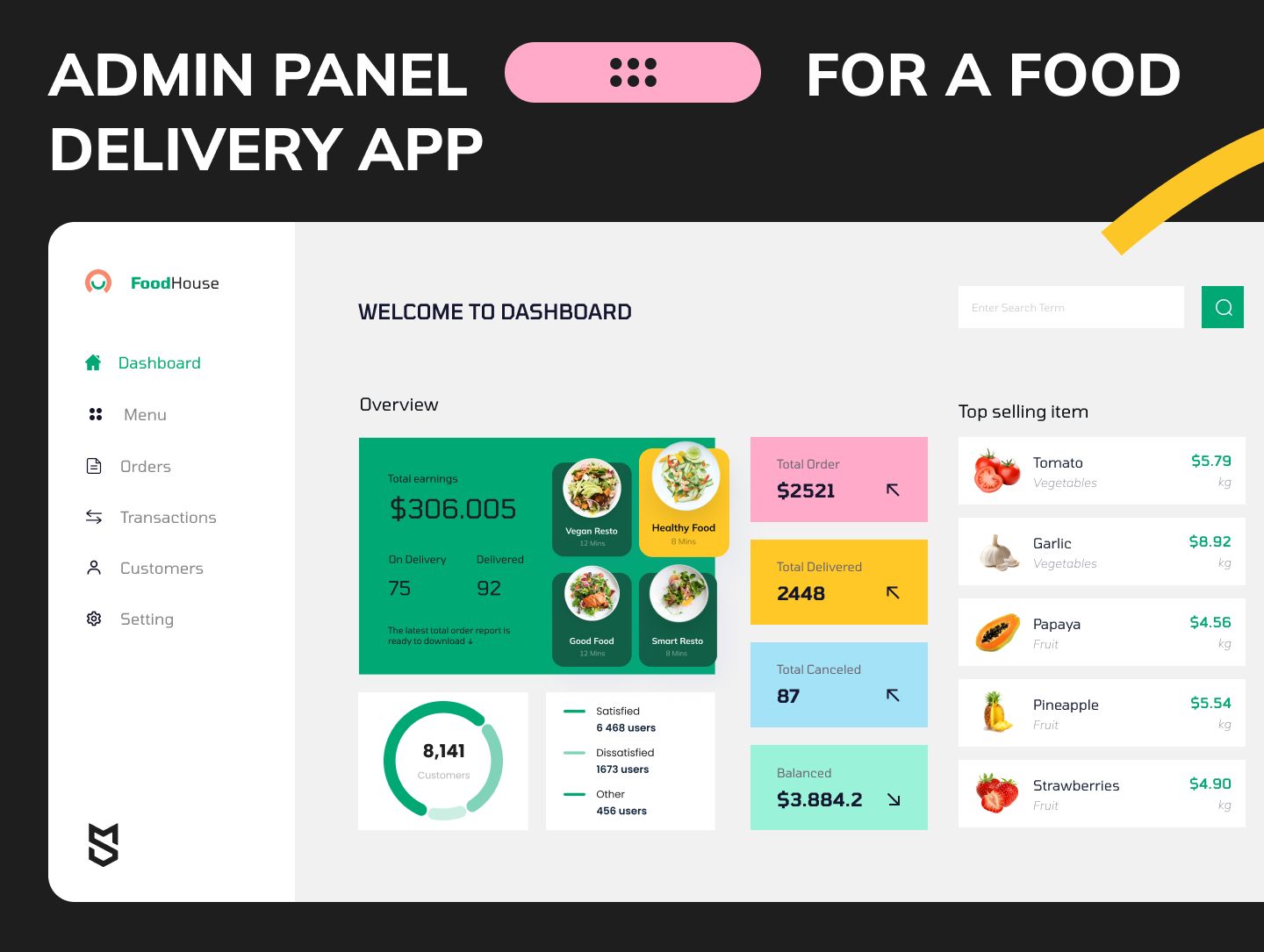 Admin panel should include the following features:
Listings of places to get food from + menus
Client base
Revenue monitoring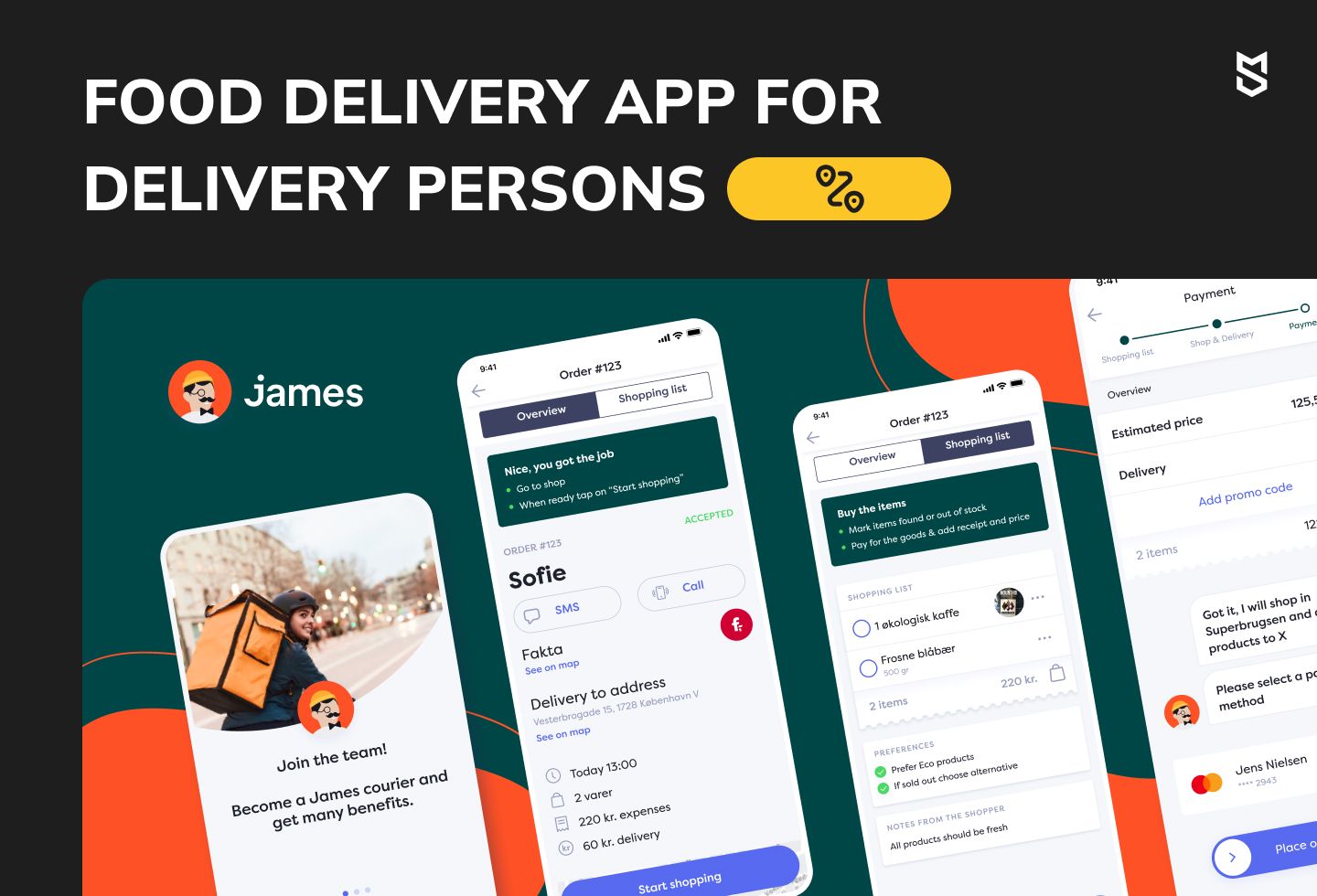 Features the app for delivery persons should provide:
Order map
Order details
Courier profiles (optional)
Earning dashboard (daily, weekly, monthly)
This is a list of MVP features for an on-demand food delivery app. If you want to develop an app like Postmates, the fully developed product may include way more features, such as quality control, order changes, receipt scanner, and customer care. It all will depend on your research.
Cutting-edge food delivery app features
As for now, we've selected several cutting-edge features that might help you be one step ahead of your rivals:
Advanced search filters
Chances are, providing your users with a variety of searching, filter, and sorting options will make them feel like you're taking care of them and increase their satisfaction. Allow users to search for food by keywords like "tune", "salmon", "sushi", or "gluten-free". More so, allow users to filter restaurants by:
Pricing range
Type of cuisine
Brand name
Location
Open hours
Available tables (if you plan to provide a booking feature)
Ratings (e.g. you can add hygiene ratings as UberEats and Deliveroo did)
Special offers (e.g. discounts, special dates, 2 for 1, etc.)
Special options (e.g. vegan/vegetarian menu, gluten-free products, sugar-free desserts, etc.)
You can enable users to sort menus and dishes by price, cuisine, food category, cooking time, and calories. No less important is to allow users with intolerance to particular foods or allergies to easily exclude dangerous ingredients from their listings.
AI-powered chatbot
As we've already mentioned, AI technology can be used for establishing real-time communication between customers, couriers, and support services, enriching your app with a voice-recognition tool, and helping users find what they want.
For example, with the help of AI and machine learning, you can collect a lot of information about your customers' preferences in cuisines, restaurants, meal behavior, etc. Based on these insights, your app can deliver highly personalized content, let's say, some receipts of dishes from your customers' favorite cuisine or a story about how their favorite restaurant brand was created, and so on.
AR food creation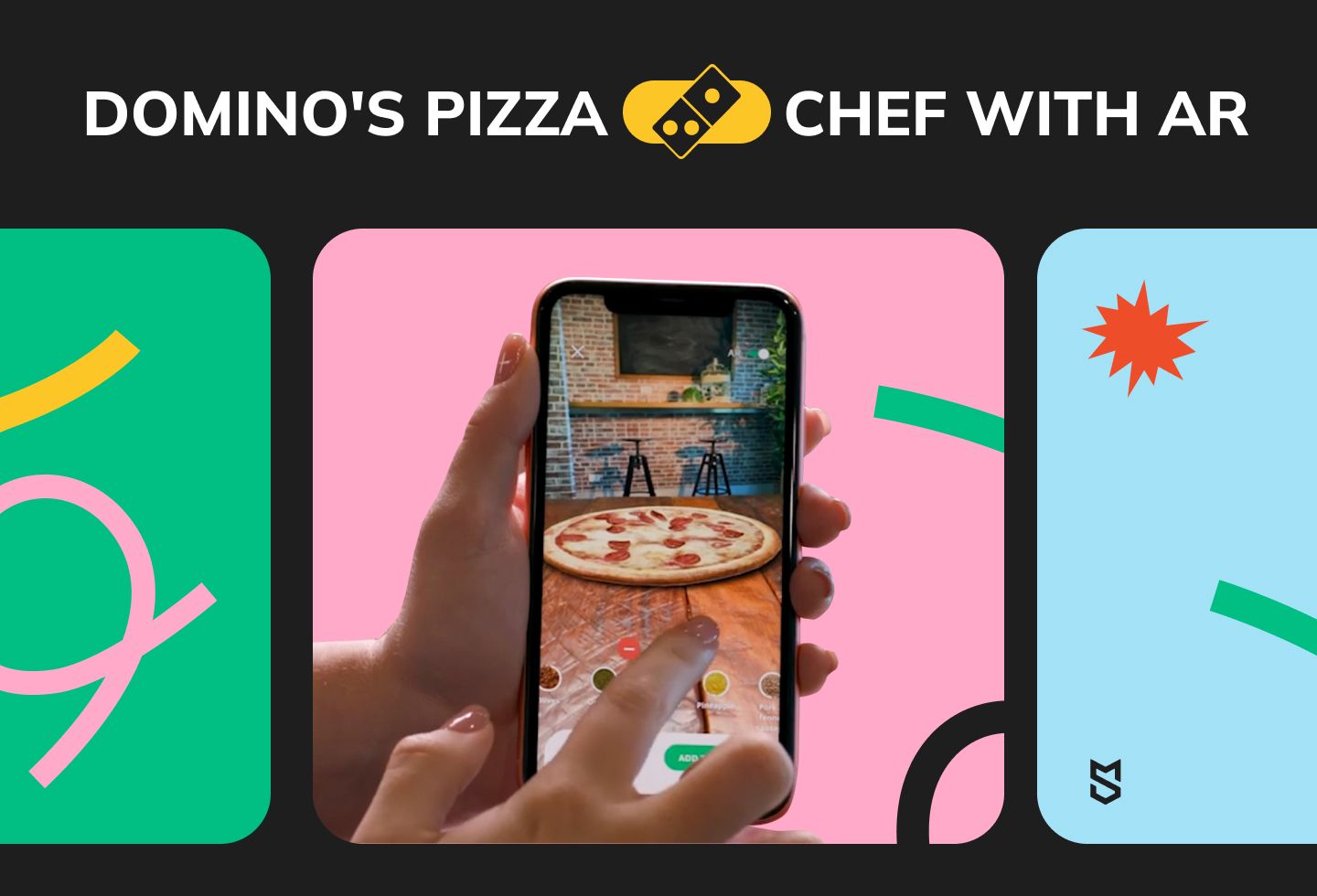 To enhance user engagement, in 2018 Domino's pizza introduced an augmented reality pizza chef app feature. It allowed users to try themselves in cookery and create their dream pizza in real-time. Using Google's ARCore and Apple's ARKit frameworks, users could look at the pizza made by them from all angles steaming right in front of their dinner table.
If you want to create a food delivery app that will have a head start over rivals, consider implementing app functionality empowered with AR.
Delivery person security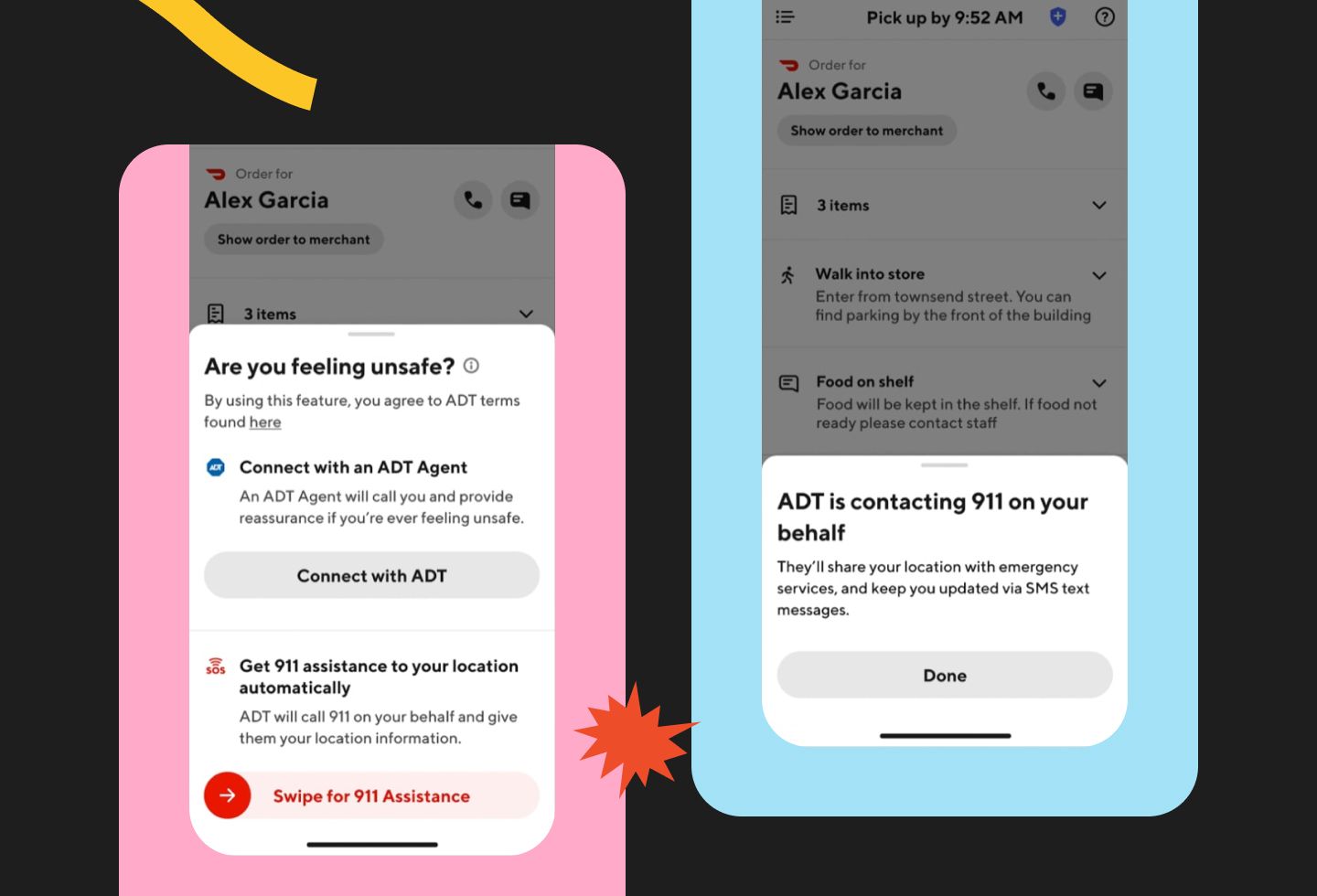 To ensure that your customers' food orders will be delivered on time and to the right place, you need to care about your delivery workers as well. You can take an example of DoorDash that last year added a new in-app toolkit called SafeDash. This toolkit consists of two features:
Safety reassurance call that implies connecting with an ADT agent through the DoorDash app and staying on the line until the delivery person feels safe
Emergency assistant button, by clicking on which the DoorDash courier is immediately connected with an ADT agent and emergency responders
Apart from your delivery staff safety, you can also think of some sensible ideas on how to encourage and retain your delivery persons to work with your food delivery service. A few ideas from this writer's mind are providing rewards for an invitation, bonuses for deliveries completed on time, the ability to bargain on their delivery fees within an app, etc.
Follow the UI/UX design tips
Your user experience will directly depend not only on the features your food delivery application will provide but also on how convenient the app interface is and how eye-catching the app color scheme is.
To help you develop an app like Postmates with the right UI/UX design, we'll share several proven tactics from our designers:
Put food images front and center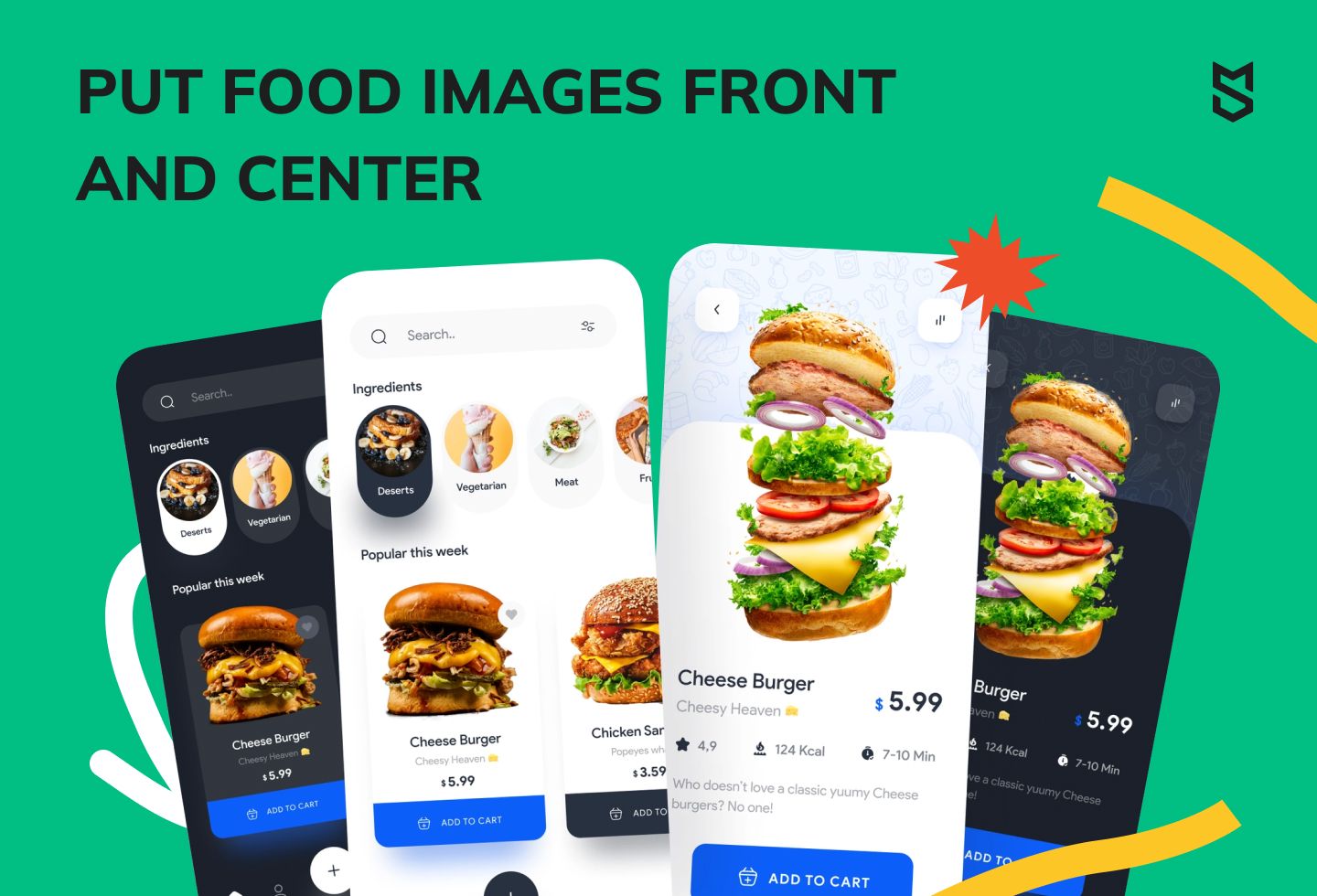 When building a food delivery app like UberEats or Postmates, don't forget about the core reason why users open it — to order food. That's why it is vital to avoid cluttering your app screens with lots of buttons, complex graphics, squiggles, and florid fonts. Rather, on the contrary, use clear lines and a lot of space which you can fill with high-quality food images.
Also, pay extra attention to the number of images. It's important to illustrate a restaurant's menu and each particular item (or a particular ingredient, if you plan to offer meal kits) with a high-quality image and description.
Move sign up/log-in form to the end of a navigation bar
More often than not, mobile apps ask users to sign up or log in at the first screens of onboarding. In terms of a food delivery app, where all features as a rule are not new for users and UX elements are intuitive, it's worthwhile to start with a search bar on the first app screen.
It is a search bar, not a signup screen, that your users seek most in your app to find a nearby restaurant, pick a particular menu item, and order delivery. The moment when it's appropriate to ask a user to create an account could be when they move to an order screen.
Indicate clear delivery times and costs
To create a delivery app for food ordering with enhanced user experience, make sure the delivery times are listed next to the restaurants and particular dishes so that users can easily understand how much time it would take for them to get their orders.
The same rule acts for the delivery costs. You need to present them close to the menu items. See an example of how user-friendly Postmates, DoorDash, and UberEats show their delivery times and costs: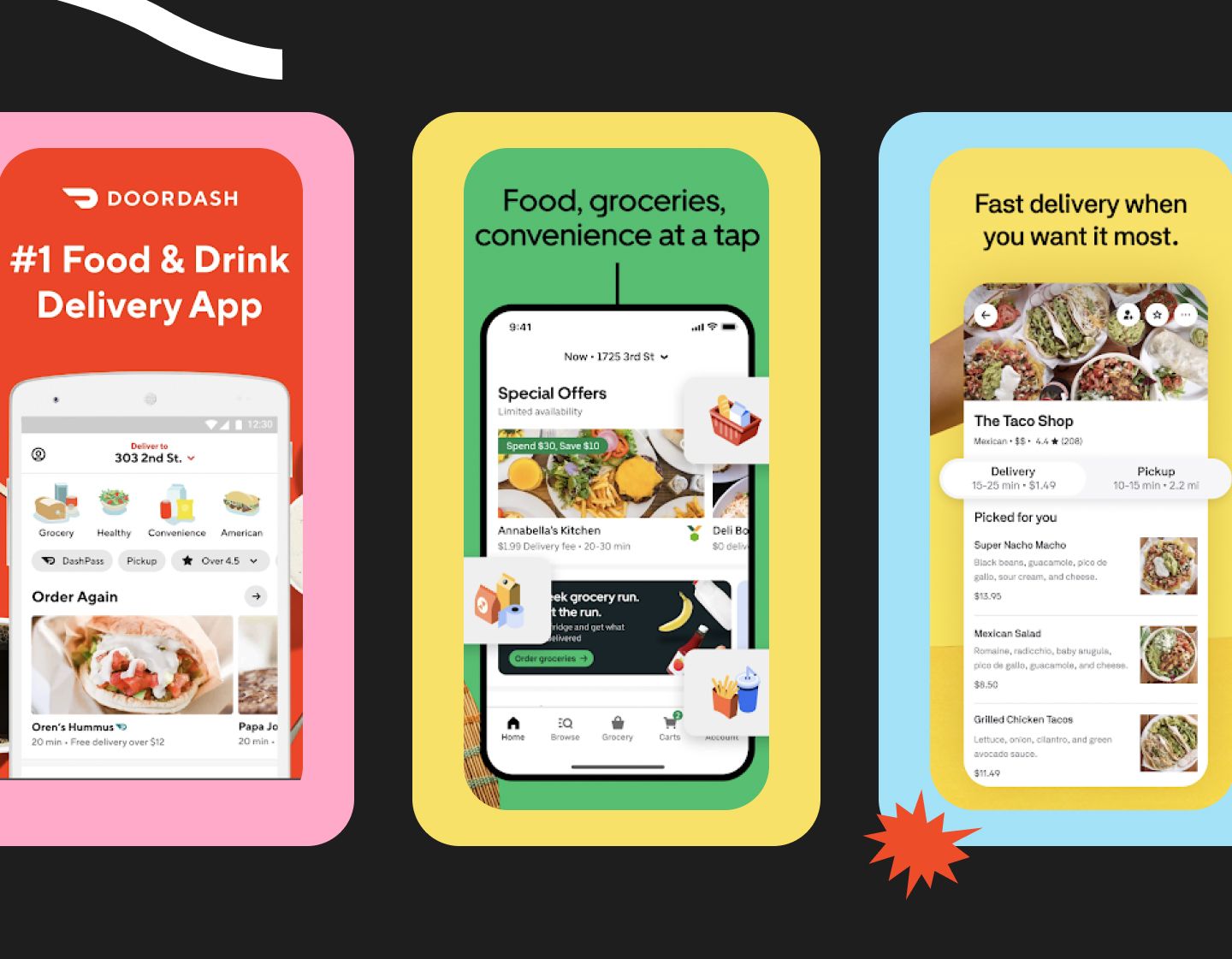 Run A/B tests to find the best UI/UX solutions
Hardly any popular mobile app design has been created in one go. Item listing layouts, font sizes, icons, buttons, and color schemes — a lot of UI/UX elements, if not all, as a rule, go through multiple iterations.
In Mind Studios, we often create up to five initial UX concepts for mobile app development and collect feedback from clients, beta testers, and intended users. Only after getting UX approved, do we shift towards UI concepts and repeat the whole process.
In some cases, it might require including a robust mobile app analytics tool to indicate the weak spots in app design that block your target users from taking the actions you want them to take. Based on insights from the audit, an experienced mobile app development team would be able to help you get rid of those roadblocks.
Food delivery app development tech stack
Now, it's time to talk about the development of your food delivery app from the tech side. What technologies should your team apply for launching a tech-savvy yet smoothly operating food delivery app? We've described the commonly-used tech stack for Postmates-like apps in the table below: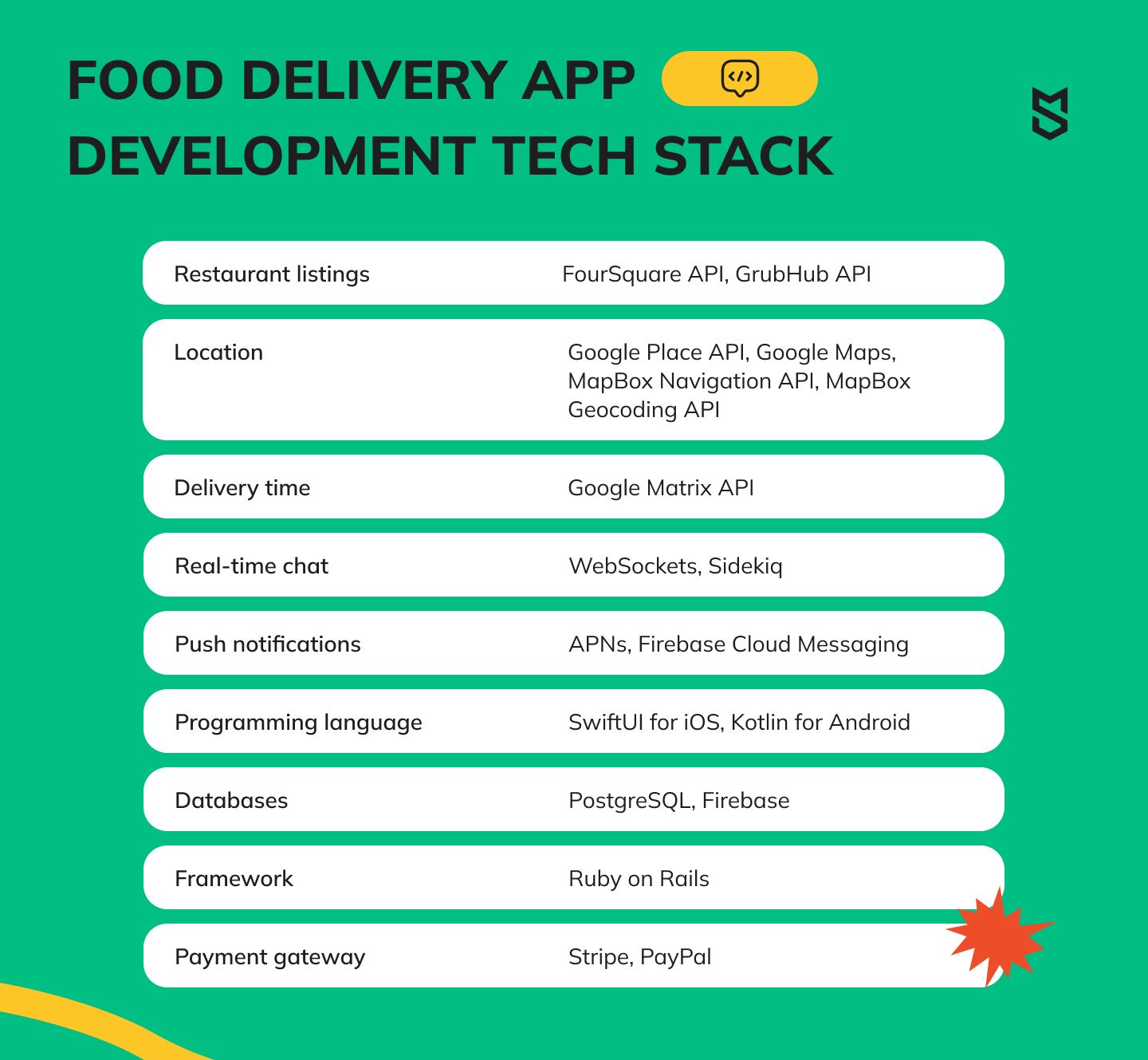 Development team to create a food delivery app
To develop a top-notch food delivery app like Postmates or DoorDash, you'll need at least the following mobile app development specialists:
1 project manager
1 – 2 Android developers
1 – 2 iOS developers
1 – 2 UI/UX designers
1 backend developer
2 QA engineers
Depending on your current business scale and the complexity of the project you've conceived, you're likely to need more dedicated specialists including a product manager and a business analyst.
In order to successfully start developing a food delivery application, you also need to choose reliable development partners. As a rule, outsourcing your project development to offshore software companies can bring many advantages to the table.
How to choose the right application development partner?
If you wonder how to start a food delivery app development successfully, then choosing a trustworthy mobile app development company will play a key role. You need to find a partner who will match all your criteria regarding:
Time-zone difference and location
Expertise
Prices
Communication skills
Level of security
Organization and discipline
There are a lot of online platforms like Clutch, GoodFirms, and Upwork that could help you distill your choice up to five potential mobile app development companies by filtering them with ratings, relevant experience, location, hourly rates, etc. Contact their previous clients to figure out more details about their collaboration, especially when the companies had been bumping into some challenging situations: How did they overcome them? By doing this, chances are, you'll filter out a couple of candidates.
Contact the rest of the companies personally and pay attention to their response time, willingness to help you bring your idea to life, ability to listen to and hear you, communication skills, security policy and make the final choice.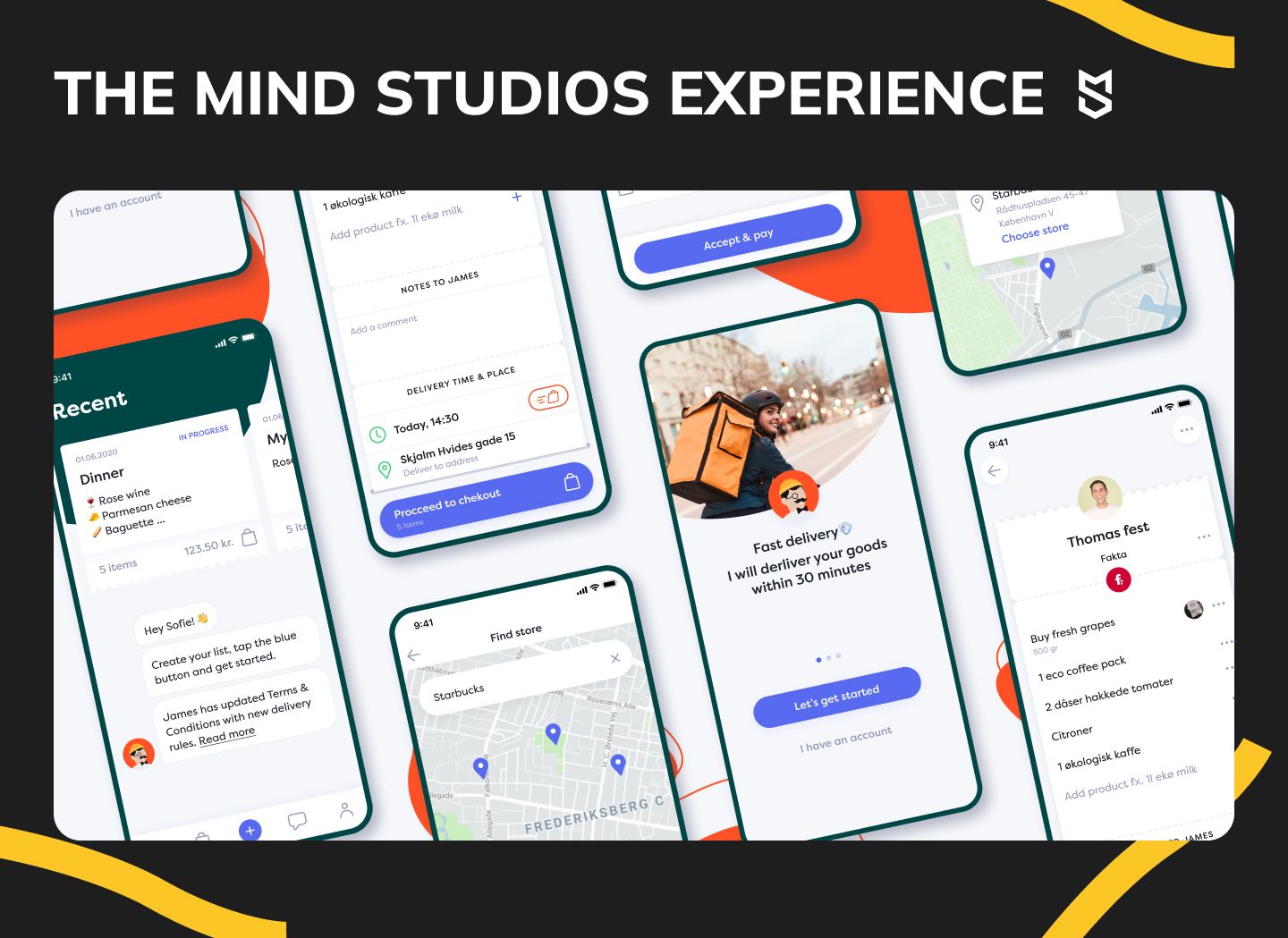 As for Mind Studios, we have expertise in developing a delivery mobile app. Our project, the James Butler delivery app for Danish people, consisted of developing four mobile applications: two apps (for iOS and Android) for customers and two — for delivery persons, in three months. Thanks to impeccable communication between the client and our team and a well-established development process, we managed to deliver the high-quality product on time and within budget.
How do on-demand food delivery apps generate revenue?
There are two main options to monetize an on-demand food delivery app:
Restaurant fees
User fees
A restaurant fee means that to be featured in your app, partner restaurants pay either a fixed amount (like a monthly fee) or a percentage of each delivered order. Also, restaurants can pay an additional fee to be in a "Featured" list of recommended establishments.
A user fee means that when users make an order via your app, they pay extra for it to be brought to their doorstep. This fee can also be either a fixed fee (per order) or a percentage of the order total.
Lately, delivery services have taken to adopting a subscription model for users as well: DoorDash and Postmates food delivery apps now offer subscribers free delivery above a set order amount.
This model comes in handy for those who use the service frequently and for large orders.
In-app advertising, a monetization model popular in all kinds of other mobile apps, isn't too common in on-demand delivery apps, though it can be used as well.
How much does it cost to develop a food delivery app?
Even for an MVP version, the estimate will include a few stages of development of a food delivery app, including UI/UX design. Our estimates below include the customer app, the app for delivery people, and the server part.
Cost of developing a food delivery app
Development stage
Hours
Cost, USD
Project management
400+
18,000
Idea validation+specification
100+
4,500
Design for Android & iOS platforms
160 – 200
7,200 – 9,000
iOS development
640 – 800
28,800 – 36,000
Android development
600 – 800
27,000 – 36,000
Backend
580 +
26,100
Testing and improving
320+
14,400
Admin panel
100+
4,500
Total
2,900 – 3,300+
130,500 – 148,500
Overall, an iOS project (including backend, design, and admin panel) like Postmates or Uber Eats would cost at least $100,000. For Android, it would start at $27,000 extra.
Food delivery app development: Conclusion
It seems like online on-demand food delivery apps are here to stay, which is why their variety on the market keeps growing. However, mobile apps and web services that offer something newer, with a higher level of service, or just different will always be in demand. You just need to ensure you hire a mobile app development company that meets your expectations.
If you have any questions about food delivery app development, feel free to contact us.
3