This article informs you about what is on-demand ordering app and how to make a food delivery app that meets demand.
---
Contents:
---
With an increasing popularity of food on-demand services since a few years ago, it seems that the shelves of the market are now stacked with the food and other service-delivering apps. However, this article gives you a few tips on how to construct a proper on-demand delivery app to enter the top-notch market.
Remember, there was an article, claiming that online food delivery apps are making a "chaos" at schools? (you can read the full post here) Well, the truth to be told, they are making a boom not in school only - since the release of UberEATS in 2016, the whole world found it extremely fascinating, which resulted in a huge wave of on-demand services progression.
Food delivery app: Evaluate an idea
To create a profitable application you should start with idea evaluation. This helps you to understand better why do you develop this application, for who do you do it, and how can you to monetize your app. Idea evaluation includes some important stages like market research, a business analysis, unique value proposition, and trends.
1. Start with Market Research.
The first thing Mind Studios analysts start with and the very first thing that is recommended for everyone willing to enter the mobile application market is to conduct a sound market and user research. All the successful on-demand delivery apps like Postamates, Doordash, UberEats, Bootler and some more have started their market invasion from this point. Let's take a closer look on who exactly they are focused on.
Postmates

Is one of the hugest on-demand food ordering services in the USA, delivering dishes and drinks from places of a different kind - from a corner burger shop up to vegetarian restaurants. Postmates are mainly focusing on the young but busy individuals who have no time but possess a smartphone.
What to consider: Postmates have a comparatively narrow market - they are US-based only and deliver only what public cafes have to offer.
UberEATS

Was the first and most-talked about food delivery app startup, when it hit Toronto first, and then rolled out to San Francisco, L.A., Chicago and Houston. They also deliver food and beverages from different restaurants, but Uber-for-food customers are a bit demanding, so there are a lot of vegetarian dishes to choose from + the ability to rate the driver and the eats he delivered.
What to consider: Uber has already been popular with crowds when they decided to include restaurant delivery - which is why they used their trust to "bite a bigger market"; their services are available in Northern and South Americas, Europe, Australia & New Zealand, Asia and Africa (you can see the whole list of cities here).
Bootler



Has made it to the market by changing the perspective - it is the same on-demand food delivery service, but it's main feature is supposed to be "the cheapest price of the food delivery". Here is a 30-second video of how Bootler's owners introduce the application's benefits:
What to consider: Bootler does not require the help of the third-party drivers to hire for their services (as the delivery is made from a restaurant's delivery directly), but they have also targeted a different customer - same busy one, but looking for the lowest price too. They have also put an accent on the in-app alcohol purchasing - their slogan claims they'll save you time here as well.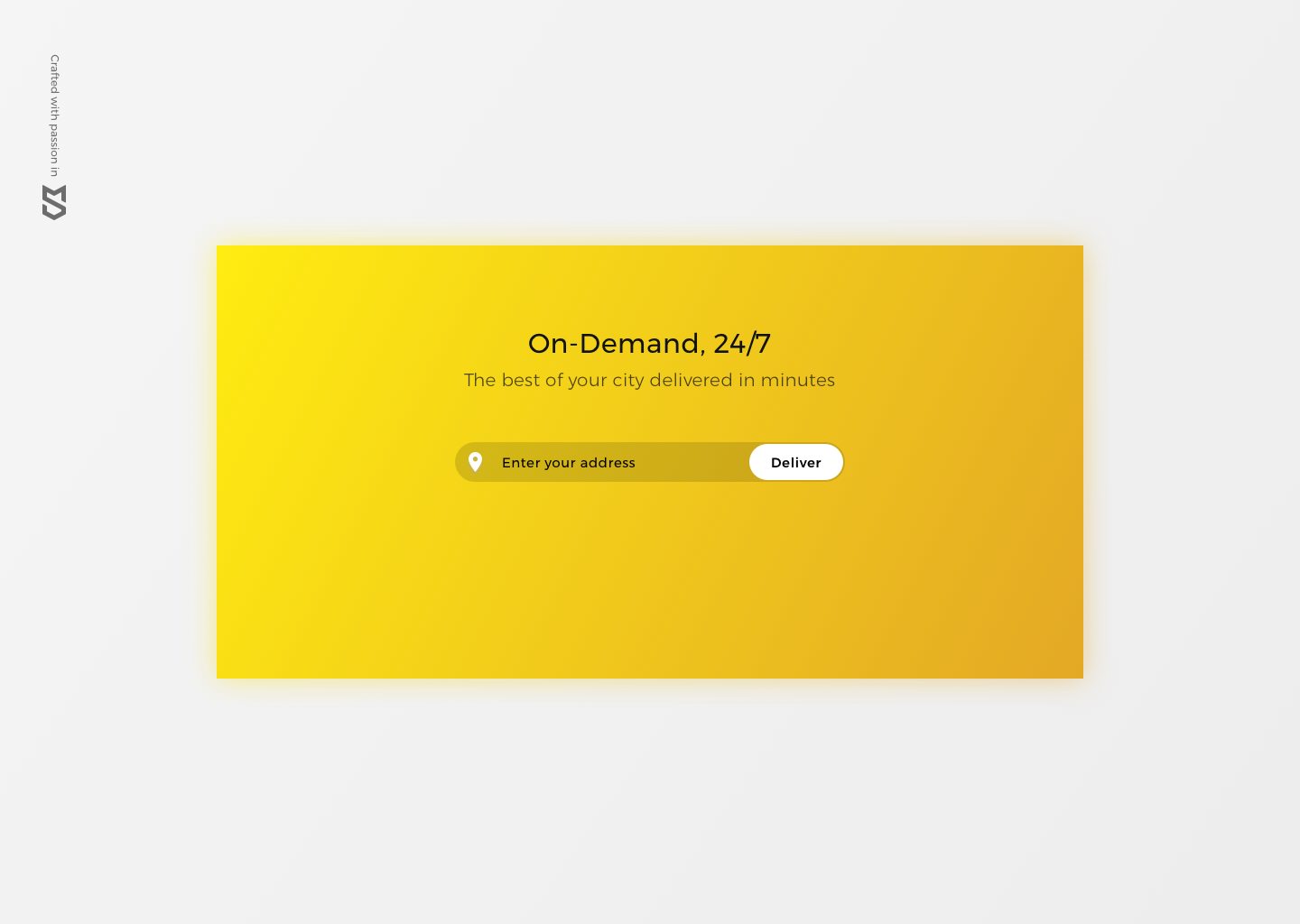 .
All of the apps mentioned have their market deeply investigated, but it wasn't the only thing they took before starting a development process - a solid business model came next.
Discover more about restaurant app development
2. Conduct a Business Analysis.
The business analysis allows you to understand the demand for your application. Also, you should find your buyer persona, and research their average age, hobbies, habits, relevant social networks etc.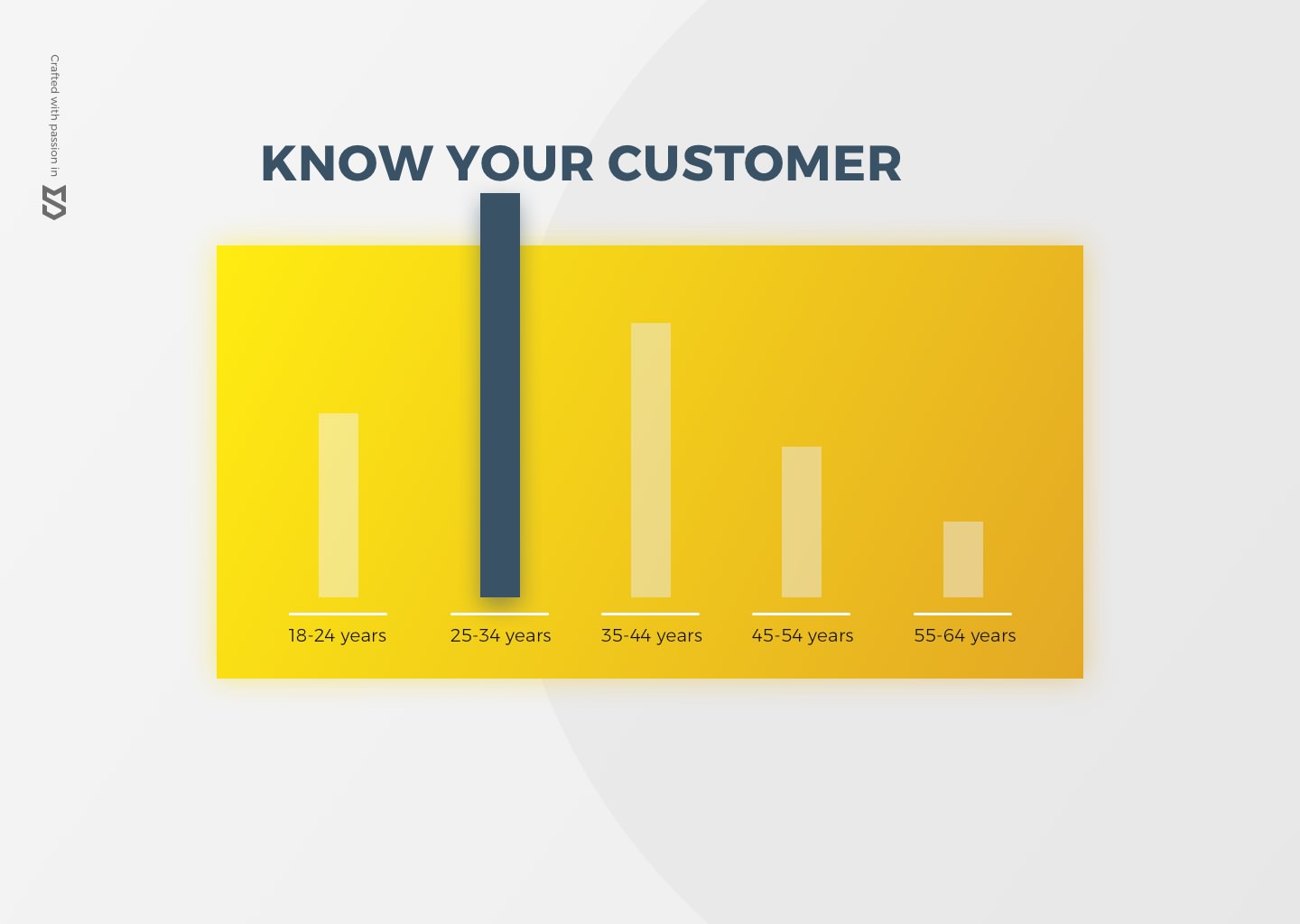 According to Statista, there are 36.1% of food delivery app users in the age of 25-34 years.
All the on-demand food delivery services have the pretty much same business model, based on people getting the goods they crave for from almost anywhere in the city, and Postamates has benefited out of it. As the research claims, this online food ordering app stands on three different customer personas:
The actual customers, who are willing to pay some extra money for their meals delivered as someone's responsibility.

The retailers, who see an excellent opportunity to promote their dishes to consumers, without hiring either a delivery service workers or on-demand food delivery app developers.

The delivery stuff, for whom being a "Postmate" is an excellent chance to raise money according to their own working schedule.
The value this local food delivery app brings to the customer is also divided into 3 parts:
Users get their food 24 per 7 at their doorstep,
retailers get some brand recognition via Postmates app + expand their customer base,
get 80% of the whole delivery fee while working flexible hours.
Here is a Business Model Canvas to highlight the Postmates main business values: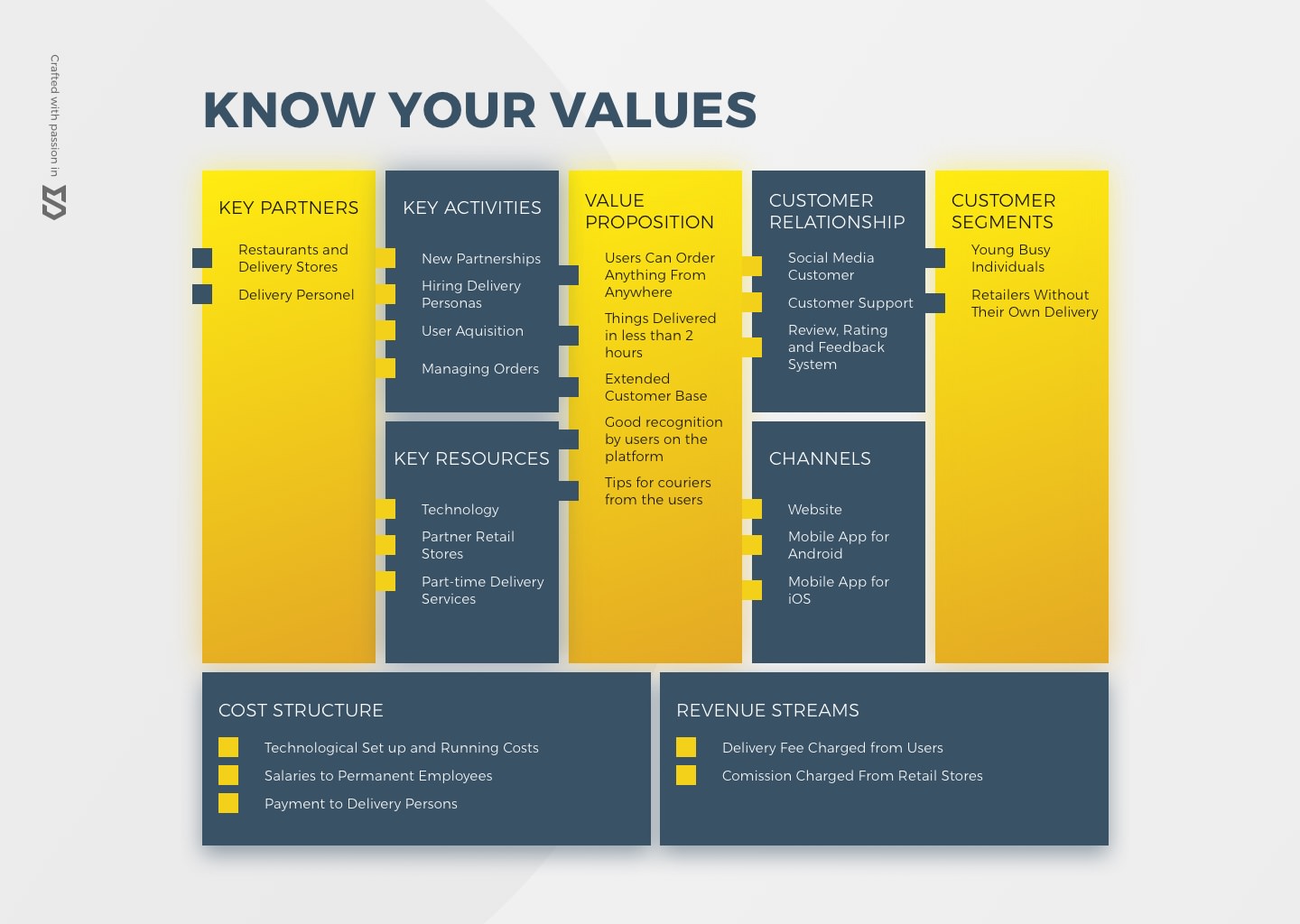 The Postsmate's model is said to be similar to UberEATS (or vice versa), but there are two key inequalities in which these two are different:
The standard fee for every delivery is flat 5$ at UberEATS, while in Postmates there is no such thing as minimum price (it all depends on the size and bill of your order)

Uber's concept is not tied to around-the-clock service - they stand for consistency and meals of a hottest quality, so the app only works from 10 a.m. to 10 p.m.

The rating system was also changed by UberEATS - now you rate your meal by a thumb up or down, because it is hard to get the difference between a 4 and 3-starred burger

And as firstly launched as an Uber-company branch, this mobile app for food delivery involves Uber drivers delivering fast food; on the contrary, "Postmates walk, drive, scoot or bike"
3. Unique value proposition
To stand out from the crowd you should develop an app with unique features that would be preferred by your target audience.
You should find what is the most preferred feature for your buyer persona and try to upgrade it. It could be a user and mobile friendly interface, quick delivery, a huge network of restaurants to choose from.
The uniqueness of your app is your way to success. Additionally, your success depends on how do you make money on it. To find the feature what meets demand you research trends and make your application relevant.
4. Research trends
The food ordering market is growing because technologies progress exponentially. Developers should always keep attention on trends to stay in the market competition. So, let's have a look at nowadays trends:
Mobile payment

To make your application attractive give your users an opportunity to pay for online food delivery via card using an added payment system. A payment system has two main features that preferred by users: quickness and security. For more on this topic check out our article about how to make secure online payments in your app.

Artificial Intelligence

AI technology is a trend in mobile app development because it allows app developers to add new functionality to an app. You can implant functions like:

Speech recognition technology allows customer to simply talk with an app to make an order.

Chatbot technology can help users to know more about menus, restaurants and delivery specifications.

Machine learning platforms are able to make forecasts by analyzing of incoming information. It can be used for making advices about menu and food that customer would prefer to buy.

Check out the article about 8 Tips to Use Artificial Intelligence (AI) in Mobile Apps to get more information on this topic.

Personal service

Your users are interested in a comfortable user experience. So, you should give personal attention to all categories of users: customers, restaurants, and couriers.

Your application must have a user-friendly interface for every group because a correct application work directly depends on every group of user.
How do on-demand food delivery apps generate revenue?
Postmates does it three ways: courier fee, retailer program and convenience fee. Courier fee includes a small reward for every order they make; convenience fee is the extra price satisfied customers agree to pay (9% of the whole sum here) for the chance to have their meals at their doorsteps. When it comes to the retailer program, according to the agreement partner restaurants sign, they allow Postmates to take 15-30% of their revenue in return for the noticeable placement in the app.
UE makes money in a bit different way - they charge 25% of the whole fare, which depends on the miles ridden and meal's size. Basically, they charge you as a user the whole price of the ride with your food on hands.
How to make an app like Postmates
If you found yourself wondering how to make on-demand food delivery app like UberEATS and Postmates then you're on the right page. A complex system like these two would require several applications to be built-in one structure: the client app, the server part and the staff app.
The client app is for the users and their usage only. It has the following list of functions:
Onboarding
User profile
Settings
Order screen (view menus + make an order + payment details)
Location tracking
Order control (map + track of order's movements)
Order history (with ratings and reviews)
Push-notifications
The second development part would be the back-end server development, which should have the number of functions:
Huge database with all the cafes, menus, users and staff data should be stored
Push-notification requests to be sent to the client app
WebSockets chat to keep the two-ways real-time user-server and staff-server connection
Logistics control
Data management
The third integral stage of developing a mobile app for food delivery is a staff app; it has a delivery app and admin panel in it; same as previously mentioned two, it has a certain range of functions:
a) Admin panel
Listing of the places to get food from + menus of those
Client base
Income control
b) Delivery app
Order map
Order details
Courier's profile (optional)
Frankly speaking, it is a list of MVP features for you to build an on-demand food delivery app. The fully-developed product can include way more than this, e. g. quality control feature, order changes and customer care.
How much does it cost to develop a food delivery app?
Having an MVP-version in mind, the estimates would still include a few stages of project creating, including UI/UX design and development. The estimates given already include client, staff and server parts.
| Development part | Hours |
| --- | --- |
| Specification part | 40 + |
| Visual prototypes | 60 |
| Design for Android & iOS(iphone) platforms | 130 – 190 |
| iOS development | 600 – 800 |
| Android development | 500 – 800 |
| Backend | 300 + |
| Admin panel | 60 |
| Total: | 1690-2250+ |
Overall, the iOS project like Postmates or UberEATS would cost around $42 000 at least. Respectively, with Android it would start at $43 000 minimum.
How much would it cost with Mind Studios? Click here to get to know the exact price.
The Everyday Items You Need In 10 Mins Or Less.
Seems like online on-demand food delivery apps are here to stay, which is why their variety on the market keeps growing volumes; although every cloud has a silver lining - the mobile app and web services that offer something newer, something of a higher level of service or just something different would always be in demand. You just need to ensure you hire the mobile app development company to meet your expectations.
If you have any questions about food delivery app development, please feel free to contact us.
Written by Alexander Sheyanov, Dmitry Gurkovskiy and Elina Bessarabova.