About 36% of Americans use food delivery services. In this article, we analyze the ever-growing popularity of meal delivery services and offer recommendations on how to develop a food delivery app that will find its audience and bring you success.
---
Contents:
---
Between Uber, Instacart, Postmates and the like, we can have anything we want delivered to our doorsteps. This, consequently, puts high demand on food delivery apps and means top-notch potential for profitability.
On the flip side, with the development of Postmates-like apps being the rage it is, entering the market isn't easy. You'll need to conduct thorough research to find a competitive unique value proposition, and you'll need a skilled team to work on your project. The following are the stages you'll need to complete with your food delivery app development company to make it out alive and thrive among all your rivals.
Food delivery app development: evaluate an idea
To build an app like Postmates that will bring you profit, you should start with evaluating your idea. This will help you better understand why you're developing your application, for whom, and how you can monetize it. Idea evaluation includes some important stages like market research, trend and business analysis, and defining your unique value proposition.
1. Start with market research
The first task when building a mobile app for food delivery is to research your competitors. What do they do and how do they do it? Who's their target audience? Can you cater to people your rivals don't target? What can you do to steal the spotlight?
When you go about developing your food ordering app, you'll be able to conduct more precise and targeted research with the help of a project manager. But it doesn't hurt to have a solid grasp of the market situation before you start paying for development. So here's an overview of the current food delivery market leaders: Postmates, UberEats, DoorDash, and Grubhub.
Postmates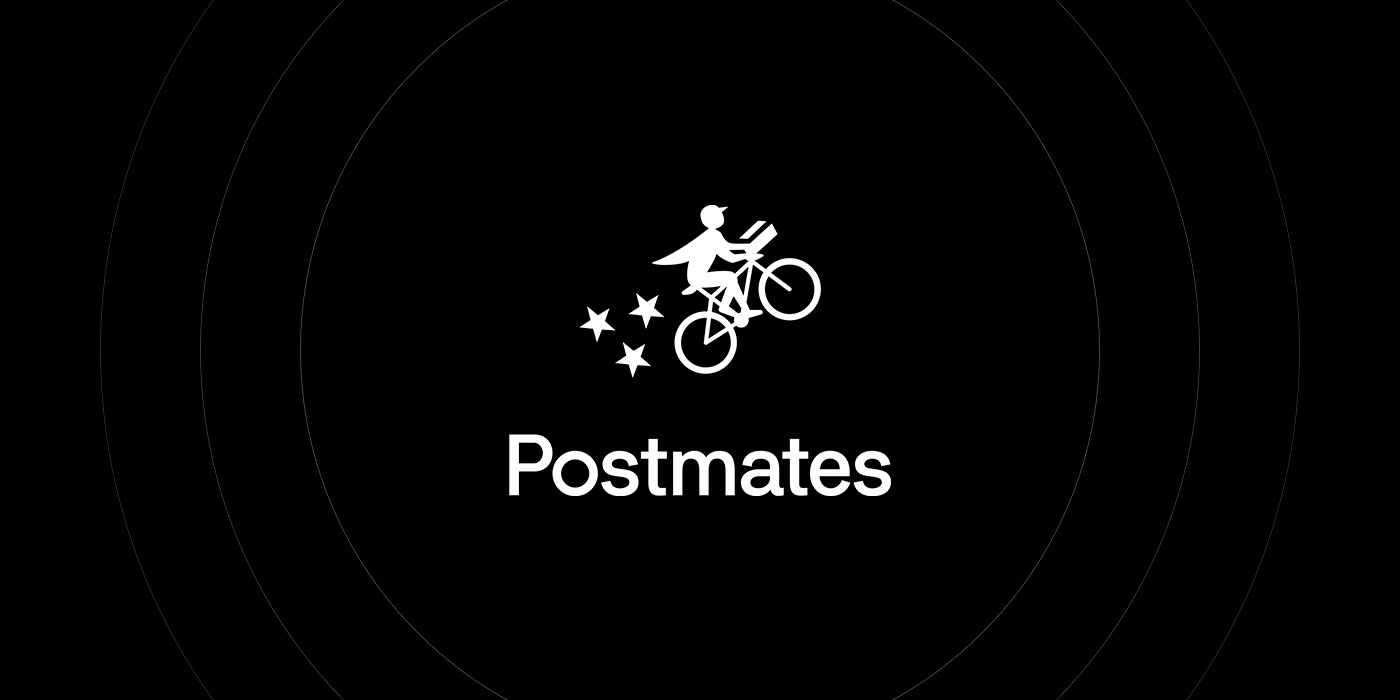 Postmates is one of the most popular and best-known delivery services, and it has several distinctive features.
First of all, Postmates isn't the cheapest service for customers. Its delivery fees range from $3.99 to $9.99. Still, people use this service a lot. Here's why:
Alongside delivery fees, Postmates often features discounts.
There's a Postmates Unlimited subscription for $20 a month that provides free delivery on orders over $20.
Postmates doesn't restrict deliveries to food; you can order groceries, gifts, flowers, and basically anything that one delivery person can carry.
Postmates works 24/7.
Postmates offers food delivery without price restrictions: you can order from hot dog stands or posh restaurants.
These are the features to consider if you're thinking about how to make an app like Postmates. Right now, Postmates operates all over the US and in Mexico City.
Uber Eats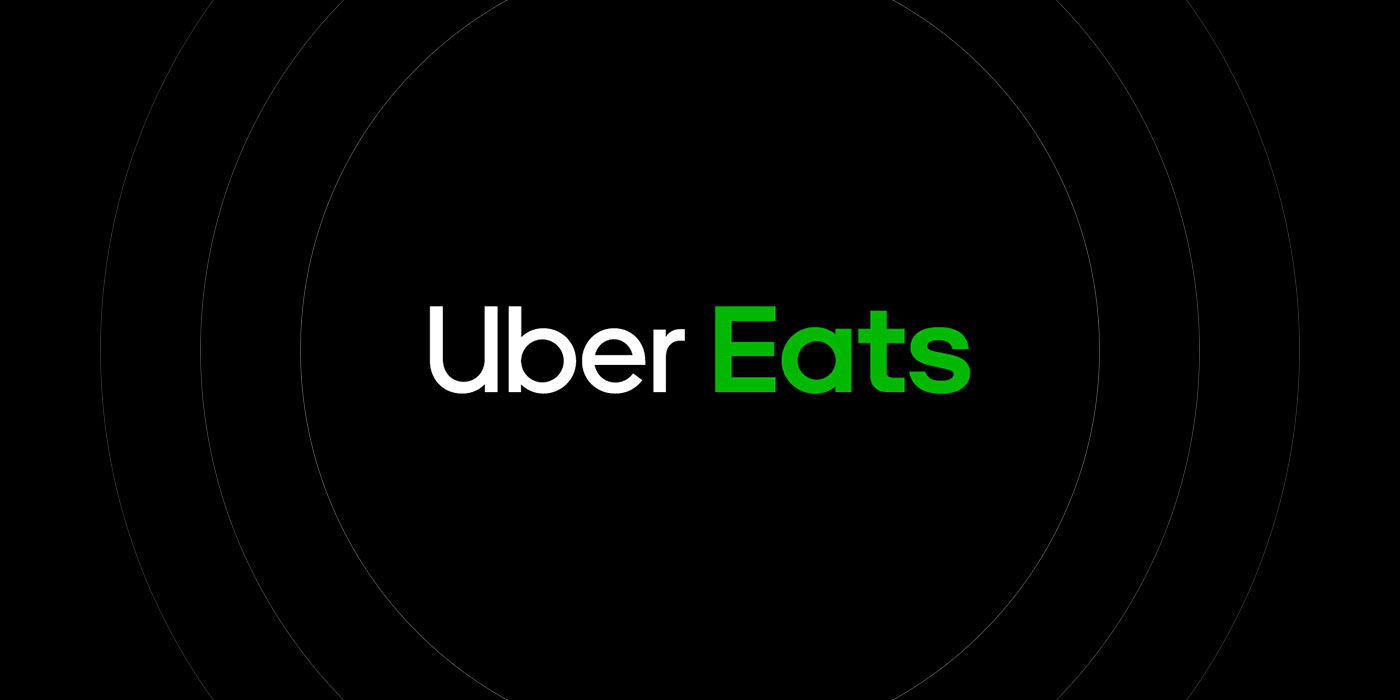 Uber Eats was launched when Uber was already famous for its on demand taxi service. Food delivery was simply an expansion, not a completely new business. This made it easier for the company to market the new service.
If you want to make a food delivery app like Uber Eats, one of the most valuable insights we can give you is that you should pay a lot of attention to the UI/UX design. Uber Eats is known for its flexibility and simplicity when it comes to browsing options and placing orders. There are all kinds of search options: by distance, cuisine, dish, or place name. Users can even set dietary restrictions.
Uber Eats is the only food delivery service available globally. Although there are still countries and cities it's yet to expand into, the coverage is impressive compared to any other similar service.
DoorDash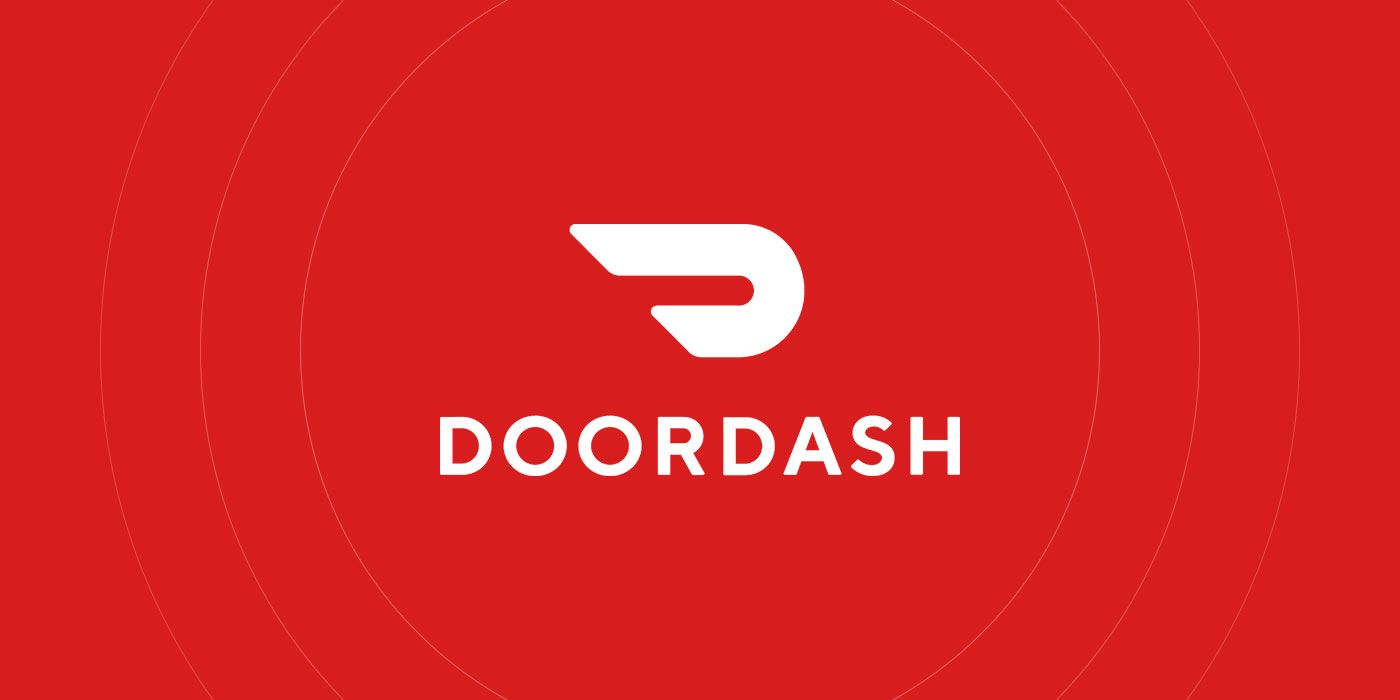 DoorDash is a service with one of the largest networks of partner restaurants in the US and Canada. As of September 2019, the company is trying to expand into Australia by launching a Melbourne branch. Among the DoorDash app's best features are:
Featured restaurants
Restaurants with free delivery
Restaurants with free offers
Popular dishes in each restaurant
Order tracking
DoorDash Delight
DoorDash Delight is a scoring system that measures customer satisfaction with restaurants. It reflects food quality, delivery speed, and overall restaurant popularity. A rating system and curated lists are features to strongly consider if you're aiming to build an on demand delivery app like DoorDash.
Grubhub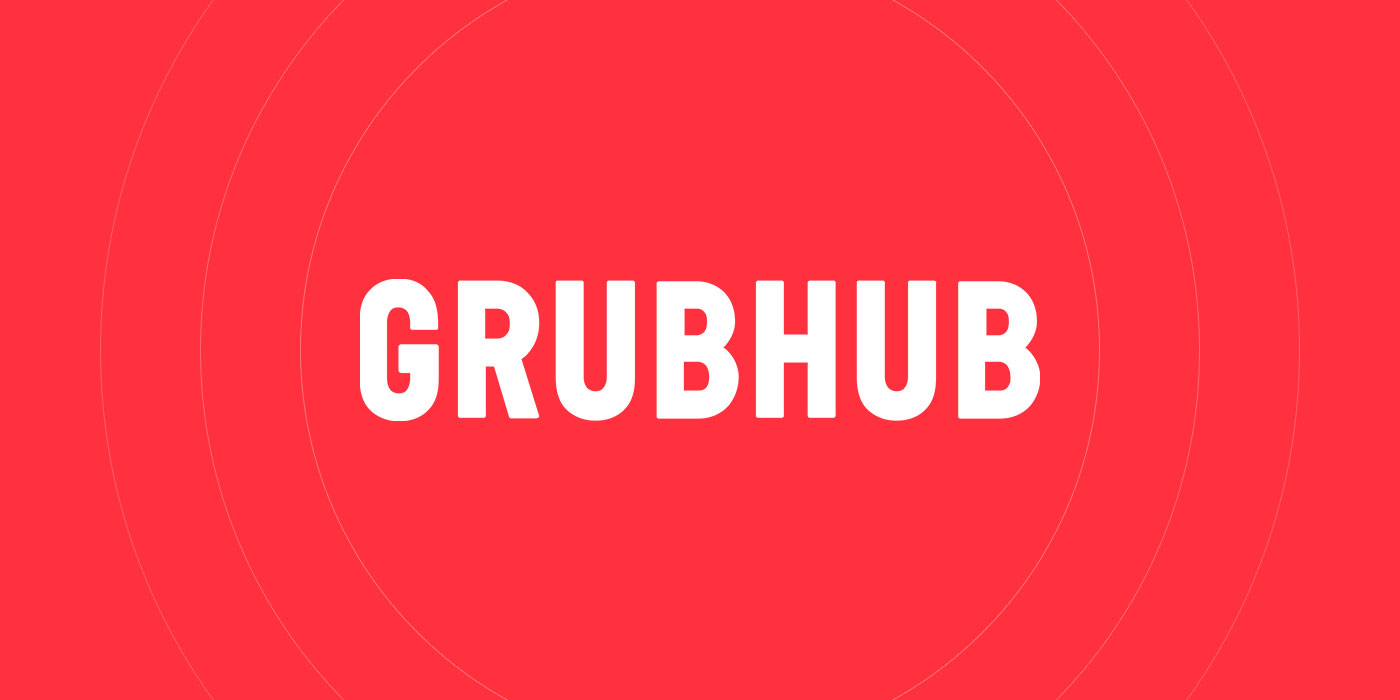 Grubhub includes not one but two well-known food delivery services: the actual Grubhub app and Seamless. These two companies merged in 2013, but Grubhub Inc. decided to keep the Seamless brand name as well as its separate app and website. The decision was a clever one, since Seamless is an old and widely recognized service that even works in London.
The Grubhub and Seamless apps are basically the same when it comes to features, and are very similar in their interface design. Moreover, the same drivers deliver for both services. The special thing about Grubhub and Seamless is that they don't have their own fixed delivery fee; fees are assigned to specific restaurants and orders.
In Grubhub and Seamless, you can search by a specific food item or cuisine, and it's possible to save several delivery addresses within the app, which is convenient if users regularly order food not only to home but also to work.
These are the biggest names on the food delivery market. If you're interested in how to build a food delivery mobile app, they're the first ones for you to research. However, simply copying any or all of them won't do you any good. So let's head to the next stage of on-demand food delivery app development.
2. Conduct business analysis
Business analysis is aimed at understanding the demand for your application. It will help you find your buyer persona, choose a monetization model, and more. At this stage, you'll also get a more precise estimate of the cost to make a food delivery app than the estimate made before development began.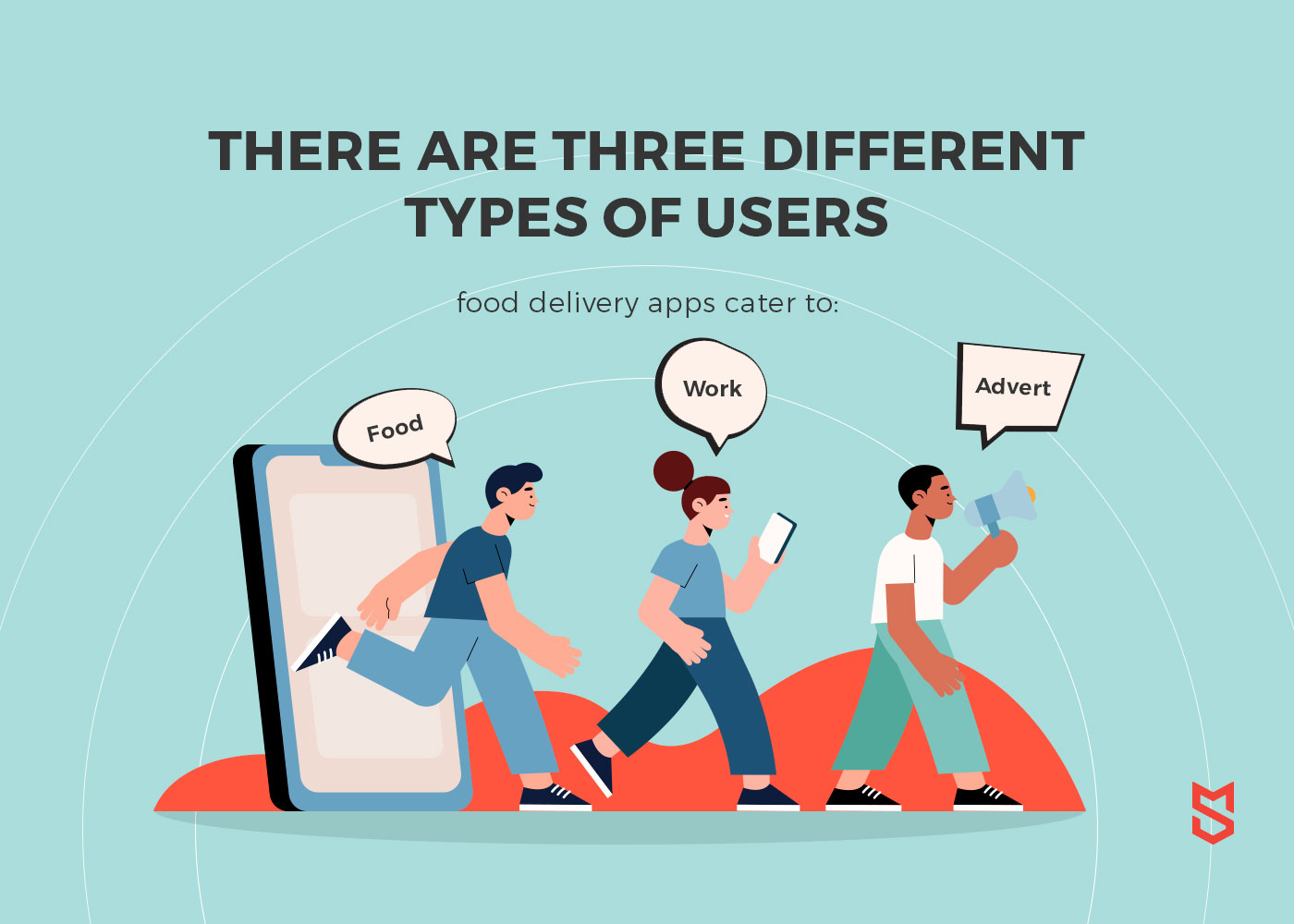 There are three different types of users food delivery apps cater to:
People who are willing to pay extra to have food delivered to their doorstep
Restaurant owners who see an opportunity to promote their restaurants without developing an app of their own or hiring delivery drivers
People who are looking for a job that offers flexible hours
User personas are only a small part of business analysis. As you work with your food delivery app development company, you and your project manager will eventually fill out a so-called Lean Business Model Canvas. It covers all the basic information you need to understand what features to implement and how to navigate the food delivery business in general.
Here is a Lean Business Model Canvas to highlight the main values of Postmates: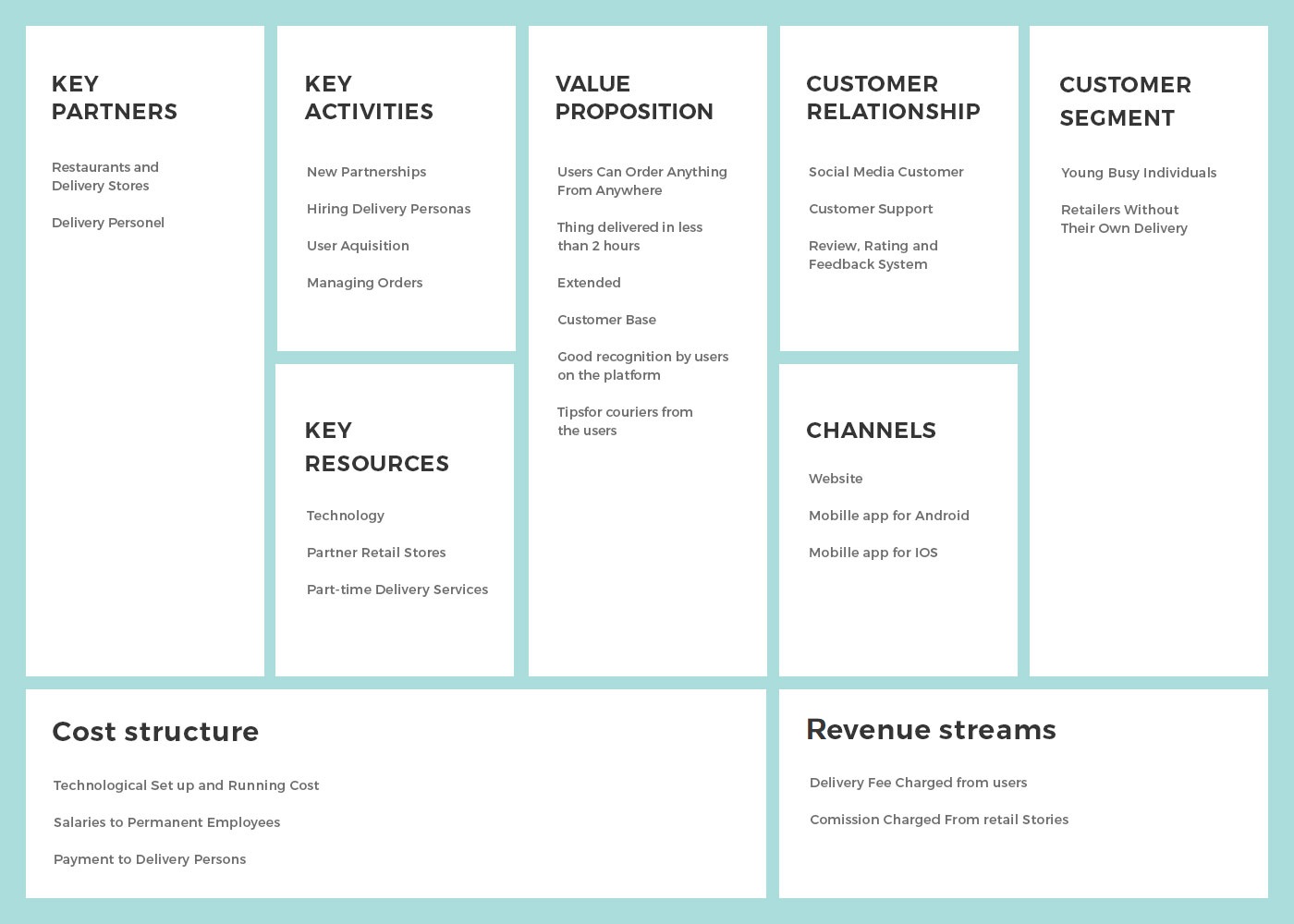 3. Find a unique value proposition
The value proposition is also part of the Lean Canvas. To stand out from the crowd, you'll need to develop an app with unique features (or features that highlight the uniqueness of your company) that are desired by your target audience.
Find out what your customers want most and focus on providing that. It could be a user-friendly interface, fast delivery, or a huge network of restaurants.
The uniqueness of your app is your way to success. Additionally, your success depends on how you make money from your app. Research trends to find a feature that meets demand and makes your application relevant.
4. Research trends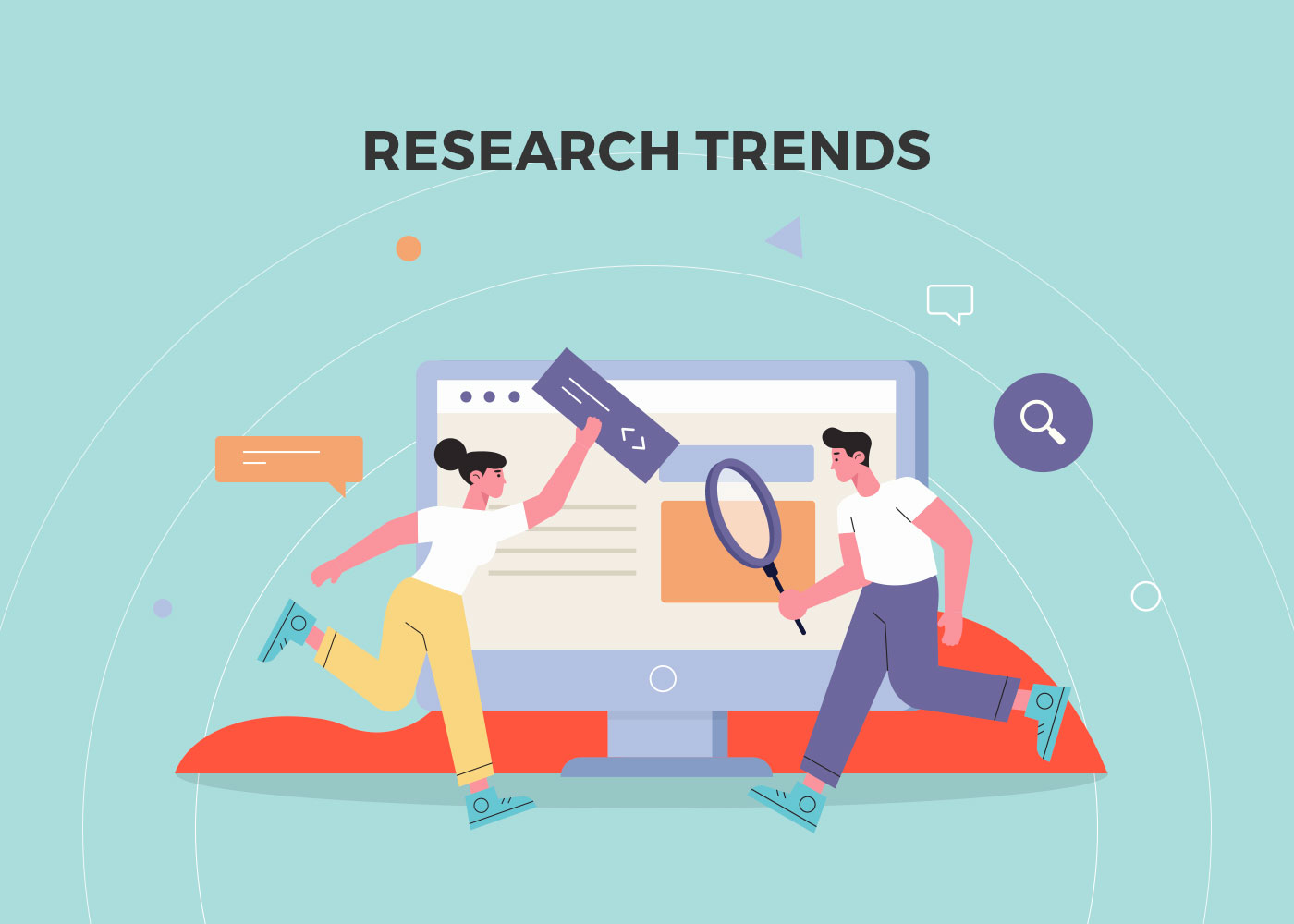 The food ordering market is growing as the technology progresses. Business owners should always keep an eye on trends to stay competitive. As an example, we'd like to bring to your attention these relevant trends:
In-app payment options are a must in today's on-demand services market. The whole world is moving toward a cashless future. Instead of providing all your delivery workers with POS terminals, it will be way cheaper for you (and more convenient for your contractors and customers) if you implement a payment gateway when you make a mobile app like DoorDash, Postmates, or Uber Eats.
When a delivery arrives, the delivery person or a service operator usually calls the customer. Push notifications are way less intrusive and disruptive than calls, though. When a delivery is ordered to a workplace, for example, the customer might not be able to take a call. Push notifications are also a great way to protect customer's phone numbers and names. Another way to use push notifications is to let customers know about promo campaigns and discounts, which are always appreciated.
AI is a trend in mobile app development. Using it in your delivery app means you can add:
Speech recognition technology so customers can simply talk with your app to make an order.
Chatbot technology to help users learn more about menu items, restaurants, and delivery options.
Machine learning platforms to make predictions by analyzing incoming information. These can be used for offering advice on menus.
Check out our article with 8 tips on using Artificial Intelligence (AI) in mobile apps to get more information on this topic.
And it goes without saying that you need to carefully develop apps for all categories of your users.
How do on-demand food delivery apps generate revenue?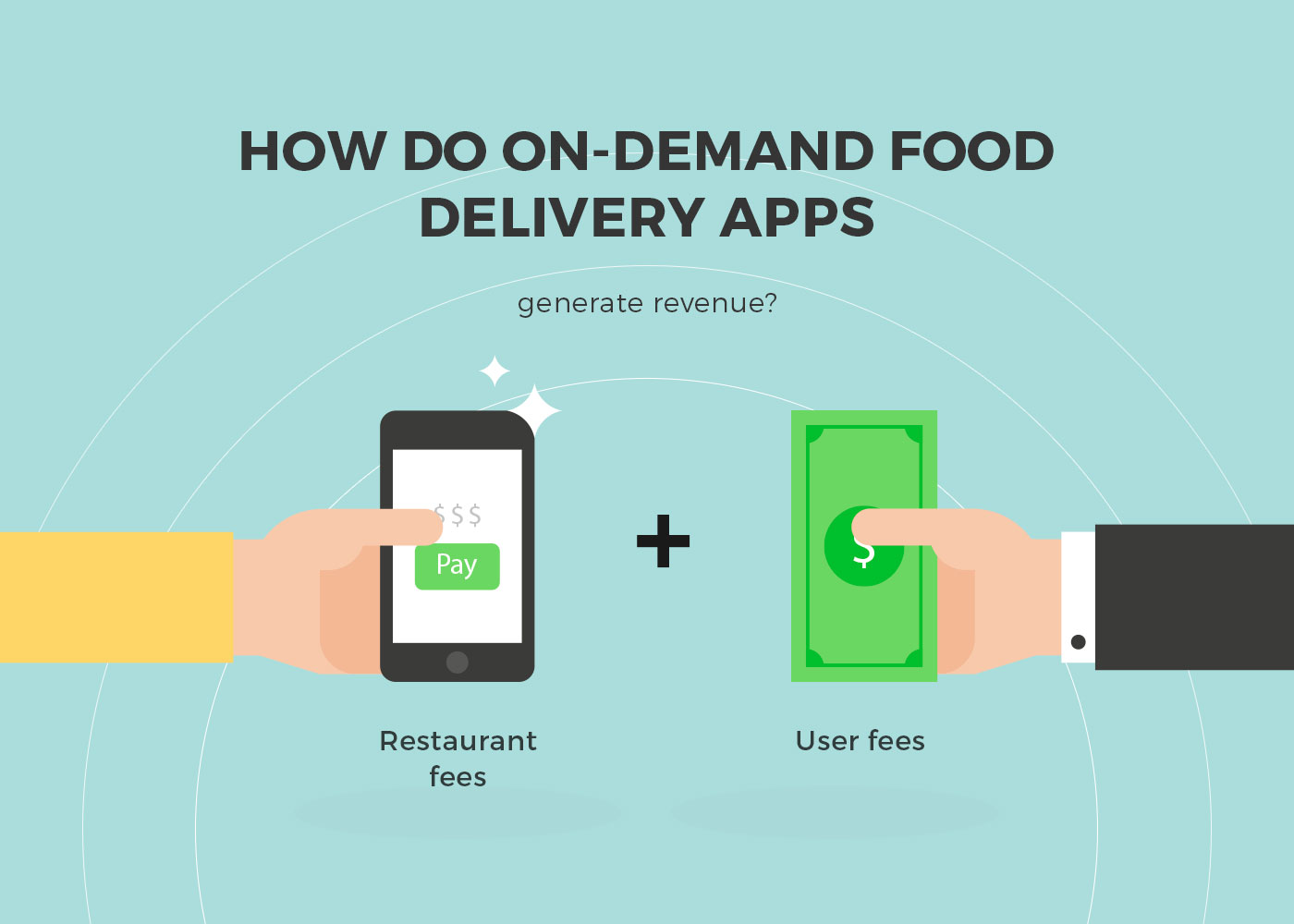 There are two main options to monetize an on-demand food delivery app:
Restaurant fees
User fees
A restaurant fee means that to be featured in your app, partner restaurants pay either a fixed amount (like a monthly fee) or a percentage of each delivered order. Also, restaurants can pay an additional fee to be in a "Featured" list of recommended establishments.
A user fee means that when users make an order via your app, they pay extra for it to be brought to their doorstep. This fee can also be either a fixed fee (per order) or a percentage of the order total. Lately, delivery services have taken to adopting a subscription model for users as well: DoorDash and Postmates now offer subscribers free delivery above a set order amount. This model comes in handy for those who use the service frequently and for large orders.
In-app advertising, a monetization model popular in all kinds of other mobile apps, isn't too common in on-demand delivery apps, though it can be used as well.
How to develop a food delivery app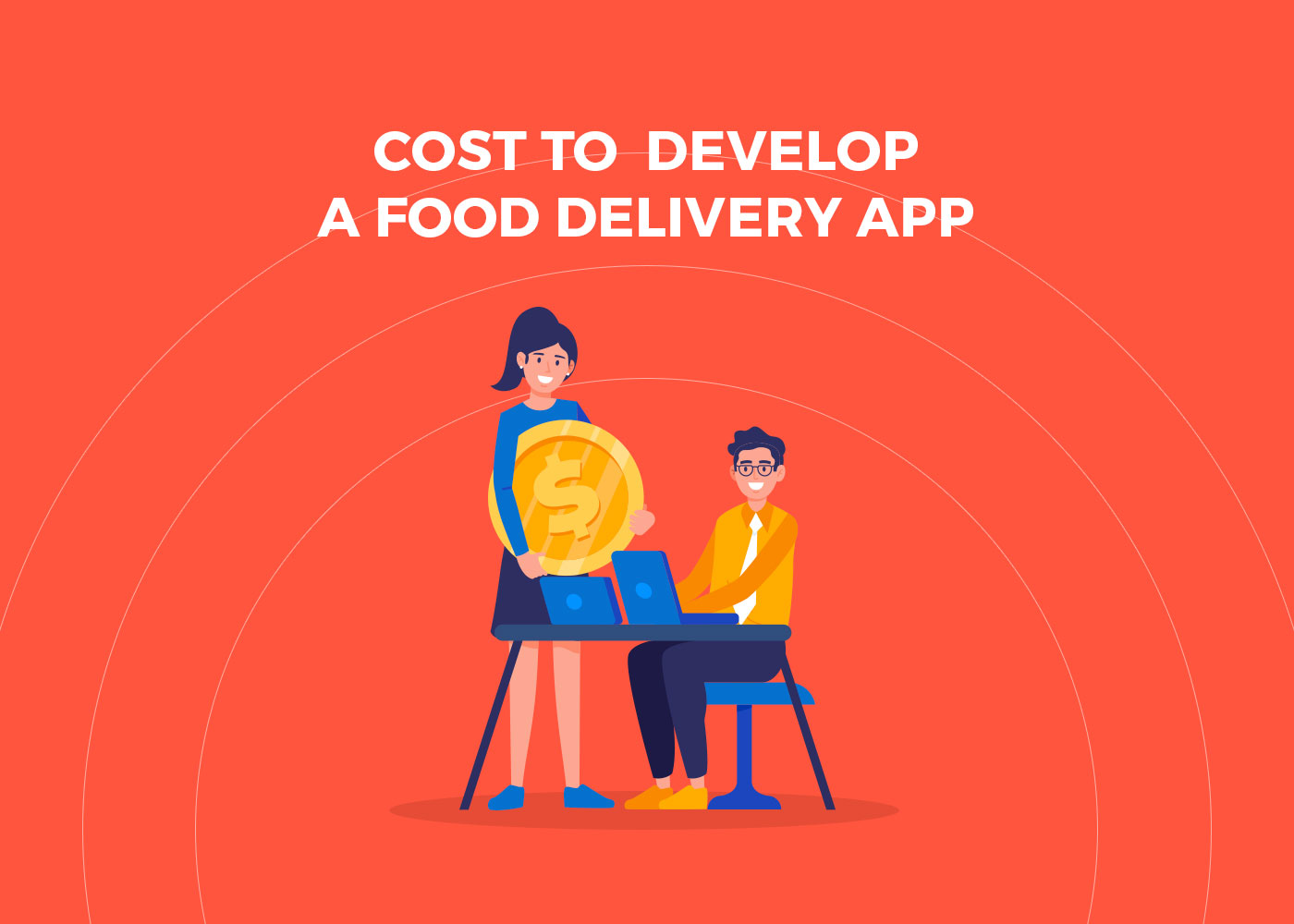 To know the cost to make an app like Uber Eats or Postmates, you need to keep in mind that a complex system like these requires several applications to be built in one structure: the customer app, the backend, and the app for delivery persons.
The customer app is, obviously, what customers use. It should have the following features:
Onboarding
User profiles
Settings
Order screen (view menus + make orders + enter payment details)
Location tracking
Order control (map + track order movements)
Order history (with ratings and reviews)
Push notifications
The second part is the backend, which should have these features:
A database where all data on restaurants, menus, users, and delivery people are stored
Push notification requests to be sent to the client app
Chat powered by WebSockets to facilitate two-way real-time user–server and staff–server connections
Logistics control
Data management
The third integral stage of developing a mobile app for food delivery is building an app that has a delivery people's part and an admin panel in it.
a) Admin panel
Listings of places to get food from + menus
Client base
Revenue monitoring
b) Delivery app
Order map
Order details
Courier profiles (optional)
This is a list of MVP features for an on-demand food delivery app. The fully developed product may include way more features, such as quality control, order changes, and customer care. It all will depend on your research.
How much does it cost to develop a food delivery app?
Even for an MVP version, the estimate will include a few stages of development, including UI/UX design. Our estimates below include the customer app, the app for delivery people, and the server part.
| Development part | Hours |
| --- | --- |
| Specification part | 40 + |
| Visual prototypes | 60 |
| Design for Android & iOS(iphone) platforms | 130 – 190 |
| iOS development | 600 – 800 |
| Android development | 500 – 800 |
| Backend | 300 + |
| Admin panel | 60 |
| Total: | 1690-2250+ |
Overall, an iOS project like Postmates or Uber Eats would cost at least $42,000. For Android, it would start at $43,000.
Food delivery app development: Conclusion
It seems like online on-demand food delivery apps are here to stay, which is why their variety on the market keeps growing. However, mobile apps and web services that offer something newer, with a higher level of service, or just different will always be in demand. You just need to ensure you hire a mobile app development company that meets your expectations.
If you have any questions about food delivery app development, feel free to contact us.
Written by Svitlana Varaksina, Alexander Sheyanov, Dmitry Gurkovskiy and Elina Bessarabova.