The coronavirus pandemic has changed the way we shop and make purchasing decisions. Today's customers are economizing and becoming more careful about their purchases. But how is the pandemic affecting the real estate industry?
According to CNBC, there has been a decrease in the number of houses sold since the pandemic began; however, real estate is now being sold faster than it was a year ago. Buyers want to catch the best prices, and sellers are more willing to offer discounts. Augmented reality, video showcasing, and 3D walkthroughs speed up the deals with real estate objects even more.
A professionally developed real estate website may become a top-selling tool these days, especially if we consider that 52% of homebuyers start looking for the best deals on the web according to the National Association of Realtors. That's why we decided to figure out how to make a real estate website and use the changes in homebuyers' behavior to your benefit.
Types of real estate websites
When building a real estate website, you should decide between two main types:
Platforms for agents, companies, and homebuyers. These platforms allow private sellers and real estate agents to list properties and place ads. To make money, they charge listing fees or commission for transactions.

Private real estate websites for companies and agents. These websites are thoroughly branded and are developed for a specific real estate company or a private agent. In turn, they can be classified into

personal websites (for real estate agents who use a personal brand)

niche websites (focused on selling a specific type of property)

team websites (developed for a team of agents).
Real estate website builders vs custom real estate website development
There are two ways to build a real estate website. You may use freely available online website builders or hire a development company to create your project from scratch.
What to expect from real estate website builders
The most popular real estate website builders are Wix, Weebly, and Squarespace. They're suitable for simple landing pages or portfolio websites. Here are their advantages and disadvantages for real estate website development.
Advantages
Online website builders are easily accessible and don't require programming skills or technical knowledge.

There are a lot of website builders to choose from.

Templates come with built-in functionality that can be easily customized.

You don't need to come up with a design and UI/UX or think through the user journey.

Real estate websites created with the help of online website builders are usually responsive and mobile-friendly.
Disadvantages
The set of features provided by online website builders is often limited, regardless of the industry and type of project you want to create. As a rule, it's difficult and costly to add something new on top of the predeveloped set of features, and sometimes it is even impossible.

Real estate websites created using website builders are difficult to promote on Google, which requires websites to have their own domains, unique names, and clear code.

As a rule, it's harder to improve or customize a real estate website design using a website builder since the templates are static. What is more, the ready-made templates provided by online builders may already be used by your competitors and/or be outdated.

Most importantly, it's impossible to realize a specific idea or achieve a specific business goal with the help of predeveloped templates that aren't tied to your company's unique way of solving users' problems, which is why you shouldn't expect an outstanding user experience.
How to overcome the limitations of website builders with custom real estate development
Building a real estate website from scratch allows you to overcome the main challenges related to meeting your audience's expectations and satisfying the specific needs of your project. When looking for ways to develop a real estate website, consider the advantages and disadvantages of custom development as well.
Disadvantages
Custom website development always takes a long time for steps such as market analysis, idea validation, working through unique design concepts, and testing your MVP.
You'll need to invest more money in development.
You'll need to carefully choose a development company with the necessary experience and expertise.
Advantages
Developing a custom real estate platform allows for creativity and finding unique ways of solving users' problems.
You're always welcome to adopt recent trends in real estate design and development.
You don't need to invest a fortune right after the first discussion with your development vendor. Instead, you can follow the LEAN development methodology, according to which you create features that are really needed for your project and carefully test them.
Feel free to use online website builders if a simple, standardized, and low-budget solution will be enough for you. However, you should switch to custom website development if you want to create a globally known project like Zillow or HomeFinder.
Main features to develop in a real estate website
Let's consider the features needed to build a top-notch real estate website in 2020. The set of required features will be unique for each project, but we're going to list the basic ones that will be enough for an MVP.
For companies
Add/delete/edit property descriptions
Add images
Add locations
Analytical tools
Lead capture form
Blog functionality
MLS listings
For homebuyers
Advanced search with lots of filters
Map-based property listings
Image gallery (carousel, slideshow)
Map view
Comparison list
Button to schedule a visit
Instant chat
Social sharing and testimonials
Additional tools
You don't need to develop additional tools as part of the MVP. However, the features below will greatly contribute to a good UX and finalizing deals.
Mortgage calculator. This feature will be especially useful if Millennials are your target audience. Most Millennials prefer to rent. However, a mortgage calculator can prove that they won't pay more to own a house than they currently do to rent.

360-degree videos. 360-degree and 3D videos are great in times of social distancing. With their help, users can get a comprehensive impression of a property and decide whether it's worth seeing in real life.

Recommendation engine. Recommendation engines are good tools to boost sales and offer potential buyers more options to choose from.
Design issues
There are also some real estate design issues you should keep in mind.
Speed. Your website should load in no more than 5 seconds. However, this can be challenging for a project with a complex architecture and a lot of content, so you'll need to find a solution together with your software development vendor.

Usability and navigation. When deciding to buy a house or apartment, users behave differently than they do when making day-to-day purchases. Homebuyers are planning to make an important investment, so your website should work flawlessly, have clear navigation to facilitate the buyers' journey, and have a well-thought-out sales funnel.

Colors. The colors used in your real estate website design should inspire trust, reliability, stability, and credibility. White, blue, green, and orange are good choices according to marketing psychology.
Three main real estate website development mistakes
Want to know how to create a website for real estate listings while avoiding mistakes? Get to know what the most common mistakes are and ways to avoid them.
Ignoring mobile users. A mobile marketing strategy matters for real estate projects, since the majority of searches are made with the help of mobile devices. What's more, modern home buyers like to stay in touch with their agents with the help of mobile-friendly websites, instant messengers, and social media.

Ignoring SEO. Since more than half of homebuyers are looking for properties online, you need a strong SEO strategy to get discovered. Websites created with online website builders aren't so good for SEO, while custom projects have more room for implementing content and SEO strategies.

Poor quality of images and property descriptions. Property descriptions are at the core of your real estate website, and users should be able to learn everything they want in no more than three clicks. That's why you need to prototype your property descriptions very carefully, providing space for text descriptions, high-quality photos, standard and 360-degree videos, questions and answers, and buttons to immediately contact the owner or agent.
How to monetize a real estate listing website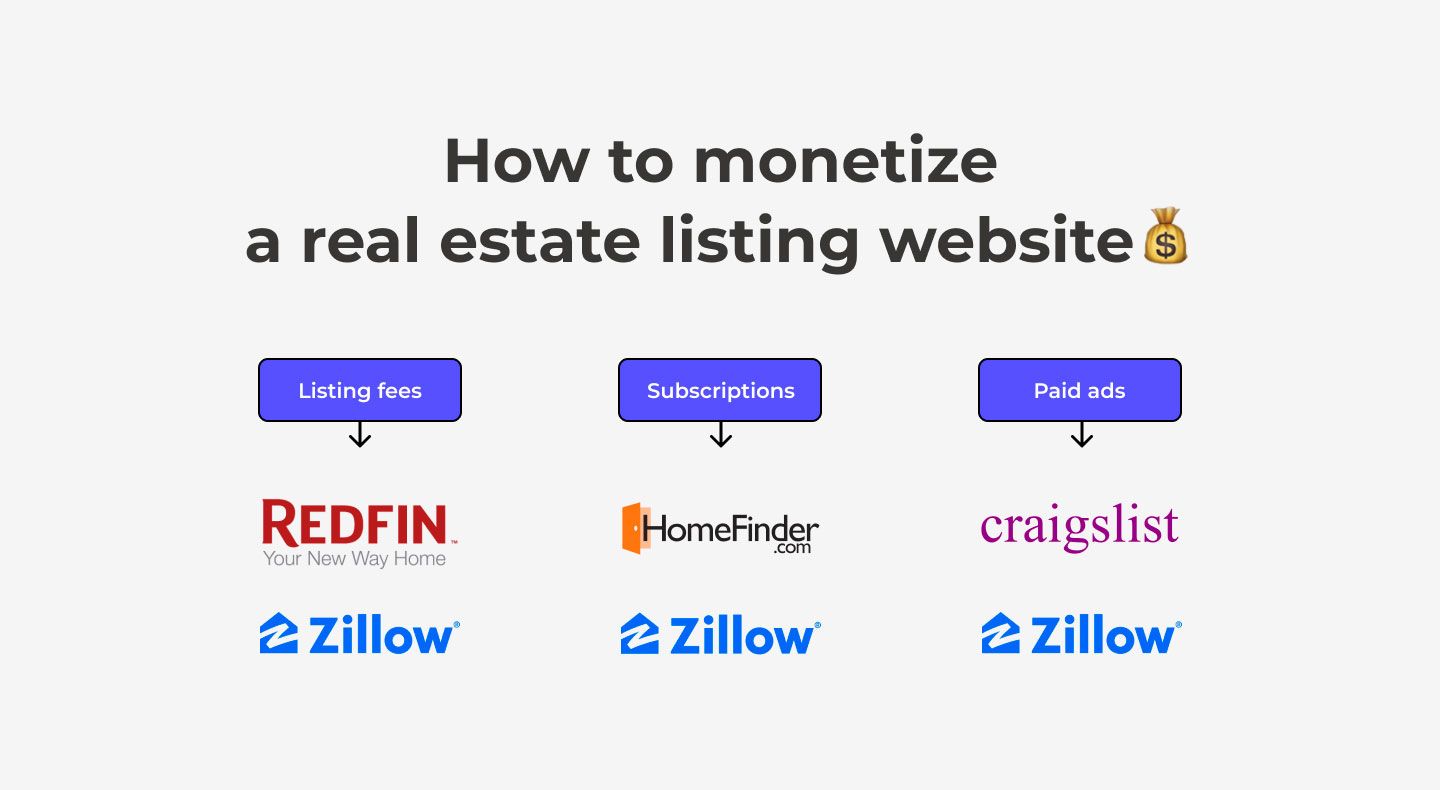 Basically, there are three ways to monetize your real estate website, and each is used by famous real estate companies.
Listing fees. Listing fees are suitable for real state marketplaces like Redfin. This platform allows sellers to list homes for a 1% fee, instantly get in touch with a Redfin agent, and sell as quickly as possible with professional help.

Subscriptions. With this model, you charge users a fixed monthly or yearly fee and allow them to publish a limited or unlimited number of listings. HomeFinder, for example, charges $39 per user per month.

Paid ads. The well-known Craigslist (which can be considered a kind of real estate platform) earns money by promoting ads and making them more visible to the target audience. What's more, it's possible to combine the two previous approaches with paid ads and offer your buyers and sellers to promote their offers within your platform.
However, there is one more example worth mentioning — Zillow. This successful real estate platform goes beyond basic monetization strategies. Paradoxically, Zillow is free for all participants. However, Zillow's annual revenue is reaching $3 billion according to Investopedia. How can you make a real estate website like Zillow and how does Zillow earn so much?
Property management companies may advertise their listings on the Zillow Rental Network.

Zillow offers Premier Agent Websites and helps real estate agents cut their costs for custom website development.

Real estate agents may promote their listings locally using paid advertising within the platform.

Zillow buys and resells homes on its own.
How can you start an online real estate business and what is the cost to create a real estate website like Zillow? Let's proceed to the practical steps.
Real estate website development stages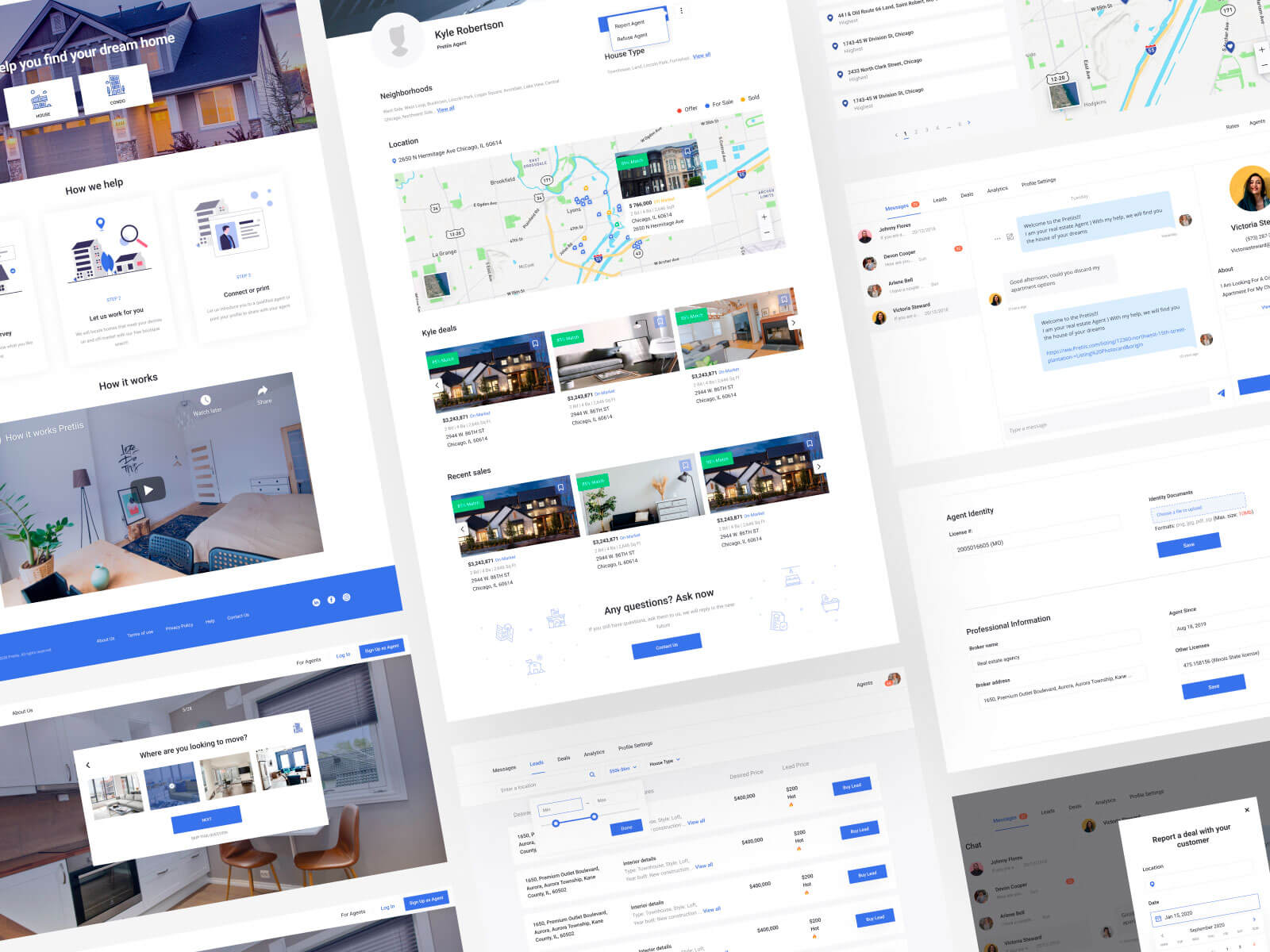 Each real estate startup should go through the following stages of development, from coming up with an idea to launching on the market and achieving success.
Discovery stage. In this first stage, you need to analyse the business, clearly define the problem you'll solve and suggest a solution, analyze user personas, map user stories, and decide on potential revenue streams.

Idea validation stage. At this stage, it's necessary to validate your idea with the help of market and competitor research. This is done with the help of economic analysis methodologies, surveys, and medium-fidelity prototype testing.

UX strategy stage. At this stage, it becomes possible to create high-fidelity prototypes of your real estate solution and solve navigational issues according to the previously mapped user stories.

Design and development stage. During this stage the actual product is developed. Development is broken down into substages and sprints to clearly plan design and development workflows.
How much does it cost to build a real estate website?
Even though the stages of development are the same for all web projects, the feature set and price will always be different.
However, if you want to get a professionally built website that's capable of lead generation, ready for SEO promotion, and appealing to your users, it may cost more. Our practice suggests that the price of a custom real estate website may start at $45,000 and reach $66,150 in the case of real estate projects with complex architectures and wide feature sets.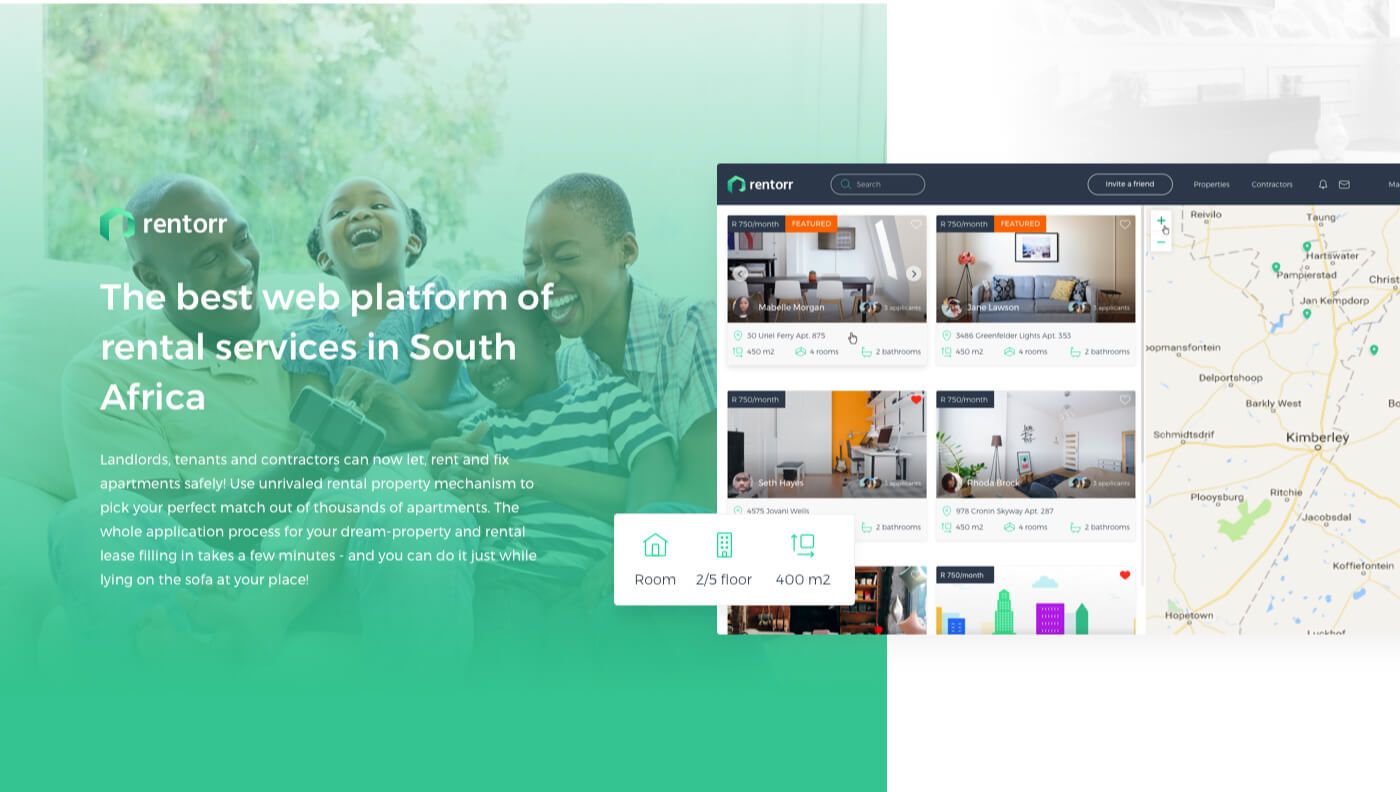 Conclusion
The changes in the global economy provoked by the coronavirus pandemic shouldn't be an obstacle to real estate startup development. People still need spaces to live in and places to discover them. Strategic thinking, careful research, and collaboration with a reliable software development vendor will give you a solid chance to create and scale your project.