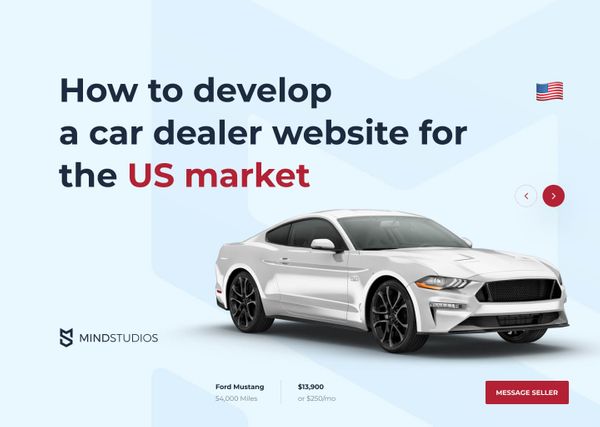 The United States is the world's second-largest car producer, with an over 12% share of the world market. The US is also the world's biggest car importer. The dollar value of cars imported to the US in 2018 was $178.5 billion. According to Statista, there are more than 276 million cars registered in the US.
Many kinds of businesses can benefit from this large market. In this article, you'll learn how to build a car dealer website for the US market, what features are necessary, and how much it will cost to implement a car-selling website.
What distinguishes a car marketplace website from other kinds of websites?
Why would anybody visit a car marketplace? Mostly to find the most suitable car. The two main things that a car marketplace needs are
a wide choice of vehicles
an efficient sorting system
That may sound like quite simple requirements, but the devil is in the details. In our case, that's the implementation. There are hundreds of car selling platforms in the US, but only a few can be called successful. Let's take a look at CarMax and CarGurus and try to figure out what has made them successful.
Tailoring to your target audience
If you want to know how to make used cars website like CarGurus, you need to analyze the market situation. Before the internet, people in the US looked for new cars in dealers' showrooms and used cars in physical markets. Things haven't changed much. Today, customers do the same market search, only online.
Consider the legislation of the states you're launching your car dealership website. For example, in many American states, you can get a full license at 16, so your website should be designed for teens and up.
A car marketplace should work well for both sellers and buyers, and users should be able to easily switch between these roles. With a dealership website, only the dealership's designated employees manage the selling side.
Transactions
Mind the security of your site. Buying a car online is a bigger deal than buying small items on eBay. Sellers and buyers alike should be verified, which may require sharing their Social Security Numbers and driver's license data.

A car marketplace should support buying, selling, and, if your business allows it, bidding.
Focus
Niche car marketplaces — for a specific type of vehicle — aren't that popular in the US. Trucks and eco-friendly vehicles can be bought on any major car dealer's website. However, with the growing popularity of electric vehicles, for example, it might be a good business idea to build a used car website for electric cars only. A niche website may also work for cargo carriers, hybrid vehicles, and other specialized vehicle types.
Monetization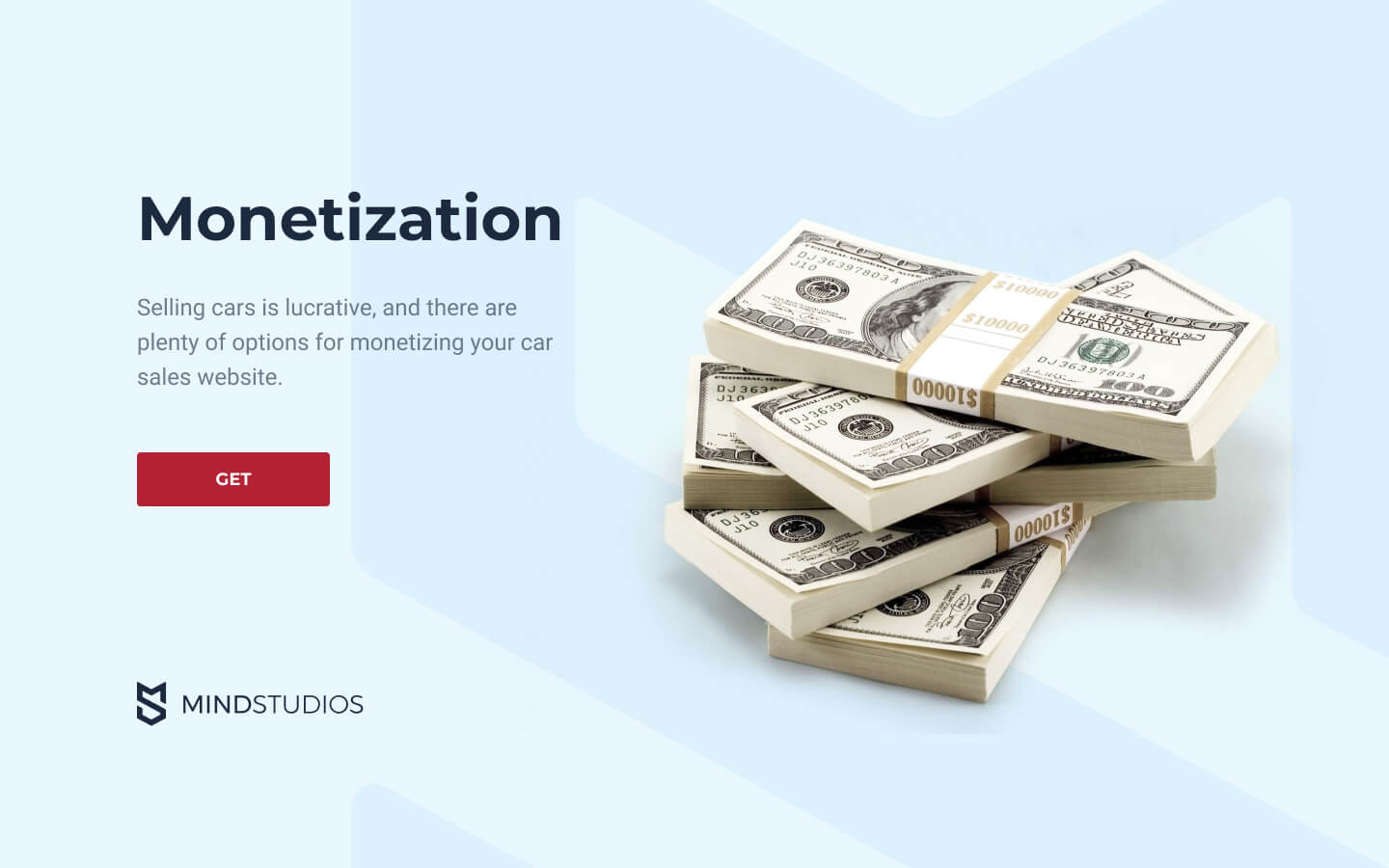 Selling cars is lucrative, and there are plenty of options for monetizing your car sales website.
Charging sellers. Your website can charge individual sellers and dealers a fixed percentage of each deal or a monthly fee for placing offers.
Premium features. These can be offered to both sellers and buyers. A premium subscription may provide prioritization in search results, extended search functionality, more flexible payment methods, and other features.
Paid listings. Car marketplaces can charge a one-time fee for posting a vehicle.
How to make a car marketplace
It might be more efficient to make a used car dealer website first than build a mobile app right away. Making a website with all the necessary functionality is faster and less costly. Of course, you'll need your site to be mobile-friendly.
After your car marketplace is working well, you can consider developing an iOS and Android app as an additional advantage for your business. Read our article on how much it costs to make an app to find out the approximate price for car dealer website development.
Features and functionality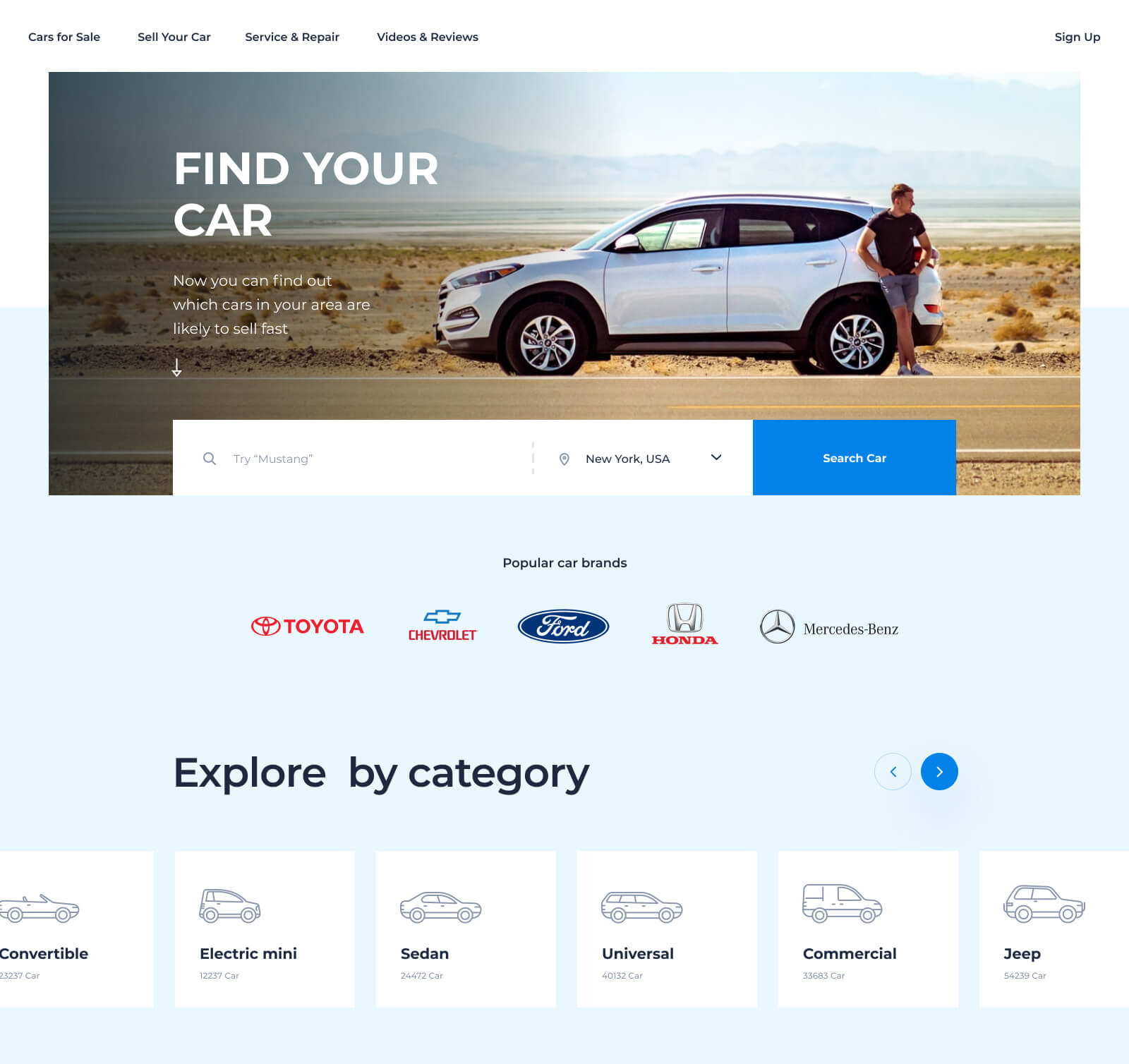 It may seem hard to sell vehicles online due to the high number of variables for every single vehicle. But in fact, setting up a car marketplace isn't much more difficult than setting up any other kind of eCommerce shop. Each marketplace user has one of two main goals — to buy or to sell a car. Website owners just need to help users do those things fast and smoothly.
Feature
Description
Sign-up/Sign-in

Registering in the system to get access to functionality should be fast and easy. We strongly recommend allowing users to sign up with a Google/Facebook account.

After signing up, users should be able to communicate with each other, bookmark interesting listings, and see additional info on vehicles. But all advanced functionality, such as bidding and buying, should only be available to verified users.

Verification

Car marketplaces operate with large amounts of money, so transactions should be performed only between verified users. We recommend that you require users to get verified in order to buy, sell, and bid on vehicles. For verification purposes, you might ask users for Social Security Numbers, bank credentials, or other information.

You can divide verification into phases and open access to some functionality after prequalification to give users access to features faster.

Profile

A user's profile page may display their name, photo, contact information, purchase history, place in site rankings (if available), and reputation points.

Search and filtering

This is one of the most crucial features of any car sales website. Filtering and search functionality should be able to process large amounts of data and offer the most relevant results for hundreds of simultaneous queries.

Make filters as flexible as possible. We recommend adding the following filters:

Price: $XXX USD or less, $XXX USD or more, monthly payment amount
Vehicle make and model
Country of production
Vehicle type: coupe, crossover, truck, sedan, sports car, hatchback
Year/age: year of manufacture or min/max age
Mileage
Optional features: leather seats, climate control, 4WD, a navigation system, etc.
Size: compact, mid-size, full-size
Color
Engine: transmission type, number of cylinders
Fuel economy
Fuel type: gasoline, diesel, electric, hybrid
Location

Provide as many filters as possible. More flexible filtering speeds up the search.

Car worth calculator

Let sellers enter vehicle data and calculate the approximate selling price for their car.

Listings

Sellers should be able to see their own cars for sale, edit the description and price for listings, and publish/unpublish listings.

Buyers should be able to see search options and filters, add cars to a wishlist, and compare vehicles.

Location

Since a car can hardly be delivered to you by the postal service, knowing the location of a car you want to buy is crucial. It's also good for a marketplace to request a user's location and show the nearest offers. We recommend filtering at least by state and city.

Wishlist and notifications

A wishlist can provide more functionality than just tracking vehicle listings. Users can create profiles of their desired vehicles and get a notification when something similar is listed.

Notifications are also good for letting users know about price and status changes for vehicles on their wishlist.

Communication

Basic private messages and comments will be enough for a car marketplace.

Car condition/ car history check

When buying a used car, people are interested in the current state of the vehicle and its history. If you plan to start an online used car dealership, develop functionality to check a car's history by VIN code (perform a title check) to find the number of owners, see the vehicle's accident history, and get more information.

Legal check

Check that the cars being sold by owners are registered and aren't on a wanted list by authorities and display the results on each car's page.

Support

A car marketplace is a big and complicated eCommerce product with a wide audience. Users may get confused with so many features, such as payments and profile customization, so a support chat or at least an FAQ section is a must.

Payment functionality

Any software dealing with people's money, credit cards, and credit histories should work 100% correctly. We recommend integrating a secure and reliable payment gateway and also keeping an eye on changes in laws of particular states.

Reporting scams

Unfortunately, big money attracts big fraud, especially when it comes to deals between people who've never met each other. Make sure to implement scam and spam reporting and tracking functionality.
Cost to develop a car dealership website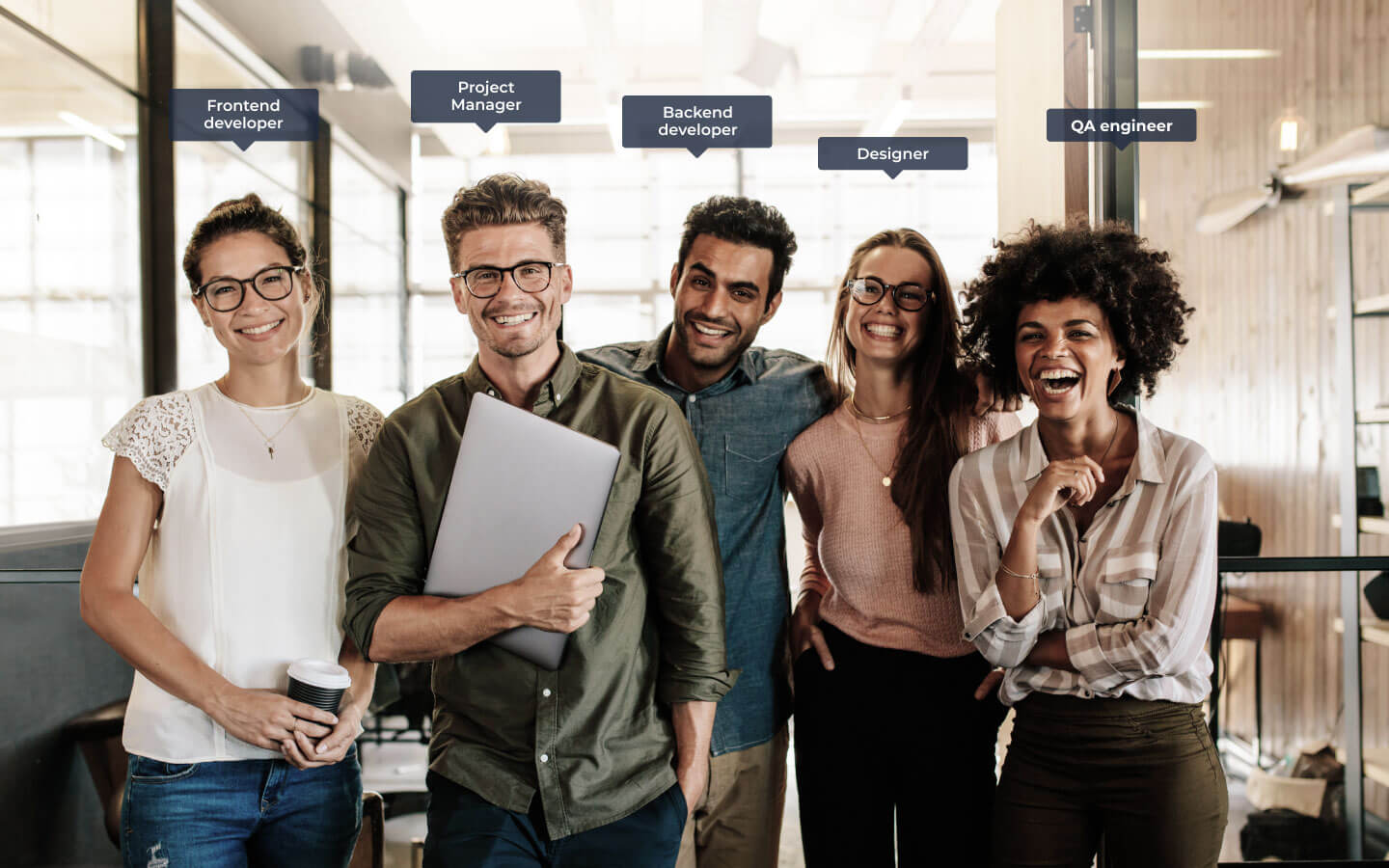 In order to create a website for car dealerships, you'll need a full team of developers. The must-have roles are:
Project manager
UI/UX designer
Frontend developer
Backend developer
Quality assurance specialist
We recommend paying special attention to the backend and frontend parts. They need to be able to work stably under a high load. Consider hiring at least two frontend and two backend developers. We also recommend having at least two quality assurance specialists.
Developing and testing a fully working prototype of a marketplace website with a team usually takes up to four months. In terms of the cost, it can be $71,000 or more.
The cost to make a vehicle marketplace website depends on the design, number of features, and complexity of these features. Mind that your investment doesn't end with development. A car marketplace requires technical work after the release. A strong support team may help your users save a lot of time, allowing them to make deals faster and bringing you more money. Also, any eCommerce website needs to be up to date in order not to lose to the competition for technical reasons.
Read our article on top reasons to update your website to find out when it's time to implement some changes.
Another big part of your investment will be in marketing. Car sales is a highly competitive business, and marketing will require a lot of effort and investment.
Conclusion
Used car dealer website development for the US market may sound like a tremendous amount of work. We hope this article has helped you realize that it's not that hard. Of course, running an online car marketplace in the US means a huge amount of responsibility and risk. But the size of the market, buying power of the audience, and American car culture provide a sound basis for creating a profitable business.
If you need a reliable team of developers, designers, and testers with a proven background in high-load projects, drop us a line via the Contact Us section of our site. Mind Studios has everything you need to develop a reliable car marketplace website and mobile application for the US market.