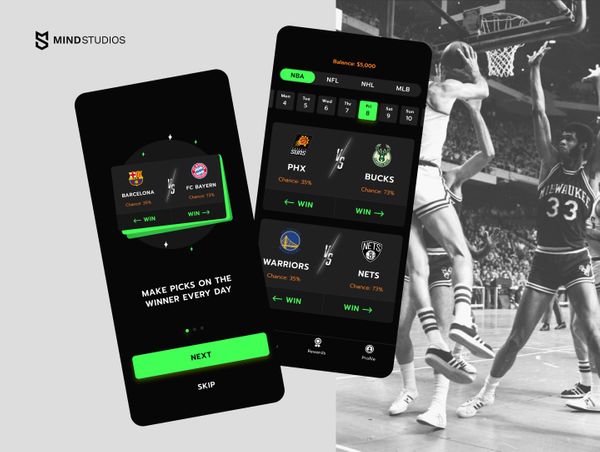 The development of sports gambling apps has been greatly influenced by digital technologies, facilitating its transition to the virtual realm. With the help of gadgets and applications, creating a betting app has become a simpler and more secure process.
You can tell a huge sporting event is coming by a sudden rise in downloads of sports betting apps. Whether it's USA's Superbowl and the NBA Finals, or UEFA Champions League in Europe — millions of fans want to try their luck and bet on the strongest team. And during the past few years, it has become much easier to do it legally and safely, with more and more countries giving the green light to official gambling platforms.
Now, sports betting is the fastest-growing sector of the gambling industry, expected to reach over $90 billion in market value in 2023. So, as the world is waiting for the FIFA World Cup, which will take place in the last two months of 2022, this might be the perfect time for you to make a betting app of your own.
What should you know before launching a gambling platform? Why choose an app over a website? And finally, how to create a sports betting app that has a chance of succeeding? We cover all of this in the article and share our own experiences with the gambling industry.
How to make a gambling app in 7 steps
Step 1: Get a license for your app
Before beginning development on your application, make sure you have secured a valid gambling license in each jurisdiction in which you plan to provide your wares. Obtaining a gambling license is subject to the laws of the country in question. To avoid legal trouble, you should familiarize yourself with the specific license requirements of the state in which you intend to operate.
Step 2: Examine Published Gambling Laws
Publishability rules are essential before launching a sports betting app development project. Find out your target country or state's laws on publishing gambling apps.
The Apple App Store and the Google Play Store only allow apps from verified publishers to be available to users. The rules for downloading gambling apps are different on iOS and Android. Before you begin development, please read these requirements.
Step 3: Choose a method of payment
Sports betting apps require trustworthy and safe payment methods. Electronic funds transfer, debit, and credit cards are all acceptable forms of payment. To ensure the safety of your sports betting app's users, add the payment method of your choice. Your app's release nations will dictate how many currencies your payment system can accept.
Step 4: Choose a development partner
Successfully launching a sports betting app requires teaming up with a software or app development company or partner. Consider the developer's track record with apps like yours, their familiarity with the gaming industry, and any quality assurances they may have.
After the project has begun, the software development team and the consultation service will work together to construct the sports betting app.
Step 5: Implementing a UX/UI strategy
The UX/UI ideation process is simplified when working with professional designers. You need your design team to be familiar with creating a sports betting app. A sleek, user-friendly, and appealing interface is well within its capabilities. An app's usability is enhanced when its design is uncluttered and easy to understand.
Your sports betting app's user experience and user interface design is vital. It's a major factor in determining how many users will use your program. The importance of knowing your audience and designing a product accordingly cannot be overstated.
Step 6: Choose from various sportsbook providers
A sportsbook provider or bookmaker powers any sports betting app. Your app's sports event and result data should be accurate, up-to-date, and safe. In addition, they need to provide several betting options and live streaming so that users may monitor the progress of their wagers.
Step 7: Release and monitor feedback
Once you're satisfied with the app's features and functionality, you can consider when to release it for sports betting. App release is just the beginning. After that, it's up to you to listen to what people are saying and adjust accordingly.
If you want more people to know about and use your product, allocate funds toward advertising in your release and monitoring strategy.
Building a reliable Sports Betting app takes time, effort, and planning. However, success for your sports betting app is possible with the right development team and funding.
Before you make an online sports betting app
Before embarking on the journey to create an online sports betting app, there are key aspects that you need to be aware of. These include legal considerations, understanding the target audience, and incorporating essential features like secure payment options and real-time updates. Let's look at all aspects in more detail.
Legality in different countries
If you already own a betting business, you probably know everything about this. However, if yours is a sports betting startup and you're thinking about how to make a gambling app right off the bat, read on, as this information will be of use.
Depending on where your business is registered, different laws are in place regarding betting in general and betting online in particular. Some states are more favorable in terms of conducting betting business than others. For instance, Germany has no direct ban on betting activities, and moreover, bets placed online outside the country are not even taxed.
The Italians came up with an idea of how to make sports gambling beneficial: they source all tax deductions from betting to the Italian Olympic Movement.
The UK has, probably, one of the most loyal policies on sports betting, with betting and gaming tax receipts amounting to nearly £3.1 billion in 2021/22. Also, the gamblers there do not pay taxes on winnings. Australia is also one of the countries with the most lenient legislation when it comes to betting. Betting on sports, in particular, on-track races has been done in Australia since 1810, and now online betting is allowed on most sports.
At the same time, in some countries, such as Argentina and the Philippines, you can only bet on certain sports. In the Philippines, you can only bet on horse racing. Soccer betting is prohibited in Argentina. In Singapore, North Korea, Cambodia, UAE, and a number of other countries, betting and gambling are banned in general. Therefore, before you dive deeper into how to create a betting app, you need to figure out whether online betting is legal in your country.
Sports betting in the USA
Since the federal ban on sports betting in the USA was lifted in May 2018, sports betting software has been growing exponentially. However, the introduction of new policies across the country by state governments has been quite slow. For instance, New York allowed online sports betting only in January 2022, right before the Superbowl, the biggest local sporting event of the year. At the same time, a number of states still haven't lifted the restrictions. Here is a map that shows where online betting is allowed in the USA as of 2022.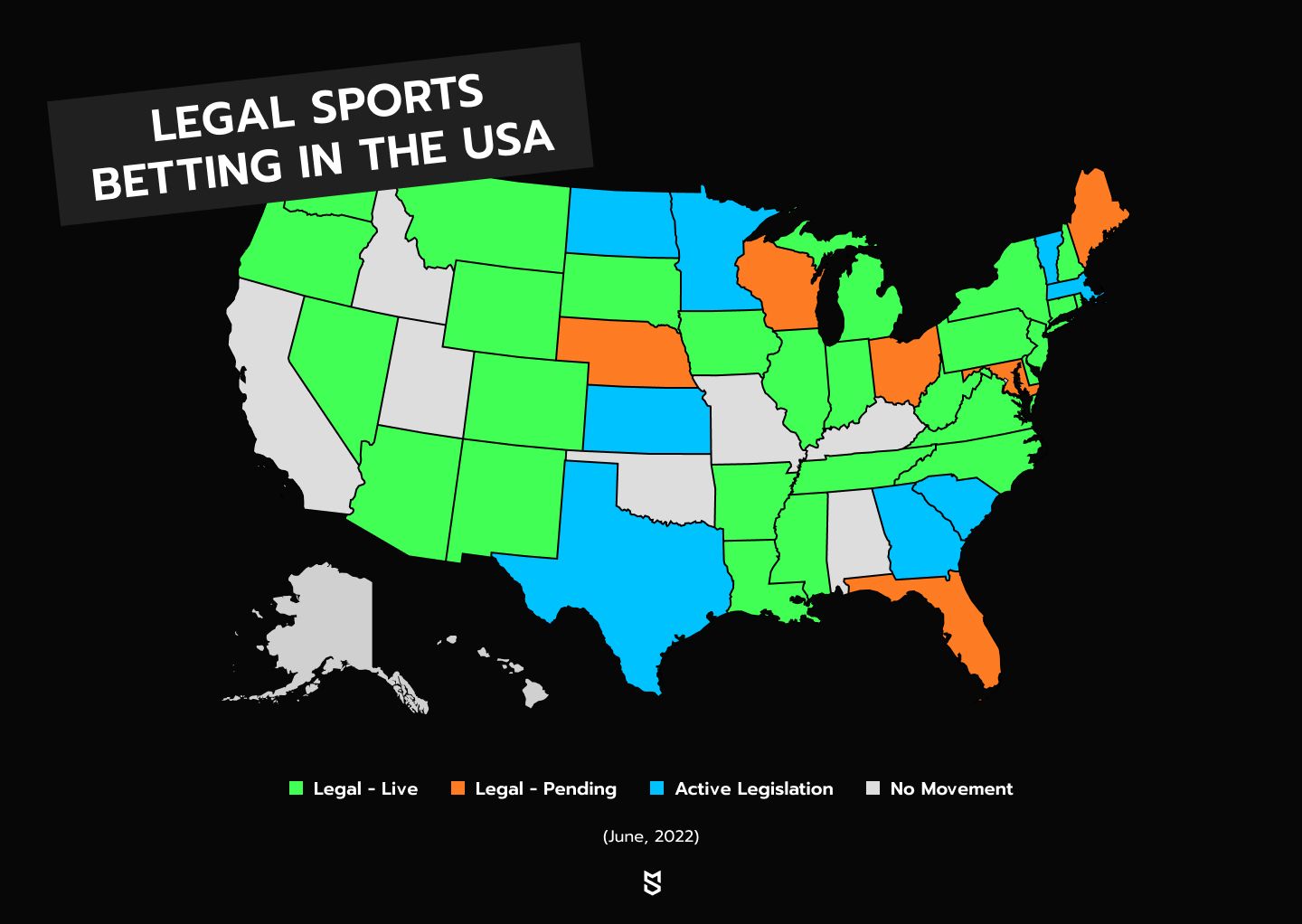 The good news is that in the states that have permitted online sports betting, its popularity spikes in an instant. For example, in Arizona, the amount of money in wagers reached $563.6M in just 4 months. As for New York, the locals broke the record and placed $1,6 billion worth of online sports bets in just one month. Therefore, it definitely makes sense to target a US-based audience.
Licensing
Before hiring betting app developers and launching your business, you'll need to acquire a gambling license. If your state allows gambling businesses, there will be a state authority that issues licenses. But the checks you'll need to go through before you can start a gambling business can be really thorough and rigorous. The reason is that gambling has often been a business of organized crime, and to cut such businesses at the root, license applicants are subjected to financial, criminal, and general character checks.
Licensing is also costly. You'll have to pay for the application, pay for the license itself, and then pay regular compliance fees as long as your business is operating. In some countries, the fees are extracted as a fixed annual fee, a percentage of your revenue, or even both.
After clarifying how to create a gambling app and how much it would cost, don't forget to add the funds for non-development costs to have a clear picture of how much money your project will require.
Issues with app stores for gambling apps
Apple App Store
Though Apple allows gambling apps in countries where they are legal, it still has strict requirements for such apps, which are outlined in App Store Review Guidelines, specifically in the Gaming, Gambling, and Lotteries section. So, for your app to appear on the App Store, you have to follow the rules below:
The winnings must be sponsored by the sports betting app developer.
The app should have a page with a clear description of the rules, which will also state that Apple is not a sponsor or involved in the activity in any way.
Apps may not use in-app purchases to purchase credit or currency for use in conjunction with real money gaming of any kind.
Apps that offer real money gaming (including sports betting) must have necessary licensing in the geographical locations where the app is used, must be geo-restricted to those locations, and must be free on the App Store.
Illegal gambling aids are not allowed on the App Store.
Google Play Store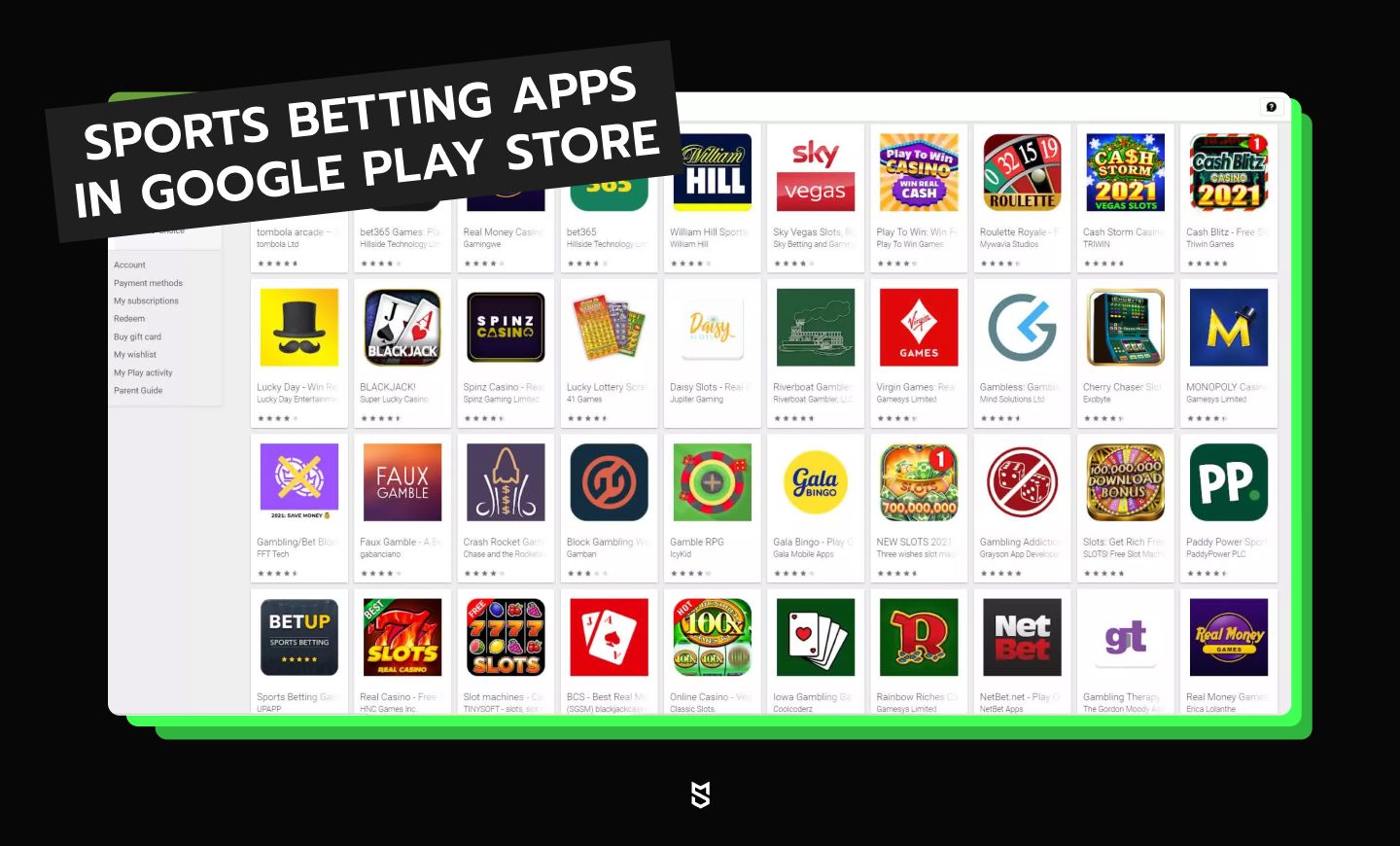 Until recently, Google's Play Store allowed gambling apps only in a few countries, such as France, Ireland, and the UK. In Brazil, users also could download betting apps on Google Play, but only for horse racing. However, in 2021 the platform expanded the geography of such apps and allowed them in 15 new countries. The list now also includes Australia, Belgium, Canada, Colombia, Denmark, Finland, Germany, Japan, Mexico, New Zealand, Norway, Romania, Spain, Sweden, and the United States (not all states, though). Keep in mind that Japan allows betting apps only for horse racing, motorboat racing, bicycle racing, auto-bicycle racing, and soccer.
If you want to create a betting app and launch it on Google's Play Store, there are specific requirements you have to meet. According to Google's Developer Program Policy for Real-Money Gambling, Games, and Contests:
The app must comply with all applicable laws and industry standards for each country in which it is distributed.
The betting app developer must have a valid gambling license for each country, state, or territory where the app is offered.
The app must be rated AO (Adult Only) and prevent underage users from using it.
The app must not be purchasable as a paid app on Google Play, nor use Google Play in-app billing.
The app must be free to download and install from the store.
The app and its app listing must clearly display information about responsible gambling.
How to choose the right payment gateway
Choosing a trustworthy and secure payment gateway is of the highest priority when building a sports betting app. And this task may be a tough one because of high-volume turnover, risks of fraud and money laundering, and other factors.
The payment provider you pick should be able to:
Conduct fast and easy money transactions while keeping the fees reasonable
Provide different payment methods, such as payments via digital wallets, bank transfers, cryptocurrency transactions, etc.
Guarantee a high level of security for money transfers and provide fraud protection
Take the conditions of specific countries and regions into account, as well as adapt to these conditions.
We've made a list of payment systems that are popular for gambling apps and meet the abovementioned requirements: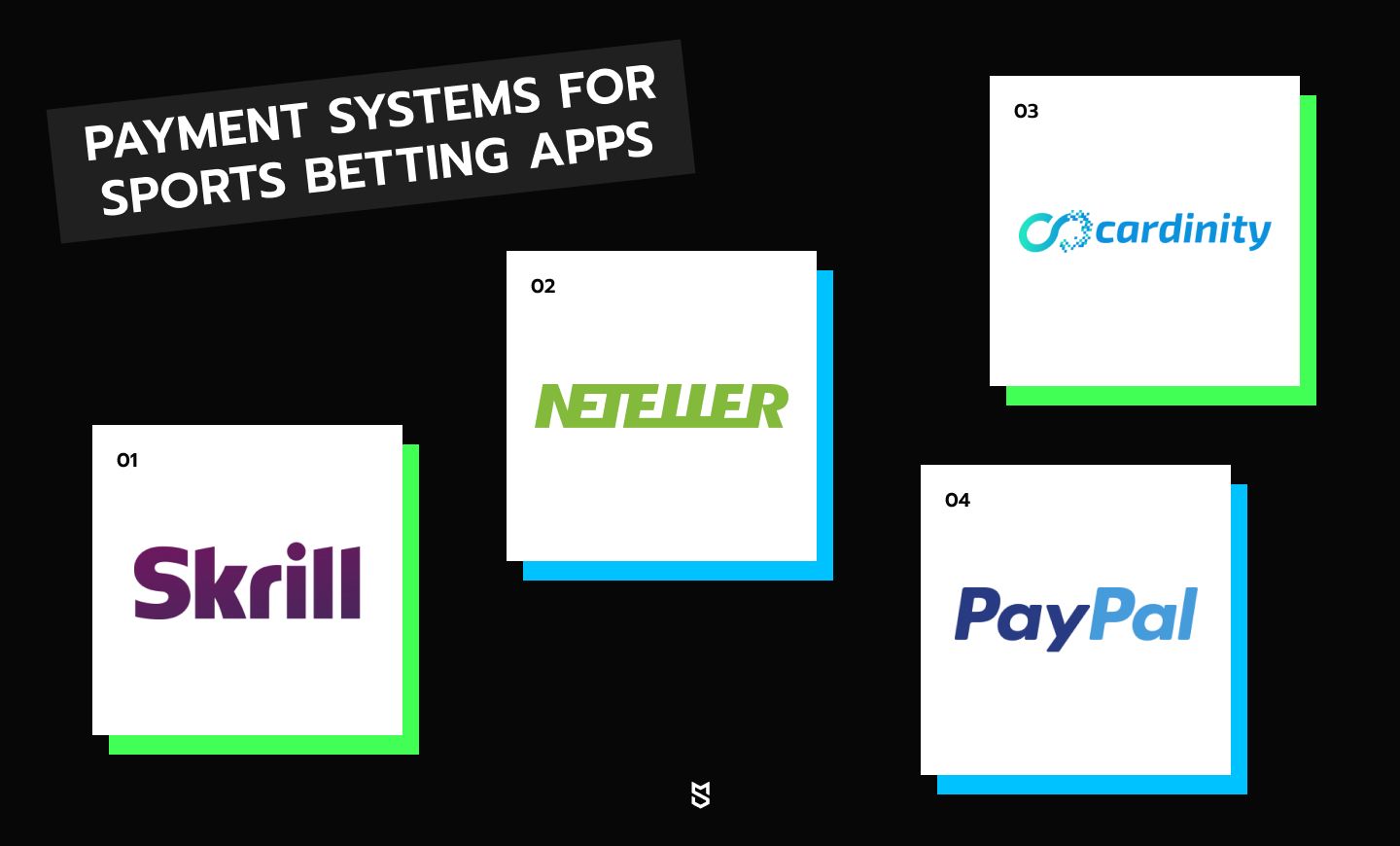 Skrill is a digital wallet provider for money transfers and online payments, operating in over 120 countries and supporting 40 different currencies. It was originally established as a platform for betting payments and is now one of the easiest systems to integrate.
Neteller is an e-money transfer service for fast, easy-to-use, and secure money transfers. Its main target is social network businesses and forex trading groups. Together with its former competitor Skrill, it is owned by Paysafe Group, a British global payments company.
Cardinity is an all-in-one payment service provider connecting merchants with their customers, including those dealing with sports betting and other gambling services.
PayPal is an online payment platform used for money transfers in over 200 countries and regions worldwide. However, obviously, it is only available to bookmakers in countries that allow online betting. Among many popular betting platforms that support PayPal are Bet365, William Hill, Betway, and 888Sport.
Regardless of the provider you choose, to make a betting app for sports betting, make sure they:
Have Payment Card Industry (PCI) compliance
Have Secure Socket Layer (SSL) certification
Use Secure Electronic Transaction (SET)
Use Secure Hypertext Transfer Protocol (S-HTTP)
Employ data encryption.
Popular sports betting apps
Before making a unique sports betting application of your own, it makes sense to analyze other businesses' experiences and take their success stories into account. Therefore, here we've collected four examples of sports betting apps that are especially popular among users from the UK and the USA.
William Hill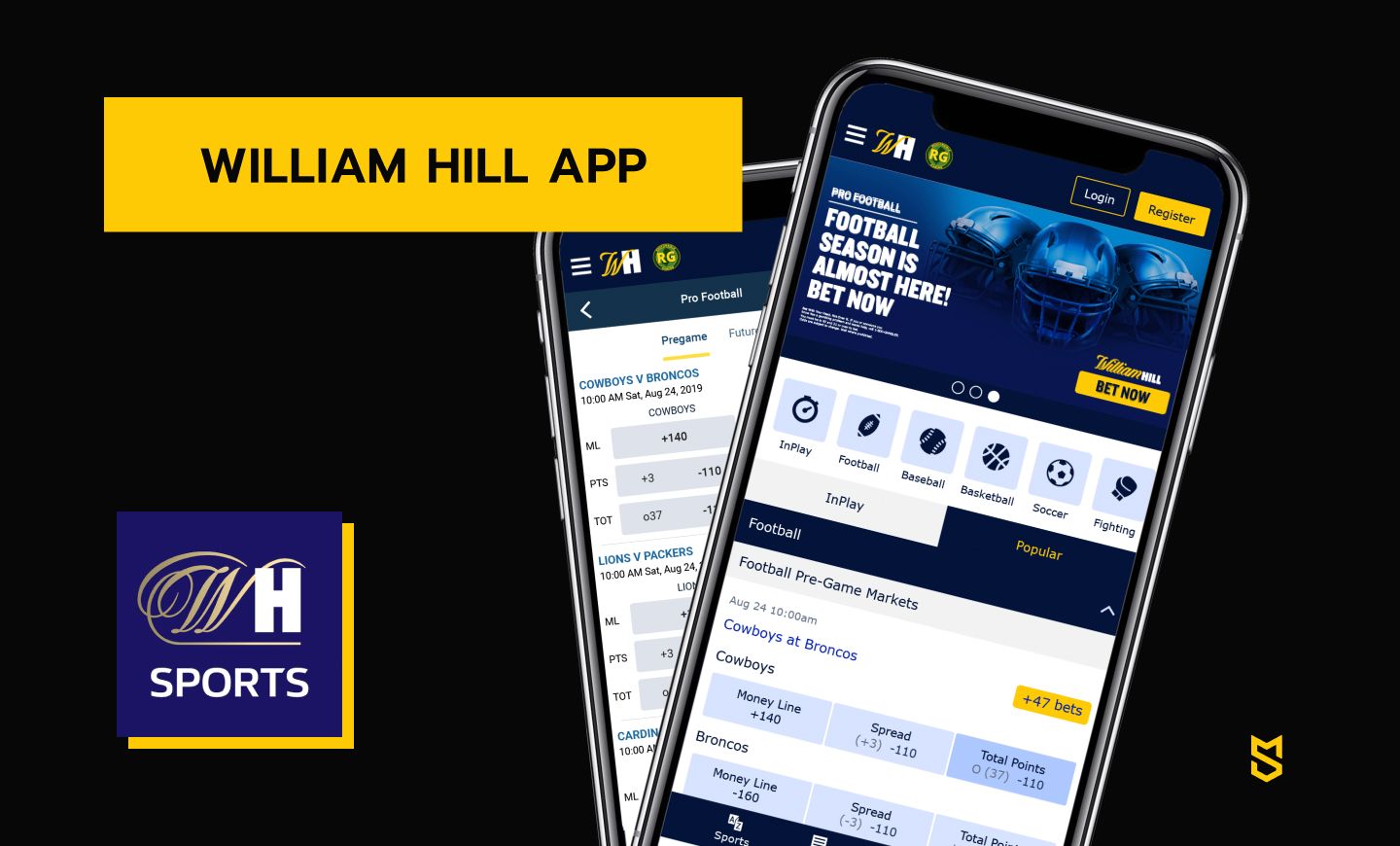 William Hill is one of the biggest and oldest players on the online betting market. The company has both Android and iOS apps where users can bet online.
The highlight of the app is definitely how the company went about designing the user experience. Here are just a few of the features that make the William Hill app so popular:
Vast selection of sports in numerous markets
One of the best apps for soccer and horse racing punters
Live streaming and live sports betting
In-play betting with timely updated scoreboards
Promotions and free bets for new users
Cash out
Top Bets and Enhanced Odds features
Sports are not the only thing that William Hill users can bet on. The website offers a casino experience as well as poker and other games, betting on politics and TV shows, and much more.
Paddy Power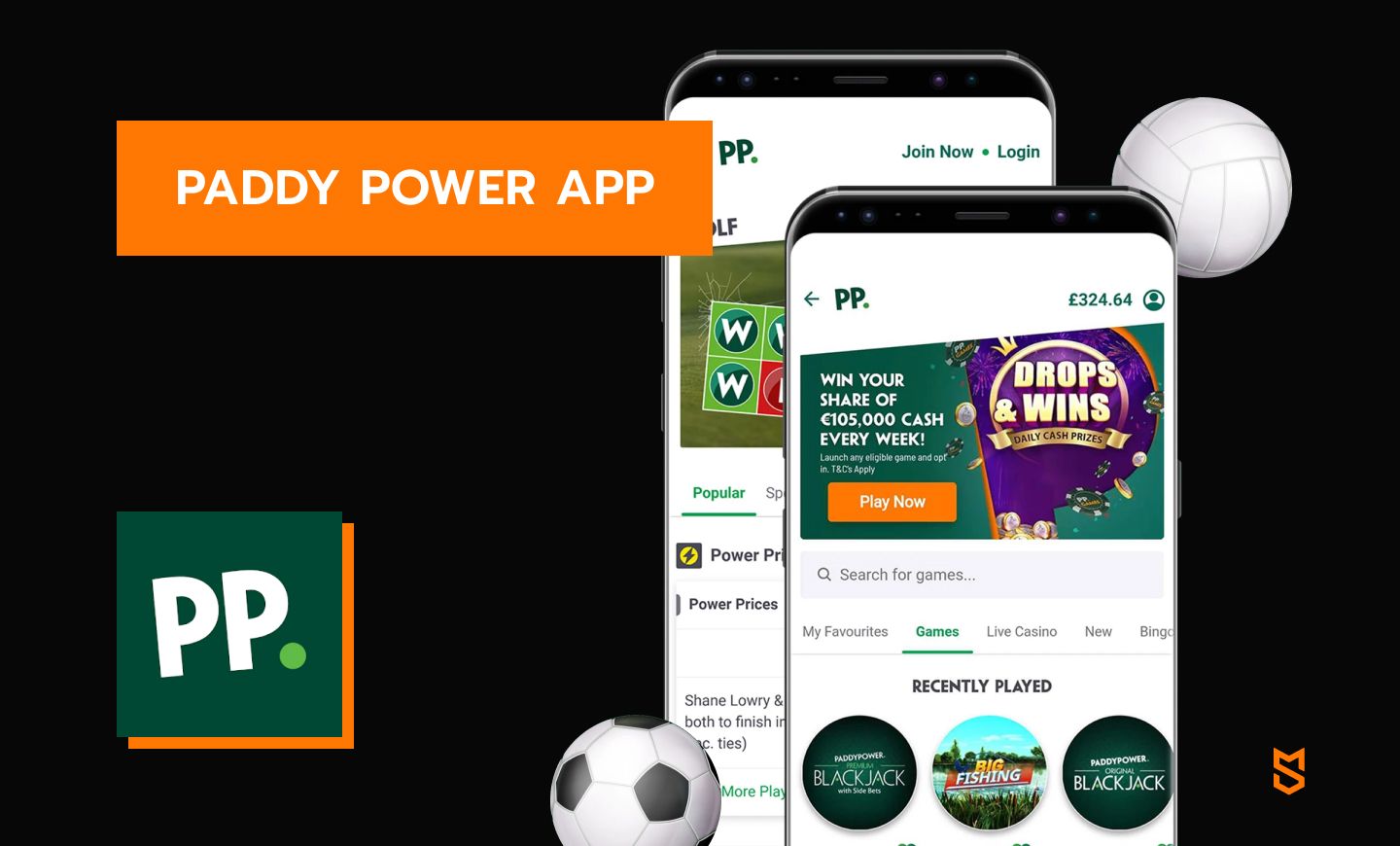 In the UK market of betting apps, Paddy Power is probably the biggest competitor to William Hill. If you want to create a betting app for the UK, you should definitely pay attention to it. Paddy Power offers newcomers a £10 risk-free bet and provides promotions with Paddy's Rewards for loyal customers. They also introduced a free-to-play quiz-style game Beat The Drop where users can win rewards like free bets and bonuses.
Other popular features include:
Numerous selection of sports and other gambling activities
Top option for soccer, horse racing, and golf
Live streaming
In-play betting
Sign-up bonuses
Promotions, including free bets
Touch ID and PIN app protection
24/7 customer support via email, phone, and even Twitter
In addition, being so popular in the UK, Paddy Power has formed a large horse racing community that gathers people all year round. The fans get the chance to both unite and get special offers around the time of horse racing events.
BetMGM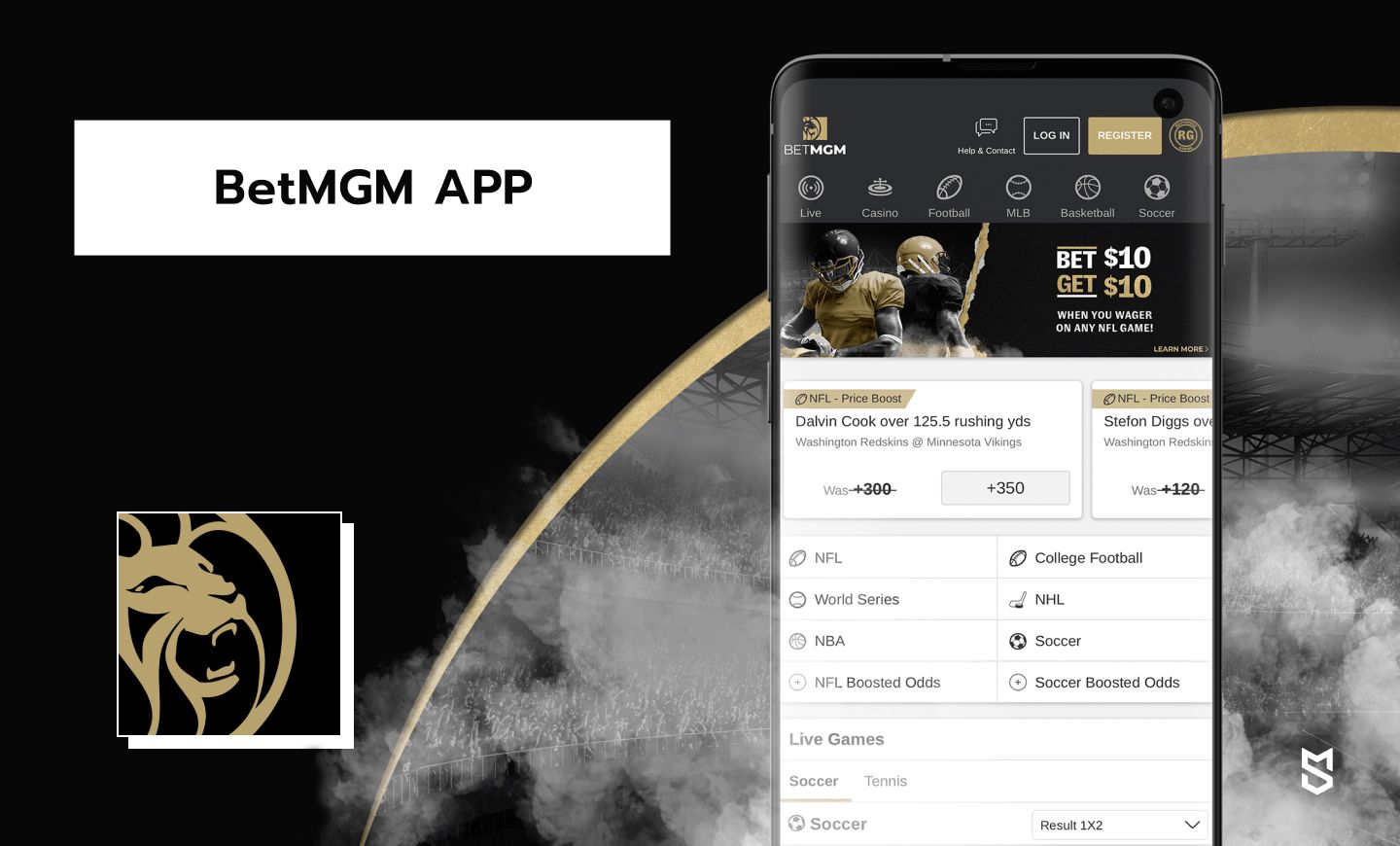 BetMGM started in the USA, as a partnership with MGM Resorts International, an American global hospitality and entertainment company. Its app is secure, easy to use, and fast to load, which allows users to place bets within seconds.
In addition to outstanding UI/UX design, the app has:
Stats
Live streams
Parlay builders
Loyalty program
Promotions
24/7 customer service
Moreover, BetMGM offers a very generous welcome bonus: with a code MCBET users can get a $1,000 risk-free bet option.
Caesars Sportsbook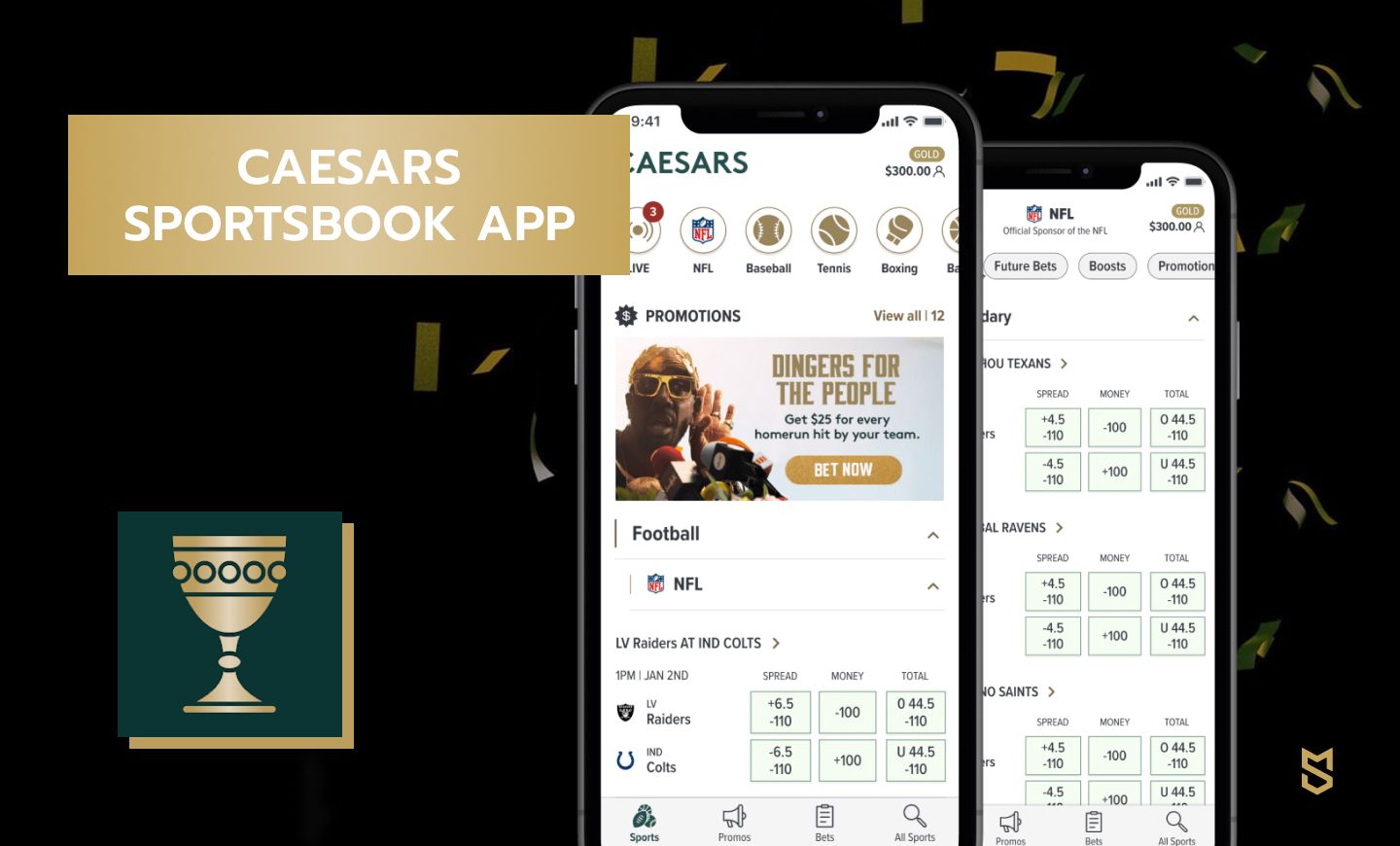 Caesars Sportsbook is another US-based sports betting app, where users can try their luck with bets on baseball, basketball, football, hockey games, and a few other sports.
Users choose Caesars for its:
Two-factor authentication
The largest welcome bonuses in the country
User-friendly interface
Loyalty program
Promotional offers
Odds boosts
It's extremely easy to use, and customers claim the mobile app version to be even easier than the desktop version. However, Android users cannot download the app directly from the Google Play store and have to follow the link on the Caesars website to install the app.
Why is it better to make a betting app than a betting website?
Obviously, gambling platforms can be built both as websites and applications. However, when it comes to sports betting, we would recommend focusing on creating a gambling app. Mobile applications are considered to be more trusted, and therefore more popular. Further, we explain why creating a betting app for sports games seems like a more rational idea.
Higher level of security
App stores are pretty serious when approving apps that appear on their platforms. Owners of betting apps have to complete a real quest to prove the legitimacy of their business. Websites, on the other hand, are more vulnerable to being hacked, so an app is a safer way for customers to store their online wallets.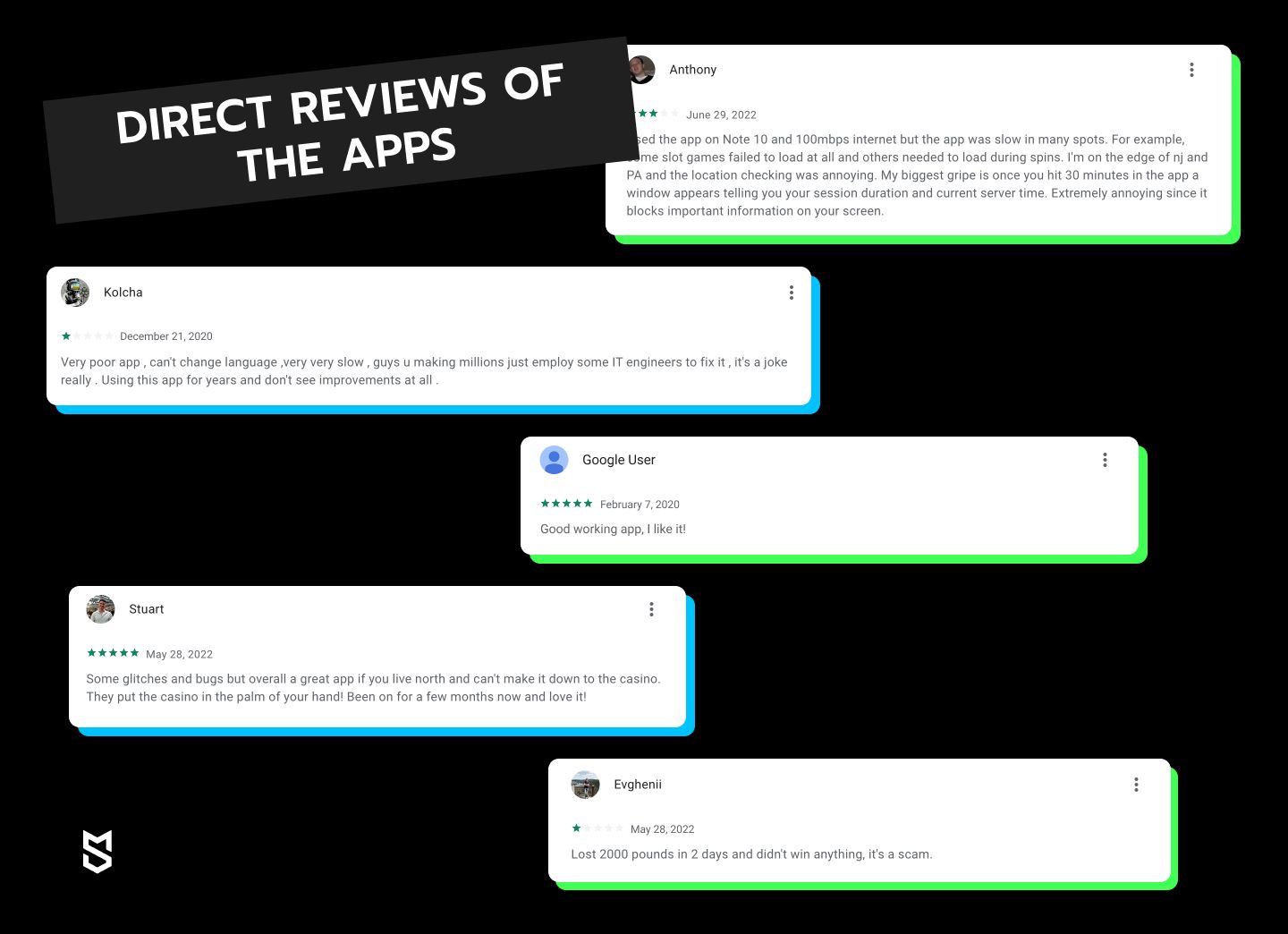 Besides, the app stores allow users to see the number of downloads, ratings, and real reviews, which provides a clearer understanding of whether the platform can be trusted or not.
Easier access
Unlike websites, mobile apps are less dependent on high-speed internet connection. If developed by a skilled team, they provide a smoother experience to the users regardless of where they are located: watching a game at home, at a sports bar, or at a horse-racing event. Also, it's quicker to access your account, see the updates, react to limited-time offers, and interact with the platform in general through a mobile app.
Personalized customer experience
Choosing a mobile app for sports betting allows you to adjust the customers' experience to their needs and preferences. If the user goes to the sports selection section and chooses football only, they will receive news, betting updates, and bonus deals only regarding this specific sport. Push notifications will also be more personalized.
Mobile apps are also more interactive, which can be of use if you want to study your target audience and upgrade the platform based on their feedback.
Approaches for the sports betting app development
Making a sports betting app is unlike creating any other type of app due to standardization, obtaining a license, and an intricate process of getting the app approved by the app stores. But most importantly, your app needs to inspire trust so that the players feel safe to use it.
This is why you need to be extremely thorough when choosing a team of software developers who can provide the proper level of security and protect the users' money.
When it comes to creating sports betting apps, there are three main development approaches.
Choosing a customized solution
A vivid example of this approach is Bet365. Its website is registered in Gibraltar, which means the price for its registration was 30 thousand USD, with 100 thousand USD a year spent on taxes. The cost of a betting website and app development was around 80−100 thousand USD for each. The marketing part cost the company several million dollars, which could be smaller if the service focused on one small niche.
Essentially, the overall cost of developing a website and app like Bet365 can amount to 3 million USD. For this price, you will be able to control the entire process and be the owner of the app code.
White-labeling
With sports betting app development, white-labeling means that an app is created by Company A and is sold to the end customer under the brand of Company B.
The price of betting app development with this approach varies from 10 to 350 thousand USD, for which Company B can get a ready-to-launch app. In exchange, the creator of the app will get paid a percentage of the profit. This approach is perfect if your budget is limited. Usually, it is used by app developers who know how to create sports betting apps but have no expertise in marketing them.
Becoming a licensee
A licensee is a person or a company to which the app is delivered. In other words, you will conduct business under someone else's license as an agent to get new customers, while paying a commission for the license expenses. Basically, it is the cheapest approach and can cost you from 5 to 60 thousand USD.
Must-have features for a sports betting app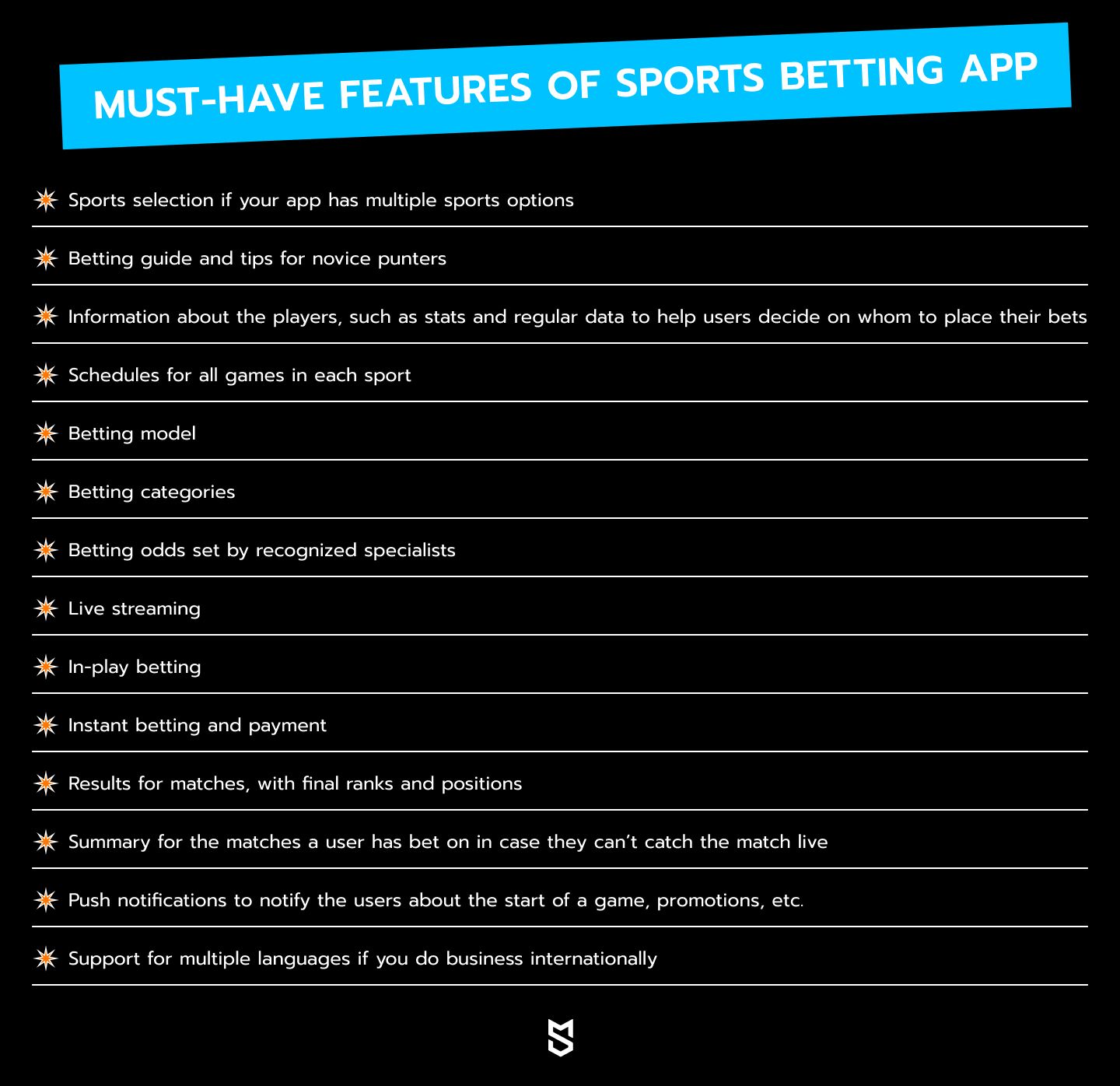 If you want to start a betting app, you will definitely need to make a list of the required features. In addition to the obvious features like sign-up/sign-in, the user panel of your sports betting app will need the following:
Sports selection if your app has multiple sports options
Betting guide and tips for novice punters
Information about the players, such as stats and regular data to help users decide on whom to place their bets
Schedules for all games in each sport
Betting model
Betting categories
Betting odds set by recognized specialists
Live streaming
In-play betting
Instant betting and payment
Results for matches, with final ranks and positions
Summary for the matches a user has bet on in case they can't catch the match live
Push notifications to notify the users about the start of a game, promotions, etc.
Support for multiple languages if you do business internationally
In addition to these must-have features that you should add when creating your gambling app, we've collected 5 tips that will help you attract even more prospective users and encourage them to stay with your service.
Cryptocurrencies
In one of the previous sections we've mentioned the necessity of providing different payment gateways. With the rise of cryptocurrencies' popularity, letting users bet with crypto is a viable idea. Usually, gambling platforms accept such major cryptocurrencies as Ripple, Bitcoin, Ethereum, and Litecoin.
Community within the app
One more important component of sports betting apps can be a sense of community they are creating, especially if they focus on a specific kind of sports. If you are a sports fan yourself and want your app to be more than just about gambling, it might make sense to create tools for your users to communicate with each other. Provide them with chat features, and the ability to share their experience on social media, write reviews, as well as share the ups and downs of rooting for the teams and athletes. This can be just the thing that makes your app stand out from your competitors.
Customer support
Making sure your app offers excellent customer support is essential if you strive to get as many loyal customers as possible. Since your services involve a considerable amount of money, the users need to feel they can truly trust you. And they will as long as you provide them with 24/7 support.
Partial offline support
While it's impossible to place a bet or watch a game live without an internet connection, it could be nice to have certain features, like player info, sports news, statistics on previous championships, etc. This way, even with an unstable internet connection, you will prevent users from leaving the app.
Betting guides
In addition to sports news, we recommend another informative section that will encourage your customers to try their luck. Make sure there are betting guides for both newcomers and experienced gamblers that contain information about different types of betting and pieces of advice that can help players up their game.
Get started with an MVP of a sports gambling app
When developing a sports betting app, our team would recommend starting with a Minimal Viable Product (MVP) version for the first release. This simplified version of the app is based on the most essential functional features without focusing too much on the visual part of the product yet.
Why does it make sense to start with this version? An MVP allows you to:
Check whether the idea is viable by testing the app and collecting feedback from prospective users. After you receive the reviews, you can improve the app
Save time due to focusing on key functional features that are the core of your app
Save money due to engaging a limited number of specialists and getting everything right in terms of functionality before getting to the design
Team and cost to develop a sports betting app like William Hill
To estimate the cost to make a betting mobile app, you first need to decide how loaded in both functionality and design it needs to be. You can settle for the must-have features only or you can offer some extras. But regardless of the feature set, you can't get stingy when it comes to security, since a lot of money can flow through a betting app in a single day. It's imperative that the funds and personal data of users are protected at the highest level.
Let's say your guiding star is the William Hill app, which looks really good in addition to offering rich functionality. To create something like it for both Android and iOS, you'll need:
Project manager: 1
Backend developers: 1–2
iOS developers: 2
Android developers: 2
UI/UX designer: 1
QA specialists: 1–2
The cost of development will depend on many factors, including project complexity, the collection of features, the timeline for developing your sports game betting app, and the company you decide to hire.
An outsourcing development company outside the USA will cost you significantly less than a company based in the USA. The cheapest software development is generally offered in India.
Companies in Eastern Europe usually offer the best balance between quality and price. By way of rough estimation, making betting apps like William Hill or Paddy Power with a company with a $45 hourly rate will start at around $100,000. However, the cost will depend on various factors, like the number of platforms the app is built for, etc.
Here is a table with the costs for each of the sports betting app development stages:
| Sports betting app development process | Hours | Cost, USD |
| --- | --- | --- |
| Idea evaluation and business analysis | 80 + | 3600 + |
| Project specification | 60 + | 2700 + |
| Project management | 280 + | 12 600 + |
| Development for iOS platform | 480 + | 21 600 + |
| Development for Android platform | 500 + | 22 500 + |
| Backend | 640 + | 28 800 + |
| Admin panel | 160 + | 7200 + |
| Testing | 320 + | 14 400+ |
| Total | 2720+ | 122 400 + |
Obviously, each project is unique, so if you need a more accurate estimate for your idea or simply want to explore the possibilities of how it could be implemented, feel free to contact us. Our business development consultants will gladly schedule a free consultation with you to discuss sports betting app development.
The Mind Studios' experience
Mind Studios has dozens of app development projects under its belt. However, we haven't yet got to create a sports betting app, since the online gambling license is extremely pricey in most countries, and few entrepreneurs dare to make the investment. Still, we had a chance to get into the specifics of the gambling market and create an app that helps both amateur and professional poker players.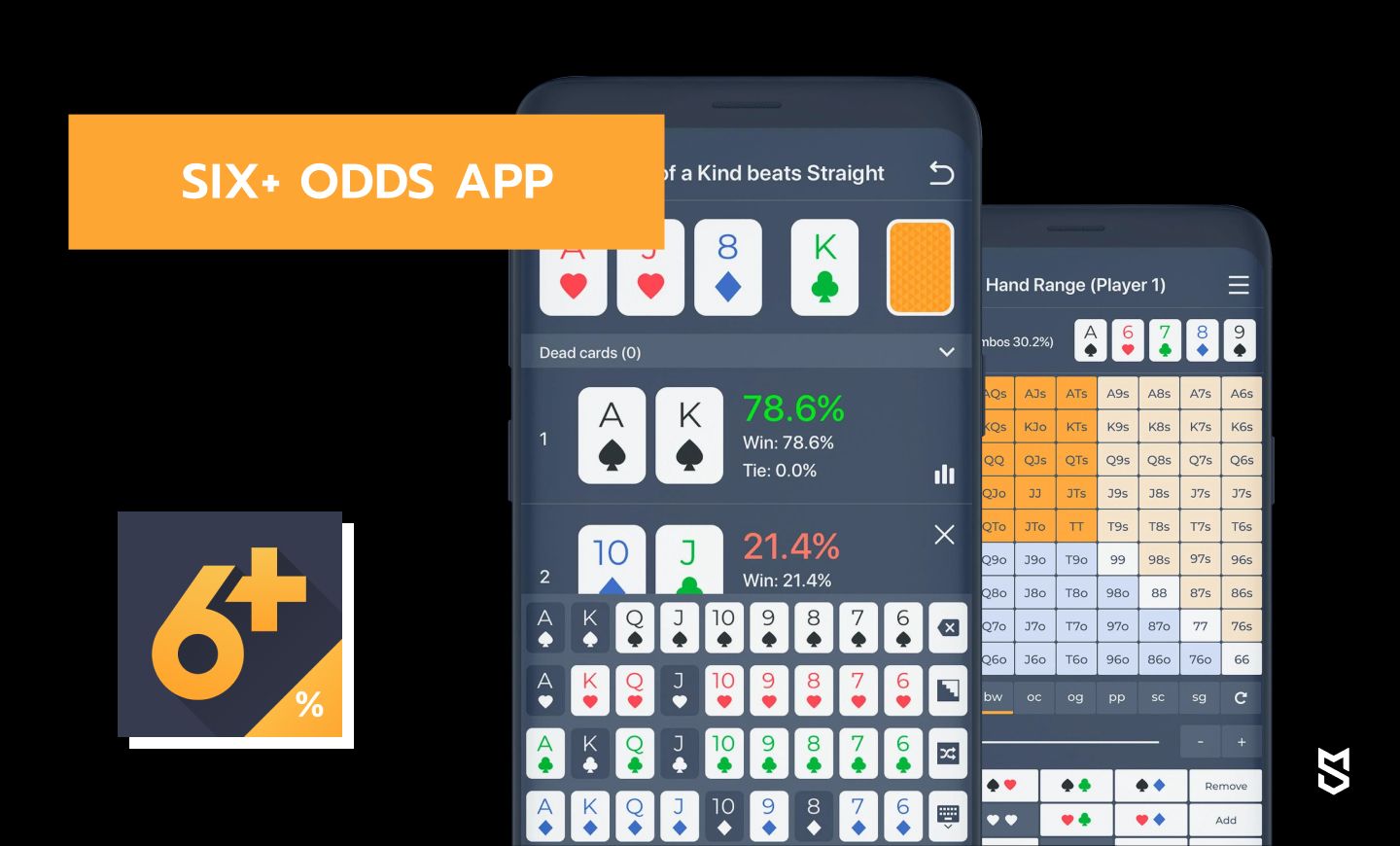 Six+ Odds is a mobile utility app that provides a calculator for those who play short-deck poker, a newer version of the game that is extremely popular in Asia. Basically, it calculates the probability of winning based on the cards on the deck and in the player's hands. The calculations are based on Monte Carlo simulation — a mathematical technique used to estimate the possible outcomes of an uncertain event, which in this case is the probability of winning.
Using this method was itself the biggest challenge, since it is accurate but incredibly complicated, and our research was based on a book written decades ago. Even though this method is familiar to professionals, we wanted to make the app simpler than the ones on the market, so that even beginners who've never played before could use it. That is why user-friendly and intuitive UX design was our top priority.
Another complication was that the calculations took too long to be processed on some devices, so we had to integrate big amounts of data while making sure the app was fast. However, we managed to avoid using the server for calculations and optimize the time it takes mobile devices to conduct calculations. As a result, hundreds of thousands of combinations can now be processed on the users' phones within seconds. We also provided the app with a unique feature "Hand range" which helps predict which cards other players at the table might have.
In the end, we've created this app in around 2,5 months. The client who ordered this app is a professional poker player, so his positive feedback on the tool we had created became the highest praise we could have received. Now, the app continues to assist poker players from various countries, being most popular in the USA, Hong Kong, Japan, Canada, and Malaysia.
Conclusion
Entering the gambling market means making an incredibly significant investment. However, if you do decide to invest, sports betting app development is your go-to choice. The sports betting market is expected to grow by 9-10% annually, all due to the global digitalization of the sports industry in particular.
No matter what happens in this ever-changing world, sports fans are going to continue watching the FIFA World Cup, the NBA Finals, the Superbowl, and the Australian Open. And as long as they are watching, they are going to bet on their favorite teams and players.
The key to making it work in this fastest-growing segment of the gambling market is choosing a skilled and reliable team of sports betting app developers. With dozens of apps in our portfolio and experience with the gambling industry, Mind Studios might be just the right fit for you. Together, we can create a sports betting app that conquers the market.
2