Our life is a journey, idea is the guide. Without the guide everything stops.
Victor Marie Hugo
As every morning begins with a sunrise, so every business begins with an idea. Your idea is a guide to forming your business — in this case, a mobile app startup.
In this article, we help you start on the hard but exciting journey of launching your mobile application. What steps should you take to turn your idea into a successful startup?
There are a huge number of tools that will make life easier for you when developing your mobile application. Indeed, you can write a business plan for your financial attractiveness to investors or create a business model canvas for a mobile app, proposed by Alex Osterwalder, as a more adaptable form of the business plan.
As Jeff Bezos notes, however, no business plan will survive its first encounter with reality. There will always be something unexpected. Reality will never be according to plan. It needs something more flexible, something that can be modified. Therefore, in order to implement technology startups, namely in the early stages of launching your mobile application, we recommended starting from a business model canvas (for example, Uber business model canvas) that visualizes your strategy and identifies your goals.
Eric Ries[], in The Lean Startup, notes that "startups become a business when they search a repeatable and scalable business model. In essence, this type of business model is nothing less than a set of steps that you can track again and again, which gives you revenue."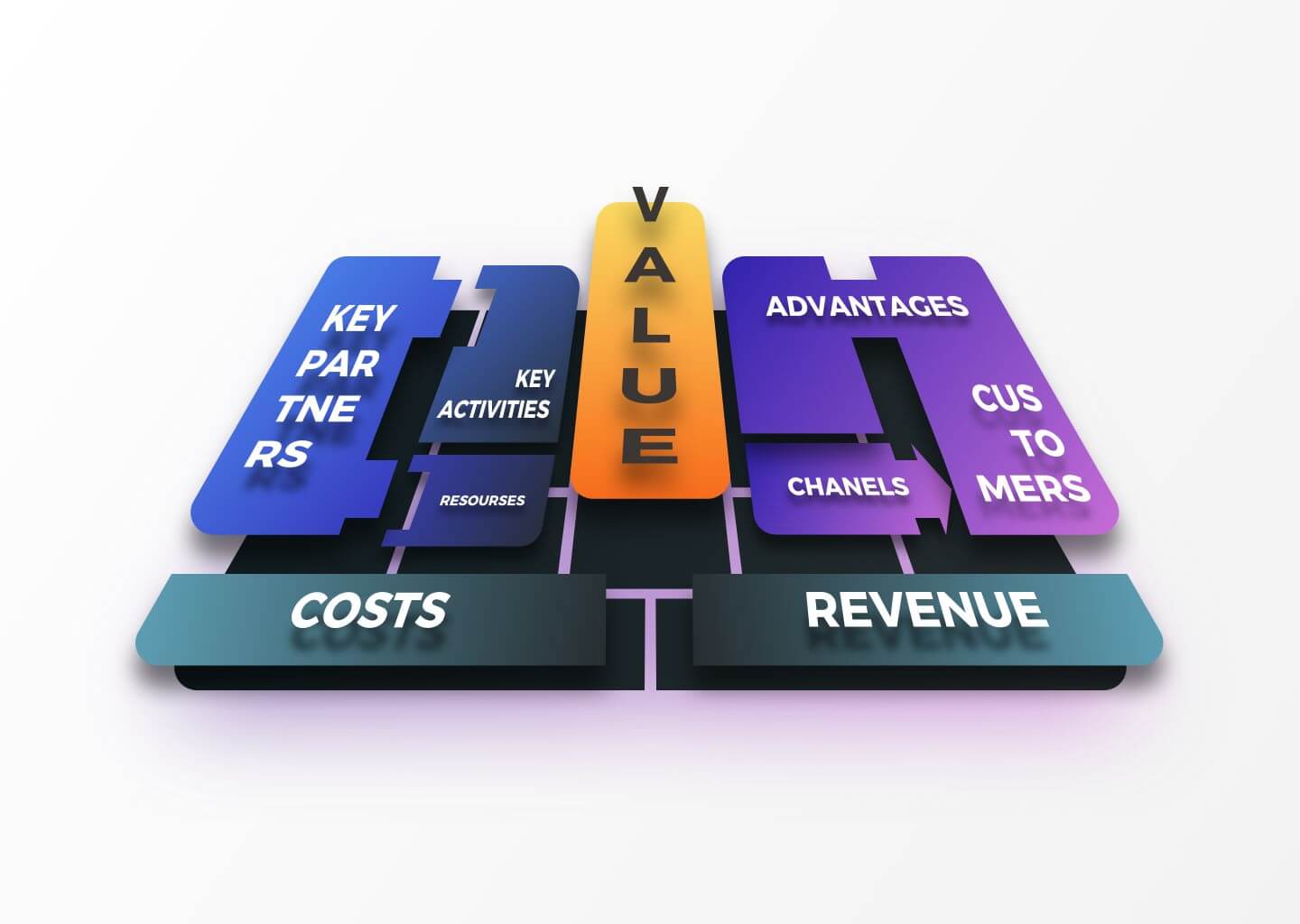 What is the business model canvas for mobile apps?
The process of launching a new project or startup that deals with mobile app development is, as a rule, united around all key aspects: the project idea, the mechanism by which it functions, the principle of budget allocation, your target audience, and so on. Obviously, you have to keep the details of each aspect in mind and continuously monitor the process of their implementation.
How can you remember each of them?
What can help you to see the whole picture of what's happening?
App business model canvas
An app business model canvas is an excellent visual tool that describes the value proposition of your product, its structure, your customers, and the financial part of your business. This diagram allows you to document the entire shape of your business model.
You can form your hypotheses and verify them, for example based on statistical data (client's base surveys). The risk is that it's not clear how the market will react to your business model for the application. Depending on these results, you will need to make interim conclusions and rework the raw data if necessary.
To compare a project with workout of the muscular system, the canvas will allow you to work out all the muscles of your project skeleton due to its iterative properties and help you achieve the desired result.
Just do everything carefully and correctly and the process of launching the mobile application will be started!
The business model canvas is your tool to turn from idea to market.
The business model canvas for a mobile app is characterized by three main things:
Clarity. The visibility of the canvas allows you to concentrate the material of a traditional business plan into a single-page plan and also focus on the main idea.
Flexibility. The business model canvas is presented in the form of a diagram and can be changed.
Simplicity. The diagrammed scheme of your business model is much easier and faster to understand than written multi-page text. The canvas shows key points to your team.
Imagine that you're at the point in the mobile application development process when you need to fill out the business model canvas. Let's start with a detailed examination of the canvas, its main parts, and their interactions and general functions.
How to fill out a business model canvas for a mobile app
The classic business model canvas for launching a startup, whose structure we will describe below, can be supplemented with the following:
The date on which things are entered into the canvas
Information about who will be responsible for notes on the canvas since the development process is interactive
The memorable and original name of the mobile application identified earlier
The logo of the application that corresponds to the selected name (you can find it on the Iconfinder page embedded in the RealtimeBoard library)
Information about the language that will be used in your application (depending on which market you're going to launch this application in)
A list of your team of app developers with a detailed presentation of positions
In addition to the traditional business model canvas proposed by Alexander Osterwalder, the Lean Canvas by Ash Maurya is popular for startups.
Auxiliary categories in your canvas
What else can be included in the classic canvas?
You can add a field with a description of your application and briefly talk about its concept, its present, and its future.
Use an MVP (minimum viable product) to quickly and qualitatively test your product on the market.
Define the basic functions of your mobile application, arranging them in order of priority.
Introduce an approximate budget for developing the application.
Add photos and videos to canvas blocks for clarity.
All these actions are consistent with the interests of the target audience for your mobile app.
Your success factor
What is the success factor for you? What will help you achieve the desired result? Most often, the success factor is determined by the quality and power of the idea as well as the desire to realize it. Professional excellence of your app is key to achieving success: the availability of effective and reliable technologies, an original and attractive design for your application, a functioning, well-established partnership, and a good reputation on the market.
Read more: How To Find an App Development Partner?
Your advantages
Be sure to identify the benefits of your product over other applications so that you can show them to users. What will change in their lives when they start using your product? One of the advantages is the awareness of competitors which is to determine a competing business model. What share of the market do your competitors occupy and what technologies do they use?
Visualizing your mobile app
Visualizing your application is one of the main factors in achieving success. Answer the following questions: What is the purpose of my application? What problems does it help to solve? How will it develop in the future? Among the variety of offers on the market, identify your niche. Clear visualization and presentation will provide you with an understanding of your product from the perspective of potential users.
A segmented canvas
Let's consider the strategically important segments of the business model canvas for an application with Lean Canvas elements. We'll supplement the theoretical part with an example of a business model canvas for the Strava mobile application.
Read also: How to make an app like Strava?
We've identified three problems that this application solves:
It enables clients to effectively track the progress of their training and share their results on social networks or within the system.
It provides interesting travel routes.
It supports self-organization by application reminders and controls high-level health by providing advice and motivation.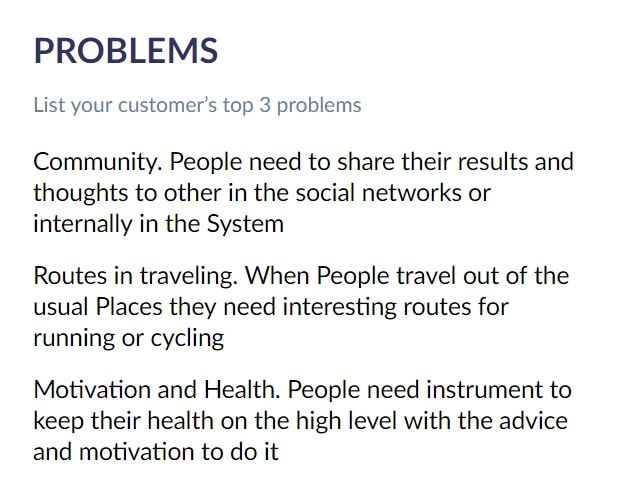 Our team analyzed competitors that solve similar problems.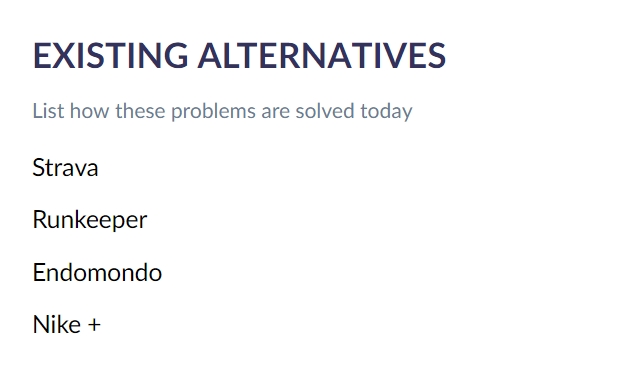 Segment: solutions
If you use Lean Canvas for your startup, you can add a block to the business model canvas for an app that describes a possible solution to each problem.
Strava is the best tool for sharing results and feedback, is an indispensable route planner, and is an effective tool for managing your health.
Segment: key metrics
When using Lean Canvas, don't forget about key metrics that include the range of products or services that you want to provide. The main goal of key metrics is to determine the correct metric under which your business is operating (in other words, to show key performance indicators); if you use the wrong metric, the chances of success will be minimal.
The key metrics for the Strava mobile application are:
Number of installations
Number of daily active users
Number of subscribers
Reviews on the App Store and Google Play Store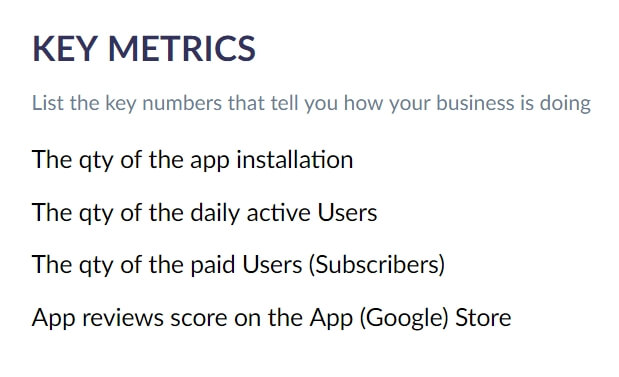 Segment: key partners
This is an important step in the development of your business because it allows you to move from idea to implementation. A partner can act as a motivator for you and your model. What you need from your partner is support and a driving force that can provide growth. And you can have more than one partner. This segment is connected to and interacts with the key activity segment because each partner can engage in a certain key action.
The Strava application regards GPS technologies and also sports shops, focused on the sale of bicycles, as partners.
Segment: value proposition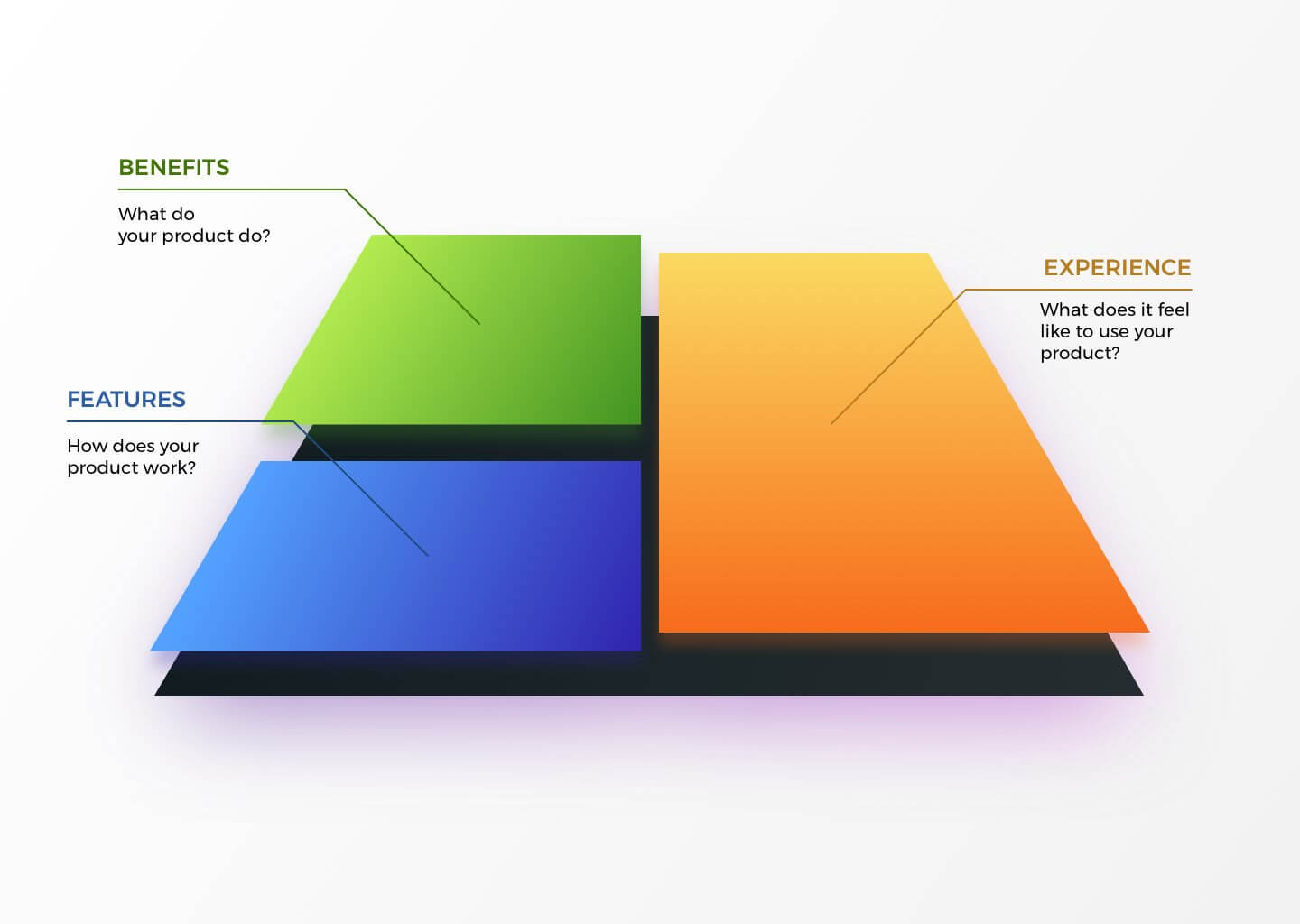 One of the defining categories for any product is its value proposition. To motivate each segment of customers, you can look at your value proposition: Which problems does your application solve? How can you interest the customer in your product as an alternative to a previously used product?
Using sports applications, you fix the beginning of the track (as a rule, this is the place where you live or work) and its ending. Strava solves your security problem by designating a track as a cloud in the app. This action provides you with privacy information, where your track begins and ends.
A value proposition describes what distinguishes your product from others on the market. You can formulate your hypotheses, set their priority, and after that determine a quick and efficient way to prove or disprove them. In other words, your value proposition must address the product's relevance, profit, uniqueness, and how it improves the value of your customers' lives. A value proposition should be based on the minimum viable product (MVP). Facebook, Spotify, Airbnb, Twitter, Pebble, Foursquare, and Dropbox are all examples of successful MVPs.
The value proposition of Strava is to be the user's route designer, in other words, to provide a large collection of interesting tracks in different countries/cities that will help users enjoy running and cycling anywhere in the world.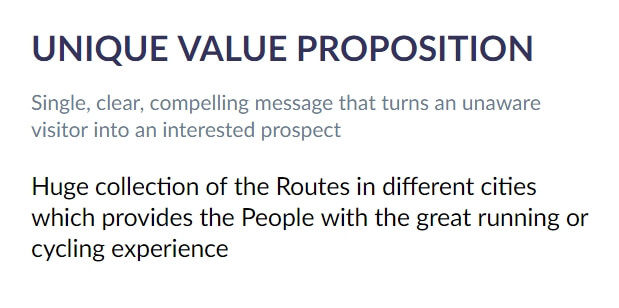 Segment: clients
The relationship between the value proposition and the client is unshakable. If your mobile application doesn't satisfy the customer's request, then in the long term your business won't develop and the market will lose interest. In addition to the concept of a minimum viable product, we introduce the concept of a minimum viable audience.
Developers often use the concept of a target group, namely a group of users defined by various criteria: age, gender, interests, or spending habits, for example. In this section, you should ask the following questions:
Who is our potential customer?
Where is our potential customer?
What is our potential customer interested in?
Why does the customer want to use our application?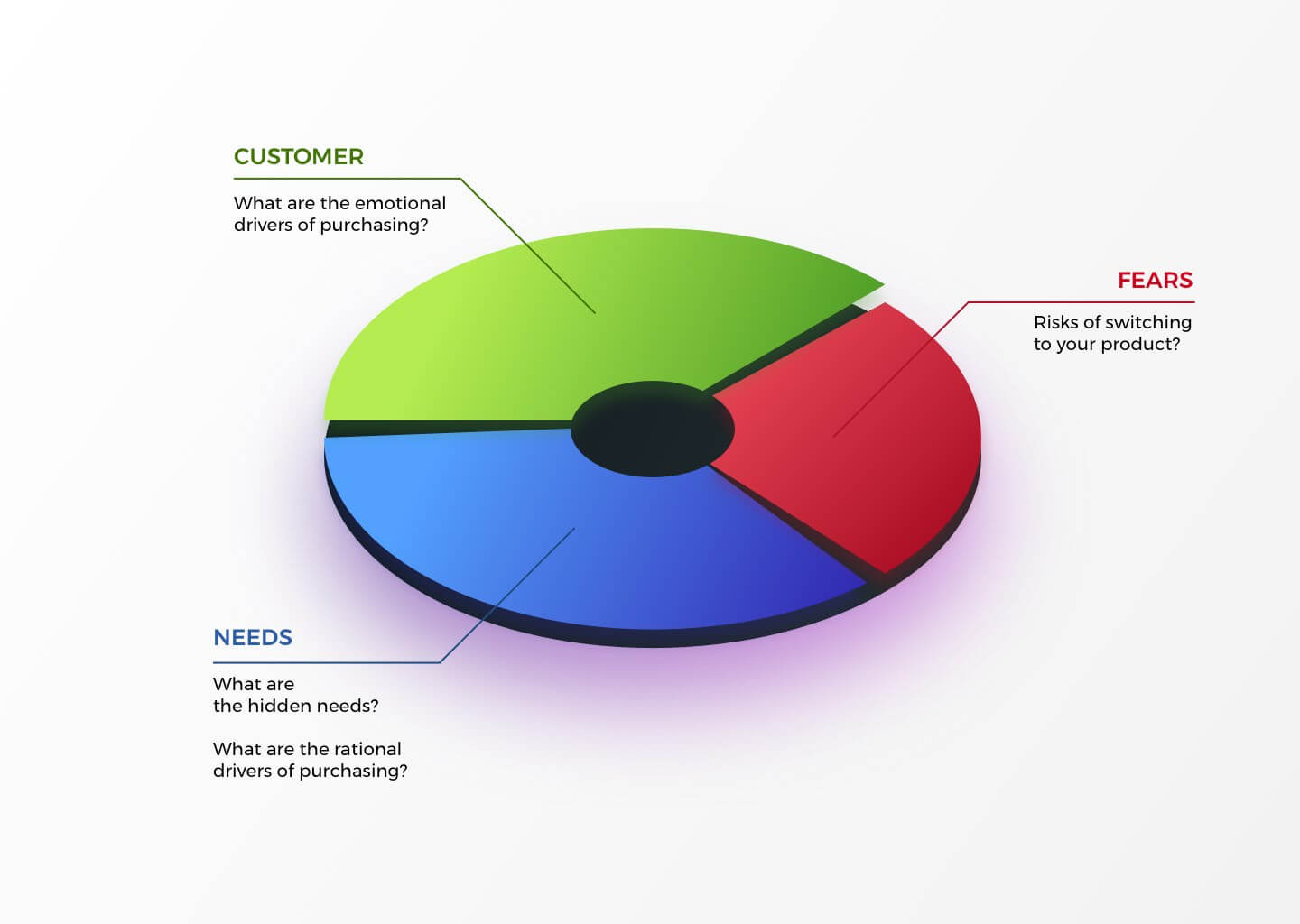 To better understand the audience, you can use the personas method, which simulates the potential customer. In order to represent the different potential user types of your app, you can choose fictional personas, which are based on your research.
In addition, it's effective to explore the audience visually using an empathy map. An empathy map gives you an opportunity to unite users, buyers, and partners. To create an empathy map, create four areas with the titles thinks, sees, does, and feels, and in the center place the user. If you have several user personas, then create an empathy map for each of them. Next, fill each area with stickers that match the subject area (segment). You can fill the empathy map with stickers, group them, and move them around to find the best solution. Mapping in this way will help you identify research deficiencies, hidden user needs, and factors that affect the behavior and choice of users. It will also help you create visual ideas.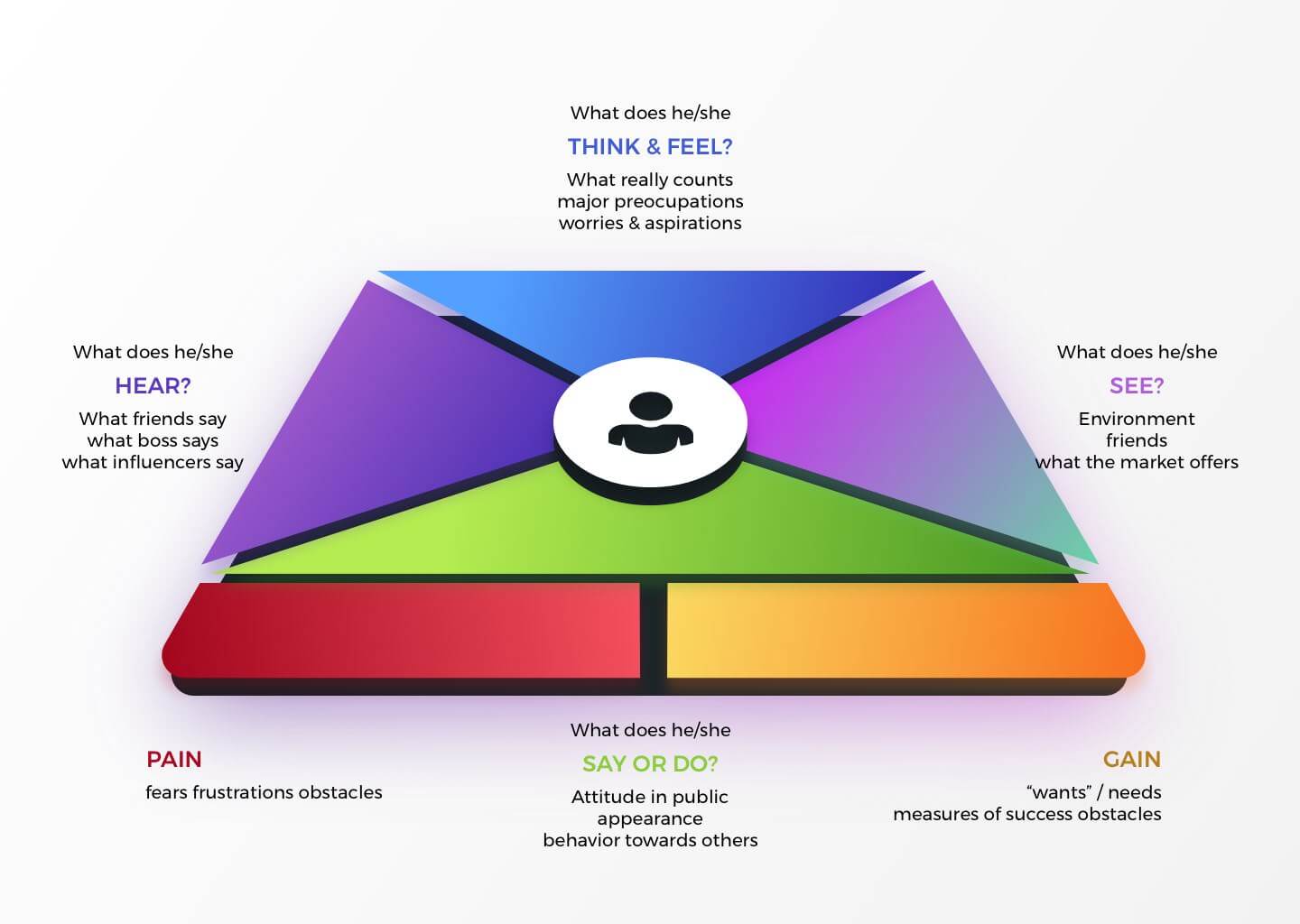 As for the strategy of attracting clients, feedback from potential users, customers, and partners are important. Eric Ries suggests introducing customer development techniques to validate your hypotheses and evaluate all elements of your business model, including product features, prices, and distribution channels.
Among its potential clients, Strava distinguishes two groups:
men/women aged 17 to 35 with inactive work who want active running/cycling
men/women aged 17 to 35 who like activity every day and want to track this activity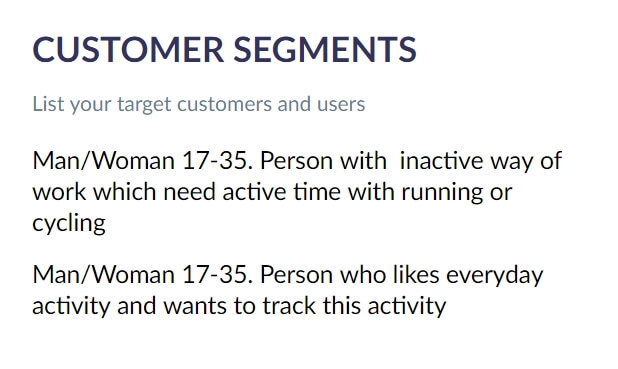 Strava also focuses on early adapters, so-called ideal customers: men/women aged 20 to 25 who like to track the results of their daily running/cycling activities.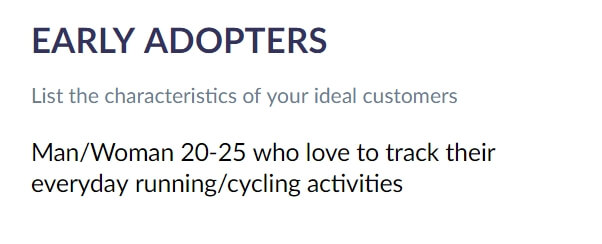 Segment: channels
Channels as a segment of the canvas plays an important role. A channel is a way of conveying important information (including the value proposition) from your team to your customer. With the help of channels, this information enters your business model and becomes part of it.
As in the previous segments, we ask: Where are our customers? How can we inform them about our value proposition? From what sources do they prefer to receive new information?
Indicate in this segment that you're developing a website where you'll provide all information about the mobile application. If your application is intended for iOS or Android, then the respective app stores can automatically be channels.
Social media, email, SEM, SEO, viral marketing, blog targeting, sales and promotions, existing platforms, PR, social advertising, trade fairs, content marketing, community building, and offline advertising (billboards, television, radio) are all examples of channels. You should constantly search for new channels.
Sporting events are among the channels for Strava.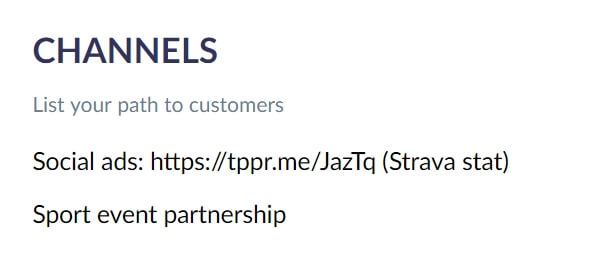 Segment: customer interaction
Which relations are you building with each segment? Are these relationships personal, automated, self-serving, or retention-oriented?
When interacting with clients, your goal is to preserve and develop your relationship. A company's relationship with customers is defined as the interaction of the whole business with its customers.
How do you communicate with customers? In person? By phone? Over the internet?
For mobile applications, feedback is very important as it allows online identification of the problems and helps you overcome problems, thereby improving the efficiency of your operation and support services and the application as a whole. Prepare to provide personal support to control all segments in the early stages of the startup according to the Lean Startup methodology.
In addition to developing customer personalities, described in the client base segment, it's useful to create a user journey map for your customers in order to be effective with regard to marketing, UX, and merchandising.
So, in conclusion, we can ask: is it sufficient to have just online and offline communication? You need to see the full picture of the interaction in order to understand what motivates customers to use your product, what customers want to get when coming to your platform, and how well they can achieve their goals by using your product. If this process of interaction is analyzed and coordinated at all stages, you will have rapid results: you will keep your customers safe, know how best to interact with them, and also determine the automation possibilities of this process.
Segment: revenue
Determine the best revenue stream for your startup. In our article about business plans for mobile applications, we proposed consulting some methods of monetization (application fee, fee for services, fixed rate, advertising in the mobile and well-based applications, profit, etc.). Choose which method suits your application and will benefit you financially.
As a source of revenue, Strava offers basic and premium subscriptions.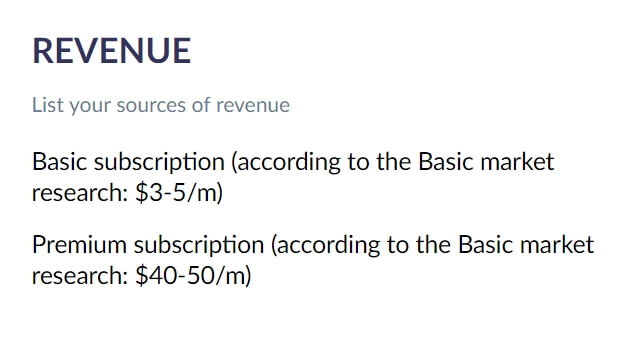 Segment: key resources
What resources support your business model? This segment addresses financial matters (accounts, securities), personnel (developers, designers, managers), material (offices, equipment), and information (software) resources — so-called strategic assets that are necessary for doing business.
You can Include into this segment a list of key resources related to the key activities of your business.
Intellectual property, based on your value proposals, is also a key resource and plays a decisive role in the success of your business.
Segment: key activities
The key activity of your product is the action that the customer takes to achieve the value proposition.
What actions does your app need to perform well? What plays a crucial role in your technical development strategy? For example, creating infrastructure is the key activity for a system such as Uber.
To find solutions to this question you can make better consulting, quality management, design, and web development.
Segment: cost
This is the time to ask what the cost of running the business is, including the cost of achieving the value proposition for users and providing key resources and partnerships.
The cost of running the business covers the cost of all segments of business activity, that is the entire business model canvas for an application. You must cover salaries for your team, insurance, software, content, and any additional costs. After you sum up all the costs and get the total price, you can add it to the canvas.
Remember that the pricing of your product is one of the fundamental elements of your business model, since the price is the main criterion for customers when choosing a product. When choosing your pricing tactics, take the advice of Steve Blank from his book.
Read more about How to Estimate the Cost of Mobile App Development?
The business model canvas for Strava includes business analysis, development, development support, marketing, and the cost of content writers as line items in the cost structure.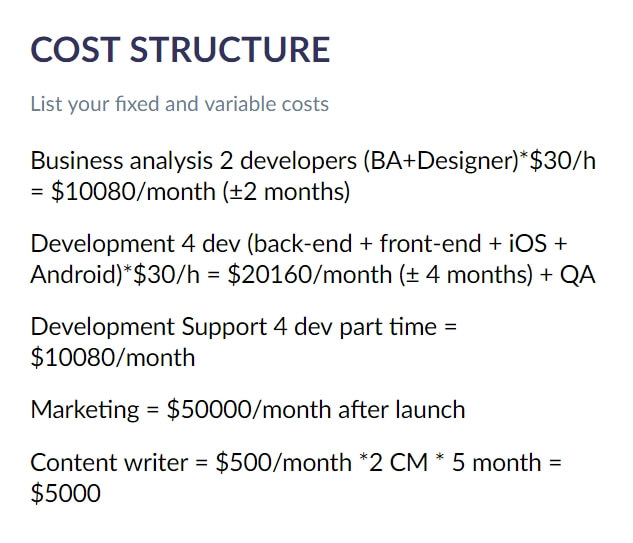 We begin to use the canvas
We've briefly looked at every segment of the classic business model canvas and gotten acquainted with the elements of each segment. Now you can begin working out each segment of the canvas using sticky notes on which you can write your hypotheses. Your next goal is to confirm or disprove these hypotheses by conducting tests with consumers. It isn't critical if your initial assumptions turn out to be wrong. Use an iterative process to confirm all aspects of your mobile application. Obviously, the final canvas will differ from the initial structure.
In this article, we wanted to inspire you to create a unique mobile application. Remember what Steve Jobs said: From what I've come across, following my curiosity and intuition turned out to be priceless later. Enjoy the process of creating your product using the business model canvas. This powerful and universal tool will allow you to visualize all the information you need for mobile app development.
Without a working business model, you can't create a startup. Your business model must be tested. Otherwise, you'll lose money finding a relevant model. And how can you prove that your business model works? A unique product is the result of the combination of all elements of your model, namely the value that the product offers to customers, the profit formula, and key resources.
Creating and working out all the details of the canvas requires a lot of time, attention, effort, and nerves. Of course, you can use a business model canvas template, but is it enough? After all, you need to take into account all the important aspects of application development in order to monitor the overall picture of the process and to transform the classic canvas to reflect your project requirements.
At Mind Studios, we know that your business model is the wind and your canvas a powerful sail. With the right methods, we can guide your mobile application to success!