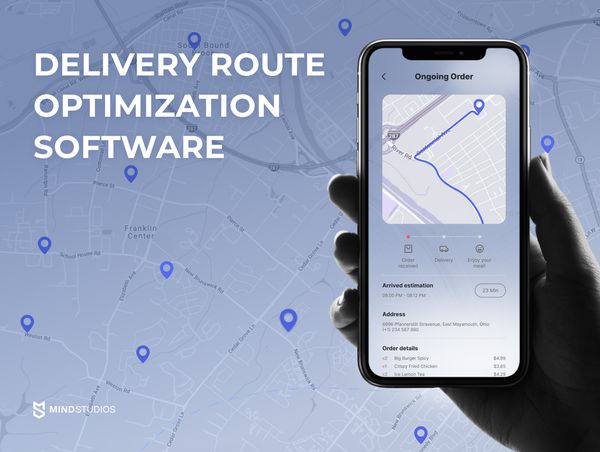 When asked "What's the main purpose of solutions for delivery route optimization?", many would probably answer that it's planning the most efficient route for the driver. However, it's just the tip of the iceberg.
Among many things, delivery route optimization solutions help improve delivery efficiency in terms of time and cost, increase customer satisfaction, and even analyze drivers' behavior on the road and implement new safety measures. The list goes on and on. So, how can a business implement a solution like this? And how significant will the benefits be?
Mind Studios has been developing custom software for logistics and delivery companies for years. A route optimization solution for a printed goods delivery company, an on-demand delivery service for the Danes, and an app for an international cargo transportation company are just a few of our projects for the industry.
In this article, we explain how you can make delivery route optimization software part of your day-to-day operations — and how our team can assist you with it.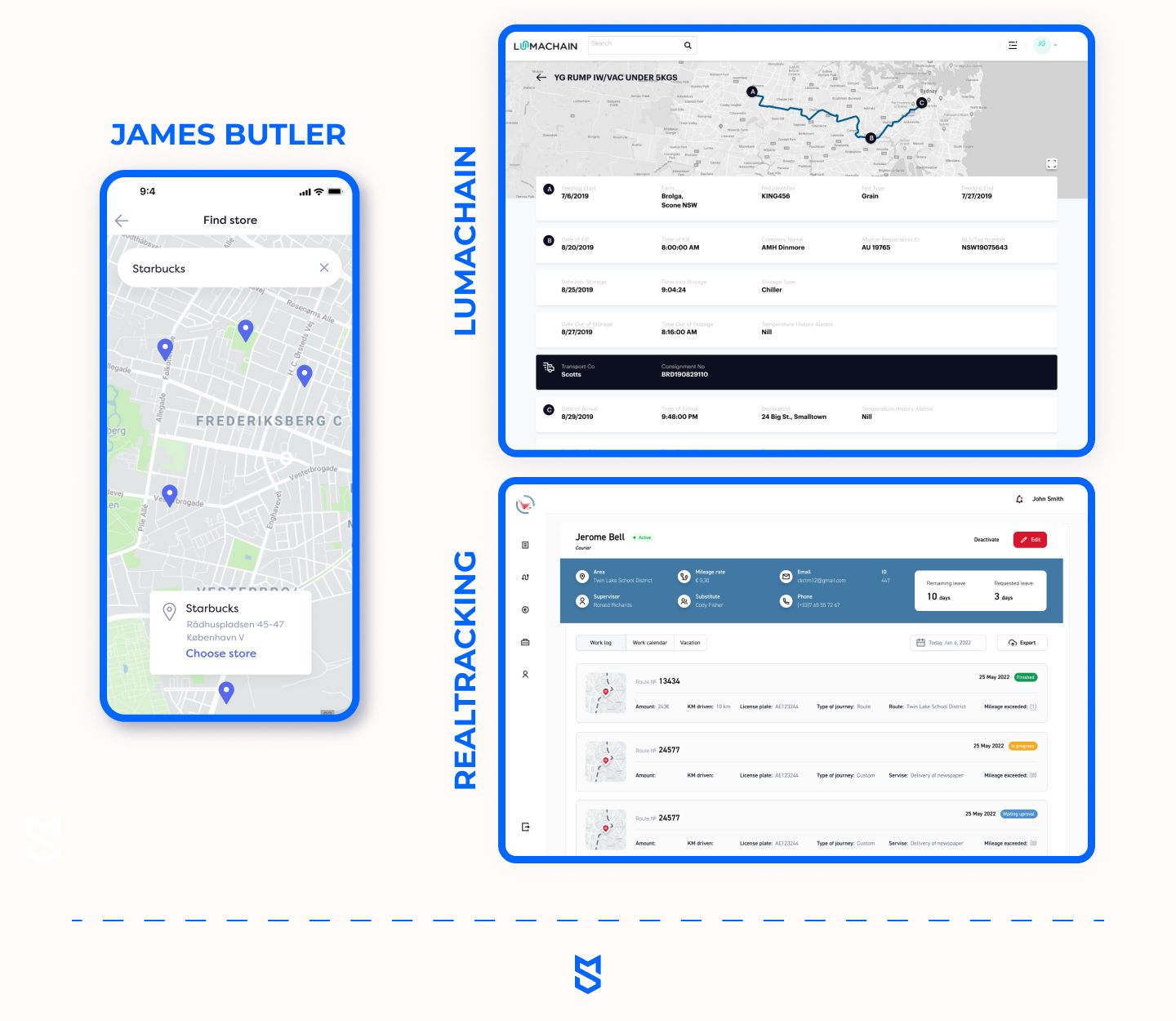 How route optimization software can help your business
The main aim of route optimization software is to improve route planning, increase delivery or transportation efficiency, and, as a result, cut costs. It also helps control various aspects of the delivery process, including drivers' schedules, fulfillment estimates, complying with legal requirements, and so on.
It's a common misconception to narrow down the functionality of delivery route optimization solutions to the task of finding the shortest route based on time and distance. In reality, advanced software platforms use AI algorithms and mathematical models to analyze large amounts of data — and help managers make quick and calculated decisions.
More specifically, the development of modern software for optimizing delivery routes is done with the following factors in mind:
vehicles number, their capacities, and load volume
the number of delivery locations and territories covered
delivery time windows and volume availability
last-mile delivery details
real-time route conditions like traffic, weather, state of the roadway, etc.
legal requirements
By processing all this information, courier route optimization software is more than just a tool for determining the shortest route from one location to another. It can optimize the route on the fly, generate delivery performance analysis, and help businesses save time and resources.
Now, let's get into details and take a look at the most significant fleet routing software advantages.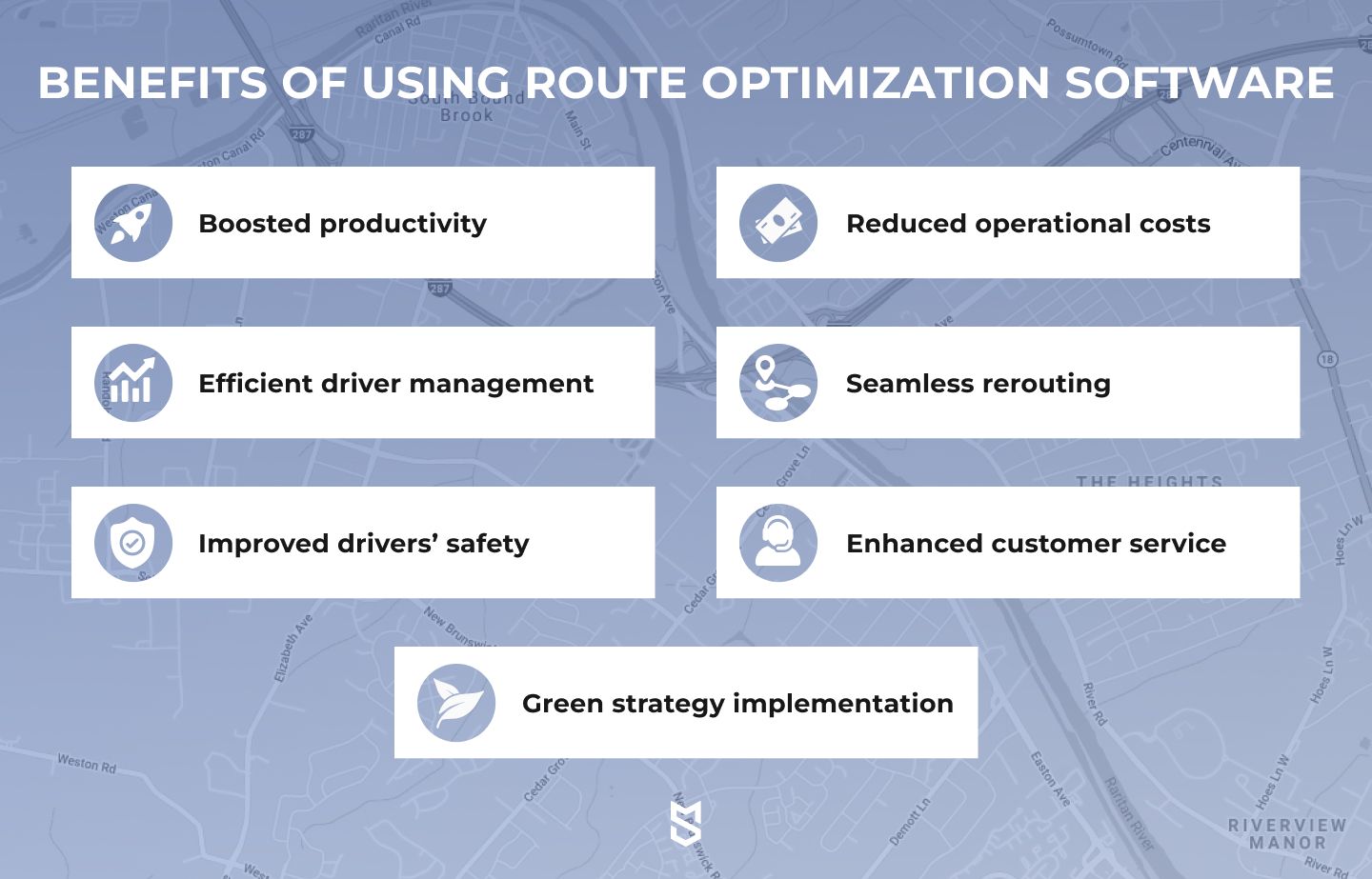 Boosted productivity
One of the most significant benefits of using route optimization is that it allows employees to get more work done in less time and with lesser resources. How exactly does it happen?
Efficient route planning reduces the distance and time needed for each delivery, meaning businesses can complete more deliveries in a day and cut costs of transportation. Naturally, this leads to companies growing quicker and becoming more profitable.
Reduced operational costs
The most obvious way in which route optimization software cuts operational costs is by saving businesses money on fuel thanks to finding time-efficient routes. However, that's not all. By analyzing factors such as vehicle and load volume, such solutions can help use each vehicle to its fullest capacity and reduce the need for additional trucks.
Capacity utilization can also decrease travel time — and thus reduce maintenance costs since the vehicles won't be wearing out during inefficient trips.
Efficient driver management
Building effective routes isn't enough, especially if your company works with numerous drivers. The development of logistics route optimization should also give your managers and dispatchers an opportunity to monitor whether the drivers are sticking to the routes and schedules the system has planned for them. Subsequently, this allows you to analyze the efficiency of the drivers working for you.
Seamless rerouting
One of the major benefits of route optimizer software is the functionality that enables easy rerouting. Thanks to real-time access to various sources of data on the factors affecting the route, drivers can get helpful notes and even renewed routes in case of traffic, unexpected weather conditions, customers changing schedules, etc.
On top of that, GPS-based solutions can also check new routes in real time, make sure they are safe to drive through, and alert the dispatchers about the changes.
Improved drivers' safety
Route optimization software can also be used to make sure the transportation process complies with road safety regulations. For instance, managers can make sure the drivers don't exceed the maximum permissible hours of driving without a break, follow their speed limits, monitor any traffic law violations, and inform drivers of any dangers on the road.
As a result, this helps drivers avoid collisions and other accidents, and therefore, saves you money on possible delivery delays, additional car repair expenses, and legal costs in case of accidents.
Enhanced customer service
When it comes to delivery services, meeting deadlines is what leads to good customer reviews. Integrating route optimization software into delivery and transportation operations helps stick to the ETAs, quickly handle emergencies, and avoid delays or failed deliveries — or at least efficiently manage customers' expectations and eliminate bad reviews.
Another thing to keep in mind is that each year, customers' expectations grow higher and higher, with services like same-day and same-hour delivery becoming more common. Developing software to optimize delivery routes is what can help you meet these expectations, stay competitive, and increase brand loyalty.
Green strategy implementation
By implementing route optimization software, businesses become open to a more sustainable approach since it helps reduce carbon emissions and alleviate traffic congestion, which leads to improved air quality.
Additionally, route optimization solutions assist with improving resource management and even push companies to explore more efficient and sustainable transportation models, like bicycles, electric vehicles, etc.
Real-life cases when route optimization software helped logistics
The thing with route optimization software is that it can be beneficial for any kind of business or organization dealing with transportation, no matter the scale or even line of work. Here are some examples to demonstrate what we mean.
Homestead city waste collection optimization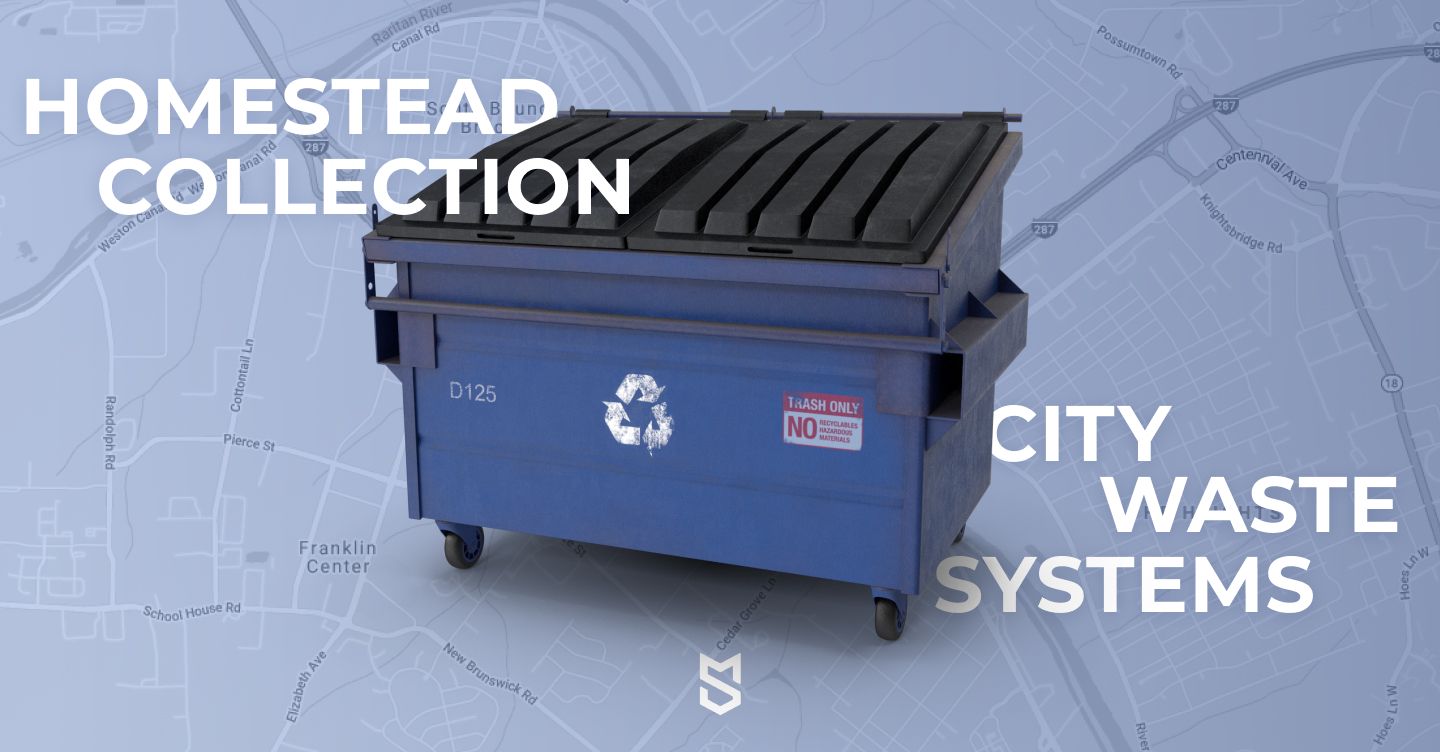 [Source: www.cityofhomestead.com]
As many cities do, Homestead (Florida, USA) and its Solid Waste Division (SWD) uses fleet management for waste collection from residential buildings. However, the department decided to look into the optimization of the process once the collection of recyclables and bulky wastes increased from twice a month to once a week.
In order to efficiently dispatch the staff and collect garbage from 12 city zones on time, the SWD decided to implement route optimization software, as well as closely monitor and analyze the process together with the drivers.
As a result, route optimization helped analyze the quantity of waste generated, the number of buildings serviced, the most efficient routes within the given zones, and other data. The end solution led to enhanced staff productivity, reduced service cost, and efficient management of vehicles.
Crate & Barrel home delivery system
Crate & Barrel is an American furniture and home decor retail company with over 160 stores across the country.
With hundreds of thousands of yearly deliveries, naturally, the company uses fleet management to carry those out. However, the previous system was far from perfect since it didn't have tracking functionality, and the order management was inefficient. That's why the company started looking for a better logistics management solution.
Once Crate & Barrel chose the suitable route optimization software, they decided to test it on its Boston division. After just a week, the solution proved to be helpful and was integrated across all locations.
Using route optimization has helped the company reduce delivery time, use fewer trucks, cut operational expenses, and get access to real-time statistics on deliveries which resulted in better strategic decisions.
Six features that will lead you to success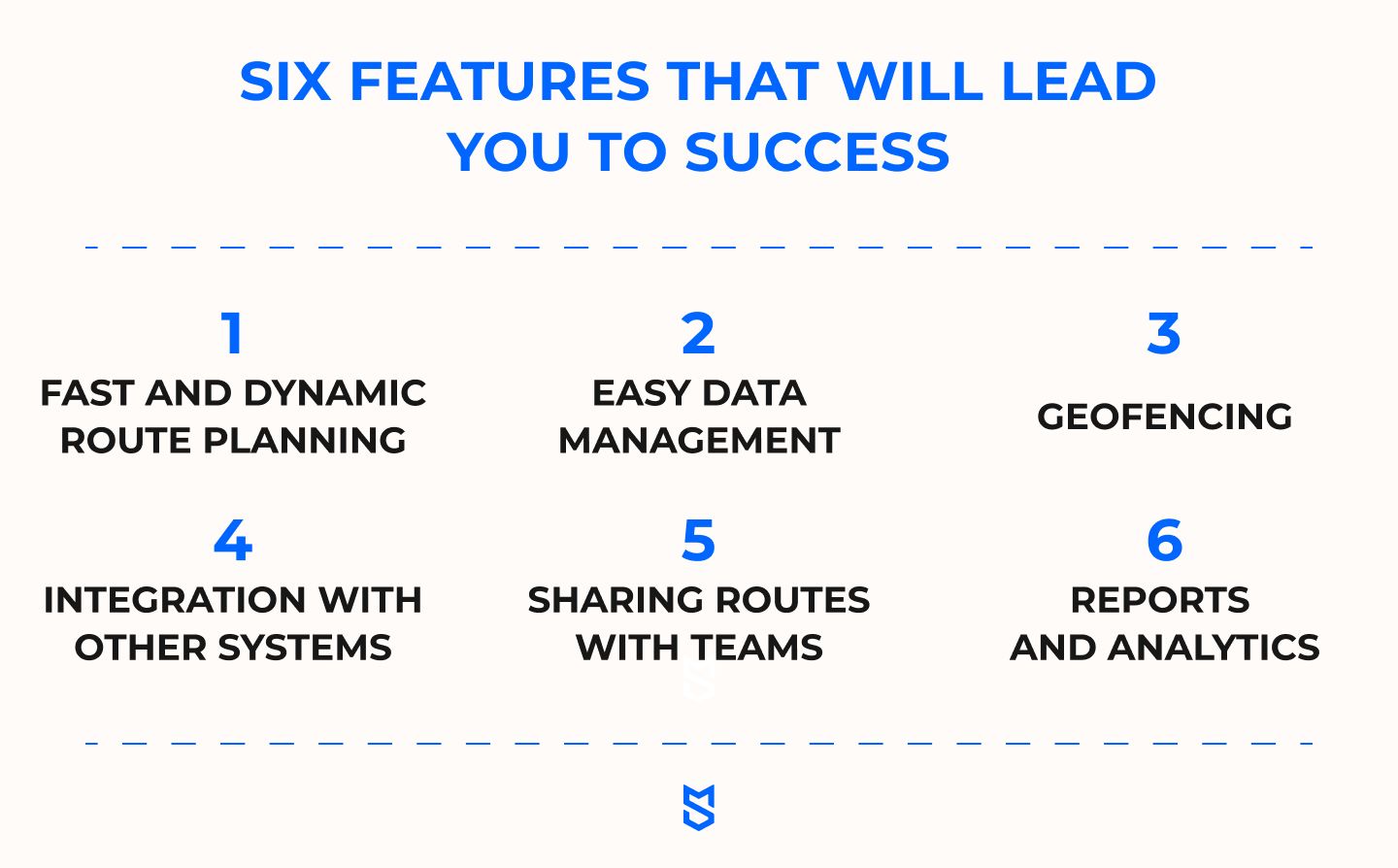 When working with a software development partner, together you will figure out which functionality suits the needs of your business best. However, there are certain benefits that are beneficial to most companies dealing with transportation and delivery. Let's go over the most essential ones.
1. Fast and dynamic route planning
The main point of optimizing routes for delivery is to get the most efficient routes for your fleet planned in a matter of minutes. Yes, even if the route has thousands of orders. Moreover, the plan suggested needs to have a high route density so that it makes financial sense.
On top of that, the delivery process that involves multiple vehicles and orders will inevitably go through unexpected changes to the schedule. The factors that cause these changes include additional drop-offs, on-demand orders, appointment cancellations, etc.
That is why your software needs to allow for dynamic route planning, meaning the managers and the drivers can quickly reroute on the go without losing efficiency.
2. Easy data management
Businesses working with deliveries have to deal with lots of data, including information on customers and their orders, drivers' schedules, tasks, appointments, vehicle details, etc. Therefore, it makes sense to have a solution that can automatically input, import, and share all that data, as well as allow manual editing.
3. Geofencing
Shortly put, this functionality allows dispatchers to ensure the drivers are sticking to the designated routes by mapping virtual boundaries around the area of the scheduled deliveries. If the GPS-tracking system detects a vehicle going outside the zone, the system will automatically alert the dispatcher.
Not only does it bring more visibility to the delivery process, but it also allows dispatchers and managers to quickly help the drivers solve any issues or dangers that might arise on the route.
4. Integration with other systems
It is possible (and even highly recommended) to integrate route optimization software with other systems. In addition to order management solutions, this often also includes inventory management systems, fleet tracking software, navigation software, payment gateway integrations, cloud services, chatbots, and more.
5. Sharing routes with teams
As a rule, the route optimization software has a driver app and a dashboard, a control panel for planning routes and scheduling order deliveries.
These two components of the solution should work together and provide cross-platform data access to streamline the workflow, automate reports and updates, and bring miscommunication between drivers and dispatchers to a minimum.
6. Reports and analytics
Logistics route optimization can also help businesses make data-driven strategic decisions through reports and analytics features. For instance, managers can analyze overall delivery and individual drivers' performance, look into customer satisfaction rates, and make sure the company complies with safety regulations.
The optimal way to build software for delivery route optimization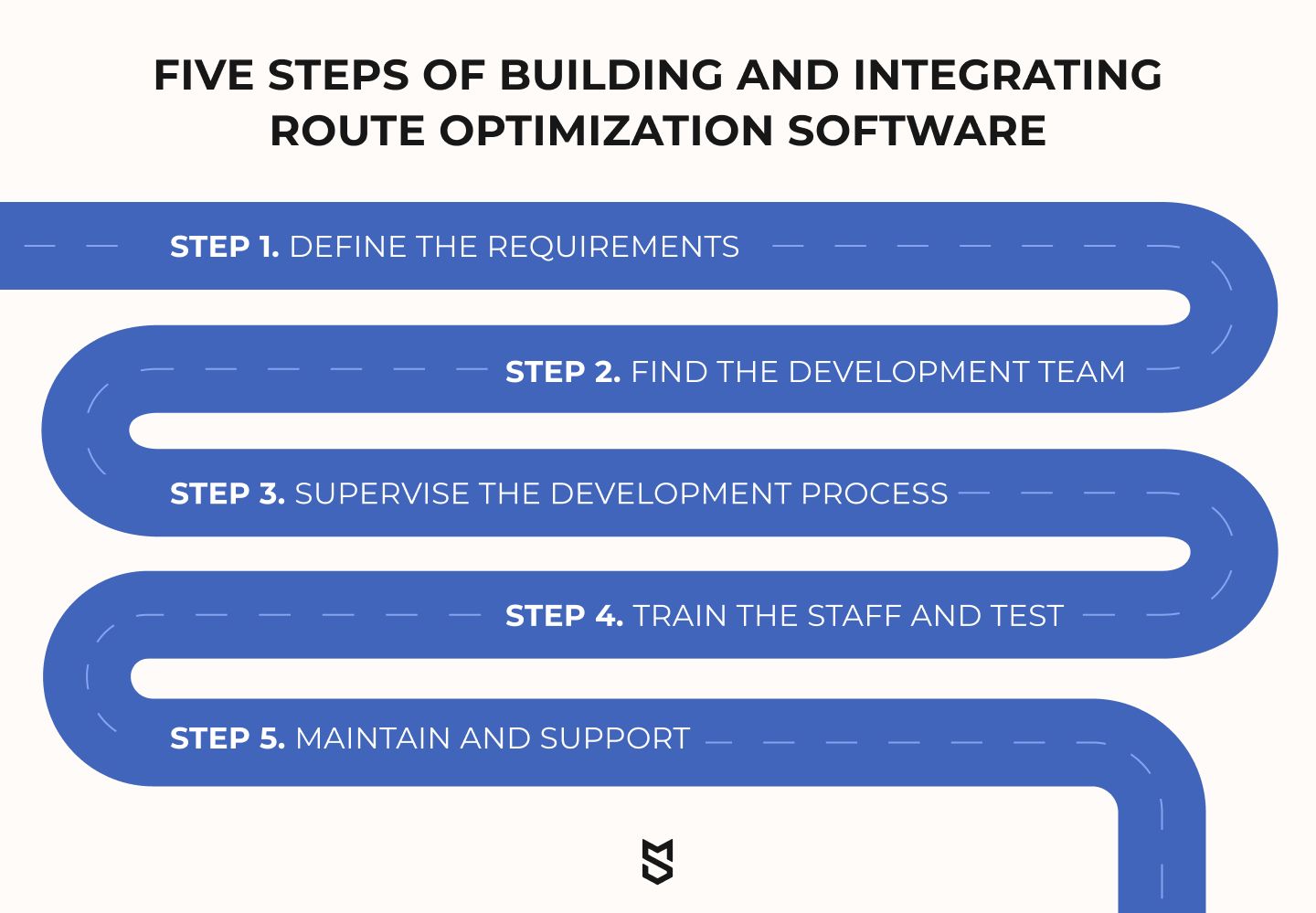 Let's assume you've made up your mind about building a vehicle routing solution. Where do you go from here? There are five key steps in the delivery route planning software development and integration process.
Step 1. Define the requirements
Before starting to look for prospective developers, you need to define the objectives of the project and the points of your business strategy you want it to help you achieve. So, start with making a list of the challenges related to route planning, costs you want to cut, processes that need to be automated or enhanced, etc.
Additionally, you need to define the budget you can allocate to the solution. From there, it will be easier to figure out what your options are.
Step 2. Find the development team
Depending on the budget, you can choose from different cooperation models, such as working with individual freelancers or outsourcing the project to a software development company.
The latter option is perfect for more complex projects since a software development agency has a team of specialists who can cover each stage of the project, from business analysis to testing. For instance, at Mind Studios, we employ business analysts, UI/UX designers, project managers, web and mobile developers, QA engineers, and more.
The most popular platforms to look for route planning software development partners are Clutch and GoodFirms. There, you can find a company with relevant expertise and experience, filter the options according to your budget and requirements, and check for reviews.
Step 3. Supervise the development process
Once you find the software development partner, it's time to get down to building the solution. Usually, this process includes:
Discovery phase, which involves research, analysis, making a project plan, etc.
UI/UX design creation, during which designers develop wireframes
Web and/or mobile development phase, when the solution is actually built and integrated with other systems
Testing to make sure the platform is reliable and ready to be released
With Mind Studios, you can be as involved in the process as you want. On our side, we have a team of project managers who will facilitate timely and successful delivery of the solution for your business.
Step 4. Train the staff and test
Now that the software is ready and integrated into your workflow, it's crucial to conduct proper onboarding and teach your team to use the solutions and make the most of them.
To make the integration and introduction of the software successful, stress the importance of an intuitive and user-friendly interface when working with a development team.
Step 5. Maintenance and support
Though the most costly part of the development is over, the development of the system for optimizing courier routes will still need a certain level of tech support, in case something needs to be adjusted, fixed, or updated. What is more, if anything happens, the changes will have to be made quickly since your day-to-day operations will rely on the software.
At Mind Studios, we stay in touch with our clients even after the software launch and offer our maintenance and support services for as long as it's needed.
Ready-made route optimization solutions
While most of Mind Studios' clients usually turn to our team when they require a custom-built solution for their business, there is also an option of ready-made route optimization tools. Here are the top five solutions recommended by Forbes in 2023.
1. Onfleet
This software is considered to be an optimal solution overall. Its features include real-time location tracking, an unlimited number of drivers, driver-to-customer communication, proof of delivery, feedback collection, and predictive ETA. The platform also offers solid customer support.
As for the cost, there are different pricing options, from the Launch plan for small teams at $500 per month to the Enterprise option that offers custom solutions for a custom price. Before making a purchase, you can also use a 14-day free trial.
2. RoadWarrior
This simple cloud-based route planning software has been named the best low-priced option by Forbes. The key features of the solution include real-time location tracking and monitoring route progress. Drivers can use the service via an iOS or an Android app.
RoadWarrior offers a 7-day free trial period, after which you can pay $10 per month per member for the Pro version or keep using the basic one.
3. Samsara
Thanks to its AI safety programs, real-time visibility, smart map overlays, geofencing, and real-time dispatching, Samsara helps build the best routes possible and manage the process efficiently even when unexpected circumstances occur.
The platform, however, does not disclose its pricing since it varies from case to case. Instead, they ask specific questions to prepare a custom offer for the company.
4. IntelliShift
This software is another example of a solution that has no fixed pricing: the companies can get a pricing offer after completing an online inquiry form.
IntelliShift uses predictive analytics and AI for route optimization and other fleet-related operations. Its core features include real-time location tracking, route status, and driver messaging. However, one of the biggest benefits of the route optimization software is its safety features that help prevent accidents: AI dash cams, G-force sensors, and distracted driver detection.
5. Motive
Being ideal for long-haul drivers, Motive's main features are real-time location tracking, ELD compliance, and fuel management. Its advanced functionality also includes a smart dash cam, driver coaching and dispatch, and extensive driver workflow features. What is more, the Motive Compliance Hub helps eliminate HOS (hours of service) violations.
This platform, too, offers custom pricing. According to customer reviews, the cost starts at around $20 per month.
Keep in mind that while being quite decent, none of these solutions have a rating higher than 4,3 stars on Forbes Advisor, and two of them have a score lower than 4 stars. So, if you want a flawless and secure solution tailored to your company's needs, we suggest looking into the option of custom routing software development.
Are the efforts worth the result?
Route optimization software development and implementation can be a costly investment, especially for small businesses. But we are here to prove that in the long run, it is definitely worth it.
There is no definite answer to the question of when business owners can expect a return on investment after implementing delivery route planning software solutions. It depends on many factors such as the size of the company, the field it operates in, the scale and complexity of the delivery network, and the quality of the solution implemented.
What is more, the ROI calculation itself depends on whether the software is integrated with an upfront cost or as a SaaS (software as a service) solution with continuous monthly or yearly payments.
Still, we can give you an approximate timeframe. On average, businesses can expect a return on investment within six to twelve months after developing software to optimize delivery routes and integrating it into day-to-day operations.
As we've already established, depending on the complexity and customization of a ready-made route optimization solution, it can cost you from a couple of dollars to thousands of dollars a month. But what about custom delivery route planning software development?
Here is a rough cost estimate for a route optimization software with web desktop and mobile responsive versions tailored to your business needs if you outsource it to an agency like Mind Studios.
| Stage | Time, hours | Cost, USD |
| --- | --- | --- |
| Discovery stage | 80+ | $4,000 |
| UI/UX design | 200+ | $9,000 |
| Frontend development | 680 | $30,600 |
| Back-end development | 800 | $36,000 |
| Testing | 320 | $12,800 |
| Project management | 320 | $12,800 |
| Total cost and time needed to develop a logistics route optimization software | 2,400 | $105,200 |
The estimate is based on the list of features we've made in one of the previous sections of the article, and on a $45 hourly rate which is common for Eastern European software development companies.
Keep in mind that it is still quite rough, and our team would be happy to create a delivery route schedule optimization software that fits both your budget and business needs.
Our experience
Logistics and transportation is one of Mind Studios' focus industries, so we have quite a few products to share with you. Here are just some of the projects our team worked on during the past years.
Route optimization solution for a newspaper delivery service
When working on this ongoing project, we've determined the number of problems the newspaper delivery company could solve through the digitalization of certain processes. The most urgent challenge was to help the business cut costs on deliveries, as well as make them more efficient and transparent.
Together with our clients, we've worked out a software solution that would:
Calculate the most time- and cost-efficient routes based on data about traffic patterns
Automate the process of odometer numbers registration on each vehicle at the start and end of the shift
Share data with the supervisors, and report to them in case of any emergencies, or clashes between forecasted and actual distances
On-demand delivery app for the Danish market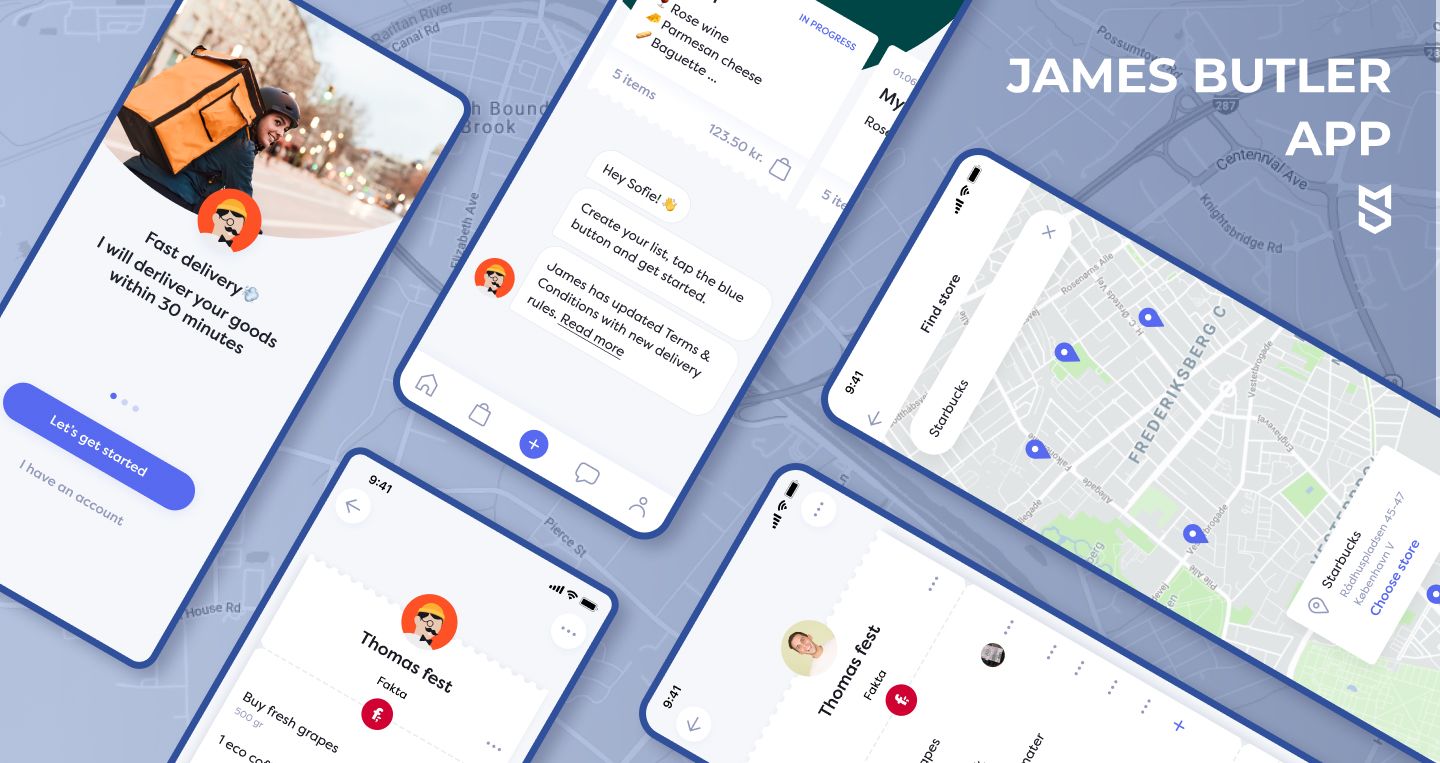 James Butler, a food delivery application, was definitely a challenging yet extremely successful project we worked on. Created for the Danes, the idea behind it is the service that provides delivery from physical shops to the customers' doorsteps within 30 minutes.
To implement the idea, we had to build two applications:
An app for the buyers to create shopping lists, place orders and pay for them, track order status, and contact shoppers
An app for the shoppers where they can define work area, receive orders in real time, monitor progress, and contact buyers
What is more, each app had to be built for both Android and iOS in just three months. Spoiler alert: we did it, and James Butler managed to reach the set KPIs only three months after the soft launch.
These aren't the only projects for the logistics industry our team has worked on. Our portfolio also includes a dispatching module for a supply chain monitoring system, an order tracking app for a cargo transportation company, and more.
Conclusion
Route optimization solutions are no longer something reserved for big enterprises only: any business or organization can benefit from integrating them, in terms of cost, performance, and sustainability. The numbers alone are proof: according to Straits Research, the delivery route optimization software market size is expected to reach USD 12.41 billion by 2030, growing at a CAGR of 11.56%.
It's clear that integrating these solutions into your day-to-day operations is worth it. All that's left to do is decide which development option to go with. Depending on the budget and the requirements, both ready-made solutions and custom-built solutions can be viable options.
If you're looking for a development partner with relevant expertise to find and build the perfect solution for the specific problems of your business — Mind Studios is ready to help. Just fill in a short contact form, and we'll arrange a free consultation to discuss your requirements and expectations.
2