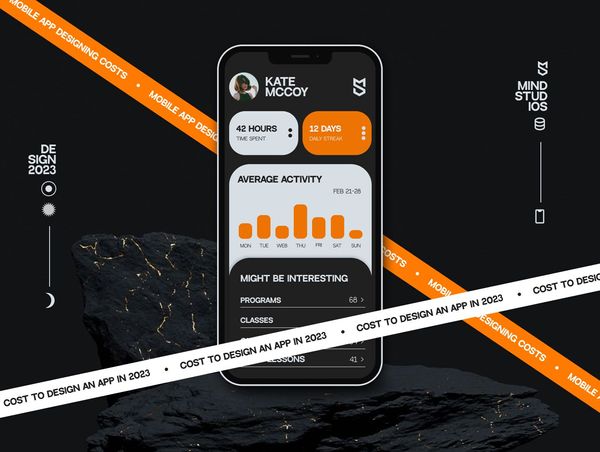 Designing a successful mobile app is both a challenging task and a wise investment worth the price. A well-designed application increases business value, strengthens brand image, provides a way to connect with customers, and improves their loyalty. However, to achieve these results, you need a team of top-notch professionals who will impeccably accomplish each stage of the process: from research to final prototypes.
So, what does it take to design a mobile application bound to become a hit and how much does it cost?
In this article, we cover all pre-design and design stages of the process to estimate the cost of mobile app design. In addition, we reveal how Mind Studios team helps its customers find the most cost-efficient way to achieve their goals. Below we added real app design cost estimation examples.
Before speaking about the cost of UX/UI design of an app, we should address what exactly it involves and what are the best practices for mobile UX design. Design isn't only about the appearance of your product. It also defines how the app works and what cause and effect relationships it has.
"Design is not just what it looks like and feels like. Design is how it works."
— Steve Jobs
Factors that contribute to the cost of designing a mobile app
Put simply, the cost to design an app directly depends on the amount of time spent on its creation and the hourly rate of the team working on it. We've gathered the key factors that affect the price.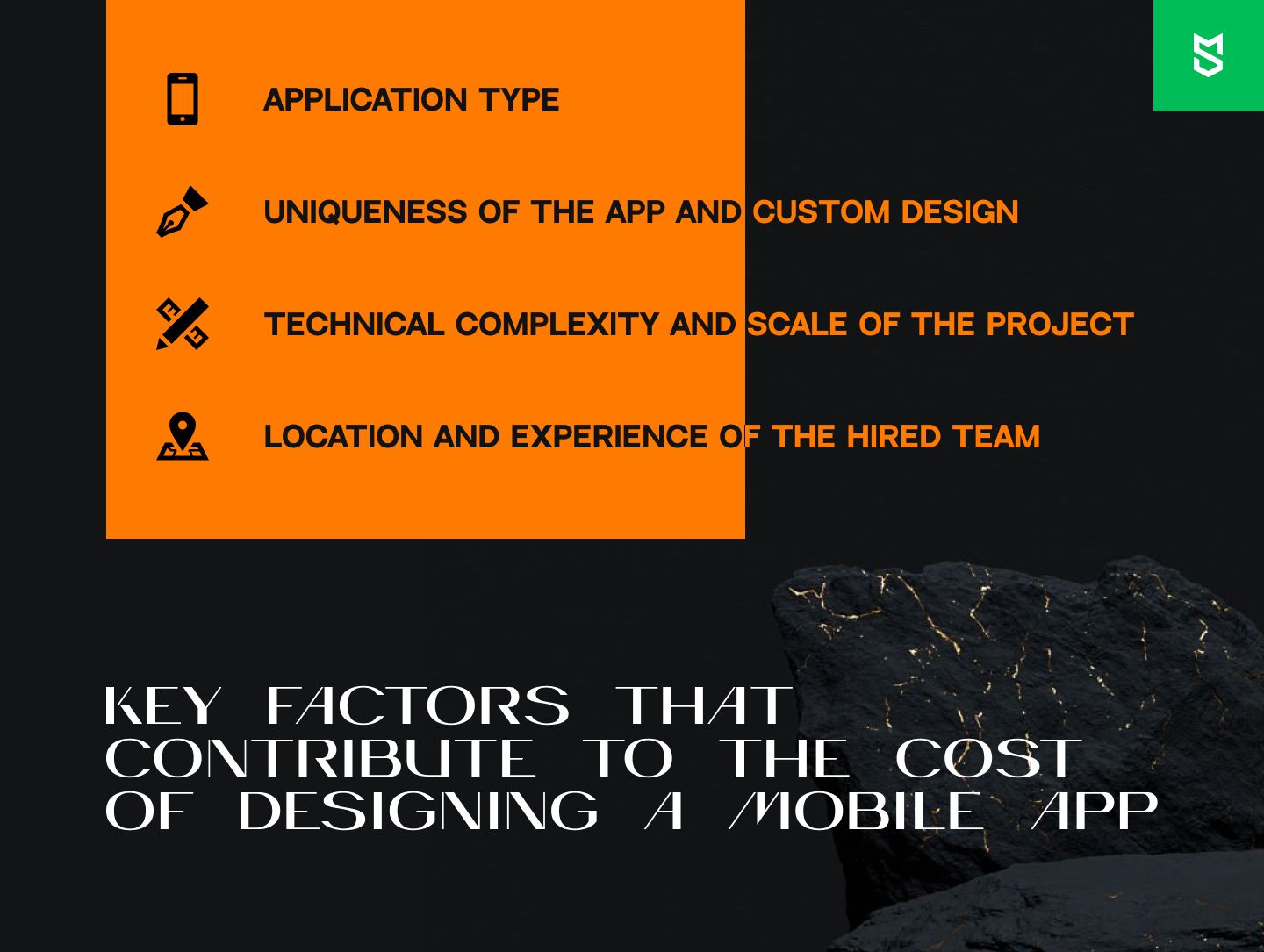 1. Application type
This depends on the function of the app, and on the technology used to create it. By functionality, there are social media, lifestyle, utility, gaming, productivity, and information mobile apps. Building a simple news application would likely take less time than creating a unique gaming app, and therefore, their cost will differ.
By technology, we can single out three types of apps: hybrid mobile apps, also known as cross-platform, native mobile apps, and web apps.
Web apps are the easiest and cheapest to build. However, they also are dependent on the browser used on the device and as a rule cannot work offline.
Hybrid apps are a combination of web and native application types. Even though they work on both iOS and Android platforms, and allow you to launch the product faster and at a moderate cost, they also have some of web apps' cons.
However, native apps, designed and developed specifically for the targeted platform (iOS or Android), provide a more user-friendly experience. Even though they are more expensive, they are also faster, more secure and easier to maintain.
2. Uniqueness of the app and custom design
To figure out how complex the design process will be, you need to ask yourself a few questions:
Is your app idea unique, or is it similar to the existing ones?
Does your product already have a visual identity, for instance, based on your website?
Or do you need to design everything from scratch?
Or maybe you just want to upgrade your product?
The cost to redesign an existing app, make an app clone, or create a one-of-a-kind product will differ drastically. So, as soon as you know the answers, it will be easier to determine the complexity of your idea and thus the app design costs.
Depending on your budget, you can afford to make your app both functional and visually stunning, or invest more into functionality. However, if your idea is not unique, you might want to make it better than the alternatives. In this case, complex visual elements might be the perfect solution. Custom illustrations, animation, elaborate branding — all this influences customers and can easily tempt them over to your product.
3. Technical complexity and scale of the project
Obviously, technical functionality of the app also contributes to the design complexity. Push notifications, payments via credit card, video streaming or API integration — the more features there are, the higher the cost will be.
To put this in perspective, creating design for a clicker gaming app like Cookie Clicker for both Android and iOS platforms takes approximately 80–100 hours. Meanwhile, UI/UX design for an iOS client-side secure messaging app similar to Signal requires at least 168 hours.
4. Location and experience of the hired team
The cost of designing an app directly depends on whom you choose to assign the task to. Will it be an in-house or an outsourced team? Are the specialists from the USA, India, or Eastern Europe? How long have they been working in this field, and how impressive are their portfolios? Depending on these factors, the hourly rate of the team will vary and therefore affect app designers' cost.
As the geographical location is a major factor in cost formation, we've researched average hourly rates for different countries:
| Country/Region | Average hourly rate |
| --- | --- |
| India | $26 |
| South America | $34 |
| Eastern Europe | $50 |
| Western Europe & UK | $70 |
| Australia | $110 |
| North America | $168 |
Basically, it means that 200 hours required to design your mobile app can cost you $33,600 or $10,000 — the only difference is the hourly rate of the outsourcing company you pick as your mobile app development partner.
How much does it cost to design an app in 2023?
There is no fixed price list for designing an app because each case is unique. But we can estimate the number of hours the team will spend working on various types of apps, and therefore calculate the approximate cost.
Mind Studios is a team of Ukraine-based specialists, and therefore, we base our calculations on average local rates as of 2023, which are $45 per hour. So, how much does it cost to design an app if you choose an outsourcing company with the $45 hourly rate? Depending on the complexity, the cost of UI/UX mobile app design varies from $4,500 to over $50,000:
$4,500 – $7,200. Basic app with simple design for one platform (iOS, Android, or web)
$10,800 – $18,000. App of medium complexity for multiple platforms
$50,000 and more. A complex and unique app with numerous features on multiple platforms
Further on, we break down these numbers and analyze what app design costs involve exactly. All estimates in this article are based on Mind Studio's rate.
What goes into creating app design?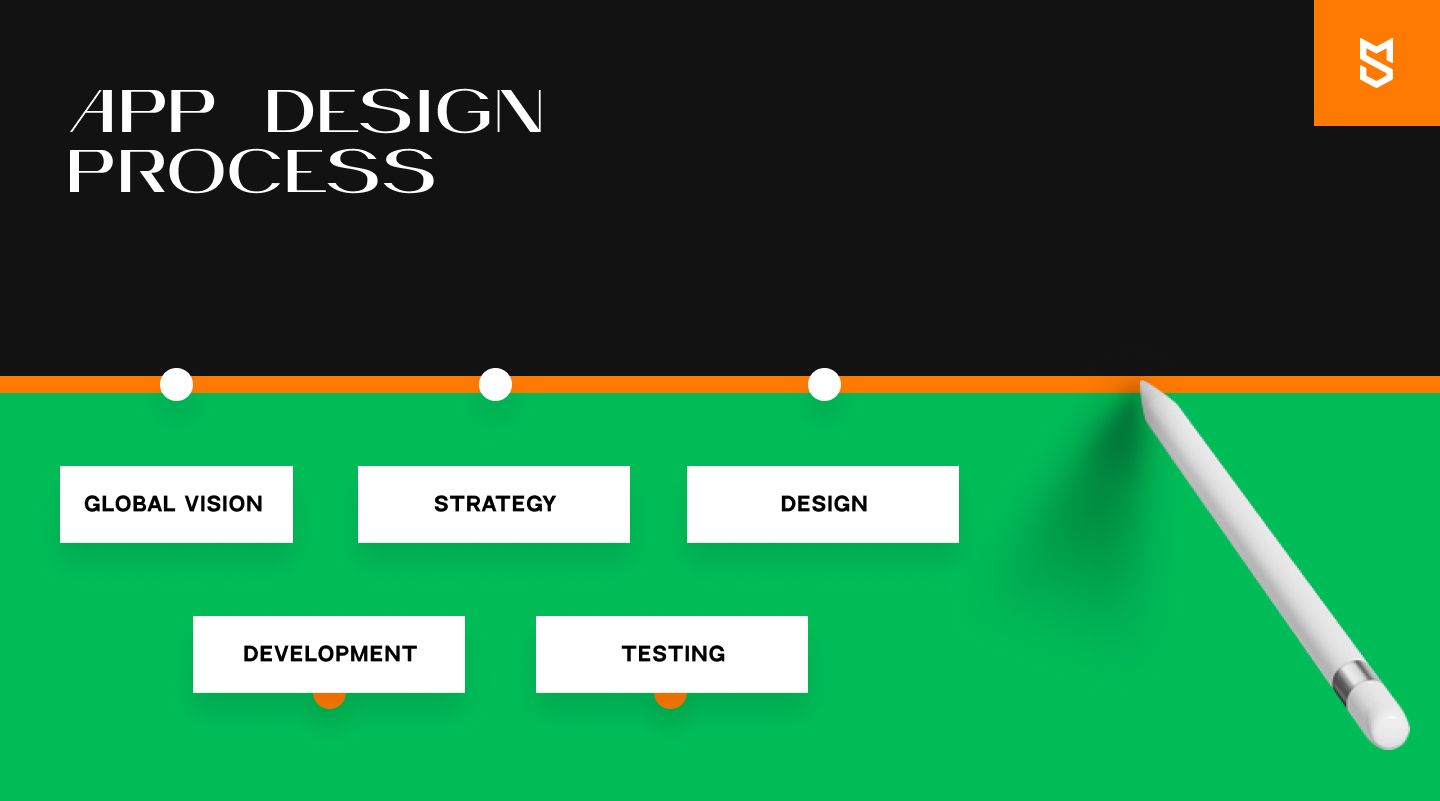 While calculating the cost of app design, we first need to figure out all the preparatory stages of the development process. This means that we consider the number of hours every team member involved will spend on the project, from UI/UX designers to project managers and product managers.
Basically, working on an app design can be divided into two major phases, which are the pre-design stage and the process of designing itself. Let's take a look at their components and figure out how much it takes to design an app.
Pre-design phase
Research and strategy stage
While this stage is often taken for granted or even goes unnoticed, it is indeed compulsory. This is what helps transform a raw idea into a solid plan that will lead to developing a new, successful product on the market. Conducting research includes:
Pre-design research phase also includes looking into the latest trends on the market. This year, for instance, social media and chats integration, futuristic colors, and animated micro interactions are all the rage.
However, Mind Studios team always conducts additional research to make personalized recommendations for each case. For this, we take into account our customer's needs and resources. Every functional and visual element of the app will have to correspond with the users. If, for example, they are mostly lawyers and use your online consultation app for business, they might find funny emojis all over the app distracting and inappropriate.
Time estimate: at least 60-80 hours for a simple app.
Cost to conduct an all-encompassing pre-design research: $2,700 and more.
Specialists involved: project managers, business analysts, UI/UX designers. The designers are not directly involved in all the research stages. However, they often analyze trends and participate in conducting interviews with prospective customers to be on the same page with all stakeholders regarding the main idea and mission of the project.
Finding a user persona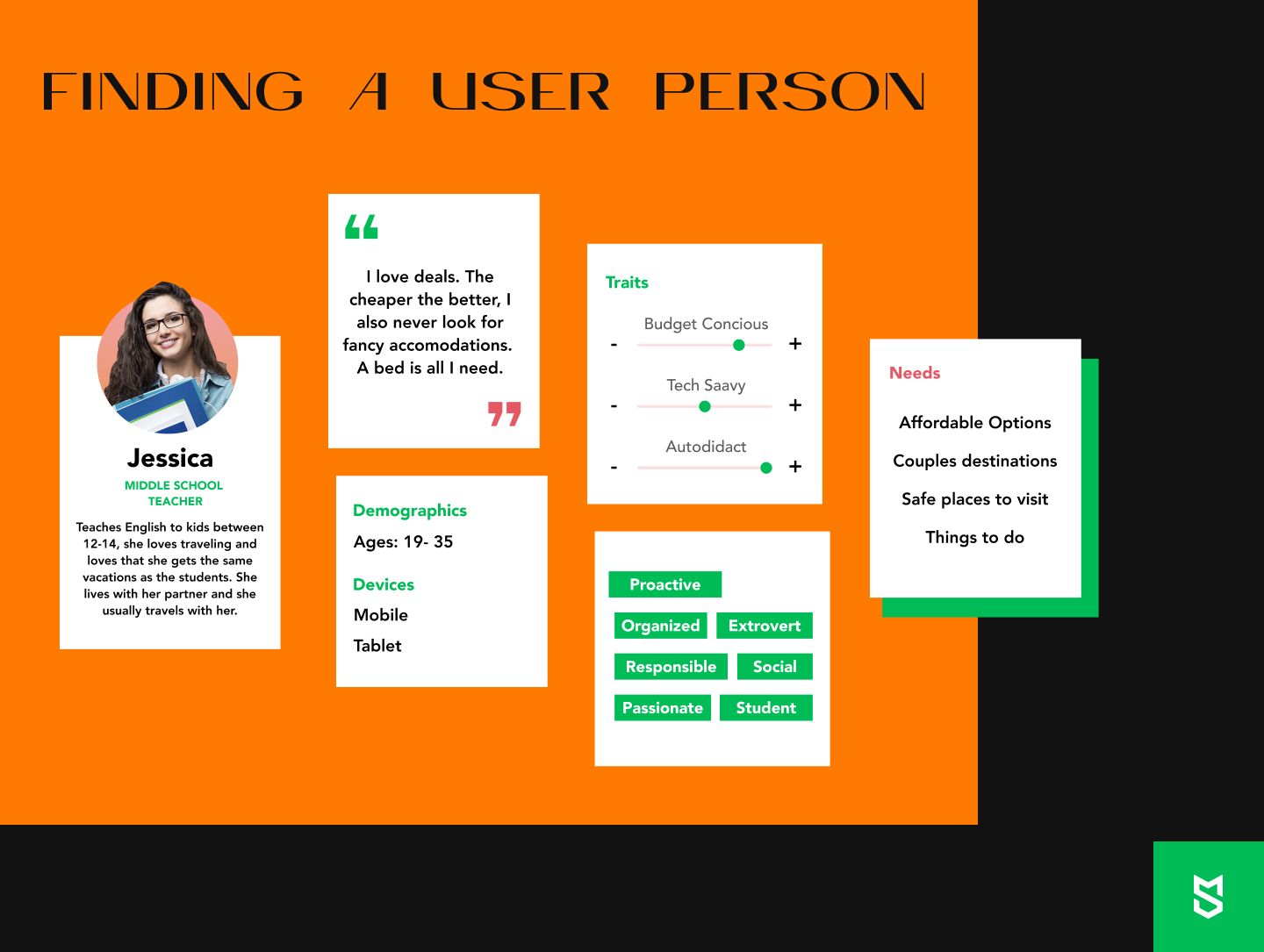 This stage involves creating a detailed portrait of the typical person who will use the application. To create your target user profile, you need to single out their:
demographic data
social standing
interests
pain points
behavioral model, including spending patterns
It's not a task you'll get over with in a couple of hours. Finding a user persona requires research that may include user interviews, conducting surveys, organizing focus groups and workshops with the stakeholders. Just keep in mind that your ideal user persona should make up 20% of your users that use 80% of your app features — or account for 80% of your revenue.
The results are worth the effort. User persona helps the team define the problems you need to solve for the customers and get a profound understanding of their behavioral patterns. This knowledge will play an important role in creating a product that will strike a chord with the users.
Time estimate: around 40 hours.
Cost to create a user persona: approximately $1,800.
Specialists involved: designers, project managers, product managers.
Lean model canvas
Completing previous steps of pre-design stage results in compiling the lean model canvas. Its focal points are problems, solutions, benefits, and key metrics of a particular business. The main purpose of lean model canvas is helping the team achieve a clear picture of the business idea.
One of the biggest challenges of this step is making sure the development team's vision of the project aligns with the client's vision. This stage also allows designers and developers to make preparations before starting design and development.
Even though UX/UI designers do not directly engage in this stage, they take on the task of supervision.
Making a mind map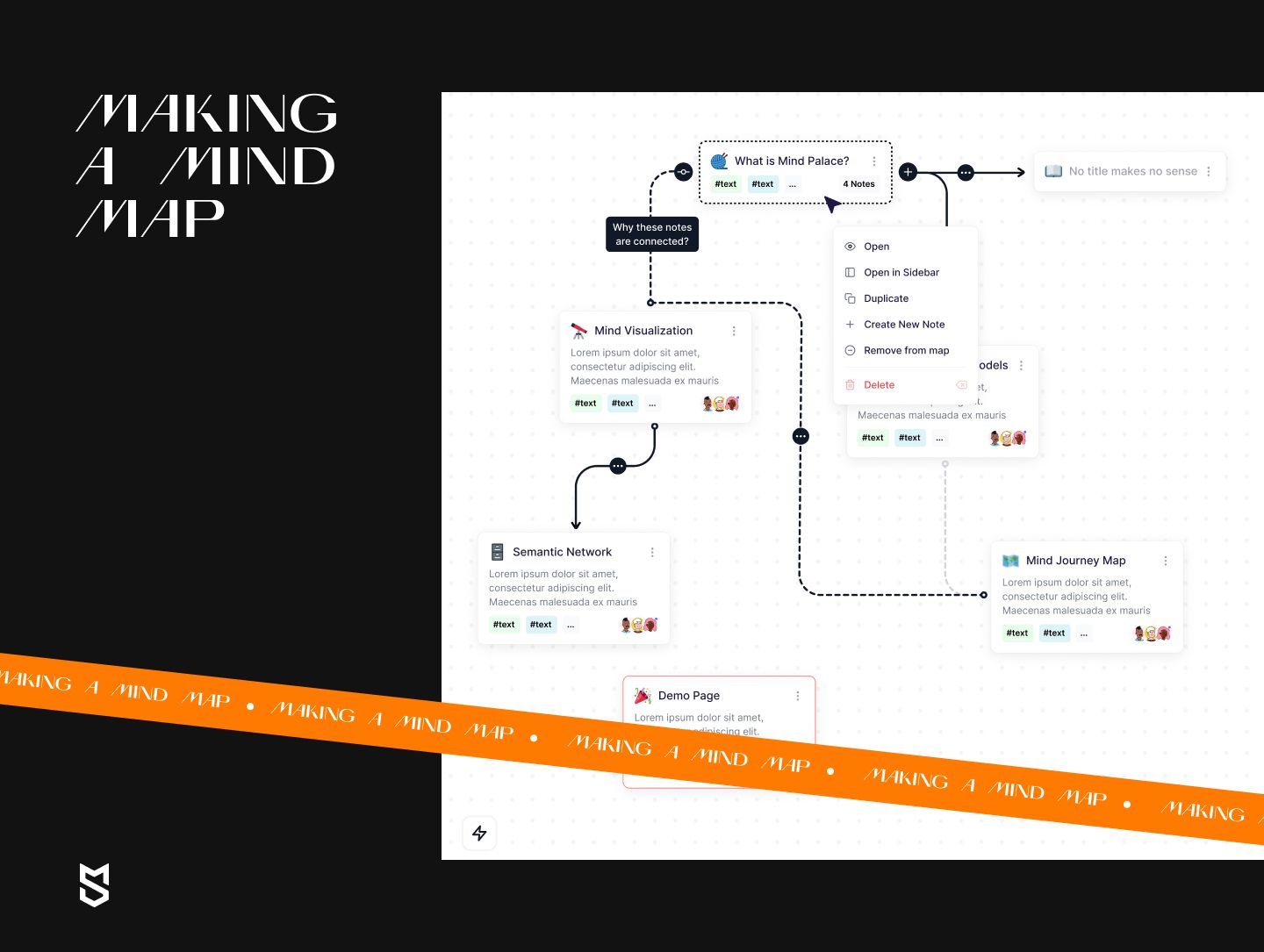 Once we've completed the previous step, we can create a mind map. How do they actually work? Mind maps visualize the logical structure between the main components of the project. We use them because, usually, our train of thought is unstructured. Ideas are spontaneous and overlap each other. A mind map helps us put this chaos in order.
Our team divides the process of creating a mind map into four steps:
Placing the main goal of the product in the center of the map
Breaking the goal into segments
Creating ideas and requirements for each segment
Working on epics, main functions of the app, that solve key problems and help achieve main goals of the project. They can later be divided into smaller features.
Time estimate: 16–24 hours.
Cost to build a mind map with epics: $720 – $1,080.
Specialists involved: project managers, business analysts, designers, and the client. However, designers are not involved in the process of creating epics — those are business analysts' and project managers' area of responsibility.
User story mapping
For a better understanding of how your target audience will use your product, we recommend performing user story mapping. It's a dynamic outlet, made of sticky notes and sketches, that shows how the user will likely interact with the product. This technique allows us to evaluate each step of the journey within the app, prioritize development work, and evenly distribute the tasks into sprints.
User stories focus on the business value of the product and user's needs. They don't exactly look like a map, but rather like a table with epics as column headings and user stories below them. The correct order of user stories allows the designer to create the navigation concept.
Time estimate: 16–32 hours.
Cost to build a user story map: $720 – $1,440.
Specialists involved: project managers, product managers and the client. Though the designers do not engage here, the results of this stage are crucial for their further work.
Design process
Wireframing and prototyping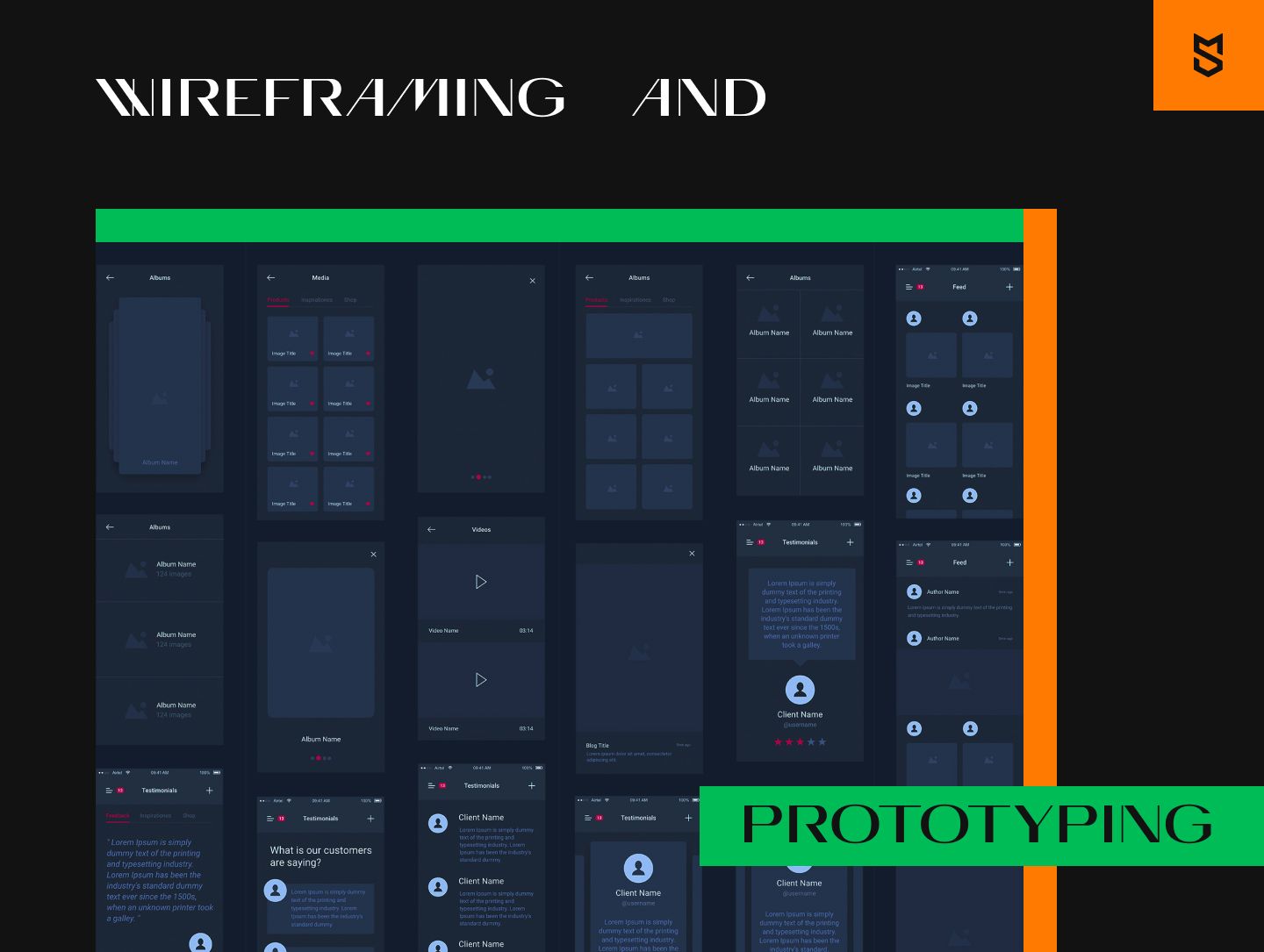 Once the team has defined the main task of the app and key functionality requirements, the designers can start working on creating wireframes, which are a low-fidelity two-dimensional outline. Wireframes look like simple schematic sketches, have a skeletal form, and show how the app will work. Essentially, they resemble an architectural plan of the future application. The next step here is to transform wireframes into a prototype.
Prototypes make it easier to describe complex design concepts. They also allow the team to test the functionality of the future application, collect feedback from the initial users or investors, and make necessary adjustments to the project. As you may have guessed, changes made at this stage are cheaper than those made to the final product.
Despite the common misconception, a prototype is not an "almost complete version of the application". It is a black and white visual mockup, which can be of low, medium, and high fidelity. As a rule, Mind Studios designers present prototypes via Figma, vector graphics editor, and prototyping tool. So, no, you won't be able to download a prototype from the app stores, but a high-fidelity prototype will give you a clear picture of each app screen as well as interactions between those screens.
What Mind Studios team personally loves about this stage is the opportunity to engage the whole team into the process. Creating wireframes and prototypes doesn't require any special design skills, therefore, team members with different backgrounds can collaborate and come up with the most efficient solutions.
At this point, you probably have the final question regarding this stage.
How much does it cost to create a wireframe and an app prototype?
Though each case is different, we've made approximate calculations.
Time estimate: 80-120 hours.
Cost to build a high-fidelity prototype: $3,600 – $5,400.
Building user experience
As for building user experience, it actually begins much earlier because it is an integral part of both wireframing and prototyping. However, we want to highlight it as a separate stage due to its vital importance. The UX design stage includes building a detailed interface of the project and is the foundation for further development.
At this stage, the first thing our team does is creating UX concepts. What do they look like exactly? Basically, these are one or two designed screens of the future app which offer a few UX solutions. The concepts might include a couple of options regarding the placement of app design elements including navigation bar, headings, lists, pictures, buttons, etc. Only after our clients pick options they like best, our designers proceed to design the whole app based on the selected concepts.
Time estimate: 80-120 hours.
Cost to create UX design: up to $5,400.
UI Design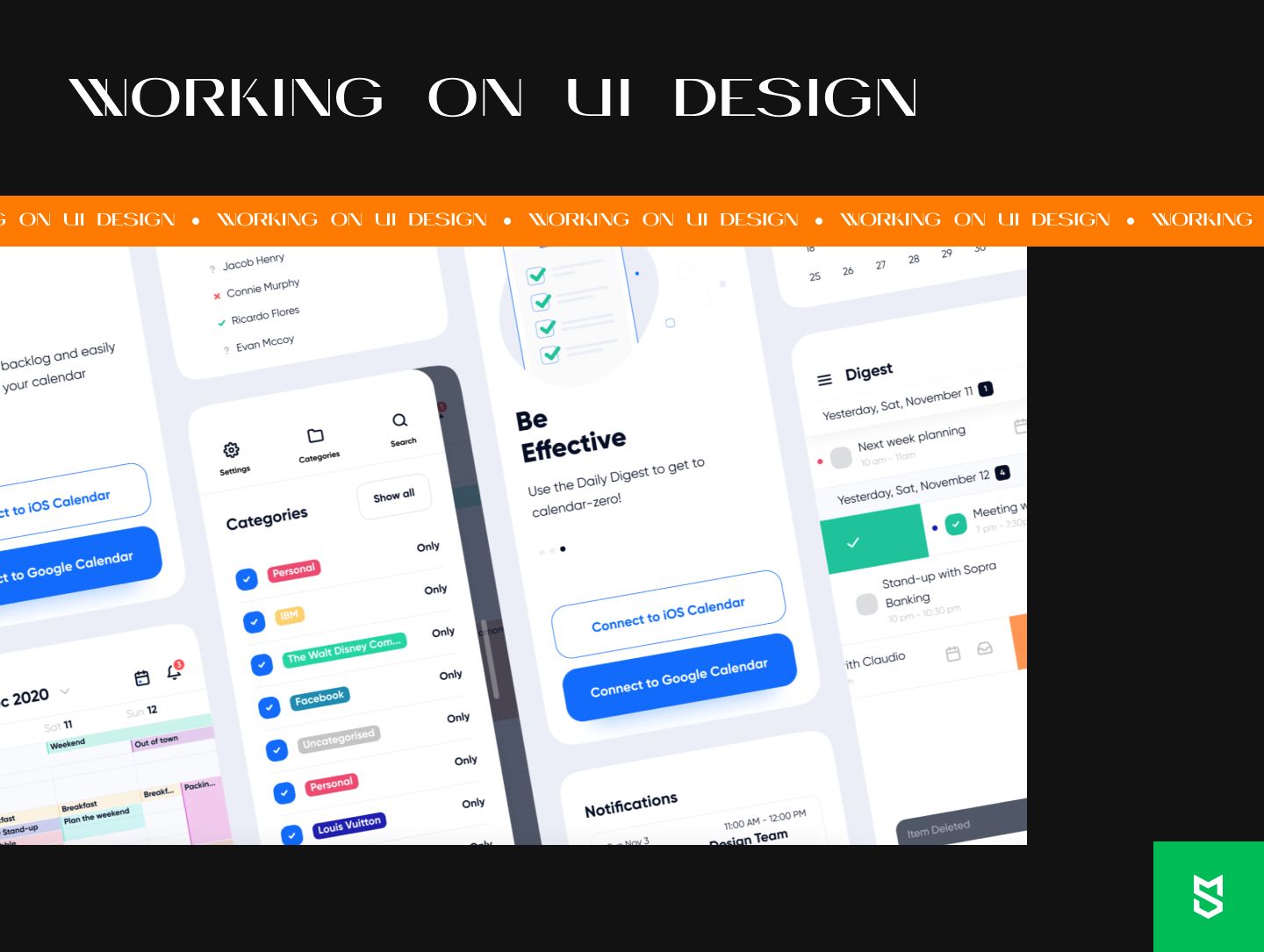 After the team has perfected the UX design, they can move on to user interface design concepts and focus on the aesthetics of visual and interactive app elements. Like with UX concepts, our designers prepare at least two UI concepts that include different color schemes, fonts, logo designs, illustrations, and animation. After we reach an agreement on the UI concept, the designers connect UX and UI solutions, and build the final look of the product. As a rule, we don't engage the target audience in testing the UI design, so most decisions have to be made within the team. However, we always base our UI solutions on the user personas of the product.
Time estimate: 160–240 hours.
Cost to complete UI design: $7,200 – $10,800.
Examples of app design development cost
Now, let's match the numbers we've mentioned above with hypothetical and real examples.
Designing an app like Zillow
There are numerous reasons why business owners want to make clones of the existing applications. Imagine for a second that you are a real estate agent, and you need to build an app that resembles Zillow but is also adjusted to your local market needs. Naturally, it can't be the same application with a different name. Therefore, the team you hire will create an original design based on an already existing idea and your personal requirements.
But how much does it cost to redesign an app or make an app clone? We've analyzed Zillow features and made a rough estimate of its UI/UX design.
Research, business analysis and project specification stages for this kind of app will take 100+ hours and, considering an hourly rate as of $45, and therefore, will cost around $4,500. As for UX/UI design, Mind Studios specialists can complete it in 240+ hours for approximately $10,800.
You can read more on creating real estate apps in one of our articles.
Envol, a one-of-a-kind meditation app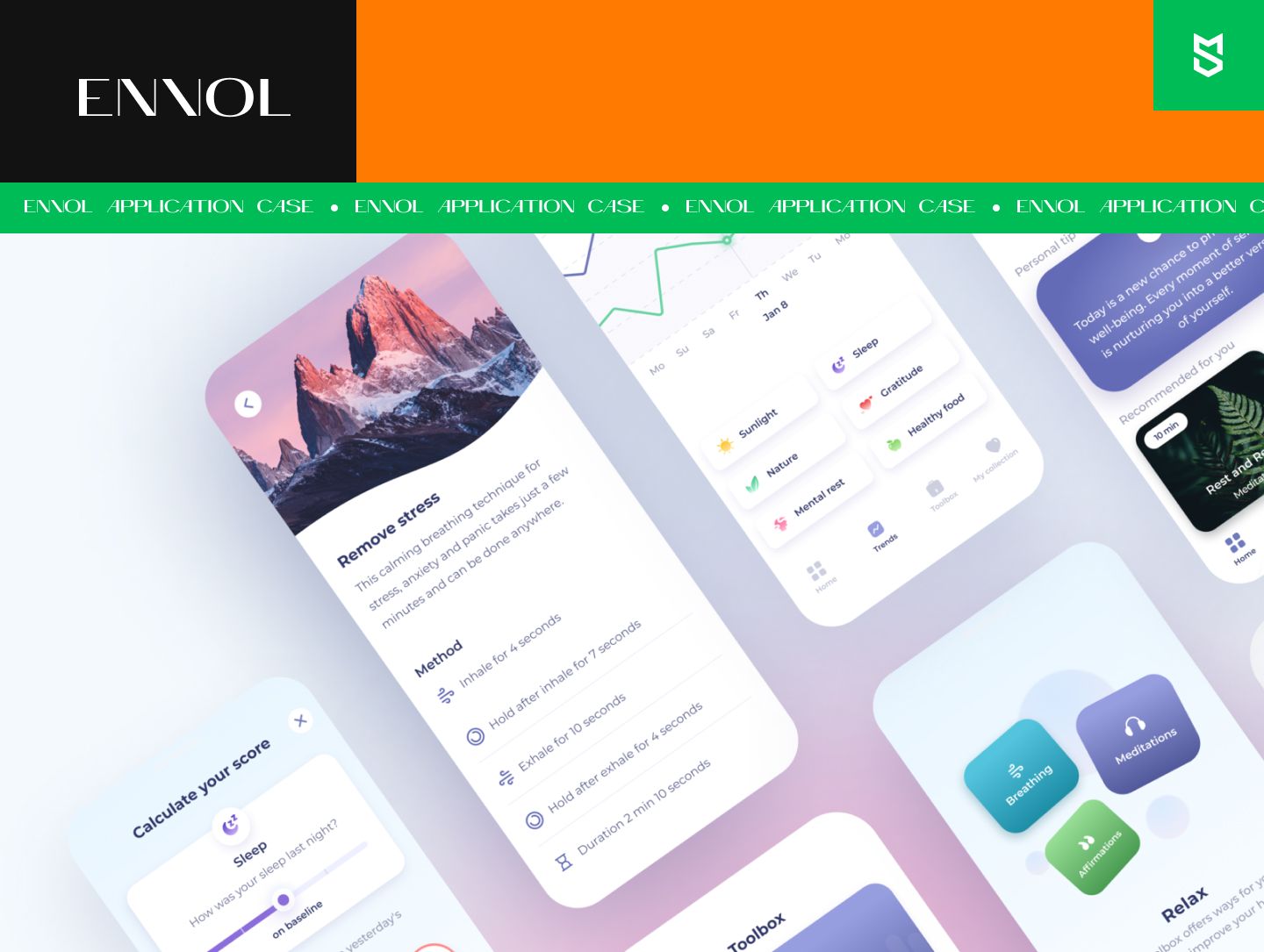 Source: Dribbble
Another example of designing unique mobile apps based on existing ideas is Envol, the project Mind Studios team has developed.
Envol is a mobile application designed for people living with chronic illnesses, as well as people fighting cancer, recovering after injuries or surgeries. This app is a holistic healing assistance tool aimed at improving its users' mental and physical health.
While designing it, our team communicated with the target audience to find a way of making the app adaptable to users' needs and easy to navigate. Vibrant colors that we picked helped to create both soothing and inspiring ambience.
Even though it's not the first mediation app on Apple Store or Google Play, it is undoubtedly an exceptional one. It took our team 320 hours to complete the UI/UX design part of the app. Knowing the hourly rate of your mobile app development partner, by multiplying, you can figure out how much it'll cost you to design an Envol-like meditation app.
Mind Studios experience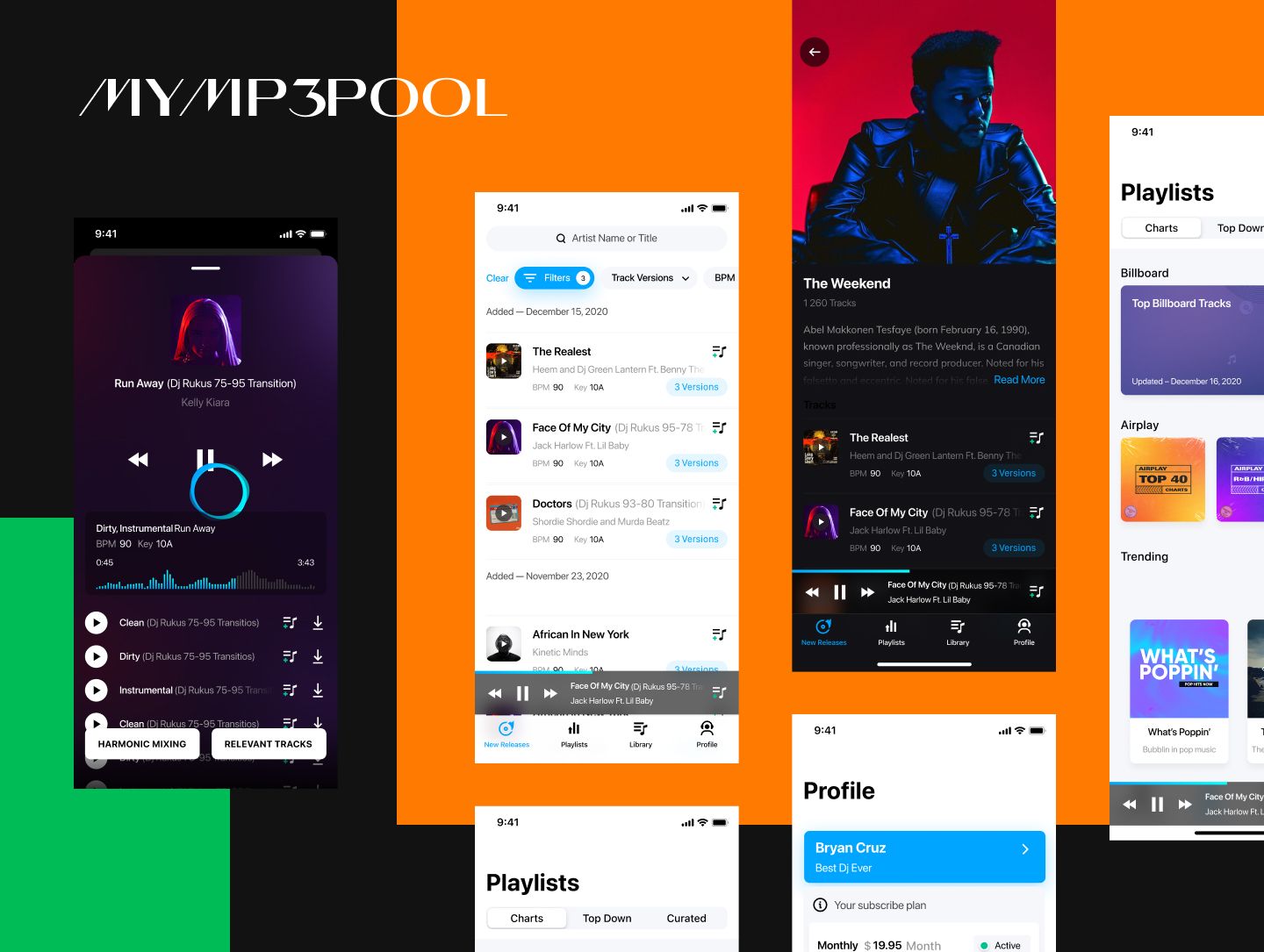 As you now know, the vast majority of new mobile applications on the market are just better versions of the existing ones. However, when Mind Studios takes over the task to create this upgraded version, our team makes sure we bring something new to the table. We thoroughly complete all the stages of app design and development to deliver a product bound to succeed.
One of the most vivid examples of our approach is the renewed version of MyMP3Pool platform we've delivered. This service for professional DJs was launched in the 2000s, and due to outdated UI/UX design was rapidly losing its audience.
After in-depth analysis of the service, gathering users' feedback, and investigating the market, we've come up with a solution, and together with the owner decided to build an entirely new version of the service without losing the remaining users.
User-friendly search experience, logically structured information, curated playlists, trendy dark mode, and more — the transformation was drastic. And even though it was a challenge to replace the old website with the new platform without users noticing, we managed to keep it smooth.
As a result, we've created a modern single-page web application. MyMP3Pool current design is a perfect representation of what the music lovers admire: it's sharp, expressive, and easy to use in every possible way.
It took Mind Studios team 3 months to redesign MyMP3Pool and cost $21,000.
Web applications is the solution we totally would recommend to those business owners who need an urgent update, but whose budget is limited.
Conclusions
Design is a vital part of app development, and there is much more to it than drawing the application. It's about making interactions between screens, creating the user experience and the user interface, as well as making sure the client and development team have the same vision for the project.
If the navigation is confusing, and the consumers feel hesitant while using the app, this means there were significant flaws with the design. Our primary goal is making a truly intuitive, user-friendly design for an app that will become the best solution to prospective users' needs. For that reason, Mind Studios team typically offers to prepare an MLP (a minimum lovable product) for the first release, already designed in a way that will help your app to win the prospective customers over.
So, if you are looking for a team to make such an application, feel free to contact us and get a free consultation on design and development for both mobile apps and websites.
2