In this article, we speak about why do dating apps so popular today and what to do if you are about to come into this market with the fresh application idea. So, let's have a look at all development stages and make an answer for how to make an app like Tinder, Badoo, and Happn.
---
Contents:
---
The best way is to start with business analysis. This allows you to understand the concept of your application and evaluate the idea. In addition, you'll be able to identify your target audience and their needs and understand the demand for your app. Let's analyze the concept of the dating application.
Business analysis
"What is love?" This question has bothered not only Haddway band, but millions of people of all ages, genders and centuries. Somebody says it is a feeling of mutual attraction, others claim it to be the chemicals rushing through our blood. Love is uncertain, and the only thing that can be said with certainty about this mystical thing - we all need it. In one way or another. We pretend to be strong and powerful, we pretend not to notice the social isolation, but the truth is - we are all nearly dead without love.
As I keep going with my "love facts start", here is another one to contribute - did you know that 20% of all the current couples have found their perfect match on a dating website? On top of that, 44% out of these 20 are now married and live together happily ever-after. Quite a buzzing number as it is, which is why dating app development is accelerating at a crazy speed now.
A few more facts that support the claim:
Over 3 million messages are exchanged on zoosk a day
66% of users have dated someone they met online
60% of female tinder members want a match, not just a hookup
[Source: DatingAdvise]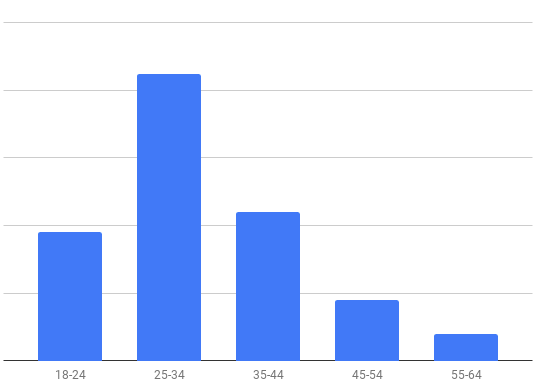 Users by age in 2017
According to Statista, there are 42.4% of users are 25-34 years old. And the 52.4% using dating apps are men. So, you've just identified your potential users. The next step is to understand their needs and find the market leaders, your competitors.
Market and competitors research
We advise you to research the market to understand the market situation and find your competitors. This allows you to investigate their strengths, downsides, unique features, and revenue models.
Among the long line all the resources for online dating stand in, there are a few products that stand out of the crowd - and I do not cover building a gay-Tinder clone Grindr or Her (the lesby mobile dating app) they are Tinder, Badoo and Happn. What puts them in a different group and what's the dating-app business model? All of them are the leaders of this field but what puts them in different groups and what's these dating-apps business models?
Tinder
Launched in 2012, and two years later called by Time a cultural phenomenom, Tinder app firstly appeared on iOS platform, and then the founders went for Android. "Computers are going extinct, and I thought mobile is the future" one of the co-founders stated, and was actually quite right. The name of the app is directly connected to Tinder's logo, and symbolizes a spark that happens between the two mutually interested in each other individuals. This spark worked - there are around 50 million in-app-regulars worldwide. How to build an app like Tinder? Well, take into account a few cool things users like:
Intuitive UX. Just swipe left or right, no need to use your loaf with a location-based dating app. Game of Matches. Swiping left and right is really addictive as you are looking for a trophy - your Tinder-match, it turns into a gambling sport.

It has a platform integration with Facebook or Instagram so that you do not need to spend hours polishing your dating profile.

New innovative features of List, Matchmaker and Moments keep users exited all the time.

US Celebrities like Katy Perry and Leonardo DiCaprio have announced to use Tinder app in press which resulted in massive public engagement.
No matter how big and handy Tinder is, it still has figures that can compete with it on the online dating market - Badoo, for instance.
How much does it cost to make an app like Badoo? Continue reading to find out.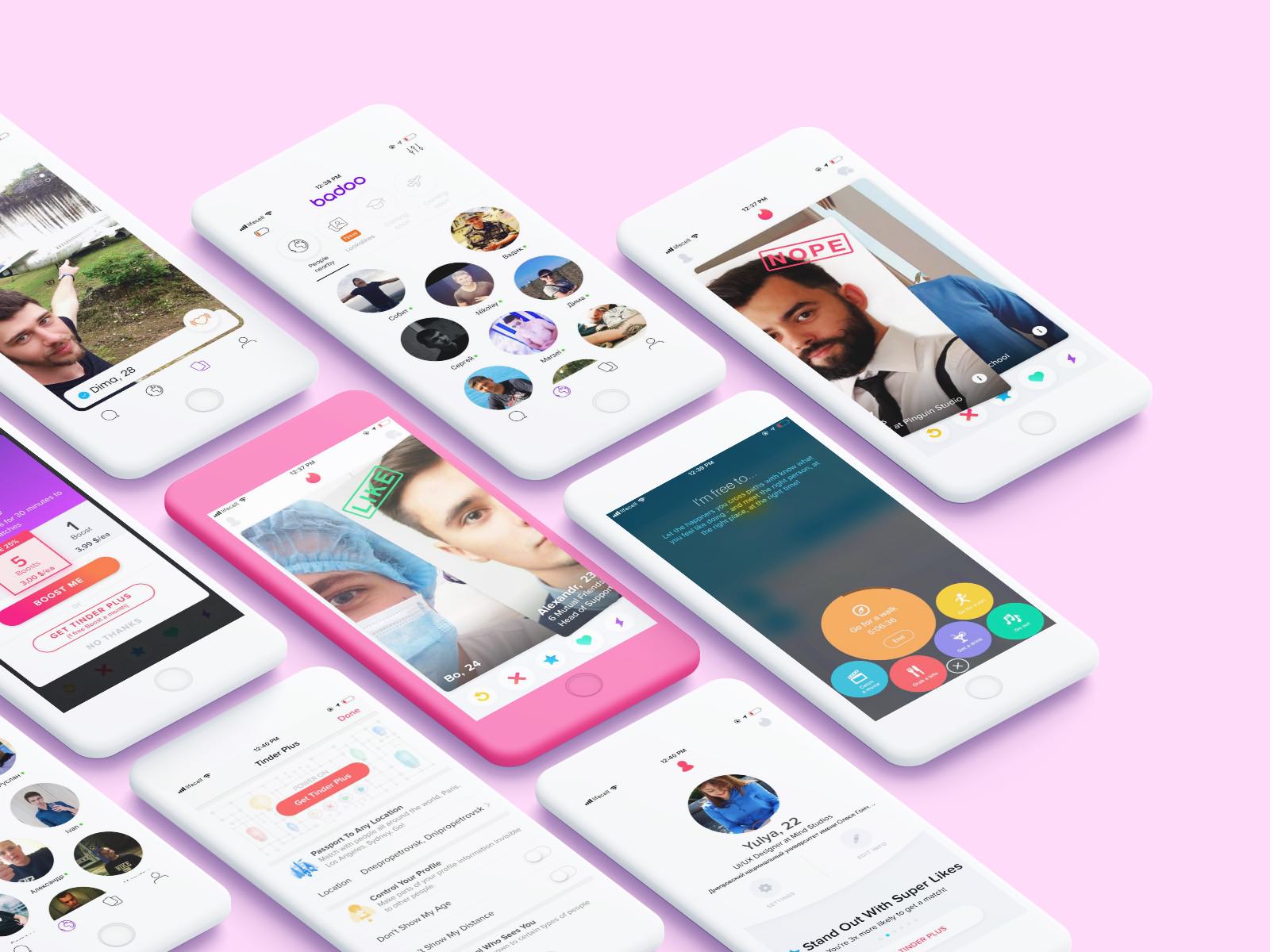 Badoo
Launched one year before Tinder, when local dating app development was just starting to arise Badoo was said by TechCrunch to take the world by storm. Having already generated a revenue of $130 millions, this application has its own tricks up the sleeve, which are mentioned below:
Badoo has 2 main screens: one for Tinder-like swipes and one for just browsing the people nearby.

Badoo allows you to start a chat with anyone you want, not just with your "matches". No worries about being terrorized by the "unwanted fans" - Badoo puts a 2-message limit and blocks those who couldn't dazzle you within 2 texts.

Badoo has an impressive security - with it's"selfie-on-the-spot" feature you can no longer be afraid of catfish! This is an integral thing for every upgraded Badoo-clone.
[Source: TechAdvisor]
Happn
Another player made by dating app developers is Happn - "a hopeless romantic between the dating apps", called so because it offers a new concept - it shows you people you have physically crossed paths with during the day. When you think of creating a dating app like happn notice that this app also stands out of the crowd, but not due to its creepily original concept only:
It has an unlimited number of likes you can put, on contrast to Tinder app.

It shows you multiple people without forcing you to "like or pass" first.

It has a completely free functional as it uses a different monetization model.
Information supplied by Spottednetwork
It's All About the Money.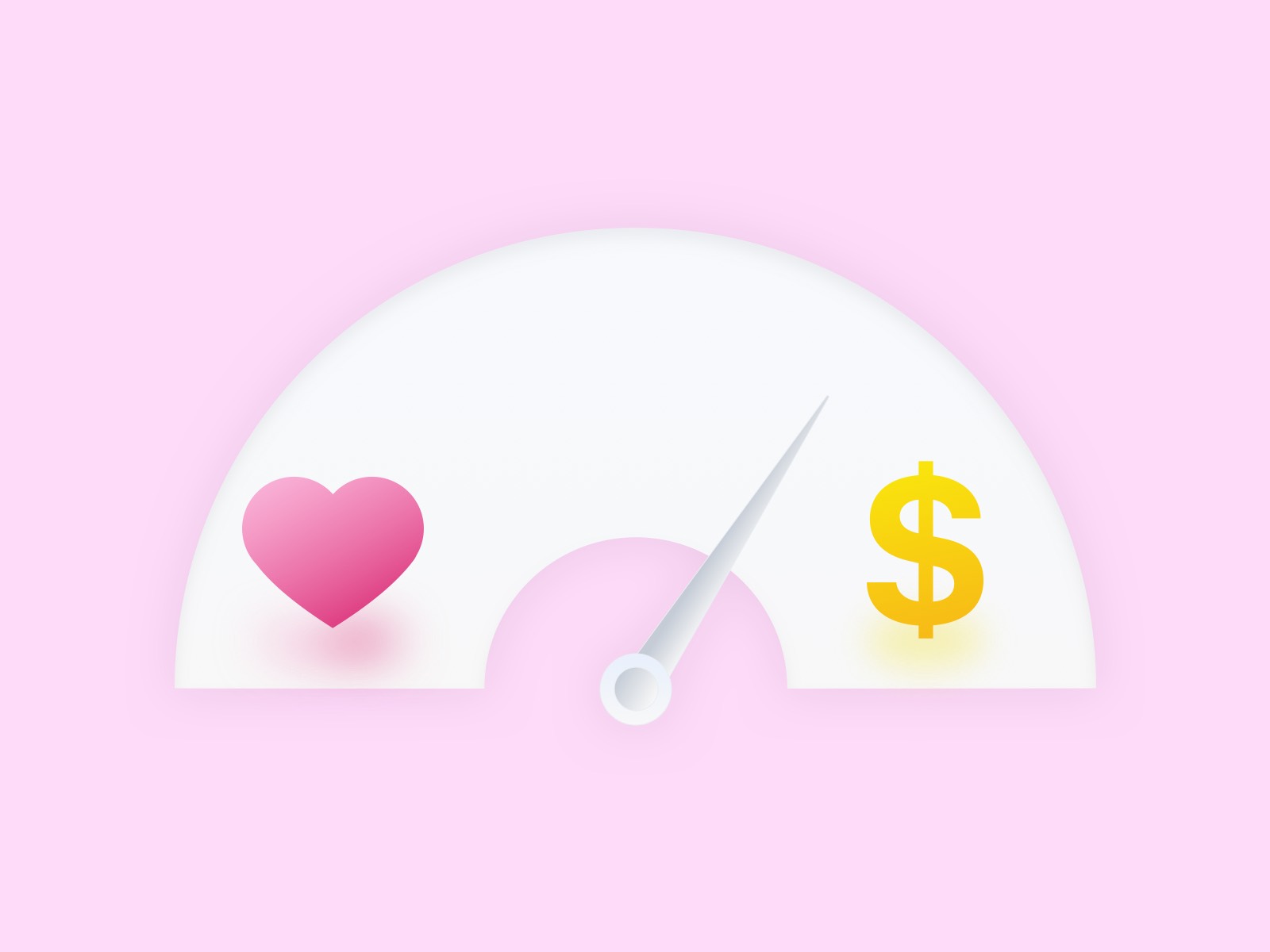 Speaking of which, as dating app development cost is quite high, how can you monetize your dating app? Every experienced development team says it's quite a puzzle to solve, though there are several universally-known options.
1) In-app advertisement - various offerwalls and other types of ads; they may be quite incentive at times, but that's only because you get paid for every click on the ad;
2) In-app purchases - letting users buy specific emoji, swipes, likes etc. Happn application uses this monetization type - for a few dollars you can buy "charms", and when you "charm" somebody, they are instantly notified about it.
3) Premium access. This how Tinder makes money on dating - by creating a paid Tinder Plus account, which after purchasing lets you own an unlimited amount of swipes and likes, and also access additional features.
Read also: How to make an app like Instagram.
Prototyping, Testing, Getting Feedback
Once you evaluate the idea and conduct business analysis and market research, you can start to create prototypes. We advise you to make a Low Fidelity Prototype (LFP) at first. This allows you to understand all cause-effect relationships between buttons and windows.
You should test wireframes and create the map of changes. Also, LFP can help you to estimate development costs and amount of resources you need.
The next stage is to create the black-and-white prototype. This step is necessary to make a UX design for your product.
The final stage of prototyping is a High Fidelity Prototype (HFP). This is needed for making crowd tests for getting feedback from your target audience and finding bugs to fix them in the early stages of development.
How much does it cost to develop a dating app?
To start with telling you an absolute cost to develop an app like Badoo would be quite a silly statement to go with, as the price would depend on a small number of factors, more precisely:
The number of platform you intend your app for dating to be built on. iOS or Android, or maybe both of them - no matter what you choose, other integral parts of software development (specification & prototypes, design, backend and testing staged) could not be skipped.

The number of features you are willing to have in this app of yours. Those might vary depending on the time and budget you have on hand, but we have tried to amplify the amount of necessary features for the app.
So the right question, to begin with, would be "How to make a local dating app and which features to include?"
I. Onboarding, which basically includes the first steps users make through your app:
Tutorial
Sign up via Facebook/Instagram
Sign up via email and/or phone number
Sign up via any other social network you choose to integrate
II. My Profile. The next step after onboarding is completed is to set up a user profile, which consists out of several sub features:
View my profile
Edit my profile, where users can add photos and videos, edit basic info, add and edit basic interests and preview edited profile
Verify Profile - a feature that includes a range of security checks like Facebook, Instagram, G+, etc. verification phone number and email confirmation
Popularity - view popularity history and increase it
Credits, where user's wallet and ability to buy credits are located
Boosts/superpowers/charms, available for a purchase
III. Connections and chats. This is one of the most crucial features, as what is the point of all the dating apps development? People are there to talk to each other, in hopes they find their missing piece. So here you would need:
To view your connections
To view connected user profile
To chat with a connected user
IV. Discover people option. People sign up for Badoo-like apps because they want to meet other people, even if it is online. You can make your users discover new personas by "people nearby" as a location matching and "lookalikes" options.
V. Match other people. For match creation you will need the following subfeatures:
Get user's info card
Like/dislike user
View user's public info
VI. Settings. An essential part of nearly every mobile application that includes:
View info about app, terms and conditions
Contact and get help via contact center
Set up filters and notifications
Link social networks
Delete user account
These are the basic features that Tinder for iOS version has. We didn't take Tinder Android into account, but it is pretty much the same number of functional as on iOS. While performing our (as a dating app development company) estimates we counted on iOS version. For a detailed estimate of app like Tinder for Android click here.
Onboarding - up from 35 hours
My Profile - up from 290 hours
Connections/Chats - up from 80
Discover people - 50+ hours
Match other people - up from 40
Settings - around 60 hours
Overall, the iOS part of custom software development of a dating network app would take up from 550 hours. However, there are a few estimation parts left that are quite important as well once you get to hiring.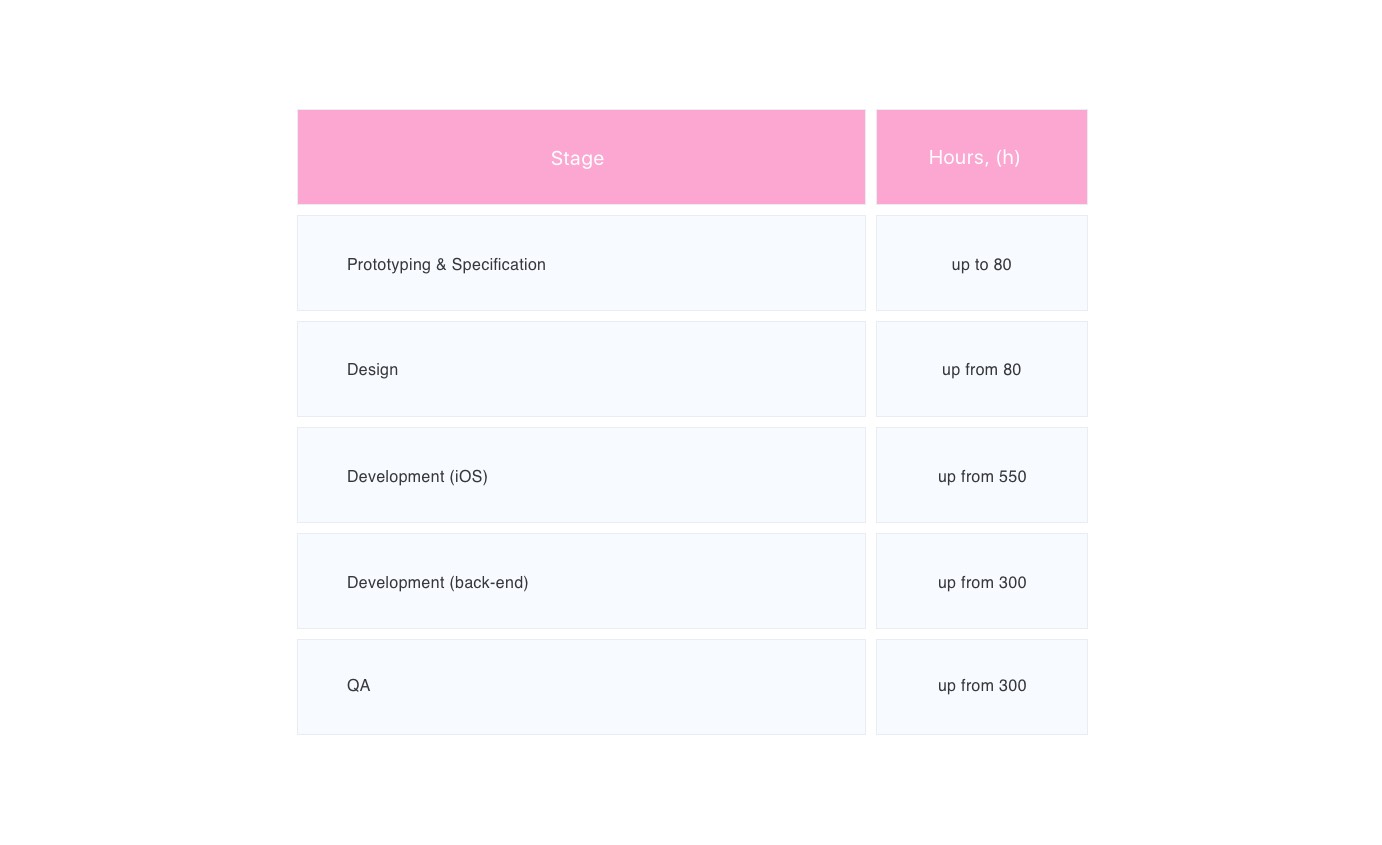 The cost of making a dating application like Badoo and Tinder are might vary depending on the scope of features, number of platforms the app will be built on and the rate that a certain software development company has, but overall a ballpark price figure would start at $35,000 and go up.
You might like to read about a more precise mobile app estimation
Summarizing The Above
As Beatles once sang, all you need is love. People have different ways to look for it, people find their soulmates in different ways, and digital is one of them. With the time passing, dating applications are becoming more and more trustworthy than they used to half a decade ago. We may be suspicious to the new coming startups at first glance, but if later on they turn out to be handy - then happy-in-love users keep the fire burning for quite a while. The more ideas are there that keep people falling one for another, the better place our world might eventually become.
Hope this article was of service for you looking to make an app like Tinder and Badoo!
If you'd like to know more - you are most welcome to get in touch with us.
Written by Max Mashkov and Elina Bessarabova.