Multi-vendor eCommerce marketplaces are the oldest and the most well-established online marketplace platforms. They let buyers and sellers exchange goods and services directly.
Are you wondering how to create a marketplace platform like Craigslist or Letgo? Look no further. We've got valuable information to share.
---
Contents:
---
What is an online marketplace platform and what objectives does it meet?
It's important to realize that a marketplace is a mediator, a link between sellers and buyers. The main objective of a marketplace is to facilitate effective and seamless cooperation between buyers and sellers.
The main rule of modern marketing is to sell so that the consumer can buy without even thinking about it.
A marketplace should be convenient and easy to use. People are unlikely to sit down and learn how to use a complex platform before buying something. The ideal for the average consumer is to purchase everything in one click.
I'll bet you've never known anyone who would wait for a laggy page or website to load.
Another vital aspect of a marketplace platform is transactions. A marketplace should provide the possibility to pay for goods and services safely and easily. It's the proprietor of the marketplace who is fully liable for the safety of users' personal data and the overall stability of the system.
Ultimately, the objective of any marketplace is marketing. This is quite obvious because in order to make money on transactions, real purchases are needed. For this, you need to draw in buyers, who want a good deal, and sellers, who wish to bring home the bacon.
Read more: How to Build a Peer-to-Peer Marketplace
Benefits of a marketplace
A marketplace is a pot of gold when done properly. This is obvious when you look at big players like Amazon, Etsy, Craigslist, and Letgo.
For an owner, an online marketplace is an innovative and relatively inexpensive instrument for setting up business and offers the possibility to start earning money from the very first transaction.
For consumers, a marketplace platform is a convenient way of finding the best variety of products and services in real time. A customer doesn't have to wander around physical stores located all over the city to find the best price — they can just pick a vendor and check reviews. It's a piece of cake.
Here's data from Statista on growth in eCommerce sales:
Retail eCommerce sales worldwide from 2014 to 2021 (in billions of US dollars)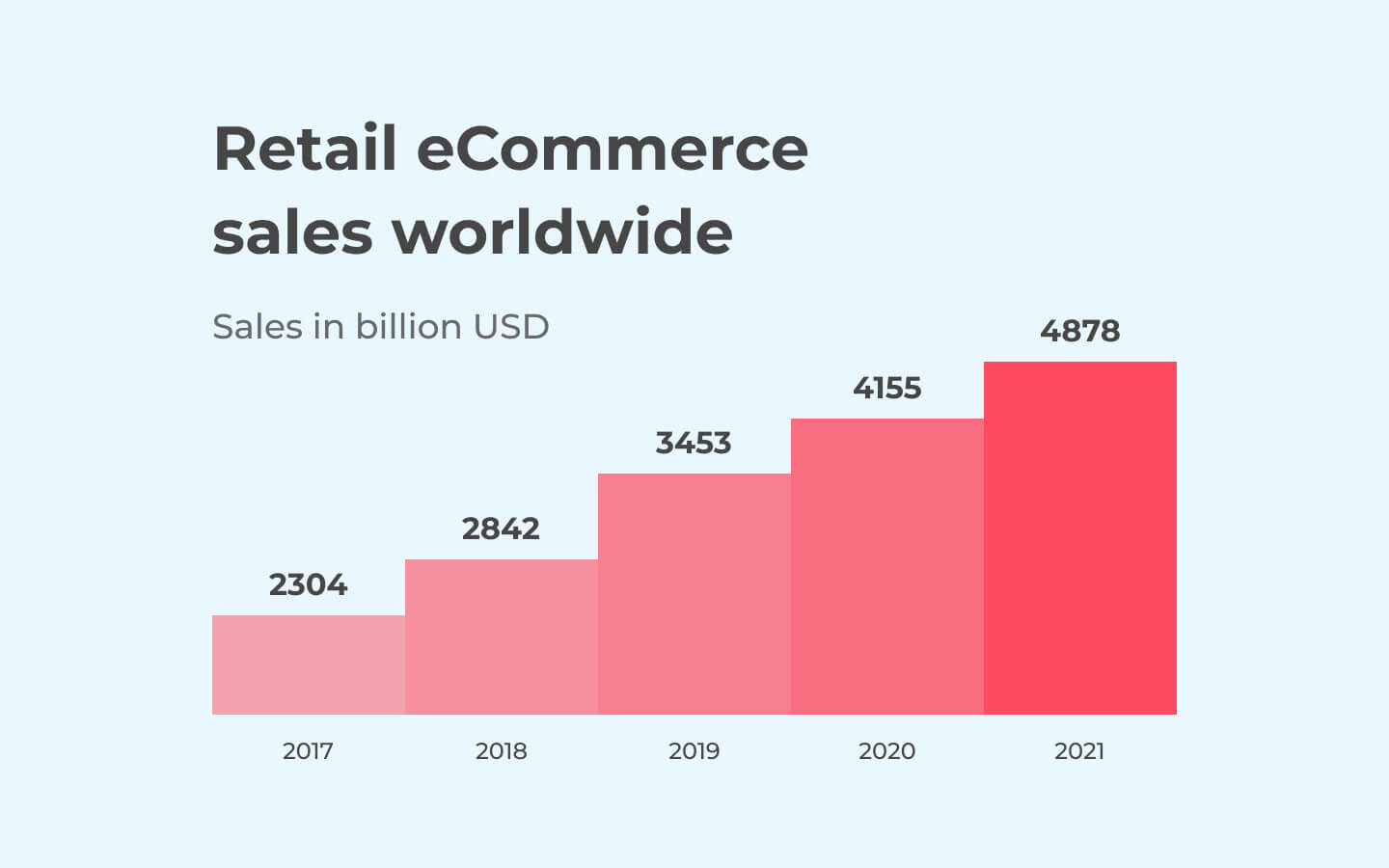 This graph provides information on eCommerce retail sales worldwide from 2014 to 2018 and projected to 2021. In 2017, global eCommerce sales amounted to 2.3 trillion USD, and e-retail revenues are projected to grow to 4.88 trillion USD by 2021. Online shopping is one of the most popular online activities worldwide. Desktop PCs are still the most popular devices for placing online shopping orders, but mobile devices, especially smartphones, are catching up.

Revenue in the eCommerce market will amount to $504,582 million in 2018
eCommerce revenue is expected to show an annual growth rate (CAGR 2018–2022) of 8.6%, resulting in a market volume of $700,578 million by 2022
The market's largest segment is toys, hobby & DIY, with a market volume of$152,912 million in 2018
User penetration is 78.8% in 2018 and is expected to hit 80.2% by 2022
The average revenue per user (ARPU) currently amounts to $1,952.11
Downsides of eCommerce marketplaces
It's hard to outline common downsides of online marketplaces because in the majority of cases these shortcomings depend on the particular application or platform.
For example, readymade marketplace apps and platforms generally have short-term flexibility but require expensive and time-consuming customization.
It will take much more time to launch your business using apps built from scratch than using readymade ones, but custom apps provide better long-term prospects.
User-side downfalls include legal details that refer to liabilities and responsibilities of suppliers and the platform itself.
Perhaps you remember reading about a man being killed when he was struck by a tree branch while trying out a rope swing at an Airbnb property.
It's hard to say who is to blame in this occasion because Airbnb is just a platform and it doesn't control its hosts.
There are some specific problems concerning the quality of services and goods provided on platforms as well as security and return or refund policies.
Now let's get to the main thesis of this article: How to make a marketplace app like Letgo, OLX, or Craigslist and make it generate revenue.
Let's assume that you're inspired by the success stories of the big players in the market and stand solidly on the idea of creating an online marketplace application which will not only replicate but outweigh their success.
We, as professionals in the domain of marketplace applications and services, will guide you through the process from the very beginning and give valuable advice.
Evaluate the idea and work out the kinks in the concept.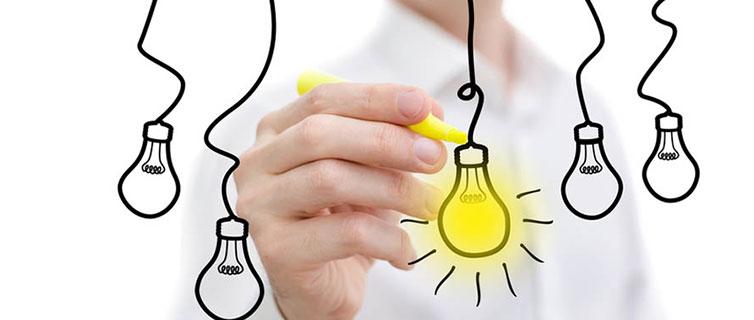 Marty: [grabs a cloth] It's a key.
Jack: No! [runs up and takes it] Much more better! It is a drawing of a key.

(с)Pirates of the Caribbean: Dead Man's Chest
Having an idea is great but an idea isn't enough to go far. Therefore, we suggest thinking out the concept of the product you wish to develop. This requires conducting market research and closely analyzing the domain.
Market research starts with studying big players in the domain, which are your main business rivals. For example, let's consider big marketplaces like Amazon, Etsy, and Letgo.
Market research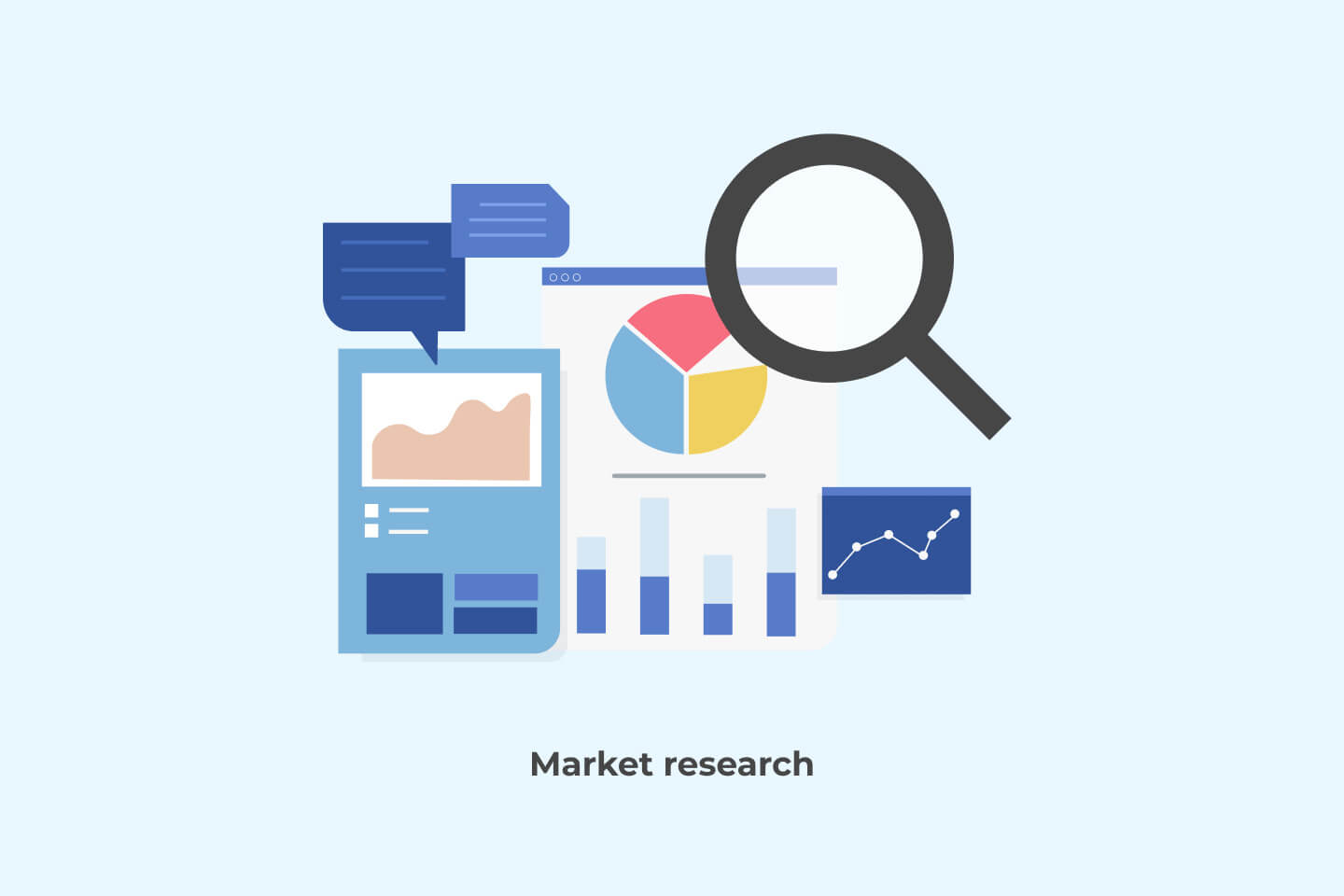 Amazon
Today you can hardly find a single article, note, or book about online marketplaces that doesn't mention Amazon. No wonder. Amazon is the largest online multi-vendor eCommerce marketplace in the USA. There isn't a single thing that can't be bought on Amazon, starting with clothes and finishing with artwork.
Amazon was founded in 1995 in the garage of Jeff Bezos' rented house and began as an online bookstore. Nowadays, it's the largest internet retailer in the world as measured by revenue and market capitalization.
How does Amazon work?
Amazon is a giant marketplace and a trading machine where each day billions of people find everything from the latest bestselling book to canned unicorn meat and Nicolas Cage pillowcases.
The principle is quite simple: third-party vendors (suppliers) add products, which are then included in Amazon's inventory. Once a customer makes a purchase, the supplier is liable for fulfilling the order.
How does Amazon make money?
We'll consider only marketplace value generation, or how the marketplace platform generates income. If we took into account all sources of income for Amazon while writing this article, the section dedicated to Jeff Bezos' business would turn into a door stopper.
On average, sellers pay Amazon ~15% of the sale price of every item sold. Amazon offers different terms and plans for individual sellers and pro sellers: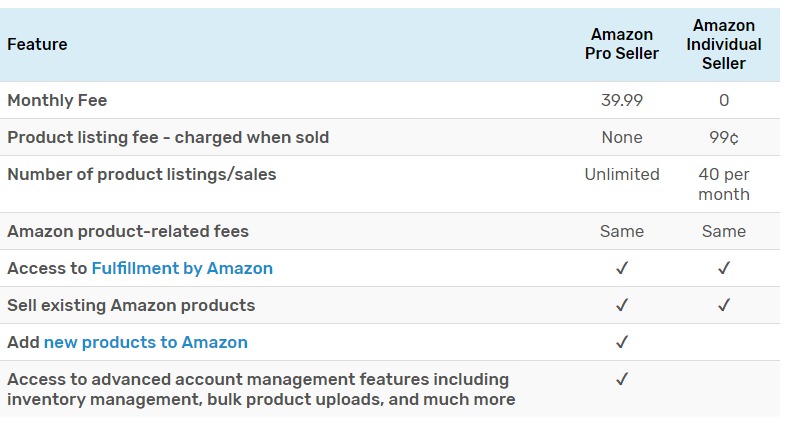 Highlights
The widest possible range of products to select from
Easy-to-use and convenient design with smart tools and instruments
Trustworthy system of reviews and feedback
Personalized recommendations and best buy offers based on user's shopping and browsing history
Favorable loyalty programs
---
Etsy
Founded in 2005, Etsy is one of the most popular eCommerce websites. What distinguishes Etsy from Amazon is that it's narrowly specialized. Etsy is focused on handmade goods, vintage items, and artwork.
How does Etsy work?
Product suppliers create accounts where they add their goods to be sold.
Once a customer decides to make a purchase, the vendor is liable for fulfilling the order. Accounts are free and there's no cost for using the platform.
How does Etsy make money?
Just like Amazon and eBay, Etsy takes a listing fee ($0.20 for every listed item) and charges commission (3.5% of the sale price).
Highlights
Specializes in handmade products, products in short supply, and vintage and unique goods
Valuable promo and marketing instruments for vendors (Facebook integration, Google Analytics, etc.)
Customized and personalized recommendations based on a buyer's shopping and browsing history
Convenient and user-friendly interface, navigation system, and backup tools
---
Letgo
Letgo is solely a mobile application, so you can't use it on a desktop device like you can Amazon or eBay. Letgo is a free person-to-person mobile application allowing users to buy from, sell to, and chat with other users locally.
Founded by a former CEO of OLX, Alec Oxenford, Letgo was launched in 2015.
How does Letgo work?
Letgo is a mobile classified service where people can buy and sell stuff with no hassle. It's intended for people looking to buy and sell used and old things locally.
All you need to do to start buying or selling through Letgo is download the application and sign up (either via email or via Facebook).
Posting a new item for sale takes merely a minute of your time*:
Snap a photo of the item
Set a price
Add a title, description, category, and upload additional photos (if you want)
Tap done
*The company claims that it takes just 10 seconds to post an item for sale.
It's a piece of cake!
How does Letgo make money?

Letgo did not earn money until they introduced a premium feature called Bump. The essence of this feature is that you pay $2 to place an item in the spotlight above the organic results to draw more attention to it for 24 hours.
Highlights
Easiest application to use
No fees for using the platform
Chat lets you communicate effectively with potential buyers/sellers
AI and image recognition technology make the app even easier
Transparent environment for making safe deals
Read also: How to create a food delivery app like UberEats?
Define your product. Define your strategy.
Specify the benefits your app will deliver to customers. There are four main benefits you can offer:
Best quality
Best value
Must-have
Luxury and aspiration
Proceeding from this, you should answer the following questions:
What products or services is your app targeted at?
Who is your target audience?
What makes your product unique?
It might seem that it's very hard to make a difference in the mobile commerce market since the major features are the same in your app and your rivals' applications.
This is somewhat true, but you can always introduce interesting and attractive features like:
Discounts
Loyalty programs
Free shipping
Guaranteed refunds
Personal offers
Gift cards
Create a list of features for your marketplace application.
Start with establishing priorities and performance indicators. By defining the top performance indicators, you can outline the design and major features of your application.
There are three key pillars to focus on when defining your top indicators: UX, usability, and branding.
UX. The user experience is about helping your users identify the features and functions they're looking for without hassle. This means that even such a minor detail as text alignment or color selection can play a big role. Correct image placement, color selection, etc. draws attention, guides users through the application, and helps them focus on searching and buying.
Usability refers directly to the user interface. The features of your marketplace application should be easy to understand.
Branding is an aspect that's frequently brushed off. Every business has its face — an identifiable brand name and logo. Your product, a marketplace application, must resonate with your brand.
Let's consider the important features that must be included in a marketplace.
The first feature that stands out is a secure payment gateway. With the rise of cybercrime and the vulnerability of personal data, customers are concerned about the safety of their financial data. A marketplace application should provide a payment gateway interface that securely connects customers to a payment system. Experience has shown that the best payment processing frameworks today are Stripe, PayPal, and Payoneer.
Product comparison is the next important feature. The Google Consumer Barometer shows that 55% of digital moms and Millennials research products online before making a purchasing decision. Introducing an innovative approach to view and compare products in the application will let your users research products or services without leaving the app.
Customer reviews. The majority of shoppers count product reviews extremely important. Customers always want to know the opinions and verdicts of others before making a choice. Understandably, if reviews are positive, customers are likely to purchase a product. Therefore, consider creating a feature that displays product reviews if you wish to convert users into buyers.
Product images. An image is all that the customer sees before making a purchase. We suggest implementing support for high-resolution images. We also suggest investing in real photos instead of stock images. This will help users to see the product in a real environment and take a closer look at the details.
Discounts. Customers love discounts, cashbacks, and other attractive offers. The secret of discounts lies in the possibility to save some money while making a good buy. Abandoned carts are one of the biggest problems for eCommerce businesses. Many customers hesitate over purchasing a product that's in the cart and leave the app even if they're fine with the price and quality. There is a solution, though — a special discount on a product that's left in the cart. A dedicated discount is a feature you could add to your eCommerce application to spur customers to complete checkout. Even the most hesitant customer is more likely to buy a product if they're offered a discount on it.
Define the business model of your application.
The most popular business model among modern marketplace platforms is to charge a commission on transactions. When a customer pays a seller, the marketplace charges either a flat fee or a percentage of the transaction. This model is very attractive for sellers as they aren't charged before they get value. Spectacular examples of companies that use the commission business model are Airbnb, Etsy, and Uber.
Membership model. This is the model where marketplace users are charged a fee to access the platform. In this model, the marketplace offers value by helping sellers find new customers and helping customers save money or find unique experiences.
Listing fees. Some marketplace platforms charge a fee to sellers when they add new products. This model is generally used when sellers get value based on the number of listings they have on the platform and the value per listing is large. This model is simple: it aggregates a massive volume of listings, locates them in one place, and guarantees lots of visibility for these listings. The best-known example of the listing fee model is Craigslist.
Featured listings and ads. Recall the marketplace application Letgo and its Bump feature. Essentially, this model offers free listings, but sellers can pay to have their goods featured above others.
Modern marketplaces implement many different business models to generate revenue. Many of them use several models at the same time — for instance, Etsy. Etsy uses a commission model and also charges a fee to post new listings.
Trying out multiple models to find the best option for your product is the best approach. Eventually, when your application grows, it makes sense to combine several models and build your own distinctive model which takes into account everything that's happening in your application.
How much does it cost to build an app like Letgo, Craigslist, or Quikr?
Now we've finally come to the point of development. Developing a marketplace application like Letgo or Craigslist isn't a big deal.
Of course, we could take a mobile app like Letgo and calculate the approximate time needed to develop it, but we'd rather help you make a standalone product that will generate revenue than create a dull Letgo clone that will most likely not launch.
When building a marketplace mobile app, you should keep in mind that its cost will include the cost of the technologies, the cost of developing special and custom features you decide to adopt (your universal value proposition), and marketing costs. These are the parts of the cost that influence your budget the most.
Read more about How to Estimate App Development Costs
Our approach to building an eCommerce marketplace application
Let's estimate the cost of building an Android marketplace application for buyers and an API.
The team for this project will look as follows:
Project manager — 1
Backend developer — 1
UI/UX designer — 1
Android developers — 2
QA engineer — 1
Note: The team composition and number of members depends on the scale of the project and the scope of work.
We'll assume that the following stages have already been successfully completed:
It's critical to design a project specification based on the actions taken.
A project specification is a detailed and complete description of a software's functionality and purpose. A technical specification contains goals, guidelines, and explicit descriptions of how the software will be developed, tested, and used from the end-user perspective (use cases) as well as other details required for the development team to fulfill the client's vision. The main purpose of the technical specification is to make clear for developers what they need to do.
A proper specification is a cornerstone of success in the development process. It enables the development team to estimate the scope of work, technologies to be used, and time needed to fulfill the requirements, therefore eliminating possible risks.
Okay, so the documentation is done.
As a result, we have a structured application concept for mobile devices — smartphones, tablets, etc. — with supporting technical documentation.
The core features of a buyer marketplace application include:
Registration for users with the ability to sign up via social networks
Personal profiles

Customer profiles — settings, personal info, push/email notifications
Seller profiles — settings, listings, shop statistics, customer feedback, ratings

Menu bar

Search field
Filters
Favorites
Shopping cart
Payment options — credit cards/PayPal/cash/etc.
Checkout
Shipping and shipment tracking
Customer support and FAQs

Built-in instant messenger
Product feed

Product feed — product cards
List of trending items
Special offers
Seller ratings and product reviews
Development flow
It's high time to get down to development. This is how the development flow looks:
Prototyping
To understand how the end-user will exploit the application, it's important to create a mind map of interactions between screens and work out the product functionality.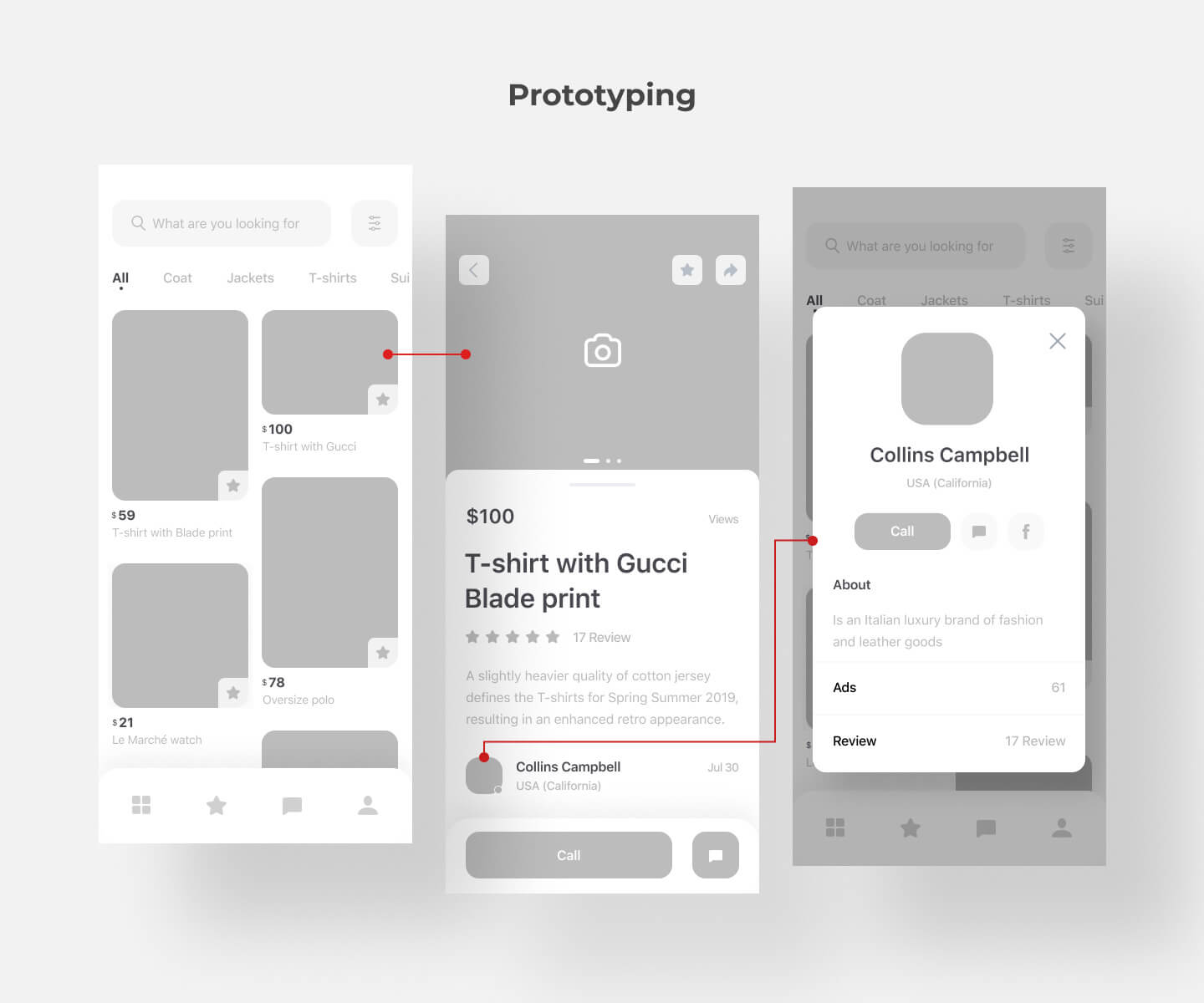 Designing the UI/UX is about developing the application prototype. When designing the UI/UX of an app, developers implement all of the functions described in the specification, determine both application and end-user behavior, and think out the location of buttons and the functionality of each screen.
The prototyping stage involves polishing up product functionality and building a map of user behavior.
Creating a design concept and rendering app screens
To create a design concept, it's enough to render a few (oftentimes up to five) elaborated screens proceeding from the goals, target audience, and functionality. As a rule, designers provide the concept in several styles to choose from. When the design concept is approved, the rest of the screens are rendered in compliance with it.
Coding
Complex applications should start development with a minimum viable produc, or MVP. An MVP is the first version of the application with just enough core features to satisfy early customers and get feedback for future product development. The major purpose of an MVP is to test the product in a real customer environment and evaluate if it solves the initial problem or meets the initial goal. Feedback will help you to revise the present version of the product, gather information on bugs, and find out customers' wishes.
Debugging
It's quite hard to foresee how an application will be used in practice while developing it on a computer. All applications are unique, and bugs are unavoidable during development of the first version of the app. It's important to compile a list of bugs and improvements in order to polish the basic functionality of the product before introducing new features and add-ons.
Updates
As soon as the first version is revised and debugged, the MVP is ready for new features and add-ons. The update phase involves iterative implementation of both major and minor new features to the application's core functionality. After updates are deployed, it's critical to conduct a second and final round of testing during which the QA engineer will search for bugs and compare the results with the project requirements. Testing is repeated until the criteria for test termination are reached.
Done! Now it's time to release your flawless marketplace application and show tremendous results on the market.
The cost of developing an app like Letgo starts at $56,000.
Note: The actual cost of an application like Letgo directly depends on the hourly rate of the development company and may vary.
Want to find out how much it costs to build an eCommerce application at Mind Studios? Request a free quote!
Conclusion
Building a new marketplace app isn't a big deal. The big deal is elaborating the right idea for your product. Focus extensively on research and analysis, explore stories of success and failure, and gain knowledge. Choose your development team wisely, work hard, and make the gold mine work.
If you're interested in specific aspects of marketplace platform and applications development, our professionals are ready to give valuable advice.