With mental health awareness on the rise, the popularity of mindfulness is rising exponentially. It's time we talked about meditation app development. Our Mind Studios developers have experience in this niche, and we'd like to offer you some information about the cost to develop a meditation app, possible pitfalls when developing a meditation app, and ways to avoid them.
With everything going on, I'm pretty sure you'll agree with me when I say that one of the main words of 2020 is stress. And that's just added stress on top of the baseline stress that's become natural in our already fast-paced lives. No wonder the practice of meditation has become so popular.
Meditation — and mindfulness as one of the meditation types — is a relatively easy practice to master, yet it's insanely beneficial and has no side effects whatsoever — a combination that has made it a huge trend. With no harm possible, meditation is becoming the go-to solution for these trying and stressful times. This, consequently, leads us to the emergence of meditation apps.
How did meditation apps come to be?
Meditation is supposed to be a reprieve from our addiction to smartphones and social networks. Put all the distractions away, close your eyes, and dive inside yourself. So how did it happen that meditation apps are a thing now?
Well, it's the digital age. To rephrase a famous internet meme, if it exists, there's an app for it.
Mobile apps bring guided meditation to practitioners' homes, and getting services at home is something we've come to appreciate in the twenty-first century. More so when half of the world's population is cooped up for some reason or other.
As in fitness apps, in a meditation app, a user can typically choose a coach — a narrator — to guide them into a state of mindfulness. It's the same as sitting in a room and listening to a mindfulness specialist. Other meditation apps offer soothing music instead of or in addition to voice narration.
Seeing as there's a huge selection of meditation apps on the market, anyone can find something they like.
And seeing as the revenue meditation apps earn is growing each year, now is the best time to join the fray and create your own meditation app.
How to make a meditation app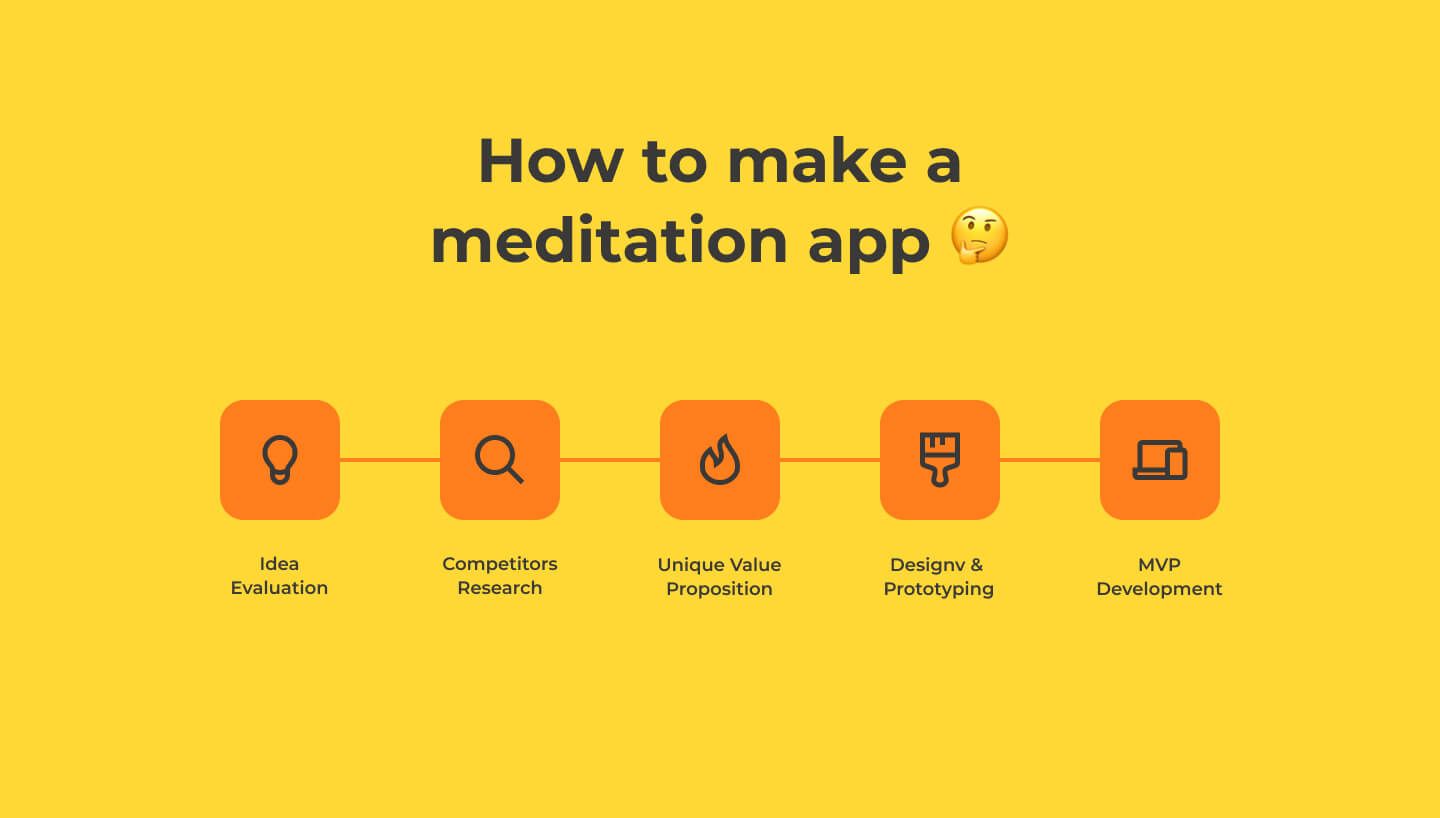 Before we begin estimating how much it costs to make an app like Headspace, let's go over the significant stages of development so you understand what you'll be paying for.
Idea evaluation
Meditation is more than just sitting cross-legged in silence and trying not to think. It's a wide selection of activities, and some of them don't even require practitioners to be still. Meditation apps exist for most, if not all, kinds of meditation.
To make a successful app, you first need to know whether your idea is marketable — or rather how to make it marketable. To determine this, your software development company should offer to conduct research to evaluate your app idea.
When building a meditation app, the first step is to choose the kind of meditation you'd like to guide your users in. Here are some examples:
Mindfulness meditation

Guided meditation for better sleep

Guided meditation for walking

Breath meditation

Guided meditation for yoga

Music meditation
It's possible to offer a single kind of meditation or many so users can choose depending on their current needs.
Another distinction between types of apps is the level of expertise you expect your app's users to have. Are you wondering how to make an app like Headspace for beginners who need guidance from step one? Or how to make an app like Calm for skilled practitioners — maybe your existing clients if you're the owner of an offline practice? Your approach to development will differ depending on your goals, as will the idea evaluation process.
A typical idea validation process consists of these steps:
Defining your target audience
Locating the problem you wish to solve for your users
Specifying how your app will solve the problem
Identifying your competitors
Deciding on your app's unique value proposition
Defining your app's strengths and weaknesses
Mapping out must-have and optional features
Choosing a monetization model and metrics for performance monitoring
Choosing the platform on which to launch your app
Based on the results of your idea evaluation, your development team will offer you the first cost estimate for developing your meditation app. It will most likely be a very approximate number, but at least you'll know what to expect in terms of the necessary investment as well as the rough time frame for development.
Competitor research and unique value proposition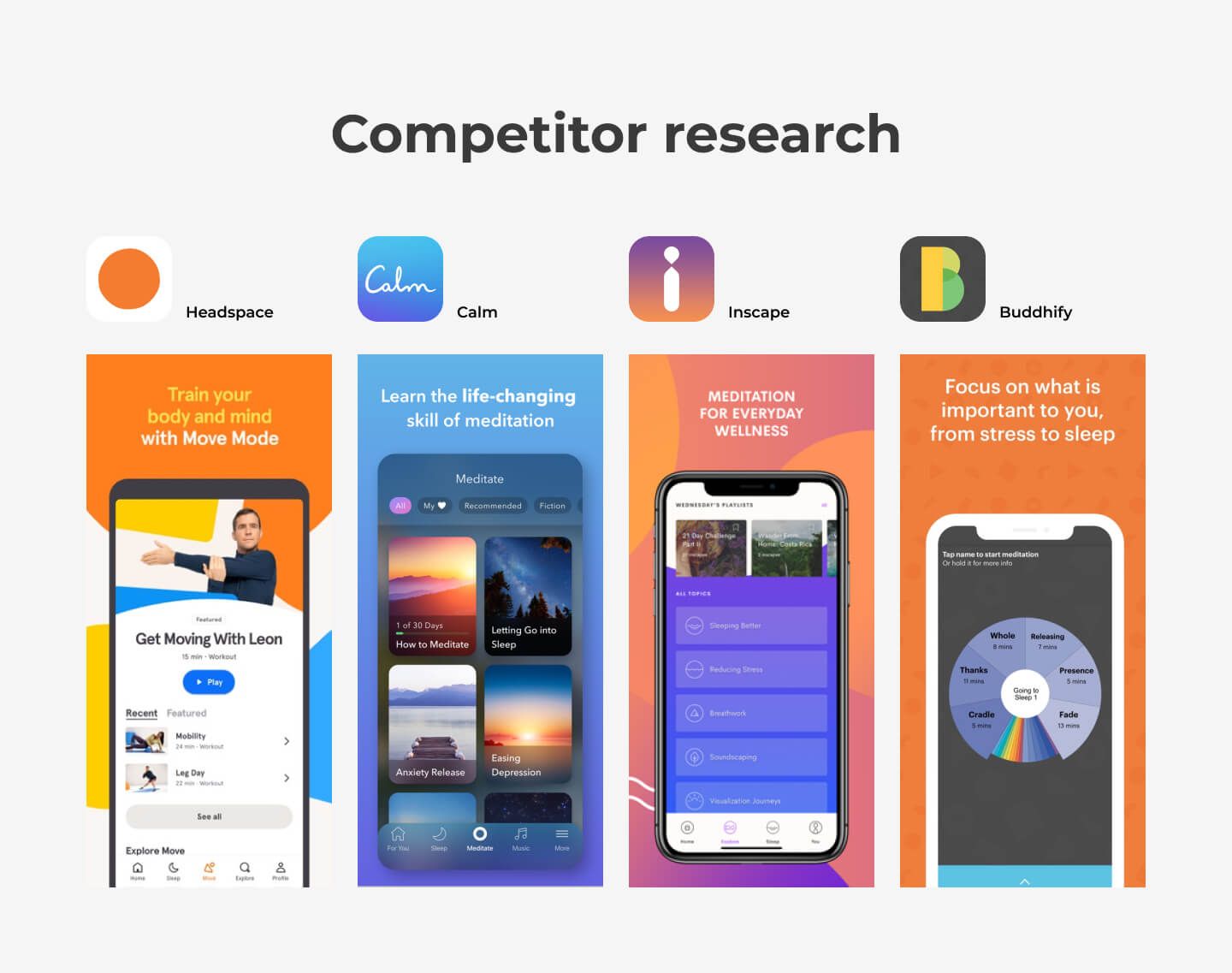 Any market has competition, and it won't do to disregard existing relaxation and mindfulness apps as you create your own. To make your product successful, you need to know what you're up against. Knowing market leaders will help you find a unique value proposition for your product to stand out. Here's a cursory look at the meditation apps people have been using and loving for some time now.
Headspace
Headspace is one of the two names most Americans will think of when asked about meditation apps (the second being Calm, which we'll talk about next). It's advertised widely and is generally considered the best guided meditation app.
The first thing you'll notice about Headspace is its warm cartoonish interface. It looks welcoming, which is one of the things that makes Headspace great for those taking their first steps into meditation. Headspace also has a solid beginner's course of guided meditation. Besides that, there's a selection of meditations for just about anything: sleep, anxiety, stress, personal growth — you name it, Headspace has it. The app even offers meditation-aided workout sessions with professional trainers.
As a special perk during the COVID-19 pandemic, Headspace has been offering a free year of premium access for those who have lost their jobs. It's both a kind act and good marketing.
Calm
Calm is the second big name on the market, and it's the opposite of Headspace, at least visually. It's all blue hues and natural images, and it's really calming, as the name implies. Calm is the app of choice for many people who struggle with sleep and anxiety, but it also offers a variety of guided meditations for achieving other goals.
Calm has two key features:
A wide selection of music for meditation and mindfulness instead of narration

Sleep stories narrated by actors, professional voice-over artists, and writers
Compared to Headspace, Calm is less structured and is more often chosen by users with some experience in meditation.
Inscape
An app from a well-known meditation studio in New York City, Inscape stands out from the crowd with its creative playlist naming: 3 Minutes to Rest, Tinder Troubles, Return to Peace, Urban Meditations, etc. Additionally, if you're in NYC, you can purchase oils, candles, and other goods related to mindfulness from the Inscape shop with Postmates delivery.
Buddhify
Like most meditation apps, Buddhify offers a selection of wellness meditations, but its biggest selling point is the short meditation sessions you can do whenever and wherever: while walking or commuting, during a coffee break, or even while hanging out with friends.
As you can see, while the core of most meditation apps is the same, there's plenty of room to find a unique approach. Whether you focus on visuals, music, or a novel way to offer your meditations, you can let your creativity roam free and come up with something your customers will love.
Prototyping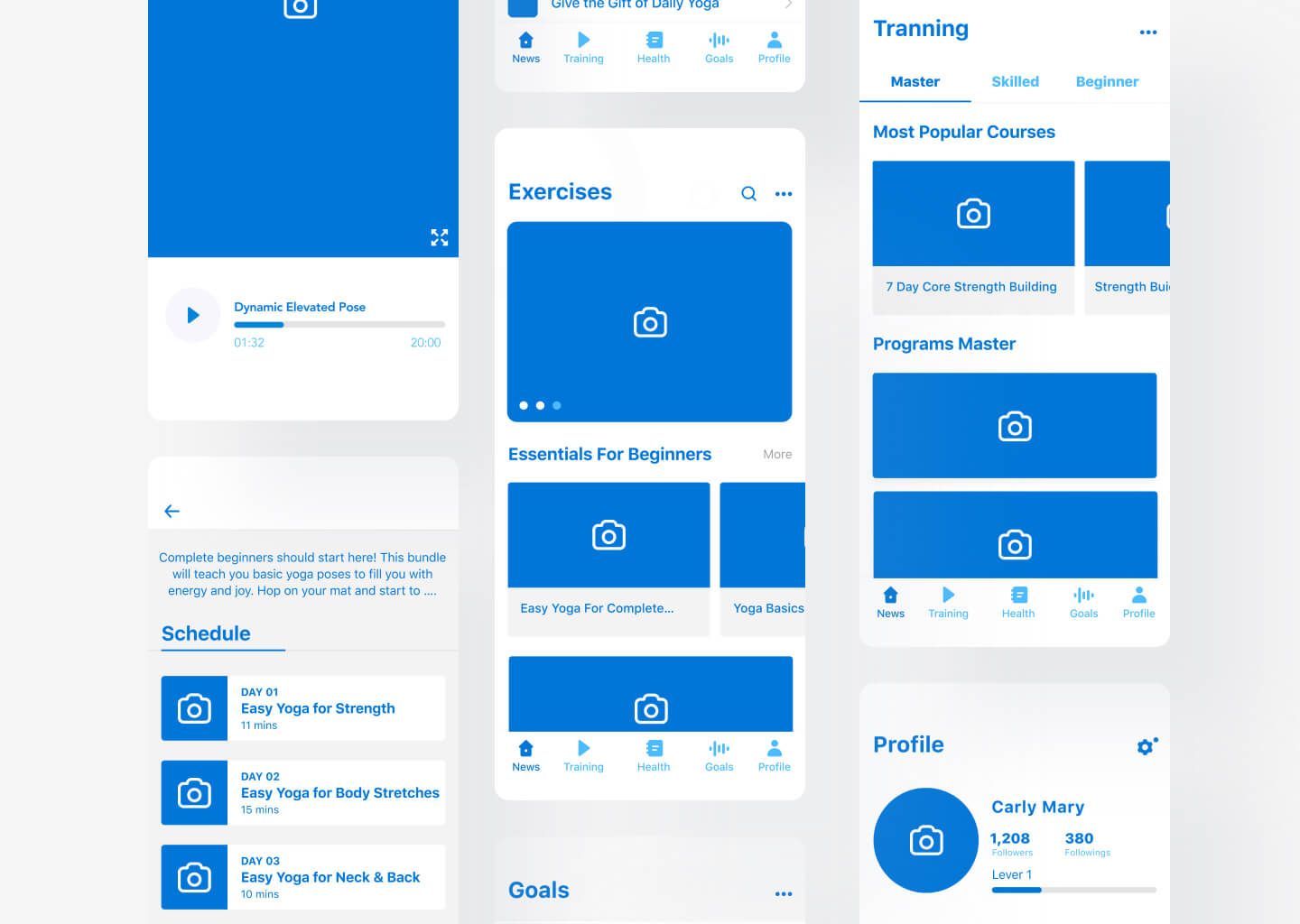 In the software development process, there are three levels of prototypes:
Low-fidelity prototypes

Medium-fidelity prototypes

High-fidelity prototypes
In terms of software development, fidelity is the level of detail a prototype has. A low-fidelity prototype — alternatively called a navigation concept — is basically a sketch of an application. Though nowadays it's usually digital, this sketch can be hand-drawn on paper or a drawing board. A low-fidelity prototype is just a sequence of screens made to visualize the scope of the app and to verify that the development team sees the product the same way the client does.
Medium-fidelity prototypes have more detail than low-fidelity prototypes but are still more mock-ups than functional apps. They no longer look like a rough sketch but rarely have a proper user interface design. Medium-fidelity prototypes are used to test the app's navigation with a test group.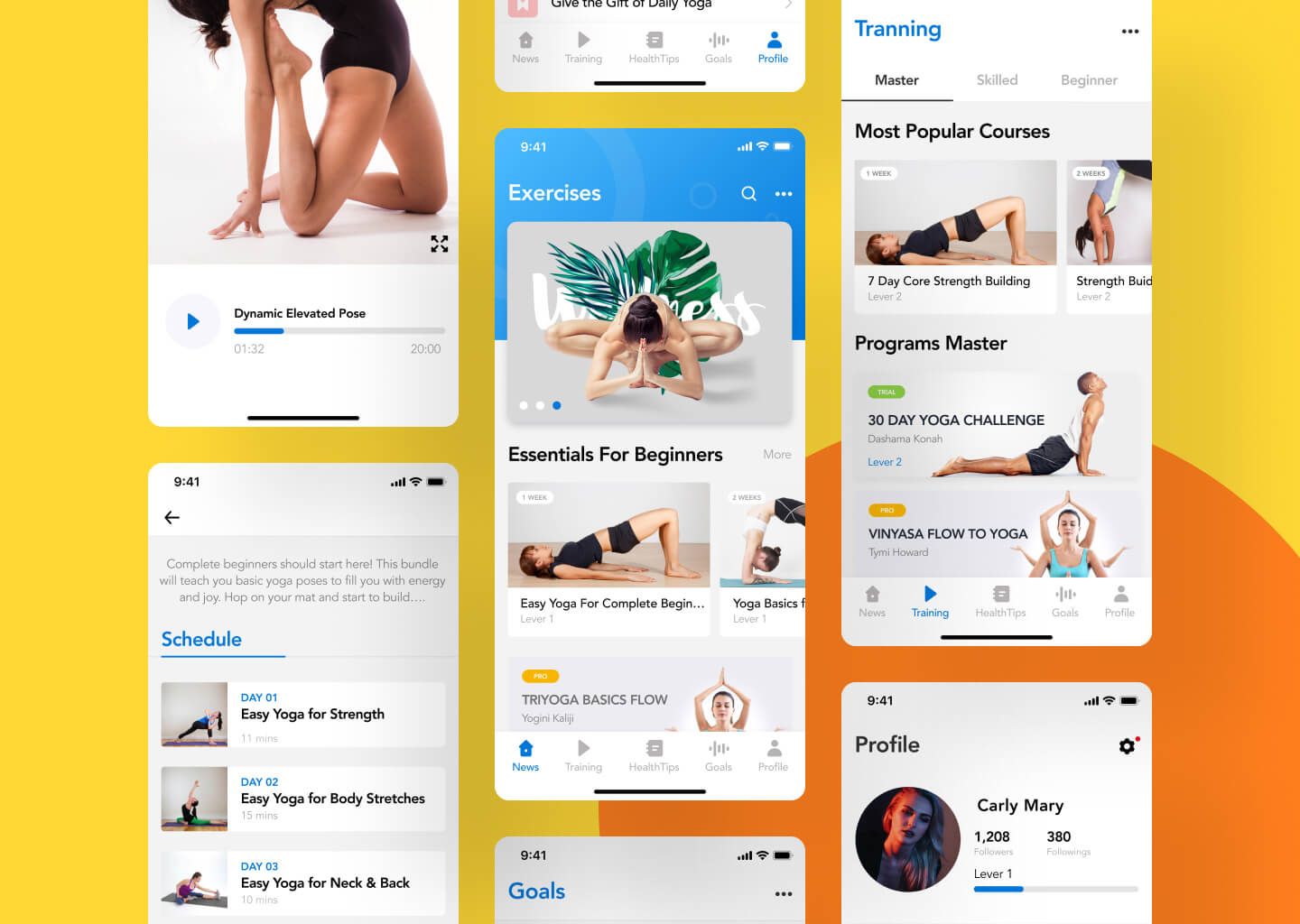 High-fidelity prototypes have a detailed design — both in terms of the UI and UX — but they aren't fully functional yet. Developers can make high-fidelity prototypes as bots where users can interact with a mock-up of your app and offer feedback on what looks good or bad.
These three prototypes are created one after the other, with the feedback for each used in improving the next. After your development company gets feedback from a high-fidelity prototype, they can re-evaluate and offer you a more precise estimate of the cost to develop your app.
Minimum viable product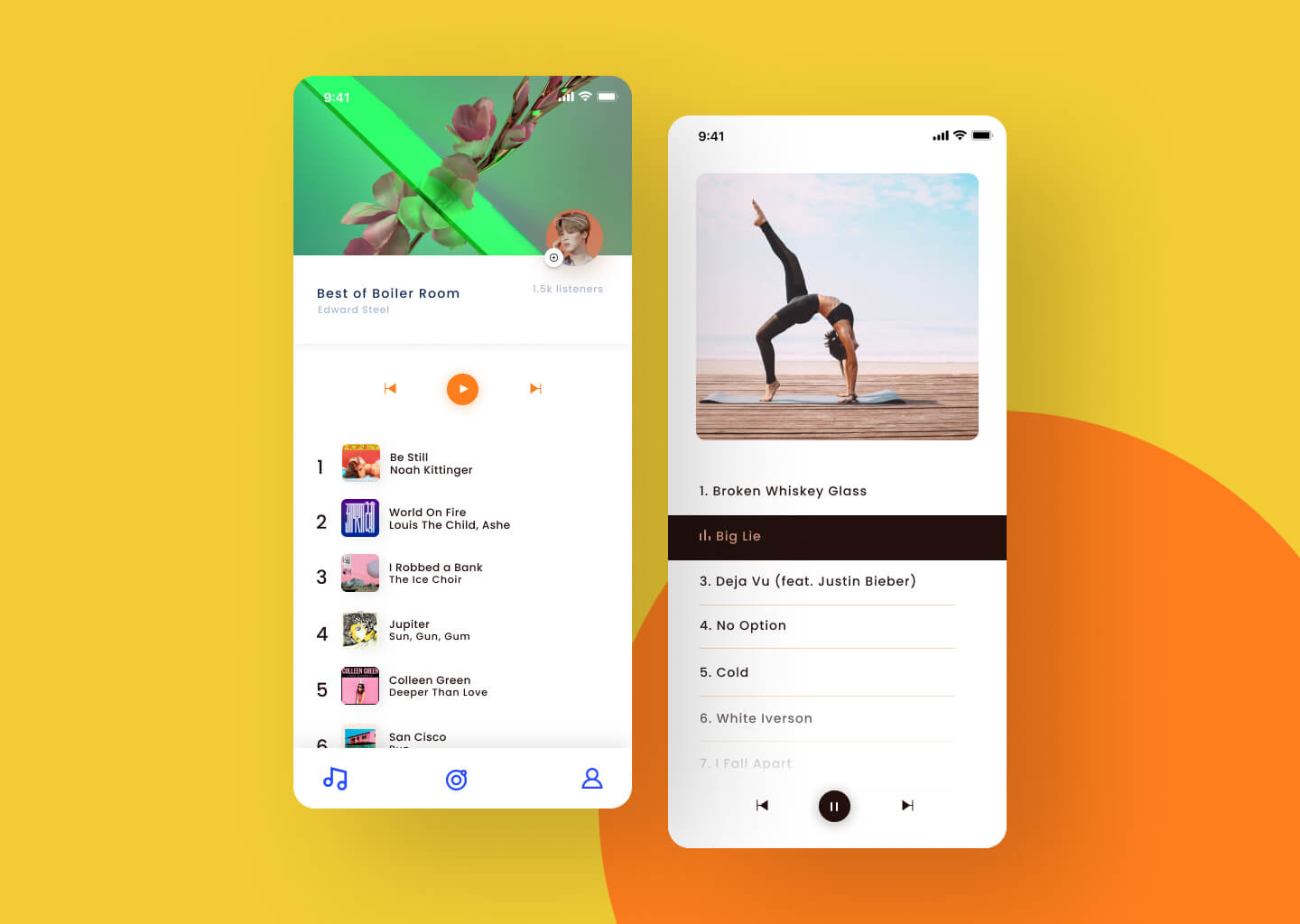 To save on the cost to develop a meditation app, we recommended first launching a minimum viable product (MVP). An MVP is a version of your app with just the minimum of features. It's launched mainly to test the app's reception by the target audience before you throw all your money into full development.
At Mind Studios, we can also offer to launch an MLP — a minimum lovable product — instead of an MVP. They're similar in that both are works-in-progress launched with minimum features to test the waters, but there are differences as well.
While an MVP focuses on offering basic functionality with very little attention going into UI/UX design, an MLP is a version of a product aimed at triggering an emotional response from users by having a bit more thorough of a UI and UX design in addition to a unique value proposition.
A project manager can help you choose the better option for your company depending on the market situation and your idea's peculiarities.
How to earn money with a mobile app like Calm or Headspace
Meditation apps aren't well-suited for ad-based monetization since ads will disrupt the experience. Hence, you'll have three main options for monetization:
Paid download
In-app purchases
Subscriptions
While there are still apps that are paid to download, for a startup, it's not the best option: people won't pay to download your app if they don't know who you are and how good your content is.
In-app purchases work kind of like in digital bookstores or media libraries: users pay to download content or listen to a track. This model might work, but you'll need to carefully work out prices and have an extensive library of content. On the flip side, it's possible some users will pay for only a couple of tracks and will just meditate to them all the time.
A subscription-based monetization model is the most popular for a mobile app like Calm or Headspace (both these apps use a subscription model). It's convenient for both users and app owners. For the former, it means a wide selection of content right away; for the latter, subscriptions mean a steady flow of payments.
Important things to keep in mind for mindfulness app development
What features of meditation apps are essential for success and how can you approach developing them?
Visual design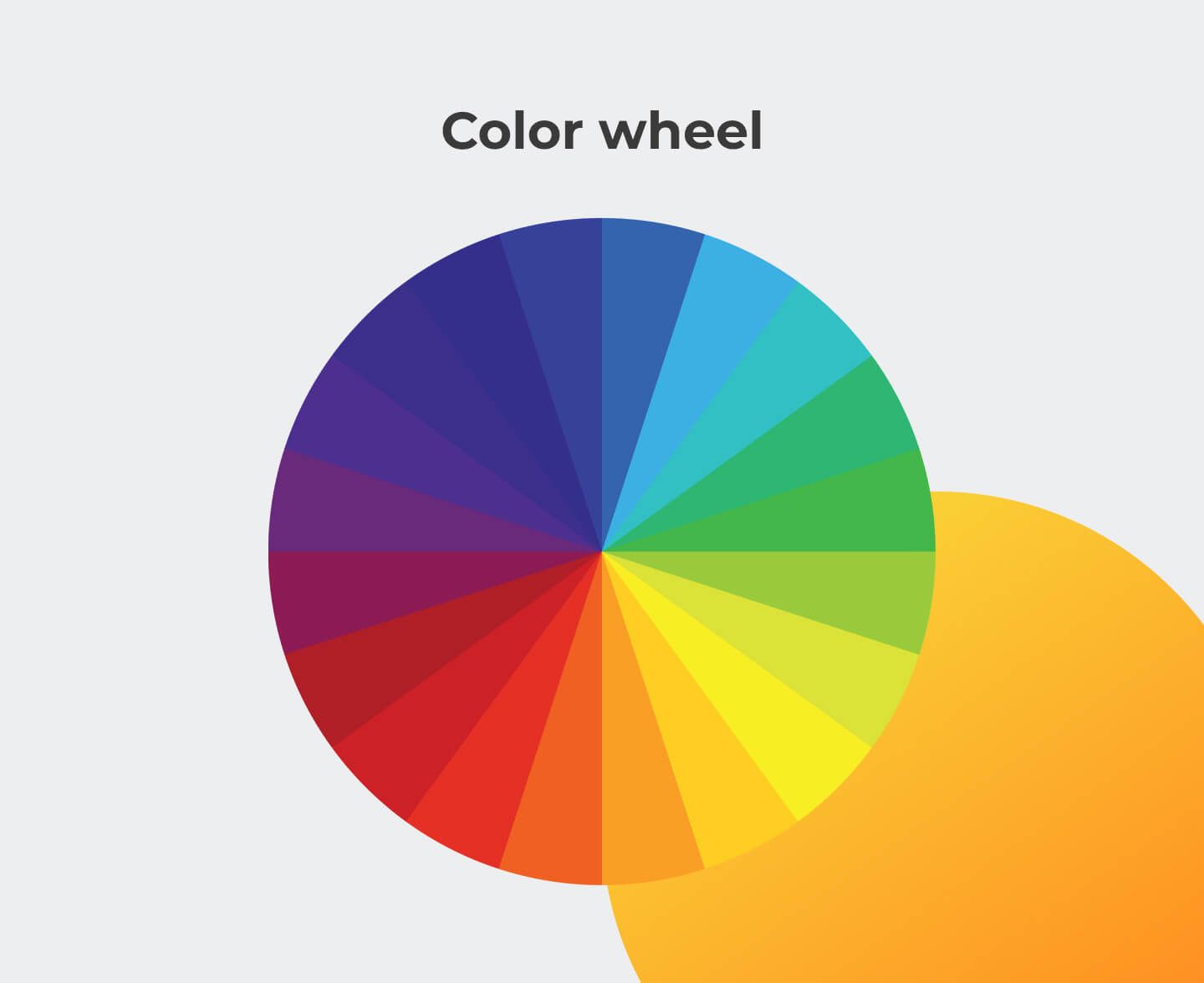 People use meditation apps to relax and unwind, and since colors affect our perception of things and our mood, it's important to use color theory when you create a meditation app.
Looking through popular meditation apps, you'll notice that many use pastel colors. Headspace, for example, is full of mild oranges, faded blues, greens, and yellows. Calm is mainly blue and green. Aggressive colors like red are rarely seen in mindfulness apps.
Your visuals can differ widely depending on what image you'd like to create in your users' minds.
Overall, the meditation app industry makes for a very diverse space where creativity is blossoming. This isn't surprising, since one of the things mindfulness helps with is unlocking your creativity.
Onboarding
Onboarding is an essential part of the user experience in meditation apps, especially if you're building your app for beginners. Many people approach meditation skeptically, and to make them stay with your app, you need to make onboarding engaging and appealing to the eye.
Tell a story, show a short video, and explain to your first-time users what meditation is and what you're offering them with your app. Make it interesting — maybe even interactive — but easy to understand.
Headspace provides a good example of onboarding in a form that looks like Instagram Stories. It's both cute and harnesses the latest trends.
Note: According to research by Vidyard, the optimal length of an explainer/introductory video is between 60 and 90 seconds, and demos should be no longer than five minutes for users to watch them till the end. So if you're doing a video or a set of animations for onboarding, focus on touching the most important points in your app; you can explain every feature in detail later.
Sign-up
Users are now used to having an option sign up via social networks (Facebook, Twitter, Google) in addition to email. Signing up with a social media account is faster and there's no need to remember one more password.
User profiles
Users need a place to quickly access important information about their subscription plans, the history of their latest meditations, progress, etc.
If you're using some kind of gamification elements — leaderboards, active user bonuses — they also need to be easily accessible.
Player
Meditation — in real life and in apps — is usually guided by a trainer's voice, so you'll need media playback functionality at the core of your app. A good player will support high-quality audio and/or video.
Note: If your meditations are in the form of audio podcasts, we recommend adding images for when the sound is on since not everyone meditates with their eyes closed. These can be still images or simple animations, but they should create an emotional connection of sorts with your app's users.
Content library
Usually, guided meditation is done in the form of podcasts; videos can be used for workouts or yoga-supporting meditations. Meditation recordings should be of high quality and recorded with professional equipment. Low-quality content will deter users from your product.
The library should be searchable and structured. Most meditation apps catalog meditations by purpose: for sleep, for anxiety, guided meditations for beginners, and so on. It's an easy and intuitive way to list recordings. However, you can also create your own listings or playlists — the important thing is that you explain your system to users.
Favorite tracks
For users, some tracks will work better than others. This is only natural with a practice as personal as meditation. Allow users to bookmark/favorite/like tracks to be able to come back to them when the need arises.
Offline playback
Users often appreciate the option to download tracks and play them whenever, especially if you're building an app for short meditation sessions during a commute.
Recommendations
For a tailored and personalized experience, consider implementing machine learning when you create a meditation app like Headspace or Calm. With the help of artificial intelligence, your app can analyze the meditations each user listens to and recommend similar ones — by theme, purpose, or even narrator.
Gamification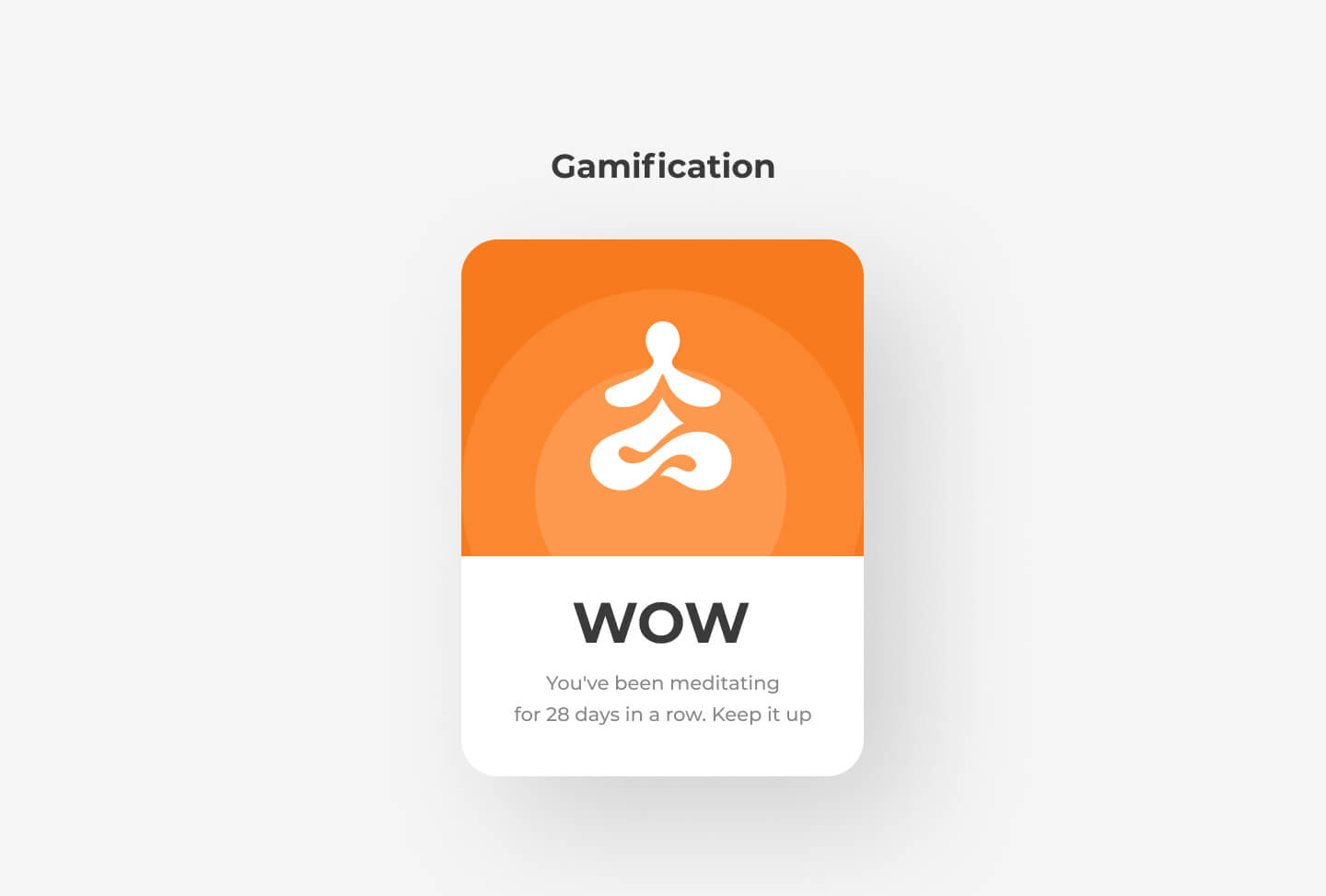 Gamification is one of the best ways to keep users engaged in an app. Everyone is more or less competitive — some people like to compete with others, while some will come back to keep a personal streak going. You can run an A/B test on your target audience to learn what gamification model they prefer. Or you can implement several to cover the needs of more users.
Trackers and statistics
If you plan to build a meditation app with the focus on, say, weight loss, battling depression, or eating disorders, you'll need trackers. Make your app ask users about their moods, or let them track their weight right in the app if that's related to their meditation goals. Trackers and statistics help users see patterns and work on achieving their goals.
Push notifications
More often than not, people need reminders when they start forming new habits, and meditation is not an exception. Push notifications are the go-to solution for this. They're way less intrusive than alarms yet they get noticed right away.
On the other hand, when it comes to any kind of mobile app reminders, it's important not to go overboard. Your users probably don't need to be reminded to meditate every hour, and too many notifications popping up in the middle of the day will more than likely irritate them.
Since meditation is a personal habit, the best solution is to make customizable reminders. If a person meditates before going to sleep, they'll set a reminder for, say, 10 pm; if they prefer morning meditation, they can set reminders for the time they usually wake up. And short mid-day sessions can have random notifications, but a user needs to be able to opt out of those.
Settings
Users must be able to tweak notification settings, change their emails and passwords, and deactivate their accounts.
Support
If you have a meditation studio with several trainers willing to offer consultations and real-time guidance, think about integrating chat functionality. If you don't have live people available for chatting, a chatbot with a selection of responses is another good option. When people are new to your app and/or to meditation in general, they'll be grateful for this kind of assistance.
Wearables integration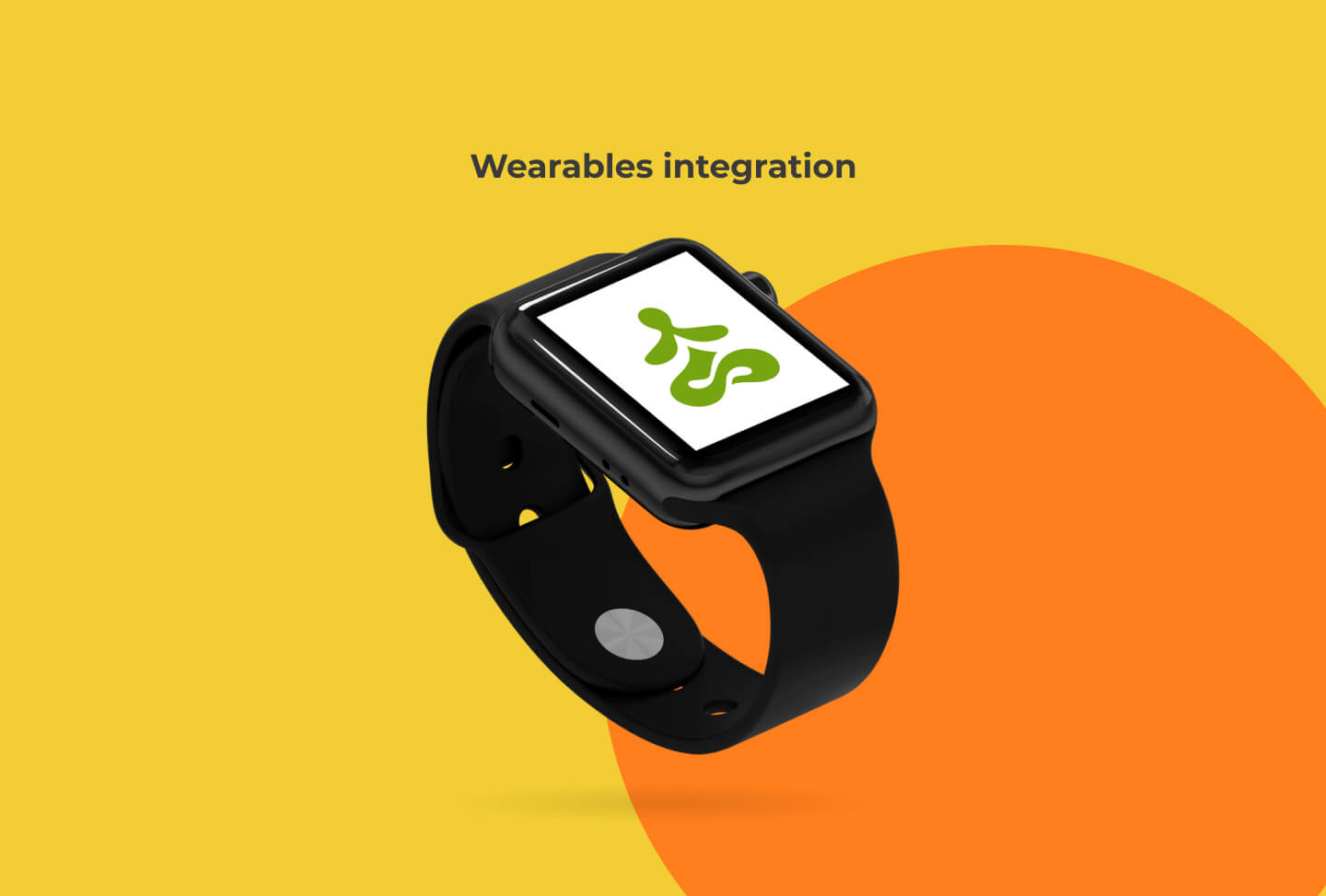 More and more applications today have an option to send notifications to smartwatches and fitness trackers. When it comes to meditation and mindfulness, you can go further and allow users to start breathing exercises without taking out their smartphones.
Payments
To further develop, update, and maintain your app, you'll need to get revenue. So you'll have to choose a monetization model. To monetize your app, you'll need payment functionality. Payments are implemented with the help of payment gateways, and choosing one is a task of utmost importance.
Admin panel
To keep your users from leaving, you need to keep new content coming at a steady pace. And to add that content, you'll need an admin panel. An admin panel will allow you to add new meditations, edit them, rearrange categories, hold events, and monitor and control the app in general. Users won't have access to this side of your app; only the app owner and designated employees will be able to change things via the admin panel.
Cost to develop a meditation app like Headspace or Calm
We've been working with meditation app development for some time and we've got some approximate estimates for anyone interested.
Here are the things that go into the cost to build an app like Calm or Headspace:
Work of the development team
Cost of servers
Maintenance and support
Your development team will consist of:
Project manager
UI/UX designer
iOS and Android developers
Backend developer
QA engineer
According to our experience, to make a mobile app like Calm or Headspace will take a minimal development team about three to four months if everything goes according to plan. The time required can be affected by the complexity of features, the intricacy of the design, and the number of specialists involved. This timeframe includes both iOS and Android apps as well as back end — all sides of the app are developed simultaneously.
Here's a development breakdown:
| iOS app | Android app | Server-side app |
| --- | --- | --- |
| 456–600 hours | 400–558 hours | 349–531 hours |
Depending on where your developers are from, their hourly rate will differ: North America has the highest rates and India the lowest, with Eastern Europe in the middle.
On average, the cost to develop a meditation app like Calm or Headspace will be about $54,225 for an iOS app, Android app, and backend combined. If you decide to skip or postpone either the iOS or Android app, the cost will be lower. Extra features using complex technologies (like AI) will increase the cost.
Conclusion
The meditation app market has been thriving for the last decade, but in 2020, it's being additionally fueled by pandemic-caused isolation and stress among the global population. More and more people are discovering the benefits of meditation every day. This means the market will only grow. Rough estimates by Statista promise the industry to be worth $2 billion by 2022 in the US alone.
Although Headspace and Calm pretty much dominate the US market today, users still seek alternatives. Besides, there's the international market as well, which is less dominated by Headspace and Calm as they don't offer support for many languages.
If you're thinking about how to create a meditation app and need guidance — be it a consultation, cost estimate, or development services — Mind Studios will gladly lend you a hand.