Meditation has taken all forms nowadays - it has even gone online when apps for meditation appeared. For what it's worth - to have one built? Here we discuss the pitfalls and price of meditation app development and meditation app development cost.
"The first rule of mindfulness might be to switch your smartphone off."
Sit back and relax. Keep quiet. Watch your breath. Close your eyes and let all the thoughts float out of your head while you are reading this article.
Our lives have never been as hectic as they are now. The pase our modern world moves with today has never been faster than it is now. As a result, our thoughts get more and more chaotic. The ancient practises of yoga and meditation are crawling their way back into people's daily routines. But in modern realia can you simply leave it all to rest and disappear in the pine trees of Norwegian forest every time you feel stuck in a rut? Very unlikely you can. This is where the growing demand for meditation apps takes it's roots.
Brilliant Things Happen in Calm Minds.
No one in the fair state of condition would argue with this. So this is how Headspace, a freshly-made meditation app crawls its way to the top.
According to BBC's recent research, one of 4 adults now living in Britain has some mental health problems due to the stress and strain he/she deals with on a daily basis. Although the recent research has proved mediation to be actually working for the sake of patient's mental health improvements. Which is why many entrepreneurs took the wheel and had a meditation app (like Buddhify app) built - to help the depressed people get rid of stress. Their imagination has led to them forming a few types of meditation apps generally followed:
A yoga/pilates/ other mindful classes schedule (like MindBody app is).

Meditation "mecca" apps with various courses, durations and meditation aims (Stop, Breathe and Think, Smiling Mind, etc).

Applications that provide a few minutes every-day course of guided meditation - Calm and Headspace.
Basically, all of the above are great, but not really similar to Headspace - it is the pioneer and the first guided update on the spot.
Having a monk in your pocket.
This is the way Headspace position themselves. Did you know that this is not the only thing that makes Headspace look different when compared to other meditation app - as one of it's co-founders is a Buddhist monk? Well, technically he is a neo-Buddhist monk - as his name is Andy Puddicombe, and he, same as the second Headspace owner Rich Pierson, was born and brought up in the UK, only to leave it for 10 years after all. According to the interview he gave to Huffpost, "As a college student, Puddicombe found himself feeling happy on the surface but unfulfilled on the inside. So, he decided to travel to India and study Buddhism with the masters.
"I really wanted to understand my mind inside and out," Puddicombe said. "I knew where the Dalai Lama lived, and I thought that would be a good place to start."
But 10 years later he returned to Britain, in order to make people's life more mindful. The result of this intent was a creation of Headspace in 2010.
If you are interested in meditation app like Headspace, then here is the Headspace and Andy's stories wrapped up in 4 minutes:
The data AppAnnie gives suggests that there are around 6 million Headspace users worldwide, in more than 150 countries. A good reason make a few extraordinary Headspace features.
Cozy design.
Once you look at Headspace, it immediately results in a feeling of warmth and security - with it's pastel colours, crafted illustrations and layouts, smooth animations and transitions Headspace is everything but mundane for a user. The great design focus is also made on making the scary topics (like "stress", "anxiety" and "leaving home") look balanced and not even a bit spooky.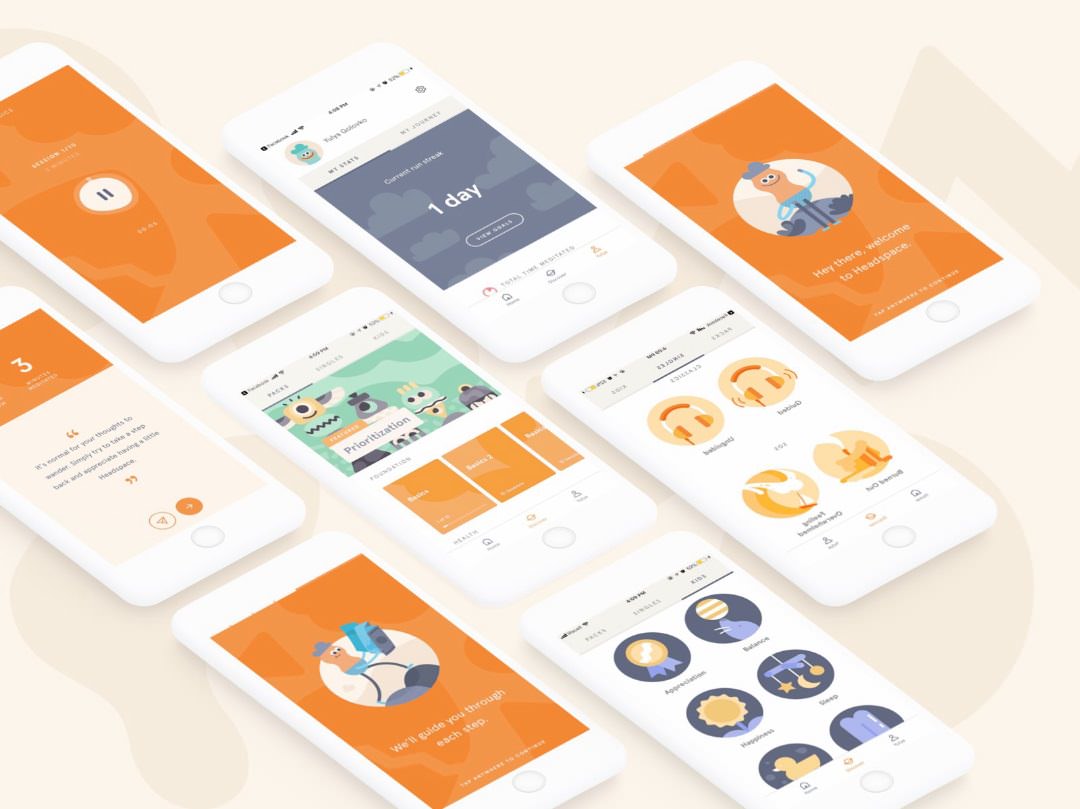 Push-notifications...
are a blast. Everything in Headspace has a slight touch of Puddicombe on it - even the reminders you receive daily from the app. Though, again, it does not bear a corporate style of Google or any other giant company - their pushes are sharp, deep and thought-provoking. Just like an application itself is.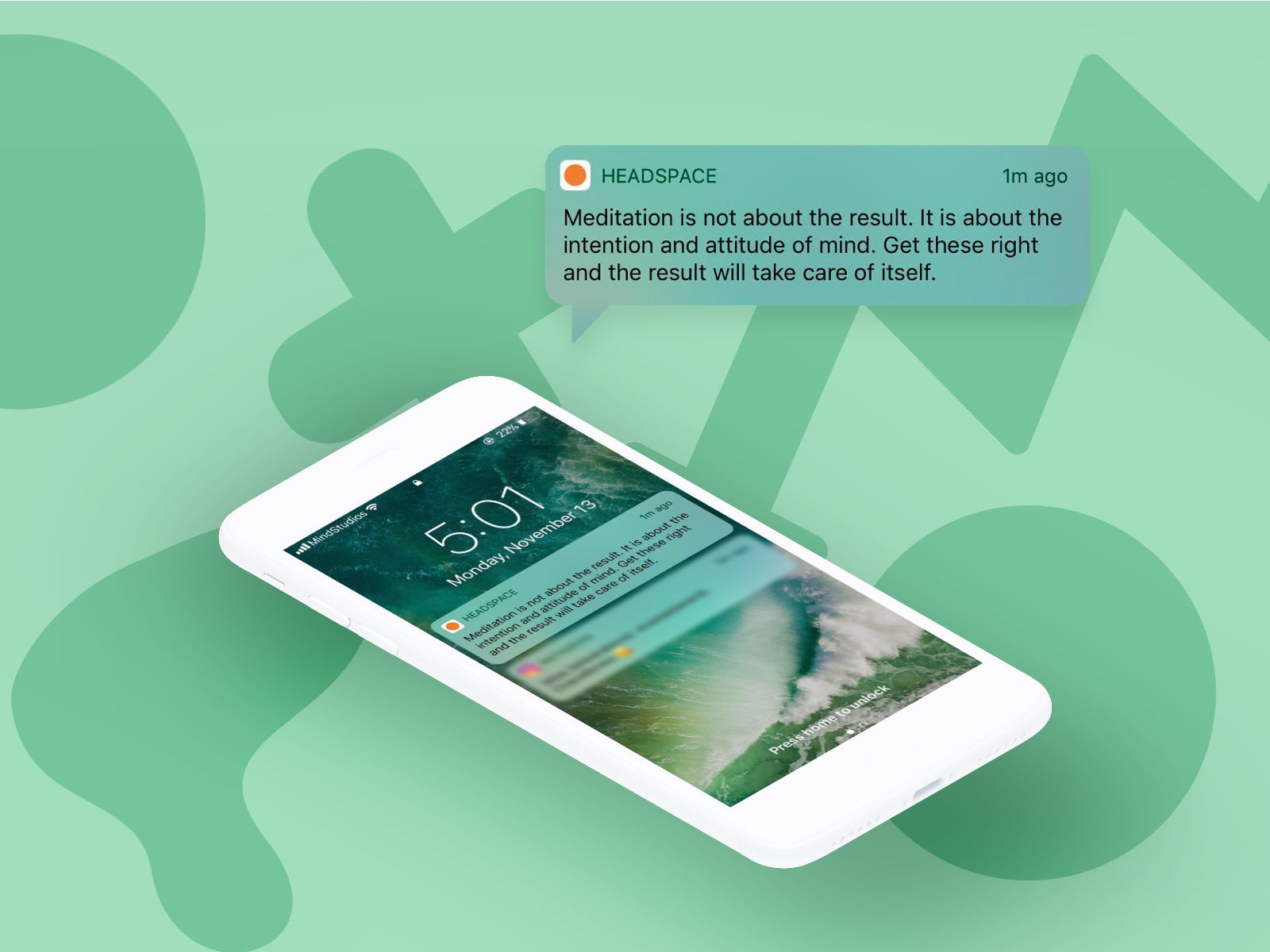 Gamified meditation quest.
Headspace has also managed to keep the right balance between being persistent and unobstructed - by turning all of the app interactions into a game. Every time you complete a streak out of 3 sessions, the app sends you a congratulating push. Moreover, if you accomplish 15 streaks in a row it will give you a free subscription - not for you, but for a friend of yours. Not only Headspace will earn a new user, but it also guarantees you a praise from mate's side and motivation to keep Head-meditating; indeed, very smart way of building up a logic.
A free trial option.
Headspace has a subscription monetization model, though it offers free access to some of in-app content. The monetization model here is an accurate choice - as we know, people are forgetful. They tend to forget about the subscription they bought; on the contrary, human users also are easily irritated once it comes to mobile billing. Paying separately for each lesson will be a red rag to a bull, as users will feel like they are being ripped off each time. Besides, Headspace's content doesn't provide any valued apart from the app - it's just meditation lessons, recorded in the soft British accent of Puddicombe.
Encouraged community sense.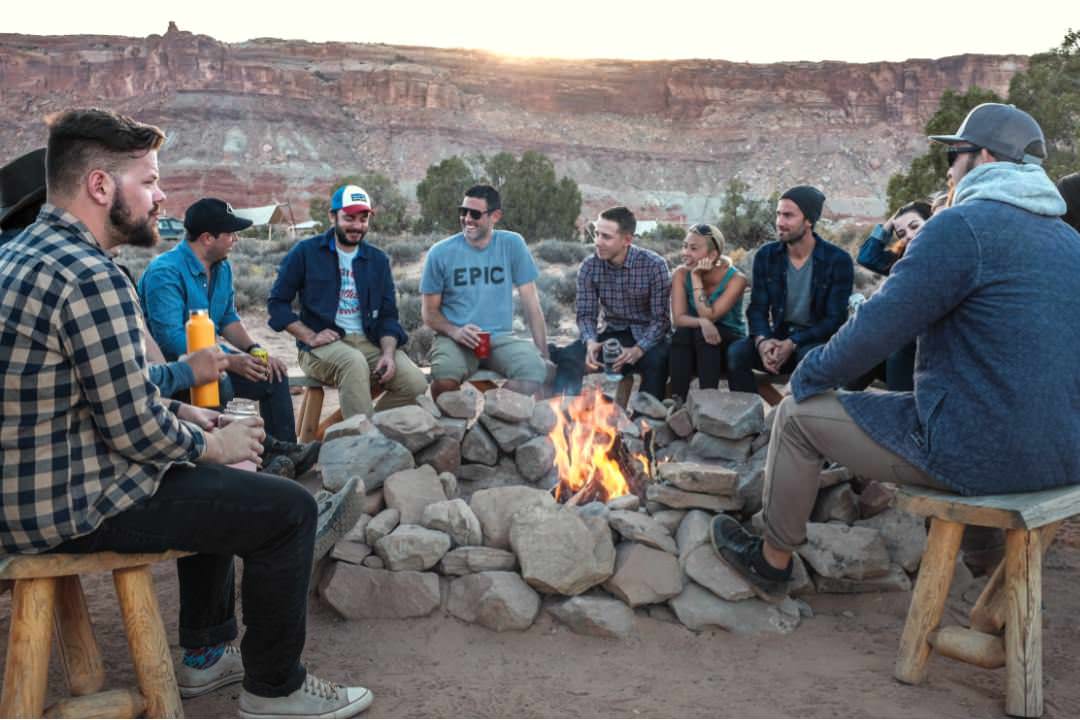 With this huge overlay Headspace encourages new people to come by and join in with a lot of others, who are fighting against the stress and strain of living. This trick also increases user's motivation - the gregarious instinct doesn't take long to arrive.
Content on meditation now is all in forms.
Apart from the quality design and business logics, Headspace has got it right with marketing from the very start. The startup has its content published on various platforms, including:
- The Headspace official blog that prepares plenty of SEO - optimized texts about mental health (I've checked it all out, and stayed there for a while - their content is impossible to depict) - The Headspace music Radio which delightes mediums with fresh, Puddicombed podcasts every week - 6 years ago company has signed a contract with 8 different airlines to transmit their meditation lessons from the speakers during the flight, in order to help scared stiffs to get through their flights.
Important to note

Once you consider or really start getting into how to make an app like Headspace, there is an important nuance to take into account. Apart from the customized and multiplatform posted content, there also has to be that same Headspace like attractive personalization - the filters and content chosen according to what user likes and detests. For this reason you'll need a pro in domen area, who will be capable of generating the algorithms for personalization.
Apart from this one, the custom development would include standard development language Swift (Kotlin for an Android native app) with a VIPER architectural pattern included. Most of the features (like purchases, etc.) should be custom-written, you might just implement Wrapper, a third-party interface adaptor.
How Much Does an App Like Headspace Cost?
Of course, every great product has a price tag on it. Not like Headspace is an exception. Answering the question of cost needed to develop an app like Headspace, you need to look at a few things. Firstly - which platform are you targeting for, iOS or Android? Depending on your choice, the estimates might vary as Android development usually is a bit more time-consuming process. We have tried and helped you with the calculation process by giving a ballpark figure for the iOS platform. To make this info easier to percept, we have split the cost to develop a meditation app into a few crucial blocks:
Onboarding block, which includes sign up and logging functions for users, terms and agreements, rules and privacy, tips; up from 60 hours

Training block, where users can watch a tutorial, playback, download and cache lessons, manage the steps they make and track their progress. The Headspace custom-made animated screens are also included here. - starts at 112 developement h

Home, which would include current exercise and the training user makes every day, minis, packs, singles, subscription mode and the stats for "people meditating now"; up from 55 h

Discover option, that allows users explore new meditation packs, as well as special guides for singles and kids - starts at 72 h

User profile - the basic one would require around 40 hours Settings - up from 50 h

Purchases block with subscriptions and single purchases - 44 hours +
Summing it all up, a basic Headspace-like iOS development would take around 2.5 months, but as we are all well-aware, this is not the only development required. Essential components of the process same are:
Business analysis, project specification and black&white - - Prototypes creation - up from 160 hours
Design - basic number would start at 80 hours
Backend developement - up from 300 h
QA hours - start at 180 h
The project like Headspace could be built within 3 - 5 months of successive development work. When it comes to cost numbers, a basic Headspace clone would have a price tag of around $30 000 with all points considered.
"We Are the Directors of Our Own Mindset."
Andy Pubbicombe
Here we go, you know now how to make a meditation app. Headspace has conquered the loyalty and hearts of users worldwide because they offer more than a standard app would. They offer relaxation process, peace of mind and focus, which are extremely hard to reach in modern realia. They comfort and take care of our nerves, helping to reach that desired balance. However, the more startups like this one appear, the quicker our world becomes a safer place to live in; so if you feel like contributing into the further world's development - it's time. Go for it?
Let's talk about life-changing projects
Written by Max Mashkov and Elina Bessarabova