Would you be surprised if we told you that the e-learning approach is already 22 years old? This isn't yesterday's trend — it's a deeply rooted way for students, employees, and any others to obtain knowledge and expand their horizons.
The recent coronavirus pandemic has contributed to the rapid adoption of e-learning, even making it a necessary safety measure. Writing for the New York Times, Jon Marcus suggests that forced social distancing will be a trigger for creating more advanced systems of online education and that over the next few years, we will see an increasingly tight integration of online learning into traditional learning processes.
What does this mean? It means that the best time to create an e-learning startup is now. Employees and students of all ages have already realized that e-learning is an effective and flexible alternative, which is why e-learning app development is one of the trending app ideas for 2021.
In this article, we provide the ultimate answer to the question of how to make an online learning website while avoiding pitfalls and taking current trends into account.
What is an e-learning platform and why are e-learning platforms popular in 2021?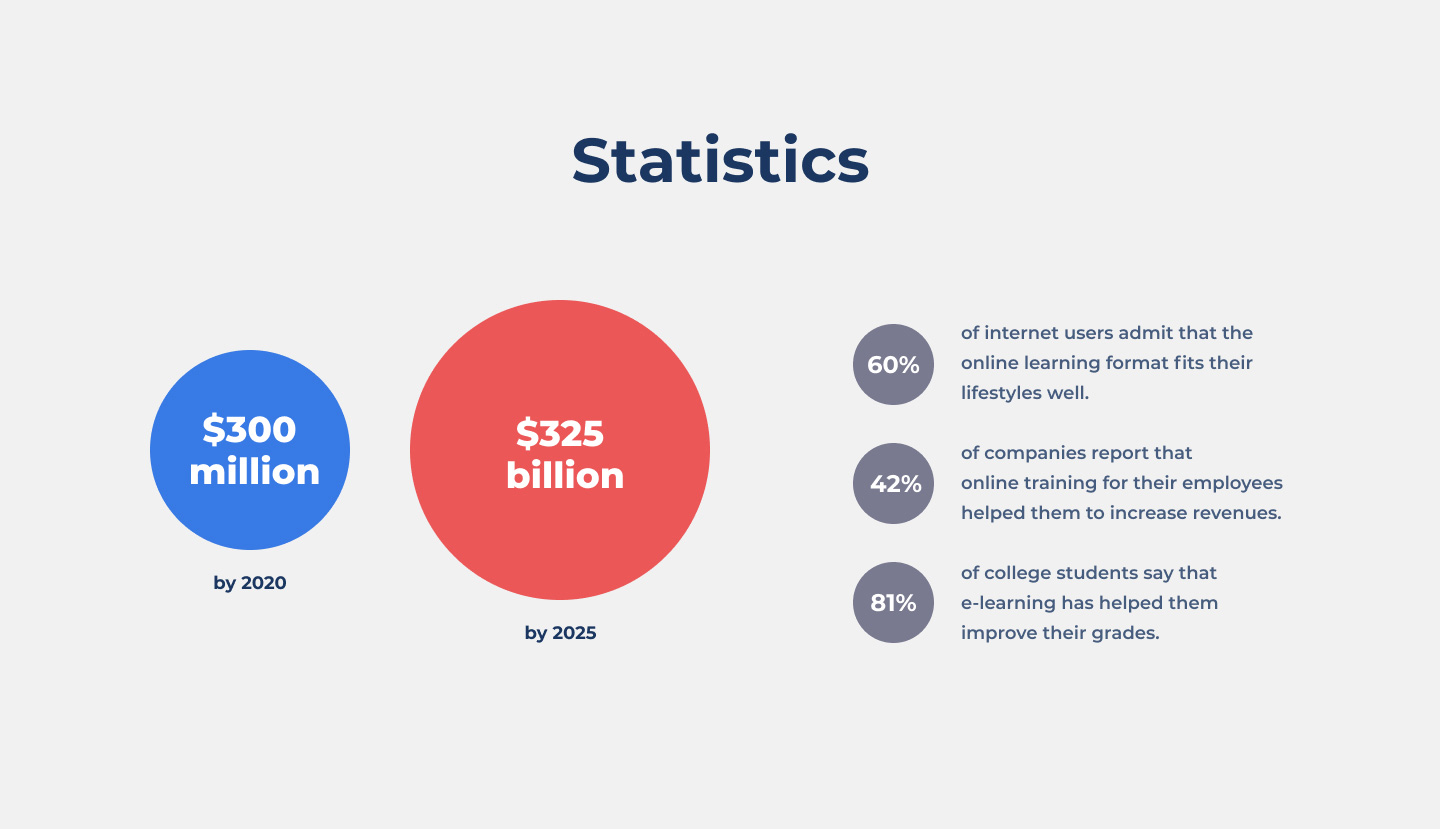 In a nutshell, an e-learning platform is a website or application that allows you to deepen your knowledge in a particular field. This way of mastering new skills and learning new concepts is especially popular this year. According to the comprehensive statistics published by Skill Scouter, the e-learning market will continue to grow, utilizing advanced technologies and providing users with even more engaging experiences.
The global e-learning market will reach $325 billion by 2025.

60% of internet users admit that the online learning format fits their lifestyles well.

Virtual reality (VR) and augmented reality (AR) technologies are emerging trends in the e-learning industry, and their market share is projected to reach $1,478 million in 2027.

42% of companies report that online training for their employees helped them to increase revenues.

81% of college students say that e-learning has helped them improve their grades.
These statistics suggest that people can achieve different goals with e-learning solutions. We've already explained how to build an app like Google Classroom, and now, let's find out more about the specifics of e-learning platform development.
Types of e-learning platforms
The type of platform you're going to build is the thing you should decide before starting online learning website development. Let's find out the main types.
E-learning websites classified by the method of learning they provide
Computer-managed learning. Systems that support computer-managed learning are used by colleges and universities to help students study remotely. They provide knowledge databases as well as studying strategies for individual students and groups.
Computer-assisted learning. Systems that support computer-assisted learning are used hand in hand with traditional learning approaches and help students to take tests and quizzes, for example.
Synchronous/asynchronous learning. Students may use these types of e-learning platforms to learn materials at the same time as everyone else or to learn the same material as everyone else but at their own pace.
Fixed/adaptive learning. With fixed e-learning platforms, it's not possible to take students' individual needs into account. With adaptive learning platforms, a student's pace of learning and most suitable methods of study may be taken into account.
Individual/collaborative learning. As the name implies, this type of learning program is developed for individuals and/or teams.
E-learning websites classified by the method of learning they provide
Learning destination platforms. These platforms can be compared to marketplaces. Users get instant access to a wide selection of online courses within various disciplines. Udemy and Coursera are examples of learning destination platforms.
Traditional learning management system. You may use these systems to share your own online courses. All necessary features are already built in.
Open-source learning management system. These systems are similar to the previous. The only difference is that all features are customizable and open-source platforms are usually free.
Custom-build platforms. These are platforms developed from scratch and that fit very specific needs, goals, and target audiences. What's more, a custom-built platform is the best choice for providing an engaging experience and offering innovative approaches to online learning.
E-learning websites classified by target audience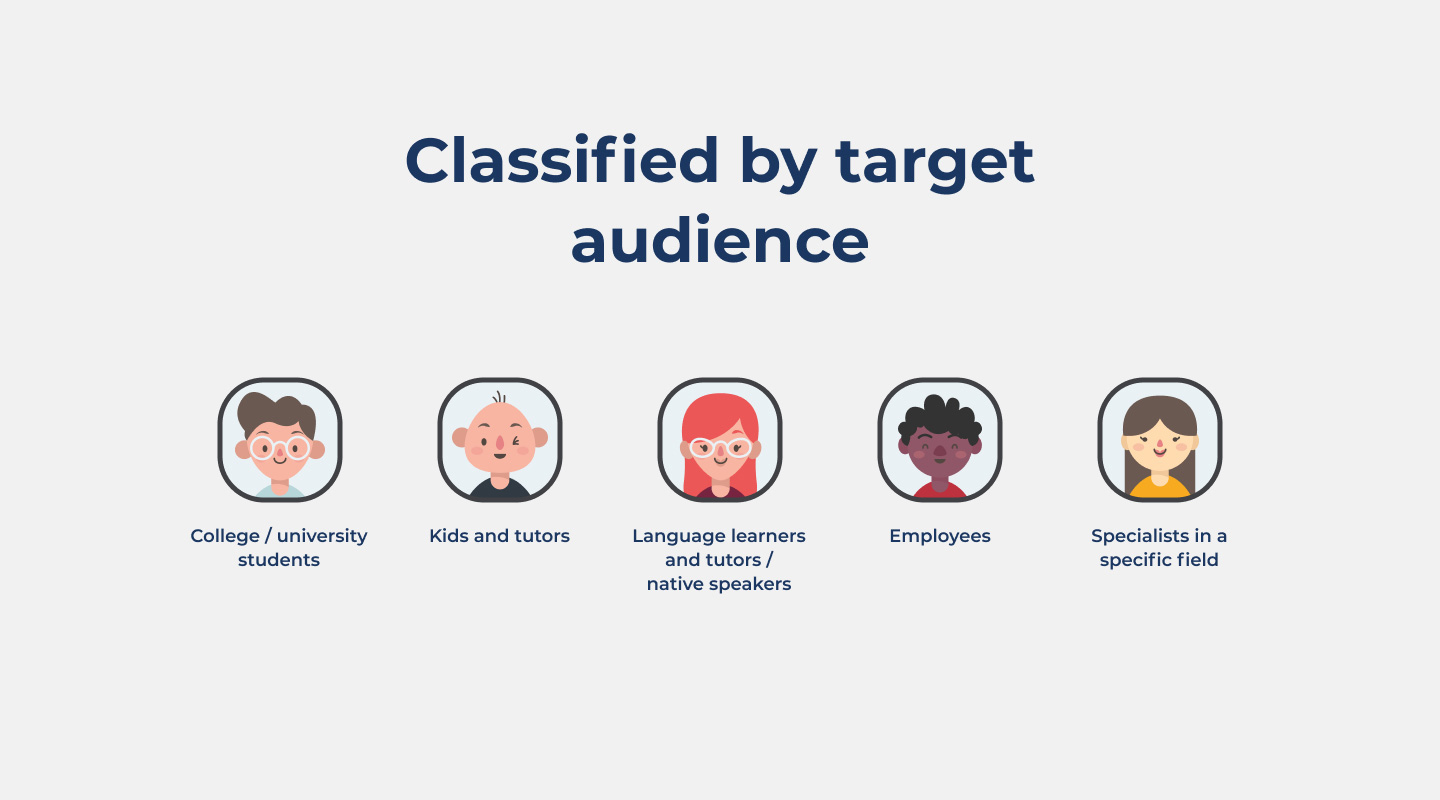 College/university students
Kids and tutors
Language learners and tutors/native speakers
Employees
Specialists in a specific field
Now that you know the types of e-learning platforms, let's find out how to build an e-learning website and what the cost may be.
How to build an online learning platform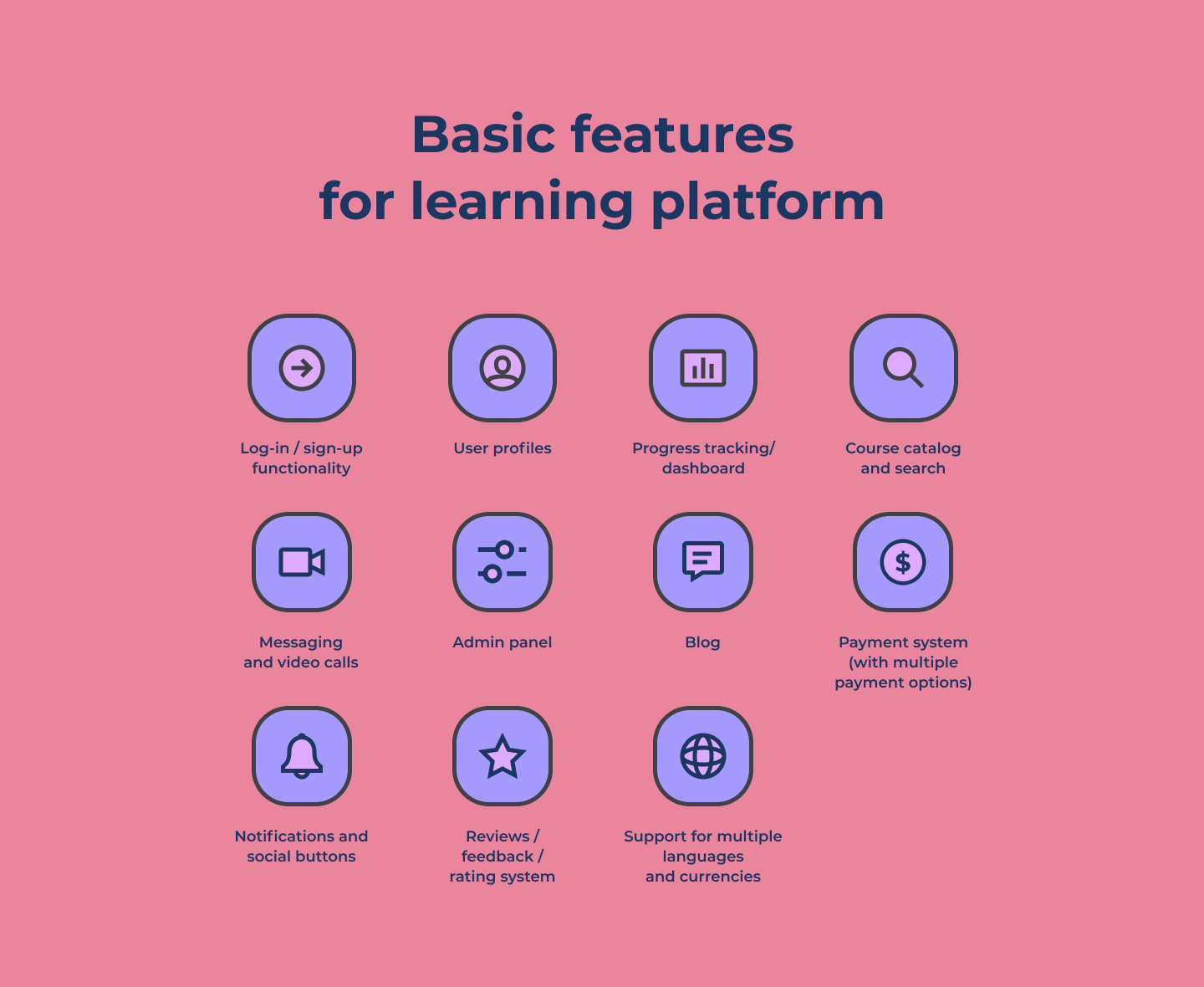 How can you create an e-learning website? Here are the basic features you should develop.
Log-in/sign-up functionality
User profiles
Progress tracking/dashboard
Course catalog and search
Messaging and video calls
Admin panel
Payment system (with multiple payment options)
Blog
Notifications and social buttons
Reviews / feedback / ratings system
Support for multiple languages and currencies
What's more, you can add specific features depending on the type of your e-learning platform and your target audience.
For students

Planner
Library
Collaborative features (sharing)

For teachers

Class scheduling
Inviting other teachers to join the platform
Task and test workflows for each student

For parents

Parent profiles
Tools for tracking children's progress
Messaging
While creating this functionality, keep in mind that the design of your e-learning platform will not only affect the cost to develop it but is also key to providing users with the best studying experience possible. Below are important design-related points you shouldn't miss.
eLearning UI/UX design
It's not enough to develop the functionality listed above. The most important thing is to fit this functionality into an intuitive user interface and back it up with a positive user experience. Here are some rules to follow when thinking through UI/UX design for an e-learning platform.
Users shouldn't have "how to do it" questions. The task of students is to learn new material and ask only those questions that are directly connected to the topics they're studying.

The UI design should be as clear as possible. Since the goal of the platform is to help users learn new things, the UI shouldn't be cluttered with unnecessary sections. Each section should be in its place, helping the user to go along the learning path.

Content should be clearly structured. Since educational content is the heart of any e-learning platform, it should be presented in such a way that users clearly understand the sequence of the educational material.

Your UI and UX design should have room for interactivity. Gamification and goal-driven design make the learning process more engaging and effective.

Users should be able to get the same experience regardless of the device they use. In other words, your UI/UX should be responsive and device-friendly since learning on the go is becoming popular.
These are the main rules for creating UI/UX designs, but let's have a deeper look at the design of the homepage and student profiles since they're the main places to start and successfully continue an interaction between your platform and users.
Homepage design
94% of a user's first impression of a website is design-related. That's why your homepage should be designed to immediately show users that your platform is a place where they can get valuable knowledge. Here's what you may use to do that.
The right colors, contrasts, and free space. According to color psychology, the best colors for e-learning platforms are orange (the color of mental stimulation), yellow (the color of optimism), violet (the color of wisdom), blue (the color of trust), and white for free spaces.

Create a demo video to show how your platform works. 74% of users decide to buy software or download an app after watching a demo video. This approach will work in the digital education field as well.

Publish real reviews from customers. Companies can suffer reputational damage when they publish false reviews. On the other hand, publishing authentic reviews is one of the best ways to build trust and encourage word of mouth promotions.

Show statistics. For example, you may state how many students are already learning with your product or what leading brands are using your software to train their employees.

Use motivating CTAs. Don't forget to power your homepage with engaging CTAs, motivating users to test your platform or get educational content for free.
Student's profile design
The student profile is where direct interactions with the platform will begin. Therefore, it's very important to make profiles convenient and provide all the necessary information. Of course, a profile should not contain any distracting elements but should give access to information about current, past, and planned courses, test results, payments, schedules, and so on.
How to develop an e-learning website step by step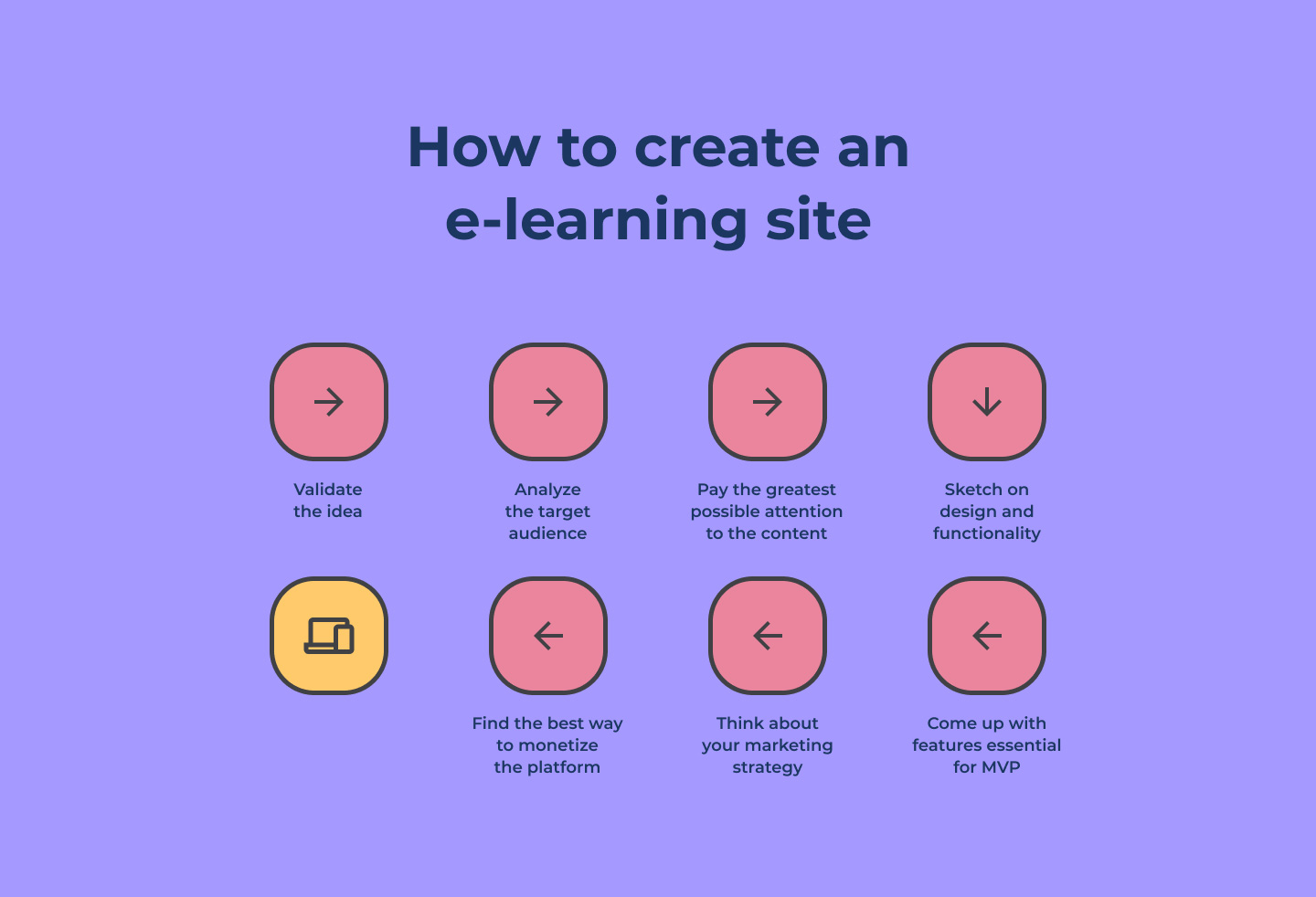 Here's how to create an e-learning site by following a clear strategy.
Validate the app idea. 42% of startups fail because there's no real market need for their product. This is why you should make sure your idea is one that learners are waiting for. To validate your idea and analyze the market, you may use proven approaches such as PEST, SWOT, the Five Forces Model, and focus groups.
Analyze your target audience once more. After validating your idea, you should analyze your target audience one more time and find out what their requirements are for a solution they would be willing to use.
Pay close attention to the content you provide. If you're going to create content independently, make sure it's relevant to your audience. If you're going to share the content of other providers, conduct deep research and use only the highest quality materials.
Sketch some ideas on design and functionality. At this point, you may get in touch with your development partner and ask for a professional consultation.
Come up with features that are essential for the MVP. The features we've described above are enough to create a minimum viable product, launch it to the market, gather users' feedback, and make adjustments accordingly.
Think about your marketing strategy. Here are the main points you need to pay attention to:

Lead capturing forms
Email marketing
Social networks
Video marketing
Testimonials

Find the best way to monetize your platform.

Subscription
Pay per course
Donations
Affiliate marketing.
Using AI, ML, VR, and AR in the e-learning industry
Artificial intelligence (AI), machine learning (ML), augmented reality (AR), virtual reality (VR), and the blockchain are technologies that have already revolutionized a lot of industries. You may use them to power your e-learning platform too. Here's how.
AI and ML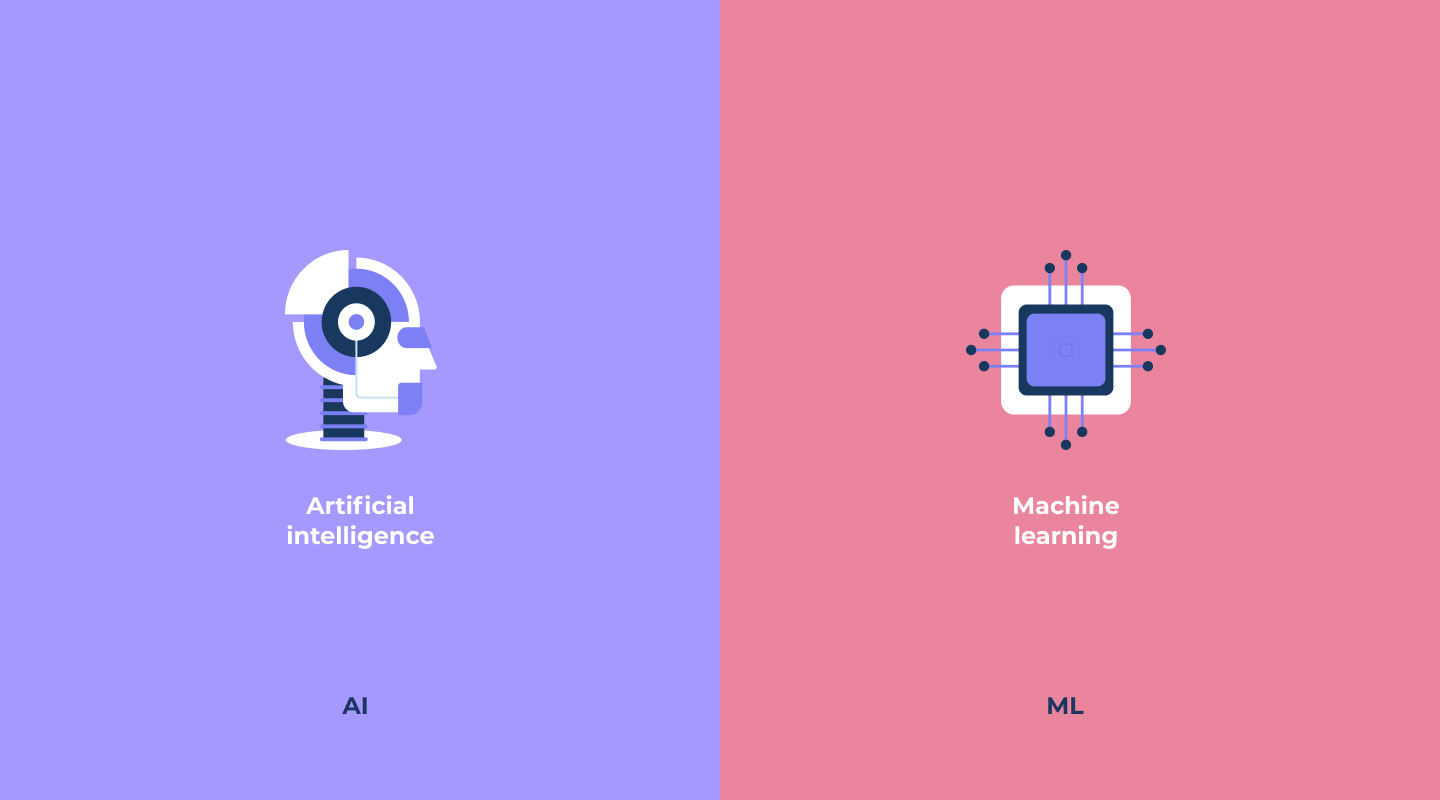 Personalized content. AI and ML systems can analyze users' behavior and suggest the most interesting and relevant materials for further study.
Create an engaging experience. When offered personalized content provided by AI and ML tools, users will spend more time on your platform, constantly investing in new knowledge.
Gather and analyze data. The potential of AI and ML is in their data gathering and analytics capabilities. What's more, with AI and ML tools you can get even more first-hand insights that you can use in your promotional and marketing strategies.
Prevent fraud. Your e-learning platform should be protected from fraud, hacking, and data breaches. AI and ML systems are able to track and prevent illegal access attempts.
VR and AR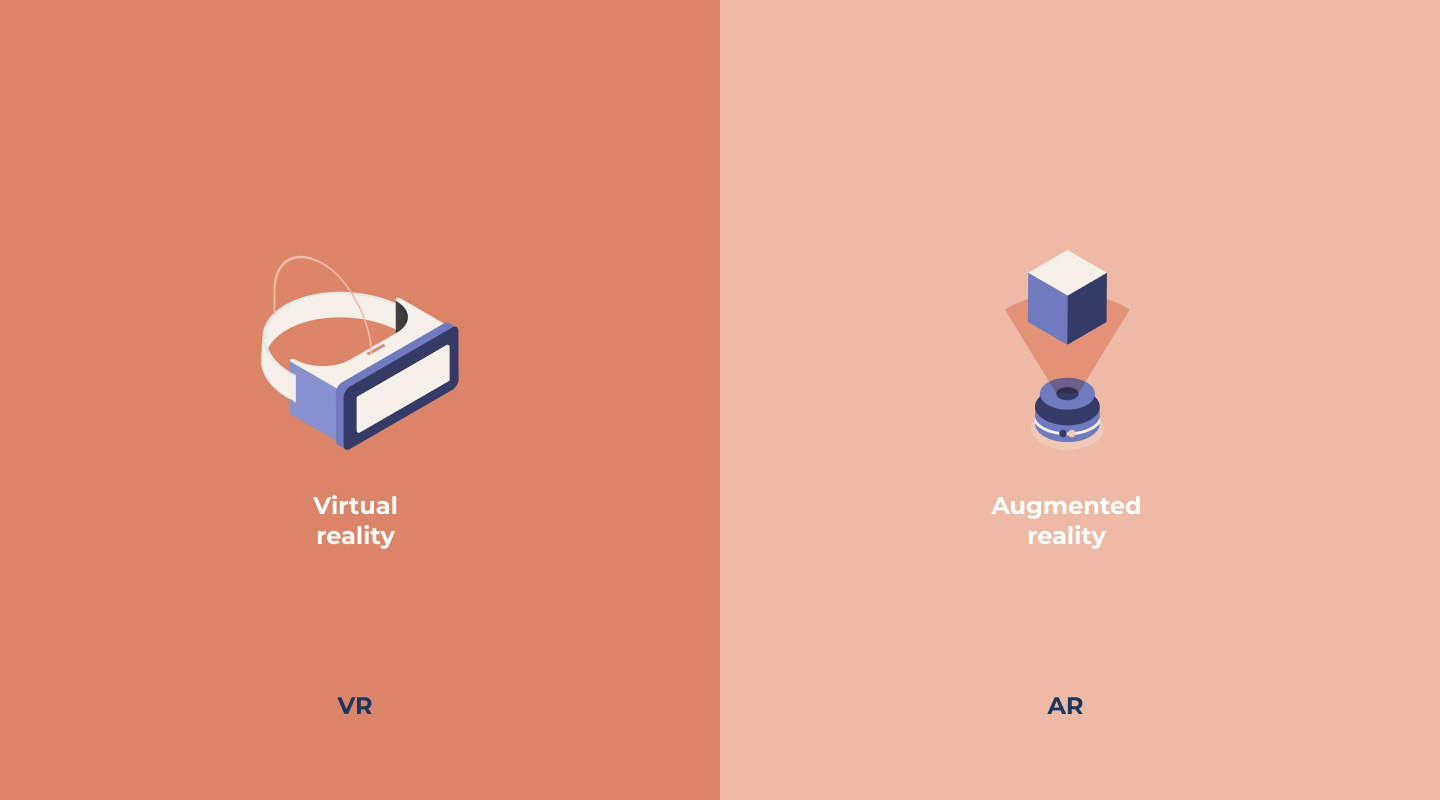 The ability to offer engaging gamification. In e-learning, VR and AR are able to engage students, which is one of the reasons why companies and teachers are choosing e-learning solutions.
Real-life situation modeling for training in emergency response. This feature will be useful for training specialists such as medical students. With the help of an AR learning app, medical professionals may learn how to respond to emergencies in a hospital.
Practice crucial skills. This approach is already used in surgery. With an AR app, students may practice surgeries without fear of risking a patient's life.
Website or mobile app — which way to go?
In addition to what we've discussed above, there are two more important question you'll need to answer before starting to develop your e-learning website: Should you build a website or a mobile app? And what operating system should you build for if you do make a mobile app? Find the answers to these questions by looking to your audience.
In addition, keep in mind that mobile learning is on the rise. Globe News Wire predicts that the mobile e-learning market will be worth $374.3 billion by 2026.
Taking this trend into account, a mobile e-learning solution may be right for your startup. However, you should carefully find out what operating system you need to focus on or maybe come up with a cross-platform app if your audience is evenly distributed between iOS and Android. Your choice of platform(s) will affect your e-learning website development cost.
How much does it cost to build an e-learning app?
How much does it cost to create an e-learning website? On average, the cost may reach $62,000. However, your final price will be influenced by a lot of factors, including:
the type of e-learning platform
the complexity of the design and number of features
the operating system(s) you support if you build a native app or native apps
technical issues you encounter if you build a cross-platform app
the location of your development partner.
E-learning website development cost breakdown
The total cost of creating your e-learning website will consist of the cost of each of the development milestones.
Business analysis and research. At this stage, your development partner will analyze the specifics of your business, your current market situation, and your target audience as well as validate your idea and/or make some adjustments according to research results.

UI/UX design. During this stage we'll think through the main design and navigation issues and come up with the first prototype of your future solution. Here's how the price of UX/UI design can be formed.

Development. This is the most costly and laborious stage, during which the code is written.

Testing. Testing is as important as coding itself. At this stage, it's necessary to make sure the code you've created has no bugs and that the whole solution works just as you've planned.
Team members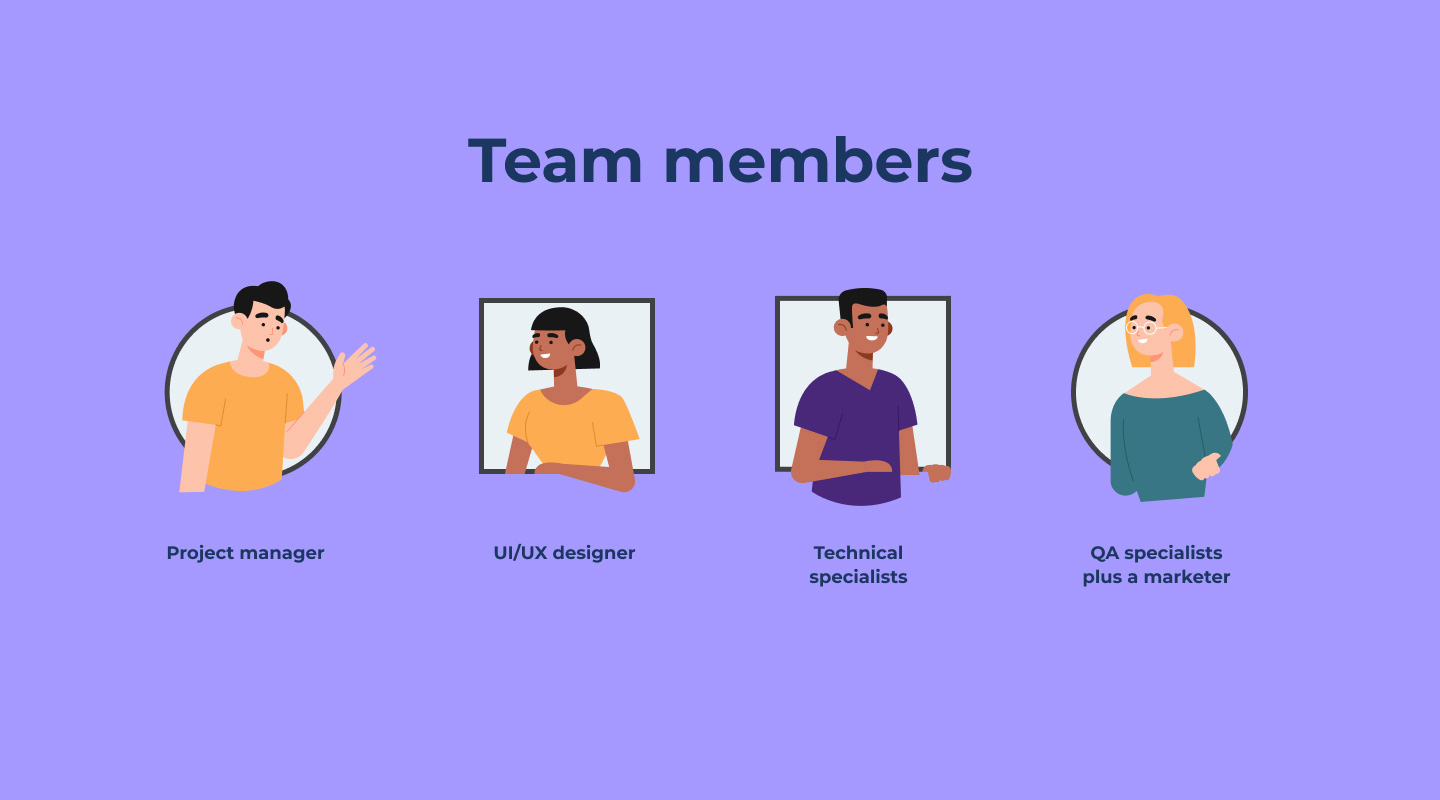 When developing an average e-learning solution, you'll need a team consisting of:
1 project manager
1 UI/UX designer
2–3 technical specialists (iOS and/or Android developer, frontend/backend developer)
2–3 QA specialists
1 marketer (optional)
The final price will largely depend on your development team's location and their hourly rates.
For example, the total cost of the team per hour will be:
$150/hour for team located in the US
$70/hour for a team located in Western Europe
$40/hour for a team located in Eastern Europe (Ukraine)
There's a significant difference in the cost of development depending on the location of your development team. What's more, the final price will be influenced by the technical complexity of your solution since hard-to-implement features will take longer to create. Development itself will take the most time. Our practice suggests that it may take 960 to 1240 hours to develop an e-learning app.
Since development and testing are the most costly and laborious parts of the whole process, these two stages may take up to 80% of your development budget. That's why it's a reasonable idea to consider outsourcing your project creation to Ukraine and saving up to 50% on the cost of developing your e-learning website.
E-learning development mistakes to avoid
Developing an e-learning platform is a serious investment. However, doing everything right from the first attempt may significantly decrease the cost and time to market. Here are the main mistakes you should avoid in online learning platform development.
Low-quality content. The quality of your content, its relevance, its orderliness, and its effectiveness for students are key to your platform's success. Even the most advanced design, integration, and innovation will not be a lifeline if the quality of educational content is poor.
Navigation issues. Online education platforms always contain large volumes of material for compulsory and additional study. Users should be able to quickly find the desired section and immediately begin to dig in.
Asking users to share too much data. Many modern users are worried that companies collect and process too much personal information. Ask your users to share only the data that you really need.
Not providing a space for feedback. Online education platforms must have feedback forms. If you're creating a platform for teacher-student interactions, then teachers should be able to give students feedback on their progress and mistakes, and both teachers and students should be able to share their impressions of the user experience with you.
Not vetting teachers' qualifications. As we've said, content quality is key. If your platform is an intermediary between students and teachers, then assessing a teacher's abilities should mean that students receive better content.
Lack of interactivity. Students' engagement is the top reason why companies decide to invest in digital education technologies. Interactivity and gamification are the best way to engage users of any age.
No free offers. Before deciding whether to subscribe or purchase a course, students must first check the quality of the materials and the convenience of using the free features.
Conclusion
We hope we have answered the question of how to make an e-learning website. However, we have some more insights that we would be happy to discuss in a private conversation. Drop us a line or write an email right now to get more tips on developing your e-learning startup.