Do you want to develop a hotel booking website or introduce an online reservation system for your existing hotel website? We're sharing our theoretical knowledge and practical skills to help you avoid mistakes, save costs, and lead your business to the top.
By the beginning of the twenty-first century, tourism had become one of the leading economic, cultural, and political activities of many regions of the world. An increasing number of countries are investing in the development of tourism, turning it into the main driving force of social and economic progress by creating jobs and businesses and developing infrastructure.
If you look at the graph below, you can see the increase in the number of tourists in recent years. The development of information technology has played a significant role in this process, and today the overwhelming majority of tourists plan their trips through websites of hotels or booking apps. Statistics by EventForte say that:
65% of hotel bookings come from smartphones;
65.4% of bookings are completed on a hotel's website;
hotel reservations account for 39% of all online travel reservations.
These are encouraging statistics for both hotel owners and founders of tourism startups. This article will tell you how to create a hotel booking website, the pitfalls you should avoid, and the main valuation principles for developing such projects.
Read also about the cost of developing a fitness mobile app.
Types of booking sites
A booking website is a complex concept that can be interpreted as a hotel reservation system, functionality on a hotel's official website, or a specialized platform containing offers of many hotels and allowing users to make bookings. We'll consider the specifics of hotel booking website development and the advantages of each solution.
Reservation module on a hotel website
A booking module should ideally fit into the design of a hotel's website and have wide functionality. It should be easily integrated, have a responsive design for viewing on mobile devices, and allow working with additional services.
A reservation module provides the following benefits to a hotel owner:
Significantly reduces the cost of attracting guests due to savings on commission to intermediaries, which can be up to 20% of the cost of bookings.
Millennials prefer to book hotels through agencies, but 52% browse the hotel's website, so the right reservation system can turn them into direct customers.
Allows an administrator to flexibly manage reservations.
Since the client is right on the site, it's possible to send personalized special offers in future.
Reservations can be made around the clock.
Can sell additional services (transfers, excursions, VIP services).
Ability to install the online booking module on social network pages.
Ability to analyze detailed statistics.
Create enhanced interactions with instant booking confirmation.
A built-in reservation system is capable of providing an influx of 30% of private clients through a hotel's website and even equaling their number with external bookings. Of course, this is possible only if the reservation system is implemented correctly and the the site itself is ready for direct sales.
How not to make things worse in hotel reservation website development
Let's assume that the module is already working on your site. To make it an effective tool and not annoy visitors, you need to:
update it;
support;
optimize it;
be prepared to invest in these activities.
An online booking platform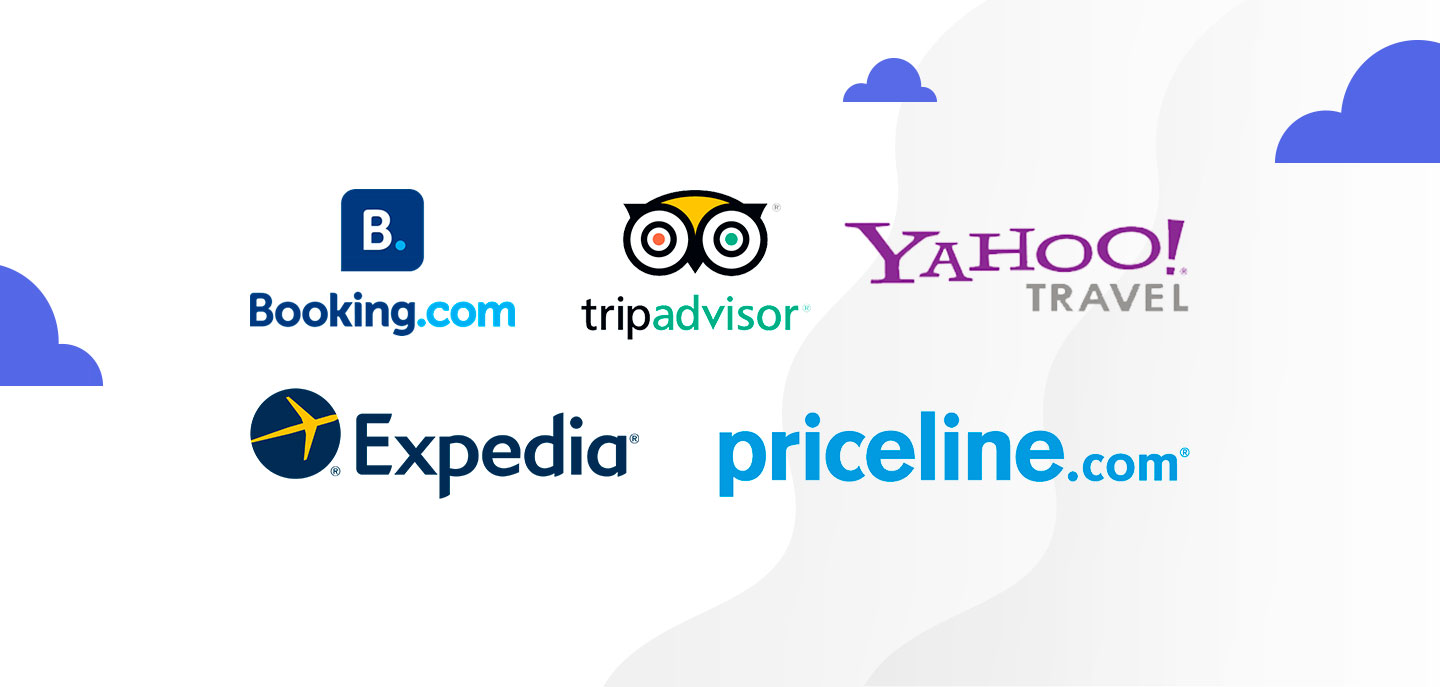 An online booking platform is a portal that combines the offers of many hotels, often around the world. Here are some examples of successful booking platforms. Let's analyze their unique features.
Start a hotel booking website: Business model on the example of Booking.com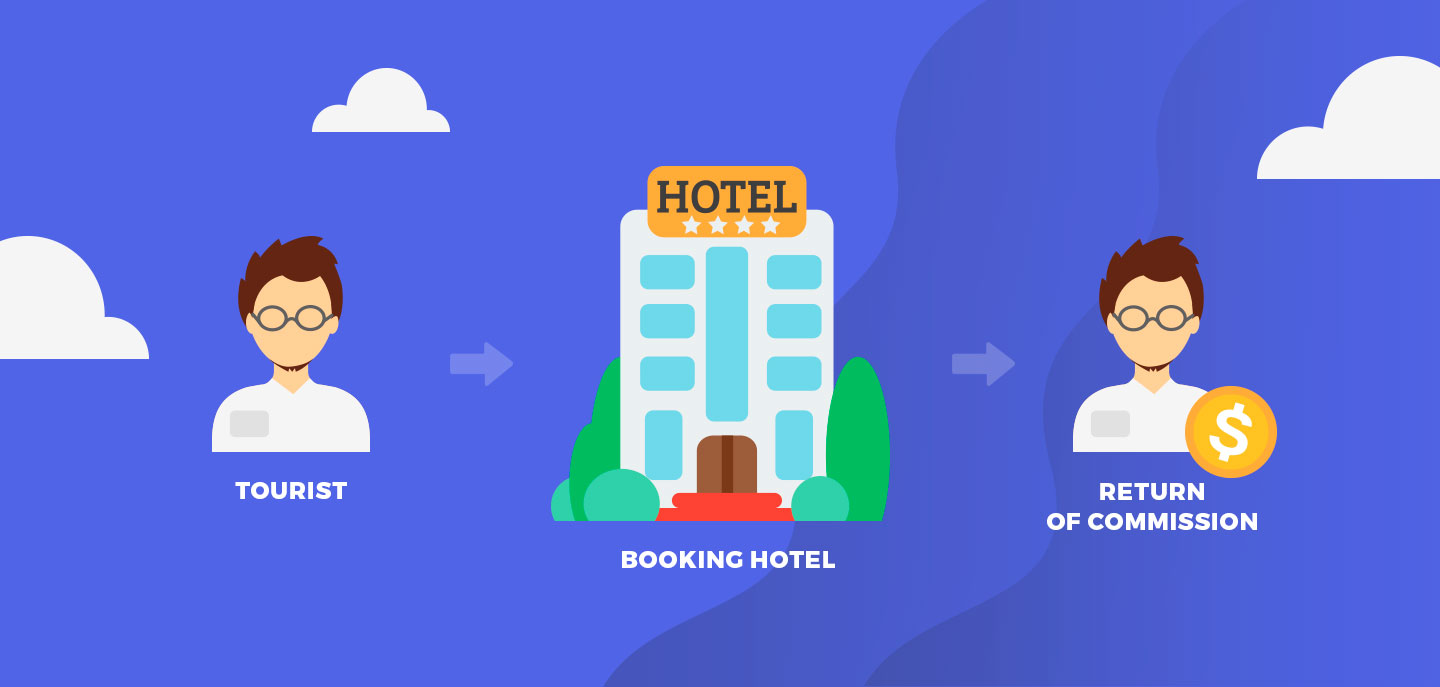 The business model of a hotel booking company is quite simple. A hotel booking company connects hoteliers and those who want to rent hotel rooms. The portal provides a summary of all hotels in an area, show all prices and visitor reviews, and offers a convenient interface for booking and paying for rooms. Booking.com offers benefits for the website owners, hotels, and tourists.
Benefits for website owners
Benefits for hotel owners
Benefits for tourists

Hotels under contract with Booking.com can't rent their rooms cheaper than on this site.

The commission is 15%, which is serious income given the scale.

The company can create a mobile application and reach even more users. Booking.com has already done this for iOS and Android.

Hotel owners can set the price themselves and commission will be deducted from this price.

It's possible to reach a huge number of users worldwide.

Search/marketing promotion is done at the expense of the platform.

It's possible to track the effectiveness of your hotel or apartment.

Booking.com constantly introduces new features for the convenience of users.

The site has a thorough review verification system, thanks to which ratings are based only on feedback from actual guests.

There's a partner assistance center and support in more than 40 languages.

Receive the guaranteed best offer.

Book a room long before the date of travel.

By booking a hotel through the portal, tourists can be sure they'll get what they're paying for.

Advanced filtering of search results allows tourists to choose hotels that meet their requirements.

Instant confirmation.

Payment security on the site.

Money-back guarantee in the event of a cancellation.

24-hour multilingual support team.
How to make a successful booking website
To create a portal capable of at least locally competing with such a giant of the tourism industry as Booking.com, you'll need a large team of professionals and huge (and regular) investments. And keep in mind that this project will have to be supported, developed, and advertised for a long time before it turns a profit. Booking.com, of course, has successful competitors, but each of them got a lot of money at the start, a big smart team, and put in hard, painstaking work. It doesn't make sense to artificially downgrade the size of such an idea — its success is in its massive scale. It also makes no sense trying to reduce the cost to create a hotel booking website since it will come at the expense of must-have functionality.
For this reason, before starting development you need to have a clear:
idea;
concept;
understanding of competitors;
list of your competitive advantages;
business plan.
We've already talked about developing a business plan and creating a business model canvas. Doing these things will allow you to validate your ideas, draw up a business strategy, and predict your actions in a changing market.
Typical mistakes made by customers and how to avoid them
A reservation system on a hotel's website and a booking portal pursue almost the same goals:
making sales
increasing awareness
gaining customer loyalty
and increasing profits.
Wondering how to make an online hotel booking website and achieve all of these goals? We'll tell you about typical mistakes in reservation system/booking portal development and provide tips to avoid them.
they implement a booking module "because everyone already has it."
Solution. First, you need to understand your specific customers. The only guarantee of profitability of an internet resource is web analytics data. Studying your audience and your website is the only way you can effectively increase profitability.
they don't pay attention to the choices of their web development company.

Solution. Look for a comprehensive internet marketing agency with experience working with hotels that can help you to increase your sales.

they ignore the analysis of indicators (both visitors and bookings).

Solution. A bet on promotion in search engines, getting into the top 10 in search results, and getting a large number of visitors to the site is an important success factor, but it's not yet an indicator of return on investment. You should analyze real bookings via your website module as well.

they think that an expensive site means a professional one.

Solution. Investments in web analytics and useful functionality pay off — not in fashionable tools. So make sure to emphasize these two things.
The technical side of the issue
In order to understand how to build a hotel booking website, let's talk about the technical side and analyze the main mistakes and inconveniences that can often be seen on travel portals.
Make sure that you don't do the same when developing your project.
| The mistake | The right approach |
| --- | --- |
| Too much information. | Focus on an intuitive search and reservation form. |
| The site doesn't adapt to the user. | Since booking portals work with users all over the world, automatic currency conversion and suggestions of the nearest airport are required. |
| Inconvenient or slow date picker form. | The most convenient solution is a form with an expanded calendar plus the ability to view prices for nearby dates. |
| Non-responsiveness. | Everything has gone mobile, so let your customers enjoy your mobile-friendly website. |
| The design is too customized or too "fashionable." | Keep the design as simple as possible and encourage the user to perform a specific action. |
Make it perfect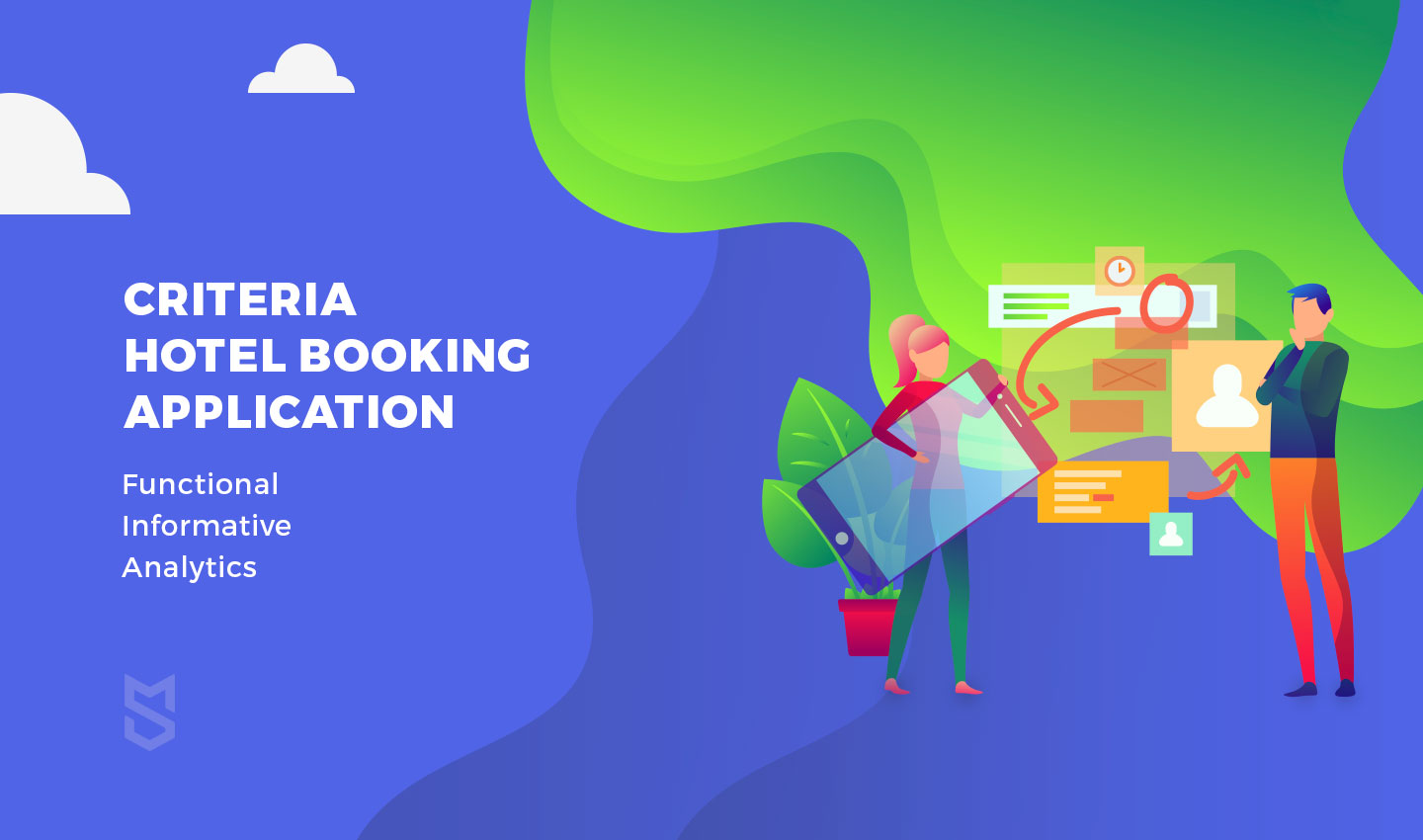 How can you build a hotel booking app and do it really well? We provide a list of criteria for the perfect solution.
Be functional. Fast-loading pages, easy navigation, and a simple and intuitive interface make the site easy to view.

Be informative. Offer detailed information, provide updates, and supplement text with images, videos, and real reviews.

Gather analytics. In order to assess the real effectiveness of the services and modules installed on the site, it's worthwhile collecting information on the operation of the site and its individual services.

Provide good value to customers. By offering site visitors additional savings, promotions, discounts, and last-minute offers, you can make the site more attractive, increase audience loyalty, and increase traffic and conversions.

Be customer-oriented. Booking.com was right when they asked customers what they wanted to see on the website.
From the technical side, this means implementing the following functionality.
For tourists:
Personal accounts
Sophisticated search result filter system
Selected hotels, travel history, and booking history
Support for multiple languages, times and dates with geolocation
Payment security system
Authentic guest reviews
FAQs
3D tours
A convenient feedback form
For hoteliers:
Personal accounts
The possibility to manage free/pending rooms
Multi-level galleries for new photos
Review verification system
Ability to check payment status
Successfully creating a custom hotel booking website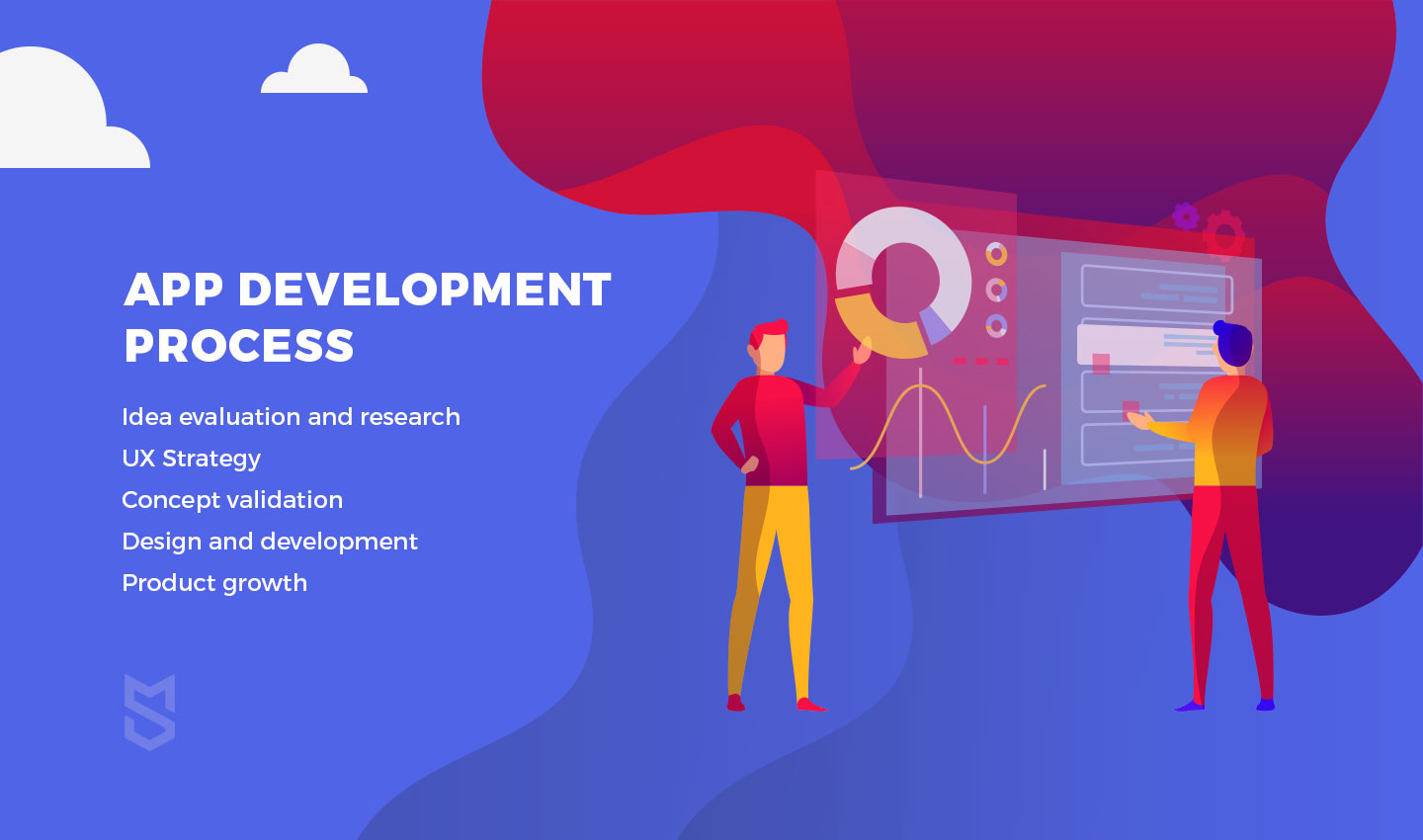 As a rule, the development process consists of the following stages:
Idea evaluation and research. Before we start development, we must be sure that the idea has potential. To do this, we create a business model canvas, conduct marketing research, get feedback, and evaluate the idea.

UX strategy. At this stage, we think over how to make the solution as functional and user-friendly as possible and also comply with all the necessary conditions.

Concept validation. At this stage, we once again confirm that potential users really need the product by giving a prototype to the test group and getting real reviews.

Design and development. Now we start to think through the best visual implementation of the project and create a demo version that's gradually turned into a real application.

Product growth. When launching a product on the market, we carefully track the response of users to react to changes and adapt the project to real needs.
By designing the correct project architecture in advance, we look ahead. We are creating booking platforms in order to make you able to expand their capabilities in the case of necessity without spending lots of money. This makes it possible to create a mobile reservation application affordably.
It's worth remembering that the application needs to interact with a huge number of users, as it loses its meaning on a smaller scale. Therefore, most likely the offer to develop an app will be beneficial for booking startups but will be a waste of money for hotel owners.
Don't miss out on our latest article: How Much Does It Cost to Create an App For a Real Estate Company?
How much does it cost to make a hotel booking website?
This is the favorite question of all startup founder since, as a rule, they begin to promote their ideas with a limited budget. But it isn't possible to estimate the development cost precisely right here and now.
According to preliminary estimates, the cost to develop an online hotel booking website can range from $18,000 to $60,000. The cost is based on:
Project functionality
Design
The development company and its location
The technology used
The number of hours that programmers and other specialists work on the project
Technical difficulties that may arise
If you want to get a really cool project, make sure that you entrust your development to a team that knows what they're talking about.
If you have any questions about hotel booking website development, please feel free to contact us.