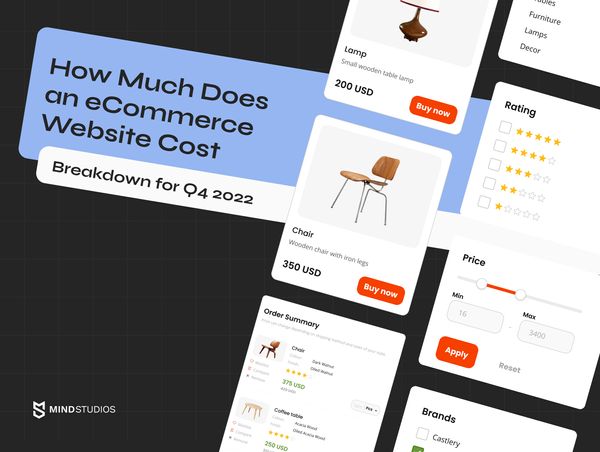 In 2021, global retail eCommerce sales reached approximately 5.2 trillion U.S. dollars. By 2026, this figure is expected to grow by 56%. For small businesses, it's a sign to go online in order to preserve the existing clients and find new ones. For bigger retail stores, it's an opportunity to grow and make their platforms more advanced, so they don't get swallowed by giants like Amazon.
The question is, how much does eCommerce website development cost? And are there any tips and tricks that can help companies meet their budget throughout this process? In this article, we define approximate eCommerce website cost based on different development strategies that suit both small businesses with limited resources and well-established retail platforms.
In addition, we share advice from Anton Baryshevskiy, Mind Studios' co-founder and head of our business development department, on how to save money and at the same time keep up the quality of your eCommerce platform.
Factors affecting the cost of an eCommerce website
What type of platform are you planning to build? Do you need to get a website developed from scratch or reengineer an existing one? Are you thinking about outsourcing the project to a development company or hiring an in-house team? These are just a few questions you need to answer to find out the average cost of an eCommerce website.
Here, we've gathered the five most significant eCommerce website price drivers.
Type of the eCommerce platform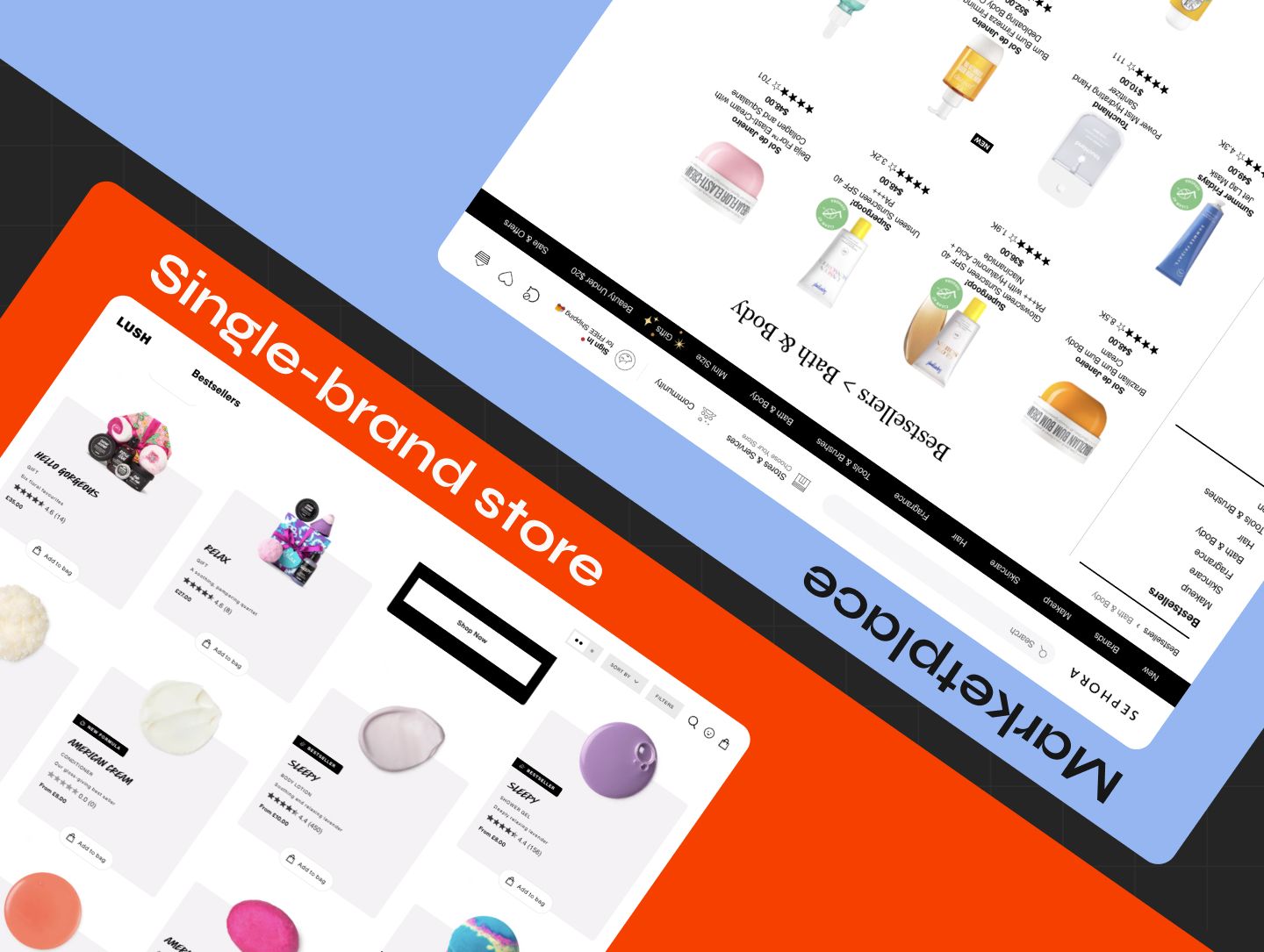 The type of your online store directly influences the project's scale and therefore, its price. There are three main ways to go depending on your business goals:
Building a single-brand online store, which is suitable for brands who want to sell their own products via the platform. It is usually the simplest to develop due to a limited number of products or services.
Developing an online retail store that purchases and sells products from various brands — and thus has a wider range of products. This means the development team will have to dedicate more time and resources to make sure the server side works smoothly.
Creating a marketplace where brands and business owners can sell their products directly to end customers while paying a commission to the platform. This type of website requires implementing complicated features such as analytics and shipping management, not to mention a powerful server that is suitable for dealing with enormous amounts of data. Therefore, marketplaces are the most difficult and time-consuming platforms to develop.
Complexity of the website
How many features does your platform need, and how complex are they? Are you willing to dedicate resources to creating a custom, user-friendly design? Do you want to start off with an MVP or an MLP? All this influences the time the development team will have to spend on the project and thus affects the cost of an eCommerce website.
For instance, when building an eCommerce platform, you can go with the basic categories for filtering out the products. Or you can go with an advanced search engine that allows users to purchase an item that meets all their criteria or get partial match recommendations in case the product they are looking for is out of stock.
Type of business
The previous factor often depends on the type of business you're building the platform for.
Ecommerce website cost for enterprises is naturally higher, since such companies often have specific branding, design, and customization requirements, meaning their solutions have to align with their brand and unique business processes. This typically leads to longer project timelines due to complex decision-making hierarchies and organizational processes.
Small businesses eCommerce website cost is usually lower, since such companies may go for more cost-effective solutions like using pre-built platforms, open-source frameworks, and third-party services due to limited resources and more simple requirements.
Scaling
The cost of an eCommerce website can change as it scales due to several factors. For starters, as the platform attracts more customers and experiences increased traffic, it might require additional server resources and infrastructure improvements. This leads to upgrading hosting plans, investing in load-balancing mechanisms, etc.
A growing number of products and orders may also require database and backend infrastructure improvements to ensure seamless performance. Moreover, as the eCommerce platform evolves, its owners often want to enhance the website with personalized recommendations functionality, and multi-language support and invest more in software support. The ecommerce development cost increases as the scale of the website grows.
Development team
The two main ways to go in terms of a development team are hiring in-house specialists to work directly for your company, or outsourcing the project to another company. The latter option is less time-consuming since in this case, you will work with a well-established team.
Moreover, it can be more sensible money-wise: outsourcing to a qualified development company can get you access to excellent specialists without actually having to cover their social benefits, provide them with office space, and so on.
Outsourcing also gives you an opportunity to find a team that fits your budget. Depending on the location of the team, the hourly rate changes drastically. For example, in North America, the hourly rate can be between $100-175, while in Eastern Europe it is around $40-70.
This in no way influences the quality of work. No matter the country your outsourced team is located in, you still have to check their experience, expertise, and trustworthiness to sign a deal with the right partner.
Here is more detailed information about the hourly rates of development companies in different parts of the world.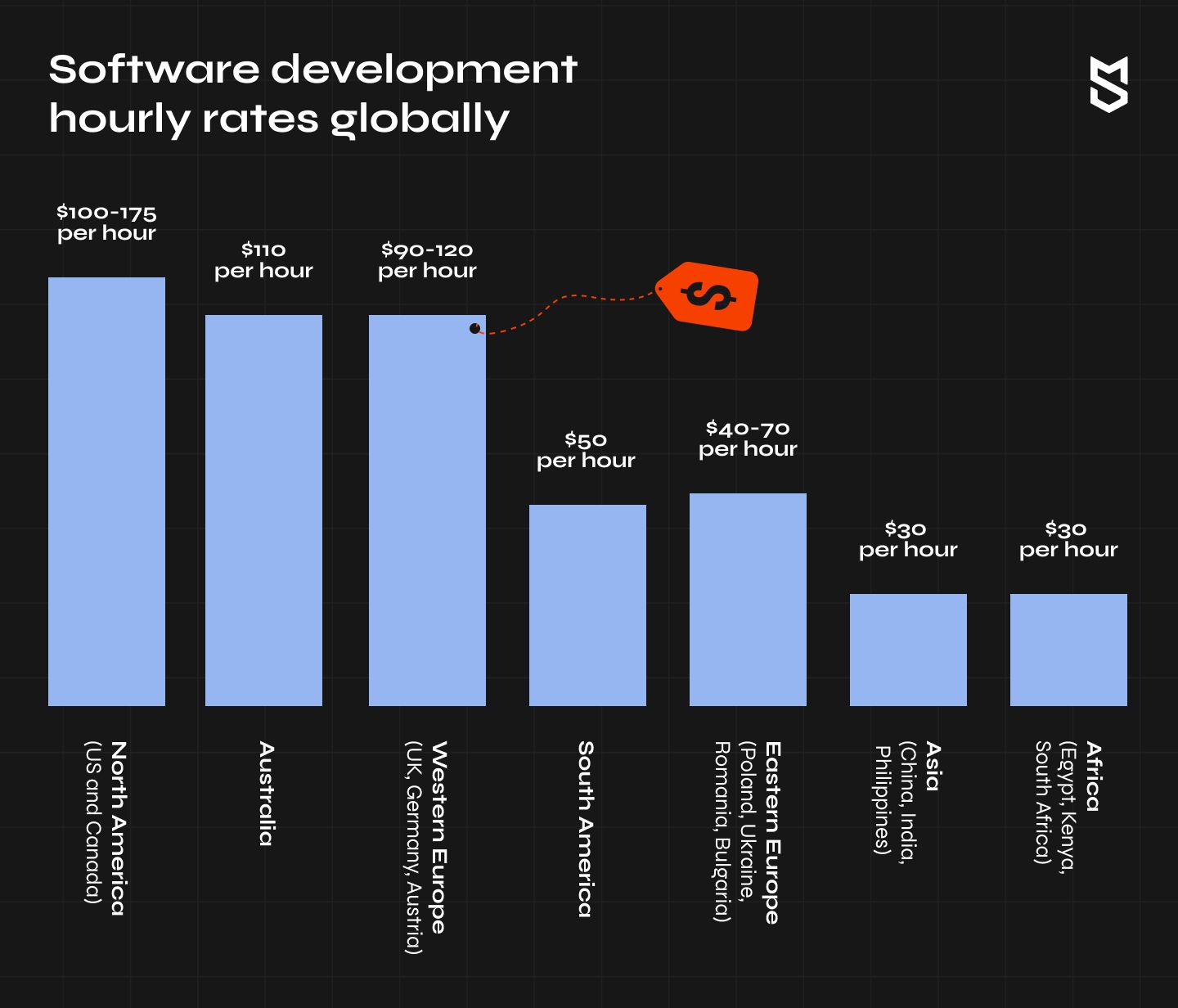 Third-party integrations
The implementation of some features you choose for your eCommerce website will need various third-party integrations.
This basically means using the functionality of application programming interfaces (APIs) for your platform to improve its performance while also cutting ecommerce website costs since buying APIs is often cheaper than building functionality from scratch.
In the case of eCommerce websites, these APIs may include:
Online payment gateway integration, such as Stripe or PayPal
Shipping gateway integration like Shippo or FedEx
Social media and email client integration for easier sign-up/sign-in
Chat integration that can be done through Twilio API
Inventory management system, such as Stichlabs
Invoice and accounting systems like Quickbooks
Analytics tools, which include Google Analytics API and Sharpspring
Other factors affecting the cost of developing an eCommerce website
While the price of the development process itself is probably the most significant one, there are other factors connected to the development and maintenance that need to be taken into account. We've made a list of the most common ones to get you prepared.
Domain registration and hosting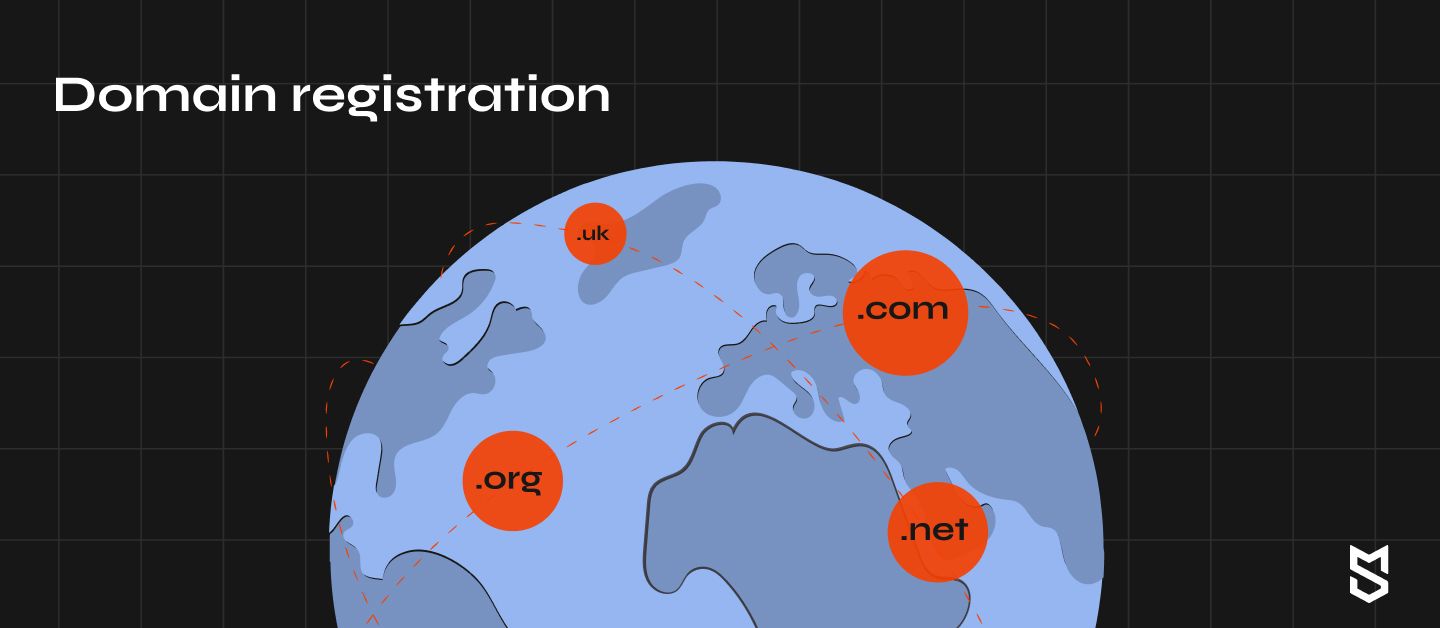 The choice of a domain name (a digital "address" of your website) determines how easy it would be for users to find your store. That's why universally known domain names ending with ".com" or ".org." can be more expensive than others.
The domain name price depends on the registrar (a company that manages domain names) you decide to buy from and the type of domain. Typically, it costs between $10 to $25 per year.
As for web hosting, a service that makes your website accessible to Internet users, the price range varies greatly depending on the traffic the website gets, the size of the product catalog, features, and automated services.
The price range for hosting services can be from a couple of U.S. dollars to $1000/month and more, depending on hosting features, storage capacity, traffic, and so on.
Secure sockets layer (SSL) certificate
The SSL certificate is crucial if you want to ensure your platform is secure, and your users' data is protected from unauthorized access. Basically, it verifies the identity of your website and encrypts user information sent to the server. In addition, the coveted padlock and the "https://" extension will make your website rank higher on Google.
While some hosting plans offer it for free, it typically costs around $20 or less.
Website maintenance
The launch of the website means that the most costly part of the project is over. However, it doesn't mean you no longer need the developers' help. Running an eCommerce website means you need to have someone on the team to fix emerging technical issues, implement new features, and respond to users' needs and suggestions.
A medium-scale eCommerce website maintenance and support costs vary somewhere between $3000 and $4600 per month.
Marketing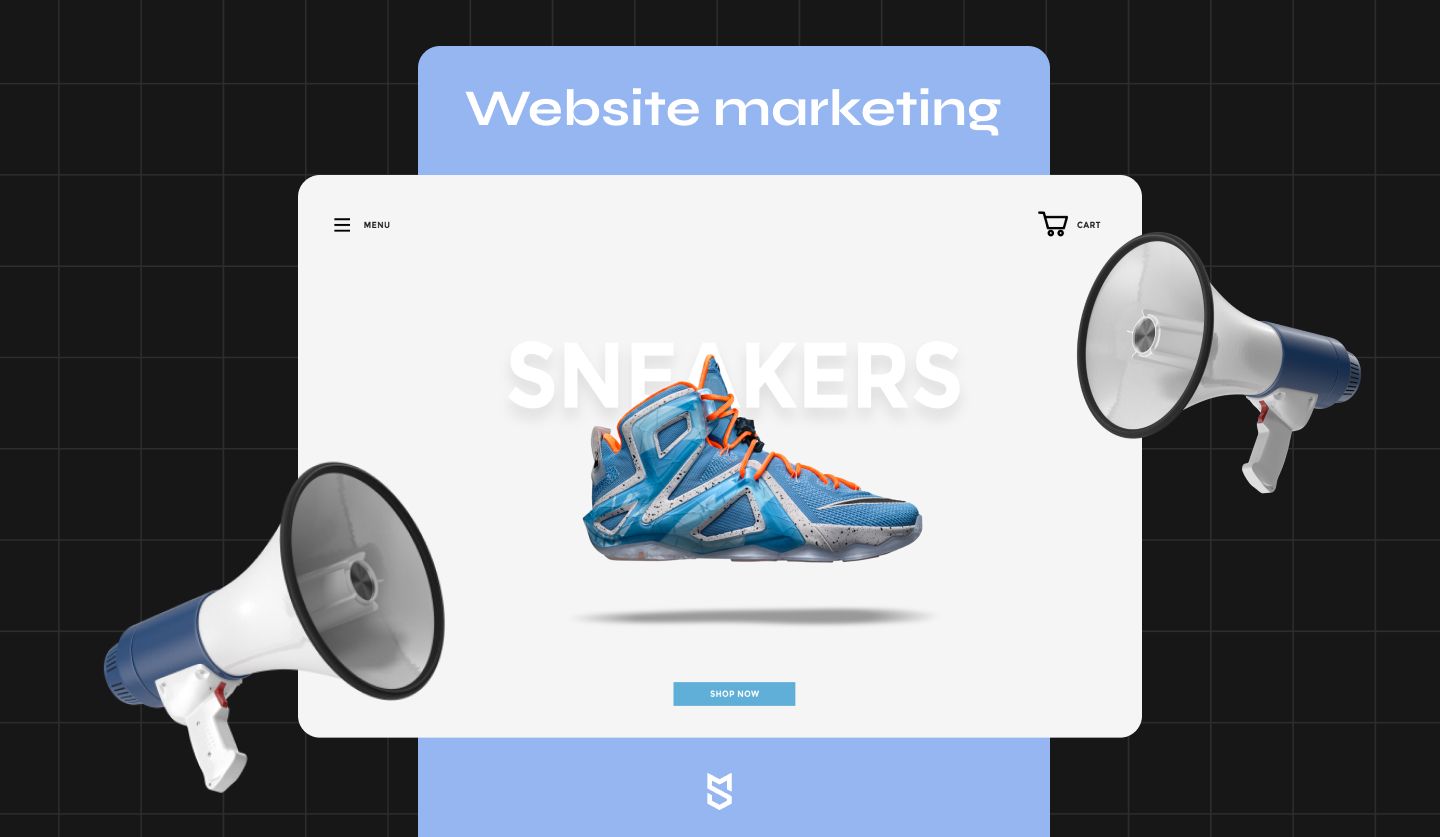 Marketing strategy implementation begins long before the product is launched. It includes multiple components, such as pay-per-click advertising, email, content, and social media marketing.
On average, the marketing budget for an eCommerce business is 5-20% of revenue. Keep in mind that those new to the market usually have to spend on marketing more than well-established businesses.
Additional expenses you might face when building an eCommerce website are:
Content and product images in case you sell your own brands' products or if you run a retail platform and the other brands' content and photos are of poor quality.
Search engine optimization that will ensure your target audience quickly finds your website in search results. It is also tightly connected to the copy and images on your eCommerce platform, as well as its structure and regular updates. SEO optimization can cost businesses $1,500 – $5,000 per month.
The cost of the most necessary features for an e-commerce website
Since the number and complexity of features are one of the most important factors in calculating online shopping website development cost, we dedicated a separate section to the essential eCommerce features. In the table below, you will find the functionality you just can't skip when building an eCommerce platform — and how much it might cost you.
The eCommerce website pricing below is based on an hourly rate of $45, which is common for Eastern European companies. The estimate includes backend and frontend development, testing the features by a QA engineer, and project management services.
Feature
Why it's essential
Cost to develop
Quick authorization process
Long sign-in/sign-up process increases bounce rates, so speed it up by providing users with an opportunity to log in to your platform through their social media accounts and email clients.
$9,000 – $10,200
Personal account with shopping history and customer data
Having access to shopping history and, most importantly, an opportunity to repeat a previous order increases the chance of users coming back to your eCommerce platform.
$7,200 – $9,000
Product search
Advanced search with an option of filtering the products by various parameters and categories, from basic like price to the sustainability of the product, will make it easier for the user to find the right product. The categories needed can be determined after the target audience analysis.
$3,960 – $5,400
Product and/or service pages
Make sure the users have everything necessary to make an informed decision regarding the purchase. This includes high-quality images, well-structured and detailed descriptions, and prices.
$4,950 – $5,400
Ratings and reviews
In addition to text and starring reviews, you can add an option of uploading pictures and video reviews of the products. To make the website more trustworthy, you can provide an option of leaving reviews only to users who actually completed the purchase. If you are running a marketplace, provide an option of reviewing not just the products but the vendors as well.
$3,600 – $4,500
Shopping cart
Easy to edit cart increases the chance of users going through with their purchases. In addition to making changes to the items in the cart, make sure the back-end functionality automatically updates the price if users remove items, use coupons, etc.
$4,050 – $5,220
Checkout and easy payments
Ensure the checkout process is quick, simple, and doesn't require any excessive information from the user. If possible, provide multiple payment options.
$7,200 – $9,000
Wish list and comparison list
Adding an easily-editable favorites feature, as well as a comparison list if it's a marketplace, helps users plan their future purchases ahead and increases the chance they will use your platform again in the future.
$1,800 – $3,600
Chat
This feature is essential for eCommerce platforms, especially marketplaces working with multiple vendors. Quick and transparent communication can be a deciding factor for customers shopping online. To minimize bounce rates, you can implement a chatbot feature.
$7,650 – $9,450
CMS integration (admin authorization and management, product management, order management)
This allows website owners and sellers to use the platform to create, read, update and delete categories and products, as well as manage order details like payments' status, delivery status, etc.
$4,500 – $6,300
Total cost of developing the features essential for an eCommerce website
$53,910 – $68,070
eCommerce website design cost
First and foremost, eCommerce website design cost depends on whether you choose to go with custom UI/UX solutions or pick a website theme from platforms like WooCommerce or Shopify.
SaaS-based eCommerce platforms often offer templates that you can use along with their CMS. WooCommerce regular themes can cost around $30 or even less, while Shopify premium templates cost between $150 and $350. Websites like ThemeForest even offer free themes created by the community.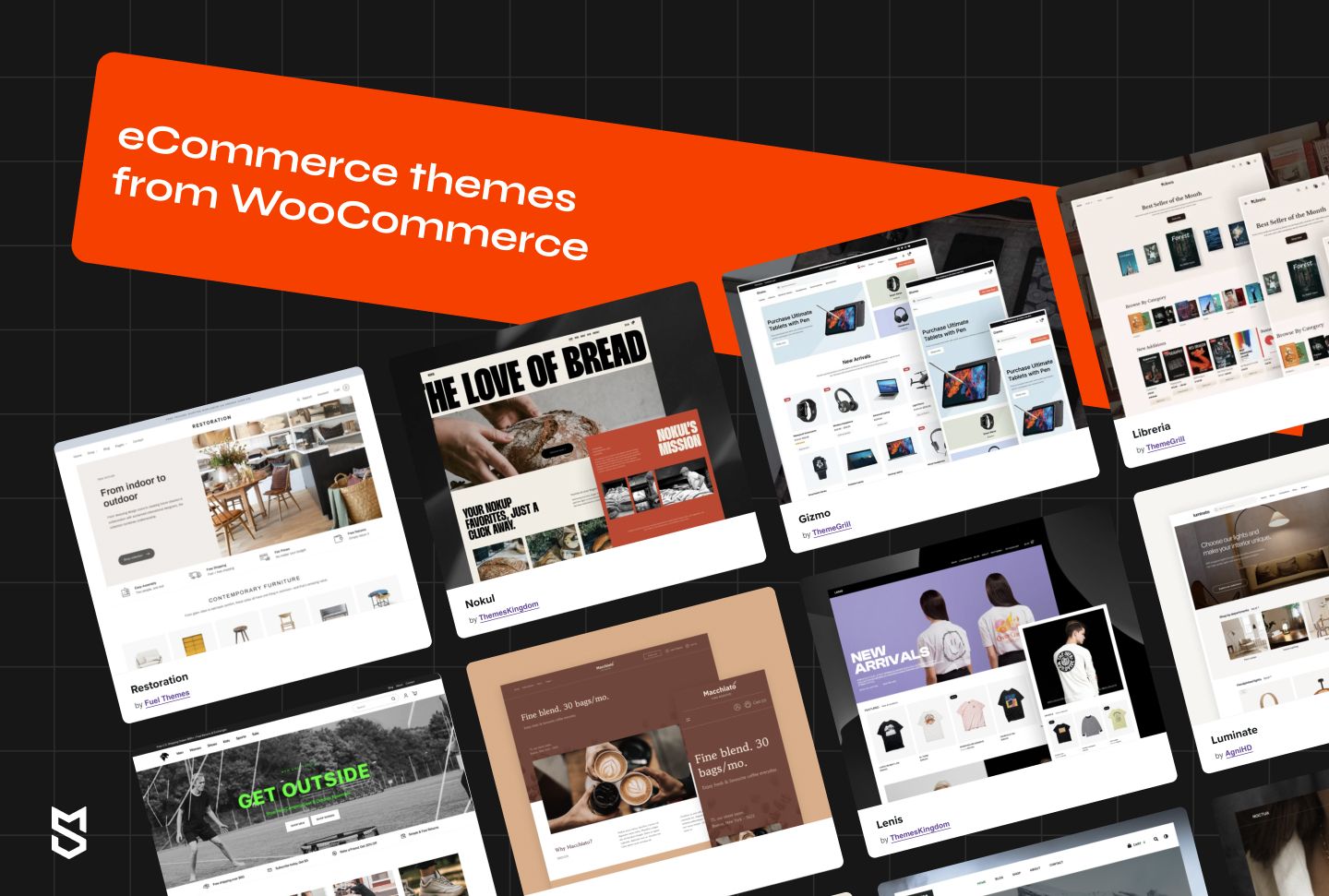 There is no right or wrong decision when it comes to picking between web themes and custom design since it depends on the financial resources of the business. However, we recommend taking into account the type of your website when making this choice.
The ready-made website themes are more or less customizable and suit those businesses that have pretty standard requirements regarding eCommerce website features. Besides, if you are just starting the journey of digitalizing your offline business and are going to sell your own products, a website theme might just cover your needs.
However, if you are going to build an online retail store or a marketplace that sells products from different vendors, state-of-the-art custom UI/UX design is what can get your platform ready for competition with well-established players on the market.
For instance, when working on a project, Mind Studios' UI/UX designers really immerse themselves into the industry specifics to study and test the needs of target users. This helps them find ways to create solutions no other similar platform offers, from custom layouts to interactive animations motivating users to engage with the website.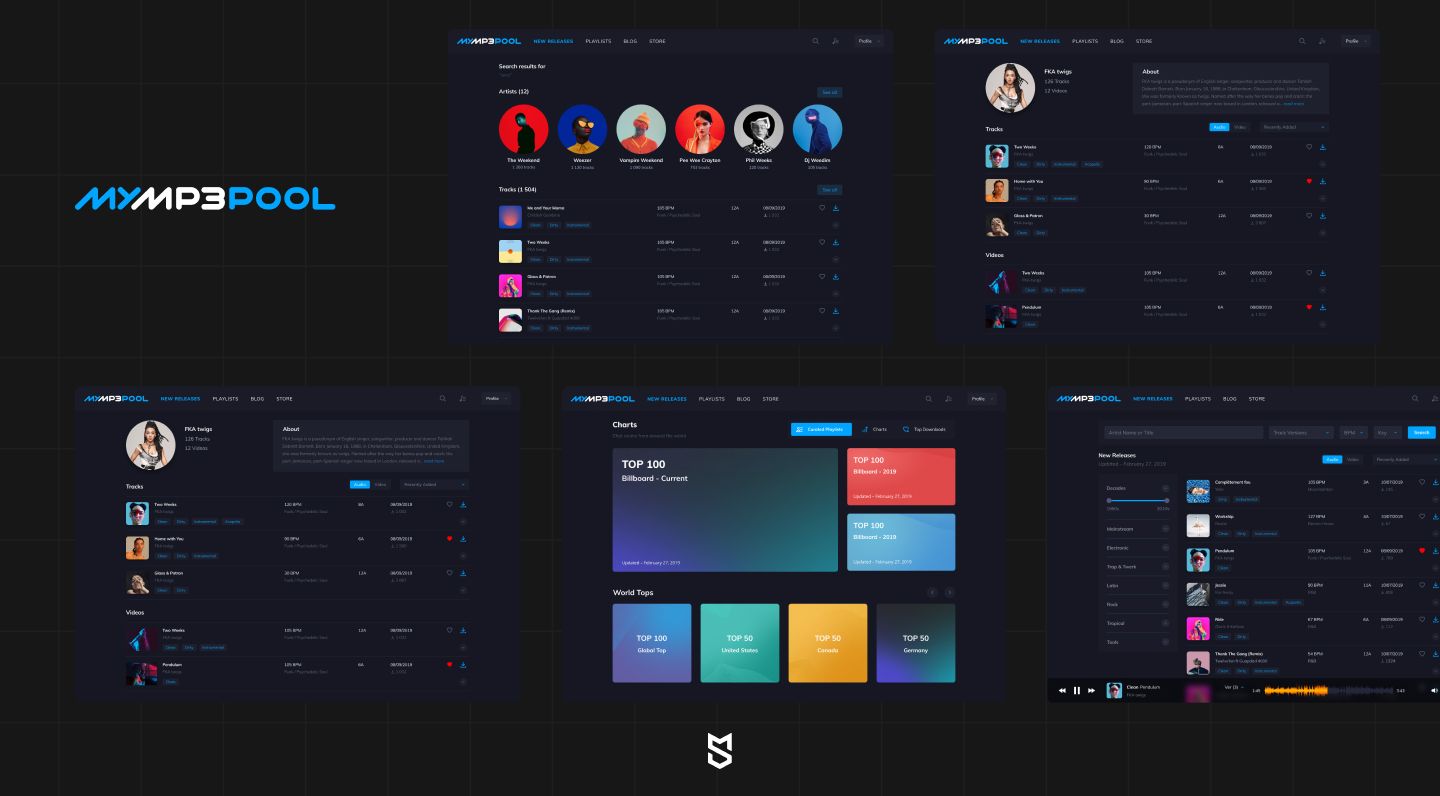 [Source: MyMP3Pool, one of Mind Studios' projects]
Custom web design price also depends on numerous factors, like the number of web pages, the level of their customization, responsiveness, interactivity, and more. Also, the price may vary depending on whether the graphics, the branded materials, and product content are provided by the clients or need to be created as well.
Here is the comparison of website design costs depending on the level of its customization.
| Type of web design solution | Average cost |
| --- | --- |
| Web theme with no or minimum customization | $45 – $500 |
| Web theme with customization options (usually somewhat limited) | $1,080 – $3,200 |
| Custom web design if developed by Mind Studios | $8,000+ |
eCommerce platforms in online shopping website development cost
Just as with website design, there are also two options for developing an eCommerce website: custom development and creating an eCommerce website based on ready-made SaaS CMS solutions. In this section, we are going to talk about the latter ones.
CMS (content management systems) are what allows you (or the sellers that use your platform) to create and edit the content on the website. SaaS CMS solutions include pre-set features, design templates, hosting, and other crucial functionality.
Moreover, systems built specifically for eCommerce platforms can offer such functionality as shipment integrations, security solutions, and other features necessary for online stores.
The most well-known platforms that offer ready-made solutions for the eCommerce industry are Shopify, WooCommerce, and BigCommerce. Here is how much it can cost you to build a basic eCommerce website using each of these solutions as of 2022.
| eCommerce solution | Description | Total cost to build a basic eCommerce website (depending on the level of customization) |
| --- | --- | --- |
| Shopify | A subscription-based SaaS sales platform that offers 5 monthly pricing plans, from Starter plan for $5 to Shopify Plus starting at $2,000. You can choose the plan depending on how customizable you want your website to be. When working with Shopify, you might need a developer's help to deal with store migration, UI/UX customization, and setting up the domain. | $1,000 – $10,000+ |
| WooCommerce | An open-source eCommerce platform built on WordPress that offers different pricing plans, including Starter, Custom, and Enterprise. The choice depends on your needs in terms of hosting services, features, plugins, and design. When developing a website with WooCommerce, you might need an IT specialist's help with speed and security optimization, API integrations, and modifying the web theme. | $500 – $10,000 |
| BigCommerce | A SaaS eCommerce platform for retailers and growing businesses. It offers four pricing plans: Standard, Plus, Pro, and Enterprise. You might still need a coder's help, especially when working with design adjustment features. The platform demands upgrading your plan if you exceed the limit of the annual sales. | $1,000 – $10,000+ |
All these solutions can be a solid choice for small business owners who want to go online and don't have the budget for a custom eCommerce website yet. However, it's worth noting that even with these platforms, you will still have to cover multiple service fees regularly — and sometimes even update your pricing plans if your sales grow significantly.
At the same time, ambitious projects like growing online retail stores and marketplaces usually require more out-of-the-box solutions in order to make it on the market. Custom development is what can make your website stand out and at the same time provide you with independence in terms of possessing your eCommerce platform's code and data.
Custom eCommerce website development cost breakdown
Now that you know the approximate cost to develop an eCommerce website using ready-made solutions like Shopify and WooCommerce, let's explore how much custom development might cost you.
Software and transaction platform modifications account for 20% of online shop operating costs. The most expensive parts of eCommerce are shipping and returns. Due to their cheap cost, several eCommerce distribution facilities charge 3% of retail prices for warehouse and fulfilment.
Based on the set of essential features and functionality we provided earlier and an average Eastern-European rate of $45/hour, our team made an website for eCommerce cost structure, with each stage and aspect of developing a custom medium-complexity eCommerce website covered.
Stage
What it involves
Time, hours
Cost, USD
Discovery stage
Idea evaluation, market research, conducting interviews with prospective clients and studying their needs to suggest the best possible solutions for the project
80+
3,600
UI/UX design
Defining the set of features of the website, finalizing its visual concept of the app, creating each web page in low-, medium- and high-fidelity prototypes
140 – 180
6,300 – 8,100
Frontend development
Developing the graphical and interactive user interface of the eCommerce website
520 – 600
23,400 – 27,000
Back-end development
Developing the server side of the website, specifically working with APIs, security, databases, and the website architecture
480 – 560
21,600 – 25,200
Testing
Testing the website and fixing any bugs that might arise to ensure the platform works flawlessly after it's launched
200 – 300
7,000 – 10,500
Project management
Connecting the clients with the development team, managing the process, ensuring the clarity of communication, as well as timely delivery of results
180 – 240
6,300 – 8,400
Total eCommerce store cost and time estimate
1,600 - 1,960
68,200 – 82,800
In this table, we included the expenses eCommerce business owners face throughout the entire development process up until the website is launched. And though this eCommerce website cost estimate does not include the post-launch expenses, such as marketing, maintenance, and support prices, as well as the price of third-party integration, we are happy to consult you and answer the "How much does an eCommerce website cost for my specific business?" question.
Why eCommerce makes even more sense in 2023
There is no doubt that a decision to launch your own retail eCommerce business or a new marketplace can be quite a challenge, especially in the era of Amazon, eBay, and AliExpress. However, the global statistics on how rapidly this industry is growing might be just the thing that tips the scale in favor of going for it.
As stated in a report published on Research and Markets, the global e-commerce market was valued at 13 trillion U.S. dollars in 2021. It is also forecasted to reach 55.6 trillion U.S. dollars by 2027, showing a CAGR of 27.4% during 2022-2027.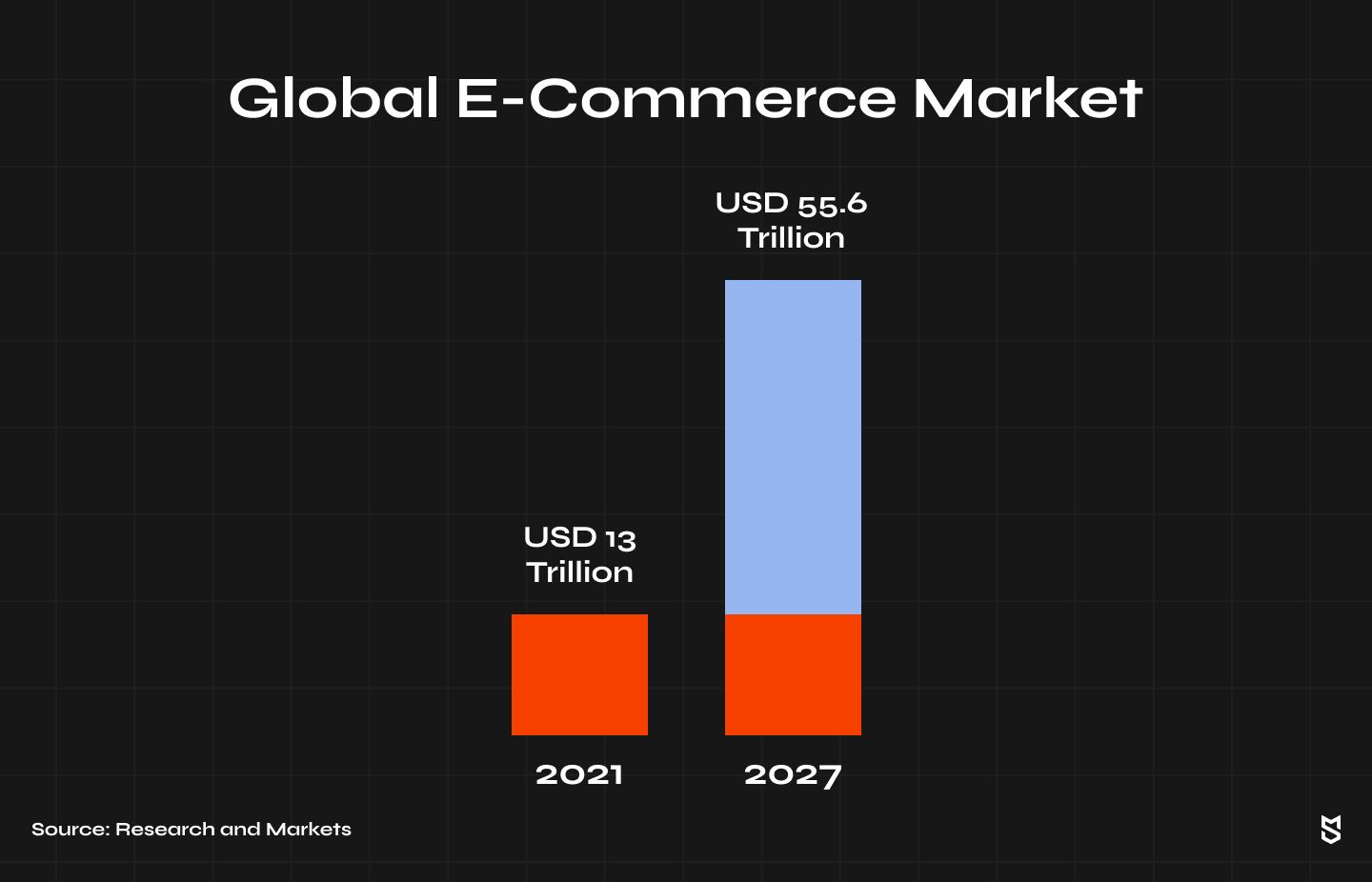 Obviously, the increasing number of internet users and the globalization of the retail market are powerful driving forces of the eCommerce industry. But what is most important, conducting business online helps companies minimize infrastructure and communication costs while providing their customers with a more personalized experience.
In some regions, the market is growing faster than in others. For instance, according to Statista, in Asia-Pacific, eCommerce accounted for half of all retail sales in 2020. Also, by the end of 2022, Asia is expected to reach 2 trillion U.S. dollars in eCommerce retail.
The region dominating the international eCommerce market is North America, though just like Europe, the industry might not be growing as rapidly as in other parts of the world. This is due to the rising awareness of environmental responsibility and the trend to stop overconsumption. Customers in these regions are also more demanding of the quality, price, and environmental footprint of the products they purchase.
Knowing the peculiarities of different markets can help you make more informed and thus efficient business decisions regarding your development strategy. However, we've comprised a list of versatile trends sticking to which can help you up the chances of your platform's success:
Implementing voice search and virtual assistants that can help customers with creating shopping lists, ordering products, and more
Integrating numerous secure payment options, including digital payments services and a possibility to pay with cryptocurrency
Diversification of visual content in order to help customers make a decision regarding their purchases. This might include video reviews or even AR-powered features that make it possible to interact with the product online
Naturally, your project might need different or more specific solutions. Mind Studios can help you determine which exact functionalities your customers will expect from your platform through in-depth research of the market and your target audience's needs.
How Mind Studios can help with eCommerce website cost optimization

Developing websites and applications for dozens of businesses has taught us to be flexible when it comes to tech solutions, since every case is unique, and the resources differ greatly from project to project. Now, we are experts in finding just the right solutions that are beneficial to the business while fitting the budget allocated to software development.
Anton Baryshevskiy, Mind Studios' co-founder and head of the business development department, explains how we manage to stick to the estimate we provide our clients with before our cooperation.
"At the very beginning, when we are still preparing our offer, we usually suggest the MVP/MLP approach. This allows us to pick the functionality that will lead to achieving the project's goals within the budget the client has.
As for the active phase of the project, there are three core objectives that help our managers bring cost overruns to a minimum: managing our clients' expectations, managing the budget, and managing the changes to the project."
It's a never-ending job, but it helps us keep our promises to the client and deliver excellent results while sticking to the original budget.
For sure, building a big online retail store or a marketplace can be costly. Therefore, after analyzing the business type, size, and positioning, we can either recommend custom development or ready-made solutions. Anton explains:
"If custom development is out of budget, there are solutions based on web templates like Shopify that allow us to launch the eCommerce website much faster and cheaper."
However, custom development can also be adjusted to the client's budget. The cost to build an ecommerce website depends on numerous factors, like the complexity of design, the number of API integrations, the number of payment providers, and so on. By managing and changing these factors, we can influence the cost of eCommerce website development.
At the same time, there are a couple of development aspects that Anton doesn't recommend skimping on.
"In the modern world, UI/UX design is of crucial importance since it's the first thing that appeals to the users and motivates them to stay on the website: go through a registration process, buy products, etc. I also wouldn't recommend skipping SEO optimization.
It's also essential to secure at least one high-quality payment gateway integration, especially when building an eCommerce platform. Imagine what a fiasco it would be if users of an online store couldn't quickly and effortlessly buy the product they've been looking for on your website."
Mind Studios has extensive experience in building successful software products in all kinds of business industries. At the same time, we offer moderate hourly rates due to the fact that we are located in Eastern Europe, one of the best regions for software development outsourcing if you're looking for five-star quality at an affordable price.
Final thoughts
Depending on your business needs, goals, and financial capacity, the cost to create an eCommerce website varies drastically: from a couple of thousand U.S. dollars to $80,000+. Mind Studios team is flexible in terms of adjusting our offer to your requirements and budget while taking on the responsibility to deliver great results.
No matter what your decision regarding custom development or ready-made solutions like Shopify is, we would be happy to implement your idea.
Get in touch with us to find out how Mind Studios can help you reach your business goals through tech solutions. Our business development experts will hear out your vision for the project and help you create a clear and effective development strategy that won't exceed your budget limit.
3