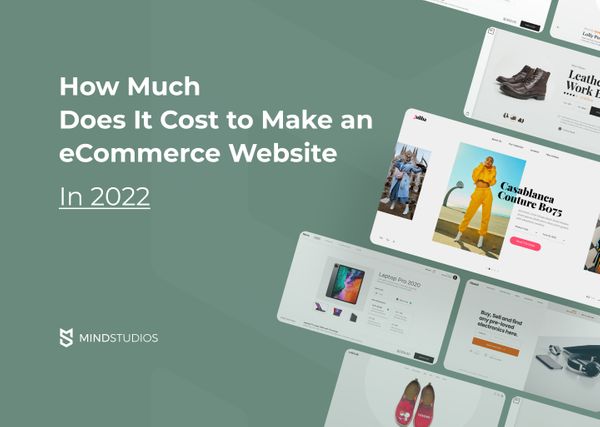 If you're thinking about launching an e-commerce website or improving the website you already have, this is the right place to start. The Mind Studios team has created this roadmap to guide you in creating an eCommerce website, avoiding mistakes and unreasonable investments, costs to make an eCommerce website, and thinking through every step in advance.
---
Content:
---
Why eCommerce makes even more sense in 2022
If in the past online shopping was a convenient way to buy things, the coronavirus pandemic has turned it into almost the only possible way. What's more, online shopping is expected to remain popular after the lockdown is over, as many people will be in no hurry to visit public and crowded places.
Ecommerce is profitable, convenient, and secure not only from the point of view of customers. Many companies that used to focus on developing physical points of sale are now forced to move into the online space. And most likely, many will not return to their previous business models.
Of course, online competition will intensify as a result. But at the same time, this is your chance to launch a more thoughtful and successful eCommerce startup that will meet consumers' new preferences and requirements.
6 types of eCommerce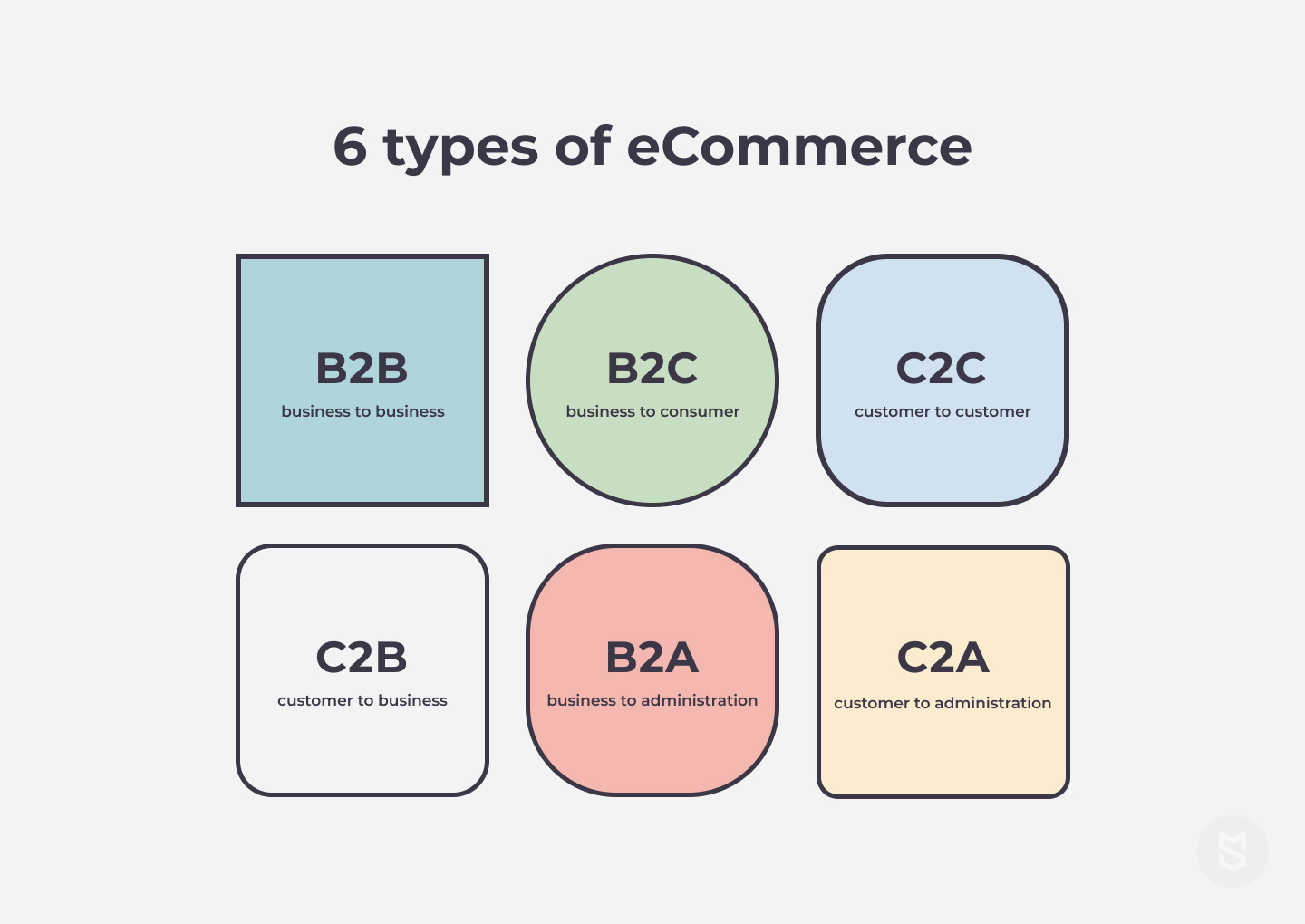 If you're thinking about launching an eCommerce website from scratch, the first thing you need to understand is the category your business will operate in. Here are short and understandable explanations of each:
B2B (business to business) — You sell goods to other businesses

B2C (business to consumer) — The classic retail approach in which you sell goods directly to consumers

C2C (customer to customer) — You yourself are a customer and sell to other customers

C2B (customer to business) — Your customers (or other users) create value for you, such as by promoting your goods with the help of reviews or influencer marketing

B2A (business to administration) — You sell your goods to state bodies, for example using e-procurement marketplaces

C2A (customer to administration) — Refers to interactions between individuals and organizations, for example when a patient schedules an appointment at a public clinic using an online service
Finding your perfect niche and audience — 4 business techniques
Make sure to use all these techniques since they can significantly decrease your eCommerce website development costs and improve your business.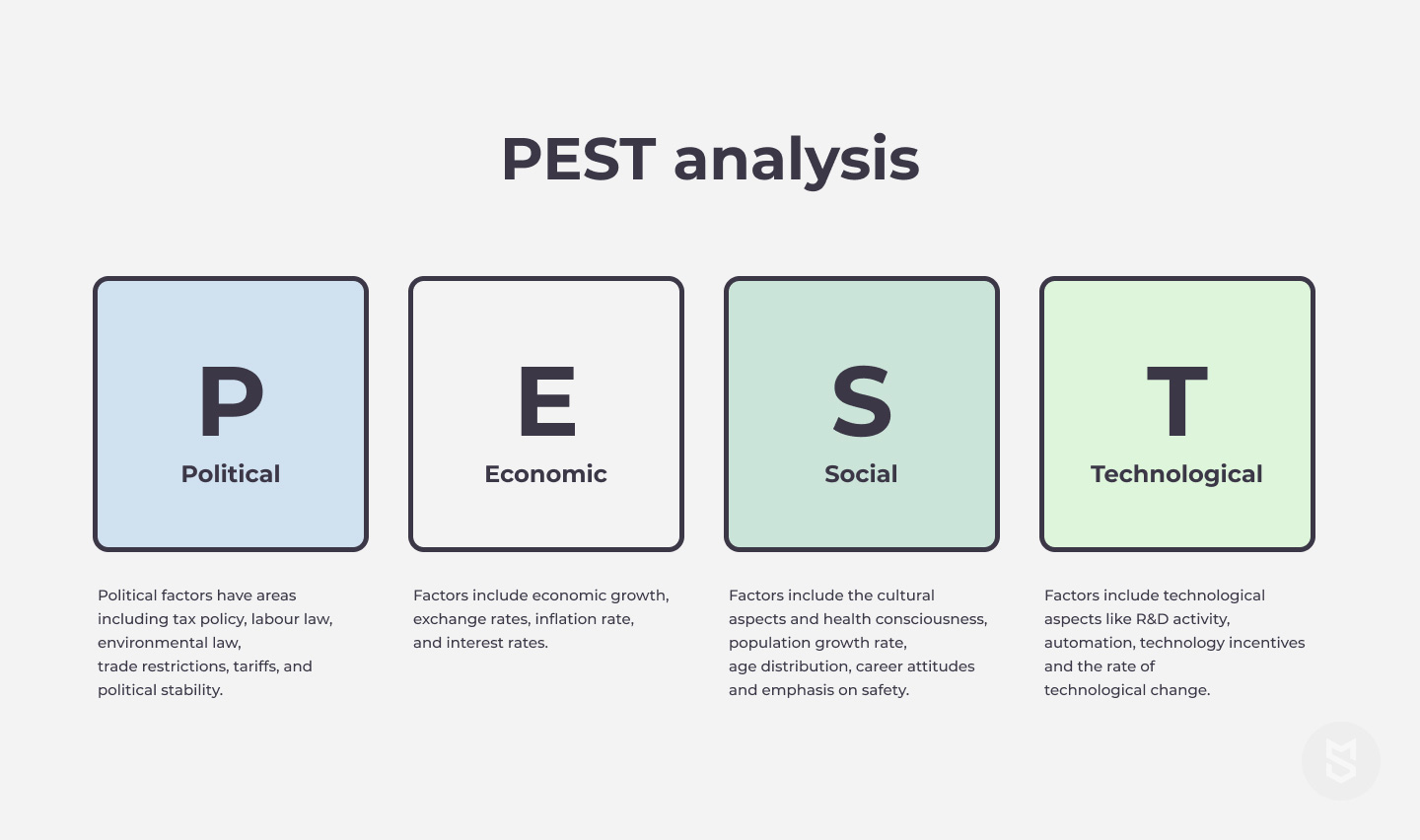 PEST. If you have nothing but a bare idea for your eCommerce startup, start exploring the external environment using PEST analysis. PEST allows you to fully assess the situation around you by analyzing political, economic, social, and technological factors. This method will also help if you plan to start selling your products abroad.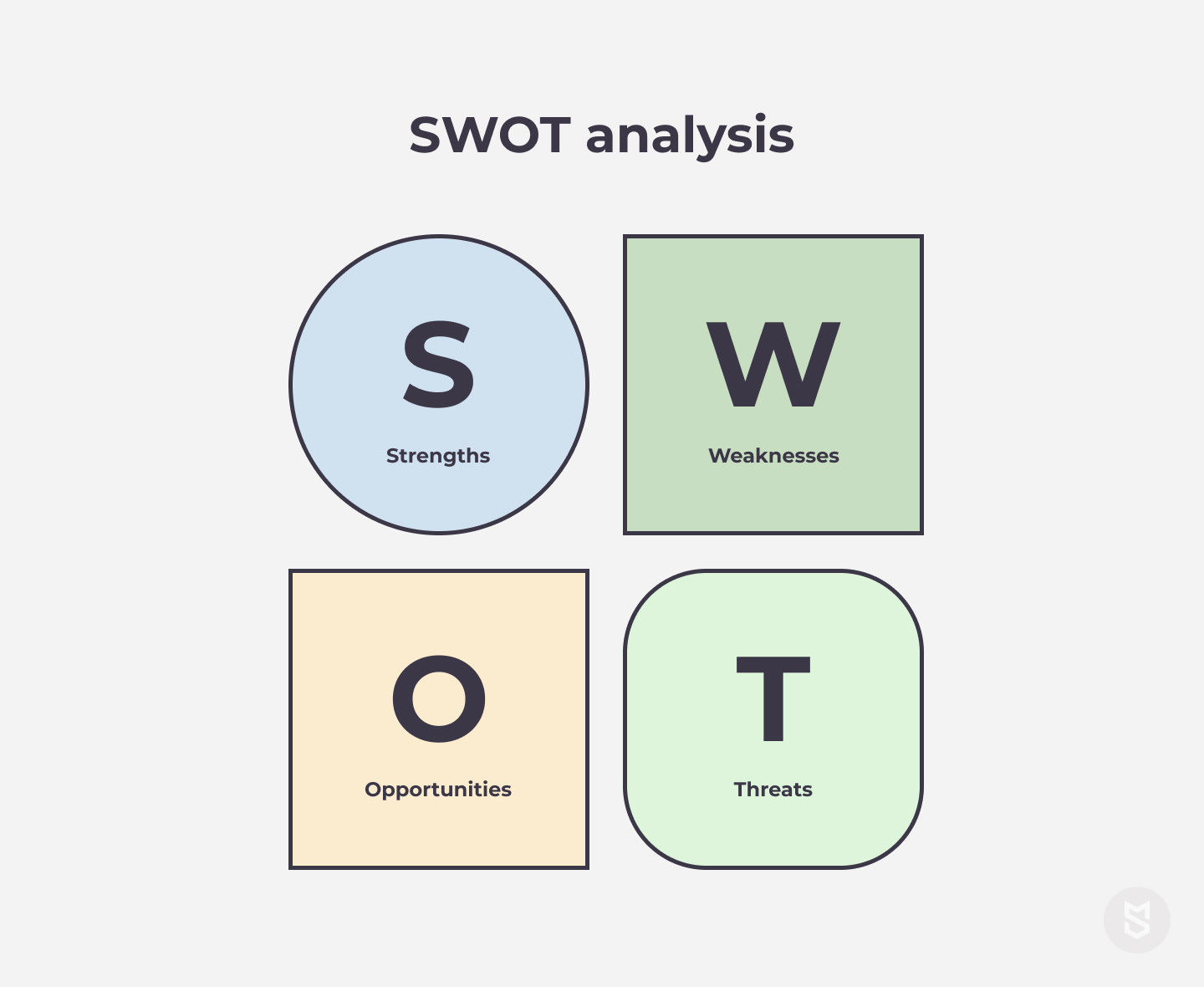 -
SWOT.
This is a basic method that allows you to sensibly assess your strengths and weaknesses as well as the opportunities and threats in the market you're planning to enter. The advantage of SWOT analysis is that you can use it both at the idea validation stage and to evaluate the effectiveness of your business strategy for certain periods and look for new directions for development.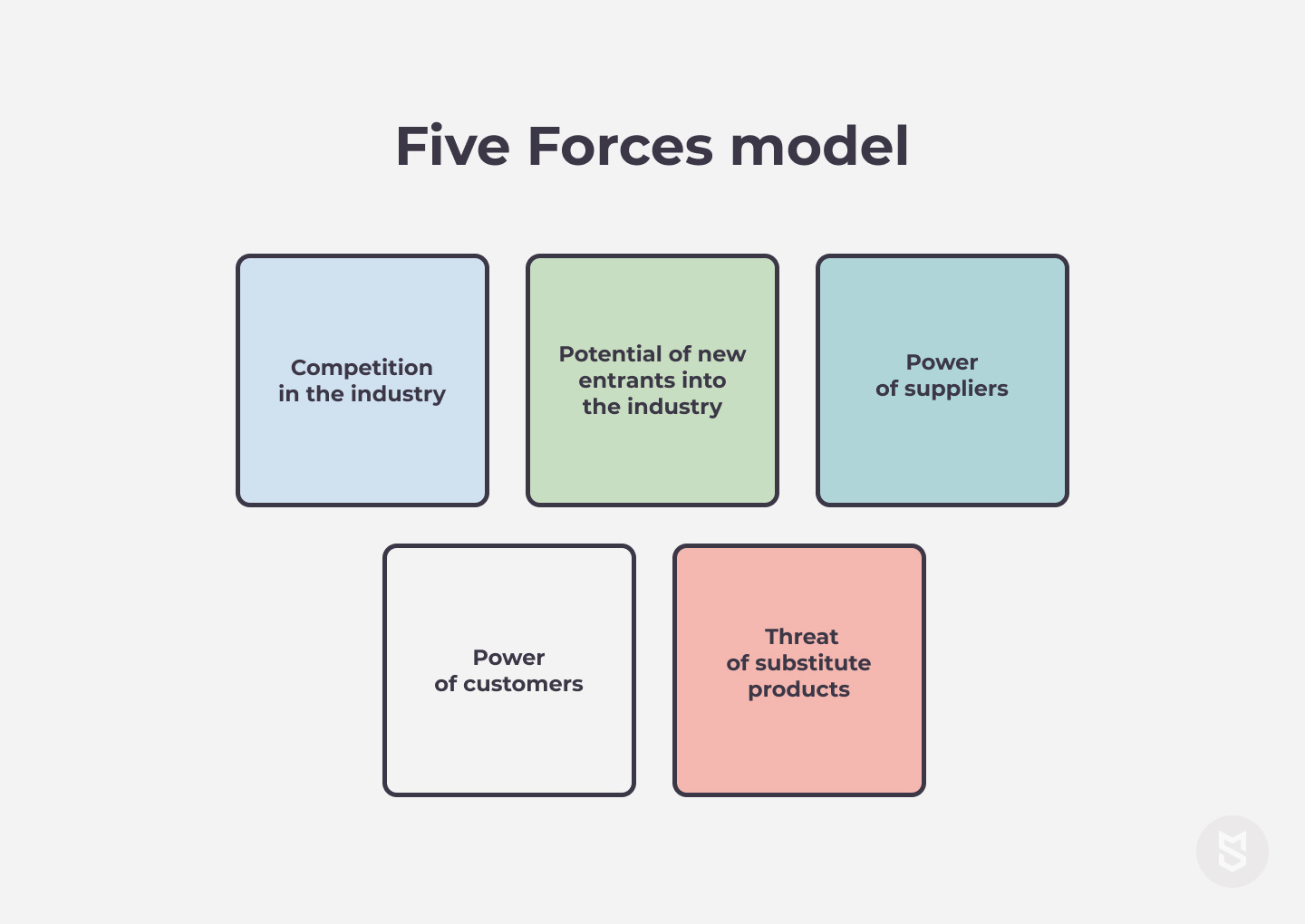 -
Five Forces.
This is one of the best methods for researching your competitors because it allows you to answer the most important questions about them and develop a better eCommerce website for your potential customers.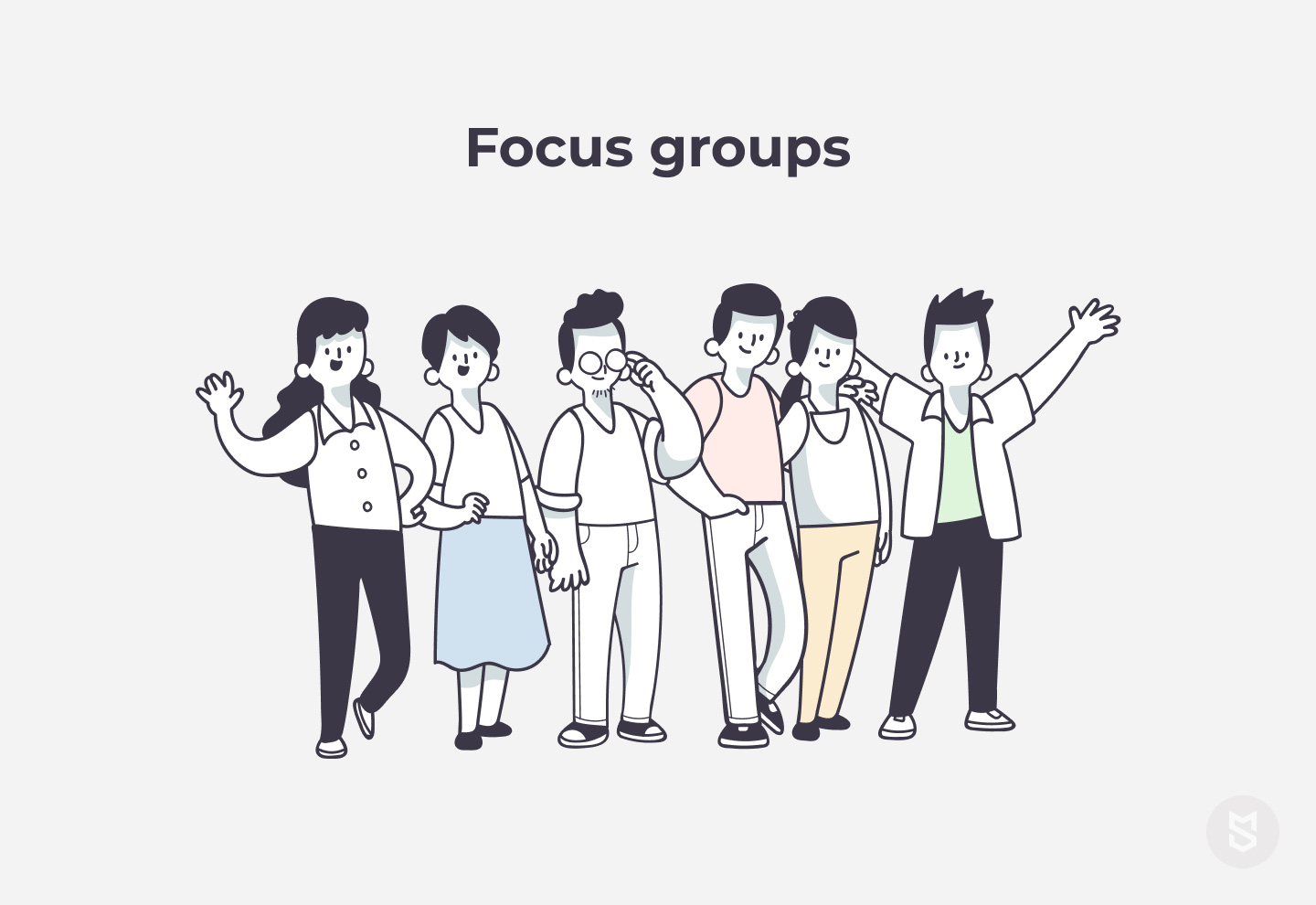 -
Focus groups.
Focus group research makes sense when you already have either a customer base or an MVP for which you want to find a suitable audience. Hint: If you add open questions to your polls, users will share interesting ideas with you for free. By the way, we've already discussed
how to find the target audience for your mobile app
, so feel free to start your research from our guide.
Building your eCommerce website — The ultimate guide
Here's what you need to do to start an eCommerce business step by step.
Should you redesign website or build a new eCommerce website from scratch?
First of all, you should decide whether you'll improve the site you already have or create a platform from scratch. Surely, your decision will affect the price of eCommerce website development.
Redesigning makes sense when you already have a good website and just need some updates and improvements.
At the same time, you need to take into account the technology with which your site was built, your new business strategy, and the new ideas you want to implement. An easy redesign is appropriate when you already have a full-fledged site with an active audience and you just want to adopt new trends or improve usability.
If your site is already dated, the price of redesigning and/or implementing new features may be equal to the eCommerce website cost to build from scratch. Therefore, before making a decision, consult with a reliable software development vendor.
Building from scratch provides more space to be creative and take users' preferences into account.
In addition, it makes it possible to organically implement new trends on your site, such as a recommendation engine, as well as connect more advanced payment systems and improve website data security. Of course, the cost to develop an eCommerce website will be higher in this case, but a well-designed platform in combination with a clear business strategy will allow you to return your investment and make a profit.
Common mistakes you must avoid when creating an eCommerce website
Regardless of the type of e-Commerce solution you're creating, make sure to avoid the following errors to significantly lower your cost to develop an eCommerce website.
Too fashionable of a design
Pursuing trends isn't always the best approach when it comes to creating an eCommerce website. First of all, your site should sell, so it's important to strike a balance between usability, a nice looking design, and functionality.

Poor images of goods and lack of videos, prices, and descriptions
This mistake doesn't even need additional explanation. All product information should always be in front of the user's eyes.

Search and navigation issues
According to modern standards of user experience and eCommerce web development, users should receive what they're looking for with no more than three clicks.

No filters for products — or filters that don't contain the parameters users want
If your eCommerce website offers more than one product, it must contain the ability to filter products by price, popularity, and technical specifications. In addition, you need to monitor user behavior and get insights based on it. Perhaps the addition of one non-standard filter will greatly facilitate the search and thus improve sales.

Slow loading
The ideal site load time is under 3 seconds. Studies show that most users will not wait any longer.

Too complex of a registration process
The registration form should contain no more than three lines, plus the ability to quickly register by phone number or social media account.

Poor mobile experience
In 2019, two billion users made mobile purchases. At the same time, a poor mobile experience is the top reason why potential customers refuse to interact with a company.

No reviews, no social presence, no chatbot
All these are must-haves for an eCommerce website in 2021. 84% of users trust online reviews — and the number of fake reviews is huge. Don't add to their number if you don't want to risk the reputation of your business. Chatbots have long been taken for granted, and business features of social networks have led to the emergence of a new term: social commerce. You'll need all this at once.

No personalization or search-based product recommendations
Personalization and electronic commerce are no longer separable. A product recommendation engine is just one element to personalize your customer experience. Do you doubt whether you need it? According to Rejoiner, 35% of Amazon's revenue is generated by its product recommendation engine. You may achieve a similar result.

No choice of languages
Although most sites in the world are in English, users will always choose their native language if the opportunity is provided. If your business is international, you'd better have a separate version of the site for each language group. Firstly, this facilitates use of your site. Secondly, it's one more way to build loyalty with multiple target audiences.

Unclear refund and delivery conditions
Ideally, users should receive information on refund and delivery conditions in the product description section so they can immediately understand the cost of delivery and options if the product doesn't work or doesn't fit.
Ecommerce platforms vs custom development
The main eCommerce platforms are Shopify, Magento, and WooCommerce. They can allow you to create an eCommerce website for free or almost free but with very limited customization opportunities. This option may be suitable if you're running your business with a very limited budget and just want to collect feedback from your target audience.
Custom development is a much more expensive and time-consuming way to create an eCommerce website, but with it your expected return on investment (ROI) can also be higher. Even a professionally developed eCommerce website, however, won't be effective without a competent business and marketing strategy. Without one, your results will be unpredictable.
In any case, you should follow the LEAN startup methodology and always look for ways to cut costs to create an eCommerce website and speed up the time to market without sacrificing quality. Here are some strategic steps to get an effective eCommerce platform while avoiding mistakes and wasted investments.
How to Make an eCommerce website from Scratch?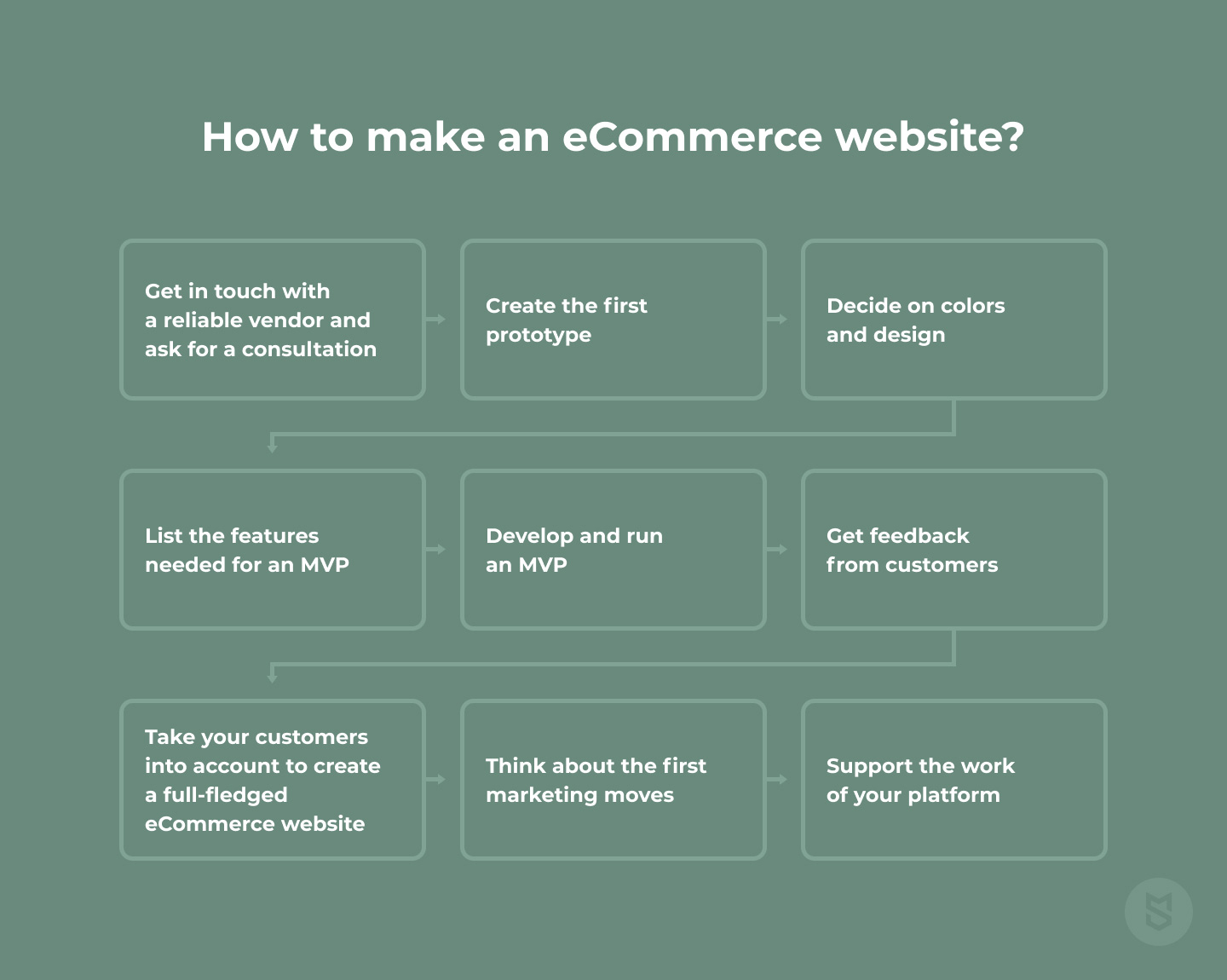 Get in touch with a reliable vendor and ask for a consultation
At this stage, you'll be able to get a professional opinion and decide whether a slight redesign will be enough or if you need to create your solution from scratch.

Create the first prototype
Your first prototype will reflect your site's main sections and navigation structure. What's more, you should create your prototype with your content and SEO strategy in mind to make sure each section of your site will be filled with the right content. By doing this, you'll avoid costly revisions and improvements in the future.

Decide on colors and design
When deciding on colors and design, take into account your corporate style, modern web design trends, and color psychology. As for the colors, a lot will depend on the values and mood you want to deliver. For example, blue and white mean safety and stability, green may be associated with ecological trends, and red provokes attention and increases the sense of urgency.

List the features needed for an MVP
In simple words, an MVP is a working solution but with a minimal number of features. For an eCommerce website, you need a login form, shopping cart, some product sections, and a payment integration to make it work.

Develop and run an MVP
Now you need to test how your MVP works in real life and find out what your customers think about your solution.

Get feedback from customers
It's important to get and analyze feedback from customers. This stage is important since sometimes the insights you get may cause you to change your whole strategy. Obviously, it's better to change your direction now to meet the expectations of your customers and avoid investing in superfluous features.

Take your customers into account to create a full-fledged eCommerce website
The LEAN startup methodology means you should collect feedback every time you add a new set of features — up until the moment when your customers are satisfied with everything and are ready to spend their money on your platform.

Think about the first marketing moves
An eCommerce website makes no sense without a marketing and SEO strategy. Use the widest possible combination of social media, influencer, and video marketing.

Support the work of your platform
Your eCommerce platform will also need quality assurance and maintenance services, so make sure to list these items in your budget.
eCommerce web design
The design of your eCommerce website will form 94% of a customer's first impression, and that impression can't be changed. That's why your design should be balanced. A perfect eCommerce website design is pleasing to the eye and able to sell at the same time. Here's what you should take into account.
Conversion rate optimization (CRO)
Conversion rate optimization is an ongoing process. It means you're always monitoring how users behave on your website. The task is to build an eCommerce website design that makes it easy for users to complete the target action. In other words, your design should be free from stumbling blocks. But you can confirm that only by tracking how customers interact with it.
Ecommerce conversion funnel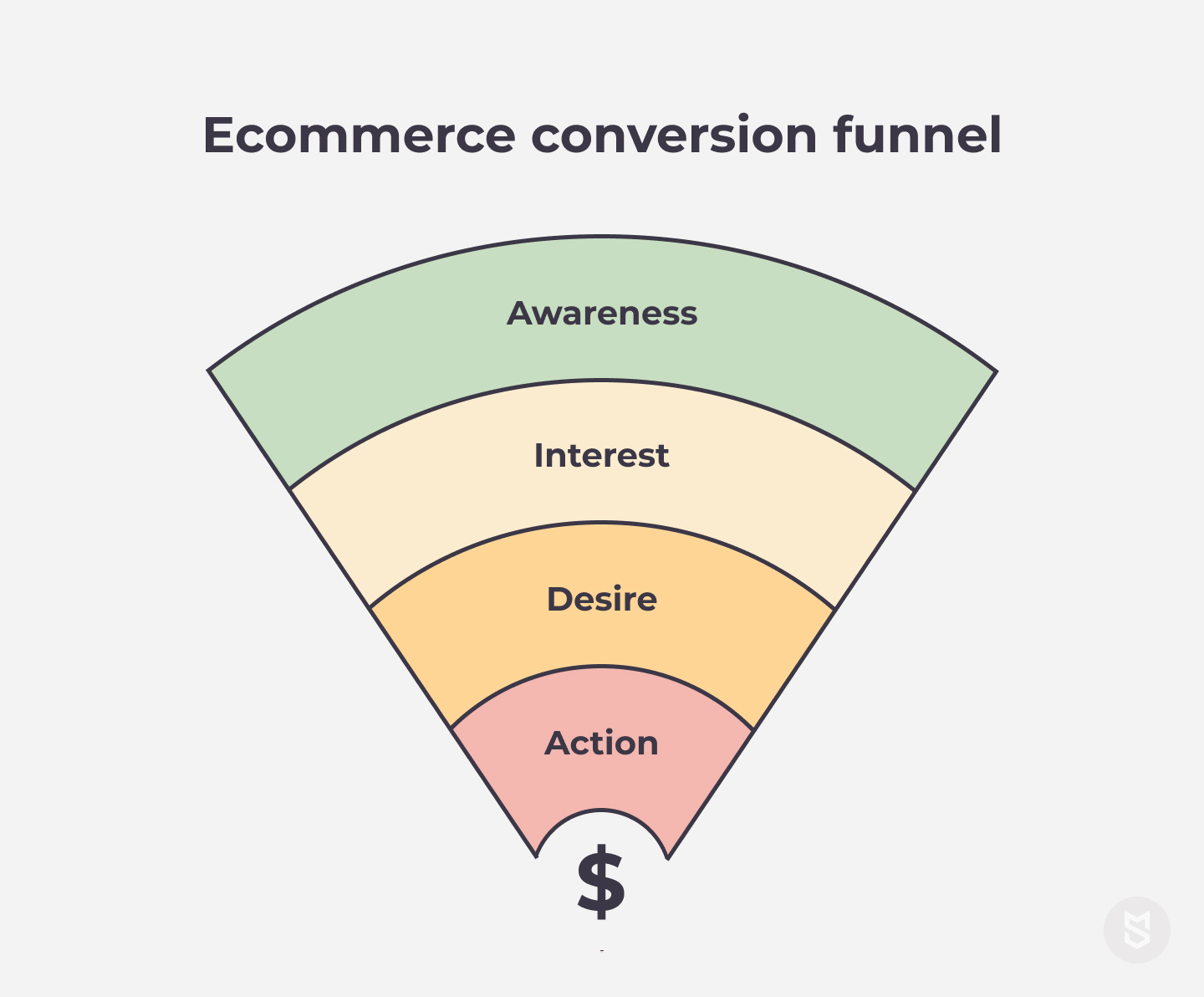 An eCommerce conversion funnel consists of four levels:
Awareness
Interest
Desire
Action
Your custom ecommerce platform should be built in such a way that each section of your website corresponds to the element of the sales funnel. Every design element matters here and should help your users move along the conversion path.
Current design trends
Your custom ecommerce website should be responsive and mobile-friendly. Ecommerce website trends in 2021 include video backgrounds, asymmetric layouts, minimalism, and a lot of white space combined with outstanding typography.
Custom eCommerce programming and functionality
Here's how to develop an eCommerce web application and the main features you need to implement.
| Feature | Description |
| --- | --- |
| Login | This is where your interactions with a customer begin. |
| Shopping cart | Your custom eCommerce website can't work without a shopping cart. Pay close attention to its usability to avoid abandoned carts due to technical issues. |
| Wish list and comparison list | These features will help you keep your sales high and contribute to a better user experience since your customers will have more possibilities to choose goods, compare them, and plan their future purchases. |
| Personal account with shopping history and customer data | Make sure to use your customers' history to come up with personalized offers and predict customer needs. |
| Comprehensive product pages with all necessary information | You should offer high-quality photos, videos, technical descriptions, and something more. When writing product descriptions, make sure you're selling not only the product's benefits but its emotions! |
| Payment integrations | Make sure you let customers choose from the most popular payment methods such as bank cards and PayPal. Sometimes it also makes sense to allow customers to pay with cash and cryptocurrency. What's more, all the financial traces your customers leave on your website should be strongly protected with SSL and other technologies. |
| FAQ, contact info, loyalty programs, and social share buttons | All these are must-have features for your ecommerce website since they'll help your customers easily look for information without bothering your support service and stay in touch with you via social media. |
| Blog | Your blog will help you kill two birds with one stone. With a blog, you can realize your SEO strategy and provide customers with valuable information regarding your goods, trends, and activities. |
| Management and analytical features on the back end | With these features, you can manage your website from within and track your analytics to develop promotional strategies |
How much does it cost to create an eCommerce website?
There's no fixed cost to build an eCommerce website. A lot of factors influence the total, including the complexity of the solution, the technologies you use, and the time spent. Plus, your budget should always include some wiggle room in case your strategy changes, for example after the launch of your MVP. Even the geographic location of developers you hire affects the eCommerce website development cost. It's possible to come up with an approximate figure only after a detailed discussion of your vision.
Our practice shows that the average cost to build an eCommerce website is from $15,000 to $40,000.
Is it worth starting an eCommerce business?
Yes, it's worth it. Especially given that more and more companies are moving to the digital space and more and more customers expect advanced ways of interacting with brands online. There are always some risks in starting any business, but you'll have a better chance of succeeding if you:
have conducted competent market analysis
make sure your product is really what your audience needs
come up with a unique value proposition
create a compelling website that provides a perfect user experience
ask a reliable vendor to help you with all these things and estimate your eCommerce website pricing.
At Mind Studios, we have experience helping eCommerce startups grow, reach their audiences, and start building long-lasting relationships with them. Get in touch with us for your first consultation and start creating your eCommerce website strategy.