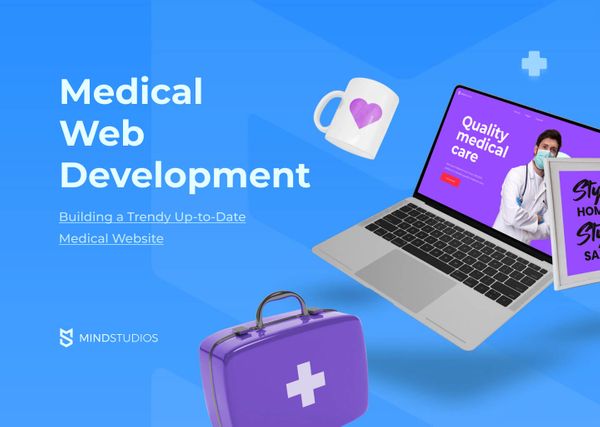 People seek medical assistance online when they can't get it offline for any number of reasons. Having an online presence is a must these days, and this is truer than ever for medical companies as the coronavirus pandemic forces the world into lockdown. In this article, we'll be talking about medical website design and development, its challenges, and its costs. Read on to learn more about the design and development process or scroll down to get a rough cost estimate.
---
Contents:
---
Trends in medical websites
Modern technology is a blessing for humanity. It not only allows us to travel far and enjoy never before seen conveniences; it also lets us live twice as long as people did just a couple hundred years ago. Technology has brought us better medicine and cures for previously deadly ailments.
Sadly, healthcare has been lagging behind many other industries when it comes to digitization. Which is a loss, since nearly 50% of people look up information on medical specialists online before visiting a clinic.
Whether it's the general complexity of transferring loads of data from paper to the screen or government-imposed bureaucracy, the medical industry has a long way to go when it comes to digitizing. But the process has been launched. Electronic health record/electronic medical record (EHR/EMR) systems are being adopted by more and more hospitals and clinics, and telemedicine is among the top 20 trending ideas for software development in 2021.
EHR/EMR systems allow healthcare providers to keep records of patients' medical information. You can read more about these systems in our article on custom EMR/EHR development.
Telemedicine is a field aimed at providing healthcare services remotely, complete with scheduling, consultations, and prescriptions. Creating a telemedicine platform is somewhat comparable to developing an online medical website but has its peculiarities.
Benefits of having an up-to-date medical website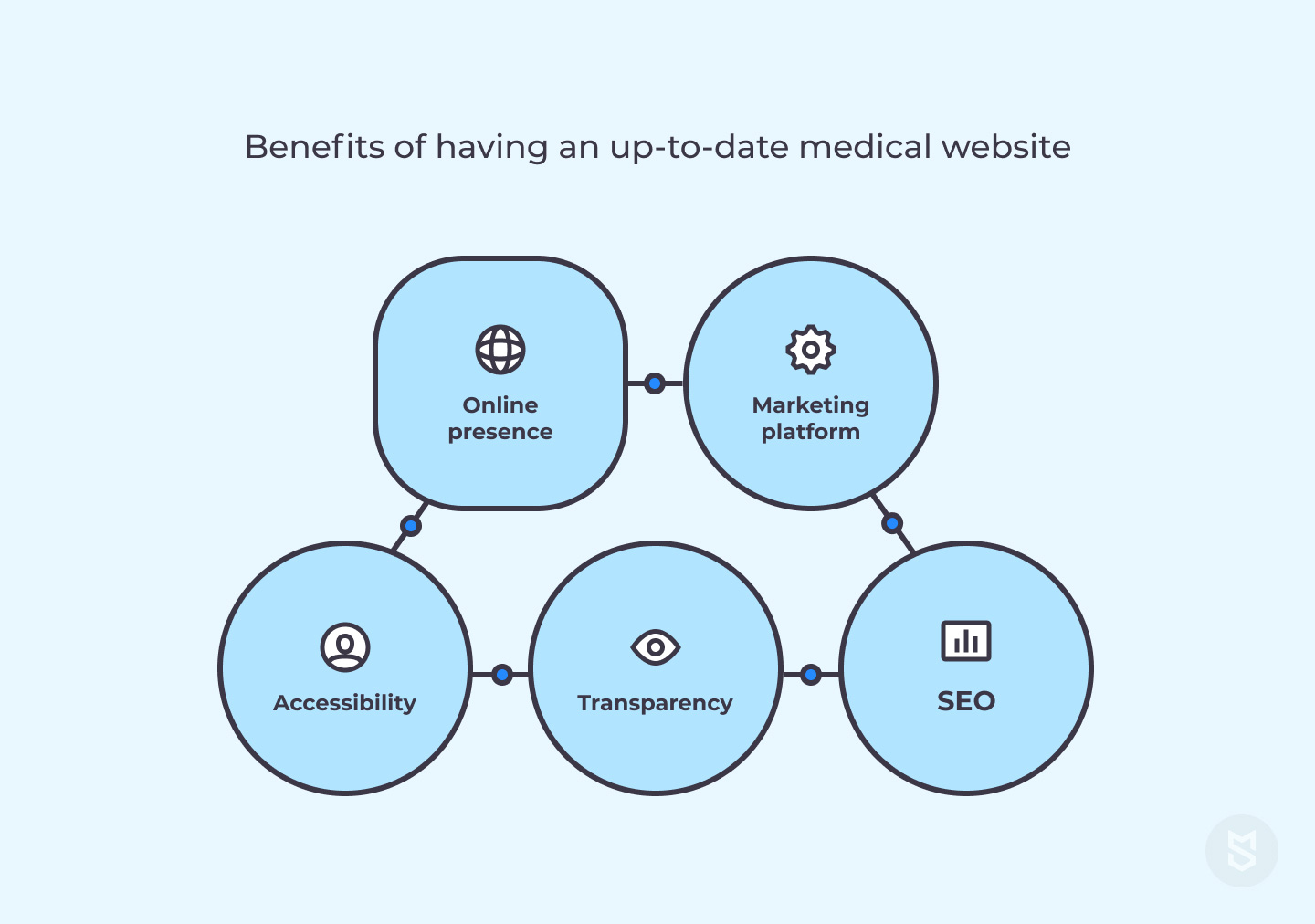 There's really no argument as to whether healthcare providers need websites — of course they do. If you don't have an online presence, it's almost as if you don't exist. And while one can argue about the truth of this statement when it comes to a personal Facebook page, when talking about growing a business, there's really no second opinion.
A website can bring a medical establishment numerous benefits:
Greater accessibility. A website is more accessible than a call center — it doesn't need as many employees, offers patients visual information, and has no phone queues. While you might still keep your call center for those who don't use the internet for some reason, a website will significantly lessen the load on your employees.

Your clinic can be found online, which is exactly where people look up everything these days.

With professional search engine optimization and a solid medical information database on your website, people who aren't your patients will be able to easily find your clinic.

You can offer all information about a clinic in one place. This includes information on the doctors you employ, their credentials, services your clinic can provide, etc.

New opportunities for marketing.
This list is just the tip of the iceberg, but these benefits alone would be reason enough to build a great website and an app for your clinic.
With a pandemic threatening each and every one of us all over the world and millions of people locked down in their homes, online access to healthcare has become one of the most needed services. The awful situation we're in today has been the final push towards digitization for many businesses, but for healthcare providers, its impact is so enormous it's hard to comprehend.
The following is some information you need to take into consideration when developing a healthcare website. Healthcare websites are subject to specific laws, and medical website design is no trifle.
HIPAA, HITECH, GDPR (and other scary abbreviations)

Medical information is extremely important and is considered sensitive in most countries. Hence, when storing medical records online, measures must be taken to protect them. For this reason, there are guidelines for data security.
In the US, the two main laws aimed at protecting medical data are the Health Insurance Portability and Accountability Act (HIPAA) and the Health Information Technology for Economic and Clinical Health (HITECH) Act.
To adhere to HIPAA and HITECH, any health organization operating on US territory must provide the means to thoroughly protect patients' personal data at all levels, online and offline. For websites, this means:
being SSL certified and encrypting data with the latest technology available
using only a HIPAA compliant hosting provider
having data backups
notifying patients of how their personal information is stored and used via a privacy policy
Complying with HIPAA and HITECH is a legal requirement but also improves your reputation. Failure to comply with HIPAA and HITECH requirements can result in considerable fees and, if continued, may lead to lawsuits.
Since 2018, Europe has had similar requirements in place in the form of the General Data Protection Regulation, or GDPR. The GDPR concerns not only health-related platforms but any websites dealing with users' data.
Depending on where you're launching your medical website, you'll need to check local legislation concerning medical and personal data.
Medical website design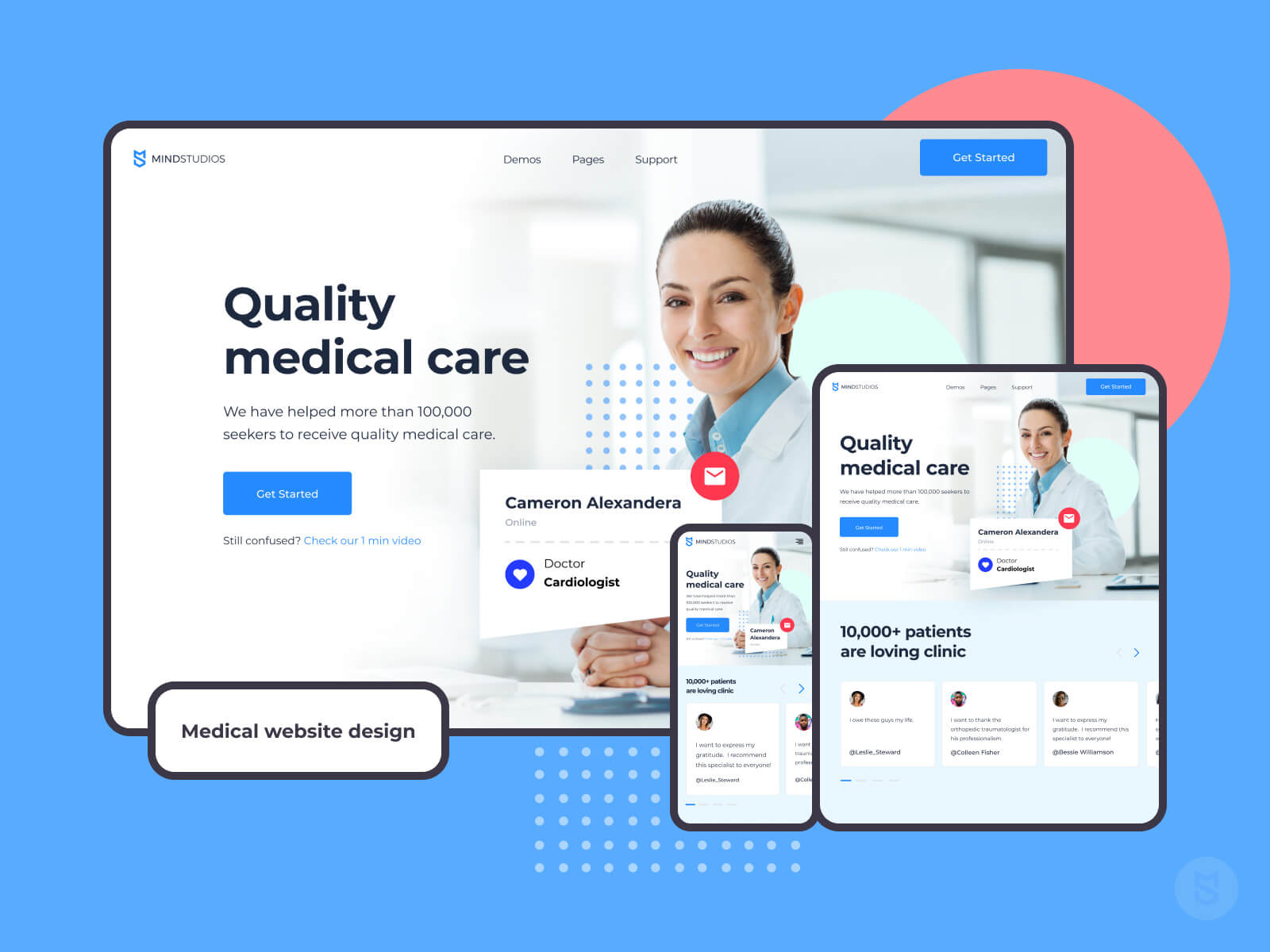 A website is as much the face of your company as your clinic itself, and even more so in some regards. That's why it's important to approach your website's design with dedication and care. Design trends change rather frequently, and it's recommended to revisit and update your website regularly. Here is information on the current trends in healthcare website design.
Your website needs to be made in your corporate colors to be instantly associated with your clinic. Today, bright colors are preferred for healthcare platforms as they alleviate fears and brighten the mood.
Clean design and easy navigation
Minimalist and clean design is a trend even outside of healthcare. Marie Kondo your website and make the important parts stand out by eliminating redundant information or rearranging the pages so they're easier to view.
If you make your website design simple and intuitive, your patients will spend less time looking for what they need, which will improve the user experience and user satisfaction. With high user satisfaction, first-time visitors will turn into regular patients.
Accessibility

Web design accessibility is about making websites easier to use for individuals with disabilities. For clinic websites, this is even more important than for other websites. When it comes to websites, accessibility features usually target users with vision impairments and physical limitations, although measures can be taken to help people facing other challenges as well.
Some websites have a separate version of pages created specifically for people with different sorts of limitations. This version can be accessed via a button somewhere on the home screen or in the menu. However, more and more companies are embedding accessibility into the basic design of their websites.
To comply with accessibility recommendations, you can use high-contrast icons and buttons that are easy to see and understand the meaning of and implement keyboard and voice navigation. Ask your medical web development company if their designers are familiar with accessibility principles.
Basic medical website features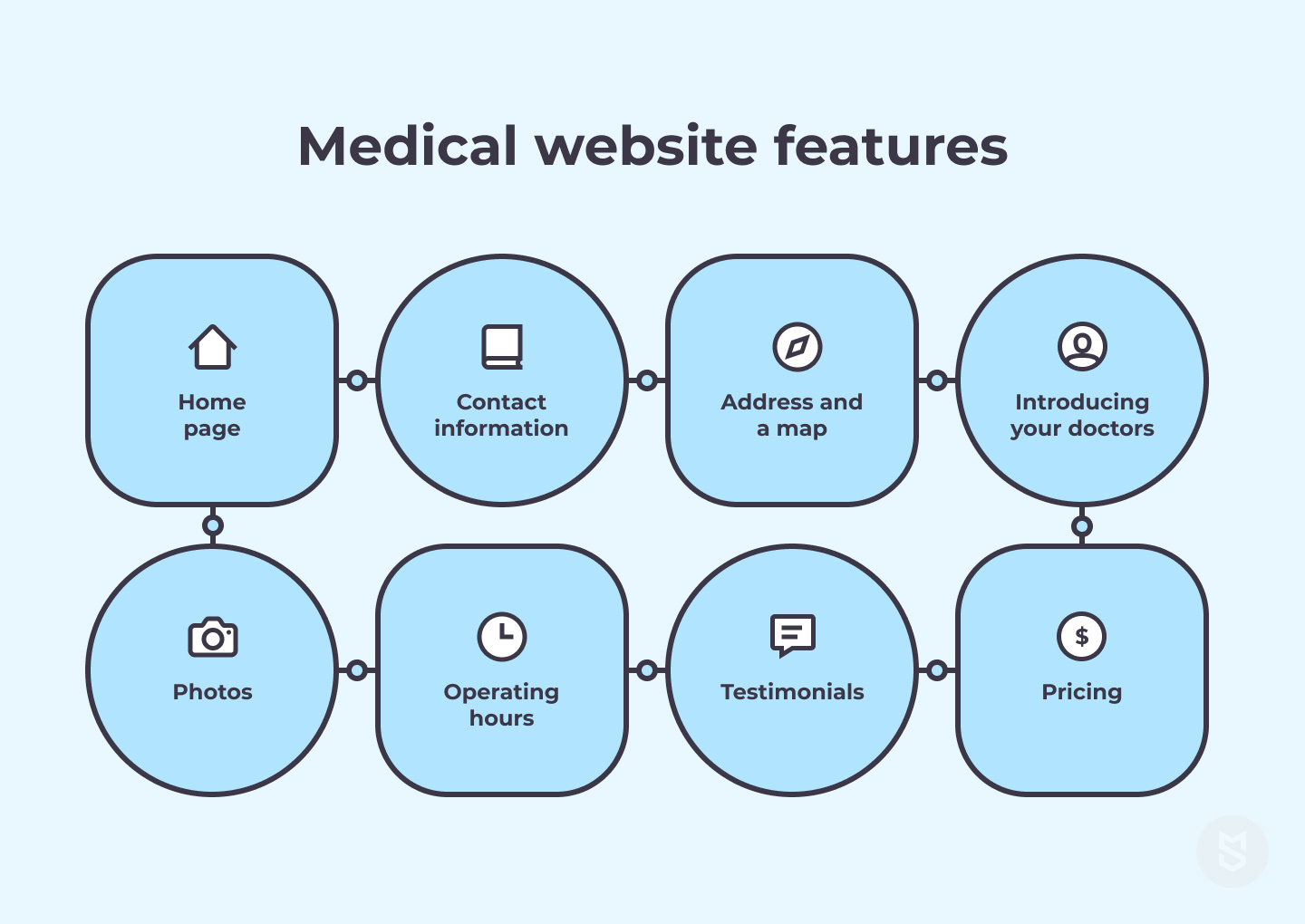 You'll need certain basic features whether you run a general practice hospital or a specialized clinic.
The most basic option for a clinic website is only a few pages and basically non-existent on-site interactions. Here are the must-have features for a fairly primitive healthcare website:
Home page. This is where you introduce your facility and highlight everything you need to highlight — the most popular procedures, any events, or information about your highly qualified doctors.

Contact information. Provide your facility's phone number, email address, and a contact form.

Your clinic's address and a map to your clinic's location.

A page introducing your doctors with all their credentials and work experience. Photos will make the page — and your website — look more professional and trustworthy.

Operating hours. If your doctors work different schedules, it will be helpful to provide hours for each doctor.

Testimonials. As was previously mentioned, most people look up information online when they select a doctor or a clinic. Having favorable reviews on your website might impact potential patients' decisions.

Pricing. Your potential patients will want to know how much they'll pay for your services. It might be beneficial to offer discounts — like for the first visit — or to hold events. However, you need to approach this carefully so as not to appear fickle.
The features listed above can even be implemented on a single page. It's also possible to build a single-page application (SPA). In tech speak, an SPA is a website that, instead of reloading whole pages when a user moves between them, rewrites content dynamically on a single page. The content of SPAs reloads faster than that of a traditional website, making this type of website more pleasurable to use for people with slow internet access or limited traffic.
If you want a competitive advantage in the medical market, though, you'll need a more sophisticated website. You'll need your website to have a patient's side and a doctor's side, or an admin panel. In most modern clinics, a designated employee or a team of employees can manage the clinic's side of the website. These employees can be receptionists or doctor's assistants. Or they can be doctors themselves.
The following features are beneficial for any modern clinic.
Personal patient profiles
When a person becomes (or wants to become) your patient, they'll appreciate the dedicated space where all interactions with your clinic can be stored: all records of a patient's visits, both previous and planned, issues that brought them to seek medical assistance, sample results, payment history, and more.
Even if yours is a clinic that provides one specific kind of medical help — for example, a dentist's office — you still offer different procedures and activities.
Having a personal space means your medical practice website development will need to include a signup/login feature. For users' convenience, you might consider integrating registration via Facebook or Google, but you need to be careful so as not to allow third parties to access your patients' health information.
Scheduling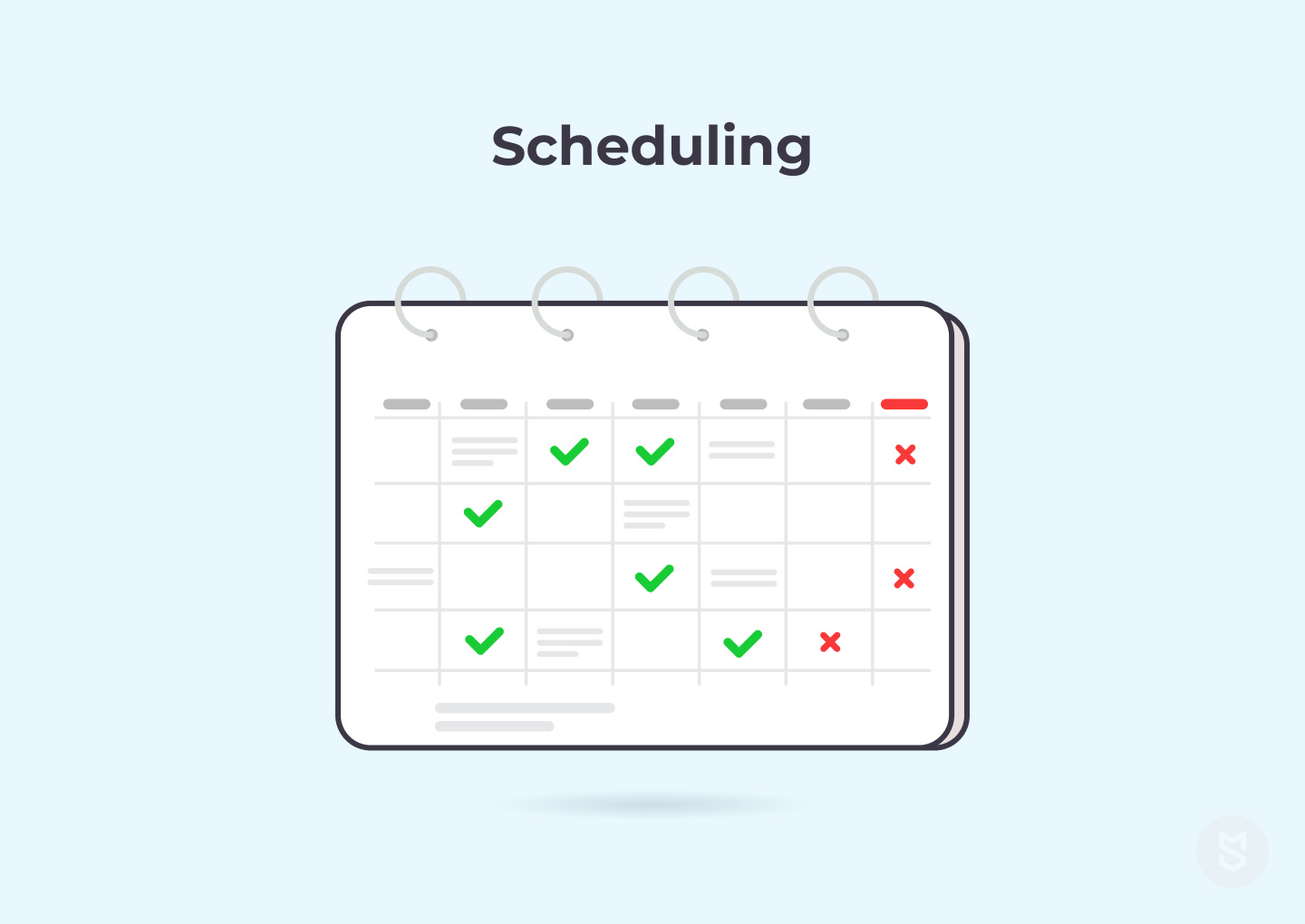 The possibility to schedule an appointment online without any calls is convenient for both patients and doctors. It lessens the work done by receptionists who schedule appointments when patients call or come by the clinic.
To be able to schedule appointments via a website, your medical website developers will need to build an interactive calendar that syncs with servers and updates frequently so as to avoid double bookings.
Notifications
To remind users of appointments, that their blood test results are in, or that their prescriptions are ready for pickup, implement notifications. If you're building a PWA, push notifications are possible. On a traditional website, you can use notifications in a personal space or an automatically triggered email or text message.
Knowledgebase
People look for a doctor when they suspect they or someone they know is sick. To make it easier for users to find doctors, you can create a knowledge base for the ailments you treat. The information in this knowledge base must be true and verified. It can include a general overview, symptoms, treatment methods, and so on. It's always better for people to learn from a reputable source informed by the World Health Organization and compliant with health-related legislation than from a random person on Instagram who may or may not make things up.
Search
If you're developing a website for a large hospital, users should be able to search by:
doctors' names
departments
tests and procedures
symptoms
keywords
A smaller specialized clinic — a dentist's, gynecologist's, or therapist's office — will have fewer categories, but there will still be some.
Online video consultations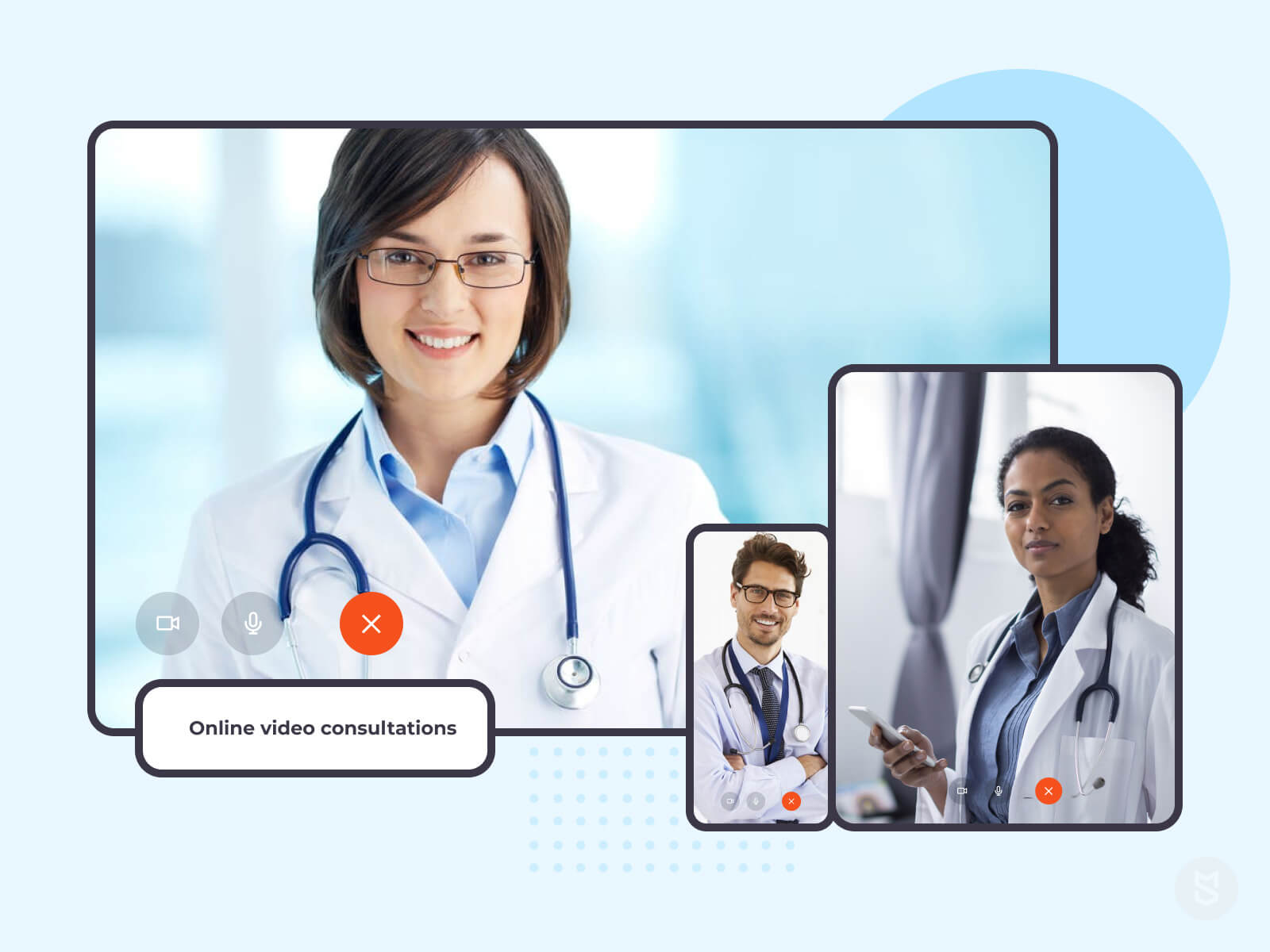 Telemedicine has been on the rise for some time now — it saves time for constantly busy people as well as people with disabilities who may face challenges visiting a hospital. With the COVID-19 outbreak, telemedicine has become the main option for healthcare, since hospitals are overloaded and sometimes quarantined and people are locked down in their homes.
Online consultations can be managed in a number of ways. The best way is to have a video chat option right on the website, but building in this kind of functionality may prove to be a challenge financially and technically. Another option is to integrate a third-party video conferencing service via an API. This is cheaper and faster and will work just as well.
Chat
Chat functionality can be used in addition to (or as an alternative to) video conferencing functionality. An on-site chat with a medical specialist is more convenient than a phone call for many. Besides, a chat can be used by patients for booking appointments and getting prescriptions and by clinics for notifying patients of new appointment times and test results, sending payment reminders, etc.
Online payments
If you're delivering prescriptions or integrating online consultations into your website — via video, chat, or both — you'll need to offer your users ways to pay for services without visiting the clinic. For this, you'll have to integrate a payment gateway. Choosing a payment service is a vital task. Such services have different fees and terms of service, and your development company can conduct research and offer you various options.
Admin panel
Your website will need to be managed on the clinic side. Designated employees — assistants or receptionists — will need to check and update schedules, and send patients any relevant information like test results. Admins should also be able to add and remove doctors and other employees.
The design for an admin panel is usually much simpler than the design for a client-side website. There's little need to make an admin panel look fancy. It's much more important to have a functional and efficient user experience than a beautiful interface.
Search engine optimization
A big part of any website's success is quality search engine optimization, or SEO. That's another reason to have a knowledge base, by the way. Relevant information laid out by professionals employing current SEO best practices will elevate your website in Google rankings, increasing the frequency with which your site appears in search results. More frequent appearances in search results will mean more people will see your website. Some of them will open the page, and some will even decide to visit your clinic. That is, if your website looks great and is up to date.
Cost to build a medical website
To estimate the precise cost for medical clinic website development, you'll need to know exactly what features you need, decide on the design, and choose an outsourcing web development company. Rates differ from company to company. Here, we can offer you a very approximate estimate based on the features we've listed above and our own design and development rates.
Developing a website for a medical institution will require the following set of specialists:
Project manager
Web designer
Frontend developer
Backend developer
Quality assurance specialist
With one of each type of professional, it will take about 3 to 6 months to create a hospital website. The cost of development can range from $35,000 to $65,000. If you'd like to speed up development, you can hire more than one designer, frontend/backend developer, or QA specialist. The cost will increase under these conditions, of course.
If you're on a budget — say, due to the coronavirus — you can skip the features you think can wait and implement them later. We do recommend researching whether features are really necessary beforehand, however. While the medical industry is only at the start of its path to digitization, your competitors are gearing up as well. Proper research will help you prioritize features to implement.
A website is a must to make it in today's competitive market. And with the medical industry being somewhat late at going all-digital, now might be the best time to jump at the opportunity to get ahead.
We've laid out the results of our industry research in this article. This is general information to help you set your direction. If you have any unanswered questions or need additional information from medical web developers, you can request a consultation.