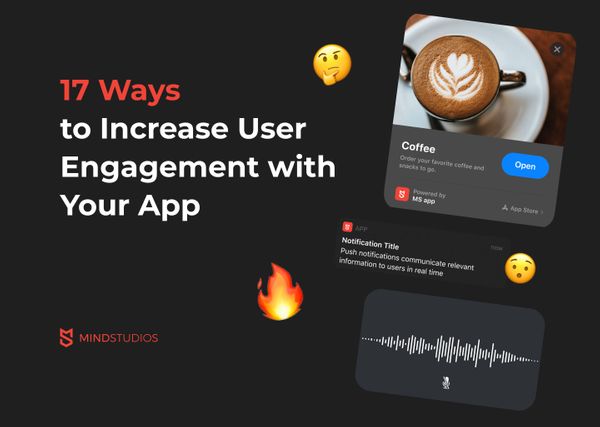 Today, it's harder than ever for mobile app marketers to convert first-time users into loyal users. In fact, after downloading a mobile app, more than three-quarters of people open it only once. No doubt you want your mobile app to be among the top three apps that account for 77% of all in-app time for the average user. To achieve this status, you need to come up with a user engagement strategy for your mobile app, thereby improving app engagement and retention.
We've prepared 17 effective approaches to improve your app's user engagement. Some are suitable for every category of mobile app, while some apply only to a certain type of app. You can estimate the usefulness of each approach according to the specifics of your mobile app and test how it works in practice. Let's look at ways to increase app engagement.
---
Contents:
---
1. App store visuals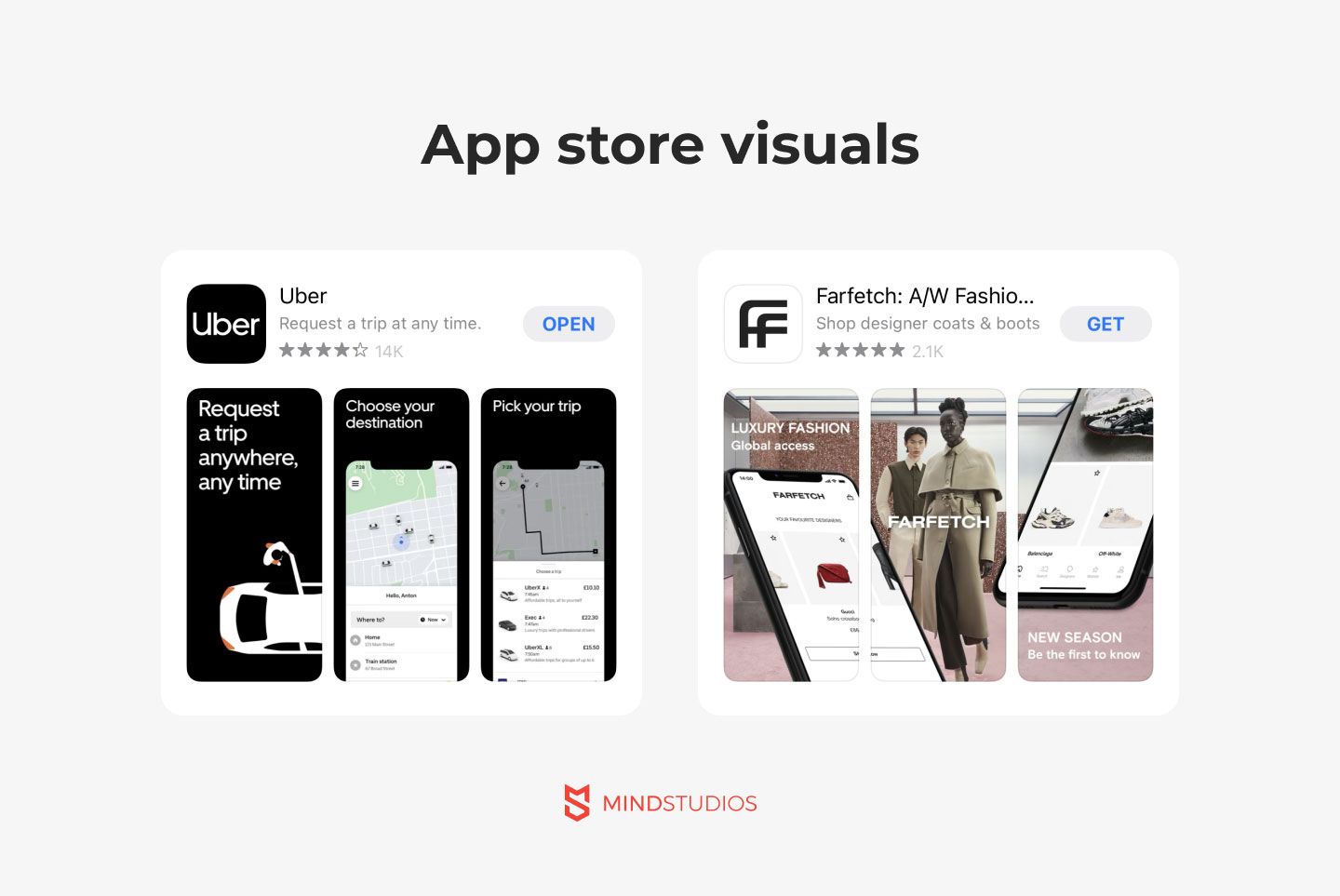 Before tracking your mobile app's downloads, ratings, and reviews, you need to make your app stand out on the app store. To attract users and get them to give your app a go, you'll need an optimized app title, an icon, screenshots, videos, and a description.
Benefits. An original icon along with a smart app name, a clear description, and screenshots that showcase the core benefits of your app will improve your app's visibility on the app stores and enable your mobile product to join the app store leaders. It will also help you achieve sustainable growth of downloads, reduce user acquisition costs, and increase your conversion rate as well as app revenue.
Best practices. The following assets will help you to create attractive app's visuals:
Name. An app's name is the first thing people see. A name can include up to 30 characters in the Apple App Store and up to 50 characters in the Google Play Store. Your app's name must be readable, unique, and relevant. You can also add keywords. Don't forget about localizing your app store listing by translating your app's name into different languages.

Icon. Your app's icon is the first visual that must hook people. So it needs to clearly reflect your app's nature. You need to develop a unique, stylish icon that matches other elements of your app. But with your icon, less is more. Don't overload your icon with text, graphical elements, or too many colors.

Screenshots allow people to see screens inside your mobile app. Demonstrate your app's core features in no more than eight screenshots. You can add text to describe features or benefits (discounts, rewards, etc.). You can also experiment with the order of your screenshots, combined in your visual storyline, but it shouldn't deviate from your app's general style.

Videos. Today, many people prefer watching one short video to reading even just a bit of text. Make a YouTube video about your mobile app and add it to your app's store page. Moreover, when people watch your Android app video on the Google Play Store, you accomplish two things: you increase your YouTube video views and boost your ranking in the Play Store. You can also localize your video in different languages.

Description. Your app's description is another opportunity to show your target audience your mobile app's values and benefits. Limited to 4000 characters in both the iOS and Android app stores, a description must include your keywords. But in the Apple Store a description doesn't impact your app ranking, unlike in the Google Play Store. An informative description with a readable structure (bulleted lists, Unicode symbols, and emojis, for example) will encourage people to download your app. You can also add a powerful call-to-action at the end of your description.
Example of effective use. Per Hagland, the developer of game apps for kids decided to increase the number of downloads of his "Super Puzzle" game. He changed its icon by using the image of a unicorn. The result was incredible: Per doubled the number of downloads.
2. Onboarding
An efficient onboarding process is important for first-time users. Onboarding provides instructions on how to get value from your app and emphasizes your app's crucial features. Often, well-thought-out onboarding helps improve user engagement.
Benefits. Your app's onboarding is the first opportunity to hook your users and make a positive first impression. The better your onboarding, the higher your user engagement, retention, and loyalty.
Best practices. Onboarding isn't necessary in all cases. You need to create onboarding for your app if:
your app is complex
your app has unique features that make its UI differ from the norm among competing apps
your business model requires you to gather detailed information about your users before they start using your app
The main goal of app onboarding is to help users get started with your app. If you do choose to create an onboarding experience, don't overload your onboarding flow:
Reduce the number of steps your users need to take to access your app

Don't explain all of your app's features at the same time (and limit yourself to three screens per feature or benefit)

Make your onboarding interactive, teaching users through actions, not words
There are two main types of app onboarding:
Coaching screens describe one core feature, important advantage, or unique value of your mobile app per screen. Users swipe through coaching screens to get through the onboarding flow.

Interactive tutorials are based on the idea that it's better to show than tell. With interactive onboarding, you guide users through performing certain actions to help them understand how your app works.
Examples of effective use. If you'd like to see examples of attractive and modern onboarding designs, check out this article on Bashooka.
3. Account creation and sign-up process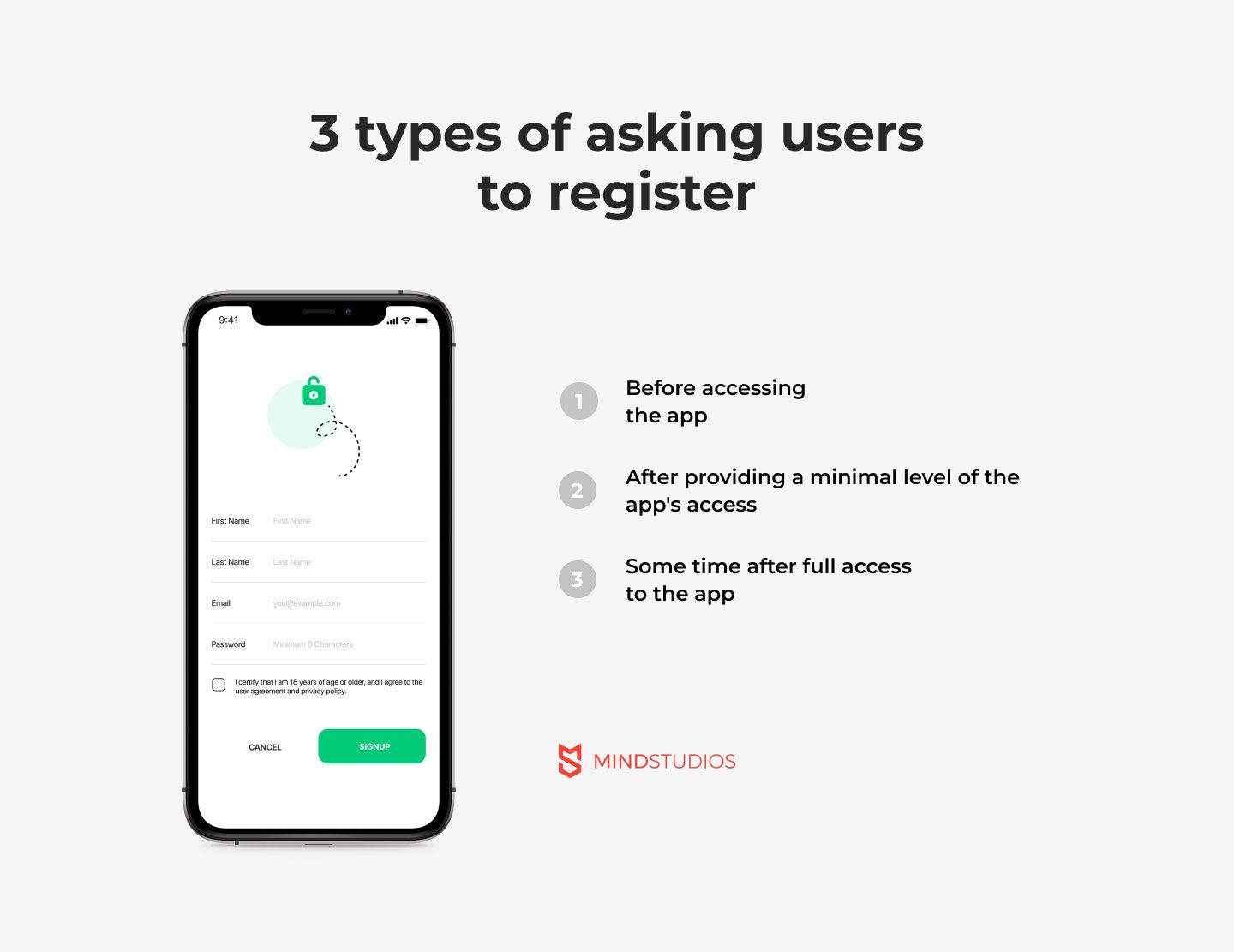 To learn more about your users' behavior and be able to reach your target audience, you'll likely need to add a registration form to your app's onboarding process. The main goal of registration is to get users' contact information as simply and quickly as possible.
Benefits. An efficient sign-up process improves an app's conversion rate and, as a result, overall user engagement.
Best practices. There are three approaches to organizing the account creation and sign-in process:
Require a user to register before accessing the app

Provide minimal level of access to the app before creating an account

Allow full access to the app without signing in
The best method for boosting app engagement and retention is to offer a login-free experience to new users. Let them explore your mobile app without any distractions. If they see your app is valuable and appealing, they'll likely register. Also, to simplify and speed up the sign-up and sign-in process, you can allow users to log in with an existing account, such as a Facebook or Google account.
Example of effective use. Foursquare, a popular mobile app for finding restaurants and other establishments, enables users to get started without registering. A message encouraging the user to sign up with a social media account pops up between app interactions.
4. Freemium model
If your mobile app is paid, it might be difficult to convince new users to pay. The easiest way to increase your product sales is to allow users to interact with your mobile app for free to a certain extent.
Benefits. When users know how your app works, what valuable features it has, and how well it can meet their needs, they'll be more likely to pay.
Best practices. People like free things, so when adopting a try before you buy approach, don't overdo it. Make sure to set limits on what users can access for free:
Set time limits (for example, a 7-day trial)

Offer a limited selection of app features for free while others are paid

Let users access functionality for free after completing a particular action (for example, after posting a review or making a certain number of referrals)
Example of effective use. The freemium model brought Rovio Entertainment, the owners of Angry Birds, 50 million downloads in 2018 despite a period of stagnation after the game's initial launch in 2009. The turning point came in 2015, when Angry Birds 2 was launched with a freemium model. The app was free, but some extra levels and super features were paid.
5. Push notifications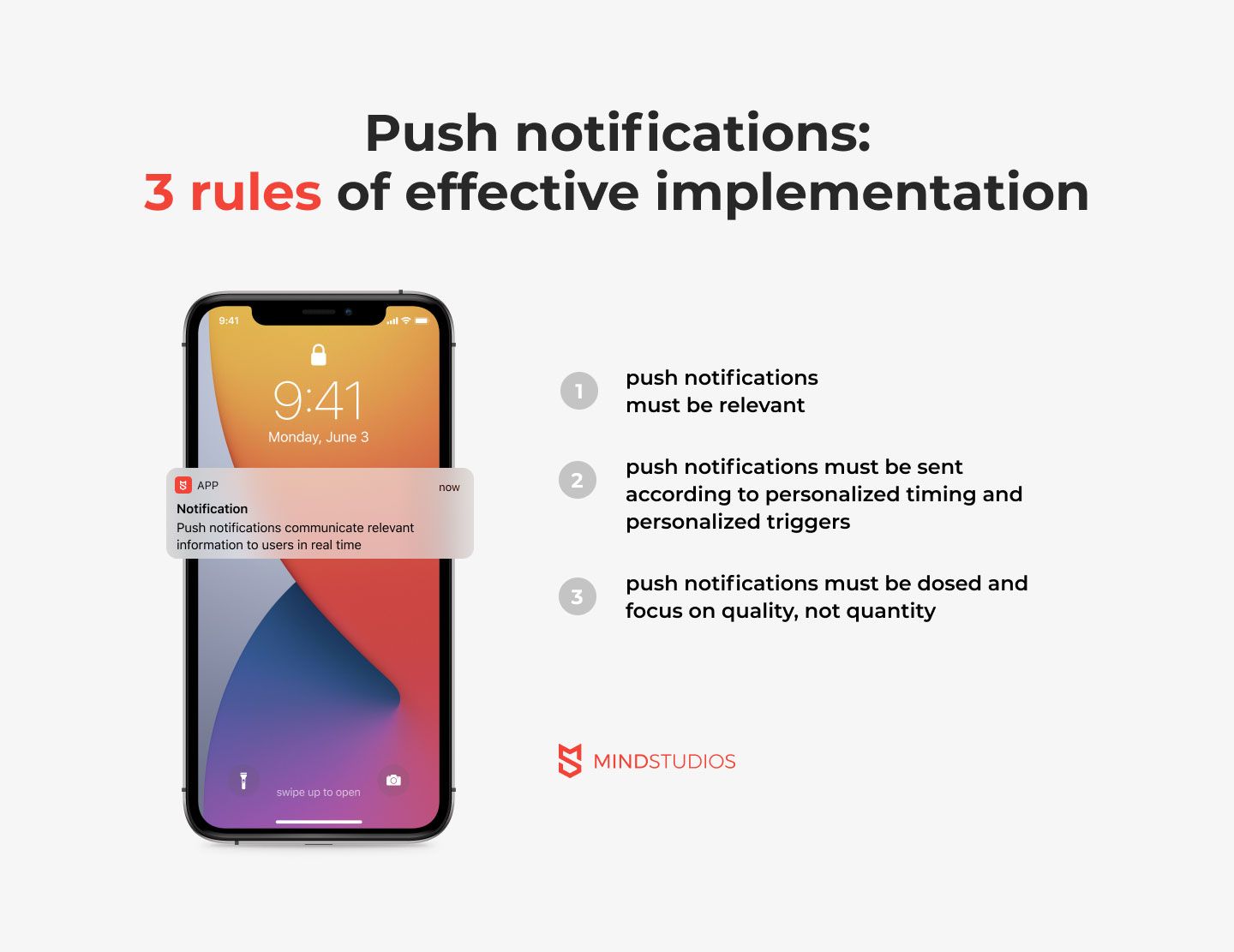 Push notifications communicate relevant information to users in real time whether their device is active or locked. Push notifications are faster than other communication methods such as email. They also don't get caught in spam filters. Push notifications are a great way to deliver valuable information directly to your users.
Benefits. When provided with valuable and timely content, users become 88% more engaged and your retention rate can increase threefold to tenfold.
Best practices. What makes push notifications effective is that they place relevant information right in front of users, meaning they can't go unnoticed. You need to define what information interests your mobile app users and share it with them at the right moment. The first rule of mobile push notifications is that they must be relevant for users.
Another approach to get a better effect from push notifications is to send them to a specific person. Identify your users by name, native language, or device type and target them with personalized content. This leads us to the second rule: your push notification strategy must be combined with personalization tactics.
Personalized timing. You should send relevant push notifications when users are most likely to use your mobile app. For example, if you have a fitness mobile app and your user prefers to train early in the morning, the most appropriate time to send push notification might be 6:30 am.

Personalized triggers. Your push notification strategy can be much more productive for mobile app engagement and user retention if you gather as much data as possible about your target audience's behavior. For example, say you have an ebook store app and you've collected information about your users' favorite authors. Push notifications about new book releases by these authors will likely boost retention.
In addition, you should adjust how often you send notifications to your target users. If push notifications come too often, this may annoy users and make them uninstall your mobile app. If you send push notifications too rarely, your users may abandon your app. This brings us to the third rule: push notifications must be dosed and focus on quality, not quantity.
Example of effective use. In 2016, eXtra Electronics, one of the leading electronics and home appliance retailers in Saudi Arabia, boosted user re-engagement by 400%, achieved a 12% click-through rate, and doubled their sales using push notifications.
6. In-app messages
While push notifications mostly hook people who aren't active in an app at the moment, in-app messages pop up while users interact with an app. In-app messages can guide users through app screens, help them accomplish tasks, point out important mobile app features, or thank users for making purchases.
Benefits. With in-app messages, you can share information with your users without needing them to opt in, which they must do to receive push notifications. With in-app messages, you can also create extremely personalized campaigns. An excellent UI with useful messages that pop up at the right time can help you to cut the user's path from the first launch to taking conversion actions you've planned for them.
Best practices. You can use six types of in-app messages to increase customer engagement:
Welcome messages. You need to make a good impression during the first launch to form long-term relationships with your target users. The first time a user launches your app, you can send in-app messages with simple instructions on how to navigate your app and an overview of its core features. You can motivate users to log in, complete registration, update their profiles, or permit push notifications.

App feature messages. The goal of app feature messages is to familiarize users with your mobile app's functionality and ensure they have a valuable user experience. In-app messages can showcase your app's new or underutilized features, services, products, or content.

First-time conversion messages. The goal of these messages is to encourage new users to complete their first conversions. For example, you can offer a discount on a first purchase.

Promotional messages can be used to promote offers, discounts, cross-sells, etc. The goal of promotional messages is to increase user engagement, especially regarding conversions and revenue.

Recommendation messages. Based on the history of your target users' behavior and their current preferences, you can send personalized in-app recommendations about valuable offers. For example, if you have an app with healthy food recipes, you can offer active subscribers to steamer recipes 7 days of free access to oven recipes.

Gather feedback. You can ask your target users to rate features of your app that they've just used. The goal is to reveal any bugs and get feedback about the helpfulness of each feature and the overall value of your app for your users.
Example of effective use. In 2019, using in-app messages, Upland Localytics drove their conversion rate up 200%.
7. Deep linking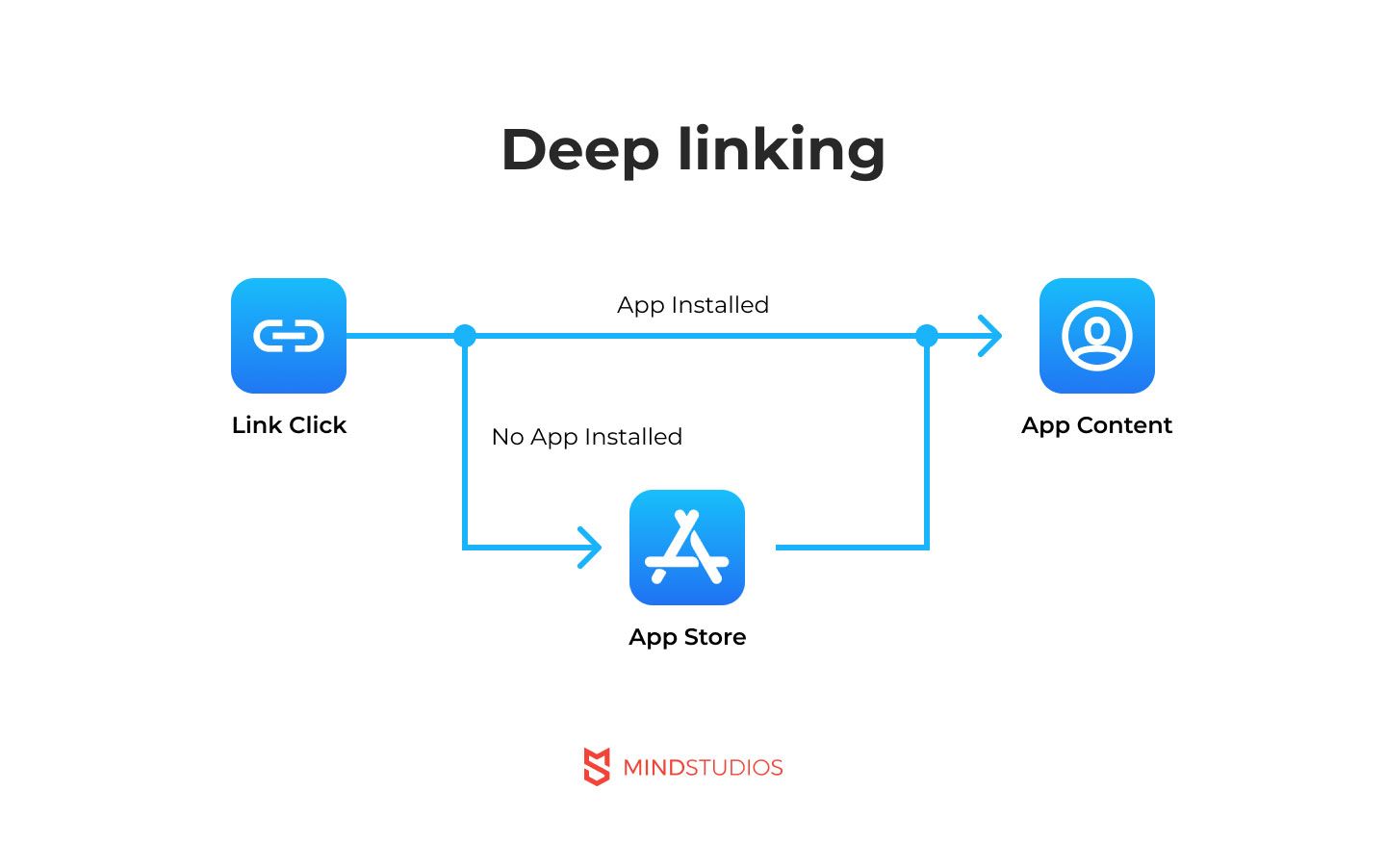 Deep linking sends users straight to a particular screen within your app in one click. You can integrate deep linking into ad banners, emails, or your website to direct traffic to your mobile app, a particular screen in your app, or your app's page on the App Store or Google Play Store. Deep linking can be used in push notifications and in-app messages.
Benefits. A deep link is like a shortcut, as it sends users directly to a specific app screen instead of to your app's home screen or a profile screen. Its ability to help users quickly achieve their goals makes deep linking an effective way of boosting app conversions, retention, and revenue.
Best practices. There are three types of deep links:
Basic deep links. The main principle of basic deep links is to send users directly to specific content in your mobile app in one click, avoiding a welcome screen. There's one "but," however — users who receive basic deep links need to already have your mobile app installed. Otherwise, after clicking on the basic deep link, users will arrive at your website, where they need to click again to come to the App Store or Play Store to download your app. After downloading, users need to open your app where they see your app's welcome screen, and only after that they can access the desired content.

Deferred deep links streamline the user's path to a particular app screen when the user doesn't have your mobile app installed. When a user has your mobile app installed, a deferred deep link works the same as a basic link — it sends the user to a particular screen in your app. But with a deferred deep link, if the user doesn't have your mobile app on their device, after clicking on the deferred deep link, they'll first arrive at your app's App Store or Play Store listing, and after they've downloaded your app, they'll automatically be directed to the screen to which the deep link leads. Keep this in mind when planning your app engagement and retention strategy.

Contextual deep links are either basic or deferred deep links with additional capabilities to gather information for marketers about the effectiveness of advertising campaigns or user acquisition channels. With contextual deep links, you can provide users not only with quick paths to screens in your mobile app but can know who your users are, where they come from, what their preferences are, etc.
Example of effective use. According to the TechCrunch study among 150,000 anonymized mobile apps' users, applying deep linking, you can increase your mobile app activation rate by 13%, boost your mobile app retention rate by 50%, and almost double the lifetime of your active users.
8. Gamification
If you want users to spend more time in your mobile app, open it more often, and enjoy the app experience, you can offer them to participate in a game.
Benefits. Gamification increases user engagement, the number of new users, and an app's retention rate. It also drives user loyalty, leading to better ratings, more shares, and positive user reviews.
Best practices. You can use different game dynamics to stimulate user engagement:
Let users communicate. Support communication among your app's users to enhance engagement, excitement, and their willingness to win your game.

Offer rewards. You can come up with challenges for users and awards for winners. By doing so, you can arouse users' interest and excitement. The rewards you might offer will depend on the specifics of your mobile app and could be badges, points, incentives, discounts, or something else.

Provide a feeling of freedom and power. Gamification empowers users and creates a positive experience with your mobile app. Specifically, gamification can allow users to get a higher status, achieve freedom of self-expression, meet individual goals, move through levels, and get on leaderboards.

Use the element of surprise. To re-engage users and make them spend more time using your app, you can organize unplanned challenges and competitions to keep their attention while they wait for unpredictable results.

Set rules. It's much more interesting for users to take part in your app's games if you set some limits and rules.
Example of effective use. Using gamification, Autodesk achieved a 54% increase in trial usage and a 15% increase in sales clicks.
9. Augmented reality
Augmented reality (AR) is a modern technology that combines elements from the digital world (text, sounds, images) with the real-world environment. AR is useful in games, educational apps, healthcare apps, e-commerce apps, design and architecture apps, fashion apps, and other categories of apps.
Benefits. Building augmented reality features into your mobile app can refresh your app's design by adding the latest technologies and novelty. The more unique features you offer your users, the better perception they'll have of your brand. An innovative approach can make your mobile app stand out among your competitors. You can use AR to capture the attention of a young audience. Surprised by non-standard, smart solutions, your target users will keep your product in mind longer and will be more eager to purchase it, share their impressions, become brand advocates, and bring your company more revenue.
Best practices. There are two ways to create AR experiences:
Using markers. Developers can use black and white markers that have the form of a square with black and white units inside. Used as triggers, they enable the AR software to recognize the correct AR content. To access this type of AR experience, your user needs to point a camera at a marker in the environment around them. When the user's device identifies this marker, your mobile app augments the view of the marker by overlaying information, and your user sees the "augmented" object. So if you want to build a marker-based mobile app, you need to prepare all AR content beforehand. For example, if you have an interior design app, you can let your users furnish real rooms with virtual objects from your mobile app. After visualizing your objects, users can then purchase the ones they like.

Using location data. Location-based AR apps find the user's position with the help of GPS data, a digital compass, or an accelerometer and then overlay an AR object when the user points their camera to the real-world place. When the user's position changes, a location-based app can send the user notifications about other real places nearby and showcase the AR content connected with the new places. For example, if you have a travel guide app, your app's AR feature can visually show your users the historical sights of the city they're traveling to by simply pointing their camera to these sights.
Example of effective use. Nintendo's Pokémon Go, a popular mobile game, allows users to collect their favorite Pokémon in the real world by looking through their mobile devices. Pokémon Go has gotten up to 65 million monthly active users.
10. Voice assistant system
Here we offer you to know how to increase user stickiness and how to increase user engagement in your mobile app by integrating a voice assistant such as Siri, Alexa, or the Google Assistant. A voice assistant can help your users get to the desired app screen fast without typing a word. To make the experience more convenient, you can show your users recommended voice commands in a user interface.
Benefits. When you enhance the usability of your mobile app with Siri, Alexa, or the Google Assistant, you can count on increasing the number of engaged and loyal users and boosting your income.
Best practices. Adding a voice control feature to your mobile app sounds simple, and besides can be useful in many cases:
Encourage users to interact with your app using a voice assistant. You can reward users who regularly use a voice assistant to interact with your app.

Make useful offers. While your customers are waiting for their mobile orders to be fulfilled, your voice assistant can invite them to take part in a lottery or an in-app game with rewards (deals, points, coupons, promotions, discounts, etc.).

Improve real-world user engagement. Voice activation tools can help your users make real-world purchases. By analyzing in-store traffic data, your app can recommend off-peak times for customers to pick up orders at physical stores to avoid huge crowds or recommend the most efficient route through your store to buy goods.
Example of effective use. According to Statista, in the first quarter of 2019, 49% of smartphone users preferred to use voice assistants over traditional touch interactions. Among 1,040 US adults surveyed by Voicebot.ai who used voice assistants, 44% used Siri and 30% used the Google Assistant.
11. Widgets
Widgets demonstrate timely personalized content from your app to your target audience. They're a small window into your mobile app's most relevant information. Users can move widgets across the home screen panels and resize them to accommodate information according to users' preferences.
Benefits. Widgets allow your users to see information at a glance without opening your app, increasing mobile app engagement and improving the user experience.
Best practices. There are three steps to creating a widget for your mobile app:
Step 1 — Determine the target of your widget, focusing on the main values of your mobile app. To make your widget more informative, you can add deep links, videos, and pictures.

Step 2 — Create your widget tryout. It'll show how your widget will look in different conditions (on another platform, with a dark theme, in a different size, etc.).

Step 3 — Set time schedule of your widget updates, decide which content you want to display and when.
Example of effective use. 65% of Android owners use multiple widgets a day. Knowing this, Evernote created its Android widget to provide a convenient way to use all Evernote functionality right from your phone's home screen without opening the app. You can use the Evernote widget to quickly make new notes and save screenshots with useful content (photos and web pages) as well as save audio and video recordings.
12. Instant apps and App Clips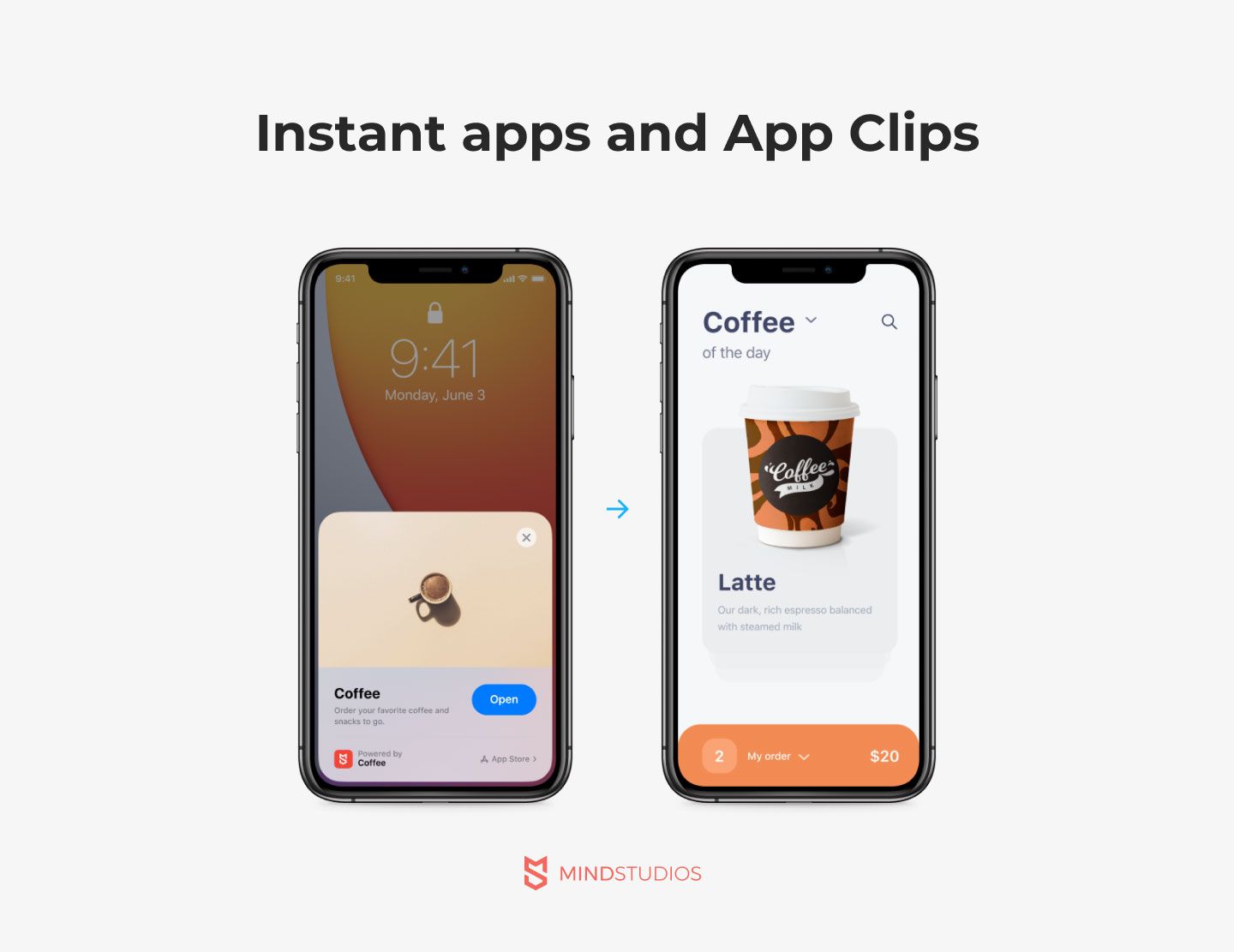 Unlike a widget, which allows users to access the functionality of an installed app, an App Clip or instant app entices new visitors to interact with an app without downloading it. App Clips from Apple — the equivalent of Google's instant apps — are short videos with a maximum size of 10 MB that are downloaded in seconds and can advertise your app's values or unique features at the right moment.
Benefits. Instant apps and App Clips can help you acquire new users with a higher stickiness rate because they demonstrate your app's features before a user downloads your app. If users have a positive first experience, they're likely to download your full app. It will also help boost your app engagement and retention rates.
Best practices. You can trigger App Clips and instant apps from plenty of sources using digital presence as well as physical location technologies:
QR codes and NFC tags. An App Clip or an instant app can launch when a user points their camera at a product's QR code. The same can occur when a customer's phone taps an NFC tag on an in-store display.

Links in messages. Sending messages to your target audience with an App Clip link or instant app link is an effective way to promote your app.

Apple Maps place cards. If your business is marked on Apple Maps, you can take advantage of another channel for acquiring new users. You can integrate your App Clip to the Apple Maps place card. When people are near your store or office, using Apple Map, they'll be able to view your App Clip.

App banners opened through the Safari browser. When people click your ad banner using the Safari browser, they can be redirected to your App Clip or instant app.
Example of effective use. In 2017, Vimeo, a popular video player with an audience of 240 million, increased their average app session length by 130% using instant apps.
13. Make your app accessible for people with disabilities
"We need to make every single thing accessible to every single person with a disability." Stevie Wonder
To make your app accessible to each user, let's consider particular accessibility features your app needs.
Benefits. Making your app comfortable to use for people with disabilities will allow you to expand your target audience, increase user engagement, and maximize your revenue.
Best practices. Follow these best practices to make your app accessible to users with different types of disabilities:
Visual impairment. Implement a screen reader for visually impaired users. Add screen magnifiers and voice feedback tools.

Difficulty hearing. For users who have difficulty hearing, integrate transcriptions or captions into your videos and apps. You can add vibrating and visual alerts for in-app messages, push notifications, or incoming calls.

Motion disability. Set up abbreviations for frequently used phrases or words, and enhance the duration between clicks on your app screens. Your users should also be able to choose the size of buttons or other touchpoints in your app.

Low level of literacy. To accommodate users with a low level of literacy, create a simple UX with short, clear sentences and recognizable icons and graphical elements. Also, add voice feedback.
Example of effective use. United Airlines redesigned its mobile app to be more accessible for people with visual impairment. Their mobile app designers enhanced color contrast, made the space between graphical elements larger, reorganized the app screen frameworks, and integrated the screen reader tools. The purpose of United Airlines is to improve its app's accessibility for more than 250 million Americans who have travel-limiting disabilities.
14. Social media
Today, increasing user engagement in mobile apps is made easier by social media. If you understand the differences between different social networks, you can get the most out of promoting your app on social media.
Benefits. With the help of social media, you can drive your conversion rate and retention rate, reduce your churn rate, improve user loyalty, and make your mobile app grow globally.
Best practices. Tools offered by social networks can drive user engagement for any mobile app, so let's focus on the most popular uses of social media:
Signing up and logging in via existing social media accounts can simplify the account creation and sign-in process.

Monitor users' social media posts. When you give your app users the ability to freely share their impressions with their followers, you create a positive experience and extend your brand's influence. You can analyze users' posts about your mobile app to understand your audience and figure out your app's popularity.

Create a community around your app. You can encourage your users to share their experiences with your mobile app in your app's community. It will be useful for users to get advice on using your app from like-minded people.

Make promotional offers through social media. The best way to engage or re-engage users is to offer them incentives for using your mobile app with the help of social media. Offers like discount codes, coupons, and gift cards can improve retention strategies.
Example of effective use. After actively participating in the app's community, users of the DiceWorld mobile game participated in 113 times more game sessions with 20 times longer session durations on average.
15. Users' reviews
Up to this point, we've outlined ways of how to increase user engagement that only rely on you. But when your users post negative reviews, what can you do? Let's figure that out.
Benefits. The better your app's reviews and ratings, the higher it will rank in the app store. High ratings and positive reviews encourage people to install your app, leading to sustainable growth of app downloads. Users' reviews are valuable to increase conversion rates and re-engage users. Both positive and negative users' reviews could be quite effective for boosting user engagement and retention rates.
Best practices. You need to appreciate both positive and negative reviews:
Positive reviews help your mobile app stand out.

Negative reviews can lead you to figure out your mobile app's bugs or flaws and better understand your target users.
To make it easier for your users to post reviews, you can do the following:
Implement an in-app review API. Ask your users for their feedback inside your mobile app. Both iOS and Android have turnkey review tools.

Simplify star ratings. You can create a pop-up star rating form where users can quickly tap a star rating without leaving your app.

Adjust in-app instant messaging. To enable your users to give feedback right when they want, you can integrate a Send feedback button so you can communicate with users inside your app in an instant messaging window.

Choose the right time to ask for reviews. It's a mistake to ask for reviews or ratings two minutes after a user has installed a mobile app. We recommend asking your users for feedback after they've completed a conversion.

Encourage users to post reviews. To increase the number of reviews of your app, you can run a contest with rewards. These can be virtual points or gift cards as well as cash payments to motivate users to give their feedback.
Example of effective use. According to Apptentive research, almost 90% of consumers take mobile app star ratings into account when evaluating a new app, and 79% of consumers also pay attention to reviews before downloading an app. Additionally, four out of every ten people consider user reviews more valuable than recommendations from friends.
16. Referral program
On the other hand, people prefer to trust their friends' recommendations seven times more than standard advertising campaigns. In mobile app marketing, it's challenging to hook users while minimizing the cost of acquiring users. An app referral program can help.
Benefits. Referral programs can motivate users to refer others to your mobile app and let you expand brand awareness without spending too much. With a referral program, existing users can get rewards for recommending your app, while new users can get rewards for their first conversion.
Best practices. To make your referral program work for your mobile app, do these two things:
Ask for referrals at a convenient time. Give your users time to get experience with your mobile app before asking them to refer to others. A good moment to ask users to invite their friends to your app is after they complete a desired action. And the best time to ask users to send referrals is when they're having positive interactions with your app.

Make it easy for users to send referrals. You need to make it easy for users to participate in your referral program. You can create in-app messages, send push notifications with referral links to remind the users to recommend your app to their followers.
Example of effective use. In 2009, Uber initiated a Free Ride referral program that started as a $10 payment to both riders and their friends they referred to the service. Later, it rose to a $20 to $30 dual-sided incentive. This approach made Uber a leader in its field.
17. A/B testing
You need to test every way of increasing user engagement that we've mentioned above because it's difficult to be successful on your first attempt. A/B testing helps you determine the most effective option for developing your mobile app.
Benefits. By launching A/B testing, you can check out your hypotheses, make changes, and repeat testing until you find a winning version of your mobile app that will have the highest percentage of increasing user engagement.
Best practices. Include A/B testing at the following stages of development:
Designing your app icon. The goal of testing versions of your app icon is to determine which icon results in the most clicks to launch your app.

Setting up your sign-up process. Determine the best time to ask users to register or complete account setup: just after they launch your app or after they've found the value in using your app.

Creating the onboarding flow. Use split testing to make it clear whether you need to add onboarding to your mobile app. If you get better mobile app engagement metrics with onboarding, then test how many onboarding screens your users will click through without leaving your app.

Configuring push notifications. Examine what types of push notifications encourage users to follow a link and what notifications they ignore.

Choosing the timing for push notifications. To get the maximum benefits from your push notification strategy, you need to test the ideal time to send push notifications to each individual user.

Choosing a font for app screens. You can apply split testing to find the most readable font for your content, varying the size, typeface, and color.
Example of effective use. One of the best practitioners of A/B testing is a popular video streaming platform Netflix. According to Todd Yellin, the vice president of Netflix, the company makes about 250 A/B tests per year.
Conclusion
As you can see, after developing an app, you need to promote and support it. It requires time, labor, and money on the part of an app owner to get from a startup to a full-fledged popular mobile app. But even if you dive headlong into increasing your mobile app's key metrics, it's no guarantee that your app will occupy a top spot in the app market rankings.
Mind Studios is an experienced software development company that can be your trustworthy partner not only for mobile app development but also for website development. Contact us in any convenient way to get a free consultation.
3