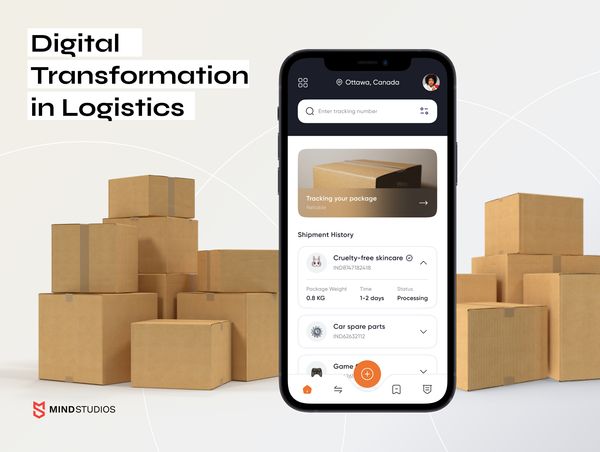 Businesses all over the world rush to go more digital, and for a reason: between data breach scandals, world governments doubling down on data security regulations, and the spread of AI, the competition is getting quite fierce in just about any niche.
Surprisingly, digital transformation in logistics wasn't at the forefront of the global change trends until just recently. An industry historically known to be a forerunner of innovation is lagging behind today. A lot of logistics companies are reluctant to change and continue to do things the old ways. But the shift is already imminent.
Logistics is one of the industries we at Mind Studios have ample experience in. And among other things, we've completed a number of projects pertaining to the digital transformation of logistics businesses in particular.
In this article, we will summarize our knowledge and tell you from our own experience why you need to do the digital transformation in transportation and logistics ASAP, what benefits it brings and how to do it correctly.
How do you know if your logistics business needs a digital transformation?
The blunt answer to this question is that if your logistics business hasn't yet gone through digital transformation, then it needs to. These days, non-digitized businesses meet increasingly more sophisticated competition and their survival prospects become shakier by the day.
However, let's try to not breed negativity just for the sake of it. Here are some questions for you to answer about your business to decide whether digital transformation in logistics and supply chain is necessary for you.
Is it challenging to keep up with competitors?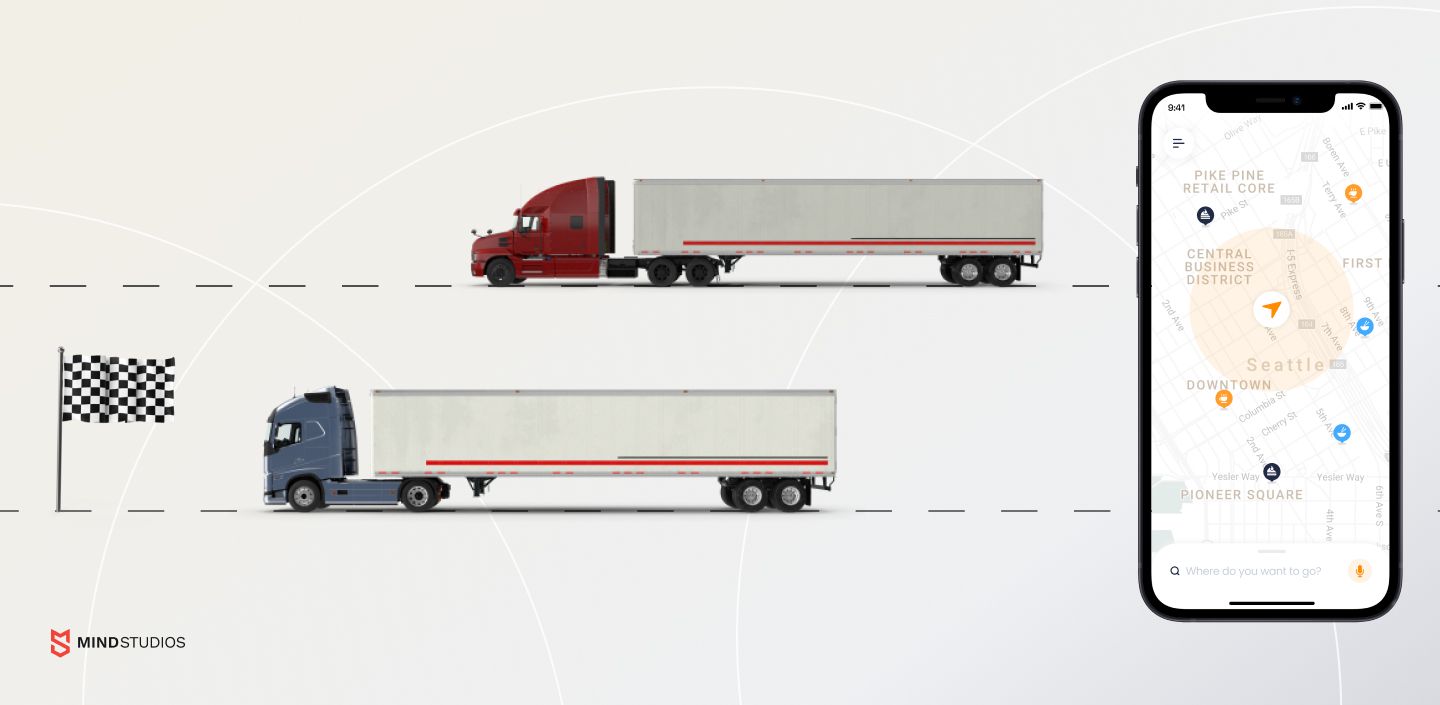 The first sign that your business requires some kind of change is when you start lagging behind competitors in sales, losing old clients, or not getting new ones at the old pace. In this case, you'll probably do research to see what it is that your rivals offer. Chances are they've done a digital transformation either externally or internally (or both).
How much time and effort do you spend on processing transactions?
When your business is small and there aren't all that many customers, manual transaction processing is no big deal. But when your logistics business grows, the number of transactions and sometimes the amount of money in them becomes hard to handle. Human error is no trifle matter for medium-sized businesses, let alone big ones.
Automated processing, when done right, offers:
Higher efficiency
Fewer errors
Higher speed
Lower costs
Higher transparency and audit ability
All these points considered, it's easy to envision the increase in profits.
There used to be a major drawback in automated systems and that was lower flexibility compared to manual processing. But that's in the past. Modern processing systems employ custom algorithms and, if necessary, machine learning to make the process seamless even in the most varied situations.
Are your operations and asset tracking efficient?
How is your customer satisfaction doing? Asset and operation tracking inside your business has a direct effect on how quickly and efficiently you manage orders, which, in turn, affects your customers' experience with your company.
Instead of manual book-keeping and asset management, you can implement an automation solution as part of your logistics digital transformation.
Same as with transaction processing, a proper centralized system for internal operations and warehouse management will help your business respond more swiftly to orders, manage feedback, and react to complaints.
Do you offer your clients real-time delivery tracking?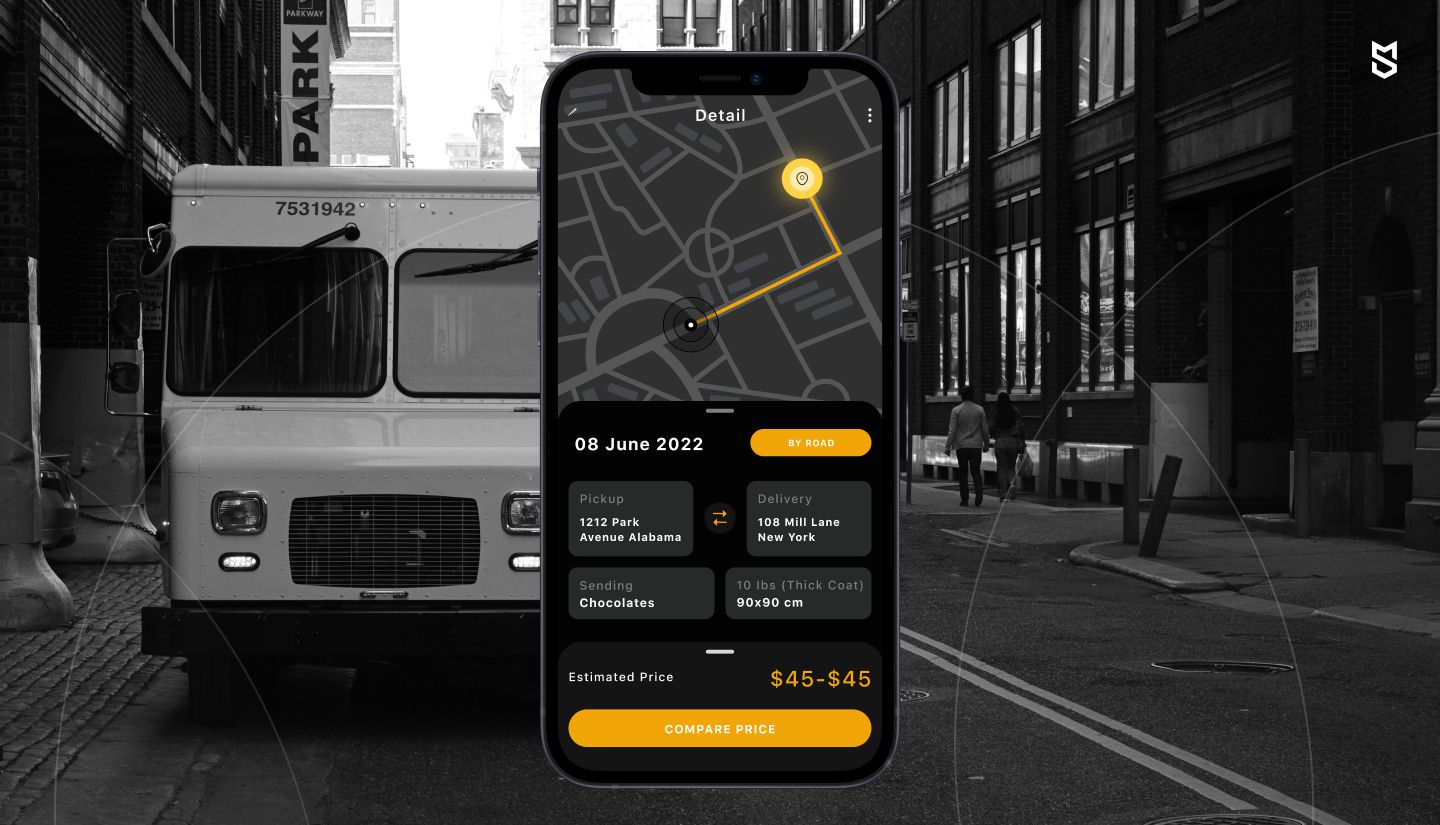 Real-time tracking is a must these days for a successful logistics business, although there are several ways to go with this feature. You can:
Track your fleet vehicles
Track each package you deliver
The former is easier to accomplish than the latter since you'll only need a tracking app on your drivers' work smartphones or a GPS location tag on your vehicles. The latter will require the use of Radio Frequency Identification (RFID) sensors and a system for tracking them. Depending on the type of your logistics business, you might benefit more from the second type of app, though, as you'll be able to track missing or misplaced items faster.
With either of the aforementioned options, you can choose between building your own app or using a Software-as-a-Service (SaaS) solution. (Or you can build a SaaS solution to both use it for your business and offer to other companies).
Note! In an app of your own, you can have more than just tracking. Consider adding digital signatures and payment-upon-delivery for faster processing and enhanced user experience.
Is your communication effortless?
For a non-digitized business, collaboration and communication with digitized business partners and clients will pose some challenges. Manual sorting of inquiries and invoicing can take quite a bit of time, making your partners and clients impatient and worsening their experience with your business.
People these days are used to instant replies, chatbots instead of emails, and digital invoices. And one of the major parts of digital transformation in the transportation and logistics industry is replacing old communication methods with modern ones.
Additionally, a secure internal communication system will enhance your employees' experience (when they get used to it).
Main types of digital transformation in logistics
We call digital transformation a process, but it's also a mindset, a set of principles to implement that will drive your organization forward for as long as it exists. It's a process with no actual endpoint, so to speak.
And this scares some business owners: a complete overhaul of known practices is always a challenge, and it's not guaranteed to be a success at first try.
Well, we have good news for those contemplating the pros and cons of transportation and logistics digital transformation: while digital transformation is a lifelong principle, its implementation into your organization does have an end, albeit vague (it depends on how quickly your company and employees adapt to changes).
Moreover, there are several aspects to digital transformation, and you can pace yourself in prioritizing and implementing changes. Let us briefly describe each aspect.
Organizational transformation
Arguably the most important part of the transformation process is the internal mindset change. Organizational transformation is sometimes also referred to as cultural transformation, and it's exactly what it is.
To successfully execute digital transformation in your logistics company, you'll need to bring your workforce on board, and implement digital solutions internally before you do it externally.
Changing the whole paradigm and the way you've been doing things might take time and effort. However, with the support and understanding of your employees, the success rate will go up considerably, and the transformation process will go much more smoothly as well.
Process automation
The second type of digital transformation in transportation and logistics is process automation. It means employing digital technologies for tasks previously managed manually. The list of possible technologies is quite long, we'll only list the most major ones:
Machine learning
Robotic process automation
Big data analytics
APIs
The use of technology can reduce processing times, shorten cycles, and enhance business performance through data-driven decisions.
Business model transformation
When you want to do more than implement a number of digital solutions and your plan is complete transformation in your logistics business, there's this type. Business model transformation is a major change in the way you deliver value to customers and partners. This is where the changes to your communications go, among other things.
Domain transformation
You know how Amazon went from an online bookstore to what we know today? Or how Netflix changed its operations when streaming was only at its budding stage? This is domain transformation — the changes implemented to spread into adjacent niches, to grow across domains. This will allow your business to grow not just at the moment but to lay the groundwork for continuous growth opportunities in the future.
Tech trends in transportation and logistics digital transformation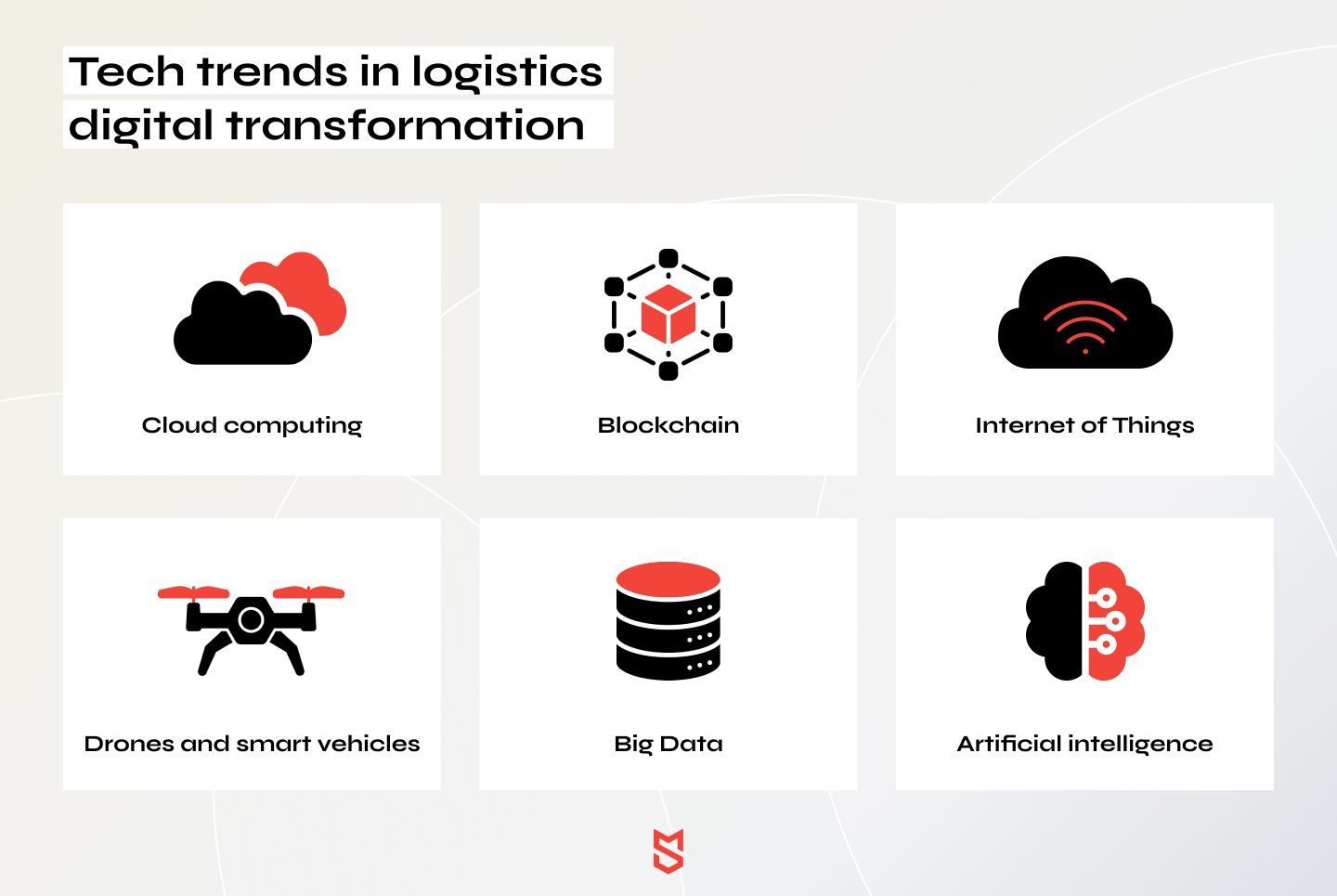 Here are the technologies to consider when you decide to go through logistics and transportation digital transformation:
Cloud computing. Keeping your data in the cloud is cost-effective, often more secure, and, for the logistics industry, it allows profitable and simple access to real-time data.
Blockchain is probably the most heard about technology in the industry as it allows faster and more secure integration of multiple systems into one platform. Some specialists call blockchain the evolution of cloud computing.
Internet of Things (IoT). Employing barcode scanners and RFID sensors for asset and warehouse management will shorten supply cycles; using wearable health-related IoT solutions for employees will lower the number of accidents and help keep your workforce fully operational (and probably in better mental state).
Drones and autonomous/smart vehicles. These tech solutions can perform a range of actions, from small-distance delivery (inside a warehouse or locally to customers) to surveillance and control over warehouse stock. For example, there's a known case where drones equipped with barcode scanners collected data on items in the warehouse.
Big Data brings high-level analytics and insights into your operations, can help predict and meet demand, adjust your supply chain, and overall enhance your business performance.
Machine learning and artificial intelligence. Most companies that have been on the market for a while have data silos — data repositories controlled by a certain department or unit. Such data is usually hard to access across units despite it not being confidential. By employing AI and machine learning, it's possible to get rid of such silos, thus building more transparent operations. AI/ML with the help of Big Data can also efficiently build predictive models for operation efficiency.
Computer vision. A subset of artificial intelligence and machine learning, computer vision is a technology that allows computers to adequately analyze and assess objects through photos and videos shot with a camera. Use case in logistics — virtual assessment of vehicle damage.
Natural Language Processing (NLP). NLP is becoming widely used in eCommerce and other consumer-facing businesses as a tool for optimizing customer support via chatbots, but that's not its only application. A logistics and transportation business can employ NLP for its invoicing and financial processes. As another part of the AI revolution, NLP-powered systems can reduce the number of errors in financial documentation.
Digital twin. The lovechild of Big Data, AI/ML, and cloud computing/blockchain technology, a digital twin is basically a digital copy of your business used for simulations of possible scenarios. It can be used to assess risks, build strategy, and make data-backed decisions faster.
Planning digital transformation for your logistics business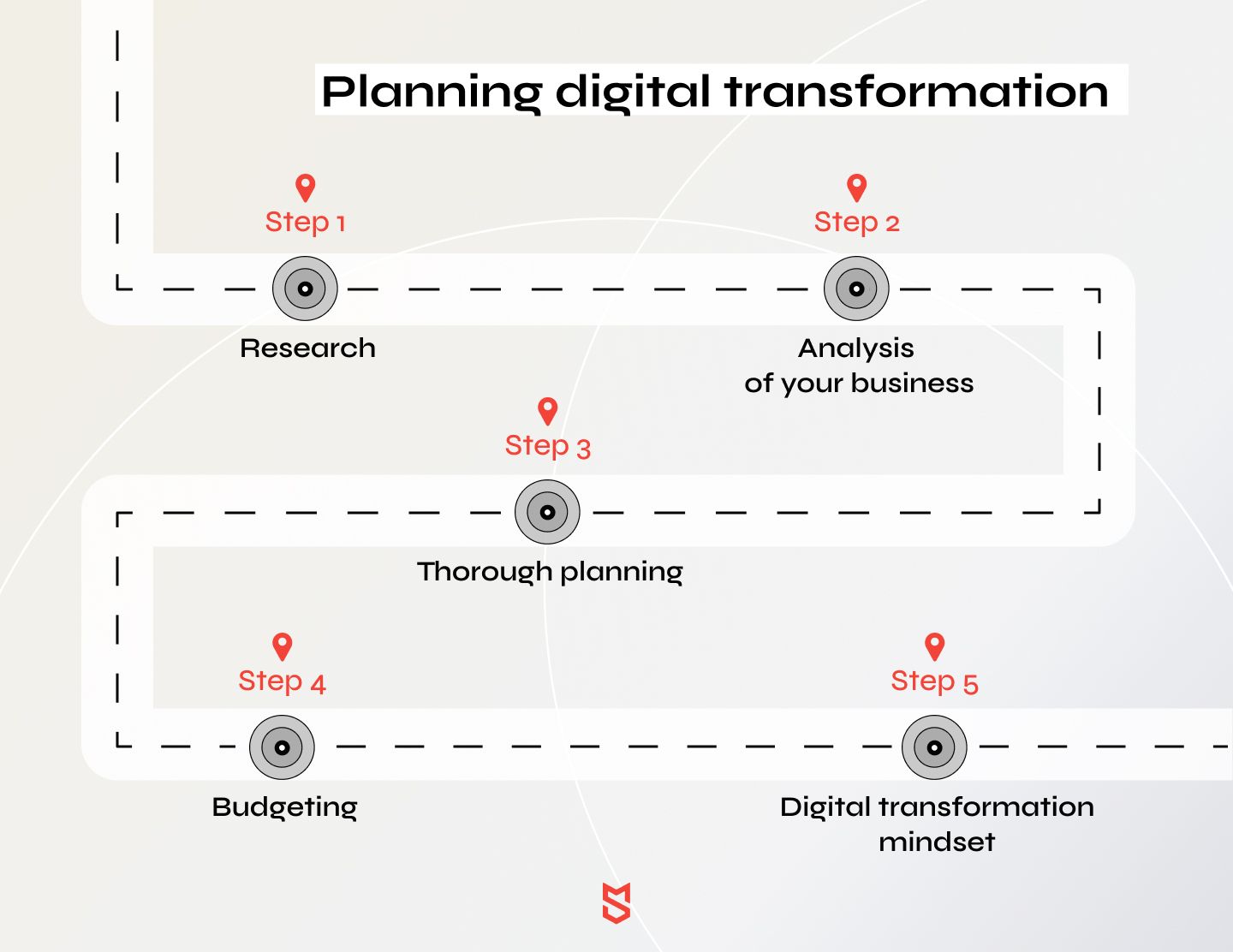 Like any other big business undertaking, digital transformation in transportation or logistics needs a plan before it's started. In this section, we'll try to outline the major stages in a possible roadmap to digital transformation. We have a separate article where you can read a bit more on how to create a digital transformation strategy.
So what does a digital transformation strategy involve?
#1 Research
Research is when you make the foundation for future transformation. You need to understand your customers, your competition, the state of the market, and what solutions are applicable to your industry.
#2 Analysis of your business
At this point, you'll have to identify which of the possible solutions will benefit your business specifically. This decision will need to be based on a thorough analysis of your current processes and business performance (external and internal) as well as on your goals. This is where you'll decide on metrics and milestones.
#3 Thorough planning
A fully documented roadmap with each stage explained. Since digital transformation in a logistics company is a highly complex, prolonged, and most likely expensive process, it's better to undergo it in stages. For a reference, you can use the following stages:
Educate your employees. We'll repeat this as many times as necessary: it's important to prepare your staff for what's to be commenced. Tell the people what will happen, why, and how. Share with them your vision and ensure no one will try and sabotage the process. Some people will most probably need extra convincing and explaining.
Automate only the most crucial manual processes. Depending on your business specifics, this can include documentation, warehouse management, enterprise resource planning, etc.
Transform certain departments in your organization. Overhauling the whole organization in one go is hard and might potentially end in disaster. It's easier to divide your organization structure into units, select those least engaged in inter-department data exchange, and try to implement digital solutions into their core processes. When this is successful, jump to the next-in-line units until all of them are independently digital.
Start syncing the digitized units between themselves. One of the goals of digital transformation in transportation industry is to make operations more transparent and achieve interoperability. Companies that successfully went through digital transformation work as well-oiled machines without unnecessary involvement from top management for every little issue. Begin with syncing units that work in adjacent fields: human resources, accounting, and legal, or warehouse management and transportation of goods.
Sync all departments within your organization. This is self-explanatory. After this stage, your company is fully digitized and all departments can operate separately and as one organism. This is the second to last stage of digital transformation in logistics.
The final stage is to build a culture of innovation in your organization. This one might take the longest time and will need continuous monitoring and education of employees (old and new ones) to ensure that modern growth and adoption of new logistics technologies are engraved into the core principles of your business.
#4 Budgeting
Being a lengthy process, digital transformation is also costly. It's also not always successful on the first try. Granted, with the help of an experienced team, the chances of success are higher, but it's still important to consider the possibility of the process taking a significant amount of both time and money.
Take your detailed digital transformation in the logistics roadmap and plan the budget for each stage, including with possible setbacks due to experiment failures. See if the budget looks like something your business can handle without cutting money from other important operations. If not, what to prioritize to increase profits faster, to be able to proceed.
#5 Digital transformation mindset
This point should probably go first but we thought it would have more of an impact last :)
What is the digital transformation in transportation and logistics mindset, you might ask? First and foremost, it's flexibility and readiness to adapt to ever-changing circumstances.
The global market in general and the logistics market specifically are undergoing rapid transformation as a whole. Being part of this means being ready to adapt at any moment. Make yourself comfortable with fast changes and prepare (psychologically, at least) to sometimes fail.
Instead of despairing, be ready to get back up and try again. And who knows, your old but revitalized logistics business might just become the next Amazon.
How to measure the success of digital transformation?
In business, you can't really say "We're afloat and making some profits, so it's a success". Or, rather, you can say that, but it's not something to use as a viable strategy in the long run. Success today may become failure tomorrow if you're not careful enough. That's why businesses had KPIs since time immemorial.
The important thing for KPIs is that they're clear and measurable, with numbers showing changes. What KPIs are there for digital transformation in transportation and logistics?
ROI (obviously). However, it's important to distinguish between your general ROI that includes your old operations and the ROI brought from investment into logistics digital solutions.
Customer experience metrics. This includes new customers, customer drop, and the cost of customer acquisition. You can also run surveys among customers to get deeper and more nuanced insights.
Cost-benefit analysis. The difference between your investment in digital transformation solutions and the revenue generated after their implementation will help you understand which ones are worth maintaining.
Employee performance. If your digital transformation efforts are successful, your employees will show an increase in productivity and satisfaction. However, keep in mind that this particular metric might be slow on the uptake as it takes time for people to learn new ways to work.
Number of successfully digitized processes. As digital transformation is a gradual process, you'll have to monitor its progress for a while.
Solution adoption. The perk of the digital world is that you can measure the success of a solution implementation. Be it internal (warehouse management) or external (delivery tracking app), you'll know if intended users like it or not by running analytics.
Time spent on processes. Digital transformation in logistics aims to shorten cycles and reduce processing times, so comparing the before and after is a sure way to measure success.
Your usual business metrics. You had KPIs before launching digital transformation, and some (if not all) of them are probably among your goals for improvement through digital transformation. Though it might be sensible to start comparing those a bit later, some time after adopting logistics digital solutions.
NB! KPIs should be set at the very beginning of digital transformation and observed throughout the whole journey. This is necessary to pluck out ineffective solutions before they eat at your budget.
How Mind Studios can help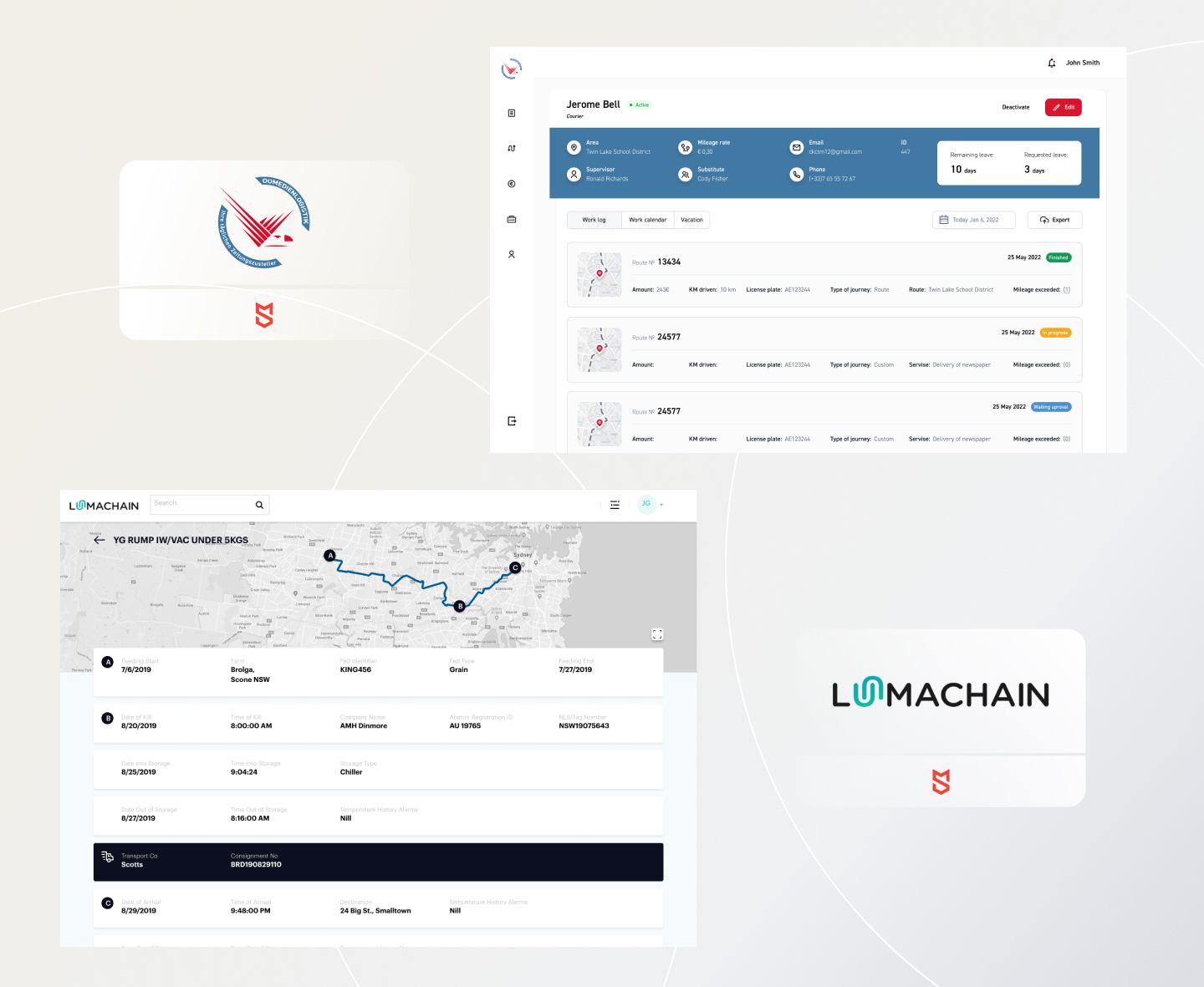 Being on the market for quite some time, we've encountered all kinds of businesses and all kinds of projects. Digital transformation happened to be among the cases we solved for some of our transportation and logistics industry clients.
One of our recent and ongoing clients is an old company in the business of newspaper delivery. Yes, you read that right — printed newspapers are still alive and in demand. However, the way they're delivered sometimes leaves space for improvement.
The client came to us by recommendation from another of our clients, and in their business, certain internal processes begged for a piece of digitalization. Specifically, our client needed to optimize their spending on deliveries.
Upon performing analysis and discussion, we came to the conclusion that an optimal solution would be a product that could:
Calculate the optimal route time- and distance-wise by taking into account usual traffic and possible traffics jams at the specific time of the day for delivery (via API)
Automatically register odometer numbers on each vehicle at the start and end of the shift
Provide data access to a supervisor
Report to the supervisor if there is a significant difference between forecasted distance and actual distance
This system helps business owners to make the delivery process more transparent and efficient, lifts certain tedious tasks off the drivers, and enhances trust between employees and employers.
Among other examples of our logistics and transportation industry projects are:
A solution for a warehouse rental to expand into digital spaces via a system similar to Airbnb but for warehouses
An app for an international cargo transportation company using IoT for delivery tracking
A dispatch module for a supply chain monitoring system in the meat industry
Conclusion
Digital transformation is changing transportation and logistics. It is increasingly evident that old companies need to abandon their reluctance to change and embrace innovation — to scale up, to grow, to stay ahead of the curve.
From small to medium to large, businesses all over the world launch new digital initiatives: spending on digital transformation globally is expected to reach $3.4 trillion by 2026. A chunk of that will undoubtedly be in the logistics sector.
If you're in doubt whether your business should invest in digital transformation, overall or for some part of your organization, share your ideas and doubts with our business development consultants during a free 45-minute call.
We're well-versed in both building logistics digital solutions and performing digital transformation, so chances are, we can help dispel your doubts and find the most cost-effective way to improve your business operations.
1