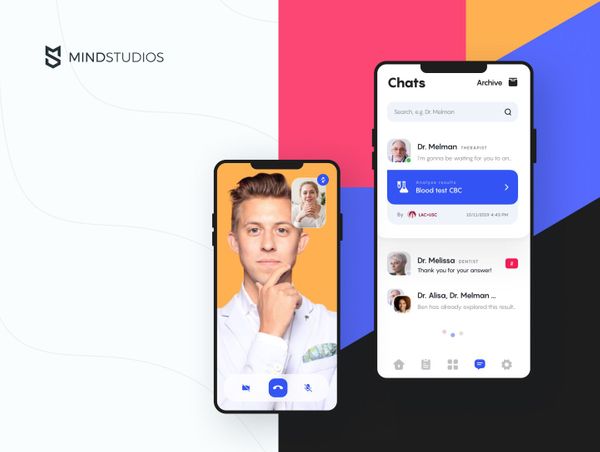 What is Health Today and What Have Technologies to do With it?
Today a person in a thousand cares about health by only going to the hospital and using grandma recipes of pot liquors. There is an enormous amount of information in the Internet network that constantly lures us to use it. But why we need it?
Technology trends in healthcare show that people want to treat the health problem with more responsibility. The first comer doctor's credibility is not inviolable anymore, and critical faculty makes us find more information and alternatives.
Information technologies are evolving by leaps and bounds. Those things that were a science fiction yesterday, today are currently in use for a great while. Progress is growing exponentially, and technologies touch such an important factor, like human health.
Mhealth Trends and How to Use Them
Mhealth stands for mobile health, and this name speaks for itself. Put simply, this term means a practice of introducing the mobile technologies into the health-care. When this term was founded, it implied generally counseling with a doctor using a mobile connection for people from outlands or unstable regions, which didn't have an access to the stationary hospital. But time runs fast and changes every bit, and Mhealth is no exception.
The phone consultation by the specialist is no more one of healthcare tech trends, and more importantly that it becomes comfortless for the majority of users because of outdated technology. That was a reason for Mhealth to evolve. In 2021 healthcare apps functions boggle the mind on account of their options and variety. As such, let's have a look at mobile health trends in 2021.
Real-Time Health Tracking as One of Healthcare Tech Trends
This day users is interested in permanent developing intelligence about their health indicators. But to track the determinants of pressure, pulse rate, sleep period, distance covered and a number of steps is not enough anymore for a tracking application. To meet demand app has to be able:
To track the information with the minimal measure of inaccuracy.

To make it possible to see this data in readable form.

To save the health data and be able to do a statistical analysis of user's indicators.

To compare determinants with the standards.

To offer advice for improving the health indexes.
If you want to read more about developing a tracker app read our article about Fitness App Development.
So we can analyze items and deduce that they make no sense without first of these: the accurate information readout. But how can we achieve success in this field? The answer is 3 words – Internet of Things.
Internet of Things
There is the one technology that improves the quality of input information and its' analysis. IoT is the network of devices with installed technologies and transducers. These "things" work as a team to make user life more comfortable. As we speak about healthcare trends, we can make mention of such innovations as:
Inner soles with pressure sensors, geolocation and step tracker, that can be useful for patients, especially for people suffering from peripheral neuropathy.

Sticking plaster that can monitor indexes such as body temperature, desiccation rate, cardiac frequency and arterial pressure.
There are two of the generous amount of health devices that you can find in market which grows day by day with a significance of IT trends in the healthcare industry.
Apps must be able to gather intelligence from many different devices and combine this data. Also, apps must conduct analysis and make a decision to send a push-advice to you or inform your doctor in case of critical condition.
Big data and EHR
There is perhaps the most interesting and significant aspect of healthcare IT trends, inasmuch as the usage of big databases makes it possible to form a statistics based upon data and make predictions of potential health problems. For example of the importance of these features let's have a look at apps for medical appointment booking.
In presence of plenty large enough database, it's possible to tally up stats of medical appointment booking and estimate the most actual doctors, a weekday of the biggest consumer flow, the most frequent health problems of customers etc. This information can stabilize an activity of the institution to more profit-making.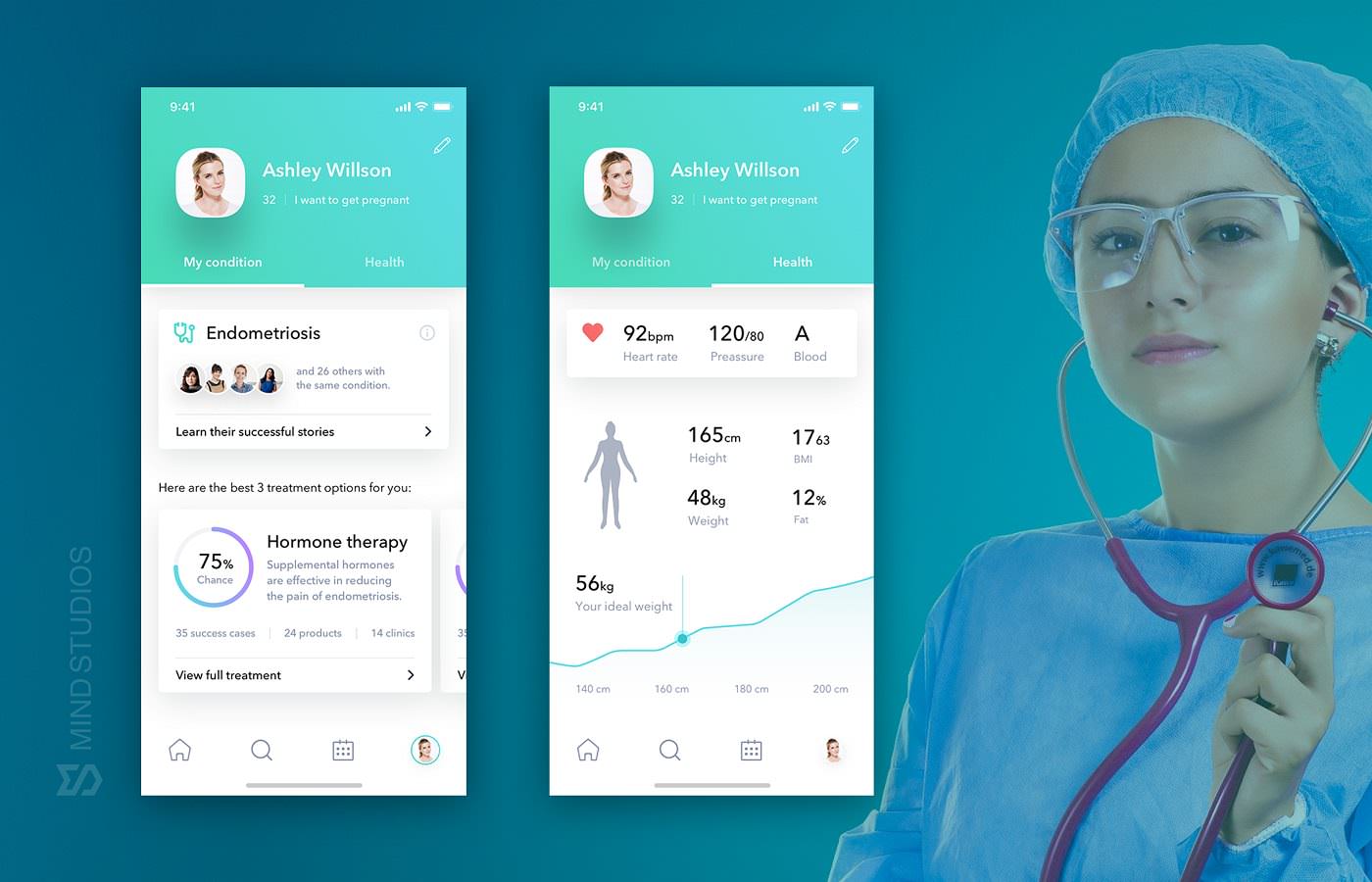 A vitally important thing in current healthcare trends is an Electronic Health Record (EHR). It opens the door to the customer and his consulting physician to have a permanent access to client data such as cardiac waveforms, chronic diseases, diagnostics and previous prescriptions.
An EHR can ameliorate the interaction between doctor and patient for more productive delivery of care. Electronic Health Record reduces to zero the number of papers you need to have on hand when visiting your physician as well.
To read more about EHR apps and other types of healthcare applications check our article: Healthcare App Development.
Blockchain and Data Security
Availability of vast database can throw a wobbly if it wouldn't have enough security. Unsafe record retention could bring about a breakdown. Changing or stealing of data can conduct the health deterioration of users resulting from doctor's mistake because of falsified and incomplete information.
Blockchain – is a solution to this problem cause data decentralization advances the impossibility of robbing and uncontrolled changing. It's important for EHR in case of this information constantly moving from public to private sector and inversely. Using a singular secure protocol will make the information defendable, and data's transportation will be much easier and faster as well.
The popularity of blockchain technologies grows with a frenetic pace, and healthcare app developers, who aren't attempting to use these now, will be reputed for outsiders in the nearest future.
Telehealth and Telemedicine
Upon the information of Cisco, 74% of people have considered that doctor consult much more productive via a phone call or messages. It was in 2013. People realized disadvantages of traditional physician visit even at that time. But nowadays the form of calls and messages is outdated because of more usable alternatives.
Today there is the age of smartphones and applications, and the question is simple: Why do you have to use something else instead of the app where you can choose matched doctors among the rich assortment, see their stats, skills, qualification and customer quotes? Why do you have to swear off the opportunity to consult with your doc using chat or video call? Check out more information about telemedicine platform development.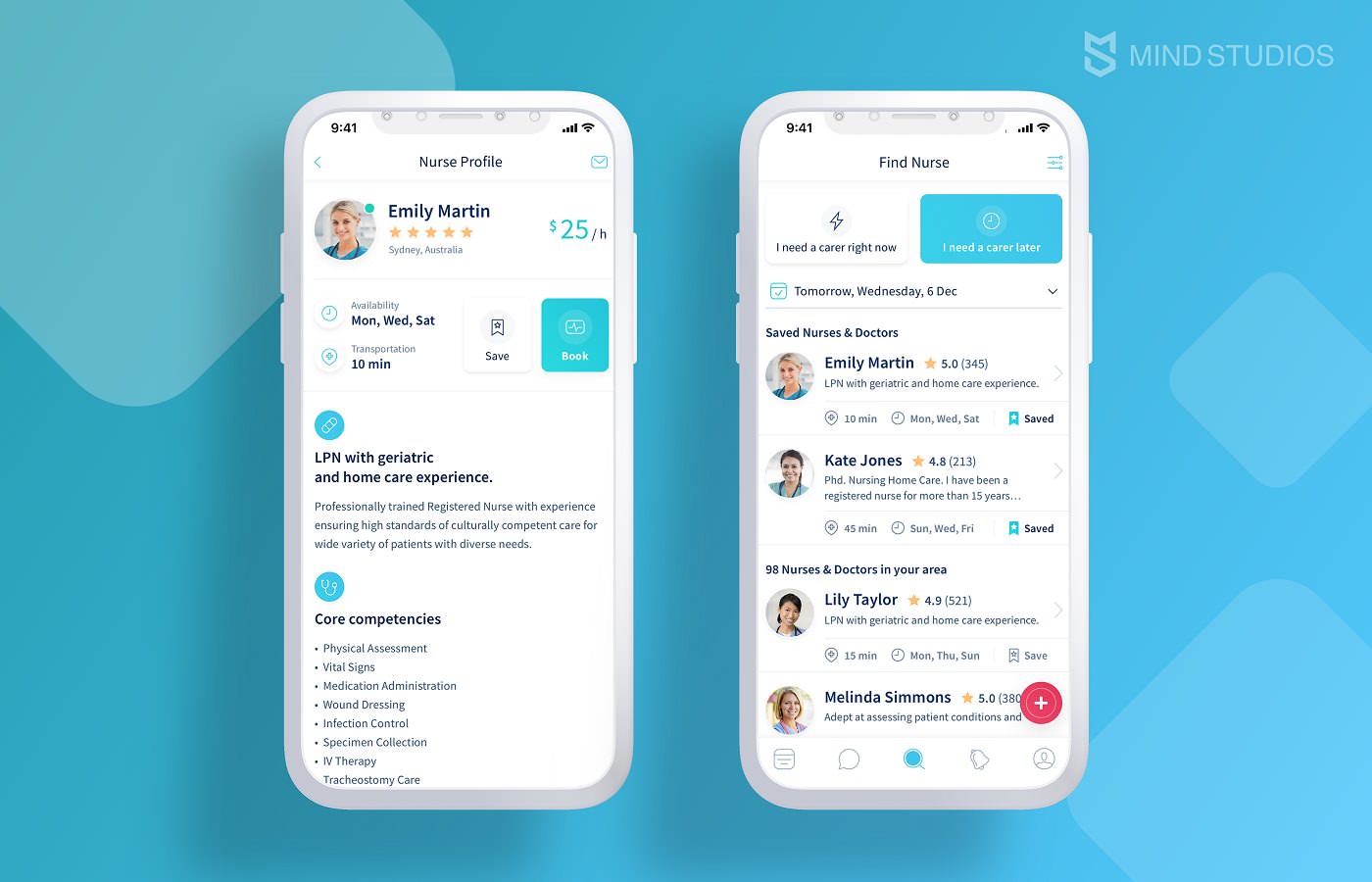 Users will never come back to the traditional method of healthcare If they understand advantages of the telemedicine technology that puts the personal online-doctor in user's pocket.
This prominent representative of current technology trends in healthcare is constantly upgrading synchronous to the evolution of communication tools. It means that as long as people network among themselves, a telemedicine will not be filed as a history.
Artificial Intelligence – the Next Step in the Health Industry
Artificial intelligence technology desists to be a term used only by science-fiction authors long ago. It's universally used in mobile apps and helps forward them to do quantum leap and increase the functionality.
In healthcare, AI is used to make a more accurate diagnosis based on information from patient's EHR. AI is able to analyze all incoming information, symptoms and previous diagnostics to predict the health problem of potential user and variants to solve it.
Adding AI to the app is necessary because of healthcare mobile apps trends in nowadays. All of others points in this Top depend on artificial intelligence technology that increases the functionality of every feature by adding the analytical capability.
Many of big corporations inject capital into research and upgrading of AI. For these reasons, it's necessary to start implementation of AI technology to your app today for keeping it relevant tomorrow.
Augmented Reality in Healthcare
Today isn't a secret that new healthcare technology of augmented reality puts virtual reality in the shade. How did AR do it? The answer is this technology doesn't lose touch with our realness. For this very reason, there is a big variety in using this new healthcare technology to solve our everyday problems.
By the aid of the combination of augmented reality and artificial intelligence healthcare apps can provide benefit to doctors and patients. It's possible to turn smartphone camera on the human body and inspect the location of its digestive organs, blood-vascular and respiratory systems, skeleton etc.
In medical practice, AR helps, for instance, to administer an injection, cause statistically, nurses miss the vein 4 times from 10. Massages and more major operations become much easier via augmented reality, so this technology must be in medical apps in 2021, cause it incontestably helpful and offers smart physical appearance.
Need more information about AR? Read our article: Best Augmented Reality SDKs and Frameworks.
From Healthcare Tech Trends to Saving the Humanity
Health information technology trends thick with technology implementation for upgrading the medicine and literacy project of ordinary people. This goes to prove that our generation starts to think about the major feature of our life – about wellness.
Healthcare software development requires a patient work cause quality of application has a direct impact on the well-being of its users. It's necessary to research present trends and watch for their changing to render assistance for the user and prevent the burning of your fund.
Do you want to join the health promotion and start your healthcare app business? Contact our business analyst to do the first step in this field.