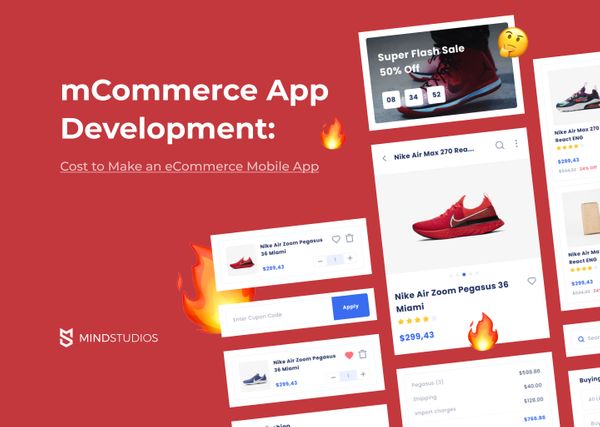 The move of eCommerce to mobile devices, i.e. the move to m-Commerce, is neither new nor unexpected, but it's worth a closer look. It's time we talked about how to make an mCommerce app and estimated the cost to build an mCommerce app.
---
---
The state of the eCommerce market
Shopping has been gradually moving online for years, but 2020 has given it a big push. eMarketer claims that in the US alone, eCommerce sales have grown by 32.4% compared to 2019. That's twice the eMarketer's predicted 18% growth. Granted, the rate of growth will likely slow down post-pandemic, but it will presumably just return to the normal rate, not disappear completely.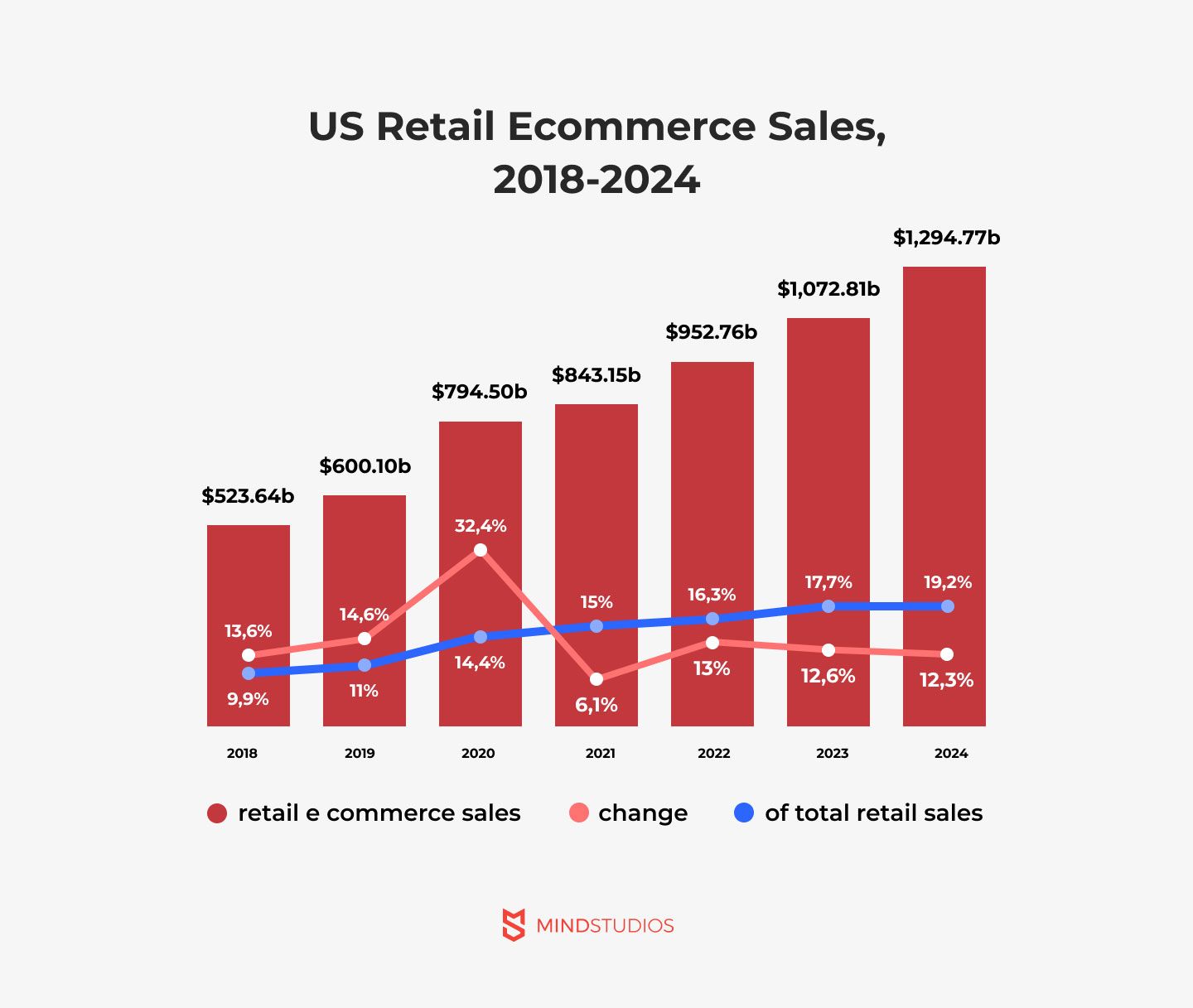 Here's another prediction for you: according to Statista, by 2021, mobile eCommerce will constitute almost 73% of all eCommerce sales. That's some $3.5 trillion in sales.
Both traditional and mobile eCommerce are on the rise, and ignoring this fact spells disaster for businesses. Now's the best time for making an eCommerce mobile app.
How is mCommerce different from eCommerce?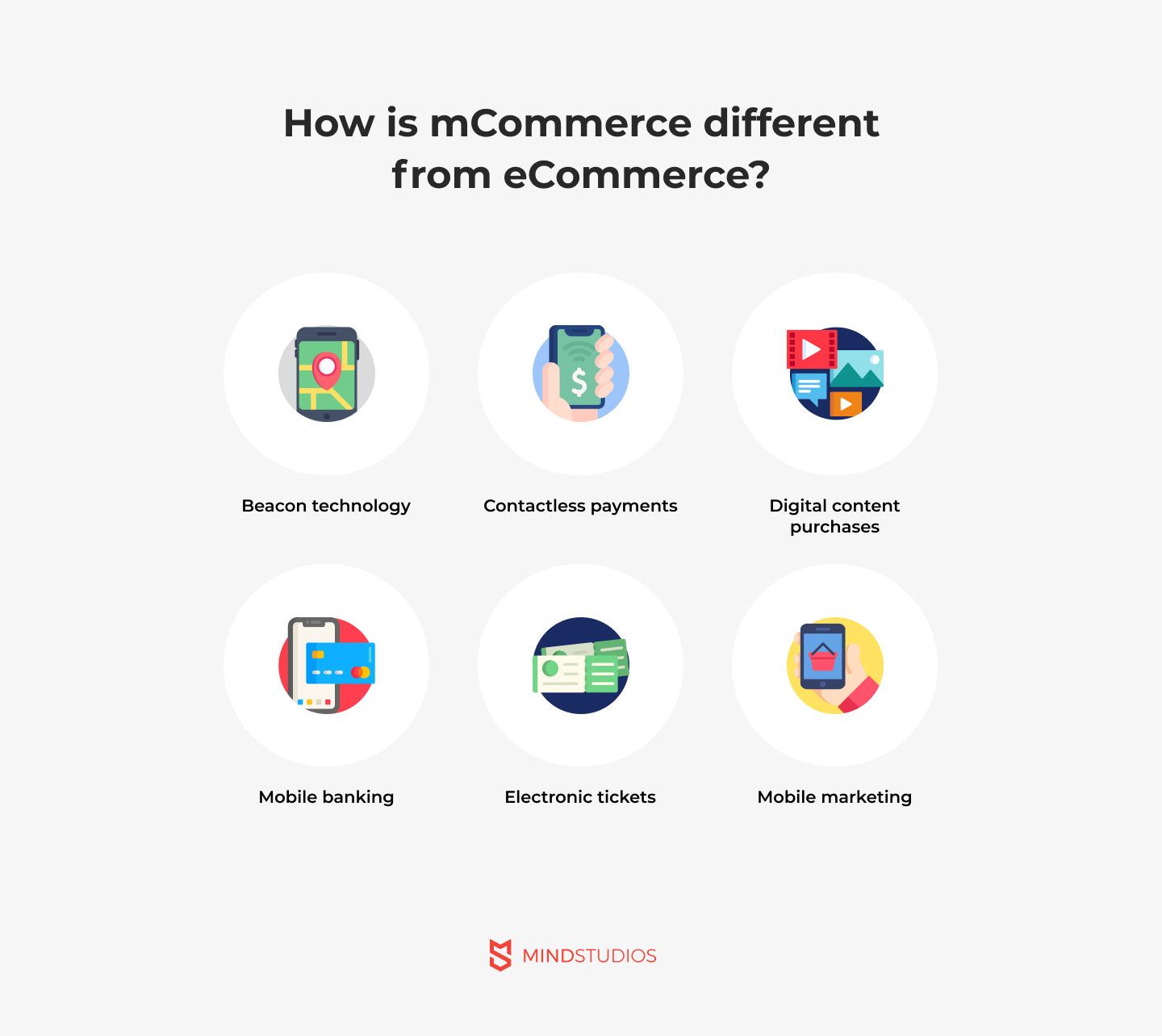 It's not so much about the difference between mCommerce and eCommerce as it is about mCommerce being the logical next step in the evolution of eCommerce.
The portability of mobile devices makes them perfect for spontaneous purchases. Smartphones are always with us, and they're becoming more sophisticated by the day. In the past, when we were away from home we could buy things only with cash or a physical credit card. At home, we could buy things on a computer. Today, our cards are in our NFC-enabled smartphones and added to our digital wallets, and online stores are built as mobile-friendly websites or native mobile apps.
As a result of technological development, in the second half of 2019, about 79% of smartphone owners used their mobile devices to buy something online instead of using a computer to do so. Additionally, 80% of visitors to physical shops use their smartphones to look up stock and prices in other brick-and-mortar stores and online.
Such demand in mobile eCommerce has given rise to a number of technologies. Here are just some of them:
Beacon technology. This location-based technology uses beacons to send signals to nearby devices via Bluetooth. Beacons can help shops improve their data gathering and marketing strategies. For shoppers, beacons provide a more personalized shopping experience by allowing for better targeted ads.

Contactless payments. Near-field communication (NFC) technology in smartphones makes it unnecessary to carry credit cards. We can just add them to our digital wallets and use contactless payment systems like Apple Pay, Google Pay, and Samsung Pay.

Digital content purchases. Ebook stores like Amazon Kindle, media hostings like Shutterstock are thriving thanks to m-Commerce.
Mobile banking. With the security of mobile devices getting better and better — two-factor authentication, face and fingerprint scanning, etc. — banking operations are also becoming easier to perform on the go.

Electronic tickets. There's no need to print tickets and boarding passes anymore, as simply showing a QR code on your smartphone from inside a mobile app is enough.

Mobile marketing. With smartphones being our everyday companions, it's sensible to reroute marketing efforts to push and in-app notifications. Sellers can offer discounts, coupons, and loyalty programs via apps. You can also think about implementing beacons to send marketing messages to devices near your physical stores.
This is just the tip of the iceberg that is m-Commerce: the industry is progressing rapidly. And while it's probably too early to talk about mobile commerce replacing traditional commerce, it's certainly not too early to think about expanding your online presence to mobile devices.
Advantages of having a mobile eCommerce app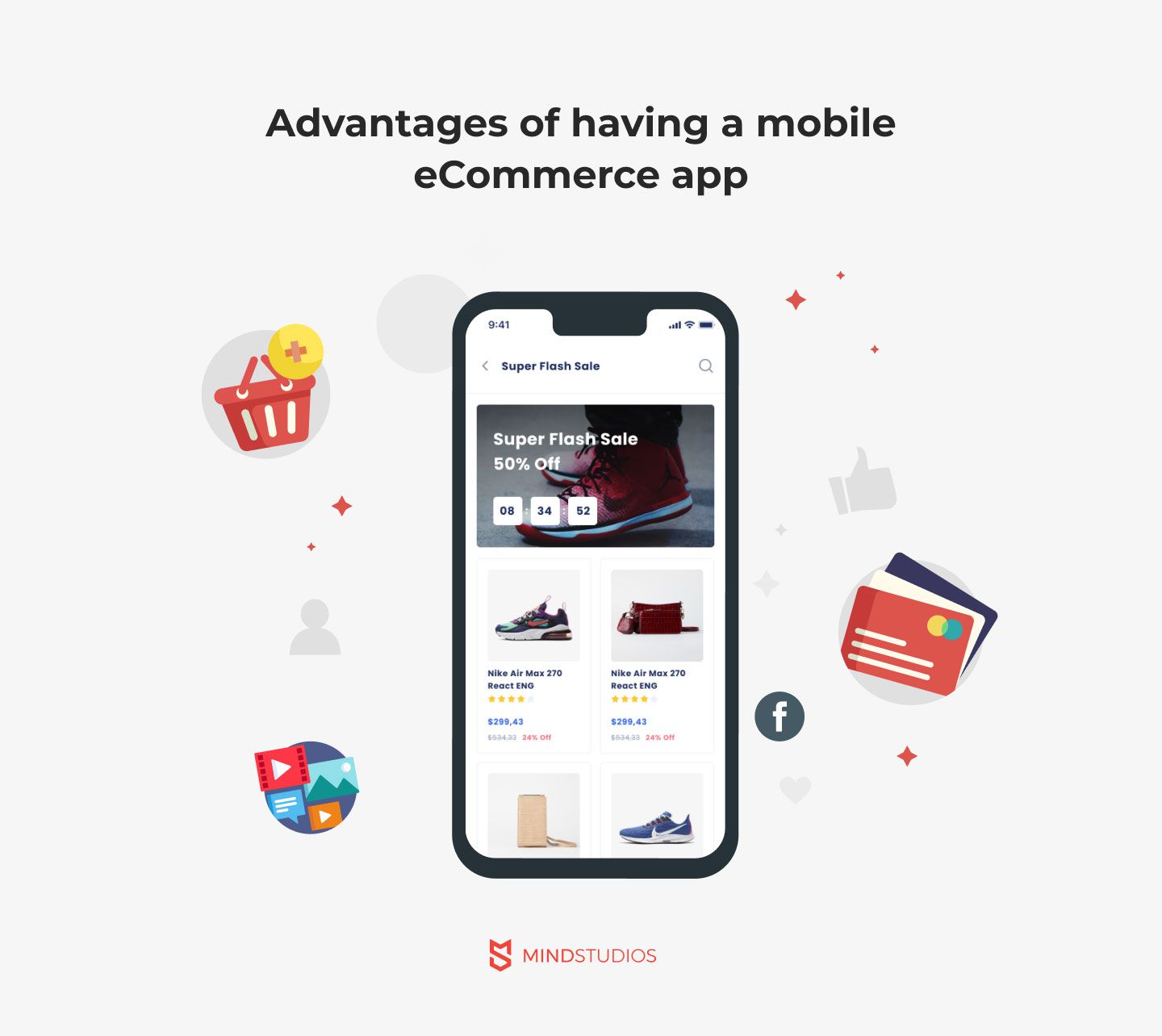 The importance of an online presence for a retailer is hard to overestimate these days, and every business owner knows this. At the same time, there are advantages to having a mobile platform in particular that not everyone is aware of. And those advantages are plenty important. A mobile eCommerce app can boost a business nicely.
Mobile apps are always at hand. The biggest perk of having a mobile app is that your customers can open it when the need arises and make purchases instantly.

Mobile apps can access a device's hardware-based functionality. While web apps are also rapidly developing, they aren't yet able to access mobile device functionality as well as native apps. Such functionality includes the ability to make a purchase via a voice assistant, which is a big perk for busy buyers who are on the move and for people with limited hand mobility. Then there are barcode readers for both making purchases and quickly looking up items from a physical store online to compare prices or check out the information. Finally, there are modern augmented reality features so customers can see how items will look in their home's interior, for example.
Mobile apps are faster than websites. The use of faster frameworks in eCommerce apps as well as better integration with device hardware makes mobile apps almost twice as fast as your regular website. Another benefit of mobile apps is the ability to store data locally on the device, which both speeds up operations and allows mobile apps to work offline. The latter feature is partially possible by making your website a progressive web app. However, the extent of offline functionality will still be tilted in favor of a mobile app.
These are only the biggest benefits of making an eCommerce mobile app, but they're not the only ones. Mobile apps are more convenient for users. They offer higher availability, a more diverse range of payment options, and greater flexibility. Depending on your business, a mobile app can also give you an edge in the market.
Features an mCommerce app needs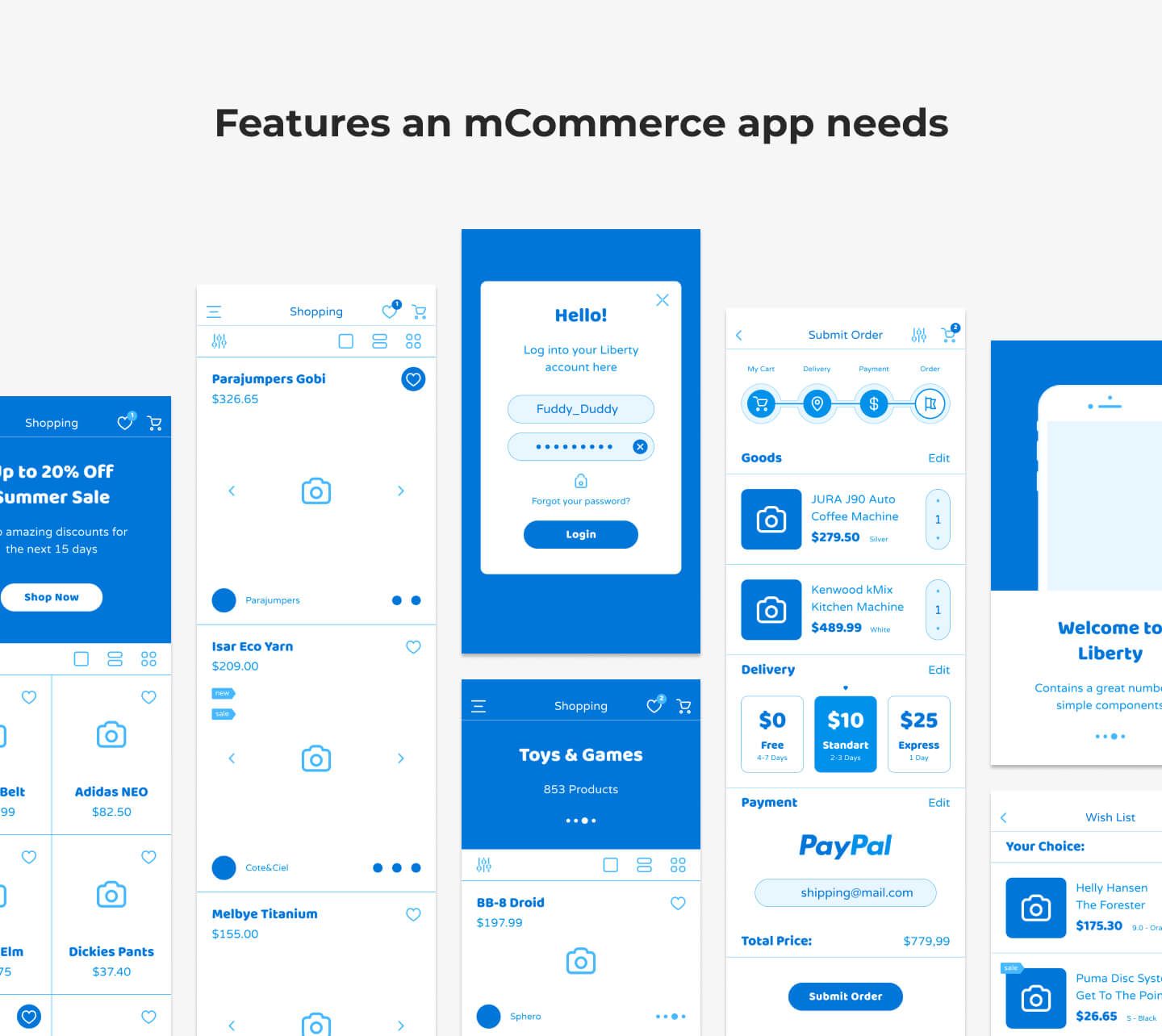 Developing a mobile eCommerce application is challenging. An m-Commerce app needs lots of features, and with the number of stores going online these days, you need to stand out from the crowd. This means you need to thoroughly analyze both your competitors and potential customers. You'll need to research what's lacking in the industry and where it's oversaturated, what your target audience needs, and what it's fed up with.
After that, you should work with an eCommerce app development company to create a list of features to include in your app. Here's our take on a list of features any mobile eCommerce app needs.
Feature
Description

Onboarding

When a user opens your mCommerce app for the first time, you need to show them where the main features are. Onboarding should be as short as you can make it without sacrificing clarity. It's also a good idea to make it fun: use animations and friendly language to lighten the mood.

Sign-up/sign-in

Make registration and authentication as quick and easy as you can. Integrate registration and authentication via Apple, Facebook, and Google accounts for swiftness.

User profiles

User profiles let users store their payment information and delivery addresses (or devices, if you're selling digital items). Users will also want to access their purchase histories, wishlists, and settings, and the most user-friendly way to do that is to add links to the user profile.

Items list

This is where you can display all the products you sell. It's the heart of your whole store, so it needs to look appealing and contain quick links to each product page.

Product screen

Create a separate screen for each product you sell, with quality images, product descriptions, product characteristics, and reviews.

Search functionality

Add autocomplete suggestions to your search feature to make it more convenient for users. Advanced search might include categories, price ranges, or other distinctive characteristics of your products.

Filters

Filters narrow down selections, helping users find what they need quicker and making the user experience more satisfactory.

Wishlist/favorite items

Let users add items they might want to buy later to a wishlist or favorites list.

Waitlist

Items on the waitlist are out of stock but can be restocked if there's demand. A waitlist might help you learn more about popular and in-demand items as well as retain customers you might have otherwise lost to competitors.

Cart

The cart holds items before and during checkout.

Payment options

The variety of payment systems today is astonishing — credit cards, PayPal, Google Pay and Apple Pay, Bitcoin — and people want to use whatever they find most convenient. The more payment options you offer, the better.

Push notifications

Push notifications get way more user engagement than email or other kinds of messages when it comes to reminding users about abandoned carts, restocked items, discounts, or any news about your store.

Social media integrations

Allow your customers to share their purchases, wishlists, and reviews to Facebook, Twitter, and other social networks. This will increase your business's visibility and user engagement.

Ratings and reviews

Reviews do two things:

They show you how your items are performing by revealing user satisfaction and complaints.

They enhance your store's credibility, as about 80% of shoppers check reviews before making a purchase.

Recommendations

There are three types of recommendations when it comes to retail:

Items similar to those a user has viewed

Items that complement those a user has viewed

Items popular among users with similar profiles and/or viewing histories

Promoted items

If you're making an eCommerce mobile app for a marketplace startup, consider adding opportunities for sellers to promote their items. This will provide you extra revenue.

Augmented reality

AR is a fairly new technology for eCommerce and one that's only used in mobile apps since it employs a camera to overlay an image of an item onto the real world. AR is popular for furniture sellers (the IKEA app has it), but it has more applications for eCommerce.

Coupons and promo codes

Shoppers love discounts. You can offer coupons as rewards and promo codes tied to holidays or your store's milestones.

Admin panel

This is a place where you or a designated employee can add/remove content, monitor app activity, and control payments.

Customer support

Customer support can be implemented via an in-app chatbot using machine learning if you don't have a support team working around the clock.

Retail locations

If you have brick-and-mortar stores, putting their locations in your app is a sensible decision. You can also help users navigate to your stores via built-in maps.
What to pay extra attention to when making an eCommerce mobile app
There are some steps in mobile eCommerce app development that require an extra careful approach.
Security
When you're selling things online, a major concern is the security of your buyers' financial and personal details. Poor security can cause irreparable damage to your business's reputation. Additionally, without proper security measures, you can forget about getting your app on an app store. With cybercrime being one of the biggest dangers in today's world, both the App Store and Google Play Store take measures to ensure all apps meet certain security criteria.
What can you do to meet those criteria?
End-to-end encryption is a must. Any sensitive information must be encrypted when stored and thoroughly protected.

Offer two-step authentication: email + password or a PIN followed by a time-limited authentication token delivered via text message, email, or push notification. These tokens must be encrypted and wiped after they expire.

Use biometric authentication methods like fingerprint recognition or Face ID, although it's recommended to complement biometric authentication with tokens, at least when it comes to financial transactions.

Force additional authentication when a user performs significant actions: checks out, makes changes to personal information, etc.

Verify and filter user data regularly to ban scammers.

Only use official APIs from reliable sources.
These are just the major points. Take into account that the security measures you take can affect the cost to build your m-Commerce app.
Conversion rate optimization (CRO)
In eCommerce, traditional and mobile alike, your return on investment (ROI) directly depends on your users making purchases. Hence, your ultimate goal is to convert visitors into customers. The mechanism that does this is called the conversion funnel — a series of stages that lead users to take or not take specific actions: leave their emails to receive promotional newsletters, subscribe to some kind of premium service (can be used in marketplaces), or make a purchase.
You should take your conversion funnel into account from the earliest stages of prototyping. Conversion rate optimization is a set of practices to help you create a user interface that will entice users to complete a purchase.
Usually, CRO relies on the work of UI/UX designers and marketing specialists, but developers can be invited to build prototypes to test your conversion funnel.
Legal and financial aspects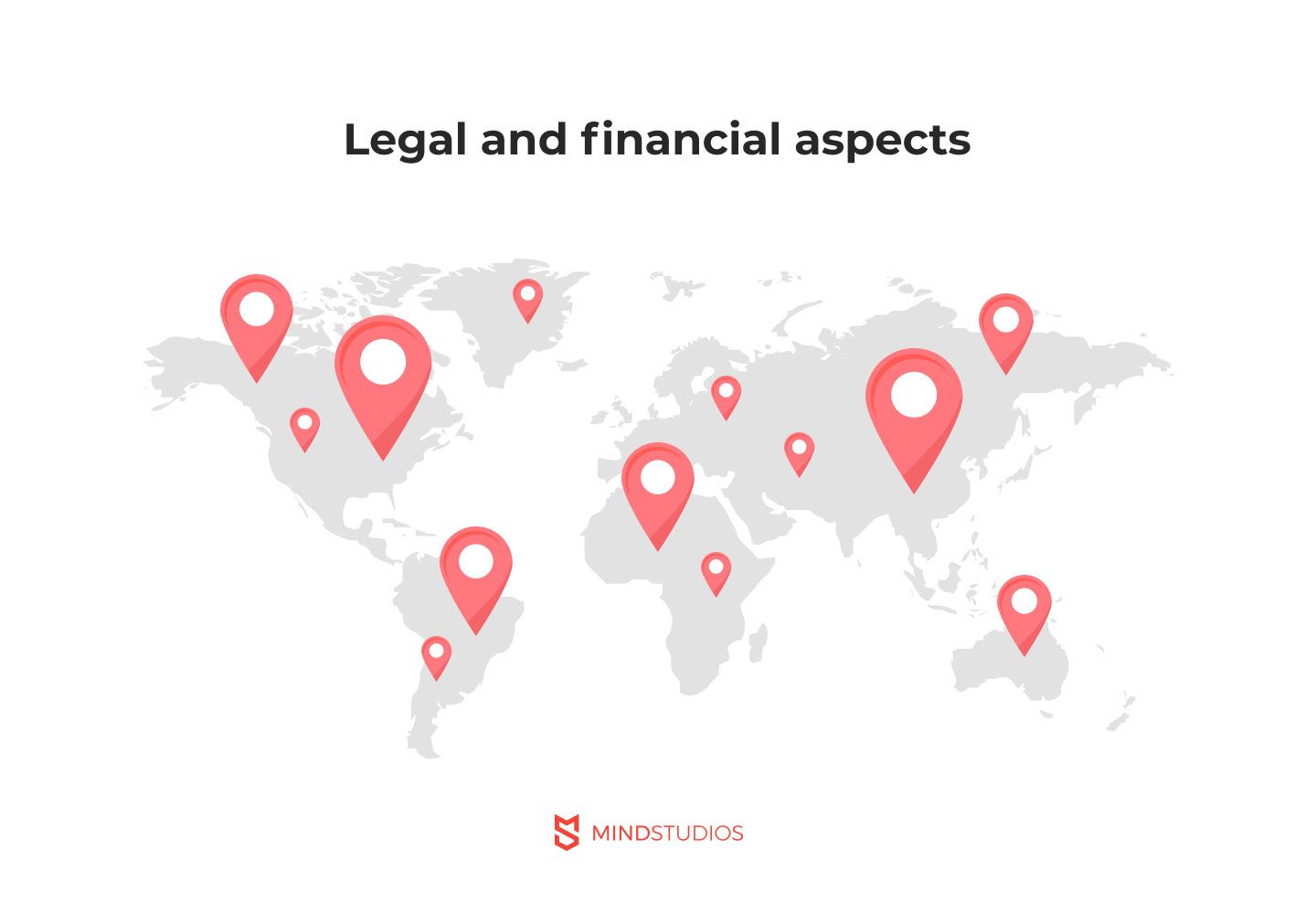 Selling things online is tricky, especially if you're doing it internationally. You need to meet various compliance requirements. Some items cannot be sold to certain countries, for example. Countries also have their own preferred payment systems and financial regulations. You'll need to research the specifics of each country you plan to sell to.
Another issue is selling via a mobile app in particular. If you're selling digital content — ebooks, media files, items in games — you'll need to pay a fee to the app stores. Both Apple and Google take 30% from in-app purchases. If you're selling physical items you'll send via mail, your in-app transactions are exempt from this fee, but you'll need to pay the fee for using the payment system you integrate into your app.
How to develop an mCommerce app
Mobile apps are developed in stages. Depending on the scale of your project and how far ahead you've planned, developing an eCommerce mobile app can take from several months to a year or so.
If you want to launch as soon as possible but don't want to sacrifice the quality of your app, you can start by launching a minimum viable product (MVP). An MVP will allow you to test your app's features and idea as well as prioritize features for future development. Besides, an MVP is an opportunity to start earning while you're still developing your app.
Regardless of which way you decide to go — MVP or a full product launch — here's what goes into developing a custom mobile eCommerce app:
Discovery

Filling in the Lean canvas

Creating a mind map

Building epics list

Creating user personas

User story mapping

Making the navigation concept

MVP evaluation

Idea validation

Performing a target audience survey

Making a concept validation prototype

Building medium-fidelity prototypes

UX strategy

Building the information structure (ERD diagram)

Creating high-fidelity prototypes

Making a refined estimate

Finalizing an approximate project plan (Gantt chart)

Design and development

Design concept sprint

Technical setup sprint

Development sprint
Usually, research and initial designs can be done simultaneously to save time and effort. If you've conducted thorough research on your own, you can cut some time usually spent on research by the development team. However, we still recommend allocating time with your mCommerce app development company to verify data since new information might emerge during negotiations.
One of the questions you'll need to answer before starting development is which platform to launch on. These days, most eCommerce mobile apps are developed for both iOS and Android to reach more customers. This is, of course, more expensive than launching for only one platform, as code for Android and iOS is vastly different. To cut costs, you can opt to launch for one platform first and the second one later. Your research will show you which devices your target audience uses most.
How much does it cost to make an m-Commerce app?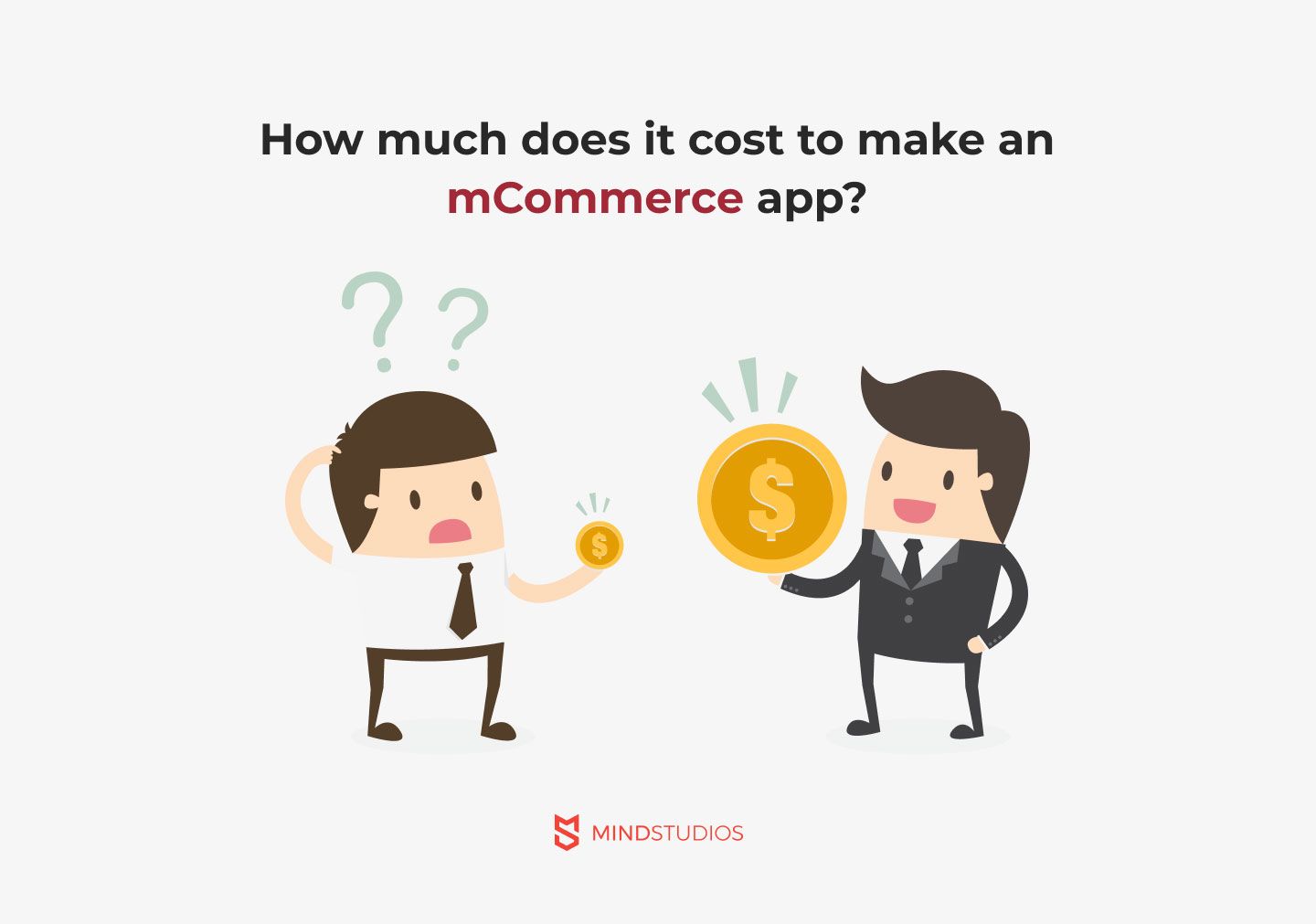 The cost of developing an mCommerce app is never set in stone and depends on too many factors to state it with any certainty. There's the number and complexity of features you need — that will have the biggest influence on the cost. Technologies like AR and certain APIs might cost quite a bit. The intricacy of the design is the second most important factor: a fancier interface takes longer to create and adapt to different screens. Then there's the hourly rate of your app outsourcing company and the number of specialists you decide to hire.
As this is a general-purpose article, we'll offer an estimate for a minimum team and a set of core features.
Here's the minimum team:
1 project manager

1–2 UI/UX designers

1 iOS developer

1 Android developer

2 backend developers

1–2 QA specialists
You can expect the time estimate to look similar to this:
| | |
| --- | --- |
| UI/UX design | 120–200 hours |
| Android development | 320–480 hours |
| iOS development | 320–480 hours |
| Back end + admin panel | 280–350 hours |
| QA & PM | 170–220 hours |
| TOTAL | 890–1,730 hours |
With this time estimate, the cost of developing an eCommerce app will be approximately $31,150 to $60,550 for core features. The time it will take to launch such an app is about half a year. Implementing complex features like AR will impact both the time and cost, but you can postpone these features if need be.
Afterword
We buy and sell not just on Amazon and eBay but on Instagram, Facebook, and other mobile-first platforms. Mobile technology makes it way faster, easier, and more convenient to buy using mobile devices. The security of mobile apps is also catching up fast with the security of web stores. We hope this article answers at least some of your questions on how to make an m-Commerce mobile app for your business.
If you have more, we're just one form away.Got questions about how to make an eCommerce app? Hit us up.