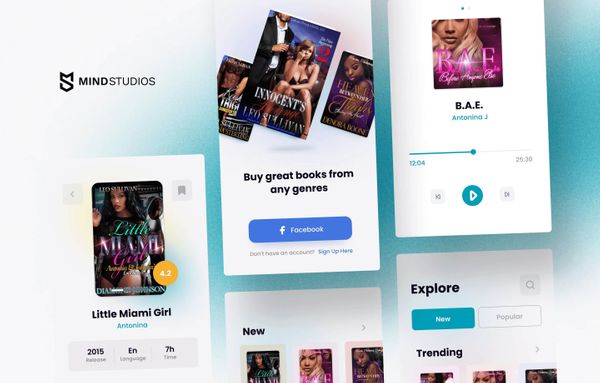 The audiobook market is one of the fastest growing and potentially profitable niches today. And it's a niche that has yet to become oversaturated. With a well-thought-out strategy and a good grasp on the trends, audiobook app development is an endeavor with high chances of success.
In this article, we talk about how to build an audiobook app, what to look out for, and how much it might cost. Read on for some industry insights and recommendations.
State of the audiobook market
Millennials and Generation Z are both avid readers, yet they're also at the busiest ages of their lives. Studying, working, falling madly in love — while we can do all that and more at any age, the peak of activity for most people falls between ages 15 and 45. Fitting reading in between everything else is a struggle.
Things became even more hectic with the pandemic, when the lines between work and leisure were blurred for so many people.
Perhaps this is one of the reasons audiobooks are so popular: being able to "read" as we do something else — work, eat, cook, commute, busy our hands with hobbies — affords the blessing of easy multitasking.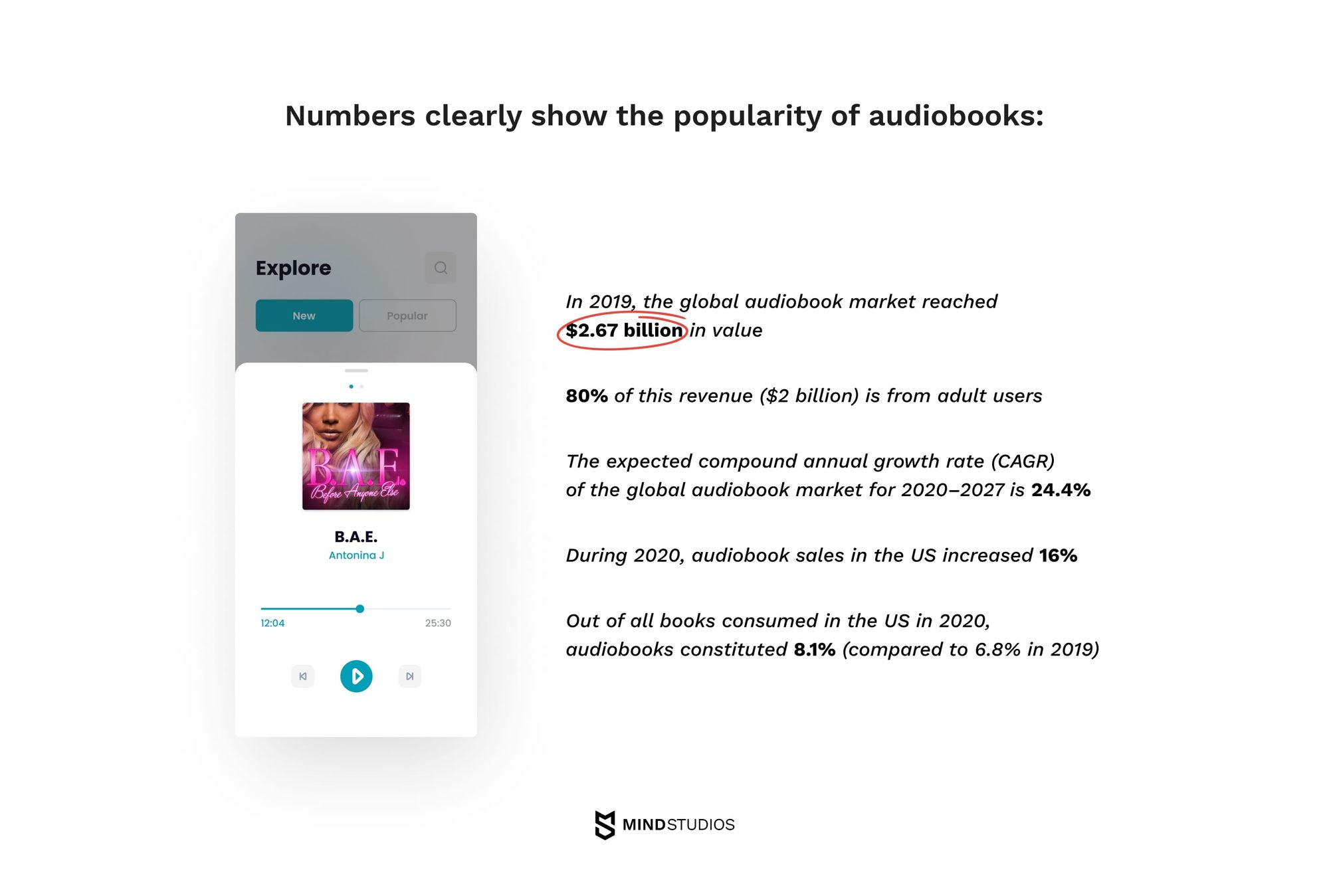 Source: Grand View Research, EIN News
Another important factor driving the popularity of audiobooks is accessibility. Audiobooks allow people with certain disabilities (people who are visually challenged or dyslexic, for instance) to enjoy stories at little extra cost.
The potential profitability of audiobook apps like Audible is pretty evident. So how do you enter this market geared towards success? Let us share a bit of our experience.
How to build an app for listening to audiobooks
Business ventures take off more smoothly when they're well-planned. We'd like to offer you a development process outline for an Audible-like app so you know what to expect.
Start with making your idea clear
When you look for developers to build your audiobook app, you'll need to explain your idea, and the more details you have figured out, the earlier your chosen developers can come up with solutions. You can start by answering these questions:
What unique value proposition do you see as your app's selling point?

The audiobook market isn't oversaturated yet, but it's not a new niche either. To build a successful audiobook app, you'll need to offer your audience something they need. In our experience, there are two possible approaches when it comes to developing e-book and audiobook apps.


You can focus on your app's functionality, add more interesting features, create stunning visuals, and so on. Or you can focus on content — for example, dedicate your platform to audiobooks of a specific genre or books by a certain category of authors and/or narrators.


Or you can try and balance the two approaches, of course. What we're trying to say is that while a good team will help you polish your idea and bring it to life, you still need to think at the very beginning about what unique value your app will offer its users.

What genres of audiobooks will you focus on?

You can add audiobooks of all genres to your app, or you can focus on a specific genre and expand later (or not).


Will you offer fiction or nonfiction? Maybe fantasy, humor, or steamy romances? Social fiction? Children's books?


If you don't have a personal preference for what genre to choose, consider statistical data. For example, according to the abovementioned Grand View Research and EIN News:

The expected CAGR for nonfiction audiobooks for 2020–2027 is 25%
Children's and young adult audiobooks are expected to grow at a 13.9% CAGR from 2020–2025

You can check similar statistics for the location where you're planning to launch your audiobook app to make a data-backed decision.

Do you want to develop an audiobook mobile app or a web-based platform?

Building a web platform is usually cheaper, and it's possible to stream audio content in a browser, though background playback will be impossible. If you want to make a mobile app for listening to audiobooks, there's also the Android vs iOS debate. You should analyze the behavior of your target audience before deciding on the platform to target if you're not planning to invest in two mobile apps and a web platform.


Note: When making a decision, keep in mind that both the Google Play Store and Apple App Store charge a 30% commission on in-app purchases, and avoiding it might prove to be a hassle.

Where are you going to get the content for your app?

Are you planning to record and upload audiobooks or resell existing audiobooks? There are platforms like Findaway, which is a marketplace and an audiobook creation platform. You can buy audiobooks from rights holders there and use the Findaway API to stream them in your app.


You'll also need to consider the cost of creating or buying audiobooks when estimating your budget, writing a business plan, and calculating profitability.


Or you can build a marketplace of your own where people buy audiobooks from rights holders themselves, with your app serving as an intermediary and a place to listen to these books.

Who are your main competitors?

The world leader on the audiobook market is Audible, a platform owned by Amazon. Google Play Books has an audiobook section as well, as does Scribd. Spotify recently launched an audiobook section as well. Audiobooks.com is another popular audiobook service.


Taking on Audible is an ambitious idea, of course, but there's always space for smaller stores, especially if you're going for a niche market or launching in a location where Amazon isn't as popular. You should, however, analyze the giants to better understand what it is that you want to create.
Find audiobook app developers you'll want to work with
With your idea somewhat clear, it's time to find partners who will bring it to life. When looking for an outsourcing development team to build an audiobook app, it's important to take into account several parameters:
Developers' hourly rates and how they relate to your budget
Time differences
Language differences
Expertise in audio streaming technologies
Quality of communication
Validate your idea
In the case of outsourcing, software development companies usually include in their teams a project manager and/or a business analyst who will help you perform deeper market and competitor analysis and validate your app idea.
Idea validation is an essential stage in software development. It helps you understand whether your idea is viable the way it is or if it needs to undergo changes to find its unique value proposition and market fit.
Design prototypes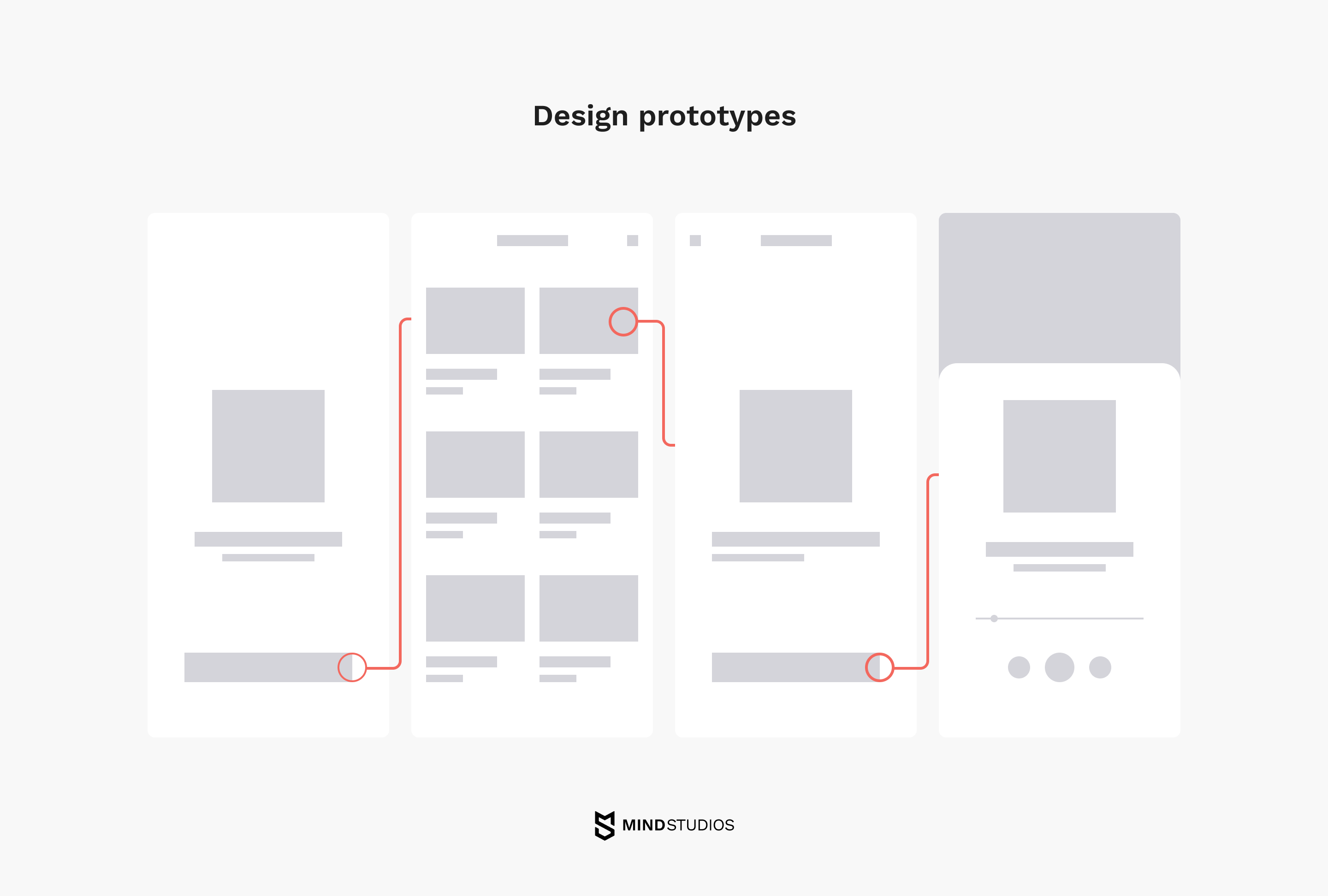 Simultaneously with discovery and research, designers should prepare prototypes for your app. They'll begin with navigation concepts. The simplest of prototypes, a navigation concept is basically a sketch of wireframes created to make sure you and your team see the app's functionality and the user journey the same way.
Next, designers will offer you several more complex prototypes to settle on a user interface design, test the user experience, and, optionally, create interactive mockups.
Launch marketing campaigns
You can launch marketing before or during your initial launch. Pre-launch marketing is a way to build up anticipation, create brand recognition, and boost the number of users when you launch, but you should tread carefully.
Consider what marketing channels will suit your audiobook app best:
Social media marketing
Influencer marketing
Video ads in other applications via app stores
A well-crafted landing page
It might also be worth considering reaching out to spaces selling or renting books to users, such as libraries and bookstores, especially if you're launching in an area where the niche isn't dominated by big names like Audible.
Launch an Audiobook App MVP
An MVP (minimum viable product) is the simplest version of your app that you can safely offer your potential users. Traditionally, it's an app with only your unique value proposition and the bare minimum of both design and functionality.
An MVP is launched at the early stages of online audiobook app development, and it serves several purposes:
Testing the app on real users who aren't your development company's quality assurance specialists or a handpicked test group of users
Evaluating demand and assessing market fit
Building brand awareness
Possibly earning some early revenue
Gathering honest feedback to adjust further development stages, fix bugs, and prioritize features
Assessing your marketing campaign's performance
You can also use data from an MVP (and the MVP itself) to win over investors.
Analyze performance
Analyzing app performance and the performance of your marketing campaigns is vital for your audiobook app's success. Data from your analysis will help you adjust future audiobook app development efforts for the best outcome.
One of the ways to assess performance is using unit economics calculations. Unit economics will offer you insights into potential profits and will let you know whether you need to introduce changes to your app before it's too late.
When we talk about software, unit economics (UE) is the difference between your customer acquisition cost (CAC) and customer lifetime value (LTV):
UE = LTV / CAC
Your customer acquisition cost is the cost of your marketing campaigns divided by the number of customers those campaigns bring you. Customer lifetime value, on the other hand, is the revenue a single customer (a user, in the case of software) brings you during their time using your product.
For a product to be considered profitable, its LTV needs to be higher than its CAC. Positive unit economics might also affect investors' decisions to fund your project.
What features to include in your audiobook app?
If you're interested in how to make an audiobook app like Audible and what to offer users, here's a non-exclusive list of features users would like to see in an app for listening to audiobooks.
Essential features for an audiobook app
Onboarding
It's important to hook your users from the moment they open your app, so quality onboarding is essential. Onboarding should be short enough to not bore your users and comprehensive enough to make your app seem easy to use. If your app has a lot of functionality, consider dividing the onboarding into several parts, each triggered by a certain action like opening a profile or a book catalog.
Sign-in/sign-up
Allow your users options to sign in: via a traditional email/password combination and via social networks or using a Google or Apple account. Versatility will make the app more appealing.
User profile
This is a space in the app where users have quick access to their personal library, history of purchases, and more.
Book catalog
Provide quick access to the store where users can purchase or lend books. We recommended offering some version of sorting in the catalog by tags, categories, length, genre, rating, and other parameters.
User library
Users need to be able to easily access books they've bought or borrowed, preferably from the home screen. Audible, for example, placed a personal library icon on the bottom panel, between the Home button and the book store.
Audiobook streaming
Audiobooks tend to be quite long, and it requires a lot of space to store them on devices. Users with limited storage and ample data plans prefer streaming their audiobooks.
Audiobook downloading
Book downloads are essential for long journeys and unsteady internet connections. However, you need to pay attention to piracy protections.
Push notifications
Notifications should be in place to remind users of anything important happening in the app: an approaching return date for a borrowed book, a new book by an author or narrator the user enjoyed before, or simply if the user hasn't opened the app for some time.
Sync between devices
It's not unusual for audiobook listeners to use several devices. For example, a user can listen to a book from a smartphone during the morning commute and from a smart speaker or tablet when doing something at home. Playback information should sync via servers for a better user experience.
Player
A player is the core feature of an audiobook app, and it should have a full set of playback controls. It would be a good idea to provide reading speed controls alongside traditional play/pause/skip buttons.
Search
Make it possible to search for books by title and author.
Background playing
Since most users turn to audiobooks because they free their hands and eyes to complete other tasks while "reading," the logical solution is to allow playback in the background. This way, users can do something else with their devices, or they can turn off the screen and put their smartphone in a pocket.
Payments
It's best to make the payment process as easy and quick as possible yet highly secure. Financial data is protected by law in most countries, and requirements as to payment security are quite strict.
Sharing status
The ability to share listening statuses and/or audiobook ratings on social media will serve two purposes: engage users and market your app for free.
These are all possible features for an audiobook app MVP, but there are more features users appreciate and wish to have in audiobook apps. Here's a list we've gathered during our research into audiobook app features:
Ability to connect to car speakers (iOS CarPlay and Android Auto)
Sleep timer
Table of contents for books
Ability to add bookmarks and notes
Free book samples
Free books to check out overall app performance and functionality
Ability to share books with friends
Subtitles or closed captions
Reviews, ratings, and commenting
Favorites (books, quotes, following authors or tags)
Recommendations
Several themes / dark theme
Ability to connect to smart speakers and voice assistants
Books in multiple languages
Any of these features might help your audiobook app stand out and attract more users.
Finally, you'll need an admin panel. The admin panel will only be accessible by you or your designated employees and will host functionality aimed at monitoring and moderating your app.
For example, it would be beneficial to implement analytics to monitor which books are more popular and which are often unfinished.
An admin panel is also where you'll upload new books, moderate comments, add events and sales, etc. Usually, admin panels are built for the web and have a bare interface with few to no bells and whistles to save costs on UI design. After all, the admin panel won't be seen by your users.
Audiobook app tech stack
A complex tech stack is needed to develop an audiobook mobile app, and it would be sensible to look for developers with relevant experience. Let's look over some examples of the tech an audiobook app needs.
Audiobook app tech stack
Audio streaming protocols
Streaming protocols transfer audio data in small packets that are reassembled on the user's device — this is called buffering — and then played. Streaming protocols ensure smooth, uninterrupted playback.
Extensive storage for content
Audiobooks are long audio files and, when recorded with good quality, they take up considerable space.
Content delivery network (CDN)
If you're going to provide your audiobook app all over the world, you'll need a network of servers (preferably cloud-based) to cache content and deliver it to multiple simultaneous listeners fast.
APIs
Application programming interfaces exist to simplify and speed up development. With them, developers can implement certain out-of-the-box functionality instead of building features from scratch. Findaway offers an API to fill your audiobook app's library.
Load balancing system
When your app receives massive amounts of incoming requests, load balancers distribute them across servers to enhance performance.
Business models for audiobook streaming apps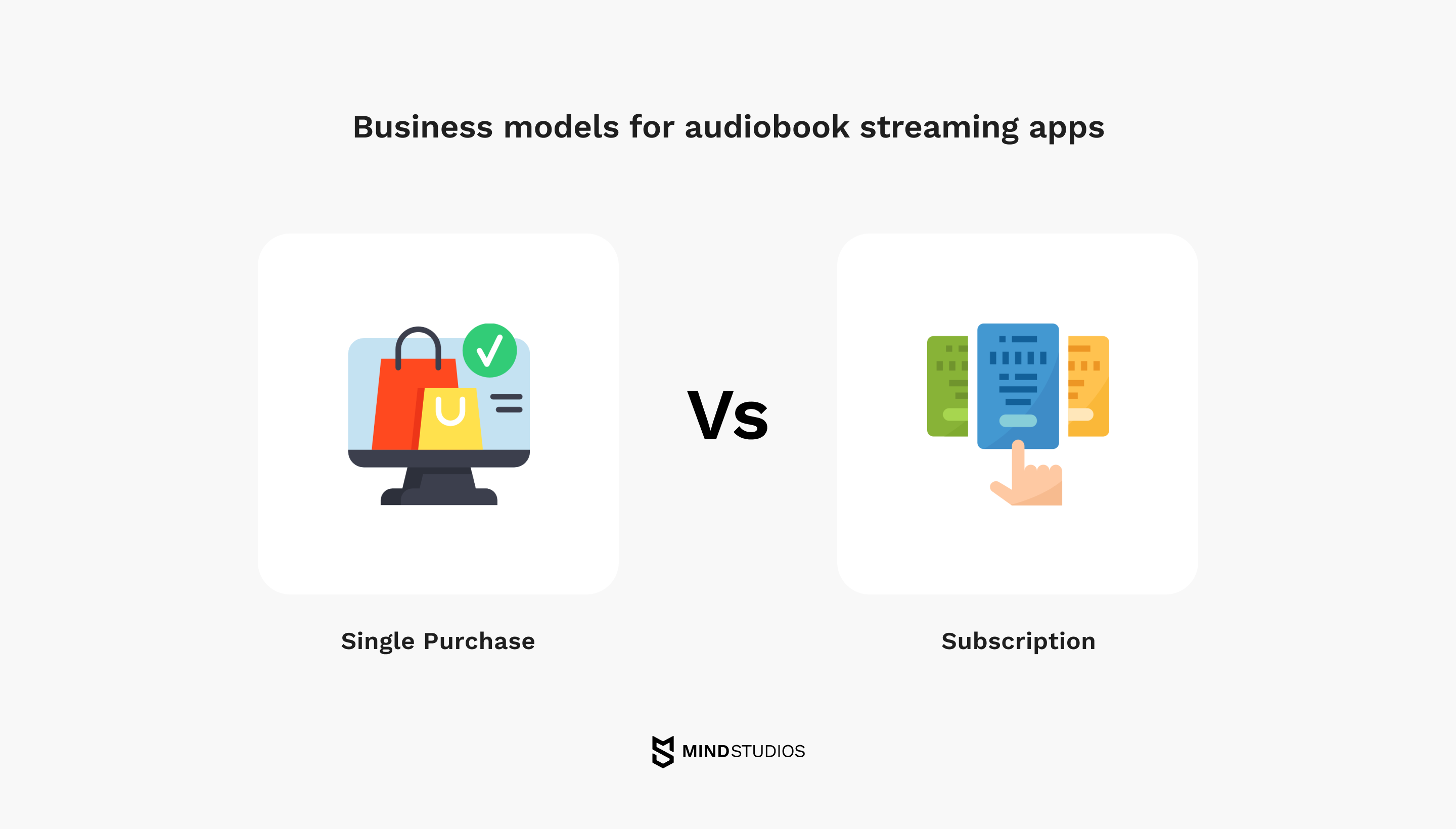 There are two popular models for selling audiobooks in a dedicated app: subscription and single purchase.
Single purchase is the traditional book (and audiobook) sales model where users choose a title and pay for it separately. In 2019, the single purchase model still dominated the audiobook market, but just barely — it accounted for 55% of all audiobook market revenue.
In contrast, the subscription model, dubbed streaming books on demand, is forecasted to grow at a CAGR of 25.6% between 2020 and 2027. With a subscription model, users pay a flat monthly or annual fee and access a pool of books on the platform.
Most audiobook services combine the two models, and the subscription model usually has limits. For example, Scribd offers its subscription with access to a list of selected books, which rarely includes bestsellers or new releases. Audible has two subscription catalogs: Plus and Premium Plus. The former is similar to the Scribd offer (unlimited access to a limited list of audiobooks) and the latter offers the same plus one or two book credits per month for any audiobooks in the general store.
What to look out for in audiobook app development
Any business endeavor that touches copyrighted materials — books, music, art, movies, etc. — is tricky. There are two main points to keep in mind when running an audiobook streaming app.
Author royalties
Earning money with an custom audiobook app is a tricky affair: you'll need to consider not only maintenance costs and app support but also author royalties. Platforms deal with author royalties in different ways.
For example, on Audible, authors receive a percentage of book sales, but it's dependent on whether the audiobook is exclusive to Audible and whether it's recorded via Amazon's ACX service.
On some platforms, authors receive a one-time payment for the rights to their book, but this model is becoming less and less popular with ever-changing trends. With the one-time payment model, authors might sell themselves short and regret it if the book becomes a hit, while book selling services can be reluctant to pay large sums up front without knowing if a book will sell well.
Piracy protections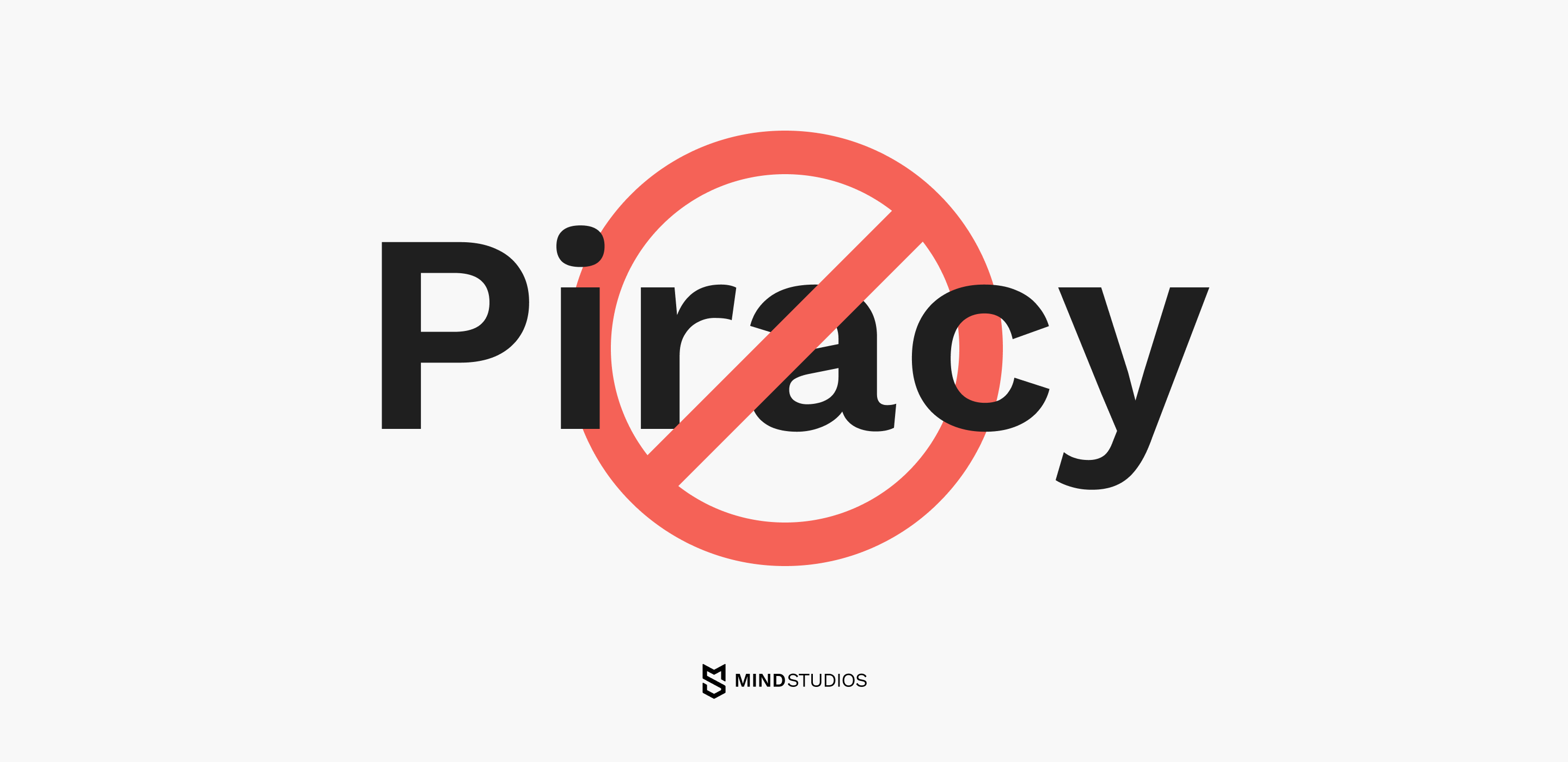 Audiobooks are typically copyrighted content. So when you ponder how to build an audiobook mobile app, you need to include in your development plan solid measures to protect audiobooks you'll be hosting from being downloaded as plain media files or recorded via recording apps. Insufficient content protection measures might land you a ban from the app stores or even lawsuits from authors.
How much does it cost to make an audiobook app?
Due to the complexity of streaming functionality, apps with audio streaming aren't the cheapest endeavor. You can save both time and money (but mostly time) by implementing as many features as possible using APIs, but you'll still need a team of developers with ample experience if you want to build a quality audiobook app like Audible.
Here's the team you'll need to develop an audiobook mobile app:
1 project manager
1–2 UI/UX designers
1 iOS and/or 1 Android developer
1 frontend developer for the admin panel
1–2 backend developers
1–2 quality assurance engineers
Based on our experience developing an e-book reading app with audiobook functionality, we estimate the cost to make an audiobook app to start at about $20,000 per mobile platform. The price might differ slightly between Android and iOS, and it might go up or down depending on API fees and other tech-side costs.
If you decide to build audiobook apps for both iOS and Android, they'll be using the same servers and backend architecture, so two apps will cost less than $40,000.
Thanks to advances in streaming technology, audiobooks are rapidly gaining popularity, and more and more bookstores and authors are discovering their value. Apps for listening to audiobooks gather a loyal following among people young and old, healthy and physically challenged. If you're planning to jump on the bandwagon and make an app like Audible, there's no time like now.
1