What is a peer-to-peer (or P2P) marketplace, how is it different from classifieds and other eCommerce websites, how to build a peer-to-peer website — you'll find answers to these and related questions in this article.
---
Contents:
---
What is a peer-to-peer marketplace?
A peer-to-peer (or P2P) marketplace is one of the business models under the eCommerce umbrella. P2P marketplaces provide a platform for individual sellers and buyers to find each other and trade goods and services. On the surface, this sounds very similar to what classified websites offer. But while these two eCommerce business models indeed have similarities, they're not exactly the same.
If you're interested to know more about classified websites, we've got an article about the best way to make a classified website. In this article, though, we'd like to point out the differences between the classified and P2P models. We'll also dive a bit deeper into the peer-to-peer business model and offer tips on building P2P marketplace software from scratch.
How is a P2P marketplace different from a classified website?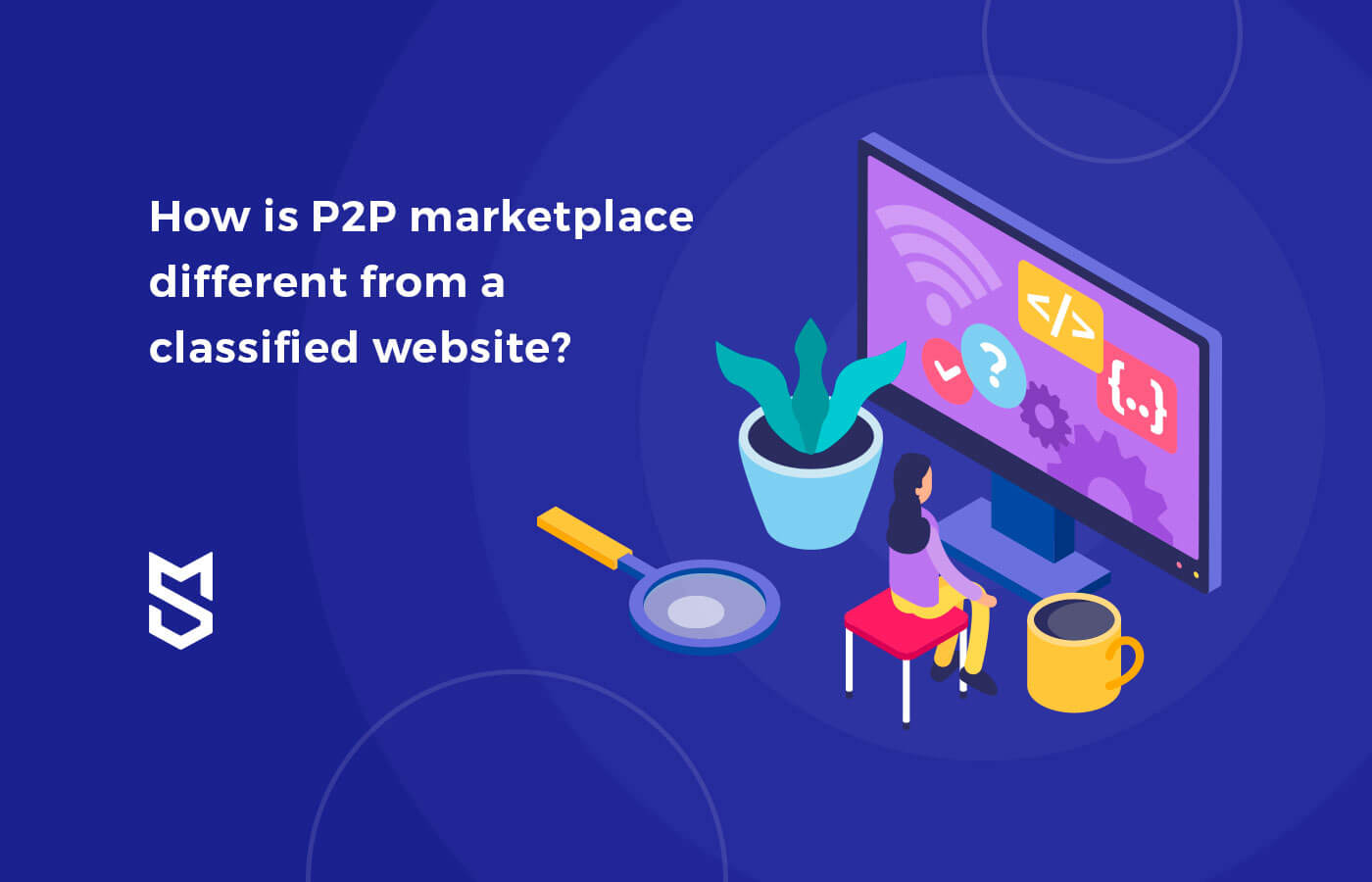 P2P Marketplace: Target audience
First and foremost, classified websites are basically platforms for sellers to place ads just like they did before the internet when people placed ads for products and services in newspapers.
Classified newspapers and websites offer space for sellers. Buyers find what they need and contact the seller by phone, messenger, email, or a built-in chat. A buyer doesn't necessarily need to even be registered on a classified website to buy products or services advertised on it.
Peer-to-peer marketplaces, on the other hand, offer a platform for both sellers and buyers. And, most importantly, users can play both roles: a seller can become a buyer and a buyer can sell something. The two roles are equal and easy to switch between. Hence, the name peer-to-peer.
Dealing with transactions
With classified websites, transactions typically take place off the platform via a channel mutually agreed by the seller and buyer.
P2P marketplaces are like going to a market — you see a product you want, you pay for it right then and there, and you have it delivered to you.
Peer to peer marketplaces offer tools to facilitate the buying process, including a means to pay for products and services.
Marketplace owners should carefully select a payment gateway, as they'll be responsible for how it works.
Scale of business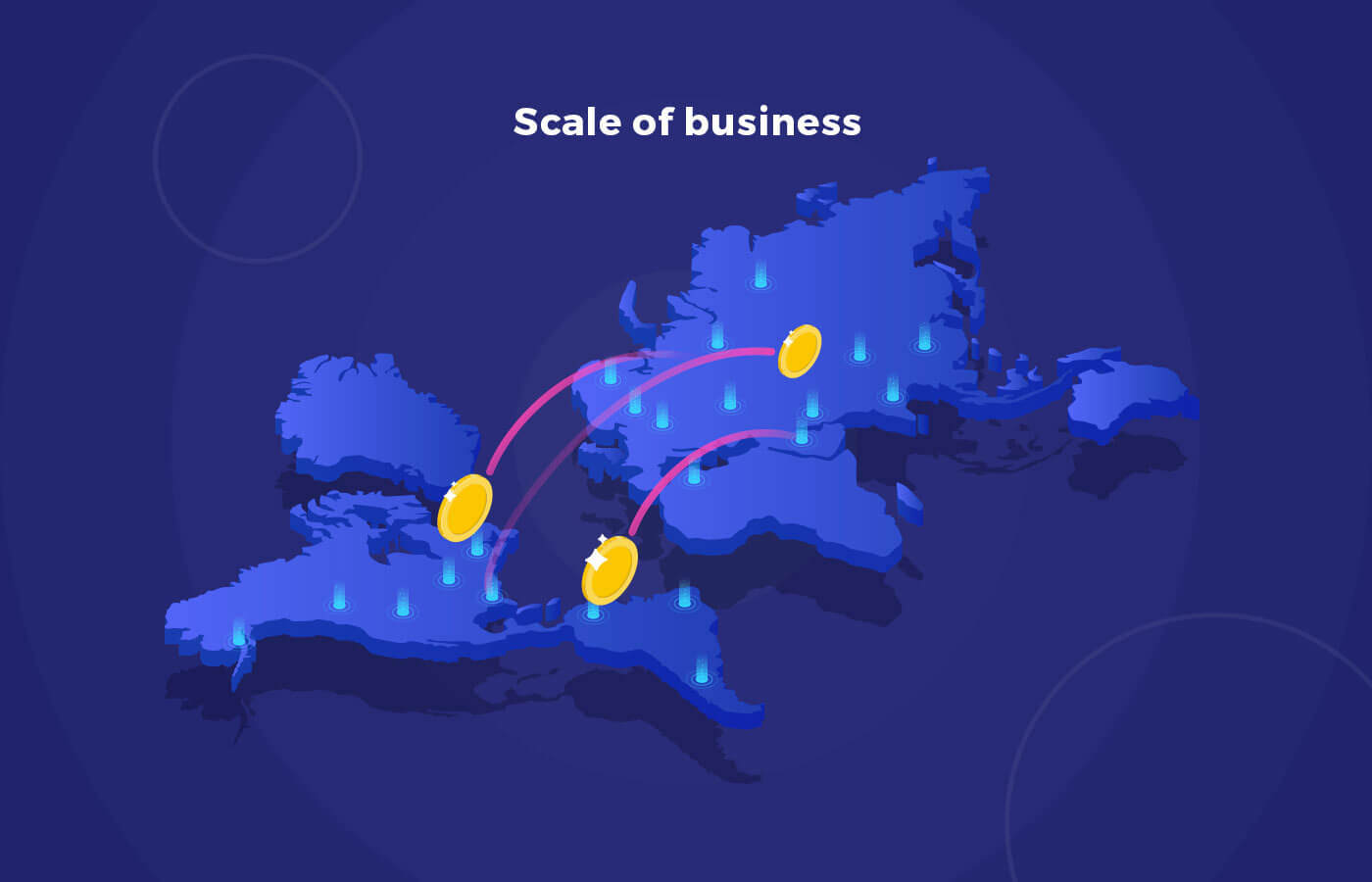 Most classified websites deal locally. Even giants like Craigslist operate locally instead of offering a single global catalog of listings. This is because, as a rule, classified websites aren't equipped to deal with payments. Buyers and sellers can meet to exchange a product for cash or they can use a local delivery service and money transfer options.

P2P marketplaces usually deal globally. With payment functionality included, anyone from anywhere can buy a product and have it delivered to their doorstep. However, if you want to start a P2P marketplace that operates globally, you should focus on a niche market.
Focus
There are a number of world-famous peer-to-peer marketplace platforms that aren't limited to a single niche. Amazon, AliExpress, and eBay easily come to mind. However, we'd say it's not very sensible to try taking down mammoths. One of the perks of global eCommerce is that you can always expand later.
It's way easier to find success in a niche. If you need examples of highly successful niche eCommerce platforms, there are quite a few:
The list goes on. When you create a peer-to-peer website from scratch, you should first have a focus. Once it finds demand, you can expand into bordering markets, then offer more and more until you're the new eBay. If you want to, that is. Or you can stay an Etsy. The company did have over 20% growth and over $603 million in revenue in 2018.
Monetization
Just as classified websites do, marketplaces usually charge sellers, not buyers.
Most classified websites offer premium listings as their business model; others use ads (some combine the two). It's also possible to use a pay-per-click model or implement limits for free accounts. All these monetization methods are used on P2P marketplaces. But usually, marketplaces charge fees:
For listings
For sales
For currency conversions
Depending on the niche, there might be other fees.
User monitoring
Finally, one of the biggest and most significant differences between a classified website and a peer-to-peer website lies in the responsibility carried by the platform owner. That's not to say classified websites are unreliable, of course. There are ways to ensure that a site offers quality services. But with P2P, the reliability is on a whole other level.
If you plan to create a P2P marketplace platform, you'll need to implement more control over site users and content. You'll also need different features from those classified websites provide.
How to make a peer-to-peer marketplace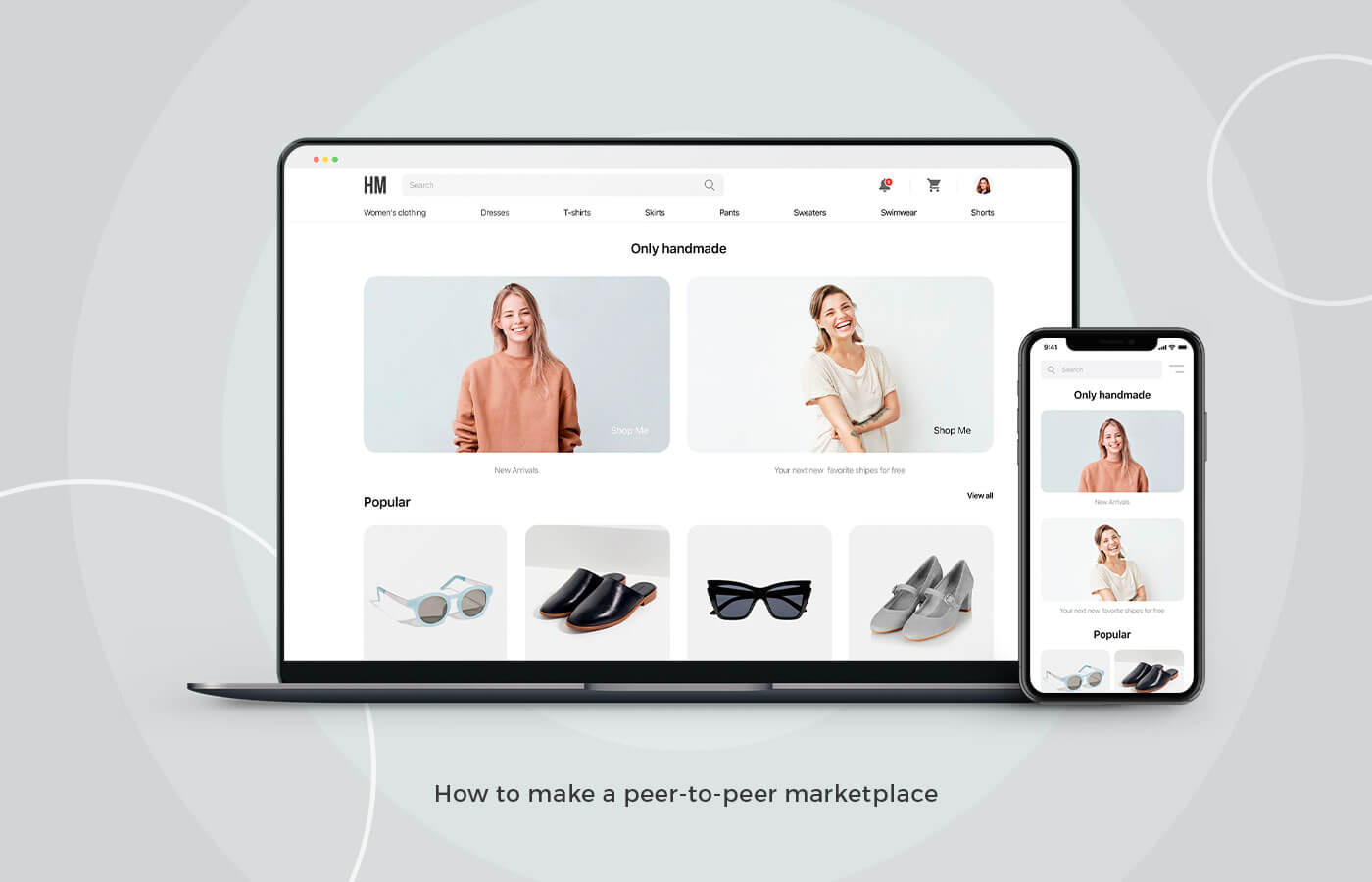 Most business owners who plan to create a two-sided marketplace start with building a website. Building an online marketplace on the web is faster and cheaper than building a mobile app, and these two factors play heavily into success in an overcrowded global market. At the same time, having an app in addition to a website is a big perk in the eyes of users — when it comes to convenience, even a well-adapted mobile website isn't the same as an app.
In building a peer to peer marketplace app, you have two options:
Build a single app for both sellers and buyers, with the ability to switch roles or with all functionality available to all users. Example: OLX
Build separate apps for buyers and sellers. Examples: Etsy, Uber, and most marketplace apps
The reason most P2P marketplace platform owners prefer separate apps is that with buying and selling functionality joined in a single app, the app can become cumbersome and heavy. And it's not like every buyer wants to be a seller, after all. The decision is up to you, of course. If you're not sure which type of app will fit you best, your project manager can help. One of the important roles of a project manager in an outsourcing development company is to help you with issues like this.
Features a peer-to-peer marketplace platform needs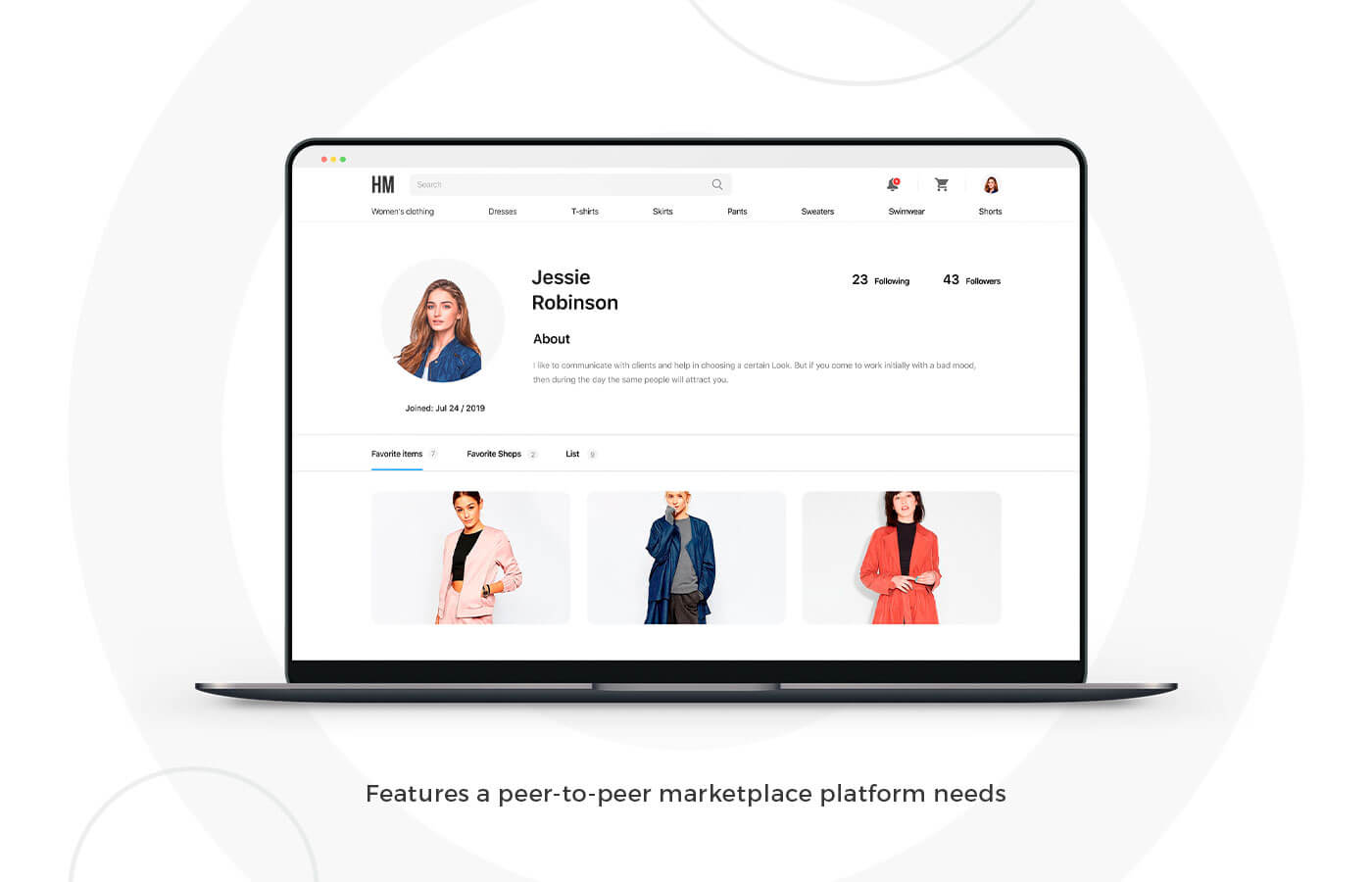 There are features every P2P marketplace platform needs. We'll cover those here. Other features you'll need to implement in your peer-to-peer marketplace software will depend on the niche you choose. You'll know best what those additional features are.
The following features should be implemented in your peer-to-peer website as well as in any app.
Features
Description

Sign up/Sign in

An option to sign in with a Google or Facebook account is practically a must nowadays — it's faster for users and it links a social network account to the marketplace account.

Additionally, we recommend implementing some kind of verification, especially for sellers. This is even more important if you're planning to build your own online marketplace website that offers services, not products. For example, Uber requires drivers to submit a list of documents verifying their identity and driving experience.

Profile

A profile page displays a user's name, an icon or photo, the number of orders completed, the average rating, and contact information. An Etsy seller profile page also displays items sold. Since P2P marketplaces are to be heavily monitored and the owner needs to be notified if someone (a seller or buyer) is committing fraud, it's not unusual to see a report button on user profiles.

Listings

The screen with product listings will look different for sellers and buyers.

Sellers should see their own items and options to add or remove them, edit descriptions, change prices, and publish or unpublish items. If you expect sellers to list many products, it's reasonable to implement a search engine and filters/categories within the store for sellers as well as for buyers.

Buyers should see search functionality, filters, categories, and options to view a product or add it to their favorites/wishlist. Some marketplaces provide a button to add an item to the cart or follow an unavailable item right from the general listings page without going to the product page.

Search and filters

Search and filters are vital for any website or app that sells different products. Even within a small niche, you still have variations. The same product can be offered in a variety of colors or sold by multiple sellers for different prices. The same goes for services — they can be provided by a number of sellers in different areas, for example.

It should be possible to search for a specific product and/or filter listings. If you've got a somewhat big range of products or services offered on your marketplace, consider adding categories too.

Reviews and ratings

In the Uber app, riders can rate drivers and drivers can rate their passengers. It's a good practice to implement ratings — it will help users on both sides of your platform decide whom to work with. It will also help you monitor both sellers and buyers, weed out untrustworthy ones, and resolve disputes.

Reviews make ratings look more reasonable and add credibility. You can also restrict rating and reviewing features to users who have completed an order/made a purchase.

Notifications

Notifications are important for timely order completion. Sellers must know when they have orders, and buyers want to know when items they're tracking are available, when the price has dropped, and when the shipment status of their order has changed. Notifications must also be implemented for direct messages and other methods of communication.

Communication functionality

A good multi-vendor marketplace requires a way for buyers and sellers to communicate. Built-in messaging allows buyers and sellers to avoid disputes. When an order isn't shipped in a timely manner, a buyer can contact the seller for information instead of opening a dispute right away, for example.

If your P2P website works in a niche where product customization is possible (hand-made products or basically any services), direct messaging or chat will help the two sides decide on details.

Payment functionality

Payment functionality is one of the major differences between a P2P marketplace and a classified website. You'll need to integrate a payment gateway that's secure and reliable: you're dealing with people's money and credit card details, after all.

It's also important for marketplaces that money transfers are dealt with swiftly so sellers can ship orders as soon as possible.

Tracking

Since overseas shipping can sometimes take weeks, order tracking is a must for a two-sided marketplace that operates globally. This feature, implemented on both the seller and buyer sides of your platform, will help your users feel at ease knowing where in the world their items are. Tracking can also come in handy in resolving disputes.

Dispute resolution

Something always goes awry, especially at the very beginning of any business. In addition to a button to report a user (mentioned above), users — both buyers and sellers — need an option to open a dispute. This is important when the product the buyer receives is of poor quality or damaged, or when a seller/service provider suffers some kind of loss — health-related, material, or financial — due to a deal. Disputes must be resolved by the platform owner in accordance with the platform's Terms and Conditions and Privacy Policy.

Buyer-only features

Wishlist

This can be a list of favorited items, a list of favorite service providers, or the ability to follow stores. Wishlists help buyers remember items they want to purchase later or order again. You can also implement functionality to share wishlists; in this case, users can notify their friends and family of products they'd like to have but can't/won't buy themselves. You know, like a traditional wishlist.

Bookings (if available)

If you're developing a rental marketplace like Airbnb, bookings are essential. It's similar when it comes to on-demand services — a client calls a plumber to come at a specified time.

History of purchases

This feature helps buyers keep track of what they've purchased and when. It's important for tracking orders, resolving disputes, and — let's be honest here — managing personal finances :)
What is the cost to create a peer-to-peer marketplace?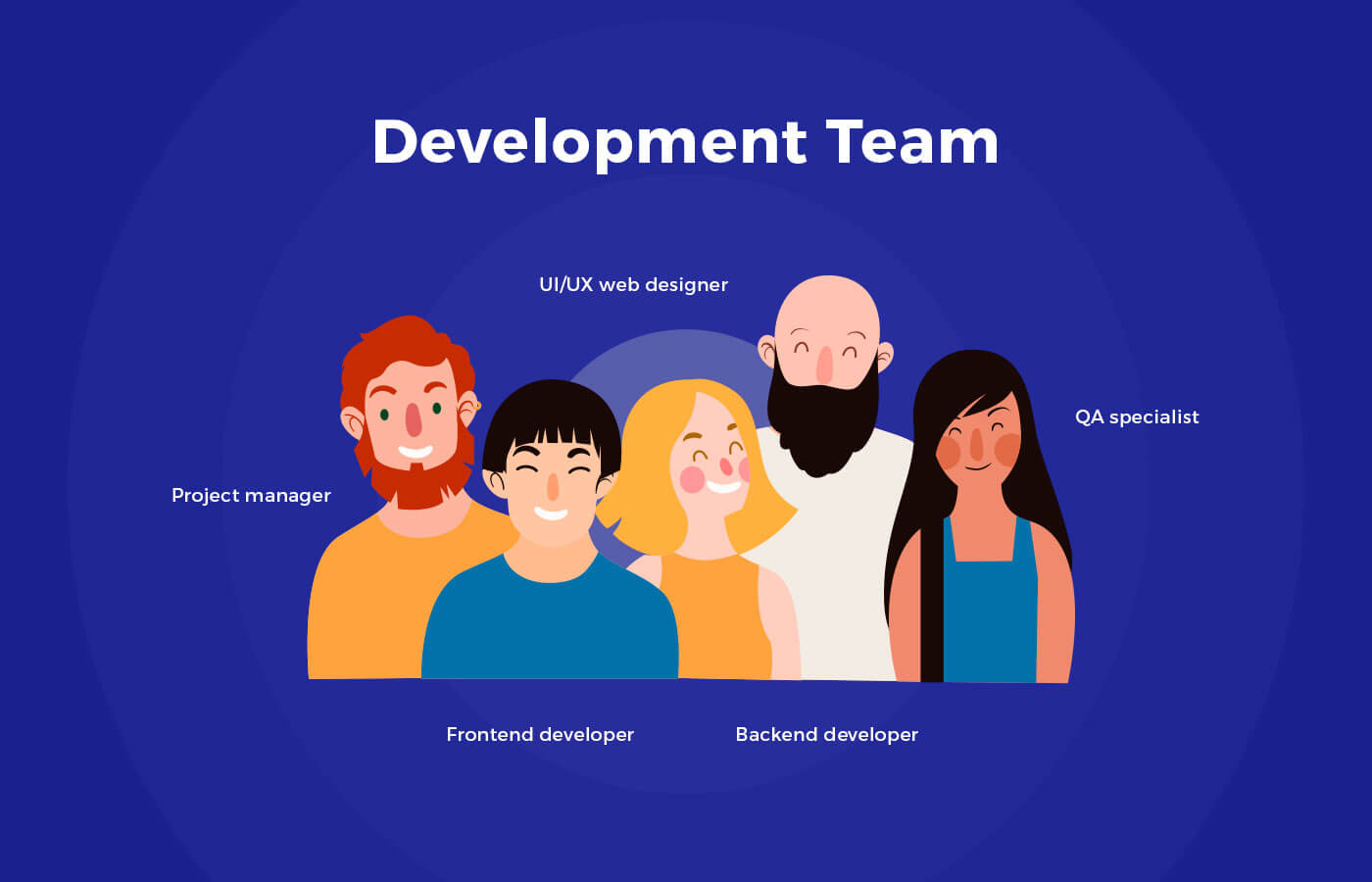 Let's start in a traditional way. To build a P2P marketplace website, you'll need a development team consisting of the following specialists:
Project manager
UI/UX web designer
Frontend developer
Backend developer
QA specialist
Usually, you won't require more than one of each specialist to build a marketplace website unless you need everything done as fast as possible. Developing a P2P website with a team of five will take about 3 months; the cost of work like this will start at $53,000 and will increase as you add more features or more people to get the website done sooner.
On the other hand, if you decide to switch the traditional order and build a mobile application first, here's a list of the people you'll have to hire:
Project manager
UI/UX designer specializing in mobile apps
Android developer
iOS developer
Backend developer
QA specialist
You'll need one of each specialist on the list, the same as with website development. If you decide to make an app for only one platform, you'll need either an Android or iOS developer, not both. Mobile app development can take a bit longer than website development, so think about 4 to 6 months. To design a custom mobile P2P marketplace app for both platforms can cost anywhere from $60,000 and up.
At the same time, if you're wondering how to build a peer-to-peer marketplace website AND two native mobile apps, don't simply sum the amounts above. The backend — the server part — is similar for web and mobile apps, so the same developer can usually create both. There's only one QA specialist needed to test all three apps and the server part as well, though they'll need more time to do that. You'll still need separate UI/UX designers, in most cases (or more time), as designing a web interface is completely different from designing a mobile one.
Read more about app design cost.
P2P Marketplace Development: Conclusion
So how do you make a P2P platform? It's not an easy task. There are certainly difficult parts to it, like dealing with payments and maintaining your users' privacy. You'll also need to resolve disputes that arise — hopefully, not too often. Marketplaces need constant monitoring if you want to preserve your reputation and gain a following.
But all that comes after development is complete and your platform is launched. To develop your app, you can work with an outsourcing company. Mind Studios is one of these companies. Get in touch with us to ask any questions you still have about how to build a peer-to-peer (P2P) marketplace. We can also more precisely estimate the cost to develop your own marketplace.