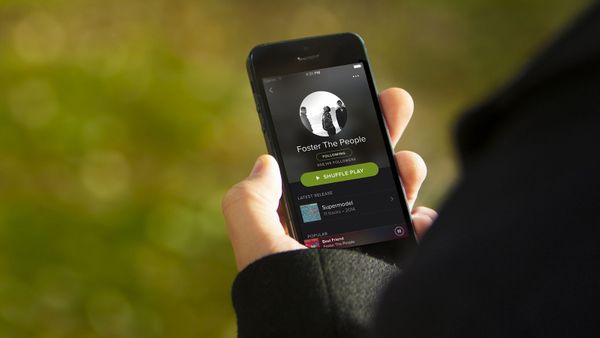 Without music, life would become a mistake. Friedrich Nietzsche
Would it be possible to imagine a life without music? And if yes, then what kind of life would that be? Whenever we go, whatever we do, there always is a trustworthy friend who does not ask silly questions; a friend who understands; a friend who apparently is your playlist. Only a decade ago our playlists used to consist mainly out of downloaded songs, but today, as the speed of our Internet connection increases, our experience of listening to music is changing. We are looking at the era of the increased popularity of online music streaming services. This day we don't need to search other sources of media content. Statistics gives support to this claim - by presenting the rapidly-growing number of paid users in the main digital music streaming apps.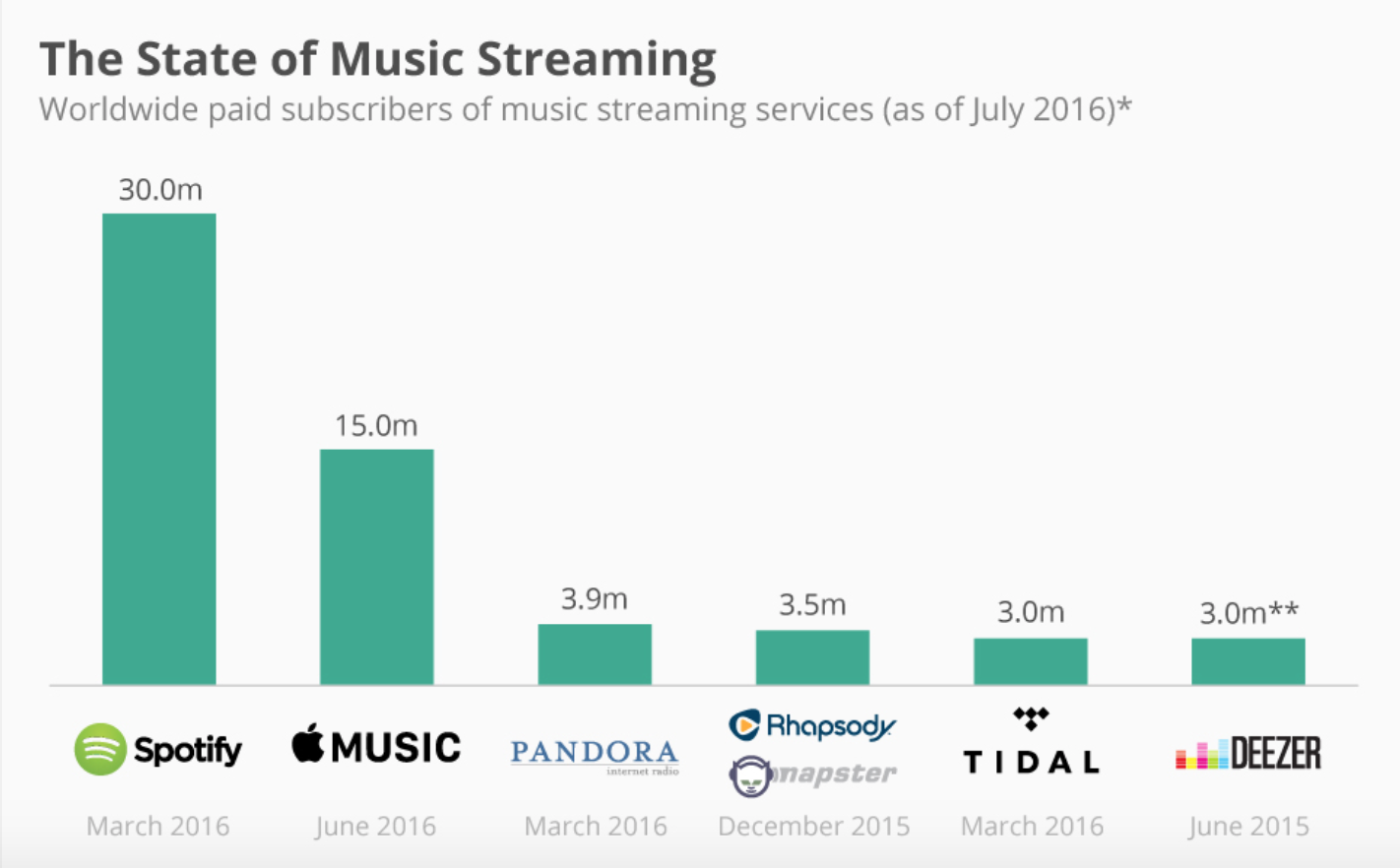 Statista has mentioned, there is a clearly seen winner though in terms of revenue and the winner's name is Spotify. How to develop a music app like Spotify is something we will shed some light on in this article. But first - what is it that makes Spotify a pursuit of happiness for users?
Swedish Shopify For Music.
Back in October of 2008, Spotify was first introduced to this world by two former CEOs, Daniel Ek, and Martin Lorentzon as a tiny startup project. Interesting though that music app development company Spotify came from Sweden, contributing into the long list of successful innovations, along with Skype (in collaboration with Estonian software developers), King (more recognizable under the "Candy Crush" name) and a few other giants, according to Telegraph magazine. The Spotify's prior function, according to Wiki's definition, are " music, podcast, and video streaming services; Music can be browsed or searched by artist, album, genre, playlist, and record label.
Users can create, edit and share playlists, share tracks on social networks, and make playlists with other users." Available in 20 locations worldwide, the service was already booming around the world in 2011 when it hit the point of 1 million paying subscribers. This amount has increased in numbers since that time - there are now, roughly speaking, 40 million paying subscribers in the app.
The uniquely made business model of freemium is something Spotify has picked out. By freemium, I mean that the basic online song streaming is free for the audience, but there is an unlimited custom music+ads-free mode called "premium", and it could only be purchased via in-app subscription.
Read about freemium and 6 other ways to monetize your app
However, what is it that leaves users so attached to the app?
Bitrate It!
There are a few reasons why users choose online live streaming over the downloads of a tile document. One of the main advantages of audio streaming over the simple downloads is the absence of the need to download the audio file in MP3, FLAC, Apple Lossless etcetera – because you can simply save songs in the cloud cache; moreover, if it does not require time for downloading - it could be easily turned on within several seconds. Pretty memory and time-saving, isn't it? However, this kind of convenience would need a specific audio format - the one that creating an app like Spotify would need. M3u8 is the appropriate format you can stream your music in. The peculiar thing about m3u8 - for playing a song it actually bitrates it into many "packets", each of them lasts a certain time - so now you know why sometimes when your internet connection drops, the son keeps on playing till it actually stops somewhere in the middle.
Also, the only thing that streamers are not very great with yet is played music's quality; data formats like Lossless or FLAC would take an eternity to stream (because of their size), so the standard MP3 comes into play. The quality of the MP3 your player provides might as well vary - for instance, Spotify lets us listen to the favorite tracks at 160 kbit/s, increasing it to 320 kbit/s once you become a paid subscriber. Fairly to admit, 160 kbit/s is a pretty okay option for the Earpods users, but the better are the headphones, the pickier with music's superiority you get.
Browse, Discover and Share.
Every question of how to make an app like Spotify or Pandora needs a detailed understanding of the application's complex structure and algorithms. In Spotify as a music library-app, it has certain fields of development. Now we look at the features of the app like Spotify: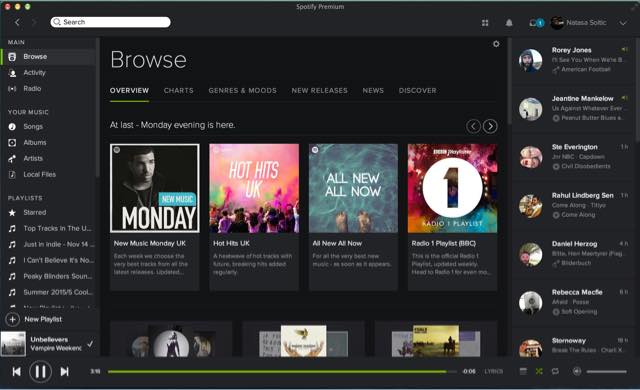 1) Welcome to Spotify.
Login/User authorization + user profile. There is a general functionality for audio streaming services. With Spotify being an example of a freemium application, making a user sign up before using a system is the only way to convert free listeners to paying subscribers later on.
2) Fresh finds.
Discover new tracks and search for fresh songs. Spotify has an excellent music library where users can wander, lost for years; as they will probably be interested in not only listening to their favorite tunes, but also in finding the hot and new ones, and adding them into their lists of favorites. The section related artists might is a great tip on how to help people get some new vibes because it creates recommendations according to what user listened to before. To help music fans get what they want Spotify has added an impressive amount of filters: by song, singer, album, genre, mood, chat and even by the freshness of the release, to ensure everybody gets what they wanted.
3) Connect to Facebook.
The 21st century is the century of digital communication taking over the world of socializing, so there honestly is a need to connect your app to Facebook/Twitter/any other social network you choose to link. This is likely to drive your user's engagement and eagerness to choose your app.
4) In-app dialogs.
Do you know this feeling when you accidentally bump into a song and you immediately know you would like to share it with a certain person? Right, so this is what your future Spotify clone users may experience at times - and the best you can do for them is to implement messaging and video chat function and the social network inside of your application, to encourage people to use your music service. The chat feature requires notifications as well.
5)Concerts.
One of many sweet perks Spotify has is an opportunity to buy tickets right inside of the client part, as it is a win-to-win situation for both parties: the user gets his golden ticket in a few clicks, music authors have an opportunity to promote their concerts, and the service provider benefits out of the tickets sale your app drives.
Don't miss out on How To Do App Store Optimization (ASO)]
Potential pitfalls.
There are only some minor factors that you have to take into consideration when building an online streaming music player.
The first and most important is the licensing your application is going to have in accordance with Public Performance Rights. Different countries have various laws, but taking into the account the United States of America case - you have to comply with DMCA when building a music player app.
Additionally, you should update your app according to the changes in laws to avoid unpleasant surprises with licensing and copyrights.
The server-side part. One of the most crucial points your music app should have is an ability to stream music quickly without any sound pausing or delays (if the connection allows). So, let's say if the server of yours is located in the USA, and your users partially are located in China or any other South-Asian region, then the connection will be less than average. For this reason, if you consider conquering the whole world's market at once - several servers in different countries are a must.
Also, try to imagine the amount of info the server of digital music streaming service has to store. Gigantic, isn't it? Therefore, the serviceability has to be extraordinarily powerful - take AWS as an example.
Design. There's one of the most important factors for users to choose a music streaming service. To make a great design, you should conduct many stages such as determining the buyer persona, creating prototypes etc. More about how to make a design for the mobile app read here: What Goes into the Cost of Mobile App Design
What About Monetization?
On the bright note - music streaming can not only make you spend money but also can earn you some revenue if the monetization model is properly chosen. There are 2 most common ways to monetize your music app.
In-app advertisement. You can either provide audio or video advertisements within the fixed time interval (e. g. every 6 songs)

Premium subscription model. The concept of premium allows the client to use your product absolutely free of charge, but there is specific content (songs, artists, playlists and so on) that users can enjoy only after purchasing a paid access.
Both of these ways could be observed (and listened to) in Spotify, but frequently only one of them is enough for an application to stay lucrative and not lose users at the same time.
How much does it cost to make an app like Spotify?
Now, knowing how to make a music streaming app you can rightfully ask how much money is of necessity. The cost to develop a music streaming app is hard to calculate as there are plenty of features you might want to include (offline mode, for instance), however, based on our experience as a music application development company on several digital products before, our iOS, Android and Web team provide some estimates for an MVP for a music service like Spotify is. The main parts of development are
Android app
iOS app
Backend part
The cost of music streaming service on iOS is always different from the price of Android development due to wider market segmentation and a larger amount of Java-written code required.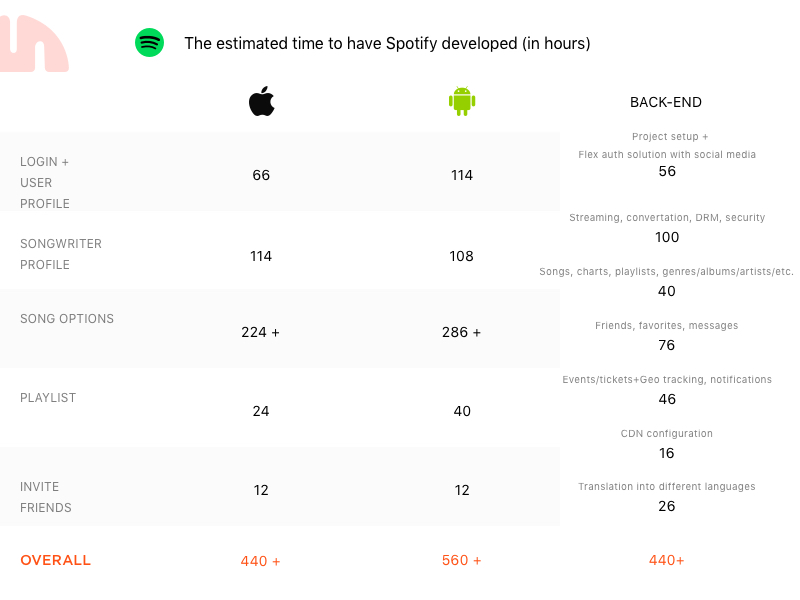 Might be interesting:how to make an app like Instagram
Additionally, apart from the hours an app development team requires, you need to count up the hours needed for testing - which takes around 30% of all the hours calculated for each platform (260 hours for iOS, 300 for Android).
Hourly rates may vary, depending on the service provider, platform and type of contract you choose. Therefore, the average price for developing and designing Spotify-iOS would start at $22 000, and respectively Android Spotify clone app would cost you $30 000 minimum. These costs also can vary depending on the hourly rate of the development team.
Read about the cost of building a Whatsapp like app
Innovation Is Better Than the Status Quo.
Here you are, having a short and simple guide on what does it take to build a music streaming service app with the Spotify in mind as an example. Of course, Spotify is not the only competitor you'll be dealing with if you make a decision to start a music streaming startup, with an intention to turn it into a prosperous business a few years later. This decision would be totally understandable as all there always is That Unique feature all the competitors have missed; that unique feature that you are capable to innovate and serve people with the right product. Best of luck and good vibes to you, reader!
Have some questions about developing a music streaming service? So, contact us for a free consultation.
Written by Oleg Tsarenko, Anton Baryshevskiy, and Elina Bessarabova.