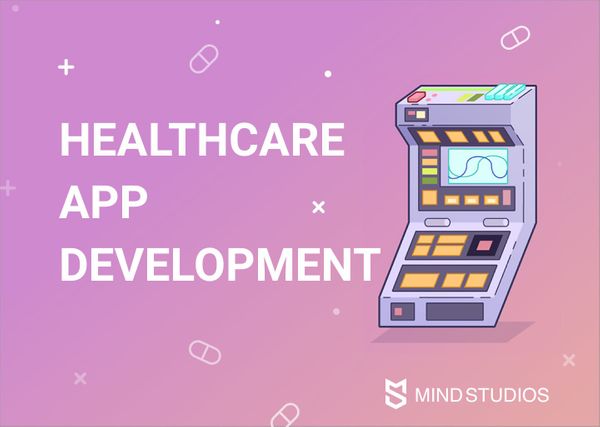 Why are m-health applications apps helpful? And why do they fail?

What are the general types of medical apps on the market? Which features do they posses?

Tips and features for healthcare app creation.
---
Contents:
---
Why is healthcare app development so popular on the market?
How to develop your own medical mobile app and why is healthcare app development so popular on the market? Here we look at current trends in healthcare mobile application development have created and discover what do you need in order to succeed in nowadays healthcare realia.
Remember a handheld gizmo that Dr McCoy used to heal wounds on Star Trek? We are not here yet, but medicine is already being upgraded - digitally.
As proved a dozen times by Elon Musk, technology these days makes enormous steps towards human development. Now with the help of a smartphone & Internet connection loads of work could be accomplished, shopping could be done, food could be delivered - and the same procedure applies to healthcare now.
App stores are full of medical mobile apps that all serve a different purpose. Flurry analytics reports that in the past 4 years use of health apps has increased by 62%, compared to overall application usage growth of 33%.
[Source: Raconteur]
Why people are interested in medical app development? Well, there are a few huge things we use them for, more specifically:
Help you make healthier choices in your everyday product choices by offering a nutrition advice

Help you create an online exercise program to keep in shape

Conduct more convenient doctor-patient communication

Send online reports regarding the patient's feeling and health (e. g. Diabetics' glucose readings sent to their primary doctor)

Keep precise online medical records, accessible 24/7 and mobilize all the data

Call a practitioner or an emergency

Reminds and refills the drug prescription when needed

Lets you book a doctor appointment online - based on letting you look at doctor's profile, where things like photos, qualifications, working experience are included

Shows you the route towards the hospital or clinique you've booked an appointment at

Allows you to check the analysis results from lab on your device
Despite all the numerous functions described above, the vast majority of ehr software development> fails - Healthcare IT News' research that only 2% of all medical apps kickstart. More to this, each failure costs a hospital around 100 million dollars.
[Source: Healthcareitnews]
Why does it happen so that attempts to create healthcare apps for patients more than often do not hit the jackpot?
As we have already written in our article "Why does your mobile app fail and how to fix it", there may be a few grounds for it:
Poor User Experience.
There are many signs of the unappropriate user experience. Usability Geek has even listed 10 most common of them. It is important to realize here that the shelves of mobile app market are already stocked with "ghost house apps" that nobody uses. At least avoiding things like inappropriate content, complex user flow and unobvious CTAs can make a huge audience part stay with your product.
More on convenient UX you can read in "6 Practices for Mobile UX Design"
Lack of Expertise & Industry Knowledge.
One of the most crucial points for the healthcare app success is the expertise it provides for you - if there is not enough of "doctor's input", people are unlikely to stick to it.
No Particular Problem Solved.
The issue that most of healthcare apps failed to fix is the urge to serve a particular need - more specifically, to do something users couldn't do without your product. This is the primary reason why QPG health app is doomed, and many similar to it are as well.
Failure to Meet the Privacy Guidelines.
All the medical or Mhealth applications need to comply to HIPPA rules and regulations. Many of the applications fail to fulfil these rules though.
If you want your app to succeed, it has to stand out of the crowd, it has to serve a different-to-others-purpose. A few successful examples of electronic record system or other types of healthcare apps below do it, depending on the type of service they cary.
The types of healthcare apps could be divided into 3 main categories:
Everyday Health Apps.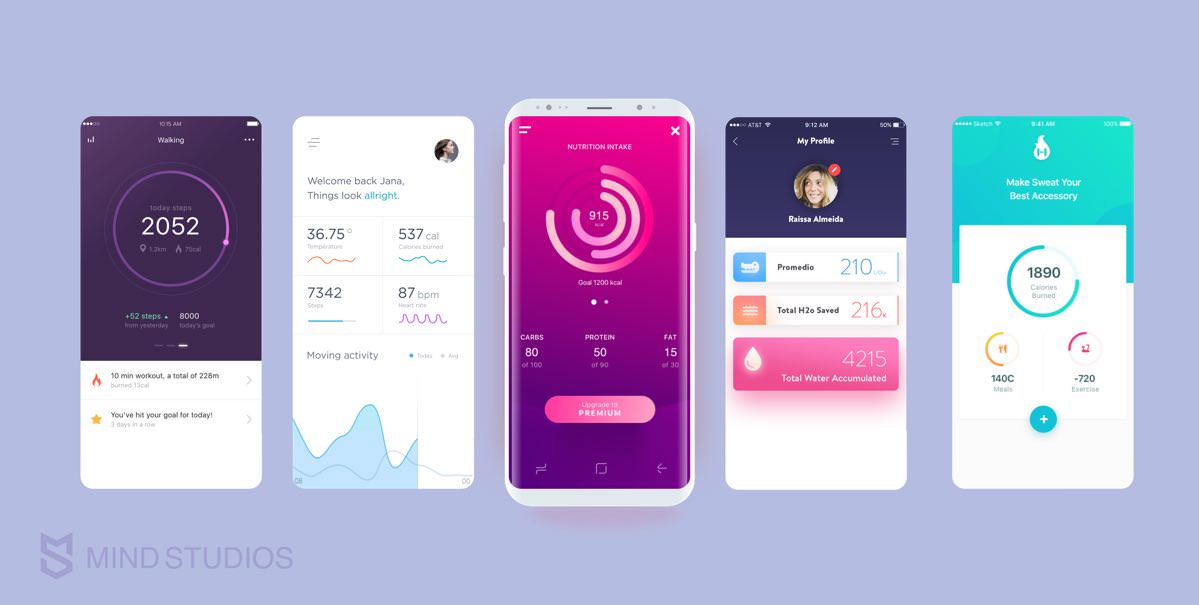 Like Runkeeper, Calory Counter and Sleep, these products track your everyday activities (nutrition/sleep etc.) to help you stay in shape.
There is a certain number of features that every daily-life app needs to have:
Sleep (amount and phases)/run/steps tracker, depending on the goal you pursue with your product. Optional tracker features could also include heart rate/blood pressure/pulse, liquid consumption and incline swings (essential to calculate steps or kilometers ran properly). More complex and more optional would also be calorie counter, for those who really want to keep fit.

Analytics. Based on data collected from user's activity, app should be capable of measuring metrics and making certain conclusions.

Push-notifications, that would encourage users to act formed on the data application receives
Applications of this type are commonly monetized with a prepaid subscription for a service. For instance, Headspace app has a monthly or yearly subscription, and so do many. You can also monetize your application with a help of advertisement, but it may result in lower user retention.
Hospital and EHR Apps.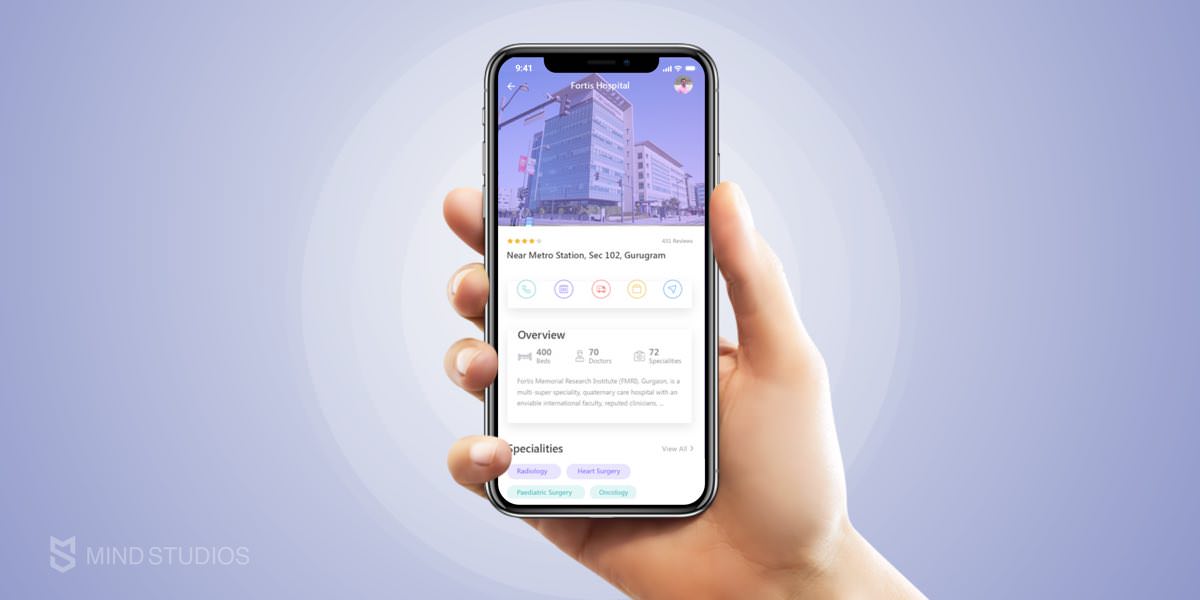 The first type, hospital apps, are created in a situation when a hospital or a clinic needs an app to fulfill its need for branding and digital monetization. There also are a few must-have features in case you are building an application for your clinic.
Same trackers as in everyday health apps - sleep, blood pressure, amounts of liquid consumed, steps
Algorithms of analytics to parse the collected data
Push - notifications to suggest user to visit a doctor from clinic, based on the data received
Appointment-at-doctor booking feature; optional - in-app appointment payments
EMR with all records history saved
Online access to your EMR for the attending physician - for a limited amount of time though, in order to comply with the privacy restrictions
Calendar app where you can set reminders to take the meds your doctor prescribes you
Optional: ability to pre-order meds via app
EHR App.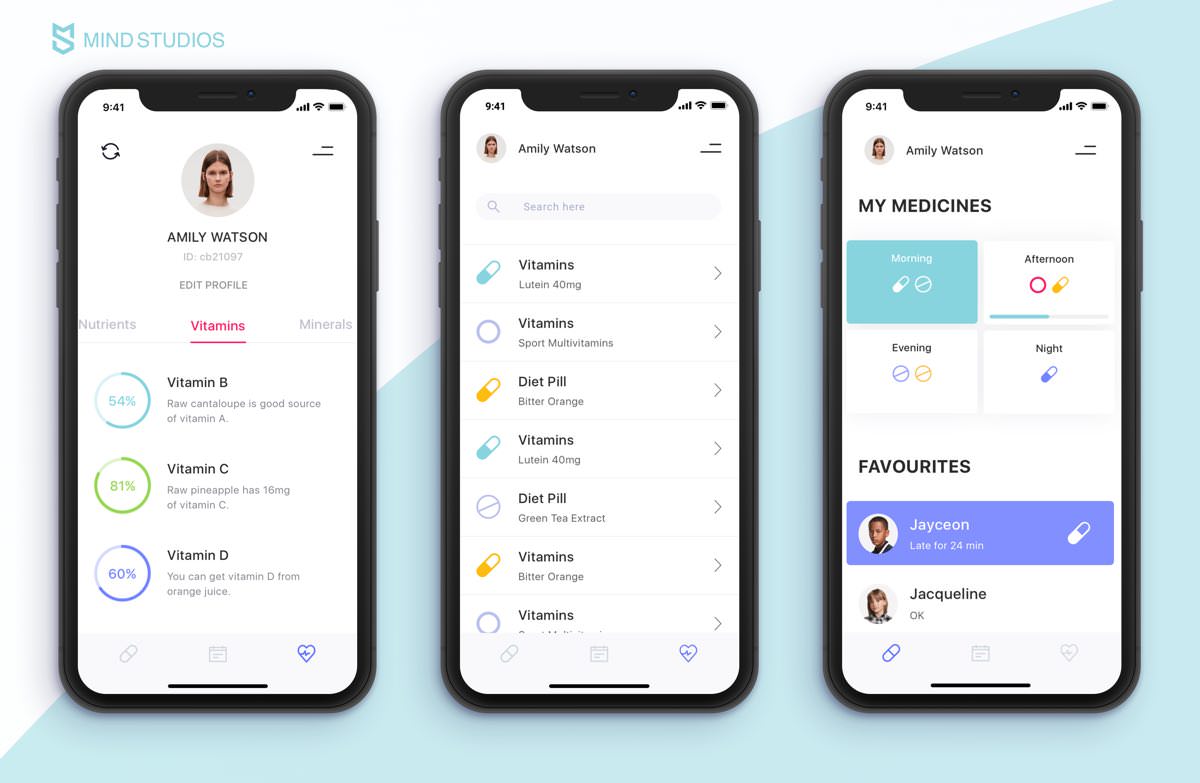 The second type is a commonly-named EMR (Electronic Medical Records, also called EHR sometimes) application, where there is no reference to a specific clinic, and you as a user have a choice of multiple hospitals to stick to. Apart from this "variety" function, all the other features are pretty much the same. Apps of this type are even more beneficial for you as a system's client, there you are not obligated to refer to a specific institution.
One of the extra features for EHR app could be online video/audio consultations with your doctor, as telemedicine allows to watch the patient's state and disease's recession - without a risk of contamination. Another greatly affecting user acquisition feature is an implementation of AI algorithms for diagnosing basic diseases and symptoms. Microsoft is already doing a great job on this field - an InnerEye project Windows geniuses are currently working on is an "is a research project that uses state of the art machine learning technology to build innovative tools for the automatic, quantitative analysis of three-dimensional radiological images." Basically researches are working on recreation of a healthy anatomy in 3D radiological images.
Read more about telemedicine app development.
Moreover, emergency mode would be an excellent additional feature; in case of patient's blackout every passing by human should have accessibility to his blood type and RH factor data, as well as reports on his allergies and chronic illnesses records; just as this information is life-saving when an urgent medical care is needed. Medical ID app offers this service - in case of emergency mobile app allows quick access to vital things (listed above) for medics to take action.
Other Specific Medical Software
Software of the third type - specific medical software, which confronts more complex tasks - like algorithms for symptoms depiction and diagnosis to be put, diagnostics and X-ray to run and so very on. The making of these systems requires a medical expert on board, lots of rules and regulations to be complied, and a particular testing team to be formed - as the test cases will be carried on real & alive individuals.
Tips on How to Create an App for Patients or an EMR System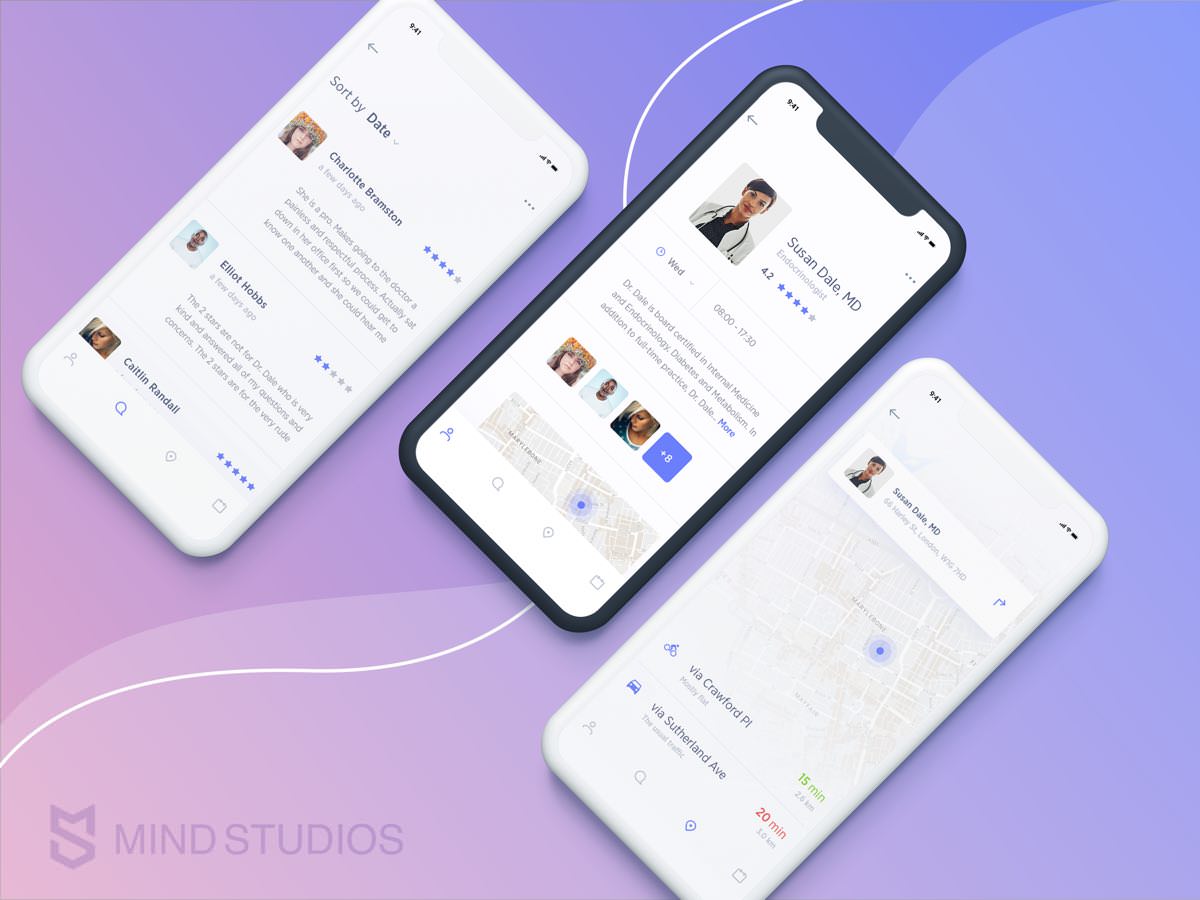 If you decide to get started with emr or any kind of medical software for doctors, ensure you have the legal rights for your medical startup. Worldwide accepted HIPAA is a must, and then depending on the region your application different certificates may apply. You can read of the main regulations in the biggest countries here.

One of the essential stages of smart EHR development is an instant integration of the app with all the smart trainers, watches, fitness bracelets, Apple Watch and other devices, as they help to track users' activities more sharply.

Be sure to come up with a proper monetization model for your product. In most cases, subscription mode is the most workable option, but it requires a solid user base - so in-app advertisement could work for the beginning.

IOS is a smart choice for the start if you are looking for electronic health records development company, as Apple strongly supports the healthcare initiatives (they even have developed Research and Care Kits, so the funds and promotion for your app will be more possible to get.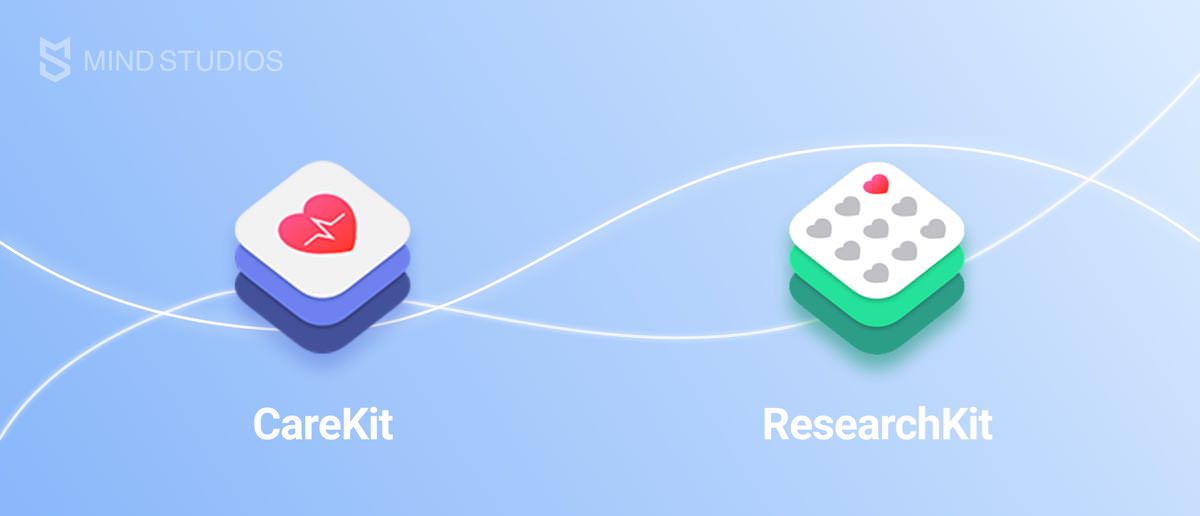 Read more about Google Fit and Apple Healthkit
So, How much does it cost to make...
Perhaps if you need to develop an app for patients, you samely need to calculate the funds. Rough tips for costs of developing healthcare apps: the everyday health apps would take around 1400 - 2200 hours, whereas apps for hospitals or EMR-product can be developed within 2500 - 3000 hours range (for one platform). Different companies have different rates, but finding a common denominator, medical product's price starts at $45 000 for one platform of choice.
Want to know how to make a medical app? Contact our business analyst to help you get started!
Written by Dmitry Gurkovsky and Elina Bessarabova.