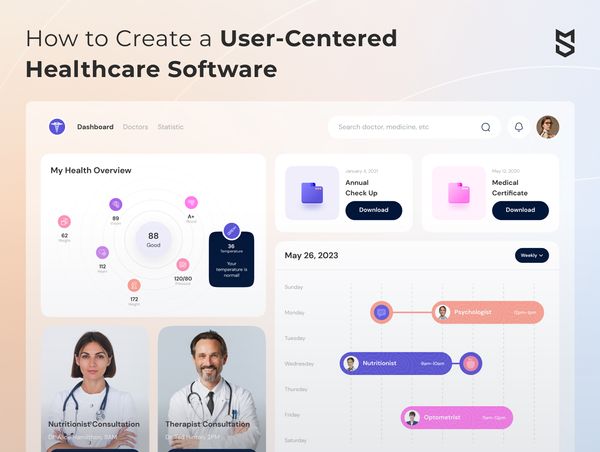 In Mind Studios' experience, creating a user-centered design in healthcare is just as critical as assembling a skilled team or raising sufficient funds for the project implementation. Why? Well, simply because it directly influences whether the software will get embraced by patients and medical professionals.
No matter how state-of-the-art it is, a healthcare software solution simply won't stick if it is built in a vacuum, without the involvement of the people for whom it is created in the first place. Luckily, with the right development team, it is possible to build a solution that is mindful of its users.
In this article, we explore why human-centered design for healthcare is crucial and guide you through designing software that provides an immaculate user experience for the sake of better health outcomes. And, as usual, we share Mind Studios' own experience in the field: this time, in building a holistic healing solution for people with chronic illnesses and injuries.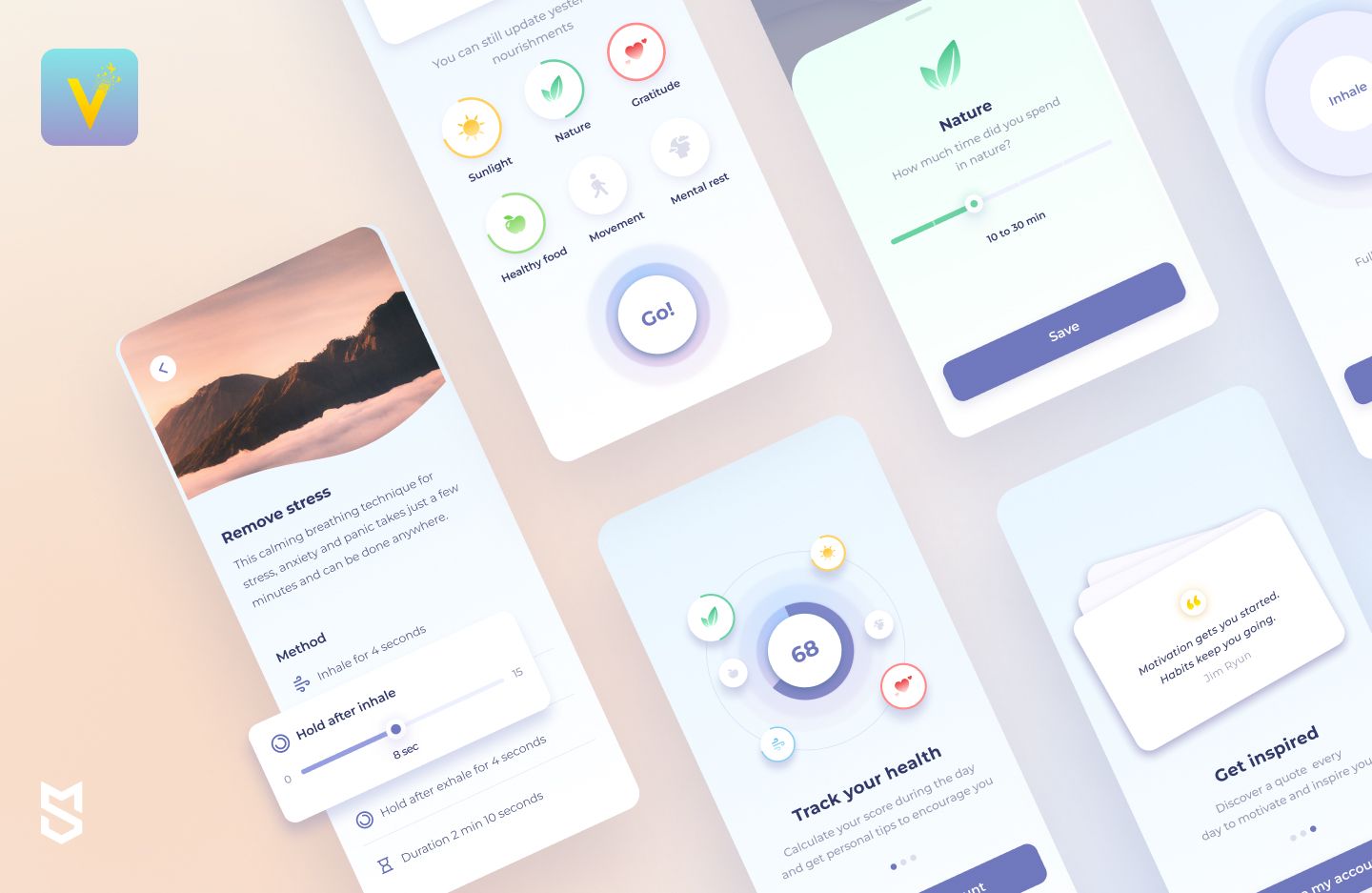 [Envol, a holistic healing assistance solution we've helped our clients create]
Why user-centered healthcare software is crucial
Wearables for remote patient care, AI for better diagnostics, robotics automation used in surgery, and telemedicine are just a few confirmations of how far the healthcare industry has come in terms of technology. However, despite these advancements, there is still a long way to go in order to make health tech products truly human-centered.
Luckily, with more healthcare software appearing on the market, business owners in the health tech sector are being urged to acknowledge the importance of user-centered design as it becomes a key differentiating factor for both patients and medical professionals.
According to a Zendesk study, 70% of consumers reveal they spend more with companies that offer fluid, personalized, and seamless customer experiences. Moreover, 71% of consumers in the Asia-Pacific region report they would switch to a competitor after having just one bad experience. This, naturally, covers consumers of health tech products as well.
So, what exactly does user-centered design in healthcare entail? Shortly put, it focuses on the needs, preferences, and goals of the end users, primarily healthcare professionals and patients. As a result, the product is intuitive, user-friendly, and efficient in solving specific problems of the users.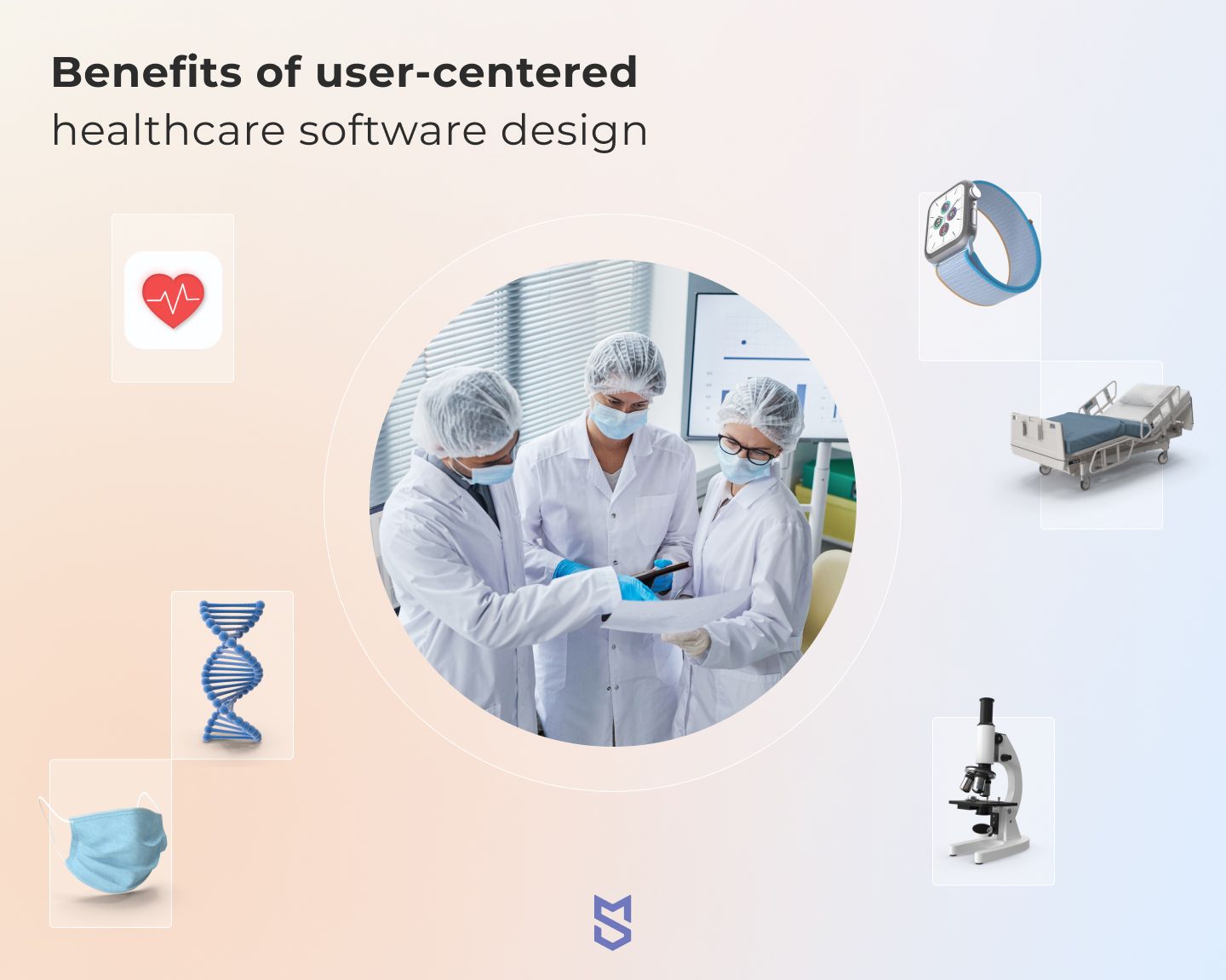 User-centered healthcare solutions are beneficial for all parties involved in the process. Here are just a few advantages they offer.
Improved medical outcomes
User-centered design in healthcare software aims to create products that are adjusted to the needs and experiences of its users.
For instance, it facilitates personalized care and decision support by using data analysis and algorithms to provide recommendations tailored to individual patients based on their data. As a result, both healthcare providers and patients can make informed and efficient decisions, as well as reduce potential medical risks and errors.
One Medical, a primary care organization that offers virtual care, among other services, has adopted wearables to monitor patients' health metrics like heart rate, sleep patterns, lifestyle habits, etc. Collecting and analyzing this data enables healthcare professionals (HCPs) to proactively manage patients and create effective personalized care plans.
Effective communication between patients and medical providers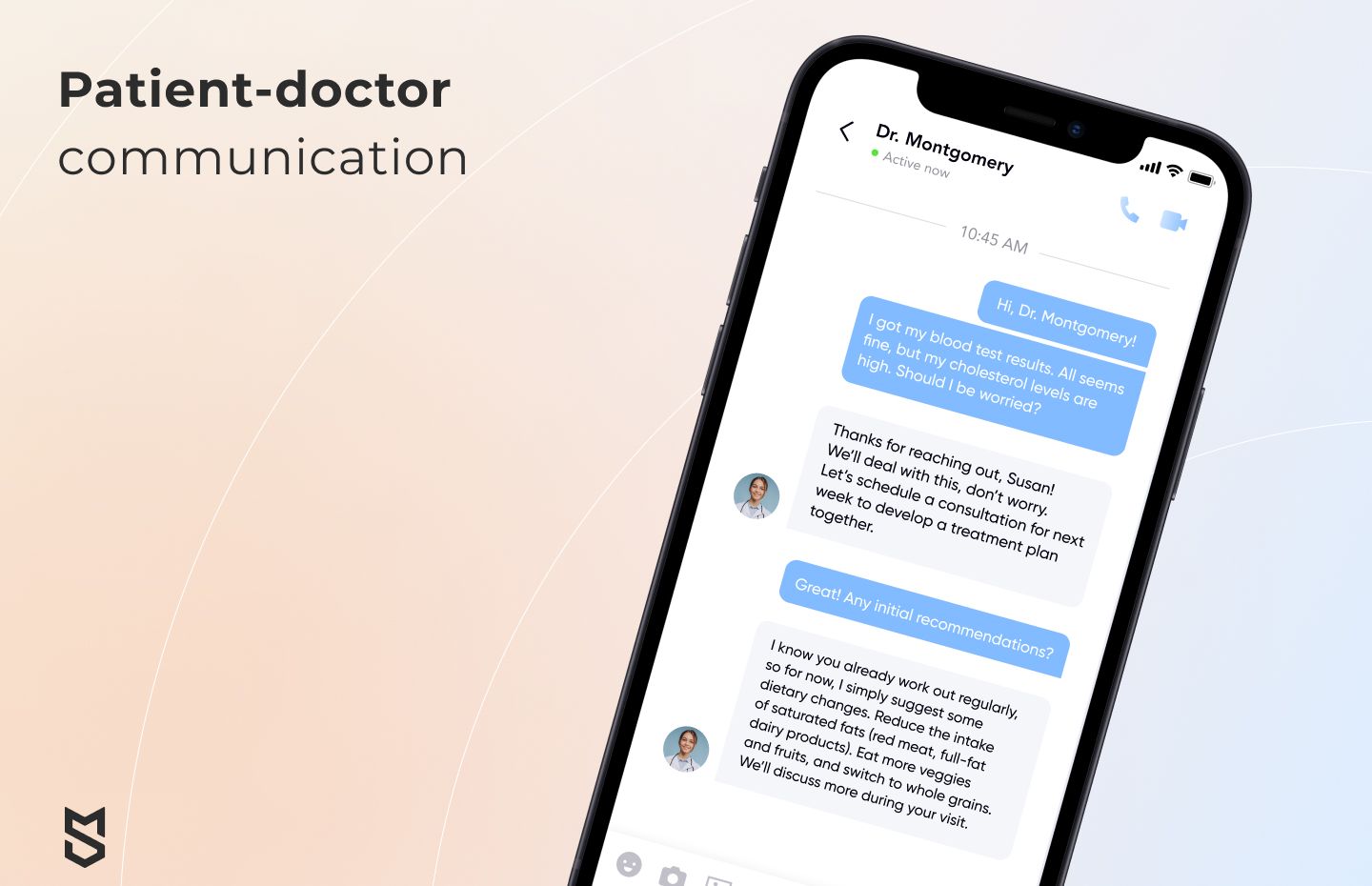 The challenges of communication between patients and HCPs often come down to the fact that patients expect comprehensive information on their health while medical workers simply don't always have the time to provide it. User-centered healthcare software development aims to change that by making that essential data clear, concise, and easily accessible.
Human-centered healthcare platforms typically provide functionality like secure messengers, appointment scheduling, access to medical records, and other features that enable timely and efficient information exchange between patients and clinicians.
Effective communication is an essential part of a patient-centric approach. When patients feel their concerns are taken into account, get comprehensive access to their records, and receive support from their HCPs, they are more likely to build trusting relationships with medical providers and thus follow recommendations from them.
Among popular examples of health tech products that facilitate effective patient-doctor communication are Klara and MyHealth. They both provide patients with functionality like secure messaging, viewing of medical records, scheduling appointments, requesting prescription refills, and receiving updates and reminders from their HCPs.
Patient empowerment
Patients today are determined to take an active role in their healthcare journey — and expect medical workers to help them with that.
Human-centered healthcare software provides patients with the knowledge, resources, and support they need. It also facilitates an informed decision-making process, enabling patients to better understand their conditions and collaborate with healthcare professionals more efficiently. All of this inevitably leads to patient-centered care, which the traditional medical healthcare system often fails to provide.
The empowerment of female patients is just one example of how health tech products can trigger change inside the system. Historically, women's pain has been dismissed by doctors more than men's. For instance, according to an analysis mentioned in The Washington Post, women with acute abdominal pain were up to 25 percent less likely than men to be treated with powerful opioid painkillers.
Luckily, there are health tech products changing that. Parsley Health, a healthcare company that offers technology-driven primary care services, is determined to empower female patients by providing personalized healthcare that addresses their unique needs.
For instance, Parsley Health emphasizes the importance of hormonal health for women and employs experts in hormonal imbalances like menstrual irregularities, menopause, and thyroid disorders. Thanks to its digital health platform, health tracking apps, and personalized care approach, women can be heard and receive the knowledge and resources to improve their quality of life.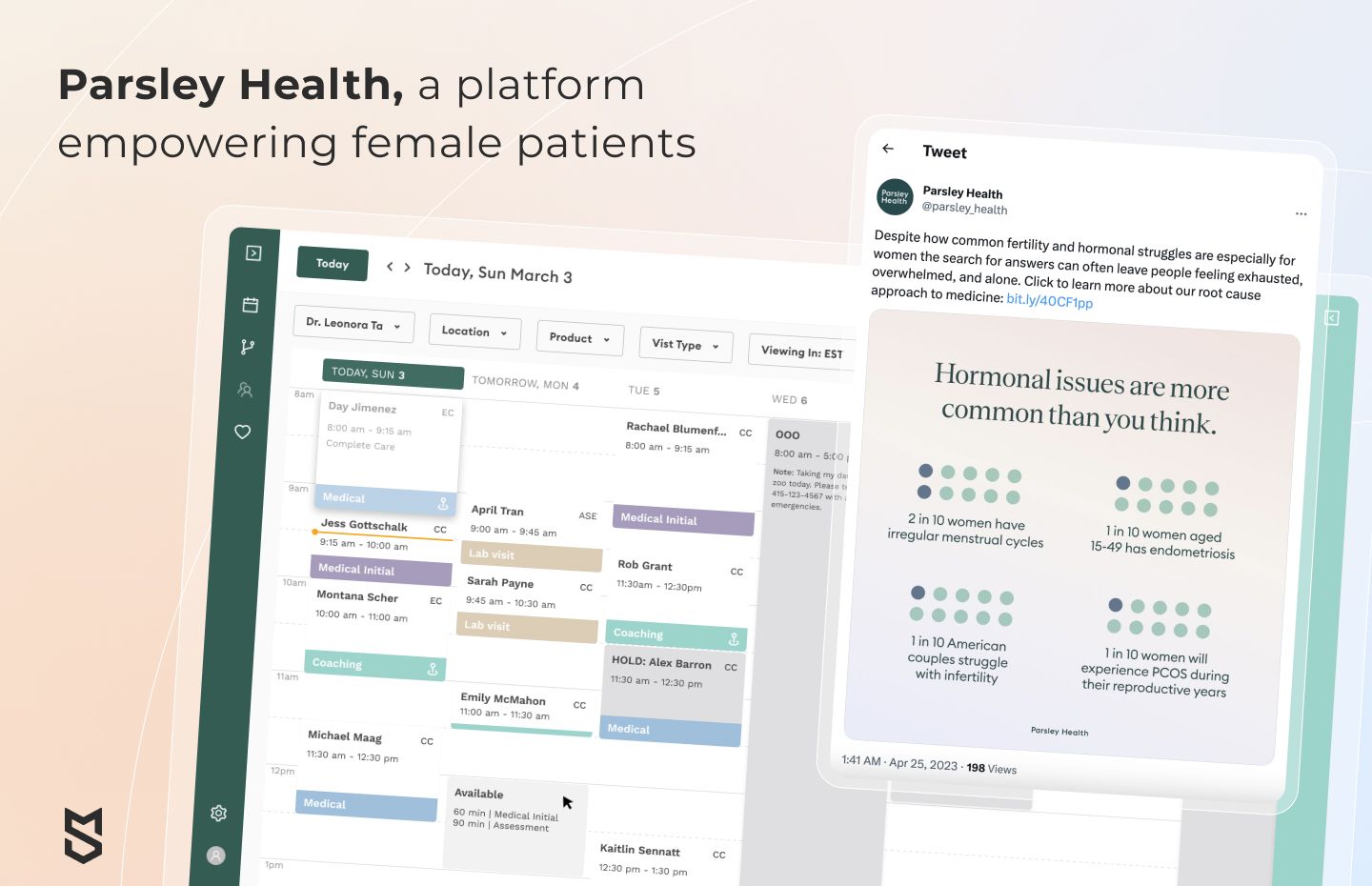 [Source: Parsley Health]
Reducing stress levels in the healthcare environment
One of the reasons it can be tough to provide personalized care under traditional medical systems is the problem of burnout among healthcare professionals. Doctors, nurses, and other healthcare employees have to take care of their patients in high-pressure, stressful, and extremely fast-paced environments, while also dealing with labor shortages.
Working long hours, switching between numerous patients, dealing with bureaucratic tasks, attending professional training, and analyzing data in front of screens is indeed exhausting. And the fatigue HCPs experience leads to a higher risk of medical errors, which cost time, money, and, most importantly, human well-being and even lives.
Healthcare software that focuses not just on patients but on healthcare professionals as well can take away at least part of the stress they deal with. For instance, automation of administrative tasks, medication management, and data analysis can help HCPs focus primarily on patient care.
However, this only works when these software products are designed in collaboration with medical professionals. One of the cases that demonstrate how important it is to prioritize actual healthcare professionals' needs over the sheer desire for achievements is the infamous National Program for IT (NPfIT) in the UK's National Health Service (NHS).
To give you a positive example, in one of our articles, we've described a case of Duke University Health System that developed a tool for detecting sepsis. The team tested it in real hospital environments to successfully integrate the technology into HCPs' workflow.
Best practices for applying user-centered design to healthcare software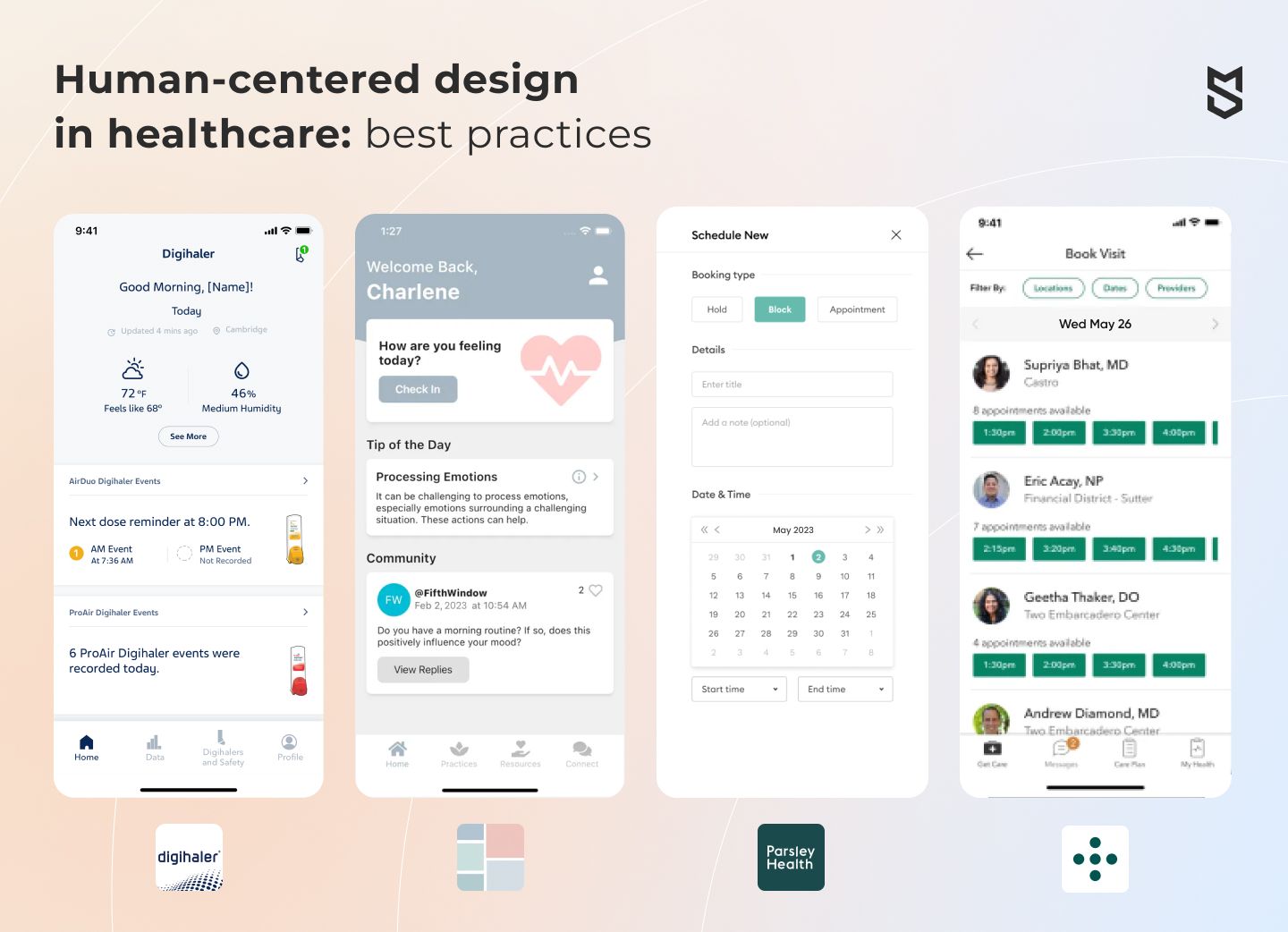 Creating healthcare software that leads to all the above-mentioned benefits isn't easy, but definitely possible. We find it essential to learn from the experience of projects that made it in the industry, therefore, in this section, we've gathered some of the most helpful tips and practices on building healthcare solutions that work.
Investing in data-driven research
Following a data-driven design approach from the very beginning can help the team with user-centered development for healthcare projects. It allows them to understand user needs, behaviors, and challenges — and thus offers solutions to real problems.
There are various methods for conducting data-driven research, including user surveys and interviews, usability testing, analytics and user behavior tracking, and A/B testing. However, the secret here is that the research phase doesn't end once the software is launched — that is if you want to continue delivering care in a personalized and holistic way.
Digihaler System is the first and only smart inhaler system with built-in sensors, that provides data to help patients and their HCPs better understand the asthma management process.
While it was approved by the FDA back in 2020, the system's creators continue to collect data on patients' and healthcare professionals' real-world use of Digihaler. This allows the company to understand the factors that contribute to the success of disease management and provide more personalized care.
Designing for real environments
For the healthcare software to work, it has to fit into the healthcare professionals' reality. For instance, hospital environments are typically noisy, crowded, high-paced, and full of distractions and emergencies. Therefore, the software has to be as easy and quick to use as possible. Otherwise, it would just slow the work process down.
The best way to create truly helpful healthcare solutions is to involve the HCPs in the development process. Ask them about their workflow, the challenges they face, the automation solutions they would be happy to embrace, and flaws in current software systems. Afterward, you can turn those requests into software functionality with a simple, user-friendly, and step-centric interface.
Some companies take HCPs' involvement in the process to the next level. For instance, Johnson & Johnson, together with Penn Nursing and the Wharton School, offers The Johnson & Johnson Nurse Innovation Fellowship Program (JJNIF) for nurse leaders who are interested in finding new solutions for the healthcare system.
The goal of this fellowship is to facilitate nurse-led innovation and leadership within health systems. One of the results of this program is Fifth Window, an application for nurses by nurses that offers self-care practices and functionality for connecting with other professionals in the field.
Building inclusive patient-centered solutions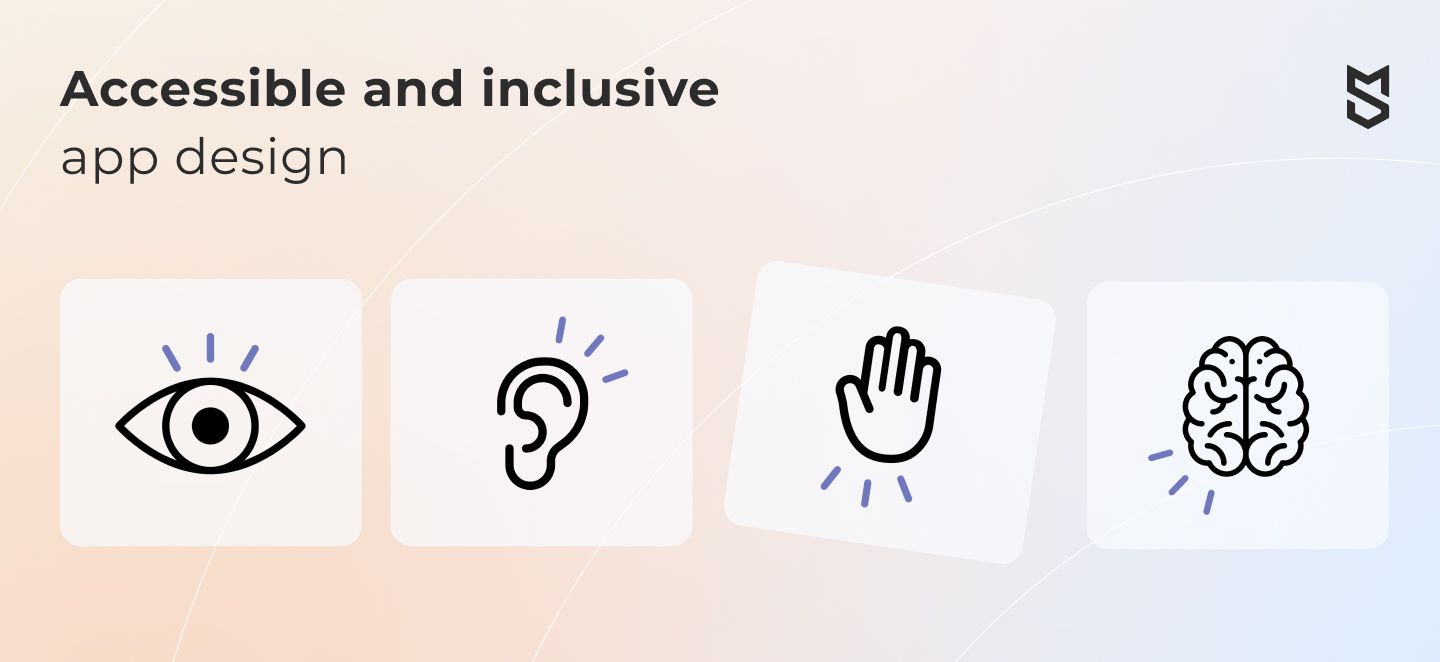 According to World Health Organization, as of 2023, there are an estimated 1.3 billion people who experience significant disability. That's 16% of the world's population. It's only logical for software — any kind of software — to be inclusive and accessible to people regardless of their characteristics and abilities. But in practice, that's not always the case.
Inclusivity is a vital part of human-centered design, especially in healthcare software. This means that apps, websites, and systems need to provide equal access to their benefits for a wide range of users, including those with disabilities, different levels of tech proficiency, etc.
When building inclusive healthcare software, we suggest considering factors like visual and hearing impairments, motor disabilities, and cognitive limitations. For instance, you can provide features like:
keyboard and voice navigation
voice-over, speech-to-text, and captions functionality
alternative text for images and adjustable font sizes
support for visual and motor accessibility features
elimination of cluttered layouts to minimize cognitive load
providing multilingual support
Luckily, there already are tools that can help creators make their products more inclusive. For instance, if building an app, you can start by studying the iOS accessibility guidelines and Android accessibility best practices.
Committing to software adoption
It just so happens that the adoption of innovation in the healthcare industry has been rather slow. The first reason for this is HCPs are literally responsible for human lives, so they have to be 100% sure of the technology they use. And secondly, the patient part of target users comprises people of all ages, social backgrounds, and thus levels of tech proficiency.
Encouraging both doctors and patients to embrace a new healthcare solution requires effort, so tech creators in the field have to be ready to take on this challenge. MiSalud Health, a culturally-authentic virtual care platform, is definitely an example for others to follow.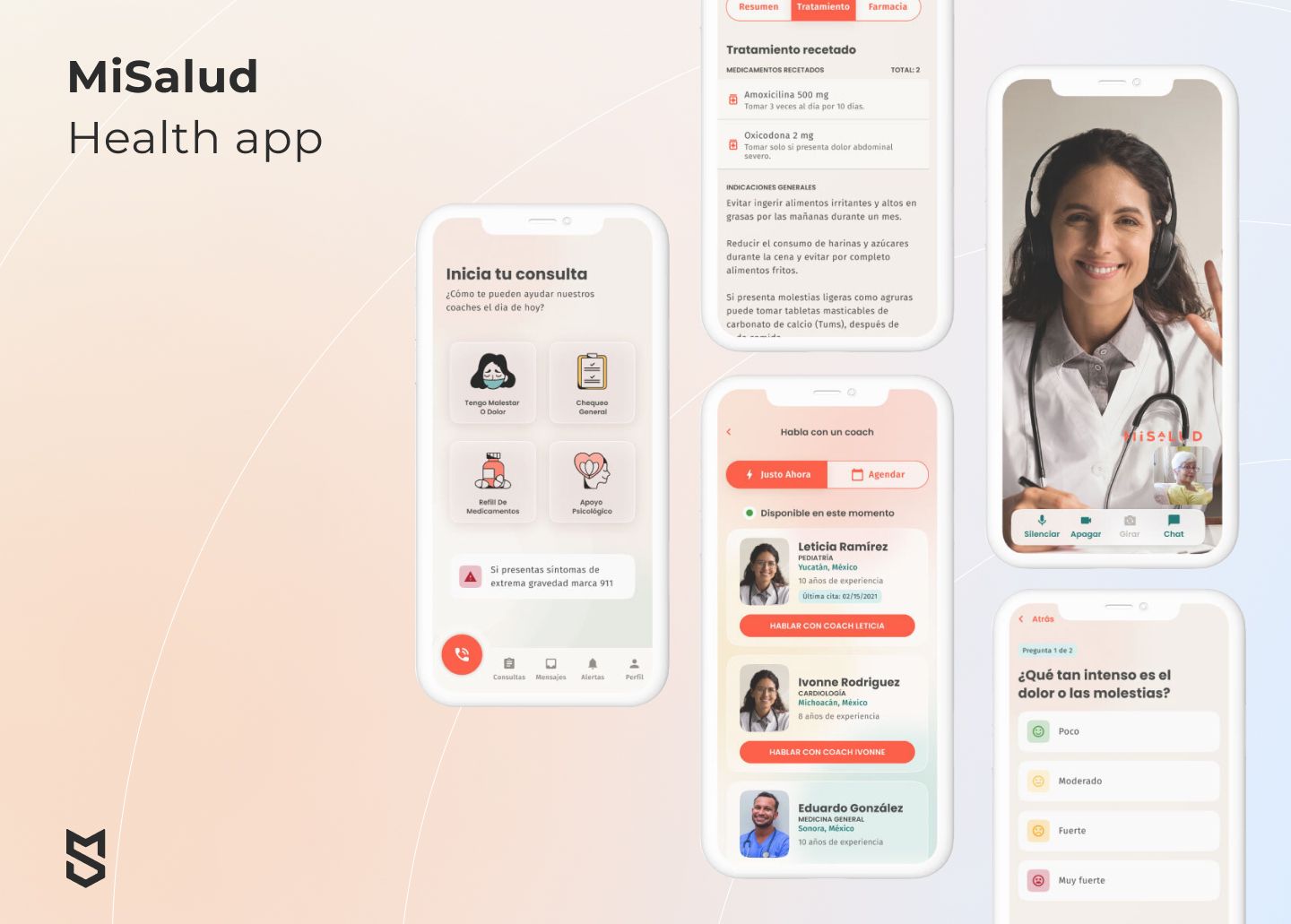 [Source: MiSalud]
This service was created primarily to provide underserved, specifically Latinx, communities in the US with affordable access to fully-bilingual US healthcare professionals. MiSalud team collaborates with doctors who are immigrants to the US or first-generation Americans with a close connection to Mexico, meaning they share similar experiences with their patients.
But the company went even further to help people adopt MiSalud. The engineers and designers involved in this user-centered healthcare app development project do actual field visits. They onboard communities and help them set up the app and learn how to use it. Naturally, this also helps the team to build products tailored to the needs of specific users.
Addressing the challenges in user-centered healthcare software design
Due to the complex nature of healthcare systems, the designers of software solutions for the industry face multiple difficulties. And while most of them can be solved, they need to be thoroughly studied and addressed. Here are the most critical issues designers and developers are likely to encounter when building healthcare software solutions:
Complex workflows make it challenging to cover multiple intricate processes while keeping the design simple and intuitive.
The highly regulated nature of the industry means healthcare projects require teams with vast expertise in data security and compliance. At the same time, functionality like two-factor authentication and encryption has to be reliable yet simple and quick for users to deal with.
Integration with legacy systems, especially ones that were developed before user-centered design practices became popular, is also a challenge. The transformation of legacy software and scaling it with new functionality can require high-level technical expertise and additional resources.
Data visualization can be tricky due to the enormous amounts of information the software has to cover. While charts and graphs can be the answer here, it's also important to keep the visuals simple and easy to comprehend. This challenge is especially relevant for designers who build products for users without medical training.
The testing process is challenging simply because it is extremely hard to recruit doctors and nurses for usability testing due to the rules and regulations of healthcare organizations, and the heavy workload of HCPs.
In Mind Studios' experience working with healthcare and well-being projects, close collaboration with the stakeholders, healthcare providers, and end users makes these difficulties perfectly manageable. Besides, hiring software design and medical web development experts with deep expertise in user-centered healthcare software can eliminate the risks that come with all the above-mentioned challenges.
How to design human-centered healthcare software
In this section, we've prepared a guide on how to incorporate principles of user-centered design and create healthcare software solutions that meet the specific needs and goals of your end-users. Here are the four essential steps of this process:
Conduct research
In the user-centered design process, this first step would require defining users, assembling focus groups, and conducting questionnaires, surveys, and interviews to create user personas. Such a humanizing approach will help you get an in-depth understanding of their behavior patterns, goals, needs, and challenges — and thus come up with more effective solutions.
Here's an example of a hypothetical user persona for healthcare software. This one was generated by ChatGPT for the sake of this article, but when working on a real project it's crucial to survey the actual target audience.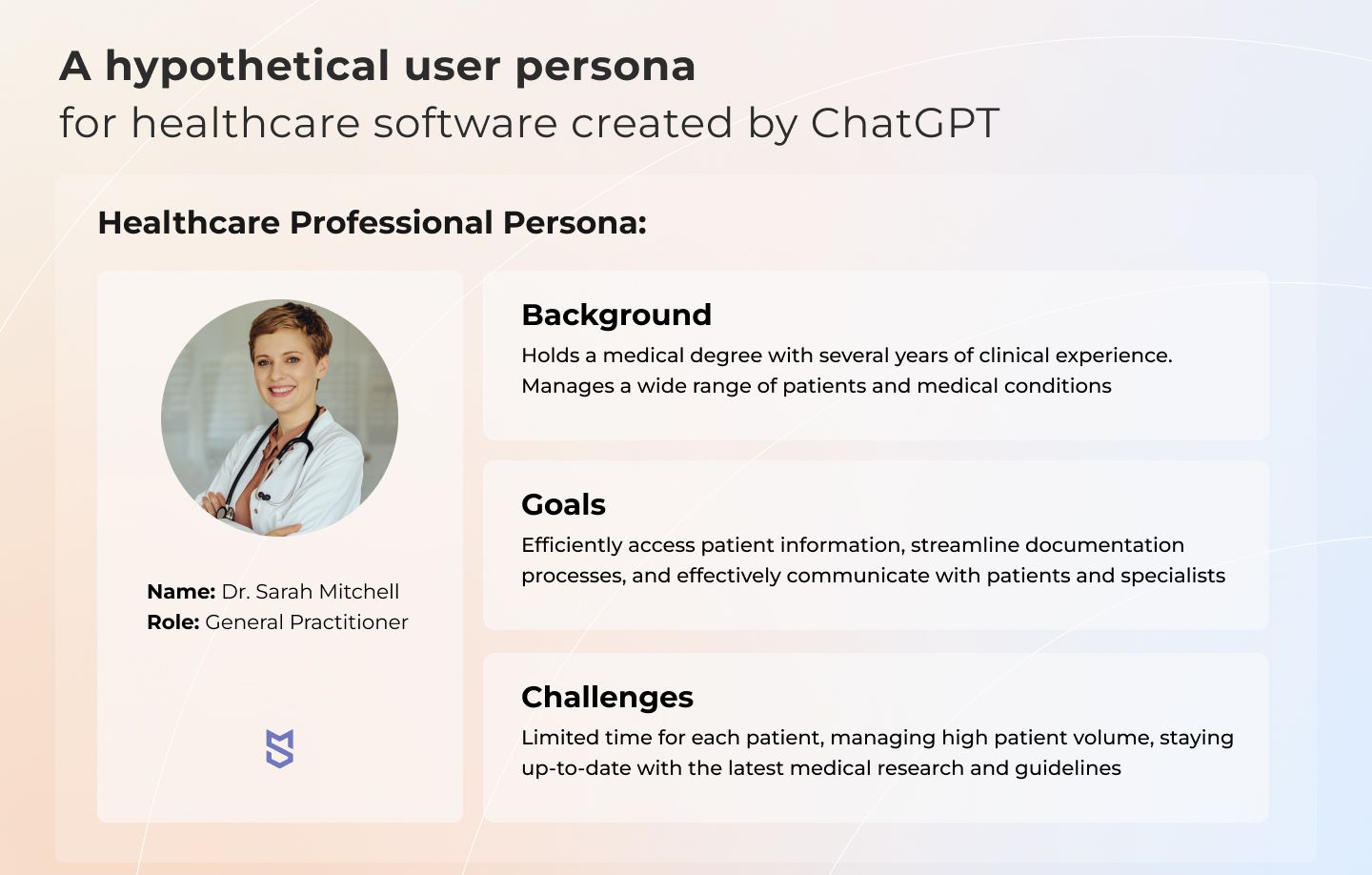 You can read more about user discovery in our customer development guide.
Define the requirements and design the solution
After the research, the team, together with the stakeholders, needs to align the project's initial requirements with user needs.
With all the above-mentioned information in their pockets, UI/UX designers can get down to creating prototypes, starting with basic wireframes just to validate the hypotheses. This process includes using journey maps, visualizing user interactions with the software, and making sure the design choices are accessible and suitable for the given environment.
Embrace usability testing and incorporate feedback
Once the prototypes are ready, it's time to evaluate the design usability and user experience. This typically happens in a controlled environment and involves recruiting intended users, testing different use case scenarios, observing and collecting data, and encouraging participants to share their thoughts.
The goal of this step is to establish the level of user satisfaction and identify areas for improvement.
Iterate and continuously improve
Thriving products undergo numerous iterations throughout their life cycle, but prioritizing users over products does eventually pay off. So, we advise designers and developers to embrace the constant evolution approach, keep gathering feedback from users, and create products that truly make the healthcare system more mindful of both HCPs and patients.
Create user-centered healthcare solutions with Mind Studios
One of Mind Studios' focus industries is healthcare, so we know about user-centered healthcare application development and website creation firsthand. Our team is adept at developing eHR & eMR systems, medical knowledge base systems, and custom healthcare solutions like remote monitoring and telehealth solutions.
The app we want to focus on in this article is not a healthcare solution, per se, but rather an app created at the intersection of health and general wellness services. However, it's a perfect example of how software can and should be built with empathy as the cornerstone of its design.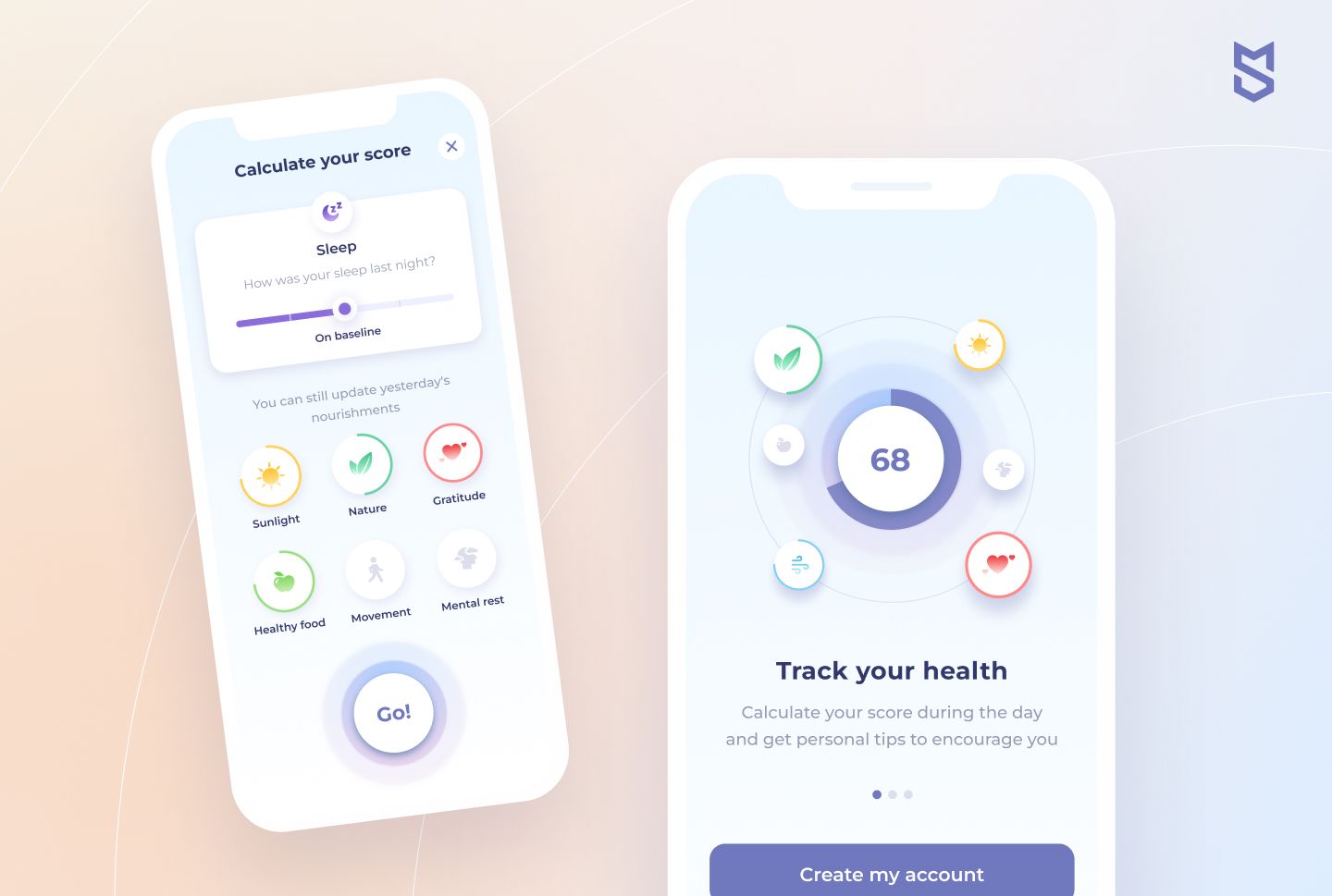 Envol is an app aimed to assist people who are healing from chronic illnesses and injuries. It was created around holistic practices backed by medical research, and it combines several types of apps, including meditation platforms, wellness apps, and performance and habit trackers.
When we first came in contact with Julie and Tim, the founders of Envol, they already had an Android application, which, however, lacked some essential functionality. After conducting a thorough analysis, together we decided to build a new app for both Android and iOS from scratch and migrate existing users there.
As we do with most of our projects, our team put a lot of effort into the discovery stage. We launched surveys with Envol's original users and the founders' social media followers. This research helped us come to the conclusion that while anyone can benefit from the app, the core of its target audience are people with chronic illnesses and injuries.
Based on the data we collected, the team created user personas, customer journey diagrams, and wireframes for the new app. In the end, all this helped us understand the real needs of the target audience, create a truly human-centered design, and reach an above 40% retention rate.
One of the biggest milestones of the project was when it started to receive approval from the healthcare community and get recommended by doctors to their patients.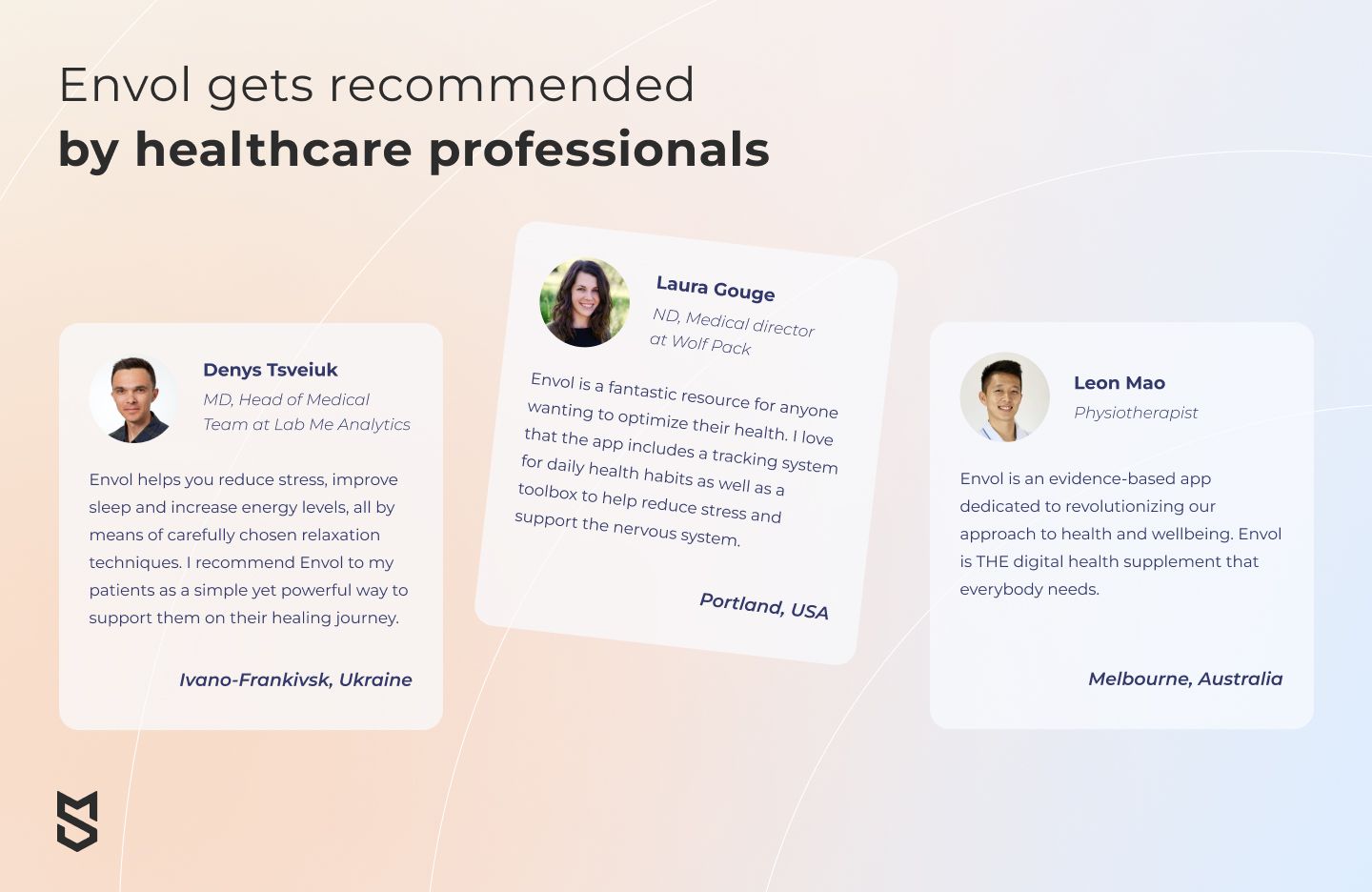 [Source: https://www.envol.app/]
Conclusion
User-centered design in healthcare software is an unskippable part of the development journey: it's the thing that can determine whether the product will be adopted by the end users, in this case, healthcare professionals and patients.
At Mind Studios, putting users at the center of the software design process is standard practice. So, whether you want to streamline the work of clinicians, build a platform for patients, or create any other medical system for your healthcare organization — our team is ready to take on the task.
If you've already got an idea in mind — reach out by filling in a short contact form. Our business development team will arrange a free consultation to go over the details and work out a strategy for implementing your project.
2