Contents:
What is SaaS?
SaaS stands for Software as a Service. Put simply, SaaS gives ready-made software to the customer via a web browser or mobile app. Customers don't need to deal with installation and configuration because the software provider handles it. There are not only technical differences between SaaS and the traditional software model; there are also philosophical differences.
With SaaS, users don't have to suffer with software configuration. They can simply use the software. Thanks to the internet, SaaS is available to users anywhere in the world and from every device. There are also differences between the SaaS model and traditional software model as far as developers are concerned. Even after a SaaS product is launched, developers don't stop working on it. Developers continue to optimize and update it. SaaS apps (such as Amazon Web Services, Salesforce, Box, and Concur) are optimized and updated by many developers. So it's necessary to meet the needs of a large audience to make them profitable.
Why SaaS?
SaaS products have lots of potential for further development of the app market. With SaaS products:
Customers get a completely ready-to-use product without needing to think about settings and algorithms. They simply use the software to solve their problems.
Users don't need to spend a lot of money on expensive software. Instead, they can pay a subscription for functionality they need and stop paying if they no longer need the service.
Applications can implement cloud storage. This feature allows companies and corporations to quickly and safely transfer information.
Updates and bug fixes are synchronous and available to users of all devices. This is convenient for big corporations where installing and updating custom software is a costly and ongoing affair.
Users don't have access to source code but only to its functionality via a web browser or application. This means that nobody can steal and illegally distribute a SaaS app.
How to Develop a SaaS Application
The decision to start developing a SaaS application should be well-informed. Here are some recommendations for how to clarify your plan and think out a number of details.
"An investment in knowledge always pays the best interest."
— Benjamin Franklin
It would be a mistake to believe that creating an application begins with actual SaaS platform development.
First of all, you need to completely understand the idea of your project, know who your target customer is and why they will want to use your product, research similar products in the market, and understand how you can make money with your app.
Above all, analyze if it's a good idea to launch your product using a SaaS model. Software as a Service isn't workable for all projects, and for some this model will only do harm. As an example of a competent SaaS product and to see how to make a cloud-based SaaS application, let's have a look at Google Drive. It has many ingredients for success: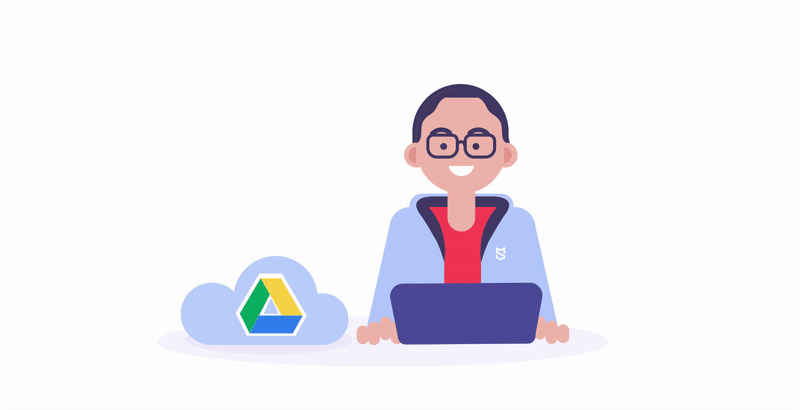 Paid storage. The constant problem of the past decade has been running out of storage. The solution in the past was to sacrifice data of less importance in favor of more important data. Otherwise, you could buy an extra hard drive. But naturally, you wouldn't be protected from physical damage. Your investments could be destroyed in some disaster.
But today, instead of storing data on an external hard drive you can simply open your browser, go to Google Drive, and start storing files. You receive 30 GB for free and an extra 1 TB costs about $10 per month. And if you don't need the storage anymore, you can simply stop paying for it.
Only storage? Of course, there's more to Google Drive than storage. Today, simple cloud storage isn't enough to amaze us because of the variety of alternatives. Google Drive captures the attention of average users and large corporations with the availability of Microsoft Office-style functionality for free (Google Docs, Google Sheets, etc.).
Constant saving makes it possible for users to forget their fear of power outages that used to cause losses of sensitive documents. Also, shared access to documents allows employees to easily work together on projects.
Network of services. People often respond poorly to changes and radical novelty, so Google Drive has one more advantage over rivals. According to Netmarketshare statistics from June 2018, Google Chrome is used by 60% of desktop browser users. A single log-in in Chrome makes it possible to get access to Gmail, YouTube, Google Photos, Google Drive, and other services. Does it make sense to find other third-party services? Probably users won't because of loyalty and the power of habit.
In spite of Google Drive's success, there are many examples of software that followed the SaaS model but wasn't so fortunate. In 2013, Adobe Systems started to integrate Software as a Service offerings as part of the company's anti-piracy campaign. Adobe started to charge monthly fees for Photoshop, Illustrator, and other products, but these products weren't turned into services.
Users were disappointed by the company's decision, and some Adobe users started to use an older version of the software. Ironically, there was an increase in the amount of pirated Adobe software after introducing subscriptions. Around this time Sketch, a design application that competes with Illustrator, broke into the market and offered more favorable terms with an annual subscription for only $99. Sketch drew away some Adobe customers. The lesson learned is that business analysis is important when you're about to bring in modifications to the functionality and the way an application operates.
Is There a Formula For Success?
The decision to start developing a Software as a Service application must be supported by user preferences, rivals' abilities, and the particular nature of your app. If it isn't, your chance of failing grows. To make your app succeed on the market, you need to know about the SaaS software development life cycle and keep these tips in mind:
1. Understand How Customers Will Use Your App
To develop a quality application that meets demand, you need to fully understand all of its functions. Even more, you must perfectly see how it will look, work, and be used by customers. You need to define the unique feature that will help your app stand out and have a good reason for using the SaaS model.
2. Define Your Ideal Customer
Who will use your app? It's important to answer this question because your value proposition directly depends on your buyer persona. It would be strange to use the same strategy for teenagers, mothers, and diabetics. Each of these groups has different needs and different communication channels, and you need to know what your buyer thinks and how they socialize with the world.
Once you've found your target you must identify your weapon. If you know how your customer thinks, you know what they want today and also what they will want tomorrow. To understand customer needs more clearly, you need to research trends of SaaS-based application development.
3. Research Trends
Constantly tracking trends is an essential part of success. Identifying trends can help you improve your app and keep it relevant. Let's have a look at general trends in the SaaS market.
Artificial intelligence. Artificial Intelligence is currently big in the mobile app industry. Machine learning platforms increase software efficiency and make it possible to obtain and analyze data. Virtual assistants like Siri, Cortana, and Alexa are excellent examples of the SaaS model and absolutely depend on machine learning and speech recognition technologies. Companies invest massive resources to improve these technologies. According to Amazon's senior vice president of devices and services, in 2018 Amazon had 5000 employees working only on Alexa.
Mobile apps are the future. According to Emarketer.com, the number of smartphone users grew from 1.3 billion to 2.5 billion in the period from 2013 to 2018. The tendency of using pocket devices is continuing to gain momentum, so SaaS web development is starting to transform into mobile app development. Companies that develop SaaS web applications are switching to creating mobile apps.
[Smartphone Users 2013-2018]
Platform as a Service. The SaaS market is going strong, and it's becoming harder to avoid changes. The classic SaaS model is designed to solve universal problems. To capture a specific market without losing the ability to serve multiple purposes, developers invented the Platform as as Service, or PaaS, model. PaaS products such as Microsoft Azure, Google App Engine, and IBM Bluemix can create and configure software that a client needs. Put simply, with PaaS solutions, SaaS developers give part of the work to the user.
Vertical development. SaaS industry giants like Google and Amazon develop the most universal apps with all simple functionality. Meanwhile, other companies occupy specific niches in the SaaS market. A fresh SaaS development company has a smaller audience but a more specific purpose. To solve specific challenges, customers are ready to spend more money. These two factors — a small audience and readiness to spend money — balance each other and make it possible for developers to achieve success.
Challenges of SaaS Development
"He who is not courageous enough to take risks will accomplish nothing in life."
— Muhammad Ali
Business is always a risk. There's no study guide that you can read and immediately be successful. If that were the case, everyone would be a businessperson. Entrepreneurship is the destiny of courageous people, and success is achieved by trial and error. We've determined the most frequent troubles and problems in SaaS development and ways to solve or avoid them.
People don't trust you. One of the most important resources in mobile app development is trust. No trust means no customers. This problem is especially acute when working with the SaaS model because personal user data is saved by the SaaS provider. Large corporations don't face this problem because of brand loyalty. But what can you do if you're just entering the market? Don't tell everyone about your security. Show your security. This is the job of designers: your logo, user experience (UX), and user interface (UI) must demonstrate your security and confidence.

Small target audience. Despite the vertical development trend, it's dangerous to choose a direction that's too unique. You need to keep in mind that you, as a software provider, have to regularly update your app and constantly optimize it. With too small of an audience, your work would be unprofitable. One solution is expanding functionality, or rather horizontal development. This is one way to attract a more universal buyer persona. You need to conduct business analysis to understand the demand, competition, and trends in functionality.

Poor idea. What should you do if you realize that your app is useless after finishing development? For example, there's no sense in developing a CD recording SaaS app in 2018. Ask yourself, what will my app accomplish? The answer shouldn't be record CDs, as this is the result, not the problem that the app solves. Your app might allow people to save and share data, for example. When your developers see this idea, they won't think about a CD recording app but rather will think about cloud storage or a database model. There are no bad ideas; there is only poor execution of good ideas. Developers need to understand this at the business analysis stage.
How to Make Money
How to make money is the main question in all business fields, and SaaS application development is no exception. There are several ways to monetize a Software as a Service app:
In-app advertising
Strengths: The app owner has a steady source of income that grows with the app's popularity.
Weaknesses: Advertisements often harm the user experience and scare away potential customers. Also, this method of monetization is unfit for new businesses that don't have enough popularity to attract advertisers.
Freemium
This model is one of the most successful in the market for users and developers. A freemium app is provided at no cost with standard functionality. Freemium applications also offer extra features at cost.
Strengths: The freemium model allows users to get to like the app and decide to pay for additional functionality.

Weaknesses: Developers are often not able to find the golden mean between free and commercial features. If you provide too little free functionality, you can't attract customers. But if you offer generous amounts of free functionality, users won't pay for extra functionality.

Subscription
This model is similar to freemium. The difference is that a subscription allows access to extra content, not extra functionality. So if you develop a content-focused application (such as a video hosting app), you can use a system of subscriptions. But remember to balance between free and paid content.
This model is good for customer retention because people get into the habit of using things that they've paid for.
Strengths: For many customers, it's comfortable to pay once and use forever. The developer is saved from users who stop using the app because they've already received money.
Weaknesses: The customer won't buy an app if they aren't sure of its quality and relevance. It's a great challenge for developers to give credibility to applications.
How Much Does It Cost to Develop a SaaS App?

If you develop an app, it's important to understand that costs for massive SaaS applications like Google Drive and costs for simple SaaS projects are absolutely different. Big ambitions are costly. There are a few categories of costs when building a Software as a Service product:
Business analysis and design
Server costs
Monitoring software
Development and support
Marketing
Business Analysis and Design
The cost of SaaS development depends on the scale of your project, the number of functionalities, and specific characteristics. These all must be defined during the business analysis stage to avoid burning your funds with an incorrect strategy.
This stage costs about $3,000 to $5,000 per month and lasts for around two months.
Server Costs
Cloud-based SaaS architecture means lots of server usage. Hosting is the main cost of a Software as a Service application. In the course of time, this cost will increase because of an increase in the number of users.
Hosting costs from $30 to $8,000 per month depending on business scale and number of users.
Monitoring Software
For your server and apps to work correctly, you'll need to have monitoring software. Constant monitoring is important if you want your SaaS product to work properly. This cost will also increase as your business does.
For starters, monitoring software costs about $3,000. For advanced applications, the price can rise to $50,000 because large companies use fat services, so they need powerful monitoring software.
Development and Support
Creating a SaaS application primarily consists of building prototypes, testing, gathering feedback from customers, fixing bugs, and launching. In our experience, it makes no sense to speak about a precise cost because it depends on software complexity, number of features, and size of the core audience.
The cost of development and support starts from $15,000
Marketing
You can promote your app with inbound marketing (content making) and outbound marketing (advertising) strategies.
Marketing will cost in the neighborhood of $3,000 per month after launch.
Is It Worth Starting a SaaS Business?
The market for SaaS apps is still emerging, so it's time to come out with a fresh and unique application. The essential point to remember is that the idea behind a SaaS app must be well thought out and accompanied by business and market analysis. No less important is having skilled backend, frontend, Android and iOS developers. Want to take the first step in building your own SaaS app? We're here to help. If you have an idea for SaaS application, contact us for a free consultation.