The first key to building a successful startup is proper research of the market and the needs of your prospective users. In fact, no market need, followed by lack of funding, is the most common reason why startups fail.
Our team explored the most promising technology trends, as well as the best tech startups in 2023 and beyond representing those trends. This way, we hope for this article to lay the cornerstone of the research for your future project.
Mind Studios has been working with startups for nearly a decade now. We developed a fitness platform with a 50% retention rate and managed to build a 4-app delivery system in just 3 months. And, as a result-oriented company, we couldn't skip an opportunity to explore lessons from the successful tech startups in 2023 and reflect on how their experience can be used to create new successful projects.
Four trends in startup development
It's been a challenging task to pick just four startup trends that are reshaping IT — there are hundreds of them. However, we narrowed down our list and chose 2022-2023 tech trends that are definitely worth looking into if you want your product to satisfy a real market need.
By the way, some of the technologies here are among the most promising trends mentioned at Gartner's IT Symposium/Xpo™ 2022, a conference that focuses on insights and tendencies shaping the IT industry.
Generative Artificial Intelligence
While generally, AI is no news to the tech world, generative AI tools have suddenly become all the rage in 2022. What is more, according to Gartner, generative AI will account for 10% of data generation by 2025, which is an incredible leap from less than the 1% we have today. However, considering how this technology works, it's only logical.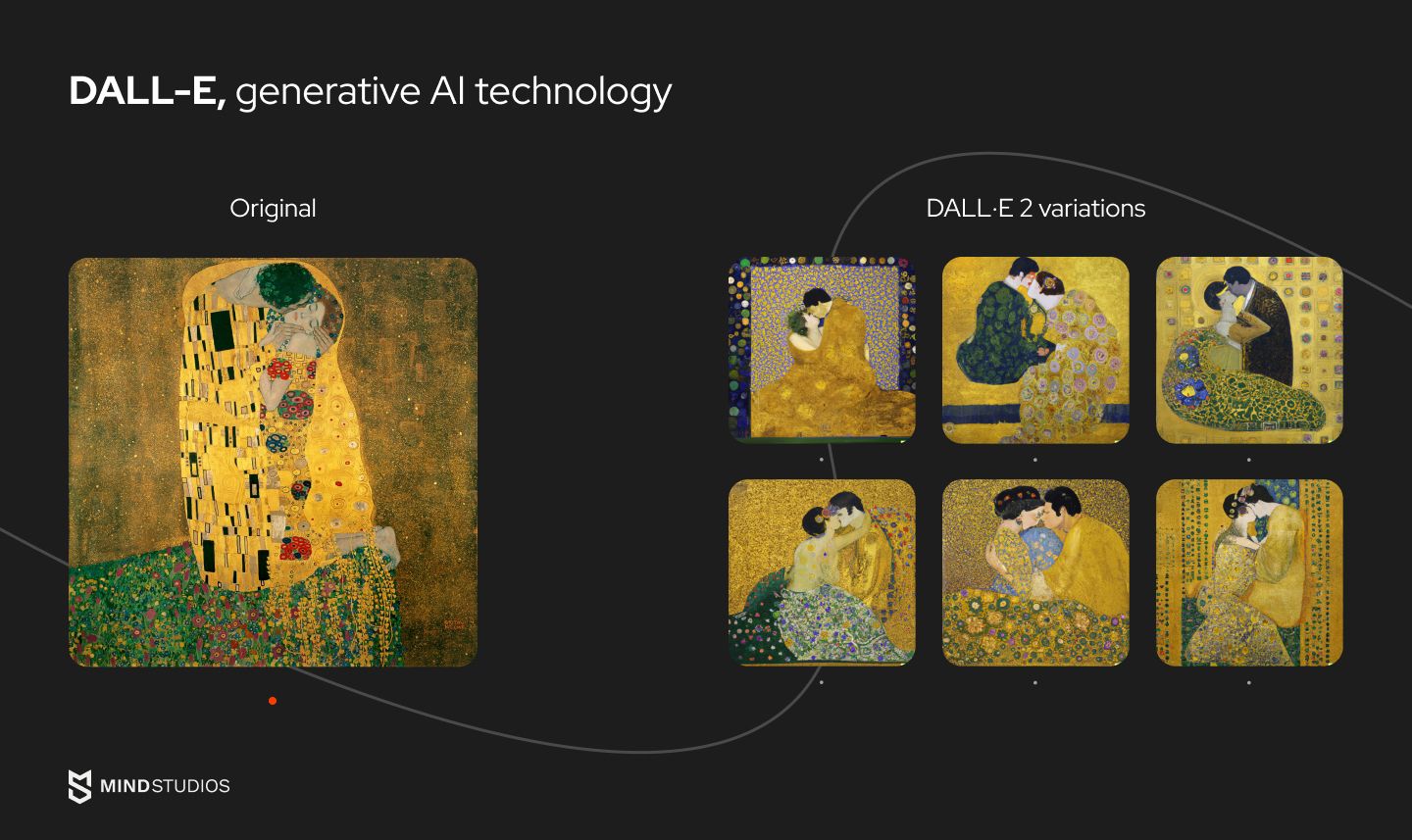 Generative AI technology is based on machine learning algorithms that enable the creation of new, original content using existing data. This includes audio and text content, images and videos, and even code. Generative AI becomes better each time we use it since it basically grows and creates more advanced content by learning from our feedback.
Here is what Frances Karamouzis, the Group Chief of Research for IT Leaders and GTP, said about this technology:
"Today if an enterprise has a SaaS application or new release, they can just update the software and things typically keep humming along, but you can't do that with AI because they are literally learning what to do on the fly."
This technology has the potential to completely change numerous industries: from marketing to filmmaking. For instance, the MIT technology review of generative AI technology suggests that "a technology like this could revolutionize filmmaking and animation". And it's happening faster than you could imagine.
DALL-E, the first image generator to become really popular, was released only in 2021, and since then, dozens of similar services have emerged. Big corporations are also adopting this technology. For instance, experts at Google developed DreamFusion, a new model that creates 3D images based on text instructions.
There are, however, a few flies in the ointment. Generative AI arises a number of concerns about the threats it bears alongside its advantages. These include scams, identity fraud, political disinformation, and propaganda, as well as intellectual property implications.
Nonetheless, new technology always comes with certain safety and ethical concerns. That doesn't mean you don't have to keep your finger on the pulse of those innovations. And generative AI is definitely a technology that entrepreneurs better watch out for.
Superapps
The growing trend to build all-in-one platforms that cover multiple requirements certainly makes sense. Instead of cluttering their smartphones with dozens of apps, users now can satisfy multiple needs — whether it's shopping, communication, or running a business — within just a few supperapps. In fact, according to Gartner, over 50% of the global population will be using multiple superapps daily by 2027.
One of the most well-established examples of supperapps is WeChat, a Chinese platform that is simultaneously an instant messenger, a social media network, a payment service, and an eCommerce platform. WeChat can be the definition of what a supperapp is, providing access to core features and additional mini-apps that function within it.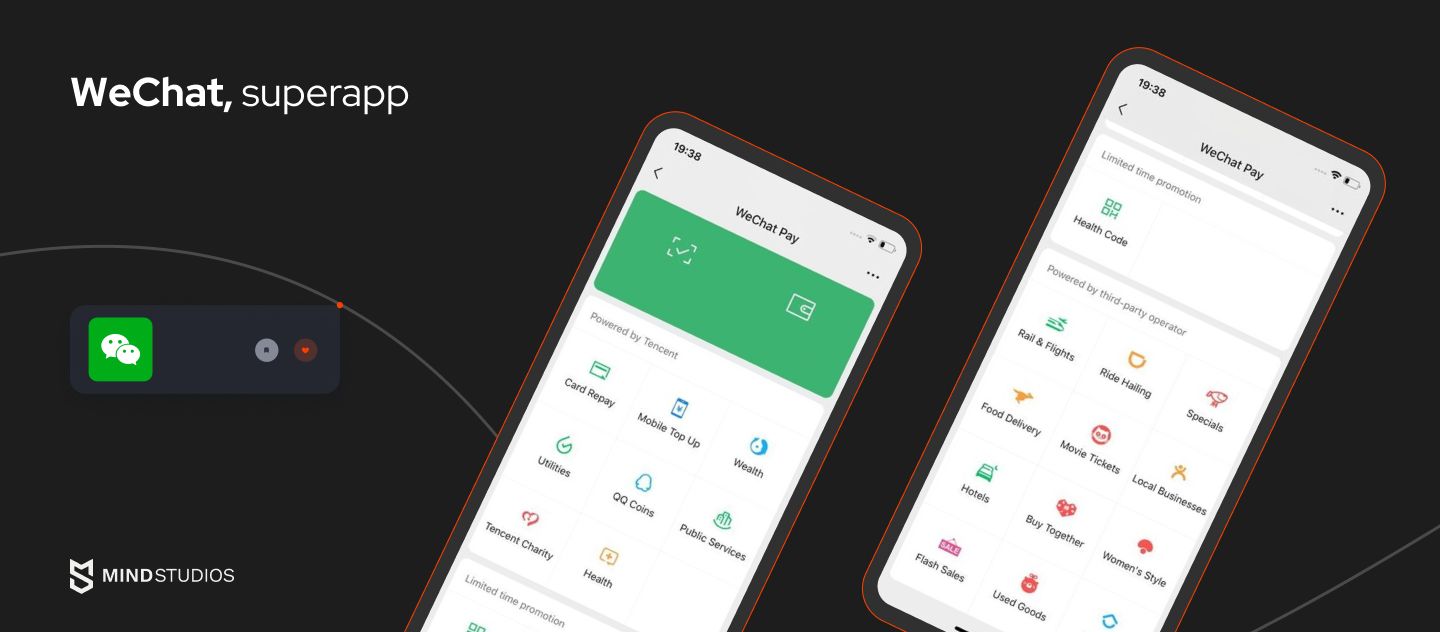 By the way, superapps are not limited to mobile applications. Desktop client apps can also become superapps as long as they perform the functions of various services for customer or employee use. Slack, for instance, is a good example of a desktop supperapp.
While now most supperapps are built around such core features as messaging, social media, and digital payments, the industries embracing this approach are starting to be more diverse. Experts predict that gradually, superapps will be enhanced with chatbots and IoT technologies.
IoT startups
First, let's talk about what IoT technologies are and how companies use them. The internet of things is a system of connected devices and technology that enables communication between them and the cloud, as well as between the devices themselves. This happens through real-time collection and exchange of data and eliminates the need for human involvement.
According to Forbes, it's expected that in 2023 there will be over 43 billion devices connected to the internet. Apart from the obvious smart devices for end customers, companies also use IoT technology for enhancing business processes.
The ways various economical sectors can benefit from IoT technology are boundless. For instance, the agricultural sector uses IoT for farm surveillance with drones equipped with sensors and cameras, as well as for greenhouse automation and monitoring environmental conditions.
The healthcare industry uses IoT devices for health monitoring, diagnostics, and improving treatment. Manufacturers use IoT for remote equipment management, as well as waste reduction, while the retail sector automates the inventory and checkout processes.
The list goes on, as more and more industries adopt this technology. Right now, companies explore ways to collect even more data to improve machine learning and thus strengthen their business strategies.
One of the most important IoT trends right now is digital twins. Shortly put, it involves creating virtual replicas of physical products, processes, spaces, and systems through data from IoT sensors. This results in building a link between the digital and the physical worlds. So, if your business hasn't gone digital yet — that's a trend definitely worth looking into.
Here are some more promising trends in the IoT industry for the nearest future to have in mind.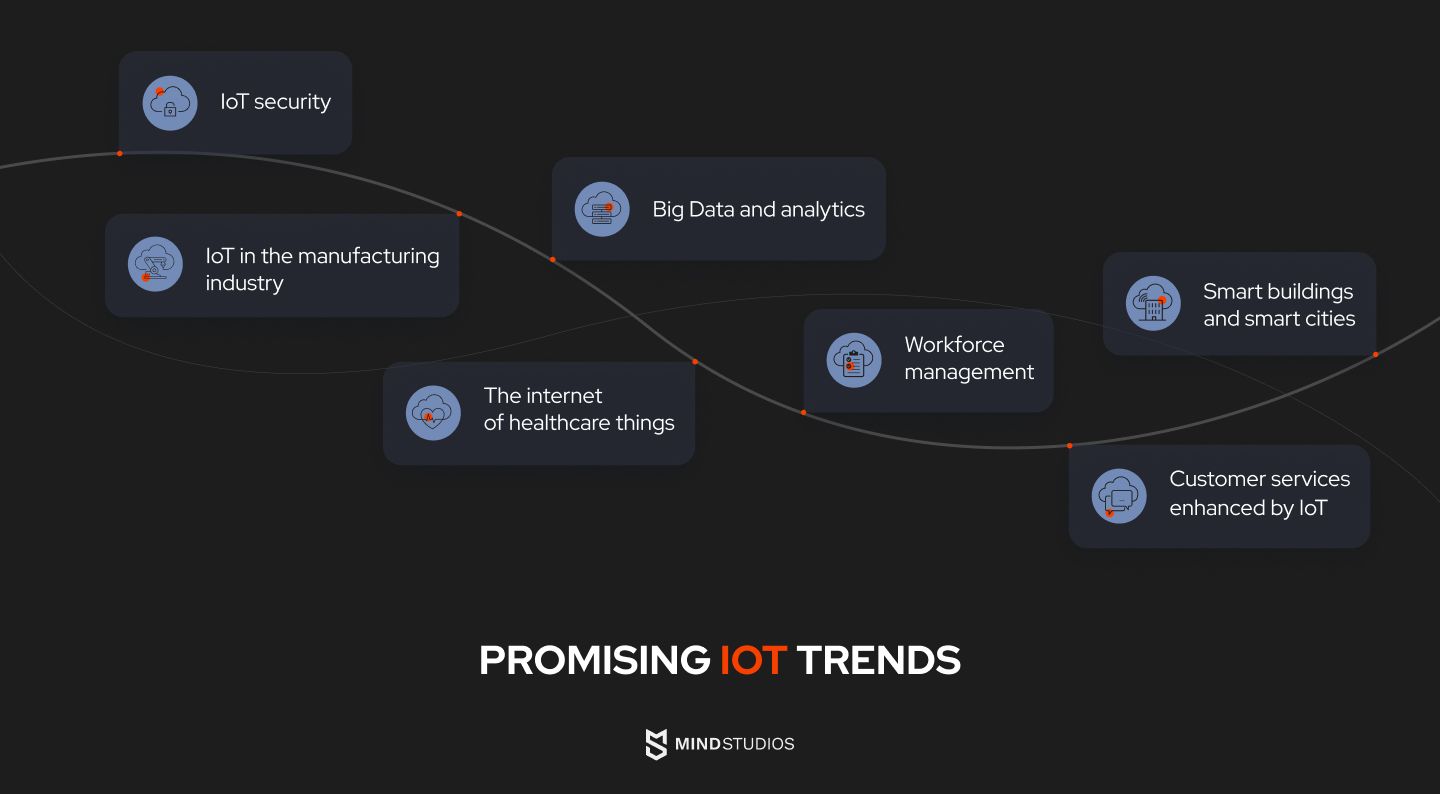 Sustainable technology
Sustainability is finally becoming one of the top priorities for businesses, and a 2022 survey of CEOs and senior executives by Gartner proves it. The survey showed that environmental sustainability has ended up on the list of top 10 strategic business priorities for CEOs, coming in at 8th place. Less than a decade ago, in 2015, it was 20th place.
What is more, 80% of the executives willing to invest in new products and technologies put environmental sustainability third on the list of main drivers for those investments. This means, more and more companies — no matter the economical sector — are going to invest in products that will help them become more sustainable.
[Credit: Gartner's survey]
So, what technologies exactly might be in demand? Here are some ideas to learn from the newest technology startups focused on sustainability.
Right now, enterprises are starting to look into frameworks aimed at increasing the efficiency of IT services (like data storage). There is also a rise in digital solutions that assist companies in monitoring their carbon footprint, optimizing costs, improving energy performance, reducing waste, and so on. This is often done through AI, IoT-based analytics technologies, and cloud technologies.
Among numerous tech startups focused on sustainability is BrainboxAI whose AI HVAC technology studies how buildings operate and indicates opportunities for possible improvements and how to implement them.
We explore another example of innovative tech startups aimed at assisting businesses in being sustainable in the following section of the article.
Top startups to watch in 2022 and beyond
There is no right answer to the question of what the best IT startups in 2022 to learn from are — since there are so many of them. The US alone currently has over 70 thousand startups running. However, based on the tech trends from the previous section, we've looked into the products these trends actually inspire.
The list below contains 4 trending startups to watch in 2022 and beyond that demonstrate how the current most promising technology trends can be applied in real life.
1. Jasper.ai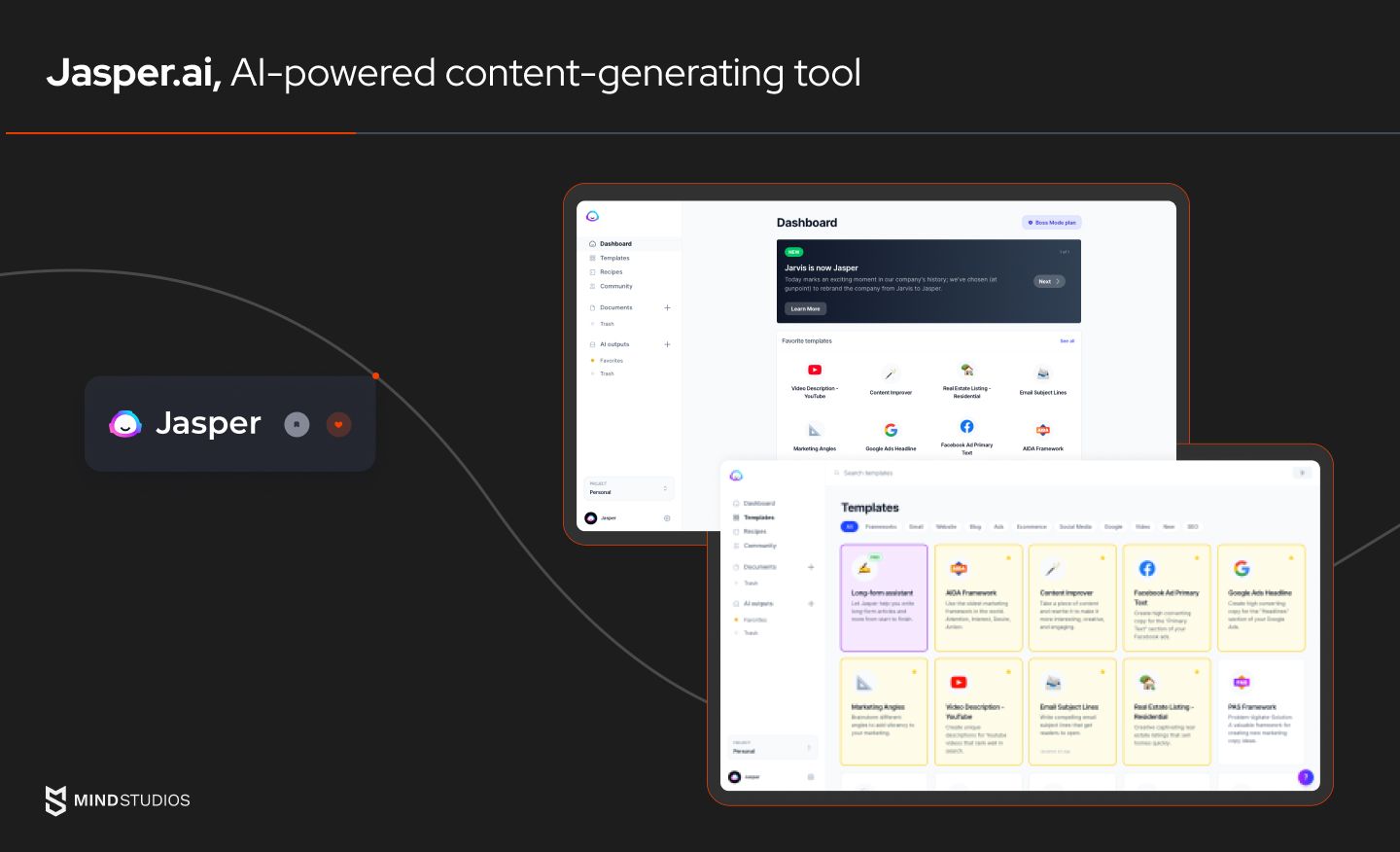 Jasper is an AI-powered tool that generates original text content, such as blog articles, social media posts, content for websites, etc. What is more, they recently launched Jasper Art, an AI art-generating tool. The main clients of this service are global enterprise customers, editors, bloggers, and marketers.
CEO and co-founder Dave Rogenmoser recalls:
"With the advent of [OpenAI's] GPT-3, we saw an opportunity to launch an AI content platform that could help businesses and professional creators brainstorm and do their work more quickly and efficiently."
Jasper was launched in 2021, and in October 2022, it raised $125 million at a $1.5 billion valuation. The team plans to spend the funding on improving the strengthening Jasper's core products and integrating the technology into other applications.
What we can learn from Jasper's experience
While there are quite a few similar services, Jasper managed to receive such an impressive tranche due to the advanced, highly-trained language models, fine-tuned for "customer specificity". Jasper's team is also striving to build the best feedback to AI loop, which, they believe, sets them apart from other similar services.
The case of Jasper proves that you don't have to build an entirely innovative new product in order to make it successful. You just need to find something — a feature, a technology, etc. — that will be the core of your unique value proposition.
At Mind Studios, we achieve this by starting each project with all-encompassing research of the market and exploration of the users' needs in order to create a product that stands out.
2. Klarna's supperapp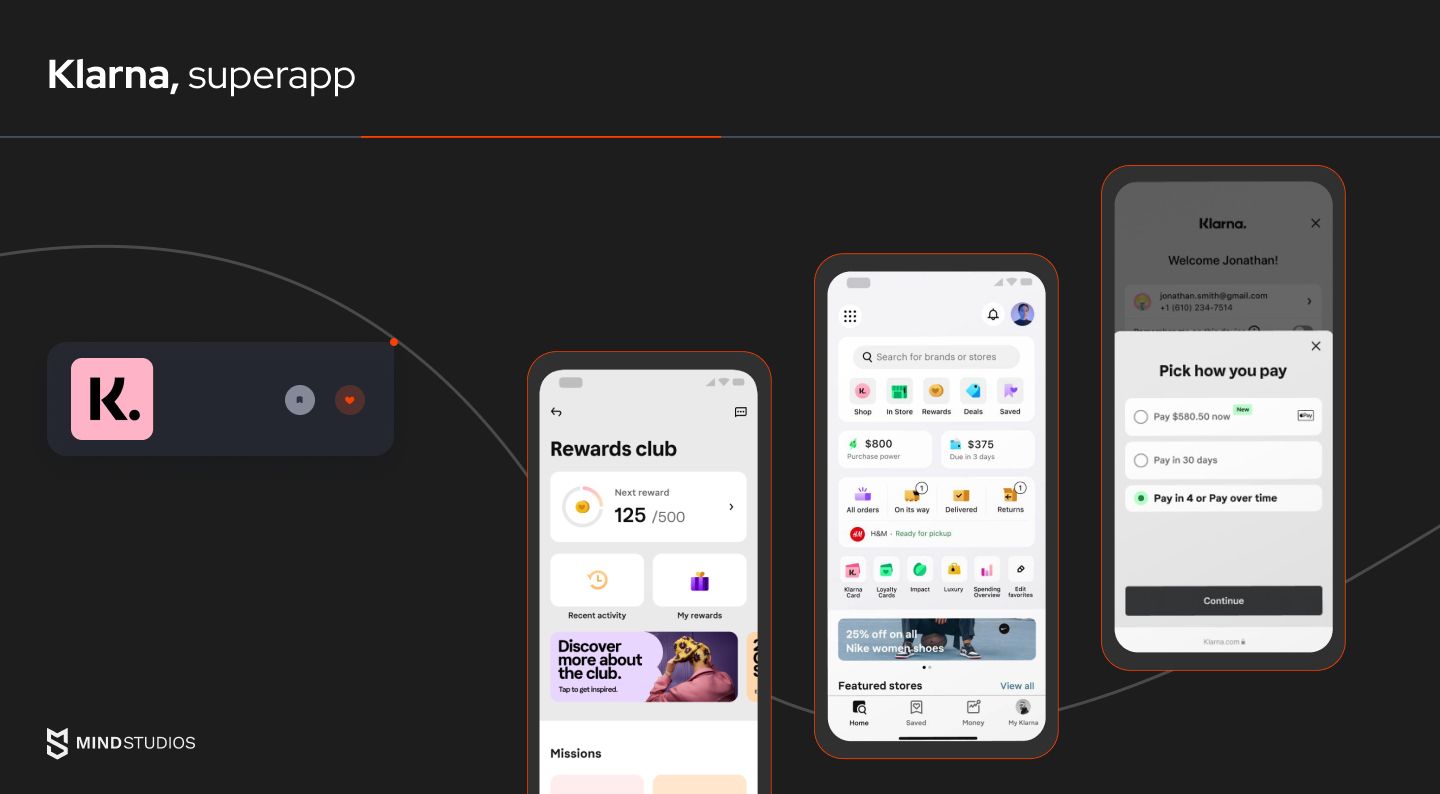 Klarna is a Swedish fintech company that is by no means new since it was founded in 2005, and valued at $6,7 billion in 2022. So, why are we talking about it as one of the fastest-growing tech companies in 2022? The reason is Klarna's superapp that was launched in 2021.
The core services of this company are online financial operations, such as payments for online storefronts, direct payments, and post-purchase payments. However, it's clear now that for a while Klarna has been moving towards building something bigger — a superapp.
The main indicator of that was multiple acquisitions of smaller tech companies that focus on pre-, during- and post-purchase solutions. These include a price comparison site, risk management services, P2P apps, price match refund services, and more. Klarna is establishing a whole ecosystem of services and targeting the global market.
What we can learn from Klarna's experience
Klarna's story is not just about success, but about failure as well. In 2021, the company went through a drastic 85% valuation drop. However, as suggested in an article on TechCrunch, this might not have been a reflection of what Klarna's customers think, but rather the result of the investors' disputes.
Besides, in 2022, a year after the drop, the company reported it has raised $800 million. The turbulent times are passing, without disrupting customers' loyalty. Michael Moritz, the partner at Sequoia Capital that invested in Klarna, even says that the company's popularity with customers is stronger than at any time since 2010,
In any case, Klarna has made a huge leap from an online payments platform to an end-to-end shopping platform. What is more, it's one of the first superapps created in Europe, and that is worth noting.
The lesson to learn here lies in the importance of keeping up with the ever-changing market, listening to users' needs, and being flexible enough to adjust to the new tendencies that prove to be profitable. This is especially relevant to those entrepreneurs who are considering scaling their business instead of building a new product.
3. Span.IO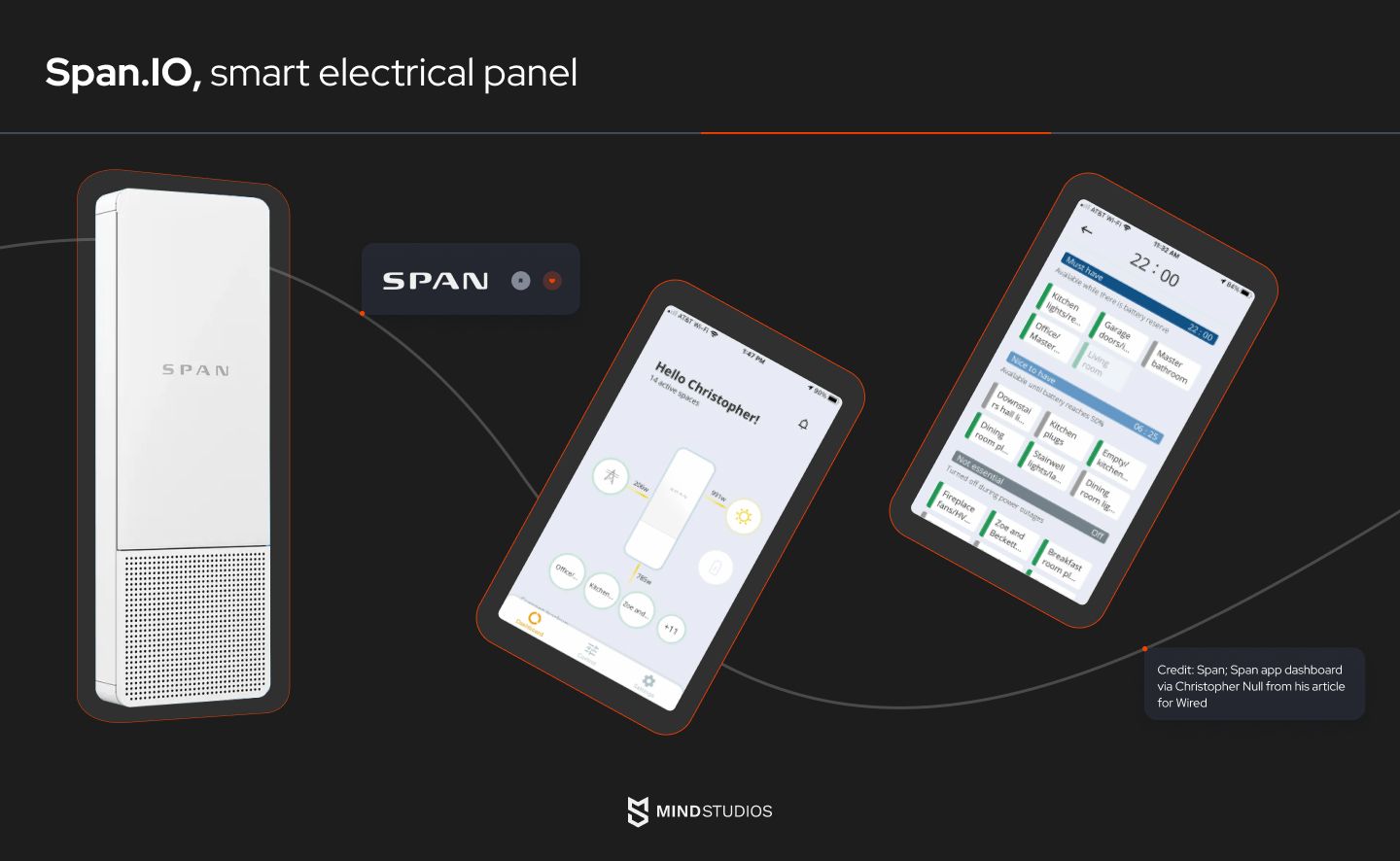 [Credit: Span; Span app dashboard via Christopher Null from his article for Wired]
Span.IO startup actually falls under two trends from the previous section since it's an IoT startup that also strives to make our everyday lives more sustainable. The company develops residential energy storage devices that provide renewable electricity and even let users charge their electric vehicles at home.
The mastermind behind this idea is Arch Rao, a former head of engineering at Tesla Energy, who is now the CEO of Spancompany. Rao and the Span team believe that intelligent hardware and software will speed up the adoption of renewable energy and thus transform the energy sector.
The company's main product is The Span Smart Electrical Panel that replaces customers' existing circuit breakers. So, what does IoT technology has to do with it? Well, the homeowners purchasing the panel also get an application connected to the device, letting them monitor and optimize power consumption by adjusting and prioritizing electrical circuits.
In March 2022, Span raised $90 million in funding. Naturally, it was directed to research and development of even more products, including solutions for multifamily residential homes.
What we can learn from Span's experience
Span is an incredibly complex startup. The creation of their products involves multiple experts in renewable energy, software and hardware development, as well as consumer finance. The company even has special crews who install the panels.
However, don't let the scale of the project intimidate you. It's perfectly okay to start small, as long as your idea has a purpose and solves a real problem that needs to be solved.
If right now you have a raw concept for a startup, feel free to book a consultation with our business development team. We are happy to help you turn that idea into a solid strategy, build a cost-effective MVP, and scale the project later when it succeeds.
4. Trove
The main idea behind Trove is to provide a recommerce channel that powers trade-in and resale for brands and retailers, as well as deliver sustainable growth. The company has even joined the Ellen MacArthur Foundation circular economy network for businesses.
So, how exactly does it work? Trove's platform is connected to the websites of brands they've partnered with and uses AI to identify, accept, route, and issue credit for items. The sellers can return used products directly to retailers in exchange for store credit, and buyers can purchase items from "used collections".
Some brands that are Trove's partners even came up with separate names for those, like Levi's SecondHand, Patagonia's Worn Wear, and Allbirds ReRun.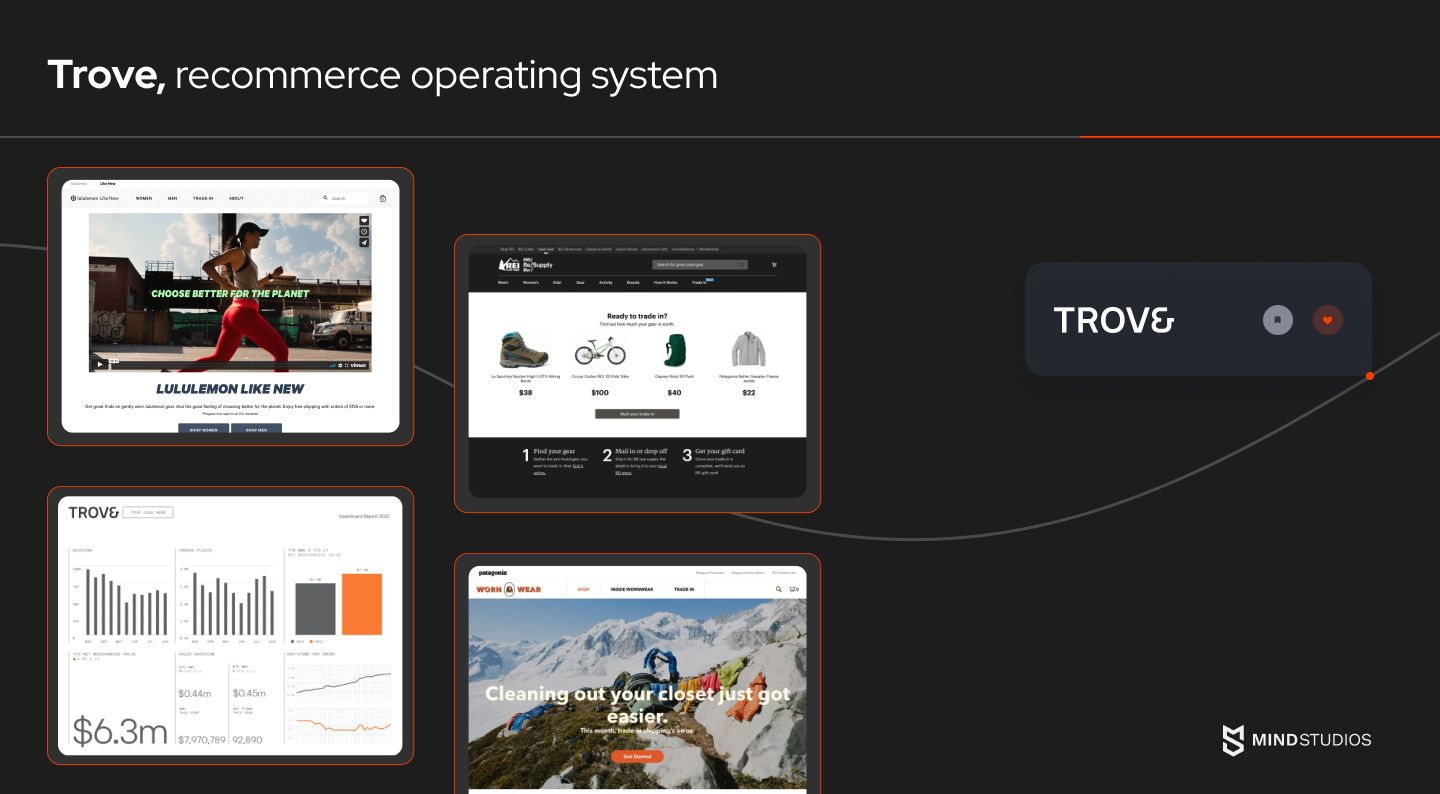 In 2021, the company raised $77.5 million in Series D funding from G2 Venture Partners, Bank of Montreal, Capital One Ventures, and other investors. As of 2022, more than 700 US-based stores use Trove. The team shared some statistics that show they have increased the orders by nearly 60% year to date.
What we can learn from Trove's experience
Though Trove was founded in 2012, the startup got its big break years later, after shifting from the peer-to-peer model to partnering up with brands. To be more specific, they offered resale-related services, such as repairing items, to brands, thus giving them control over the resale market.
With each year, enterprises are under more and more pressure to be sustainable, and the Trove team has basically built a way for businesses to support the recommerce trend and still make a profit without adding to carbon emissions. But most importantly, they make a difference by extending the lifecycle of millions of products.
As environmental sustainability moves up to the top of the business priorities list and becomes an unavoidable necessity, more businesses are going to join in if they don't want to lose their customers. So, what if your next startup will be a product that helps them accelerate those changes?
Honorable mentions from Mind Studios' business development expert
In addition to the research we did, we also asked Mind Studios' business development consultant Marina Kovalyova what she personally considers to be the most promising trends in the IT industry.
"Speaking of trends, I would put AI/ML, AR/VR, and IoT technologies, as well as gaming and eSports on the list of up-and-coming trends to keep in mind right now.
As for startups, it's hard to choose just a couple, since there are so many awesome mindfulness, healthcare, and eLearning products on the market. However, I decided to share two projects in the fitness industry, which are both excellent examples of tech trends."
Here's what Marina told us about the startups that she personally finds fascinating, and they definitely deserve an honorable mention in this article.
"CTRL is a combination of software and hardware created to enhance golf performance. It provides you with really personalized feedback on your activity and how you can improve it.
People who work on the team are not just advisors, but professional and truly devoted golf players. For instance, I communicated with Nick Bockenfeld who is incredibly passionate about what he does, and who is currently involved in promoting CTRL products.
Sense Arena is a project that connects hard sports skills and practice with mental training through AR/VR technologies. Its main focus was hockey, but in October 2022, the company entered the tennis market and continues to grow.
The company uses 3D printers to manufacture equipment for VR training. Martina Navratilova, a famous Czech-American former tennis player, has already tried it out and shared that the technology is very realistic and really helps improve results."
It's no wonder Marina chose startups connected to the sports industry. One of Mind Studios' main focuses is health & fitness platforms, and thanks to the projects we've developed, our team has become really passionate about the field. Find out more about one of those projects — the remote coaching platform Fitr — in our case study.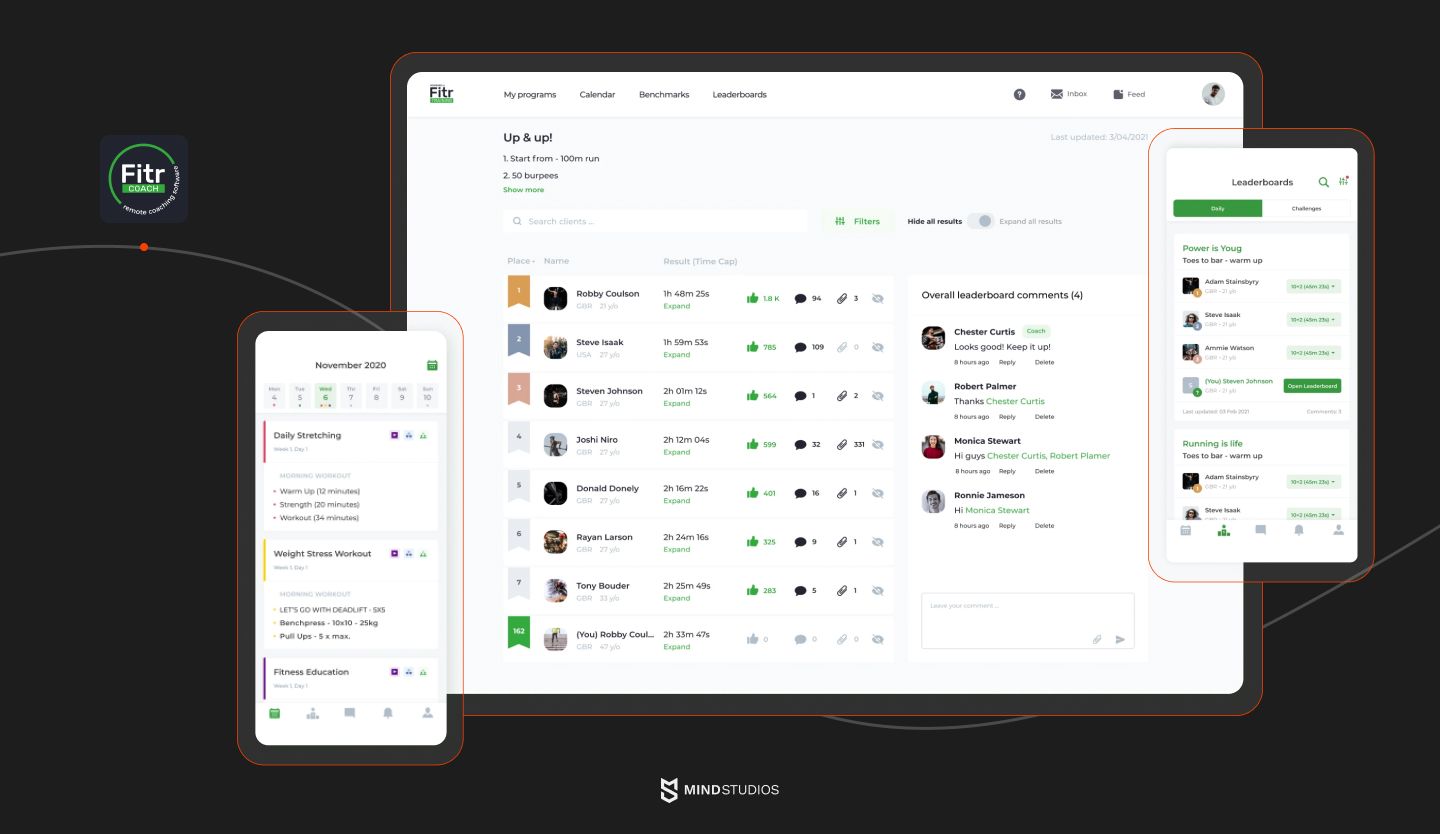 Final thoughts
The technologies we've mentioned in this article are just a few directions to look in when searching for a startup idea. There are far more trends in the tech world you can check: from blockchain technology and cybersecurity to authentic social media and digital health coaching. The opportunities are boundless.
However, there is one conclusion to keep in mind based on the lessons from the fastest-growing startups, no matter the industry or technology you are leaning towards. In order to move from an idea to a successful product, you will need to find a reliable and qualified development partner.
As a company with extensive experience in working with startups, Mind Studios is ready to hear your idea out during a free consultation, help you polish the concept, and transform it all into an applicable strategy.
By combining your vision with our business analysts' and developers' expertise, we can come up with solid and unique solutions for your future product, and thus get it on the list of promising growing tech companies on the market.
2