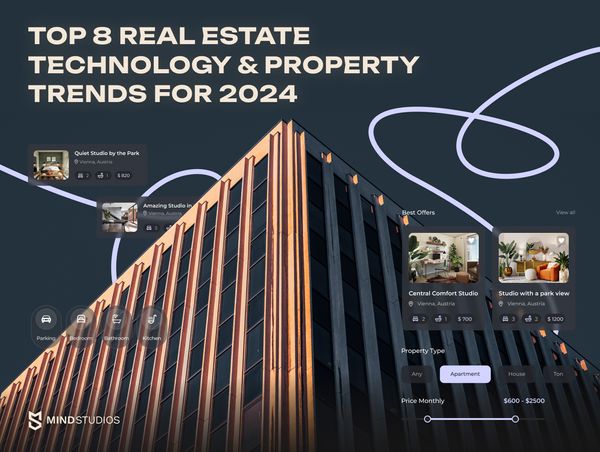 The world of technology is evolving non-stop at unparalleled speed. To stay competitive, businesses must keep up, and those in the real estate field are no exception.
Property trends for 2024, such as artificial intelligence, augmented reality, Internet of Things, and blockchain, are fundamentally changing how real estate of the future will be built, managed, marketed, leased out, and sold. We made this article for all the real estate professionals out there to help them figure out what the most promising tech trends are and how they can be used to benefit property-related businesses.
In addition to covering the trends, we explore the industry's best practices, look into the long-term impact of tech tendencies on the market, and share Mind Studios' experience building real estate platforms. By the end of this article, you will have a clearer vision of how to make your business thrive in this digital era.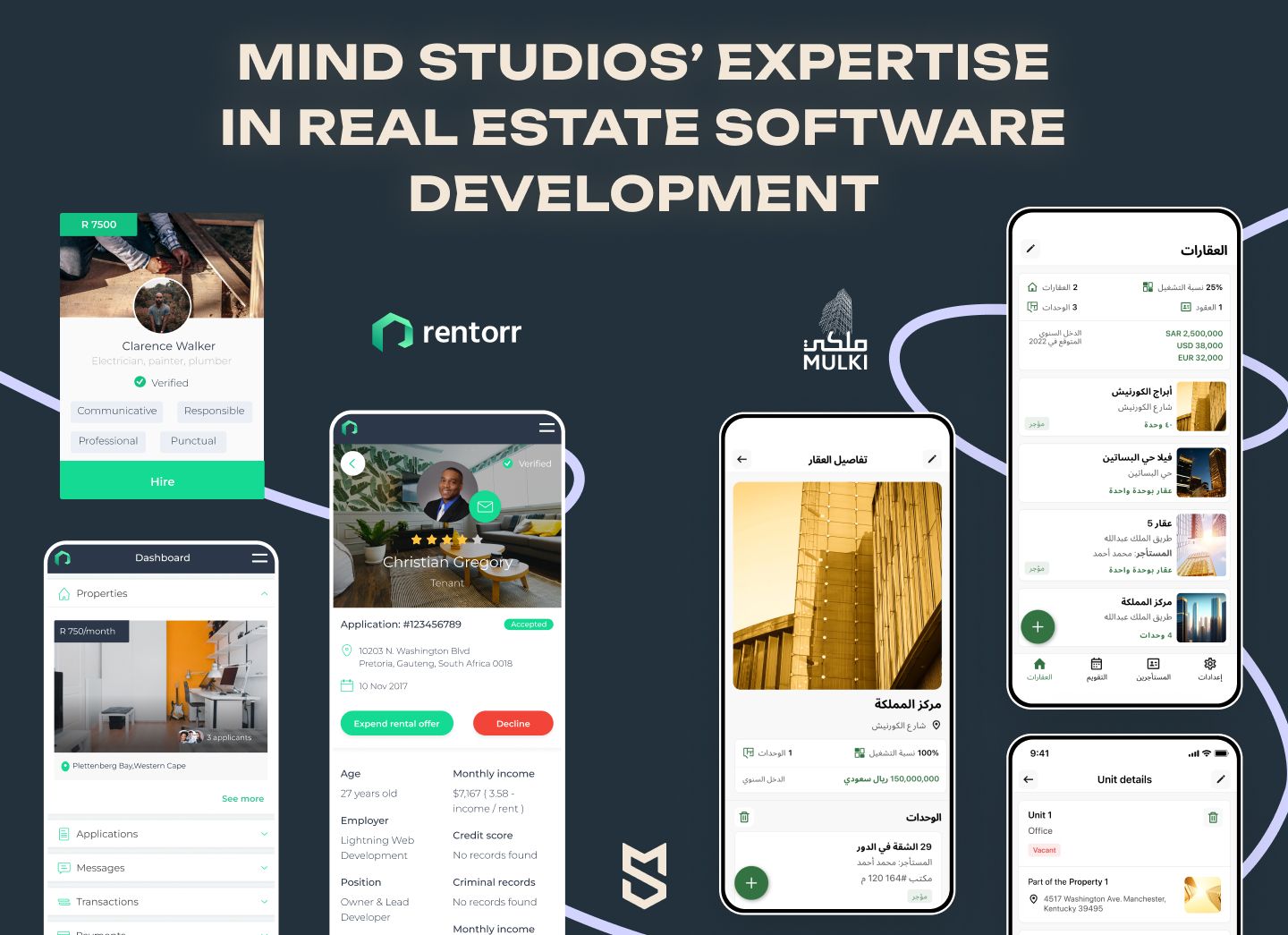 Top real estate technology trends for 2024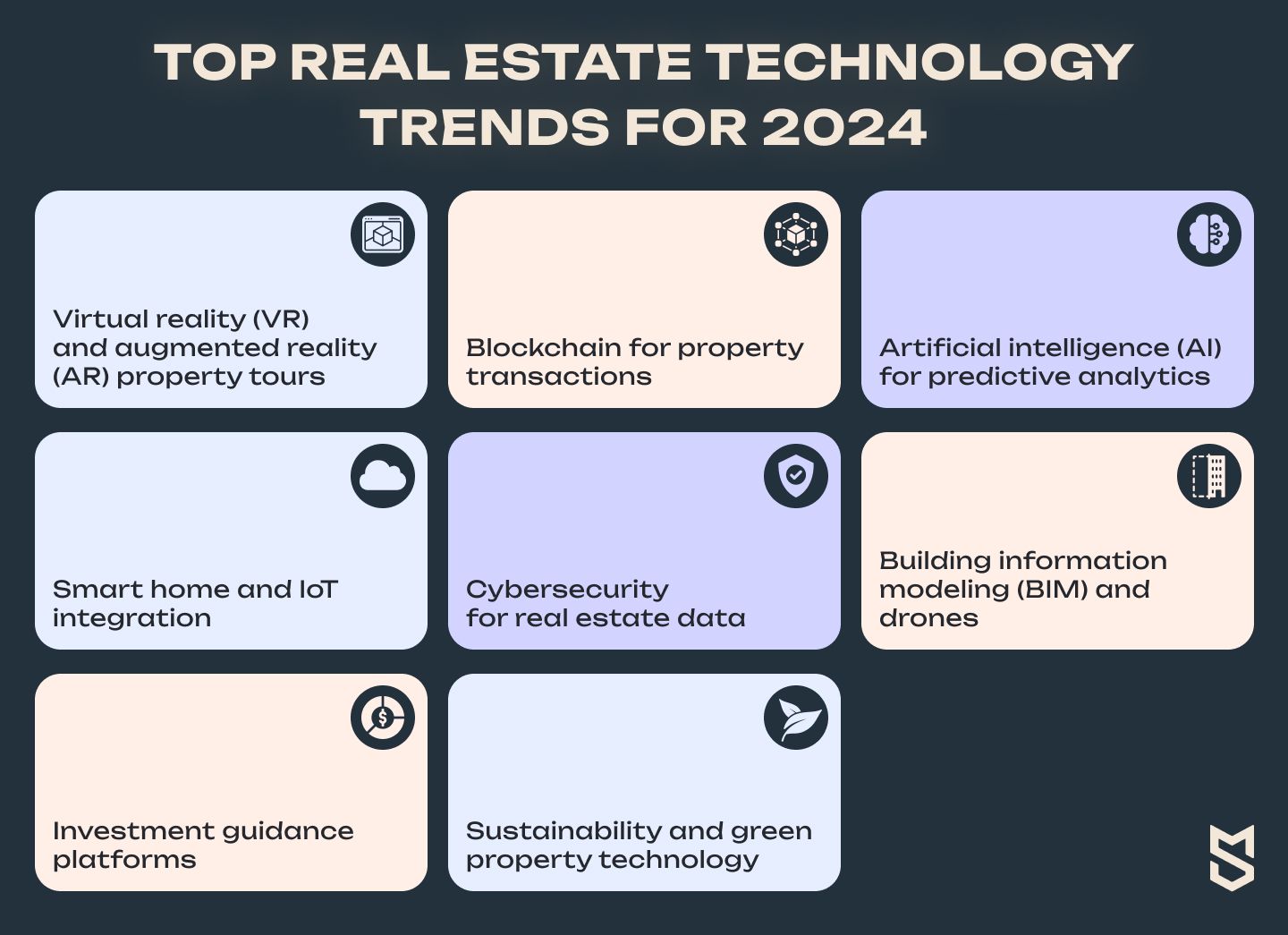 The real estate and property industry is going through a revolutionary transformation thanks to numerous cutting-edge technologies. Let's dive into some of the most significant trends reshaping the real estate landscape and explore how exactly they work.
Virtual reality (VR) and augmented reality (AR) property tours
Being one of the most popular real estate trends among agents, VR and AR property tours offer immersive, remote property viewing, which helps save time and resources for both buyers and sellers. VR and AR functionality is often available through a smartphone app, allowing clients to virtually explore properties almost as if they were physically present.
Considering consumer behavior, VR and AR experiences will continue to evolve. According to Zillow research from 2021, 39% of millennials surveyed said they would be comfortable buying a home online, and 59% admitted they would be at least somewhat comfortable making an offer on a house after a virtual tour. We bet these numbers are even higher today. Therefore, the technology is expected to provide even more accurate real estate representation further on.
Real-life example: A Chilean startup Hyperreality Technologies offers highly immersive and interactive 360-degree VR solutions, including ones explicitly tailored for the real estate industry. The company's core SaaS platform converts 2D to 3D floor plans, enabling buyers to explore the property as if in the real world and even "walk around" the places that haven't been constructed yet.
Blockchain for property transactions
The main point of using blockchain technology for real estate and property businesses is to guarantee secure and transparent property transactions. It involves using a decentralized digital ledger to record and verify the transactions since all property details and ownership history are securely stored in the blockchain.
As a result, the technology streamlines the property transfer process and eliminates the need for intermediaries like banks or title companies, helping the stakeholders reduce costs and minimize the risk of fraud.
Real-life example: Focused on transparency, RealBlocks is a blockchain-powered platform that aims to make real estate investment and fundraising transparent. On this decentralized marketplace, real estate property can be tokenized, enabling prospective investors to explore opportunities like fractional ownership of assets and connect with vetted real estate projects across multifamily, industrial, and self-storage sectors.
Artificial intelligence (AI) for predictive analytics
AI algorithms do what humans physically cannot: they analyze enormous amounts of data in seconds. In real estate, these datasets can include property location, historical real estate information like price trends, socioeconomic indicators, environmental factors, and more.
Based on all this data, AI algorithms can identify market trends and property performance patterns. As a result, the technology empowers real estate professionals and investors to make highly accurate predictions about future property values, rental income potential, and return on investment.
Real-life example: WhiteRock uses AI-driven analytics for real estate market data arrangement and management. The company's cloud-based platform provides CRE brokers, lenders, and investors with data-driven insights regarding properties on sale by analyzing their prices and rent details.
One of the company's most compelling features, though, is its applicant screening process. WhiteRock's vast experience in asset management and income verification allowed it to build an advanced renter risk assessment technology. Their custom software was designed for underwriting and stress-testing residential tenants through advanced behavioral analytics and machine learning. As a result, landlords using the solution minimize the risk of tenant defaults.
Smart home and IoT integration
The demand for increased convenience, energy efficiency, and enhanced security is growing. Therefore, it's no wonder that smart home technology and the Internet of Things are becoming compelling selling points in the real estate market. After all, they have the power to address all three requests.
Smart home technology enables homeowners to seamlessly control and automate various aspects of their properties, from lighting and thermostats to security systems. Moreover, in addition to reduced energy consumption, IoT sensors can provide valuable data on property conditions and thus facilitate predictive maintenance and efficient property management.
As for security, IoT devices like cameras and motion detectors help monitor the environment of a building, keeping it secure from unwanted access or activities.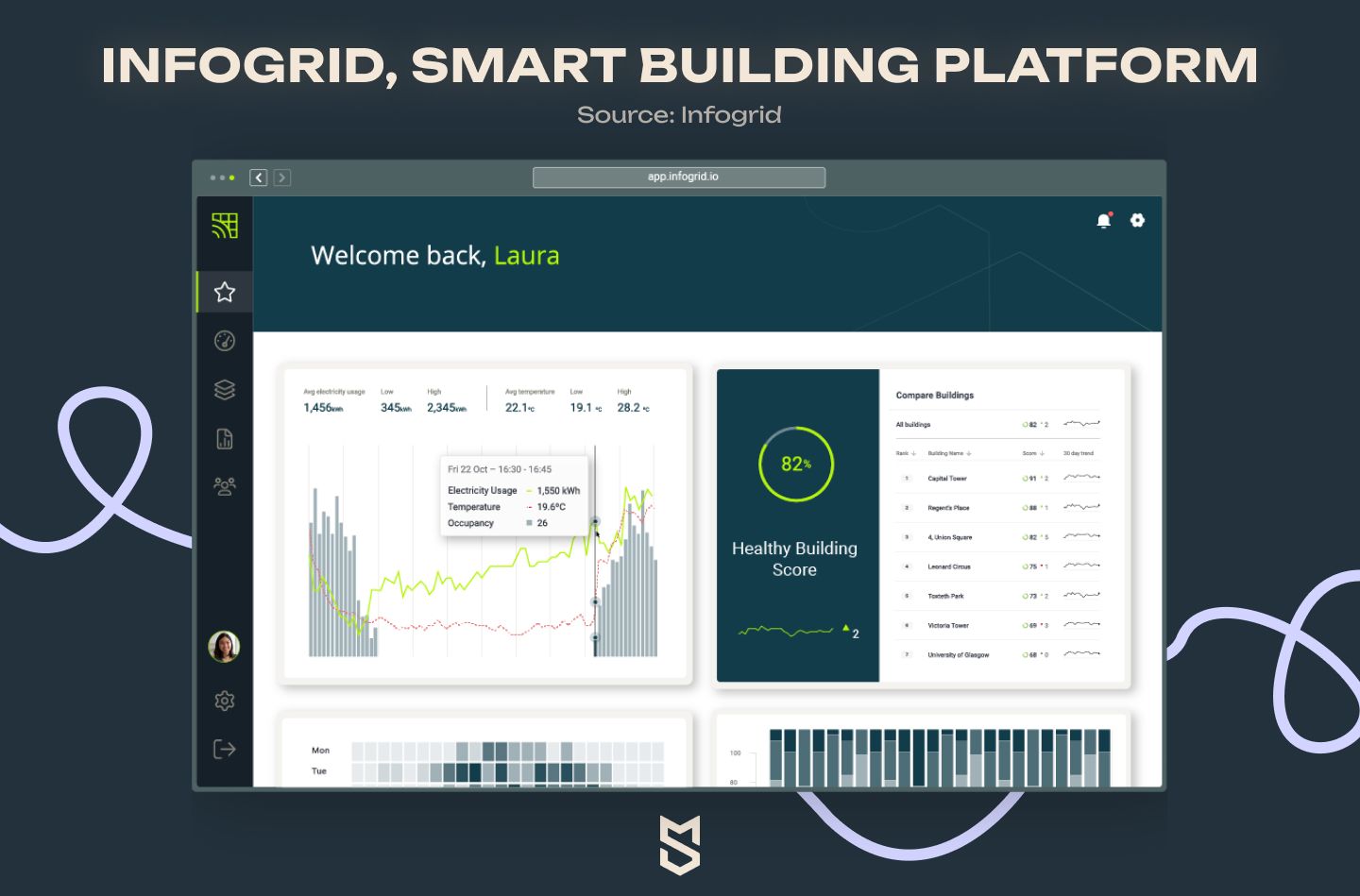 [Source: Infogrid]
Real-life example: British startup Infogrid drives innovation in real estate by combining smart building sensors with AI-powered software to help homeowners improve the performance of their properties. The company's platform collects data from its sensors to monitor air quality, water usage, temperature, and other performance indicators in real time. As a result, property managers can reduce the cost of maintenance and energy usage.
Cybersecurity for real estate data
Digitalization of real estate businesses means more data is shared and stored online, including sensitive financial data and other personal information. Real estate professionals are responsible for protecting their clients and partners from cyberattacks, especially if they deal with real estate transactions. Therefore, robust cybersecurity is now among the most important property tech trends.
In addition to blockchain technology, security measures may include data encryption, access controls, real-time monitoring, and regular software audits and updates. All of these solutions help protect the stakeholders' data from data breaches, fraud, and financial losses.
Real-life example: MRI Software provides real estate management and accounting software, and the company invests significant resources in cybersecurity measures to protect sensitive financial and property data.
MRI Software works with multiple accredited third-party audit firms. Just a few of the security measures they use include penetration testing, threat intelligence and threat hunting, vulnerability assessments and management, network intrusion detection, and security training for employees.
Building information modeling (BIM) and drones
Some of the property technology trends on this list are mostly relevant for real estate agents and property managers. This one, however, helps the specialists involved in construction. The use of building information modeling (BIM) and drones in real estate is driven by the need for enhanced efficiency and accuracy in construction, property assessment, and maintenance.
Simply put, BIM technology enables comprehensive 3D modeling and data management, helping architects, engineers, contractors, and property managers to design, build, and maintain properties more effectively. Drones also assist specialists in these tasks by providing time- and cost-effective aerial data collection for property inspection, site surveys, and maintenance assessments. All of this leads to significant cost savings and enhanced property quality.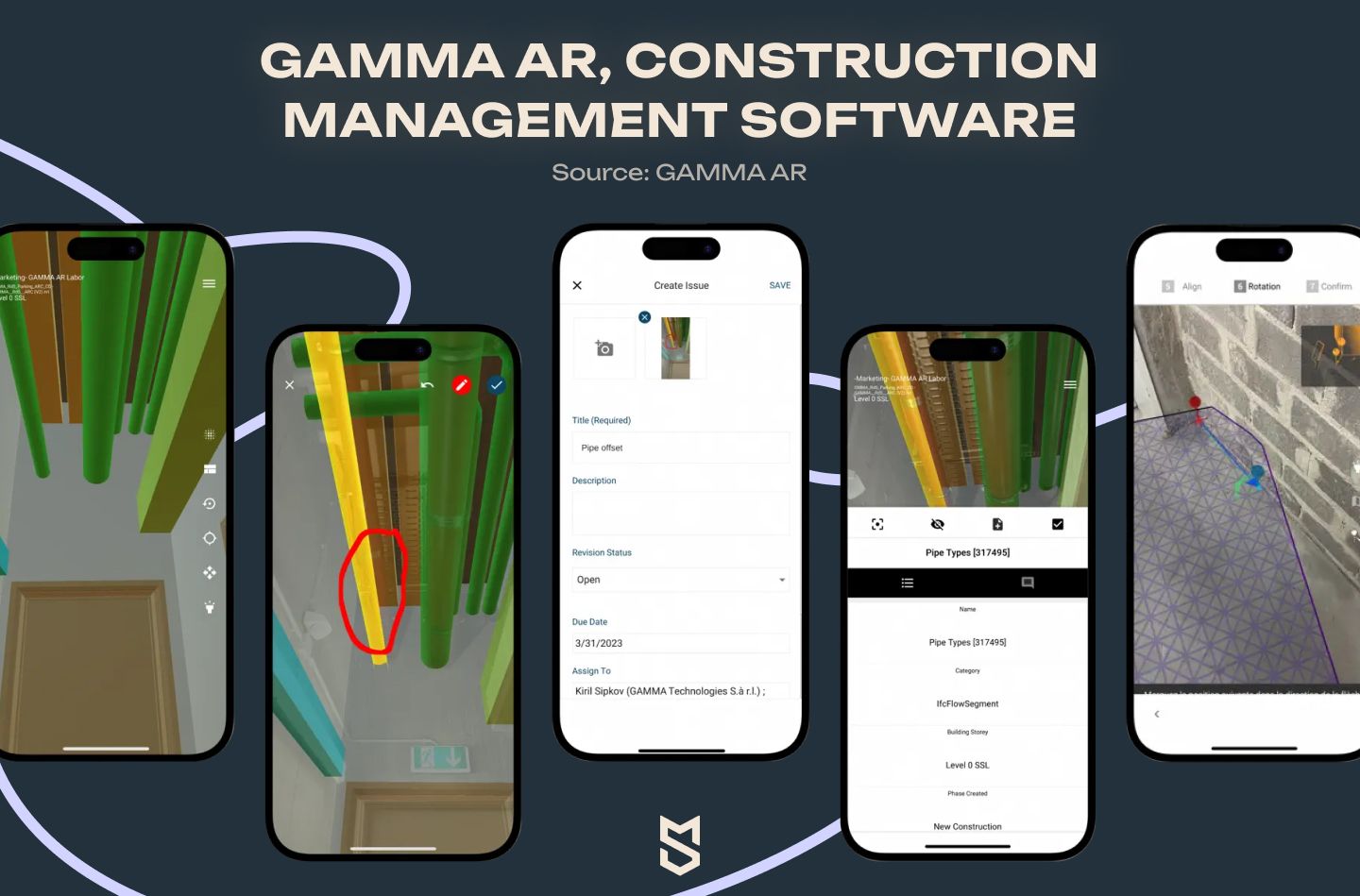 [Source: GAMMA AR]
Real-life example: GAMMA AR is an augmented reality platform that transforms 2D architectural plans and designs into immersive 3D experiences. By utilizing BIM technology, the company simplifies the design review process, enhances collaboration, and provides a better understanding of architectural plans and spaces.
Moreover, in addition to visualizing 3D models, GAMMA AR users can access critical project information, such as construction timelines, material specifications, and performance data within the AR environment. This combination of BIM and AR technology provides a more holistic and data-driven approach to project evaluation, making this real estate innovation an invaluable tool for professionals in the construction and architecture industries.
Investment guidance platforms
By leveraging data analytics and advanced AI algorithms, investment guidance platforms provide their users with personalized investment strategies based on market trends, historical performance, property data, individual financial goals, risk tolerance, and other data. As a result, investors get suggestions on high-potential properties while managing risks more effectively.
Real-life example: Back when it was founded, Doorvest aimed to simplify first-time investors' real estate investment journey. Now, it is a full-service platform on a mission to help its users achieve financial independence through investments.
For a fee, Doorvest helps individuals invest in rental properties by taking care of the entire process, from property acquisition to property renovation and management. This relieves investors from the responsibilities typically associated with real estate ownership through technology and automation.
Sustainability and green property technology
The quality of the property itself is no longer a compelling selling point, as prospective tenants and buyers are becoming more interested in energy efficiency, construction sustainability practices, and the environment around properties. Sustainable real estate in green neighborhoods commands higher values, attracting environmentally conscious customers.
The common criteria tenants, buyers, and investors pay attention to include eco-friendly building materials, designs that minimize environmental impact, solar panels, and smart home technology. The surroundings also matter: proximity to green spaces, public transportation options, and bike-friendly infrastructure can be convincing enough for those who care about sustainability.
[Source: Paces]
Real-life example: Paces is a young, promising startup that provides actionable data and analytics for green infrastructure developers, operators, and investors, helping them understand what and where to build profitably.
Around 80% of the clean energy projects attempted never get built because of zoning and interconnection issues. To change that, Paces offers a software solution that helps green infrastructure developers identify suitable places for their projects based on insights from environmental, permitting, zoning, and energy grid data. Founded in 2022, the company already managed to raise $2.8 million to accelerate renewable project development.
Future outlook and implications
Apart from keeping up with the emerging tech trends, it's essential to pause occasionally and look at the bigger picture. Where is all this innovation leading us? What might the industry look like in five or ten years? And how can a business stay relevant in the real estate field of the future? Let's take a look at some of the most feasible real estate industry forecasts.
Continuous digital transformation
Once digitalization begins, there is no going back. In the years to come, the real estate industry will experience tech evolution at every level, from customer communications to property transactions.
Certain tech trends will likely become an integral part of real estate professionals regardless of their business niche. For instance, AI-driven predictive analytics is already becoming a useful versatile tool that helps gain deeper insights into property values, market trends, tenant behaviors, property development risks, and investment opportunities. Real-time property data and analytics will continue to empower professionals and investors, helping them make agile, data-driven decisions based on market dynamics.
The property market will continue to evolve, embracing new real estate technology to react to the dynamic demands of a digitally connected world. Therefore, professionals in the field must be prepared to adapt and leverage the opportunities this digital transformation will offer.
Shift towards hybrid future in the real estate market
In one of the episodes of The McKinsey Podcast, McKinsey senior partners Aditya Sanghvi and Jonathan Woetzel had a conversation with global editorial director Lucia Rahilly about how hybrid work is transforming the places where we work, live, shop, and socialize.
For instance, the journalists conducted research in nine US cities and found out that the office demand in 2030 could be 13 percent lower, with the values dropping by 26-42 percent depending on the scenario severity.
At the same time, retail is expected to become more experiential, fostering community experiences. This means there will be more mixed-use spaces, a lot of which will be dedicated to healthcare and education. As for residential property, the demand for it will continue to grow, especially in residential pedestrian-friendly mixed-use neighborhoods.
These general real estate industry vectors also impact residential and commercial real estate technology trends. Therefore, understanding them can help you build more effective business strategies, both in terms of your primary goals and the technology needed to achieve them.
Customer-centric experiences
There is a reason why in 2022, customer relationship management solutions accounted for the largest share of 27.20% in the real estate software market. CRM software helps real estate and property professionals connect with customers more efficiently and thus close deals on properties quickly. Its popularity proves that building solid, trustworthy relationships with potential tenants, buyers, investors, and other stakeholders should be a priority.
With the rise of AI-driven customer support and data analytics, the demand for seamless, personalized experiences is growing. To address these expectations, industry professionals must continuously monitor clients' needs, leverage data analytics to gain insights into customer preferences and invest in user-friendly digital platforms.
Additionally, fostering transparency is expected to be one of the primary customer demands. This includes both day-to-day operations like communication and strategic business decisions. Customers expect real estate professionals to provide extensive property data and transaction history, clear pricing and fee structures, and blockchain-based transaction functionality.
Based on this, we recommend that real estate professionals prioritize honest communication, provide customers and stakeholders with comprehensive information, adopt blockchain technology for secure transactions, and take a proactively transparent approach to doing business.
To sum up, the real estate tech landscape is dynamic, and keeping an eye on the big picture instead of particular trends can buy you some time and help you be among the first ones to respond to customer expectations. After all, the leaders of any industry are those who know how to adapt quickly to the ever-evolving market demands.
Mind Studios' experience with the real estate industry
Following property technology trends is part of Mind Studios' job since real estate is one of our focus industries.
As the field goes through transformative digitalization, our software development company gets to help real estate professionals keep their businesses agile through technology. While tech trends can influence our clients' requirements, only the in-depth analysis of their operations determines which technologies are worth investing in.
At Mind Studios, we prioritize our clients' actual needs, paint points, resources, and goals when developing software solutions. To show you what this approach means in practice, we decided to focus on one of our recent projects for the real estate industry.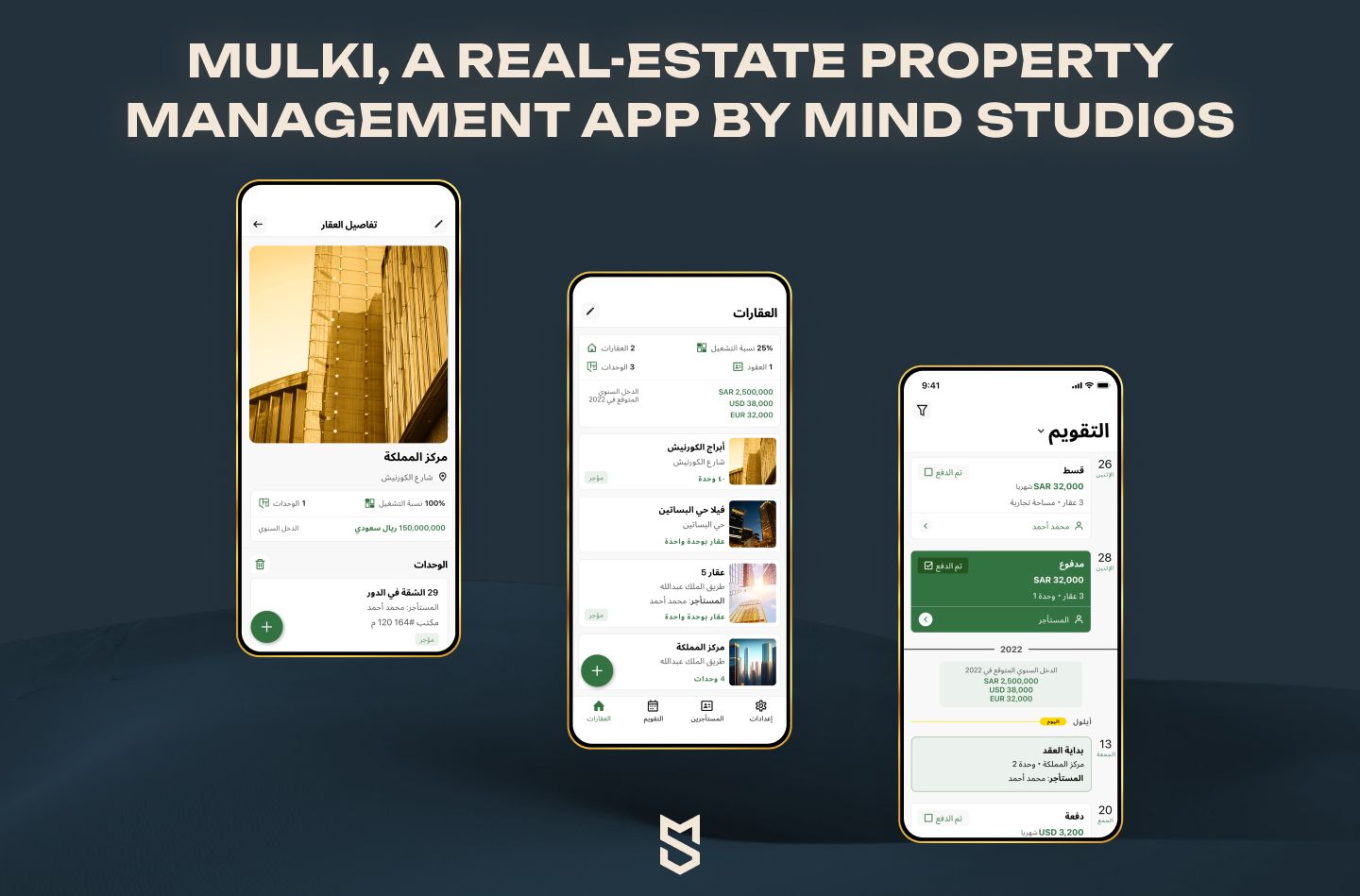 Mulki is the first-of-its-kind property management app for the MENA region aimed at assisting real estate owners in day-to-day operations by automating some of the time-consuming tasks.
The project started with an idea from our client Ibrahim Said, a businessman from Saudi Arabia. After comprehensive research, we confirmed his hypothesis that the MENA region lacked a high-quality mobile solution for real estate management. Since our client knew the ins and outs of the market, he provided us with a list of features he wanted to enhance the mobile app with.
Taking all these requirements into consideration, we set out to build an app for iOS and Android that would enable financial overviews of property portfolios, ML-powered smart scanning for standardized contracts, and notifications for expected payment. The app also had to provide automatic calculation and automated conversion for the Islamic Hijri calendar.
With this particular project, localization was a major design challenge since the app had to support the Arabic language with its right-to-left writing system. To do that, the Mind Studios team worked on creating a version of the app with mirrored interface elements.
Now, Mulki is steadily becoming a full-fledged task management system for regional property owners. Currently, the product works as an MVP and is free to use. However, together with the client, we developed a solid roadmap with many updates, including the Mulki Premium version that will generate revenue.
Mind Studios is committed to the synergy of client needs, market demands, and technological advancements. When these crucial elements align, we get a unique opportunity to create innovative solutions that drive the industry forward. Our journey with Mulki exemplifies this rewarding experience.
Considerations for real estate professionals
Just a decade ago, real estate professionals were told they had to go digital to keep their businesses afloat. Now, maintaining a social media presence or running a basic website is not enough. To be agile, one has to embrace machine learning, augmented reality, blockchain technology, and whatnot.
Keeping the finger on the pulse of all these innovations while also running a business can be extremely overwhelming and frustrating. The good news is you don't have to rush into implementing all these technologies simultaneously. In the list below are our recommendations for those who want to navigate the current technological real estate and property management landscape mindfully.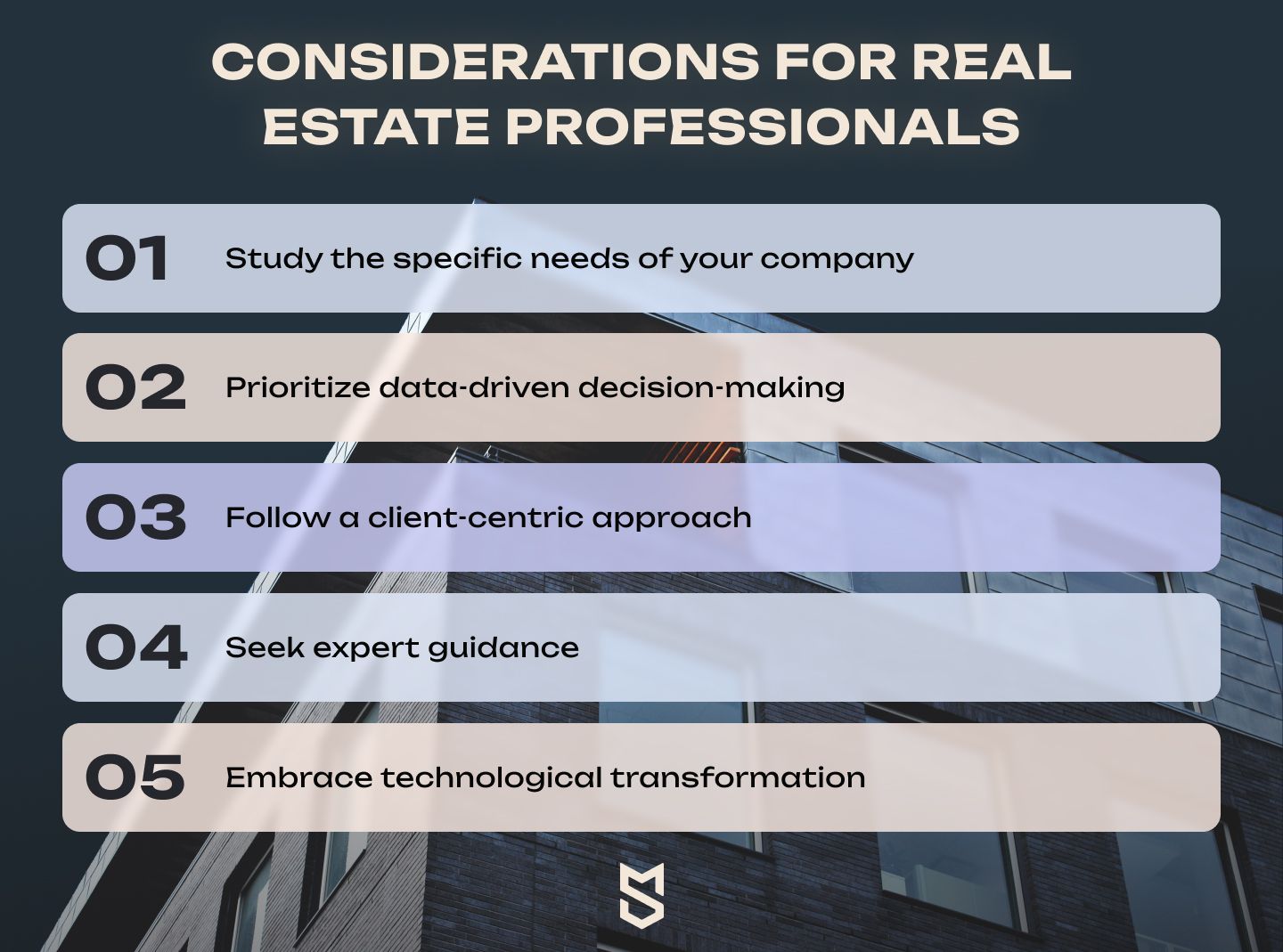 Study the specific needs of your company
The fact that artificial intelligence or IoT are trending right now doesn't mean you have to invest in these technologies right away. The whole point of innovation is that it is supposed to help you maximize your business's efficiency. Therefore, we recommend conducting a comprehensive analysis of the company's unique needs and pain points first.
For instance, let's say a property development company has a pressing issue of project management inefficiencies. Naturally, this challenge should be of the utmost importance, and it doesn't make sense to invest in AI tools for market trends analysis before addressing the existing challenge with a project management software solution.
Prioritize data-driven decision-making
While business digitalization often requires a ton of effort, it also comes with customer data and records that make the process worthwhile. Depending on your specific business niche, be sure to use that data to predict customer trends, purchasing behavior, and pricing, make informed decisions about tech investments, and more. Harnessing the power of predictive analytics will undoubtedly give you a competitive advantage and help maximize profitability.
Follow a client-centric approach
No matter whether you're a real estate agent, a property manager, or a construction expert, catering to the client's needs must be one of your top priorities.
Technology can help you cater to customer expectations. For instance, real estate agents might consider using CRM (customer relationship management) systems to streamline communication. At the same time, architects and engineers need to consider the current demand for sustainable and energy-efficient construction practices, and landlords can integrate smart home technologies to attract and retain tenants.
Seek expert guidance
As a real estate professional, you don't have to figure out the intricacies of tech innovation on your own. It's okay to delegate tasks like hardware implementation or software development to tech experts with a proven track record in real estate technology. This way, while your tech partners create and integrate tailored solutions for your specific needs, you can focus on what you do best and work on growing your business.
Moreover, seeking expert assistance doesn't have to strain your budget. There are various cost-effective options available, including outsourcing to tech companies with reasonable hourly rates or utilizing ready-made software solutions that can be customized. These flexible options make it accessible for professionals across different budgets to enhance their operations through technology and stay competitive in the ever-evolving market.
Embrace technological transformation
In 2020s, embracing technological transformation is a necessity for businesses that want to continue thriving. However, rather than viewing it as a resource-draining obligation, it might make sense to embrace innovation as a toolkit of valuable assets that can enhance your business journey.
By being open-minded about technological advancements, real estate agents, property managers, and other experts can optimize their operations, provide compelling services, and seize the opportunities that will shape their success, making technological transformation a key driver of growth and success rather than a burden.
Conclusion
Whether you're a real estate agent, property manager, or construction expert, keeping a finger on the pulse of emerging technology trends is essential to stay agile, address market demands, and grow your business. However, the real estate technology trends 2024 will bring us might not be a suitable solution for your specific business.
While it's crucial to know what's going on in your particular field, the current needs, pain points, operational bottlenecks, resources, and long-term goals come before popular trends, no matter how compelling they are.
If there are specific tech challenges you need to tackle or growth opportunities you want to explore — don't hesitate to reach out and request a free consultation. Our business development team is always ready to help you find the best possible digital strategy that fits your requirements like a glove.
2