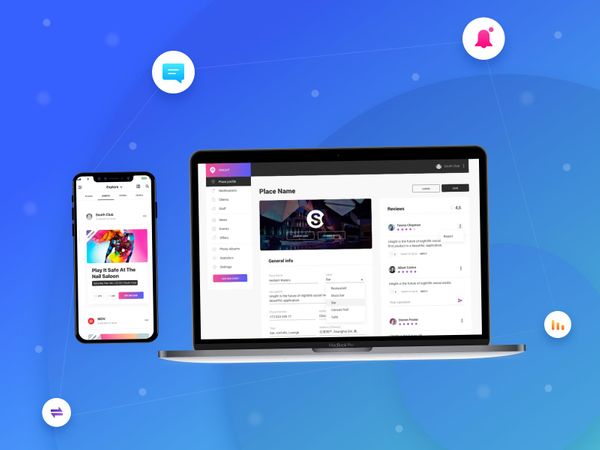 [on the cover: Unight mobile app]
First things first, as many say. In the context of startup product development, MVP is the first target version of your dream-like product. But MVPs are known for being less time and cost-consuming. When the MVP project development is about to reach its final stage, there always come a question "What's next after MVP?"
Haven't you noticed that building an MVP has a snowball effect?
Imagine the snowball creation process. You start small, snowflake by snowflake gathering them all into the ball. The same analogy works with MVP creation - you start small, defining MVP features that are a must-have in your product. During the app development process your team and you come up with fresh ideas on how to improve the product, which lead to new tasks appearing. Of course, this causes the budget limits to grow as well.
However, you have already agreed you're building an MVP, and this means you shouldn't be prolonging the development stage. Firstly you need to ensure your product is exactly what market needs, with the help of a Minimum Viable Product. But you can not simply loose the precious idea-gems just because their timing is not perfect - which is why we recommend you to act the way we always do - to collect these ideas and put them into the tasks' backlog. By postponing these features for post-MVP development, you'll be able to prioritize them in the order you want to have them built.
According to Kano model theory, that classifies customers into 5 types, this is the 3rd one - the attractive qualities users long for. But MVP's main purpose is of a different kind. Minimum viable products are created to test the concept. Your MVP needs to answer the question "Is market really interested in my product?"; so it is wise to develop this product faster and cheaper, with a rich-with-features next stage of MVP.
Well, let's look at the next steps after creating an MVP and learn about feature prioritization for your minimum viable product.
Once MVP is done, what's the next step after creating an MVP?
1. Beta-testing first.
Well-known are the beta-testing groups product owners come up with right after the development process is over. Beta-testers are different people who come from the client's side (or we find them upon our customer request) and start using the product. After a short while they provide us with their feedback, allowing us to see the factual users' expectations. The important thing after is to process the received results - by turning feature ideas into tasks and putting them into the backlog. Doing so, you transmit a clear message to your users - that their voices are heard and noticed.
2. 3, 2, Launch.
MVP product's launch is just another iteration in the long and fun product development process. The same happens every time you finish a development sprint- first you test, then you fix, test again and release. However, during this MVP stage, you need to include one more component - outbound marketing. There are many ways to promote your fresh app or website, including:
SEO/ASO services
Blog posting
Press releases and in-magazine advertisement
Contests and competitions
Interested in the further application marketing? You are welcome to read our recent article on application marketing.
Apart from taking a deep dive into marketing, you still need to keep an eye on what's the engagement about your product. If everything works correctly, you just have to focus on tech support and monitoring.
What Comes After a Minimal Viable Product?
From now and on, all the future product development depends on the data you start to receive. Base your conclusions and actions on:
Metrics received - the retention rate, the session duration, user engagement parameters, user acquisition and lifetime value are the KPIs you should track and analyze. If your app is somehow monetized - pay attention to the performance of different monetization methods. Surprisingly, there are 9 top-known app performance measuring KPIs - you can find the full list here.

User feedback given. Google Play and App Store give you a handy way to monitor them by just looking into feedback section. Nonetheless, look for mentions of your brand on social networks, forums and web-platforms. The tool we recommend you to use is YouScan, which lets you find anything - from appraisals to complaints where your brand is mentioned.

The 3rd MVP phase would be to analyze data number 1 and 2, and based on these two make a feature-implementing decision. To do this, you need to re-open your task backlog, and for each feature we put a certain mark (from 0 to 10), according to which of the essential metrics will it affect (as shown in the picture below)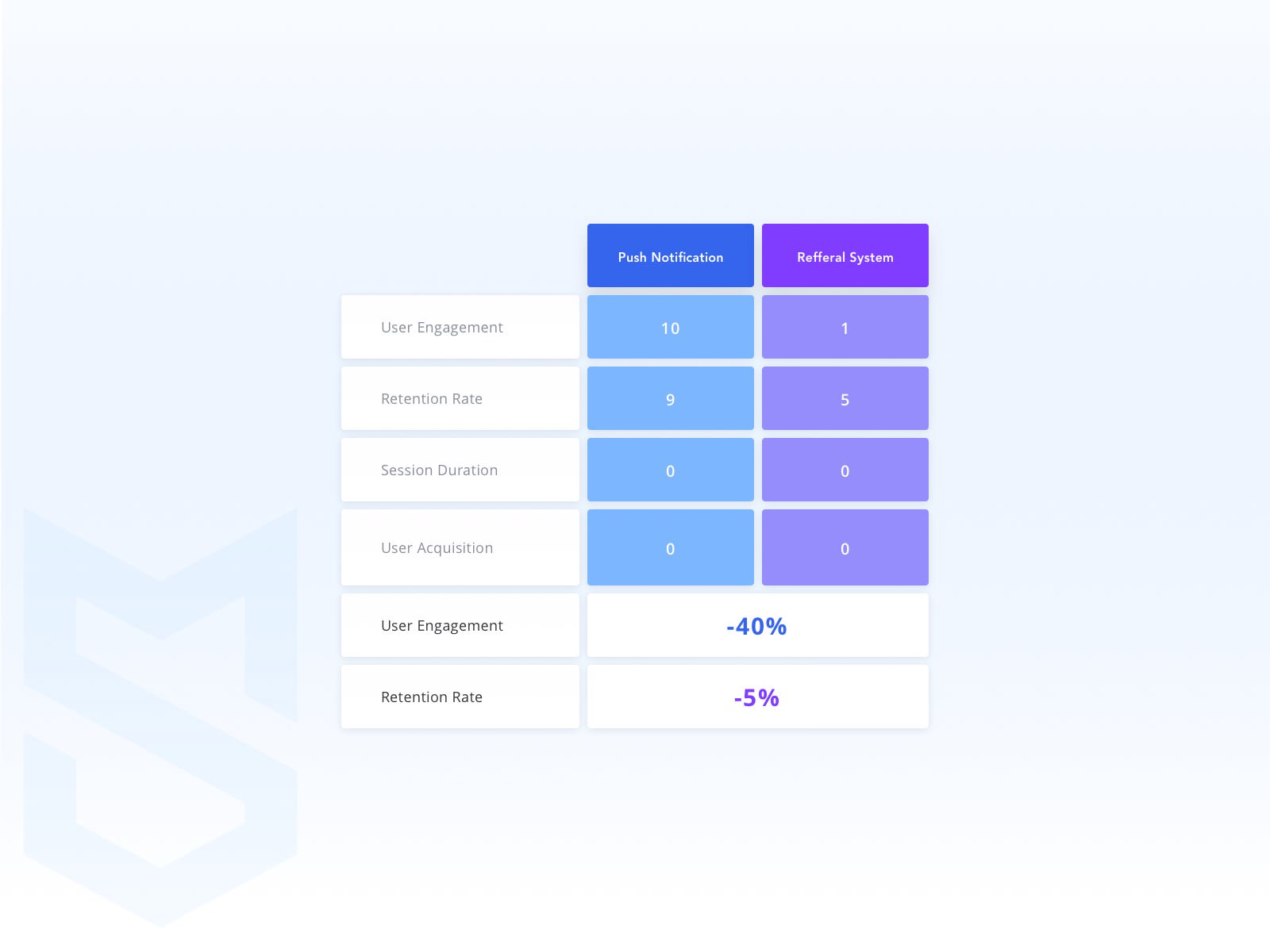 Yet not convinced? Well, on the image above, let's say that you've accurately measured your in-app metrics, and you see that user engagement is dramatically lower than the rest. Time to get to the feature ideas listed in the tasks backlog, and you choose the MVP features to put into the horizontal line (as shown on the image). What we do next is that we analyze which metric will this specific feature help us improve - with the help of our business and marketing analysts of course. We just put a certain mark (on the scale from 0 to 10) depending on how helpful this feature will be. The feature evaluation process shows that "Push Notifications" element has a confident 10 in user engagement line; once they are deployed, users get reminded of the app more often, which leads to more frequent visits to the app, increased activity and, eventually, higher engagement rate. Therefore, we choose to develop this feature.
Another essential thing to look into is the cost of a change. Speaking from experience, standard push-notification feature takes around 20 hours to develop. Are you ready to invest in this element; more to this, what profit will it bring to you in the future? Careful selection and analysis are what make post-MVP features summary so important to prioritize.
DIBB approach.
We would also highlight the product approach of DIBB - Data, Insight, Bet and Believe, with these 4 MVP phases describing all the processes that happen within product. Firstly you analyze Data, then you look into your Insights, make a Bet on a certain feature and, finally, you Believe the necessary is realized. The whole DIBB conception is a cycle of data-driven predictions you need to check, in order to make the maximum profitable change.
Important note
The feedback of users you will analyze is not always going to delight you with positive product reviews. At times you will be dealing with negative reviews and comments. But before you curse everything the world stands on - remember, you rule here. Everything depends on how you act in the certain situation. Remember, relationships with your most loyal customers frequently start with a bad App Store review.
Interested in working with negative customer reviews? Our article on "How to work with User Feedback?' is going to hit soon/ stay updated!
From MVP to MLP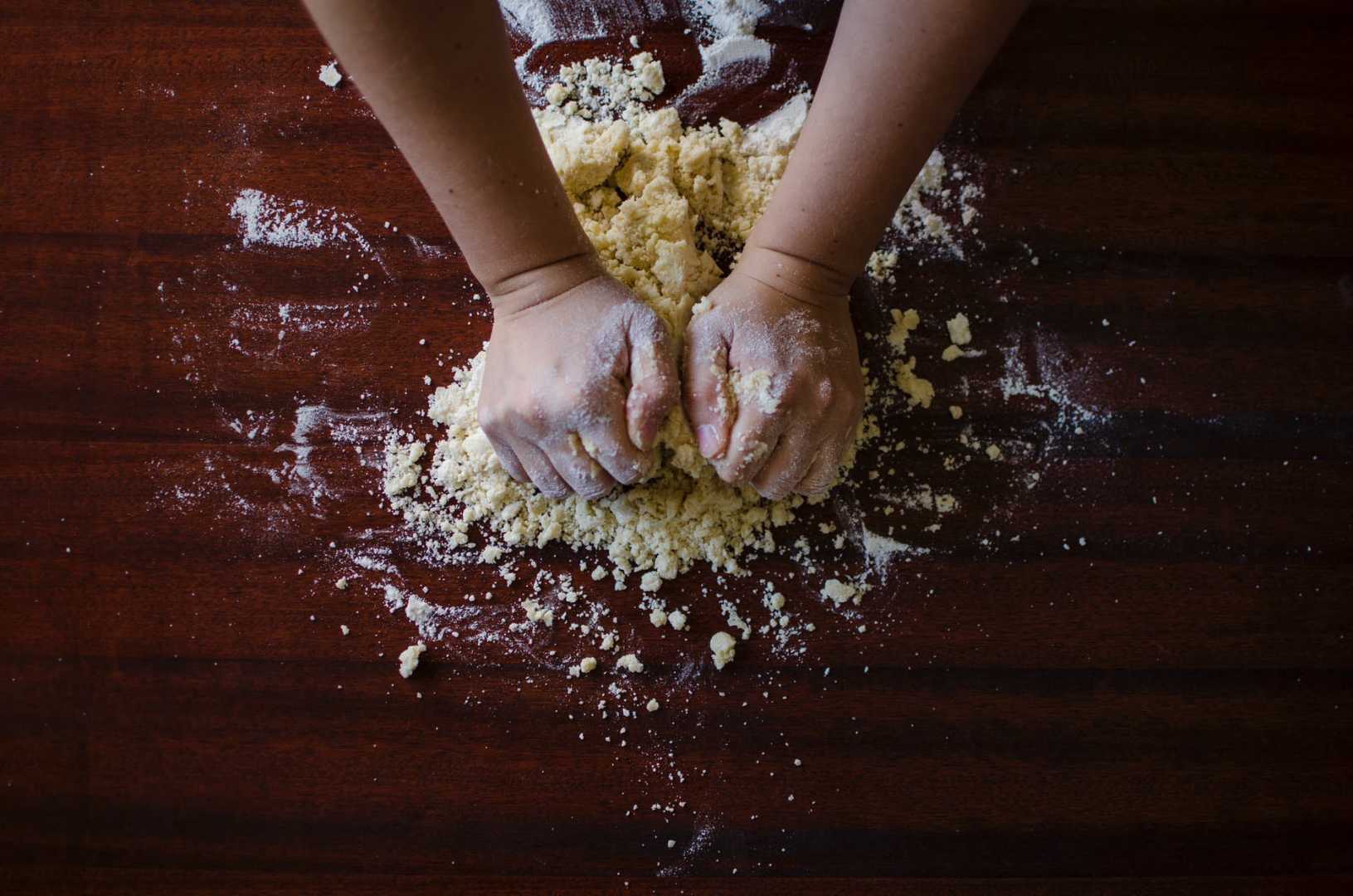 Even Wikipedia states that Agile MVP's main goal is to provide feedback for further product development. So once you have it, consider the resources and perspective to provide the most necessary tech updates for it. Analytics and critical thinking skills are the factors that help you here. However, there is something more at the stake - you also need to turn on the empathy factor. You need to pay attention to what your users say, showing you hear them by implementing the changes they want. Think about this for a moment before you start adding MVP features. We always adopt our products to the existing market, so why not adopt yours?
Written by Ivan Dyshuk & Elina Bessarabova