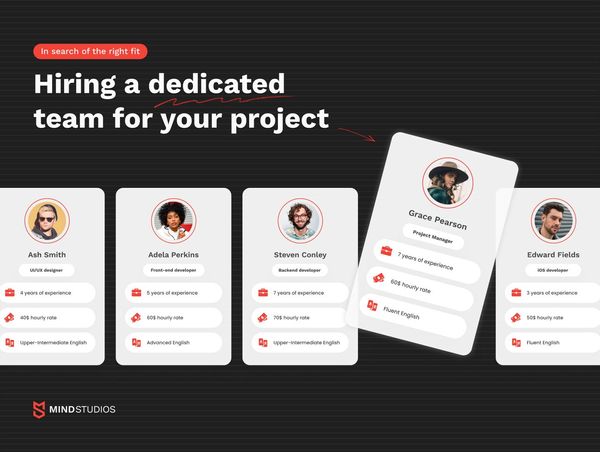 Mind Studios has worked with multiple outsourcing cooperation models. However, based on our experience, sooner or later most of our long-term clients request a remote dedicated development team. After all, this model is the closest to working with an in-house team — minus the enormous expenses associated with the latter one.
So, when and why should you hire a dedicated team? How can your business benefit from such cooperation? And what to consider when hiring a dedicated software development team?
In this article, we answer each of these questions and share insights into Mind Studios' approach to the dedicated team model from our chief business development officer, Anton Baryshevskiy.
Why consider hiring a dedicated software development team?
Before getting down to use cases, let's delve into what a dedicated software team actually is. This cooperation model means the client with software development needs hires an outsourced team to do the job on a long-term basis. The main alternatives to this model are the fixed price and the time & material models.
One of the key advantages of the dedicated approach is that you get a close-knit team of professionals, each of whom suits your specific business needs. Often the clients can even request technical interviews with the team members to make sure they know whom they are going to work with.
Basically, this model feels like working with an in-house team — except that the client doesn't spend as much time, money, and effort assembling it.
So, when should you consider hiring remote dedicated software development teams for your tech projects? Here are the 3 most common use cases where this model makes perfect sense.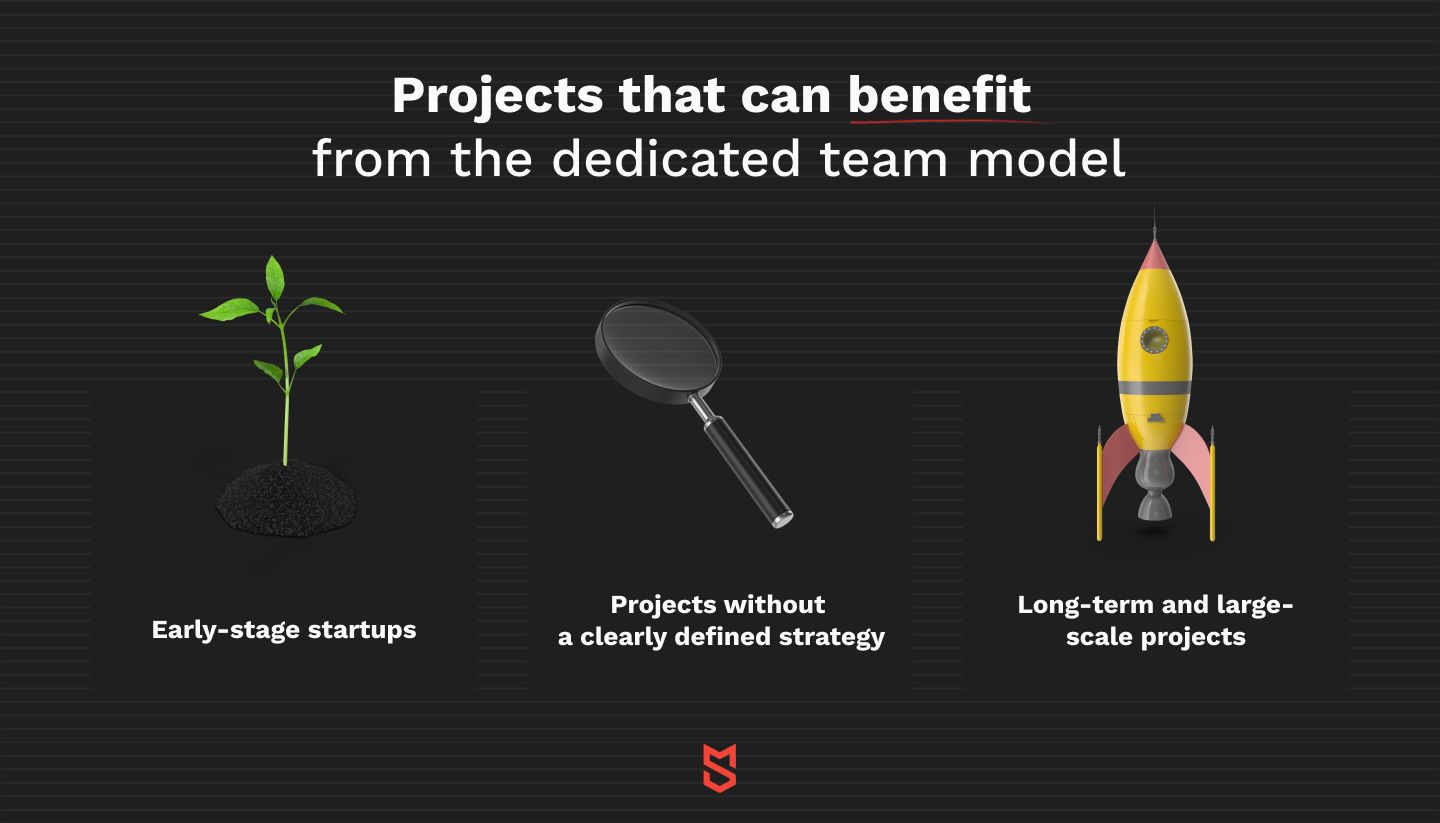 Early-stage startups
Cooperating with a dedicated software development team is a common decision for tech startups that are just starting their journey. This allows their in-house employees to focus on business-oriented tasks like raising funds, while the outsourced dedicated team works on building the product as quickly and efficiently as possible.
Another crucial reason for startup owners to look into hiring a dedicated team is saving money.
For instance, for a US-based startup on a tight budget, it makes more sense to hire professionals from Poland, Ukraine, or Romania instead of a local team, since the hourly rates are at least two times lower.
Projects without a clearly defined strategy
A dedicated team can be the perfect fit for business owners with an idea that is yet to be proven viable. In this case, the hired dedicated team can help you go through the discovery stage process (which can be quite time-consuming) and come up with the best possible tech solutions that they can implement as well.
Long-term and large-scale projects
Startups are not the only use case for going with a dedicated team model. Let's say, you have a fully functioning product that is expanding, and your in-house software engineering team can not cover all the tasks anymore.
In this case, the decision to hire a remote software dedicated team can be a cost-efficient solution for your project.
No matter what kind of project you are working on, if it requires scaling, as well as continuous maintenance and support after the launch, a dedicated team is an option worth looking into.
At the same time, we rarely recommend the dedicated team model and suggest fixed-price and other models instead in the following cases:
Short-term projects with strictly defined goals and small scope of work
Projects with a strictly limited budget
If you have doubts about which model suits your business objectives best — feel free to book a free consultation with our business development team.
Advantages of dedicated software dev teams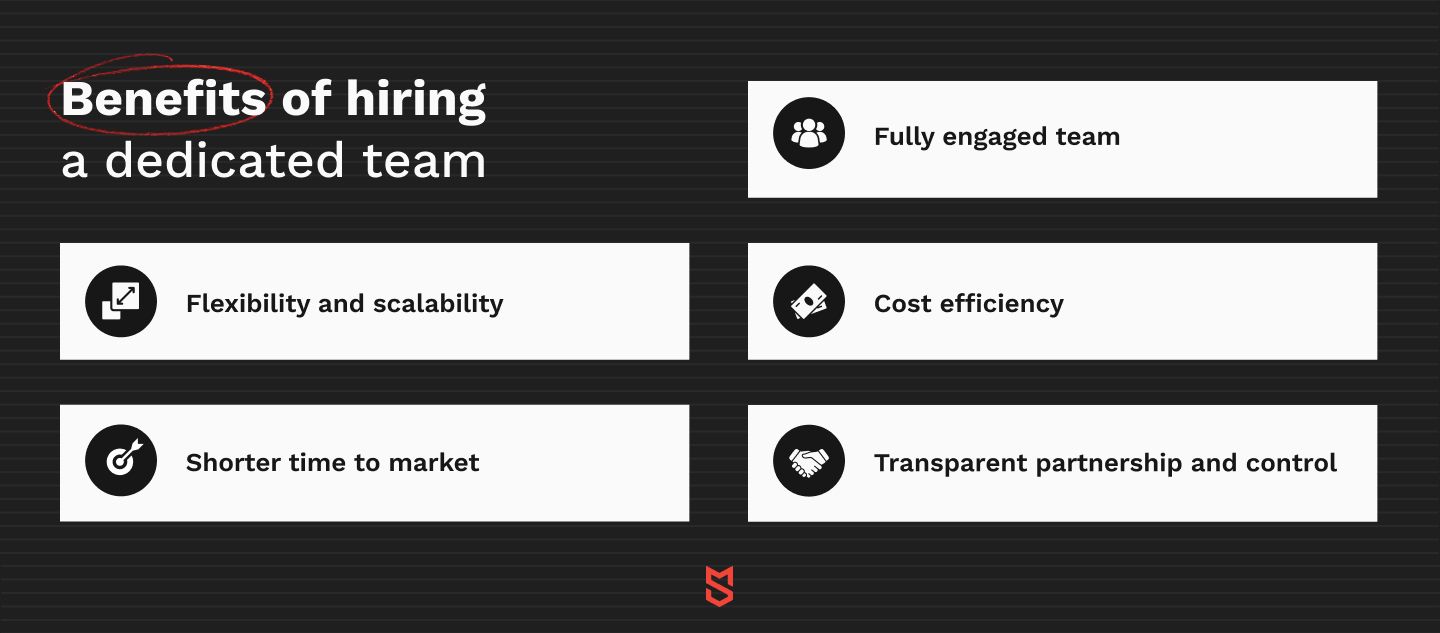 We've already determined the main use cases for hiring a dedicated team. But what exactly does this decision bring to the table, and how can your business benefit from it? Here are 5 core advantages of the software development dedicated team model:
Cost efficiency
As a rule, the time & material model is less expensive than the dedicated team approach. However, it's not really suitable for long-term projects that require constant software development. For such projects, there are just two main options: hiring an in-house team or going with a dedicated team. And the latter option is undoubtedly more cost-effective.
For starters, with this approach, you will save money and resources on the hiring process of each specialist individually, since it's the responsibility of the software development company you are partnering with. Secondly, you will only need to pay for the time of the specialists on the team, not their social benefits, taxes, administrative expenses, and so on.
And lastly, when you decide to hire dedicated remote developers instead of a local in-house team, you can choose companies from countries with average rates that suit your budget and thus help cut costs significantly.
Flexibility and scalability
Working with a dedicated team means that the number of specialists on it can be adjusted to your project depending on its scale, phase, and other ever-changing factors.
For instance, if the UI/UX design development phase is over, you will no longer be paying for the time of UI/UX designers. And vice versa, if there are new updates coming — the company you collaborate with will allocate additional specialists to implement them.
In addition to this approach being quite convenient process-wise, it once again saves you money, since you pay only for the time dedicated to your project.
Shorter time to market
Another significant advantage of working with a dedicated team is that it can actually help you speed up the process of product launch. Not only does this model cut time you would otherwise spend on talent mapping and assembling the team, but it also ups the chances of it being a good job, since the dedicated team is tailored to your needs.
Transparent partnership and control
The dedicated team model lets both parties achieve transparency by giving the client full control over managing the specialists on the team.
At the beginning of your remote cooperation, you set up communication guidelines, such as communication frequency, channels, and so on. This allows you to directly assign tasks, monitor their progress, schedule meetings, set up workflows, or delegate it all to a project manager.
Fully engaged team
Even though you are technically outsourcing software development to a third party, having a dedicated team is extremely close to working with an in-house team. Here, you also know the people working on your project, since they all have been hand-picked for you.
This also means that the team is stable and ready to dive deep into your project, study your business goals, and do their best to help you achieve them. Your product is the main full-time priority for the staff, and in Mind Studios, specialists on dedicated teams do not even get other assignments until they have completed your project.
Whom to hire for your remote dedicated team?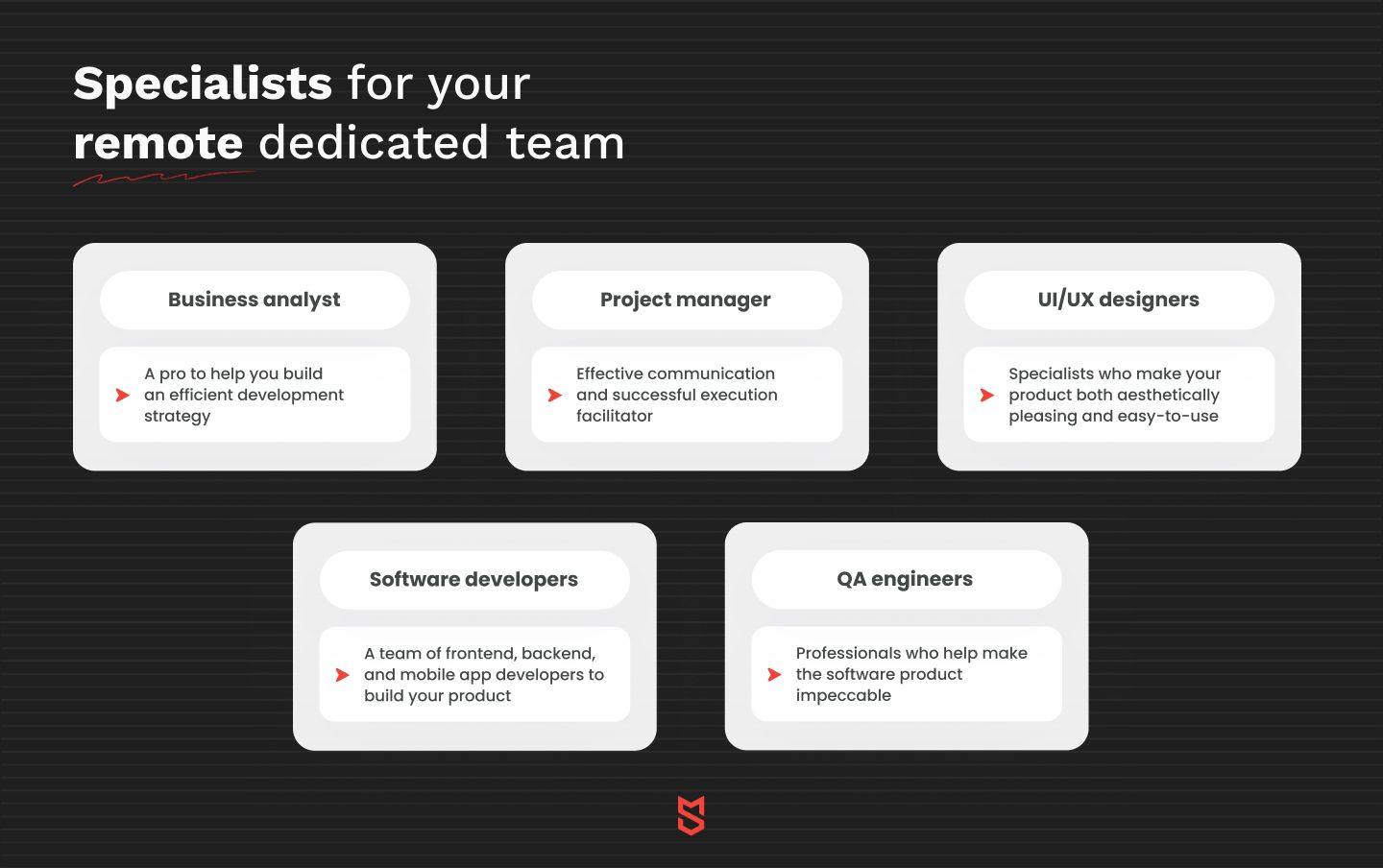 There is no one-size-fits-all list of specialists every dedicated team should have. In fact, the first thing we do after a client approaches us with such a request is analyzing their needs before we can together define the roles their project requires.
Here, we've made a list of specialists that become part of a dedicated team most frequently:
Business analyst
In case your project is a startup that hasn't gone through the discovery stage, having a business analyst on your dedicated team is a must. This is the expert who will help you conduct business and tech research, and make sure the development strategy coincides with your business goals.
Another case scenario for hiring this specialist is when your business is struggling, and you view software development services as a way to make your product more efficient and profitable. The business analyst on the team will study your customers' requirements and help find the best possible solutions to fulfill those.
Project manager (PM)
The project manager's job is to facilitate effective communication between the client and the dedicated team, as well as to manage the whole development process and secure the success of this cooperation. Making sure the deadlines are met, providing reports, and keeping an eye on the quality of work done are just some of the PM's responsibilities.
UI/UX designers
No matter whether you have a project idea or a fully-functioning product — UI/UX designers are the ones who will make sure it is both aesthetically pleasing and convenient to use.
Their task is to create screens of custom UI/UX design solutions based on the needs and requirements of the target audience — and thus ensure the product is valuable to its users.
Software developers
Depending on the technical requirements of the project, the dedicated team might include:
Front-end web developers, whose primary job is to build the user-facing part of a website
Back-end developers responsible for building the server side of the product, including the databases, APIs, the architecture, and so on
Mobile app developers, who build apps for two leading mobile operating systems (iOS and Android)
QA engineers
The quality assurance team is responsible for ensuring the product we build is of impeccable quality. The QA engineers work together with the software developers so that all the bugs and malfunctions are fixed before the product is released to the market.
The list above is not exhaustive. Depending on the type of the project and the specialists on the in-house team, the client can skip a few specialists while requesting to add DevOps engineers, data scientists, or other professionals to the list. Mind Studios' cross-functional team will be able to provide you with a more precise strategy after the initial consultation.
Why hire a dedicated remote team from Ukraine
It's no secret that one of the top reasons for outsourcing software development is the cost efficiency of this decision. In the era of globalization, your options are limitless: you can choose a company from Canada with a $150 hourly rate or hire a team from South Africa for $50/hour. There are options for any budget.
However, we are here to advocate for Eastern European software development companies — and Ukrainian ones in particular.

Partnering up with a Ukrainian software development company means working with highly educated professionals who easily break any communication barriers, adapt to your requirements, deliver great results, and offer reasonable prices.
Here are just a few facts that might convince you to hire a Ukrainian dedicated team next time you're looking for a software development partner.
The average hourly rate for software development services in Ukraine is around $40, which is at least three times less than in the US.
Ukraine has over 4000 tech companies and more than 200,000 tech specialists, 85% of whom have at least an intermediate English proficiency level.
Around 23 thousand tech graduates join the Ukrainian talent pool annually.
The growth of the IT industry in Ukraine is supported by the government through Diia City, a unique tax and legal space for IT businesses in Ukraine.
Some of the most promising tech products on the market were actually created by Ukrainians. These include Grammarly, Reface, BetterMe, GitLab, People.ai, and more.
Amazon, Microsoft, Vodafone, Adobe, Bosch, and KIA are just some of the business giants that have chosen Ukrainian IT services.
In addition to the abovementioned reasons, Anton Baryshevskiy, Mind Studios' chief business development officer, shares his own hypothesis of why both startups and tech giants choose Ukrainian companies as their development partners:
"I believe companies from all over the world often decide to work with Ukrainian developers because our mindset is about not being afraid to speak our truth. This means that we can challenge our clients' ideas and point out what can be improved, because, after all, excellent results are of the highest priority to us.
Our team is not limited to performing a set of tasks. We are always ready to take on the role of a reliable partner and make everything possible (and impossible) to secure the product's success."
How to hire a dedicated software development team: Key steps to follow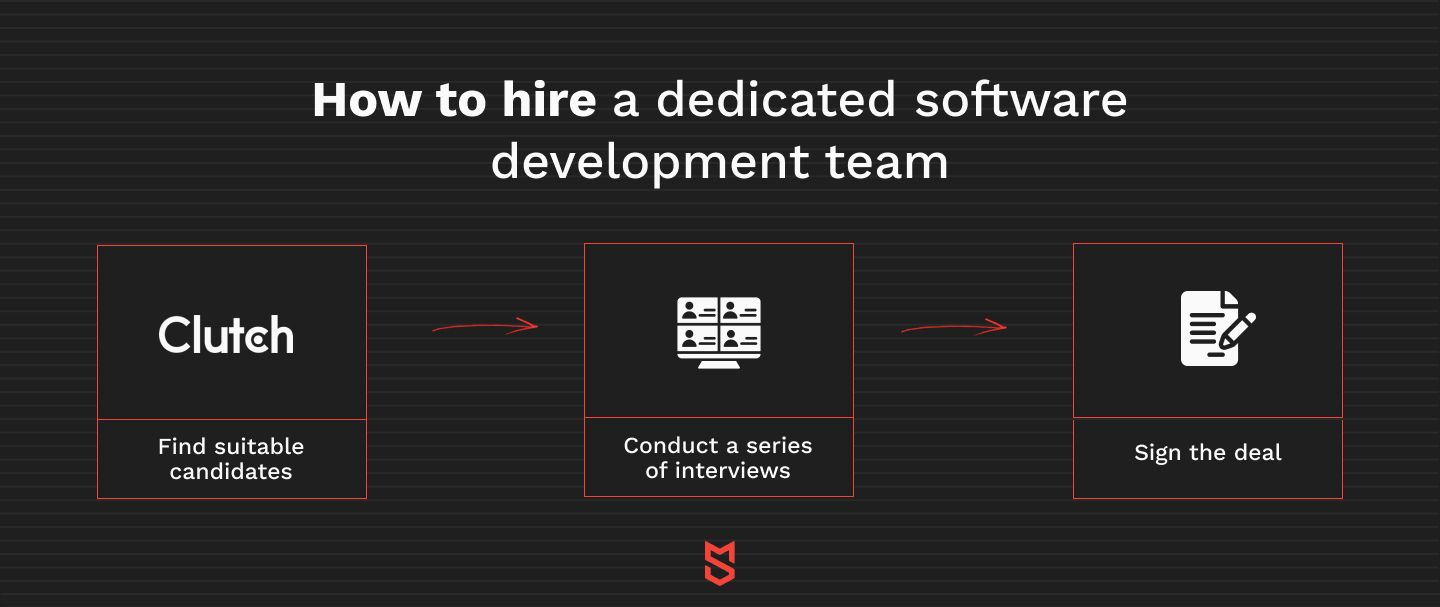 Looking for a company that offers team leasing services is no different from searching for any kind of software development partner. You can find out more about the process in our article about outsourcing.
But what exactly happens when you already have found a company to hire dedicated remote staff from? We've asked Anton Baryshevskiy, Mind Studios' CBDO, to describe what the beginning of our cooperation with the clients requesting a dedicated team looks like. Here is a brief overview of the process he shared.
1. Analyzing the project scope and objectives
Is it an existing product with a defined tech stack and software legacy? Or is it a product that needs to be built from scratch? Does the client have an in-house team that can take on certain development tasks?
Depending on the answers, we can suggest the best possible cooperation model for the project and determine which specialists we need to allocate to it.
2. Assembling the dream team
Now that we know the goals of the project and the client's expectations, we can get down to selecting the most suitable specialists for the job.
Per our client's request, we arrange a series of technical interviews with each prospective member of their dedicated team. This process usually happens when the client already has an existing product, and there is someone on their in-house team with the technical expertise needed to conduct the interviews, check sample code, and so on.
This way, our partners make sure that the people they are going to work with have relevant experience and skills to do the best job possible.
3. Signing the deal
Once we've agreed upon the team, we can get down to discussing the details of our cooperation, such as the date we start working on the project, the deadlines, and so on.
Anton recommends finding out as much about the company's approach to work processes as possible before signing the contract. Here is a checklist of questions that will come in handy:
What will the communication process with the team look like?
How does the company work with backups?
How does it protect its partners from security hazards?
Is the reporting transparent?
What are the mechanisms for evaluating the effectiveness of the work done?
Can you ask to replace the members of the dedicated team?
Additionally, our CBDO advises choosing an outsourced company instead of a group of freelancers, because then your contract will most likely include a special clause with a plan B for certain edge cases. Besides, a company providing you with a dedicated team will also make sure the reporting process is clear and transparent.
For instance, if one of the developers on the team is unable to continue working on the project due to illness or other reasons, the company providing you with a dedicated team will find a replacement.
How to manage a remote dedicated team effectively. Tips from Mind Studios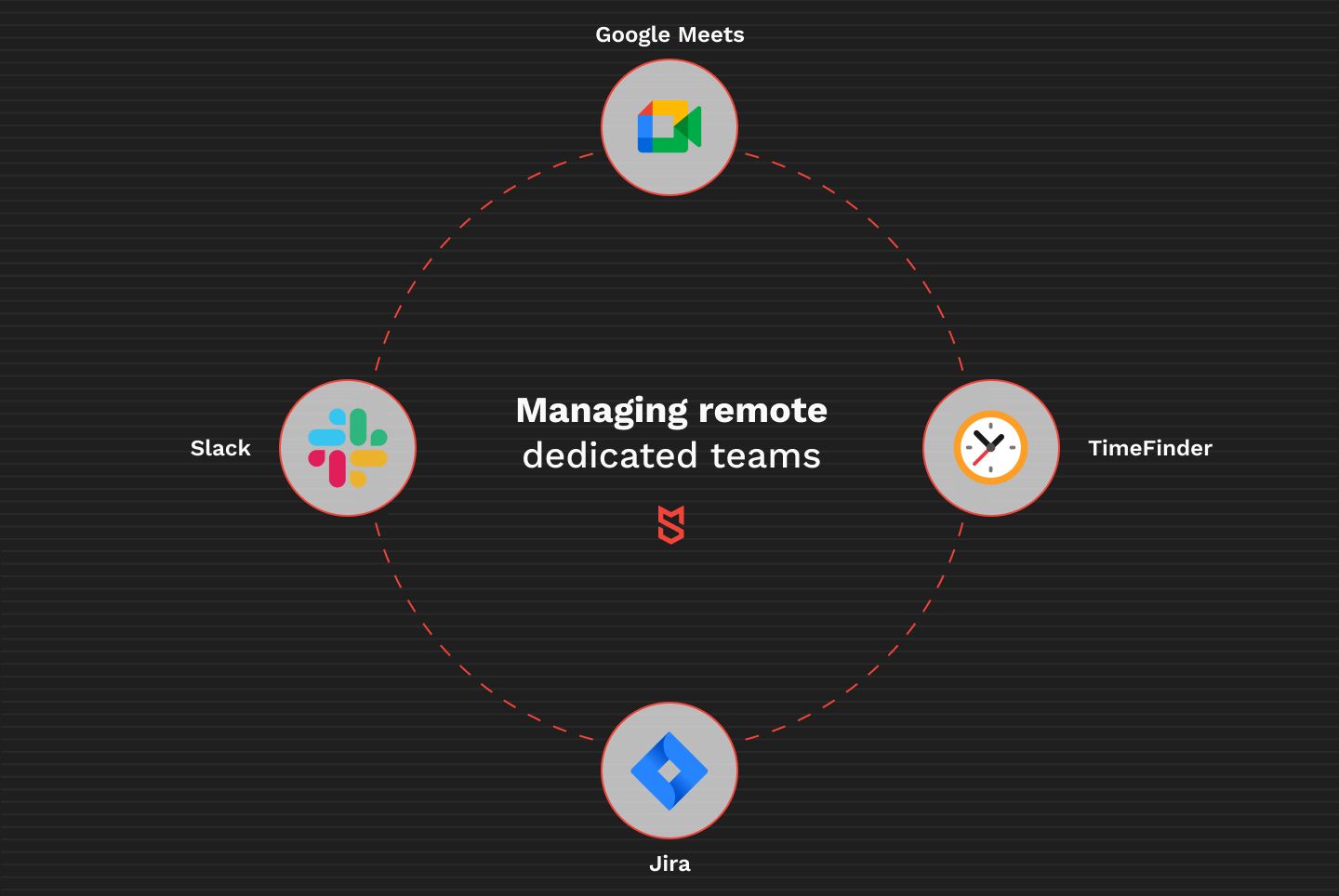 Managing remote software dedicated teams has its challenges, like working around time zones and keeping the client constantly updated. However, at Mind Studios, we have a time-proven work plan that helps us achieve productive cooperation and build strong partnerships with our clients. Here are its three key steps:
1. Setting up a communication plan
Once the team is assembled and the deal is signed, we set up an introduction meeting with the client and our project manager (the main point of contact). Together with the client, they create a communication plan that includes details like communication tools, frequency and duration of online meetings, the hours during which both the team and the client are available, and other guidelines.
Thanks to this plan, both the client and the team have a clear vision of the whole cooperation process.
2. Providing status reports
At Mind Studios, we usually provide our clients with weekly status reports that contain information about the project's progress. In this report, we demonstrate what we have accomplished, and what we are currently working on.
The frequency and format of the status reports can be adjusted to the client's requirements.
3. Preparing sprint reports
As many tech companies, Mind Studios uses Agile methodology, meaning the development process is split into sprints. Each of these sprints lasts two weeks on average and ends with a report on the tasks the team has completed. During the report preparation, we also make a plan for the next sprint to approve it with the client.
When planning the sprint, the project manager takes into account the team members' days off, vacations, other commitments if there are any, and so on.
Additional tip
In the post-pandemic world, we all seem to have gotten used to remote work. However, it can still be tough to build strong connections via Google Meets calls and Slack messages. We asked Anton Baryshevskiy how Mind Studios manages to build trustworthy partnerships with clients, and here is what he answered:
"We treat each project we take on as our own. Mind Studios doesn't work like a conveyor belt. We sincerely strive to build products that make it on the market, and that we'll be proud to share in our IT community. And our clients feel that."
Mind Studios' experience working as a dedicated team
The decision to offer the dedicated team service at Mind Studios came naturally, as a response to our clients' requests. How come? To put a long story short, it's become a usual scenario for us to work on a certain long-term project and receive an inquiry about a dedicated team option once we proved ourselves to be a reliable partner.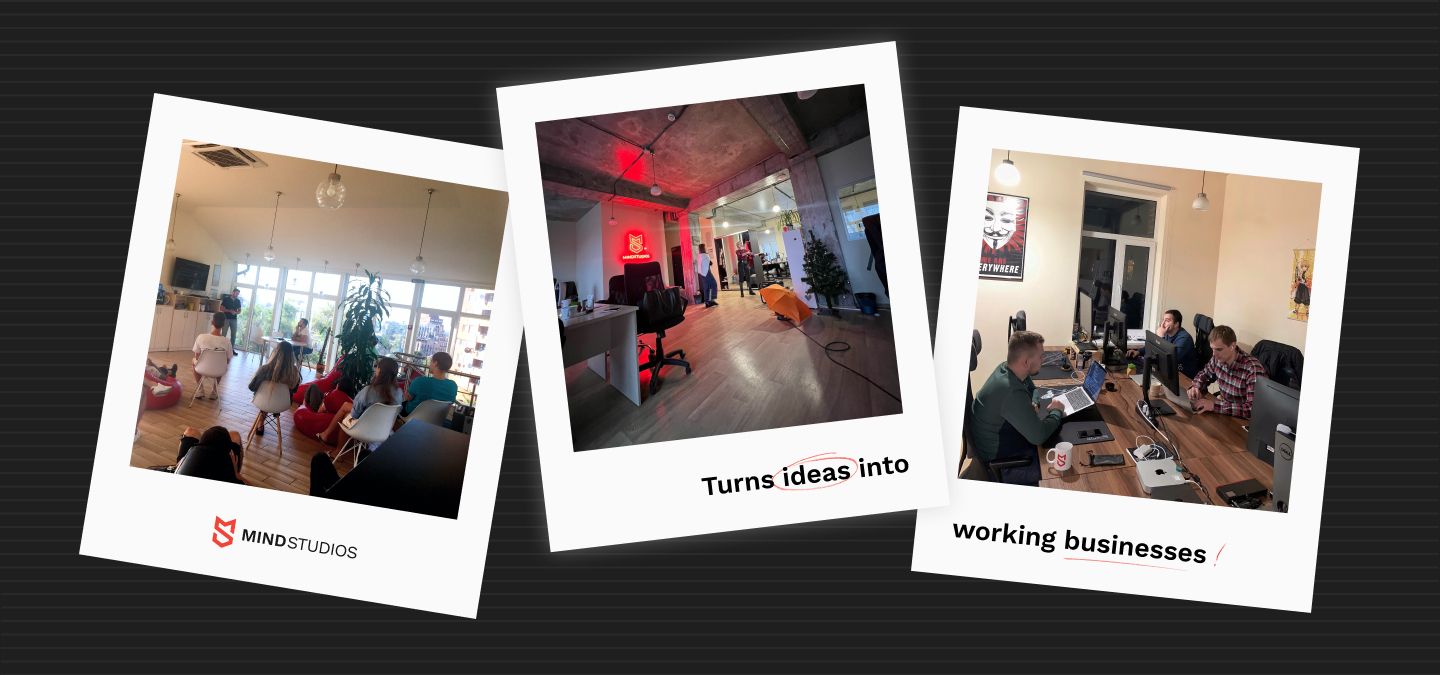 We talked to Anton Baryshevskiy, Mind Studios' chief business development officer, about the perks of the dedicated team model and how it works for our company's clients.
Anton recalls that the dedicated team service started off as a model that was supposed to make the process of calculating the price for our services simpler and more transparent. We offered our clients to pay not for the features we build, but for the time of the team doing the job, with an option of hand-picking each one of the team members.
"One of the most significant benefits of choosing this model at Mind Studios is that once you hire a team of specialists here, they become focused solely on your project. The tasks you assign to them are their one and only priority.
We have been using this model for years now, and it has proven to help strengthen our partnerships with the clients as well as enhance efficiency."
Hiring a dedicated team doesn't always mean that the specialists you choose won't work on other projects, since the approach varies from company to company. However, at Mind Studios, as a rule, we don't share your team with other clients. For instance, we always plan ahead and don't assign a new project to the team unless they are done with the previous one.
In our experience, there are cases where you just can't do without a dedicated team if you don't have the resources and time for a local fully-staffed in-house team. This includes growing startups that are successfully raising funds and getting ready to scale the product. That's what happened to one of our biggest clients.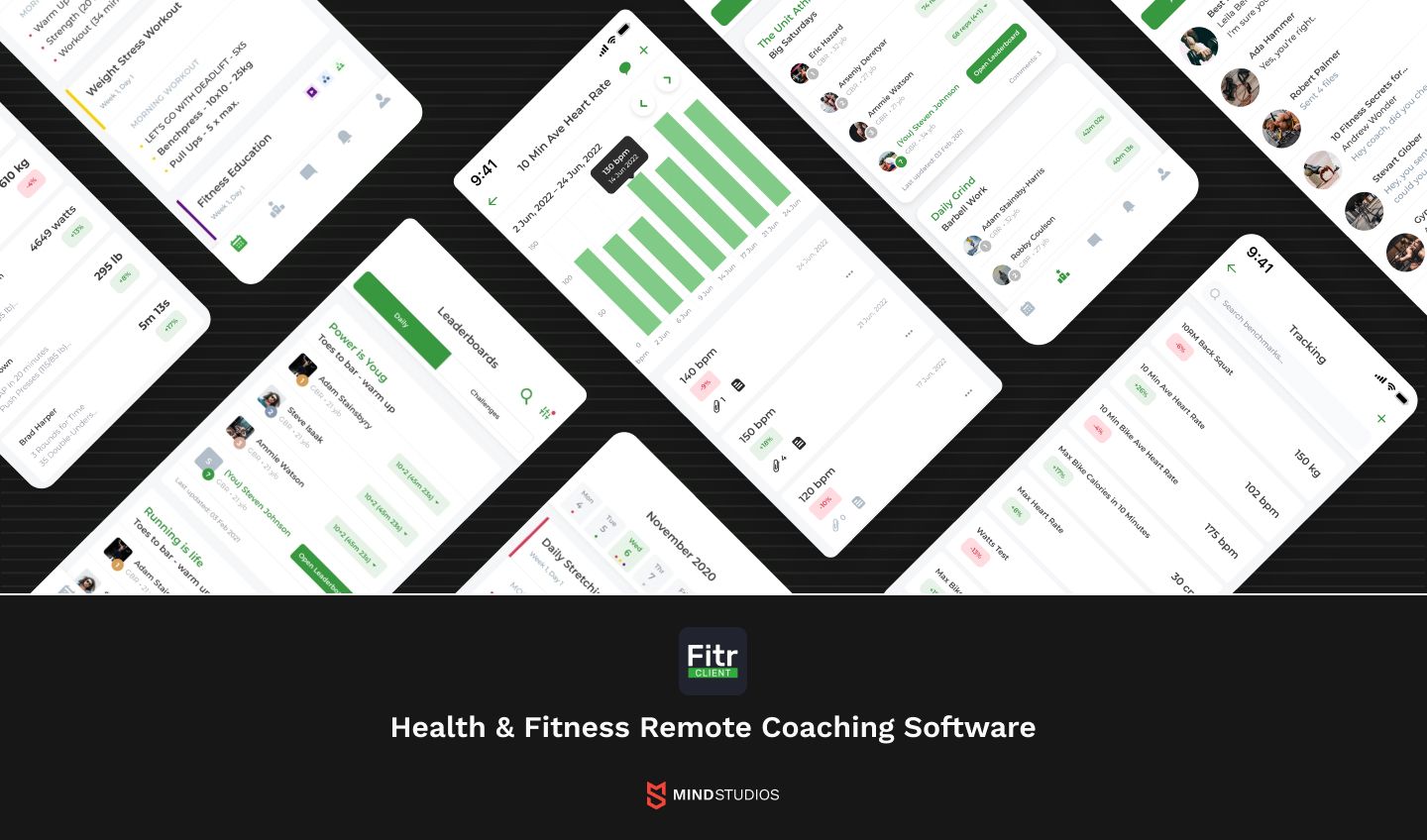 "After working with us for a while, the owner of Fitr said that he needs a team of his own to work exclusively on this project. This was important to the investors and for the capitalization of the startup. Providing him with a dedicated team was the closest thing to an in-house team we could offer.
Working with a dedicated team is not just hiring a set of random specialists whom you know as a back-end developer #2 or a QA specialist #1. It means working with a permanent team of real people, each of whom you have validated, got to know their skills, and even the schedule of their vacations. You get the point."
Anton shares that the global pandemic has become a significant trigger for companies to look into the possibility of having a remote IT department. And since hiring a dedicated team is arguably the most effective model of outsourcing, it has become normal for both startups and tech giants like WhatsApp, Apple, and Amazon.
Mind Studios is also getting ready to move to an even higher level of cooperation and offer CTO-as-a-service. This means that in addition to providing our clients with a dedicated team, we can also take on the role of a chief technology officer for their startup.
"Hiring an in-house team is not simply buying the workforce to write your code, but rather acquiring certain valuable expertise that strengthens your in-house team and leads to an effective collaboration."
Whether the dedicated team model suits you or not, Anton has a versatile piece of advice for all business owners looking into outsourcing software development:
"Don't look for a technical contractor to carry out your project. Look for a technical partner."
And we couldn't agree more.
Summary
Whether you're just looking for a way to implement your idea or want to significantly upgrade your digital product — a dedicated team might be just what you need for long-term, reliable software development cooperation.
However, even if you're not sure whether the dedicated team is the way to go — we can help you figure out what model is the perfect fit for your specific project. Fill in a short contact form, and our business development team will schedule a free consultation for you to discuss the possible development strategies that match your business goals.
2