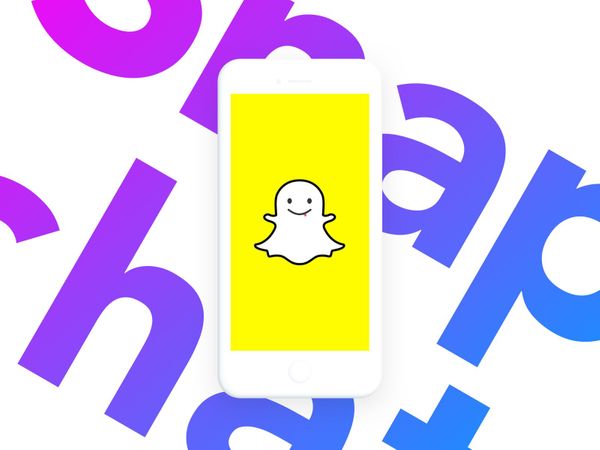 There are apps that reinvent the wheel. There are apps that take the world by storm. In both cases that's Snapchat that I get to talk about, as there always are those who would love to look underneath - to read about the cost to build an app like SnapChat. What's the Snapchat's secret sauce then?
We are getting forgetful these days. As young and fun, we pick up the idea of the lifestyle promoted by mass media online and offline - fast and furious, which leaves everything traditional to be "slow and boring". We become the "Carpe Diem generation" - we become those who are not interested in the reusable resources. We want everything one-time-only and disposed afterwards, please.
This phenomenon has also influenced on the mobile application market. The vast majority of the population these days, especially youngsters, tend to download the apps they never open afterwards. We read messages only once - and never get to re-read them later on. The concept of "never back again" is greatly implemented in Snapchat, an app that has conquered the love of millennials worldwide.
The Carpe Diem App.
Founded back in 2011, Snapchat had a long way to go before it has actually succeeded. Firstly developed as a part of the product design class work of one of the founders, Evan Spiegel, at Stanford University, this application now is one of the most influential social media tools amongst the millennials worldwide. More to this, the number of Snap-mused users is awaited to only grow, according to Statista's data before the year of 2020 finally hits: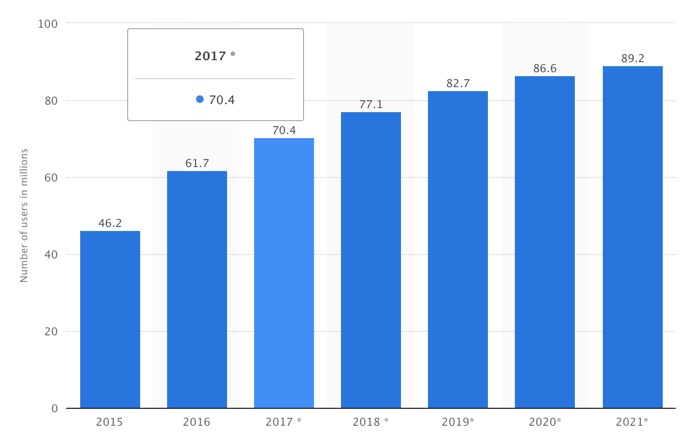 "I wish these photos I am sending this girl would disappear."
The whole geniune idea, as stated by Spiegel, came out of the everything-but-genuine conversation, and a phrase "I wish these photos I am sending this girl would disappear." Spiegel and Murphy apparently then had a eureka moment, with the latter referring to it as "a million dollar idea" (turns out his guess was on the low side by three zeros).
This tinder at first has turned into an immense bonfire within the 5-year period, making Evan Spiegel the youngest billionaire in the world, as he managed to enlarge his capital by a many-zeroed-number one year earlier than Mark Zuckerberg.
During the nearly 5 years of existence, Snapchat itself has gone a long way from the bottom and up to the top - it had everything, starting from a "product war" with the famous Zuckerberg, and ending up with a $12 billion company valuation, as marked by the Fidelity fund.
[Source: Virtuzone]
Despite all of the mentioned before, Snapchat continues it's expansion on the mobile application's market - it has 158 million daily active users. What is it that makes people so attached to the "Ghost face chillah" app?
The "impermanent" content sharing. On Snapchat, the content you upload to your newsfeed, can only bee seen by your friends for 24 hours straight after the upload. Unlike all the other social networks, the idea here is that you can upload something that is temporarily interesting, without it being buried on your page forever. Snapchat claims that after 24 hours have passed, all of your temporary pics are wiped out from all of their servers.

The fun perks it offers. Apart from the goofy pics&videos you can also play with a wide variety of AR-based filters and emoji, goofy stickers and funky lenses. Additionally, Snapchat never falls behind in upgrading them so we as users get to enjoy a fresh pack of augmented masks.
Also, this year's April Snapchat has announced to make 3D Lenses filters to work in the real world. Here is a video-introduction they made to present the update:
It makes you actually generate content. Even more often than before I hear people labeling Facebook as "the cemetery of reposts", and gritting my teeth I have to admit this actually is true. With Snapchat though it's different - here you get to create something of your own. There is nothing to "like" and "share" there, which leaves more free space for users and their creativity.

Snapchat continuously upgrades its functional. For example, during the summer of 2017, Snapchat has added a list of new features, including:
a) A Tint Brush that lets you add some colorful stuff to your snaps.
b) A Multi-snap recording that allows Snapchatters record a few 10-second long videos and post them as one, finally letting us capture everything we want (as you realize it is harsh to put yourself into 10 seconds).
c) A SnapMap, that lets you put your own location on the map and view where your friends are located to see if they are up to something. This app is nearly telling you "Never miss a single party"!
d) The features of Paperclips, Voice Filters and Backdrops that, respectively, help you to embed links, change your voice and have backdrops added to your Snaps.
[Source: Android authority]
All of the above-mentioned features are free and do not generate money for Snapchat. How did Snapchat start with a money-making business model?
Read also about the usage of augmented reality in Snapchat
Snap's Monetization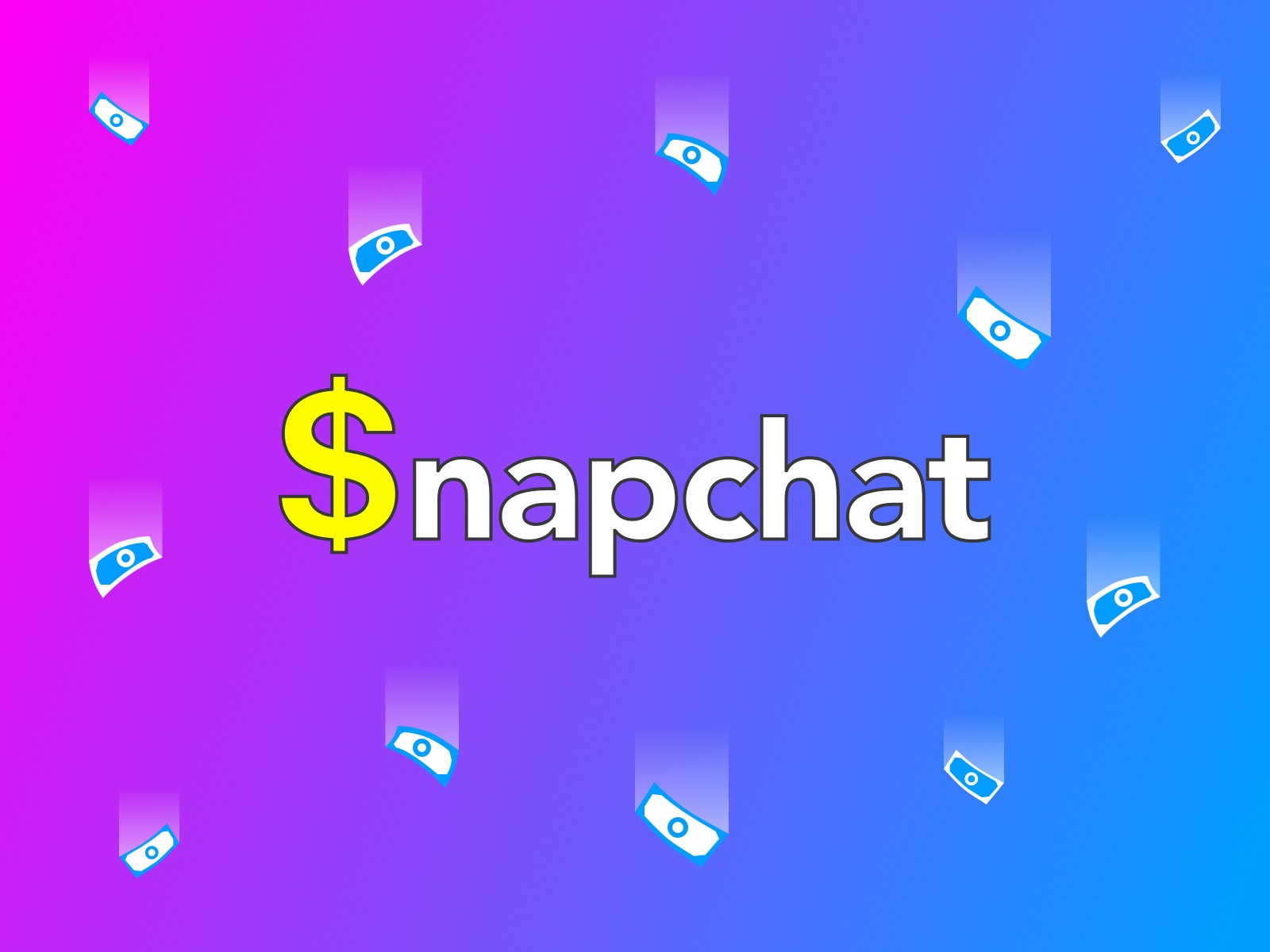 Only this year Snapchat claimed to be worth $24 billions (roughly) on IPO, and plenty of us wonder how does an app like snapchat make money. There are several key-points Snapchat stands on:
Sponsored Lenses. Brands like Michael Kors and Taco Bell advertise on Snapchat by paying for their own customized lenses.

Sponsored Stories - same as with Lenses, but in a video-form.

Promo-Partnerships. Snapchat has recently partnered with Shazam, and a few sport organizations, allowing them to promote various sport events and new music hits via the lively Stories.
If you are willing to monetize your future chat application like Snapchat, here are a few more options you could implement in your project:
Premium access (freemium model), that would allow users to try on new features and customized lenses

In-app purchases for those talked-about lenses that would not be temporary, but, let's say for a small fee would remain with a user forever.
Ways of monetization might as well vary, to dive a bit deeper please read our article "8 ways to monetize your app"
How to make an app like Snapchat?
To get a better understanding of the whole app development process we will focus on the main Snapchat's peculiarities from a developer's point of view. We will look closely at the iOS-based application, with a backend part written on Ruby language, as these is the stack we work on in Mind Studios. However, there can be other options implemented - an Android app, for instance. For a more in-depth technical consultation for a Snapchat-like app for Android please contact us.
So if we speak of the Snapchat's capability, the huge amount of data is stored on its enormous servers located worldwide. The horizontal server scaling is recommended to apply here, and if you also want your users' data to be deleted within a certain period of time, a system like Sidekiq or Resque would be a handy solution. We would also stick to the Grape Gem framework for API implementation.
As with every basic messaging app development, chats will be at the core of your future product. You can implement real-time chats by using WebSockets, with an Action Cable - a Ruby-on-Rails framework that can integrate WebSockets with the rest of application used on the server side. Be aware though - Action Cable can not send media-files with custom parameters, but this can be resolved with Base64 binary-to-text encoding schemes. This ready-made solution would work if you are building an MVP; for a more massive version we would suggest using AnyCable, plugged into the Rails application.
Also, if you already had a chance to dabble with Snapchat, you have already noticed the custom-made navigation and the smooth animation it has. For the iOS application, good- looking can be achieved by injecting UIPanGestureRecognizer - and, respectively, UIPersentDrivenInteractionTransition class for the smooth animations. Also, we would recommend adding UIViewControllerAnimatedTransitioning class to make all your in-app objects move swiftly, same as they do in Snapchat.
You Reap What You Sow.
But before you reap what your similar to SnapChat app sews, you need to measure the expenses first. How much does it cost to build an app like SnapChat would be a wise matter to consider first.
As every basic messaging app development, chats will be at the core of your future app, not being the sole thing of it though. A Snapchat-like mobile application would have a few main flows, for instance:
Sign Up Flow. It would include a sign up process where users enter their full names, emails, passwords and add a profile picture.

Log In Flow. This would include forgot and reset password features, as well as log in via email/ username + log in via Facebook options.

Camera Flow. A flow with main camera screen, photo taken, send a photo, add tags and search users' elements.

My Profile Flow. Here, apart from all the notifications, block and report usersm will also be edit profile functions.

Chat Flow, with functions of list of chats, - search, chat details, phone/video calls and new chat creation. It will also include send a sticker feature that could be shared in a chat.

Photo & Video Edit Flow, where all the content will be stored and edited for a social purpose, with a Face Recognition module (development of the AR-based technology for masks in real time users go so crazy about). Read more about most popular augmented reality SDKs and tools to use for AR.

SnapMap FLow. The integrated map with your and your friends' geo - location features attached here.
How much does snapchat cost if all of the features noted above are going to be developed? We have tried to calculate the price, including programming processes for iOS Snapchat clone:
Sign Up feature- 35 hours
Log In - 50
Camera block- 250 h
My Profile feature - 80
Chat Flow - 85 hours + separately phone/video call features: up from 160 hours if we implement ready-made solution, or up from 320 h if we write a custom-made one from scratch
Photo & Video Edit features- up from 300 hours, depending on the filters and tech needed
SnapMap option- up from 320 hours
Project setup & welcome screens - 25+ hours
In a nutshell, if you start building an app like snapchat, note that only the iPhone-related part would take around 1500 hours. Apart from Swift-written code, there also are a few more essential development stages: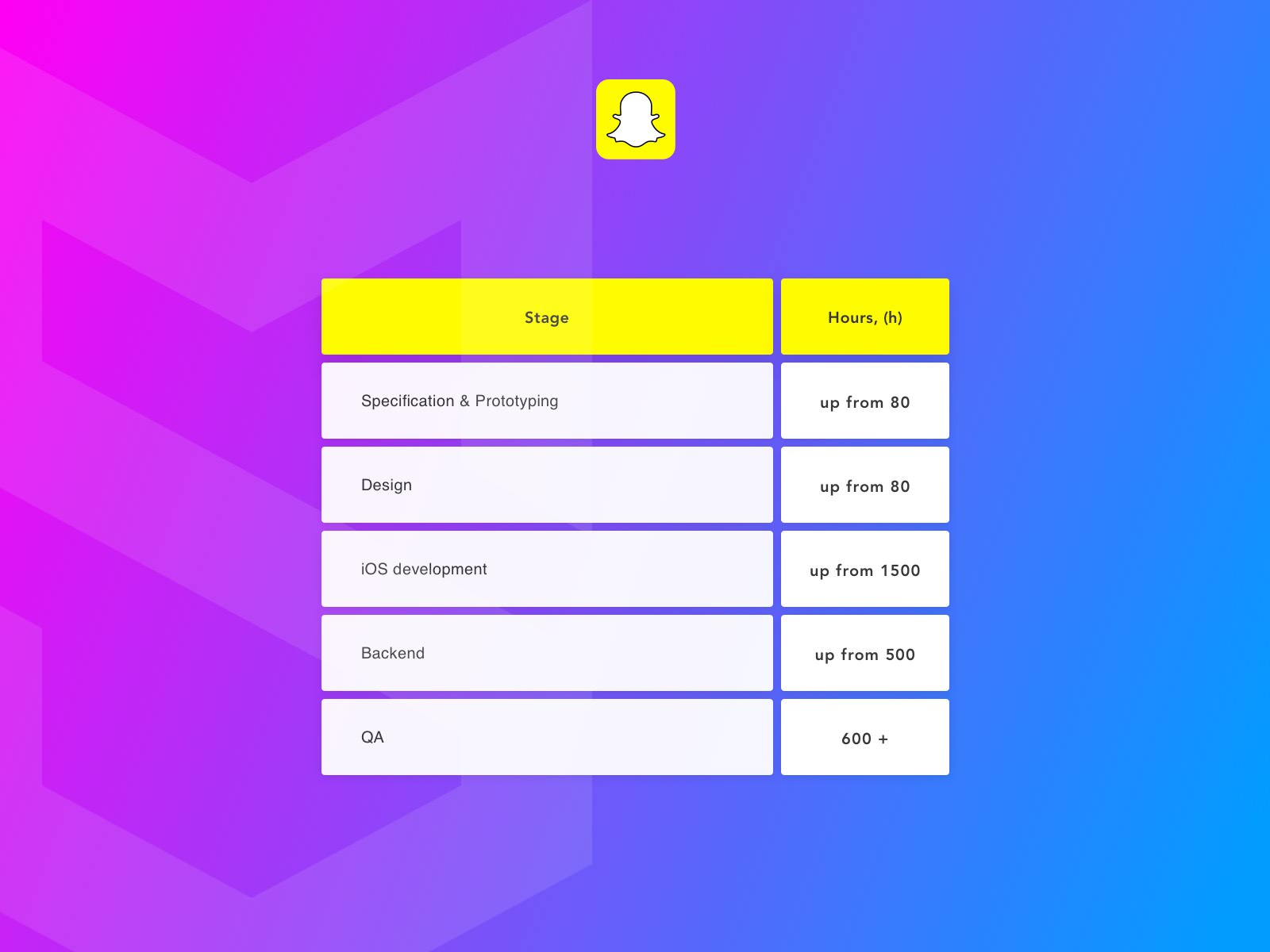 Crowning it all, the estimated cost of a Snapchat-like mobile application would start at $80k, and go further, depending on the project's size and new features' scope.
Seize the Moment.
Applications like Snapchat teach us to be present - to stay in the moment we belong to, and to take the most of it. Only a decade ago ideas of "impermanent content apps" would meet a lot of aversion - and look how many fans worldwide it has now. Maybe developing a messenger app which protects user's privacy by deleting texts after a short while is a great opportunity for startups, where information security will be in the first place. All the codes can be hacked, all the info can be extracted, but if there is no data to steal - users can sleep peacefully, relying on the business you've built for them.
Read also: How to make a messenger app like WhatsApp
Written by Dmitry Hapich and Elina Bessarabova