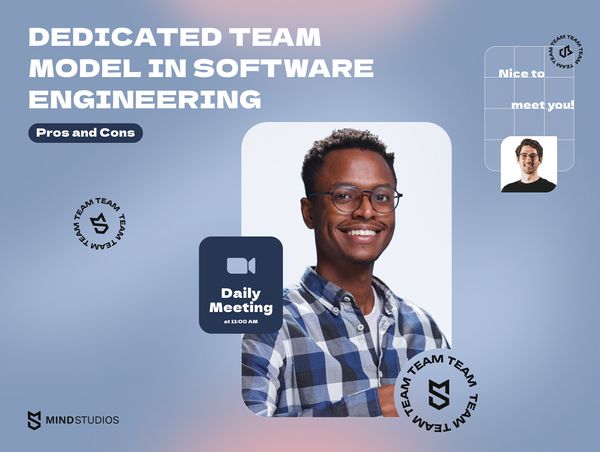 Technology has become the main focus of innovation. To remain competitive, every sector is increasing its digitalization and innovation initiatives. However, given the present economic climate, IT leaders must maintain low budgets. Almost half of global corporate executives are focused on operational savings while also investing in innovation and growth.
To properly balance the costs and benefits of new technology adoption, executives today demand robust project delivery methods and qualified tech personnel. However, global skills shortages limit firms' ability to expedite time-to-market for innovative products while guaranteeing the successful execution of critical business services.
A dedicated development team is a cross-functional unit that supports a particular IT function or project. Internal dedicated development teams (formed from in-house expertise to support a specific task) and external dedicated development teams (created and co-managed with or outsourced to a software development partner) are possible.
An external dedicated development team model is a service that includes team staffing, onboarding, and continuous management. Effectively, you gain a qualified staff that can be scaled or adjusted short-term to match your business's demands.
Unlike typical employment, when outsourcing, a dedicated team model provides on-demand access to difficult-to-find talent and the partner's operational, technological, and managerial expertise. If you would like to know more about how Mind Studios can help you with development or outsourcing your project, contact our experts today for more information.
Overview of the dedicated team model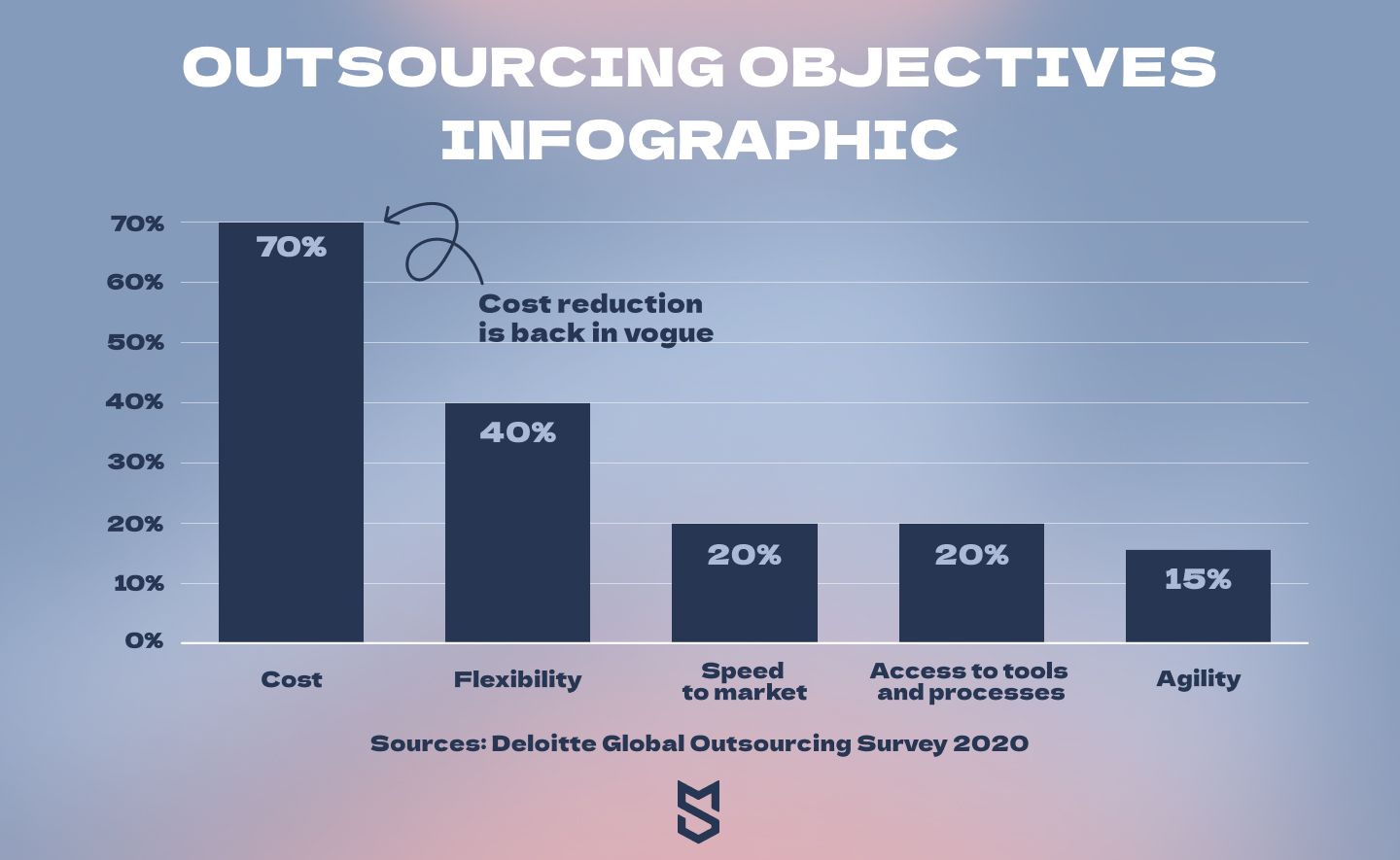 The market has already demonstrated that dedicated software teams are reliable and conducive to successful product development.
70% of businesses surveyed by Deloitte cited cost savings as their primary motivation for outsourcing. Others argue that variables like adaptability, quickness, and availability of resources and technology are more important in this case. So, how does a dedicated software development team model work?
The dedicated team model has a very straightforward and transparent pricing system: monthly payments are based on the team size. The fee is made up of the salary of the members plus the price charged by the service provider, which includes administrative costs.
In a dedicated team, the client participates in the project more actively than in other models. Clients usually contact the team often and keep a close eye on daily operations and overall project progress. It keeps the entire team and the client on the same page, allowing them to respond rapidly to unforeseen scenarios.
A dedicated team model can be used to supplement your current in-house team or to establish a cross-functional team on the outsourced provider's side. This team may also become an organic extension of the client's team, but with its framework and management, it will be less dependent on the client than teams working under other models.
When you hire a dedicated development team, you get people who are focused, driven, and motivated. This is what sets a "dedicated" team apart.
If you want to learn more about the differences between different approaches to software development, check out our article, which will help you choose the suitable model for your project.
Dedicated developers are best suited when the project scope cannot be precisely specified and the needs might vary during the development process. The primary goal of this strategy is to employ a team that will compensate for a lack of required skills and function as if they were your own.
Pros of the dedicated team model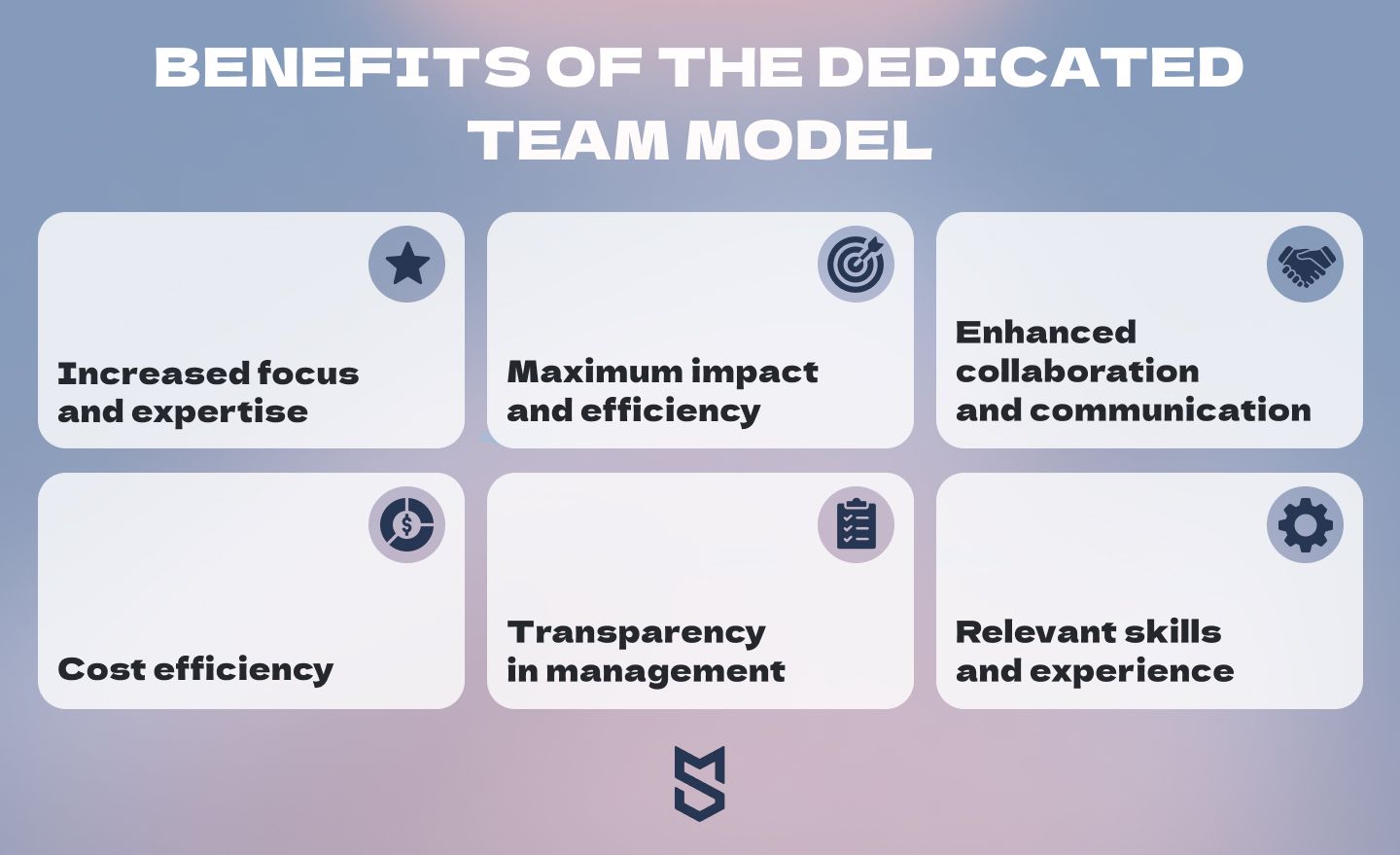 The dedicated team model is a reliable and cost-effective method of outsourcing all or part of your product development. It works for a wide range of tasks, ranging from expanding big online platforms to building an MVP. If you're considering adopting this strategy and want to understand its benefits, the following are the most important ones to consider:
Increased focus and expertise
In the dedicated team development model, developers, designers, testers, and other talents typically work on one project at a time. As a result, teams may devote more time to a project and concentrate on accomplishing the tasks at hand. Furthermore, as compared to other development methods, this enables more effective resolution of pain points and challenges that arise during the development process.
Maximum impact and efficiency
Team members in a dedicated team have a thorough awareness of the company's objectives. Their attention to the project aids in achieving optimum efficiency and rapid completion of tasks. The client may request a weekly report to examine what has already been completed, what activities are in progress, and what needs to be improved. This reduces the likelihood of future overheads.
This is another reason why many businesses that lack technological skills or project management experience choose an external dedicated team of software development. A vendor may not only put together a full-stack team but also lead and coordinate it throughout the process. In practice, specialized product teams can take over a project at the idea stage, choose technologies, devise an effective development plan, implement it, and produce a working product.
Enhanced collaboration and communication
The concept of a dedicated team elevates the relationship between the recruited staff and the client to a whole new level, resulting in a long-term commitment. Because the dedicated team model involves long-term collaboration and a strong emphasis on the project, the dedicated professionals interact with your company culture and try to better understand your goals and how to achieve them. The hired staff might just execute instructions and perform what you want, but they also might be genuinely invested in the project and provide valuable ideas.
This type of collaboration not only saves time and money but also frequently results in delivering excellent digital goods.
Cost efficiency
Besides paying your developers a salary, you also have hidden costs to consider.
EMPLOYEE BENEFITS (US-based)
Legally required benefits
7.6% of salary
Insurance
7.8% of salary
Paid leave
7.4% of salary
Retirement and savings
3.5% of salary
Supplemental pay (overtime and premium)
3.3% of salary
RECRUITMENT COSTS
Recruiter (external or internal)
15–40% of required employee salary or about $32.50 per hour
Paid job boards
$5–10 per day on average
Time to find suitable employee
42 days on average
NEW EMPLOYEE COSTS
Temporary loss of productivity (new employees aren't as productive)
75%
Onboarding and training
$1,500 per employee on average
Expect to spend around $32,000 just to hire a specialist. With an external dedicated team, though, the picture is vastly different.
You don't have to waste time hunting for specialists with different IT expertise and assembling a team. There is no need to rent office space or purchase new equipment. The entire crew is typically gathered in one location or, alternatively, works within one organization, simplifying the logistics. They're ready to work on a client's project when the contract is signed and preliminary negotiations are over. There are no delays in starting the partnership, no misunderstandings, and cost savings – aren't these appealing benefits?
Transparency in management
As a client, you have complete control over the committed team members. Such teams are called "dedicated" since they work solely on your project. The workflow's transparency in a dedicated team model allows you to manage the workload and performance of hired staff, as well as track the progression of work. With the assistance of a dedicated team, you can create something truly unique without sacrificing the time of your in-house staff.
Relevant skills and experience
When you hire specialist software development teams, your project gains people with the essential skills and knowledge. These people have often performed tasks comparable to yours. They can provide helpful advice and pay attention to nuances you may have overlooked.
They've also likely been working together for a while and have refined their workflows and task delegation skills. You won't have to start from zero and deal with any problems that may emerge, and it will be advantageous.
Cons of the dedicated team model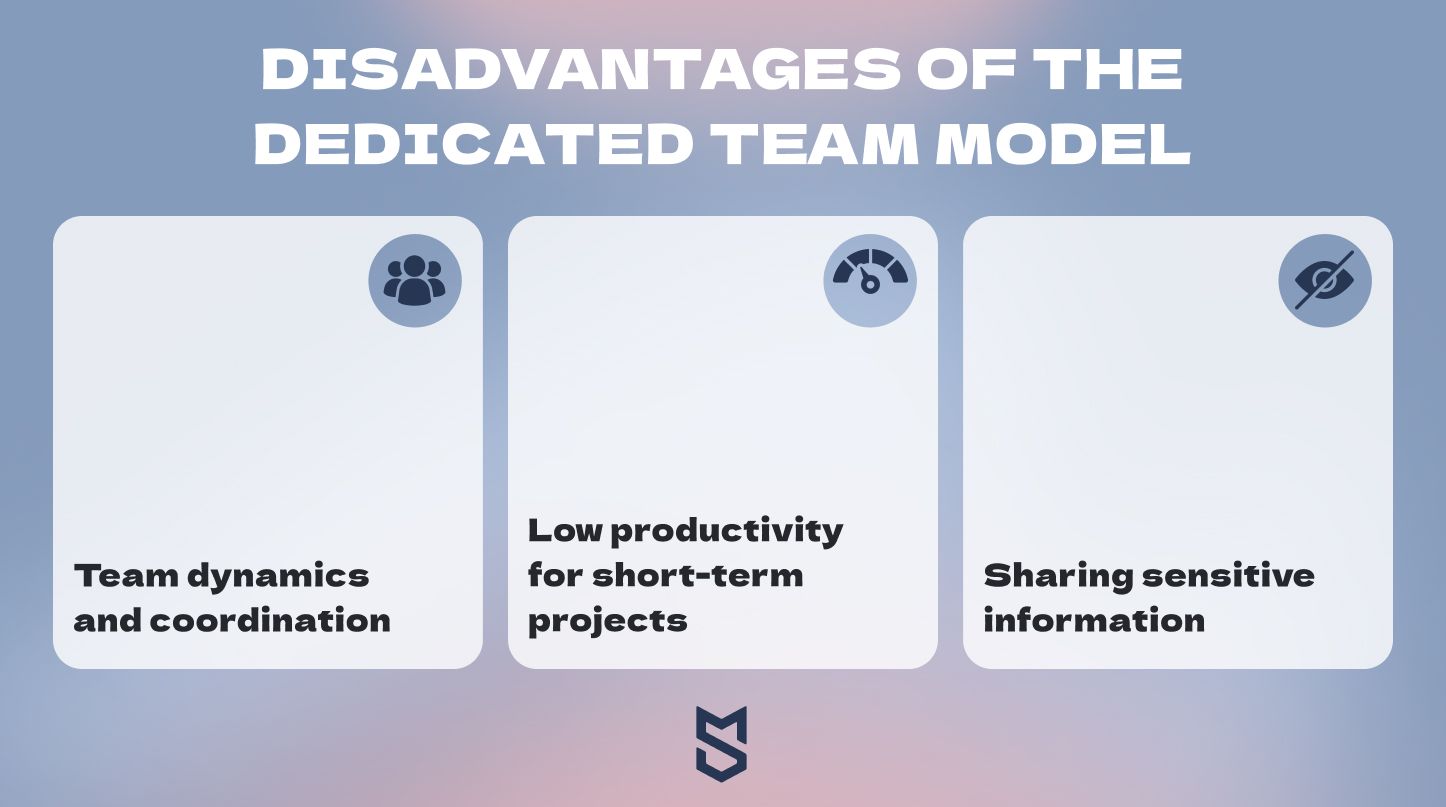 Of course, the dedicated team model is not without flaws.
Team dynamics and coordination
Communication and coordination are two of the most challenging difficulties many businesses encounter. Because most committed teams operate remotely, the company's communication channels must be well-established.
Then there's the issue of multiple time zones, which can make coordinating difficult. Cultural and language barriers are other possible roadblocks. Fortunately, with careful preparation and the correct approaches, this may be overcome.
Low productivity for short-term projects
Dedicated teams are not incapable of handling short-term projects; they are more effective when working toward a long-term goal. Loyalty, ideals, and adaptability are all benefits that become more apparent in the long run. The dedicated team approach takes longer to set up, making it less appropriate for short-term or small-scale projects that take less than 1–2 months to complete.
Hiring and integrating the entire outsourcing crew would be a massive waste of effort in such a short time frame. This is typical for short-term initiatives that will take several months to complete after the discovery phase. In this case, time and material or fixed price models might be preferable. The project evaluation procedure will be more flexible, and a price change request will be available in the event of changes.
Sharing sensitive information
Certain business information needs to be shared with a third party, the outsourcing company, which can be challenging and dangerous at times.
Your most valuable asset right now is your project concept. It must be preserved at all costs. Signing an NDA before disclosing any information with your potential partner is one way to accomplish this.
However, if the client takes the time to properly select a reputable outsourcing provider and establish an appropriate NDA, the chance of compromising your data is minimized.
A nondisclosure agreement requires the outsourcing vendor to keep your information private. This includes project-related concepts, features, and technology on top of the core concept. Aside from in-house development, hiring a dedicated team from a recognized company is more reliable regarding quality NDAs.
Real-world examples and case studies
In recent years, businesses and startups have recognized that they don't need an in-house staff to introduce a marketable product. Working with a remote team can save money without sacrificing quality. You can cut costs on things like equipment, rates, and office space. This method allows you to access experienced, remote staff members dedicated solely to your project. The IT outsourcing market is expected to be worth $587.30 billion by 2027, and many businesses have already adopted this strategy. But what about actual cases where a dedicated team successfully delivered the desired results? Here are some of ours:
Fitr.Training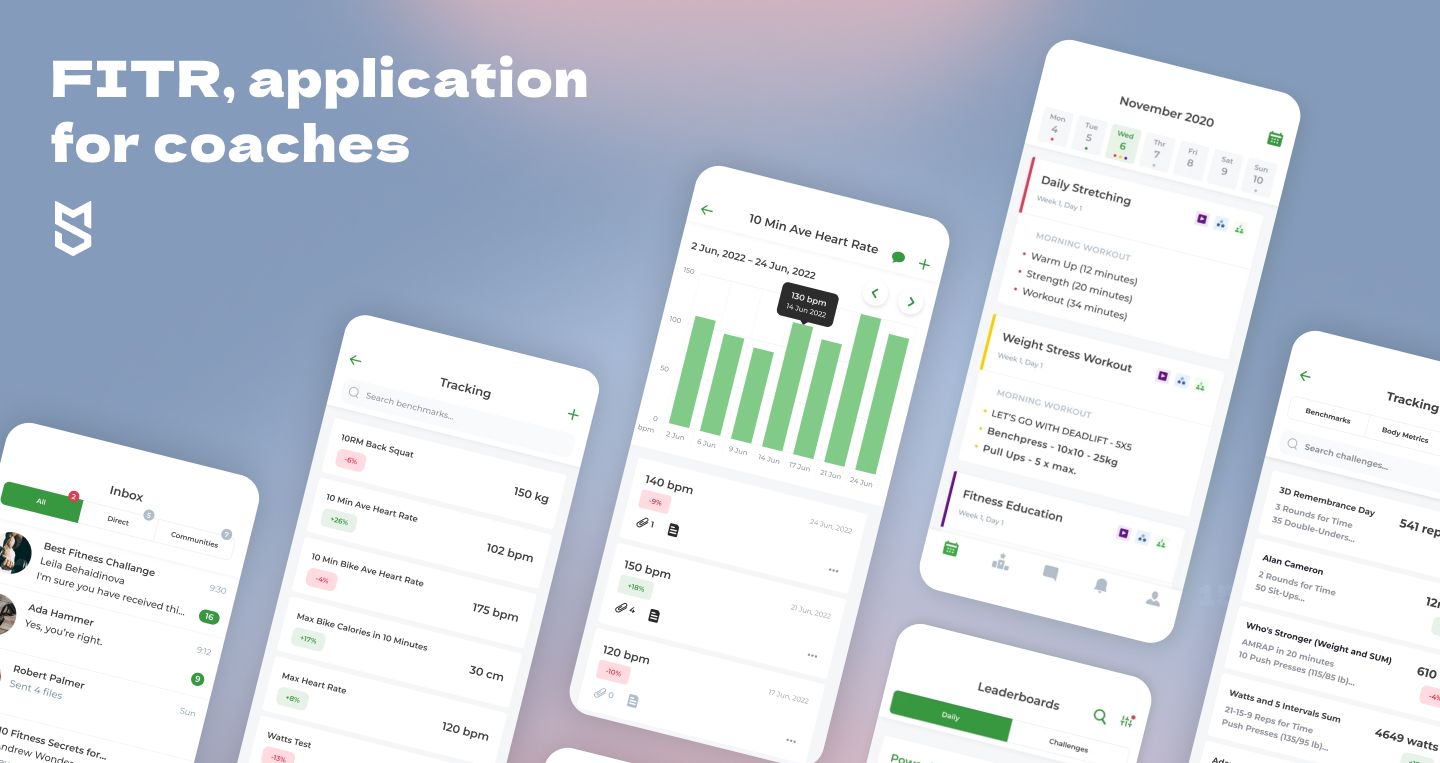 Fitr is a remote coaching software created to make the lives of coaches and their clients easier. Coaches may use the platform to handle programs, funds, and customers in one place. Our client Leon Cassidy designed it to allow athletes to compete remotely and coaches to build relationships, increase their client base, and handle payments and training schedules.
Initially, our client requested that we assist with updates and maintenance, but after discussing all aspects of the project with us, we decided to start over and create a better version of his software.
Anton Baryshevskiy, Mind Studios' chief business development officer, explains the benefits of the dedicated team approach and how it works for our clients:
"After working with us for a while, the owner of Fitr stated that he requires his team to work solely on this project. This was critical for the investors and the startup's capitalization. We could only offer him a dedicated team for software development instead of an in-house staff.

Working with a dedicated team entails more than just employing a group of random experts such as a back-end developer #2 or a QA specialist #1. It involves working with a permanent team of actual people, each of whom you have validated, gotten to know their talents, and even their vacation plan. You get the idea."
Today, the Fitr.Training platform has made over £10 million in sales and is a part of the expanding fitness app sector.
Pampr: Grocery delivery service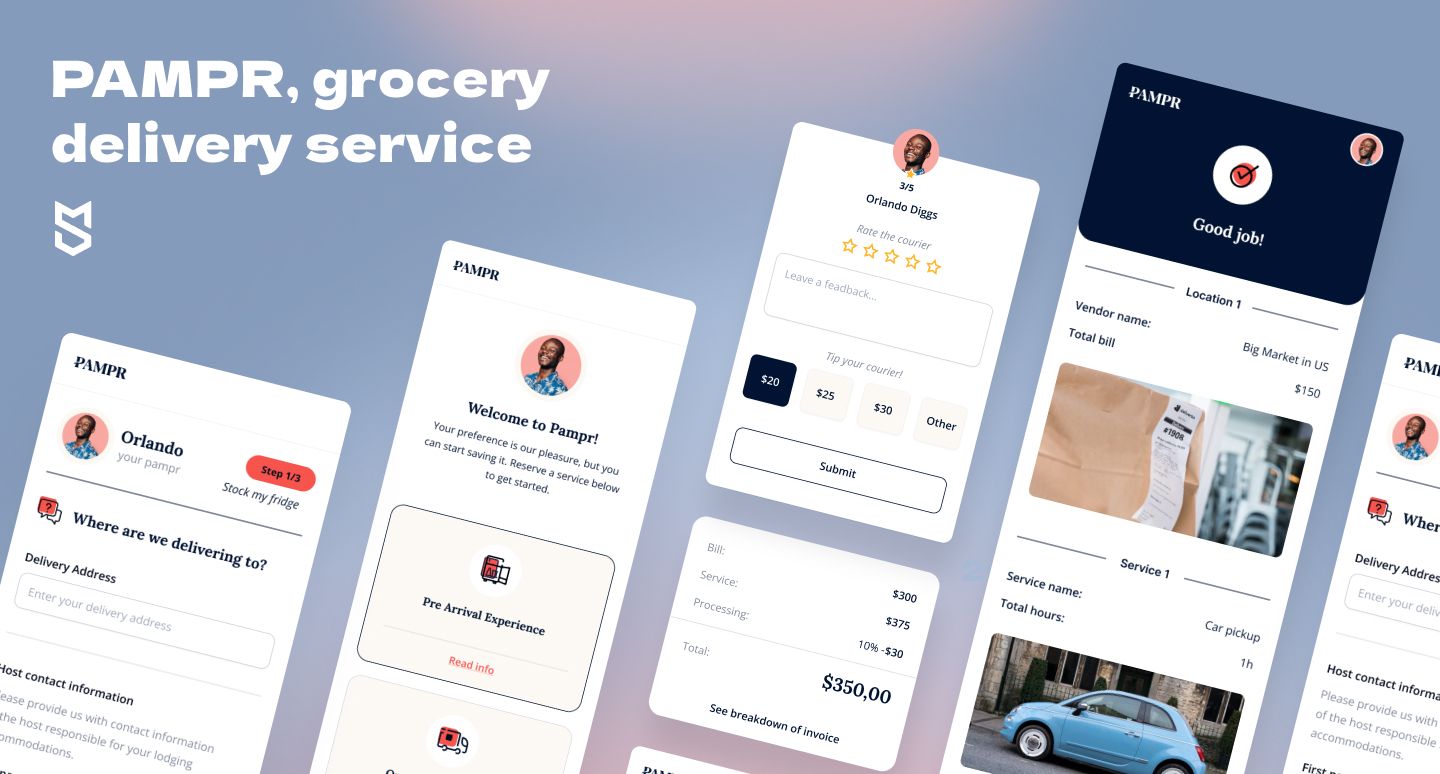 Brady Wilson, an entrepreneur from Nantucket, Massachusetts, had an idea to improve the island's holiday experience for guests. He founded Pampr, a grocery delivery business that offers everything from on-demand deliveries to full-time butler service. Initially maintained manually with handwritten notes and spreadsheets, Brady engaged Mind Studios to automate and simplify the business.
Mind Studios stepped up to the plate and created Pampr, a delivery service that allows tourists to order anything they need and have it delivered quickly and easily.
We have helped develop Pampr to be a genuine luxury delivery service, which happens to have a dedicated team working on it. Since the timeframe to develop an MVP was relatively short, and the client's team was occupied with tasks for the entire workday, it was decided during discussions with the client that we would provide a dedicated team to help them develop the product faster and meet the deadline. If you are curious to know more about the project, you can read more about it in our case study.
Pampr's June 2022 launch was successful, with over 1,000 luxury orders and tourists saving over 2,000 leisure hours.
Mind Studios as your IT staff augmentation partner
A dedicated team can either supplement or replace an in-house staff. There are various reasons, ranging from cost savings to a lack of relevant specialists in the client's area to the in-house team getting overwhelmed with other projects.
Mind Studios provides dedicated teams as one of our services so that we can assist you with every phase of the product development process. Our business study, design, and development services can all be acquired separately.
The IT sector advances quickly, and the sooner you start working on your project, the higher your odds of finishing it successfully. When hiring a specialist development team, it's vital to have a solid strategy to ensure that development goes smoother and faster.
We hope you find our knowledge helpful. We will gladly provide our development services to you. If you want to know more about how we operate, contact us today.
Conclusion
Saving money, being flexible, moving with the project quickly, and having access to highly skilled professionals are just a few of the advantages of the dedicated team model in software development. When the project's scope is unclear, and requirements may shift mid-development, this framework shines. With this method, firms can hire a team to fill their skill gaps and continue operating normally.
The client oversees everything about the staff, including motivation, management, and resource access. There are, however, certain negatives to think about, including difficulties with team relationships and coordination, reduced productivity on short-term projects, and less flexibility than outsourcing.
Project managers may benefit from the expertise and dedication of outsourcing organizations by gaining access to the tools and resources they need to maintain order and open lines of communication within their software development teams.
If you're still undecided about going with a dedicated team model, our specialists at Mind Studios can help you make the proper decision. We assist businesses in anticipating challenges and achieving better productivity and overall success. With our assistance, you can pick the application development outsourcing model that best meets the demands of your project, ensuring the commercial success of your product. Contact us today to learn more about outsourcing business processes.
5