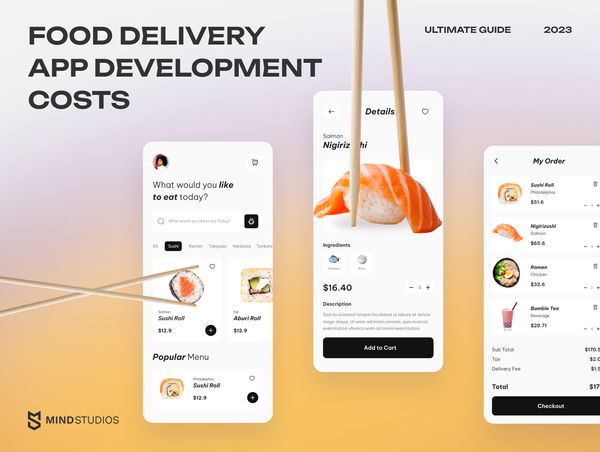 Because of their large target demographic and commercial acceptance, on-demand apps have grown in popularity. Food delivery applications have dominated the market due to their ease of use and convenience. Applications such as Uber Eats and Grub Hub, for example, have combined straightforward navigation, user-centric features, and comfort — and with this combination, these applications have effectively changed the on-demand food delivery sector.
The worldwide food delivery mobile application market is expected to develop rapidly, with a predicted value of $6.06 billion in 2023 and a CAGR of 12.89% to reach a stunning $14.24 billion by 2030. According to Revolving Kitchen, online ordering and delivery are expanding up to 300% faster than dine-in traffic. Even with the food-delivery sector in the United States being saturated, there is still an opportunity for competition. Alternatively, rising regions like China and Southeast Asia are ideal for launching a delivery app.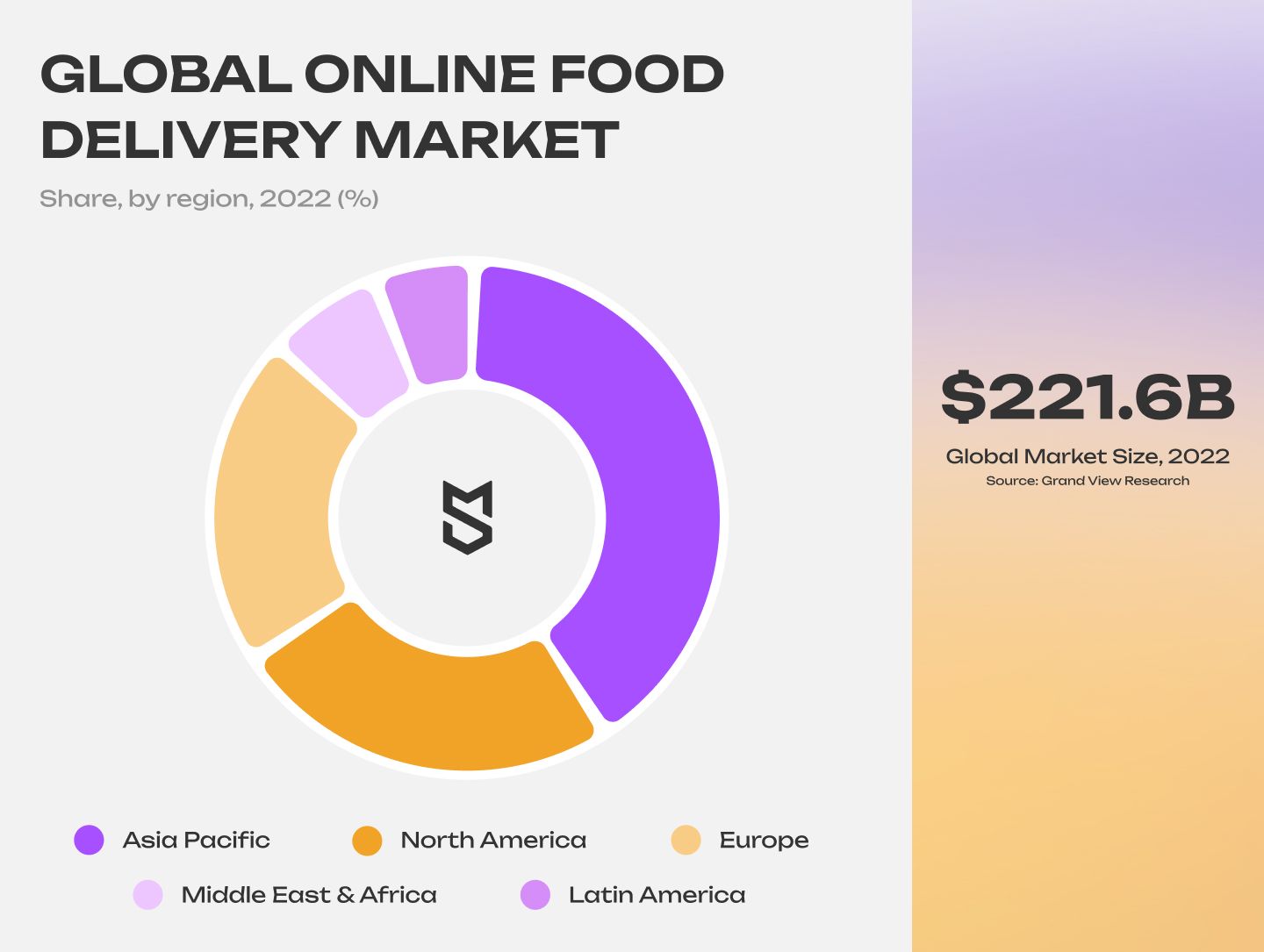 Restaurants in countries like China, India, and Japan are implementing tableside app ordering and payment systems that use customers' mobile devices. During the predicted period, the regional market of both food delivery and ordering apps is expected to grow thanks to several advancements and initiatives in online food delivery. In this article, we will address the requirements and potential needs for developing a meal delivery app in 2023, in light of this anticipated expansion.
Mind Studios has developed several successful food delivery systems, ranging from low-cost mobile Uber-like platforms to high-end services. We believe we have the skills and means sufficient to offer guidance on online meal-ordering software. If you would like a free consultation, contact our experts for personalized advice.
Factors influencing the development cost of a food delivery app
A food delivery app's development expenses are affected by elements such as app type, required features, tools and technologies, team location, design complexity, and app security. Furthermore, the hourly rate of a specialist is impacted by their skill level and the specifics of their job. To establish a successful delivery application, experts such as business analysts, project managers, UI/UX designers, front-end developers, back-end developers, QA specialists, and DevOps are required.
Let's go over these factors in some detail.
App features
The main thing you should know is that building a food delivery app from scratch is a complicated process. It's a versatile system that serves a wide range of users. Therefore, the core characteristics should be developed in a way that satisfies a rather big audience.
Ask yourself, "Who normally uses a food delivery app?". Chances are, these are:
Restaurants that take and fulfill orders
Clients who place orders
Order-delivery couriers
An admin managing the app
All of these users are at the center of the four parts of the delivery system.
App for restaurants
It's the restaurant-side meal delivery app. The following are key features:
Registration and login. This food app development feature will allow restaurant owners and staff to register and log in to the app.
Order management. With this feature, restaurants will be able to accept, reject, and notify the status of the order, among other things.
Menu management. The ability to show restaurant menus is required for the creation of food-ordering apps. Add this function so that restaurant owners can display and change their menus and guests can always have the most up-to-date information.
Ratings and reviews. Implement a review admin panel so that restaurant owners receive feedback about their establishment from diners.
History of orders. A restaurant's order history will be used to evaluate revenue on delivery and in the event of a dispute (for example, wrong delivery).
Client-side app
This is where your consumers will put their orders. Take care of the app's usability and intelligent UX to make it more convenient and interesting. Also, keep the following features in mind:
Registration and login. Signup and login are the two most important things to provide when developing a food-ordering app. Make the registration procedure as simple as possible for users, including social network login.
Search. Finding places and specific foods quickly and precisely is crucial for a good user experience, so don't forget to add this feature to your requirements for the development of a restaurant ordering app. Include the chance to browse local eateries as well.
Geolocation. The geolocation feature is required while developing a meal delivery service. Customers will use it to find nearby restaurants and notify the system of the delivery destination.
Payments. In-app payment option is one of the important value proppositions in a food delivery app. Make the checkout procedure as simple as possible, and include multiple payment alternatives for added convenience.
Push notifications. Implement push notifications in your app to keep your clients up to date on the status of their orders. You may also remind users about special deals or promotions using this feature.
Ratings and reviews. The client-oriented food delivery app requires a review and rating component. Allow your customers to rate and comment on quality of delivery, restaurants, and food.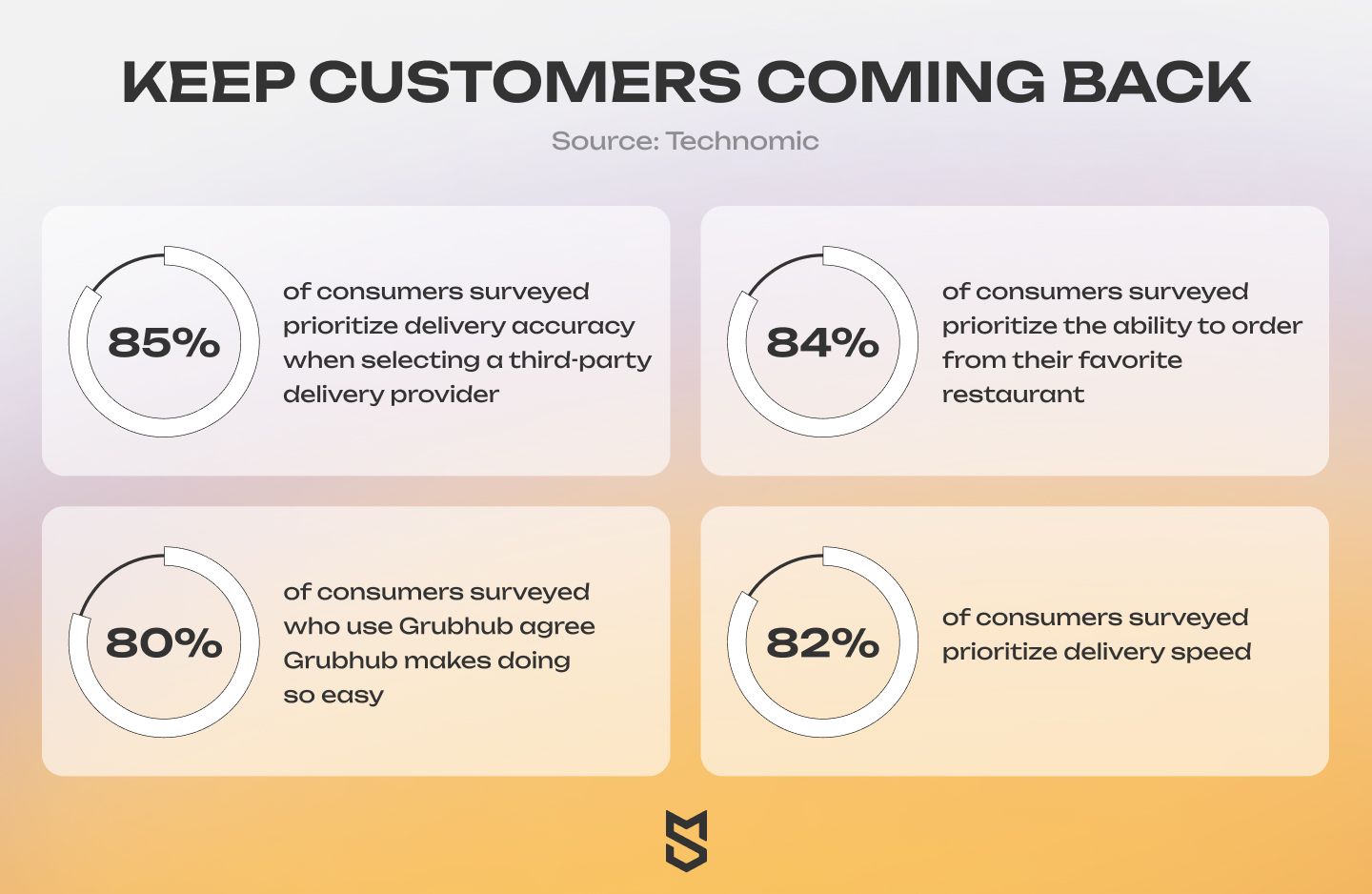 Courier app
Developing an online food ordering app entails establishing a separate application for couriers. It must be simple enough for the delivery person to complete orders while on the road. On top of an intuitive UX, you will need basic features like:
Registration and login. Create a registration and login feature to allow the courier to create an account and accept food delivery orders.
Geolocation. Maps and geolocation are required for the food delivery app development solution. This feature enables couriers to create and estimate delivery routes and track their whereabouts in real-time.
Order information and status. Add order information so that couriers may double-check all delivery details when picking the order up. The order status, in turn, is required to keep clients up to speed on where their order is.
History of orders. Order history is required in restaurant application development for the courier to be paid fairly for food delivery.
Admin panel
The platform for managing your food delivery app is an admin panel. The administrator can monitor the activities of restaurant, customer, and courier apps. The following features are often necessary here:
Restaurant management. The admin can add and remove eateries from the app and set permissions on the platform for restaurant owners.
Payment processing. The admin can keep track of all payments made through the app.
Courier management. Admin needs to be able to block certain couriers that get complaints from users often (things like order theft, client harassment, rudeness, etc.). Likewise, they need to be able to check applying courier credentials (valid ID and driver's license). Orders fees also must be managed by an administrator.
Analytics. The analytics tool is useful for business development. It allows the admin to get vital information on client behavior, demand for specific eateries, and so on.
Design and user experience
Technology-driven products and services must follow design principles. By adhering to these principles, designers build products that are consistent, unified, and intuitive for consumers.
Following design principles will improve the user experience of your product or service, leading to higher customer satisfaction and loyalty. The relevance of design principles in technology-driven enterprises cannot be overestimated, they play a critical role in product and service success. These are the core design principles of developing a successful food delivery app:
The design is made with mobile devices in mind.
Since food delivery services need to provide customers with an efficient and smooth user experience, the design makes ordering meals and tracking the delivery of orders simple.
The design contributes to the establishment of a strong brand identity by distinguishing the company from rivals and instilling confidence and trustworthiness in customers.
Design promotes a positive client experience which in turn boosts client loyalty and satisfaction.
However, a distinct brand identity does more than just make your app look better than the competition. It's a multi-factor formula that takes into account not just the visual style of your app but also your brand's voice in all forms of communication both within the app and in external ads, emails/messages, and push notifications, among other things.
Estimating food delivery app development costs
There are multiple food delivery app business models. An aggregator app that shows consumers all the restaurants in their desired area is one option, and a delivery app that links dineries with customers and intermediary services is a different one.
The features of your food delivery app would be based on the nature of your request. The cost of a food delivery app development will depend heavily on that. However, there are other factors that you should consider before you decide on developing your app.
Technology stack
To set up a food delivery service similar to Uber, developers must create mobile applications as well as an admin interface. The tech stack chosen is determined by the kind of app development: native or cross-platform. Native app development is more expensive but gives better performance, whereas cross-platform development is less expensive but faces certain challenges that might impact performance.
In summary, you will need:
Programming language: The most popular programming languages for food delivery app development are Java and Kotlin for Android, Swift for iOS, and Python for cross-platform.
Backend: You have a variety of backend alternatives, including Node.js, Ruby on Rails, and Elixir.
Database: You can store data in MySQL, PostgreSQL, or MongoDB.
Cloud services: To host the app, you can utilize cloud services such as Amazon Web Services (AWS), Microsoft Azure, or Google Cloud Platform (GCP).
APIs: APIs such as the Google Maps API and the Twilio API can be used to deliver location-based and messaging services.
Payment gateway integration: You can integrate payment gateways such as PayPal, Stripe, or Braintree for secure payment transactions, which are usually implemented via API.
Java and Kotlin are two popular programming languages for developing Android food delivery apps. Android Studio is the official Android integrated development environment (IDE), providing code editing, debugging, and a customizable coding environment. ADT (Android Developer Tools) includes a variety of debugging tools, emulators, UI builders, and automation functions. The Android SDK is a collection of development tools that includes a debugger, libraries, emulators, tutorials, and documentation.
Objective-C and Swift are the most popular programming languages for iOS development. Swift provides dynamic libraries that minimize app size and enhance performance, whereas Objective-C allows for object-oriented programming and a dynamic runtime environment. Apple XCode is a toolkit that enables developers to create mobile applications, whilst the iOS SDK gives sophisticated applications access to various functionalities and services of Apple devices.
Google's Flutter is a UI software development kit for producing cross-platform apps for Android, iOS, and web operating systems. It includes tools for creating native-like apps with enhanced performance and functionality. React.js is a powerful JavaScript toolkit for creating websites with minimal coding that includes a virtual DOM and component reusability. Node.js is an excellent addition to the tech stack for enhancing efficiency and productivity in backend development.
The total cost of developing the food delivery app is affected by all of these factors. Since cloud services aren't free and certain APIs aren't open source, the client and the team need to weigh the pros and cons of whether to pay for the API or to create the functionality themselves.
Development resources and team
The number of hours required to complete an app feature is determined by the development partner you select. Working with a freelance developer or an app development company will cost differently. The hourly pricing is also heavily influenced by the experience of the developers working on your food delivery software.
Adding complex features will increase the development hours and skills necessary to create an app. As a result, it will have a direct impact on food delivery application development costs.
Freelance developers
Freelancers might cost you less to develop a food delivery app. You can find them on freelancing sites like Upwork. However, there are things to keep in mind.
Freelancers charge less because they usually take on fewer responsibilities and offer little to no risk mitigation. If something happens to the person building your app, the development will stall until the situation is resolved or you find another specialist.
Additionally, when working with freelancers, you'll most likely need to hire multiple people, spending time (your own or your HR department's) to find and interview each of them. If you're not in a rush to launch your delivery app and would rather save the money, freelancers might be your option.
Outsource developers
Companies tend to charge more for developers' hourly rates and liability mitigation. If a developer cannot continue working on a project for some reason, the company must replace them at its own expense or compensate the client for project delays. If the dev's equipment breaks, the company must replace it quickly to avoid project delays.
In addition to a high degree of skill, the client receives the assurance that the project will be completed on time and within the scope, regardless of most circumstances. Companies also usually provide better NDAs and project management.
It's also possible to save costs while working with a development company: by finding partners from countries with lower average hourly rates (Eastern Europe instead of US-based, for example), starting with an MVP instead of a full launch, and working according to Agile principles (dividing the development process into sprints and distributing payments).
Here's a list of experts necessary for projects like food delivery apps:
iOS developer
Android developer
Front-end developer
Back-end developer
UI/UX designer
Business analyst
Project manager
DevOps
Quality assurance (QA)
App development is better outsourced to a firm that can handle everything from initial concept to final testing and maintenance. You may find a vendor using directories like Clutch, GoodFirms, and Aloa.
Companies that specialize in software development often have experts in business analysis, testing, and other areas, making them a good choice for projects with multiple moving parts. Business analysts, UI/UX designers, project managers, web and mobile developers, quality assurance engineers, and more are all available at Mind Studios.
Development phases
Several critical processes are involved in the food delivery app development process, including conceiving and defining a concept, doing marketing research and product discovery, UX design, testing, and UI design.
Multiple aspects must be addressed when evaluating the development time of food delivery applications such as Uber Eats, Postmates, or ChowNow. First and foremost, you must have a clear understanding of what type of application functionality you want. What would the design look like, and how many extra features would be required? The next question is how many platforms do you intend to deploy the app on?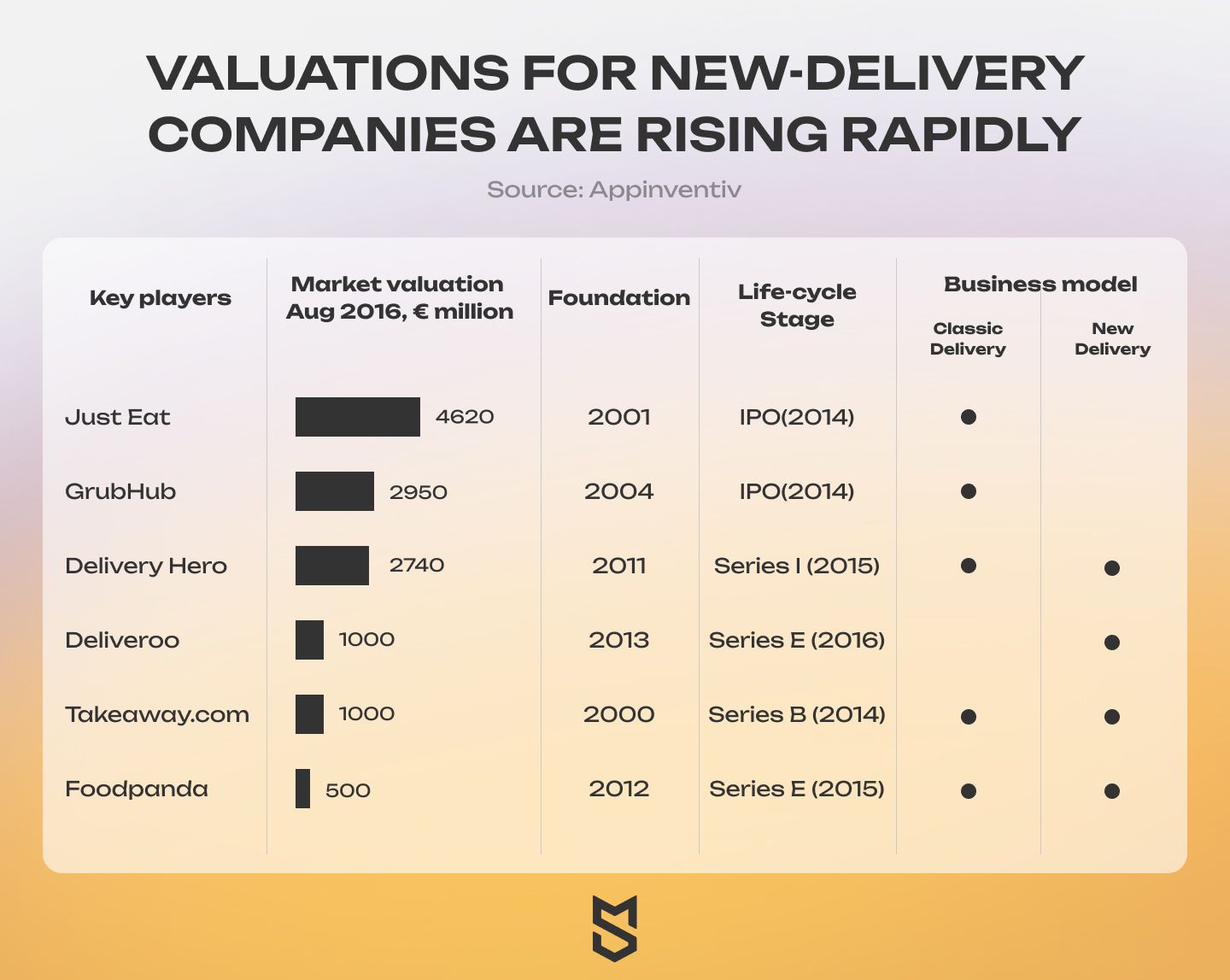 Aside from the aforementioned criteria, time and cost are determined based on the hours spent envisioning and implementing the app. We have outlined the time and cost to develop a food delivery app on iOS and Android for delivery people and for clients, a web API for restaurants, and an order or admin administration POS.
Discovery
The first stage is Discovery where you describe the product concept, which aids in the creation of a strategy and its communication to the team. At this stage, you would also have to do market research, which includes evaluating the market, competitors, and target audience (a bit more about this right below). This helps decide if people will use the product, whether they will pay for it, and whether certain issues require the application to be solved. Following this research, the team can move on to the design stage.
Research and requirement gathering
Market research is the starting point for every meal delivery application. Without understanding your customers, your rivals, and the state of the industry, you can't make sound judgments.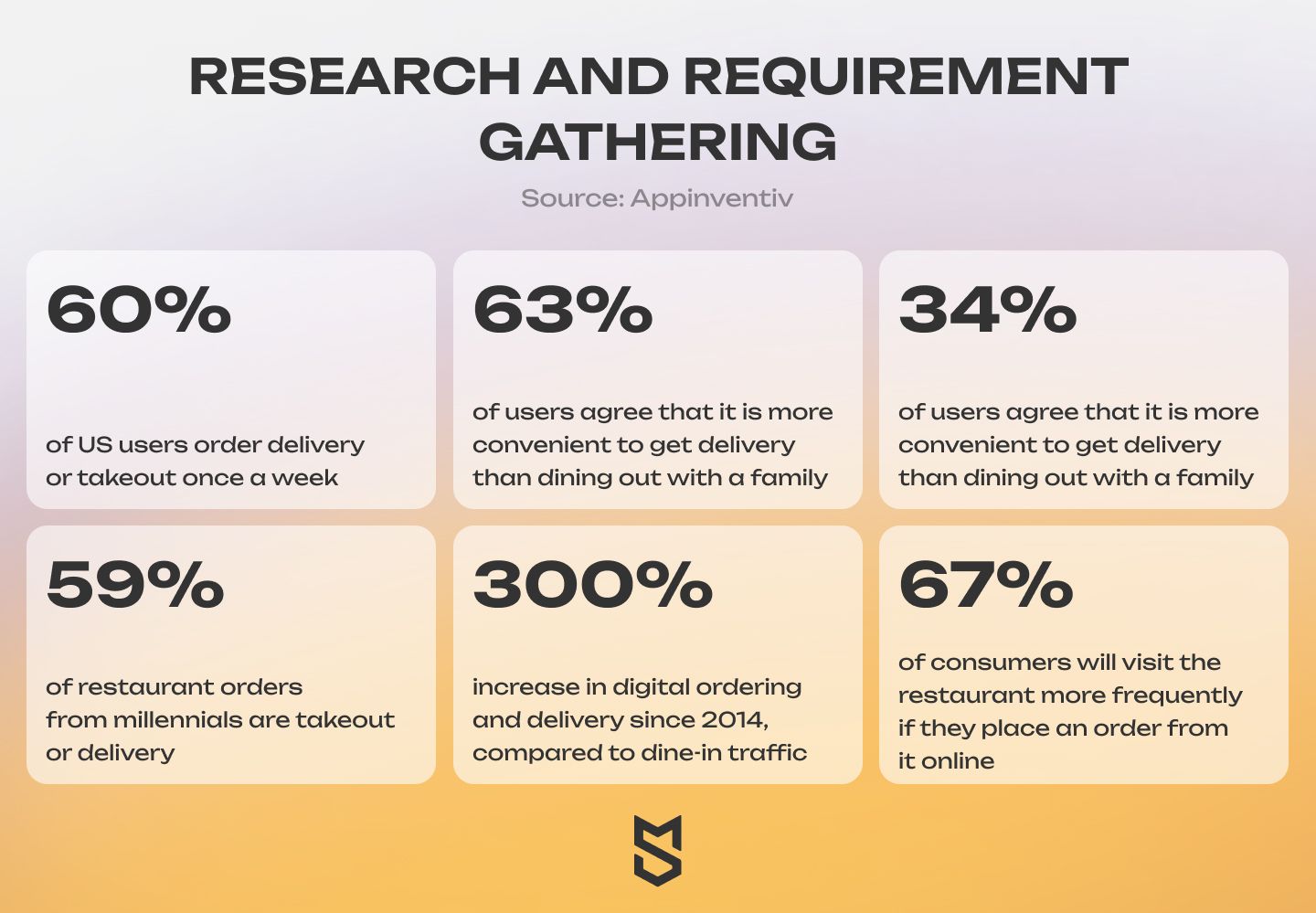 Conducting market research will outline the steps you need to take to achieve your business goals:
Determine which market you'd want to introduce the product to
Determine your primary rivals and do a SWOT analysis
Think of ways to improve your application and submit them
Determine who you want to reach and what information they need
See how users of your intended app respond to it
Based on this data, you'll be able to create a requirements document for future development, where you'll outline all the features you need and how they should work.
You can do market research before hiring developers or you can have it as part of your cooperation with the team — most outsourcing companies offer market research services. By doing it with a team experienced in the niche, you'll have the opportunity to use extra knowledge and make better decisions.
UI/UX design
The second phase is UX design, which involves developing a product prototype, logic, and navigation. A well-designed prototype is a fully functional application framework that can be quickly "put on." To avoid user annoyance, it is critical to focus on logic and navigation.
This stage also includes a UI design, the creation of interfaces with an emphasis on aesthetics and interactivity. User engagement is influenced by aesthetic decisions made during the construction of a product, such as pictures, buttons, menu bars, or footers.
Development and testing
The food delivery app development life cycle includes product technical documentation, mobile app development, QA, maintenance, and user feedback analysis. The team should collect critical customer information, create technical documentation, choose technology stacks, specify feature requirements, and complete the estimate and scope of work.
This phase will also include testing, which will involve checking each operation performed in the software, as well as its consistency and navigation. Ample time for testing is necessary as it allows for error correction.
Following the conclusion of development and testing, the team proceeds to product deployment and integration, where the tested version of the product is given to a limited public (for example in a single city) for live testing before the full deployment of the project. After that, the team collects user comments, fixes bugs, and makes improvements.
Monitoring and future updates
The maintenance is handled by the development team after the product has been deployed in the production environment. Surveys are used to collect customer input in order to better understand the ease of the meal delivery service, its capacity to satisfy user demands, and what adjustments are needed.
Another critical part of app maintenance is improving app analytics. Maintenance may be scheduled with Android or iOS app development to give frequent analytics and reporting, which can lead to improved profit. Because online analytics and reports outperform offline documentation, app maintenance is a vital component of app creation.
Post-launch support and maintenance
The development of meal delivery apps does not stop there. Following the analysis of customer feedback, the team continues to improve and develop the product, ensuring that progress is the key to success, and that is where business analysis will come in handy.
Even if no big upgrades are planned, you'll still need support and maintenance for your software after its complete development, testing, and release in order to fix any crashes, bugs, or other technical issues that may crop up.
Finally, third-party integrations and APIs need upkeep. Hiring specialists from a top mobile app development firm can provide thorough app maintenance and support, assuring the success of your food delivery service.
App maintenance is an essential component of any mobile app since it allows businesses to maintain and improve the functioning of their applications. It entails a variety of activities such as handling push notifications, bug fixing, feature updates, releasing new features, increasing app analytics, and managing third-party integrations and APIs.
The cost of developing some of the popular food applications
Developing a food delivery app like DoorDash or Uber Eats may be expensive for several reasons. It's difficult to estimate the precise costs before discussing in depth the demands of the business and the desired features of the app. The process of creating an app has been roughly classified into three categories, each representing a different degree of complexity.
| App Model | Estimated development time | Initial contract price |
| --- | --- | --- |
| Simple app | 3–6 months | $30,000–$36,000 |
| Medium app | 6–9 months | $50,000–$75,000 |
| Advanced app | 10–15 months | $90,000–$150,000 |
Aside from the initial food delivery app costs, you have to cover 15–20% of the total food delivery app development cost each year to maintain and improve your platform to compete with the expanding market competition.
A sophisticated food delivery service, like DoorDash or Uber Eats, with the potential to operate in several cities and countries will require a minimum investment of $150,000 plus additional fees. For the rest, the app development cost for food ordering service is entirely based on the app's complexity and the functionality you require to meet your particular business objectives. You can contact our experts for a free consultation to get a rough estimate for your idea.
Our estimate example for food delivery app development
Price for developing a food delivery app can range from $78,000 to $148,500. Depending on the location and experience, professional developers may charge between $45 and $150 per hour.
Here's a rough estimate we've made for a better understanding of where the money goes.
Food delivery app development stages and cost
Development stage
Hours
Cost
Project management
400+
$18,000
Idea validation + specifications
100+
$4,500
Design for Android & iOS platforms
160 – 200
$7,200 – $9,000
iOS development
640 – 800
$28,800 – $36,000
Android development
620 – 800
$27,900 – $36,000
Backend
580+
$26,100
Testing and improving
320+
$14,400
Admin panel
100+
$4,500
Total
2,920 – 3,300+
$131,400 – $148,500
If you're looking for a qualified team with considerable expertise in food delivery app development, let Mind Studios offer you an all-inclusive cost estimate. Contact us and we will provide you with a full quote so you will have an idea how big of an investment you need to develop a food delivery app.
Future trends and considerations
Food delivery businesses confront many challenges including a high barrier to entry, severe rivalry, and sophisticated operational management. To address these issues, firms should use low-cost technological solutions, target specific customers, and collaborate with local restaurants. This can cut down on the requirement for extensive delivery capabilities while also tapping into loyal consumer groups.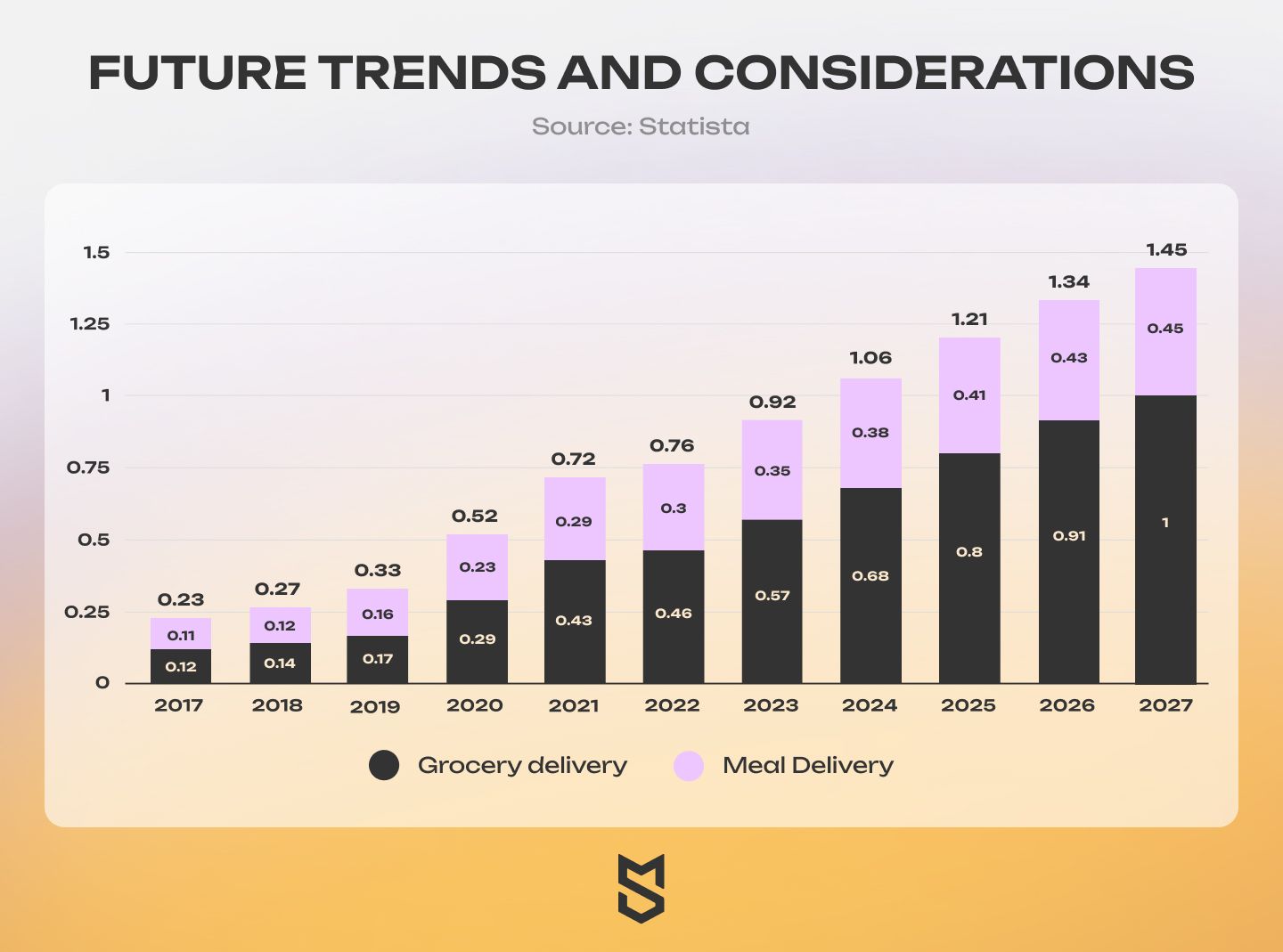 Businesses that provide a distinct and distinguished experience, such as a greater selection of restaurants, faster delivery times, and creative features, can stand out in a crowded market. Complex operational management necessitates real-time coordination between restaurants, drivers, and customers, needing sophisticated systems for order processing, dispatching, and communication. This needs the support of a capable development team.
Conclusion
In the end, how much it will cost to create an app for food delivery depends on aspects such as the expertise of the developers, location, project complexity, and team composition.
Developing an app involves researching the market, the competition, and the industry as a whole first, deciding where to release the app, conducting a SWOT analysis, and iterating until the software meets the needs of its users. Feature updates and the upkeep of third-party APIs are just a few examples of the continual maintenance and upgrades that the team must consider.
But despite all the difficulties developing food delivery apps, the on-demand app business is booming, and food delivery apps are a big reason why. That said, if you want to create a successful app, you need to hire dependable developers you can rely on.
Mind Studios is home to expert software developers who can assist you. We can provide an accurate cost estimate for app development since our team of app developers is hand-picked for their knowledge of modern frameworks and dedication to our agile methodology. Contact us and we'll provide you with a timetable and price quote.
5