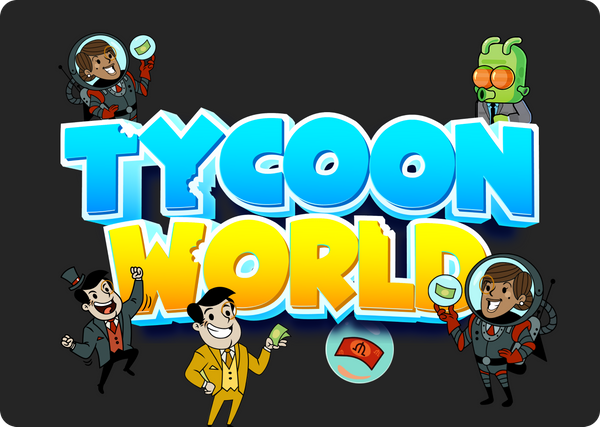 A management simulation game AdVenture Capitalist is a perfect example of why building an idle game is a smart investment. It might seem simple, but over 20 million downloads on app stores speak for themselves.
So, what exactly is this game about? Why is it such a success? And finally — how to make a tycoon game of your own? We explore all this in our article and share Mind Studios' experience of developing similar idle games.
What is AdVenture Capitalist?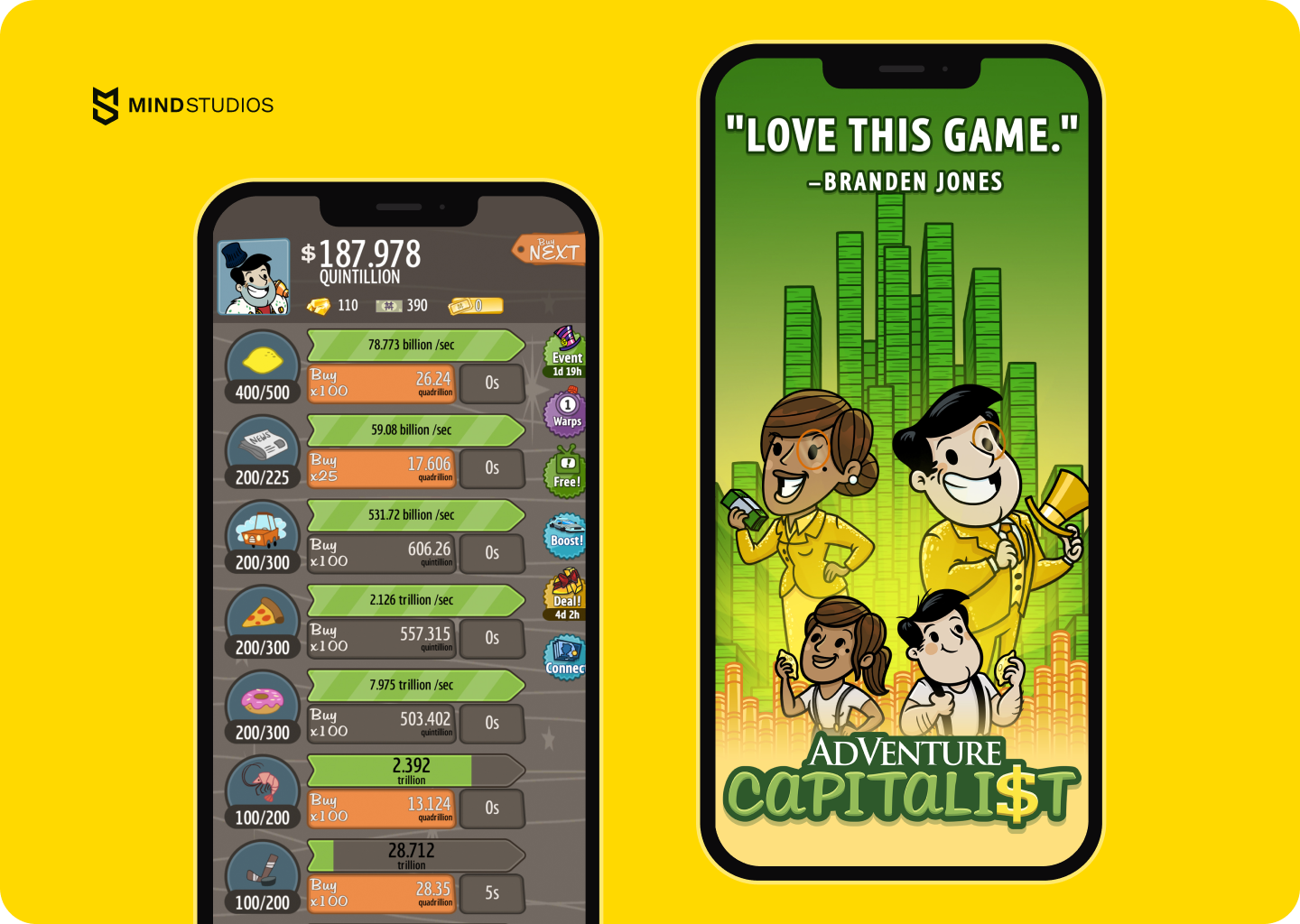 A tycoon simulator, a management game, a gathering game — AdVenture Capitalist has many definitions, but none of them truly encompass the whole scope of this tycoon game.
AdVenture Capitalist is a web, PC, and mobile idle clicker game that's a satire on capitalism. While playing it, you indulge in "capitalist freedoms," spending money to buy things that will earn you more money. And you keep indulging even though you can clearly see the ridiculousness of it all.
In AdVenture Capitalist, you can, indeed, become a tycoon with the help of several upgrades and having "hired" the necessary managers. For instance, in just 5 hours of playing, you can go from running one lemonade stand to owning five oil rigs. Impressive progress, isn't it?
So, how does it work?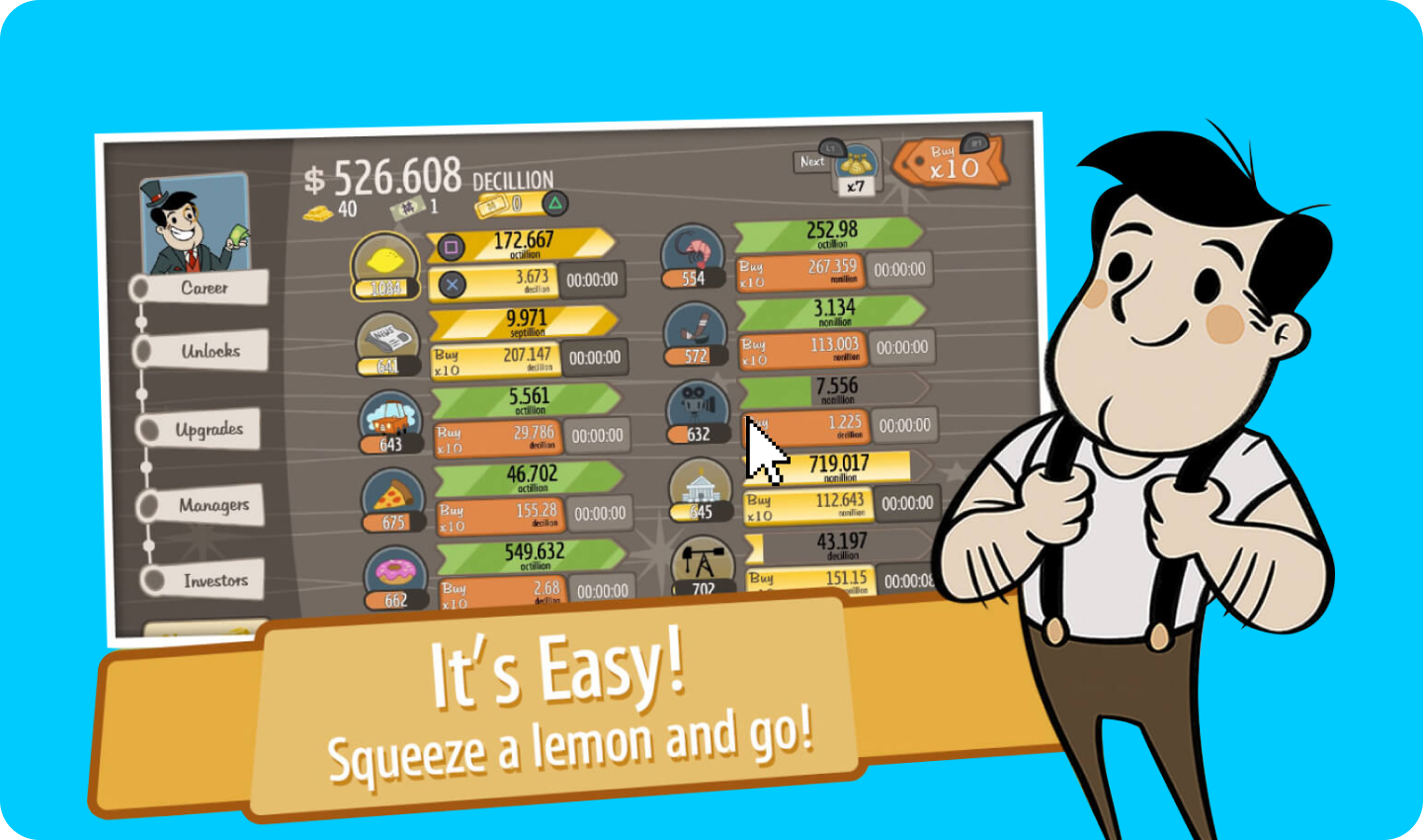 As with most idle clickers, the gameplay is pretty simple. You start with a single lemonade stand — something you've either tried yourself as a kid or at least seen in the movies. You tap or click on a lemon to virtually squeeze the juice to sell lemonade. In a minute or so, you've sold enough lemonade to buy more stands to earn money faster. Next, you can hire a manager to do all the clicking for you and can even exit the tycoon game for some time. The money will keep rolling in as you go about your day.
Of course, you can't become a tycoon on lemonade stands alone, even in a game. You'll be growing your business with newspaper routes and ice cream parlors. Before long, you'll own hockey teams, movies, banks, and oil rigs. All without really doing anything.
Where's the fun in doing nothing?
AdVenture Capitalist and other successful idle games keep high retention rates by enticing users to strategize, thus adding a feeling of achievement and control.
Should you buy another oil rig that earns you $2,000 in two hours or set up two more newspaper routes that, together with your existing ones, will make you $200 in three minutes? If you take a moment to calculate, you'll see that building an oil rig isn't that beneficial after all. Different combinations of upgrades will result in different profits, and choosing what to invest in makes economic simulation games like AdVenture Capitalist also strategy games of sorts.
Essentially, you feel like it's your decisions that make the business flourish, and that brings you satisfaction and drags you back into the game.
What are the benefits for tycoon game owners?
Addictive nature of idle games
According to GameAnalytics' data from 2019, incremental games have higher retention than other game types. A more recent article published on this same source proves that idle games are more engaging than hyper-casual ones. For example, idle games users play more frequently (5.3 times daily) and have longer gaming sessions (8 minutes). In addition, the average revenue per daily active idle user is nine times higher than per hyper-casual player.
So, why is that? A lot of people play management games like Adventure Capitalist and want to relieve stress or get their minds off things. They can be doing it on their lunch breaks, on a bus to work, or between lectures at university. And during particularly busy days, when they don't have a spare minute to play, users want to be certain their scores won't disappear. Therefore, games like FarmVille, where the crops go to waste if you don't play constantly, are not going to bring such users any fulfillment.
With idle games and tycoon games in particular, users' rewards (like in-game currency) continue piling up even when they are not playing. Even more so, often idle games users' long-term strategic goals require simply waiting, which provides natural pauses in the gameplay. Since the players always have something to look forward to in terms of benefits within the management game, they keep returning to it for a guaranteed dose of dopamine.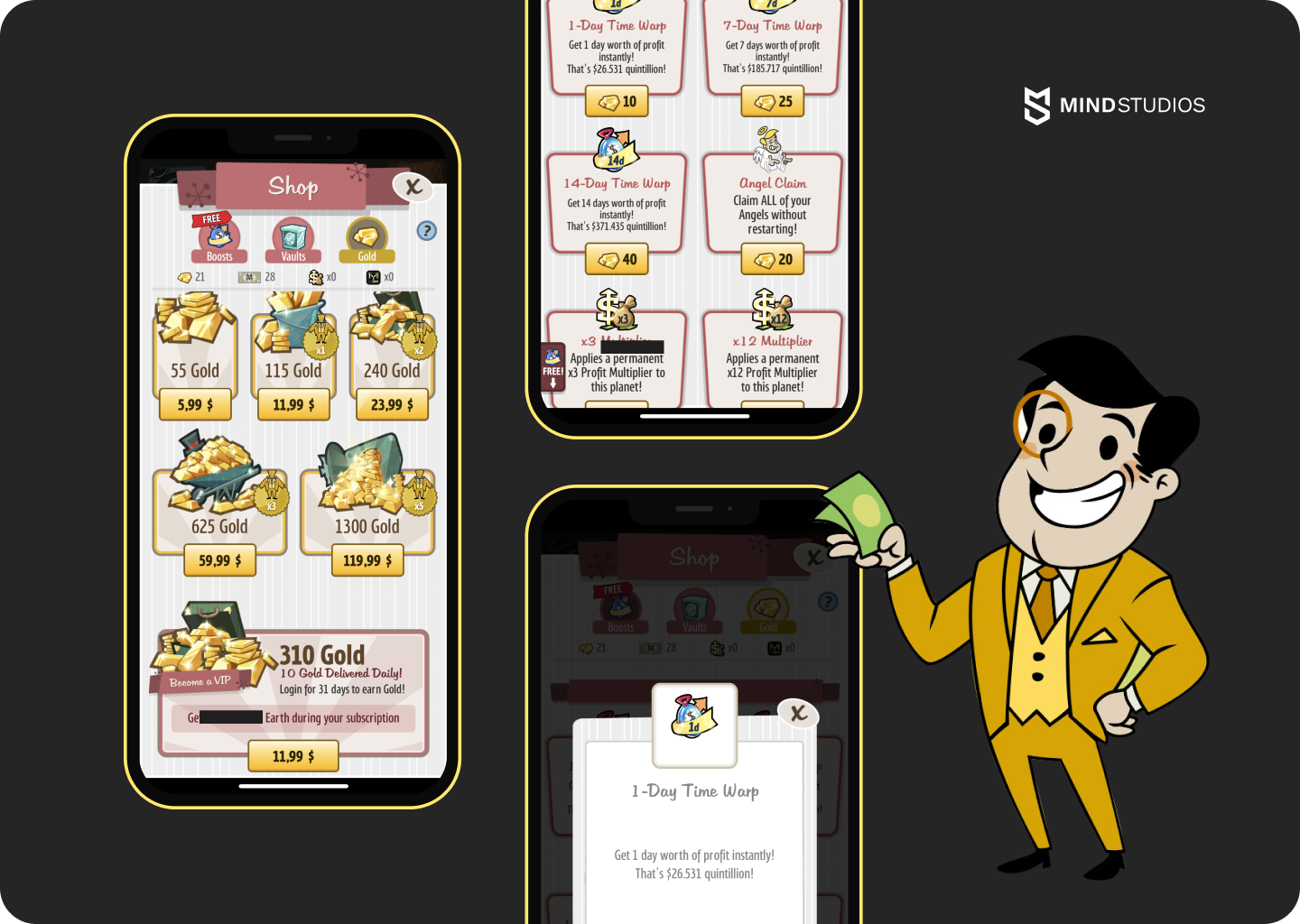 High rates of in-app purchases
One of the reasons incremental games are so attractive to users is that they are free. However, since the rewards within the game are continually increasing and the risks of losing are minimal, users feel more secure about making in-app purchases. These include speeding up the waiting time, passing difficult levels, etc. According to GameAnalytics, 37% of idle games monetize through such purchases.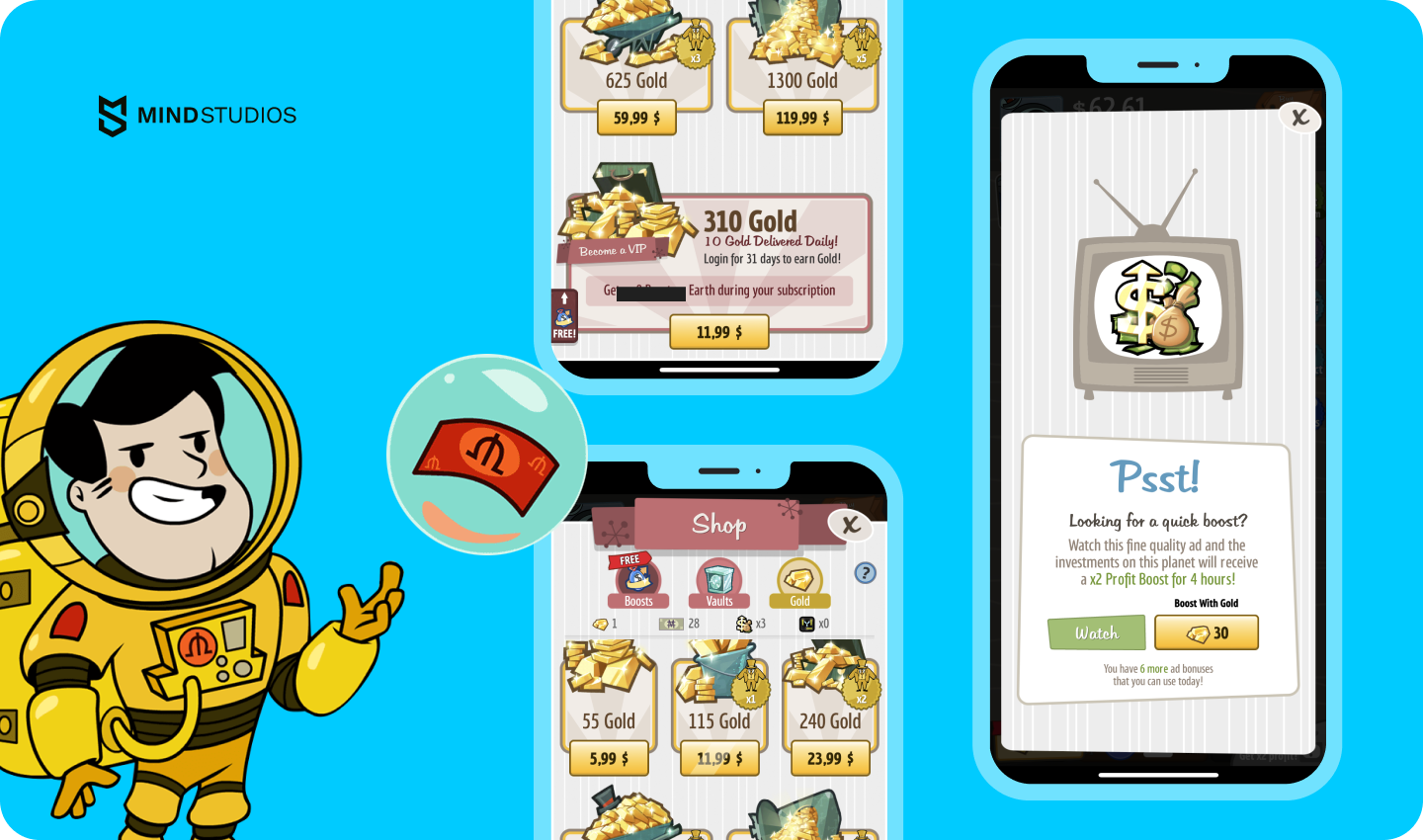 Cost-effective choice
Unlike games with complex meta loops and intricate scenarios, idle games are relatively inexpensive to develop. Just one core loop, limited functionality, and often simplified artwork of incremental games mean they require little time to develop.
Obviously, the cost still depends on your tycoon game design complexity, the quality of the artwork, and the geographical location of the outsourced development team.
For instance, 3D graphics will cost you more than 2D, and a team of US-based developers will charge more than a team from India. However, it's still possible to make your own tycoon game and succeed even on a limited budget: 2D artwork can be just as stunning as 3D, and game developers from Eastern European countries like Ukraine or Poland often can deliver just as great results as the American teams. Just don't forget to do the background check of the team you're thinking of hiring.
How to make a tycoon game of your own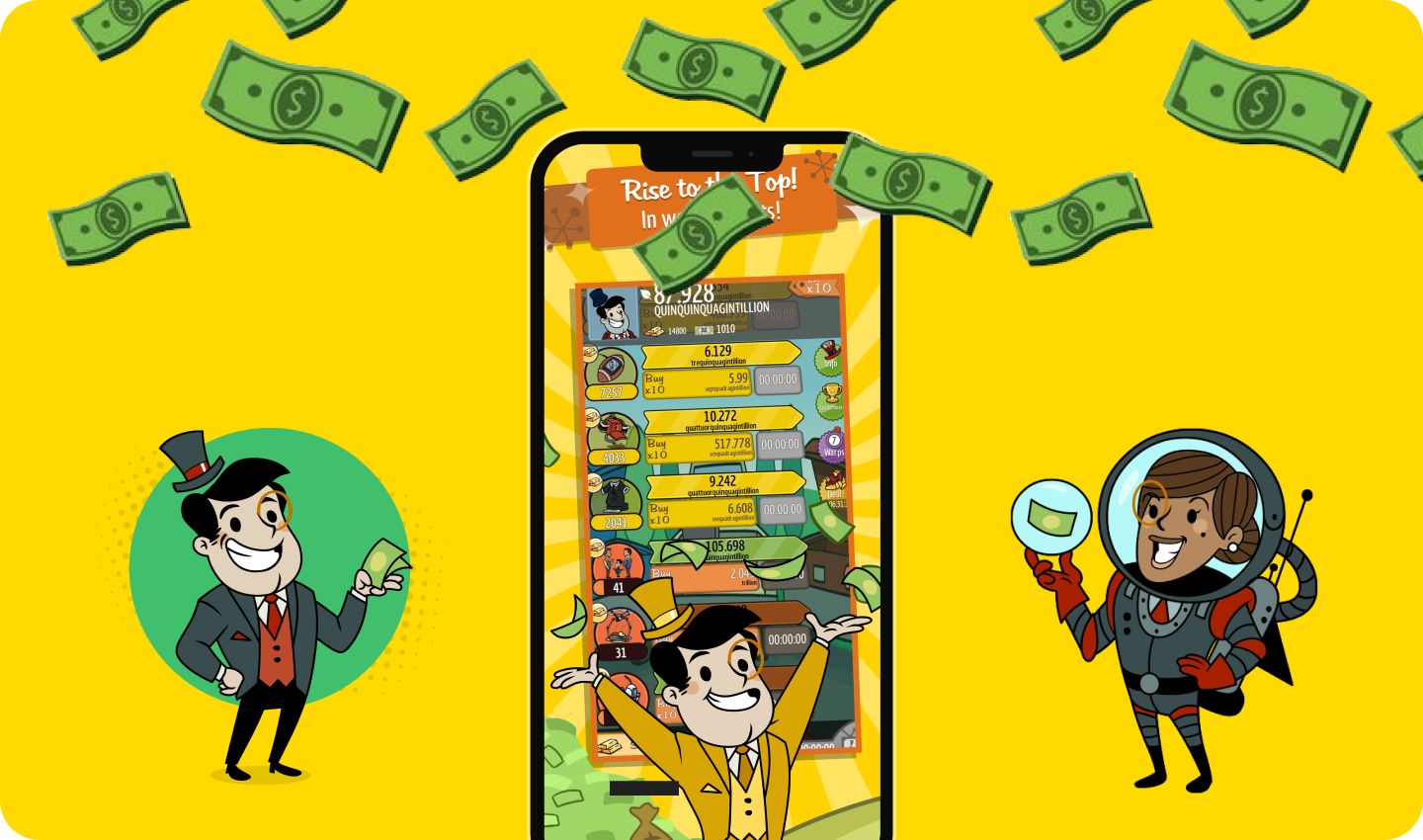 It is possible to build a simple clicker game with the help of a game maker, following one of numerous tutorials available online. However, you'll need at least surface knowledge of coding and a full plan for your game. Furthermore, to make a tycoon game from scratch to potentially become as successful as AdVenture Capitalist, a game maker isn't enough. Outsourcing tycoon game development will considerably up your chances of launching a unique and profitable game.
From the structure of your team to the challenges they'll face, building tycoon games is pretty different from developing any other mobile app. If you're not a developer yourself, you'll need to find a game development company to outsource your project to.
From a developer's perspective, building a tycoon game in Unity is fairly simple, since its mechanics and design are of basic game level. The hard part of starting a tycoon game is keeping the users engaged even though they rarely do anything. The feeling of satisfaction from seeing huge numbers in your wallet is fleeting.
Here are the crucial components of the tycoon game development and launching process we recommend paying extra attention to.
Setting
AdVenture Capitalist's selling point is its satirical plot — buying for the sake of being able to buy more. That's why there are all kinds of businesses to own. But there are other tycoon games in a wide variety of settings. For example, Idle Miner Tycoon is, as one would expect, a game set in a mine. If you search "idle tycoon" on the App Store or Google Play, you'll find various real-life settings like restaurants, hotels, factories, supermarkets, gyms, and theme parks. There are more unusual ones too, like the mafia, space, ancient civilizations, zombies, and even the underworld. Nothing is stopping you but your imagination.
Speaking from Mind Studios' personal experience of developing tycoon games, we would recommend taking into account trends that are going viral in the countries you are targeting. One of the idle games developed by Mind Studios is Idle Rocket Tycoon, where users can virtually build a spaceship for a lot of money. In the era of SpaceX, Blue Origin, and Virgin Galactic — this setting was bound to succeed.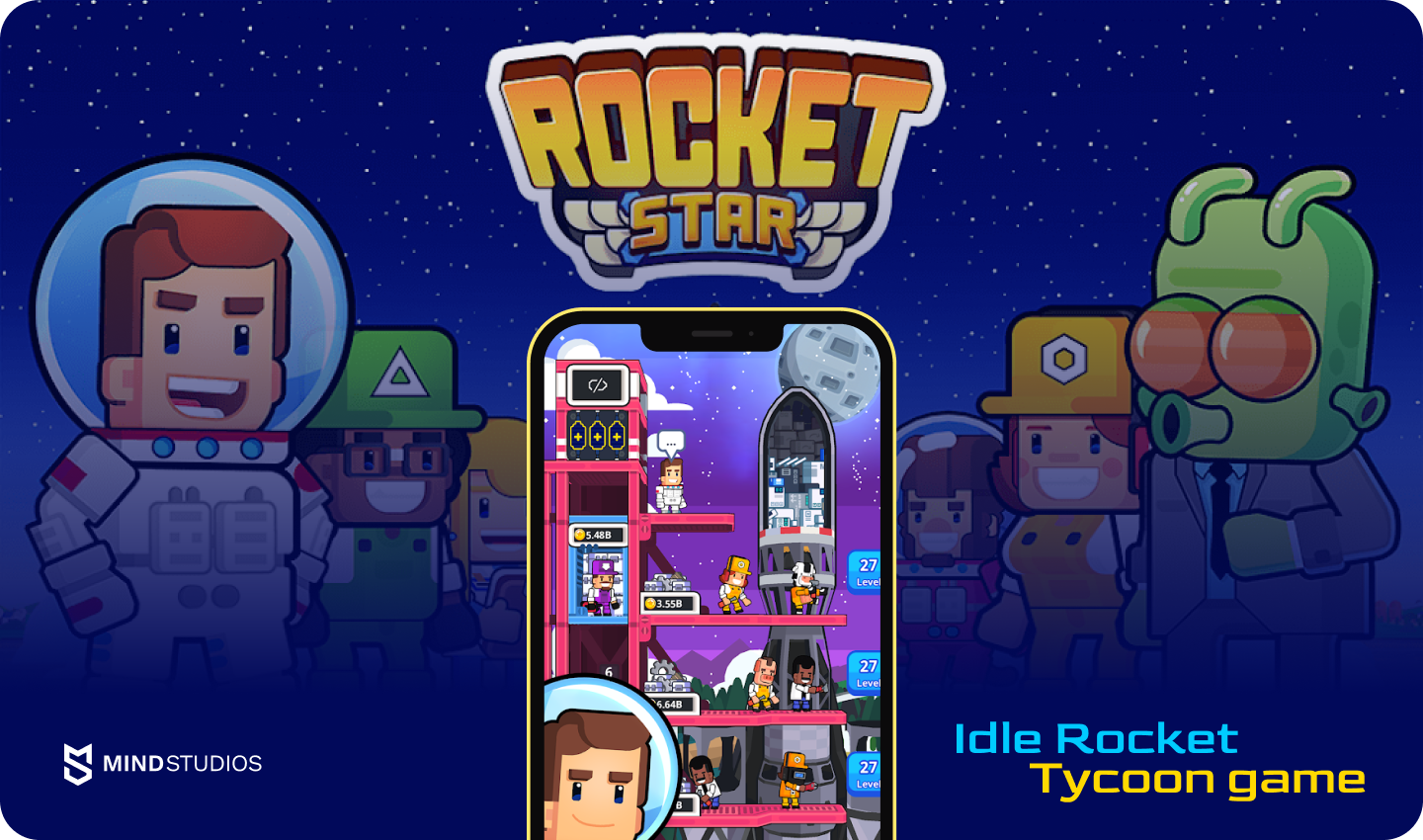 Core loop
Most mobile games, unlike PC and console games, have no fixed ending. That's because when the game ends, the user deletes it, and the developer can get no more revenue from it. One exception is games with paid downloads, which are similar to PC/console games that you only buy once. Hence, with your tycoon simulator, you'll need to develop a core loop — a set of repeatable actions.
Tycoon clicker games have a simple core loop:
Tap/click to get resources
Spend these resources to get upgrades
Go back to clicking to obtain more resources or let upgrades do that for you
As a rule, each new upgrade is more expensive than the previous one, as is each new unit of an older upgrade. In AdVenture Capitalist, for instance, the price of a new lemonade stand can at some point reach several billion dollars. This slows users' progress and encourages them to buy other things. However, slower progress can make a management game boring, which is why idle clickers have what we call prestige.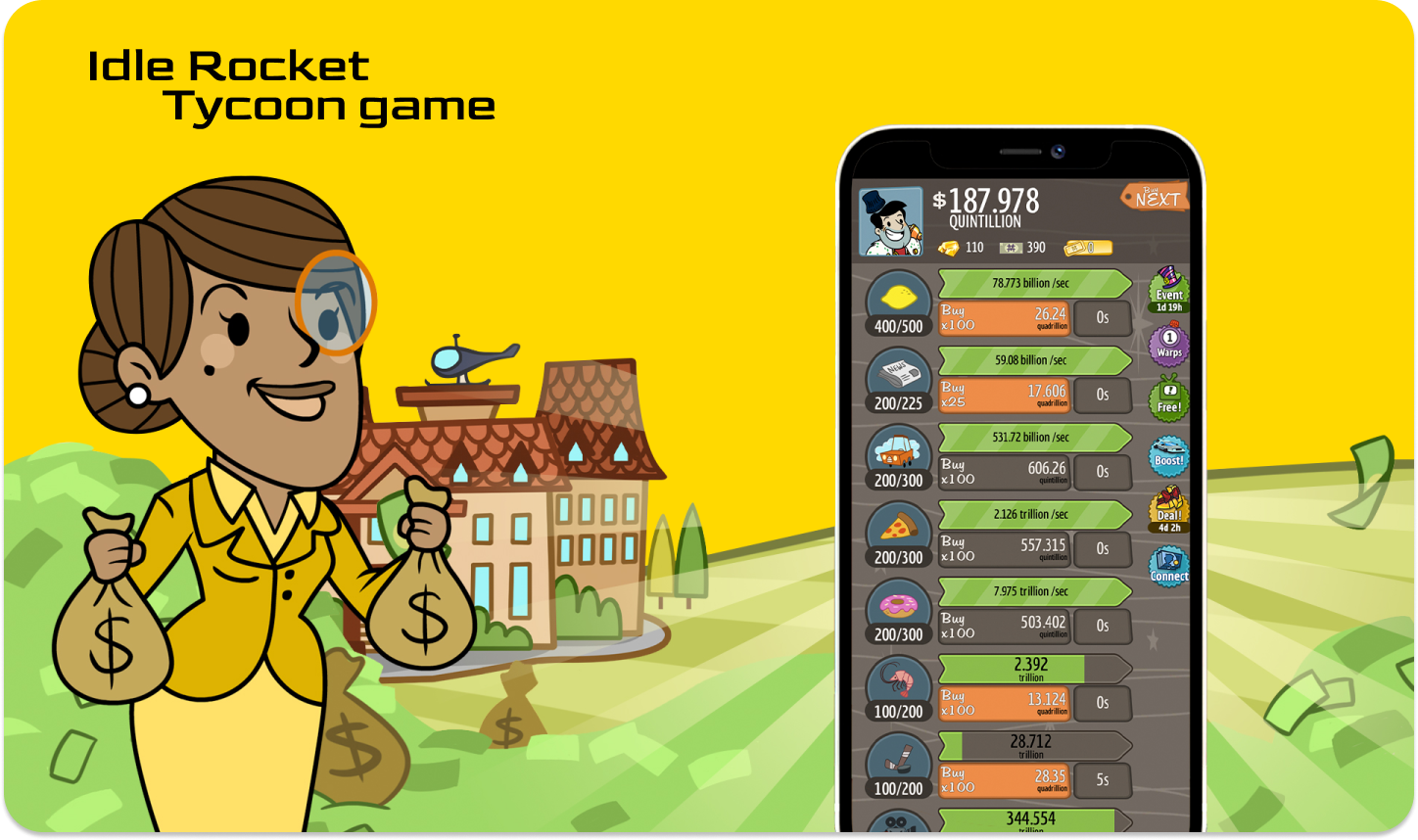 Prestige
Prestige allows you to restart a game with certain bonuses. Usually, the initial earnings increase along with prestige, while the costs of upgrades remain the same. With this ladder-like system, at each higher level of prestige you advance through the game faster, even though you're starting the game anew.
The first prestige levels in AdVenture Capitalist are represented by Angel Investors. When you gather enough Angels, you can restart the game, losing all your businesses and upgrades but gaining a bonus for future earnings. This can be done time and again, and there's even a strategy as to when you should use your Angels. Then at some point, you'll be done conquering businesses on Earth and will move on to the Moon, once again starting anew. Somewhere out there might be the end, but reaching it takes a long time, so the game can keep players hooked for months.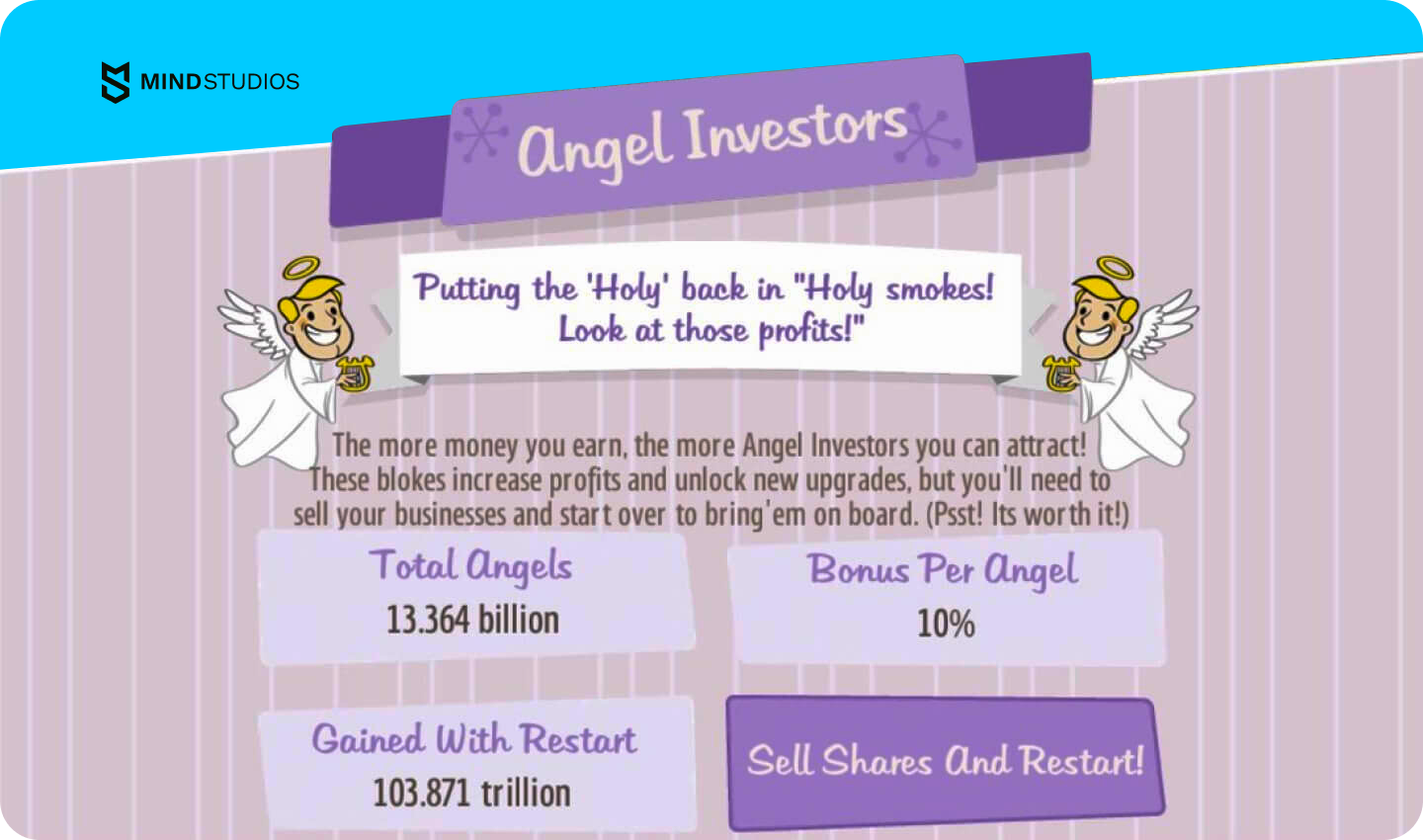 Monetization model
This step might seem way down the road if you've just decided to make your own tycoon game. However, it's better to decide on how you are going to make money out of it right from the start. There are three main monetization models that work well for games:
Paid downloads
In-app purchases
Ads
A subscription model, popular with certain types of non-gaming apps, like sport betting apps, rarely works well with games. A combination of paid downloads and ads are also not a winning model for this particular game genre.
In most cases, games in the Google Play Store and Apple App Store use a combination of ads and in-app purchases. This is true of AdVenture Capitalist as well. You can download the game for free and play without paying for anything. But if the progress seems slow, you can watch an ad to double or even triple your profits for several hours. Another possible reward can be an option of speeding up users' goals set within the game, since often they simply need to wait to achieve them.
Overall, rewarded video ads are one of the safest choices here. Since users watch them intentionally when they want to get a reward, this type of ads is non-disruptive and is less likely to annoy the players, like banner ads and interstitial ads do. In addition, those videos can actually be relevant to the users, especially if you are advertising games of the same genre. Don't worry about the competitors stealing your users: on average, players are playing 4-5 idle games simultaneously.
When you calculate the cost to develop a tycoon game, you should also consider your choice of monetization model. It's not only about implementing a payment gateway, either. The App Store retains 30% of your revenue from in-app purchases and paid downloads, while Google Play Store takes a 15% fee for the first $1M (USD) of earnings each year . Keep in mind this amount when calculating potential profits.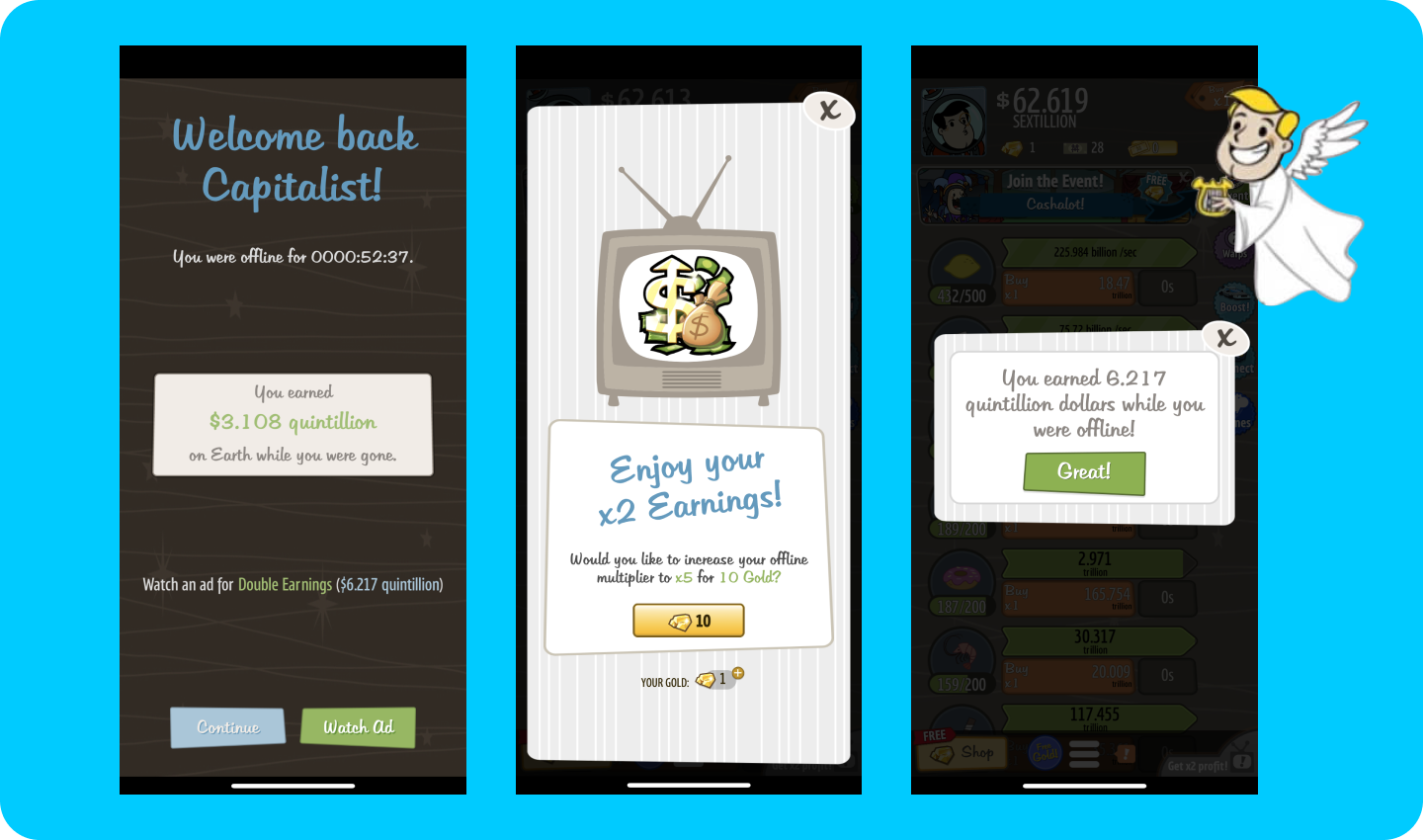 Reminders to play
Incremental games users have several similar apps on their phones, so make sure they don't forget about your game. It's best if these notifications have some value: for instance, they can inform users of a completed mission, special loot, or limited-time features for the characters that have just become available. Moreover, you can provide daily, weekly, and monthly rewards that will encourage users to return to the game.
To make these notifications as effective as possible, you can analyze traffic, identify peak hours, and remind users of the game when they are most likely to play.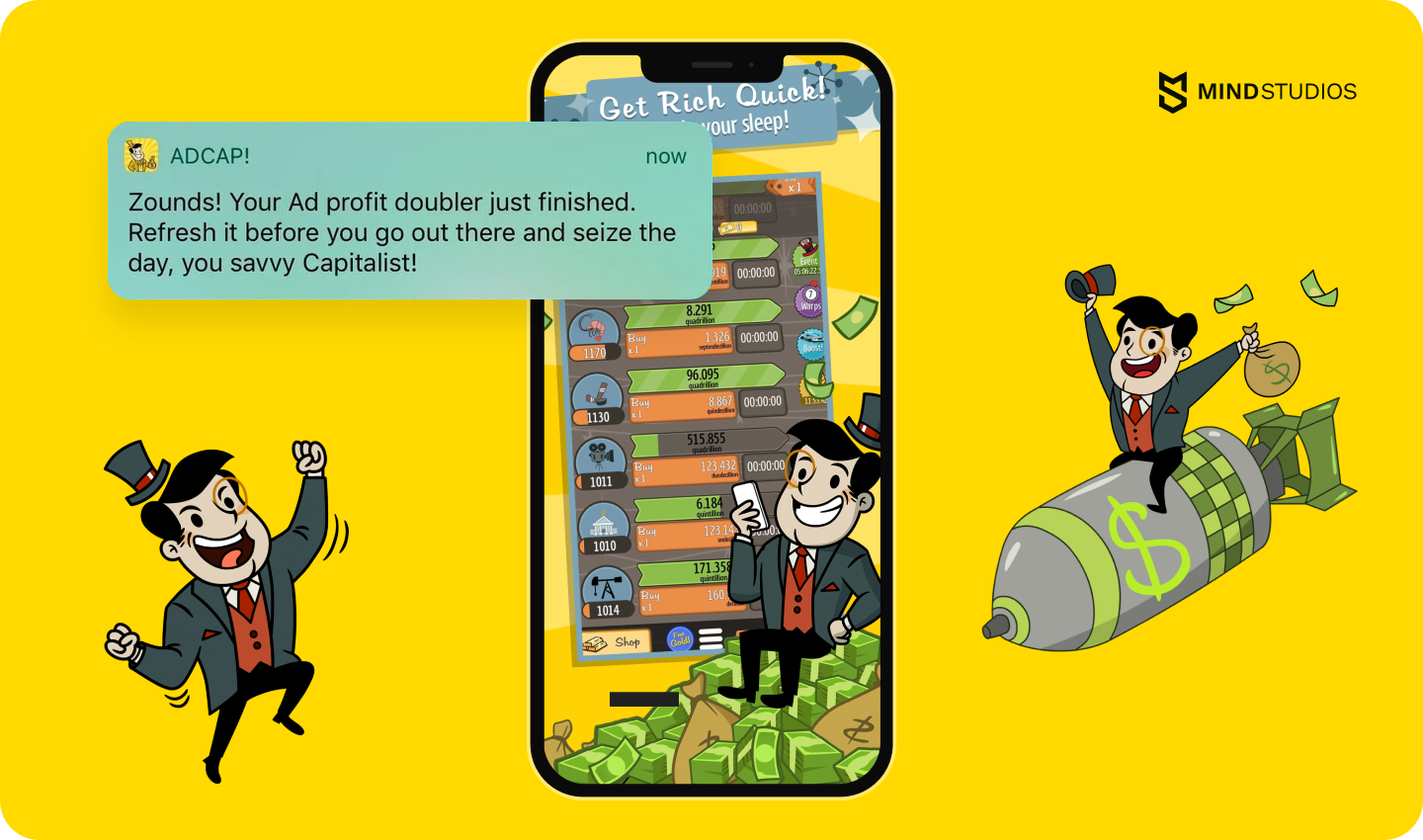 The technical side of tycoon game development
If you're going to hire a game development company to create a tycoon game, here's what specialists your team should have.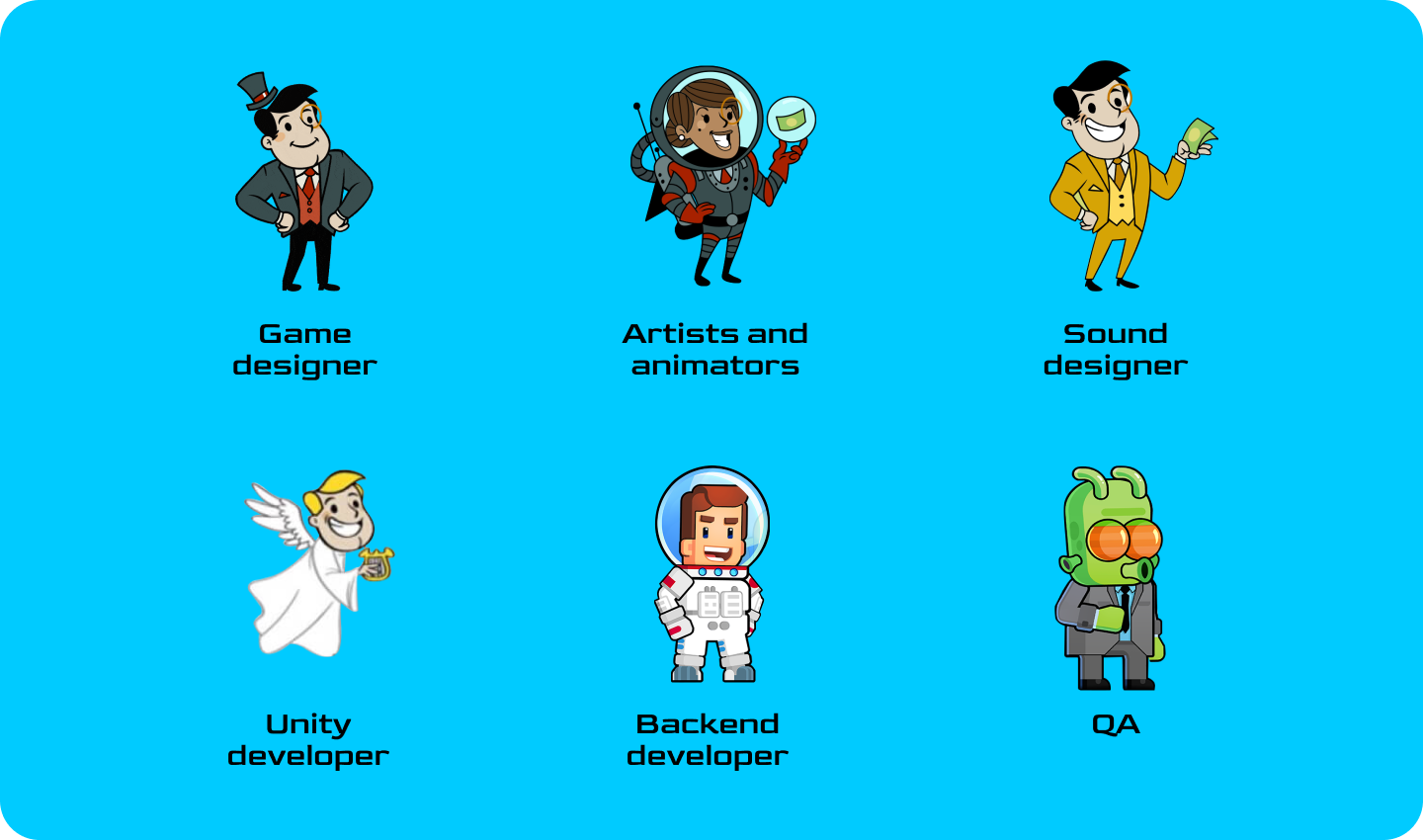 Game designer(s)
A game designer will walk you through all steps of tycoon game development, starting with researching your idea and discussing your game's meta, core mechanics, loop, and everything else.
Artists and animators
In most cases, a video game artist specializes in a specific field, be it character design, background design, or animations. Multitaskers do exist, of course, but they're harder to find and might cost you more.
There's also an option to buy ready-made designs: specialized websites exist where freelance artists offer their designs for sale. One popular place for this is the Unity Asset Store, where you can even find free or at least very cheap designs.
Sound designer
Sound is as important to a game as art. Especially when it comes to the simplest games, sound effects and background music help immerse players. As with artwork, there are sound libraries as well. Your sounds should correspond to the game's mood, and effects need to be tuned to actions. For example, hearing the sound of falling coins might lift a player's spirits — who doesn't like the sound and look of money, after all.
Unity developer(s)
The majority of mobile games in general, and idle clicker games in particular, are built using the Unity engine. Unity requires way less processing power than Unreal Engine (the second most popular game engine), and games built on Unity are lighter, which is essential for clickers. Unreal Engine's biggest perk is its top-notch quality when it comes to 3D graphics. However, the difference becomes noticeable only for PC and console games. Unity3D handles both 2D and 3D graphics equally well for mobile devices.
Unity is a cross-platform engine, meaning that unlike for most apps, you won't need different developers to write the code for web, iOS, and Android separately.
Though our team works with Unity, other companies can offer you to make a tycoon game in Roblox or on Scratch.
Backend developer
Strictly speaking, clicker games are light and simple enough to not need a back end. All data can be stored on users' devices, taking up little space. However, if you would like to hold in-game events or competitions among users, or if you have in mind some kind of top tycoons list, you'll need a server.
QA
The quality assurance specialist is the first one to test the game, report on every little flaw and inconvenience, and make sure that the final product is impeccable.
Creating a Tycoon Game Design: Best Practices
Simple idle games, especially the ones that copy hitmakers on the market, often have one pattern and nothing that makes them stand out. In this section, we've collected the best tycoon game design practices and useful tips that will help you catch your target audience's eye and create a simple yet one-of-a-kind game.
Invest in unique theming, art, and sound
AdVenture Capitalist's graphics are 2D classic caricatures, and it's a nice touch because this style corresponds well with the theme. After all, the game itself is a caricature of capitalism. However, don't limit your project by 2D caricatures only when developing a tycoon business game. After all, you don't want your product to be the exact copy of the existing one.
You can go 2D or 3D, cartoonish, realistic, anime-style, pixelated, geometric, or something entirely new. Do take into account what your setting is, the idea behind the game, and how you're plotting the core loop.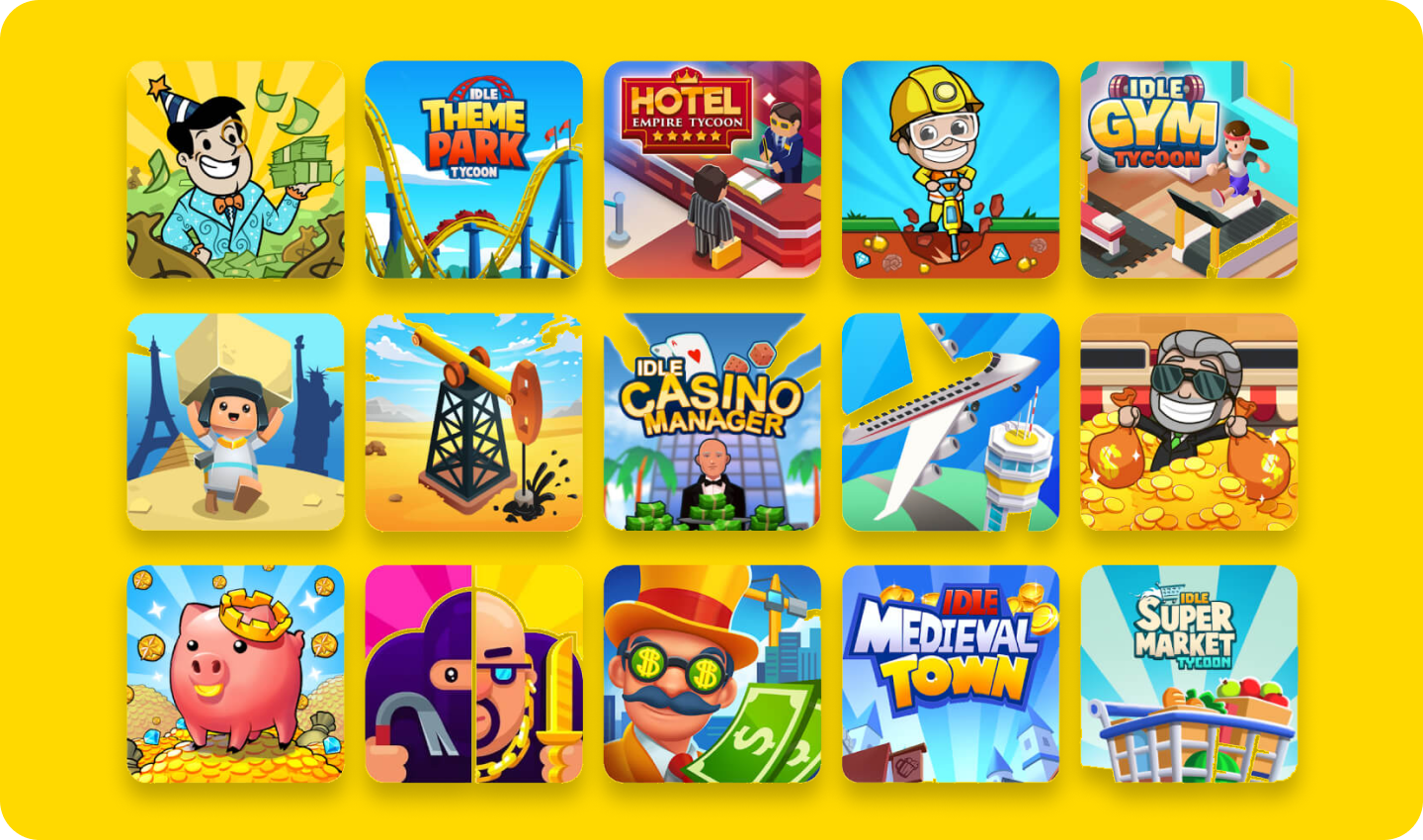 While the mechanics of AdVenture Capitalist and similar games are fairly simple, characters and setting are precisely what can appeal to the users and create an immersive experience. In Taps to Riches, a game similar to AdVenture Capitalist, the setting's appearance progresses along with the game. The higher the level of empire you build, the more vivid and elaborate the picture is.
Another popular setting for idle games is cookie stores. So, how do developers still manage this scenario to stand out? They make the goods at the store aesthetically appealing, provide rare cookie items and create upgraded confectionary items.
Sound is also a crucial component of any game. Poor-quality music and sound effects can turn the customers away. And vice versa, funny characters' voices, or music theme that gets stuck in your head for days can be your thing — something that makes your game truly stand out.
Find a design that will fit your idea as well as AdVenture Capitalist's design fits its idea.
Enrich the mechanics
Yes, incremental games usually have a simple core loop. However, there are still ways to make the gaming experience exciting and unique for the players. You can achieve this by implementing multiple mechanics that will be gradually introduced throughout the game, motivating users to change their strategic moves.
Even though idle games are about always winning, they still require users to make decisions, manage their empires, and achieve desired goals. And the game will be more engaging if there is more than one way to do that. When playing AdVenture Capitalist, users can decide on whether they want to pursue the lemonade business, open a pizza place, or run a bank.
Keep it simple
The reason we mentioned gradual introduction of different mechanics is that players should feel excited but not overwhelmed by the gaming experience. Make sure the onboarding and the first session are simple and don't require much effort. You can let the users know there are many unlocked goals and levels ahead so that they have something to look forward to.
In addition, make the value of in-app purchases clear right from the start so that the users know how they are going to improve their gaming experience.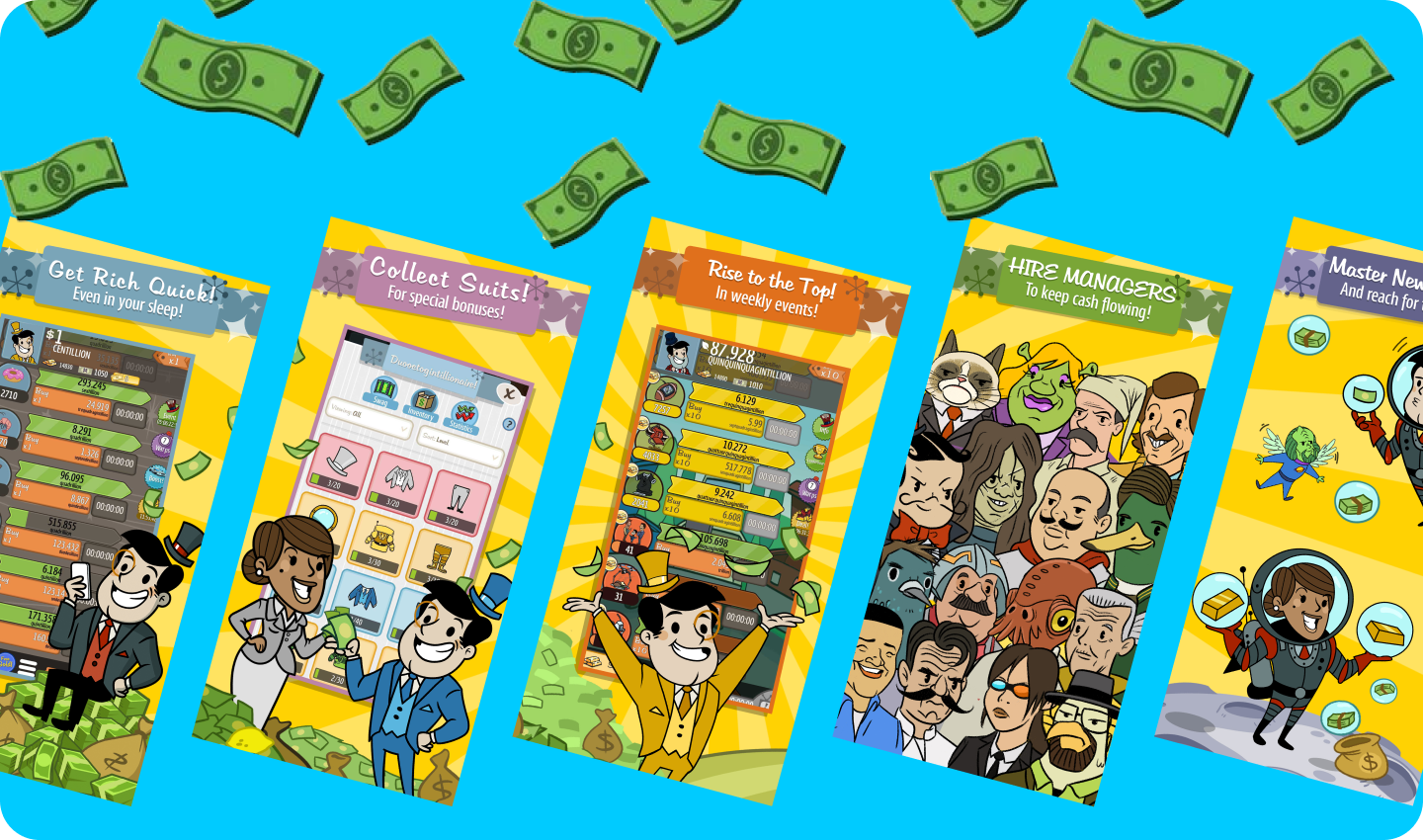 The cost to make a tycoon game
The cost of game development is rarely set in stone, and there are quite a few things to consider. For instance, if we're talking about a money-making simulator, there's an issue of how many upgrades and prestige levels to offer and how the prices for them will change with progress. All this will affect the complexity of development and, hence, its duration and cost.
Then there's the cost of art and sound, which can vary from creator to creator and team to team. The work of an in-team artist and sound designer will cost a different amount than buying art and sound separately, and the scales might tip either way.
Taking AdVenture Capitalist as an example — a tycoon simulator idle clicker game with several prestige levels and a couple of dozen upgrade options — the development cost will start at about $15,000. The price might go up or down depending on whether you make your game simpler or more complex.
Now, let's break down this total number into separate stages of the development process and take a look at Mind Studios' approach to each of them. Keep in mind that the time frame for these stages is calculated specifically for a Tycoon game. The prices are based on our company's hourly rate of $25-40 depending on the specialists involved, the type of services we provide, the complexity of the project, and other factors.
Stage 1. Game design and wireframing
During this stage, the team is working on how the game is going to work, which involves determining the core mechanics and the core loop of the game. For designers create wireframes — sketches that show users' actions within the game, as well as the core mechanics and the core loop.
The game's core mechanics are the main actions the users can perform. This can include clicking, running, building objects, collecting loot, fighting obstacles, etc.
The team also has to work out the core loop of the game, which is a sequence of actions throughout the game. For instance: Click to earn a reward –> upgrade –> click more. When a certain level is reached, you make a prestige level and go back to the beginning, but with bonuses. Then you repeat the loop. In addition to this, designers also work on level design, the design of notifications and rewarded videos, and other actions.
Time: 80 hours
Cost: $2000
Stage 2. Art, UI design & Animation
At this point, the team is working on what the game is going to look like. Game artists and animators create visual mockups, which include drawings of the backgrounds, characters, and other objects in 2D or 3D graphics. The team can also create a few versions of the visual concept of the game for the client to choose from.
Time: 100 hours
Cost: $3000
Stage 3. Development
Once the artwork, the core mechanics, and the core loop are ready, we can transform mockups into a real game. As we've mentioned in one of the previous sections, Mind Studios team's main tool for developing mobile games is Unity game engine, which is an excellent platform to build idle games on.
As for the backend and server part of the game, it might not even be necessary. Idle games are fairly simple and thus don't require much space, so most data can be stored on the user's devices or the cloud storage.
The last phase of development is testing. Since the mobile game market is extremely competitive, your game must be flawless to make it there. You can even arrange for a closed beta testing at this point and let friends or the most loyal users play the game and report any bugs they come across.
Time: 400 hours
Cost: $10,000
Stage 4. Soft launch
Even though idle tycoon games are relatively simple, you still need to get everything right before the official release if you want the project to be a success. The soft launch means making the game available to a limited number of users first so that you can receive their feedback and optimize the game accordingly. Such a test run is often conducted on a limited territory, for instance, one country, to check if it is enjoyable for the targeted audience and if set KPIs can be met.
Time and cost depend on the duration of this phase.
Stage 5. Release & support
This stage doesn't end with simply launching the game. It also involves setting up tech support, working on traffic generation, improving financial performance and evaluating the game in terms of profits according to the lifetime value criterion.
Cost: monthly fee or T&M
To sum up, here is a table with the costs for each of the idle game development stages:
Incremental tycoon games development process
Hours
Cost, USD
Game design & Wireframing
80
2000
Art, UI design & Animations
100
3000
Development stage
400
10,000
Soft Launch
Depends on the duration of this phase
Release & Support
Ongoing
Monthly fee or T&M
Total
580+
15,000 +
How to publish a tycoon game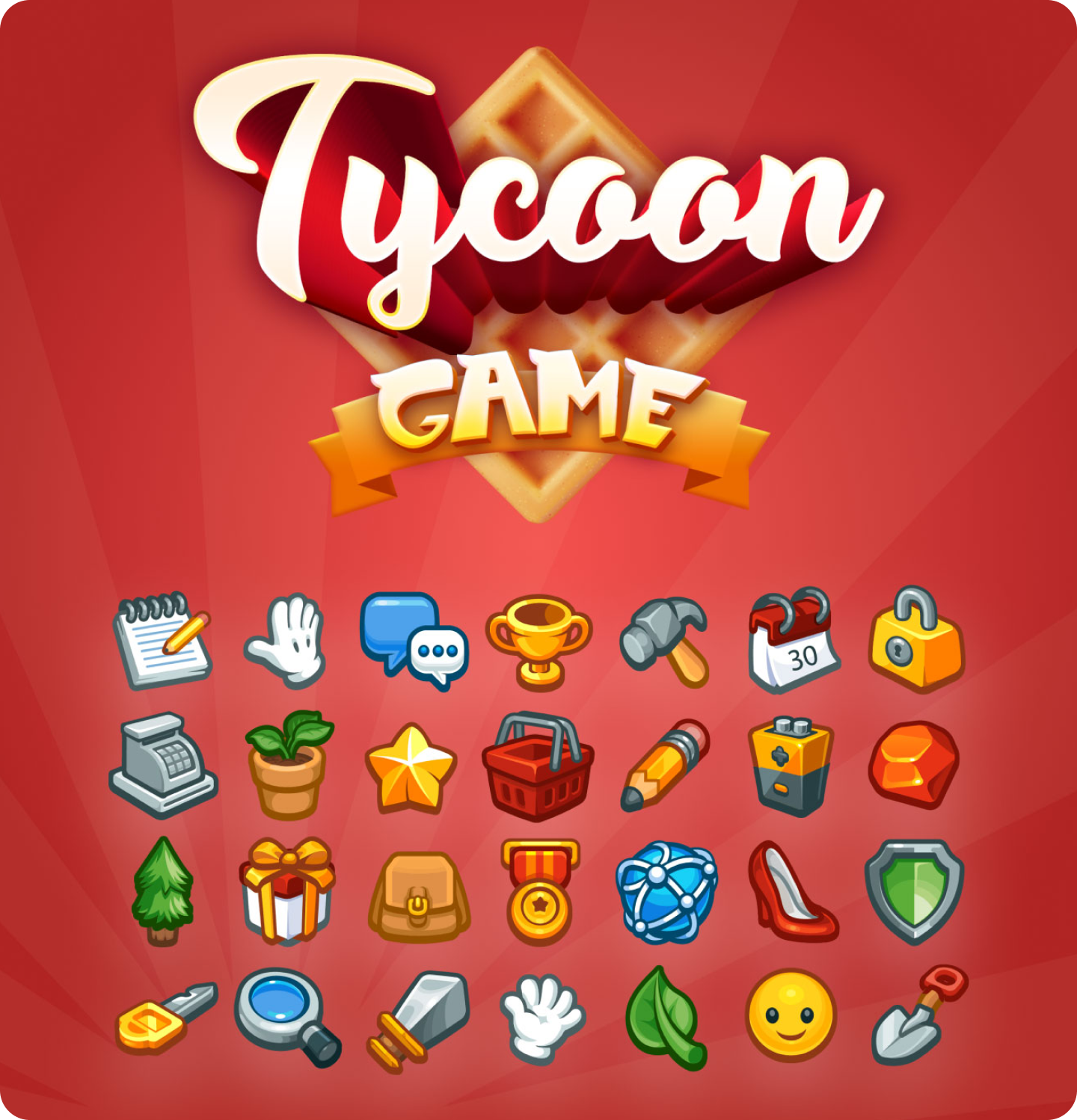 Once your tycoon simulation game is developed, it's time to publish it. You have two options here:
1. Indie publishing
2. Pitching to a game publisher
The indie way is, naturally, simpler — you register as a developer on your app store of choice and submit your game. After it's approved, it goes live. However, with self-publishing, all the marketing will fall onto you as well. If you're launching your first app, buckle up and get ready for a bumpy road. Any app needs a marketing campaign for a successful launch, but games need it even more. The mobile gaming industry is highly competitive.
On the other hand, you can try to pitch your game to an established game publisher. There are a number of them out there. Kongregate, the platform publisher behind AdVenture Capitalist, is a well-known company these days, meaning any game they launch will have an initial audience by default. But there are others. If you're planning to publish your first game, you'll need to conduct a solid marketing campaign to attract initial users, and a publisher can help you with that.
Reaching out to a publisher isn't a simple task (the industry competition, remember?). It's somewhat similar to finding investors to fund your app development. A successful pitch to a publisher can be a huge leap for your game's success.
The Mind Studios' experience
In the 9-year history of Mind Studios company, one of our most significant milestones was establishing our own game development department back in 2018. That same year, our team went to a Pocket Gamer Connects 2018 gaming conference in Helsinki to present our first-ever gaming product.
Since then, we've gained experience not only in developing games, but in creating pitch decks and helping our clients raise solid investments.
Obviously, throughout these years our portfolio has gotten considerably bigger, and a significant part of it is dedicated to incremental games we have developed. Here are a few of them:
NanoBytes: ByteWorld
A mobile game where users scan and collect NanoBytes to eventually build their own ByteWorld and become tycoons.
Idle Rocket Tycoon
Here, players get a chance to raise a virtual fortune by running a rocket-building company with numerous minion-workers under their management.
Idle Fashion Empire Tycoon
A simulation game that mixes fashion management with money investment to gain profit and become a famous rich capitalist millionaire.
Idle Troop Tycoon
This incremental game, which we've recently soft-launched, allows the players to lead their own army, defeat enemies, collect gold to upgrade the troops, and discover new locations around the world.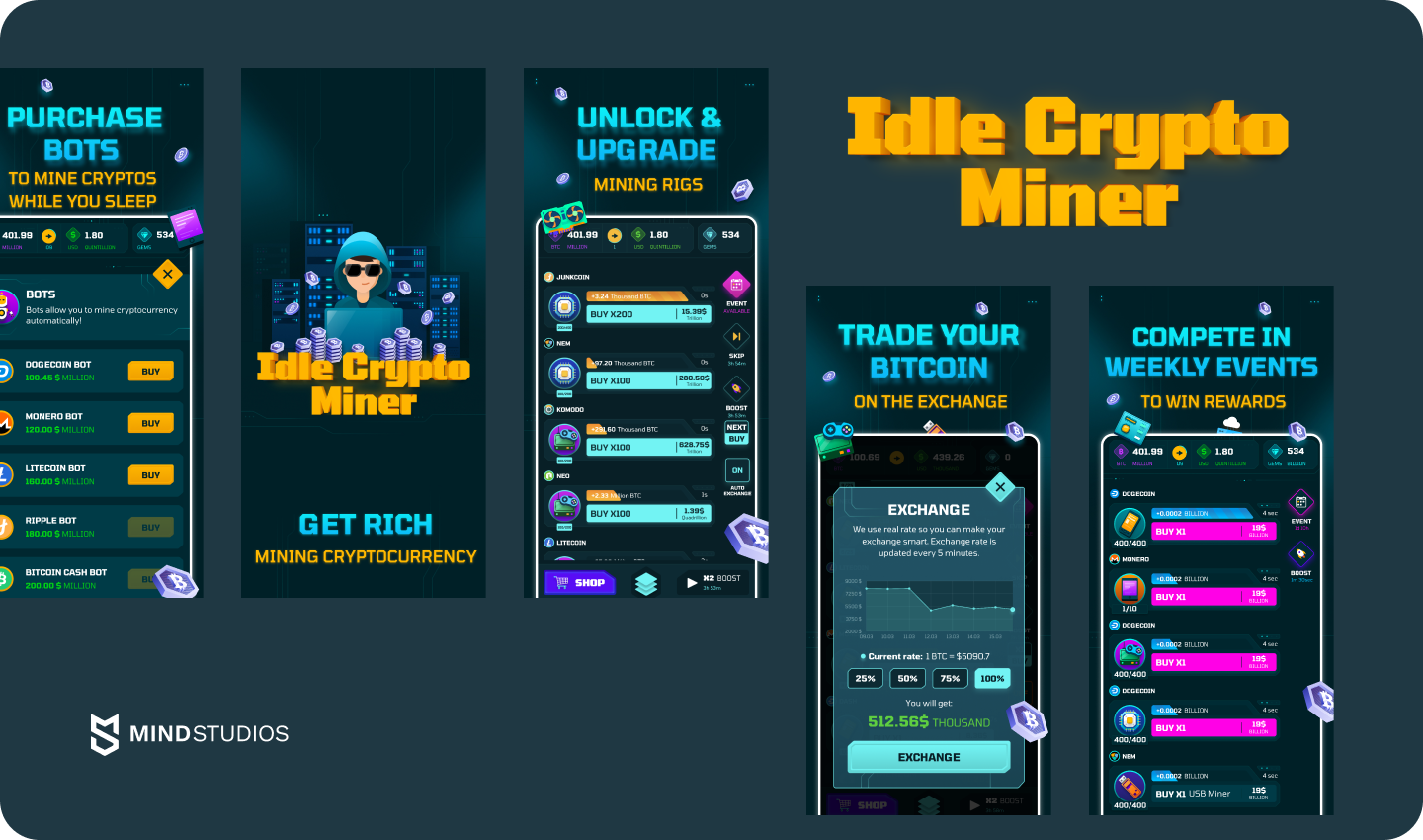 When designing a new mobile game, especially following an existing gaming model, it's crucial to consider the lifestyle trends of the country you're going to target. Cryptocurrency has been all the rage for a few years now, so it's no wonder that one of the games we've worked on is called Idle Crypto Miner. Just like AdVenture Capitalist, it's an incremental tycoon game, except here you can become rich by building your own crypto empire. Our team strived to make it as realistic as possible, so players can even buy Bitcoins at the up-to-date cryptocurrency exchange rate.
Tycoon games development: Conclusion
Game development is a huge and diverse industry where everyone determined enough can find its users. At the same time, it's very competitive, and standing out isn't a cakewalk. The competitiveness is even more pronounced with mobile games compared to PC and console games, since mobile gamers are usually casual or hyper-casual, and hardcore players are few and far between. However, if you do manage to launch your economic simulator successfully, the return on investment can be really high.
Finding a skilled team with experience in this highly competitive field is half the battle. So, if you have an idea for an idle game (or simply know that you want to build one but have no concept yet) — Mind Studios team has your back. We provide full-cycle game development services, from researching the market to creating game art, launching the final product, helping to market it, and even pitching the game to investors.
Book a free consultation with our business development team, and we'll discuss your idea, walk you through the process of implementing it and give you a rough estimate for the project.
2