This has been a tremendous year of growth at Mind Studios. We've scaled up to create more than 15 amazing mobile and web projects, and submitted more than 30 awesome app updates to the App Store and Google Play. We've also been able to double the size of our team, including several key strategic hires. We even moved our technical team to a new, inspiring office so they can work more productively. Lastly, we started launching our own product development direction and built several of our own products.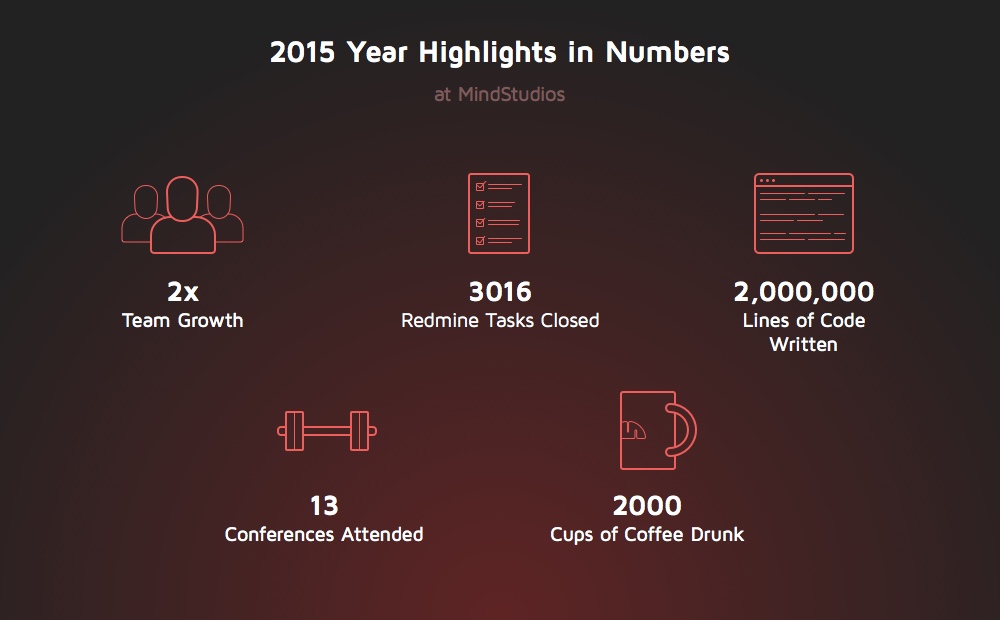 Infographics. Mind Studios 2015: Highlights
2015 Year Highlights in Numbers:
2x Team Growth
3016 Redmine Tasks Closed
2,000,000 Lines of Code Written
13 Conferences and Training Sessions Attended
2000 Cups of Coffee Drunk
Of course, we couldn't have made it this far without our clients and partners. Our goal is to make great products that help you build your business. Your continued support and feedback help ensure we do just that. Thank you for your trust.
During this holiday season, we hope that you take some time to look back and prepare for a very successful 2016. It's an exciting time to be pursuing new business opportunities, and we're happy to be in this together with you.
Happy Holidays!